A photographic guide to what to see in Tunisia
In the spring of 2019, we spent nearly a month travelling around Tunisia. This post aims to highlight what were our favourite places to visit in Tunisia. The North African country had never popped up on our radar screens when we worked in the travel industry for upmarket tour operators. In fact, we only personally knew one person who had been there and actually gone beyond the beach resorts near Sousse and on the island of Djerba. He graciously gave us his (2009) guidebook which, although a decade out of date, turned out to be invaluable as we could find very little travel and logistical-related information about Tunisia on the internet.
Despite our reservations, it turned out that Tunisia is an incredibly diverse destination and one where we felt very safe and welcome. Plenty of public transport and lack of other backpackers and tourists means you often feel like you are travelling off the beaten path in Tunisia.
We went to Tunisia with reasonably low expectations but almost a month later, and having seen a sizeable chunk of the place, we left feeling rather smug with ourselves that we'd ignored all the negatives about the country and given it a go. We saw some marvellous sights in Tunisia and below is a rundown of our highlights, which are a mixture of world-class historic sites and locations where the scenery was simply stunning as well as some unusual and quirky stuff that simply caught our eye.
Through photographs of some of our favourite places to visit in Tunisia, our aim is to inspire others to visit Tunisia: it's a fabulous country that deserves to receive many more visitors than it does.
Photos of places to visit in Tunisia: Our highlights
Tunis Medina
Our first experience of Tunis's vast medina was late at night, having just arrived off a flight from Paris. Our taxi driver from the airport couldn't take us all the way to our guesthouse as he had another fare to collect so he dropped us near the eastern side of the medina, while our guesthouse was located somewhere in the northeast of it. Poorly lit and almost deserted, it wasn't the ideal introduction to, what was for us, a brand-new country, but everything worked out and we located our digs without any major hiccups and only a smidgen of paranoia that we were being followed!
Before I move on, you might be wondering why we went with a taxi driver who couldn't take us all the way to our guesthouse. The reason is that taxis are very cheap in Tunis, like stupidly cheap, and so people use them all the time. As a result, demand is high. There were zero taxis waiting at the Arrivals section of Tunis's airport, for example, and we had to hustle with everyone else who was trying to jump in one that was dropping off at Departures.
The next morning, we entered the medina for the second time: the sun was shining and the souk part of it was a hive of activity. It was a completely different place from the night before.
The Medina of Tunis (to give it its correct UNESCO title) is vast and, as you'd expect, a mishmash of alleyways and narrow streets that seemingly turn back on themselves and go on forever. Google Maps is pretty useless in a place like this and you have to kickstart your sense of direction once more, or rely heavily on asking locals the way, which is what we did! After four days of dipping in and out of the medina/souk, we felt like we were getting the hang of it, although when we eventually left Tunis for our next destination, we made sure we gave ourselves an hour to walk to the railway station, which was located in the new (French) part of the city, even though the guy in our guesthouse assured us it would only take 20 minutes to get there!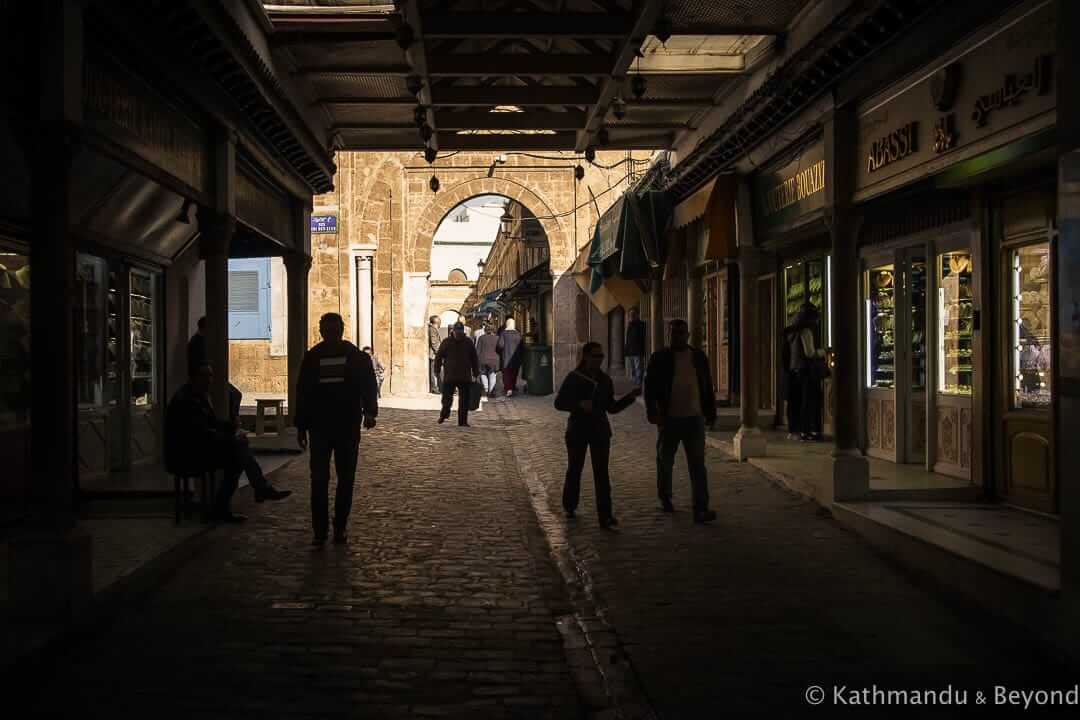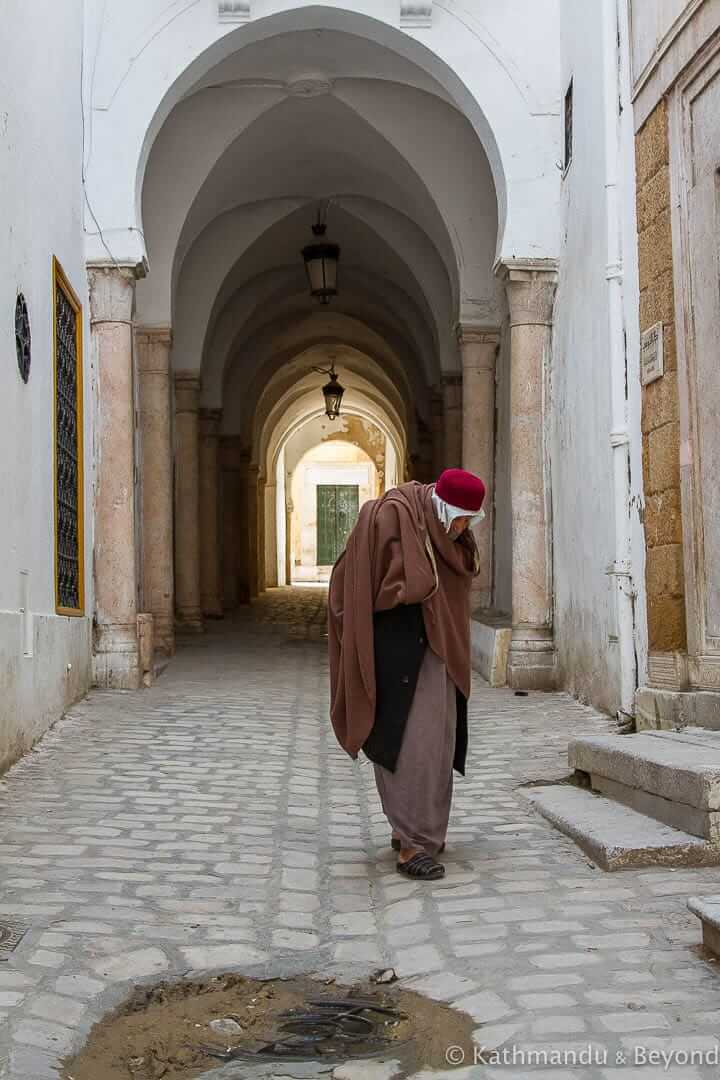 Above: The Medina of Tunis
French colonial architecture
Tunisia was a French protectorate from 1881 until 1956 when it regained its independence under the guidance of Habib Bourguiba, a Tunisian lawyer and nationalist who went on to serve as the country's leader until 1987. Similar to Morocco, evidence of the time when the French were in charge of Tunisia can be found throughout the country. Indeed, if you don't speak Arabic then you can easily get by speaking French in Tunisia, more so than speaking English.
Although Soviet and socialist architecture is more our thing, we have always admired French colonial buildings. Unlike the concrete-dominated structures that we search out in Eastern Europe and the former USSR, which look far more powerful when seen in bleak weather, French colonial architecture requires sunlight to do it justice: more specifically, early morning or late afternoon light when the faded-grandeur of the buildings look their best.
Tunis's gridded Centre Ville, which is east of the medina and was built by the French, is a good hunting ground for this particular genre of architecture but we would come across it in almost all of the cities and towns we visited throughout the country.
One of the best places was the city of Bizerte. Famed as the northernmost city in Africa, Bizerte is also noteworthy because it remained in French hands for a further seven years after the rest of Tunisia had gained independence. The city has a strategic position on the Mediterranean coast and the French had a naval base there that they were reluctant to give up despite Tunisian requests to do so. After a short but bloody battle in 1961, the UN Security Council and other international pressures eventually stepped in and Bizerte was returned to Tunisia in October 1963.
History lesson aside, the city is awash with French architecture and much of it is in a (photogenic) state of disrepair. Popular with holidaying Tunisians, Bizerte was a worthy journey north and very easy to get to on public transport from the capital.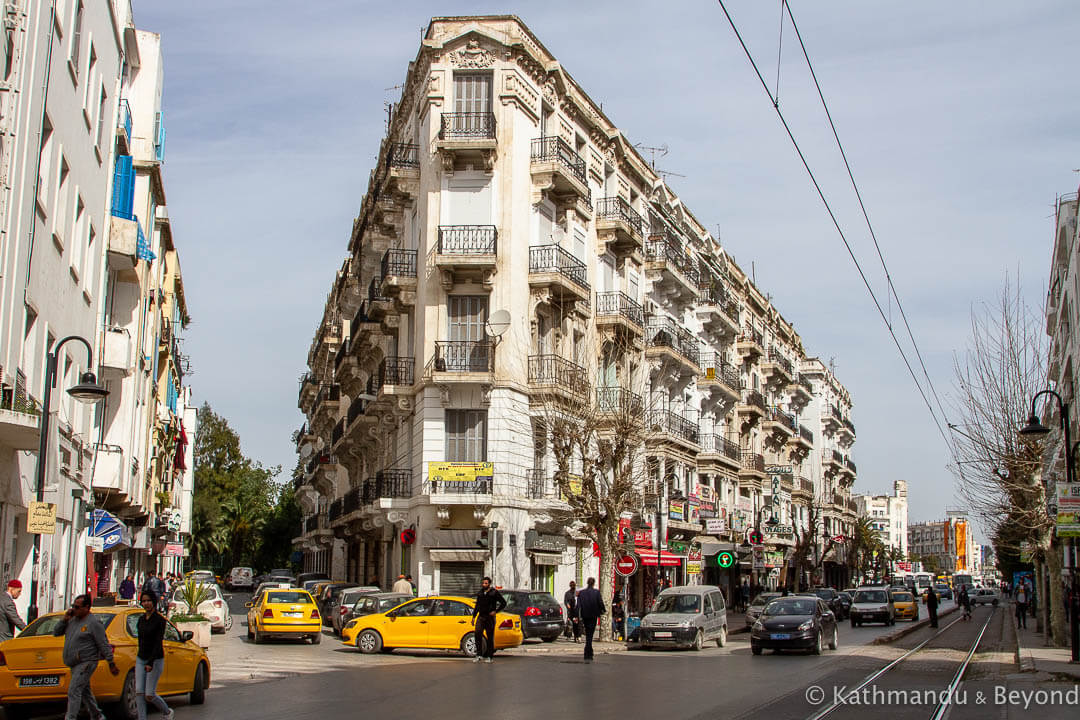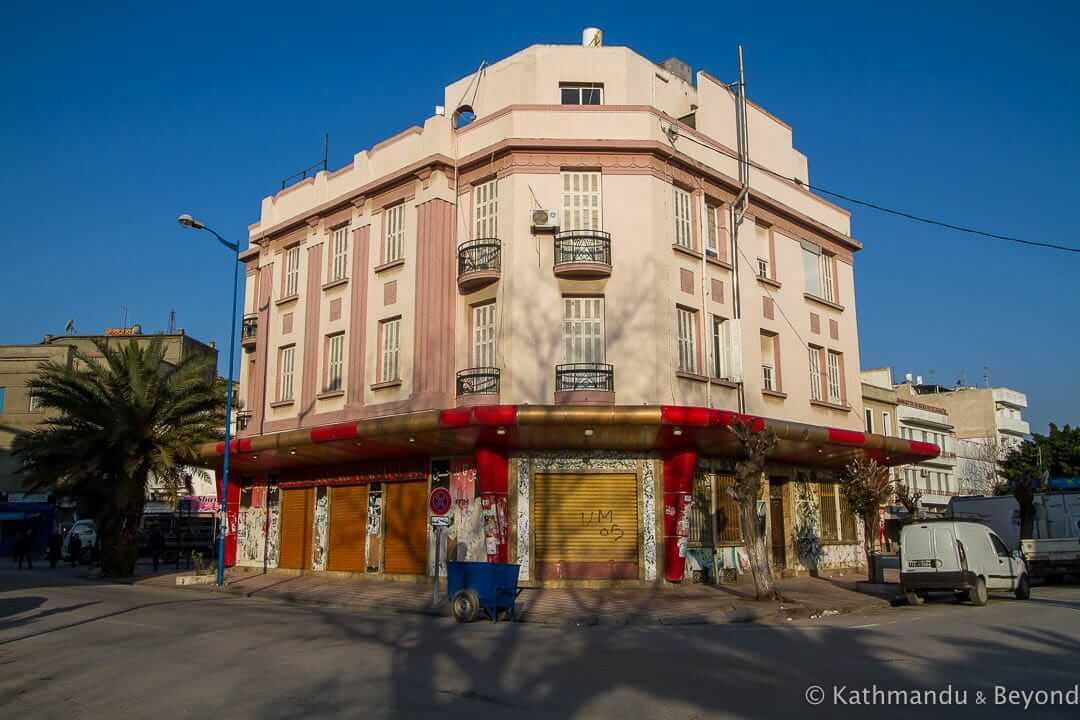 French colonial architecture in Tunis (main photo and below right) and Bizerte (below left)
Roman Ruins
Where to begin …?
If you remember your Roman history from school then you'll know that North Africa was the Roman Empire's breadbasket and like in neighbouring Libya and also Morocco (we haven't been to Algeria yet but watch this space!), we saw some cracking Roman ruins in Tunisia. Quite a few of them, Sufetula and Haïdra for instance, were either not on our planned route or tricky/time-consuming to get to but, fortunately, the top three Roman sites in Tunisia: Carthage, Dougga and El Djem, were all part of our itinerary and easy to get to. Out of all the places to visit in Tunisia, make sure you include some Roman ruins on your itinerary.
Carthage
Carthage is more or less a suburb of Tunis these days. Originally Phoenician and later the capital of the Punic Empire, the city was destroyed by the Romans in 146 BCE and re-developed as Roman Carthage thereafter. Compared to Dougga and El Djem, there isn't a great deal left at Carthage and you either need a good imagination or the services of a knowledgeable guide. We opted for the latter and it was worthwhile as he brought the place to life for us and explained what was what. Carthage is also spread out and although it is possible to see it using public transport (trains mainly), it will be time-consuming so another thing we would recommend is hiring private transport to get you around the site.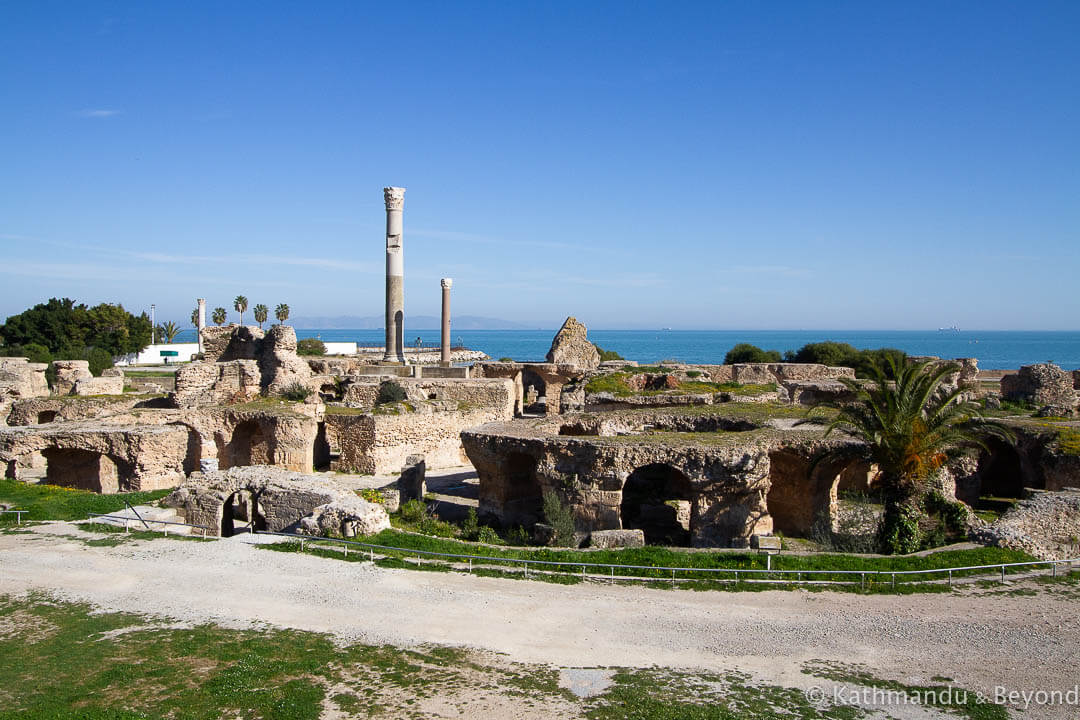 Carthage
Dougga
Boy, did we like Dougga! I've seen Leptis Magna in Libya and reckons it is more impressive but Dougga definitely runs a very close second.
Beginning life as a Punic settlement, Dougga fell into the hands of the Berbers before becoming part of the Roman Empire in 46 BCE. Also known as Thugga, the city wasn't destroyed in the same way Carthage was and UNESCO's claim that Dougga is "the best-preserved Roman small town in North Africa" is an accurate one in our opinion. Now and then we would bump into visiting Tunisians and the odd flock of sheep but, for the best part, we had the site to ourselves and spent a glorious three hours or so wandering around and taking it all in.
Dougga is a good day trip from Tunis and getting there on public transport didn't present any problems. We took a louage (fixed route minivan) from Tunis's Gare de Routiere Nord towards the town of Teboursouk, which is 11km southwest of Dougga. There is no public transport to Dougga itself and we assumed we would have to enter the town and then negotiate a taxi back out to the site. But, unbeknown to us, the louage driver rang ahead and arranged for a taxi to be waiting for us at the junction where the road splits even though we didn't ask him to do so. The fare was exactly what we thought it should be and we arranged a time (3 hours was about right) to be collected and taken back into Teboursouk, where we took a louage back to Tunis.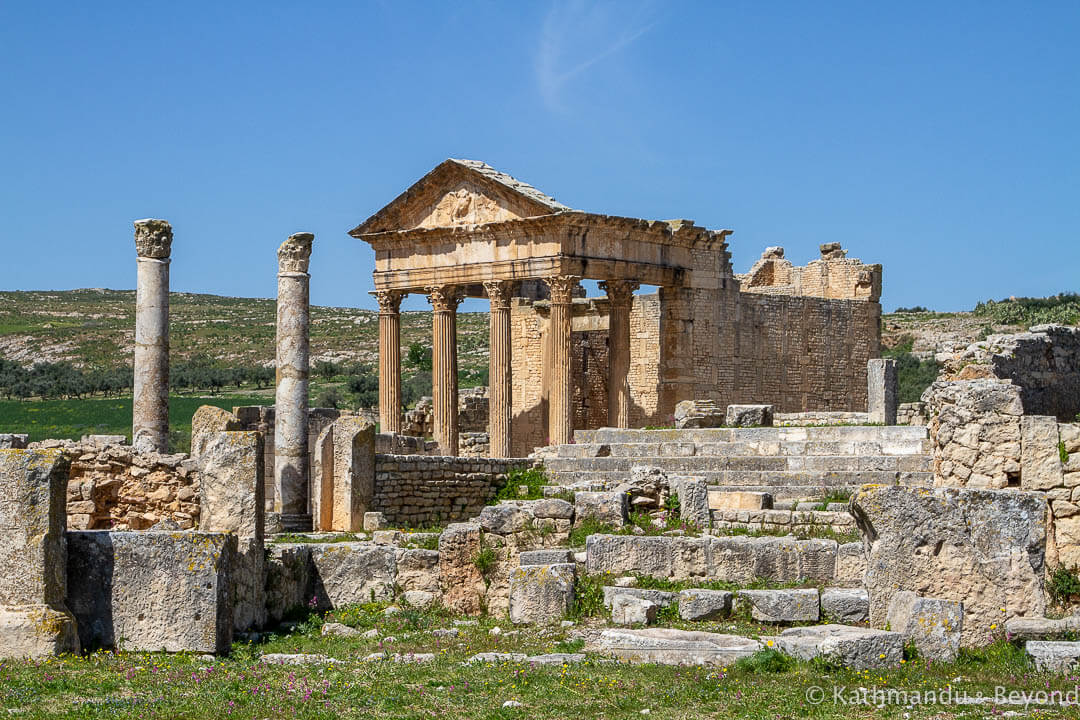 Dougga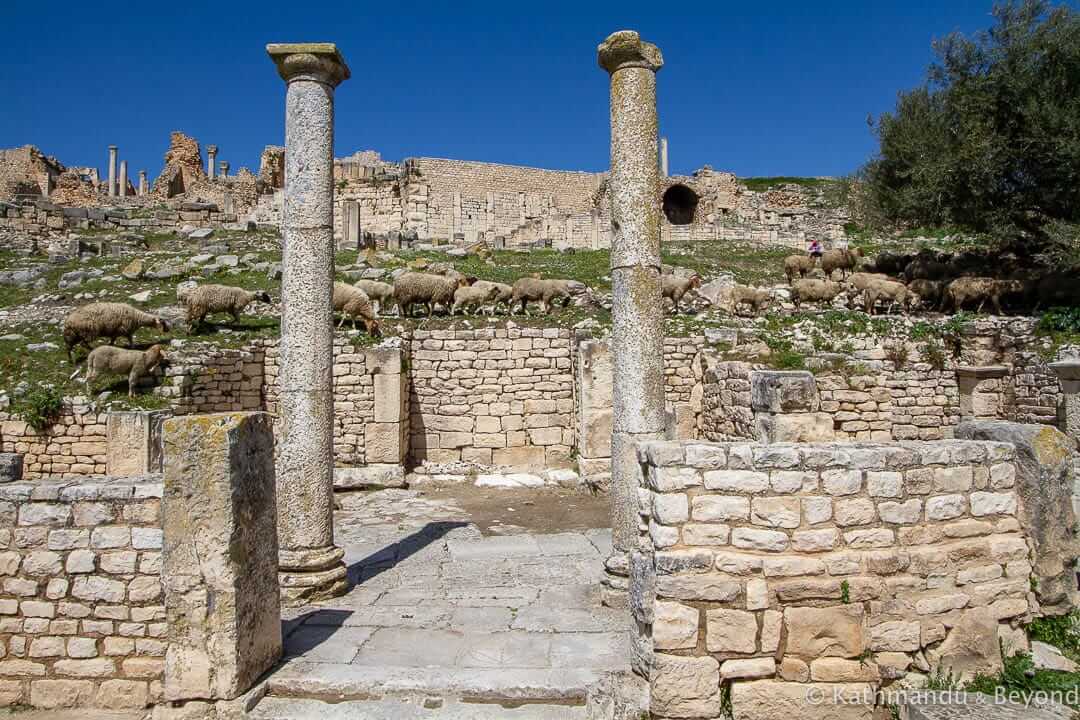 Dougga
El Djem
El Djem is an awesome sight, both from the outside and within and although we didn't have the world's third-largest Roman amphitheatre completely to ourselves, it wasn't far off. Unlike the more famous (and more visited) Colosseum in Rome, hardly any of the amphitheatre at El Djem is off-limits. You are allowed to climb up the steps of the stadium for a fantastic view back down on to it plus you are permitted to enter the underground passages where the gladiators and whatnot would have waited until it was time for them to come up and fight. The nearby museum, which is included on the same ticket, is also worth visiting, particularly for its extraordinary collection of Roman mosaics.
The other thing that got us about El Jem, as it is also spelt, is the fact that it is right in the heart of the city and a mere 20-minutes' walk from the train station.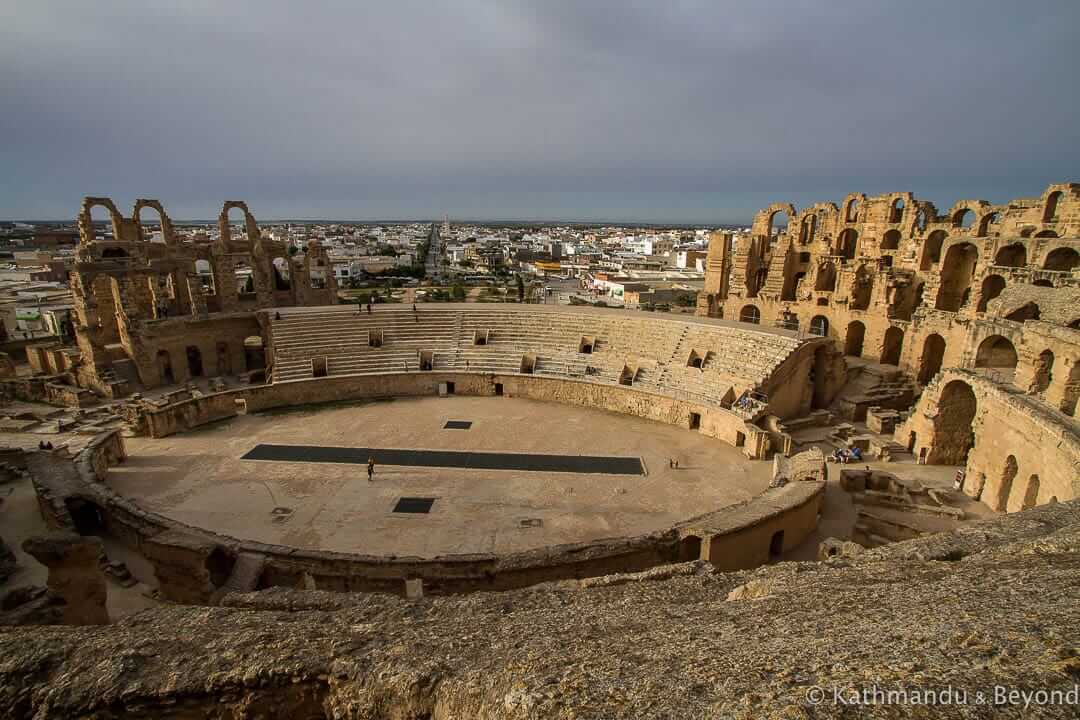 Above: The amphitheatre of El Djem
If you spend time in the Medina of Tunis, visit Carthage, Dougga and El Djem then you will knock off 50% of Tunisia's eight UNESCO World Heritage sites just like that!
Doorways
Whether ramshackle or in perfect condition, Tunisian doorways are always vivid and a real treat of the eye. You'll find brightly painted and ornately-designed doorways in any Tunisian town or city that has a medina and coming across them always slows you down because they are so photogenic. You know you don't need another photo of a Tunisian door but the temptation to snap yet another one as you round the corner and are presented with it is too tempting. We had the same experience in Morocco!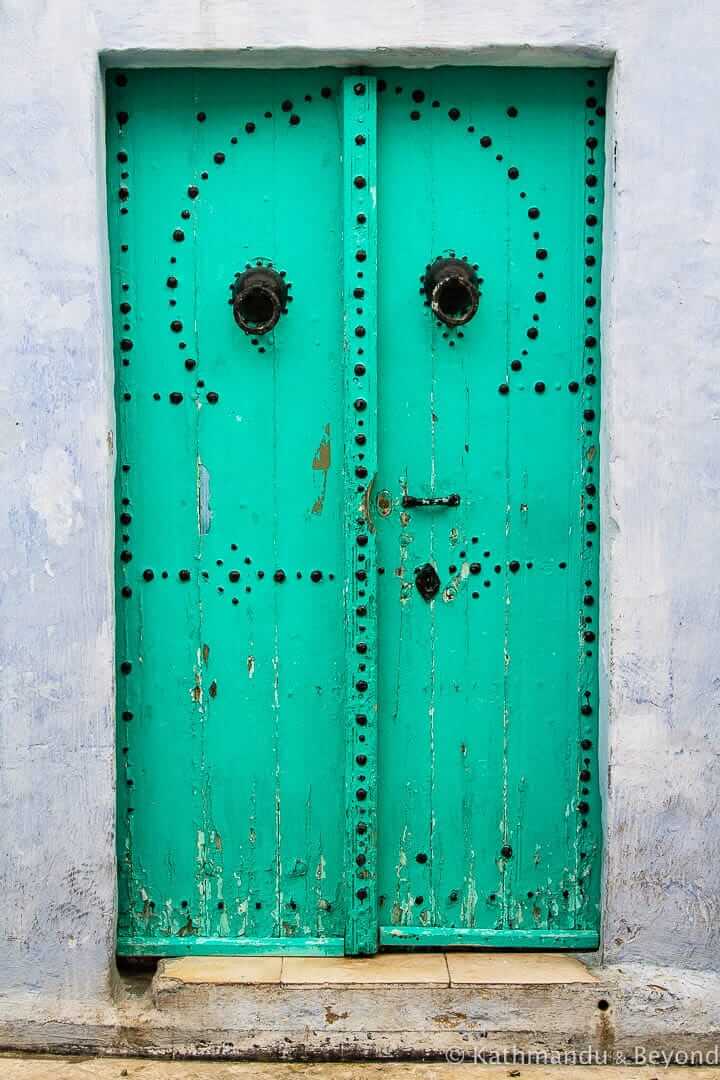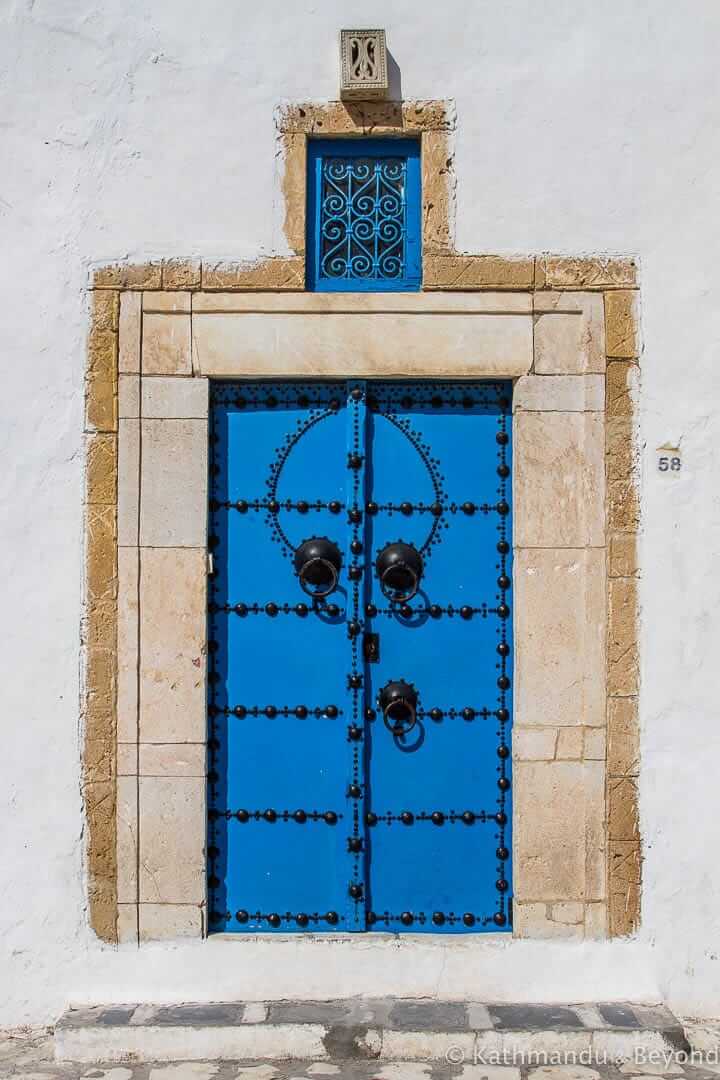 Tunisian doorways
Villages and landscape around Tataouine
If the name Tataouine rings any bells it's likely to be because film director, George Lucas, borrowed and tweaked the name for his fictional planet, Tatooine, in the original 1977 Star Wars movie. The actual town of Tataouine is a scruffy place with not much going for it, but it is an excellent base for exploring the quasi-abandoned villages and sublime countryside further afield. You will need your own transport to do this (we hired a car and driver for the day through our guesthouse), but once you are on the road, expect a day packed with incredible desert-mountain scenery and photogenic settlements. This is Berber country and during our tour, we went to three villages, Guermessa, Chenini and Douiret, as well as a couple of ksars (a North African term for a fortified granary), the most impressive of which was the one at Ouled Soltane.
It is impossible to say what was the highlight. Guermessa, which was completely abandoned, was probably the most atmospheric of the three villages and the views from ridge above the old settlement were breathtaking. In Chenini, on the other hand, we were able to scramble around in some of the former dwellings, where we came across two elderly men who were working on restoring some of them. They invited us in and showed us what they were doing – it didn't look as if their methods had moved on much and, to us, the work seemed painstakingly slow but very traditional.
Ksar Ouled Soltane was also pretty neat and has yet another Star Wars connection as the well-preserved granary vaults were used as slave quarters in the 1999 film, Star Wars: Episode I – The Phantom Menace.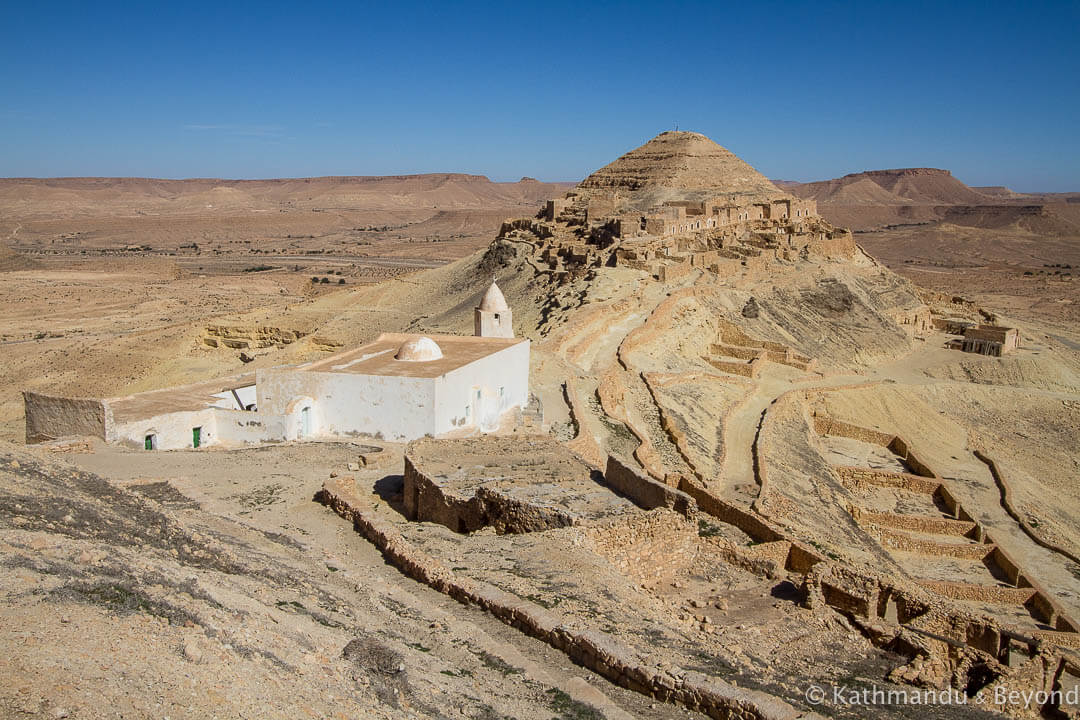 Guermessa (above), Chenini (below left) and Douiret (below right)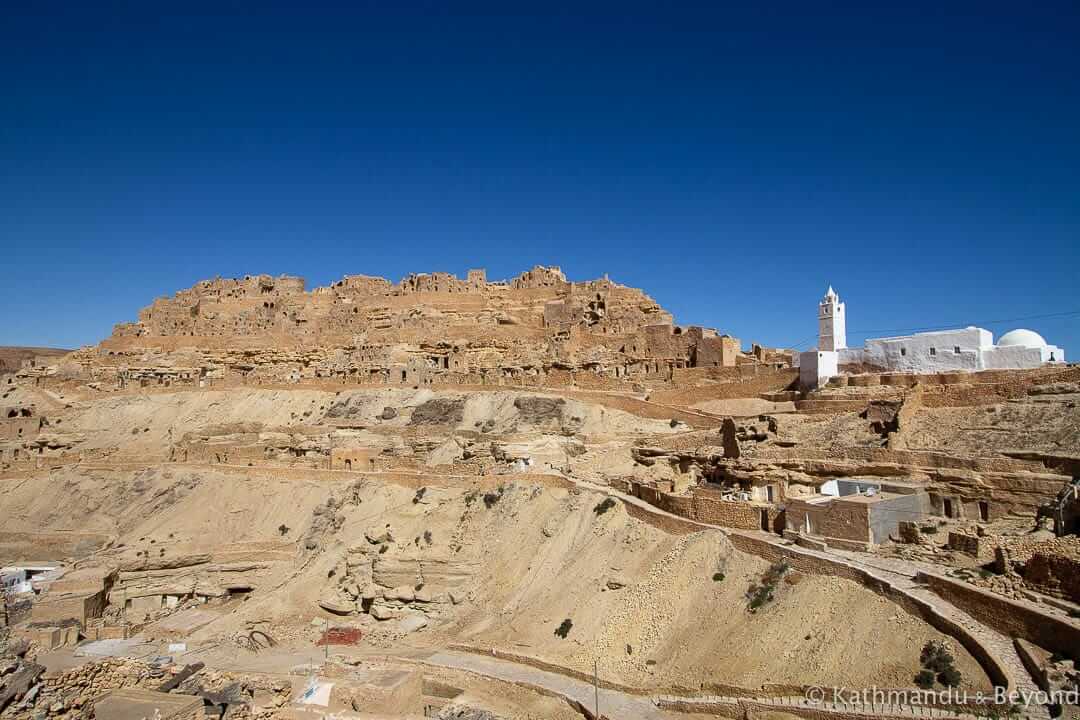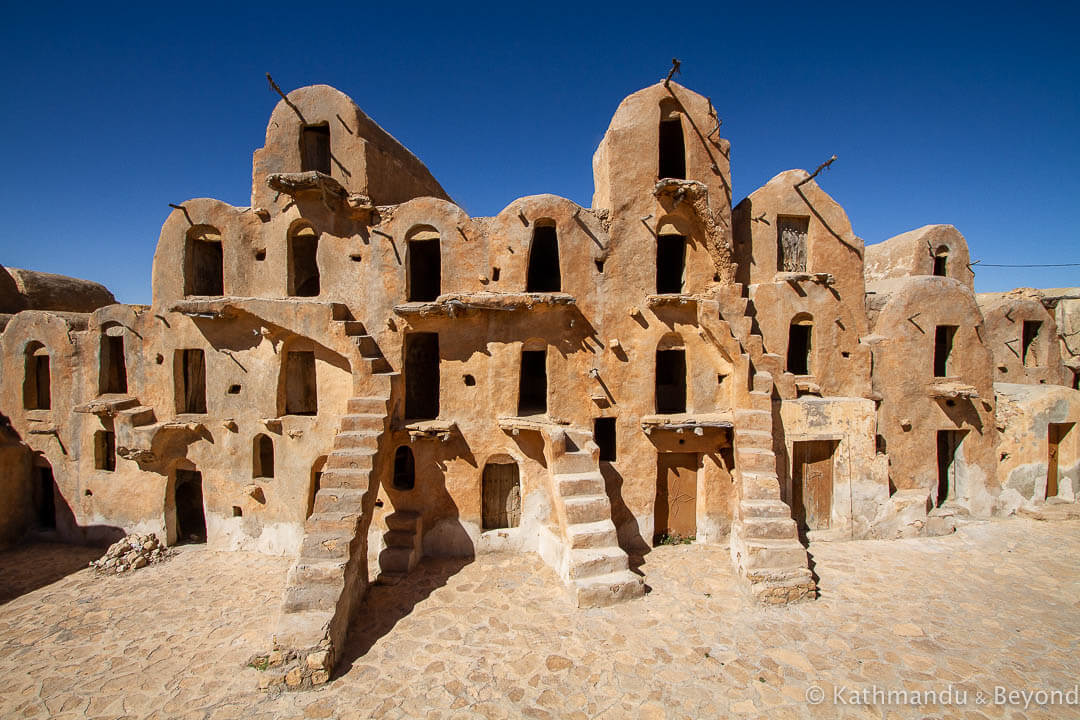 Ksar Ouled Soltane
Abandoned hotels on the island of Djerba
Situated off the coast of Tunisia, and North Africa's largest island, Djerba is generally a great place to visit. The temperatures in spring, which is when we visited, are pleasant during the day, there is plenty of decent and well-priced accommodation on the island and there are even a few bars serving alcohol that are not completely male-dominated and suitable for women. We liked Djerba a lot and could have easily spent longer than the four days we did spend there but our main purposes for visiting the island were twofold: street art (see below) and a bunch of abandoned resorts that we had read about but had little idea of their exact location. With a bit of pre-detective work and an element of luck, we ended up locating four abandoned hotels in Djerba and spent an entire day exploring them. We have written about them in more detail, including more information about why they ended up being abandoned. Click here to find out more.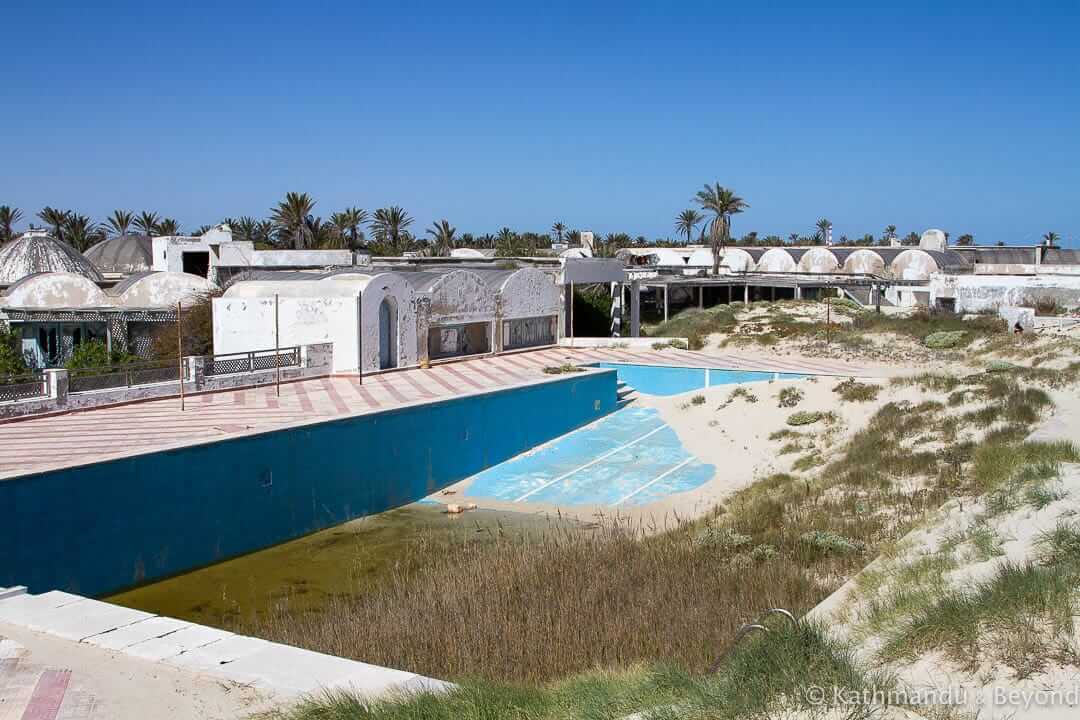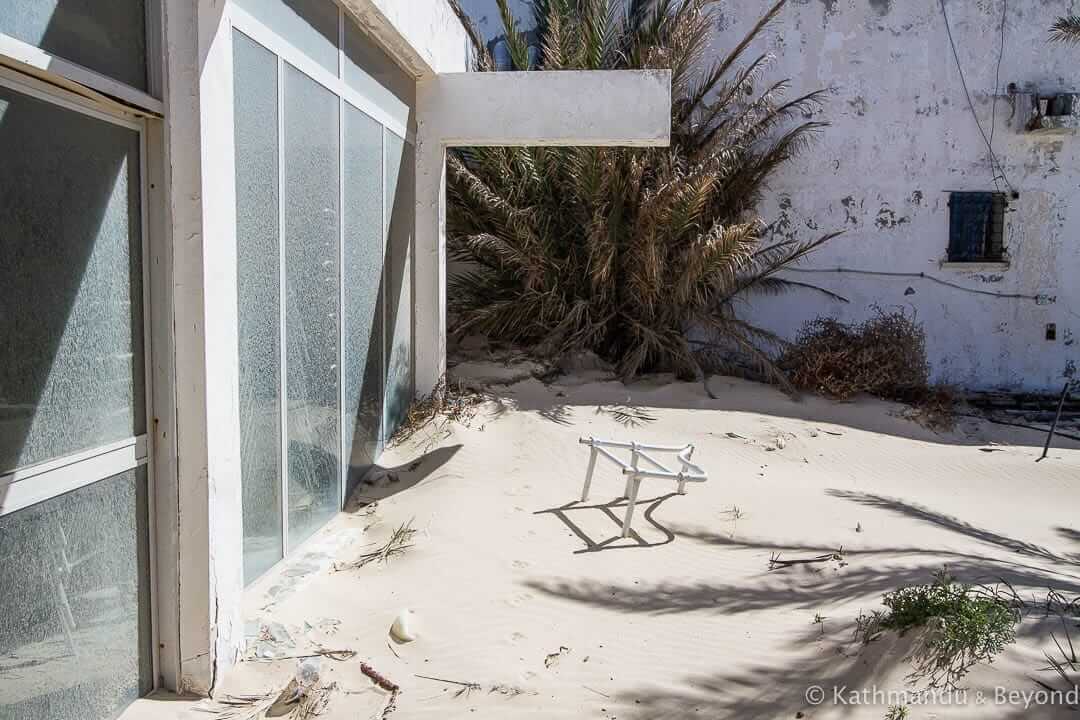 Above: abandoned hotels on the island of Djerba
The Jerid
One of the best experiences we had in Tunisia was visiting the Jerid. Also known as el-Djerid and meaning "Palm Leaf" in Arabic, the Jerid is a semi-desert region in southwestern Tunisia that is famous for its oases, salt pan lakes (chotts) and date palms.
The oasis that we visited (Chebika) was naff and set up for domestic tourists (donkey rides, souvenir stalls, etc.) plus we had to endure a bloody waterfall for half an hour or so (we can't stand waterfalls) but everything else – the epic gorge and abandoned village at Midès, driving across the dunes and the fantastic scenery at every turn – were all brilliant. The city of Tozeur, where we based ourselves in this part of Tunisia, was also a pleasant place with enough to justify a visit even if you don't head out further afield.
Did I also mention that the region is also known for a couple more Star Wars film locations …?
Mos Espa was a port city on the planet of Tatooine in The Phantom Menace (1999) and you are free to explore the now abandoned film set located on the southern edge of Chott Chtihatt Sghat. The other site you can visit is the spectacular Ong Jemel, or "the neck of the camel", which was the inspiration and part-film location for the pod-racing scene in The Phantom Menace. The English Patient (1996) was part-filmed here as well. Ong Jemel was probably the scenic highlight of our entire time in Tunisia.
You need a 4WD vehicle to undertake this trip and for us, it nearly didn't happen because our time in the region coincided with the Tunisian school holidays. We had no issues finding somewhere to stay but every 4WD for miles around was booked out by Tunisian families and we couldn't reserve one for either of the two days we were there. We extended by another day and luckily the receptionist at our hotel managed to find us suitable transport to undertake the excursion.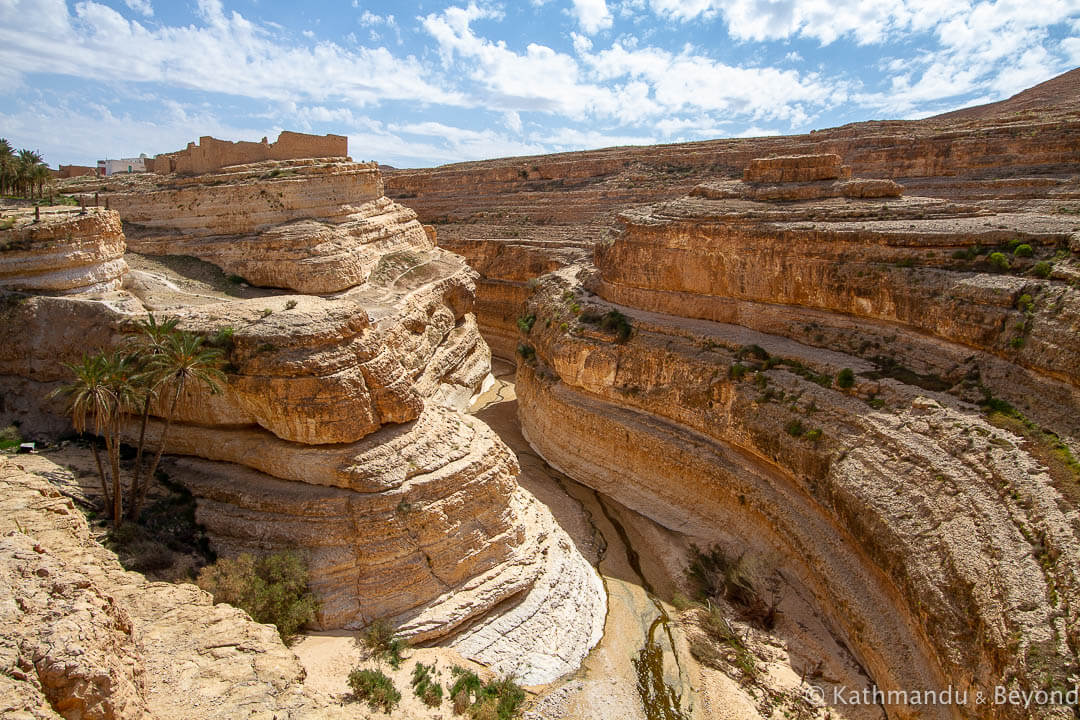 Midès (above), Tozeur (below left) and Mos Espa (below right)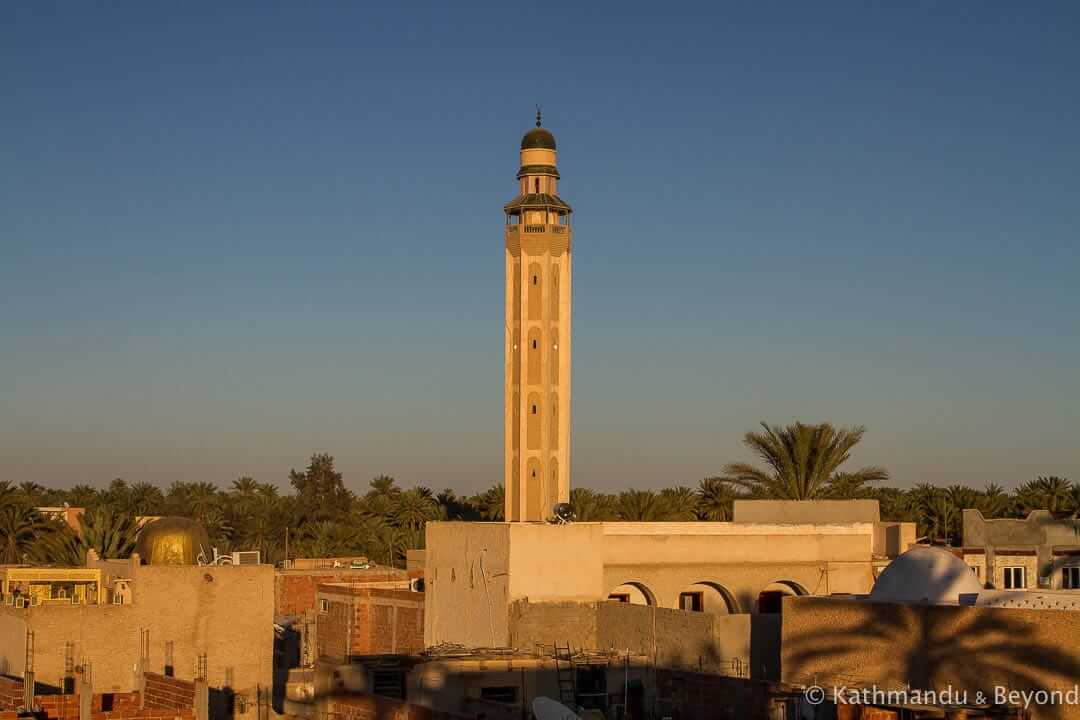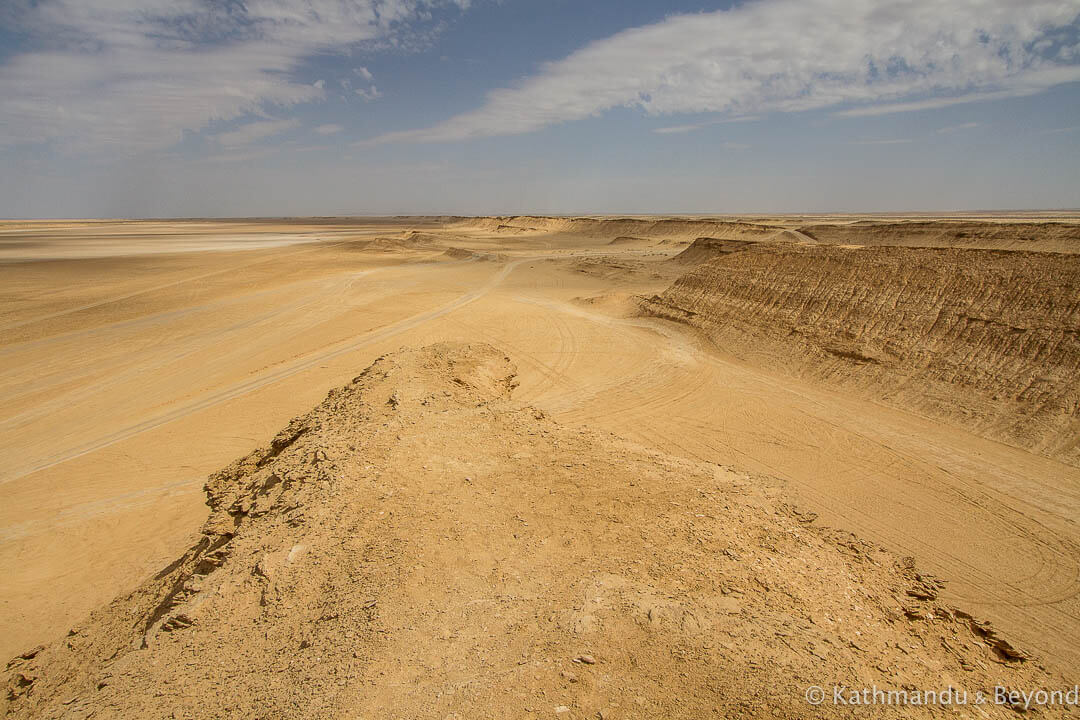 Ong Jemel
Is it safe to visit Tunisia? We intend to cover this in more depth in a future post, however, it is sensible to check the current travel advisory for your home country. We felt completely safe during our visit to Tunisia, however, the UK Foreign Office advice currently warns against travelling to a couple of small regions of the country, generally close to borders. 
Kairouan
We had a serious moment of deja vu when we visited Kairouan, a mid-sized city in central Tunisia. There were two reasons for our sense of "we're sure we've been here before". Firstly, most of the walls in the medina were painted the same baby-blue that you see all over the extremely photogenic Moroccan blue town of Chefchaouen. The other place that sprang to mind after wandering around Kairouan for a bit was the holy city of Konya in Turkey. Like Konya, Kairouan is packed with mosques and mausoleums and is highly revered by Muslims. In fact, Kairouan is so important that it is considered the fourth holiest city in the Islamic world after Mecca, Medina (both in Saudi Arabia) and Jerusalem in Israel.
We had more than our fair share of abysmal weather while we were in Kairouan but culturally it remains one of the most interesting places to visit in Tunisia.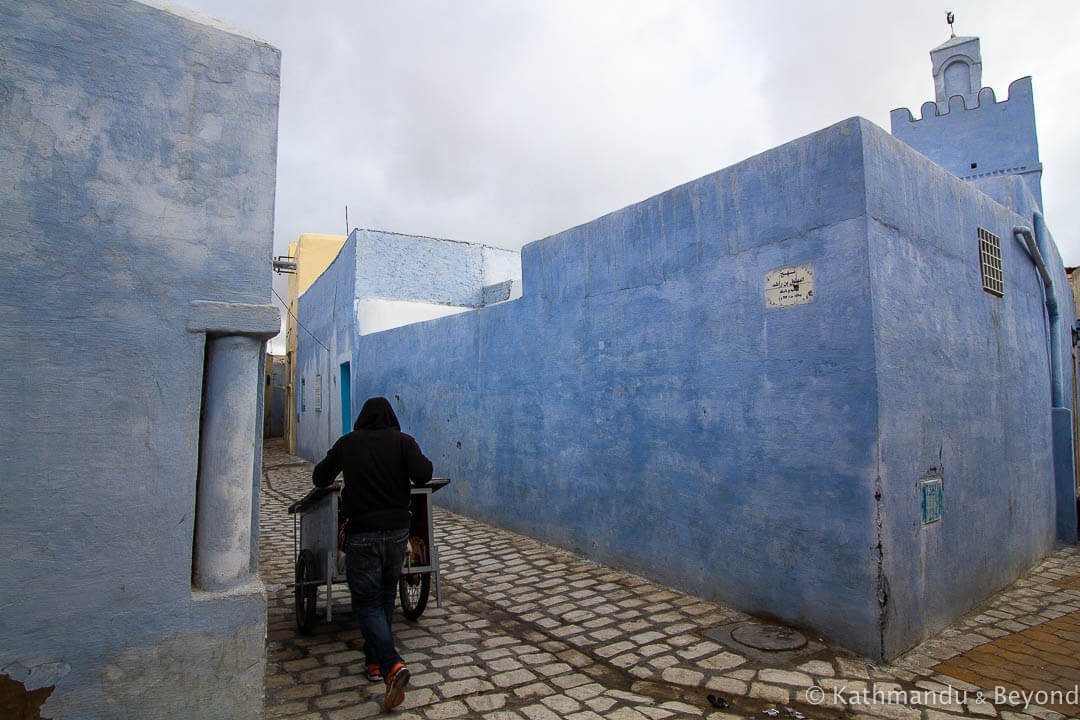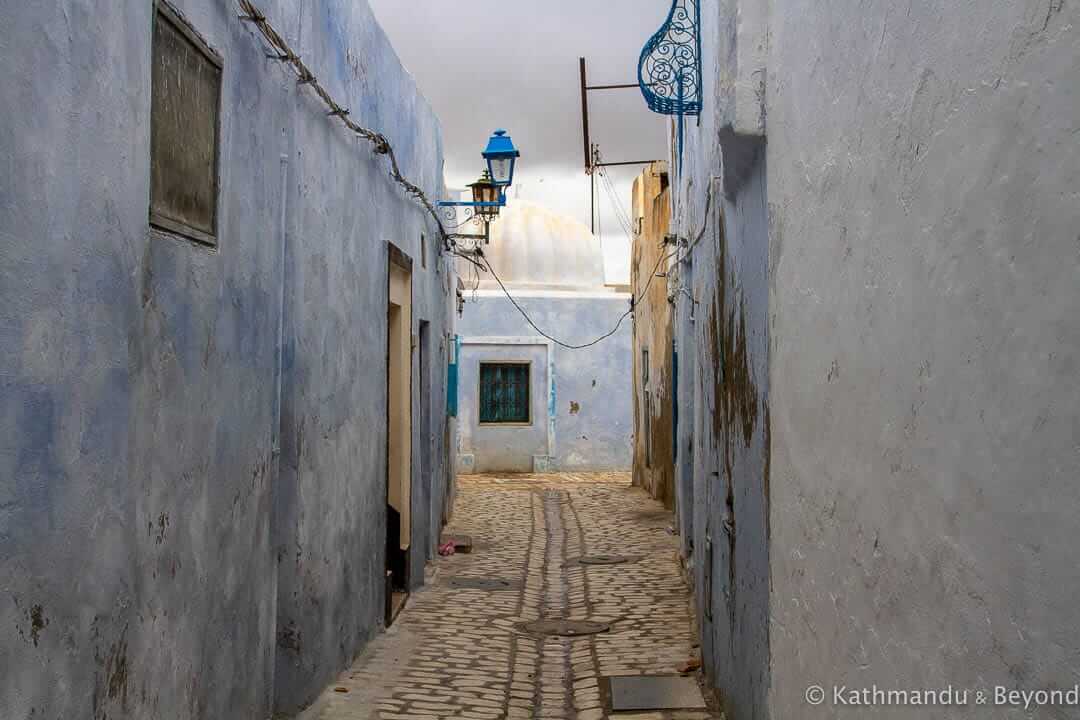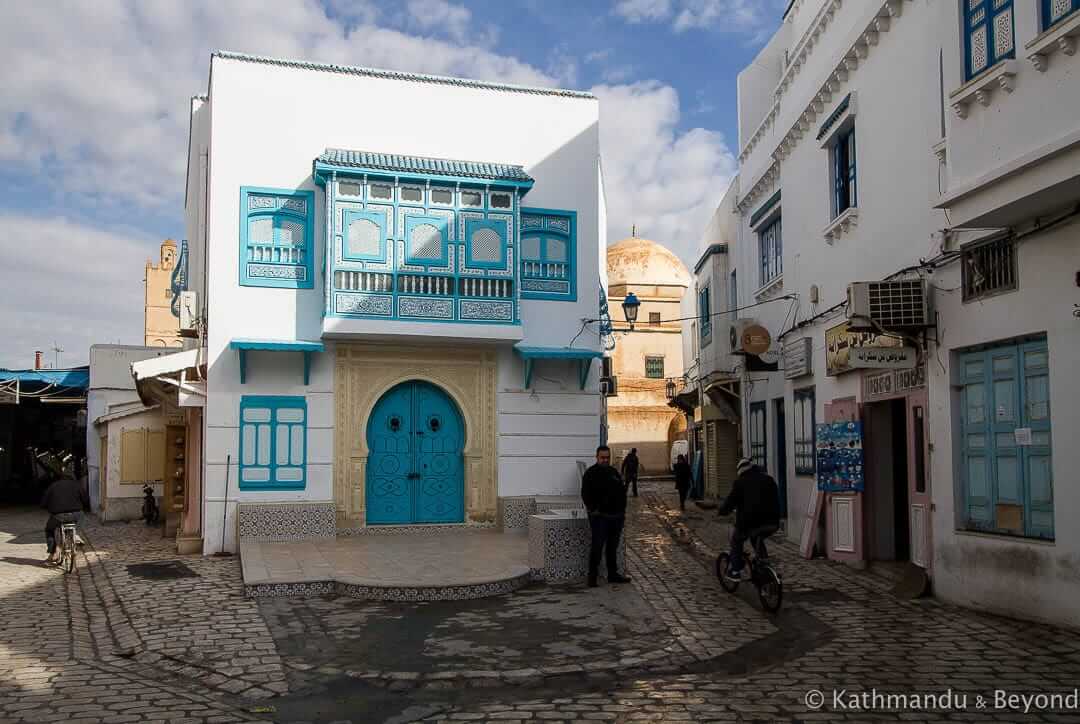 Above: Kairouan
Luke Skywalker
'
s house in Matmata
Troglodyte houses (cave dwellings) are pretty cool at the best of times but when you find out that one, in particular, was used as Luke Skywalker's home in the first Star Wars movie (1977) and, better still, it is now a hotel in which you can stay, that was us sold on the idea of spending the night in it. As mentioned above, the lack of tourists in Tunisia meant that, outside of Tunis, we didn't have to book any accommodation in advance and we assumed it would be the same scenario at the Hotel Sidi Driss, aka Luke's former abode, in Matmata.
Located in southern Tunisia, Matmata is no more than an oversized village and a pretty sleepy one at that but, sod's law, on the day we arrived, the Hotel Sidi Driss was hosting a dance party with DJs from all over Tunisia and the joint was rammed with party-goers. Initially, we were disappointed not to have got in but we soon realised this rave was going to go on all night and we are far too old for that sort shenanigans these days.
We had the bonus of stumbling across an abandoned hotel while wandering around Matmata and we even went to the Sidi Driss party for an hour or so. We arrived nice and early (read no-one there apart from the DJ's warming up) and left as people were arriving in order to return to our accommodation and enjoy a peaceful evening meal.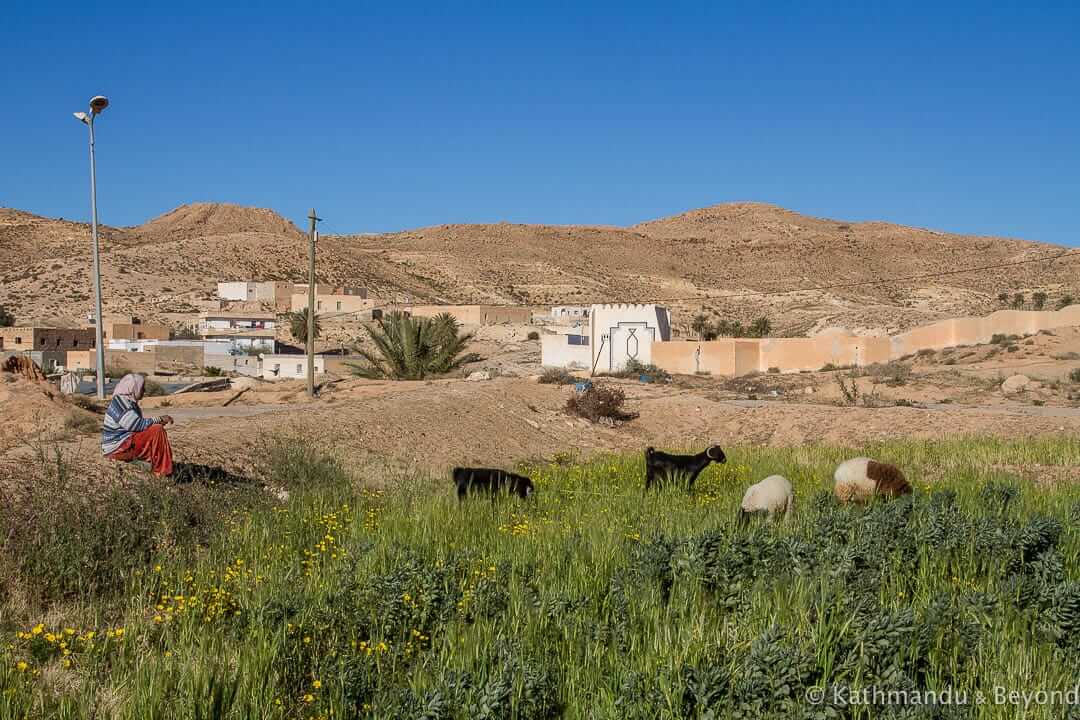 Matmata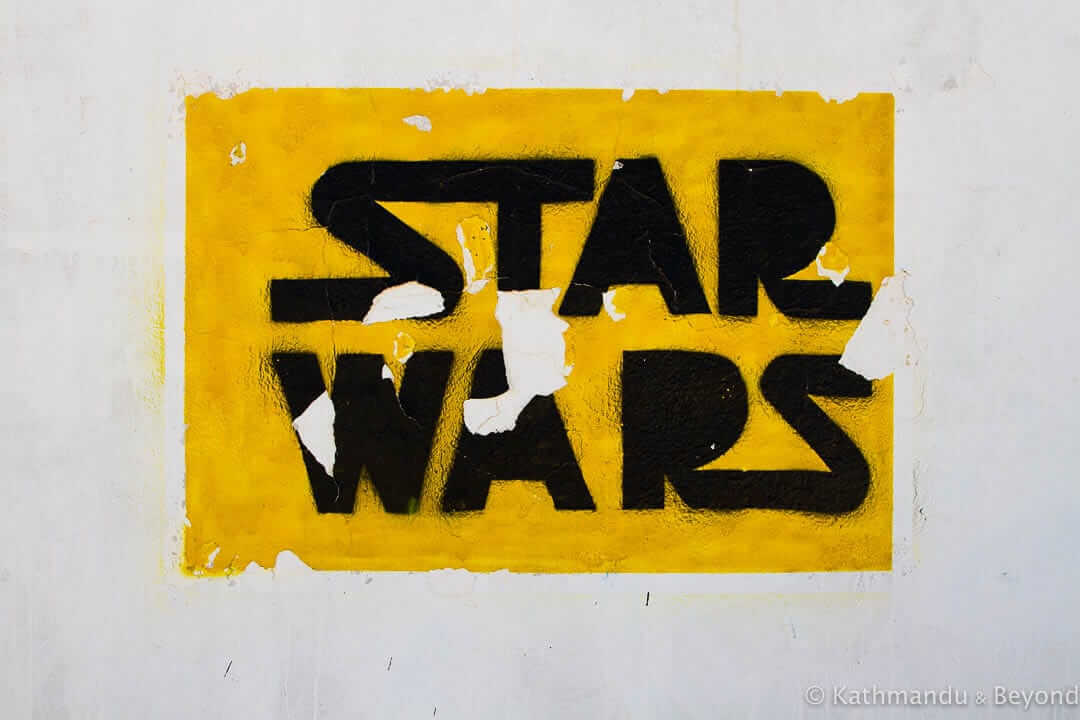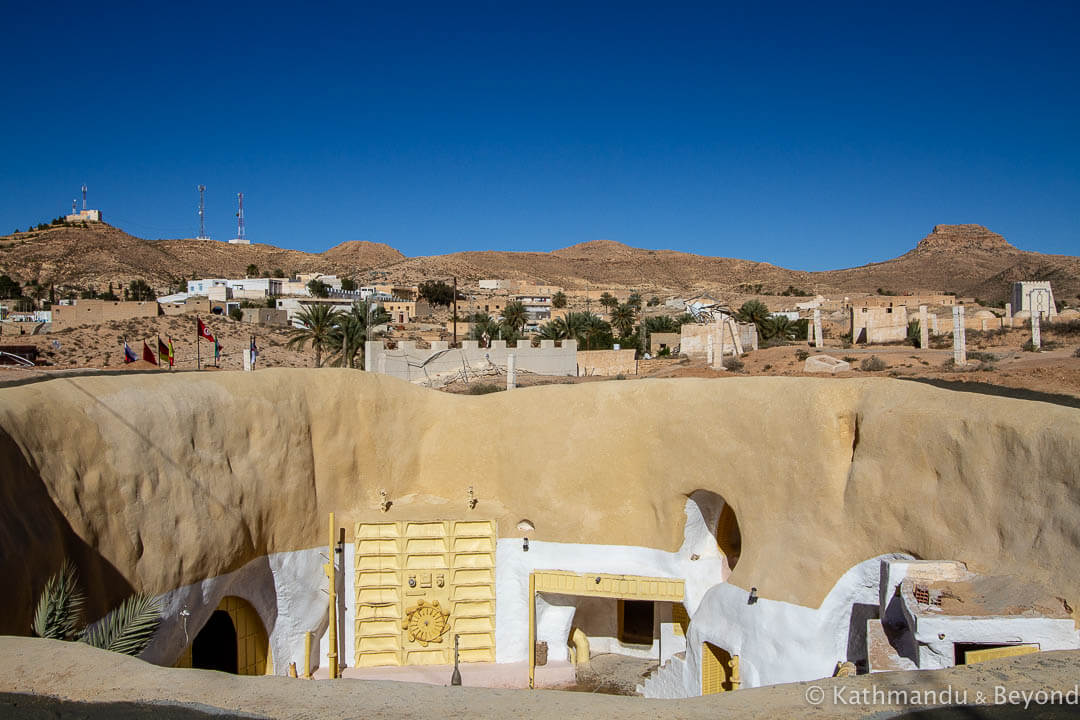 Hotel Sidi Driss
Hotel du Lac, Tunis
Constructed in 1973, Tunis's original top-end hotel is a glorious piece of architectural engineering and extremely brutalist to boot. It has been slated for demolition since its closure in 2000 but has recently received a stay of execution. The hotel's fate is still uncertain, however, and there were workmen onsite when we took this photo so who knows what will happen to it?
I promise this will be the last mention of Star Wars (I'm nearly at the end of the blog anyway!) but there is a suggestion that George Lucas got the inspiration for the Sandcrawler transport vehicle in the 1977 Star Wars film after seeing the Hôtel du Lac. Mind, it has also been said that the Sandcrawler's design is based on NASA's original concept for their Lunar Rover so who knows but, one thing for sure, we would definitely stay at this 1970s classic if it ever opened as a hotel once more!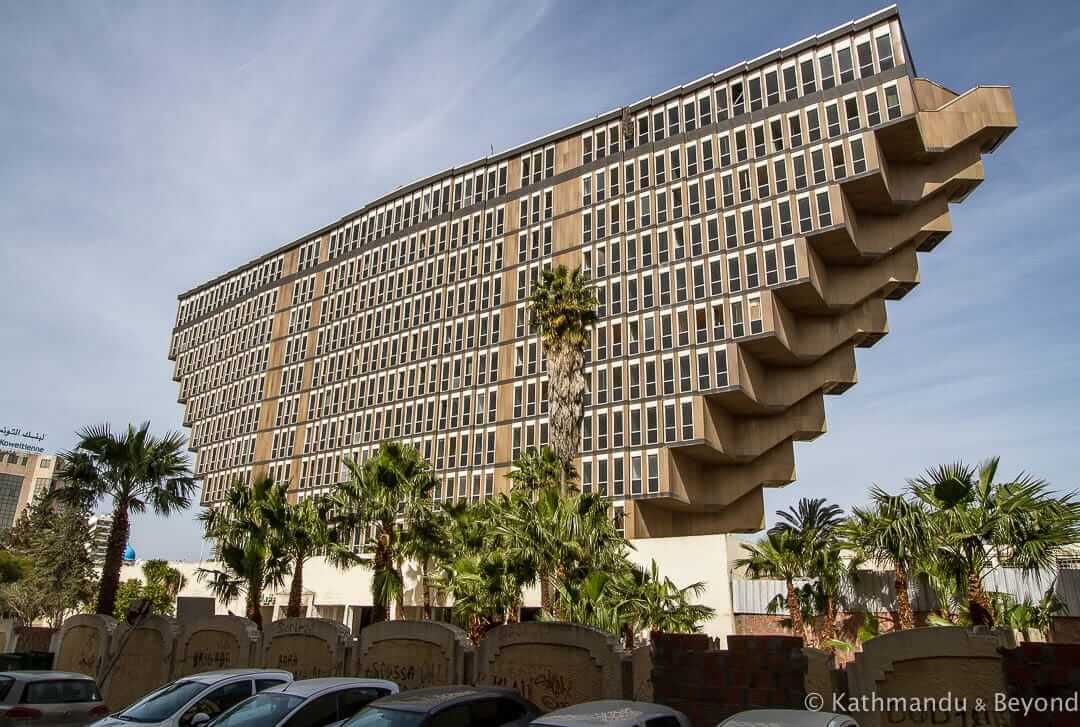 The Hotel du Lac
Street Art
Tunisia is a good place to see street art. There were some bits and bobs in Tunis and also a few pieces in Matmata, some of which were Star Wars related (sorry!) but the best place to see street art in Tunisia is unquestionably the island of Djerba. The small town of Erriadh has given over a high percentage of its whitewashed walls to street art as part of an initiative called Djerbahood in which artists from 30 or so countries have come together to produce approximately 250 pieces of art. The standard is high and it takes quite some time to track them down even though the town is fairly small.
There is also some decent street art in the island's capital, Houmt Souk, and all this urban artwork combined with abandoned hotels out on the coast meant we were pretty busy during our time on the island.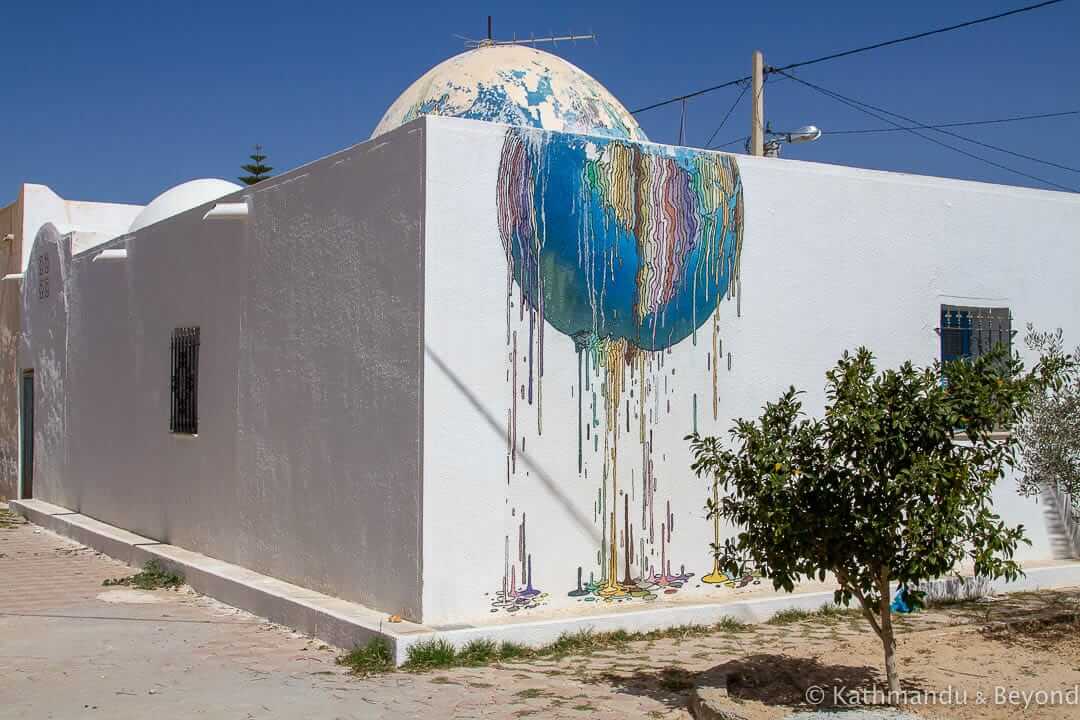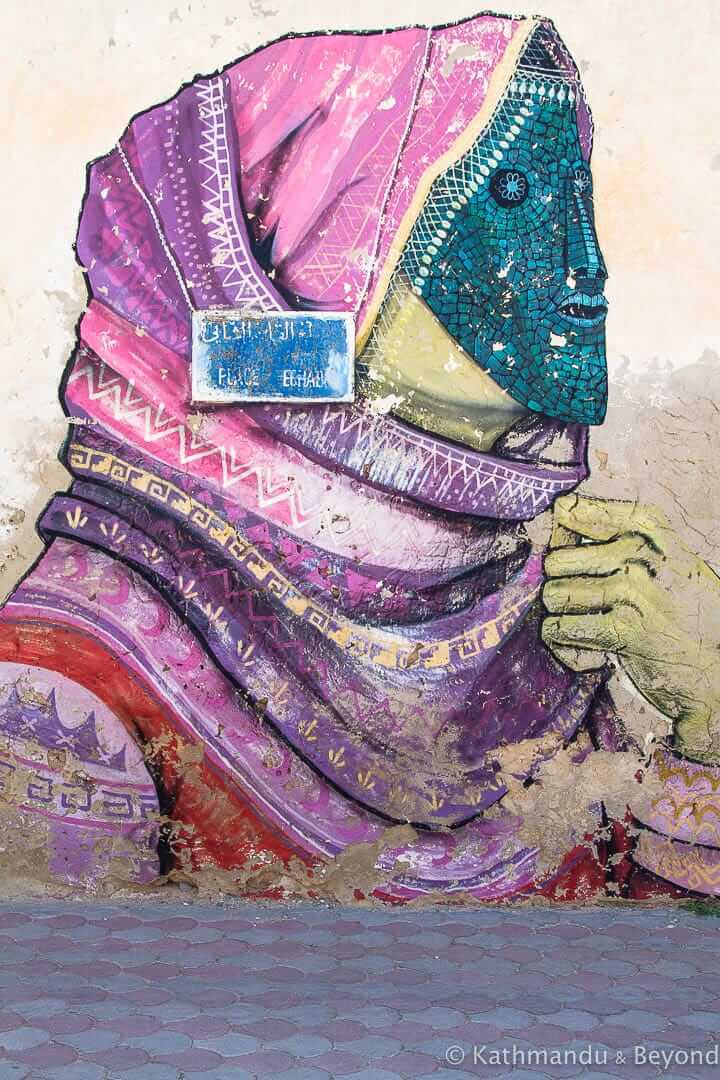 Street art on Djerba
Mahdia
We visited a couple of towns on Tunisia's east coast, including Sousse, Monastir and Sfax. Apart from Habib Bourguiba's impressive mausoleum, which is located in Monastir, none of these places were that memorable but the one place by the sea that we did like was Mahdia. With the old part of the city jutting out on a narrow peninsula, you can take a pleasant coastal walk around it in a leisurely two hours or so. The setting is lovely and there are plenty of whitewashed houses and clifftop views of the Mediterranean to occupy you along the route as well as a fortress, a small harbour, and an atmospheric cemetery. All in all, it is a decent place to spend the night and we also happened to have the best fish lunch while in Mahdia for next to nothing, which made a pleasant change from chicken and chips!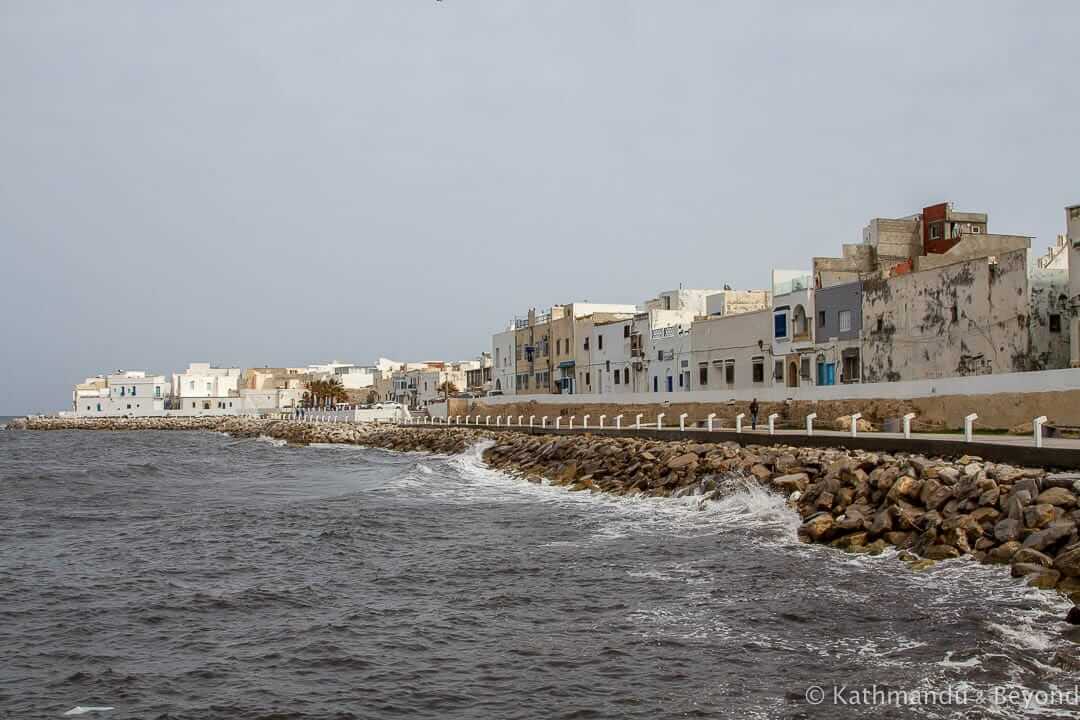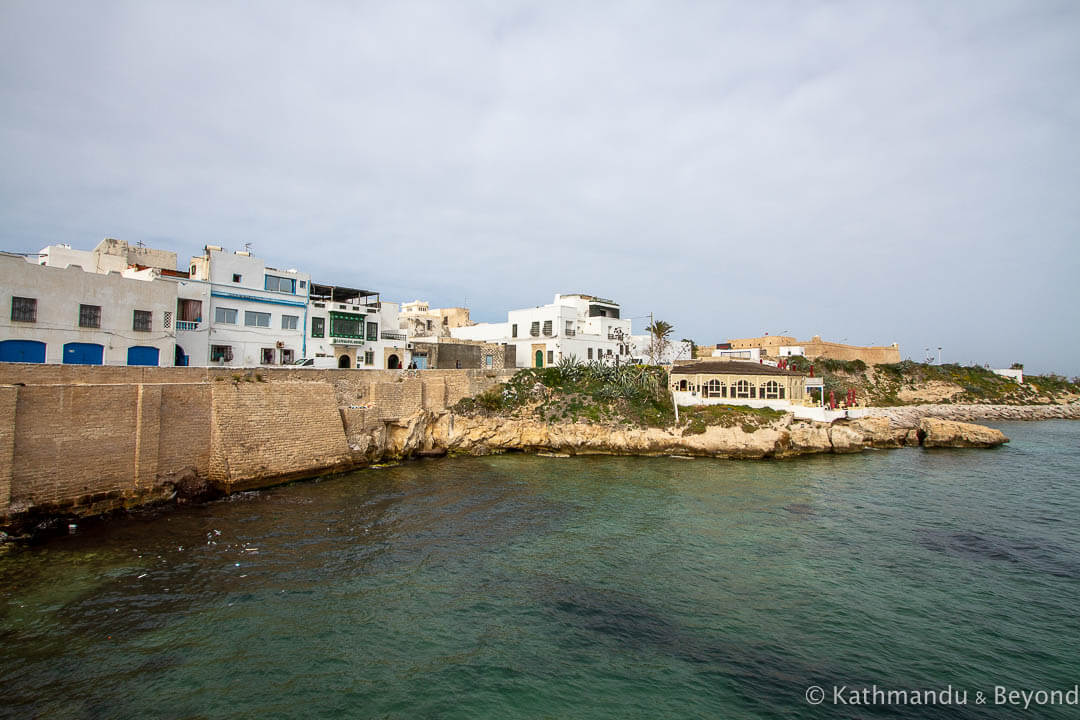 Above: Mahdia
Places to visit in Tunisia mapped out
---
We hope this guide has given you some ideas on which places to visit in Tunisia. If you enjoyed the post, please share it…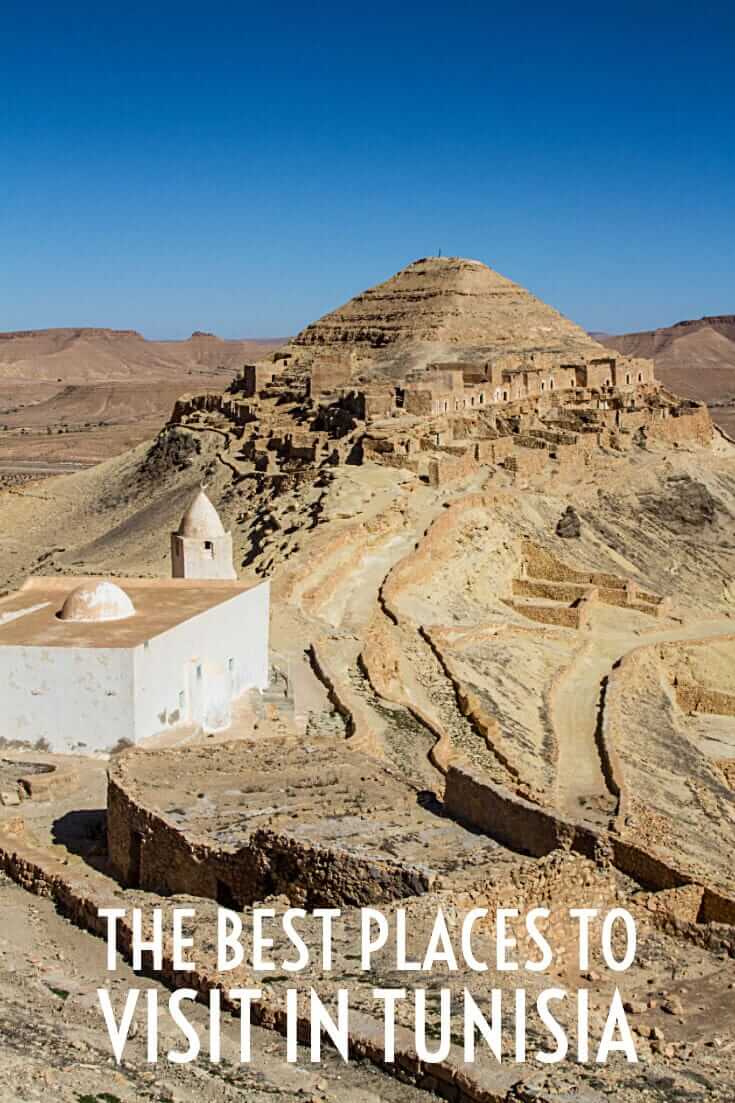 ---
---