A guide to visiting Tunisia as an independent traveller – travel tips, advice and what to expect
We spent three weeks backpacking in Tunisia in March 2019 and, although we really enjoyed our time there, we're only just getting around to writing about this highly underrated North African gem in detail. A short time ago, we published a photo-heavy post and now, based on our experience, we've put together a Tunisia travel guide aimed at independent travellers and backpackers.
Little-visited Tunisia has lots to offer the independent traveller – compelling and varied attractions; it's generally easy to get around by public transport; and the cost of accommodation, transport and food is low. The people were incredibly friendly and helpful and we found travelling in Tunisia generally a hassle-free experience.
Whilst researching travel to Tunisia we found very little up-to-date information both on and offline – this post includes all the information we couldn't find before our trip along with lots of helpful tips.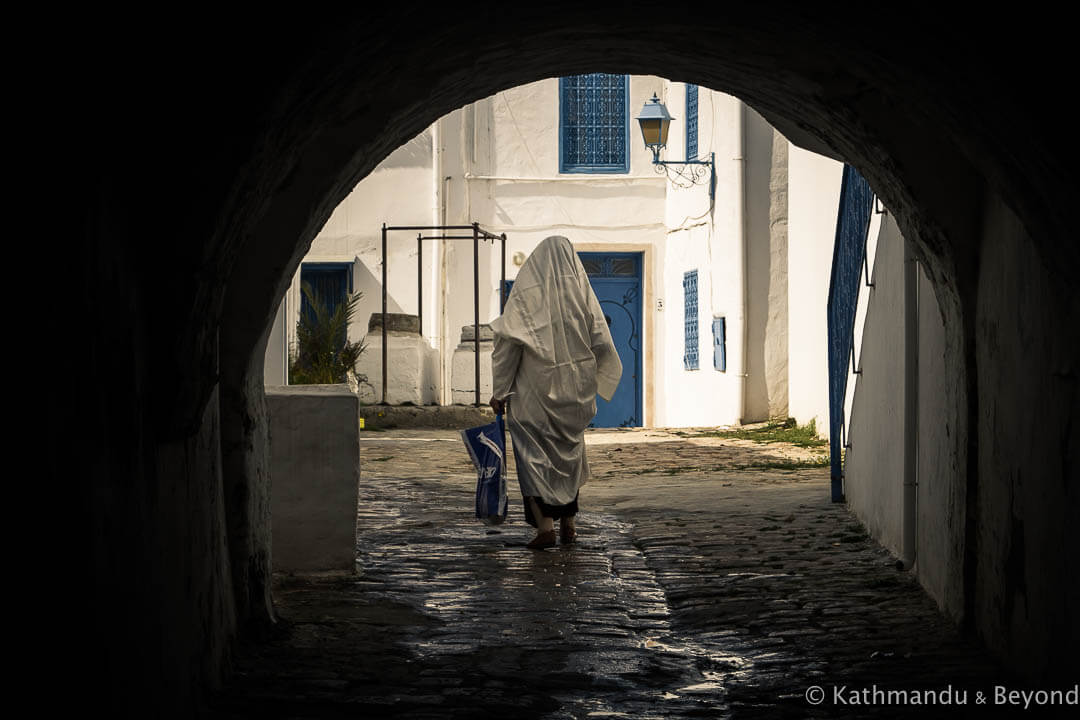 Where is Tunisia?
Tunisia is the smallest country in North Africa with the Mediterranean Sea on one side and the Sahara Desert to the other. It shares borders with Algeria and Libya, and the Mediterranean islands of Sardinia and Sicily lie just to the north and north-east respectively. From top to bottom, it's a little under 800 kilometres (roughly the distance from Brighton to Inverness, or San Fransisco to Tijuana).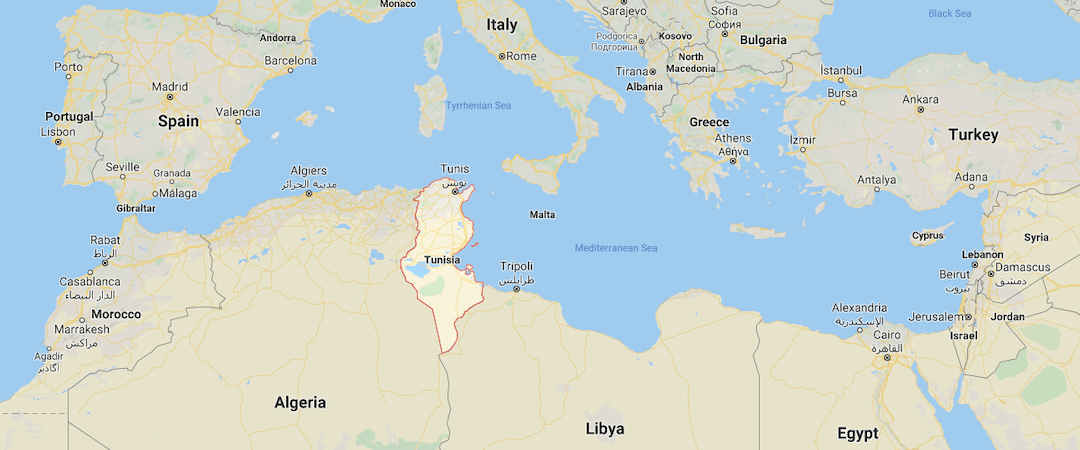 Why visit Tunisia?
Why should you visit Tunisia? In short, because it's a diverse country with plenty to see and friendly people. Tunisia has eight UNESCO World Heritage Sites and history-lovers, especially fans of Roman ruins, will be in their element: as will fans of Star Wars! Tunisia is easy to get around by public transport and it's also good value for money – budget accommodation and cheap eats are easy to find. One big plus for us was that the lack of other backpackers and tourists made us feel as if we were off-the-beaten-track for most of our three weeks in Tunisia. What's more, the Tunisians themselves were very polite and pleasant, and always helpful.
Tunisia is on a lot of places to visit in 2020 lists including Lonely Planet's 'Best in Travel' list of best-value destinations so our advice is to travel there whilst it's still on the road less travelled (which will, of course, make it more travelled but you get my point?).
Highlights of Tunisia and where to go
We've covered what we think are the best places to visit in Tunisia in a separate post which is full of photos that speak louder than words.
In summary, our Tunisia highlights were the Roman (and other) ruins, Ksour Country, and the Sahara Desert. And going to a rave at Luke Skywalker's troglodyte house but that's another story!
We liked Tunis more than we were expecting. The historic part of town, the medina, is a hassle-free experience compared to what it can be in places like Marrakech or Fez in Morocco. It's not as easy to get lost in Tunis Medina but if you're in a hurry it can be a tad confusing. In Morocco, there is a tendency to get medina'd out but we didn't feel like that in Tunisia, probably because the other places we visited were so varied. Another Medina town we could have happily spent more time in was Kairouan.
Tunisia's archaeological sites are an unquestionable highlight and you could plan your entire trip around them. Dougga and El Djem were our favourites.
Djerba Island is another not-to-be-missed place in Tunisia. Most visitors go there for the beach but we focussed on alternative sights! We did walk along the beach in search of abandoned resorts and hotels, and we also spent time street art hunting in the white-washed village of Erriadh, known as Djerbahood after a street art event added splashes of colour.
One particularly scenic part of Tunisia is Ksour Country. Made up of the villages and landscapes around Tataouine, this area is spectacular and although there is almost no public transport, a taxi was very affordable and worth the money.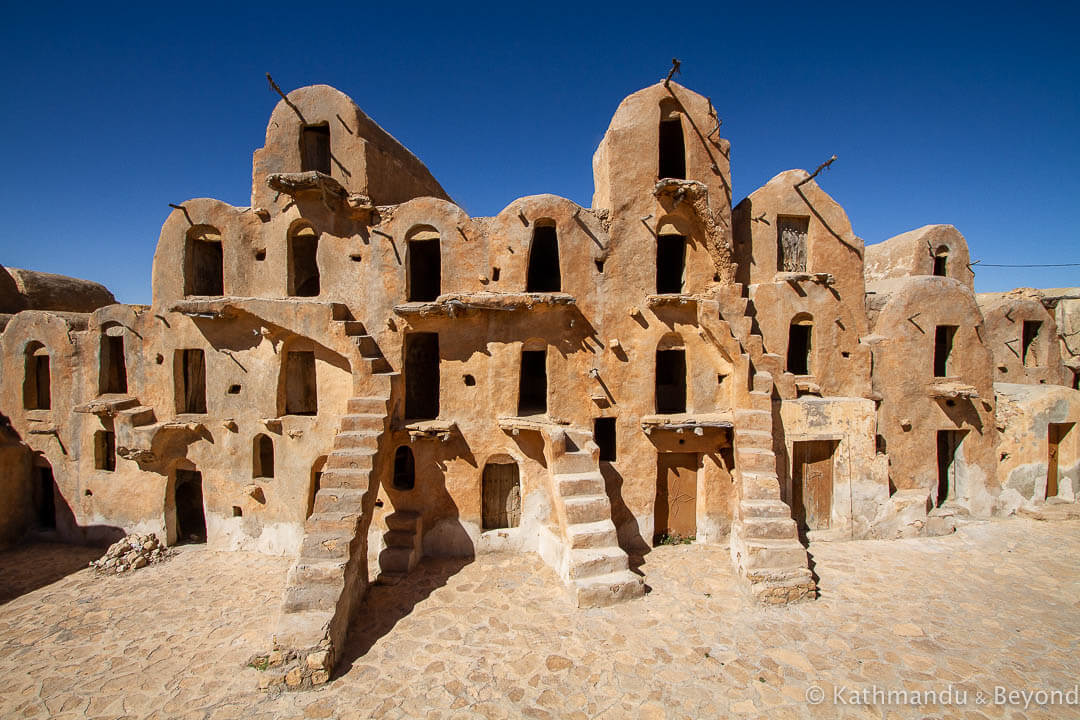 Ksar Ouled Soltane,Tataouine
Getting to Tunisia
Tunisia is not as cheap to get to as nearby Morocco which is awash with cheap flights courtesy of low-cost carriers like Ryanair, easyJet and Vueling. The cheapest flight to Tunis we found from the UK was Air France via Paris (although Alitalia was similarly priced). The national carrier, Tunis Air, is also worth checking out.
If you're travelling from Europe during the summer months, it's also worth considering the charter flights to airports near resort towns such as Enfida-Hammamet and Monastir. Although since the demise of Thomas Cook, charter options for 2020 and onwards may be more limited.
Travellers from outside of Europe will probably find Air France, Alitalia, Lufthansa and Turkish Airlines have the best prices and most convenient routes.
An interesting way to arrive in Tunisia would be by ferry from either France or Italy. The main seaport in Tunisia is La Goulette which is approximately 10 kilometres from downtown Tunis. The shortest crossing (minimum 10 hours depending on weather conditions) is the route between Palermo in Sicily and Tunis, operated a couple of times a week by Grimaldi Lines ferry company. https://www.grimaldi-lines.com/en/ From France, it's possible to take the ferry from Marseilles to Tunis three times a week.
Crossing land borders with Tunisia
Once upon a time, the overland journey from Morocco through Tunisia, Algeria and Libya to Egypt would have been a fantastic trip. Hopefully, one day in the future, it will be again, but sadly today's political climate makes it impossible for most travellers because, if you follow travel advisories, the land border crossing from Tunisia to either neighbouring country of Libya or Algeria is out of bounds.
Tunisia-Algeria border
If you do decide to attempt the border crossing from Tunisia to Algeria, the border east of Tabarka on Tunisia's northern Mediterranean coast is officially open and it is possible to take a shared taxi between cities on each side. Note though that the current (2020) UK Foreign and Commonwealth Office (FCO) travel advice is to stay clear of the border on the Algerian side.
Tunisia-Libya border
The border between Tunisia and Libya is often closed without warning due to ongoing disputes between the two countries. Although it may be possible to cross this border as a tourist, the UK FCO has advised against all travel to Libya consistently since 2014. We suspect these travel advisories are the same for most nationalities but do check.
Best time to visit Tunisia
Assuming you are visiting Tunisia for cultural reasons rather than to sit on the beach, the best months to visit Tunisia are from March to June and between September and October. July and August are the high season months at the beach resorts but temperatures in the Sahara are stifling at this time. We visited Tunisia in March and, generally, the weather was warm and sunny during the day (although we did have a couple of wet and windy days on the coast). However, at night the temperature dropped and it got quite cold in some places. You might need your hooded Obi-Wan Kenobi desert coat!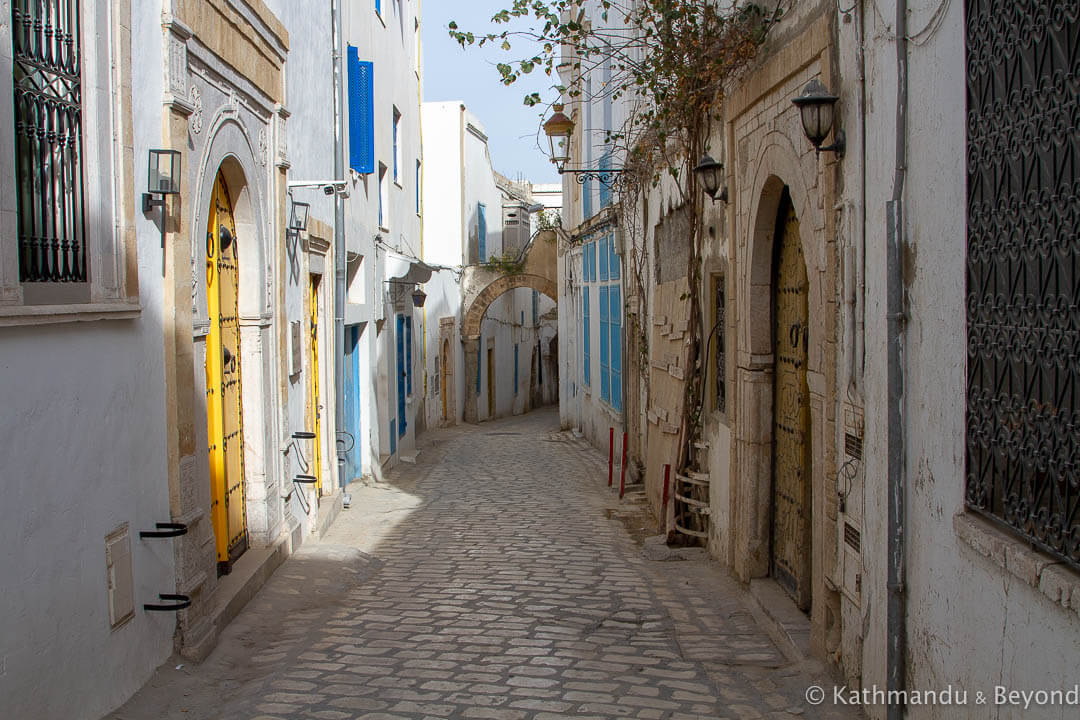 Tunis media
Travelling in Tunisia during Ramadan
There is no reason not to visit Tunisia during Ramadan; you just need to be aware that some facilities and services (see below) may operate a little differently during this time. Although we've not travelled in Tunisia during Ramadan, we have experienced it in other Muslim countries. Don't let it put you off. Just be aware and accept you may need to be a little more prepared.
In 2020, the month-long Muslim holy festival of Ramadan will begin in the evening of Thursday, April 23 and end at sunset on Saturday, May 23 (subject to confirmation as the dates are based on the lunar calendar). Considered to be the holiest time in the Islamic calendar, as part of the act of cleansing, practising Muslims will fast from sunrise to sunset. Although non-Muslims are not expected to fast, out of cultural respect you should avoid eating and drinking in public during daylight hours.
Local restaurants tend to be closed until around sunset although those that cater for tourists in resort areas generally operate as normal. At Iftar (the evening meal that breaks the daily fast), you'll find streets eerily deserted (taxis and public transport will be scarce too) as friends and family gather to eat together. If you're travelling any distance, be sure to make an early start as public transport sometimes operates on a different schedule and there is much less activity in the afternoons. Tourist sites and museums should be open as normal.
Arriving in Tunisia
Visa regulations
Citizens of just under one hundred countries don't need to obtain a visa in advance for visiting Tunisia as a tourist. British, US, Australian and most EU passport holders don't require a visa for visits of up to three months and the arrival procedure is usually a straightforward process of stamping your passport. If you need to check what nationalities do require a visa to visit Tunisia, take a look at this guide.
How to get from Tunis Airport to the City Centre
Downtown Tunis is approximately 7 kilometres from Tunis-Carthage International Airport and is connected to the city centre by public transport. Usually, when arriving in a new country we will do everything possible to avoid the airport taxi bandits, but metered taxis in Tunisia are so cheap we decided to brave one.
To avoid being ripped off too much we did what we do at most airports and headed to the departures drop off area to grab a taxi returning to the city. Everyone else had the same idea and the few taxis that did come by were swiftly nabbed by locals so we decided to walk to the main road outside the airport and try and get one there. The fare was 7 dinar including luggage which was more expensive than the bus which costs around a dinar, but was worth it. Note that if you take a taxi after 9pm there is a 50% surcharge.
If you opt for public transport, bus #35 leaves the airport every 40 minutes and terminates at Tunis Marine train station on Avenue Habib Bourguiba in the city centre. If you are staying in the Medina, your accommodation will be between 1½ and 2½ kilometres from there (another reason we chose to take a taxi from the airport).
What to wear in Tunisia
Although Tunisia is a Muslim country, dress regulation is fairly relaxed and provided you dress modestly, you won't feel out of place. Around the beach resorts, shorts and sleeveless tops are tolerated but in more conservative areas, skimpy dressing is likely to draw unwanted attention to yourself. Avoid very strappy tops or those with a low neckline, and above-the-knee shorts. Some Tunisian women wear a headscarf, but many do not, particularly in and around Tunis where you'll also see young women in fitted jeans and tops.
For women travelling to Tunisia, I would suggest you'll feel most comfortable in a long skirt, trousers, well below the knee shorts or capri pants. Tunisian men generally wear long trousers and short shorts are seen as attire for young boys. Although the locals may think an adult man in shorts looks a bit strange, they are unlikely to be offended. During Ramadan, both men and women should be especially mindful of dressing modestly.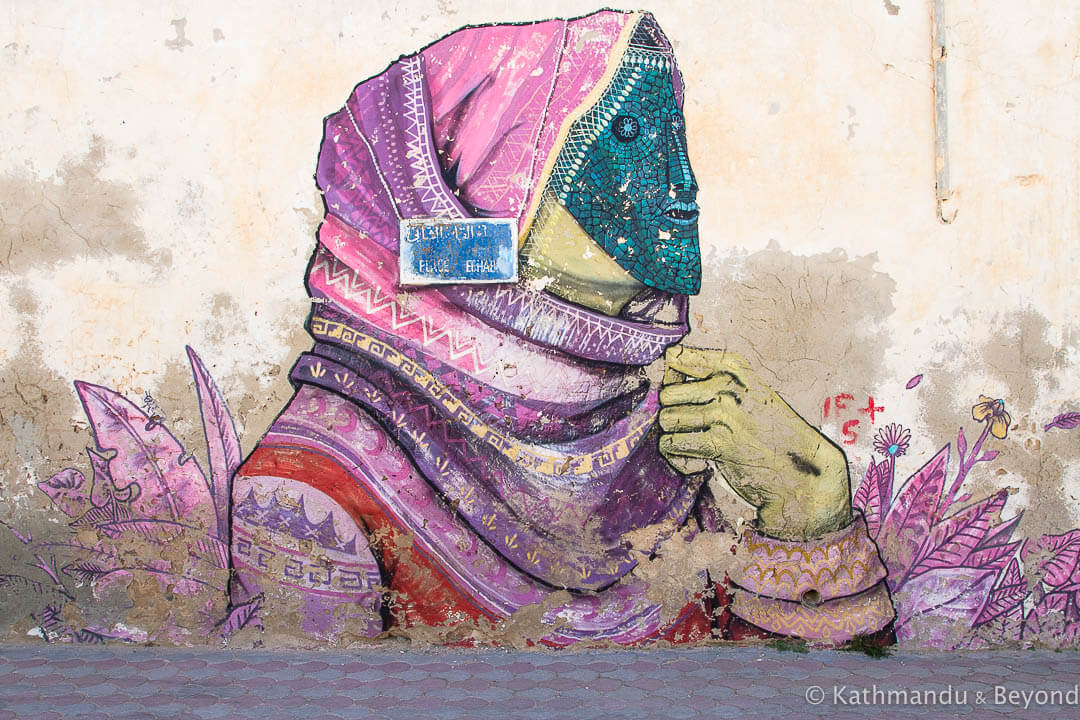 Djerbahood, Erriadh on Djerba island
Is it safe to visit Tunisia?
For various reasons, with personal safety and threats of terrorism no doubt being two of the most compelling, Tunisia sees far fewer visitors than Morocco, to which it is often compared. To some degree, personal safety is an issue in every country the world over, and there is a threat from terrorism in any country which either has an Islamic extremism presence or is a target for fanatics. The most recent terror attack in Tunisia was in Tunis in June 2019, just a couple of months after our visit, and four years after the June 2015 Port El Kantaoui Sousse attacks, but we can only go by personal experience and say that throughout our time in Tunisia we didn't have any cause for concern.
The flip side of the coin is that we saw very few other tourists during our time in Tunisia. Those we did see were either resort-based holidaymakers or coach parties whirl-winding their way from one major sight to the next. We could count the number of backpackers we encountered on one hand. This low demand for accommodation meant that, apart from Tunis, we never booked a hotel or guesthouse in advance and, more importantly, we had many of Tunisia's premier attractions completely to ourselves. It was old-school-style travelling and we enjoyed it very much!
Because of safety concerns and FCO travel advice, tourism in the Islamic world is often up and down like a yo-yo and a downturn can go one of two ways. Either those who make a living from tourism become desperate for your business and therefore pushy and annoying, or they see it as a positive that you are visiting their country and are therefore genuinely pleased to see you and don't hassle in the slightest. Thankfully, in Tunisia, we experienced the latter. Of course, vendors in the souks did try to sell us things but when we declined, they didn't persist, follow or bother us (hello Marrakech!). We are also fairly certain that we didn't get ripped off financially for anything either. I know this is a bold statement but taxi drivers always used their meter, entrance fees were clearly marked, and we paid the same as locals in restaurants and on public transport. The longer we stayed in the country, the more our senses told us that the Tunisians weren't out to nickel and dime us or otherwise rip us off. After about a week of being in the country, we stopped asking what things cost in advance.
There isn't a lot of street crime in Tunisia but use your common sense in busy places like bus stations and souks and keep personal belongings in bags with zippers with straps that go across your body.
Prices are quoted in Tunisian dinar (TND). As a guide, in March 2020, 1 TND = 27 £ pence / 31 € cents / 36 US cents.
Travelling around Tunisia
Backpacking in Tunisia and travelling by public transport is fairly easy. It's also cheap – we spent three weeks travelling around Tunisia and our average daily transport cost was 8 dinar each (not including taxis we hired for full-day excursions).
Public transport connects towns and cities by bus, train or louage. If you're a frequent reader of our posts, you'll have seen us talk about marshrukta in relation to our travels in the former Soviet Union. A louage is the Tunisian equivalent – a shared long-distance taxi, often a minivan. Unlike many shared taxis we've experienced around the world, Tunisian louages don't cram passengers in like sardines.
Where available, train travel in Tunisia is comfortable and cheap. Trains can be a little slow and unfortunately, the rail network is largely limited to the coast. The Man in Seat 61 has more details.
In Tunis, the tram network, called the 'metro leger' is a convenient form of public transport to use around the city. Buy your ticket from the small booth next to the stop. As we mentioned, taxis are extremely affordable – just make sure the driver uses the meter.
Accommodation in Tunisia – Where to stay
For reasons we still can't fathom, Tunisia is not a popular backpacking destination. It therefore follows that there aren't many hostels or guest-houses geared to budget travellers. It was especially hard to find a cheap place within our ideal budget in Tunis and we were grateful to have the financial flexibility to up our spend when needed. Travellers on a more mid-range budget will find some good value places to stay.
Do you need to book accommodation in advance?
The short answer is no, generally not unless it's during a big Tunisian public holiday. However, for convenience and to avoid getting lost in the medina on your first day, I'd suggest at least pre-booking your first couple of nights' accommodation in Tunis. As a rule, if you're comfortable travelling old school, you'll probably save a little money booking accommodation as you go.
Much as I would love you to use the links on our travel resources page to make all of your travel bookings, it would be disingenuous not to mention that, in our experience, Tunisia is one of those countries where budget hotels and guesthouses are much cheaper if, rather than booking online, you rock up as a walk-in (you know, like us oldie travellers used to do all the time before booking.com and the like changed the way we all travel). Over the years, we've found that often the online rate is similar (or lower) than what we're quoted if we just turn up. However, a few countries elevate their online rates so the commission they pay to the booking platform does not impact their revenue. We got the impression that this is the case with Tunisia.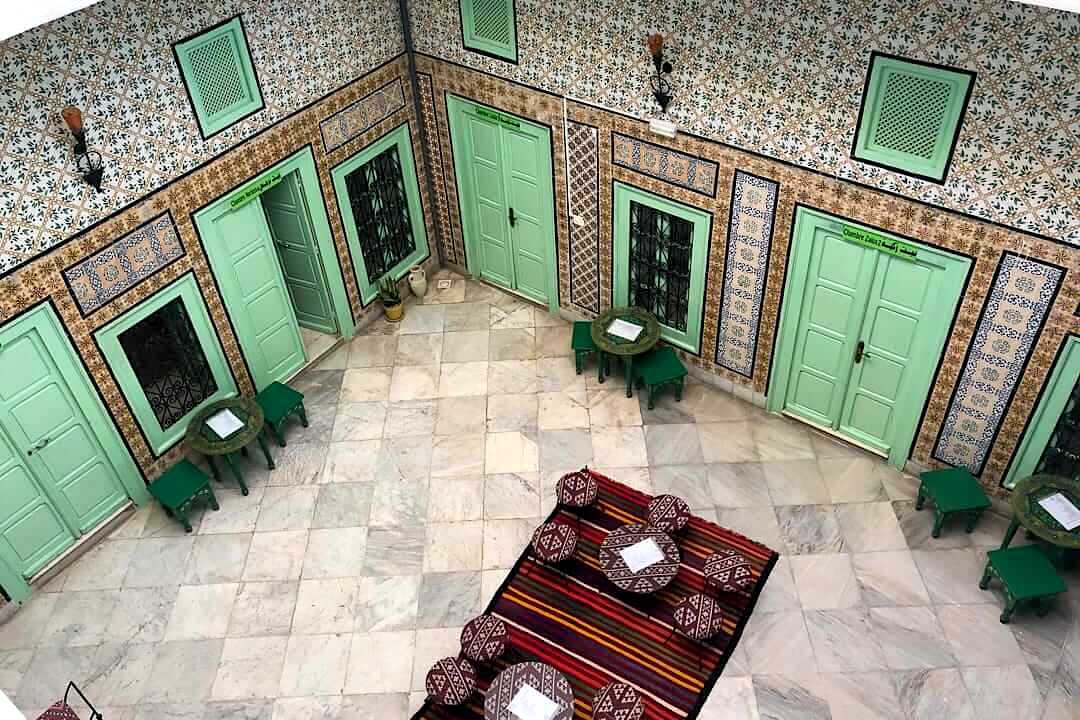 Dar Ya Hostel, Tunis
Suggested places to stay in Tunisia
These are the places we stayed in whilst backpacking Tunisia. We've quoted the rate that we paid but the properties may have cheaper rooms (i.e. shared bathrooms, internal windows, no air-conditioning). If you are travelling independently to Tunisia and have more of a flashpacker or mid-range budget, we've mentioned a few places that we either stayed at or looked over.
Tunis
In Tunis, we stayed at the Dar Ya hostel, located on the northern side of the Medina in a traditional Tunisian building (dar is the Tunisian equivalent of a Moroccan riad). Initially, we baulked at the (relatively) high cost of a room with a shared bathroom but we came to realise it was a good deal and would recommend it to others. The nightly rate averaged 90 dinar and included a good breakfast. The hostel also has a couple of dorm rooms. Staff were friendly and spoke good English. On reflection, it was one of the best places we stayed in Tunisia.
If you're looking for something mid-range take a look at the characterful Hotel Dar el Medina or savour a bit of Tunisian kitsch at the Royal Victoria Hotel. Alternatively, splash out and sleep in style at Palais Bayram.
Sousse
We stayed in Sousse twice. The first time, we stayed at Hotel Paris, which has a good location on the edge of the medina. It was simple but clean and the staff were friendly. The rooms are set around a courtyard and the rooftop rooms benefit from a large terrace area. Our room was small but it was fine for a couple of nights. We opted for a room with a private bathroom (which cost us TND 47) but they also have rooms with shared bathroom for half the price. For solo travellers, the Hotel Paris also has very cheap single rooms.
During our second stay in Sousse, we stayed at the Hotel Le Medina and paid TND 70 for a double room including breakfast. A hotel rather than a guesthouse, the Le Medina provided a few more creature comforts than the Hotel Paris although it was far from luxurious.
For a mid-range dar, check out Dar Baaziz and for something more luxurious take a look at Dar Antonio.
Mahdia
There isn't much budget accommodation in the old part of Mahdia. One of the places I had earmarked was either permanently closed or closed for renovation, we couldn't work out which, so we ended up at the Hotel Al Jazira. It was a simple family-run hotel in a good location. We paid TND 50 per night for a double room with private bathroom. GPS location of the Hotel Al Jazira: 35.505146, 11.070031.
Alternative options can be found a couple of kilometres from the old part of Mahdia – for example, Houria House Sable D'or. On the plus side, you're right on the beach in this location.
Ej Djem
We hadn't planned to spend the night in El Djem but I put my back out getting off the bus so we had to splash out on the only hotel in town. The Hotel Julius has a fantastic location and our room had a great view of the Roman amphitheatre (the only reason to visit El Djem). We paid TND 120 for a night, including breakfast. The Hotel Julius is the best hotel in El Djem and it's possible to book online.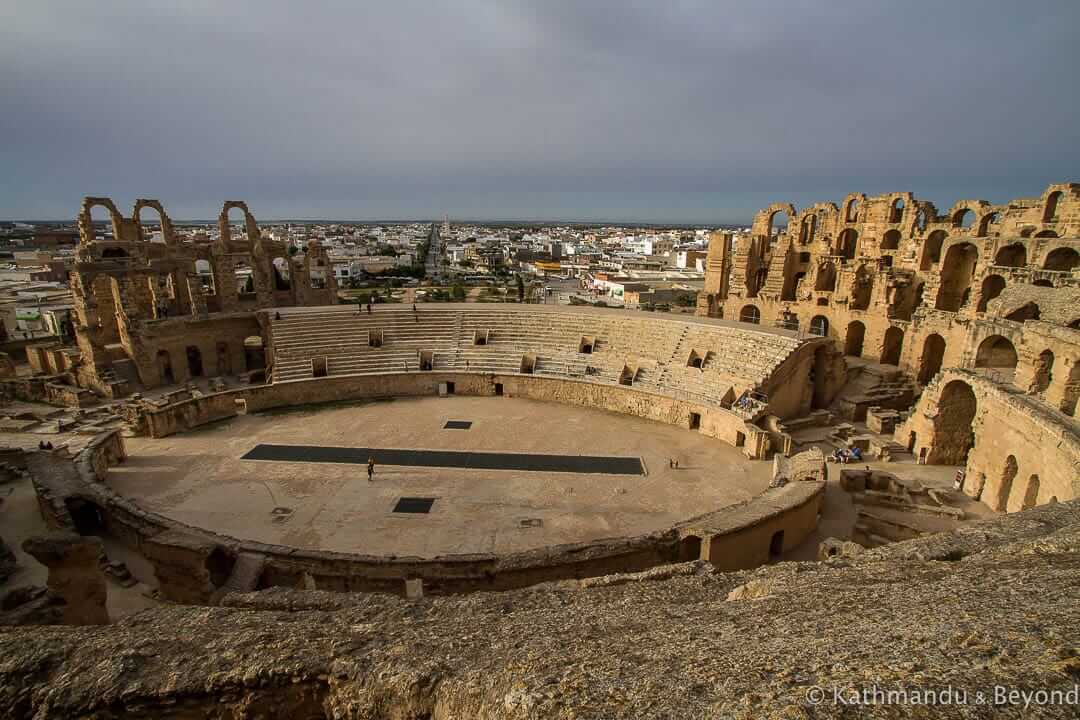 The amphitheatre at El Djem (El Jem) 
Djerba Island
The beaches on Djerba are a big draw for package holidaymakers to Tunisia and you can usually find a few bargains but we chose to stay in Houmt Souk, the main town on the island. There is a fair bit of accommodation in and around Houmt Souk but, again, backpackers aren't spoilt for choice.
We looked at the Hotel Sinbad which would be a good budget option but decided to pay a few dinars more for the Hotel Marhala (GPS 33.877433, 10.859373) which had a good atmosphere and seemed to attract long-stayers. We negotiated a rate of TND 70 a night for a double room with private bathroom including breakfast. It was a small room but the hotel had a large courtyard where there were plenty of spots to sit and relax. If you're on a tight budget, there is a youth hostel next door (we turned our noses up at the very basic rooms there!), and if your budget is a bit higher, the nearby Hotel Djerba Erriadh is worth a look.
Tataouine
The best budget accommodation we found in Tataouine was the centrally-located Hotel Belmharem (GPS 32.928972, 10.449943). It's a basic place, for which we paid 40 TND a night including breakfast, but the guy running it spoke good English and helped arrange a taxi to explore the area. Another nearby option is the Auberge Al Ferdaous which is similarly-priced and has dorms beds as well as private rooms.
If you're looking for something more upscale in Tataouine, you'll have to head out of town to the Sangho Privilege.
Matmata
Matmata is famous because one of the troglodyte homes there was used in the early Star Wars movies. Nick-named the Star Wars hotel, young Luke Skywalker's house is now a hotel called the Hotel Sidi Driss (GPS 33.542650, 9.967272). Despite poor online reviews, it's somewhere all Star Wars' fans should consider staying. As it turned out, the hotel was fully booked by coach loads of students celebrating something we couldn't work out with an all-night party! We had to make do with a quick look around and a drink.
Instead, we stayed at the nearby Hotel Matmata (33.541341, 9.972245), a resort-style hotel with a swimming pool for which we paid TND 68 a night including an evening meal and, in the morning, breakfast.
Tozeur
In Tozeur, we spent most of our time at the Residence Warda (TND 40 for a double room with private bathroom including a simple breakfast, GPS 33.917814, 8.134679). The hotel seemed popular with holidaying Tunisians and, for the price, it was a good budget option. Staff spoke some English, the hotel is close to town, and although our room was basic, it was clean and comfortable enough. Another option for a little more money is Résidence Le Ruisseau.
Thanks to our "other" job (the one that actually pays the bills!), we were fortunate enough to experience a night at Dar Tozeur, a boutique hotel in the heart of Tozeur's medina. If you're looking for a more luxurious place to stay in Tozeur, we'd recommend it. Check the price for your dates here.
Kairouan
Although not an adjective we'd use to describe this accommodation, Hotel Splendid ticked the boxes as a budget hotel in Kairouan. With feelings of faded grandeur (aka a bit old-fashioned), the staff were friendly enough and breakfast was included in the TND 65 a night price. You can't book the Hotel Splendid online, but you can find it at this location: 35.672568, 10.101145.
More basic than the Hotel Splendid, another budget option in Kairouan is the Hotel Sabra (GPS 35.674052, 10.100964).
Not on a tight budget? Check out the hotel, La Kasbah.
Bizerte
A passable budget hotel in Bizerte is the Hotel de la Plage where we paid TND 50 a night for a small room with private bathroom, excluding breakfast. The staff were friendly and it felt secure so is a good option for backpackers and travellers on a budget. The location is 37.273879, 9.877169.
For an upgraded option with more character, take a look at Dar Warda which is around TND 110 a night for a double room including breakfast. Both of these hotels are centrally located for exploring Bizerte.
Food and Drink in Tunisia
If you google Tunisian food, all sorts of delicious-looking dishes will pop up. But as is often the case, as soon as you start looking for the cheapest places to eat, the options become less appealing. Outside of Tunis, we found the budget food choices boring and bit repetitive. In fact, we calculated that we ate more portions of chicken and chips than we spent days in the country!
It's usually easy to find a sandwich as tuna, eggs and cheese feature heavily in Tunisian cuisine. Brick à l'oeuf is a common street food snack – it's a bit like a samosa with a runny egg yolk centre and tastes better than it sounds. Sometimes there are other fillings and tuna is a popular addition.
Couscous is a popular Tunisian dish, but we didn't come across it much in local restaurants. Shakshuka is a fairly common dish and although is found all over the Middle East, it was apparently exported by Tunisian Jews who migrated from Tunisia to Israel. A tomato-based vegetable stew with onions and peppers, onto which an egg is usually added so that it poaches on top, this dish is typically served in a skillet pan and served with bread.
It is completely possible to eat in Tunisia on a low budget; just don't expect gourmet cuisine. Having said that, we averaged TND 15 a day on food for both of us (keep in mind breakfast was included in many hotel rates), so that should leave a bit of wiggle room for splashing out on a better meal now and again!
Can you drink alcohol in Tunisia?
We're far from being alcoholics, but we do enjoy a drink or two at the end of the day. However, like most Muslim countries, it isn't that easy unless you're staying in a resort or a mid-range or higher hotel. Although Islamic law forbids Muslims from drinking alcohol, Tunisia is more liberal than many of its Arabian neighbours, and because the country wants to promote itself as a tourist destination, it takes a pragmatic attitude to the consumption of alcoholic drinks by non-Muslims.
Although alcohol is fairly hard to get, unless you know where to go (likely to be a dingy all-male dive), when you do find it, it's cheap! We were pleasantly surprised to find a pavement cafe on the main street in Tunis where the local beer, Celtia, was served. They would have been happy to serve me too, but I was more tempted by the freshly-squeezed orange juice.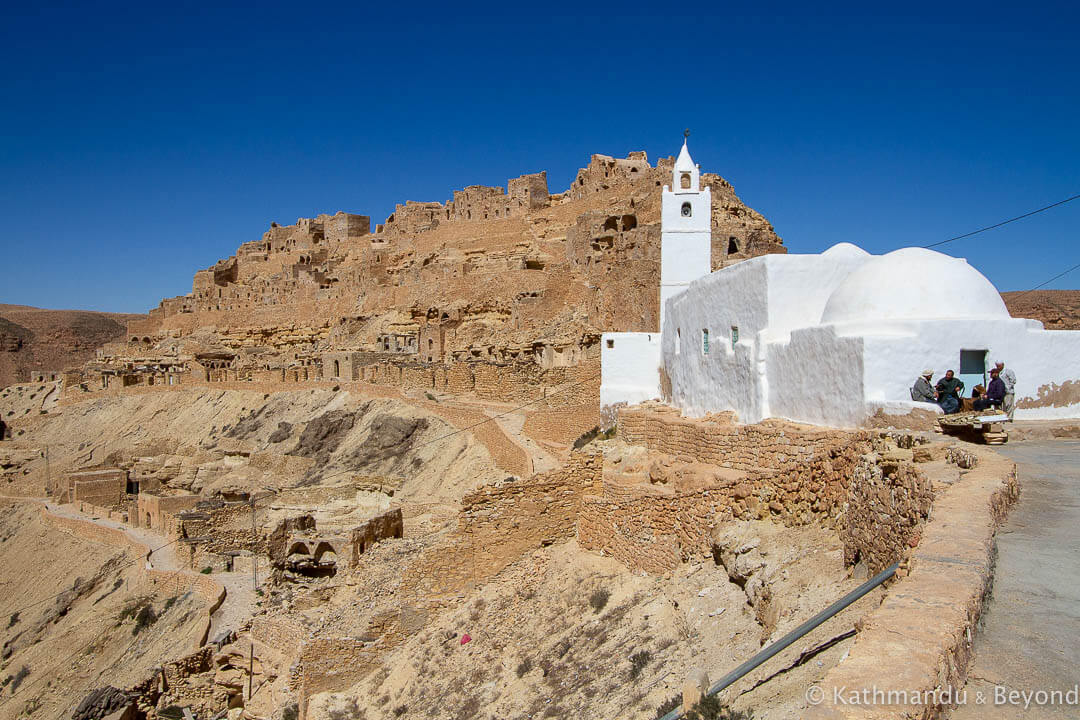 Chenini, Tataouine
Practical information for travellers to Tunisia
Currency, Money exchanges and ATMs
The currency is the Tunisian dinar which is divided into 1000 millimes. Tunisia has what is known as a closed currency making it illegal to bring dinar into the country. You'll need to either use an ATM or money changer on arrival at the airport. If you plan on using the ATM, make sure you also have some cash, just in case it doesn't work. The exchange booths at the airport didn't offer rip-off rates like they do in many countries. We used ATMs throughout our stay in Tunisia without issue (there weren't any ATM fees for using our UK bank cards). In more touristy areas British pounds can be exchanged, but I'd recommend having most of your cash in either Euros or US dollars.
Wi-Fi
Wi-Fi is widely available in guest-houses, cafes, restaurants etc. Generally, the speed was good although, in a few places we stayed in, the signal was either weak or non-existent in the room. As a back-up and for internet on the go, it's easy to get a local SIM card. Tunisia has three mobile telecom companies: Tunisie-telecom, Orange and Ooredoo. All three have official booths at Tunis airport so it's straightforward to get set up on arrival. I bought an Orange SIM card with a data package at the airport and it worked well with good coverage throughout our travels.
Language and Essential Phrases
The official language of Tunisia is Arabic. Due to a period in history as a French protectorate, French is the second language, although these days English is increasingly popular, especially with younger generations. There is also a local Tunisian dialect, and the Berber population have their own language (Berber).
A little French will go a long way and I found my basic language skills very useful. Although Tunisians will expect you to speak to them in French rather than Arabic, here are a few basic Arabic phrases that will make your stay in Tunisia more enjoyable.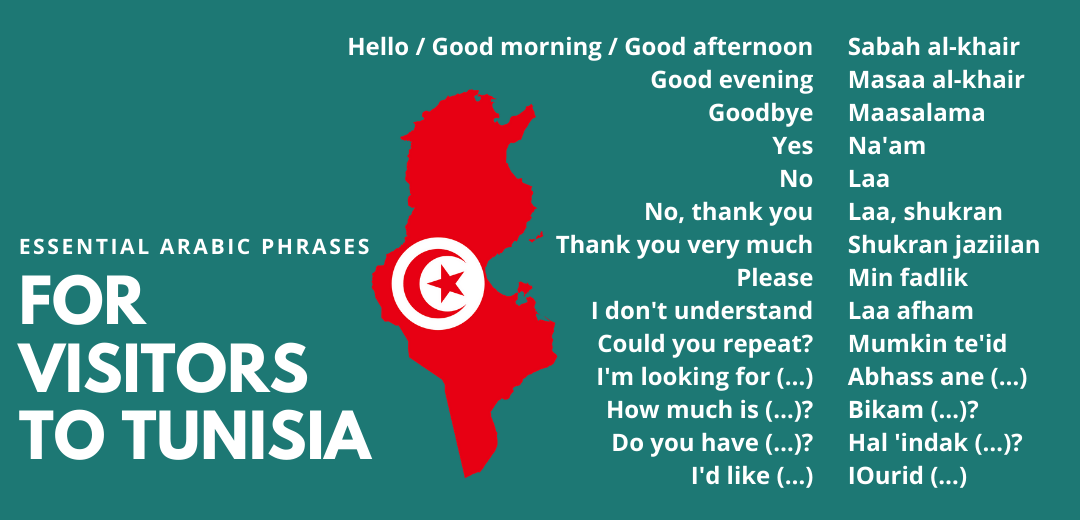 How much does it cost to travel in Tunisia
There is no doubt that Tunisia is a great destination for backpackers and budget travellers. Accommodation, food and transport are all very affordable, although we struggled to find what we would call good budget accommodation in Tunis – the capital was somewhere we paid what we needed to find a decent place.
These days we spend more on our travel than we did in our twenties and thirties but we still travel frugally. Everyone's travel standards are different so all I can do is say how much travelling in Tunisia cost us. For our three-week trip, we averaged TND 128 (circa £35/€35/US$40 at March 2020's ROE) per day for the two of us. If we were to take out the TND 400 that we spent on two excursions that were impossible to do by public transport (a 4WD tour of Tozeur and a taxi for the day to take us to the sights around Tataouine) that daily average would come down to the equivalent of about TND 100 for two. Accommodation costs accounted for around 50% of our overall spend, averaging TND 60 a night (it is possible to find cheaper accommodation but our criterion is a private room with our own bathroom). We always ate in local restaurants and meals generally cost between 10 and 15 dinars for two. And although Mark hates it when I itemise how much we spend on alcohol for complete budget transparency, 6% of what we spent went on thirst-quenching end-of-day relaxing cold beers!
To put it into perspective, we spent a similar amount in Tunisia to what we spent on our three-week trip to Morocco so costs should be comparable.
Guidebooks for Tunisia and other travel resources
Guidebooks for Tunisia are a bit thin on the ground. Lonely Planet's only coverage of the country is a five-page chapter which you can download for free. The last time they published a guidebook to the country was in 2010 and it's a similar story for other established publishers – Bradt, Rough Guide and DK Eyewitness (all around 2009).
The official website of the Tunisian National Tourism Office (ONTT) has quite a lot of information including some interesting articles on cultural aspects of Tunisia.
Up-to-date blog posts about Tunisia are also surprisingly thin on the ground (a good reason why we should have written this post a long time ago!) and if we come across any informative ones in the future, we'll add them here!
Tunisia train schedules SNCFT.
Lonely Planet's Best in Travel 2020: Tunisia.
Lonely Planet's Thorn Tree travel forum.
Is Tunisia worth visiting and did live up to our expectations?
It's fair to say that Tunisia exceeded our expectations. After bracing ourselves for a similar level of hassle to that experienced in Morocco and Egypt, we were pleasantly surprised by the lack of any unwanted attention. People were friendly, helpful and curious but we never felt there was an ulterior motive. Tunisia's sights and scenery are incredibly diverse and it was easy to get around. The lack of tourists means that you feel as if you are travelling completely off-the-beaten-path even in the capital. So, pack your rucksack with essentials, check the visa requirements, stuff a few hard-currency notes in your wallet, download a copy of our guide onto your smartphone or tablet, and go visit Tunisia. You'll have a fantastic experience.​
---
---
IF YOU FOUND THIS GUIDE TO BACKPACKING IN TUNISIA HELPFUL, PLEASE SHARE IT…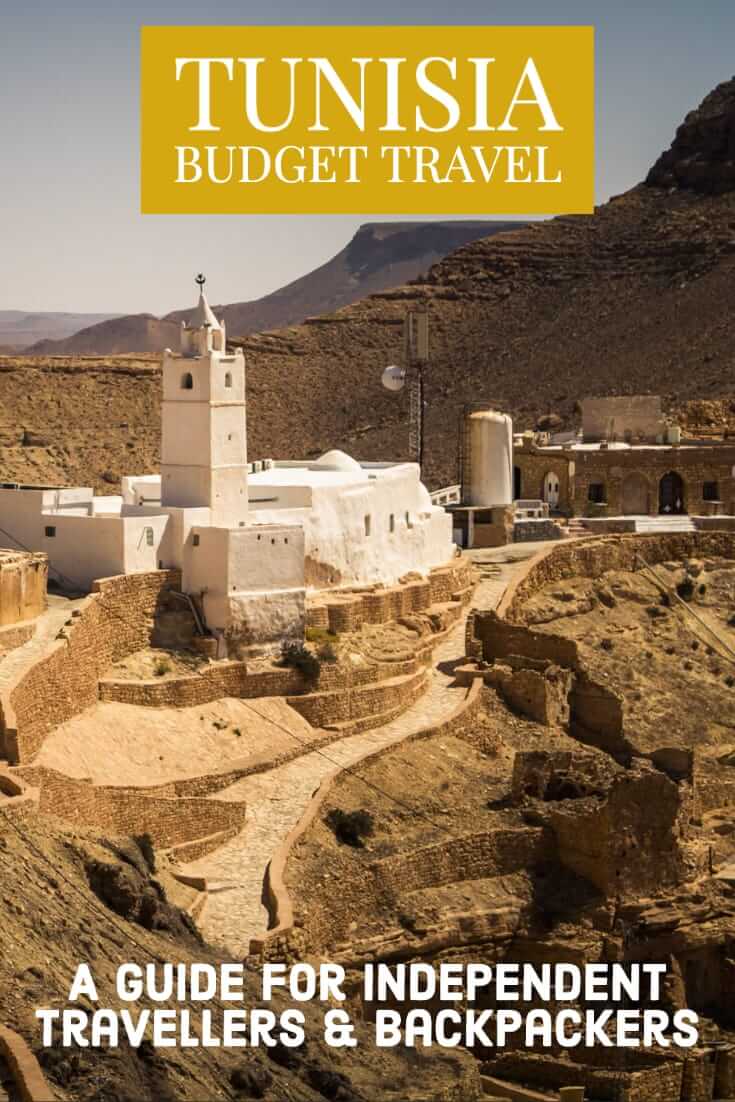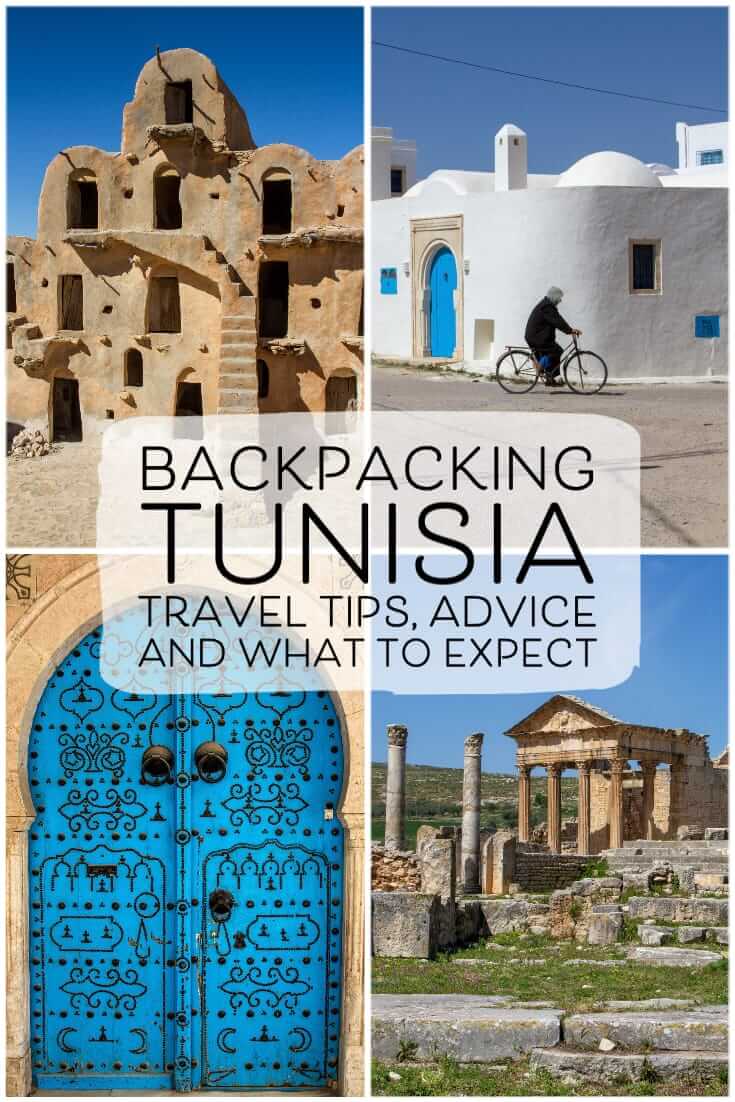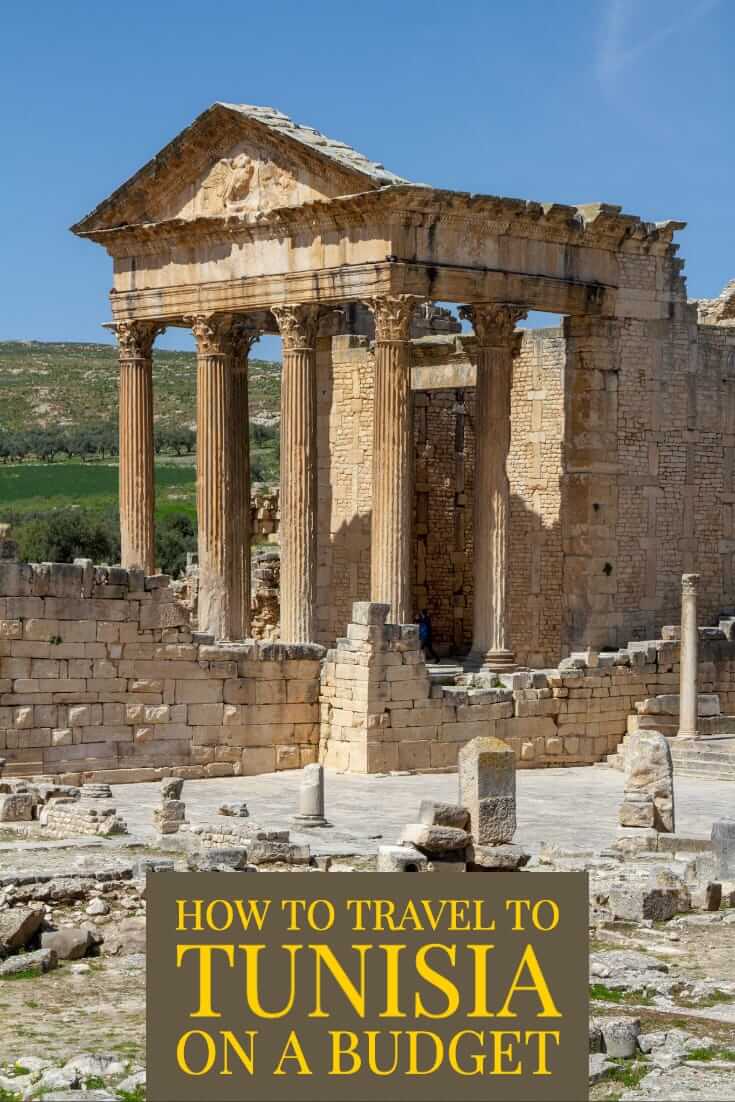 ---
---