Visiting Tunisia's UNESCO sites independently – a guide on how to reach them by public transport, where to stay and what you'll see
Tunisia has eight UNESCO World Heritage Sites (WHS) – seven of which fall into the category of cultural attractions and one, natural. Tunisia ranks fourth for number of WHSs in Africa (South Africa has the most with ten inscriptions).
The great thing for visitors to Tunisia is that most of the UNESCO attractions are easily accessible to independent travellers and during our backpacking trip to Tunisia in 2019, we visited six of its eight inscribed sites.
There are a further fourteen sites in Tunisia on the country's Tentative List. The most recent is the 2020 submission to list the cave dwellings in the Ksour region of southern Tunisia.
This guide will provide a glimpse of what each of Tunisia's UNESCO World Heritage Site has to offer the visitor, and informs on the best way to reach them.
Contents: UNESCO World Heritage Sites in Tunisia
Amphitheatre of El Jem
Archaeological Site of Carthage
Dougga / Thugga
Kairouan
Medina of Sousse
Medina of Tunis
Punic Town of Kerkuane and its Necropolis
Ichkeul National Park
Map of UNESCO World Heritage Sites in Tunisia
Amphitheatre of El Jem
Date of inscription: 1979
El Jem (also spelt El Djem) is one of the largest and best-preserved Roman ruins in North Africa. Often compared with Rome's Colosseum, El Jem is just as impressive and is one of the most intact archaeological ruins we visited in Tunisia. Back in Roman times, the huge amphitheatre was known as Thysdrus and could hold up to 35,000 spectators. One of UNESCO's reasons for inscribing this 3rd-century monument is because it illustrates the grandeur and extent of Imperial Rome. The amphitheatre is the focal point of the small town of modern-day El Jem which has built up around it, making the site impossible to miss.
Although the main attraction is the amphitheatre, the ticket price also includes entry to the mosaic-filled Archaeological Museum which is housed in a reconstructed Roman villa. Close to the museum is a small site from where some of the mosaics on display were excavated.
Entrance cost: 12 dinar (includes entrance to the amphitheatre, archaeological museum and site).
The Amphitheatre at El Djem (El Jem), one of the most impressive UNESCO World Heritage Sites in Tunisia


El Djem (El Jem) Amphitheatre
How to visit El Jem independently and where to stay
El Jem is located approximately halfway between the towns of Sousse and Sfax and is easy to reach by public transport. The town is on the train line which runs from Tunis and Sousse and onto to Sfax, Gabes, and Tozeur. The railway station is a short walk from the amphitheatre. If the train timings don't suit, El Jem is well-served by louages (minibuses) from Sousse.
There aren't any budget hotels or hostels in Ej Jem. The only hotel is the Hotel Julius which is an affordable mid-range property located close to the site (some rooms have fantastic views of it). If you don't want to stay in El Jem, Sousse, 70 kilometres away, would be a practical base for a day trip. The train timings also work well for an excursion from Tunis, although it's a long day, with around six hours there-and-back travel time.
Archaeological Site of Carthage
Date of inscription: 1979
Considered to be Tunisia's most important archaeological site, Carthage was founded in the 9th century BCE by the Phoenicians. By the 6th century, it had developed into a trading empire covering much of the Mediterranean and was home to an advanced and thriving civilisation. At the end of the third and final Punic war in 146 BC, Carthage became a Roman city and further structures including the Antonine Baths were subsequently built.
Today Carthage's various sights are spread out across a wide area, in many places encroached upon by modern development. We felt the most impressive part of Carthage was the Antonine Baths and the surrounding area. The sacred area called the Tophet, considered to be either a place of child sacrifice and/or a child cemetery, was also very interesting but you need to know what you're looking at (something that applies to many of the sites here).
Entrance cost: 12 dinar for all the major sights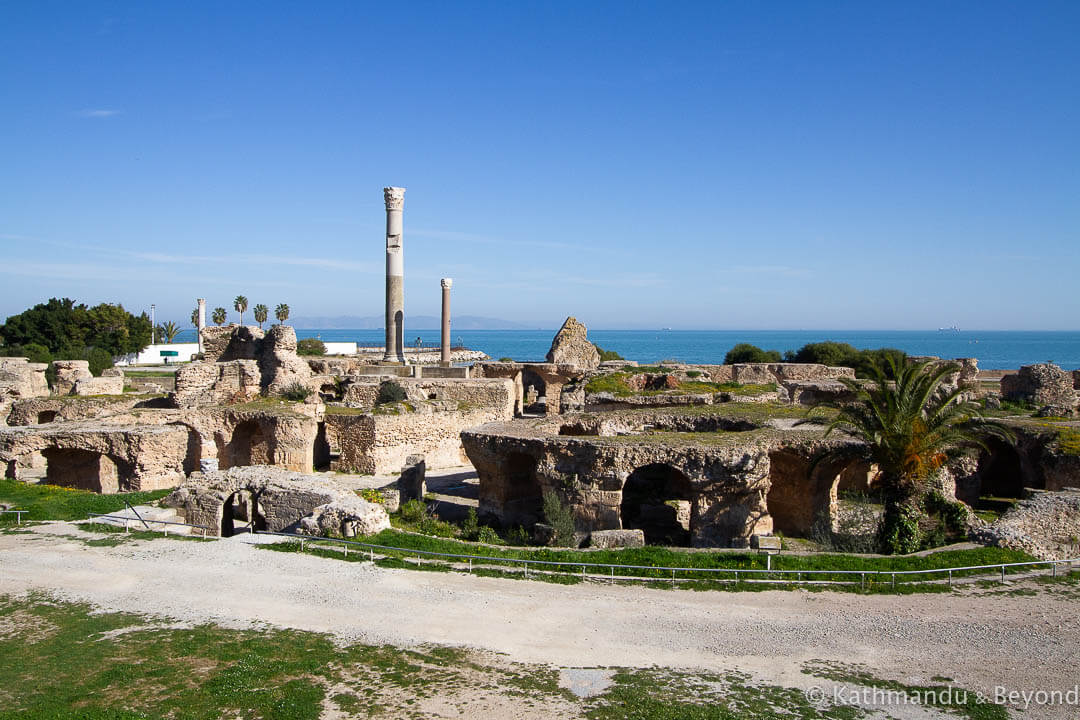 Baths of Antoninus (Baths of Carthage)


Byrsa Hill (left) and the Tophet (right), two of the sights at Carthage
How to visit Carthage independently and where to stay
Because the attractions at Carthage are so spread out, it's not especially easy to visit them independently without putting in a bit of legwork. The route we have suggested below is 6 kilometres, but you'll probably add at least a couple more whilst walking around the sites. We've suggested the amphitheatre as optional because visiting it will add another 2 kilometres. If you can get hold of a bicycle (see below), that would be a good way to explore Carthage.
Carthage is well-connected to the city by Tunis's TGM (Tunis-Goulette-Marsa) suburban railway, which departs from Tunis Marine station. Take note that there are several stations with Carthage in the name, and the route we suggest is based on starting at Carthage Salambo station. On completing the tour, catch the train back to Tunis from Carthage Hanibal station (if you are content just with seeing the Antonine Baths and the Amphitheatre, take the train directly there). A one-way ride on the TGM costs one dinar and trains run at 6 to 15-minute intervals throughout the day).
The map below will lead you on a self-guided walking (or cycling) tour of Carthage, visiting these places: Carthage Tophet- Punic Port – Byrsa Hill – the Acropolium (Saint Louis Cathedral) – Carthage Amphitheatre (optional) – Ruins of Carthage – (including) the Antonine Baths (Thermes d'Antonin).
Carthage is a Tunis suburb so it makes sense to base yourself in the capital. Should you prefer to stay as close to Carthage as possible, look at accommodation options in Sidi Bou Said and La Marsa.
Although this article aims to help you visit Carthage independently, this site is one place where we consider taking a tour. There's a lot of ground to cover – both physically and in terms of history to absorb – and if it's hot you'll tire quickly. Some of the sights are hard to interpret, so having a guide in Carthage is beneficial.
Whilst researching, I came across a Carthage-based company called Le Lemon Tour that offers self-guided and guided cycling tours around Carthage. For the self-guided option, you're provided with a map, an information booklet and a bike (choice of a city, mountain or electric bike, with child seats available). Their office is a couple of minutes' walk from Carthage Salammbo train station and all the prices are on their website. We don't have any experience of, or affiliation with Le Lemon Tour, but it's the kind of company we would use had we known about it before our trip to Carthage.
Dougga / Thugga
Date of inscription: 1997
The magnificent ruins at Dougga are Tunisia's most recent UNESCO inscription and comprise the remainders of a powerful city that stood on the site for over seventeen centuries. Built on a gentle hill overlooking a fertile plain of olive groves, Thugga (the ancient name) was the capital of an important Libyco-Punic state which flourished under Roman and Byzantine rule, but then declined in the Islamic period.
Situated in a rural part of Tunisia, Dougga is just over 100 kilometres from Tunis and a little over 50 kilometres from El Kef to the southwest. Dougga was the most impressive set of ruins we visited in Tunisia and we spent just under three hours exploring the site. UNESCO agrees, citing that it represents the best-preserved Roman small town in North Africa.
Entrance cost: 8 dinar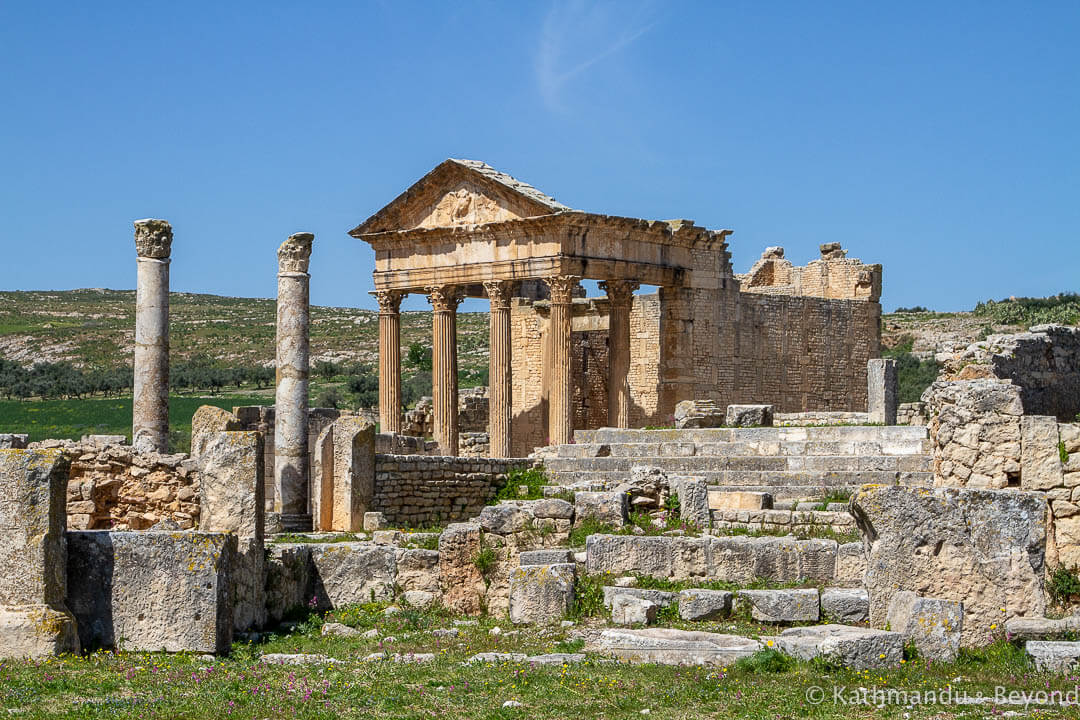 The Capitol at, Dougga, one of our favourite UNESCO World Heritage Sites in Tunisia


The Theatre (left) and the Temple of Caelestis (right) at Dougga
How to visit Dougga independently and where to stay
Dougga is a fairly easy day trip from Tunis, although a little effort is needed to visit this UNESCO site independently. There isn't any public transport directly to Dougga from anywhere in Tunisia, so you need to travel by a combination of louage and taxi. The first step is to take a louage from Tunis's Gare de Routiere Nord to the town of Teboursouk (about 2½ hours from Tunis and a 15 to 20 minutes' drive from the site). From there, you should be able to take a taxi to the site. It's best to negotiate a return trip (the driver may or may not wait at the entrance, and he might send his 'brother' to pick you up, but it's the best way to ensure you get a lift back to Teboursouk). We paid 20 dinar for a three-hour 'wait and return' taxi. In fact, on our way to Teboursouk, our louage driver dropped us on the outskirts of town where a taxi was waiting (either the driver had phoned ahead, or it's a known spot for taxis to wait for tourists).
After visiting Dougga, the taxi dropped us back in Teboursouk town to take a louage back to Tunis. It felt a bit hit and miss as to whether any transport was going to turn up, but locals kept telling us to "wait, wait", and sure enough a louage eventually arrived to pick us up.
This GPS location for the small main square in Teboursouk from where louages congregate is here. Across the road, there was a small office/bus station but we couldn't obtain any information about imminent departures for Tunis so we stuck with the louage option. In the event, things worked out for us but if you visit Dougga independently by public transport you should be prepared to initiate a Plan B (hitching or more taxis).
The closest accommodation to Dougga archaeological site is the Hotel Thugga, a hotel that mostly caters for touristic groups. The hotel is approximately 8 kilometres from the site, on the outskirts of Teboursouk, just off the main road to Tunis. As there is no other tourist infrastructure (shops, restaurants etc) nearby, it doesn't make a lot of sense to stay here unless you have your own transport.
Kairouan
Date of inscription: 1988
Kairouan is a town in northern Tunisia that lies 160 kilometres south of Tunis and 50 km west of Sousse. The ancient city of Kairouan was founded in 670 CE and came to become the most important town in North Africa serving as a strategic base for military operations against the Berber tribes, and also an esteemed centre for Islamic learning. Kairouan was inscribed as a historic ensemble, and its rich architectural heritage includes the Great Mosque, with its marble and porphyry columns, and the 9th-century Mosque of the Three Gates.
Today Kairouan is both a relaxed and rewarding city to explore on foot, and the medina has no end of alleys and arches to explore within its white-washed walls. The city is the fourth most holy for Muslims (after Mecca, Medina and Jerusalem), and seven visits to the Great Mosque are said to equal one Hajj to Mecca.
Kairouan is one of our favourite cities in Tunisia and we would recommend including a night or two on your itinerary.
Entrance cost: A combined ticket for Kairouan's five main attractions costs 12 dinar. Included places: Great Mosque of Kairouan, the Aghlabid Basins, Sidi Amor Abada Museum, Raqqada National Museum of Islamic Art and Sidi Abid al-Ghariani Mausoleum.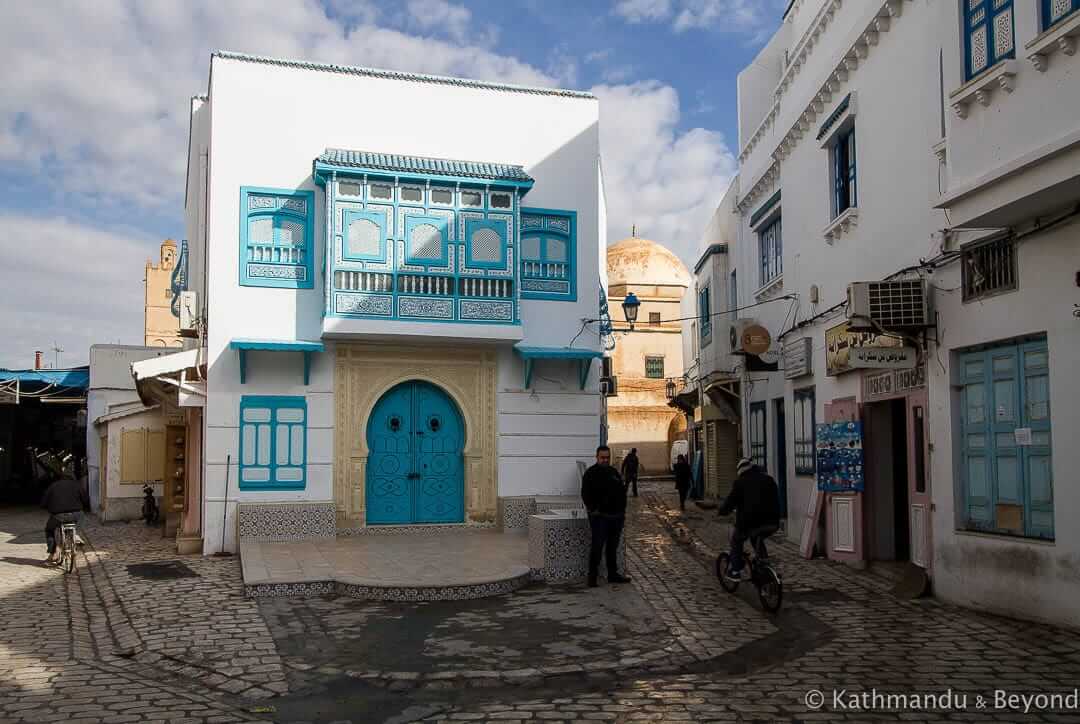 The medina of Kairouan


The Prayer Hall of the Great Mosque (left) and medina streets (right), Kairouan
How to visit Kairouan independently and where to stay
As Kairouan is a living town UNESCO site, it's possible (and best) to stay there. Buses and louages run to Kairouan (there are no trains) from major cities, including Tunis (up to three hours), Sousse (a little over an hour), and Sfax (approximately three hours) making it very easy to reach by public transport. Public transport from Kairouan should run regularly throughout the day (at least once an hour from these cities).
Stay in Kairouan city centre. As a popular tourism attraction, Kairouan has a range of hotels, from budget to luxury. You can check some of them here, but we stayed at the Hotel Splendid, which was an acceptable budget hotel.
Medina of Sousse
Date of inscription: 1988
Sousse is one of Tunisia's oldest towns and its authentic medina was declared a UNESCO World Heritage Site in 1988 (the same year as Kairouan). Modern-day Sousse is better known as a beach resort (the big resort hotels are outside of the town), but the historic walled medina and kasbah are worth a visit.
Sousse is the third-largest town in Tunisia and was founded by the Phoenicians in the 9th century CE. During the Punic wars, it was one of the Phoenicians' most important towns, along with Carthage and Utica and, for a time, served as Hannibal's naval base.
According to UNESCO, Sousse was an important commercial and military port during the Aghlabid period (800–909 CE) and is a typical example of a town dating from the first centuries of Islam. Sousse's coastal defence system comprised of a kasbah, ramparts, medina, and ribat (both a fort and a religious building), The Great Mosque is the oldest monument in Sousse's medina, built in the final years of the 8th century CE as a fort.
Entrance cost: Free to wander around the medina, but there is an entrance fee of 8 dinar to visit the ribat and 5 dinar to enter the Great Mosque.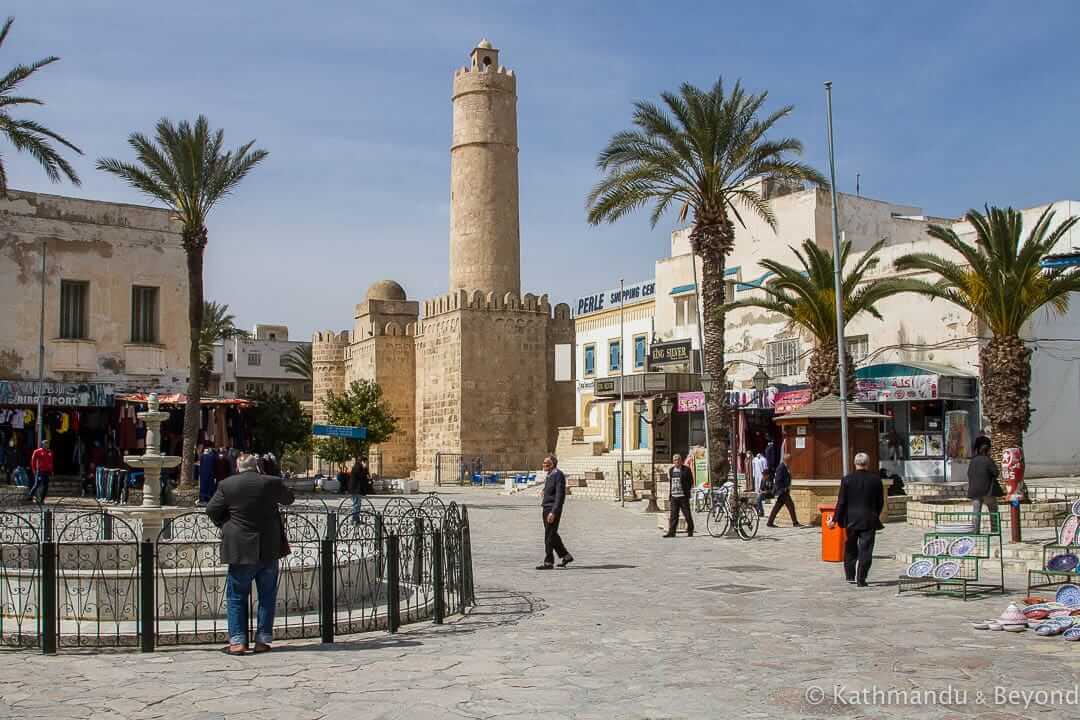 The ribat, on the outskirts of Sousse medina
The quiet streets of Sousse medina, and a traditional door
How to visit Sousse Medina independently and where to stay
Located on the Mediterranean coast, 150 kilometres south of Tunis, Sousse's UNESCO-listed medina is easy to reach by public transport – either train, bus or louage. We'd recommend the train, being the most comfortable of those forms of transport. The train journey from Tunis takes two hours.
To fully soak up the atmosphere on this UNESCO site, pick a hotel within the medina.
Medina of Tunis
Date of inscription: 1979
Tunisia's most accessible UNESCO World Heritage Site is the Medina of Tunis which occupies the area to the west of central Tunis's French colonial and modern city. The labyrinthine alleyways are full of ancient palaces, mosques, small courtyards, souks, wonderful traditional Tunisian doors and other examples of Islamic architecture.
UNESCO credits the Medina of Tunis as having outstanding universal value. It states: 'Under the Almohads and the Hafsids, from the 12th to the 16th century, Tunis was considered one of the greatest and wealthiest cities in the Islamic world. Some 700 monuments testify to this remarkable past'.
Significant buildings within the medina include Al-Zaytuna Mosque (dating to the 8th century, also known as the Great Mosque), the Dar el-Bey (the former seat of the bey rulers, later of the French Protectorate administration, and now the prime minister's office), Sidi Youssef mosque (with the oldest Ottoman style minaret in the medina), the souks (with shops that have traded in spices, incense, henna and more since the 13th century), three important madrasas (centres of learning), and several dars (noble homes, many now serving as guesthouses and hotels).
Entrance cost: Free to explore the medina. Most attractions are free to visit but check opening hours. For example, Al-Zaytuna Mosque is open between 8 am and noon but is closed to non-Muslim visitors on Fridays and during prayer times.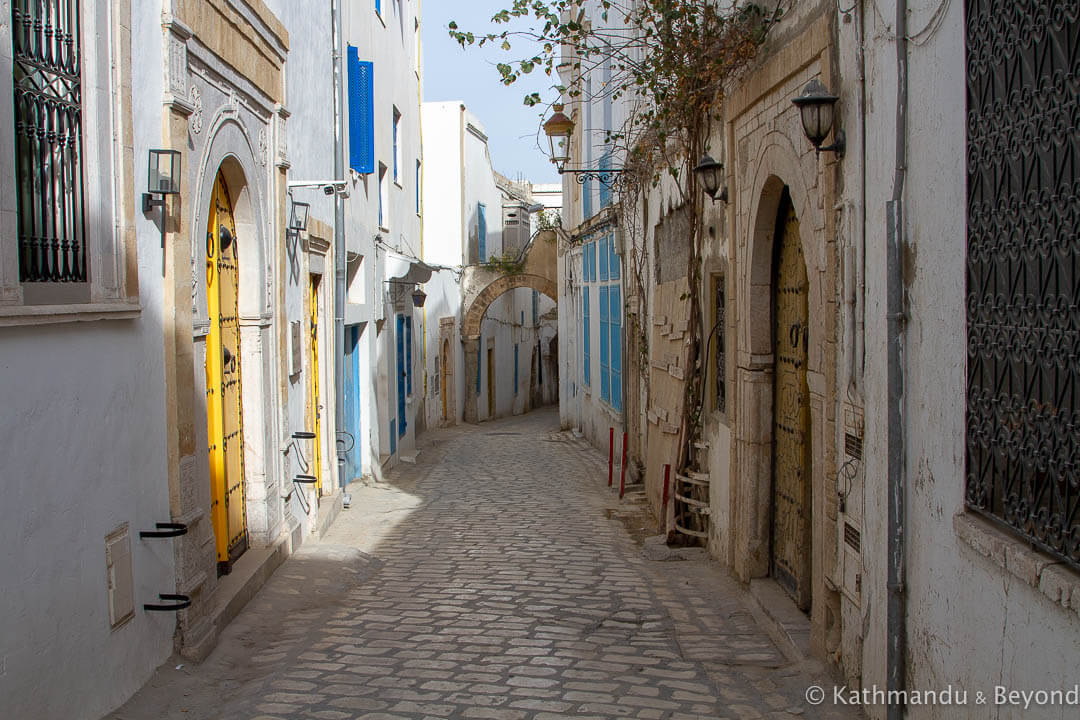 Tunis medina (above and below)
Tunis medina: a traditional door and a rooftop view
.
How to visit Tunis Medina independently and where to stay
UNESCO site or not, Tunis medina is on all visitors' 'must-see' list. The most straightforward way to enter is through Bab el Bhar, the gate also known as Porte de France, on Victory Place. Another city landmark, the imposing Hotel Royal Victoria is also located on the square. Then it's just a question of wandering around and trying not to get too lost!
Tunis's most characterful accommodation is within, or close to, the medina where many traditional houses have been converted into hotels or guesthouses. If you want an immersive experience, this is the area to pick.
Punic Town of Kerkouane and its Necropolis
Date of inscription: 1985, extended in1986
The archaeological site at Kerkouane is situated around 100 kilometres east of Tunis on the Cap Bon peninsula, overlooking the sea. Its nearest modern-day town is Kelibia, 14 km to the south. UNESCO's listing is for the 'Punic Town of Kerkuane and its Necropolis' about which it observes: 'This Phoenician city was probably abandoned during the First Punic War (c. 250 BCE) and, as a result, was not rebuilt by the Romans. The remains constitute the only example of a Phoenicio-Punic city to have survived. The houses were built to a standard plan in accordance with a sophisticated notion of town planning.
Between the 2nd and 4th century, Kerkouane was a Punic town, with a population of 2,000, controlled by Carthage. The Second Punic War put an end to the town's existence when it was abandoned. The town was rediscovered in 1952 by a French archaeologist, called Kerkouane (the original name of the town is unknown). One of the reasons Kerkouane is one of the best-preserved Punic towns or cities is that the Romans neither destroyed it or built their own city where it stands. As such, it is probably the only example of its kind to survive.
Why does Kerkouane have two inscription dates? It was first listed as the Punic town of Kerkouane but this was extended a year later to include the Necropolis.
Entrance cost: 8 dinar



Punic Town of Kerkuane © Christian Manhart / © UNESCO (CC-ShareAlike 3.0 IGO)
How to visit Kerkouane independently and where to stay
Kerkouane is one of two UNESCO World Heritage Sites in Tunisia we have yet to visit. The following information is therefore based on research rather than personal experience.
Kerkouane is not as easy to reach by public transport as other WHSs in Tunisia but, as with Dougga, if you are prepared to either walk a bit and use a taxi, and don't mind the prospect of waiting around for buses, it's doable. There is no public transport to Kerkouane, only as far as Kelibia which is approximately 12 kilometres to the south.
What isn't immediately clear from the name is that the Punic Town of Kerkouane and its Necropolis are two separate archaeological sites, a distance of approximately 2 kilometres apart. The remains of the Punic Town are the main site where you'll also find a small museum and amenities such as public toilets and a small shop (don't rely on it being open though) along with the ticket office.
The first step in reaching Kerkouane is to get to Kelibia. Direct buses from Tunis are infrequent and it might be quicker to first head to Nabeul and change there. From Nabeul, there should be more or less hourly buses to Kelibia (and back to Tunis). Note that there are two louage stations in Nabeul – one serving Tunis and Hammamet and another for Kelibia.
Once in Kelibia, there are two choices. One option is to try and find a louage heading towards Al Hoaouaria (also spelt Al Huwariyah) and ask to be dropped off on the main road (C27) at the turning for the site of the ancient Punic Town, and walk the remaining 2 kilometres. Should you choose to walk from there to the Necropolis and back to the main road, it would add another 4 kilometres in addition to the steps put in walking around the sites. Guidebooks such as Lonely Planet make this option sound easy, but based on our experience in other parts of Tunisia, we wouldn't feel confident about the amount of passing public transport. Our recommendation would be to negotiate a taxi from Kelibia to take you there and back. It's a similar distance between Teboursouk and Dougga so a fare of about 20 dinars sounds reasonable. If you visit Kerkouane independently, we'd be grateful for any up-to-date information.
When visiting the Punic Town of Kerkouane and its Necropolis, the best place to base yourself for accommodation would be the nearby town of Kelibia, but a day trip from either Tunis or Sousse is possible if you make an early start. Nabeul would be another convenient base for a day trip to Kerkouane.
Ichkeul National Park
Date of inscription: 1980
Tunisia's only UNESCO site in the natural category, Ichkeul National Park, is located in northern Tunisia approximately 80 kilometres from Tunis and 20 km from Bizerte (a pretty coastal town which lays claim to being the most northerly city in Africa). The nature reserve earned its UNESCO listing because Ichkeul Lake and the wetlands are a major stopover point for hundreds of thousands of migrating birds, such as ducks, geese, storks and pink flamingoes, who come to feed and nest there. Ichkeul is the last remaining lake in a chain that once extended across North Africa.
A few kilometres from the park entrance there is a small Eco Museum (Google map location) and several sandy footpaths in the area lead through the hills. The paths are overgrown with wild olive trees, shrubs and pistachio trees, and have views of the lake.
Entrance cost: Free. How many other national parks don't charge an entrance fee?! The park is open from 6 am to 8 pm in the summer and from 8 am to 6 pm in the winter.


Ichkeul National Park (© UNESCO; left © Marc Patry, right © Christian Manhart under CC-ShareAlike 3.0 IGO)
How to visit Ichkeul National Park independently and where to stay
This is the second of two UNESCO sites in Tunisia we've yet to visit, mostly because the challenges of getting there by public transport were too great. Even if we had managed to get there by public transport or by hitching, we weren't convinced we'd be able to get around the park.
Therefore, the best way to access Ichkeul National Park and make the most of what it offers is with your own transport, or by taking an organised excursion. If you are comfortable hiring a car in Tunisia that would be a good way to see this and some of Tunisia's other UNESCO sites that are harder to reach by public transport (Kerkouane and Dougga, for example). The entrance to the park is here.
The nearest town to Ichkeul National Park is Menzel Bourguiba (formerly Ferryville), 7 kilometres away from the park entrance, but you won't find much in the way of accommodation there. Camping within the park is forbidden, so it would be best to base yourself in either Bizerte or Tunis.
Ichkeul National Park is a haven for birds and birdwatchers alike, but you need to go in the winter to see the migrating birds. If you are a twitcher looking for a guided tour of the park, Tunisia Birdwatching would be a good place to start.
How to visit Tunisia's UNESCO World Heritage Sites in one trip – a suggested itinerary including all of Tunisia's UNESCO World Heritage Sites
If you want to visit all of Tunisia's UNESCO World Heritage Sites on one trip, the good news is that it is fairly straightforward to do. We visited six out of the eight sites without too much difficulty on our three-week-long backpacking trip to Tunisia. If you are focussing solely on the UNESCO sites, you could tick them off in less time.
If you're happy to spend a bit of money on day trips and taxis, it's feasible to see five of Tunisia's WHSs whilst using Tunis as a base (although there would be some long travel days). This is the itinerary we'd suggest:
Tunis – 3 nights (for the Medina of Tunis, Archaeological Site of Carthage and Dougga/Thugga)
With two full days (three nights) in Tunis, dedicate one day to Carthage and Tunis Medina and another to a Dougga day trip (either by public transport, private taxi or organised tour).
Tunis to El Jem – 1 night (for the Amphitheatre of El Jem)
Take the train from Tunis to El Jem. Visit the archaeological sites and spend the night at the Hotel Julius. Alternatively, backtrack to Sousse for the night.
El Jem to Sousse – 1 night (for the Medina of Sousse)
Take the train or a louage to Sousse. Visit the medina and stay the night.
Alternative option: Spend 2 nights in Sousse and visit El Jem as a half-day trip from Sousse.
Sousse to Kairouan – 2 nights (for Kairouan)
Take a bus or louage from Sousse to Kairouan. You could see all of Kairouan's sights in half a day, but we recommend a couple of nights to explore properly and soak up the atmosphere.
Kairouan to Nabeul or Kelibia – 2 nights (for Punic Town of Kerkouane and its Necropolis)
Decide whether to base yourself in Nabeul or Kelibia and travel there from Kairouan either by bus or louage (or possibly a combination of both). You might have to backtrack to Sousse and pick up transport from there, and even then the journey may have to be done in several stages (e.g. via Hammamet). Take a day trip to Kerkouane, but also allow time to explore Nabeul and Kelibia.
Alternative option: Return to Tunis from Kairouan and visit Kerkouane as a day trip from there.
Kerkouane/Kelibia/Nabeul to Tunis and onwards to Bizerte (Ichkeul National Park) – 2 nights
It's highly unlikely that you'll find any transport that will take you directly to Bizerte, so once in Tunis you'll need to connect with an onward louage to Bizerte. Two nights in Bizerte will give time to organise a day tour to the park and see a little of Bizerte itself which is a very pleasant coastal town.
Alternative option: Base yourself in Tunis and visit Ichkeul National Park from there.
If you are short on time, but flash with the cash, or just don't fancy moving around quite so much, you could base yourself in Tunis and Sousse and visit all of Tunisia's WHSs from those two places.
Note regarding entrance fees and opening hours
The above ticket prices are correct at the time of writing (April 2020). The costs quoted are for non-residents of Tunisia. Details of prices for Tunisian residents, along with site opening hours (including weekly closures) can be found here. Note that opening hours differ in summer and winter and during the month of Ramadan.
Other useful links
Tunisia train schedules
Map of Tunisia train routes
Agency for the Development of National Heritage and Cultural Promotion
UNESCO World Heritage Sites in Tunisia
Some of the descriptions in this post have been replicated under UNESCO's Creative Commons Attribution-ShareAlike 3.0 IGO license (CC-BY-SA IGO 3.0).
---
---
ARE YOU PLANNING A TRIP TO SEE SOME OR ALL OF THE UNESCO WORLD HERITAGE SITES IN TUNISIA? PLEASE SHARE THIS POST…



---
---