Suggested Cambodia Itinerary: Coastal Cambodia
COASTAL CAMBODIA ITINERARY SUMMARY 
Phnom Penh – Koh Kong – Sihanoukville – Koh Rong – Koh Rong Samloem – Kampot – Bokor Hill Station – Kep – Koh Tonsay (Rabbit Island) – Phnom Penh
This Cambodia itinerary focusses on southern Cambodia's coastal regions, and highlights how diverse this part of the country is. It starts and ends in Phnom Penh, as there is a good chance you will have to pass through the capital. However the itinerary can be adapted to fit your journey.
Too many travellers rush through Phnom Penh or give it a miss altogether. That's a shame as the city has plenty to offer. For the first time visitor there are must-see sights like the Royal Palace and Tuol Sleng Museum (although we think the Killing Fields of Choeung Ek have become over commercialised) and for people like us, who have visited the city several times, there is always something new to discover.
Koh Kong is the best base for exploring the untamed jungles and mangroves of Cambodia's southwest but don't stay in the city if you can help it. Being situated on the river is far more rewarding. When leaving Koh Kong, make an early start for Sihanoukville so you can avoid spending the night and jump straight on a ferry to the islands. This once-sleepy coastal town justifiably gets a bad rap these days but it's the jumping off point for several of the islands so it difficult to avoid completely.
UPDATE: Sihanoukville has been going downhill for a few years, and things have now reached the point where we would recommend taking it out of your Cambodia itinerary altogether. A few years ago it was a haven for young partying backpackers. Not everyone's scene, but at that time you could still find a quiet part of beach away from the crowds. Today Sihanoukville is a very different place to the one we have spent many happy days whiling away the hours, and it has been destroyed by the over-tourism and over-development that has led to increased crime, pollution and environmental damage. We are not alone – a while ago Travelfish made a decision to stop covering it, and travel company Intrepid have recently (January 2020) announced that they will no long be including Sihanoukville on their Cambodia itineraries. 
It's gotta be said, we slipped into island life with relative ease the minute we landed on Koh Rong. The main beach, Sok San, goes on forever (well 7km but that's enough!) and when you get bored of lazing around, there are quite a few activities available including kayaking among mangroves and snorkelling at a nearby reef.
If you want to get to Koh Rong Samloem without backtracking then you will have to charter either a speedboat or a long-tailed boat for the journey (about 1½ to 2 hours by long-tailed boat). Otherwise, you will need to return to Sihanoukville and transfer to the island from there. Koh Rong Samloem's Saracen Bay is a gorgeous horseshoe-shaped beach with crystal clear water that is perfect for swimming and relaxing.
The island is paradise and we didn't want to leave but eventually we returned to the mainland and headed along the coast to lovely, lazy Kampot. Ramshackle and full of French colonial-era architecture, the town is great for a day or so of idle wandering, and somewhere we'd recommend you include on any Cambodia itinerary. It is also the best base for exploring the abandoned villas at Bokor Hill Station. We spent the night on top of the mountain, which we would recommend as it gives you longer to look around, but Bokor can be visited as a day trip also.
It only takes an hour to get to Kep if you take the direct route but, hiring a Remok (tuk-tuk) for the day means you can get there via the back route which passes through some sublime countryside and takes in places such as Secret Lake and the caves at Phnom Ch'nork and Phnom Sorsir. Kep isn't as instantly appealing at Kampot, in our opinion, but it grows on you and is a great place for getting stuck into fresh seafood and tracking down abandoned colonial-era villas.  Chilled-out Koh Tonsay, better known as Rabbit Island, offers yet more serious lazing on the beach time and when it's time to leave, there is regular transport back to Phnom Penh from Kep's central bus stand.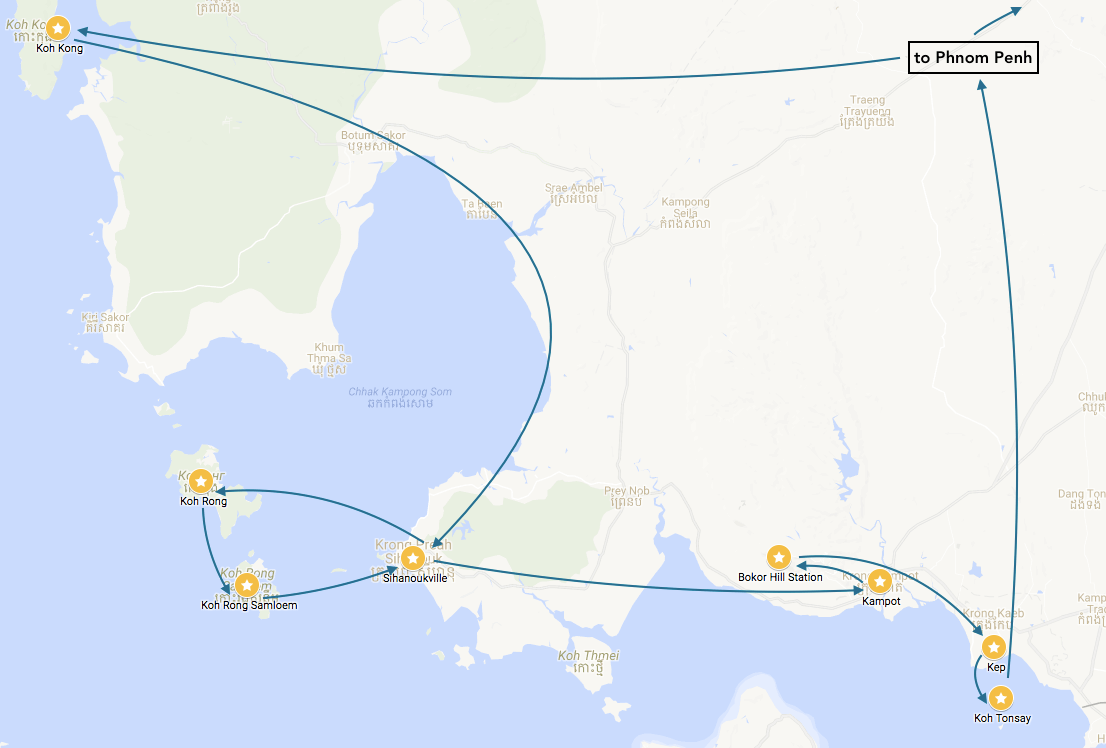 Number of countries: 1
Number of UNESCO sites: 0
Best time to travel: November to March
Recommended duration: 3 weeks
Best places to slow the itinerary down:  This Cambodia itinerary predominately focusses on beaches and coastal towns, so take your pick between Koh Rong, Koh Rong Samloem and Koh Tonsay. Koh Kong and Kampot are also great places to take it slow
Mode of transport: Buses and minivans
OTHER TRAVEL PLANNING RESOURCES
Travelfish is a particularly useful resource for independent travellers and backpackers planning a Cambodia itinerary as it tends to be more up to date than guide books.
For more information about getting to Koh Rong and Koh Rong Samloem and advice on where to stay, check out Visit Koh Rong's website.
Depending on our itinerary and destination, often we find our accommodation as we go, particularly in smaller places. In big cities, for slightly longer stays, during peak season or just when we're being a bit more organised, we tend to make a reservation in advance using Booking.com. Generally in Cambodia, you'll be fine booking guesthouses on the go, but for an itinerary like this one, it would be sensible to do some forward planning, particularly in high season.
There are a few guidebooks to Cambodia available but we've always used Lonely Planet and it's hard to change a habit of a lifetime! With the tourist infrastructure changing so rapidly at the moment, it's hard for print guidebooks to keep up so we tend to use our LP for historical information and facts and an online resource like Travelfish or Thorntree for information on accommodation, transport and visas…
Check out the latest offer on Lonely Planet's guide to Cambodia here and consider picking up a South East Asia phrasebook to try a few words of the lingo.
And if you need a few more reasons to follow this Cambodia itinerary…
Saracen Bay, Koh Rong Samloem
Koh Tonsay (Rabbit Island)
Are you planning a trip to South East Asia? Did you find this Cambodia itinerary useful? Pin it to your travel planning board for later…