The Characteristics of an Asian Auto Rickshaw
Mostly slow and sometimes uncomfortable, the auto rickshaw is as synonymous with Asia as rice paddies and noodle soup. But it's not just in Asia that the auto rickshaw has made its mark. You can regularly see them tuk-tuking their way through the streets of several Central American cities and towns. They are also used as a mode of transport in a couple of South American countries and are still commonplace in many African states including Nigeria and Sudan. You can even spot them in some European cities. This is particularly true of Italy, where Piaggio still manufacture their three-wheeler called the Piaggio Ape. But it is in Asia that the auto rickshaw is used with most regularity and love it or hate it, there is no denying that it is an inherent part of Asian culture and would be sorely missed if it was replaced by more modern modes of transport.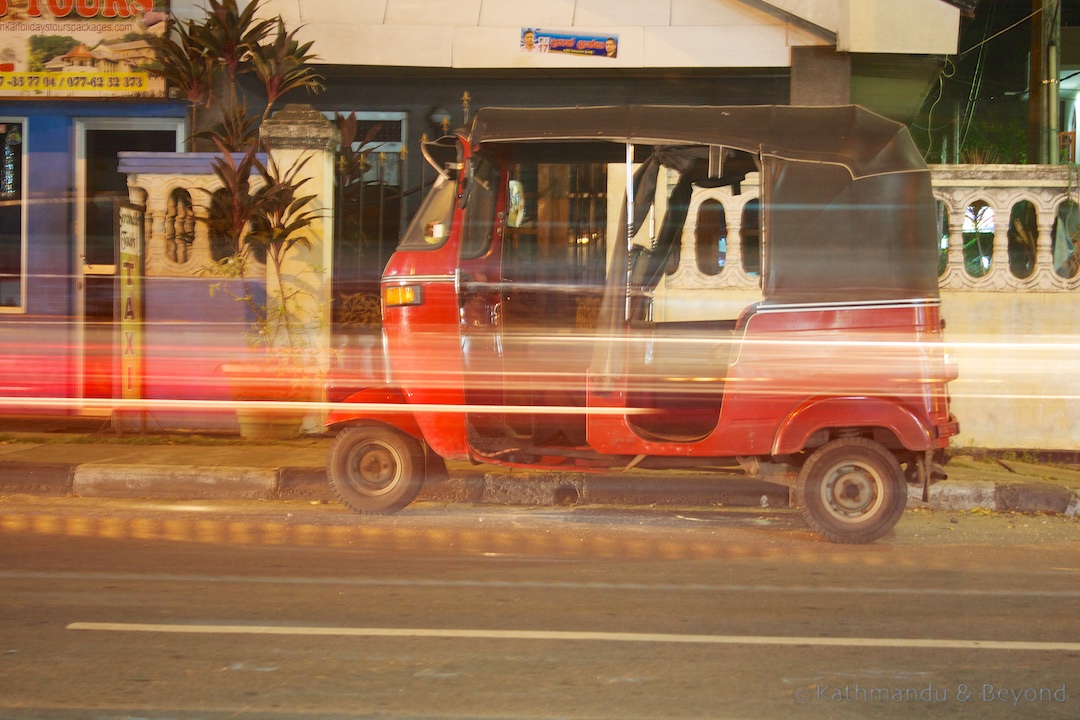 Negombo, Sri Lanka
Coming in all shapes and sizes, here are a few auto rickshaws that we have spotted, travelled in, and laughed at over the years…
The Mobile Shop (Sri Lanka)
Who says you have to use your rickshaw to transport people? We spotted this one whilst cycling around Anuradhapura in Sri Lanka. The vendor was doing a roaring trade in what I would generally describe as cheap tat.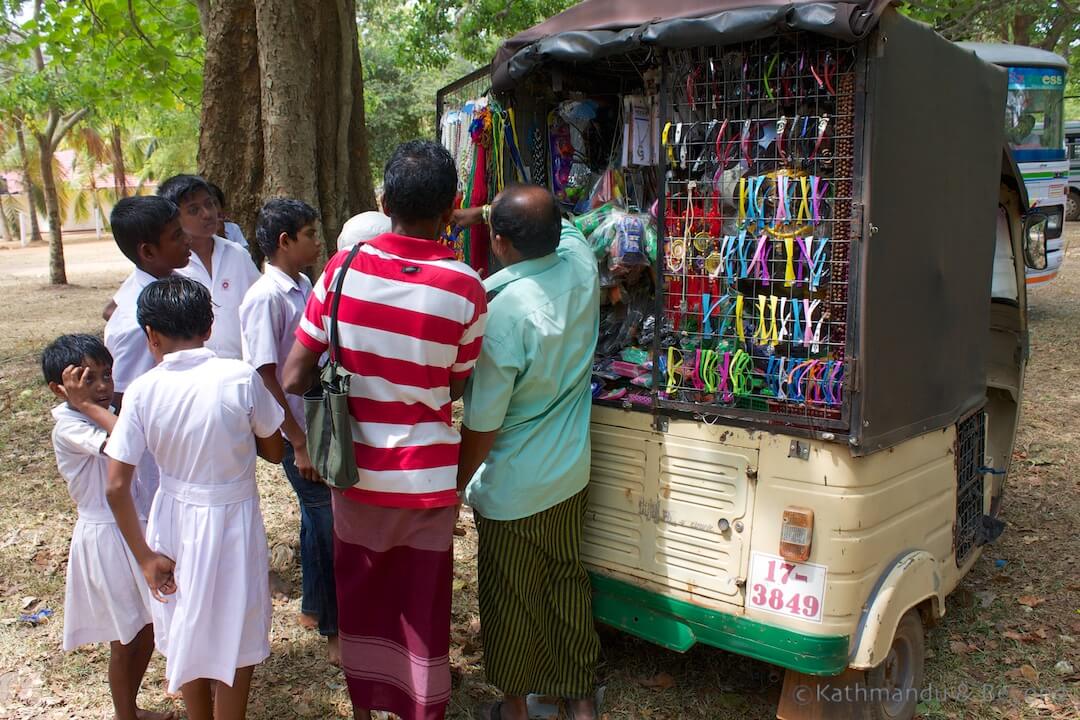 Abhayagiri in Anuradhapura, Sri Lanka
The School-run (India)
Forget your 'Chelsea Tractors' (*) with their backseat TV screens to keep little Tarquin and Penelope happy on the journey to school. Seven school kids in the back of this Indian auto rickshaw in the Gujarati city of Ahmedabad is just as efficient when it comes to doing the school-run.
(*) Range Rovers and other 4WD sport utility vehicles for those not familiar with the saying.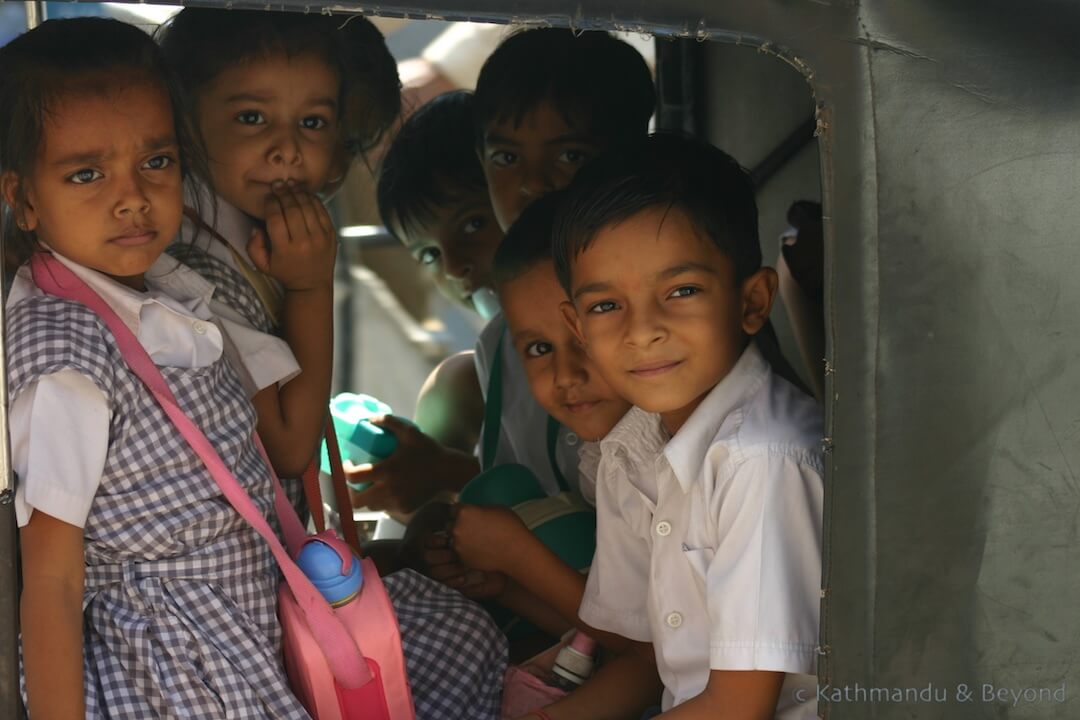 Ahmedabad School Run, India
Sharing the Road (India)
In India, rickshaws share the road with just about everything including the odd elephant or two!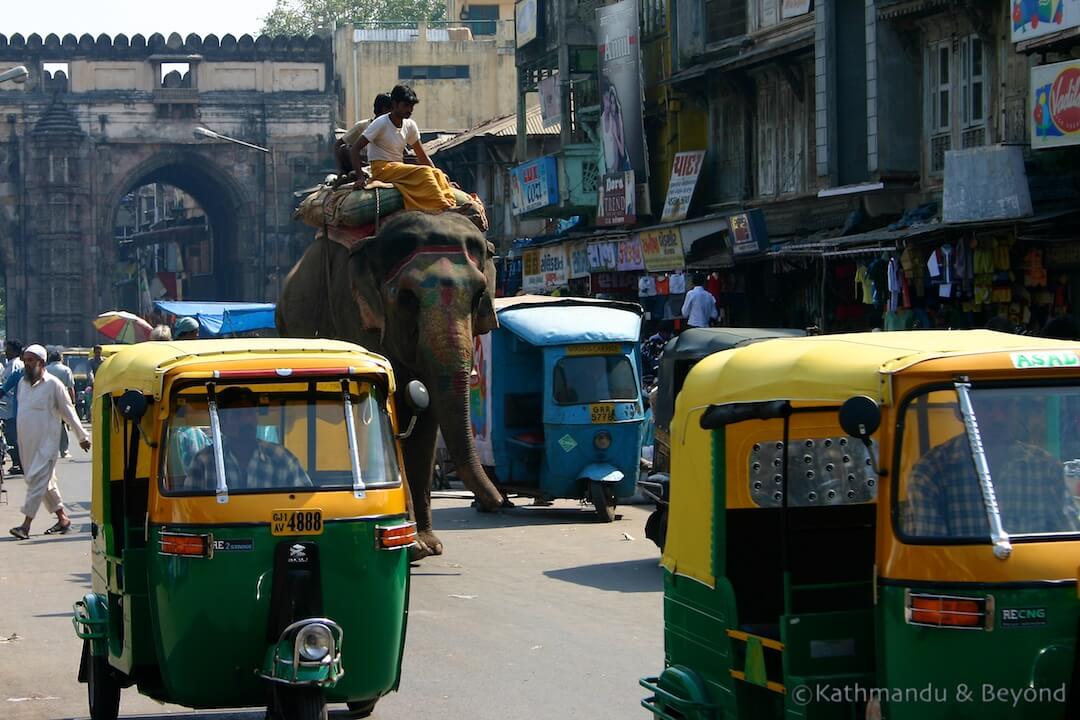 Ahmedabad, India
The Odd-ball (Thailand)
Thailand has plenty of rickshaws although no one ever calls them that – it's always tuk-tuk but I have only seen this unusual design in the ancient city of Ayutthaya, Central Thailand. I call it the 'Finn' because it's rather serious and a bit miserable-looking.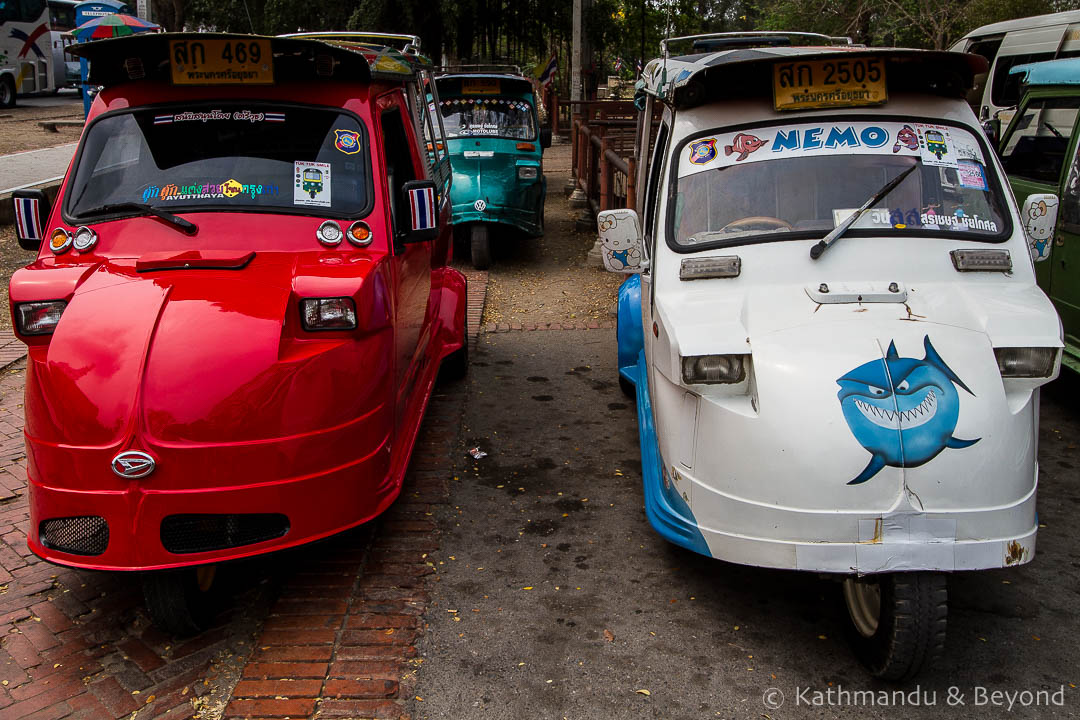 Ayutthaya, Thailand
The Classic (Sri Lanka)
Based on the Indian Bajaj RE model, this to me is an auto rickshaw in its most recognisable form. We photographed this one in the southern Sri Lankan city of Galle.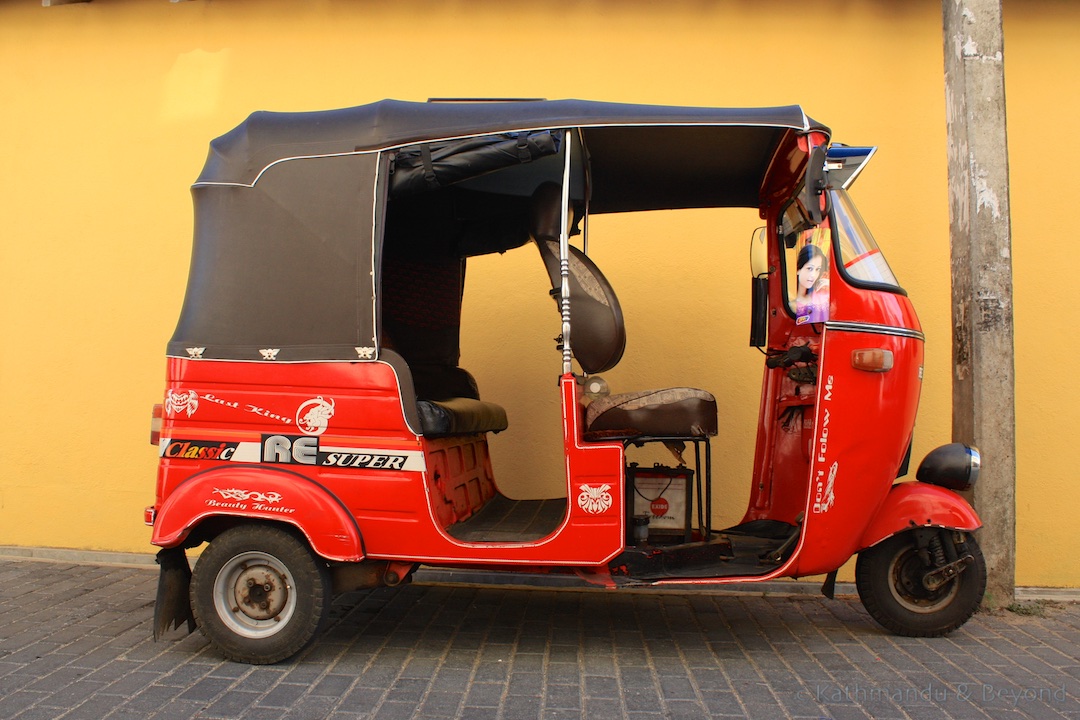 Fort Galle in Sri Lanka
The Lost tuk-tuk (Guatemala)
This auto rickshaw was spotted in Antigua, Guatemala. To me, as mentioned earlier, it looks out of place because I always associate auto-rickshaws with Asia but in fact, there are plenty all over Central America. They are a common sight not only in Guatemala but also in Nicaragua, El Salvador and Honduras. They tend to be based on the Indian Bajaj model.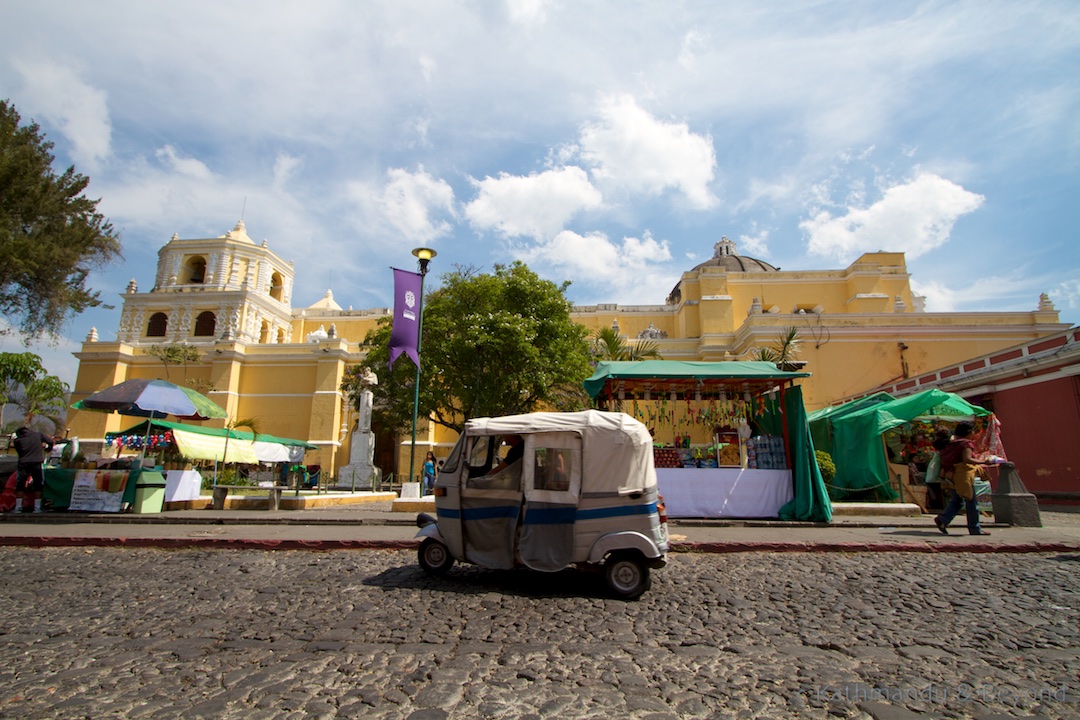 Passing the Iglesia y Convento de Nuestra Senora de la Merced in Antigua, Guatemala
The Pensioner (China)
A bit more basic and older looking than many of its Asian cousins (IMHO), the Chinese rickshaw is none the less quite practical for getting around big cities. It is commonly called the 'three-wheeler' (sān lún in Mandarin) or the far more amusing 'beep beep car' (dū dū chē in Mandarin).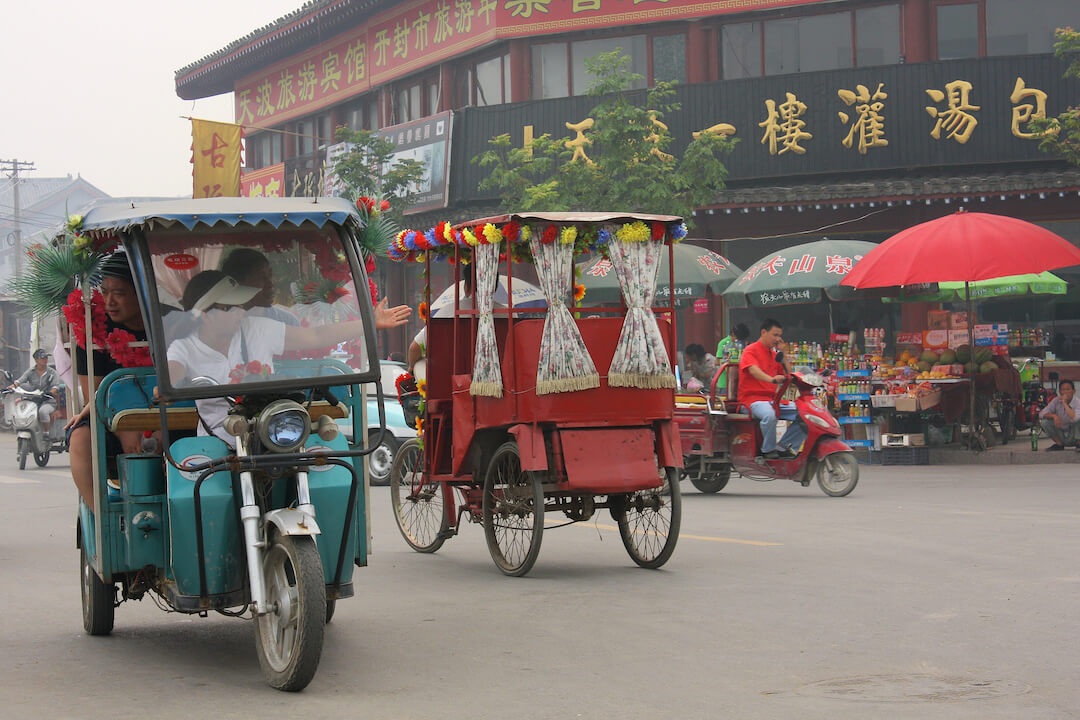 Longting Park in Kaifeng, China
The Souped-up Special (Thailand and Laos)
Check out the chrome on these bad boys! This style of tuk-tuk (common in the Mekong River region Thailand and Laos) may look the business but they are actually one of the slowest rickshaws around.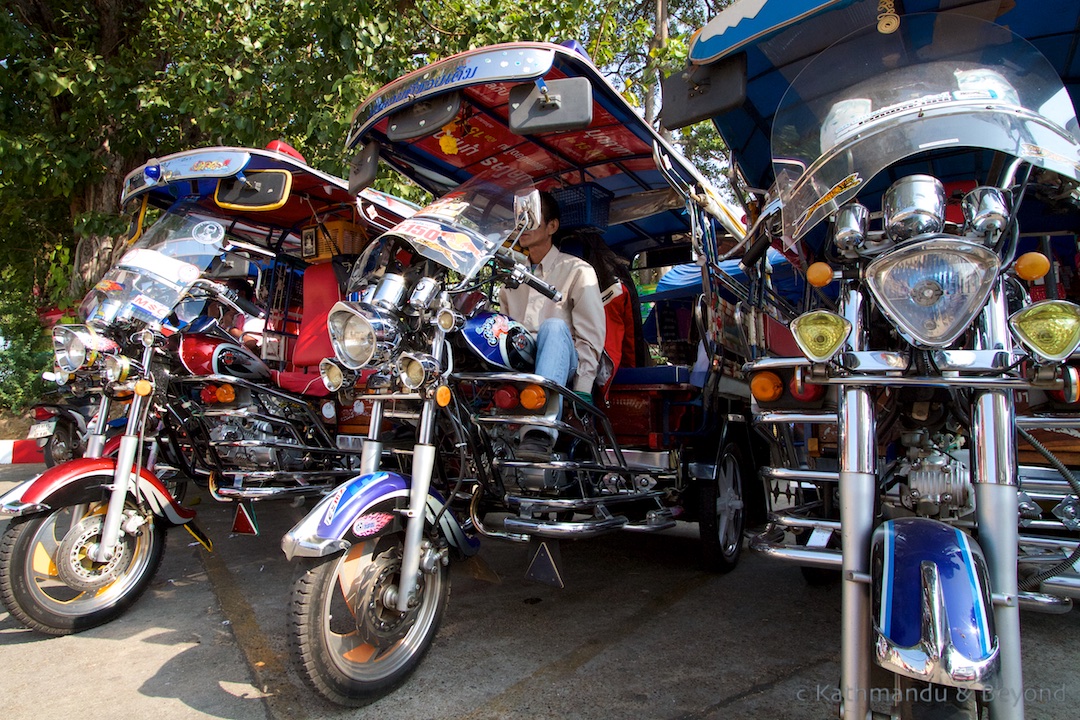 Mukdahan, Thailand
The Bubble (Cuba)
The Cubans call this funny looking rickshaw the Coco taxis because they think it resembles a coconut. I can see where they are coming from but to me, they look more like something you would find at the fairground, albeit with wheels. This has to be my favourite rickshaw although when you are in Havana (where they are used the most), as a tourist you don't notice them so much because they are overshadowed by all the gorgeous classic American cars that you see everywhere.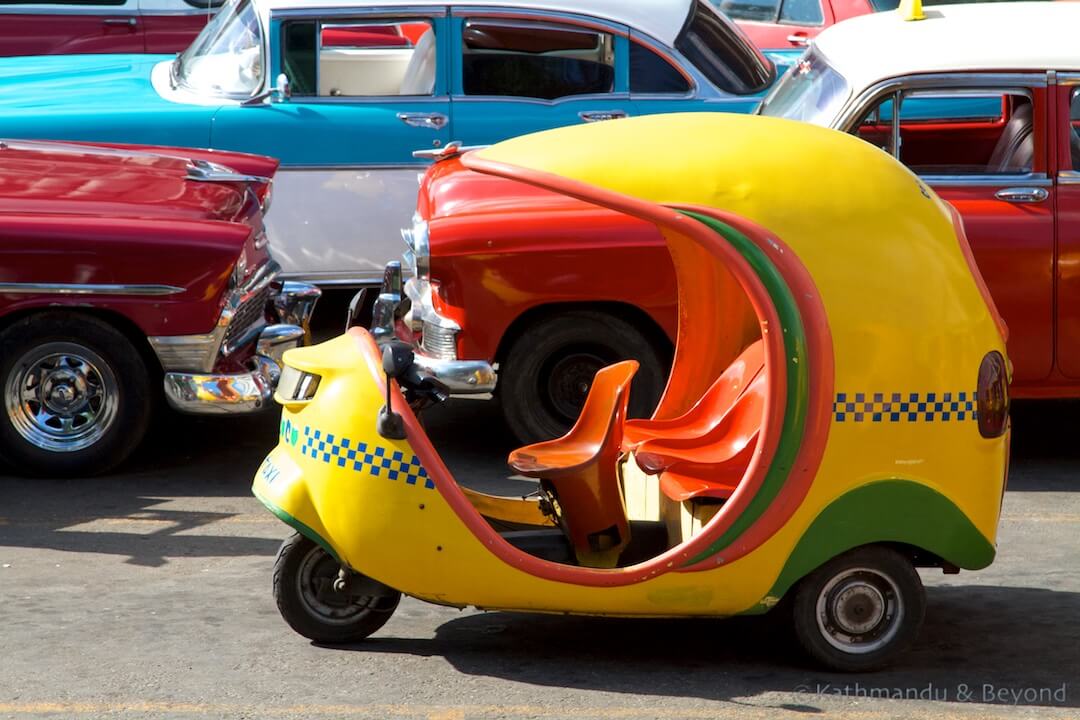 Bubble car in Old Havana, Cuba
The Sidecar Rickshaw (Philippines)
If rickshaws teased each other this one would be a constant source of amusement for all the others! A bit on the titchy side, you would think that a nation that invented the testosterone-fuelled Jeepney would come up with something a bit more manly than this?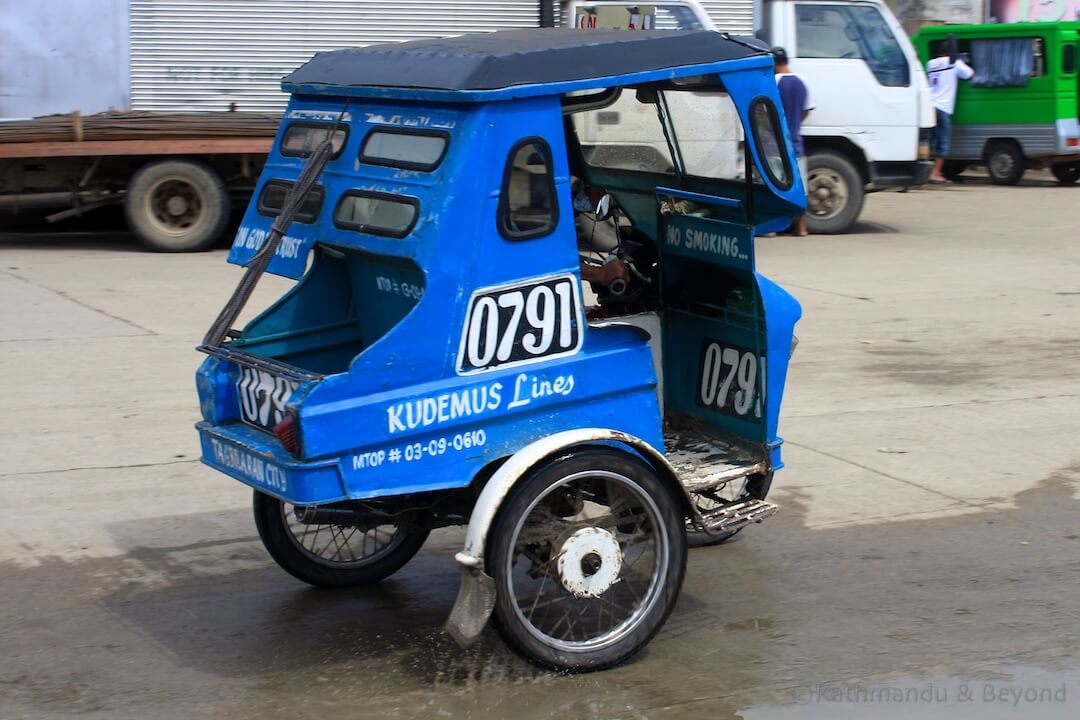 Tagbilaran in Bohol, Philippines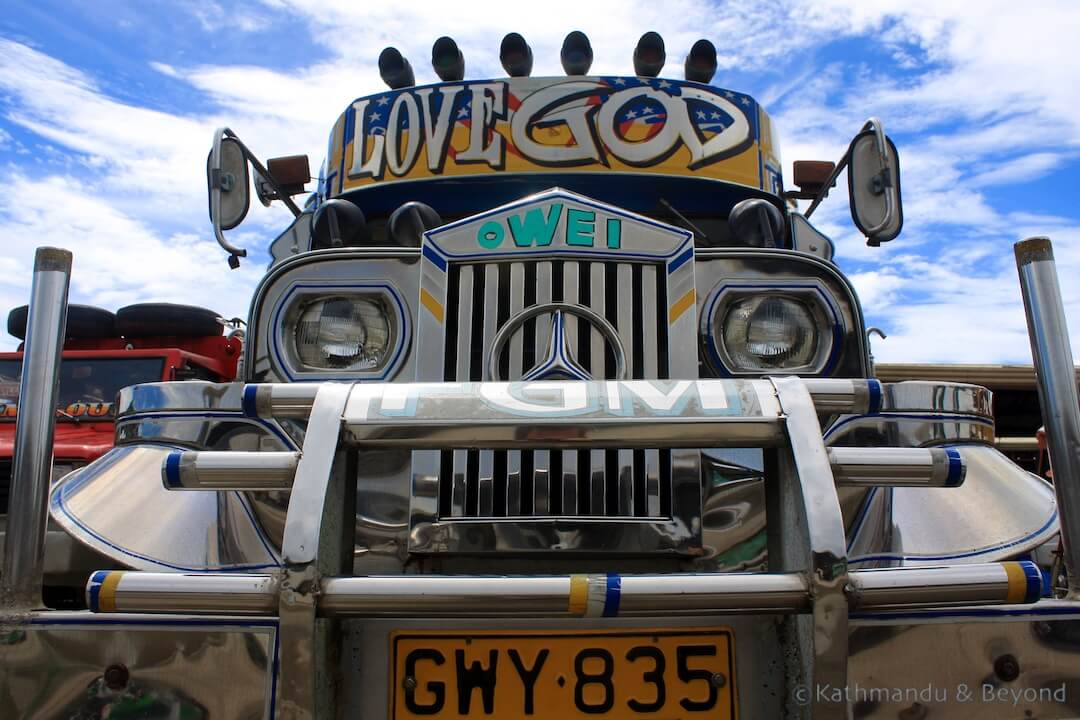 Jeepney in Tagbilaran, Bohol (not a rickshaw, but a very popular mode of transport)
The Boy Racer (Thailand)
In my opinion, this is the 'daddy' of all auto-rickshaws – they are fast and make a great noise when they get going. I avoid them like the plague these days (you never get a fair price out of the driver and metered taxis in Thailand are much cheaper anyway) but I still remember my first trip to Bangkok when a friend and I hired a tuk-tuk each and paid the drivers extra to race each other as fast as possible up and down Rama IV Road – great days!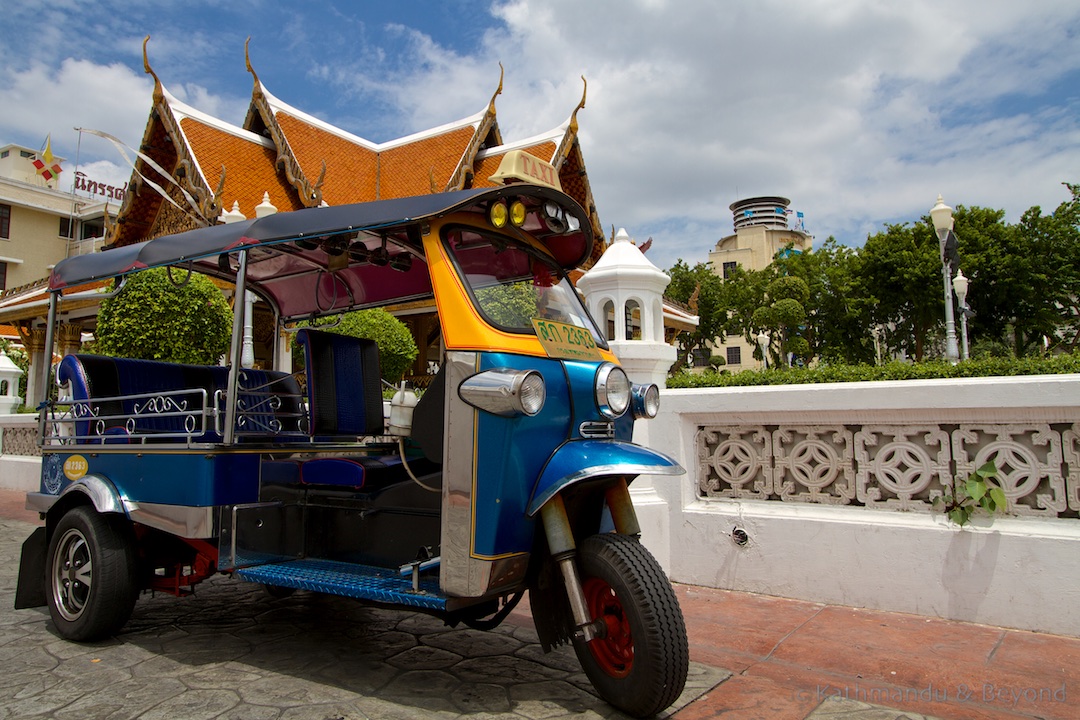 Outside Wat Ratchanaddaram Phra Nakhon in Bangkok, Thailand
The Cage (Bangladesh)
Known locally as baby taxis or CNGs (because they run on compressed natural gas), the Bangladeshi auto-rickshaw has to be one of the most frightening rickshaws that we have travelled in. This is particularly the case in Dhaka, where the traffic is insane, to put it mildly. CNGs dart and skirt their way around the city and all you can do is sit back and hope you will arrive at your destination in one piece. The scariness of the journey is further compounded by the fact that you are entrapped in a cage and only the driver has the ability to let you out. Many locals refuse to use CNGs, citing them as too dangerous and opting for the slower but less confined cycle rickshaw instead. After taking our first journey in one, we decided to heed local advice and thereafter only opted for an auto-rickshaw if our intended journey couldn't be undertaken by cycle rickshaw.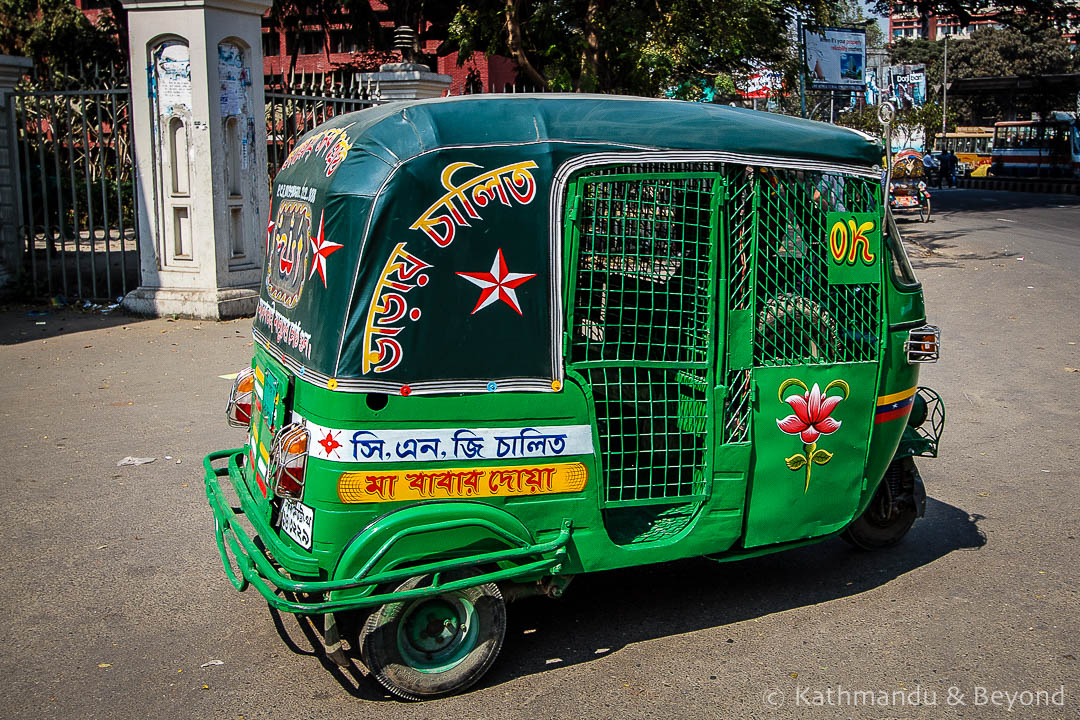 Dhaka, Bangladesh
Our Tuk-tuk (Cambodia)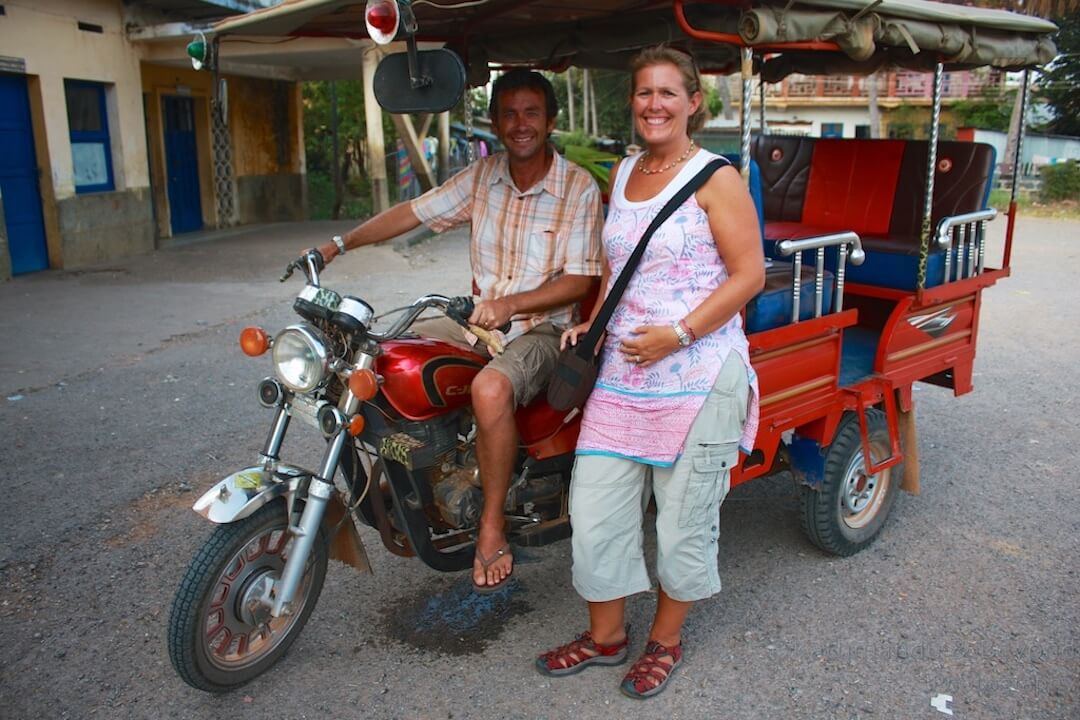 Battambang, Cambodia
If you enjoyed this post, you'll probably also like Cycle Rickshaws: An Asian Icon and Rickshaw Art in Bangladesh.
---
---
---