The best places to visit in Cambodia beyond the temples of Angkor and the Killing Fields at Choeung Ek
Many of you will already know that we are big fans of Cambodia and never need an excuse to return. We have been travelling to the kingdom since the early 1990s. I (Mark) first backpacked in Cambodia in 1992 and Kirsty's first visit was in 1998. Since then, we've returned more times than we can count, including a four-month stay in 2009 and a two-month work assignment in 2016. So, if you're looking for reasons to visit Cambodia, we've got plenty of them!
Although visiting Cambodia is a compulsory inclusion on any itinerary to South East Asia, relatively few tourists make it further than Siem Reap and the temples of Angkor. Some travellers include a quick stop in Phnom Penh, but most don't stay long enough to discover its charms.
Many visitors fall in love with Cambodia instantly but you can guarantee that those who don't did not venture beyond tourist-thronged Siem Reap and the often-overwhelming capital, Phnom Penh. This is a shame because it's beyond these cities where the real Cambodia is found. Yes, we know the 'real Cambodia' is all around you – in the wet markets, temple grounds and even the air-conditioned shopping malls – but we urge you to go beyond and explore more of the country that has a reputation for being the wild west of South East Asia.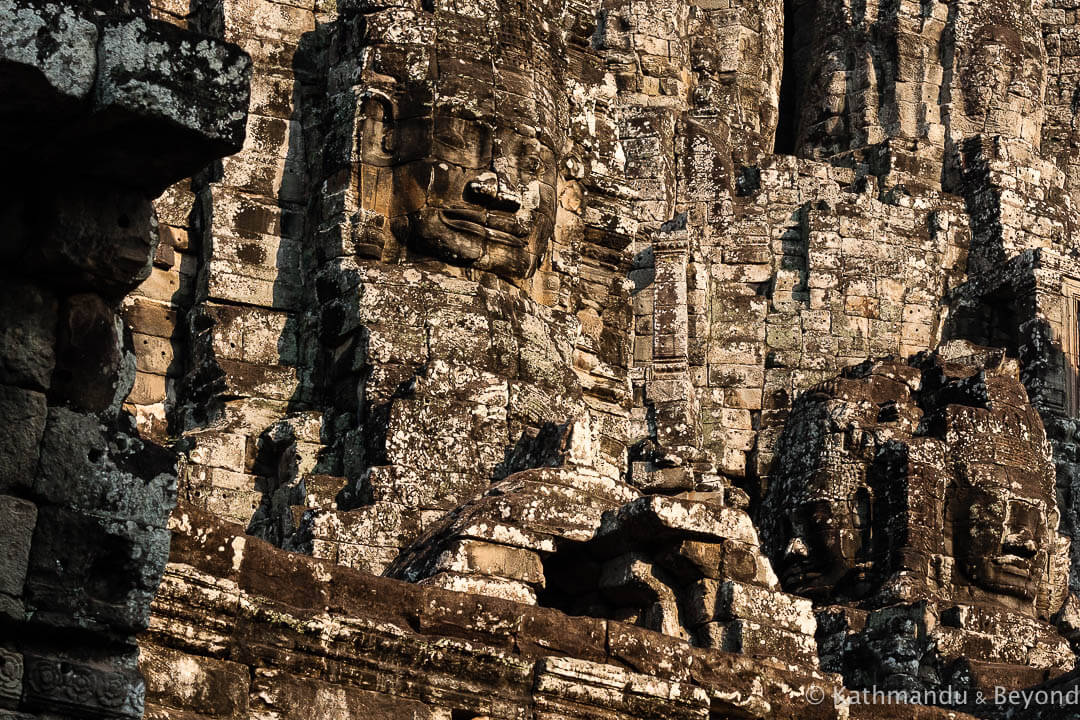 The Bayon within Angkor Thom, the last capital city of the Angkor Empire
So where should you go once you've ticked off the Cambodia must-see sights?
Besides the incredible temples of Angkor, here are eleven more compelling reasons to visit Cambodia. We realise some of them are a little offbeat, but would you expect anything else from us?
You
'
ll find French colonial architecture throughout many towns and cities in Cambodia
Cambodia was a French protectorate for a decade shy of a hundred years (1863 until 1953) and although like the British in parts of their empire, the French did some terrible things during the course of their rule, they did leave two notable legacies.
The first of these is the baguette! I kid you not: bread in Asia is generally not that good but, thanks to the French, in Cambodia (and Vietnam and Laos, which were also under French control at a similar time), they know how to produce a decent baguette.
The importance of a good bread aside, the other legacy that has stood the test of time is French-period architecture. 'Faded Grandeur' is one of our favourite phrases. We use it liberally in our posts when we are writing about architecture that has seen better days but was clearly once magnificent and when it comes to French colonial architecture in Cambodia, the saying fits the bill perfectly. Now and then you'll see structures from that period, the Royal Hotel in Phnom Penh or the City Hall in Battambang for example, that have been beautifully restored and are in excellent condition but, often, it is the somewhat neglected buildings that you come across that have more character and are more appealing to the eye.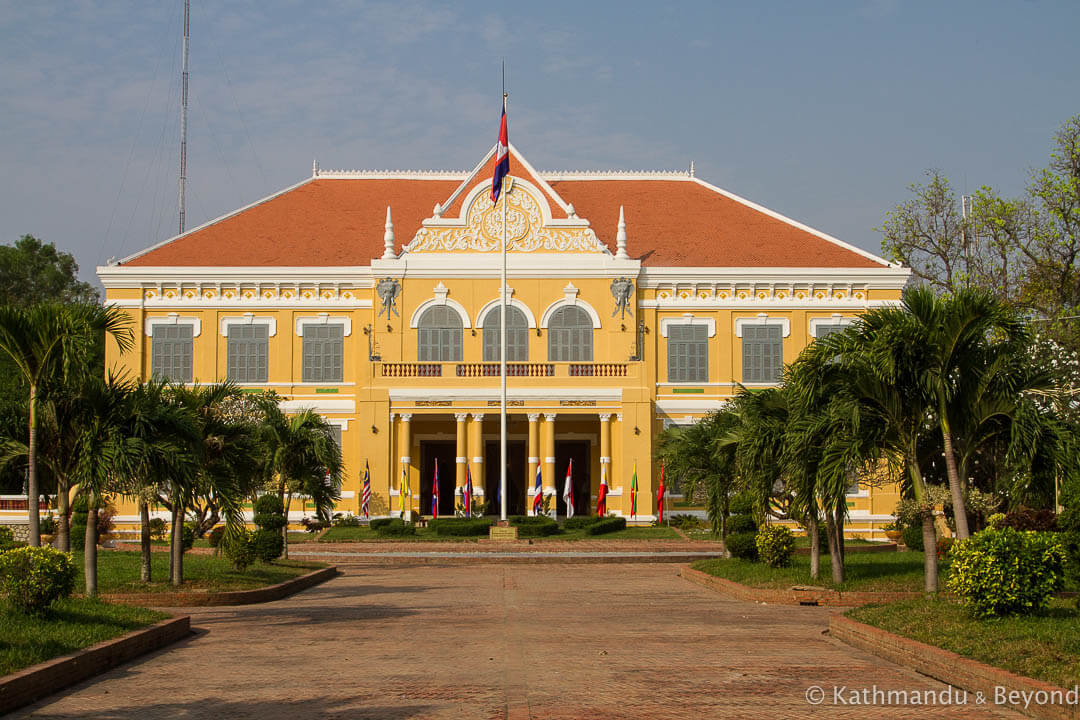 City Hall (Governor's Residence) in Battambang
The riverine town of Kampot is one of our personal favourite hunting grounds for French-era architecture in Cambodia. Here, a quick walk along the riverfront and the few blocks behind it will reveal streets lined with buildings from the time of the French. Many of them are painted in seductive pastel colours and/or with ornate facades that blend perfectly with the tropical setting. Other good places to see colonial architecture in Cambodia include Kompong Chhnang, the old part of Siem Reap (the roads either side of Pub Street) and Kampong Cham. Battambang also has plenty of structures that are perfect examples of faded grandeur and, to a certain extent, the same can be said for Phnom Penh, although constructional development in the capital is happening at such a pace that it is anyone's guess if any of the older buildings will survive for much longer.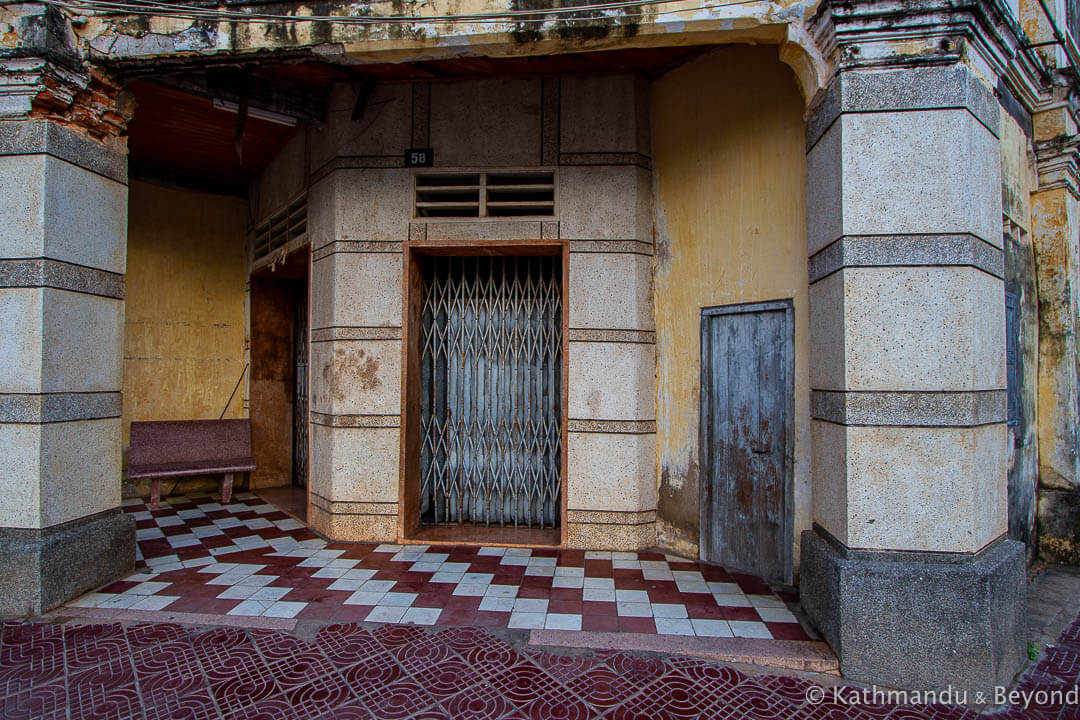 French-colonial architecture in Kampot 
The Cambodian people are charming and will steal your heart
The Khmers are endearing, often funny and extremely attractive! These days, it is not often that you can look at a race of people and easily identify them with their ancestors (the Mayans would be another exception) but often the facial similarities between a present-day Khmer and his or her descendants are strikingly similar. You've only got to compare one of the numerous stone profiles at the Bayon with the facial features of the remork (Cambodian-style tuk-tuk) driver who took you there, for instance, and the similarity will be uncanny. This particular observation aside, there is no denying that the Cambodians will end up being one of the highlights of your time in the country. Sure, they will try and squeeze you for an extra buck here and there but when you see how hard they work, or the difficult conditions in which many of them survive, you would be a very hard person indeed if you begrudged them for it. Besides, Khmers have one of the most infectious smiles on the planet and you've got no chance against that!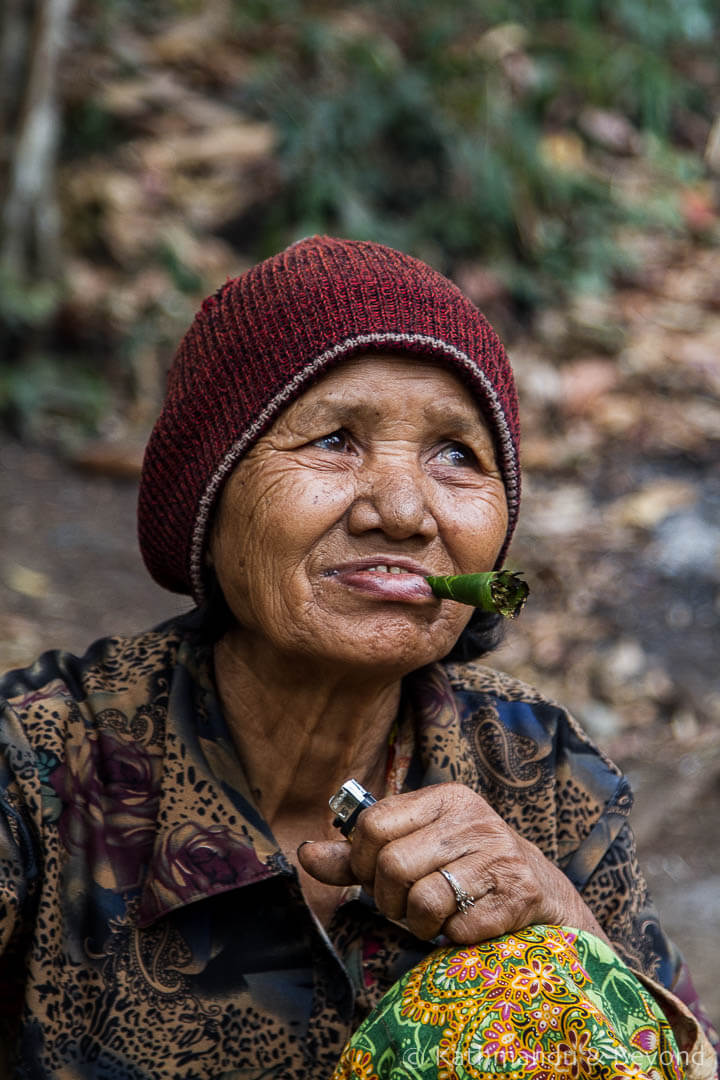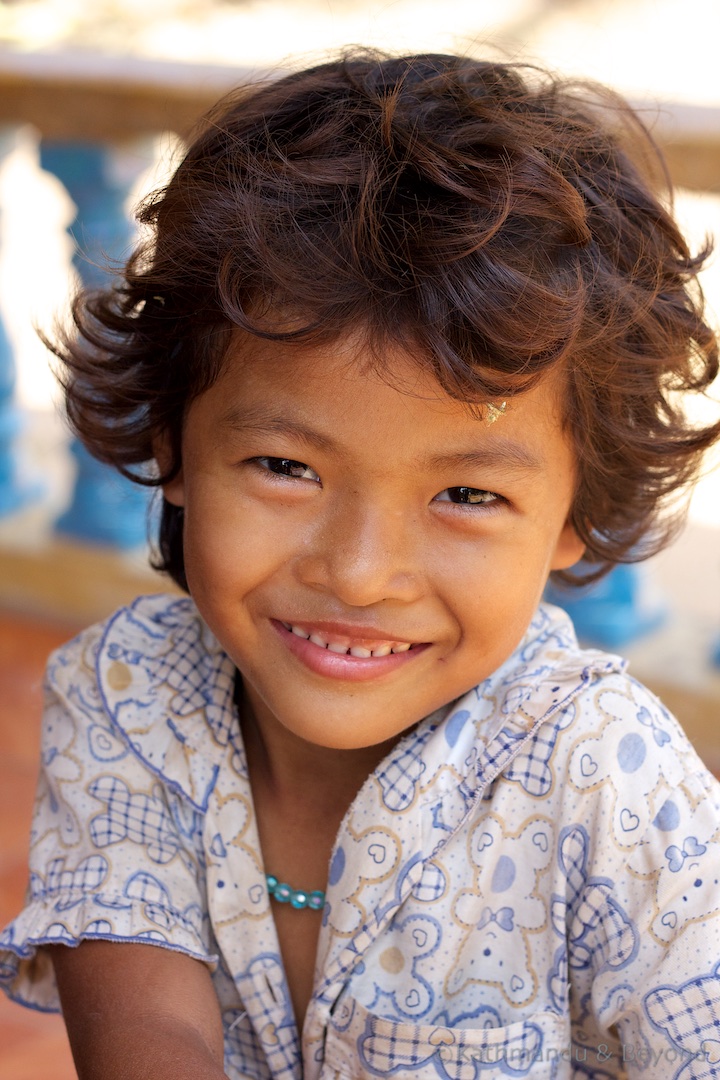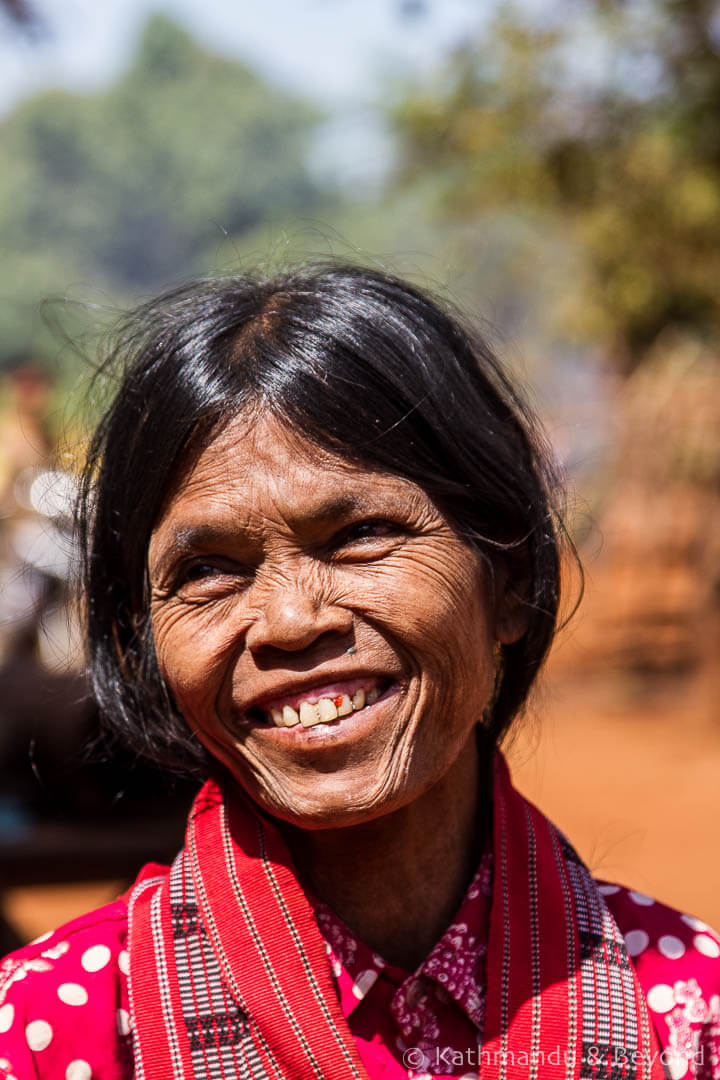 The wonderful Khmer people 
Battambang is one of the most delightful cities in South East Asia
Similar to Savannakhet in neighbouring Laos, Cambodia's second city is an extremely agreeable place and I can't imagine anyone not being taken in by its appeal. Firstly, Battambang is a manageable city. It is easy to get around, either on foot if you are downtown or by employing the services of one of the numerous, and often charming, remork drivers if you want to see the sights further afield. Then there's life on the river at dusk and after dark: the night market is a great place to eat and there are some decent lowkey bars for sundowners or post-dinner drinks nearby. While on the subject of lowkey, Battambang has none of the thumping bars that you'll find on Pub Street in Siem Reap or any of the edginess that you can sometimes experience in Phnom Penh. In fact, Battambang is ideal for an extended stay and, for the last few times we have visited Cambodia, it has been our go-to place for a bit of downtime and peace and quiet (*).
(*) As an added bonus, the Royal Hotel, which is a mere US$10 or less per night, is a perfectly acceptable place to crash.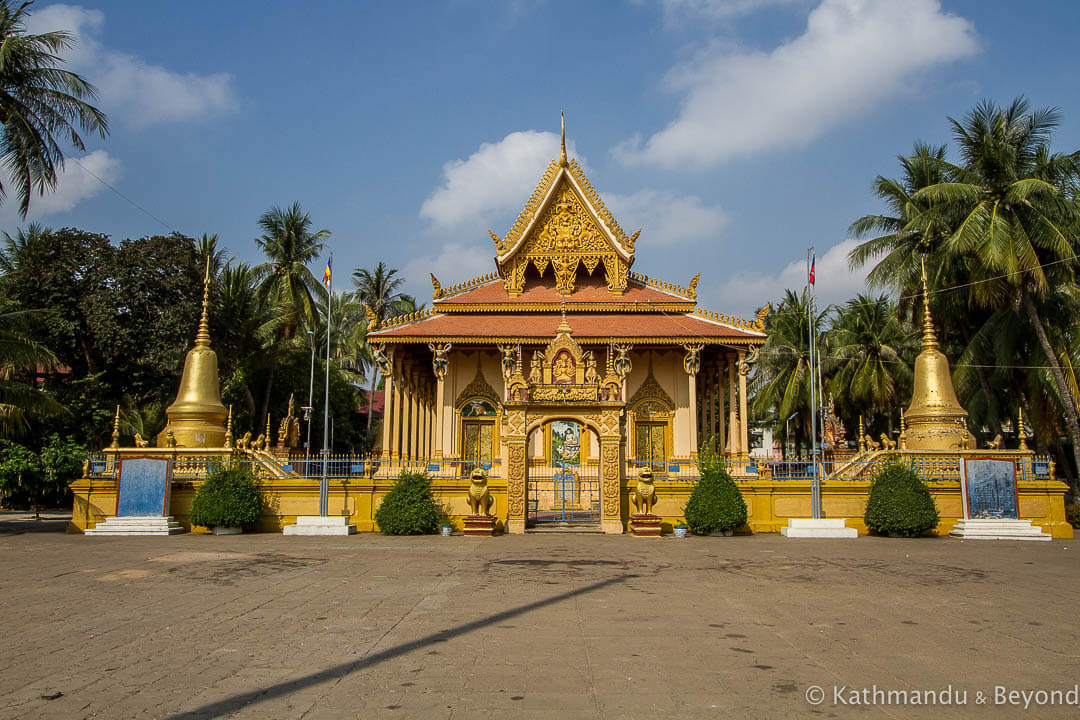 Wat Pipetharam in Battambang
Out and about within the city limits, you'll find lots of faded grandeur (there it is again!) in the form of French colonial and modernist style architecture, a sports centre with an abandoned swimming pool, the occasional wat (temple), a central market that is a visible treat on the eyes and a semi-abandoned train station that is begging to be photographed. Further afield, and requiring the services of a remork driver, you've got the ruins of Angkorian temples, namely Wat Ek Phnom and Phnom Banan, village scenes and the fabled bamboo railway which hurtles through pleasant Cambodian countryside with no regard for Health & Safety! It's not the authentic experience it once was – the Nori, to give the bamboo train its correct name, was originally developed to transport people and goods throughout the Battambang region at low fares – but it is still worth riding and good fun as long as the said lack of H&S doesn't worry you too much!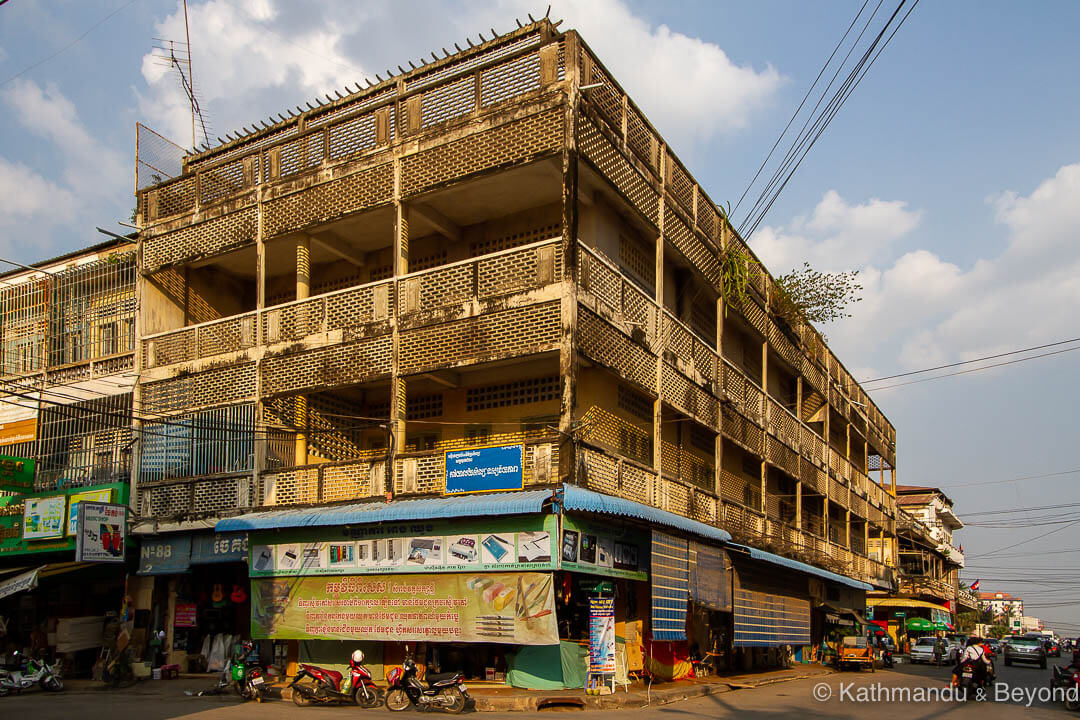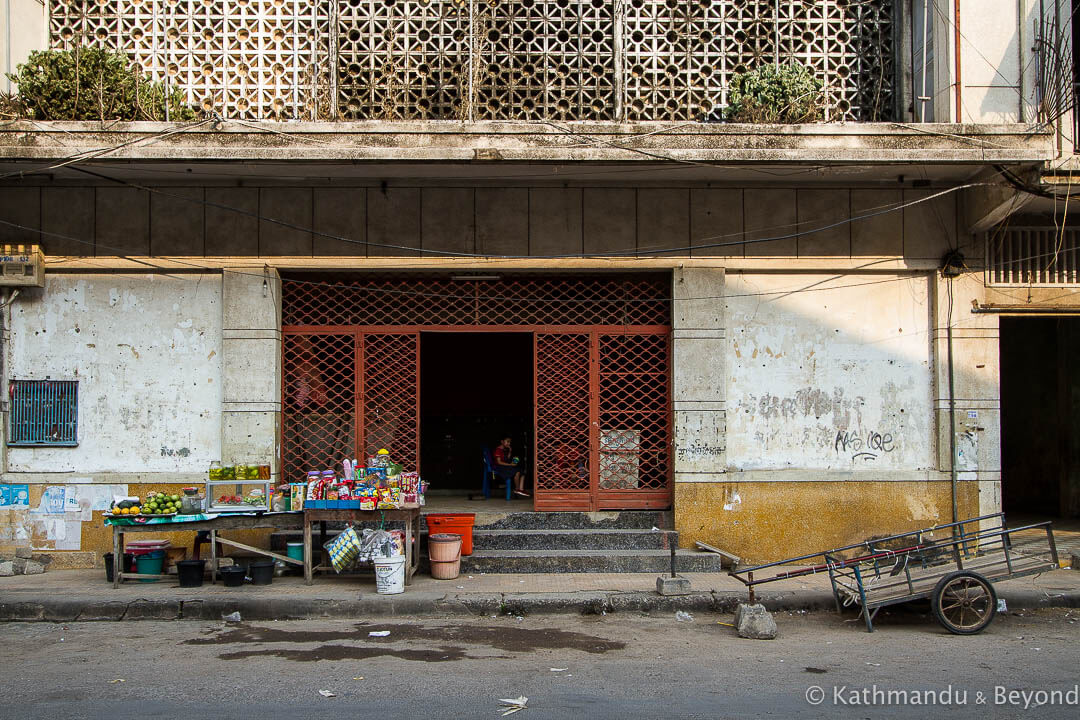 Battambang
There are several abandoned places in Cambodia worth exploring
Cambodia is a pretty decent place if you are partial to a bit of urban exploration.
The easiest abandoned location to visit in Cambodia is the atmospheric collection of dilapidated French colonial buildings at Bokor Hill Station atop Bokor Mountain. Established in 1925 as a temperate getaway for French colonialists and the Cambodian elite, the resort was first abandoned in the mid to late 1940s when the First Indochina War (1946-1954) was taking place. It reopened again in 1962 but just a decade later it fell into the hands of the Khmer Rouge and was again deserted. The hill station remained a stronghold of the Khmer Rouge until the early 1990s, several years beyond the 1979 overthrow of the tyrannical regime by the Vietnamese army, and for quite some time, Bokor Mountain was not a safe place to visit.
All that is in the past now, however, and these days you are free to roam around what is left of the hill station, which includes an old Catholic church, an abandoned hotel and a former royal retreat known as Domnak Preah Bath Monivong. There is also an active temple nearby, called Wat Sampov Pram, which offers some terrific views of the Cambodian plains and the Gulf of Thailand below.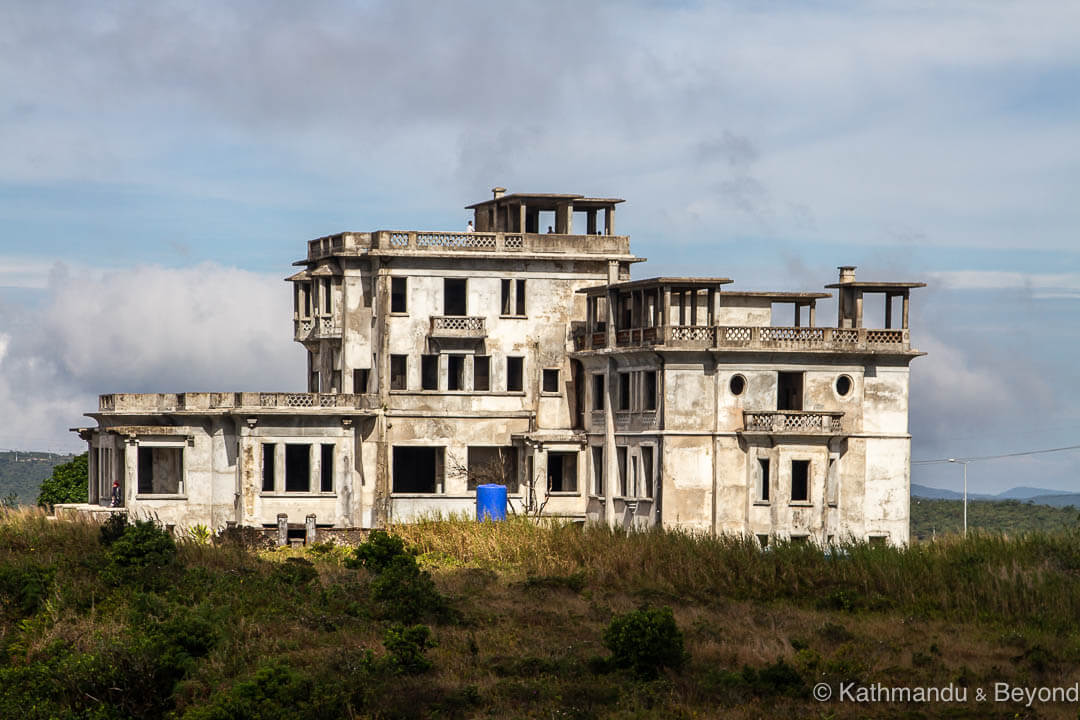 The former Bokor Palace Hotel at Bokor Hill Station
Located about 35km west of Kampot, and therefore not far from Kep as well, the easiest way to reach Bokor is either with your own transport, a hired motorbike for example, or by joining an inexpensive tour. The road leading up the mountain to the former resort is probably the best in Cambodia but the drawback is that there are plenty of construction works and new-builds that now surround the original ruined structures and which mar the view somewhat.
One final thought … because Bokor is often shrouded in fog, which comes and goes just like that, you might want to consider, if you have your own transport, spending the night up there to increase your chances of seeing the wondrous views. The only place to stay is the lavish Thansur Sokha Hotel but because Kampot and Kep are so close, nobody really bothers to do so. As a result, supply outstrips demand in this instance and you can get a very good deal if you just rock up and ask for a rate at reception. It is a big hotel (564 rooms) and we were literally two of only a dozen or so guests in the property when we stayed there.
As for other abandoned places in Cambodia, not too far away in the sleepy seaside town of Kep, you will find the shells of several once-grand villas and mansions that, yet again, belonged to French imperialists and affluent Khmers alike. Back in the 1950s and '60s, Kep was one of South East Asia's most fashionable spots and glitzy parties were the norm at many of the town's lavish homes. This all came to a crashing halt, however, during the Vietnam War and the sudden, and catastrophic, rise of the Khmer Rouge. By 1975, Kep was fully under the control of the communist regime and it wasn't long until the only reminder of the town's pleasure-seeking past was the properties themselves.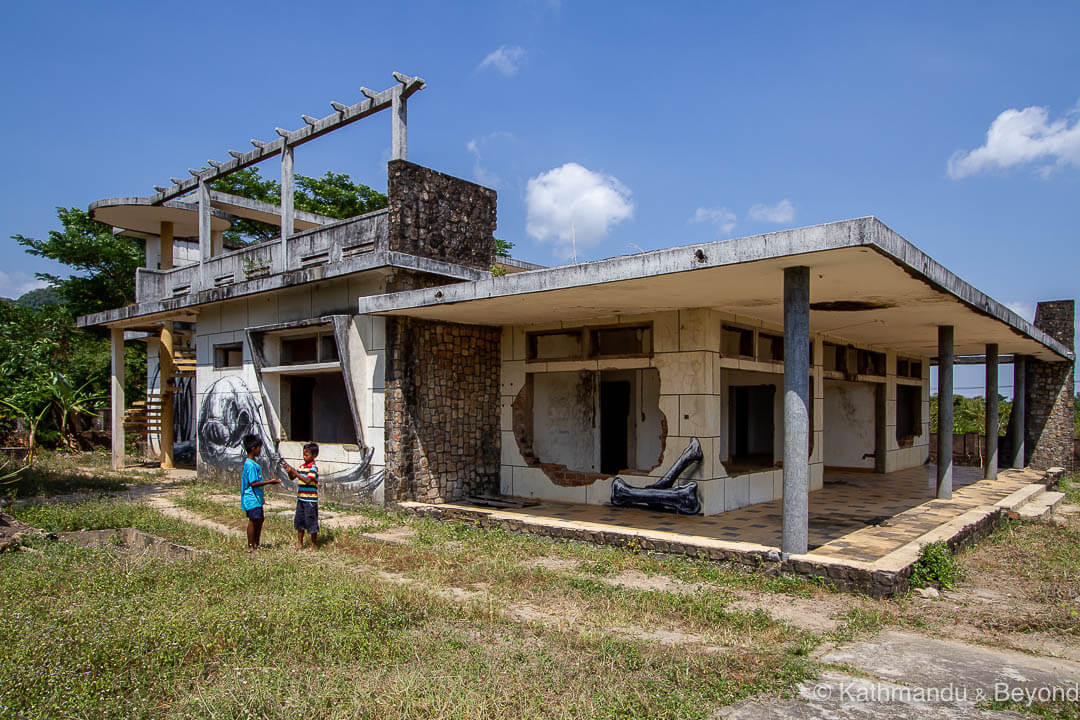 Quasi-abandoned villa in Kep
Today, those villas and mansions that have survived Cambodia's darkest period in history are in various stages of decay. Some have been completely taken over by the encroaching vegetation, while others have become a canvas for local street artists. Some are even still inhabited by official squatters, who keep an eye on the property and, more importantly, the land it is located on, for the owner in return for somewhere to live rent-free.
The best way to locate the abandoned villas in Kep is to, first, read our more detailed post on the subject and, second, find yourself a knowledgeable remork driver to take you around the best/remaining spots. 
The other town in Cambodia in which there are some interesting abandoned locations that can be explored relatively easily is Kompong Chhnang. We had the unexpected bonus of discovering a photogenic former military housing block not far from the centre of town, but Kompong Chhnang's most interesting urbexing attractions are situated in the countryside, some 14km away from the town itself.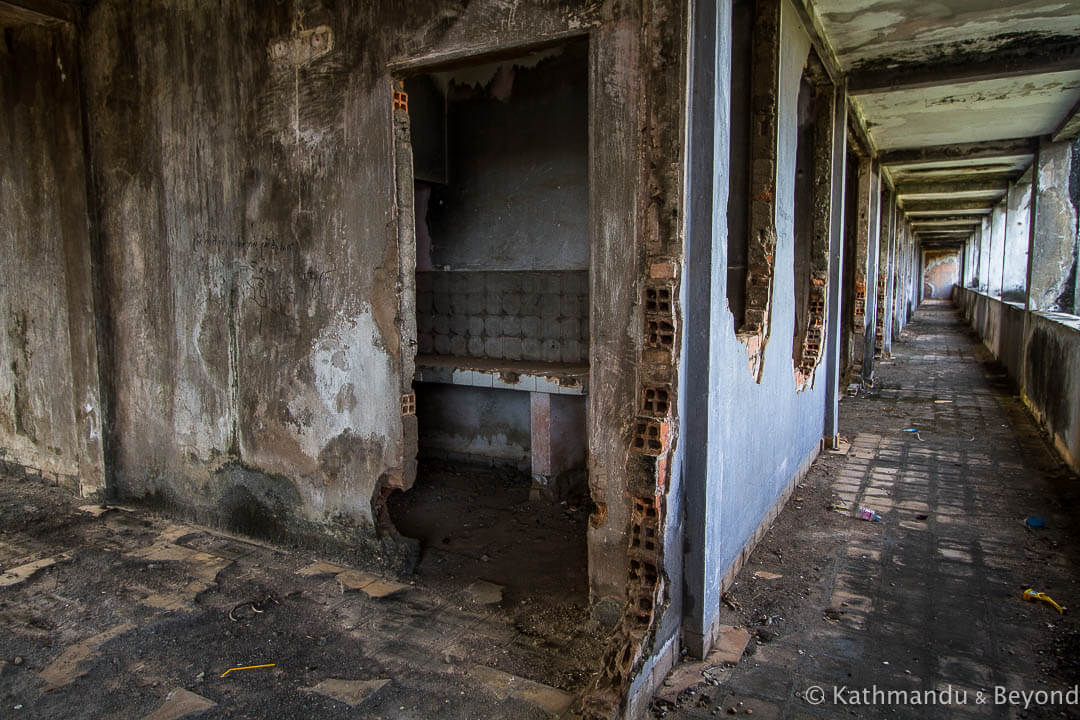 The interior of a former military housing unit in Kompong Chhnang
Using our post for guidance, you shouldn't have too much trouble tracking down three more locations connected with the despotic Khmer Rouge (and, doubtless, their communist allies in China at the time, although the latter has always denied any involvement). Pol Pot and his cronies were not exactly known for construction, preferring instead to destroy almost everything in their path as part of their policy of returning the country to Year Zero. But, in the countryside west of Kompong Chhnang, they commissioned the construction of a military airport as well as accommodation/barracks for Khmer Rouge associates and a number of huge water tanks that are, these days, completely camouflaged by the encroaching jungle and quite tricky to locate.
All of the infrastructure connected to the airport was built using forced labour and almost all of it was done by hand. Countless deaths and atrocities can be attributed to its construction and visiting the locations, which are a little spread out (you'll need some sort of transport – we used pushbikes), will not be to everyone's tastes. But, if you are interested in Cambodia's recent history then visiting the abandoned airport and other nearby locations associated with the Khmer Rouge near Kompong Chhnang will present you with an untouched insight into what went on during that period that is far removed from the unfortunate commercialisation of the 'Killing Fields' at Choeung Ek.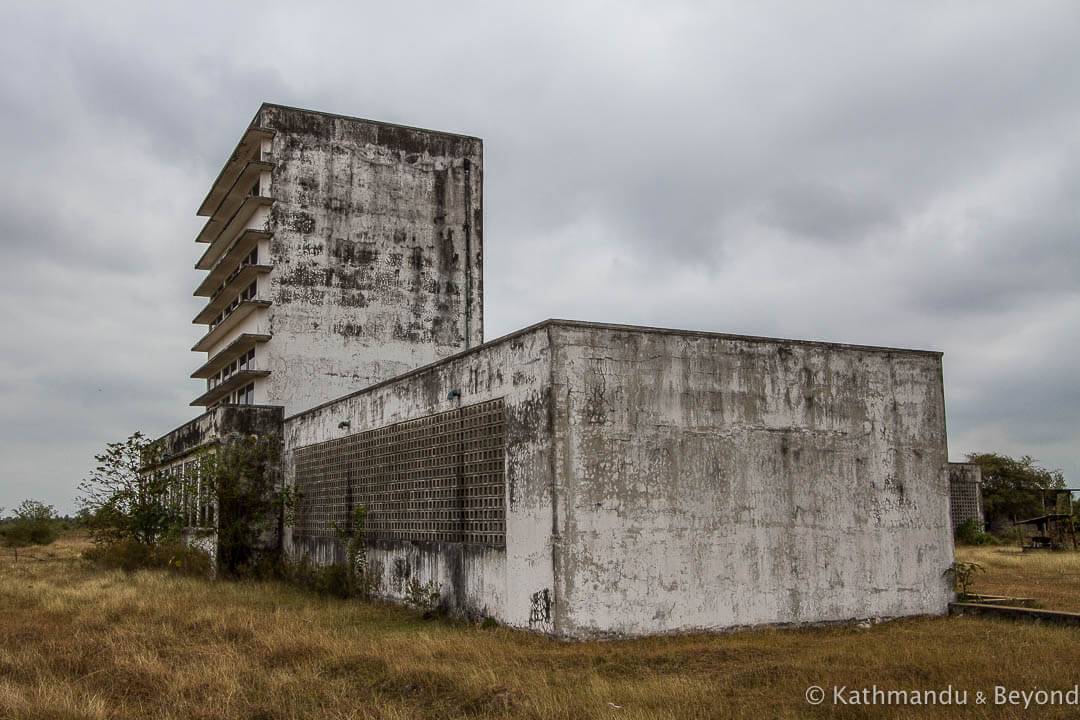 The former terminal building at Kampong Chhnang Airport
Modernist architecture in Phnom Penh is alive and kicking (just!)
Phnom Penh has some wonderful modernist architecture. Much of it is the work of a Cambodian architect named Vann Molyvann (1926 – 2017) and the style was coined New Khmer Architecture because it married Angkorian heritage with modernist architecture from the 1950s and '60s. We like the genre very much and are always on the lookout for examples whenever we visit the city. But, the problem is, during recent years Phnom Penh has been developing at such a rapid pace and it would seem that those involved in the reconstruction of the city are not sympathetic to this unique type of architecture and the heritage attached to it. As a result, it is gradually disappearing. The fact that our separate blog post about modernist architecture in Phnom Penh is singularly the one that is updated the most often speaks volumes.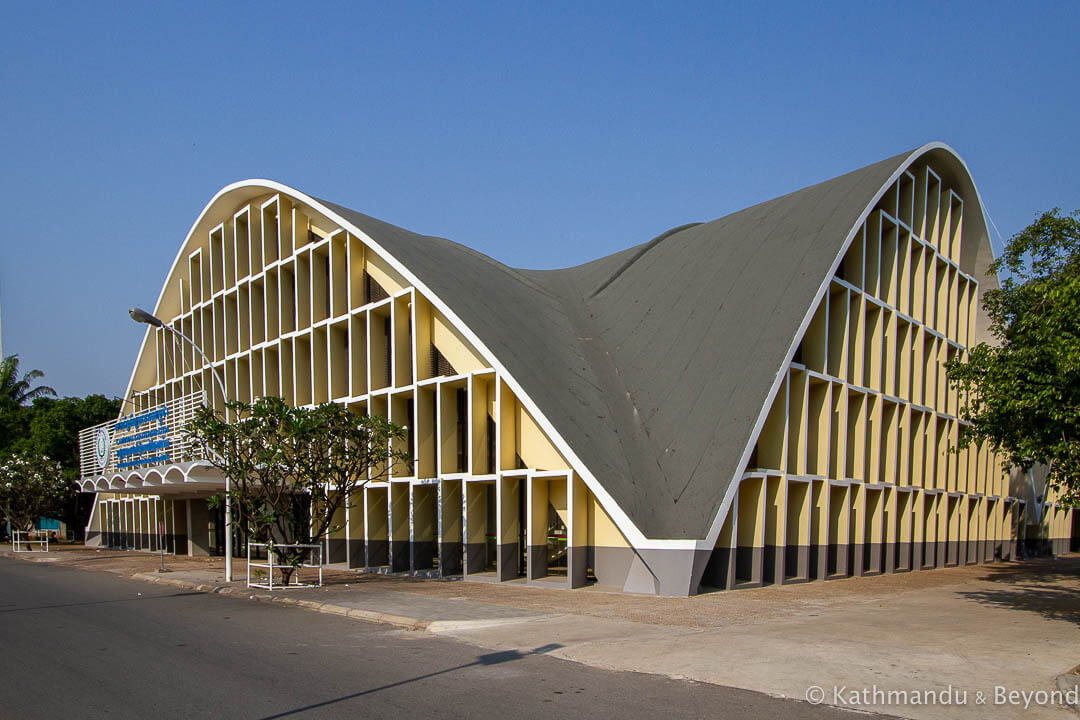 Auditorium Hall, part of the Royal University of Phnom Penh
Standout examples of the genre in the Cambodian capital that, to the best of my knowledge, are still standing include the Royal Phnom Penh University, Psar Thmei (Central Market) and the glorious Olympic Stadium. I really hope nothing happens to this last one. This ogre of a building is one of my favourite structures on the planet and although each time we see it, which is every time we go to Phnom Penh, it is more and more engulfed by nondescript high-rise buildings, it stubbornly remains in situ.
The message here is that if you want to see Phnom Penh's modernist/New Khmer Architecture for yourself then go sooner rather than later …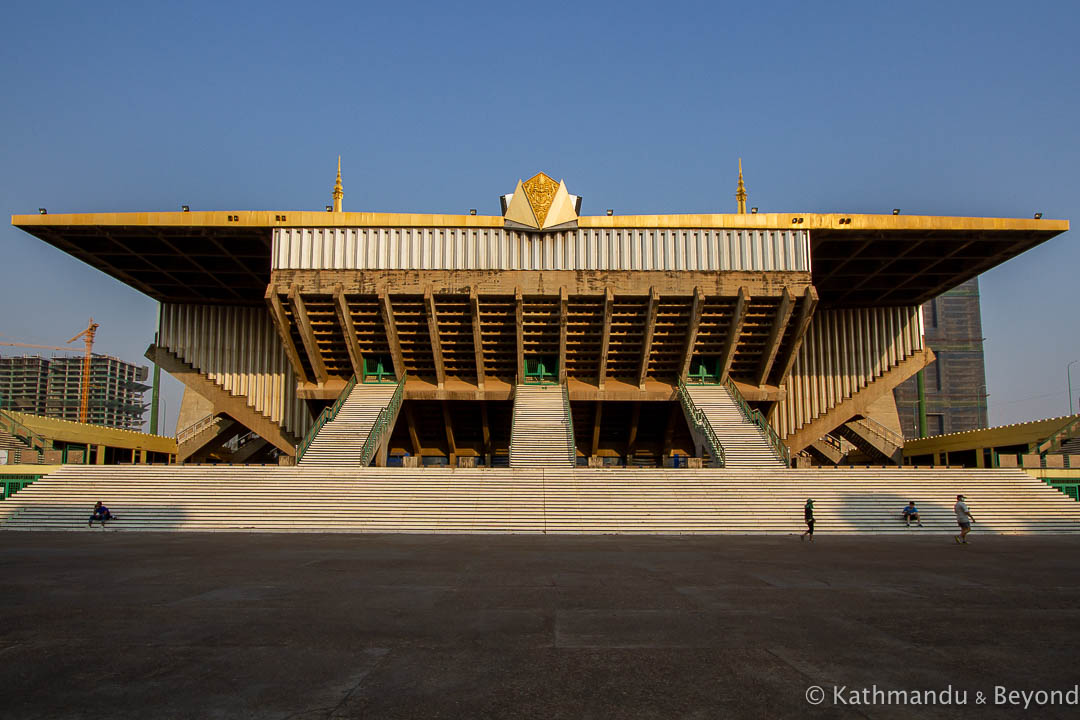 Phnom Penh's Olympic Stadium
Cambodia has some great beaches and island life but avoid Sihanoukville like the plague
Hitting Cambodia's southern islands for a bit of serious beach time is one of the best things about visiting the country but the coastal city of Sihanoukville is best avoided these days. In fact, we would go as far as to say that you should spend the absolute minimum of time in this city and even that will be too long.
To expand a little …
Located in the Gulf of Thailand, Sihanoukville has never been perfect. The most popular beaches, Ochheuteal and Serendipity, were always, and still are presumably, packed with umbrellas, shanty bars and restaurants, a reasonable amount of garbage and heaps of hawkers. A little way south, Otres Beach was definitely much nicer and more peaceful, but not especially good value for money when it came to accommodation. And to top it all, Sihanoukville was never that safe. We've been there several times in the past and seen incidents such as pickpocketing and bag snatching not just as night but on the beach during daylight hours as well.
You might be wondering, at this point, why we used to go there? The reason is that Sihanoukville was convenient to reach from both Phnom Penh and Kampot and, for all its negatives, it was a half-decent place to head to if you wanted to spend a few inexpensive days on the beach but couldn't be bothered to head to the islands: US$10-a-night accommodation, US$3 BBQ dinners and $0.50 beer were certainly a draw for us at the time and for others, it was no doubt the cheap weed, the hedonistic booze cruises and the all-night parties that swung it for them. Yep, Sihanoukville was a classy place alright, if you like that sort of thing, but it was bearable to us and served a purpose.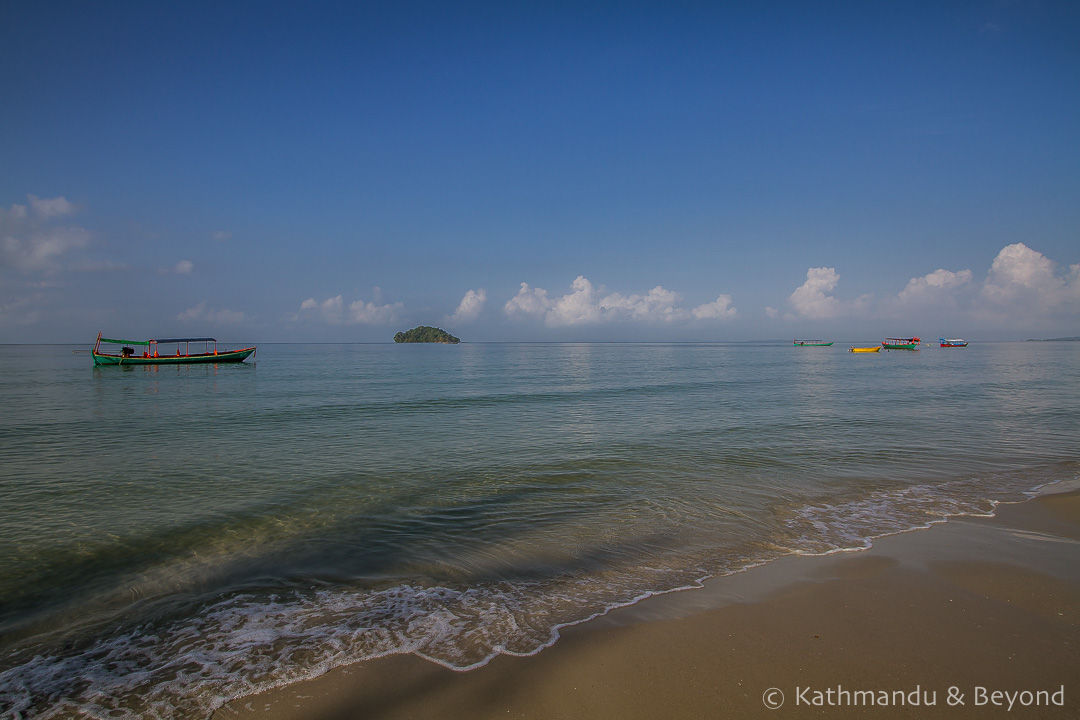 Otres Beach in Sihanoukville. This photo was taken in 2016. It's highly unlikely it looks like this nowadays …
So, what turned this passable beach town into hell on earth?
During the past five years or so, Chinese investors have completely taken over every inch of Sihanoukville and turned the entire place into one great big massive resort town for Chinese package tourists. Gambling is not illegal in Cambodia (it is in China) and high-rise casinos have sprouted up everywhere. Bamboo shacks have been knocked down and replaced with expensive restaurants, ongoing construction work is out of control and, what's more, the city and its beaches are now an environmental car crash. And if Snookie, as it fondly used to be referred to, was edgy and a little dangerous back in the day, it is nothing compared to what it is now: violent crimes, gun-culture, muggings and rape have been reported of late and the drug scene has also taken a (dark) turn for the worse. In no uncertain terms, the message is now loud and clear: Sihanoukville is in a very sorry state and should be avoided at all costs.
Yet, if you want to get to the Cambodian islands it is hard to avoid Sihanoukville completely. Two of the country's nicest islands, Koh Rong and Koh Rong Samloem, can only be reached from Sihanoukville but, unless you are a masochist and actually want to spend time in the armpit of South East Asia, it is pretty easy to arrive at the city's bus station, make your way down to the scrappy port from where the speedboats and ferries for the islands depart and be on your way within a few hours or so of arriving. And the same goes for the return journey.
Pushing the negatively of this particular section of the post to one side and moving on to the islands, we have only been to Koh Rong and Koh Rong Samloem, as well as Koh Tonsay (which is better known as Rabbit Island and reached via a long-tail speedboat from Kep), but, each one was glorious and well worth the effort of visiting. Koh Rong's 7km beach, Sok San, is stunning and the water is ideal for swimming. There are also plenty of activities available, such as snorkelling and kayaking, should you get bored of lazing around. Saracen Bay on Koh Rong Samloem, on the other hand, is such a sensational horseshoe-shaped beach that the minute you plonk yourself down on it, you'll never want to leave. Koh Rong Samloem is also the more backpacker-friendly of these two particular islands but if you want to go properly rustic then head to Rabbit Island, although the main beach here isn't in the same league as Sok San and Saracen Bay.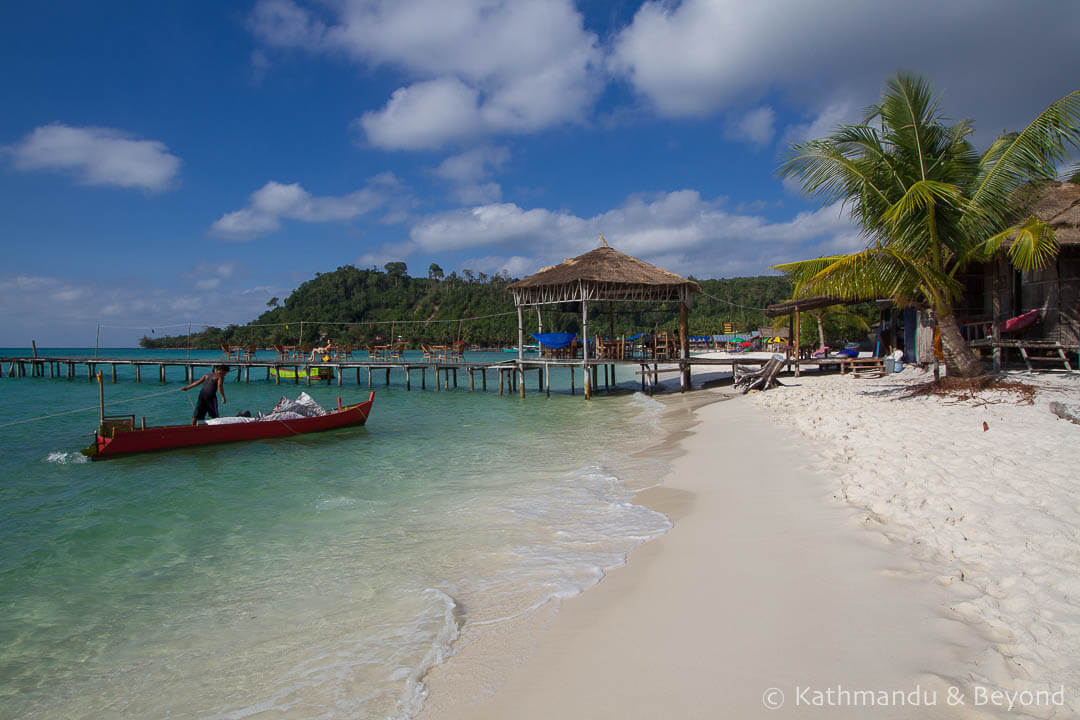 Sok San Beach (Long Beach) on Koh Rong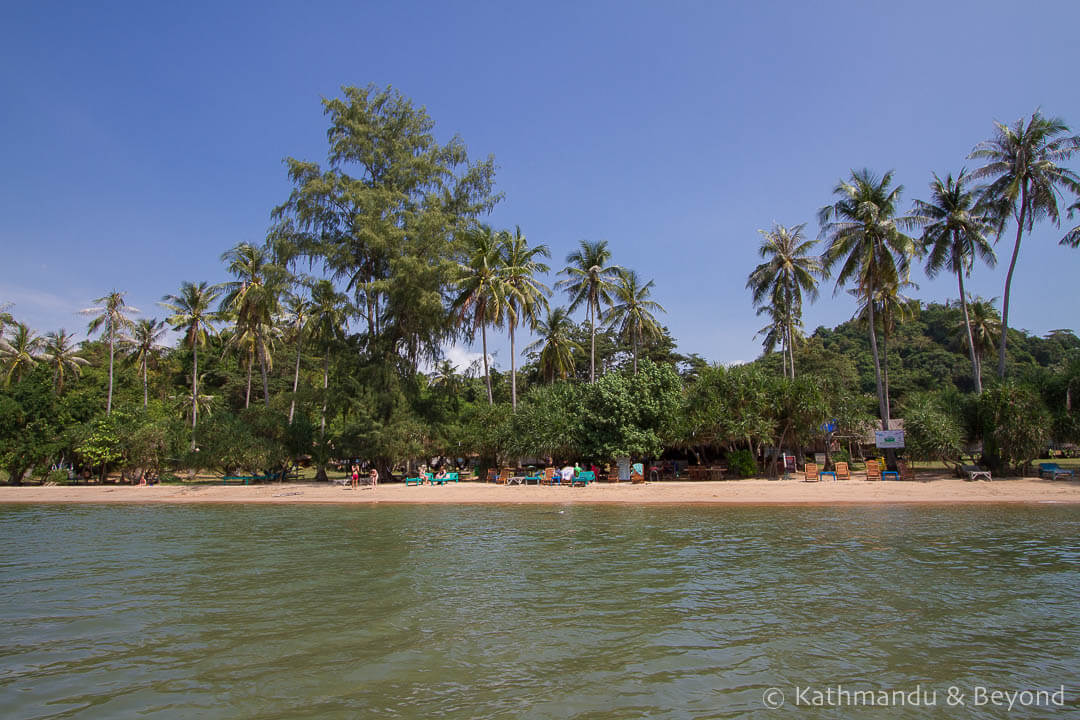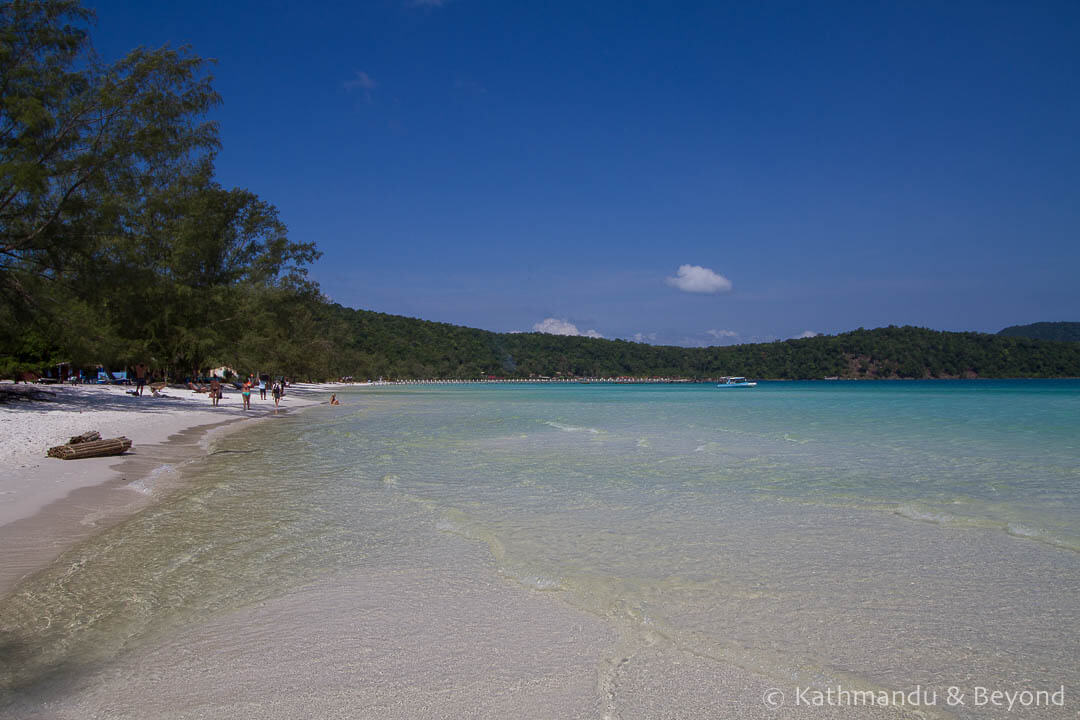 Koh Tonsay (Rabbit Island) (left) and Saracen Bay on Koh Rong Samloem (right)
Other islands, which we haven't visited yet but we have heard good things about include Koh Thmei, Koh Ta Kiev and Koh Totang.
As expected, everything on the islands in Cambodia is more expensive than it is on the mainland but the prices aren't anywhere near as outrageous as they are on the Thai islands and they are certainly much better value for money than their Thai counterparts (*).
(*) We recently met someone in Chiang Mai (February 2020) who had paid BHT250 for a large bottle of Leo beer in a regular bar on Krabi's Railay Beach. That's around GBP6.00/US$8.00, which is crazy! I'd pay less in London and in Chiang Mai, where we spend a reasonable amount of time, a large Leo in a bar is around the BHT100 mark and if you know where to go, you can get it for as low as BHT70 a bottle. The price of a beer is always a good indication of costs, in my opinion, and the Thai islands do not represent good value for money these days!
There are many more Angkorian temples in Cambodia besides the main grouping near Siem Reap that are worth exploring
If you didn't know it already, after thirty minutes or so with a guide, or a remork driver for that matter, en route to the Angkor temples near Siem Reap and you'll learn that the Khmer Empire extended well beyond the boundaries of the group of temples that most people refer to as Angkor.
If, like us, you have more than a passing interest in Angkorian temples, then you are in luck as there are plenty more in Cambodia, as well as part of northeast Thailand and southern Laos, that are worth seeing if you have the time and inclination. Ranging from stand-alone temples in the middle of the Cambodian countryside to vast complexes that would give the (Siem Reap) Angkor temples a run for their money, they are all quite different from one another and great to explore. And the best thing about getting away from the three 'big hitters', namely Angkor Wat, Angkor Thom (the Bayon) and Preah Khan, is that your chances of having a peaceful, horde-less, Angkor experience, increases significantly. Admittedly, it is getting harder and harder to achieve this these days. When we first visited Koh Ker and Beng Melea, for example, in 2008 we had to do so via an unpaved road and needed to spend the night nearby because it wasn't feasible to get there and back from Siem Reap in one day. Our small party of four were the only ones at each site. Nowadays, an excellent road connects Siem Reap with both temples and they can easily be combined as a half-day excursion. The same goes for Preah Vihear. This mountaintop temple complex used to be a right headache to reach, plus it wasn't especially safe to do so (when we first visited in 2007, we had to enter from Thailand because the temple was off-limits from the Cambodian side) but now the whole experience of getting to Preah Vihear is well organised and visiting it is a very popular bolt-on to the regular Angkor circuit.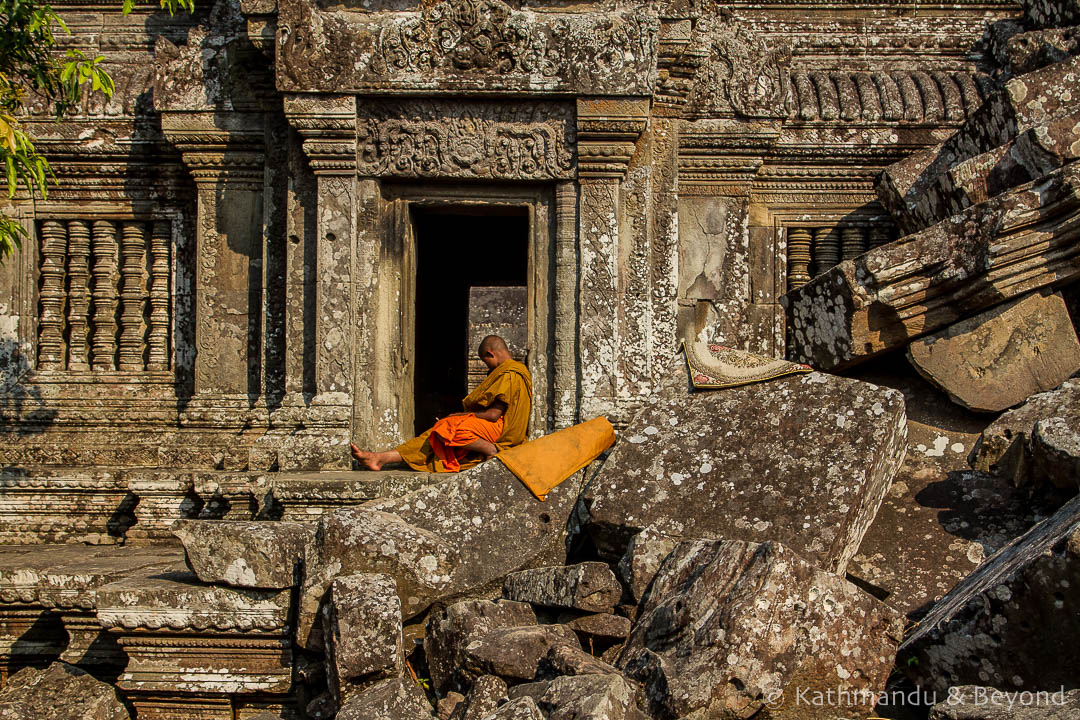 Preah Vihear
Reminiscing aside, although I can't guarantee you a crowd-free Angkor experience, I can assure you that, the further away you get from Siem Reap the better your chances are of seeing fewer other visitors around. Of course, not all of the outlying Angkor temples are as impressive as the most famous ones but that's the trade-off for having fewer people around and, besides, we have not yet been to an Angkorian temple that wasn't worth visiting for one reason or another. The only majorly impressive Angkor temple in Cambodia that I'm prepared to put money on as a bet that you will have the place to yourself is the incredible temple complex of Preah Khan Kompong Svay. It's well off most visitors' radar and is by far the hardest temple to reach and those factors, for the time being at least, makes it Cambodia's most exclusive Angkorian temple!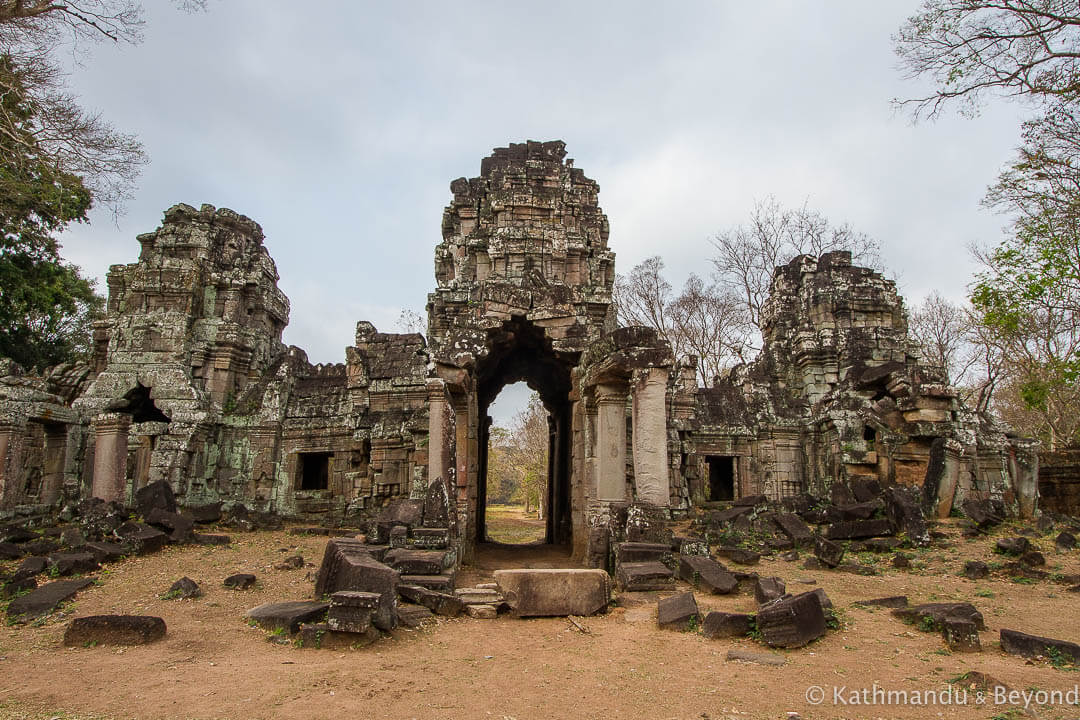 Preah Khan Kompong Svay
Cambodia has plenty of sleepy riverside towns that are ideal for slowing your itinerary down and/or breaking the journey between Phnom Penh and Siem Reap (or vice versa)
We've already mentioned quite a few of Cambodia's laid-back riverside towns in this post; Kampot and Kep in the south of the country and Kompong Chhnang and Battambang further north, as examples, but if you aren't that motivated about visiting them for the reasons stated above, considering heading to one or two of them in order to do, well, nothing in particular.
Sitting on the wall of the riverside promenade in Kampot, ideally with a cold beer in hand, watching the fishing boats going out to sea at sunset is a delightful way to end a day of chilling out and doing nothing much in that specific town, whereas in Kep we like to sit and observe the crab market wind down around about the same time of day, also with beer in hand!
Kratie, which is renowned as a good place to spot Irrawaddy dolphin, is another mellow town on the banks of the Mekong River and, further north, even Stung Treng, which is not as visually appealing as the other places mentioned here, still has its attractions and is worthy of a day or so of low-key meanderings. Besides, Stung Treng sees fewer visitors, which is always a plus.
Accommodation and the cost of food and drink are very affordable in these towns, making them even more appealing and also a good option for slowing the pace down if you don't want to pay the prices asked on the Cambodian islands.
And if you haven't got time to get embroiled in some serious chill-time, consider spending just a night in one of two of them when travelling between Phnom Penh and Siem Reap rather than doing the journey in one hit. Good places to break the journey between Phnom Penh and Siem Reap are Kampong Thom and Kampong Cham (east of the Tonlé Sap Lake) and Kampong Chhnang and Battambang (west of the Tonlé Sap Lake).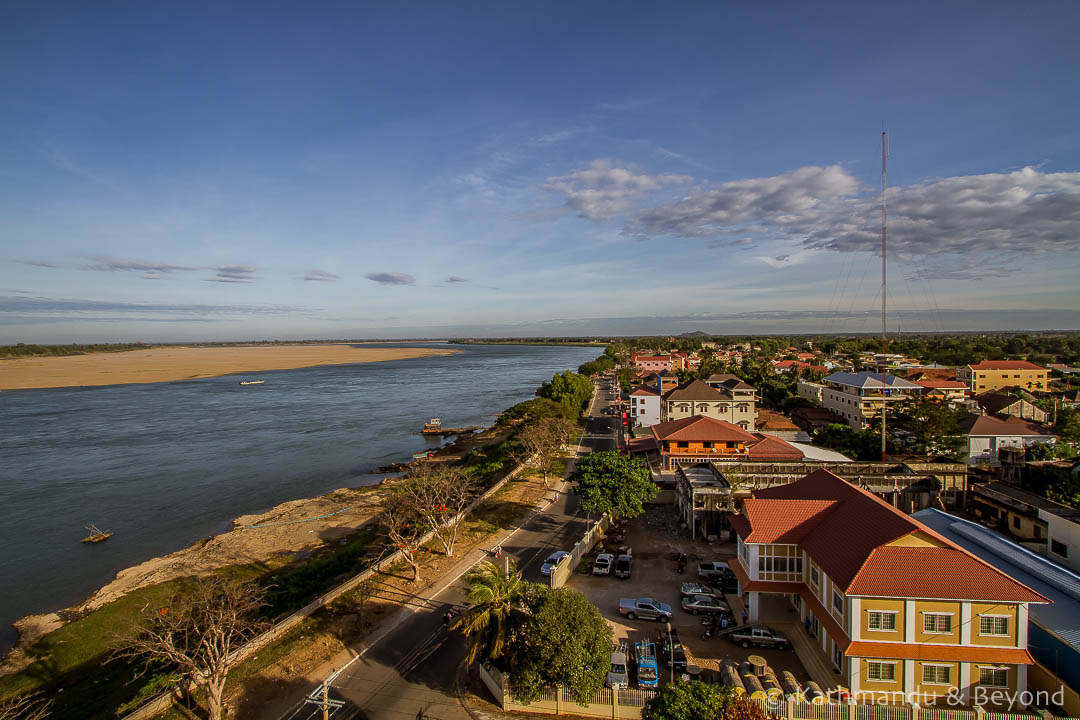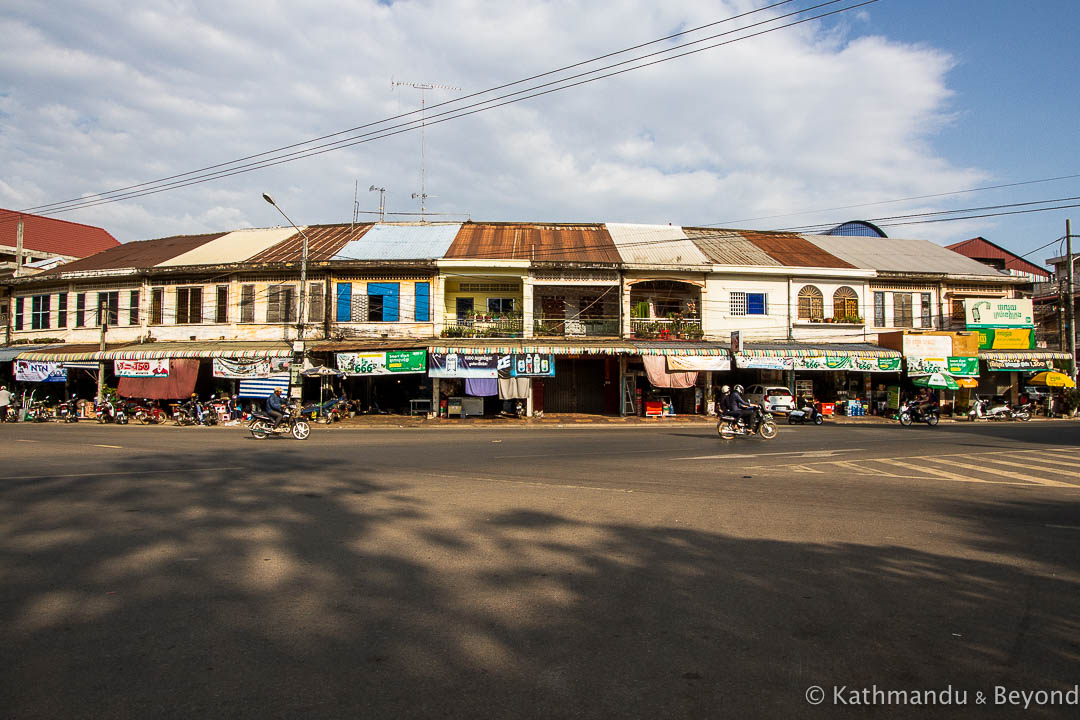 Kratie (left) and Kompong Chhnang (right)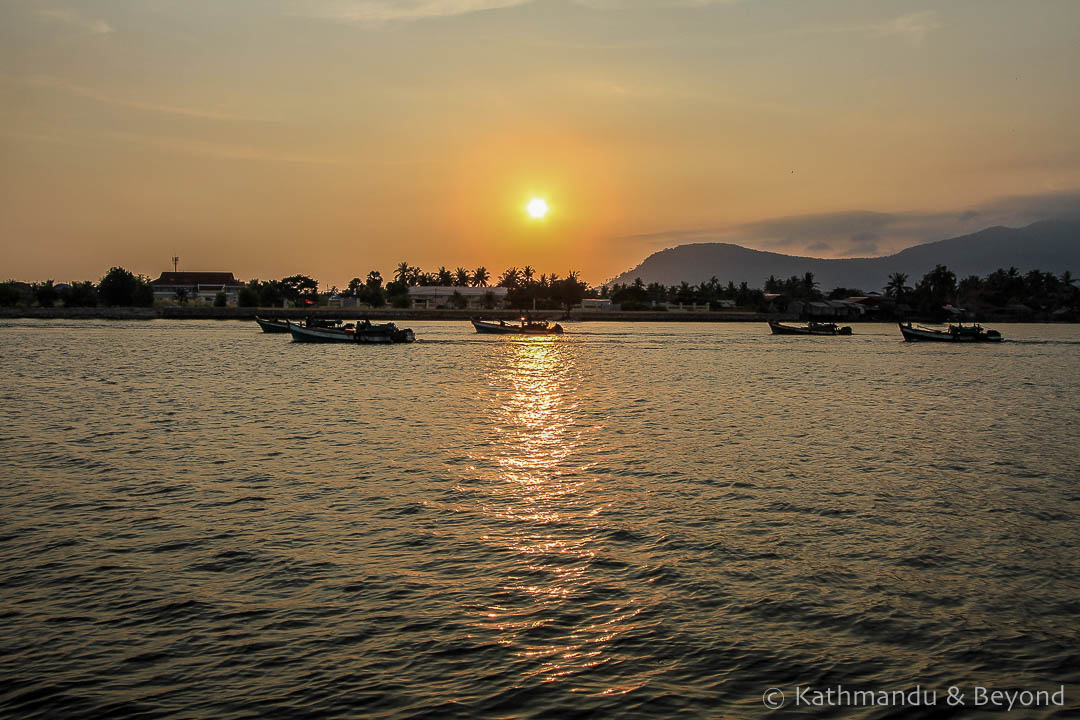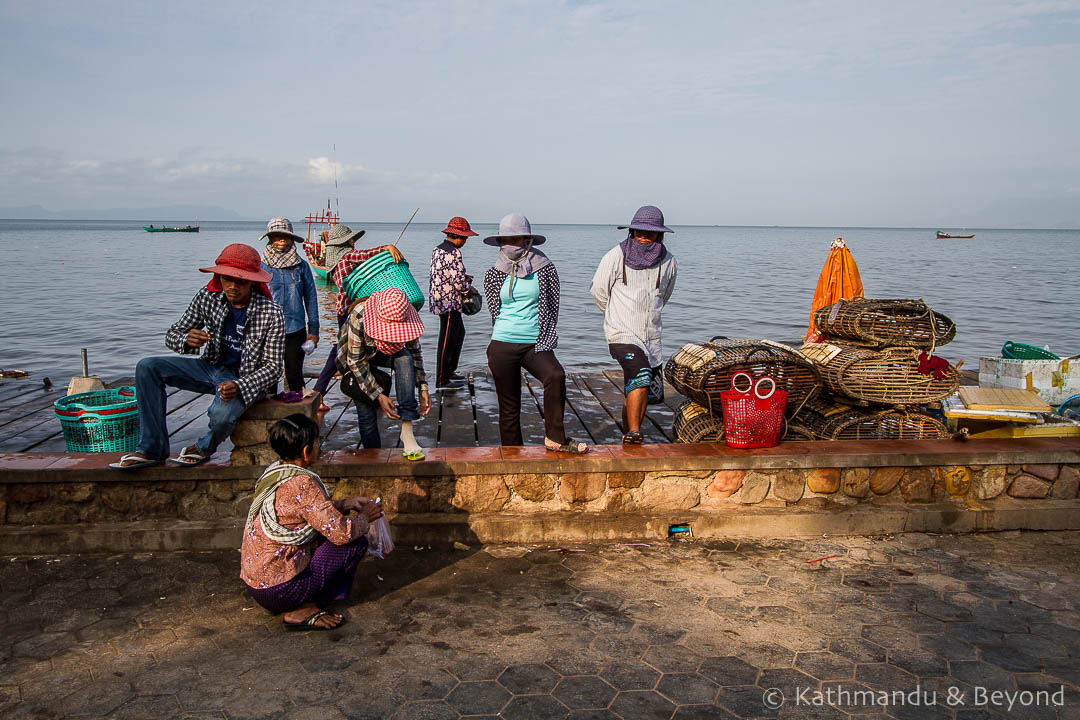 Kampot (left) and Kep (right)
Phnom Penh has some cool street art
This is Kirsty's domain and thankfully, she has written a post featuring street art in Phnom Penh otherwise this section would be very short indeed. I did go with her on a couple of her searches for striking street art and I have to say, some of it was quite good, particularly around Boeung Kak Lakeside District, which is an interesting part of the city to explore in its own right. Phnom Penh's street art scene is steadily growing and another place worth checking out is Factory, a creative hub and co-working space on the south side of the city.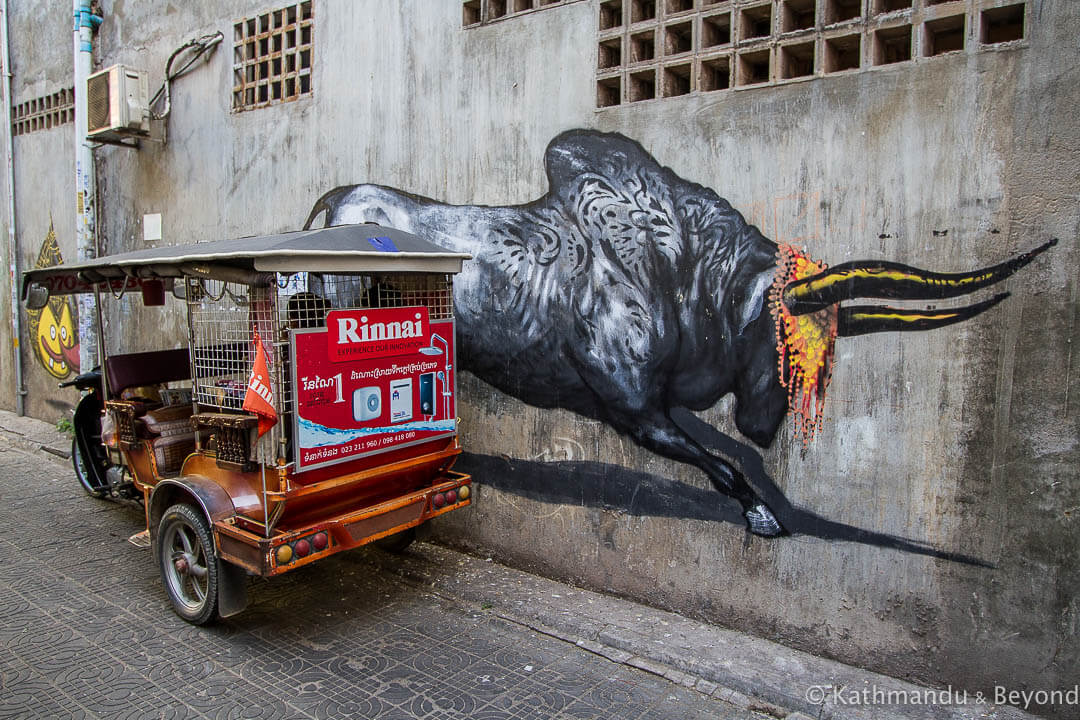 Phnom Penh street art 
The remote eastern provinces of Mondulkiri and Ratanakiri are perfect for getting off the beaten track in Cambodia
Mondulkiri and the province to the north of it, Ratanakiri are two of Cambodia's least visited regions. These two regions, which are located in the east of the country and border the Central Highlands of Vietnam, will appeal if a) you want to get away from everyone else, and b) you want to trek, see elephants in their natural habitat, visit animist villages, see more waterfalls than you can shake a stick at and generally feel like you are in unchartered territory.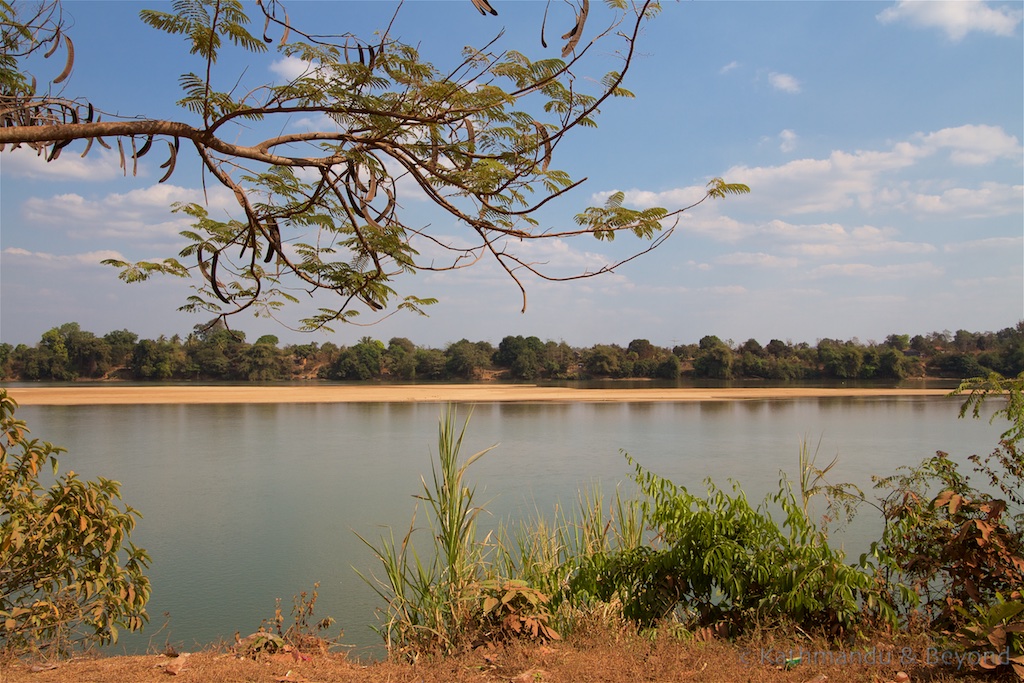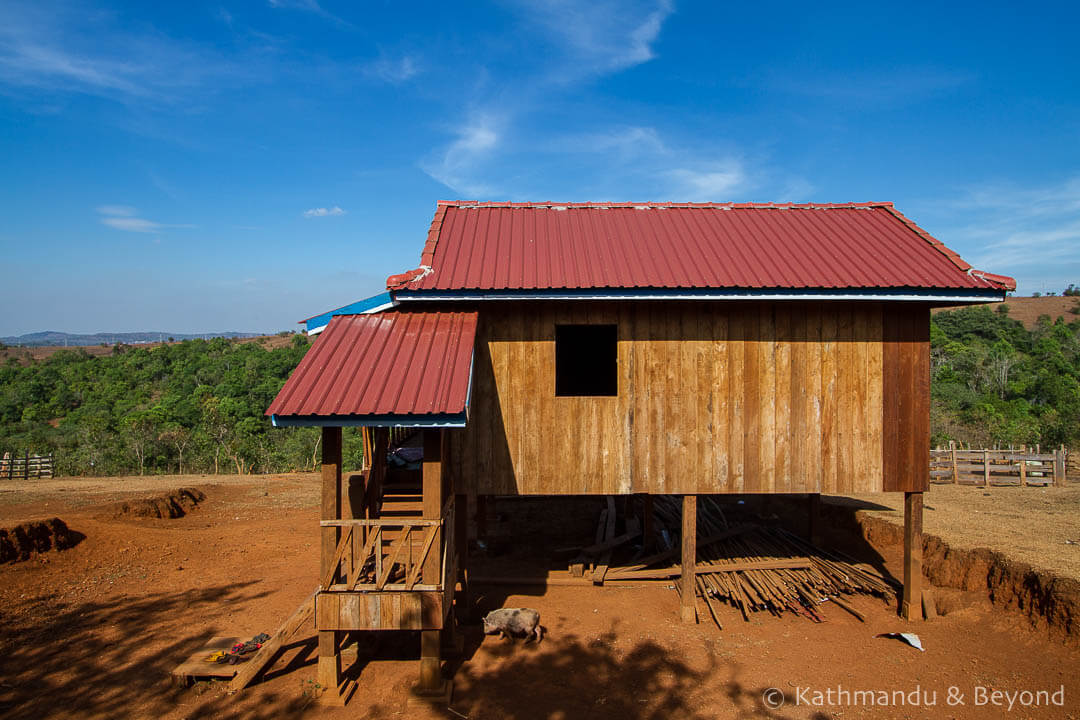 San River in Ratanakiri (left) and Putang Village in Mondulkiri (right)
Regular minivans connect Sen Monorom, the provincial capital of Mondulkiri, with Ban Lung, the capital of Ratanakiri but if you want to get out of these two towns and experience some of the things mentioned above, you'll either need transport of your own or have to join a tour or two. We don't ride motorbikes but Mondulkiri and Ratanakiri are excellent motorbiking destinations. Instead, we had a car and driver for our week-long journey through this part of the country and that also worked fine. If you don't fancy either mode of transport, from the research we did, the tours on offer, in both Sen Monorom and Ban Lung respectively, are pretty good and easy to arrange locally.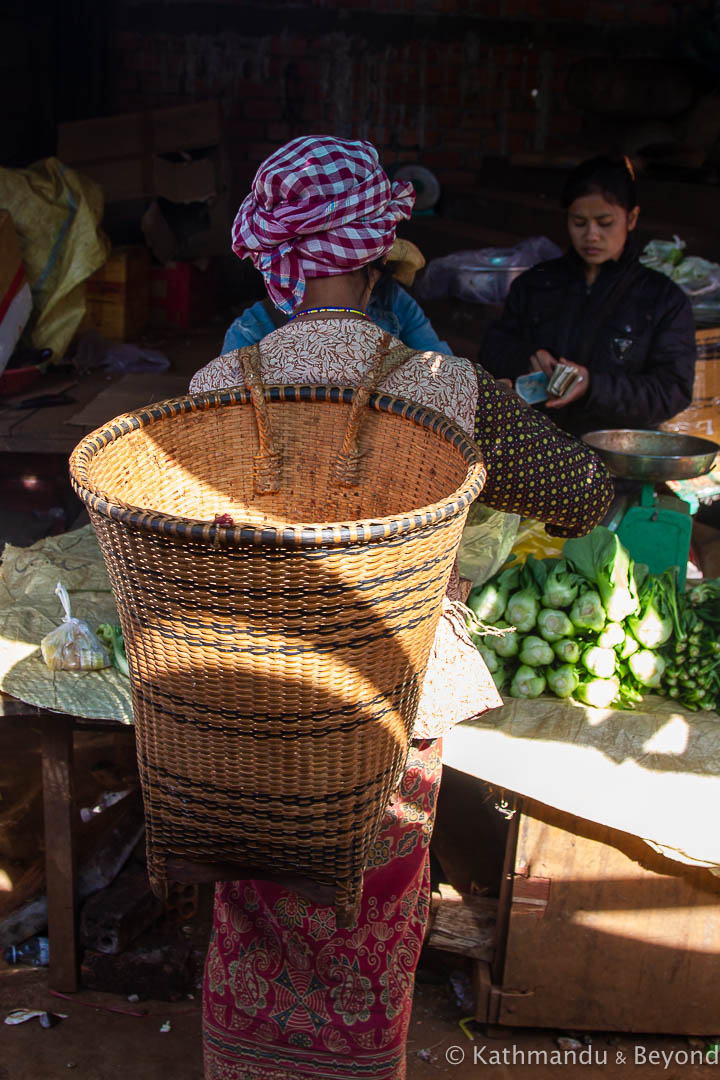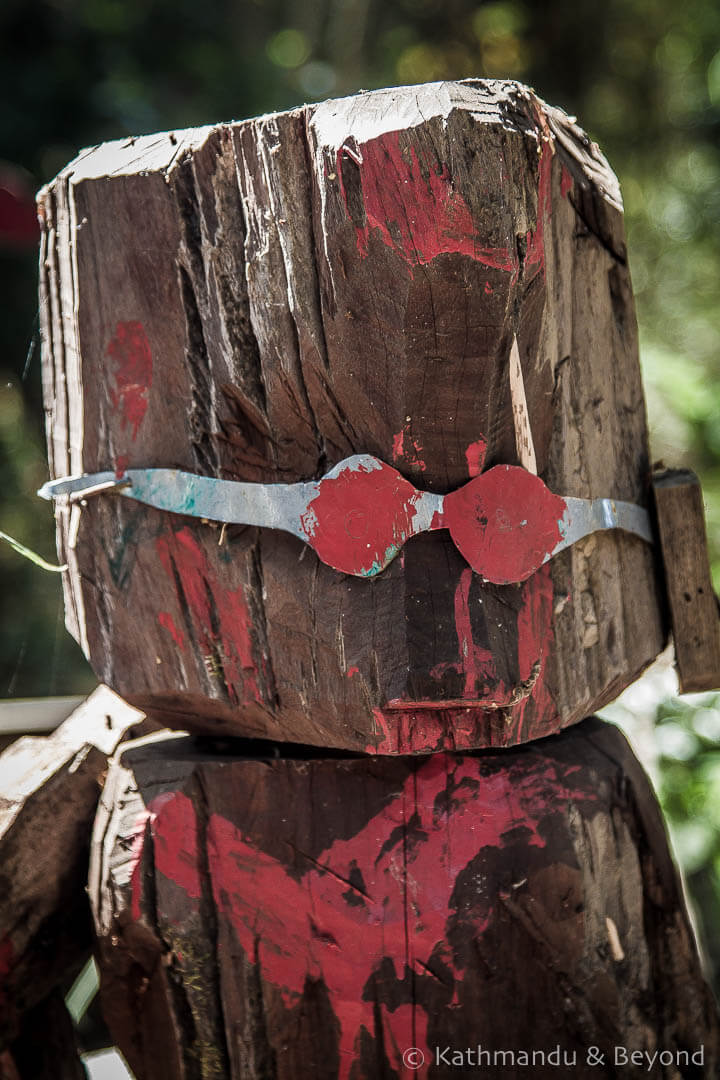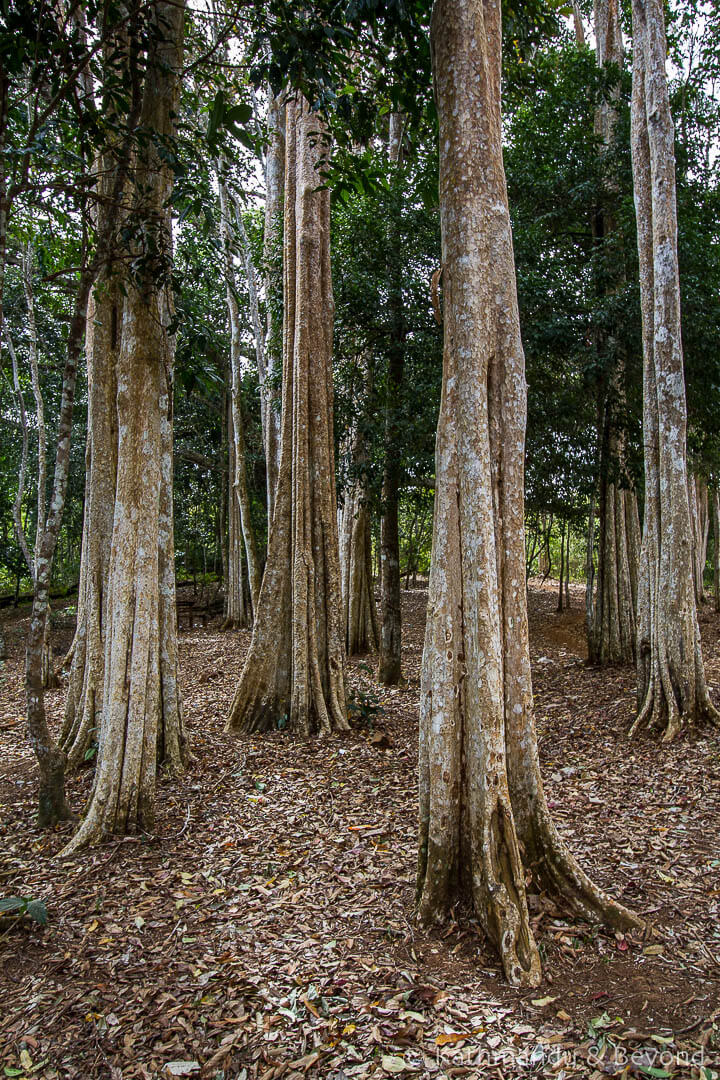 Central Market in Sen Monorom (Mondulkiri) (left), an animist cemetery in Kaoh Paek (Ratanakiri) (centre) and forest near Dak Dam Waterfall (Mondulkiri)
We are never that fussed about waterfalls and we didn't have time to undertake a trek while there but we still had a fantastic time in Mondulkiri and Ratanakiri and would wholeheartedly recommend visiting both provinces. The highlights for us were visiting some of the ethnic Bunong villages in Mondulkiri and our boat trip along the San River in Ratanakiri. The time spent on the boat (a couple of hours in each direction) was a bit too long but the animist villages we stopped at as part of the excursion were fascinating and well worth the time we had to endure on the long-tail boat with no shade from the scorching sun! This is definitely a part of Cambodia that we would return to once more (*).
(*) Who are we kidding? We'd return to most places we've already been to in Cambodia…
And just in case you need another reason to visit Cambodia…
Cambodia is full of amazing scenery
If you've only been to Phnom Penh, Siem Reap and, perish the thought, Sihanoukville, the three most popular tourist destinations in the country then you probably wouldn't consider Cambodia to be an especially scenic country but let us assure you, it is! The drive between Phnom Penh and Siem Reap is hardly alluring and the coastline in Sihanoukville has never been great and these days can best be described as 'hell's ditch'. Yet, Cambodia is full of gloriously diverse scenery and most of it is relatively easy to access. Rather than attempt to get creative with my words at this point, it's probably best if I let the photos do the talking, so that's what I'm going to do:
500 Rice Fields, Bokor National Park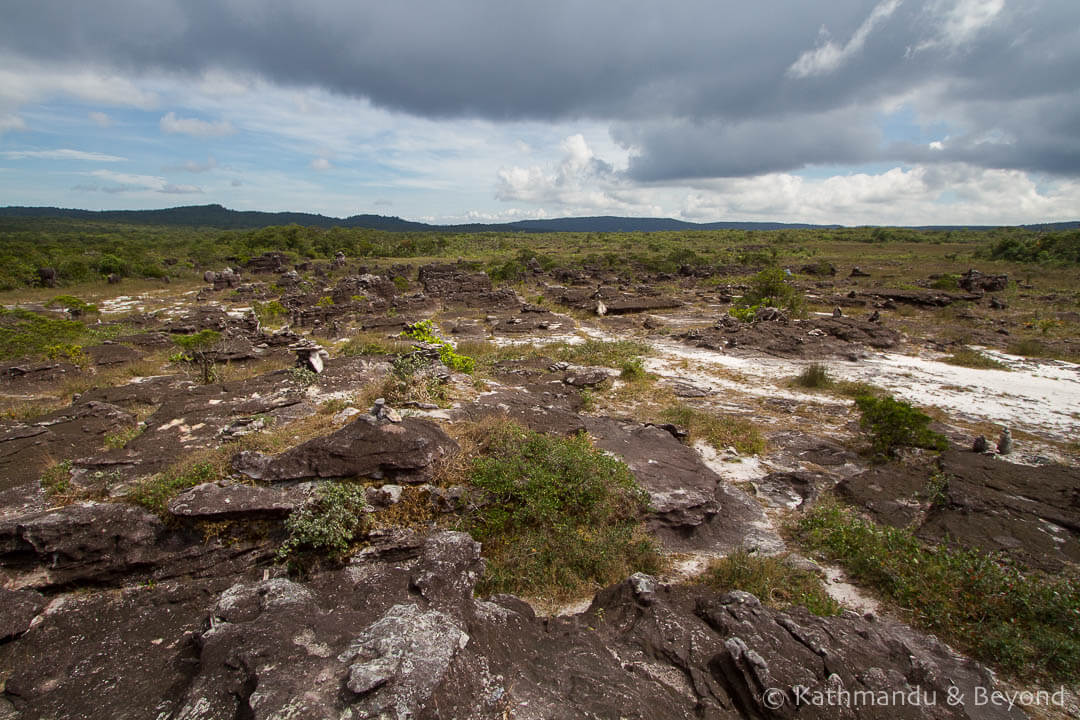 These strange rock formations aren't too far from the ruins of Bokor Hill Station. As we visited them with private transport, I'm not sure if they are included as part of an organised tour of the national park but they are worth seeing if you get a chance.
Preah Nimith Waterfall near Stung Treng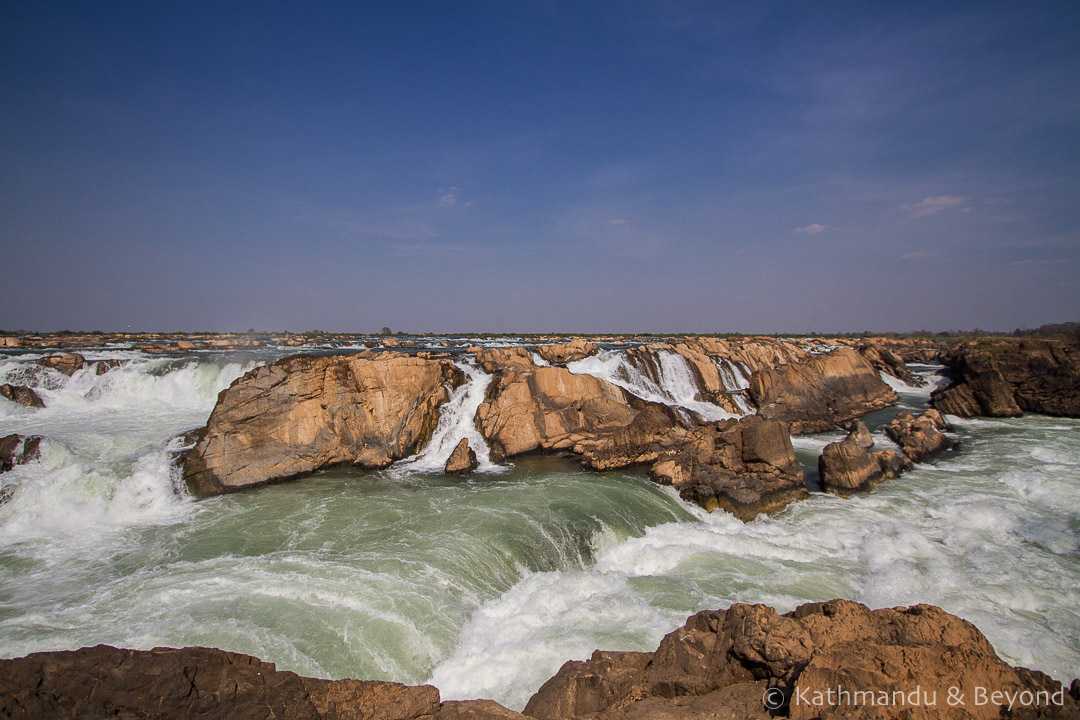 I know, we've made it quite clear we don't 'do' waterfalls but this one near the Cambodia/Lao border is pretty impressive. You can reach it either via a relatively new road or by taking a boat on the Mekong River combined with a short trek in the jungle. We opted for the latter and spotted several Irrawaddy dolphins while on the river part of the journey.
Anlong Veng Lake, Anlong Veng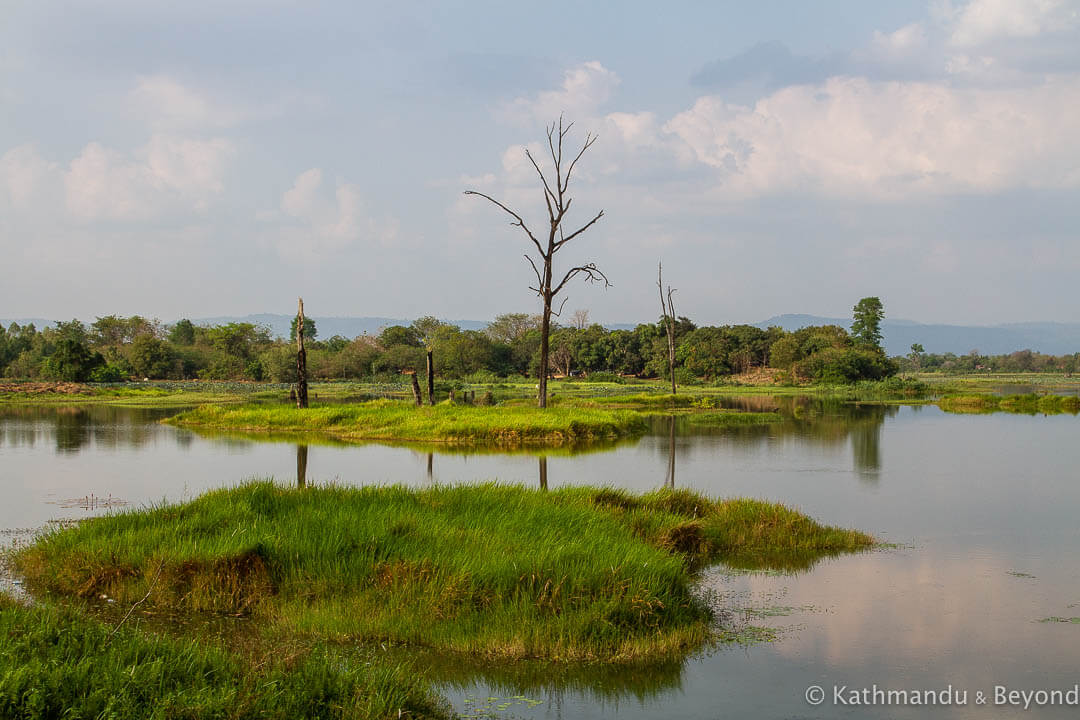 For those who aren't aware, Anlong Veng and the nearby Dangrek Mountains were the last strongholds of the Khmer Rouge. Indeed, Pol Pot's grave is nearby, as is that of Ta Mok (Brother Number Four, aka 'The Butcher'). If you're interested in recent Cambodian history and/or dark tourism then Anlong Veng is worth visiting. Anlong Veng Lake, which is situated a short distance from the town itself, is better known as Ta Mok's lake because it was created on his orders. There's no irony lost on the fact that the water killed all of the trees and only their skeletons remain.
The red-earthed landscape of Ratanakiri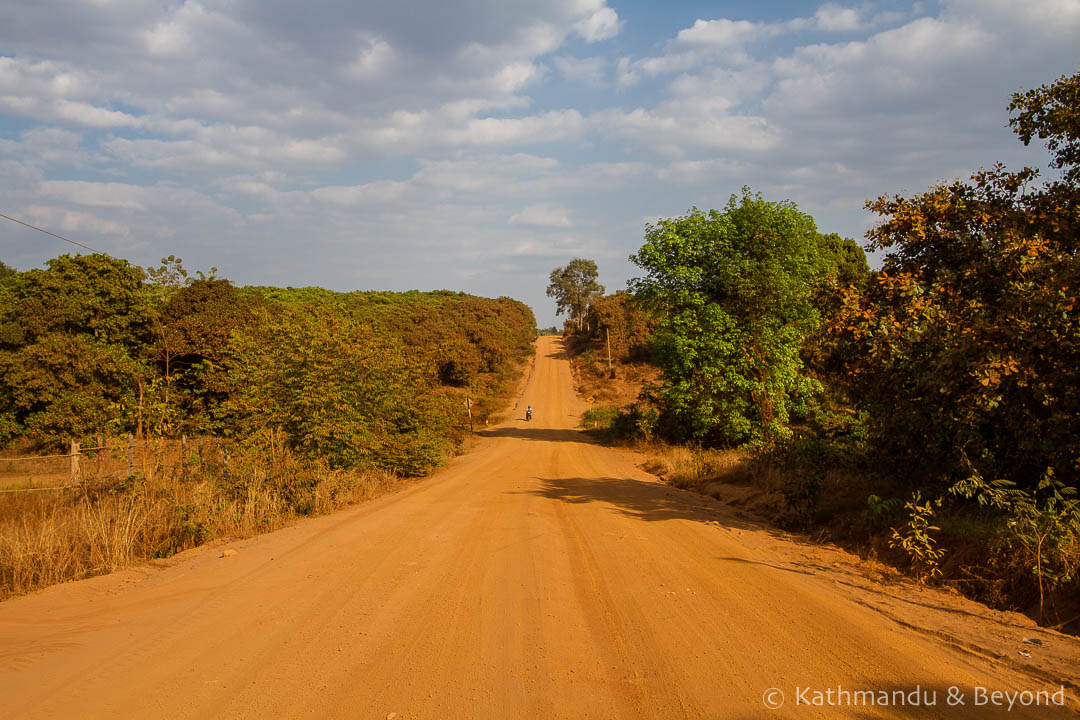 We are big fans of this type of earth as long as we are travelling in an air-conditioned car with the windows firmly shut and not on the back of a motorbike without a face mask and helmet, which is something we've had to endure on more than one occasion in Cambodia!
Tatai River near Koh Kong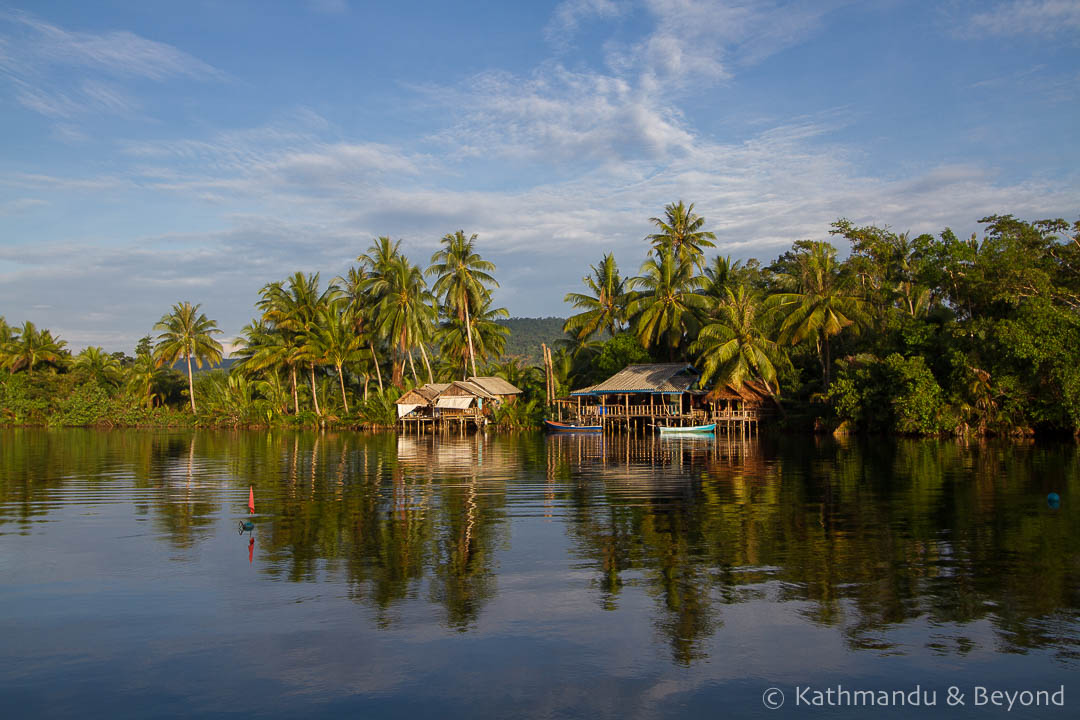 We loved this view but, then again, who wouldn't? It helped that when we visited this part of Cambodia, which is located in the far west close to the Gulf of Thailand, we were on a work assignment and were staying in the best accommodation available, which happened to be a luxurious tented camp right on the river. The tents were located on floating pontoons and this was the view from our private jetty. I'd look at the view before jumping in the river for a morning dip and then again for a second time on the way to the restaurant for our cooked-to-order gourmet breakfast!
Kampi, near Kratie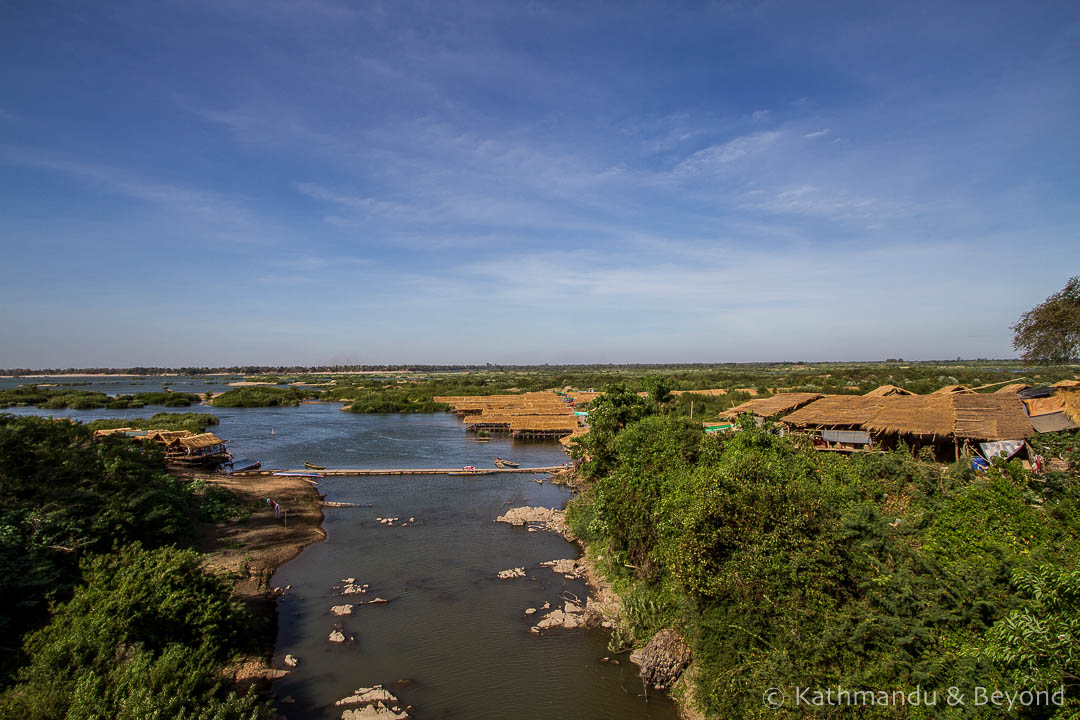 You can get some very nice views of the Mekong River from several spots along the main road that links Kratie with Stung Treng but one of the best spots is from the bridge just before arriving in the village of Kampi.
---
---
IF YOU ARE LOOKING FOR REASONS TO VISIT CAMBODIA APART FROM ANGKOR WAT AND ENJOYED OUR GUIDE TO THE BEST PLACES TO VISIT BEYOND SIEM REAP, PLEASE SHARE IT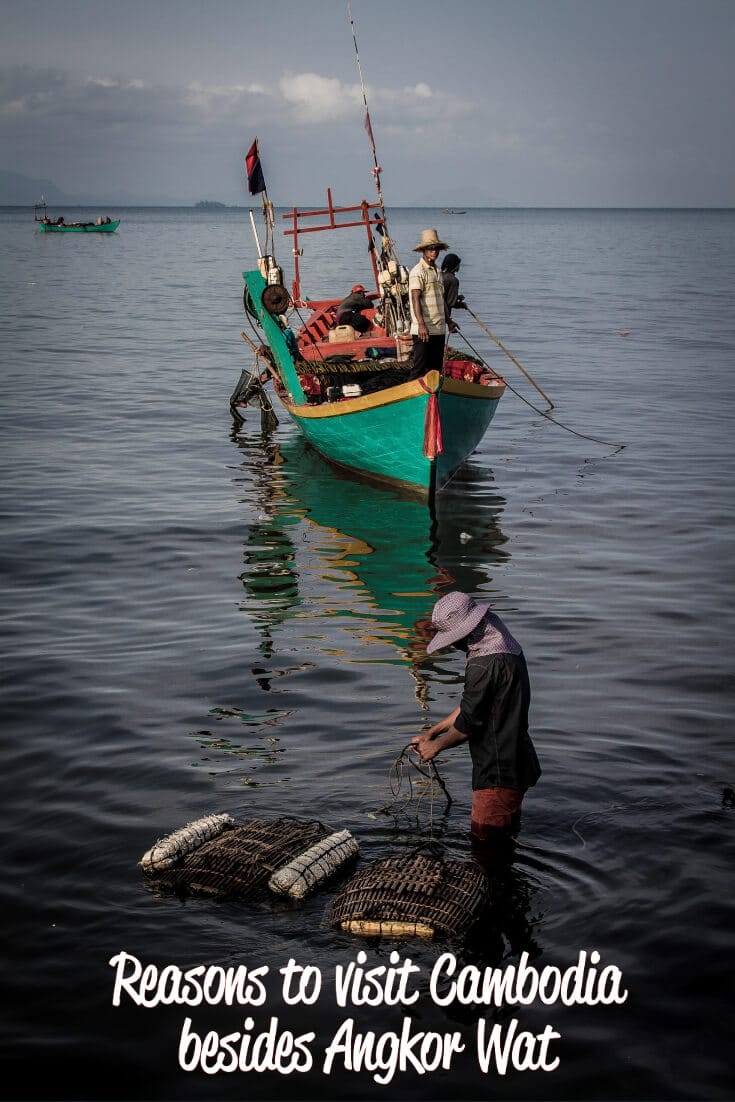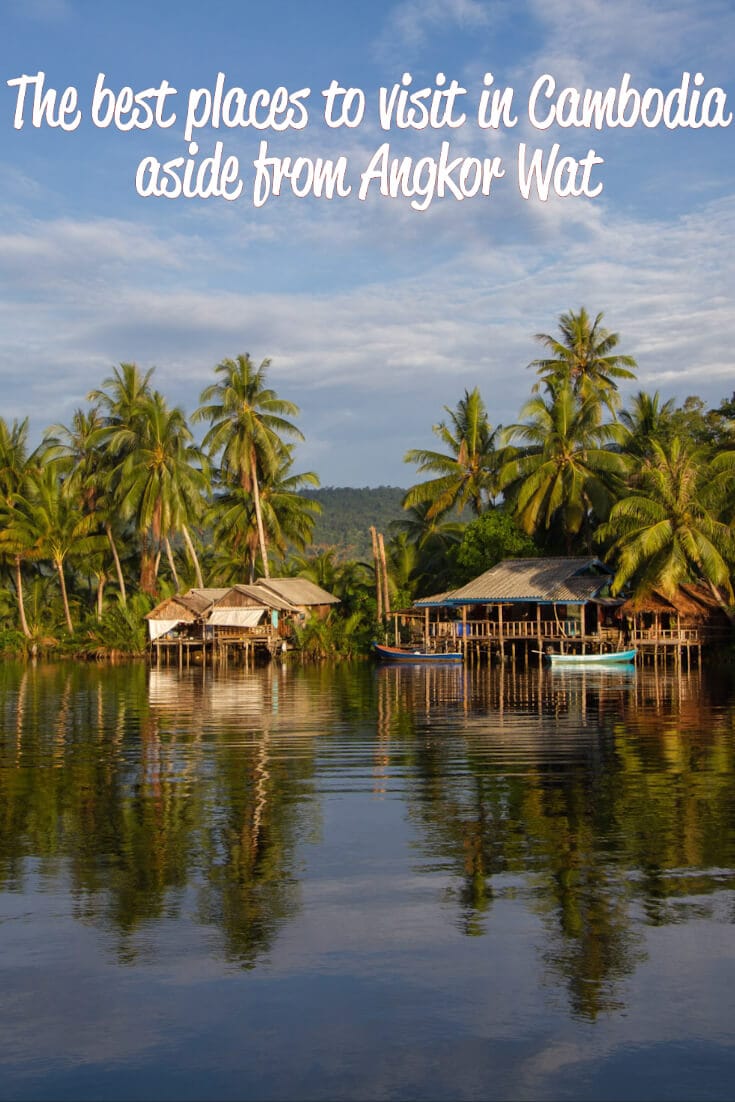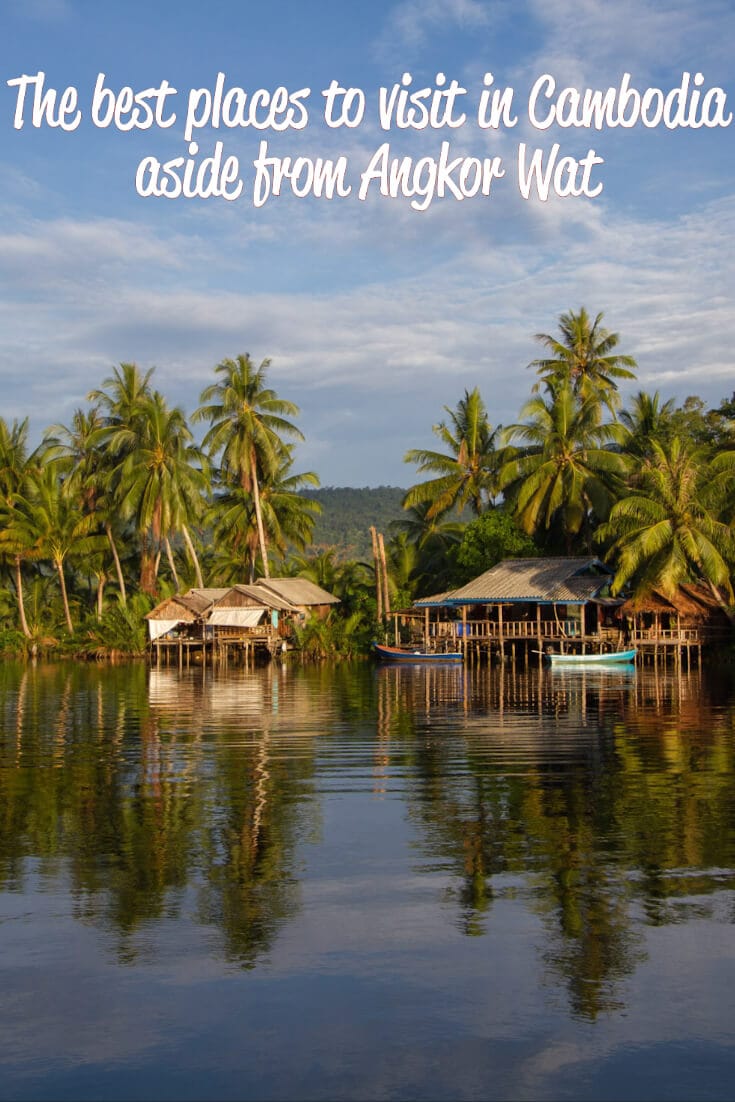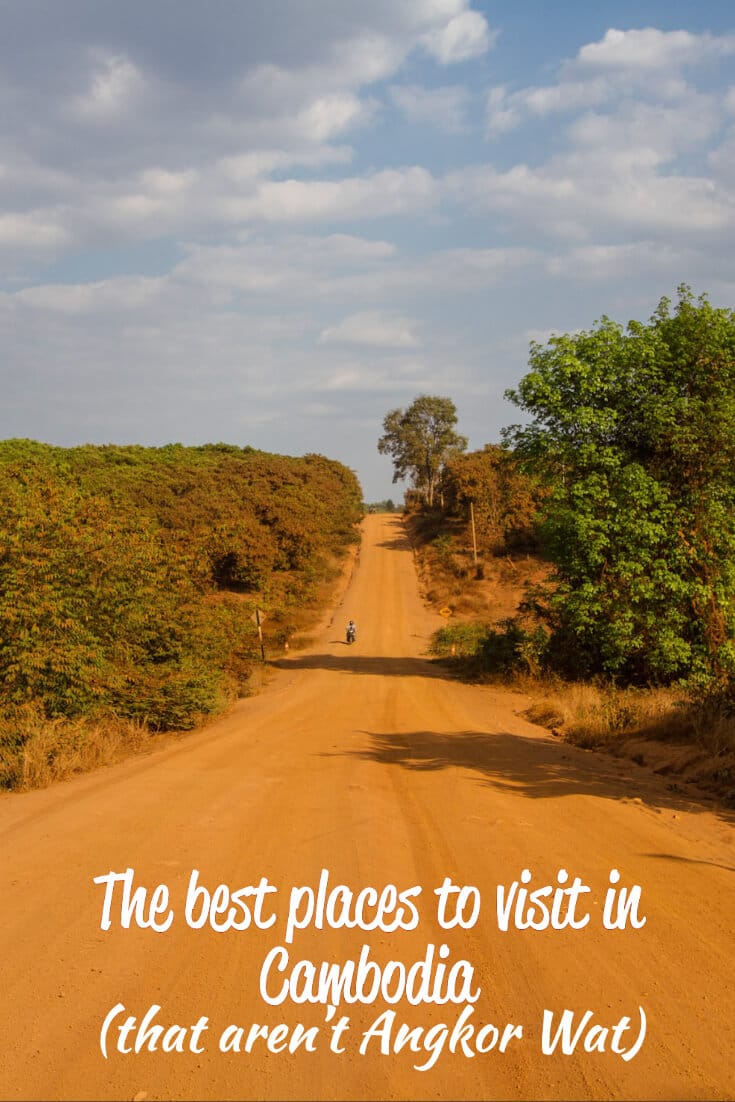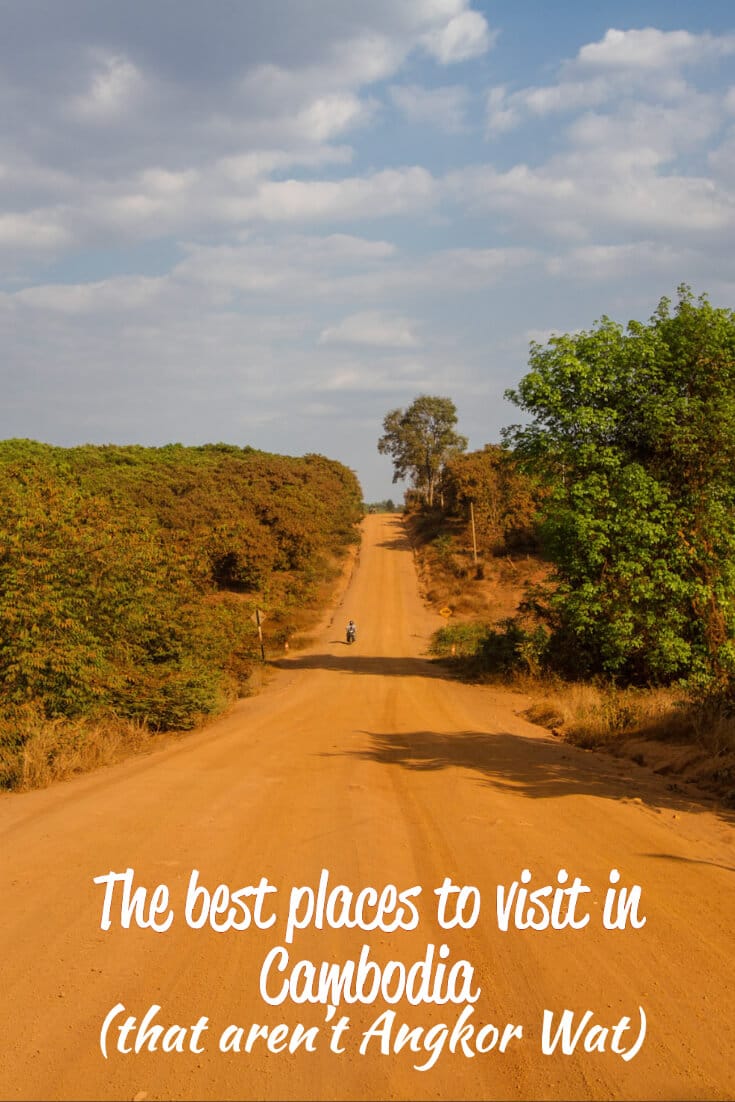 ---
---