Cycle rickshaws: An Asian institution
Historically not as old as I was expecting, the cycle rickshaw was first developed in Asia in the 1880s but was not used with any regularity until the late 1920s starting in Singapore. Coming in all shapes and sizes, cycle rickshaws are not as popular as a mode of transport as they used to be but nonetheless, they are still a common sight in many Asian countries and it was our recent trip to Bangladesh, and particularly Dhaka (which is known as the Rickshaw Capital of the World) that prompted me to look through our archive of photos and see how many different styles and designs I could find.
Myanmar (Burma)
Known locally as a sai kaa or trishaw the Burmese cycle rickshaw is still commonplace in lots of towns and cities. Even Yangon, which is developing at lightening-speed, still has its fair share of cycle rickshaws. As the name sai kaa would suggest, the passenger sits alongside the driver in a Burmese cycle rickshaw but be warned, the seats are not designed for western backsides and are very small indeed!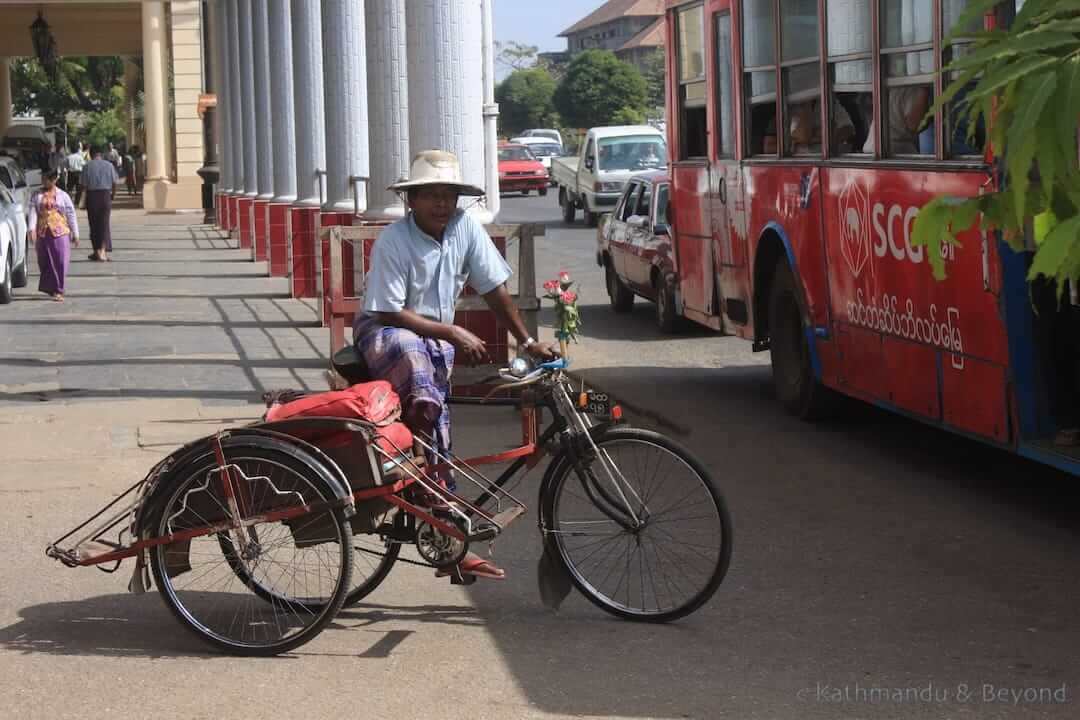 Burmese rickshaw outside The Strand Hotel in Yangon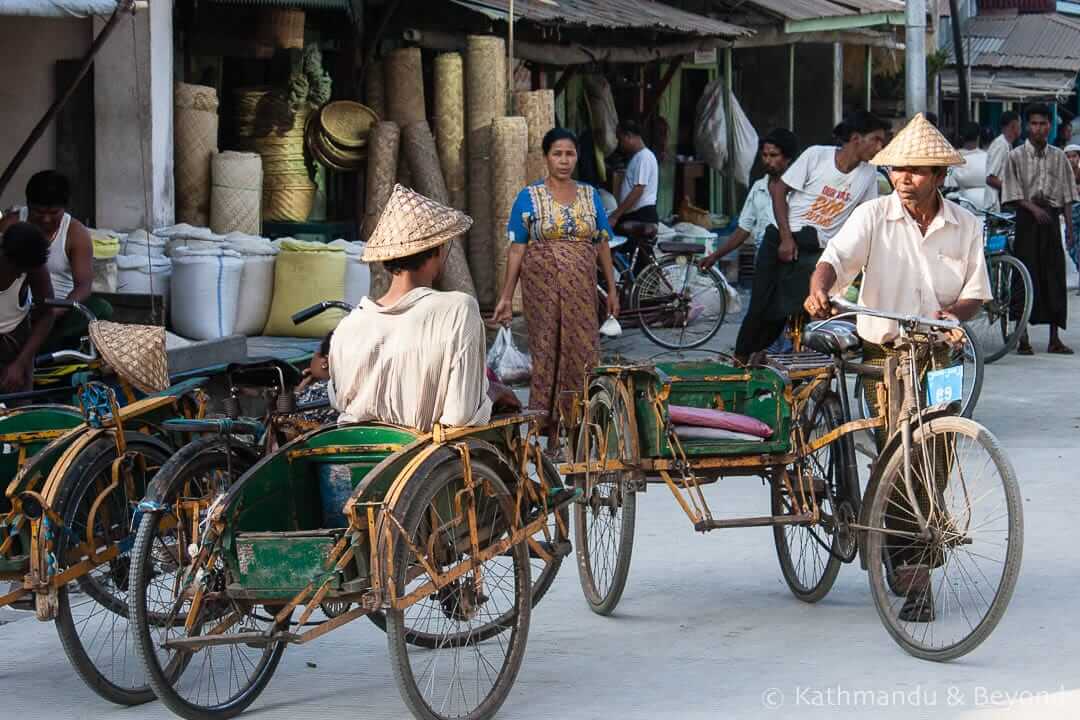 Burmese rickshaw in Sittwe
India (regular cycle rickshaw)
Just about every city and town in India has an army of cycle rickshaw drivers waiting at railway stations, bus stations and nearly every street corner ready to take you into the 'organised chaos' that is the rule of the road in the subcontinent's most hectic country. There are two options when taking a cycle rickshaw in India – you either sit back, relax and enjoy the scenery or you close your eyes, hope for the best and wish the journey over and done with as quickly as possible. Kirsty and I have done both but probably the latter with more regularity in the big cities. This is especially the case when you hear the air horn of a brightly coloured Tata truck or insanely fast public bus getting closer and louder as you cycle along at about 7km per hour. If you value your sanity, NEVER look behind you when travelling by cycle rickshaw in India.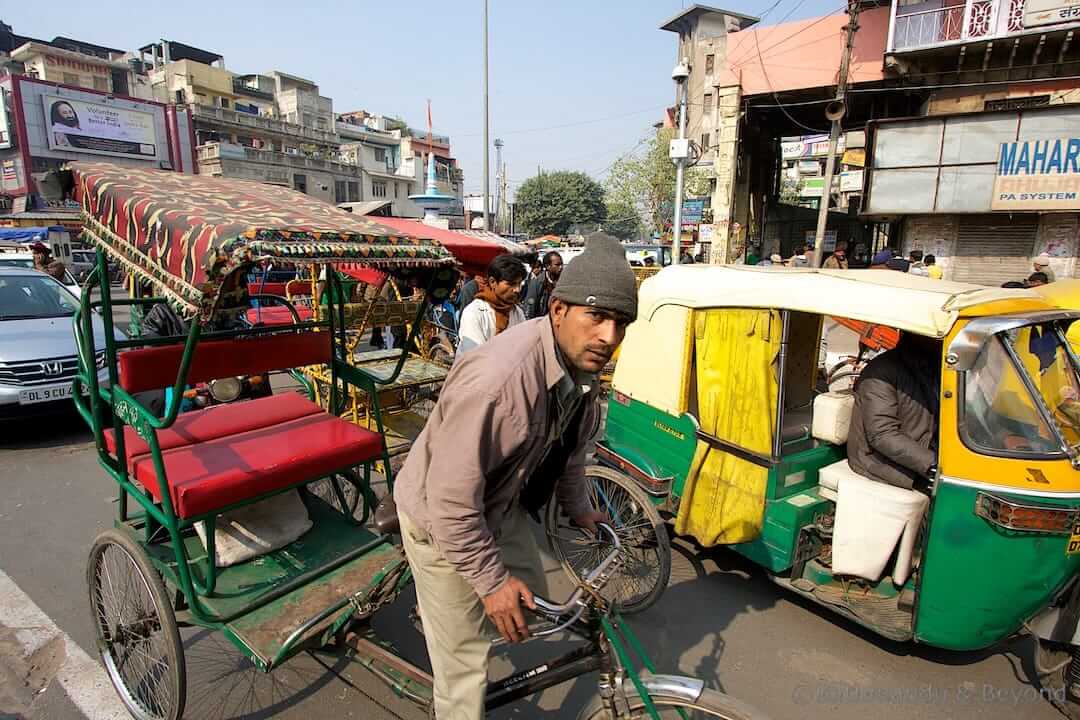 Cycle rickshaw in Old Delhi's busy Chandni Chowk
India (hand-pulled rickshaw)
To the best of my knowledge, you only see hand-pulled rickshaws or ricksha as they are also called, in Kolkata. Kirsty and I have visited Kolkata on several occasions and we are always in a dilemma as to whether to use the services of a hand-pulled rickshaw walla or not. On the one hand, it seems incomprehensible to us that someone should have to pull us running through the streets of Kolkata in order to make a few rupees. But on the other hand, if these men did not have this opportunity to make a (meagre) living in this way then they would have nothing. Our attitude, and interestingly enough, the same attitude adopted by some middle-class Kolkatans that we have spoken to, is to take a hand-pulled rickshaw but one per person rather than one between us. It's mandatory to haggle a bit on the asking price before setting out – this is India after all – but we then always give the rickshaw wallas what they originally asked for plus a little bit more. Conscience clear for a while – again this is India we are talking about – we head off thinking we have probably done the right thing.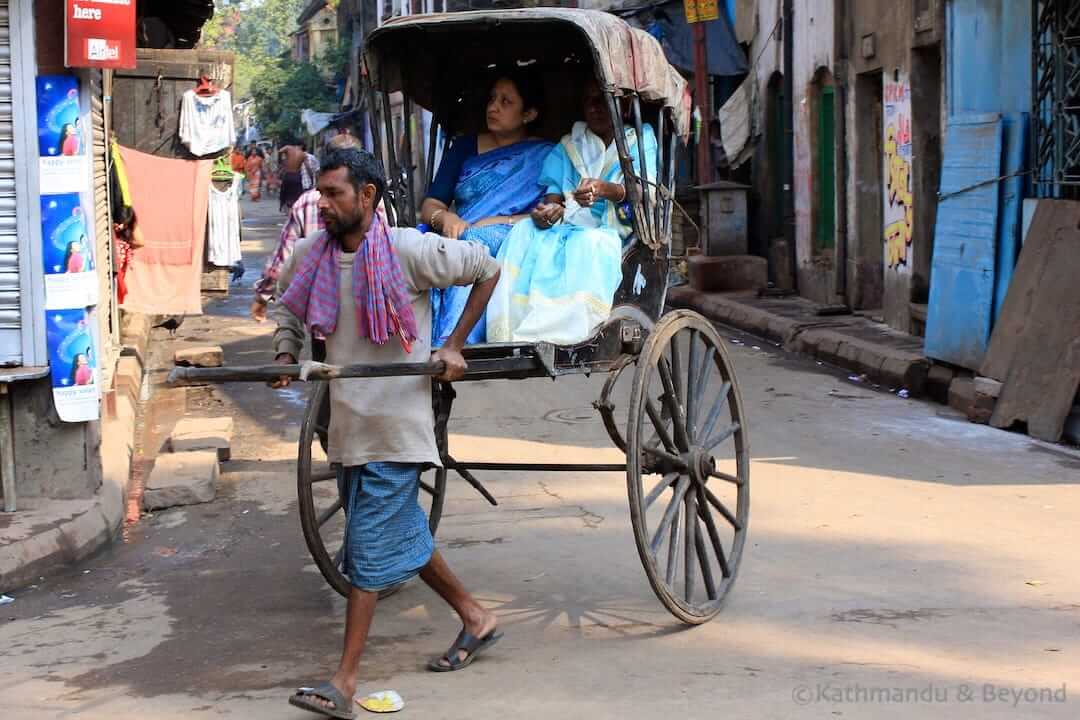 Hand-pulled rickshaw in Kolkata
One final note of interest. Hand-pulled rickshaws come into their own and are in great demand during the monsoon season when the backstreets of Kolkata get so flooded that hardly any other mode of transport is suitable, except maybe a canoe!
Indonesia
There are two types of cycle rickshaw in Indonesia. Both are known locally as the becak. In one design the driver sits behind the passenger whilst in the other, the driver sits beside the passenger, sidecar style in other words. The former design is more popular and I have seen them in regular use on both the islands of Java and Sulawesi. Until recently, becaks were synonymous with the Indonesian capital Jakarta but they have now all but disappeared and I don't recall seeing them on either Bali or Lombok either.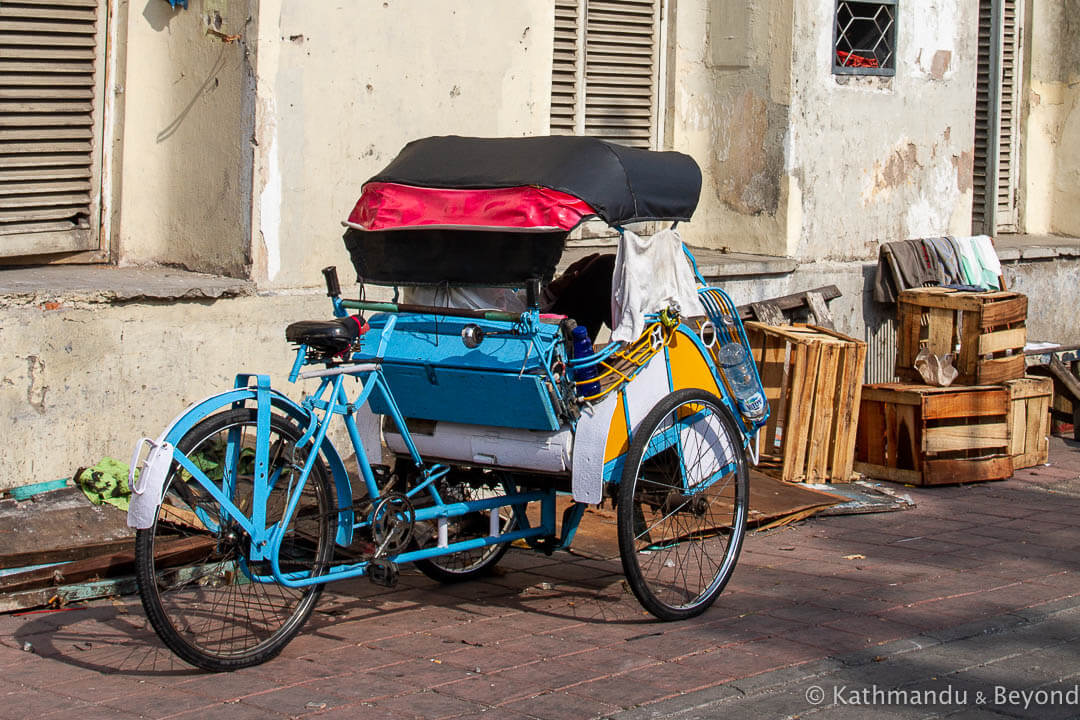 becak in Semarang, Java 
China
A bit grannyish (check out the curtains on the one in the photograph), Chinese cycle rickshaws are called sanlunche (which more or less translates as conveyance). They are mainly found near tourist locations these days (although the one here was photographed in Kaifeng which is not a popular tourist spot) and are used to ferry excited Chinese holidaymakers from one place to the next. Naturally, there are plenty of stops for the obligatory photo opportunities along the way.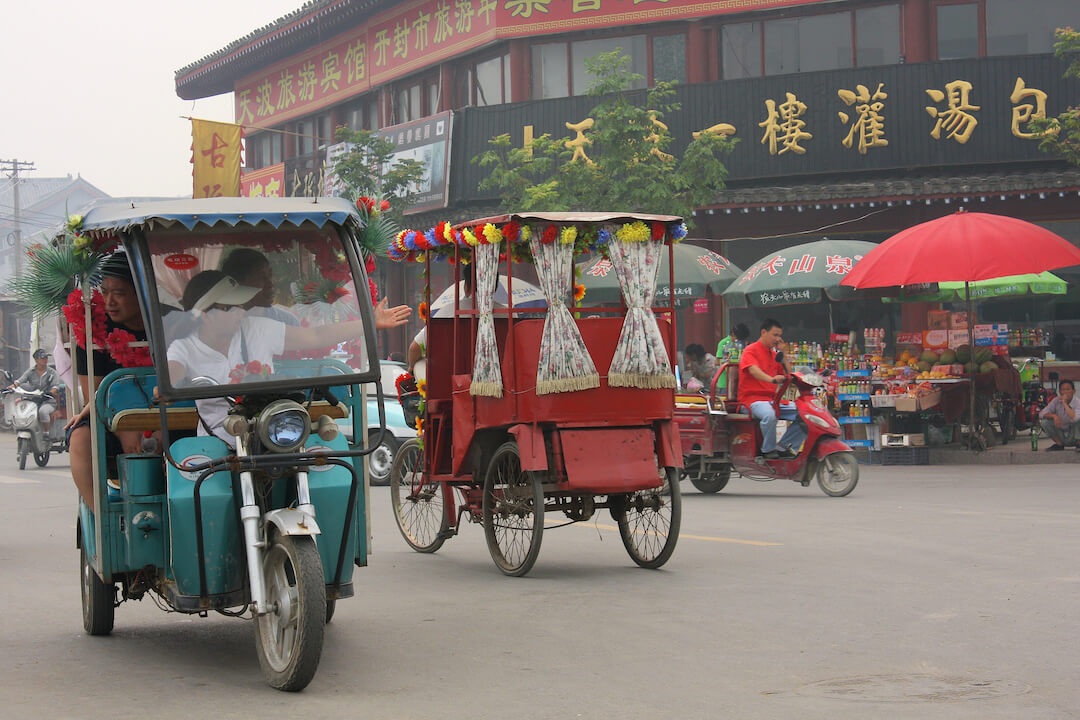 Chinese-style rickshaw vying for the road with an auto-rickshaw in Kaifeng
Cambodia
Locally called the cyclo, you see plenty of cycle rickshaws in Cambodian cities and towns. For me, the cyclo is the nicest and most relaxing way to get around the likes of Phnom Penh and Battambang and the drivers are often good company for the duration of the journey.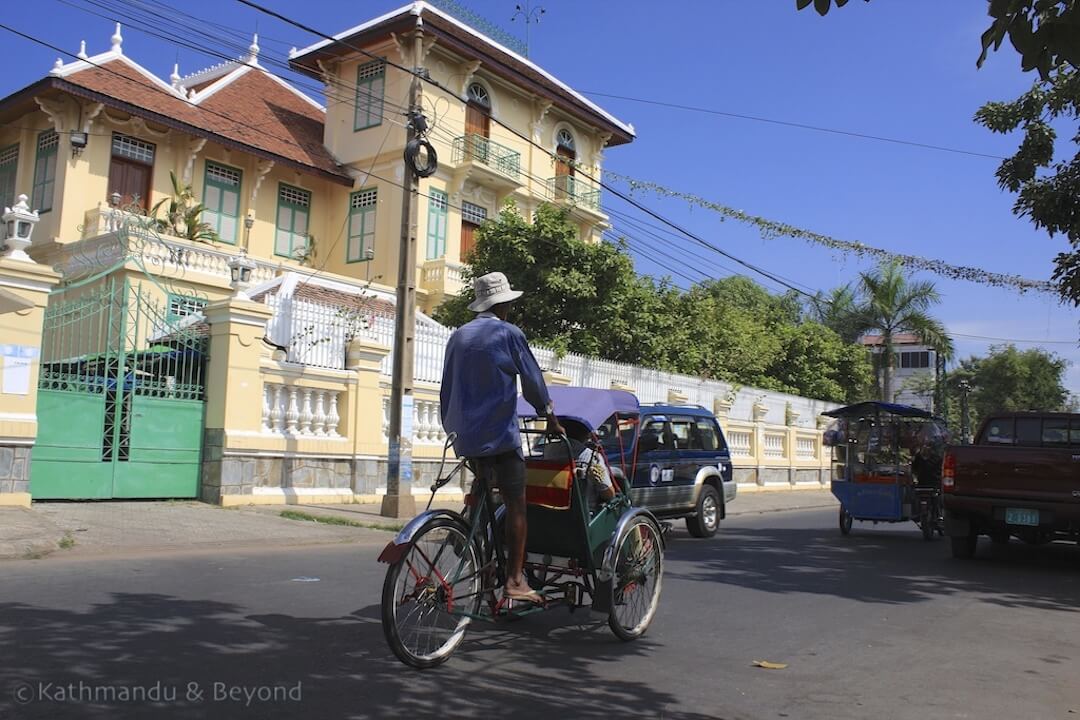 Cyclo near Phnom Penh's riverfront, Cambodia
Bangladesh
Given its size, nowhere else will you see more cycle rickshaws on the streets than in Bangladesh. The popularity of the cycle rickshaw as a mode of transport may be on the decline in other Asian countries but this is certainly not the case in Bangladesh where they are still the most popular means of travel for short to medium distances. Artistically, the Bangladeshi cycle rickshaw is the most interesting one we have come across in Asia. Many are adorned with colourful artwork, most of which are still hand-painted. Popular themes include Bollywood movies, Alpine scenery and fast cars.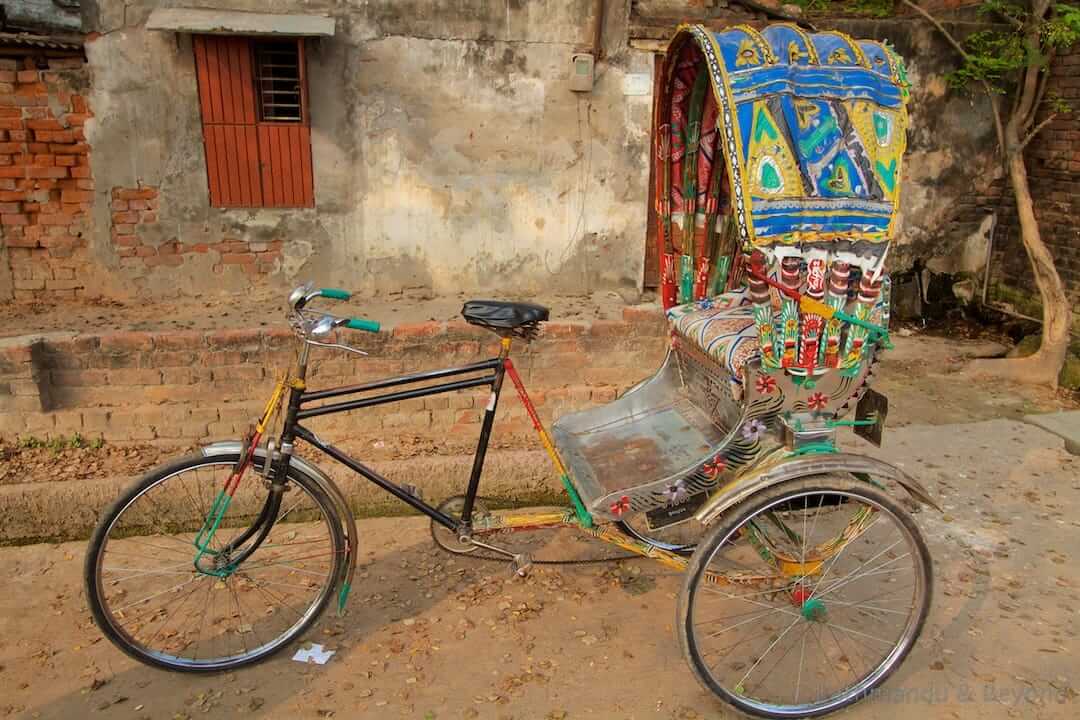 Colourful Bangladeshi rickshaw in the northern town of Rajshahi
Nepal
I've got a bit of a love-hate thing going on with Nepalese cycle rickshaws. On the one hand, they offer the ideal solution for tackling the narrow and hectic backstreets of Old Kathmandu but on the other hand, I have lost count of the number of times I have been clipped on the back of my heels by the bloody things when I try to navigate the aforementioned hectic streets on my own two feet. Admittedly, Kirsty and I lived just outside the main entrance to Thamel (*) for seven months and so probably got more than our fair share of cycle rickshaw road rage but nonetheless it used to drive me nuts especially as the drivers never thought they had done anything wrong. As with most countries in Asia, two feet are lower down the pecking order than two or even three wheels so their attitude was that I (the walker) had a responsibility to get out of their way and not the other way around!
(*) Thamel is the main tourist district in Kathmandu. A magnet for travellers, trekkers and tourists alike, Thamel is a thriving, chaotic mess that will eventually try the patience of even a saint. If walking, wear hiking boots, not flip-flops!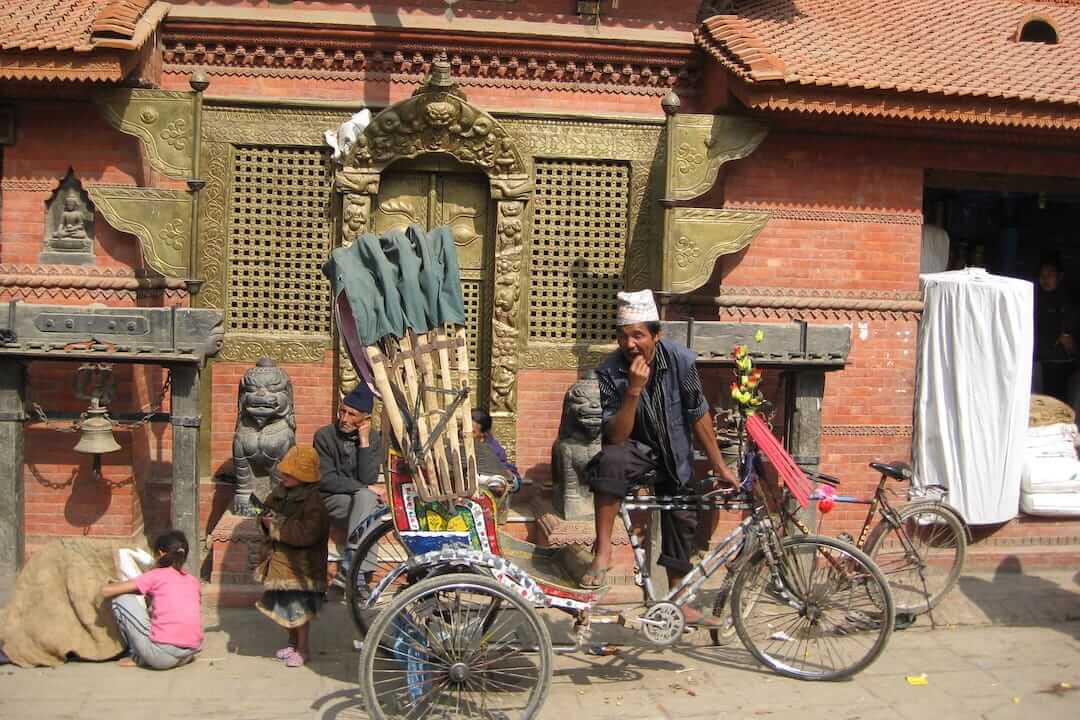 Rickshaw walla in waiting in Durbar Square, Kathmandu
Vietnam
With the driver sitting behind you, the xích lô (from the French cyclo) used to be a pleasant way to see Vietnam's larger cities such as Ho Chi Minh and Hanoi. These days the increase in motorised traffic means the experience is not what it was. Moreover, the Vietnamese cyclo drivers don't have the best reputation when it comes to offering a fair price and delivering on services agreed upon.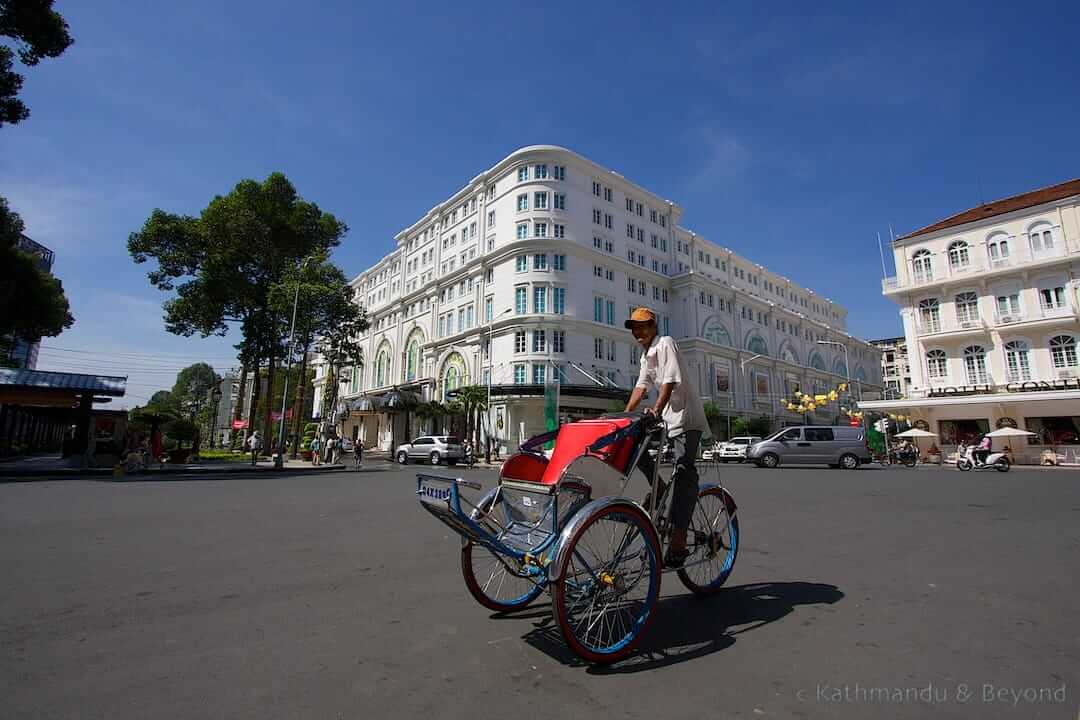 Rickshaw in downtown Saigon, Vietnam
Japan
It is widely believed that the human-powered rickshaw was invented in Japan and the job of pulling one was considered to be the lowest of the low. Things are different these days however and Japanese hand-pulled rickshaw drivers are paid handsomely for their efforts. Catering exclusively to tourists, in particular, Japanese ones who like to dress up and play the part, you will see plenty of tourist rickshaws in popular destinations such as Kyoto and Takayama. Don't get me wrong, I don't begrudge the guys (and some gals) that pull the rickshaws, they certainly earn their money, but it does amuse me to note how things have changed and moved on.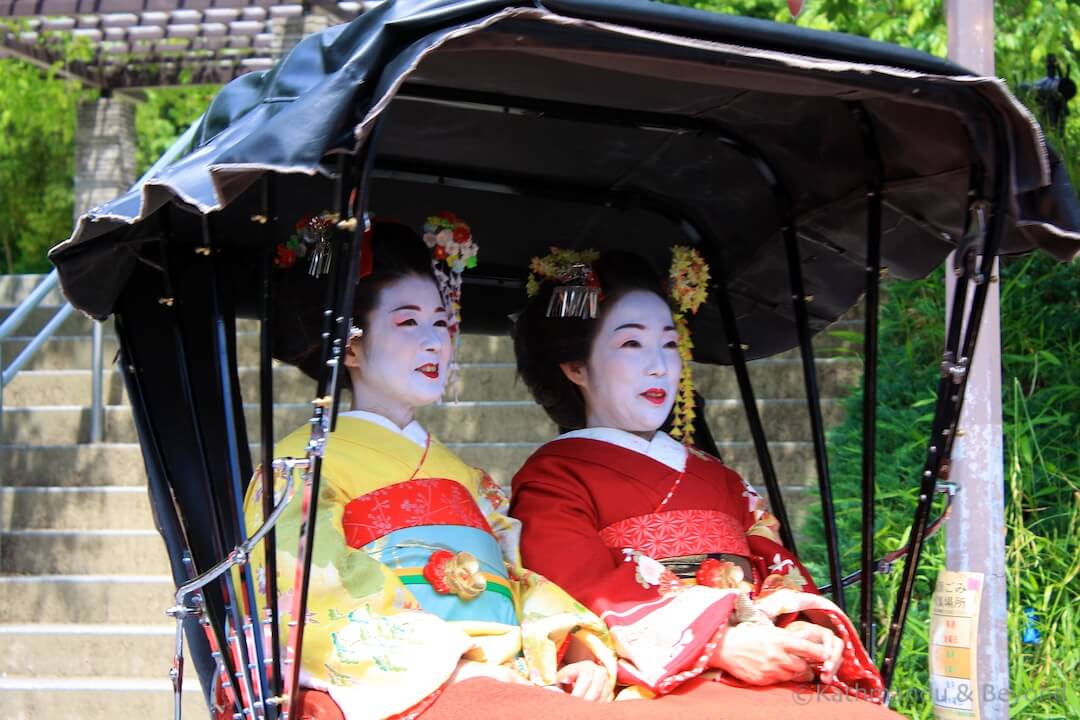 Wanna-be Geisha girls in Kyoto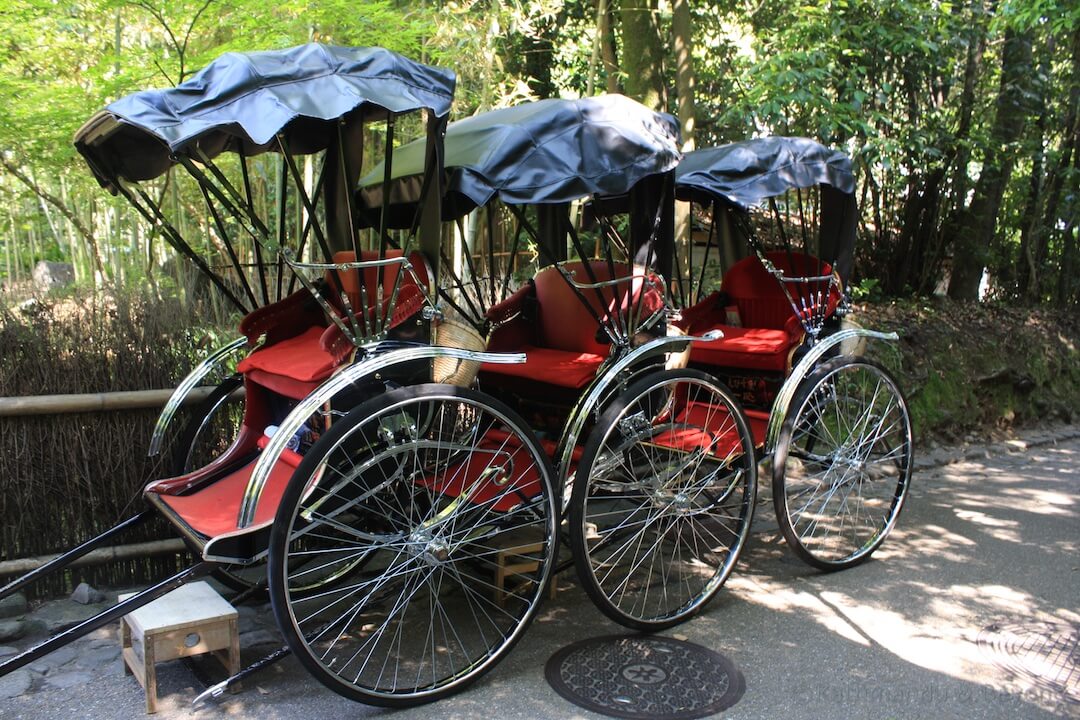 Waiting rickshaw in Kyoto, Japan
Malaysia
Malaysia is definitely one country in South East Asia where there has been a sharp decline in the number of cycle rickshaws over the past few decades. If fact the only cycle rickshaws I have seen in Malaysia for some time now have been in Penang and Malacca and in both places they only operate as tourist rickshaws. Malaysia was one of the first countries in the region to get an efficient public transport system and this has been a major contributing factor for their decline in numbers.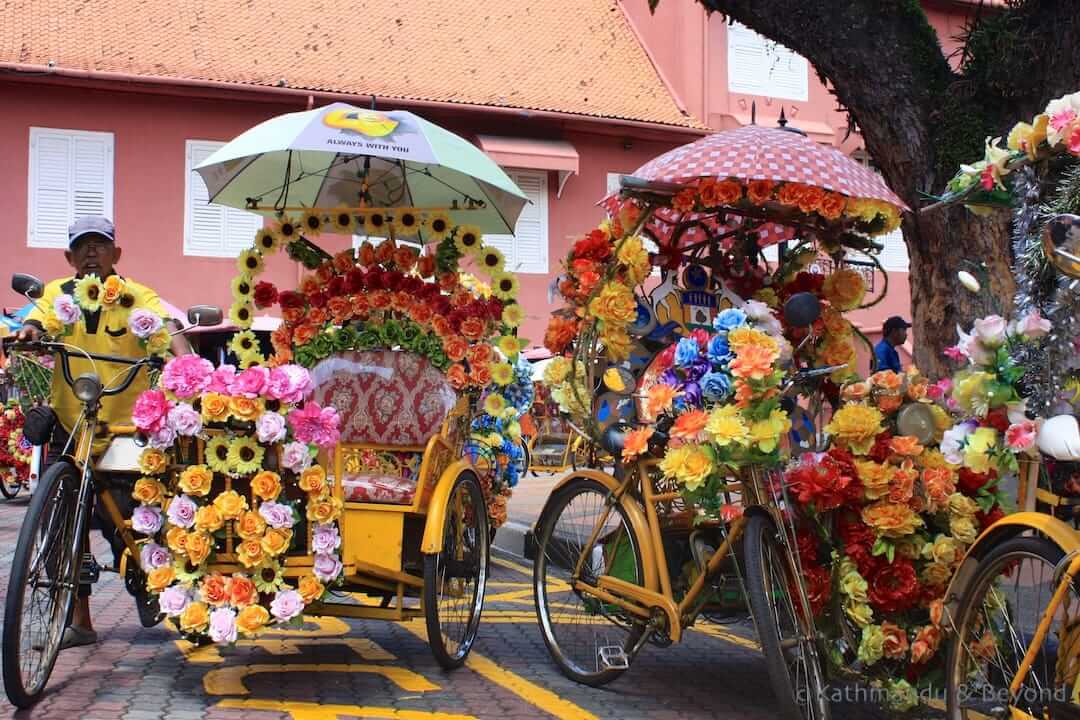 Flower-garlanded rickshaw in Melaka (Malacca), Malaysia
In Malaysia, the cycle rickshaw is called the trishaw or the beca. They may be dwindling in numbers but the few that are still around, particularly in Malacca, are well cared for and far more colourful than in most other Southeast Asian rickshaws.
Thailand
Similar to Malaysia, you don't see many cycle rickshaws (known locally as samlor) in most Thai cities anymore. The exception to this seems to be Chiang Mai. On and off, we spend quite a bit of time in the city and it is not unusual to see cycle rickshaws commonly being used by locals for short journeys, especially around Chiang Mai Gate and Worarot market.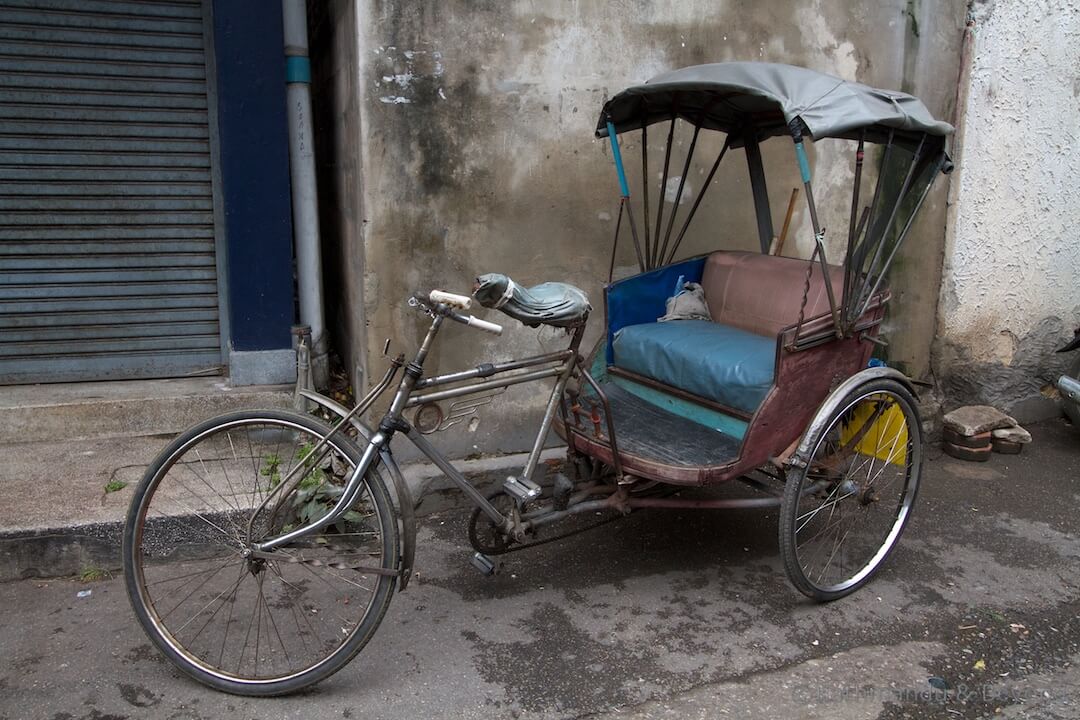 Cycle rickshaw in Chiang Mai
The auto rickshaw (aka the tuk-tuk) is way more popular than the samlor but the drivers (they are also called samlor) in our part of town (Chiang Mai Gate) are always friendly and never hassle so I for one like having them around.
And a guest appearance from Cuba
OK, not Asia but I like these photos as well as the design of the rickshaw itself and so I'm adding a Cuba section. I don't have too many details about the Cuban cycle rickshaw but I did read that it was only introduced into the country in the early 1990s because there was a distinct lack of petroleum (gas) at the time. Locally the rickshaw is known as a bicitaxi and bicitaxis are often fitted with sound systems although the ones in these photographs are not.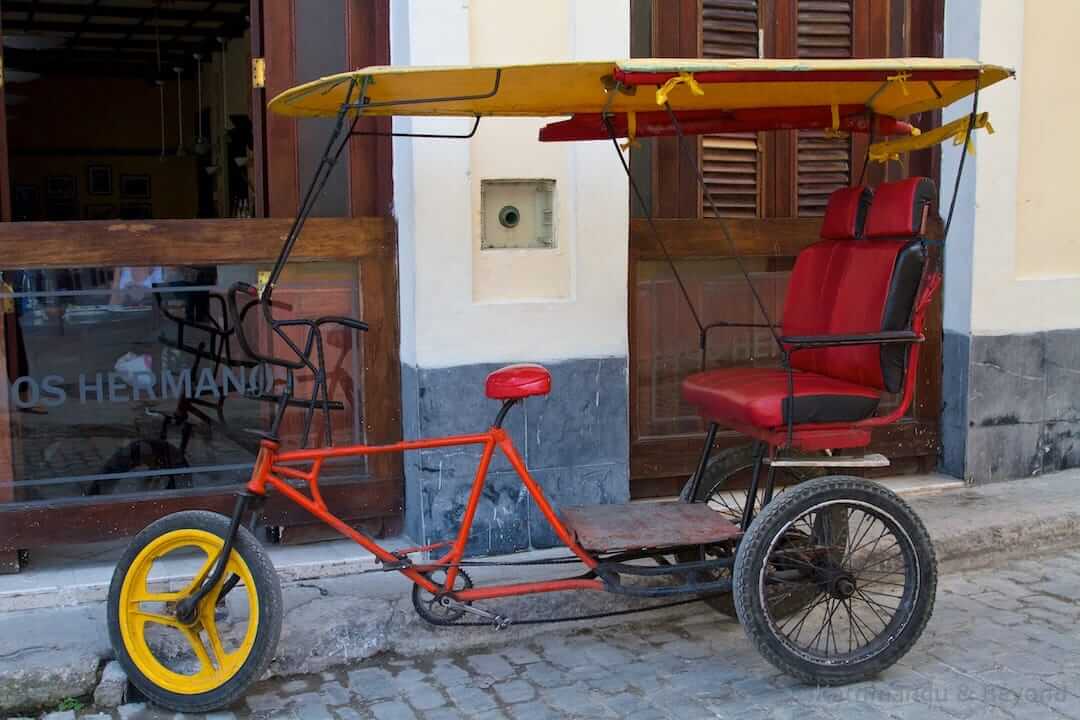 Cuban rickshaw
It's rather cool don't you think and furthermore, two western behinds can fit on the bench seat without any issues – joy of joys!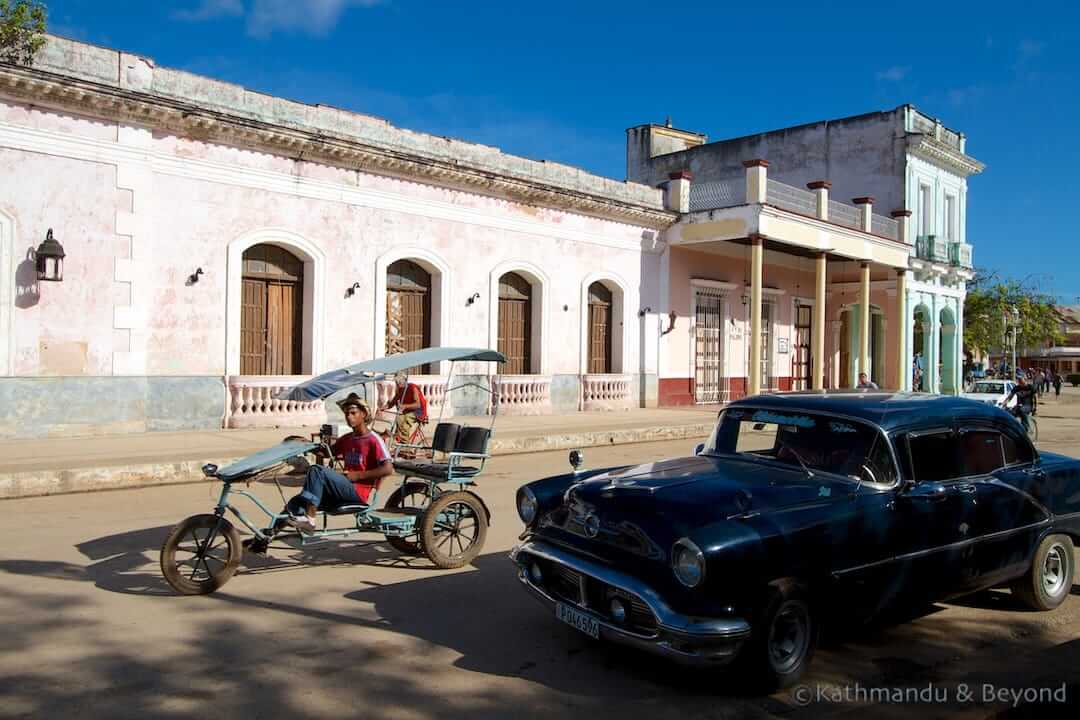 Cuban rickshaw in Remedios
---
If you enjoyed this post, you'll also love Auto Rickshaws Around the World, Uber-Cool Tuk-Tuk's in Ayutthaya and Rickshaw Art in Bangladesh.
---
---