Cambodia Itinerary: Phnom Penh to Siem Reap via Mondulkiri and Ratanakiri
Phnom Penh – Kompong Cham – Kratie – Sen Monorom – Ban Lung – Stung Treng – Preah Vihear City – Sra Em – Anlong Veng – Siem Reap
After a few days in Phnom Penh, we began our journey to Cambodia's eastern provinces with a few days in Kompong Cham, a peaceful town on the side of the Mekong River. There is a really nice temple complex on the outskirts of town (Wat Nokor) and Koh Paen, an island which is linked to the mainland by an intricate bamboo bridge in the dry season, is best explored by bicycle. Take your pick between a bus, minivan or a shared taxi to get to Kratie, another laid-back riverside town from where you can visit nearby Koh Trong and hopefully spot the elusive Irrawaddy dolphin. We also took a day trip north to Phnom Sombok and Sambor, which is home to the largest wat (temple) in Cambodia.
A recent upgrade of the main roads in both Mondulkiri and Ratanakiri provinces means that it only takes about 3 hours to reach Sen Monorom by minivan nowadays. The provincial capital of Mondulkiri province is a nice enough place to hang out for a bit but if you want to see anything of the surrounding countryside, it's best to join a tour or hook up with a local guide. We did the latter and visited some waterfalls, a number of Bunong villages (including Putang and Dak Dam) and some local plantations. One of the key draws in the area is the Elephant Valley Project. We didn't visit it but, if it is on your radar, ensure you book as far in advance as possible as the project is extremely popular. From Sen Monorom we travelled north into the province of Ratanakiri.
Here we based ourselves in Ban Lung and again employed the services of a local guide to show us around the region. This included time visiting remote villages on the banks of the San River (where animist ways are still practice), seeing yet more waterfalls and trekking through lush plantations. Regular minivans make the journey west to Stung Treng, a surprisingly pleasant town with a lovely riverside setting. The busy little town of Sra Em is the closest base for exploring the superb Khmer temple complex of Prasat Preah Vihear. To get to Sra Em from Stung Treng, first head to Preah Vihear City and change transport there but there is no need to head back the same way in order to reach Anlong Veng as shared taxis ply the route on a regular basis. The former Khmer Rouge stronghold is not on the regular tourist circuit but it is worth visiting if you have an interest in Cambodia's more recent history and we found it to be a worthwhile stopover. From Anlong Veng, buses and shared taxis run to Siem Reap and the nearby temples of Angkor.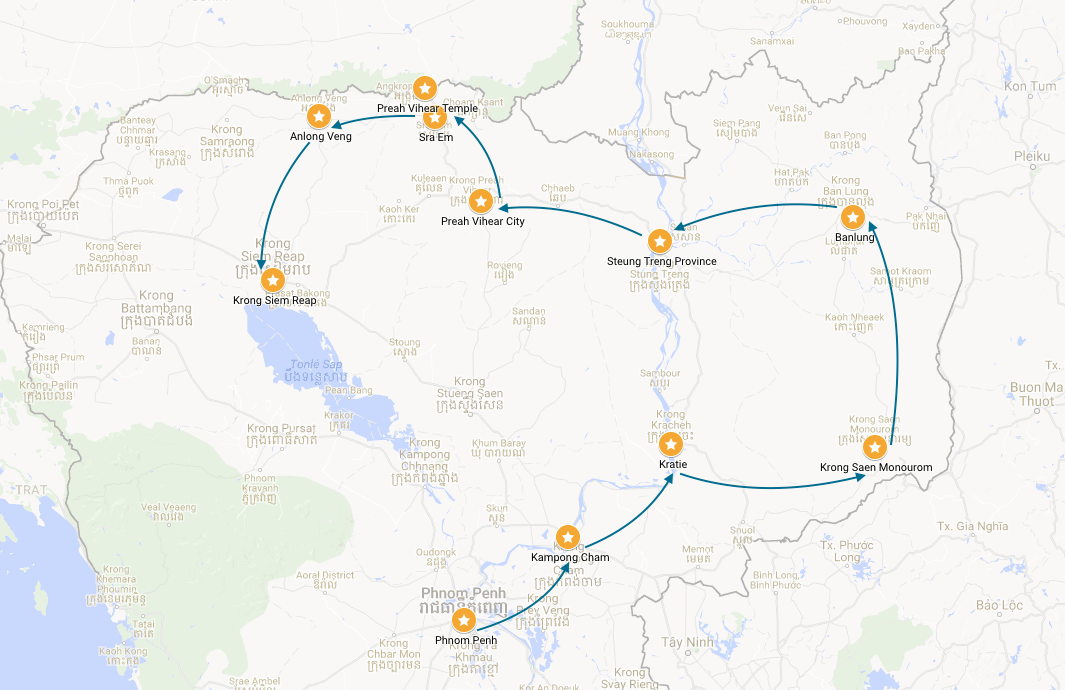 Number of countries: 1
Number of UNESCO sites: 2
Best time to travel: November to March
Recommended duration: 17 to 20 days including enough time for Angkor
Best places to slow the itinerary down: Kompong Cham, Kratie and Siem Reap
Mode of transport: Bus, minivan and shared taxi
People-watching in the late afternoon/early evening at the waterfront in Phnom Penh
Prasat Preah Vihear – one of Cambodia's more alluring temples
Phnom Penh's distinctive architecture
Travelling on the San River in Ratanakiri to villages where ethnic minorities still practice animism
Biking around Koh Paen in Kompong Cham
Having a few too many on Pub Street in Siem Reap (in fact, we prefer the Alley. It's a bit quieter and more our scene these days!)
Visiting dark tourism sights and places of interest in Anlong Veng
The sunsets in Kratie – there were incredible every night
And of course, the mighty temples of Angkor!
OPTIONS FOR EXTENDING THE ITINERARY
Siem Reap is well connected to regional Asian hubs by air. It is also possible to leave by land for Bangkok and beyond
See more of Cambodia. We have a suggested coastal itinerary that begins in Phnom Penh
If you have visited Siem Reap and Angkor before, there is a little-used border crossing near Anlong Veng that will take you into Northeast Thailand's Isan (Isaan) region
OTHER TRAVEL PLANNING RESOURCES
Depending on our itinerary and destination, sometimes/often we find our accommodation as we go, particularly in smaller places. In big cities, for slightly longer stays, during peak season or just when we're being a bit more organised, we tend to make a reservation in advance using Booking.com. Generally in Cambodia, you'll be fine booking guesthouses on the go, but for a routing like this one, it would be sensible to do some forward planning, particularly in high season.
There are a few guidebooks to Cambodia available but we've always used Lonely Planet and it's hard to change a habit of a lifetime! With the tourist infrastructure changing so rapidly at the moment, it's hard for print guidebooks to keep up so we tend to use our LP for historical information and facts and an online resource like Travelfish or Thorntree for information on accommodation, transport and visas…
Check out the latest offer on Lonely Planet's guide to Cambodia here and consider picking up a South East Asia phrasebook to try a few words of the lingo.
And if you need a few more reasons to follow this itinerary…
Pulung Elephant Camp, Mondulkiri
Bou Sraa Waterfall, Mondulkiri
Yeak Loam Lake, Ratanakiri
Did you find this post useful? Pin it to your travel planning board for later…