Suggested Bulgaria and Romania itinerary: Sofia to Bucharest overland
(Bulgaria) Sofia – Shipka – Stara Zagora – Sozopol – Burgas – Varna – Shumen – Veliko Tarnovo – Ruse- (Romania) Bucharest
We spent quite a bit of time tracking down communist-era architecture and monuments as well as street art in Sofia but if that isn't your thing then a day or so is enough to see the city's highlights. Shipka isn't on many people's Bulgarian itinerary but we wanted to see the incredible Buzludzha Monument as well as the Shipka Pass and the small village is the best place to be based for a visit.
Heading via Kazanluk, we broke the journey to the Black Sea coast in the medium-sized town of Stara Zagora, while our first stop on the coast itself was the touristy but likeable resort town of Sozopol. Accommodation options are plentiful and well-priced as long as you don't visit in July and August and we stayed a few days before heading the short distance to Burgas. A so-so kind of place, we only stayed one night before driving north to Varna which, in contrast, we thought was a fantastic city with plenty of vitality, some good bars and some interesting things to see and do.
Heading inland, we stopped in Shumen for one reason; to see the mightily impressive Monument to 1300 Years of Bulgaria but as it turned out, the town itself was also enjoyable and we stayed longer than planned. The medieval city of Veliko Tarnovo didn't disappoint, although its fortress looks more impressive from a distance than up close. Our final stop in Bulgaria was the Danube city of Ruse. A bonus find, we only overnighted there because we dislike long journeys, Ruse ended up being one of those places we wished we had stayed longer. From there, a direct minivan transported us to Bucharest in about 3 hours.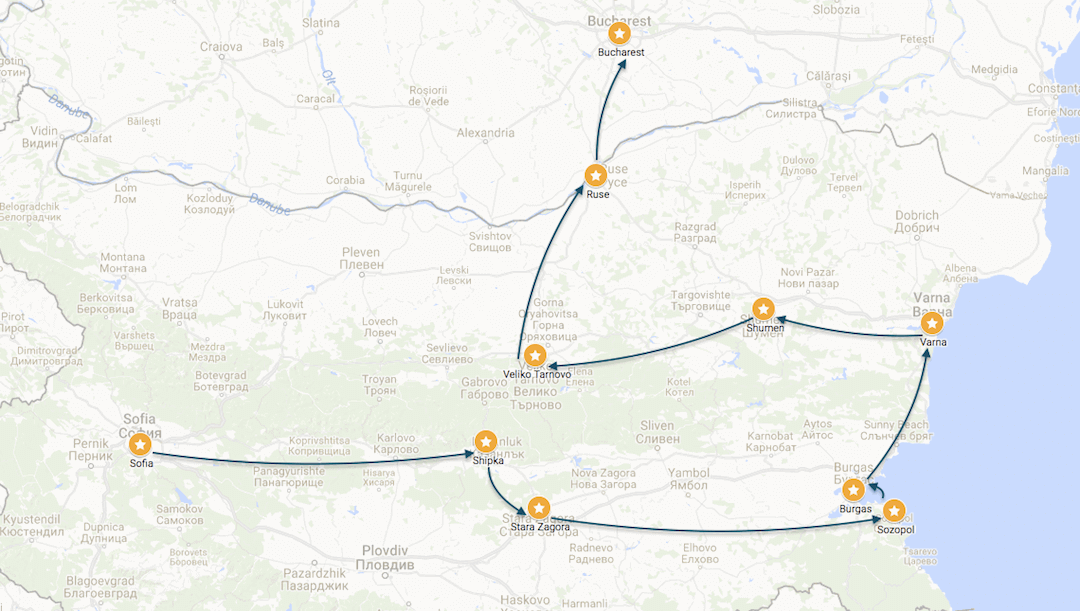 Number of countries: 2
Number of UNESCO sites: 1
Best time to travel: May to September
Recommended duration: 15-20 days, depending on time spent in Sofia and Bucharest
Best places to slow the itinerary down: Sozopol and Veliko Tarnovo
Mode of transport: Bus and minivan
Seeing the Buzludzha Monument near Shipka
Finishing a long day or exploring in Varna with as few beers in a cool, outdoor bar
The Museum of Socialist Art in Sofia
Street art in both Bucharest and Veliko Tarnovo
Dinner at the excellent restaurant attached to our hotel in Ruse (we stayed at the City House Hotel)
Traipsing out to the Defenders of Stara Zagora Memorial Complex in Stara Zagora – worth the long walk!
The mind-blowing Monument to 1300 Years of Bulgaria in Shumen
Cafe culture and people-watching in Sozopol
OPTIONS FOR EXTENDING THE ITINERARY
From Bucharest see more of Romania – it has so much to offer.
Continue the journey by following our suggested Bucharest to Budapest itinerary  
Getting to Serbia from Bucharest is straightforward
OTHER TRAVEL PLANNING RESOURCES
Balkan Viator is a useful resource for finding bus and train schedules in the region, although it's not 100% reliable so double-check timings locally.
Depending on our itinerary and destination, sometimes/often we find our accommodation as we go, particularly in smaller places. In big cities, for slightly longer stays, during peak season or just when we're being a bit more organised, we tend to make a reservation in advance using Booking.com.
There are a lot of great guidebooks to Europe available but we've always used Lonely Planet and it's hard to change a habit of a lifetime! Check out Lonely Planet's Romania & Bulgaria travel guide.
And if you need a few more reasons to follow this itinerary…
The Largo Sofia, Bulgaria
Buzludzha Monument, Bulgaria
Bulgaria Hotel Burgas, Bulgaria
The Park-Monument of the Bulgarian-Soviet Friendship Varna, Bulgaria
Romanian Athenaeum Bucharest, Romania
Did you find this post useful? Pin it to your travel planning board for later…