Where to break the journey between Phnom Penh and Siem Reap in Cambodia
Interesting places to visit between Phnom Penh and Siem Reap when travelling in Cambodia
This post has been updated to include up to date information about riding the bamboo train and visiting the floating villages at Kampong Chhnang in 2019. We've also added a few more suggestions of things to see on the journey between Siem Reap and Phnom Penh. The post was originally published 22 December 2014.
Impatient to see the mighty temples at Angkor, it's not surprising that most people head directly to Siem Reap after experiencing the delights of the capital, Phnom Penh. But if you have the time, consider breaking the journey and staying in one or more of the following destinations.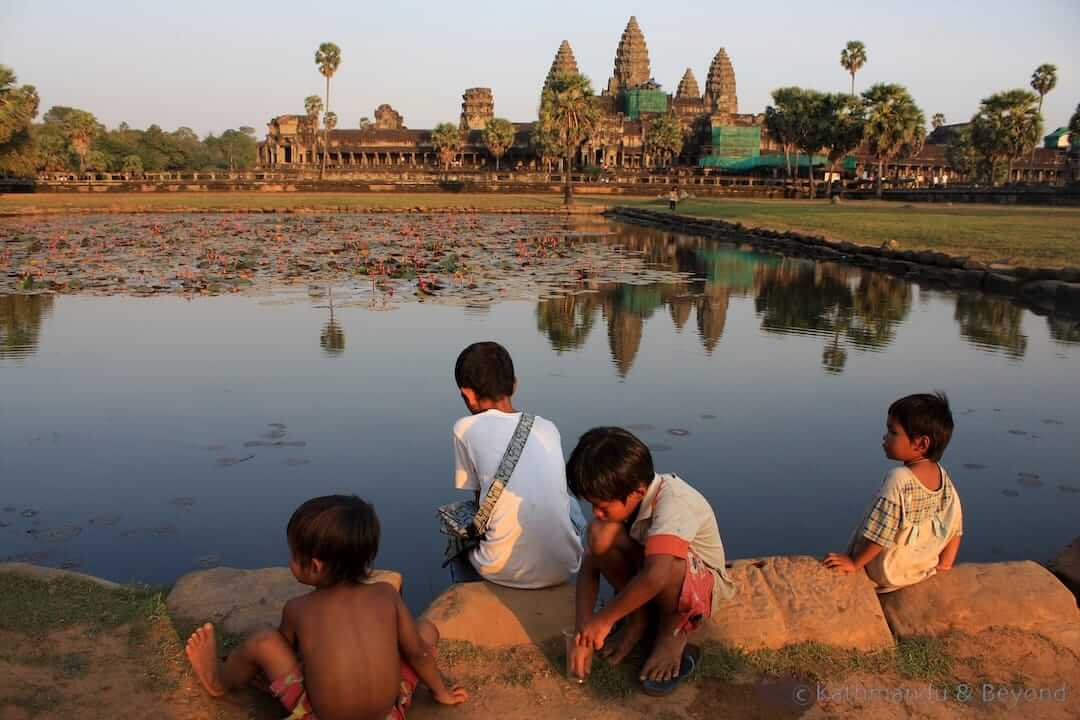 Don't be impatient for Angkor!
There are two ways to reach Siem Reap from Phnom Penh.
The quickest (and therefore the favoured route for buses) is National Highway 6. Along this route, you've got the option of stopping at Kampong Thom (also spelt Kompong Thom) and/or Kampong Cham (also spelt Kompong Cham). It is also possible to drive between Phnom Penh and Siem Reap using National Highway 5. This is longer but gives you the opportunity to stop at Kampong Chhnang (also spelt Kompong Chhnang) and Battambang plus the option of taking a slight detour north to visit the temples at Banteay Chhmar and Banteay Top near Sisophon.
Here are our suggestions of places to break the journey between Phnom Penh and Siem Reap with a brief summary of what's on offer:
Phnom Penh and Siem Reap via National Highway 6
Kampong Cham
Kampong Cham is a wonderful place. It's got all the right ingredients to make it a great travellers' hangout but with one thing missing – the travellers. Set on the Mekong River, Kampong Cham has a lovely setting. In the evening the promenade along the river is a hive of activity and hawkers set up stalls selling ice cold beer and snacks.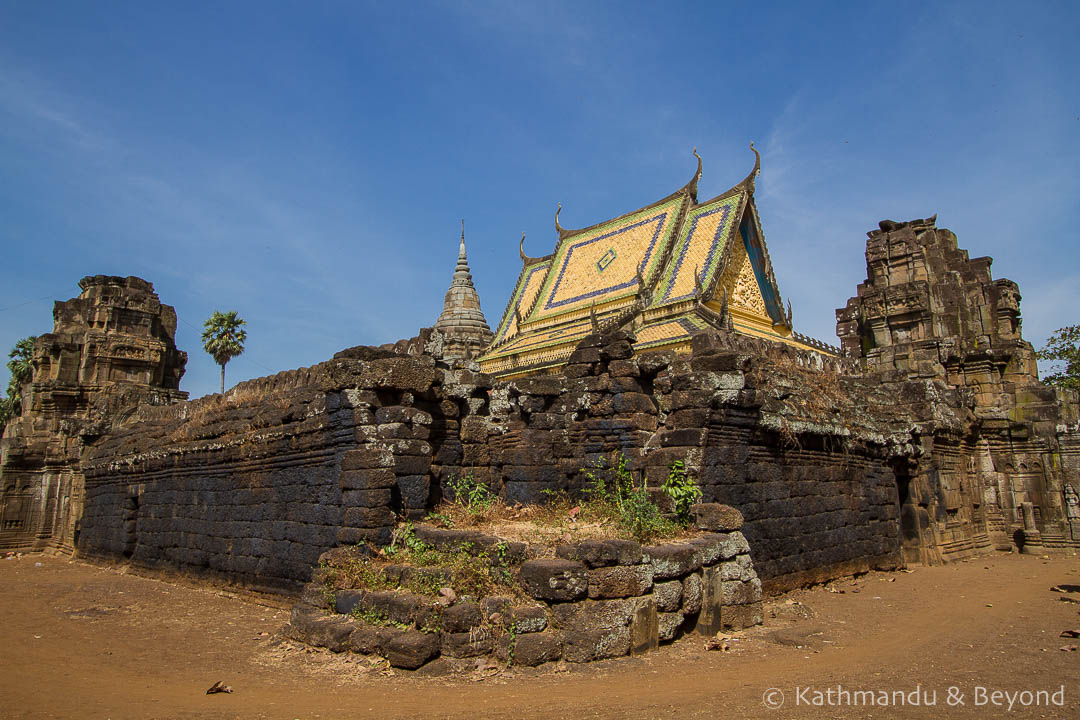 Wat Nokor (Banteay Prey Nokor) in the outskirts of Kampong Cham
During the day, cycling is the most enjoyable activity. The small temple of Wat Nokor (Banteay Prey Nokor), 3.5km northwest of the city centre, is worth visiting for its rural setting but cycling around the nearby island of Koh Paen is certainly the highlight. Situated in the middle of the Mekong River, Koh Paen is connected to the mainland by two bridges. Unfortunately, it is no longer possible to take any form of transport, including bicycles, across the rickety bamboo bridge (which is only erected during the dry season) so if you want to cycle onto the island, which is definitely the best option, then you will have to use the new, concrete bridge which is situated 2km southwest of the bamboo one. You can still walk across the bamboo bridge*, however, but, once there, you'll need some form of transport to get around if you want to see other parts of the island. An ox and cart might be an option but the novelty of being bumped along in one of these things will soon wear off!
* It's unclear whether you are allowed to take your bike across the bamboo bridge if you are simply pushing it. Let us know if you find out that this is an option.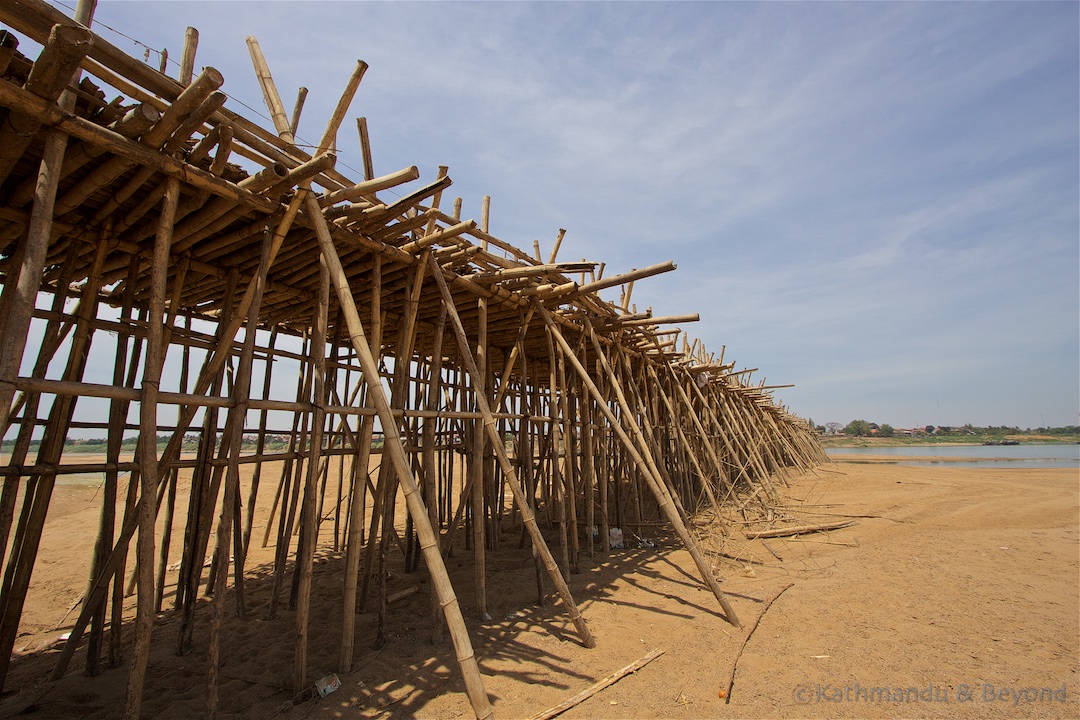 The bamboo bridge that connects Koh Paen with Kampong Cham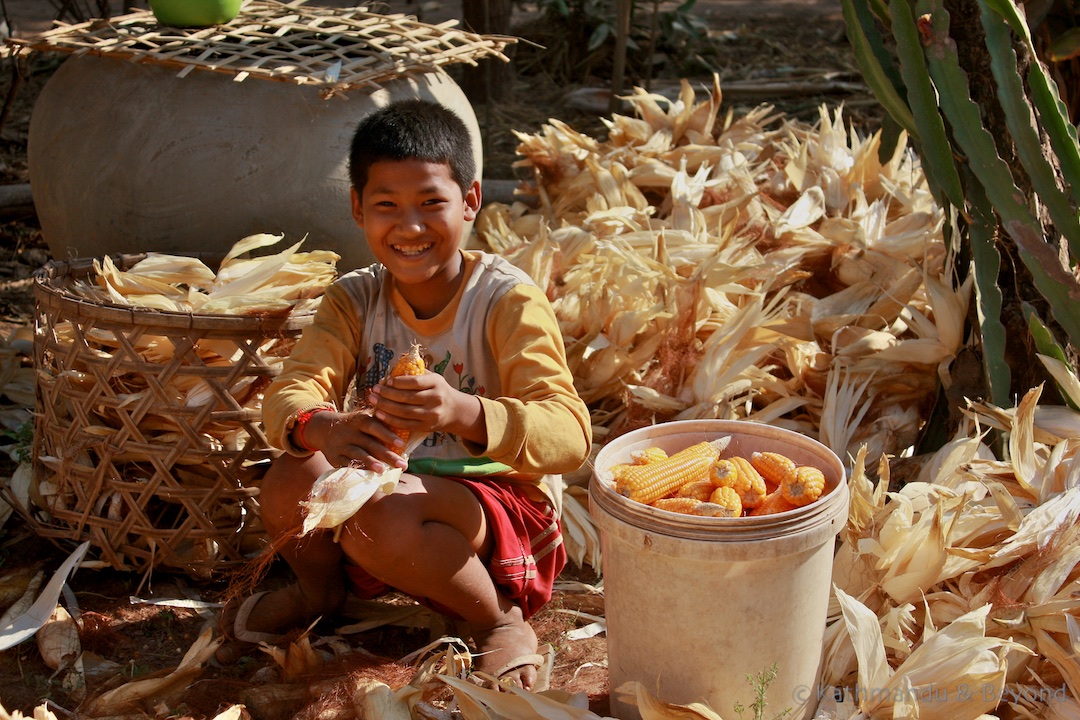 Rural life on Koh Paen, Kampong Cham
There are a few French colonial-era buildings dotted around town and the central market is also an interesting place to while away an hour or so. As with all markets in Southeast Asia, the one in Kampong Cham is most active in the morning.
All things considered, Kampong Cham is rural Cambodia at its best and if that wasn't enough, the Mekong Hotel (see below), with its riverfront location and cheap prices, is a great place to stay and the nearby Mekong Crossing Restaurant is a pleasant location to spend a relaxing evening.
How to get to Kampong Cham
Kampong Cham is actually 47km east of National Highway 6 but all public transport takes this route as far as Skun before turning off. Phnom Penh is only 156km away (3 hours on the bus) and it is 296km between Kampong Cham and Siem Reap. There are plenty of buses making the 4-5 hour journey but make sure you book your ticket the day before as most buses are coming from Phnom Penh and can be full. The Mekong Crossing Restaurant will do this for you for an extra charge of US$1 or so.
Where to stay in Kompong Cham
Kampong Cham has a handful of options for budget travellers: we've always stayed at the Mekong Hotel which isn't as fancy as it looks from the outside but rooms are clean and the staff generally helpful. If you prefer a guest house, look at the Mekong Crossing Guesthouse – we've enjoyed cold beers at their restaurant across from the Mekong River on more than one occasion.
Kampong Thom
Kampong Thom is a bit of dump if truth be told but it's worth stopping here to visit the pre-Angkorian temple of Sambor Prei Kuk. The temple site, which was awarded UNESCO World Heritage status in 2017, is about 30km from the centre of town and best reached via a dusty old ride by either remork (Cambodian-style tuk-tuk) or moto (Cambodian motorbike taxi). The journey time is about an hour in each direction. The same remork or moto driver (for an additional fee) will also take you out to Phnom Santuk, an important holy mountain and Buddhist pilgrimage site that is located 50km south of Sambor Prei Kuk.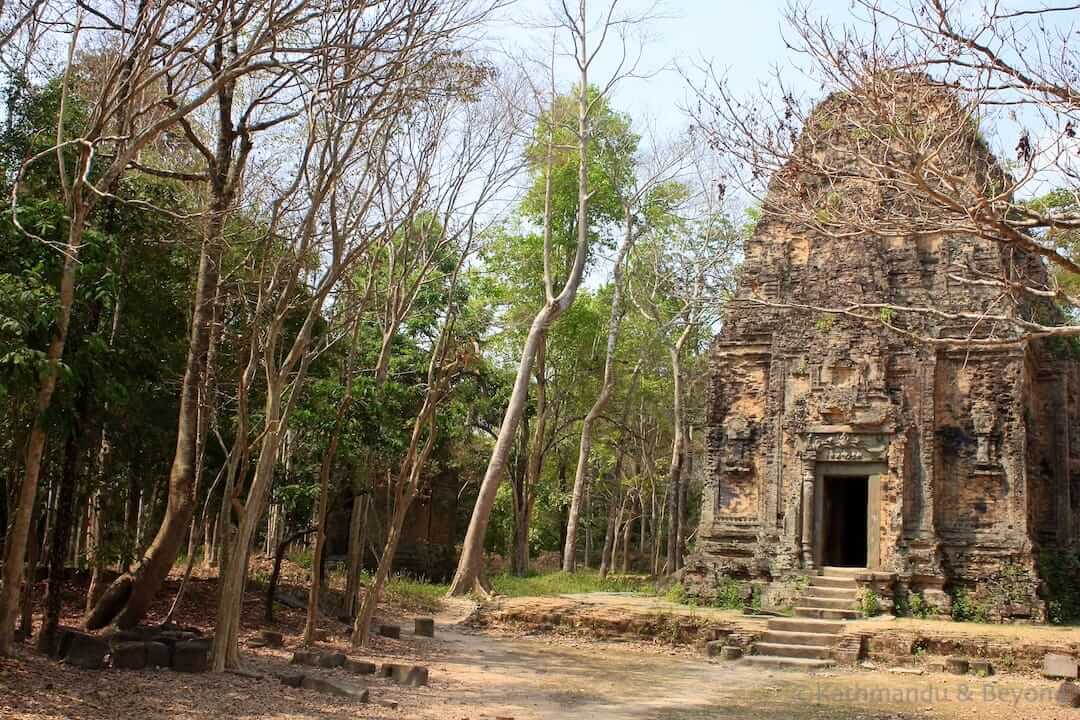 Sambor Prei Kuk near Kampong Thom
Along with Preah Vihear City, some 130km to the north, Kampong Thom is also the jumping off point for Cambodia's most remote Angkorian temple, Preah Khan Kompong Svay (Prasat Bakan). Getting there is not a problem in the dry season (November to March) but it is time-consuming and relatively pricy by Cambodian standards. But, if you really want to get off the beaten track and also have the best chance of having one of the country's ancient temple sites to yourself then this is the place to visit.
We've written a dedicated blog about Preah Khan Kompong Svay, including information about transport options.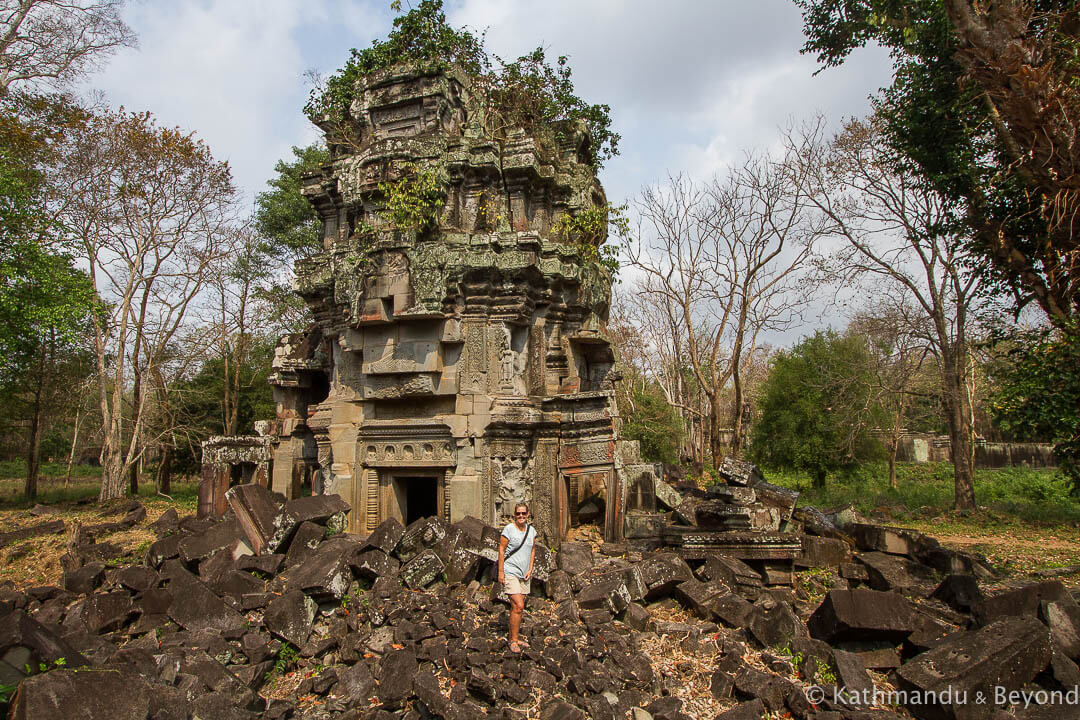 All alone at Preah Khan Kompong Svay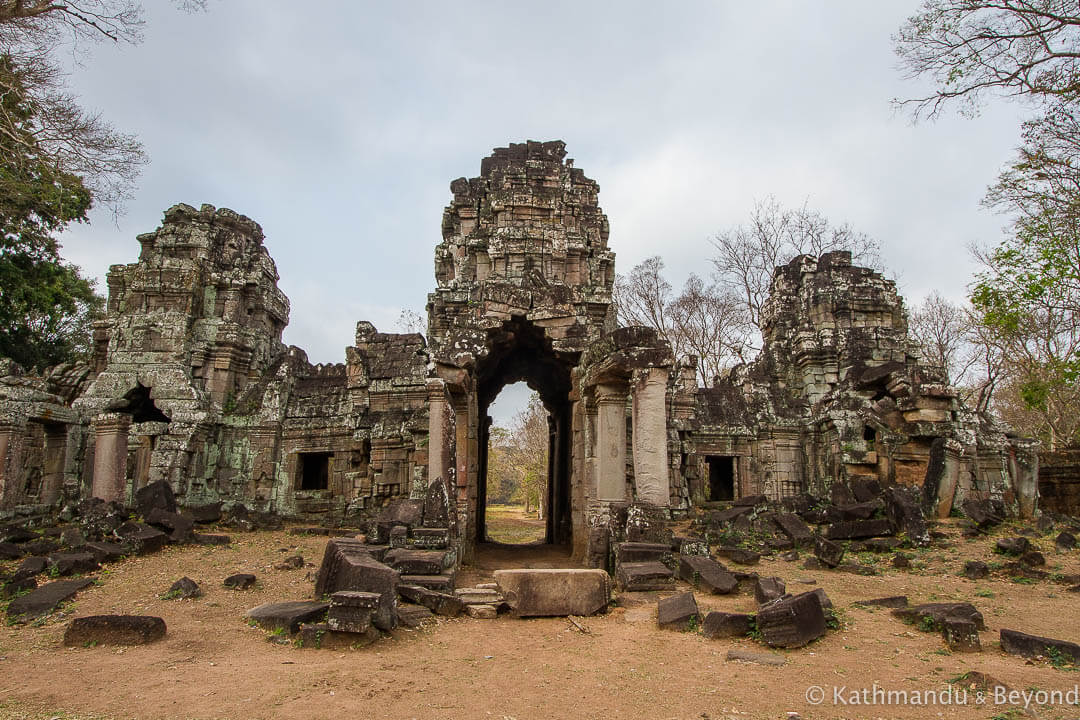 Preah Khan Kompong Svay
How to get to Kampong Thom
Kampong Thom is 200km from Phnom Penh (about 4 hours on the bus) and 180km from Siem Reap (also about 4 hours on the bus).
Where to stay in Kampong Thom
One of the best places to stay in Kampong Thom is Vimean Sovann Guest House where the good-sized room offers great value for money.
Phnom Penh and Siem Reap via National Highway 5
Kampong Chhnang
Situated at the southern end of Tonlé Sap Lake on National Highway 5, Kampong Chhnang is a superb place to break the journey. The main reason, but certainly not the only one (see below), to come here is to see the floating villages that are situated out on the lake. Back when we originally wrote this post in 2014, the two most popular floating settlements to visit were Phoum Kandal and Chong Kos because they were situated more or less in town and moored across from one another. Rowing out to them was easy but, a few years back, the authorities decided to relocate both villages – one a few kilometres upstream from Kampong Chhnang's boat jetty and the other a couple of kilometres downstream in the opposite direction. It took about two hours to explore both villages properly back then.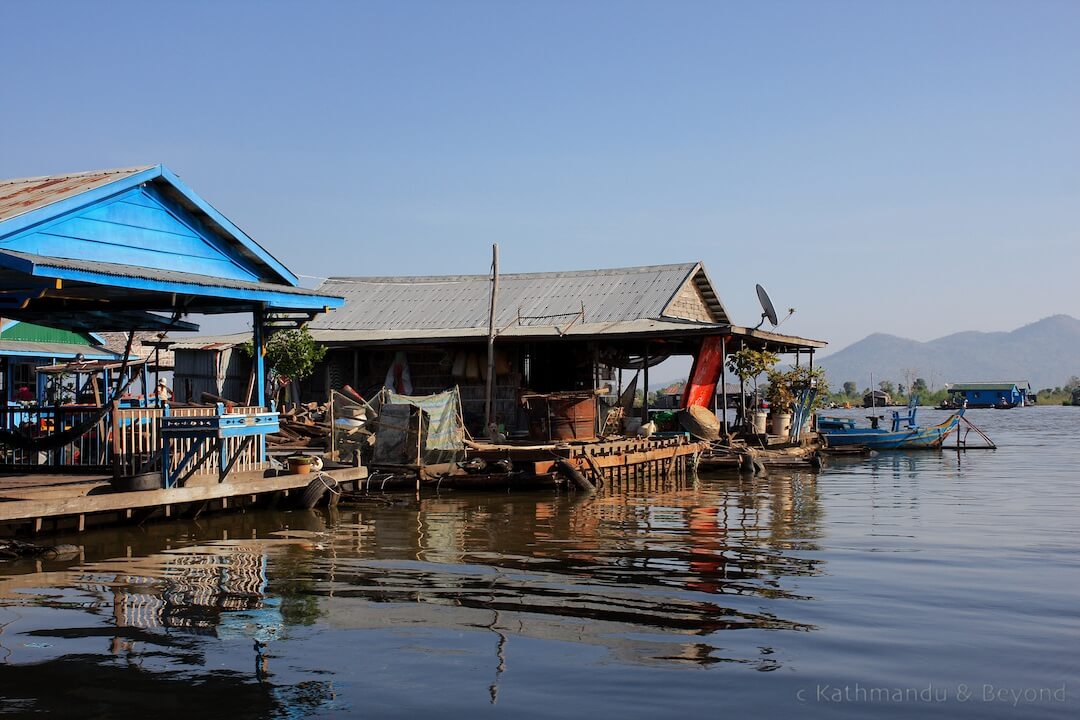 Floating village near Kampong Chhnang
It is still possible to visit a couple of the floating villages in the vicinity of Kampong Chhnang in a similar amount of time but these days you will need to hire a motorised boat, which turns into a rowboat when you arrive at the villages, as the distance is too far. It's best to allow the boatman to decide whether to head upstream or downstream as accessibility to the channels within the villages is dependent on tides and the time of day etc.
Hiring a boatman is easy: just head down to the local jetty and wait to be approached. The going rate (2019) for boat hire is about US$30 for a two-hour excursion. Although the tour can seem a little voyeuristic at times, it is a worthwhile experience and definitely more authentic than many of the floating villages accessible from Siem Reap.




Kampong Chhnang
If abandoned places are your thing, Kampong Chhnang should be on your radar. For starters, not far from the centre of town, you'll find the ruins of a former military housing block that probably dates back to the time of French colonial rule.
But, the most interesting abandoned location we discovered was Kampong Chhnang's defunct military airport. Located out in the red-earth countryside that surrounds the city, this obscure place has a grim historical attachment to the tyrannical Khmer Rouge and it is possible to visit what's left of the airport along with the remains of other Khmer Rouge-related structures that can also still be seen in the area.
We've written more detailed posts about both locations. Click on the links above to find out more.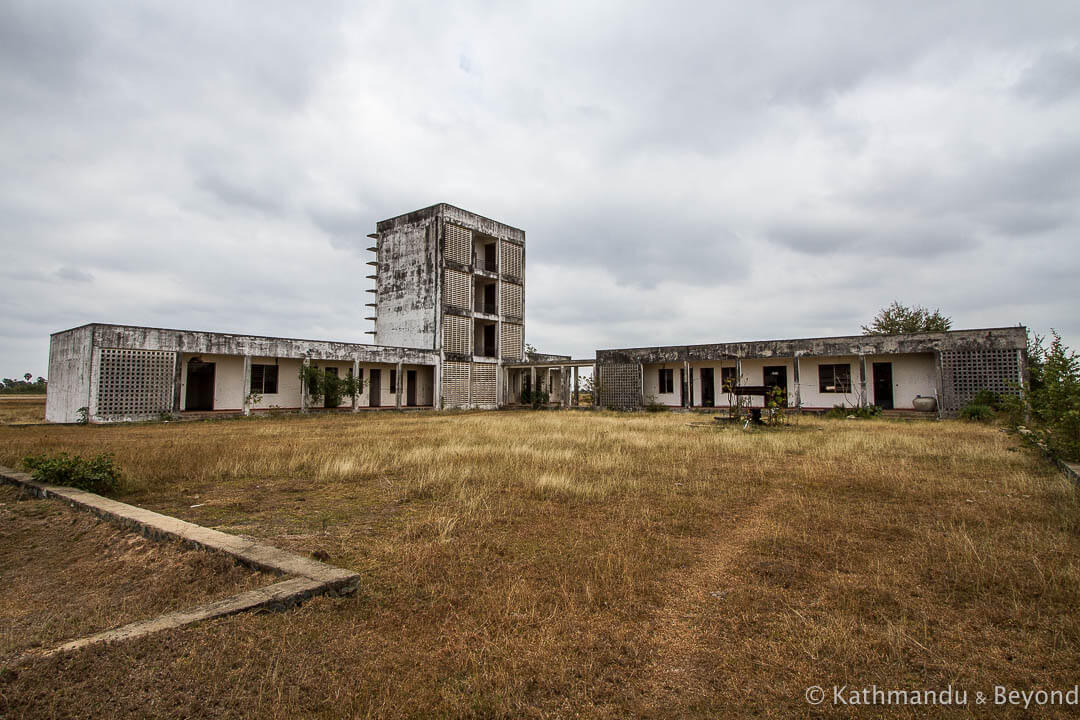 Former Khmer Rouge airport near Kampong Chhnang
How to get to Kampong Chhnang
Kampong Chhnang is 94km (2 hours on the bus) from Phnom Penh. To get directly to Siem Reap, it's actually quicker to loop back down and head onto National Highway 6 (345km, 5 hours on the bus). Remaining on National Highway 5 will take you via Battambang and the 372km to Siem Reap will take approximately 6 hours on the bus. It, therefore, makes sense to stop at Battambang as well if you decide to take this route.
Where to stay in Kampong Chhnang
Last time we visited Kampong Chhnang, we stayed at the Garden Guesthouse and would highly recommend it. They have fan rooms which are really good value and upgraded rooms with air-conditioning are also available. Staff can organise a remork for sightseeing, or you can hire bicycles (as we did) and explore independently.
Battambang
Laid-back, colonial and nicely compact, Battambang is a worthwhile place to stop for a day or two. Battambang's size makes it an easy city to discover on foot but hiring a remork for the day means you can get further afield and see some of the region's outlying temples (Wat Ek Phnom and Phnom Banan for example) and picturesque villages. The former Pepsi bottling plant which abruptly ceased production in 1975, that used to be included as part of the around-Battambang-tour no longer exists.
For us personally, it's downtown Battambang that attracts us the most and is the reason why it is probably our favourite city in Cambodia. Like in Phnom Penh, there are gloriously-faded French and New Khmer architectural delights to be seen, including the central market, the former Governor's Residence and also the old railway station where the clock always says 8.02. Khmer Architecture Tours have a free downloadable walking tour map that showcases all the city's best architecture*.
* They also have an excellent walking tour map for Phnom Penh.




Battambang
Be sure also to ride the bamboo railway (open bamboo platforms pulled by a small engine running on metal rails) but don't think too much about the health and safety consequences of doing so. Running on a narrow-gauge track, the original bamboo railway, a few kilometres south of Battambang, was closed in October 2017 to make way for the long-awaited and reinstated Phnom Penh to Poipet (Cambodian/Thai border) rail service. A few months later, in early 2018, a replacement bamboo railway was set up near Phnom Banan, which is part of the full day around-Battambang tour. This particular railway is reportedly less authentic than the original one and overall, the experience is tamer.
But, because of delays in upgrading the track on the Phnom Penh to Poipet rail service, the original bamboo train has been rehabilitated and is running once more. For how long, however, is not something we can answer. The upgrades on the track were due to be completed by January 2019 but, thanks to friends on the ground, we know it is still operating as of May 2019. The assumption is that once the work on the tracks is complete, the original bamboo train location will cease operating once again but, this is Cambodia so you never know!
For the time being, however, there are two bamboo trains and if you want a superior experience then it's best to head to the original location (GPS 13.069117, 103.217338) rather than the newer one at the foot of Phnom Banan. The current price of a ride is US$5 per person.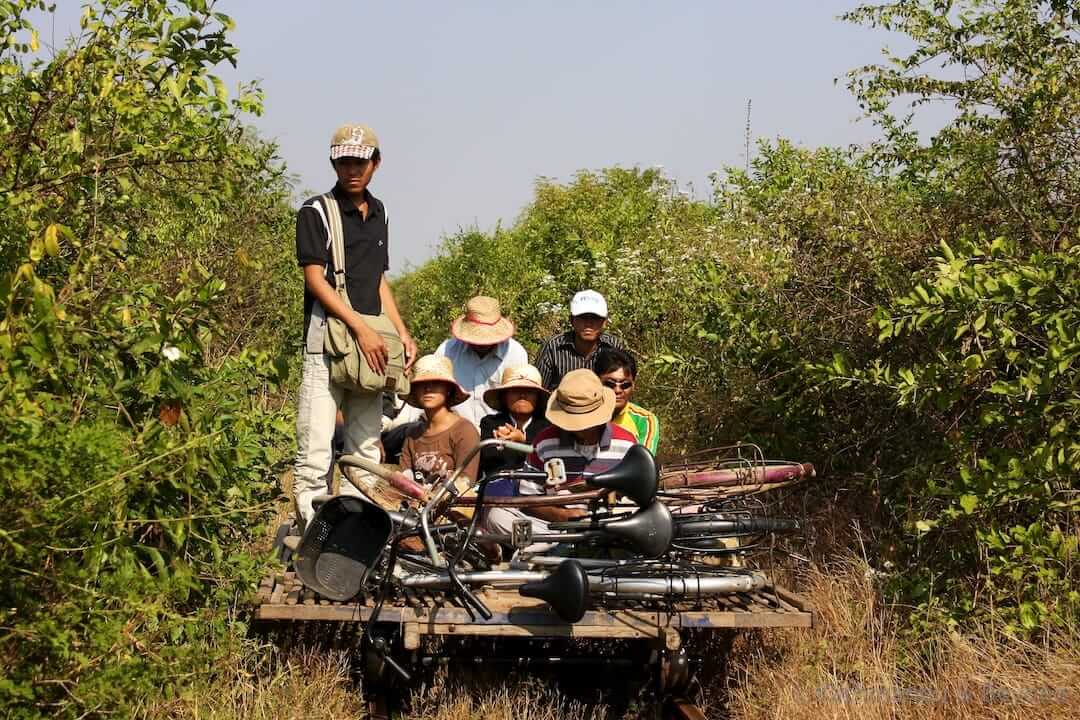 Riding the original Bamboo Railway near Battambang
How to get to Battambang
Battambang is 330km (5-6 hours on the bus) from Phnom Penh. Siem Reap is only 185km from Battambang and the bus takes about 3-4 hours to cover the distance. It's best to check locally if you want to take the scenic boat ride between the two cities as the water level is regularly not high enough to complete the journey, especially in the dry season.
Where to stay in Battambang
Our go-to budget option in Battambang is the Royal Hotel, however Battambang has a wide range of options from backpacker hostels to luxury villas and you can browse more places here.
Sisophon (Banteay Chhmar and Banteay Top temples)
If you are travelling between Battambang and Siem Reap you will pass through the dusty town of Sisophon. If you are into your Angkor-period temples as much as we are, it is worth travelling 50km or so further north and visiting the temples at Banteay Chhmar and Banteay Top. Both have their own charm but Banteay Chhmar, with its overgrown location, is definitely the more interesting of the two.


Banteay Chhmar
How to get to Banteay Chhmar
Sisophon is on the main bus routes between Battambang, Siem Reap and Poipet, at the border with Thailand but there is no public transport to Banteay Chhmar. Sometimes (mostly in the mornings) there are direct shared-taxis from Sisophon to Banteay Chhmar. If there isn't, it is normally possible to take a shared taxi as far as Thmor Puok and then a moto the rest of the way (a further 18km).
Where to stay in Banteay Chhmar
Sisophon has a couple of reasonable hotels but it is also possible to sleep in homestay accommodation right next to the temples at Banteay Chhmar. We did this and very much enjoyed the experience. This can be booked through the Banteay Chhmar CBT Homestay Program. We chose this option and very much enjoyed the experience.
Onward travel: if you have your own wheels or can find transport (we managed to find a car and a willing driver in Banteay Chhmar), it is possible to continue north to Samraong and then east as far as Anlong Veng, the last stronghold of the Khmer Rouge. Few tourists make it this far north but the town is worth visiting if you want to learn more about Cambodia's recent dark history. From Anlong Veng there are a few daily buses to Siem Reap, which is only 2 hours away.
And a final word of warning: make sure you get your Kampongs and Kompongs, and Chams and Chhnangs all sorted before buying any bus tickets!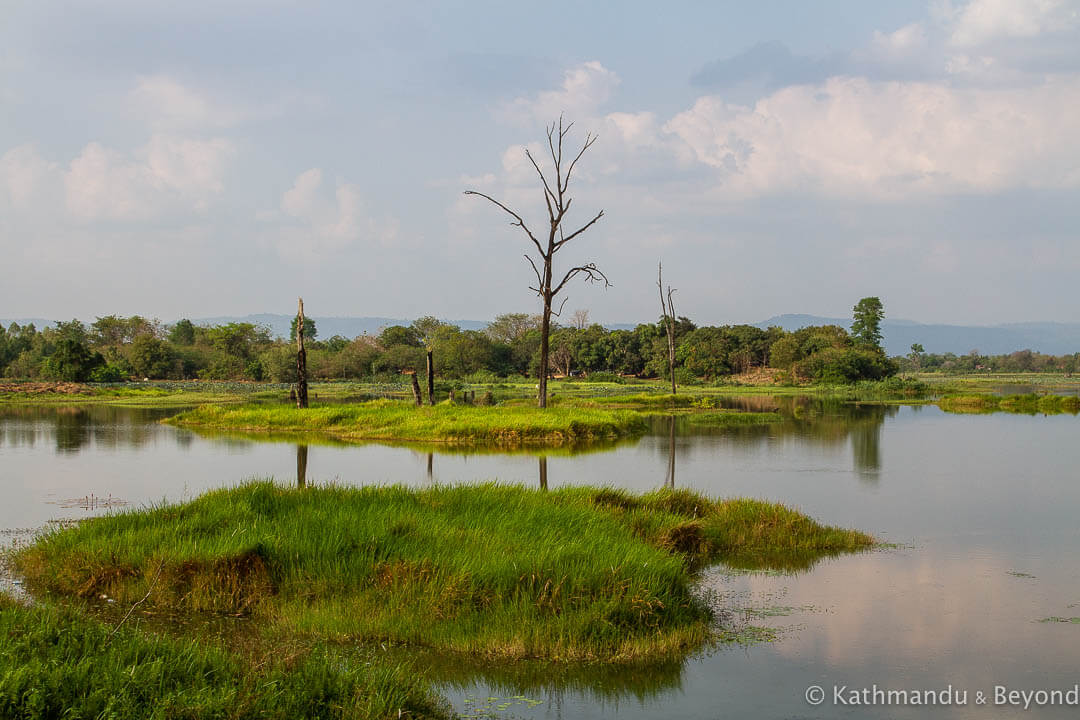 Anlong Veng Lake
---
Are you planning a trip to South East Asia? Lonely Planet currently has a fantastic deal, not just on their Cambodia guide but on ALL books in the online shop…
Are you inspired to head off the beaten path in Cambodia? Pin this to your travel boards