Five good reasons to break the journey between Phnom Penh and Siem Reap when travelling in Cambodia
Impatient to see the mighty temples at Angkor, it's not surprising that most people head directly to Siem Reap after experiencing the delights of the capital. But if you have the time, consider breaking the journey and staying in one or more of the following five destinations.
Don't be impatient for Angkor
There are two ways to reach Siem Reap from Phnom Penh. The quickest (and therefore the favoured route for buses) is National Highway 6. Along this route you've got the options of stopping at Kompong Thom and Kompong Cham. It is also possible to drive between Phnom Penh and Siem Reap using National Highway 5. This is longer but gives you the opportunity to stop at Kampong Chhnang and Battambang plus the option of taking a slight detour north to visit the temples at Banteay Chhmar and Banteay Top near Sisophon. Here are our suggestions of places to break the journey between Phnom Penh and Siem Reap with a brief summary of what's on offer:
Phnom Penh and Siem Reap via National Highway 6
Kompong Cham
What a lovely place Kompong Cham is. It's got all the right ingredients to make it a great travellers' hangout but with one thing missing – the travellers. Set on the Mekong River, Kompong Cham has a lovely setting. In the evening the promenade along the river is a hive of activity and hawkers set up stalls selling ice cold beer and snacks. During the day, cycling is the most enjoyable activity. The small temple of Wat Nokor is worth visiting for its rural setting but cycling to and around Koh Paen is certainly the highlight. The island is connected to the mainland by a rickety bamboo bridge. Try cycling across without putting your feet down and once there, quiet roads lead from one picturesque village to another. This is rural Cambodia at its best and if that wasn't enough, the Mekong Hotel, with its riverfront location and cheap prices, is a great place to stay and the nearby Mekong Crossing Restaurant is a pleasant location to while away the evening.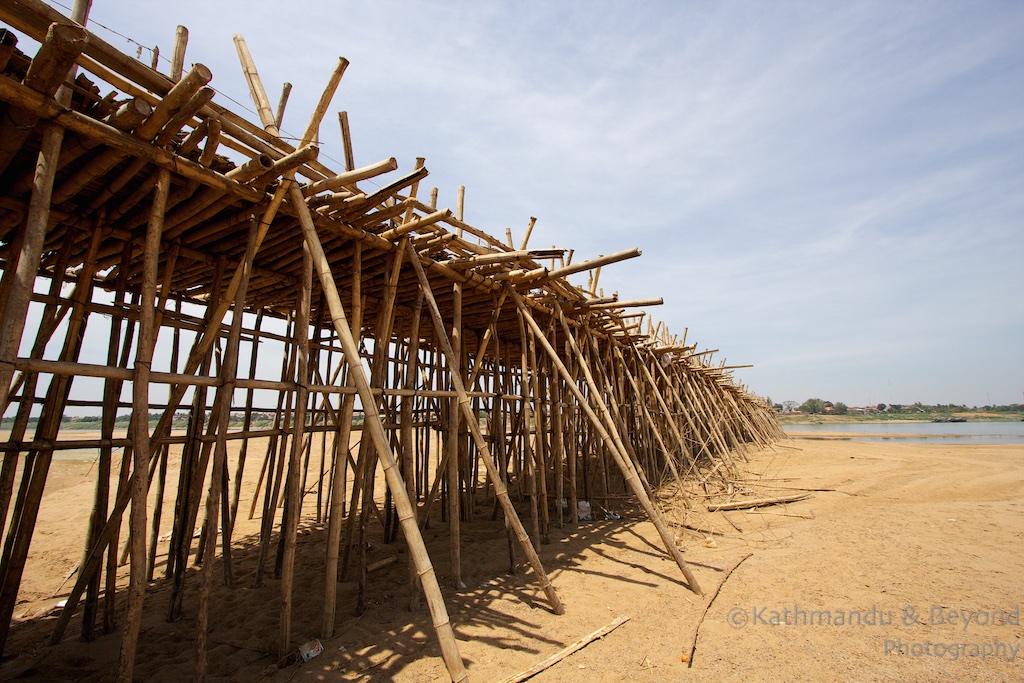 The bamboo bridge that connects Koh Paen with Kompong Cham
Farming sweet corn on Koh Paen near Kompong Cham
Riding the bamboo bridge between Koh Paen and Kompong Cham
How to get to Kompong Cham
Phnom Penh is only 156km away (3 hours on the bus) and it's 296km between Kompong Cham and Siem Reap. There are plenty of buses making the 4-5 hour journey but make sure you book your ticket the day before as most buses are coming from Phnom Penh and can be full. The Mekong Crossing Restaurant will do this for you for an extra US$1 or so.
Where to stay in Kompong Cham
Kompong Cham has a handful of options for budget travellers: we've always stayed at the Mekong Hotel which isn't as fancy as it looks from the outside but rooms are clean and the staff generally helpful. If you prefer a guest house, look at the Mekong Crossing Guesthouse – we've enjoyed cold beers at their restaurant across from the Mekong River on more than one occasion. 
Kompong Thom
Kompong Thom is a bit of dump if truth be told but it's worth stopping in to visit the pre-Angkorian temple of Sambor Prei Kuk. The temple site is about 30km from the centre of town, a dusty old ride by moto of about an hour in each direction (see enclosed photo). The same moto drivers (for an additional fee) will also take you out to Phnom Santuk, an important holy mountain and Buddhist pilgrimage site that is not too far away.
Dusty after exploring Kompong Thom on two wheels
Phnom Santuk in Kompong Thom
Prasat Yeay Peau Sambor Prei Kuk near Kompong Thom
How to get to Kompong Thom
Kompong Thom is 200km from Phnom Penh (about 4 hours on the bus) and 180km from Siem Reap (also about 4 hours on the bus).
Where to stay in Kompong Thom
One of the best places to stay in Kompong Thom is Vimean Sovann Guest House where the good-sized room offers great value for money. 
Phnom Penh and Siem Reap via National Highway 5
Kampong Chhnang
Situated at the southern end of Tonlé Sap Lake on National Highway 5, Kompong Chhnang is a lovely place to break the journey. There are two floating villages near the town – Phoum Kandal and Chong Kos. Visiting either is easy: just head down to the local dock and wait to be approached by a boatman. The going rate for boat hire is about US$10 per hour and both settlements are more authentic than many of the floating villages accessible from Siem Reap.
If abandoned places are your thing, Kampong Chhnang should be on your radar. If you're up for a good cycle ride, you might want to head to an airport built by the Khmer Rouge. In the town itself, an abandoned building that was once Military Housing may pique your interest.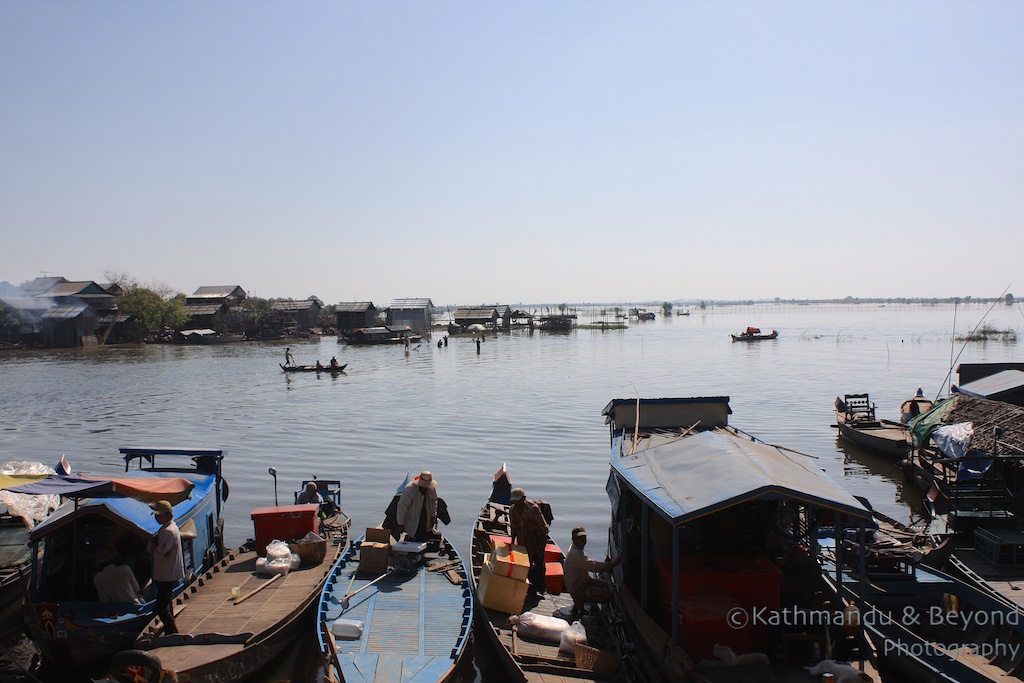 The docks at Kompong Chhnang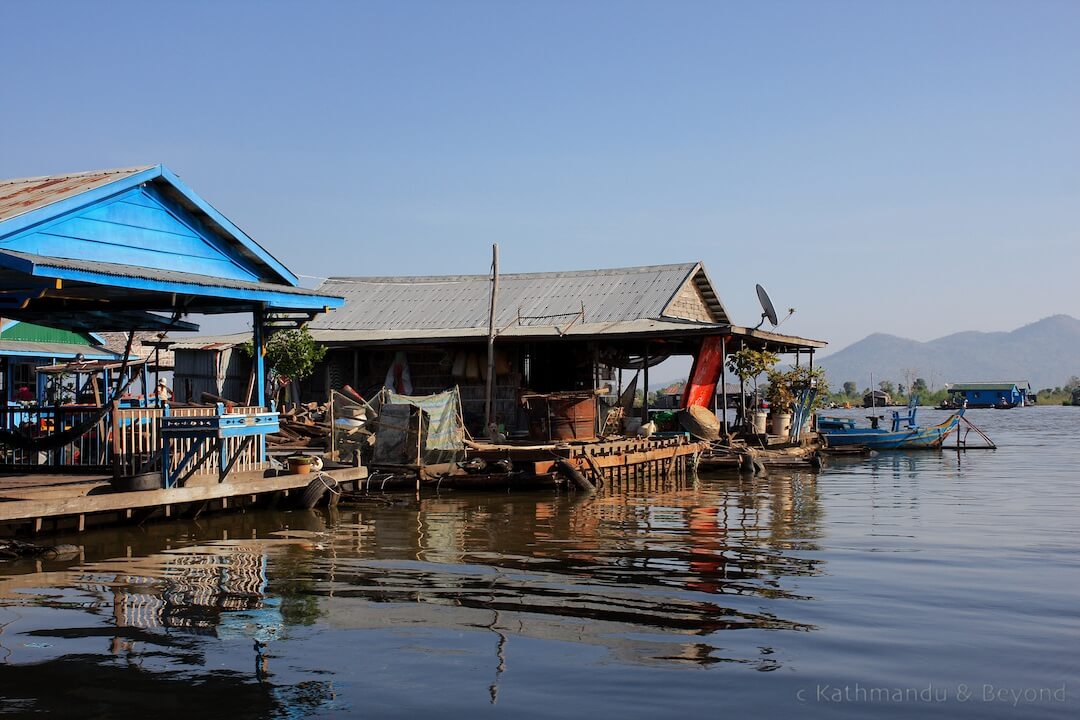 Exploring Chong Kos floating village near Kampong Chhnang
How to get to Kampong Chhnang
Kampong Chhnang is 94km (2 hours on the bus) from Phnom Penh. To get directly to Siem Reap, it's actually quicker to loop back down and head onto National Highway 6 (345km, 5 hours on the bus). Remaining on National Highway 5 will take you via Battambang and 372km to Siem Reap will take approximately 6 hours on the bus. It, therefore, makes sense to stop at Battambang as well if you decide to take this route.
Where to stay in Kampong Chhnang
Last time we visited Kampong Chhnang, we stayed at the Garden Guesthouse and would highly recommend it. They have fan rooms which are really good value and upgraded rooms with air-conditioning are also available. Staff can organise a tuk-tuk for sightseeing, or you can hire bicycles (as we did) and explore independently. 
Battambang
Laid-back, colonial and nicely compact, Battambang is a worthwhile place to stop for a day or two. Battambang's size makes it an easy city to discover on foot but hiring a tuk-tuk for the day means you can get further afield. Check out the 11th-century temple, Wat Ek Phnom and the old railway station where the clock always says 8.02. Be sure to also ride the bamboo railway but don't think too much about the health and safety consequences of doing so. You can see rice paper making in some of the villages near the city and when we were there it was possible to poke around the old Pepsi bottling plant which abruptly ceased production in 1975. I am not sure if it is still there or not. If it is, take a look – it's pretty interesting in an eerie sort of way.
Colonial buildings in Battambang
Riding the Bamboo Railway in Battambang
Battambang
How to get to Battambang
Battambang is 330km (5-6 hours on the bus) from Phnom Penh. Siem Reap is only 185km from Battambang and the bus takes about 3-4 hours to cover the distance but remember there is also the option of taking the scenic boat ride between the two if the water levels are high enough.
Where to stay in Battambang
Our go-to budget option in Battambang is the Royal Hotel, however Battambang has a wide range of options from backpacker hostels to luxury villas and you can browse more places here.
Sisophon (Banteay Chhmar and Banteay Top temples)
If you are travelling between Battambang and Siem Reap you will pass through the dusty town of Sisophon. If you are into your temples, it is worth travelling 50km or so further north and visiting the temples at Banteay Chhmar and Banteay Top. Both have their own charm but Banteay Chhmar, with its overgrown location, is definitely the more interesting of the two.
How to get to Banteay Chhmar
Sisophon is on the main bus routes between Battambang, Siem Reap and Poipet, at the border with Thailand but there is no public transport to Banteay Chhmar. You may be able to take a shared-taxi from Sisophon to Banteay Chhmar, but you may have to negotiate a private one. 
Where to stay in Banteay Chhmar
Sisophon has a couple of reasonable hotels but it is also possible to sleep in homestay accommodation right next to the temples at Banteay Chhmar. We did this and very much enjoyed the experience.
Banteay Chhmar Temple
Banteay Chhmar Temple
Onward travel: if you have your own wheels or can find transport (we managed to find a car and willing driver in Banteay Chhmar), it is possible to continue north to Samraong and then east as far as Anlong Veng, the last stronghold of the Khmer Rouge and site of the grave of Pol Pot. From Anlong Veng there are a few daily buses to Siem Reap, which is only 2 hours away.
And a final word of warning: make sure you get your Kampongs, Kompongs, Chams and Chhnangs all sorted before buying any bus tickets and remember, Kompong Thom is the capital of Kampong Thom Province. Got it? Good… enjoy!
---
Are you planning a trip to South East Asia? Lonely Planet currently has a fantastic BUY ONE GET ONE FREE deal, not just on their Cambodia guide but on ALL books in the online shop…
---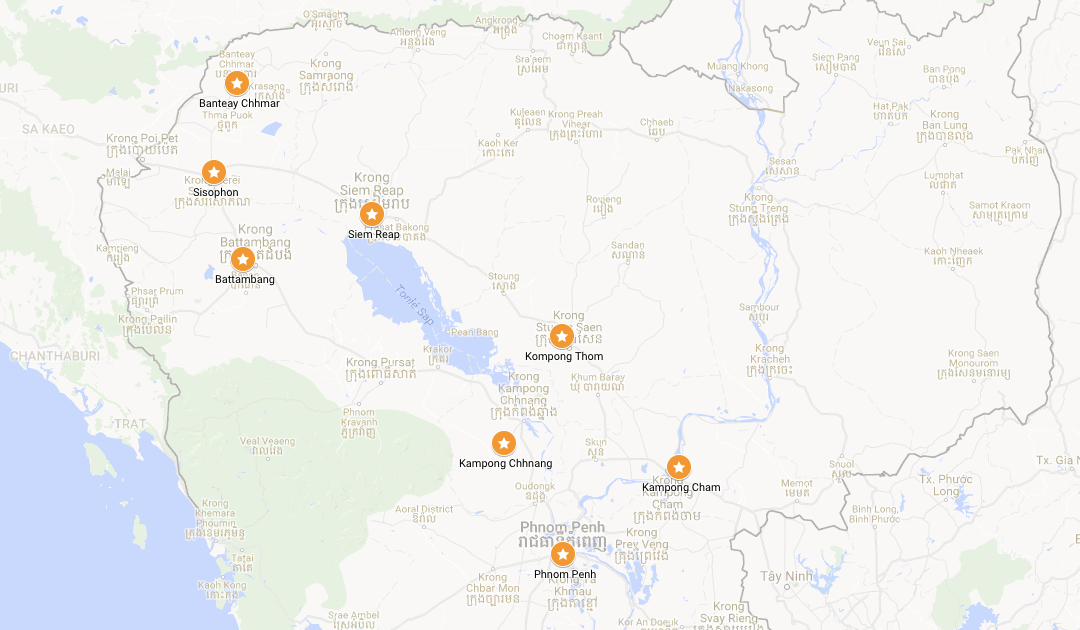 Click here to see this map in Google maps
---
---
Are you inspired to head off the beaten path in Cambodia? Pin this to your travel board




---