Five of our most memorable experiences from five years of travel
Today, 30 November, marks the 5 year anniversary of leaving the UK. When we boarded our flight at Heathrow on that grey winter morning I don't think either of imagined that we'd still be travelling five years later. When we first left, it was to live and work in Kathmandu in Nepal and I honestly don't think we thought much beyond the next few months. But things moved on and our plans evolved with time and to, ate we've travelled extensively throughout South East Asia, explored the Indian Subcontinent many times, visited large chunks of South America as well as several countries in North Asia. It's true to say, that in five years, we've seen and done a fair bit. So selecting what amounts to the equivalent of one highlight for every year is a challenge. So this isn't really a "Top 5" or a "Best things or places we've been to or done" list. It's 5 memories each. Yes, we cheated a bit as five in total is too tough a call. Once it's written we'll probably reminisce and come up with others but perhaps we'll save those for the 6 years of travel post! So, in no particular order here are some (definitely not all!) of our favourite memories from five years of travel …
Mark: Christmas Day in Villa de Leyva, Colombia
I am not normally a fan of the festive season but Christmas Day in the small town of Villa de Leyva in the highlands of Colombia was a memorable one. We were staying in a nice hostel and hooked up with two great lads from the States (Brandon and Nick) and we all decided that a Christmas Asado (BBQ) was a good way to spend the day. Villa de Leyva has a fantastic plaza so we headed out in the late morning and had a couple of beers there, taking in the scene around us and stroking the local dog before heading to the restaurant. For US$10 each we got enough food to last a week. More beers on the steps of the plaza and a quick stop at a local bar full of friendly Colombians on the way back to the hostel rounded off another great day in what has to be one of my favourite countries of all time.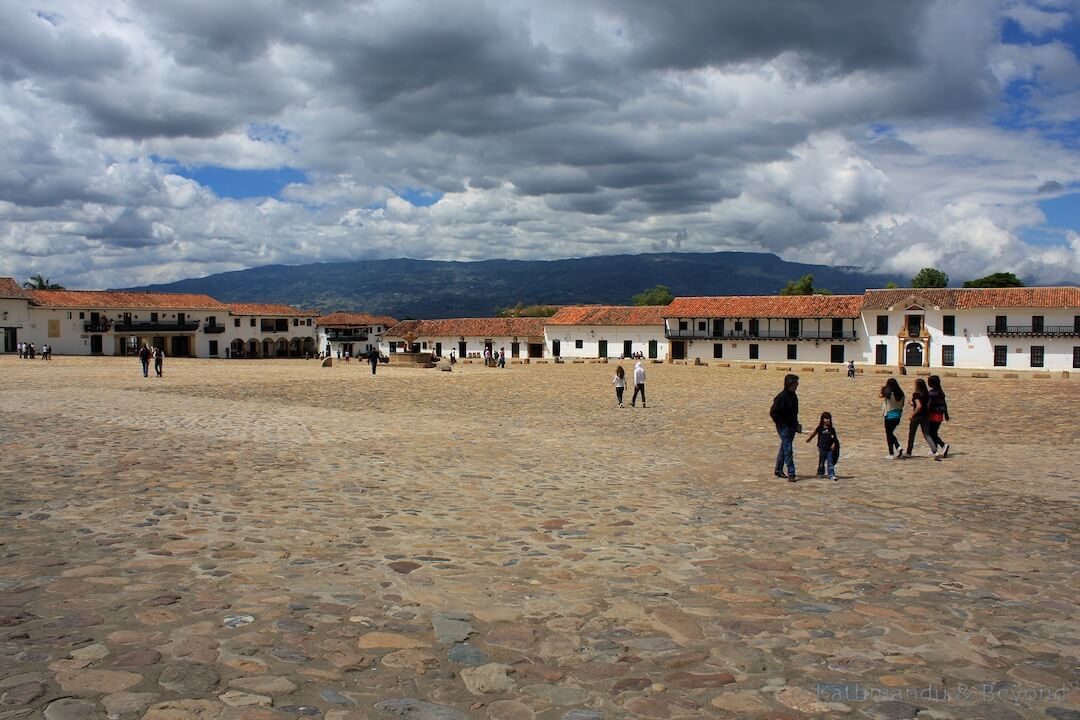 The main plaza in Villa de Leyva, Colombia


Beers on the plaza in Villa de Leyva, Colombia
Kirsty: Cruising from Flores to Lombok
Travelling from A to B in Indonesia can be a real headache so I never thought I'd say that one of the most amazing journeys we have ever done is in that very country. But the journey through Flores by road then by boat from Labuan Bajo on Flores to the island of Lombok is definitely up there with the best of the best. The scenery on Flores itself is stunning and very green. Rice paddies, rolling hills, banana plantations. All very green. We had the perfect Robinson Crusoe experience on Seraya Island where we stayed in bungalows right on the beach. And then we took a boat, for 3 days from Flores to Lombok via Komodo National Park. Our encounter with the Komodo dragons was, of course, a highlight of the journey but the scenery on the trip itself was breathtaking – the clearest water I've seen anywhere, fantastic snorkelling and beautiful seascapes.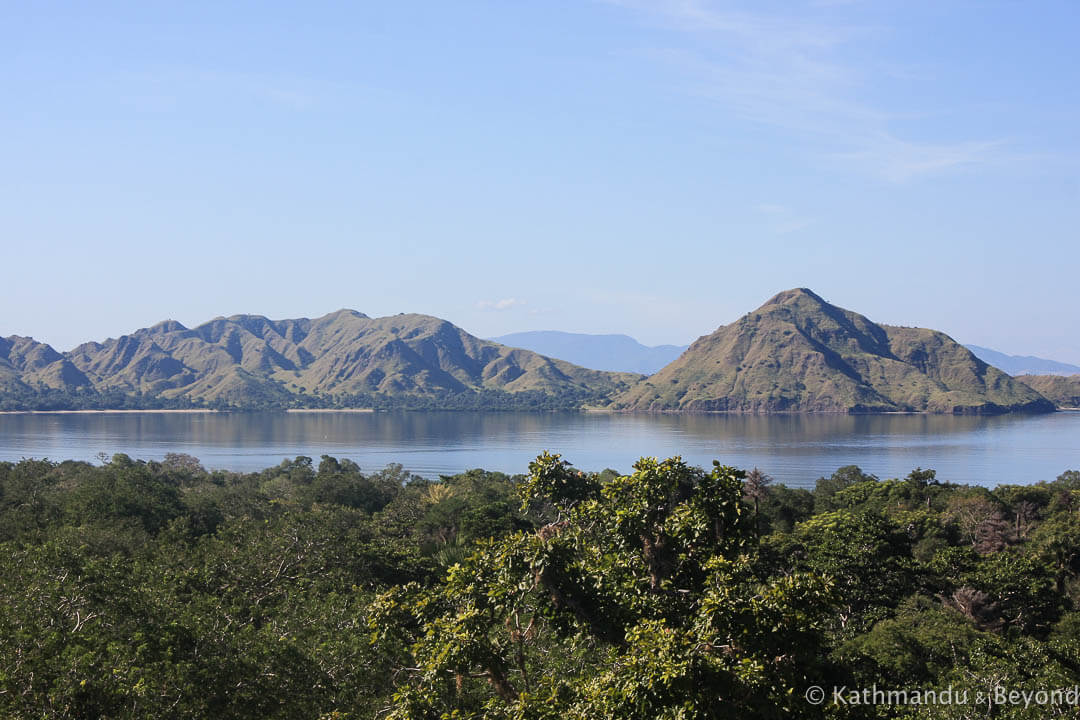 Komodo Island


Flores: Serayu Island (left) and Kelimutu National Park (right)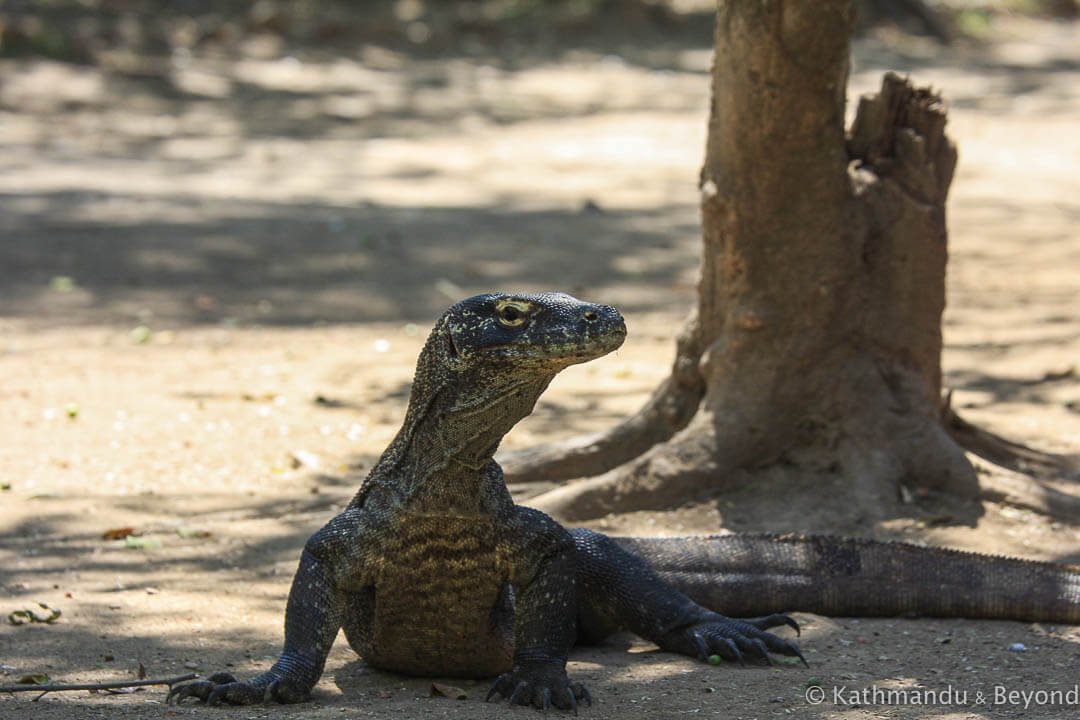 Rinca Island, Komodo National Park
You can read more about our time in Flores here and the full entry on the cruise through Komodo National Park here. Both entries include a lot of photographs too.
Mark: Trekking the Kora at Mt Kailash (at last …), Tibet
Anyone that knows me, is well aware that, for the last fifteen years or so I have had an obsession with this 'Holy of Holies'. I have no idea why this mountain in particular: I'm far, very far from being a practising Buddhist, Hindu or Jain but the top of my bucket list it was and eventually, a couple of years ago, we got there. We had lousy weather most days prior to reaching base camp but the day we started the trek, it cleared up and by the time we arrived at our first night's stop we had the most glorious views of the mountain. I can only assume that someone up there likes me!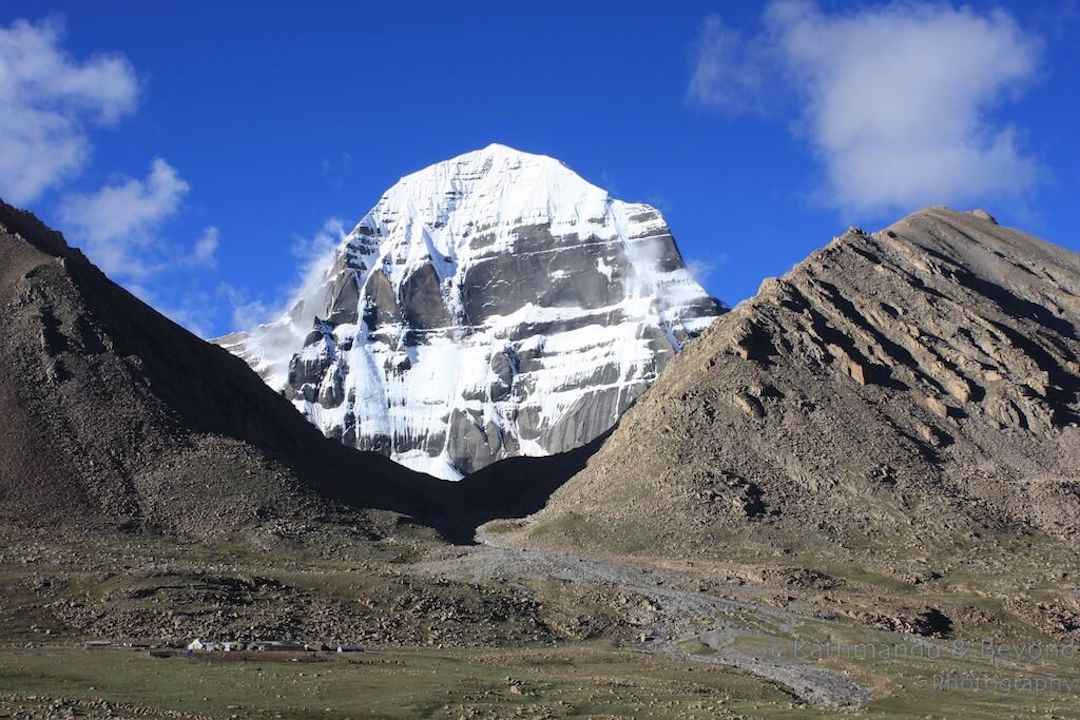 Mount Kailash


At the base of the mountain before starting the trek (left) and at the highest point of our 'kora' – 5,600m /18,368ft above sea level (right)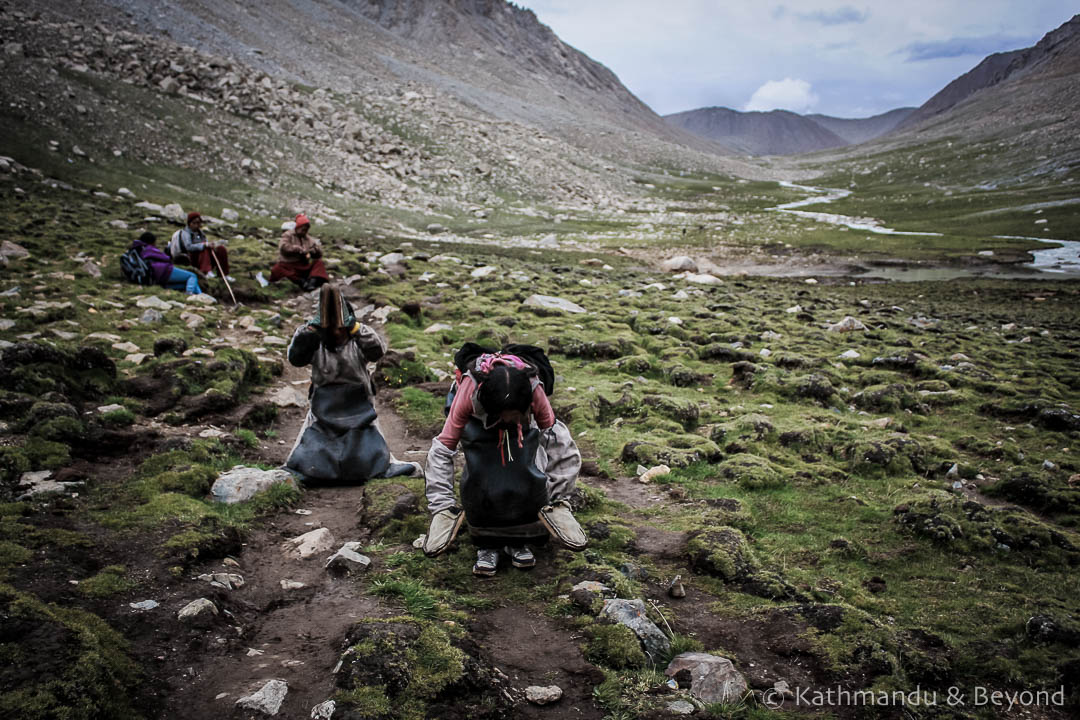 Tibetan pilgrims performing body-length prostrations as they circumnavigate Mount Kailash
Original post: Travels Through Tibet.
Kirsty: Wide Open Space in Mongolia
Not long after I gave up my permanent job, we took a trip from China into Mongolia on the Trans-Mongolian. The train journey itself was great even if one of Mark's most re-lived memories is of the train guards locking the toilets for extended periods of time whilst passing through stations! What I recall most clearly about Mongolia is … nothing. Enormous expanses of nothing that stretch on and on, farther than the eye can see. We stayed with nomadic families and it fascinated me that our driver could turn off one dirt road and on to another seemingly heading off in a direction that could only conclude as "lost forever" only for a small cluster of round canvas tents, known as 'gers', to appear on the horizon.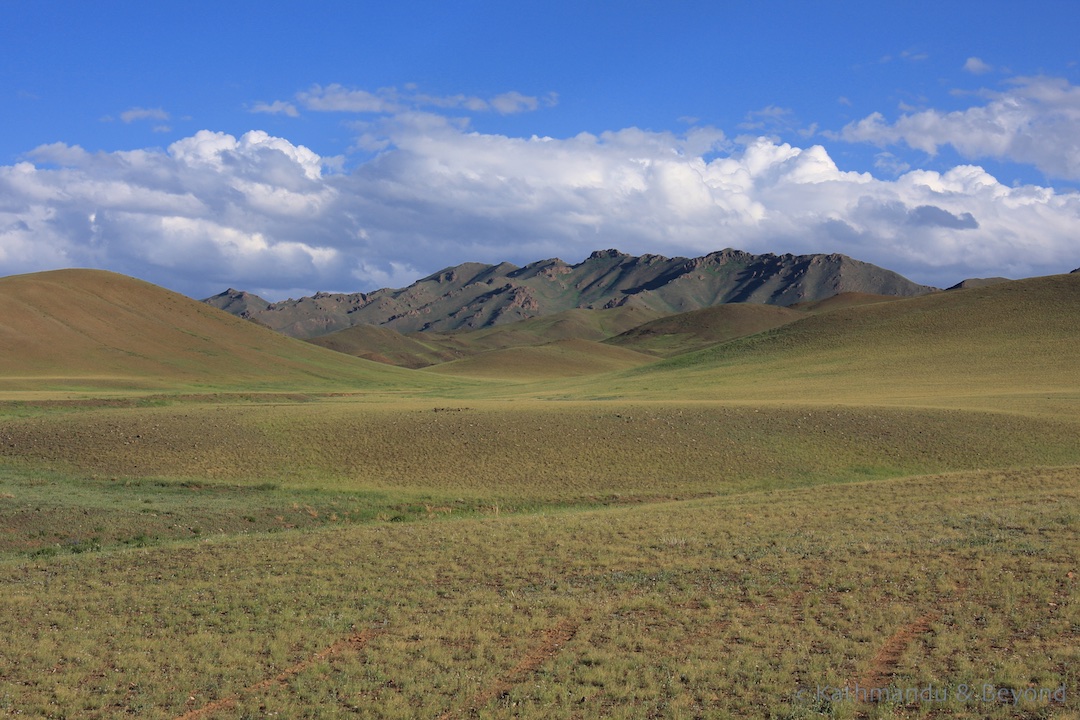 Yolyn Am


Above: Tsagaan Suvraga (left) and somewhere en route between Baga Gazryn Chuluu and Tsagaan Suvraga (right)
Our original posts on Mongolia:  All Aboard … The Trans Mongolian and Adventures in Mongolia and more Mongolia photographs here.
Mark: The Nepalese people
When we left the UK five years backs we first headed to Kathmandu in Nepal, where we stayed for seven months. Kirsty was still working for a UK travel company and somehow I had landed a job developing a trekking program for a local tour operator. During our time there, we met and were looked after by so many wonderful Nepalese – our long-time friend Bijay, Gautam; my trekking partner, and our landlord Basant to name but a few. But a special mention must go to Santosh, my trekking porter who dutifully carried my (not so heavy) kit bag up and down 750km of trails, bought me bed tea every morning, played a wicked hand of Whist, made me laugh often and had the most wonderful, happy nature of anyone I have ever met.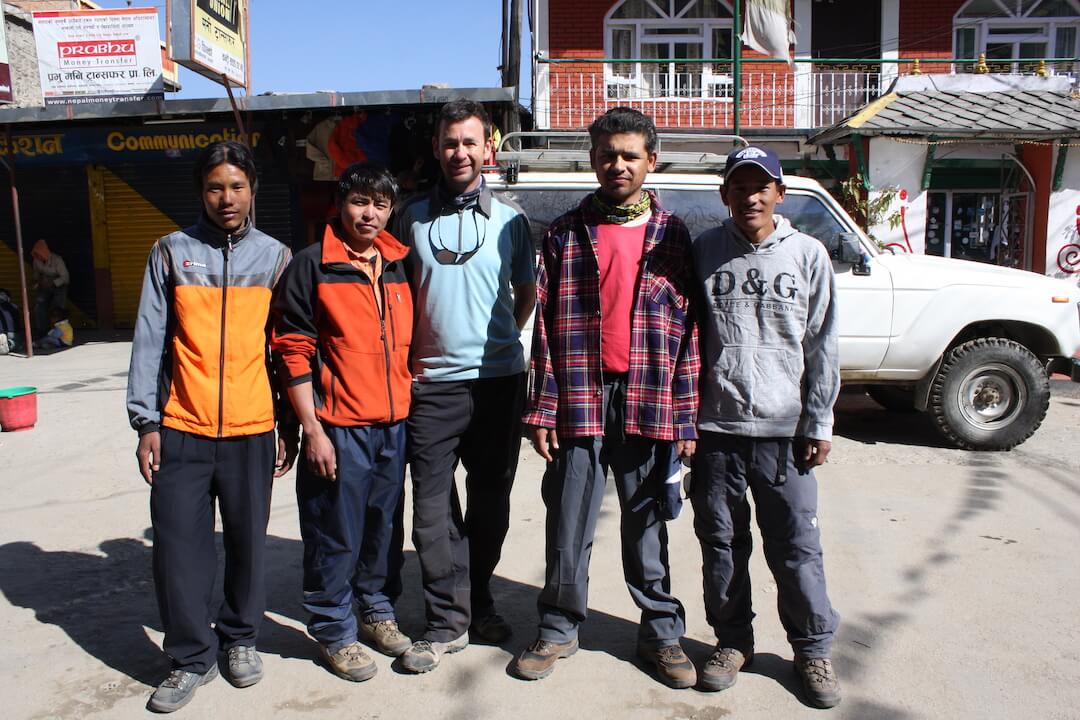 Trekking crew including Kanchha (far-left), Santosh (second-left) and Gautam (second-right)


Bijay and his wife, Menna (left) and Santosh and Kanchha (right)



Annapurna region
Kirsty: Discovering Burma
We've been lucky enough to spend quite a lot of time in Burma/Myanmar* over the past couple of years; twice taking full advantage of the 28 days tourist visa to travel around as much of the country as possible and more recently whilst living and working in Yangon for four months, experiencing Burma from a different perspective. We discovered that living and working in Burma was an altogether different experience from travelling there but both rewarding in different ways. During our travels, we made the effort to get to some of the more off the beaten path places and they were often the highlights of our travels – the mysterious temples of Mrauk U, riding the train across the Goitek viaduct and travelling from Mawlamyine to the Golden Rock pagoda. And, out of the "Big Four" (Yangon, Bagan, Inle Lake and Mandalay)? My vote goes to Inle Lake.
*We may have spent a lot of time there but I'm still not 100% clear on the Burma v. Myanmar debate!



Above: Mt Kyaiktiyo (left), Mrauk U (centre) and Kyaukme (right)



Above: Yangon (left), Bagan (centre) and Mawlamyine (right)
Read more about our visits to Burma here.
Mark: Osh to Kashgar by truck (Kyrgyzstan/China)
We have done lots of fantastic road journeys over the past five years but hitching from Kyrgyzstan to China was my favourite. It took us two full days to complete the journey and it was surprisingly easy to find a ride. We were picked up first by a Kyrgyz, then a Tajik and finally a Chinese trucker. All were friendly but we liked the Kyrgyz driver the most as he kindly offered to let us sleep in his cabin in Sary Tash when it looked like we didn't have a bed for the night. Ever since I was a small boy I had wanted to ride in the cabin of a big truck, now I just want to be a truck driver!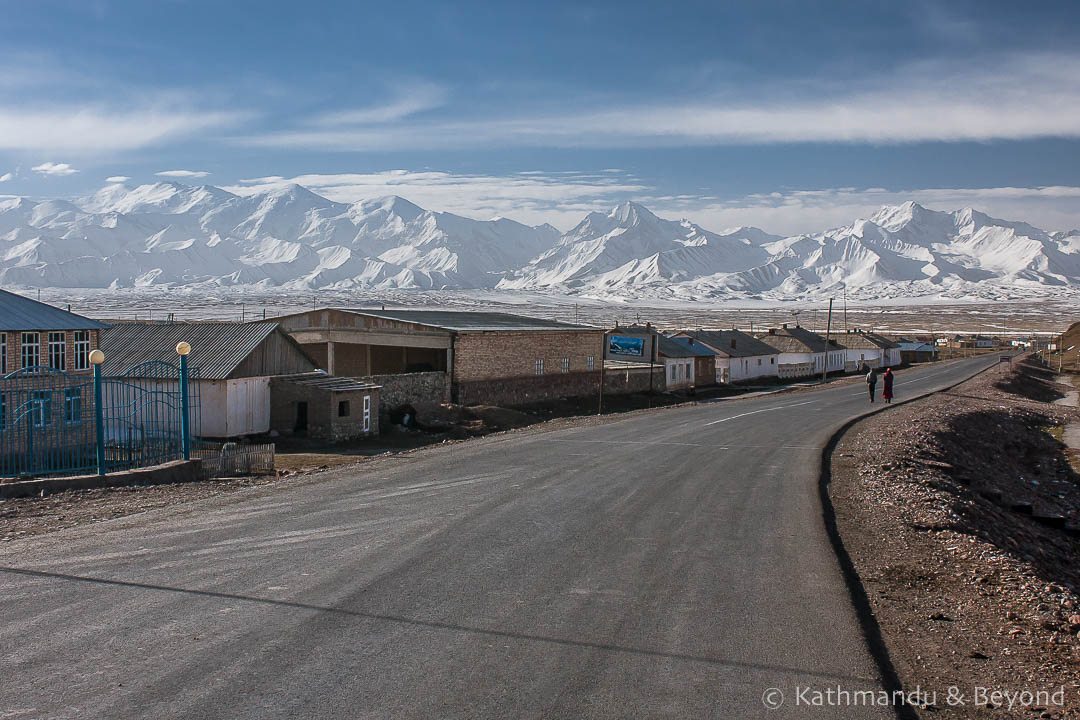 Sary Tash, a remote settlement in southern Kyrgyzstan, from where we were we began our hitchhiking journey to Kashgar in western China


Deep snow on the road from Sary Tash to Irkeshtam (left) and with the kind doctor (right) and her friend, who put us up for the night in Irkeshtam! (right)

Irkeshtam truck stop, where we spent the time en route from Kyrgyzstan to China
See all of our Kyrgyzstan posts here
Kirsty: Siem Reap … Actually, Cambodia
Does it show a complete lack of appreciation for all the amazing cultural experiences we've had and all the stunning landscapes we've seen if I say one of my best memories of the past 5 years is the 4 months we spent in Siem Reap? This wasn't my first visit to Cambodia, nor my last (we've been back several times over the past years) but it was the time I fell head over heels in love with Cambodia. It was just one of those very happy times in life when everything feels right. We made some amazing friends, who I still miss, and got to explore what it one of my all-time favourite countries. Of course, the temples of Angkor are one of the 'must-see' places in the world but there is so much more to Cambodia than Angkor Wat and once away from the handful of towns that the majority of tourists visit, you have the place all to yourself.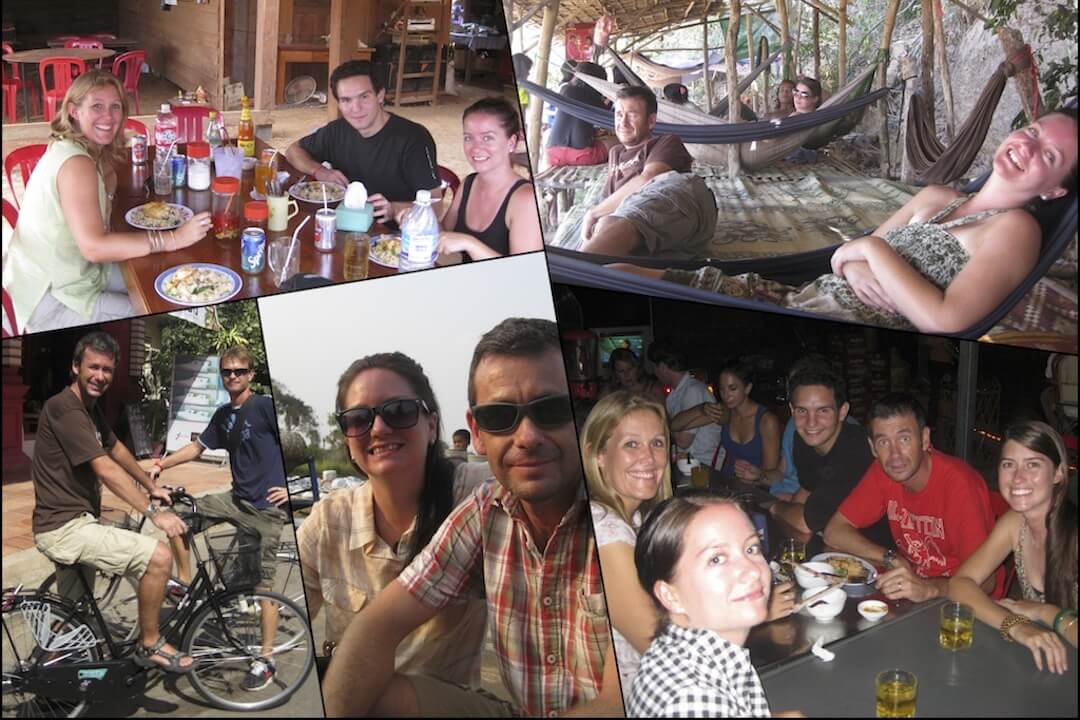 See all of our Cambodia posts here
Mark: India – again!
It is fair to say that both Kirsty and I have an 'addiction' to India and we have visited several times in the last five years. The last one was probably the most enjoyable as we included a stop at Allahabad to witness the incredible Kumbh Mela Festival but I also enjoyed our stay at the Taj Mahal Hotel in Mumbai (and the complimentary happy hour in the bar!), exploring the Nubra Valley in Ladakh and queuing up for five hours with thousands of excited Hindu pilgrims at Tirumala Venkateswara Temple in Tirupati, South India. Could I live there? Not on your life, it would drive me insane but will we keep going back as much as we can, you bet, there is nowhere else quite like it.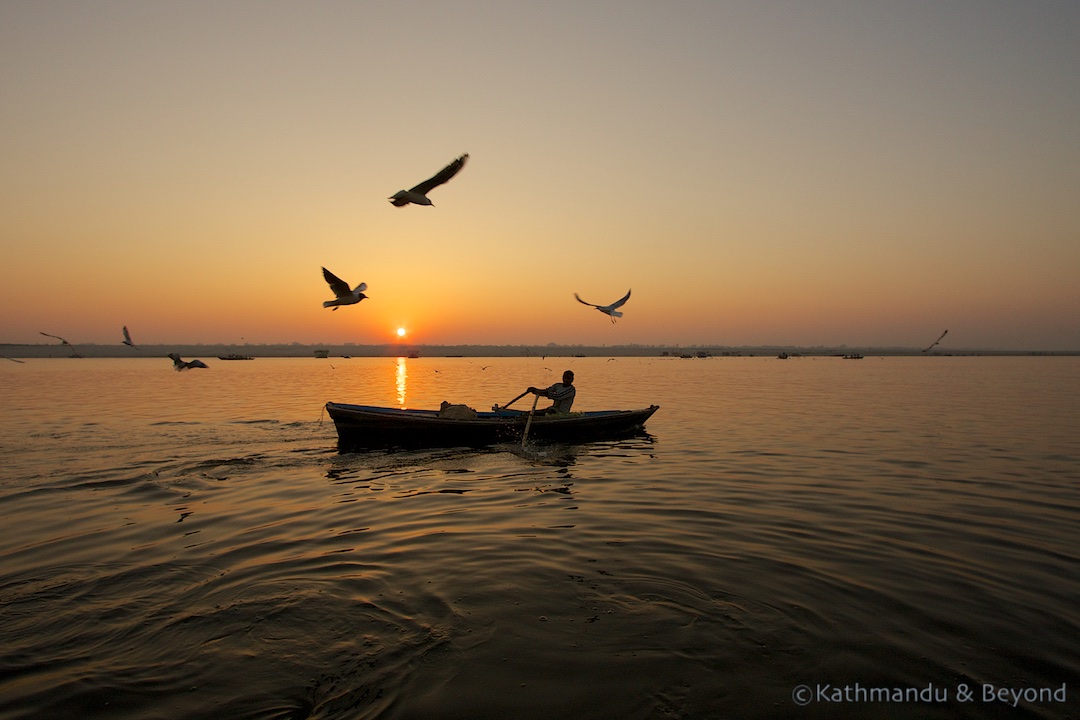 Sunrise on the River Ganges – Varanasi, India



Above: Varanasi (left), Orchha (centre) and Lamayuru (Ladakh) (right)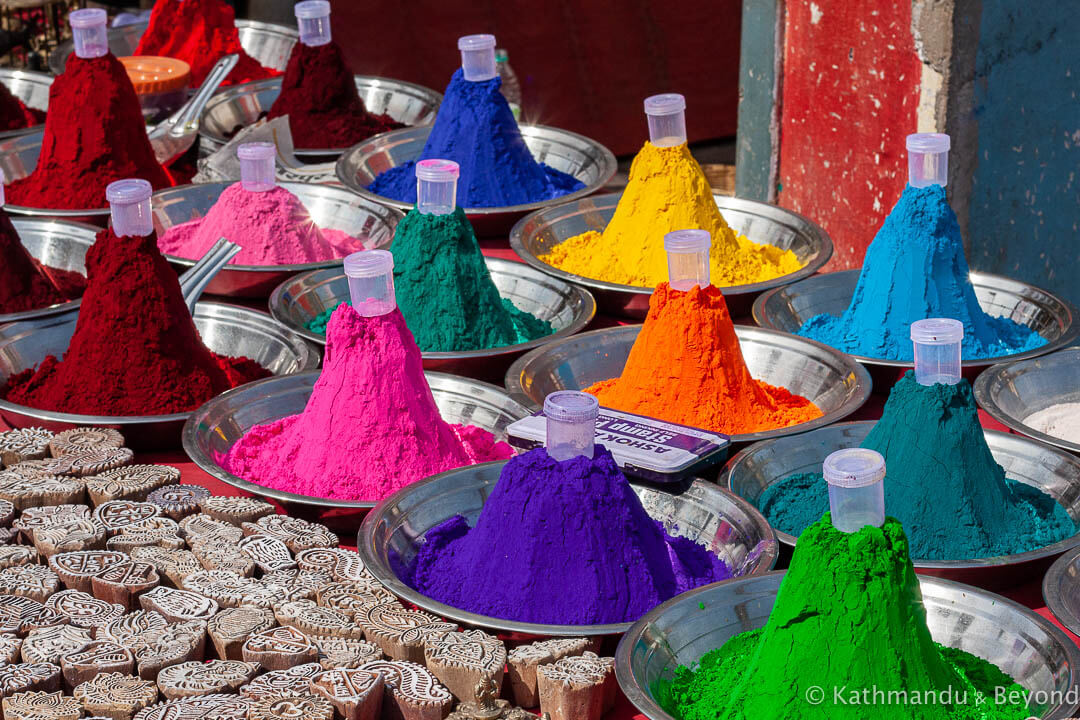 Coloured Paint Powder and Printing Blocks in Orchha
Of course, we have LOTS of photographs of India and a post which rounds up our Journey through India with links to each entry is here.
Kirsty: The Journey from Ladakh via the Zanskar Valley to Kashmir
Scenic journeys seem to feature heavily on my list of memories and this is another one that is right up there. Again, maybe I'm cheating a bit by trying to fit too many highlights into one entry but hey, that's my prerogative! After some fantastic trips around Ladakh using Leh as a base, Mark's Dad arrived from the UK so they could do some trekking together. I decided to travel overland with Doug and Phil (who we'd met in Leh) through the Zanskar Valley and on to Kashmir. It was a stunning journey made all the more exciting by the fact that until we actually got to Srinagar we weren't sure whether we'd be able to because of roadblocks and curfews due to the ongoing tensions which were at a height at that time. But we made it and were rewarded with a few blissful days relaxing on one of Lake Dal's fabled houseboats.



Zanskar: Penzi La Pass (left), Stongdey Monastery (centre) and the Zanskar Valley (right)


Drang Drung Glacier, Zanskar (left) and Nagin Lake, Kashmir (right)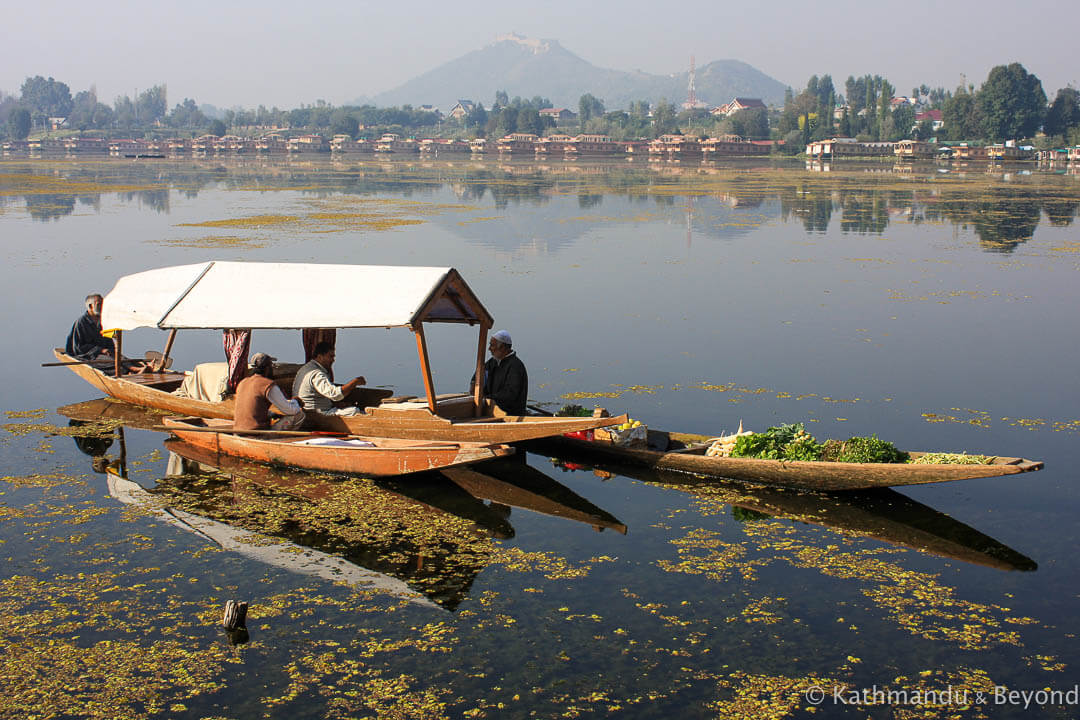 Nagin Lake, Kashmir
But it's not just the sights and sounds or the landscapes and the seascapes that have made the past 5 years the most incredible journey – a big part of it is down to the people we have met along the way. One of the hardest things about a nomadic lifestyle is constantly having to say goodbye to new friends but I always convince myself that we will meet again somewhere, sometime … And often we do. So there you have it – 5 (each) memories from five years of travel. It's been an amazing five years. Cheers to the next chapter!
---