Suggested Itinerary: Three weeks in Bangladesh
BANGLADESH ITINERARY SUMMARY 
Dhaka – Barisal – Hularhat – Khulna – Sunderbans – Khulna – Kushtia – Rajshahi – Dhaka – Srimangal – Dhaka
This Bangladesh itinerary is based on our three weeks backpacking around the country using public transport. NOTHING will prepare you for the first time you head out onto the streets of Dhaka. It is one of the craziest cities on the planet. But, it also happens to be one of the friendliest and is definitely worth a couple of days of exploration. The nostalgic Rocket paddle steamer is the nicest way to navigate the waterways that lead to the southern port city of Barisal, from where a visit to the daily floating rice market at nearby Banaripara is an enjoyable half day out. Rejoining the Rocket a couple of days later, Hularhat is the most convenient place to disembark in order to take an onward bus to Khulna. The city doesn't have a lot to say for itself but it is the launchpad for venturing into the Sunderbans National Park, one of the most sublime destinations on the entire Subcontinent. What's more, you can spend half a day or more exploring the Islamic ruins at nearby Bagerhat.
By Bangladeshi standards, a tour of the Sunderbans will be expensive but it is worth it, even if you don't see an elusive Bengal tiger (we didn't!). Returning to Khulna, it's necessary to change trains in Jessore in order to reach Kushtia. The journey is painfully slow but we liked Kushtia – it had a pleasant, small-town feel about it and photographing Bangladeshis at the local market was great fun.
Further north, Rajshahi, on the bank of the Padma River, is a good place to slow down the pace and the trip out to the village of Puthia is delightful. It is necessary to head back down to Dhaka in order to get to the tea plantations and forests that surround Srimangal. We spent our time hiking, visiting small villages and of course, drinking lots of tea before returning to Dhaka for our flight out of the country.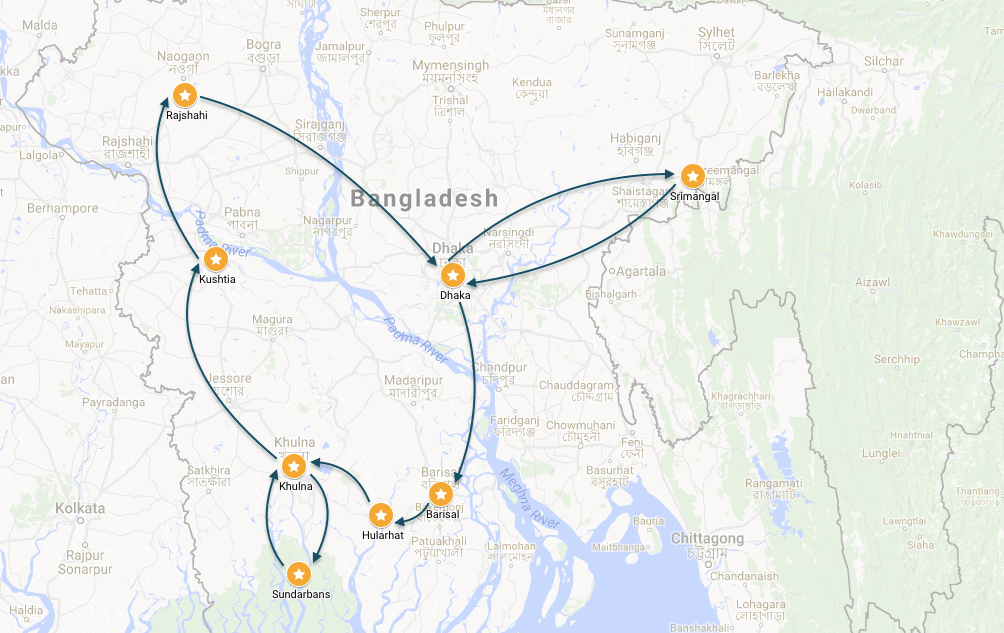 Number of countries: 1
Number of UNESCO sites: 2
Best time to travel: November to March
Recommended duration: 3 weeks
Best places to slow the itinerary down: Rajshahi and Srimangal
Mode of transport: Trains, buses and boats (the Rocket paddle steamer between Dhaka, Barisal and Hularhat and a small, live-on-board boat for the trip to the Sunderbans). Trains are more comfortable than buses, but are slower
Watching the Rocket depart from or arrive into the dock at Barisal in the early morning mist
The Bangladeshis themselves – friendly and then some is the best way to describe them
Rickshaw art – the Bangladeshis take it to a whole new level
Visiting the Sunderbans
The temples and ramshackle buildings in both Bagerhat and Puthia
Getting into the countryside surrounding Srimangal
Bangladeshi beef curry
Travelling on the Rocket paddle steamer
OPTIONS FOR EXTENDING THE ITINERARY
If you want to see more of Bangladesh, there are further places to explore in the south of the country, including Chittagong and Cox's Bazar
It is possible to travel overland to India, either to Kolkata and beyond or via the remote states in the Northeast. If arriving in Bangladesh from Kolkata, you might be interested in our Northern India Itinerary: Delhi to Kolkata by train
There are regular flights to Southeast Asian hubs, including Bangkok and Singapore
Expect the unexpected and travel with an open mind.
Enjoy the journey and don't expect to arrive anywhere quickly!
If you're travelling independently keep abreast of local news and any travel restrictions. Bear in mind local culture and dress modestly.
OTHER TRAVEL PLANNING RESOURCES
Depending on our itinerary and destination, sometimes/often we find our accommodation as we go, particularly in smaller places. In big cities, for slightly longer stays, during peak season or just when we're being a bit more organised, we tend to make a reservation in advance using Booking.com. In Bangladesh, the only place we made an advance reservation was in Dhaka as we didn't want to take a chance on finding clean and cheap accommodation on the hop in such a big city. We stayed at the White House Hotel in an Economy Room for approximately £21/US$27 per night, including a good breakfast. The economy room was on the small side and didn't have air-conditioning but most importantly for us, it was clean. Air-conditioned rooms are available.
There are a couple of good guidebooks to Bangladesh available but we've always used Lonely Planet and it's hard to change a habit of a lifetime! 
Lonely Planet's guides: Bangladesh Travel Guide | Hindi, Urdu & Bengali Phrasebook
And if you need a few more reasons to follow this Bangladesh itinerary…
Chunakhola Mosque in Bagerhat near Khulna
Sundarbans East Wildlife Sanctuary
Did you find this post useful for planning your Bangladesh itinerary? Pin it to your travel planning board for later…