Northern India Itinerary: Delhi to Kolkata by train
Delhi – Matura – Agra – Gwalior – Orchha – Lucknow – Varanasi – Bodh Gaya – Kolkata
This itinerary is a great introduction to Northern India. Start with a few days exploring Delhi before taking the train to Agra. We would include an overnight or at least a stop in the holy city of Matura before getting to Agra. See the Taj Mahal and the Agra Fort but don't linger, the hassle will wear you down. Nearby Gwalior has one of the most impressive forts in all India and Orchha's temples and sublime countryside make it a worthwhile stopover. For British Raj-era architecture it doesn't get any better than Lucknow and for us, Varanasi is one of the most fascinating cities on the subcontinent. Spend as long as you can in Varanasi before visiting Bodh Gaya, a peaceful town in southern Bihar where Buddha found enlightenment. Finish with a few days in India's greatest city, Kolkata.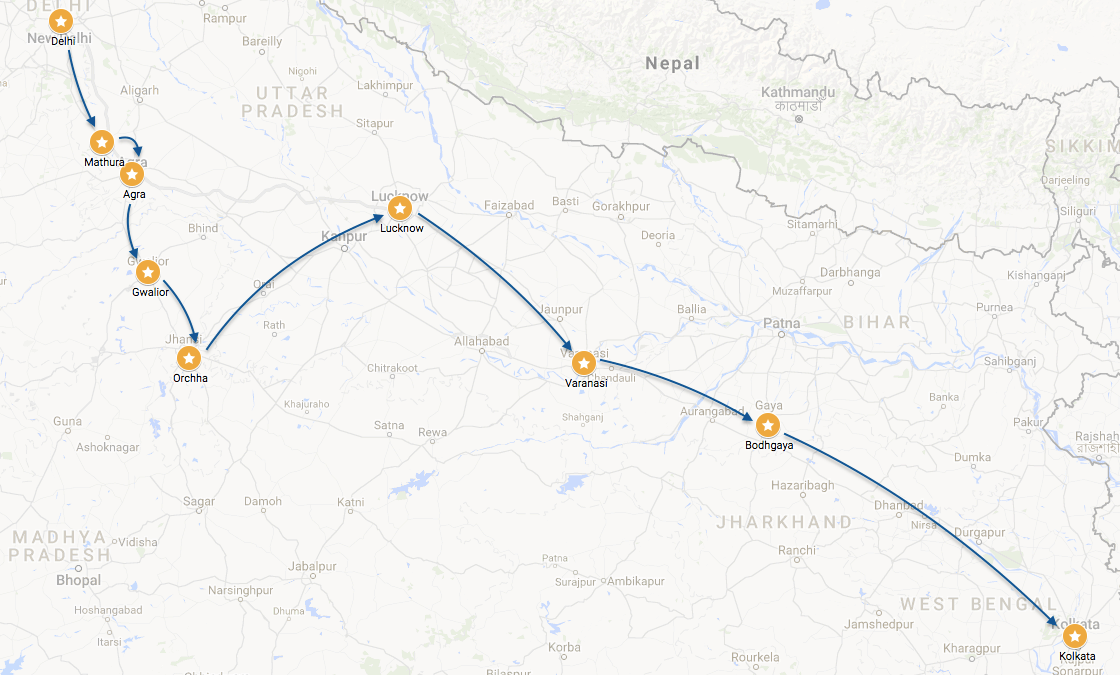 Number of countries: 1
Number of UNESCO sites: 8
Best time to travel: October to March. Note, it can get pretty cold in the early mornings and evenings in this part of India from December to February.
Recommended duration: 3 – 4 weeks
Best places to slow the itinerary down:  Orchha and Bodhgaya
Mode of transport: Train. For Orchha, you have to take the train to Jhansi and take a taxi or auto rickshaw a short distance.
Visiting Sufi singers at Hazrat Nizamuddin Dargah in Delhi
Cycling through the countryside around Orchha
Drinking cold beer at the Fairlawn Hotel in Kolkata
Sitting and observing life inside the grounds of the Mahabodhi Temple in Bodh Gaya
Making friends on Indian trains (brush up on your cricket!)
Searching for the Black Hole of Calcutta – here's a clue, head to St.John's Church in BBD Bagh
Witness aarti (prayers) at Dashashwamedh ghat in Varanasi and take either a pre-dawn or sunset boat trip on the River Ganges
OPTIONS FOR EXTENDING THE ITINERARY
From Kolkata travel overland or fly to Bangladesh for a totally different Subcontinent experience
Kolkata is also the springboard for Western Bengal and Sikkim as well as the little-visited states in the Northeast.
If you want to add in Jaipur, do so between Delhi and Matura/Agra
Don't try and do too much in too short a space of time. Travelling independently in India can be exhausting and trying to see the whole of India in a month will probably mean you leave, vowing never to return! 
OTHER TRAVEL PLANNING RESOURCES
Indian Railways provide a route map – it looks complicated but is useful for finding routes and train numbers .
The Man in Seat 61 has a guide to train travel in India which covers handy information such as how to check train times & fares, how to buy tickets at the station and online, general tips for train travel the difference between the eight classes on seats and sleepers on Indian trains.
India Mike is a long-running travel forum covering all manner of related topics. There is some great information available but sometimes you have to cut through a bit of waffle to get to it. 
Depending on our itinerary, often we just find our accommodation as we go, particularly in smaller places. In big cities, we tend to make a reservation in advance using Booking.com.
There are a lot of great guidebooks to India available but we've always used Lonely Planet and it's hard to change a habit of a lifetime!
Lonely Planet's guides: India Travel Guide | Rajasthan, Delhi & Agra | Best of India | India Phrasebook
And if you need a few more reasons to follow this itinerary…
Hazrat Nizam ud din Dargah, Delhi
Man Singh Palace at Gwalior Fort
Chhatris (Cenotaphs), Orchha 
Street art on Tulsi Ghat in Varanasi
Mahabodhi Temple in Bodhgaya
Chowringhee area of Kolkata
Did you find this post useful? Pin it to your travel planning board for later…