A guide to riding the famous Rocket ship from Dhaka to Hularhat
I don't really like the term bucket list but travelling on Bangladesh's waterways by Rocket paddle steamer ship is something that has long been on my and Mark's, erm, bucket list.
Rocket paddle steamers have been travelling Bangladesh's rivers since the early 20th century. Today there are only four left in service and the paddles are powered by diesel rather than steam. They also no longer live up to their name: they were originally called Rockets because 100-odd years ago they were the fastest vessels on the river, but today there are numerous ferries plying the route and covering the distance in a much faster time. We had also read that the newer ferries offered a higher level of comfort but, bucket list or not, travelling on the real Rocket had to be done.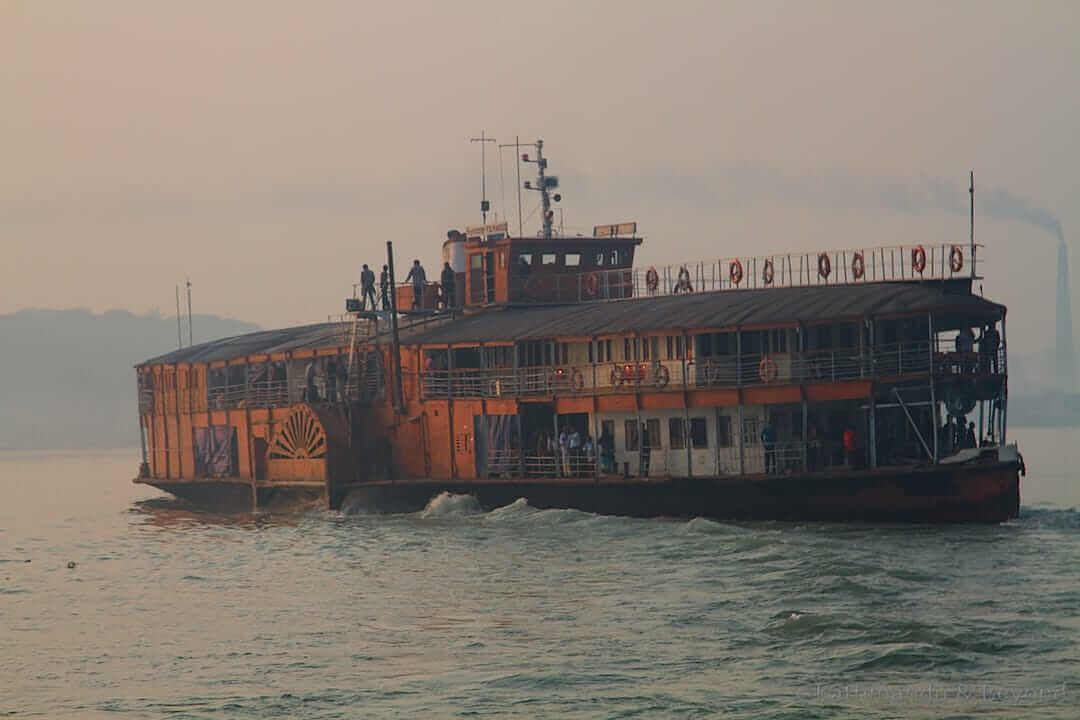 The famous Rocket ship
The ships are operated by the Bangladesh Inland Waterway Transport Corporation (BIWTC) and reservations are made via their offices (although it is also possible to book with a travel agent and pay a commission). We wanted to book a first-class cabin and so headed to the appropriate office in Central Dhaka. It was a little hard to locate, but after a few enquiries, we found ourselves sat at the desk of the reservations' manager and his pile of booking ledgers. There are only twelve first-class cabins on the ship and we'd read it was sometimes difficult to secure one. We wanted to travel the following evening and weren't sure of our chances.
After the obligatory questions about our nationality, profession and our relationship the guy opened his book and scratched the side of his head. 'Let me see if I can help you,' he started with a slight head wobble. 'Cabins are full and there are many waitlisted,' he continued. He picked up the telephone and made a couple of calls. Another guy came in, bought tickets and left. One more 'phone call. 'Maybe Allah will help me this time,' the guy concluded. 'Do you think so?' we asked optimistically.

First-class ticket
'Two thousand three hundred and ten taka',* he finally said. For a confirmed cabin? For the chance of a confirmed cabin when we rock up? Apparently the first class cabin was ours, just like that. With a little help from Allah. And the small amount of baksheesh we gifted him! 
* Taka is the Bangladeshi currency and he charged us the equivalent of approximately £20, or US$30.
The following afternoon we headed to Dhaka's Sadarghat riverfront at the appointed time. We had been told we would be able to board the ship at around 4pm, ahead of the 7pm departure time.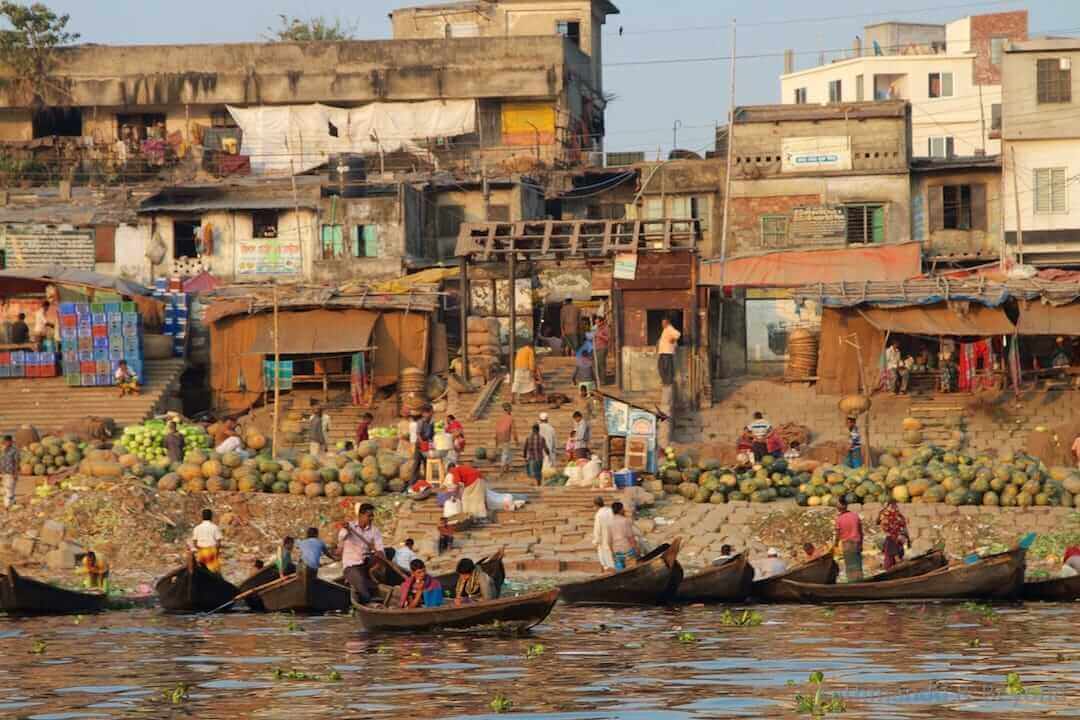 Dhaka's riverfront
We'd planned to do just that so we could dump our bags in the cabin and then explore the port area. However, there was no Rocket to be seen.  After a few enquires it transpired that the ship wouldn't be arriving for at least another hour or so. If we waited, it would give us little time to take a trip in a small rowing boat around the harbour so there was only one option: to take our backpacks with us on the rickety unstable wooden rowing boat! Please, Allah, don't let the boat capsize so we lose all our belongings!


Dhaka's riverfront
Whilst we were bobbing about on the river like a tiny fish amongst boats the size of whales we saw a large rusty tub with paddle wheels coming towards the shore. 'What a heap of junk!' one of us, probably both of us, said. The ship was lop-sided and looked like it had been sailing for 200 years, never-mind 100!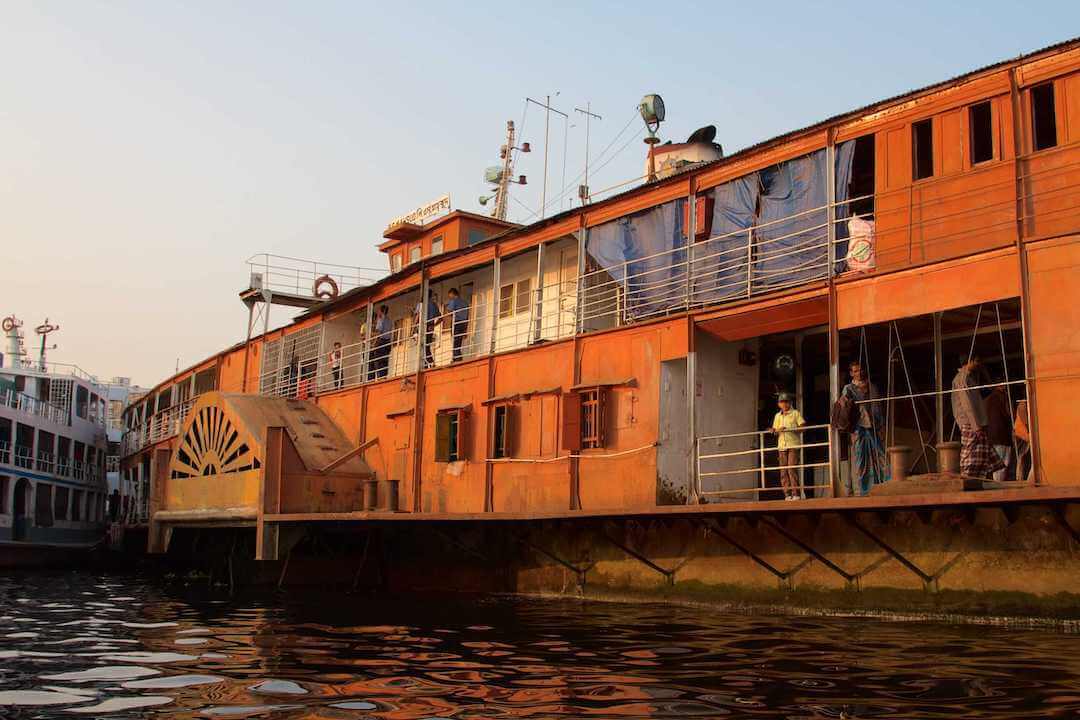 The Rocket docking in Dhaka
The riverfront was packed with boats of all shapes and sizes from small rowing boats that ferry people back and forth across the Sadarghat river to cargo ships and launches. A launch is the name given to the large people-carrying ferries that travel Bangladesh's waterways. We tend to think of a launch as a small boat but these launches are huge vessels that transport hundreds of people and are notoriously over-crowded. They are newer and therefore in theory more modern than the Rocket but it was nostalgia we were seeking!
After clambering back onto the dock we boarded our palace, the PS Mahsud (PS is the nautical prefix for a paddle steamer). Whilst not quite matching Lonely Planet's description of 'carpeted and wood-panelled' cabins which 'come with fans, a TV, a small sink and crisp white bed linen', our cabin was more than adequate for the overnight journey and the only factually incorrect thing about LP's description was in relation to the crispiness of the sheets. Our cabin had two beds, a fan and a sink and, indeed, a television although we didn't bother checking to see if it worked.  The toilets were shared and guarded by a man with a key who we had to find when we wanted to use them. And, when we disembarked, he was waiting for a tip as a token of our appreciation for being able to pee when we needed to!


First-class cabin (left) and First-class deck (right)


First-class dining room (left) and First-class food (right)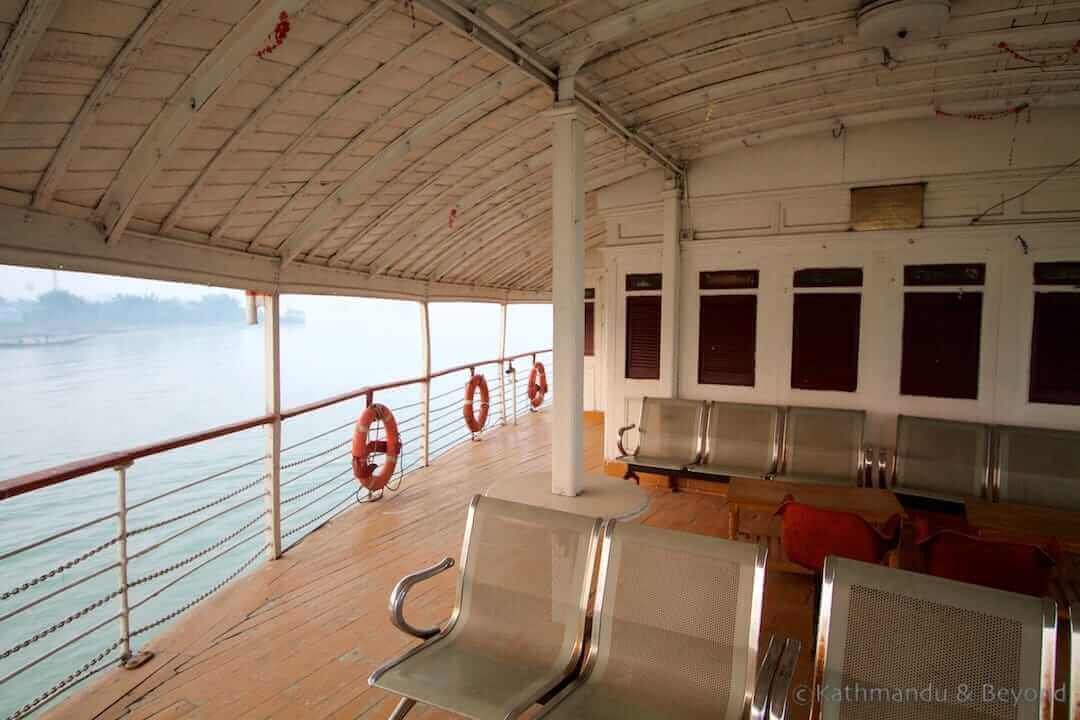 First-class deck
At around 7 pm we set sail. Night had already fallen and we left the twinkling lights of Dhaka behind and chugged into the darkness.
Dinner was served at the long dining table that ran the length of the area between the cabins. Shortly after boarding, we were asked if we would like the Bangladeshi or the English menu. On the English menu was cream of chicken soup, followed by fish and chips. Mmm, sounded tempting but unlikely to be anything like the image in our heads. It was also 600 taka (£5/US$8) compared to 250 taka (£2/US$3) for the Bangladeshi meal of rice, chicken, egg curry and vegetables, so we opted for that. When it arrived at the central dining table, promptly at 8 pm, the chicken looked like it had been fasting for several weeks before it ended up curried but the rest of the meal was OK.



Not everyone is lucky enough to get a first, or even second, class cabin …
There's not an awful lot to see whilst river cruising in the dark so after a few obligatory conversations with our travelling companions we turned in. We were surprised that we were the only foreigners on board the Rocket as the journey is touted as one of the country's tourist highlights. We later discovered that there weren't that many tourists in Bangladesh!
We slept well and woke predawn. The PS Mahsud was scheduled to arrive at the town of Barisal at 6 am where we were due to disembark; although we would rejoin the Rocket in a couple of days' time to continue our journey to Hularhat near Khulna.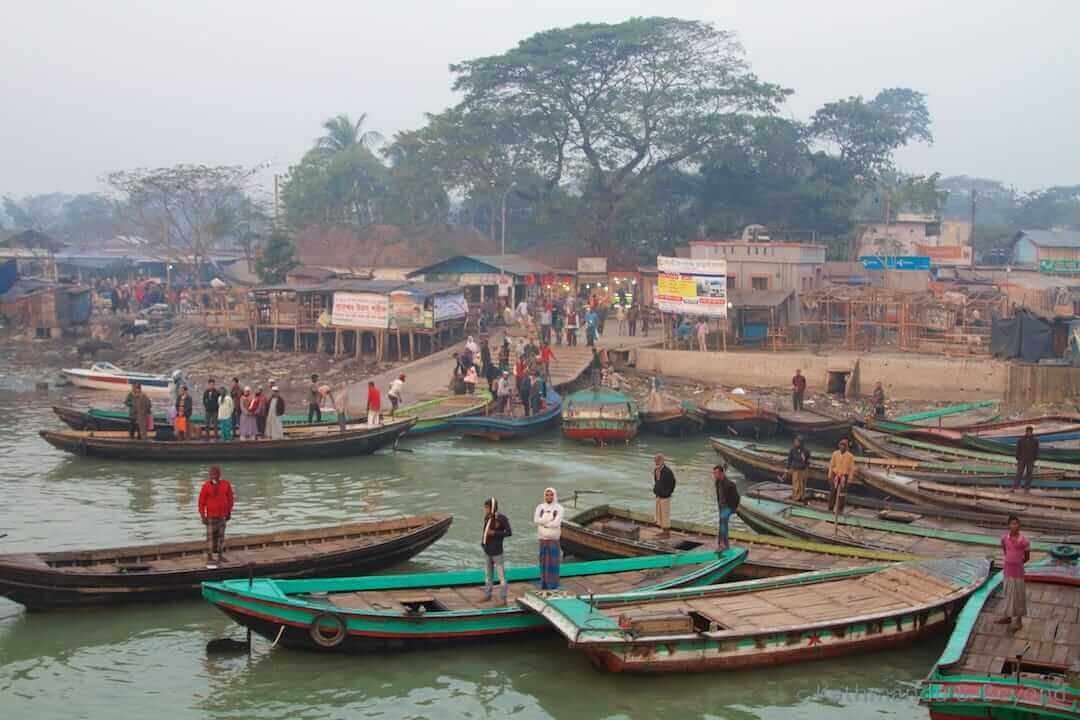 Coming into Barisal
We spent two nights in Barisal because the Rocket doesn't operate on a Saturday (that is, on a Friday from Dhaka). It was a worthwhile stop as it gave us our first opportunity to experience a Bangladeshi city smaller than Dhaka and we enjoyed the small-town feel and relatively quiet streets. (We'd discovered that Dhaka is a frenzy of noise, day and night.)  We also visited the floating rice market at nearby Banaripara where rice is sold directly from small boats.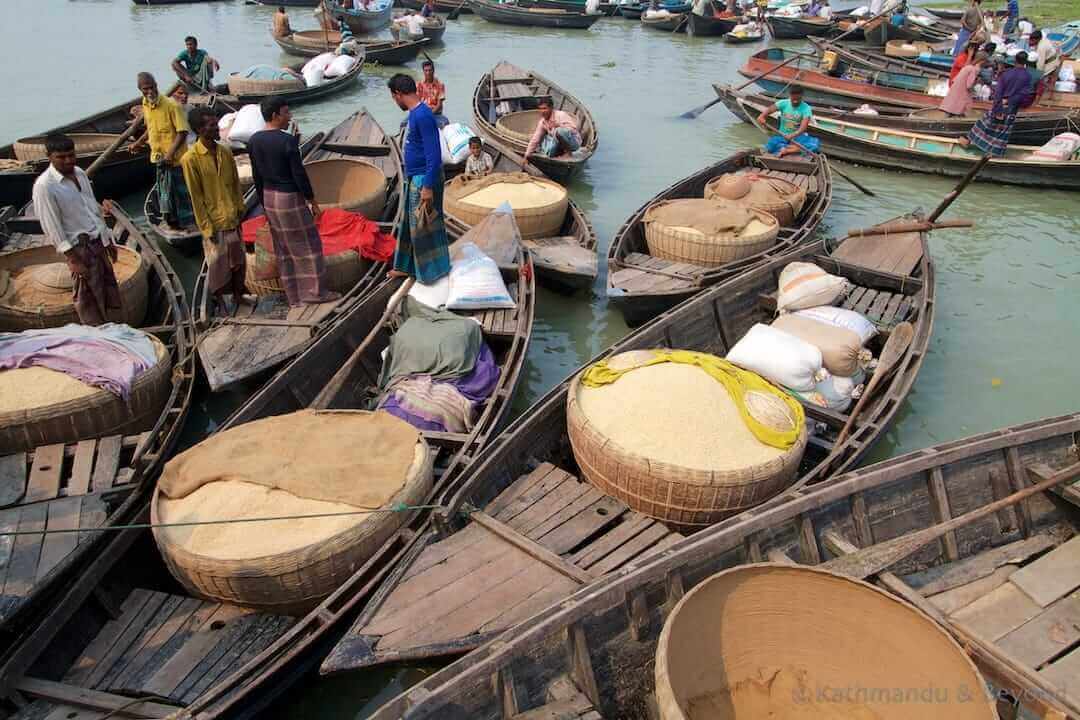 Rice Market at Banaripara
The next day we again got up before sunrise to catch the onward Rocket.  People had told us departure times that varied between 5.30 am and 7 am and we didn't want to miss it. We needn't have worried as the steamer eventually rolled into port at 8 am! We didn't have a ticket for this leg of the journey as we had been advised by a member of staff in the small BIWTC office in town to buy it onboard. Shortly before the ship arrived, someone came over and indicated a guy who was selling tickets. We knew a first-class cabin wouldn't be available which was fine with us as we didn't require one for a journey of a few hours but we were hoping to buy a seat-only ticket for the first-class deck. Communication was, as so often in Bangladesh, confusing and I came away from the ticket scrum with two tickets that cost a total of 160 taka (£1.35/US$2). We were not sure if they were first-class tickets but the deck stewards didn't question them and waved our white faces through to the sectioned-off deck area.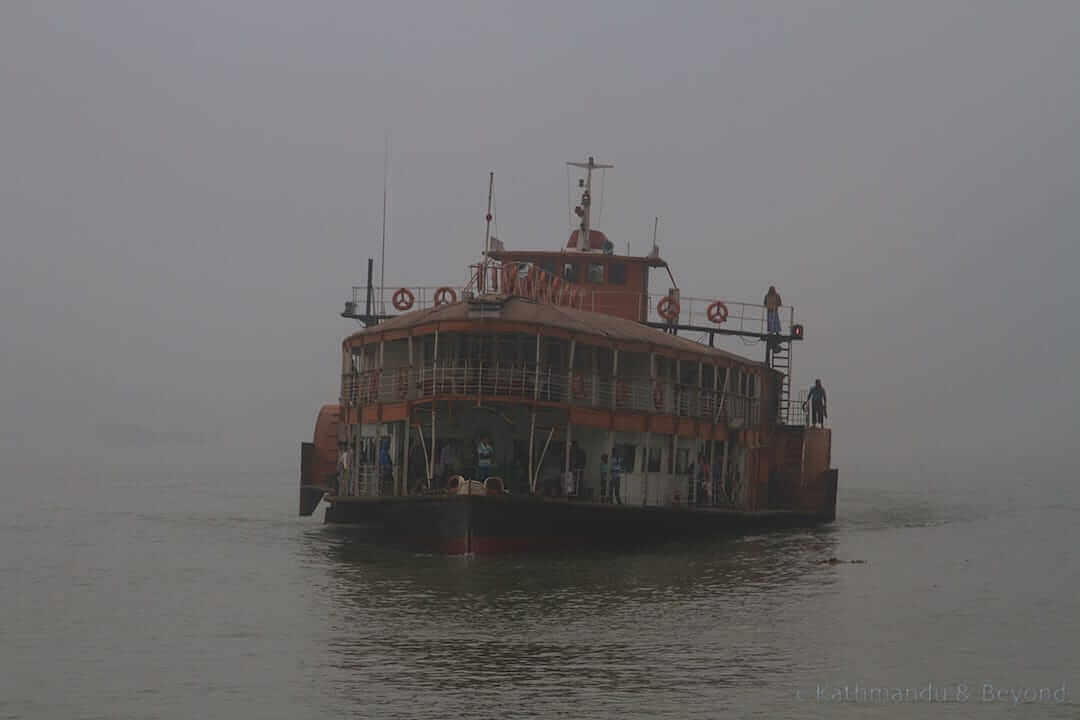 The Rocket appearing out of the early morning mist
This time we were on the PS Ostrich, constructed in 1929, a year later than the PS Mahsud which is considered to be the 'best' Rocket in operation.  Overall the two ships were fairly similar although the cabins on the PS Ostrich were a small notch down on the luxury scale.
We spent most of the six-hour journey on the deck at the front of the ship looking at and photographing the passing scenery. We also met a couple of other solo travellers – two out of the total of five foreign travellers we met during just over three weeks in the country – and swapped travellers tales. It was a relaxing journey and the scenery was attractive with wide expanses of water and lush foliage on the riverbanks. The early morning skies were spectacular.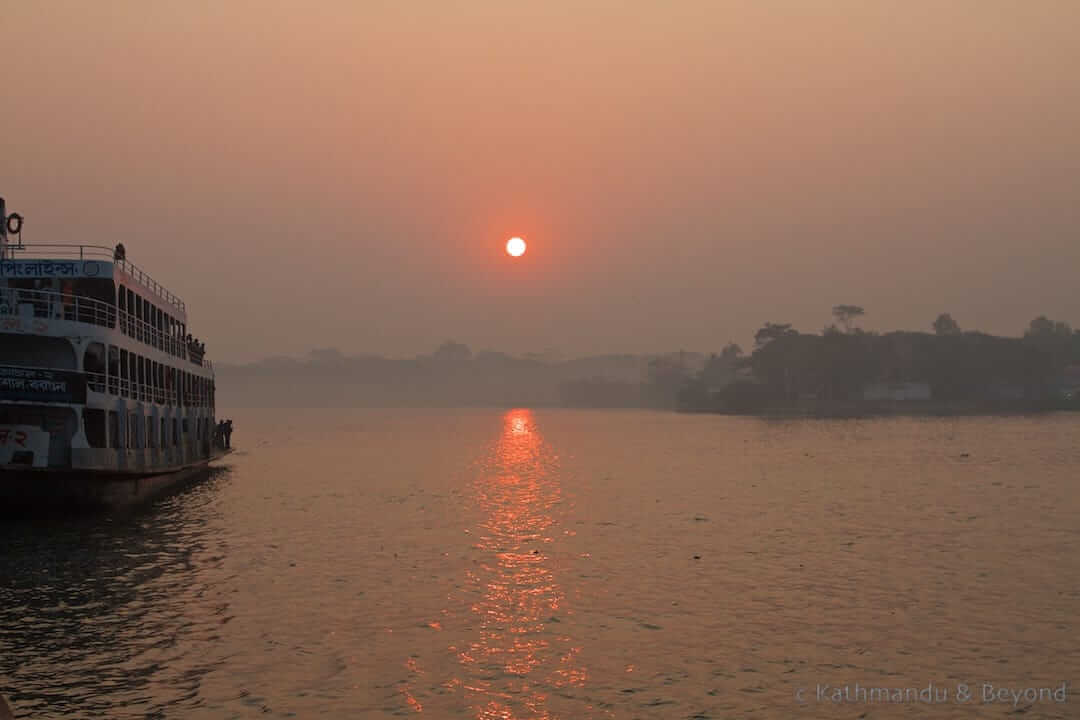 Sunrise on the river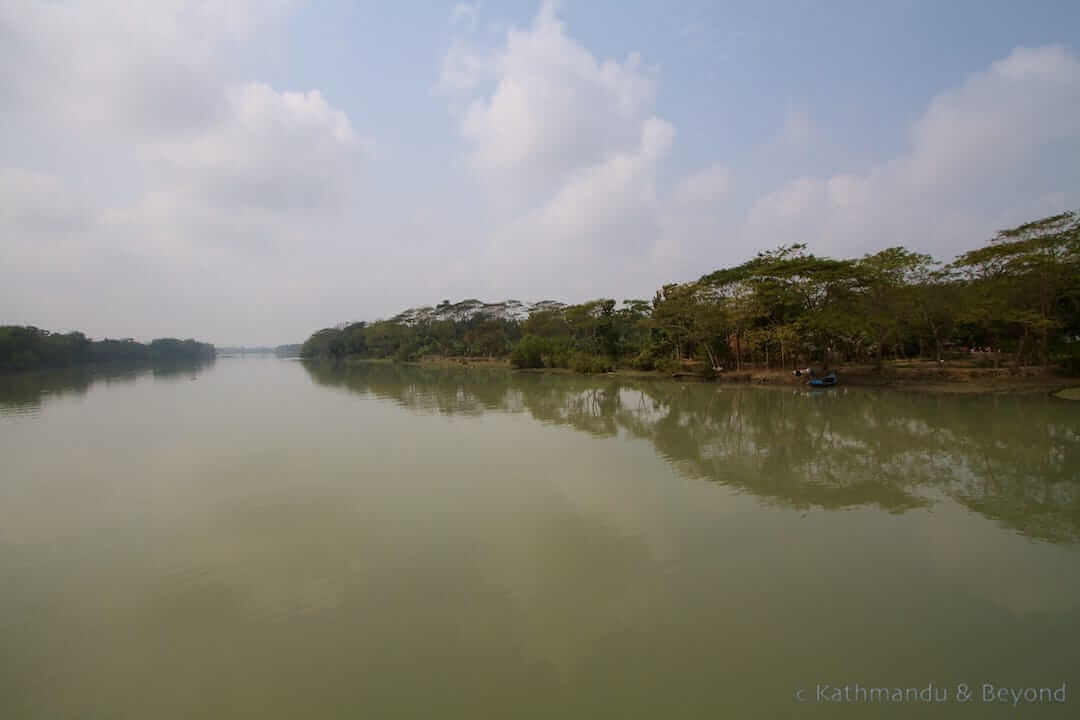 On the Kirtankhola River near Barisal
Whilst not a spectacular journey, the trip on the Rocket paddle steamer is an interesting one. The history of the ships makes it a nostalgic journey and the serenity of the scenery make it a welcome contrast to anywhere in Bangladesh that has roads!
It seems natural to say 'before long we arrived into Hularhat' but that's not so as we were around four hours late!


Above left: departing Barisal in the early morning and above right: arriving Hularhat in the mid-afternoon 
Practical information on travelling by Rocket steamer ship in Bangladesh
Our Lonely Planet guidebook advised that the ship only ran as far as Morrelganj, not Khulna as in previous years, and that was still the case during our visit (February 2015). If you are heading to Khulna, it's more convenient to disembark in Hularhat and get to Khulna from there by bus rather than Morrelganj.
Should you travel by Rocket or Launch?
As mentioned above, there are a variety of launches that travel the same route, but many only go as far as Barisal. The launches may be newer but consider the following:
Newer doesn't mean safer – the Rocket actually has a pretty good safety record.
Newer doesn't mean cleaner – friends who travelled on launches to save time and money found themselves sharing their cabin with several cockroaches.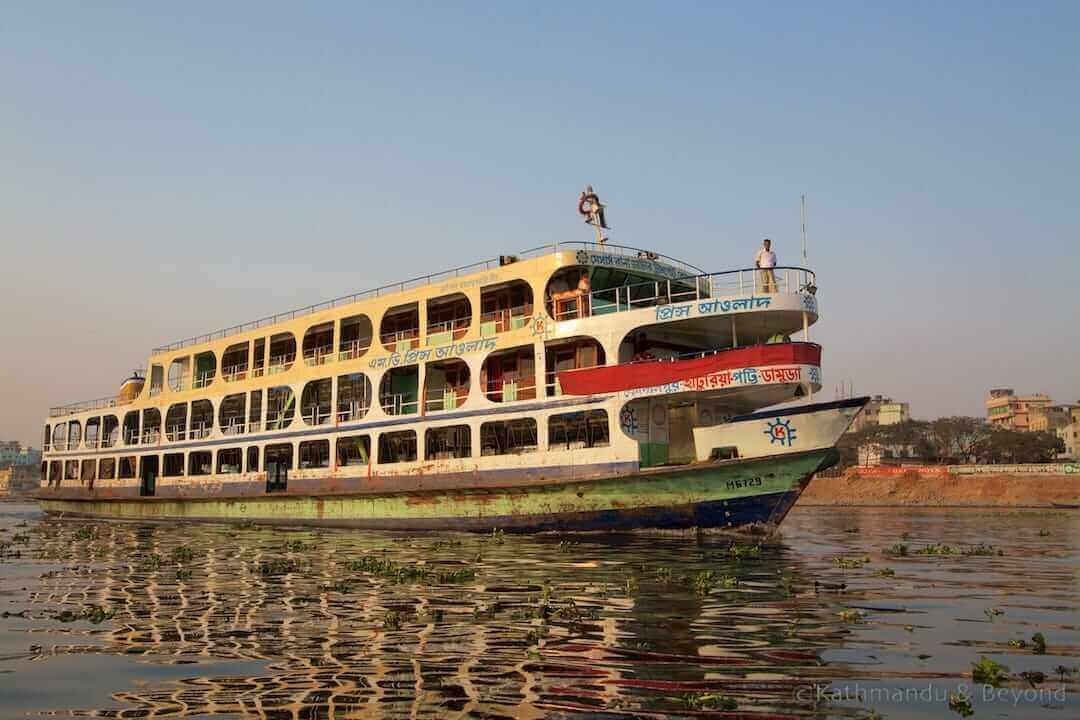 A typical launch boat
Our advice would be to splash out on a first-class cabin on the Rocket and travel the nostalgic way.
If you are travelling on a very tight budget but still want to experience the Rocket, one option is to take a launch to Barisal, spend the night there and pick up the Rocket for the final part of the journey the following morning (noting there is no Rocket on a Saturday). As the second leg of the journey is during the day, there's no need for a cabin. You could argue that what you save on the ticket, you spend on a hotel in Barisal but we were pleased with our decision to break the journey.
Rocket fares from Dhaka in a double cabin as at February 2015:
Dhaka-Barisal: 2,310 taka in first class and 1,260 taka in second class.
Dhaka-Hularhat: 3,124 taka in first class and 1,710 taka in second class.
Dhaka-Morelganj: 3,740 taka in first class and 2,100 taka in second class.
Approximate exchange rates as of February, 2015: 115 taka = £1 = $1.5
The information we got from the single travellers on the ship was that it is possible to pay half the double cabin cost for one berth in a cabin on the assumption you will share will another passenger. Try it: you might be lucky!
2019 Rocket Steamer update
Sadly the original fleet of seven which had been reduced to four ships for a long time may now have dwindled to one. We have recently heard that out of the four Rocket Steamers, only one is currently operating. The others are undergoing maintenance, and it's unclear how long for. According to the information we were able to gather, the Rocket Steamer is operating just two days a week in each direction:  from Dhaka to Khulna on Wednesday and on Saturday to Barishal only. Return journeys are on Tuesday and Friday respectively. You may be offered a ticket on other days, but you may find this is on a modern launch rather than a traditional steamer. This information could be out of date already, so double-check before planning your journey and booking tickets.
---
---
Planning a trip to Bangladesh? Pin this post …


---
---