More commonly called the Trans-Siberian, the leg of the journey we were taking from Datong in northern China to Mongolia's capital, Ulan Bator (UB) is part of the Trans-Mongolian route. We boarded the train at 2.15 in the afternoon for our 25-hour journey to UB  and although there were already plenty of Westerners on board having got on at Beijing, we were surprised that we were the only ones to get on in Datong. We've done a few longish train journeys in China over the past couple of weeks, including an overnight one, and so were expecting more or the less the same in terms of standards, but this was luxury by comparison.
We have been and were on this train, travelling in what is called 'hard sleeper' which is kind of the equivalent of second class with 'soft sleeper' being the first-class option. Contrary to what the name suggests in hard sleeper the beds are not rock hard: they are still padded although maybe not as much as soft class. Also, in hard class the bunks are 3 tiers, not 2, and have an open corridor whereas soft class have separate cabins with 4 berths in each and a door to close for privacy. In hard class, things can get a bit cosy and even if your reserved berth is the bottom one you will often find someone else sitting on the end of your bed. Mark described Chinese table manners a bit in his last blog. Well, the dropping of rubbish including any rejected food bits also applies to trains and although the toilets are not communal like in some public places, they get pretty smelly after a lot of use and no cleaning.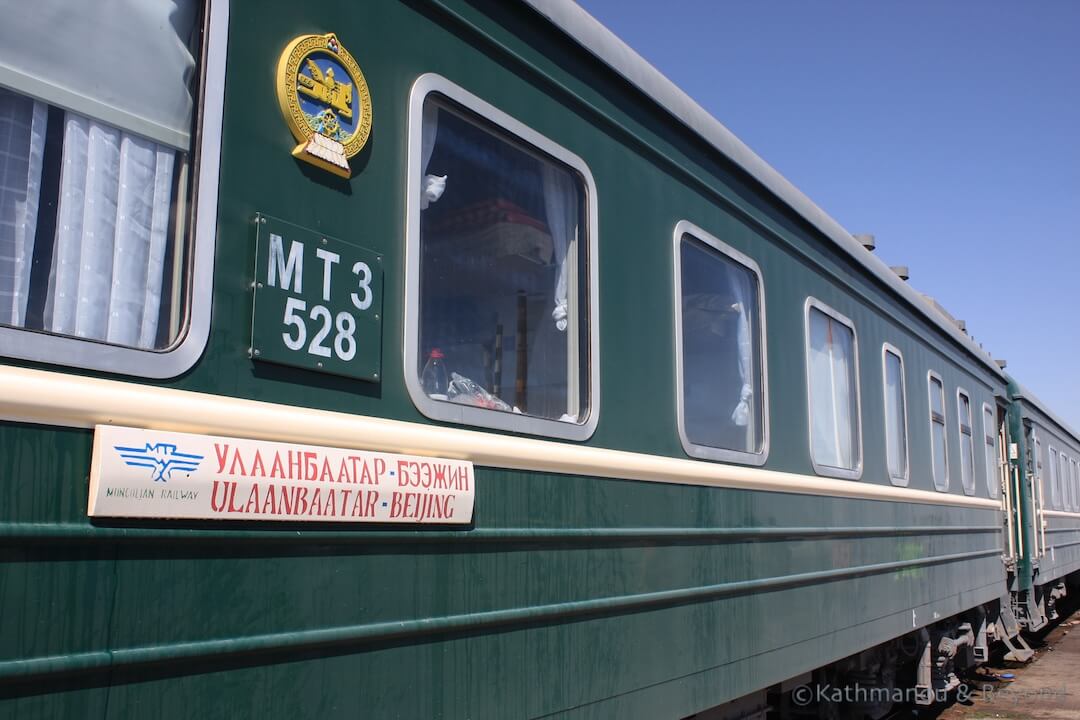 Trans Mongolian Railway China to Mongolia 16


The Trans Mongolian Railway
So back to our Trans-Mongolian Railway (TMR) experience. We had booked hard sleepers and although we knew that on this train the bunks were only 2 tiers, apart from that we were expecting a similar scenario. But no, this train was much fancier with closed corridors, clean carpets and more importantly clean sheets and a bonus – western-style toilets!  And even more exciting when we got on there wasn't anyone else sharing our 4-berth cabin. There was still time but with limited stops and most passengers having boarded in Beijing it was looking hopeful.
Unlike the trains we had taken in China where we appeared to be the only foreigners on board, this train was around 80% Westerners, most of them around 7 hours in on the first leg of a Trans-Mongolian/Siberian journey ending in Moscow. So, on this journey we could join in with the chat rather than just be stared at and talked about in Chinese. A bit of a party atmosphere prevailed helped along by warm beers (warm obviously not by choice) and anyway there was no point in planning an early night as the border formalities would take place from around 11.30pm until 2.30am. After we boarded. we made two more stops in China (few people got on or off and still no roomies – hurrah) before stopping at Erlian on the Chinese side of the border at about 8.30pm. Here we were ordered back into our own compartments whilst immigration officers boarded and collected all the passports with stern looks and name checks. We were then told to get off the train and wait for three hours whilst they changed the bogies as China and Mongolia run on different types of tracks. There's not a lot going on in Erlian so there wasn't really an awful lot to do apart from sit on the station steps drinking more beer. At around midnight we were allowed back on to the platform and sent back to our cabins and wait for the immigration officers to return our passports. That process took almost an hour and it was at this point the tactical error of drinking too much liquid without any toilet access hit home. I don't think I mentioned it but the train attendants lock the toilets around 30 minutes before stopping at a station, whilst the train is in the station, and for about 20 minutes after leaving one. Some of you will not find it difficult to imagine Mark in this scenario and it got to the point where his pleading face and implications of what may happen if he was denied access finally resulted in the surly stewardess shouting and swearing in Mongolian at him but opening the toilet door for a few precious moments! 
After leaving China, it was about an hour before we reached the Mongolian border where we had to repeat the process with our passports but not leave the train. By the time our passports were stamped and returned and we were on our way it was almost 3am and everyone was ready for bed. We slept through the 5.30am station stop but woke around 7.30 for a pot noodle breakfast and our first glimpse of the Mongolian countryside. Whilst "rural" China is rather industrialised with lots of factories and seemingly half-built new towns, Mongolia was vast, vast expanses of green; to begin with very flat but becoming a more hilly as time went by. Another immediate difference was that compared to China's greyness, Mongolia's skies were clear and blue. Well, it is known as "the land of the blue sky".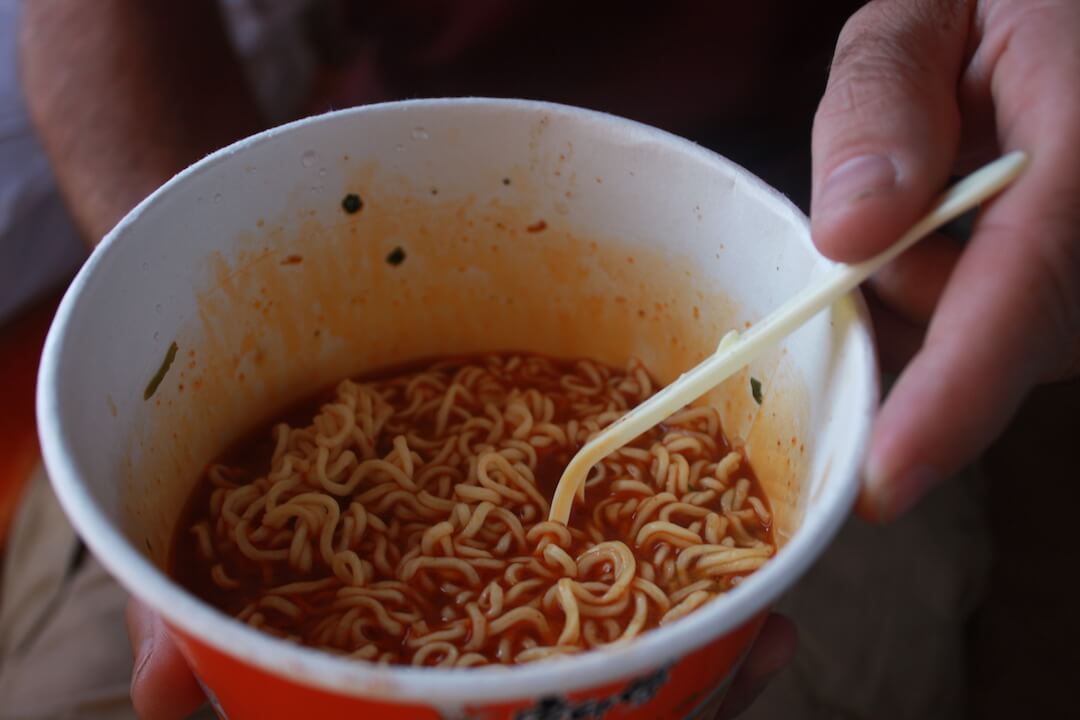 Delicious pot noddle on the Trans Mongolian Railway
Oh yes, pot noodles – the staple of any train journey in China. Trains do have restaurant cars but what they serve is limited, not particularly tasty and over-priced (a bit like British Rail) so when boarding any long-distance train all passengers will be carrying a sufficient number of pot noodles corresponding to the number of meals to be taken on their journey. Free hot water is provided on all trains as well as in many public places and it's quite normal to see people sat eating noodles in the train station waiting rooms… I guess they are the Chinese equivalent of our sandwich and they're really not too bad. The more flavour sachets they come with the better and preferably one with lots of chilli. OK, so 3 in 24 hours gets a bit repetitive but supplemented by the Haribos Howard bought to Shanghai meant we didn't go hungry.
Twenty-six hours after leaving Datong, and just an hour behind schedule our train pulled into Ulan Bator railway station. But that's another chapter…
Our compartment on the Trans Mongolian Railway
---