Today marks the date when, seven years ago, we left the UK and began our nomadic lifestyle.
Introduction by Kirsty and stories by Mark
Nomad: a member of a people or tribe that has no permanent abode but moves about from place to place …
Seven years. It's a long time without a permanent base, but we don't appear to have the 'seven-year travel itch' (*). In fact, the longer we travel, the harder it seems to be to find somewhere we think we could call home for longer than a few months.
(*) Mark says he has got some other sort of itch but he doesn't want to talk about it!
The more we see and do the harder it gets to pick our best, favourite, most memorable travel moments so this year we have decided to mark our seven-year travelversary with a selection of seven stories from our travels. These may not be the same places that repeatedly make it on to '10 things to do before you die' lists, but they are places that, for some reason have particularly resonated with us over the past couple of years. After all, isn't travel all about the experience?
All of these travellers' tales are actually from the past couple of years because two years ago we wrote about our five favourite memories to commemorate five years on the road and, although most of those anecdotes still remain among our best experiences, we didn't want to repeat ourselves.
It's been a busy two years for us so we have lots of stories to tell. Many more still to write! We have visited a staggering thirty-nine countries (*) since November 2013 and there are many more encounters that could have easily made the list. Countries, and even entire regions that aren't covered but should be include Norway, the Caucasus and Central America.
(*) Just thirty-eight if you don't count Nagorno-Karabakh, which we don't in our total country counts.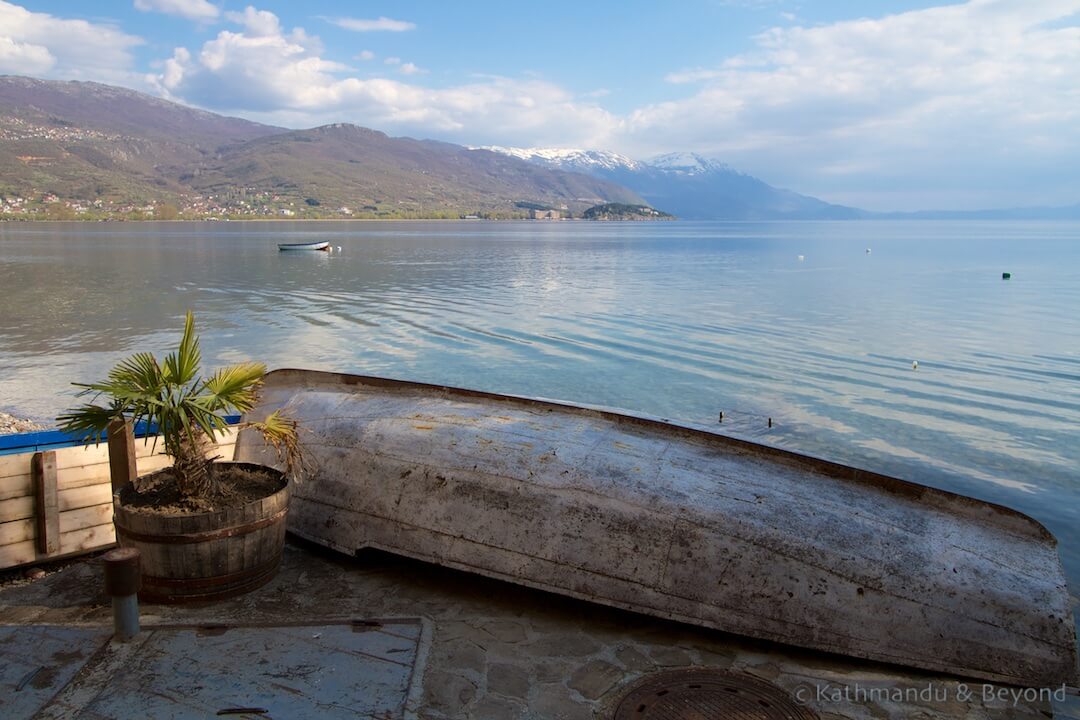 Lake Ohrid, Macedonia
So what's in store for our eighth year of travel? It's a bit early to reveal that as we're still in the planning over a cold beer stage; coming up with several journeys we want to make. Maybe by the time we post our 2015 round-up, we might have some more clues for you. One thing is fairly certain though, and that is Mark will reach his 100th country visited! He's currently sitting impatiently on 98 and is trying to manipulate things so that Afghanistan is number one hundred! Not so sure about that being a reality, sadly …
So, here they are … Seven travellers' tales from seven years of travel:
Vinales, Cuba
Cuuubbbaaa! Will it change now that the United States has lifted sanctions? Probably but not for a while so if you are thinking of going (and we recommend you do), then go sooner rather than later. We have written a few articles on Cuba, which is a sure sign that we like the place. The tobacco-growing town of Vinales wasn't the most interesting place we visited in Cuba, that accolade has to go to Havana or Trinidad, but it was the most relaxing and definitely the most picturesque. It was the last place we visited on our three-week trip of the country and the perfect place to end the journey.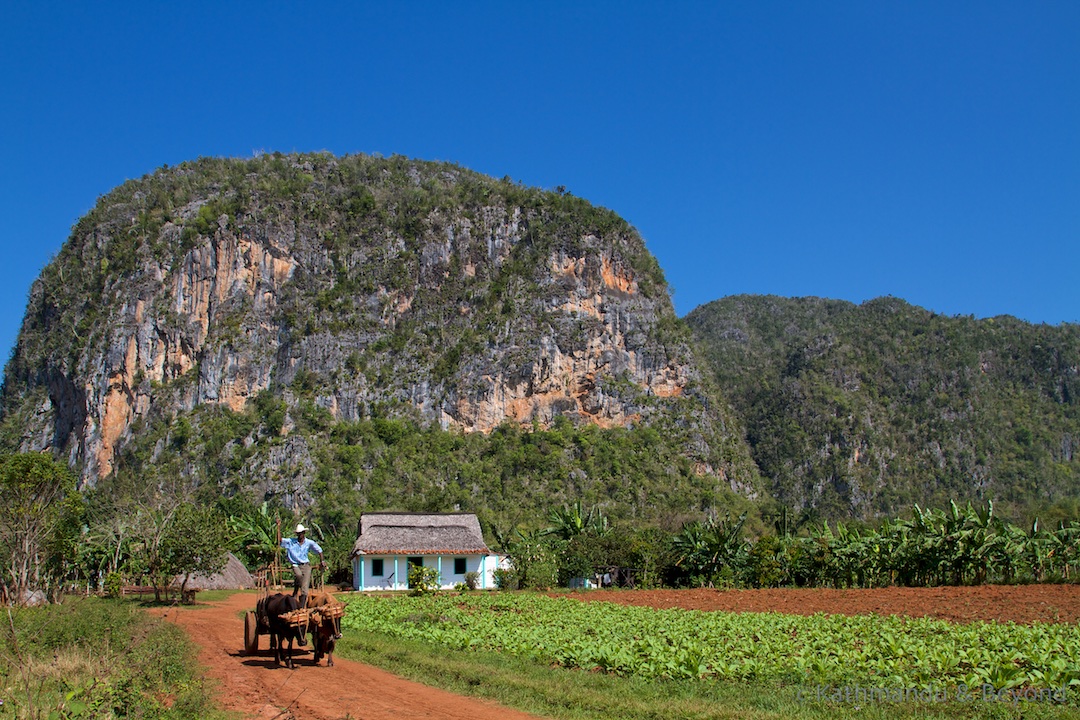 Vinales, Cuba
We had missed our bus from Havana (*) and so arrived on the town's main drag by taxi. Without a reservation at a specific Casa Particulare, we headed off to see what we could find.
(*) It wasn't strictly true that we missed our bus. The bus company never picked us up from the designated point and eventually arranged for a private taxi to get us to Vinales at no extra cost.
The first one we approached was full, but she shouted out to her friend Gladys, who promptly arrived and took us to her home. What a find! Both Gladys and her daughter Janice couldn't do enough for us. I swear I put on a couple of pounds during our three-night stay, the food was that good! We had landed on our feet and spent our days cycling and walking through the gorgeous Vinales countryside, learning Spanish from and teaching English to Gladys and Janice, sitting on the porch chilling and sipping mojitos (Kirsty) and quaffing cerveza (me) in the town's lovely plaza listening to Cuban music around sunset.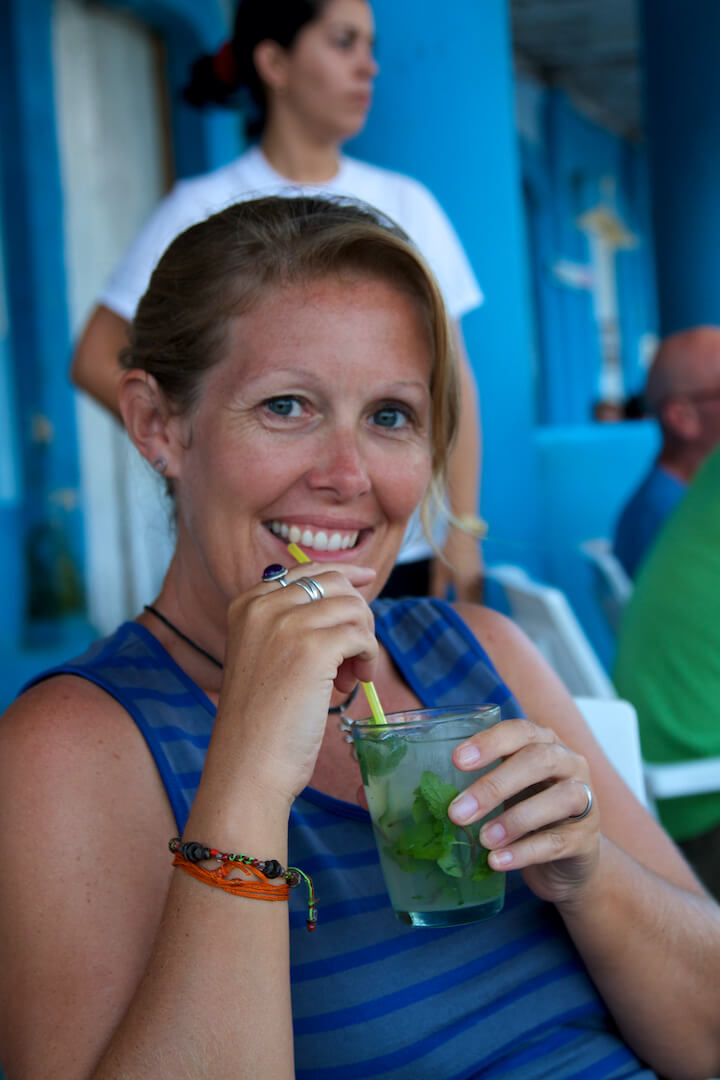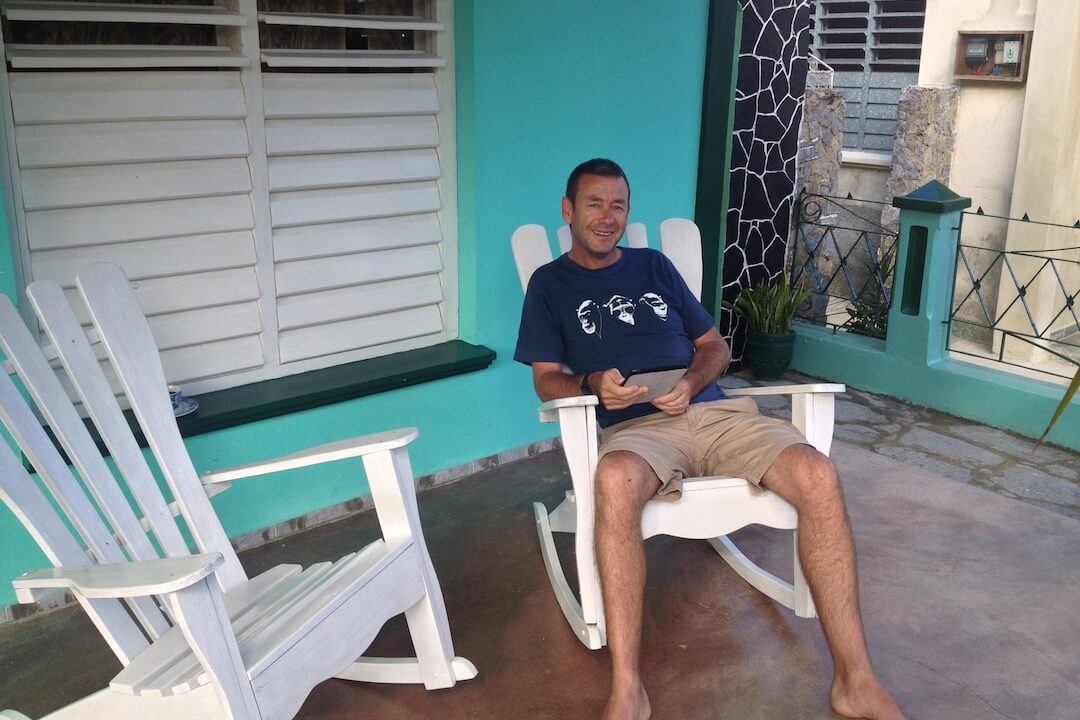 Relaxing in Vinales, Cuba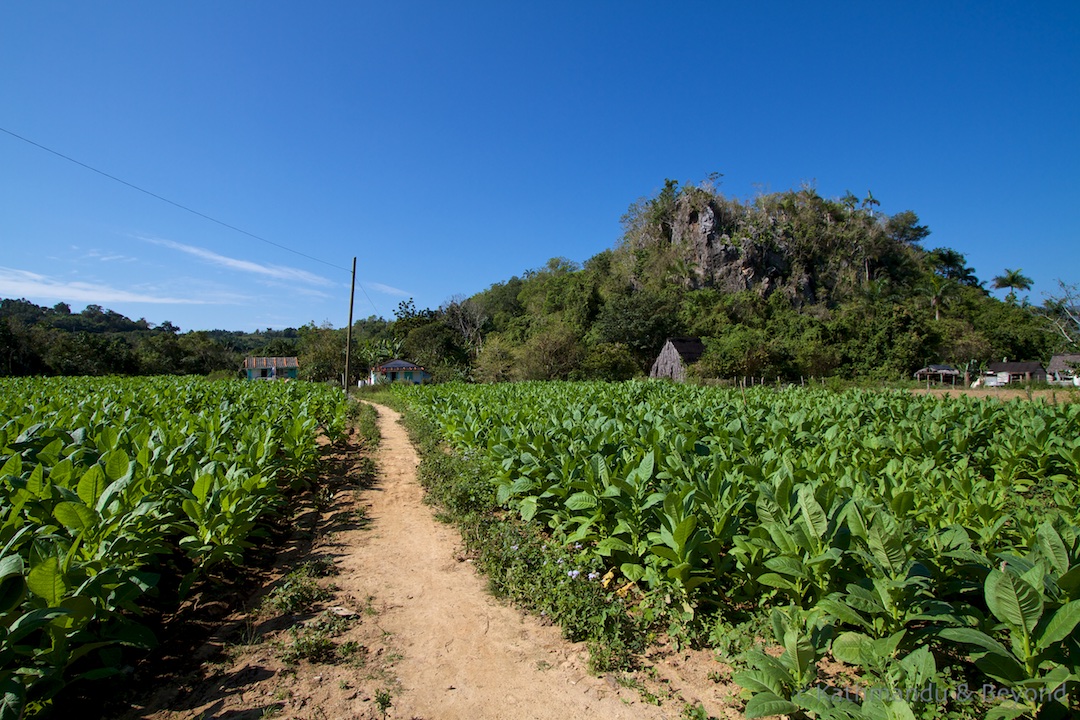 Vinales, Cuba
It was the perfect end to our first but certainly not our last visit to the 'Pearl of the Antilles'. We have plenty more stories; trying to purchase toothpaste in Matanzas (don't ask!), dancing the rumba (badly) at an impromptu street party in Camaguey and riding in a Camel bus (aka the cage) between Ciego de Avila and Moron, but laid-back Vinales holds the fondest memories for both of us.
One final comment. As mentioned earlier, Vinales was the last place on our Cuba itinerary. This worked out really well as José Martí International Airport (which serves Havana) is located on the Havana to Vinales highway. Havana-bound shared taxis leaving Vinales will drop you off at the airport for no extra charge. This saves on a final overnight in Havana and an expensive taxi ride to the airport (US$25 one way). Furthermore, the guys who arrange the shared taxis in Vinales allow those going to the airport to influence the time of departure. They then fill the taxi based around that departure time.
Turkey's classical ruins on the Aegean Coast
As my father would say, 'once you've seen one classical ruin, you've seen them all'. (He says the same thing about snow-capped mountains.) Not true pater, not true. The thirteen classical ruins we visited on our one-month journey along Turkey's coast between Istanbul and Antalya were all quite different. We particularly enjoyed Assos and Pergamum and, of course, Ephesus is very impressive even if it is a tad on the crowded side.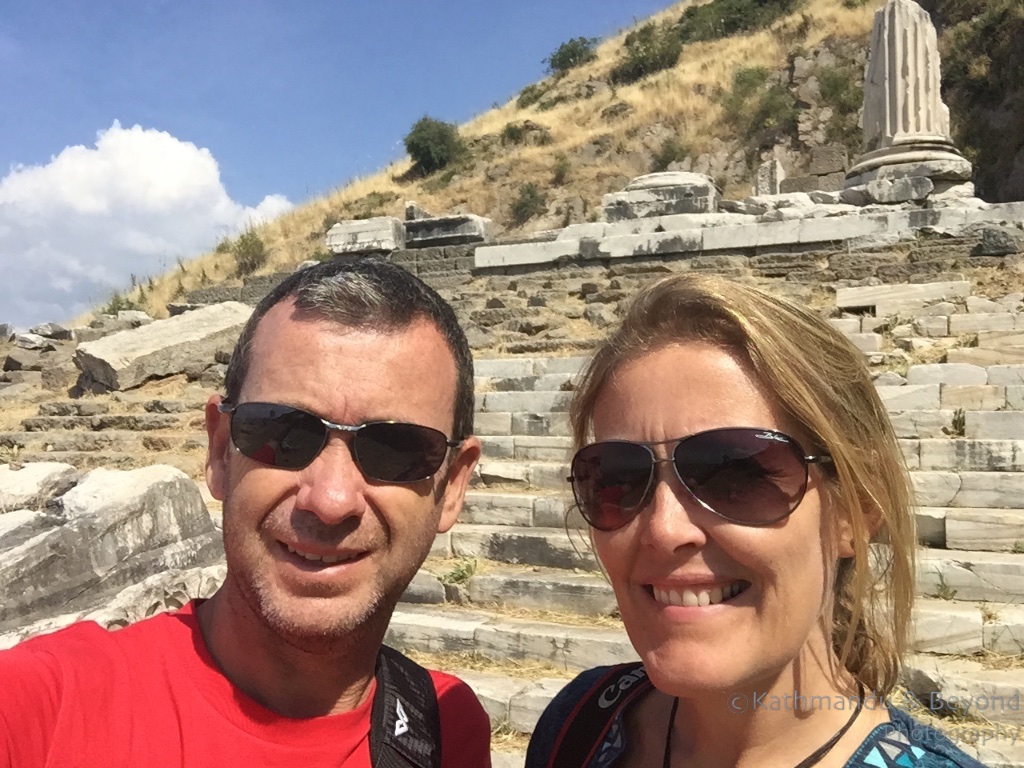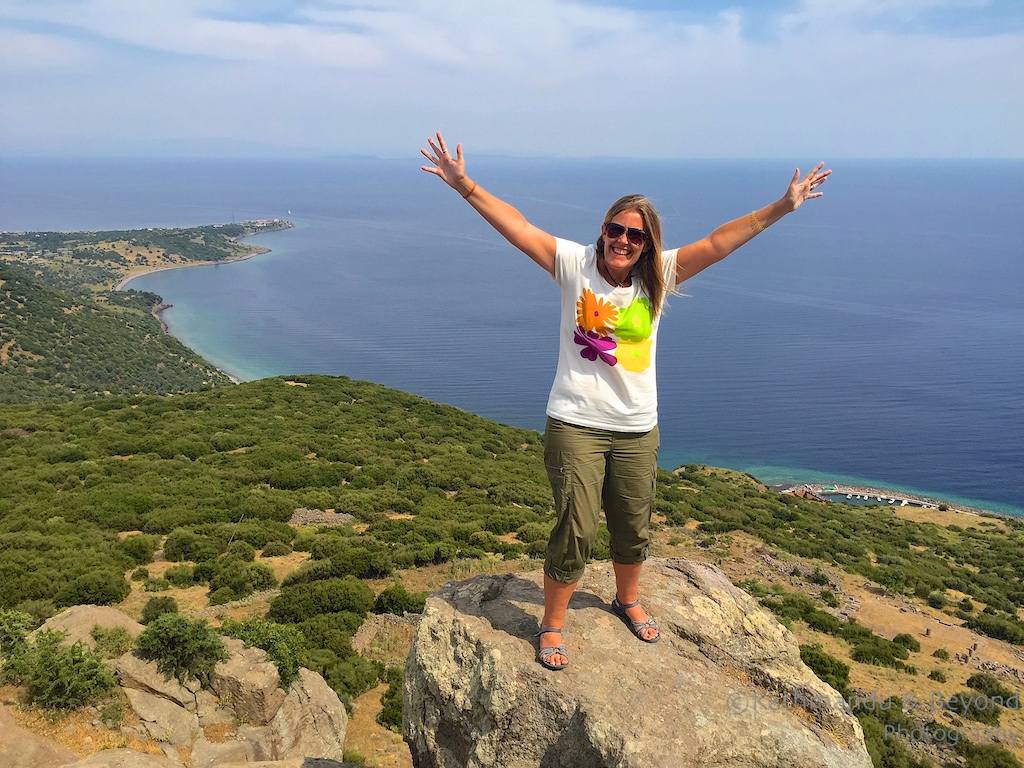 Pergamon (left) and Assos (right), Turkey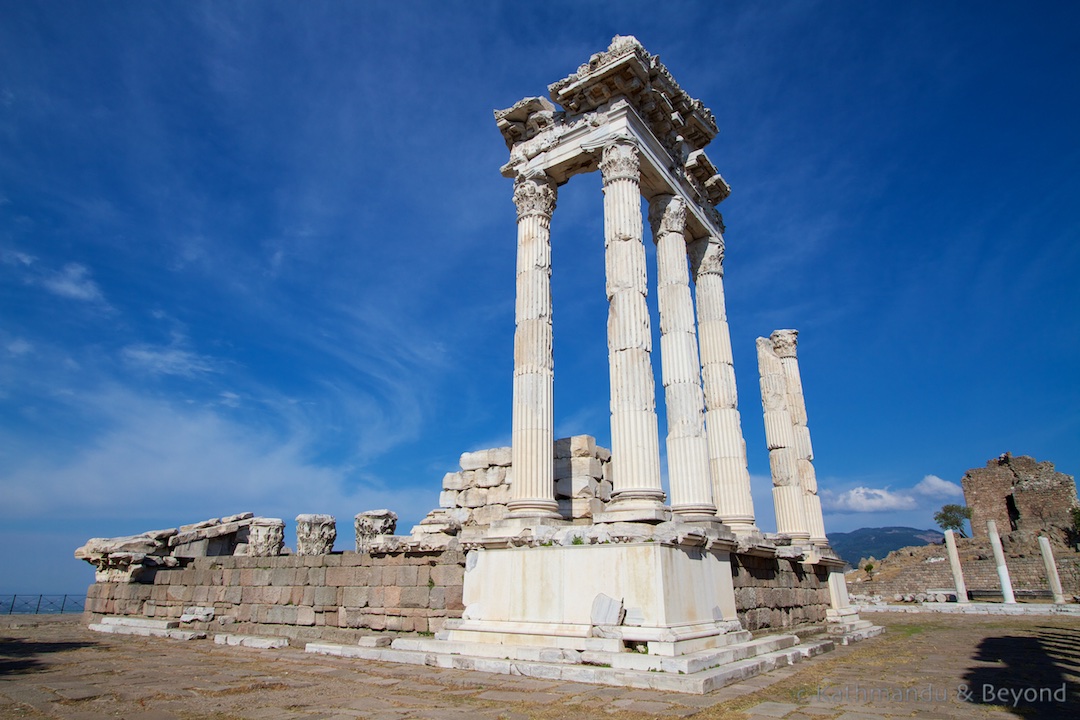 Pergamon, Turkey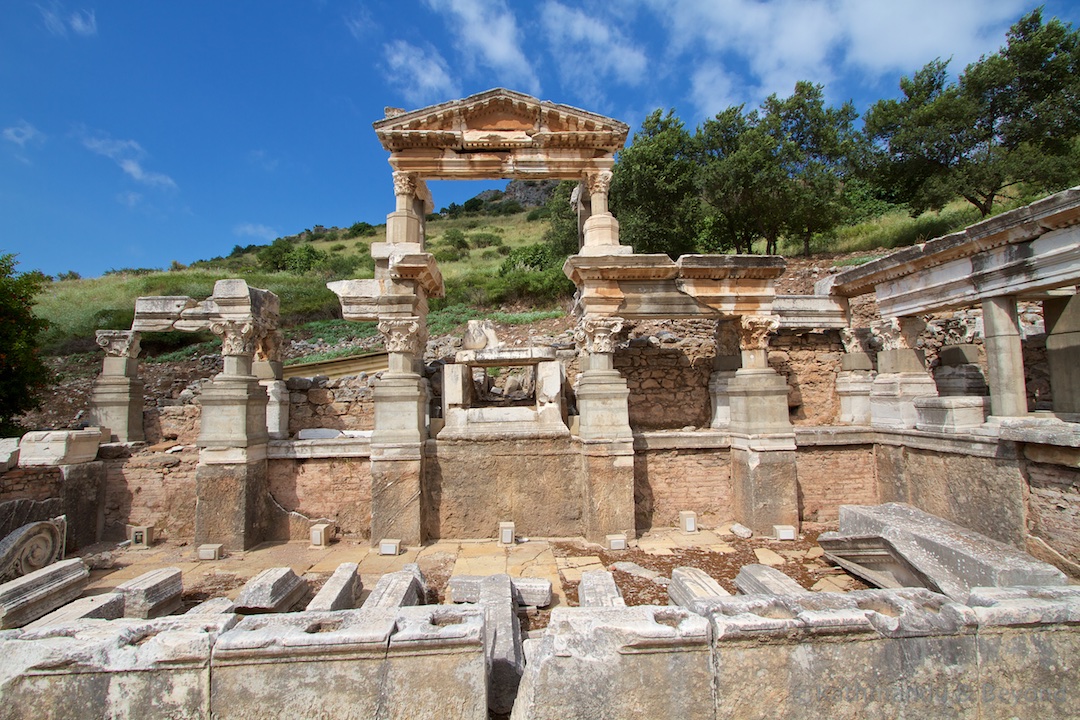 Ephesus, Turkey 
But our best day of temple-bashing had to be the day we discovered hitching. We had made our way to Priene by public transport but didn't know how we were going to get onto Miletus and eventually the Temple of Apollo on the outskirts of Didim.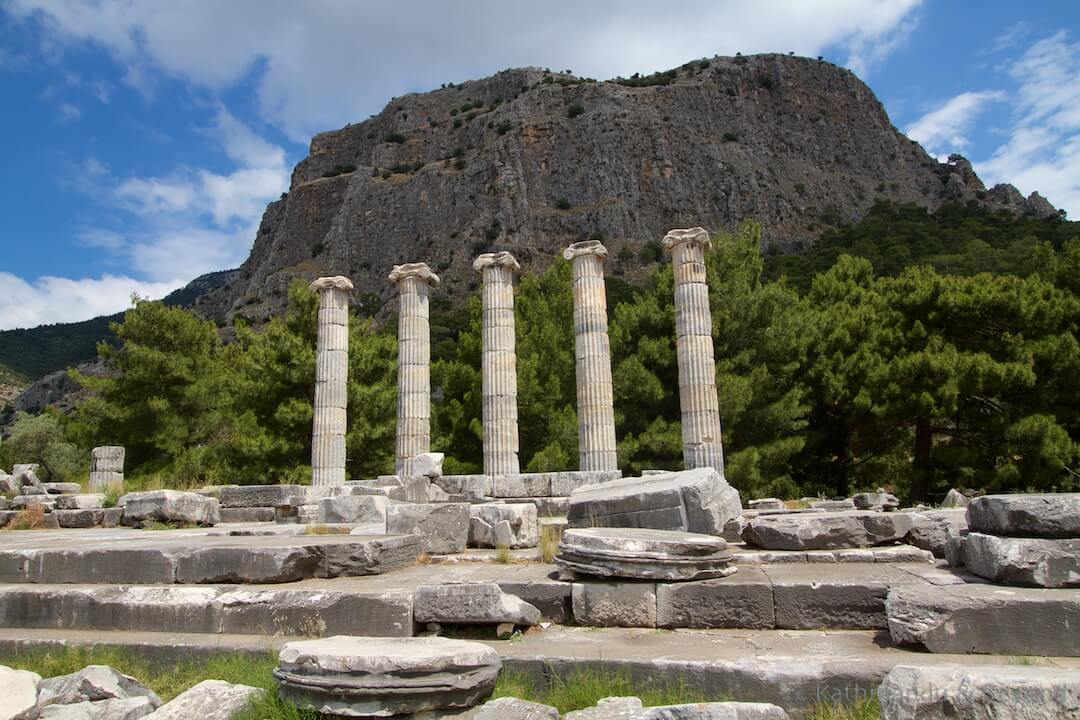 Priene, Turkey
We stood on the side of the road, having hiked down from Priene (it is situated on a big hill), thinking we would have to give up on Miletus and go back the way we had come and rejoin the highway (where there was plenty of transport heading south) when a good-natured man stopped and asked if we wanted a lift. Interestingly, he didn't ask us where we wanted to go, he just assumed it was Miletus.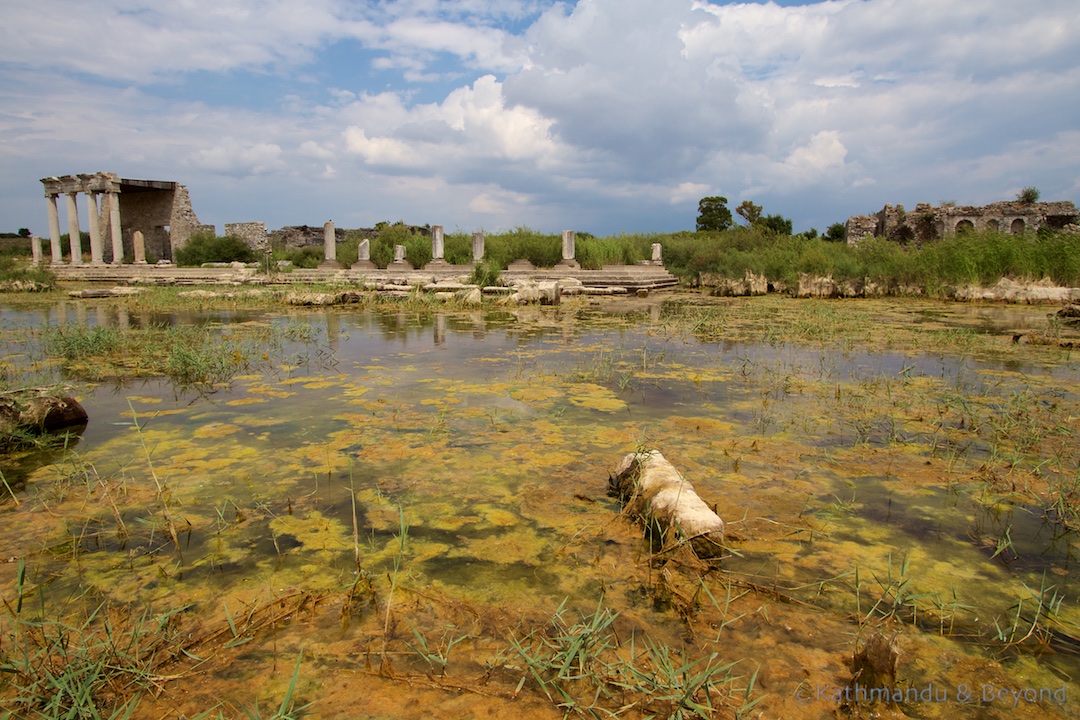 Miletus, Turkey 
He dropped us off within one kilometre of Miletus and we walked the rest of the way. After visiting the site, we did the same again – walked back to the main road and stood there looking stupid. But this time Kirsty gingerly put out a thumb. We didn't even know if it was the right gesture to use to get a ride in Turkey or not. It could have meant your wife looks like a goat and you smell of horse manure for all we know, but it worked and we were soon riding in our second lift of the day. We learnt early on in our hitching career that it is much easier to hitch short distances in remote areas and that you should accept a lift as far as the driver is going and then swap to another lift.
We got to see the Temple of Apollo as well that day and ended up sleeping in the predominantly British resort town of Didim. Tired but showered and with a cold beer in hand we sat at the hotel's al fresco bar recanting our first day of hitchhiking and counting the pennies we had saved by not taking public transport and therefore could spend on more beer!
Srimangal, Bangladesh
After the insanity of pretty much everywhere else we visited in Bangladesh, the tea-growing region of Srimangal 175km northeast of Dhaka, was literally a breath of fresh air. The town itself was scruffy and unremarkable, but take a healthy walk or short auto-rickshaw ride away from the centre of town and you are surrounded by gorgeous tea plantations and friendly villagers (*).
(*) Everyone is friendly in Bangladesh, it is almost a redundant word.
Glorious scenery and fresh air aside, our stay in Srimangal was enhanced by meeting up with Doug, a friend of ours whom we first met in India five years before. We had stayed in touch ever since and, even though Doug is almost as resistant to technology and social media as I am (no phone, no laptop, no tablet!), we somehow managed to make a plan to meet up in Srimangal.
Meet we did and over the next few days, along with fellow long-term traveller Fernando, we had fantastic fun trekking through plantations from one village to the next. In each village, we felt like the piped piper of Hamelin as scores of children followed us around, vying for our attention and pleading for their picture to be taken. The photos here were taken in Ramnagar Village.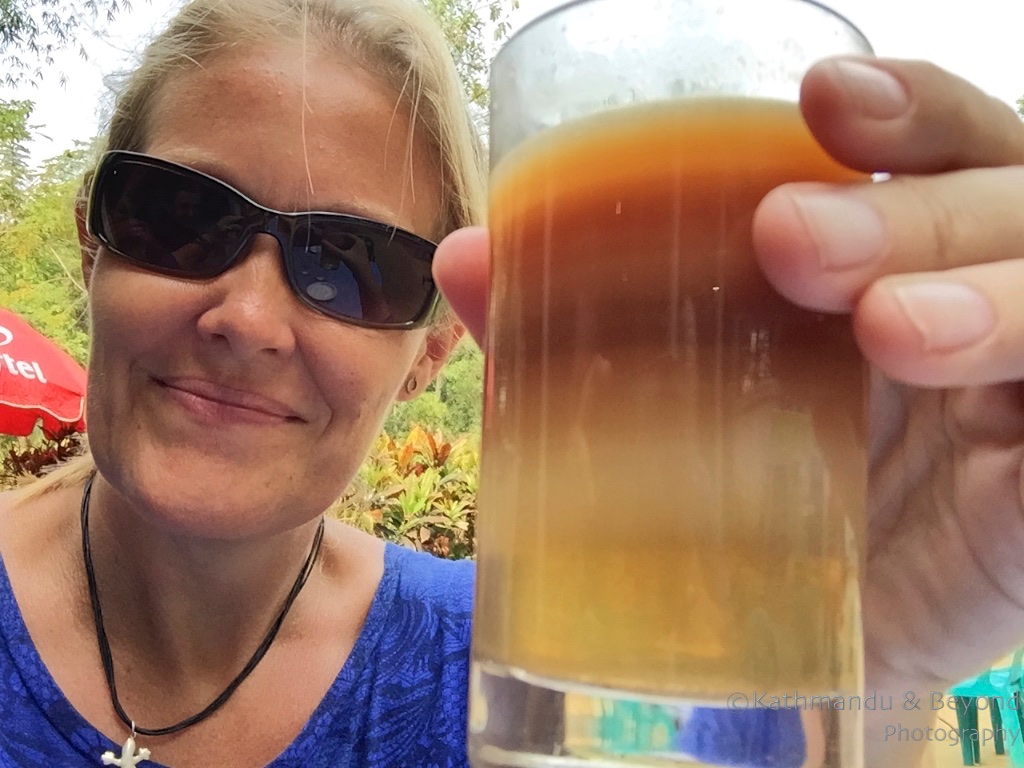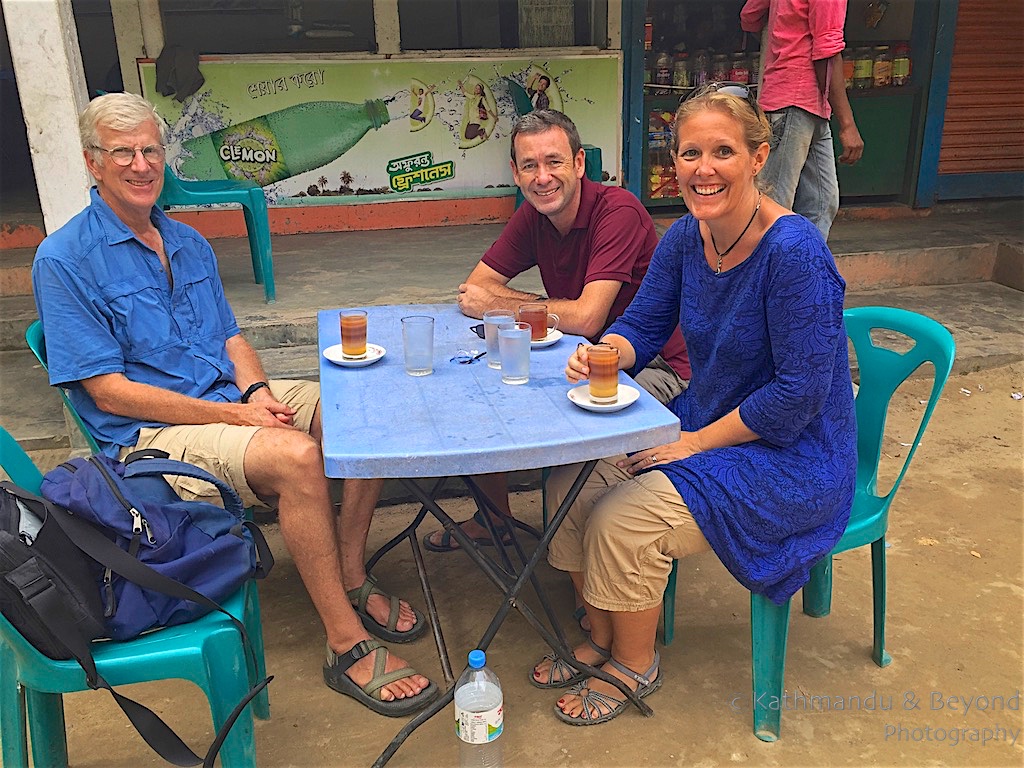 Drinking seven-layer tea on the outskirts of Srimangal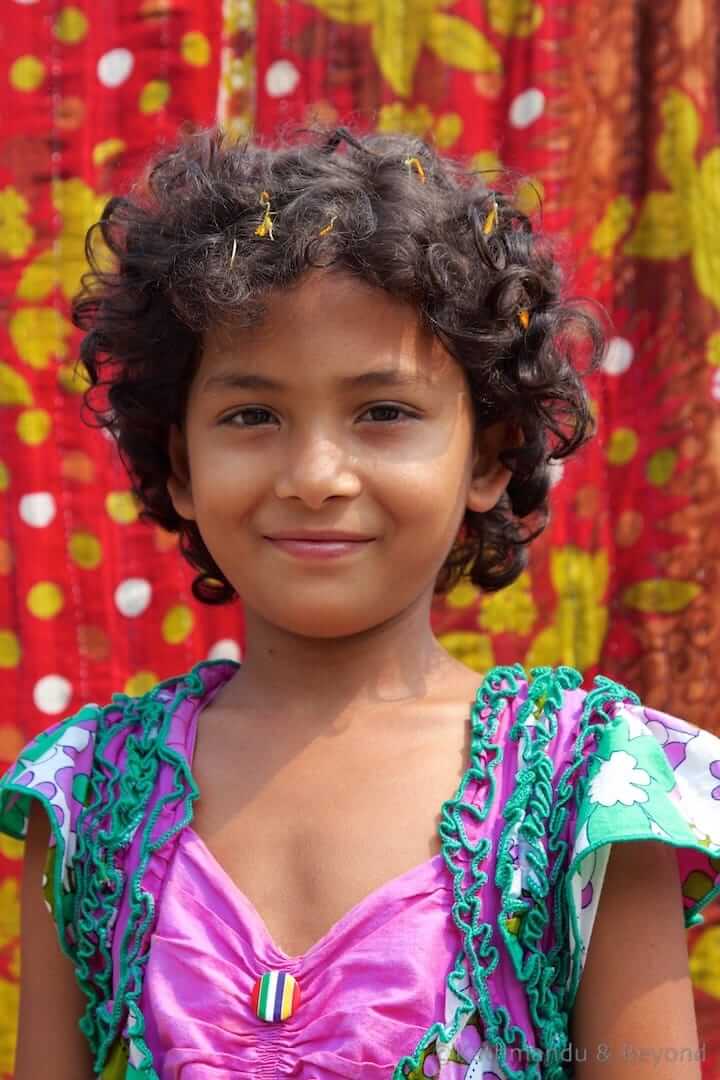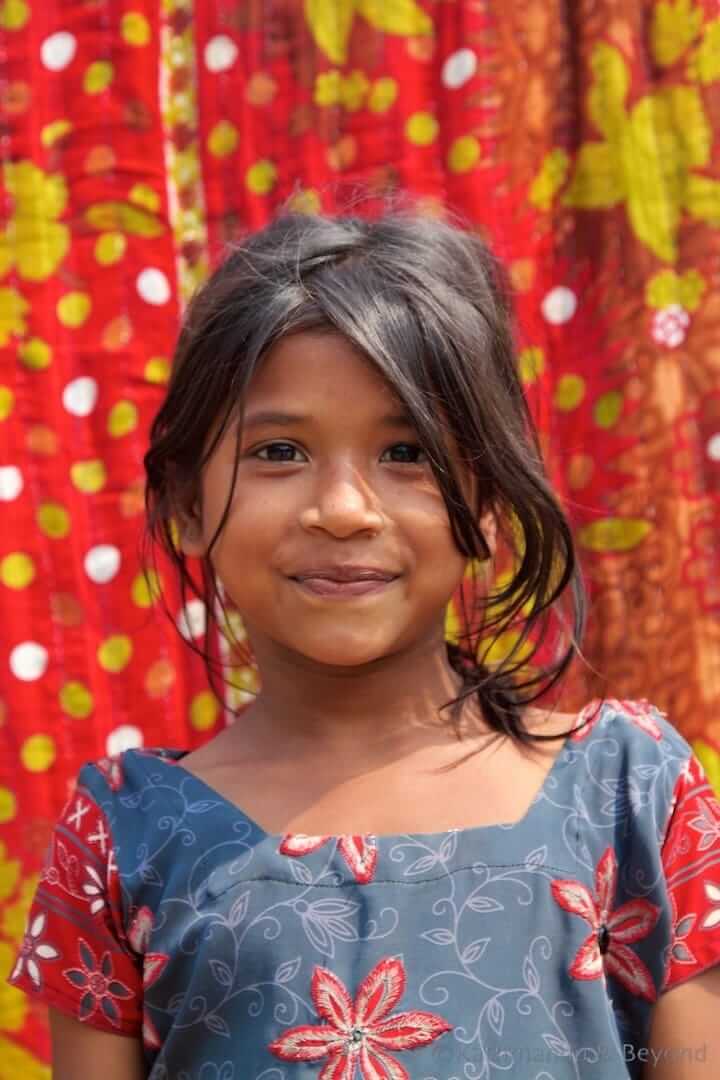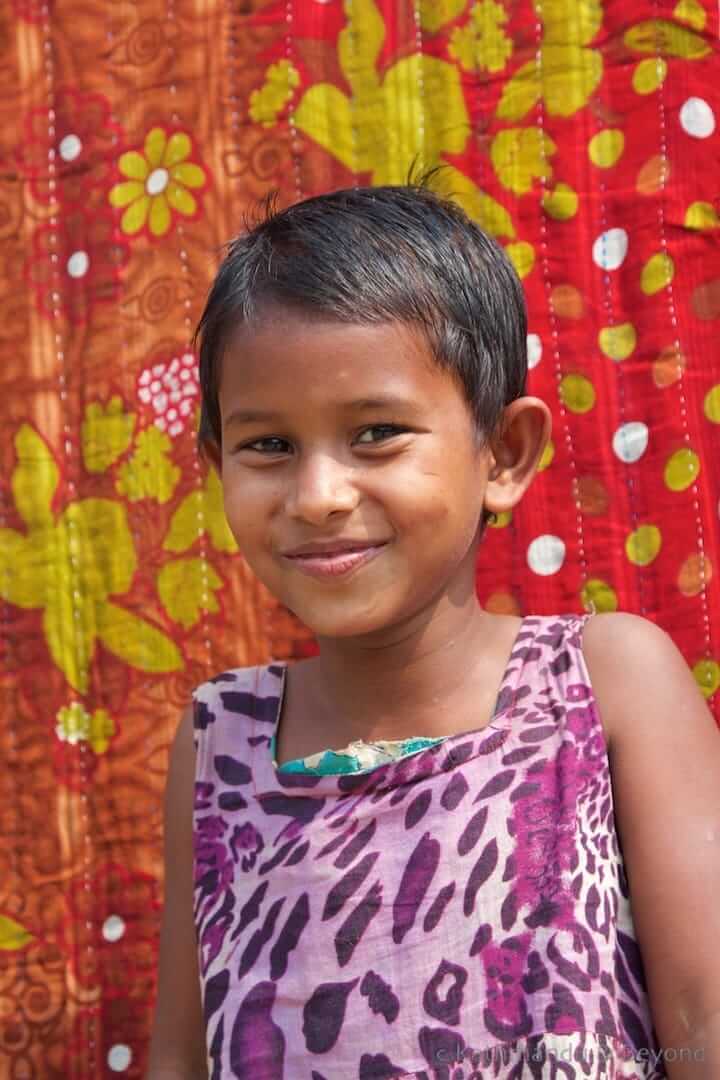 Bangladeshi kids lining up for photos in Ramnagar
We had such a vast number of children chasing after us, all jostling for a photo, that in the end, Kirsty got them to line up in an orderly manner (which surprisingly they did) and have their photo taken one by one. That's why the background is the same in each photo. It was a great day out and we rounded it off with a cup of famous seven-layer tea and a packet of biscuits. Oh yes, we partied hard in Bangladesh!
Agdam, Nagorno-Karabakh
For the sheer adrenaline rush, Agdam has to be the singular best adventure we have had in the past two years (*). Not since my twenties have I been anywhere as nervy as Agdam and being there reminded me that I must do more of the same in the future. I won't go into detail about our visit, you can read all about it here, but the day was made even better by a) getting out without incident and b) finding a very nice place to stay in Sushi that evening and recanting the day's events in good company over a couple of cold beers and a pretty good roast chicken supper. A great end to a great day!
(*) Kirsty might not agree totally with this but Mark's writing the story!
The former mosque in Agdam, Nagorno-Karabakh
Agdam, Nagorno-Karabakh
Discovering all seven countries of the former Yugoslavia
What a find! I know we are not the first tourists to wax lyrical about the former Yugoslavia but Serbia, Croatia, Slovenia, Kosovo, Macedonia, Bosnia-Herzegovina and Montenegro (*) are all quite distinct from each other and, although we have now been to all seven countries, we haven't seen everything they have got to offer and the region is high on our agenda for a return visit.
(*) There's a good pub quiz question for you. Also, try naming all seven capitals?
Zagreb, Croatia
It goes without saying that the region is ethnically diverse, it was after all the main reason for the Yugoslav Wars, but you don't realise quite how different each country is until you visit. Favourite places for us include Sarajevo, where we got interviewed in the former Holiday Inn, the drop-dead gorgeous lakes of Bled and Bohinj in Slovenia, Mostar, Split, Belgrade and many more – the list goes on.
If we have to pick one place, however, it would probably be Kotor in Montenegro.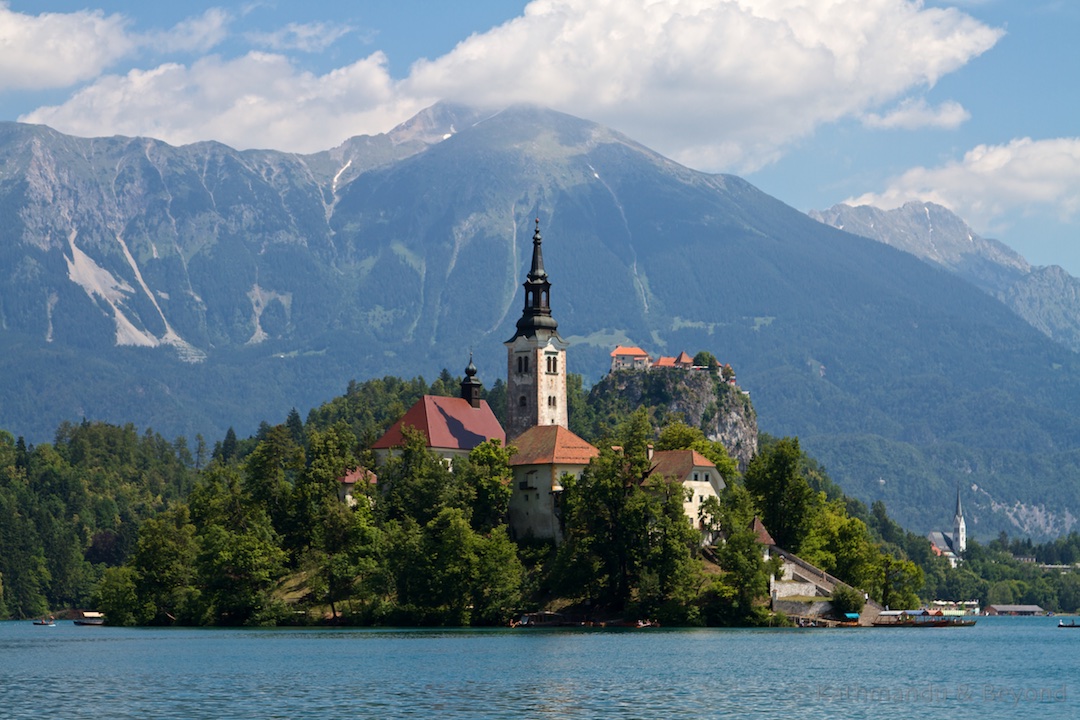 Lake Bled, Slovenia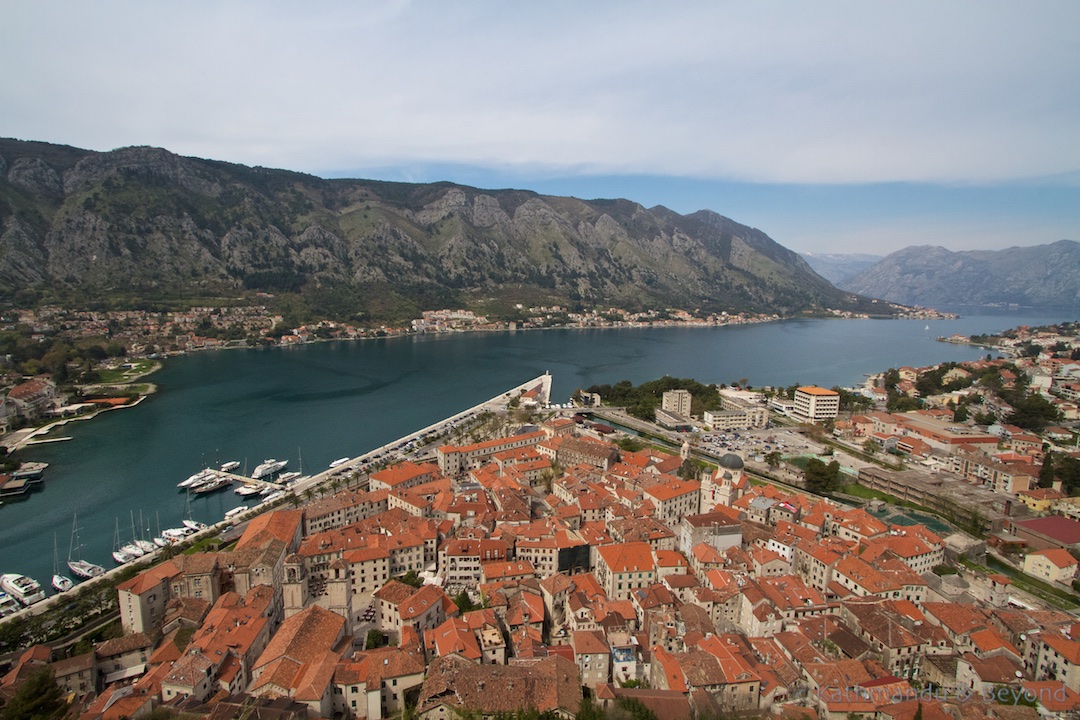 Kotor, Montenegro
After the disappointment of the capital, Podgorica (there's not a lot there), Kotor and the surrounding bay were stunning beyond comparison. Granted we had good weather and we stayed in a small apartment owned by two very nice brothers, who would bring us cooked dishes and wine to complement our own home-cooked evening meal, but the whole experience was great. Give me Kotor any day over busy Dubrovnik!
Those of us who didn't visit Yugoslavia when it was one country can only wonder in awe at what a high-quality tourist destination it must have been. All that diversity in one country! My early memory is of my aunt and uncle, who used to visit nudist camps on the Dalmatian Coast, but I guarantee you there was more to the region than that!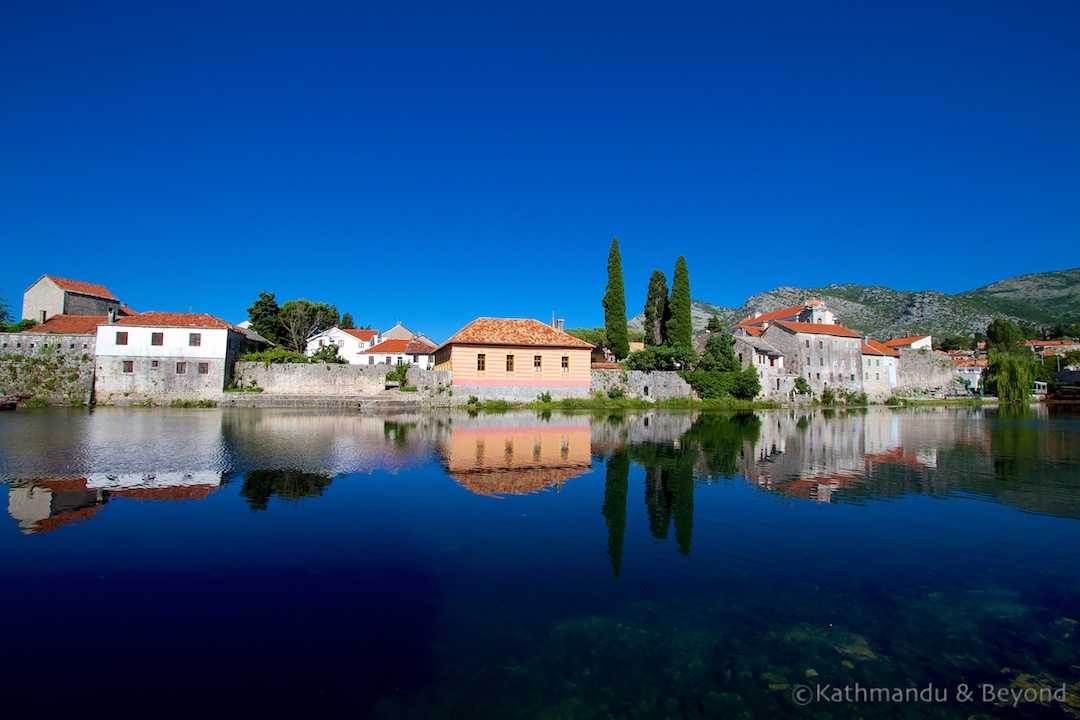 Trebinje, Bosnia and Herzegovina
Isla Mujeres, Mexico
Spitting distance from Cancun, Isla Mujeres is a different world altogether. Don't get me wrong it's not all tropical island paradise. It has more than its fair share of tourists (although a lot come over from the mainland on day trips and disappear again at night) and accommodation and eating out is pretty expensive in comparison to much of Mexico, but there is something about this Caribbean island that is very addictive.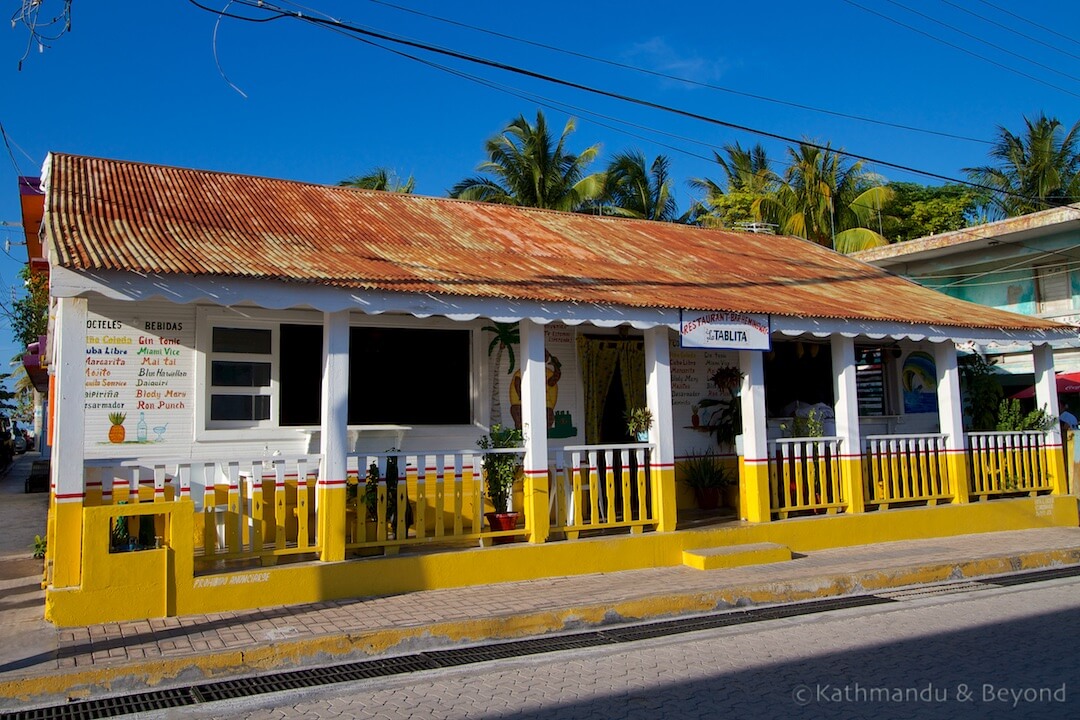 Isla Mujeres, Mexico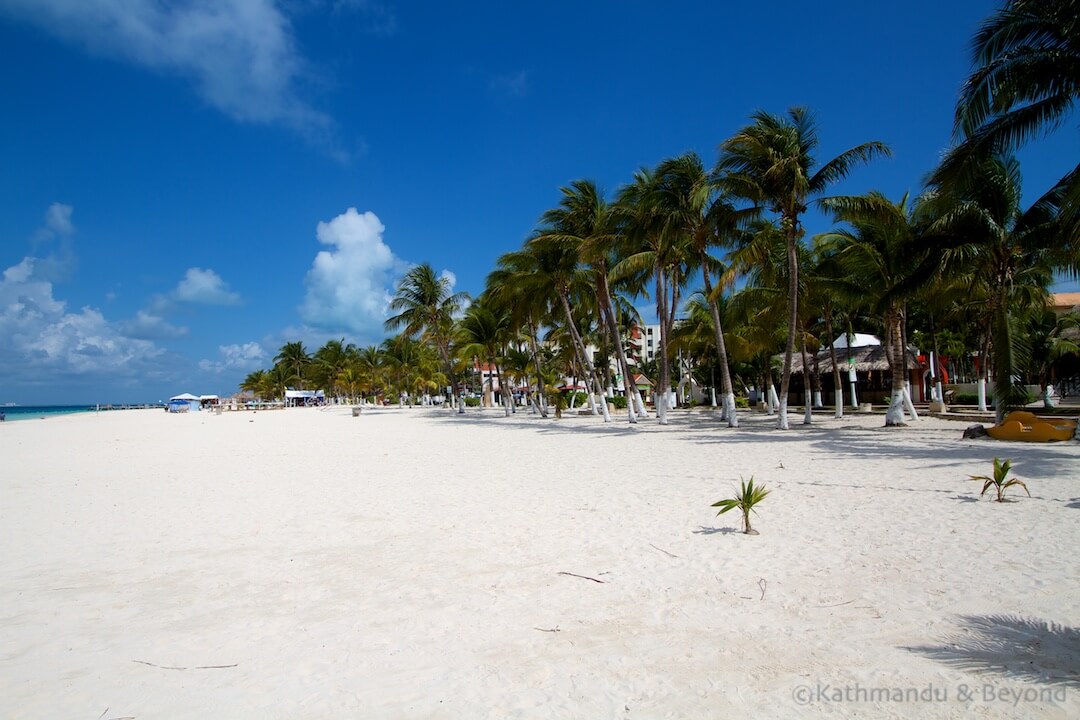 Isla Mujeres, Mexico
We were there in early May 2014. This is the low season so we got a good deal on a small apartment (about $40 a night from memory). We stayed about a week and built up a nice routine during that time. Kirsty had mastered the art of making a mean Mexican breakfast; eggs, guacamole, refried beans and tortillas, so we would get up early and drink a coffee to wake ourselves up. Then we'd head to the beach for a couple of hours, returning late morning for said breakfast and to duck out of the midday sun. Then we would head back down to the beach for another few hours, come back around 5pm, shower and then head back to the beach for the third time in a day but this time laden with a few tins of ice-cold cerveza. Bum firmly plonked in the sand, we would watch the sun set and drink the ice-cold cerveza before eating out or returning to the apartment and cooking something. Dinner over, we would relax with a bit of television before bedtime and it was Goodnight Vienna, job done blah blah blah until the morning when we would get up early, drink coffee and so on and so forth …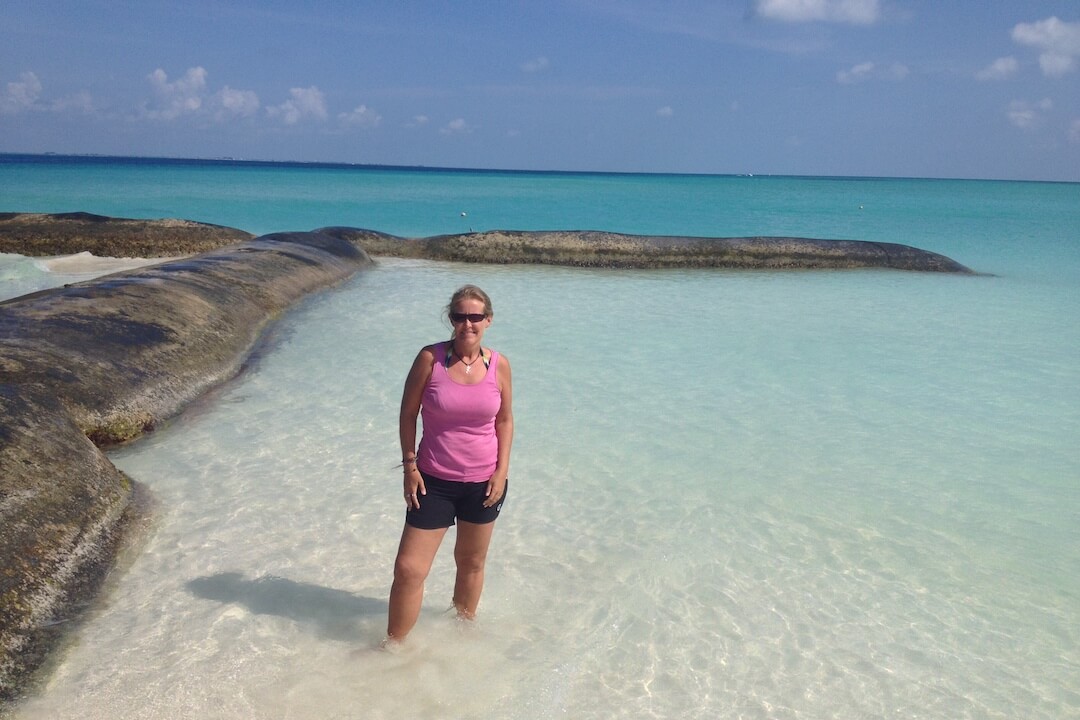 Isla Mujeres, Mexico
Bali, Indonesia
'Do you want to work in Bali for three months?' This was the question asked of us by one of the companies we do contract work for in Asia. You couldn't make it up. Out of all the work postings we've had so far, Bali is probably our all-round favourite.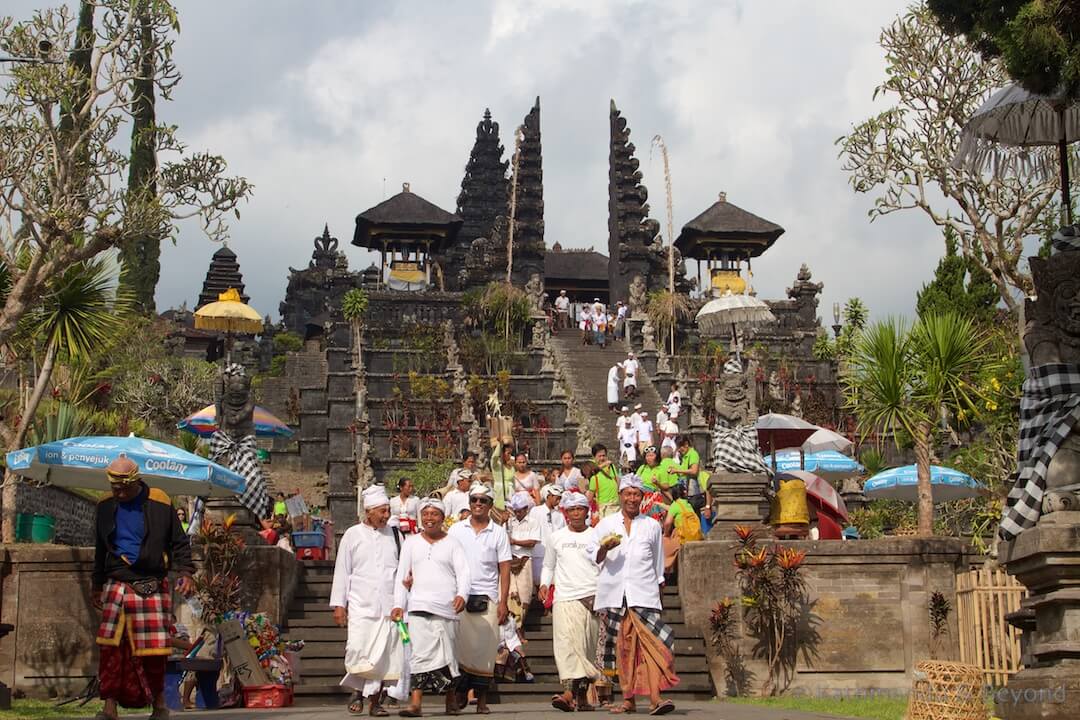 Bali, Indonesia 
We had a nice apartment in Sanur, one of the more low-key places to live on the island, a fine beach five minutes' walk away and because of what we were doing (research and market development for a travel company), we got to see a lot of the island as well. Trust me, away from trashy Kuta and congested Ubud, Bali is still a stunning island with loads to see and do.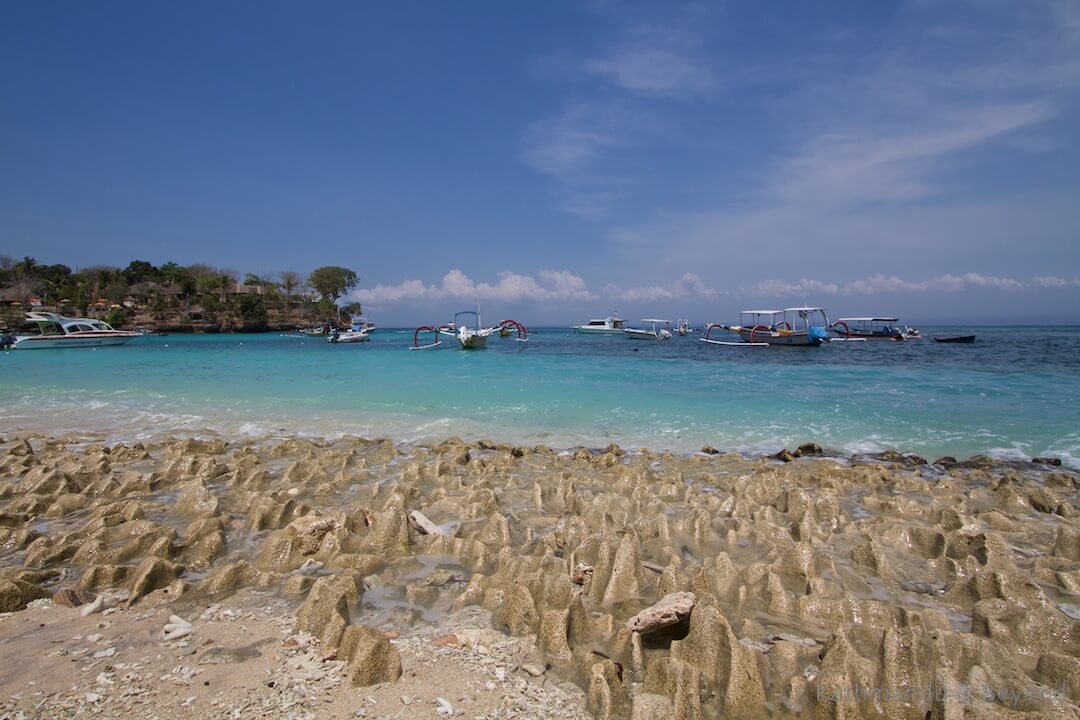 Lembongan Island (Bali), Indonesia 
West Bali National Park, Indonesia 
We got up to West Bali National Park, saw some incredible rice terraces at Jatiluwih, celebrated our fifteenth wedding anniversary on a beach (*) and even became movie stars for the weekend.
(*) The celebration didn't exactly go to plan. The intention was to have one or two drinks at our favourite beach bar and then go somewhere posher than usual for dinner. We just ended up getting hammered at the beach bar and not going anywhere else. There is always the next one!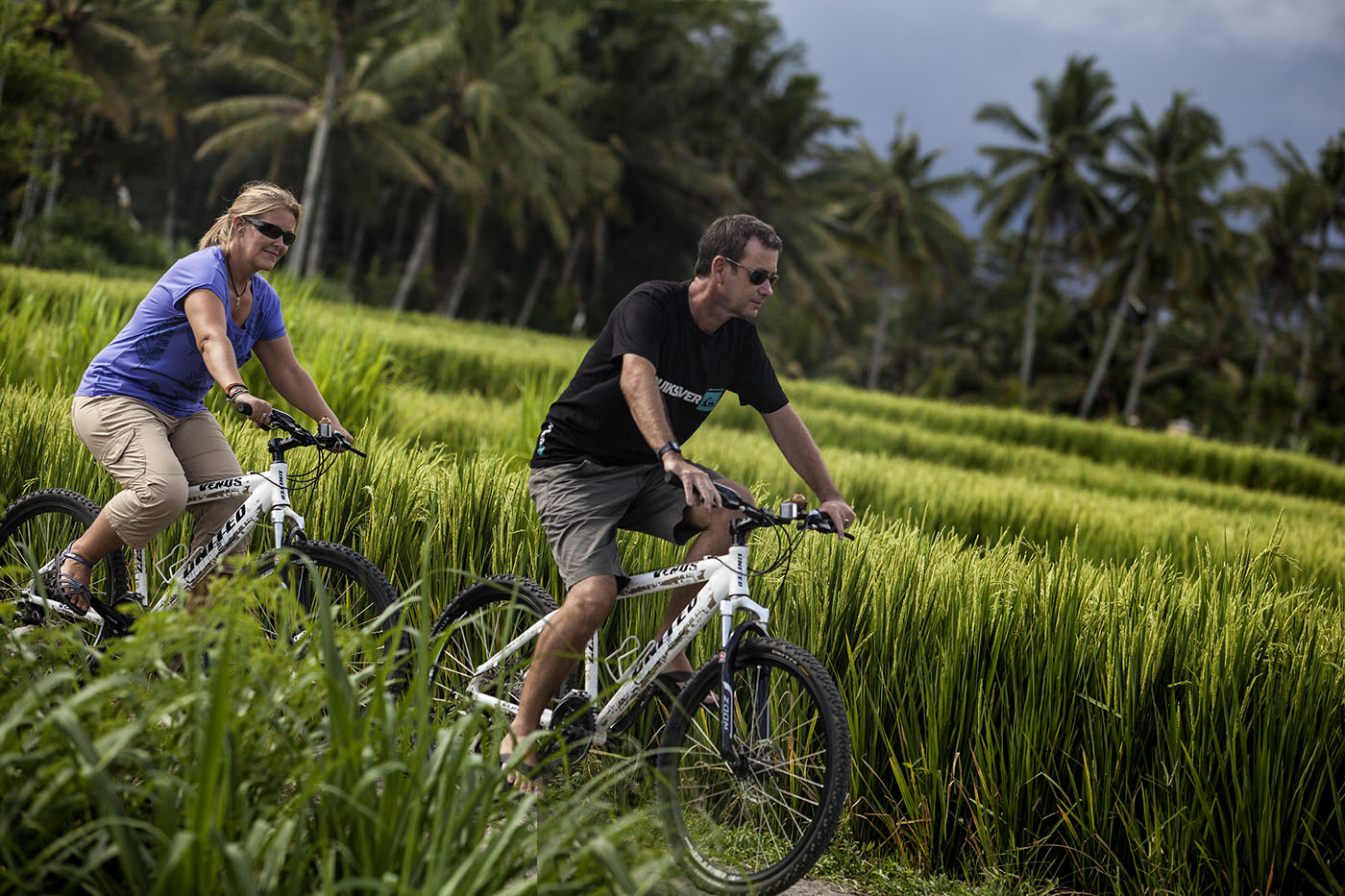 Bali, Indonesia 
Brucey Bonus: Being introduced to television programmes by fellow travellers
This stretches back more than two years, but over the course of our travels we have received some great recommendations for movies and television series from fellow travellers. Back in the UK, we were happy with our Freeview box and whatever was on that evening. We didn't really know about HBO, AMC, Netflix etc and we were certainly clueless about torrents and downloading (ssh, we still are!). Then we met fellow travellers and a whole new world of visual entertainment opened up before us. 'Have you seen Game of Thrones?', 'You must watch Mad Men', 'Try The Americans'. Our heads were in a spin! We like to watch something for an hour or so in the evening (that's probably why the blog isn't where it should be – lack of dedication!) and were watching the same old programs over and over again or worse, turning on the television in the room and spending an hour or so trying to find something vaguely decent to watch.
Of all the recommendations, three of our favourite comedy shows are The Mighty Boosh (BBC), Flight of the Conchords (HBO) and The Inbetweeners (Channel 4). All are hilariously funny and perfect pre-bedtime watching, especially if you have had a couple of beers! Get hooked if you aren't already!
---