Armenia itinerary – What to see in Armenia in 2 weeks
ARMENIA ITINERARY SUMMARY
Yerevan – Gyumri – Vanadzor – Debed Canyon – Dilijan – Lake Sean – Yerevan, plus an optional extension to southern Armenia
ARMENIA ITINERARY HIGHLIGHTS
Yerevan – a youthful city with a great cafe scene
Ancient monasteries – Armenia's countryside is peppered with many impressive Christian Orthodox monasteries
Debed Canyon – some of the most dramatic scenery in Armenia, with monasteries
Lake Sevan – picturesque high-altitude lake, with monasteries too!
Number of countries: 1
Number of UNESCO sites: It's possible to see all of Armenia's World Heritage Sites on this itinerary. Armenia has UNESCO three listings, comprising of five different attractions. 
Best time to travel: Armenia is an all-year destination although Spring and Autumn are considered the best months to travel. It can get very cold in the winter and stiflingly hot in the summer but if you're prepared, it's not a bad time to travel to Armenia.
Recommended duration: 2 weeks minimum
Best places to slow the itinerary down: Yerevan
Mode of transport: Predominately by marshrutka (fixed route minivans), but a few taxis will make things a lot easier
ARMENIA ITINERARY INTRODUCTION
One of the oldest civilisations in existence, Armenia is a land of deep blue lakes, rugged landscapes and ancient stone monasteries with a complex history. When it comes to the question of what is there to see in Armenia, it is a difficult country to describe – yes, it has all of the above yet it feels as though there is much more to Armenia. Yerevan is appearing more and more on 'hot cities to visit' lists and it is indeed Armenia's beating heart. 
Few travellers treat Armenia as a stand-alone destination and most combine it with Georgia. This does make sense, but ensure you allocate enough time to discover Armenia properly rather than treat it as a rushed side-trip. The extra effort required to get to Armenia means it remains an off-the-beaten-path region.
If your main interest in Armenia is its ancient monasteries and scenery, you could arguably base yourself in Yerevan and take several day trips with, perhaps, a couple of overnight stays. But if you want to really know Armenia, get a feel for its Soviet past, as well as see some of the rapid changes, you should consider this complete Armenia itinerary.
We've covered everything included in the Armenia itinerary here in previous posts, however, this one pieces it all together in a comprehensive circuit around Armenia.
ARMENIA ITINERARY IN DETAIL
Our suggested Armenia itinerary starts in the capital Yerevan, although most travellers will have arrived in the country overland, most likely from Georgia, rather than directly into Yerevan by air. More in the 'Getting to Armenia' section below. 
Yerevan – suggested length of time: 3 nights
You could spend a week or more in Yerevan taking day trips and see quite a lot of Armenia without having to check out of your hotel or lug your bags on and off cramped marshrutkas. But while that style of travel suits some, taking a lot of day trips can use up a lot of sight-seeing time, especially if you are using public transport for all the visits. 
Yerevan is a fantastic wander-and-see-what-you-find city. It doesn't have a great long list of 'don't miss' attractions but with its eclectic mix of post-Soviet vibe, Middle Eastern influence and Europe-looking spirit, Armenia's capital appeals to many. 
We have written a comprehensive guide covering what to see in Yerevan so will touch only on the highlights here. Downtown Yerevan is compact, and it is easy to cover most of the main sights on foot. If you become tired, the city has an easy-to-follow Metro system that will save you some energy. Marshrutkas and city buses criss-cross the city but can be hard to fathom for a first-time visitor. However, taxis are cheap and you can use a local Uber-equivalent like Yandex to save explaining where you want to go, or from getting taken too far round the houses to your location. 
Republic Square is Yerevan's focal point and is a logical place to start a walking tour. There are some distinguished buildings on the square, including the History Museum of Armenia and the National Gallery of Armenia. The central fountain is the main meeting point for both tourists and locals and has an attractive nightly light show. From Republic Square, walk to Freedom Square and stroll through Vernissage market, an open-air flea market dating back to Soviet times. Continue to the Cascade Complex, one of Yerevan's most recognisable landmarks. Climb the massive stone staircase that runs beside the terraces and sculpture gardens for a great view across Yerevan. If are you really lucky, you might get a clear view of Mount Ararat in the distance. From the top of the Cascades, it is a short distance to the Memorial of the 50th anniversary of Soviet Armenia. Continue to Victory Park, and the Mother Armenia Memorial Complex.
By this point, you will have walked at least four kilometres (not including any deviations) from Republic Square to Mother Armenia so you may want to take a taxi or marshrutka back to the city centre. If you decide to walk, we recommend retracing your steps via the Cascades to avoid the unpleasant walk along the main road (you can always take the escalator down from the Cascades!). If you want to visit the Matenadaran museum, detour along G. Emin Street which leads off the Cascades.
Even though Armenia's countryside is dotted with monasteries, Yerevan doesn't boast many noteworthy religious buildings. However, Saint Gregory the Illuminator Cathedral is impressive if only for its size – it is the largest cathedral of the Armenian Apostolic Church even though it is only twenty years old. The 18th-century Blue Mosque on Mesrop Mashtots Avenue has a beautiful turquoise-blue tiled dome and is the only mosque in Armenia. 
One place that you should make time to visit is the Armenian Genocide Memorial Complex. Also known as Tsitsernakaberd, the attached museum will teach you about a significant piece of Armenian history. It's a little way out of the city and not easy to reach by public transport but, nevertheless, the complex is one of the country's most poignant places of pilgrimage for Armenians and a must-see for anyone visiting Yerevan.
Yerevan has a great cafe culture, so without rushing around the city and allowing time to enjoy the outdoor cafes and wine bars, everything we've mentioned so far will take up two days. 
Yerevan is considered an alternative city by many, but some of the less-conventional sights include the Kond Pedestrian Tunnel and the Children's Railway. Our detailed what to do in Yerevan post also highlights some of the city's offbeat sights such as the Former Control Tower at Zvartnots International Airport and the Karen Demirchyan Sports and Concerts Complex. These places are undoubtedly more niche but will appeal to travellers with an interest in Armenia's Soviet-era architecture.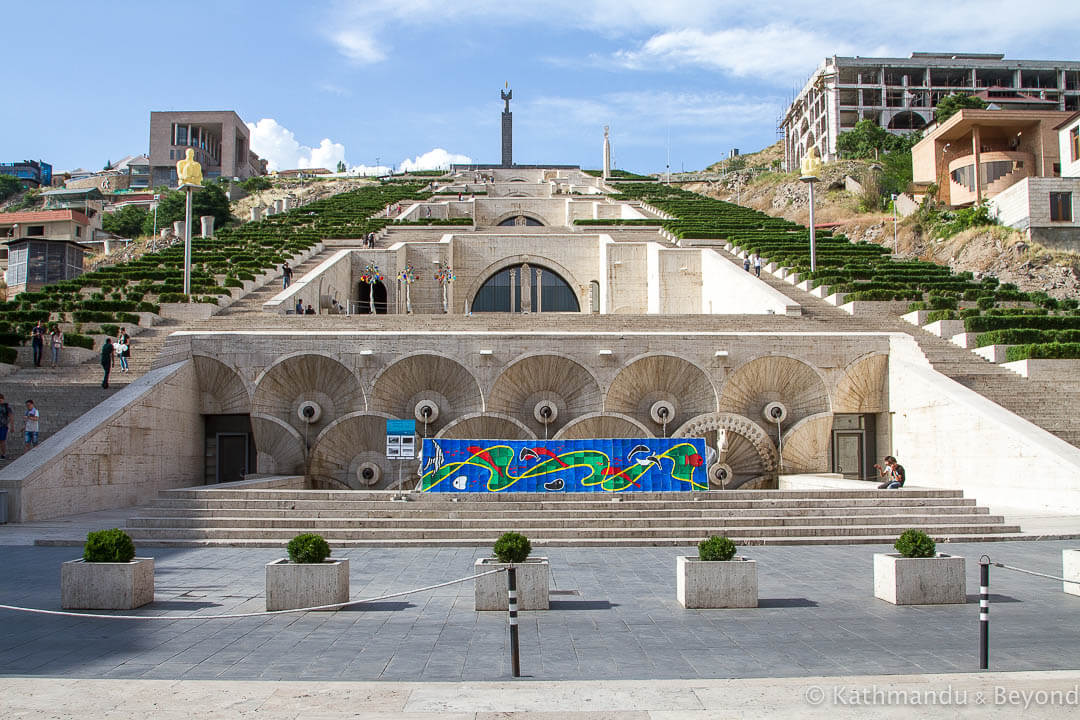 Yerevan Cascade
Day trips from Yerevan
There are several Armenia highlights within proximity of Yerevan and best visited as day trips. These include Garni Temple, Geghard Monastery, Zvartnots Cathedral, the Mother See of Holy Echmiadzin, Armenian Alphabet Monument, Sardarapat Monument, and Khor Virap. Depending on how many day trips you want to do, and how quickly you tick off the sights in Yerevan, you may need to add some more nights in the capital.
Where to stay in Yerevan
Should you decide to extend your time in Yerevan, the city has a wide range of good-value accommodation for all budgets. Envoy is probably the best-known hostel in Yerevan and is known for its sociable atmosphere and sightseeing tours. Dorm beds are relatively good value, however, at around €30 per night, the private double rooms may not represent the best value in Yerevan. On our last few visits to Armenia, we have stayed at Glide Hostel, a welcoming family-run hostel in Yerevan's suburbs, but well-connected by Metro. You can see all of our Yerevan accommodation recommendations here in our Yerevan post.
Yerevan to Gyumri
Of course, you can travel around Armenia by private car or taxi (and relatively cheaply too), but our itinerary assumes that public transport will be your first choice.
For the journey between Yerevan and Gyumri, you can travel either by train or marshrutka (fixed route minivan). Regular trains take between 2½ and 3 hours, and on weekends there is a morning express train that takes just over 2 hours. The regular trains are traditional Soviet-style carriages and not as comfortable as the newer express trains, but it's only a three-hour journey and much less cramped than a marshrutka.
Yerevan to Gyumri train schedule
| | | | | | |
| --- | --- | --- | --- | --- | --- |
| Monday | 07:55 – 11:03 | | 14:25 – 17:30 | 18:25 – 21:50 | |
| Tuesday | 07:55 – 11:03 | | 14:25 – 17:30 | 18:25 – 21:50 | 21:30 – 00:10 |
| Wednesday | 07:55 – 11:03 | | 14:25 – 17:30 | 18:25 – 21:50 | |
| Thursday | 07:55 – 11:03 | | 14:25 – 17:30 | 18:25 – 21:50 | 21:30 – 00:10 |
| Friday | 07:55 – 11:03 | 09:15 – 11:25* | 14:25 – 17:30 | 18:25 – 21:50 | |
| Saturday | 07:55 – 11:03 | 09:15 – 11:25* | 14:25 – 17:30 | 18:25 – 21:50 | 21:30 – 00:10 |
| Sunday | 07:55 – 11:03 | 09:15 – 11:25* | 14:25 – 17:30 | 18:25 – 21:50 | |
| | | *Express train | | | |
You can also take a marshrutka from Yerevan to Gyumri. They depart approximately every hour (or when full), and the journey time is usually between 2½ to 3 hours. Marshrutkas leave from both Yerevan Kilikia Central Bus Station and a parking lot near Sasuntsi Davit metro station (Southern Bus Station). The fare is around 1,500 dram.
If you decide to hire private transport, it is worth turning the transfer into a sightseeing trip. For example, visiting Harichavank monastery en route from Yerevan to Gyumri will save some backtracking from Gyumri. Alternatively, you could follow a similar route to the one we suggest in our guide on where to break the journey between Yerevan and Gyumri.
Gyumri – suggested length of time: 2 nights
Armenia's second-largest city, Gyumri, lies 120kms northwest of Yerevan, in Shirak province. The only thing that many people know about Gyumri is that it was near-flattened by a massive earthquake in 1988. Only now is the city a bit of a phoenix rising from the ashes, and Gyumri is gaining a name as Armenia's artistic quarter.
Gyumri's highlights can be seen in an easy half-day walking tour and include the churches around Vartanants Square including Holy Saviour's Church and 1988 Earthquake Memorial, and the Cathedral of the Holy Mother of God. Then, either take a taxi to the Mother Armenia statue and the Black Fortress or walk (which will take half an hour). If you are a museum devotee, Gyumri has several museums and art galleries choose from.
Our guide on what to do in Gyumri has a lot more information, features a location map and includes alternative sights in Gyumri including the Iron Fountain, Gorky Park, the old hospital ruins and several interesting Soviet-era monuments.
One attraction that is still on our 'next time' list is the Gyumri Beer Brewery which is where Ararat and Aleksandrapol beer is also is made. It is one of the oldest beer factories in Armenia and is open for tours – we drank plenty of Gyumri Beer but haven't been to the brewery yet. Check with Visit Gyumri regarding the opening hours.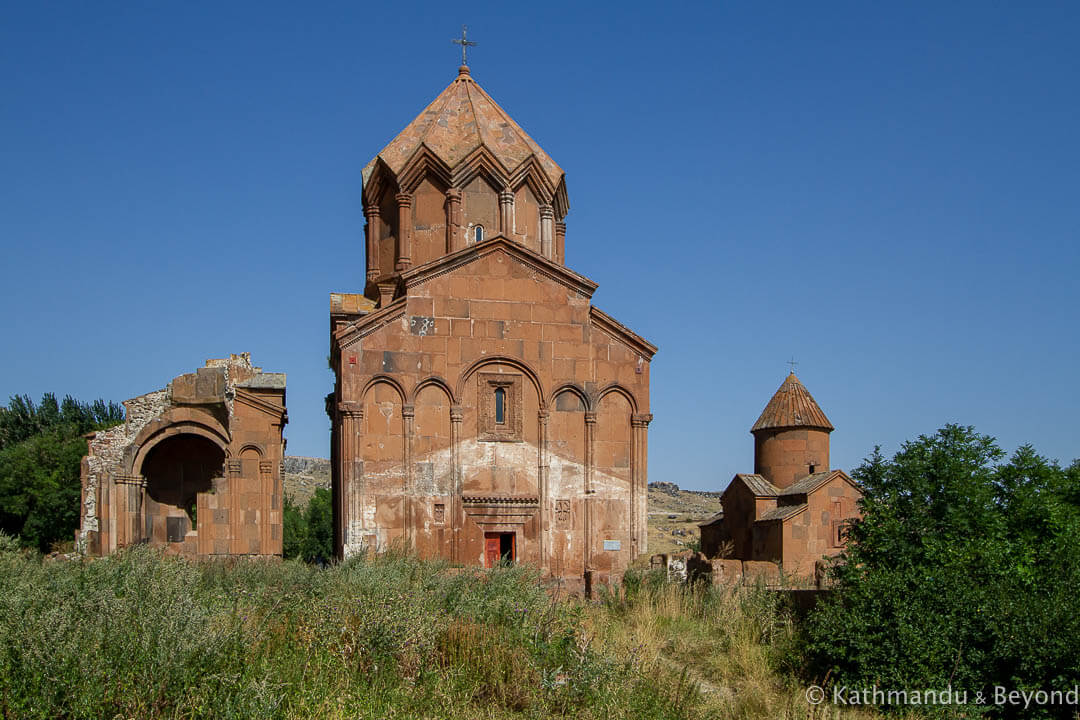 Marmashen Monastery near Gyumri
Day Trips from Gyumri
Two striking monastery complexes, Harichavank and Marmashen, can be visited independently from Gyumri, although you will need to allocate a full day if you plan to do so by public transport. Alternatively, you can book a tour or take a taxi (both relatively cheap in Armenia). We have more details on how you can visit Harichavank and Marmashen monasteries by public transport here.
Where to stay in Gyumri 
The best area of Gyumri to stay in is within walking distance of Vartanants Square and Holy Saviour's Church. The city has a growing number of accommodation options for all budgets from family-run guesthouses to very comfortable hotels. You can browse a range of places in Gyumri here or check out our personal recommendations.
Gyumri to Vanadzor
A handful of daily marshrutkas ply the Gyumri to Vanadzor route and although this website will help you plan, you should check the schedule at the bus station. This applies everywhere in Armenia – transport schedules are subject to change, but also remember that just because you are told a marshrutka will leave at a specific time, it doesn't mean it will!
The nightly Yerevan to Tbilisi train passes through Gyumri and Vanadzor but the anti-social timings (0025/0148 hours) aren't appealing. Plus, I am not sure that it is even possible to buy a ticket for a short stretch of the route. The journey should take no more than an hour and a half.
If you have hired a taxi to travel from Gyumri to Vanadzor, you could make a brief stop in Spitak. This is the closest town to the 1988 earthquake that devastated this region of Armenia, although Gyumri is more commonly associated with the tremor (perhaps because the town suffered a higher death toll). Spitak is not a conventional tourist attraction, and as you would expect in a town flattened to the ground, there isn't much of historical interest to see, but you can visit the monument to the victims of the earthquake and pay a respectful visit to the cemetery where most of the 4,000-plus people who lost their lives are buried. 
Vanadzor – suggested length of time: 1 or 2 nights
Despite being Armenia's third-largest town, very few tourists spend any length of time in Vanadzor. It was the town's Soviet-era bus station that first attracted us to Vanadzor and undoubtedly, it's a destination that will appeal most to travellers who are interested in Armenia's Soviet-era architecture and monuments, and urban explorers.
The most attractive area of Vanadzor is the Three Lakes area, or Lcher as it is known locally. Pretty much the only conventional tourist attraction in Vanadzor is the Museum of Fine Arts. But as with many towns and cities in Armenia, Vanadzor is up and coming, and new cafes and restaurants are opening up creating an emerging buzz.
Where to stay in Vanadzor
Accommodation in Vanadzor is more limited than in Yerevan and Gyumri. We have stayed at MagHay B&B and would strongly recommend it. The guesthouse is family-run with a warm and friendly atmosphere and delicious home-cooked food. They have a range of accommodation from simple rooms with shared bathroom to a very comfortable deluxe suite. Because of these reasons, we recommend MagHay B&B over one of Vanadzor conventional hotels. If you do want a regular hotel, take a look at the Kirovakan Hotel, in the Lcher area.
Vanadzor to the Debed Canyon detour
Many travellers use Vanadzor as a base for visiting the monasteries in and around the Debed Canyon. However, if you have enough time, you should detour north to the area, which has some of the most dramatic scenery in Armenia and spend a couple of nights there.
Minibuses are scheduled to depart from Vanadzor bus station at 1.30pm, 2pm and 3pm and the journey takes around an hour and a half.
Debed Canyon – suggested length of time: 2 or 3 nights
Alaverdi is the main town in the Debed Canyon and the best place to base yourself. The industrial town is dominated by a huge copper smelter, once the economic heart of Alaverdi.
There are several monasteries and churches dotted around the surrounding countryside and worth seeing. Public transport is scarce in this region so you'll need to hire a taxi to reach them. Your guesthouse might be able to help arrange things for you if you don't fancy negotiating directly with a driver.
The easiest sights to visit are the Monasteries of Haghpat and Sanahin which hold a joint listing as one of Armenia's three UNESCO World Heritage Sites. Sanahin monastery is closest to the city, being approximately 1½ km from the Upper Town. It is possible to walk an old monk's trail between Haghpat and Sanahin, taking about three hours, but we don't have personal experience of walking this trail. Marshrutkas run between Haghpat and Alaverdi, so it is feasible to visit these two churches using a combination of public transport and footwork. Not far from Sanahin monastery is the Mikoyan Brothers Museum. Arguably Armenia's most famous siblings, the brothers were born in Sanahin – one destined to become a prominent revolutionary and the other the designer of the early WW2 MiG fighter jets.
About 20km north of Alaverdi and 13km north of Haghpat, the 10th century Akhtala Monastery has some impressive fortification walls and beautiful frescoes inside.
South of Alaverdi is Odzun Church, one of the oldest and holiest churches in the country. A visit here can be combined with Ardvi and Horomayri monasteries. On a map, Kobayr Monastery looks close to Odzun, but it is on a different road. It's actually on the main route from Vanadzor so if you want to visit, it's best to make a stop en route.
Alaverdi consists of an Upper Town and a Lower Town. They are connected by a cable car originally designed to ferry workers to and from the mine. However, we have never seen it in action and reports suggest it is permanently closed. The only way to cross the rather deep ravine between the two sections of the town is by a long detour by road. The distance is 6 kilometres and maybe too far to walk for some.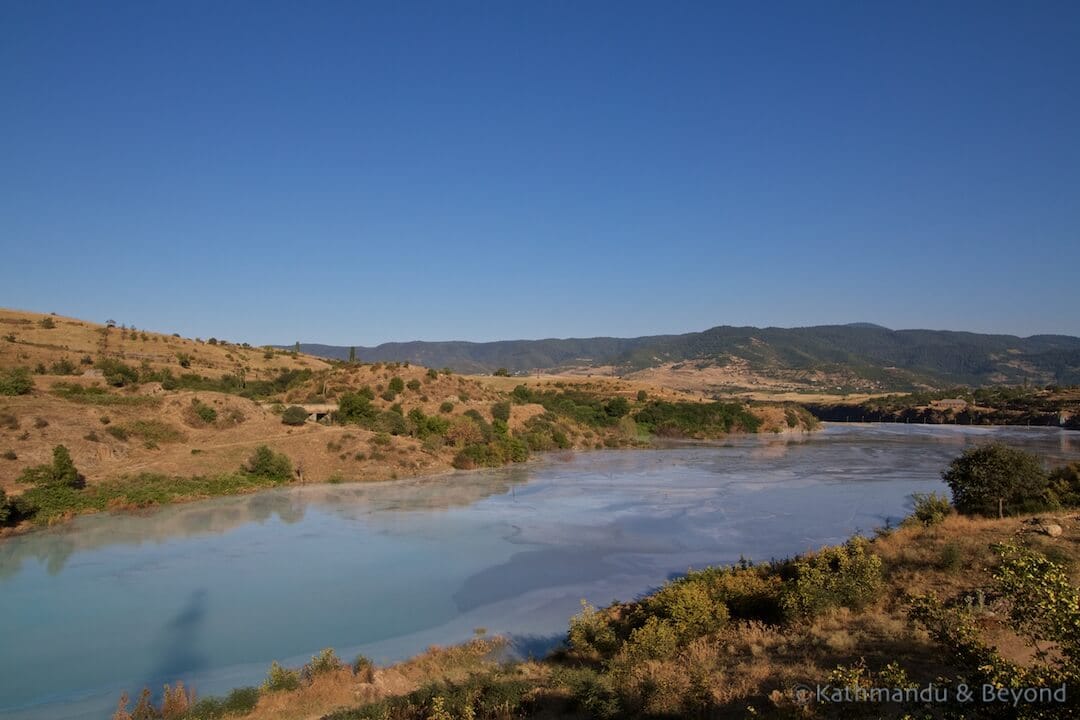 Debed Canyon
Where to stay in the Debed Canyon 
We stayed at Iris B&B which is one of the original backpackers' places in Alaverdi. It is more than a stroll from the lower town but has a friendly atmosphere and can be a good place to meet other travellers to share excursion costs with. Iris B&B is on the road from Vanadzor so ask your driver to drop you off outside the guesthouse rather than go into town and have to take a taxi back.
However, there are a growing number of places to stay in Alaverdi and it is worth looking at the options. There's not one especially convenient area of Alaverdi to stay in – you will need to choose whether to be close to public transport, in the centre of everything, or within walking distance of one of the monasteries. Wherever you choose, you'll need to take transport to some of the places you'll want to visit.
In Upper Alaverdi, Mini House has excellent reviews on booking.com whilst in Lower Alaverdi, this guesthouse or one nearby would be a better choice if you want to be within walking distance from the bus station. There are also a handful of places to stay close to Haghpat monastery; for example, B&B Edem.
If you aren't travelling on a budget, you might want to consider Tufenkian Avan Dzoraget Hotel or Concept Hotel by COAF as a base for exploring the region. They are both roughly halfway between Alaverdi and Vanadzor.
Vanadzor to Dilijan
There is no direct public transport between Alaverdi and Dilijan, so if visiting the Debed Canyon, take a marshrutka back to Vanadzor and make a connection there.
The journey from Vanadzor to Dilijan takes around an hour and there should be around five departures a day. However, there are no departures after 3pm so if you are connecting from the Debed Canyon make sure you catch the first marshrutka of the day from Alaverdi to avoid an overnight in Vanadzor.
Dilijan – suggested length of time: 1 or 2 nights
Nicknamed the 'Switzerland of Armenia', people visit Dilijan for fresh air, scenery and hiking trails. That moniker is a bit fanciful but the area is lush and green and has a pretty lake encircled by a walking trail.
Dilijan's historical and cultural centre is Sharambeyan Street, known as the Old Dilijan historic complex, which has been converted into a folk-art museum. In our opinion, the area is a bit Disneyfied but it is worth a quick wander. Dilijan's most popular attraction, the 13th-century Haghartsin Monastery, has a picturesque location in Dilijan National Park and is a 20-minute drive from the town.
Our personal Dilijan highlights were the Soviet-era memorials, abandoned Khanjian Villa, and the rather obscure King of the Woods statue which is hidden in, err, the woods! You can read more about these memorials and our experience in Dilijan here.
Where to stay in Dilijan 
There are a few accommodation options for budget travellers in Dilijan. We have stayed in two different places and weren't enthusiastic about either of them so won't provide further details – check all the options here.
Dilijan to Lake Sevan 
There are only 30 kilometres between Dilijan and Lake Sevan, however, there isn't currently any point-to-point public transport. As a result, you will have to take a Yerevan-bound marshrutka (check that the driver will drop you in Sevan) and probably pay the full Yerevan fare. Minibuses should leave every hour or so with the journey to Sevan taking less than an hour.
Lake Sevan – suggested length of time: 1 night or a day trip
Arguably Armenia's most photogenic region, Lake Sevan is a high-altitude lake lined with beaches and surrounded by alpine forests. Its historical highlights are found on a small peninsula on the northern end of the lake, where Sevanavank Monastery with two 9th century stone churches is found. If you are interested in the Soviet legacy, you won't want to miss the Guesthouse of the Armenian Writers' Union.
However, if you arrive in the town of Sevan, which is situated some 5 kilometres from the lake, you will get a very different impression. The average tourist won't find much of interest there, although we managed to find a couple of things! 
If you want to explore beyond Sevanavank Monastery and its immediate vicinity, you'll either need your own transport, or join a tour, or hire a taxi. Whichever mode of transport you choose, you should try to include a visit Hayravank Monastery and Noratus Cemetery and its ancient khachkars (elaborately carved tombstones).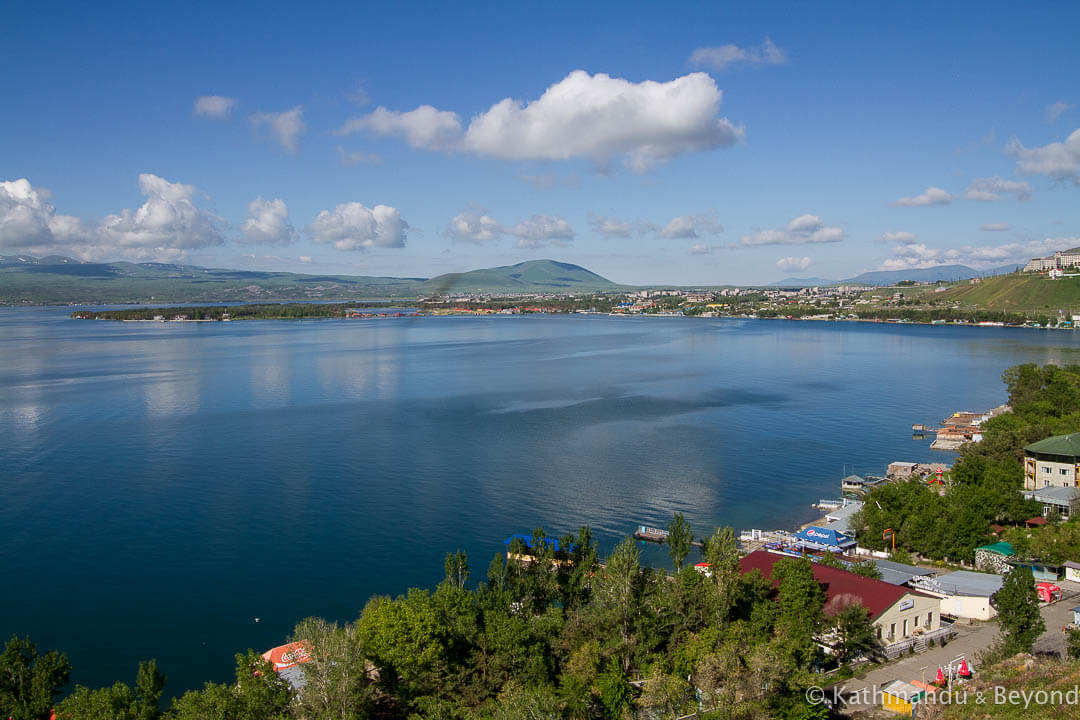 Lake Sevan
Where to stay in Lake Sevan 
Although a night or two on the banks of Lake Sevan sounds like an inviting proposition, it is not that straightforward if you are travelling on a budget, and without your own transport.
We stayed at the Best Western Bohemian Resort Hotel and paid around €32 per night for a double room including breakfast, which we felt was good value. Even though it was June, there was hardly anyone else staying, the swimming pool was empty of water, and the resort felt rather deserted. Still, it suited us for a couple of nights whilst we explored the area, and there is no denying the hotel's spectacular setting right on the lake. The hotel is just off the main road and you can walk to Sevanavank monastery in around 20 minutes by cutting through the campsites and forest cabins along the shore.
Sevan Writers House gets terrible reviews but, if you want to stay in an iconic Soviet-era institution, you might consider spending the night there.  Although if you experience a cold, damp stay with belligerent service, don't so we didn't warn you! 
If you are travelling on a tight budget, a hostel in the town centre may be your only option. If you choose this, remember it will be a good hour's walk from Sevanavank. 
Lake Sevan to Yerevan
Regular marshrutkas depart from the bus station in Sevan town, but you may also be able to pick one up on the main road.
Read more: How to get to Lake Sevan from Yerevan
EXTENSION TO SOUTH ARMENIA
In Armenia's far southern reaches, Tatev monastery is considered by many to be a must-see. And whilst the monastery deserves a place on any comprehensive Armenia itinerary, it is debatable whether it is worth the long travel time.
Goris
Two-hundred and fifty kilometres from Armenia, Goris is a typical small Armenian town. It is the best base for visiting Tatev Monastery. However, Goris also has some worthwhile sights including St. Gregory the Illuminator Church and the medieval cave dwellings of Old Goris, both of which you can walk to from the town centre.
Tatev monastery is 35 km from Goris and you can either drive up the rough and winding road to reach it or fly up, on the Wings of Tatev, the world's longest non-stop cable car. The aerial tramway station is about a half-hour drive from Goris and you will have to take a taxi there if you don't have your own transport.
Yerevan to Goris
There are two scheduled daily departures from Yerevan to Goris.
Marshrutkas leave from Yerevan's Southern Bus station (by Sasuntsi Davit Metro) at 9am and 3pm (we recommend taking the morning one); the journey takes around four hours.
Where to stay in Goris
We stayed at Davani Hotel, but there are plenty of options for budget travellers in Goris.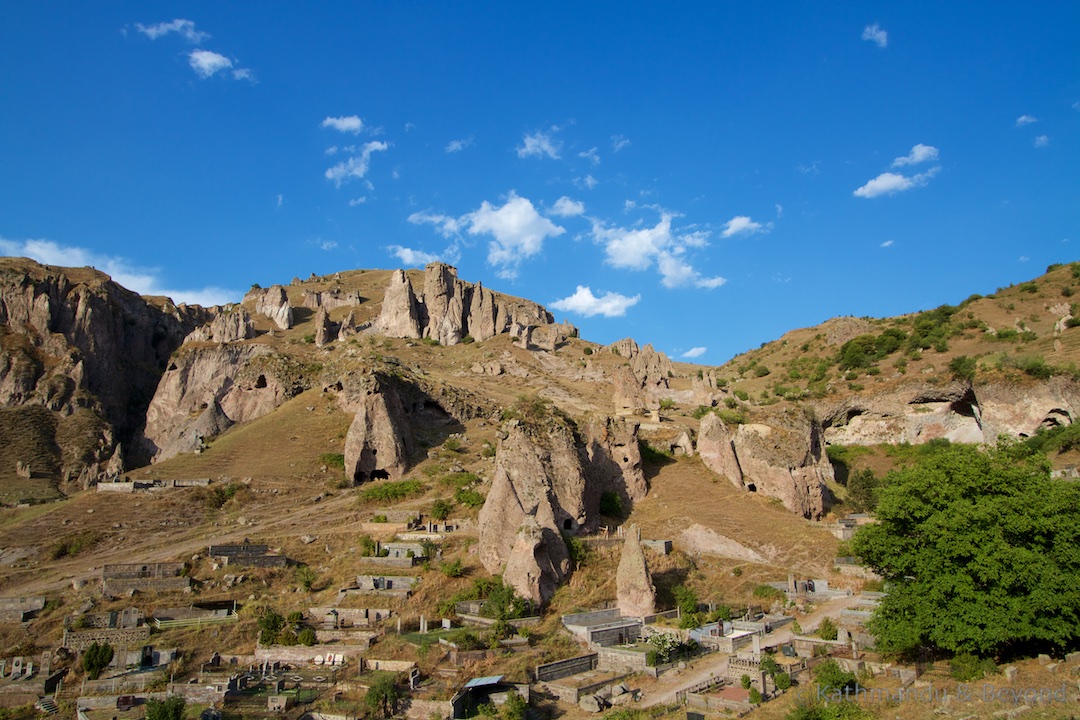 Old Goris cave dwellings
EXTENDED SOUTHERN ARMENIA ITINERARY

 
If you want to do southern Armenia justice, you can expand your itinerary as follows. We've been to Goris and Tatev but haven't done this full route – it's on our 'next time' list.
The route we suggest is Yerevan – Yeghegnadzor – Jermuk – Goris (Tatev) – Yerevan. We'll expand this post when we get to complete this part of our ultimate Armenia itinerary.
There are very few direct flights to Armenia so the majority of travellers arrive via a land border. Although Armenia has borders with Turkey, Georgia, Azerbaijan and Iran, as a tourist it is only possible to cross from Georgia and Iran.
The vast majority of independent travellers to Armenia cross the border from Georgia. There are three possible border crossings, but the most commonly used one and the easiest is the one from Tbilisi to Yerevan which goes via the Debed Canyon.
Note regarding marshrutka timings
Remember that although many marshrutka routes have a schedule this should be taken as 'flexible' and very much subject to change. It's always sensible to try and check timings at the bus station the day before you want to travel. Sometimes these mini-vans won't leave unless they have sufficient numbers of passengers, so don't rely on a midday departure leaving bang on the chime of twelve. 
If you've bought your ticket at the bus station, you'd be wise to 'reserve' your own seat by placing something on it – nothing valuable of course – a bottle of water, an umbrella or a packet of biscuits should do. Do this even if the marshrutka doesn't look busy because passengers will appear out of nowhere once the driver starts the ignition. Be warned though; this method isn't fail-safe. There will be occasions where unbeknown to you, the ticket actually comes with a seat number and if it does you may get moved on without any guarantee that the babushka sat in your seat will give it up readily! 
Although we have listed known scheduled departures, other marshrutka passing by as part of a longer journey often add to the frequency of transport if they have any spare seats. 
Patience is most definitely a virtue when it comes to public transport in the Caucasus.
OTHER TRAVEL PLANNING RESOURCES
And if you need a few more reasons to follow our Armenia itinerary…
Sanatorium Lake, Vanadzor
Odzun Church, Debed Canyon
Zvartnots Cathedral, Vagharshapat 
If you found our two week Armenia itinerary helpful, please share it or pin it to your travel planning boards…