Places to stop on the route from Yerevan to Gyumri or Vanadzor and how to do it independently
Not many visitors head to either Gyumri or Vanadzor, Armenia's second and third largest cities respectively, which is a pity as both places are worth seeing (*). Those who do visit, however, generally make the journey in one go, travelling either by marshrutka (fixed route minivan) or train from Yerevan.
(*) We found a lot to see and do in both cities and intend to write more about what we discovered in each one in due course.
But, the main driving route out of the Armenian capital heading north (the M1 then the M3), which eventually reaches a junction from where you can either go left towards Gyumri or right and end up in Vanadzor, passes three places of historical interest, each of which has direct access from the main road and is very easy to visit.
These are the Armenian Alphabet Monument, the Monument to the Battle of Bash-Aparan, and the 1988 Earthquake Memorial and cemetery in the small town of Spitak.
If you are up for a bit of an adventure, it's possible to see each of these places using a combination of public transport and hitching and still reach your final destination by mid to late afternoon.
Of course, if you have your own transport or are happy to hire a taxi for the day then there is no need to use public transport or rely on the generosity of strangers to help get you along the route but hitching in Armenia and Georgia is quite common, particularly in rural areas, and once we figured this out, it allowed us to see parts of the region that we assumed were off-limits to us because we initially had no means of getting to them.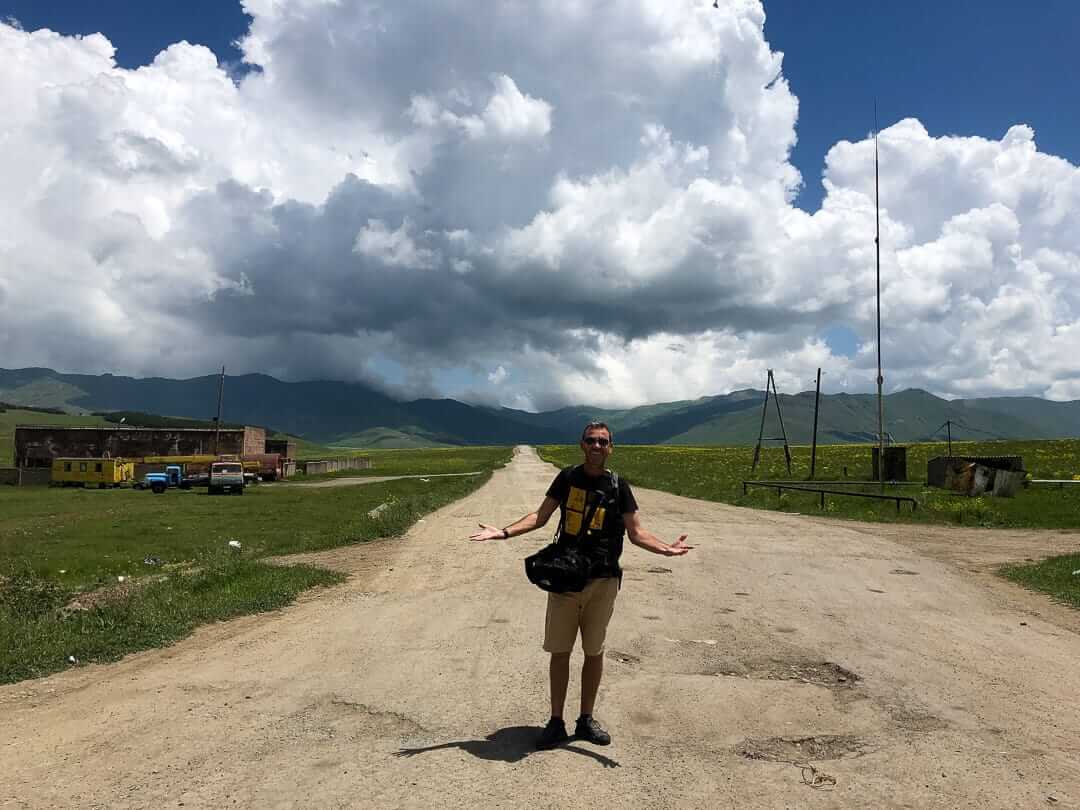 We are not big hitchers. It all started by accident in Turkey a couple of years back. We were on the Aegean coast and had taken a dolmuş (the Turkish equivalent of a marshrutka) from Soke to the ancient Greek city of Miletus. We had also wanted to visit nearby Priene at the same time but knew there was no transport linking the two places so we were waiting by the roadside for a dolmuş back to Soke (from where we could get onward transport) when a guy passed us in his car. Suddenly he stopped, reversed back and asked us where we wanted to go. Twenty minutes later we had completed our first hitching experience and that night we sat in a bar drinking our saved dolmuş money (another advantage of hitchhiking!) and decided, if it was that easy, we would rethink our plans and see if we could get to some of the harder-to-reach locations that we had originally dismissed on the basis that they were either too difficult or time consuming to reach on public transport.
It worked in Turkey and we found that the Armenians and the Georgians had the same attitude when it came to bumming a ride. As in Turkey, we took public transport if it was available but we decided a lack of it wouldn't stop us heading somewhere off the grid as, by this point, we were fairly confident that we would get onto our next destinations by one means or another.
Perhaps we have been lucky but our experience has meant we have rarely had to wait long for a ride and, apart from a bit of crazy driving, we've never encountered any issues in Turkey, Armenia, Georgia, or Nagorno-Karabakh for that matter. We've offered money (our estimate of what the dolmuş or marshrutka fare should be) on numerous occasions and it has only been accepted once or twice, with most drivers waving us away with a pleeeease don't insult me type-gesture.
DISCLAIMER TIME: I don't know if I need to add this or not but better to be safe than sorry. Hitchhiking is not without concerns. We only hitch as a couple, we never do it after dark and if we don't like the look of the driver (this has only happened once) we don't get in the car. If you decide to follow our suggested route below, you do so at your own risk.
Right, the legal stuff over, this is our experience of getting from Yerevan to Gyumri and the places we visited along the way.
Stage 1: Yerevan to the Armenian Alphabet Monument
For the first 34km of the journey, we took a Vanadzor-bound marshrutka from Yerevan's central Kilikia bus station. The journey time was about 40 minutes and we had to pay the full Vanadzor fare even though we weren't even going a third of the distance. This is common practice in Armenia (and Georgia) and the same applies if you flag a marshrutka down partway through its journey.
We were dropped off right opposite the Armenian Alphabet Monument, which was designed in 2006 by local architect, Jim Torosyan. Comprised of a stone-carving for each of the Armenian letters, the monument celebrates 1600 years of this ancient alphabet and is situated close to the resting place of the man who invented it, the medieval linguist and theologian, Mesrop Mashtots.
The setting is picturesque but you don't need long to look around: twenty minutes or so should suffice unless, that is, you want to ride a pony or have an ice-cream from the extremely retro ice-cream stand across the way. The area is very popular with tourists!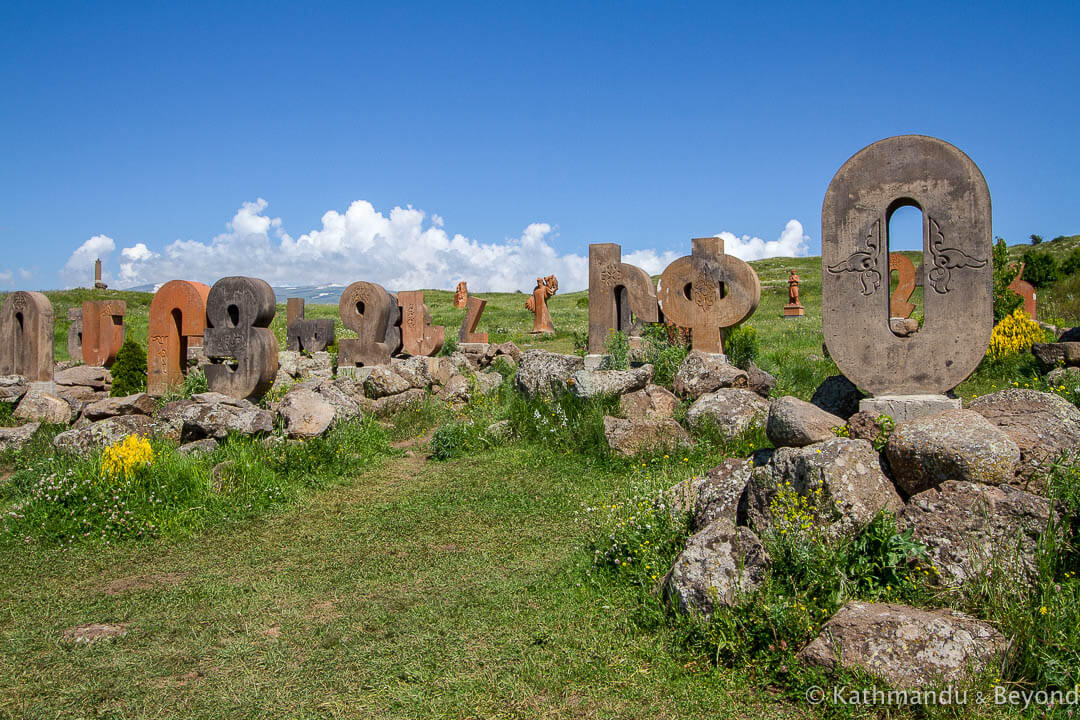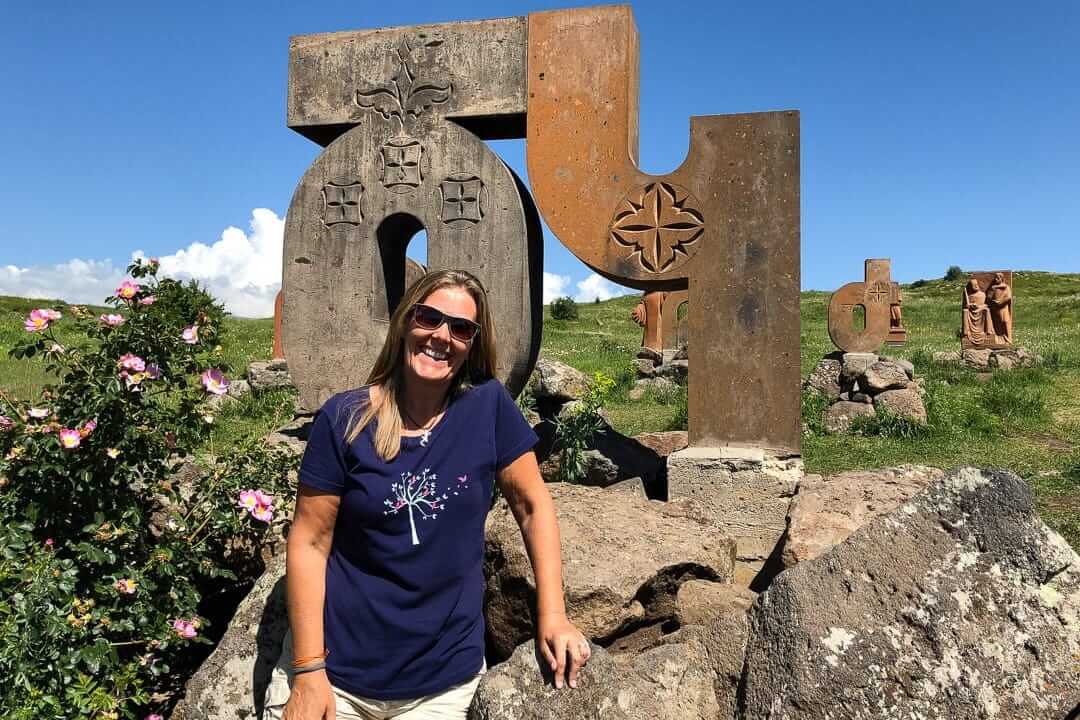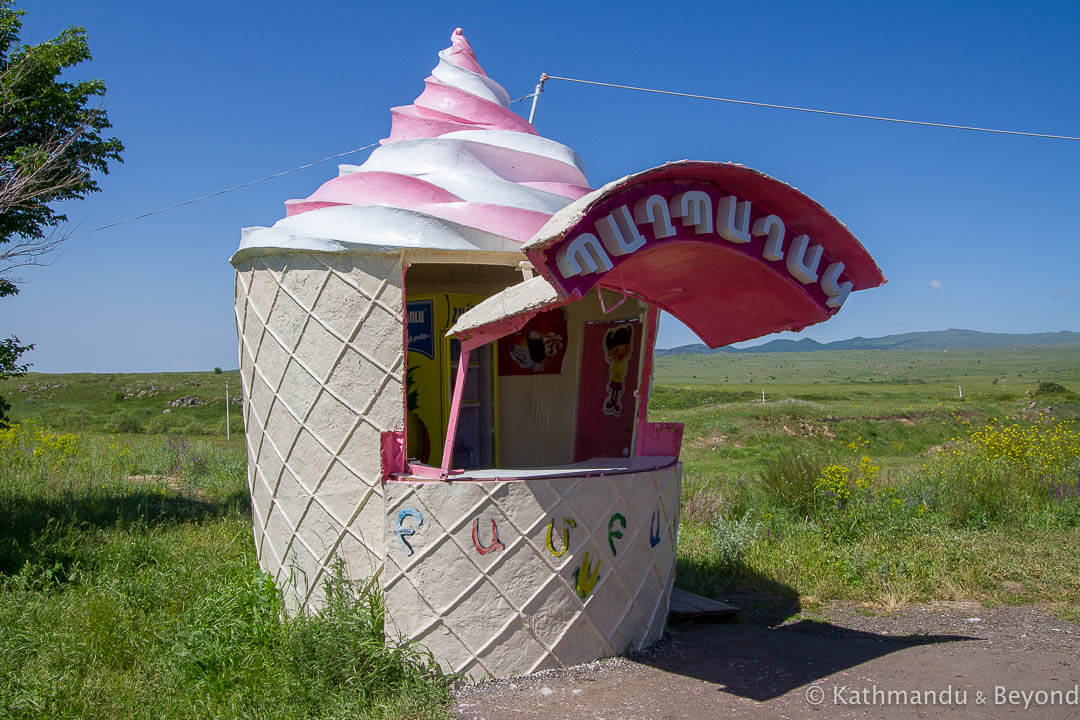 Stage 2: Armenian Alphabet Monument to the Monument to the Battle of Bash-Aparan
The distance between these two places is 21km and hitching a ride on this section was easy. In fact, our driver stopped in the town of Aparan briefly so that we could sample the bread. Apparently, the Gntuniq bakery is one of the most renowned in the country and when we arrived, the place was rammed. The bread was indeed very good and we washed it down with a glass of Ayran, a yoghurt-based drink that is common throughout the region. We were prepared to walk to the monument from the town as it was only 1.5km but the owner of the car was having none of it and dropped us outside the main entrance (*).
(*) We were extra lucky in this instance because the driver had lived in England and spoke good English. The most frustrating thing about hitching for us personally isn't waiting for a ride, as I mentioned above, we've never had to wait that long, but rather not being able to communicate with the person driving or the other passengers. Always in this part of the world, we jump into a car and instantly get asked if we speak Russian (the assumption is already there that we don't speak Armenian or Georgian!). When we reply in the negative, nine times out of ten, we are asked if we speak German. Once more, it's a big no-no from us and we always feel really bad at this point because, most of the time, the drivers pick us up because they are curious about us and want to ask questions and the look of disappointment on their faces when they realise that's not going to happen says it all. As a compromise, we have been known to converse with a driver via a relative or friend on the end of a mobile phone, who does speak English!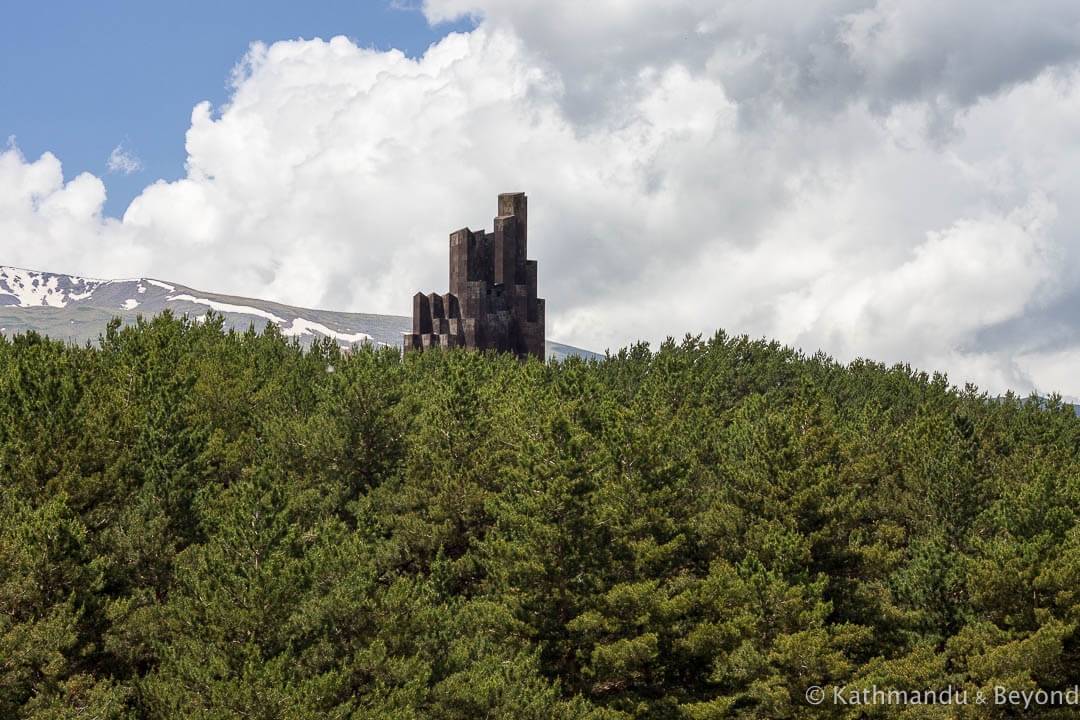 The Battle of Bash-Aparan (21-29 May 1918) was one of three decisive Armenian victories during World War I that halted the Ottoman/Turkish invasion of Eastern Armenia (*). The monument that commemorates this achievement at Aparan is a simple affair set on top of a hill and surrounded by peaceful countryside. It's located a couple of hundred metres off the main road but easy to find as there is a path leading up to it. We actually thought it looked more impressive from a distance, surrounded by trees and with the mountains in the background, rather than up close.
(*) The other two important battles took place at Sardarapat (21-29 May 1918) and Karakilisa (25-28 May 1918). The memorial at Sardarapat is one of the country's most imposing and well worth seeing if you have the opportunity.
Stage 3: The Monument to the Battle of Bash-Aparan to Spitak
We had to undertake the journey from Aparan to Spitak in stages. The distance was 38km and we rode in three different cars and walked about 5km of it. Firstly, we were picked up by two young lads, whose music was so loud, we wouldn't have been able to speak to them even if we could have understood one another. That said, Armenian pop music is alright and we've gotten used to it over time! They were only going to the petrol station up the road, which only knocked 10km off the distance.
We then ended up walking for about 2km, much to the bemusement of some friendly men in a small settlement we passed through. Then another guy took us a mere 3km, at which point he was turning off the main road to go to his house (*).
(*) This was fine: we've learned to go any distance offered as at least it gets you a little bit closer to your ultimate destination.
We were then picked up by a female, which was a first for us. She was a brassy blonde Georgian who was heading all the way to Tbilisi. En route, she FaceTimed some guy in Russia so that we could all have a conversation as we sped along the mountain roads. She stole our fare from a taxi driver who was trying to convince us to go with him. A bit of road rage ensued between them but we weren't concerned for our lady driver. The taxi man was a big guy but neither of us reckoned on his chances up against her!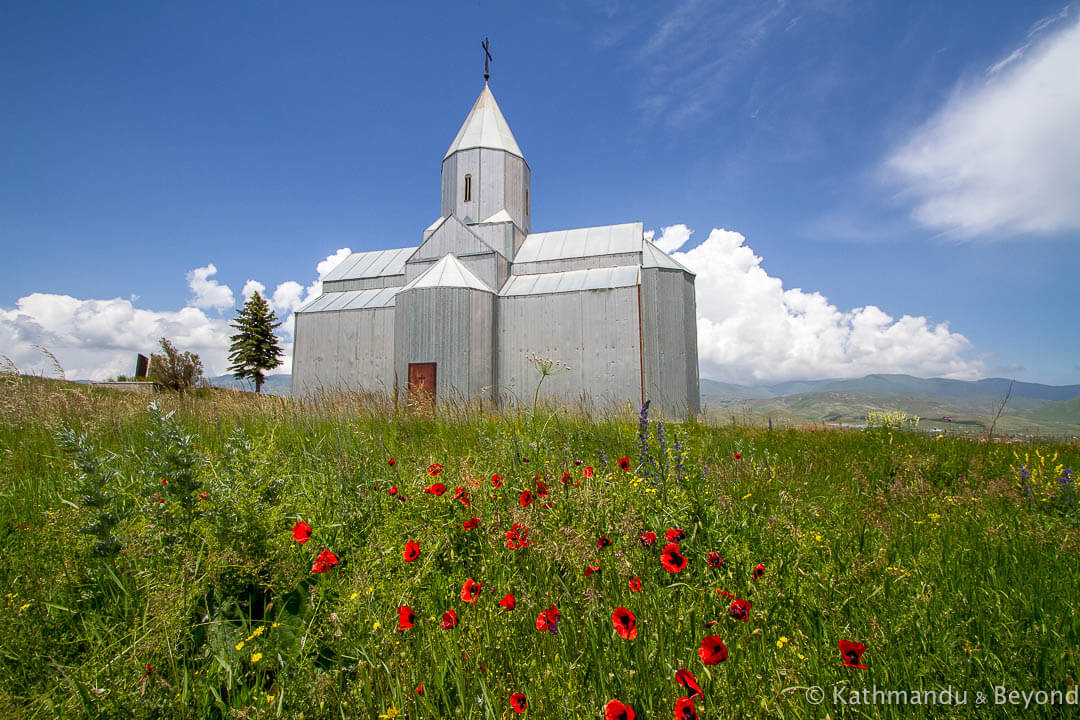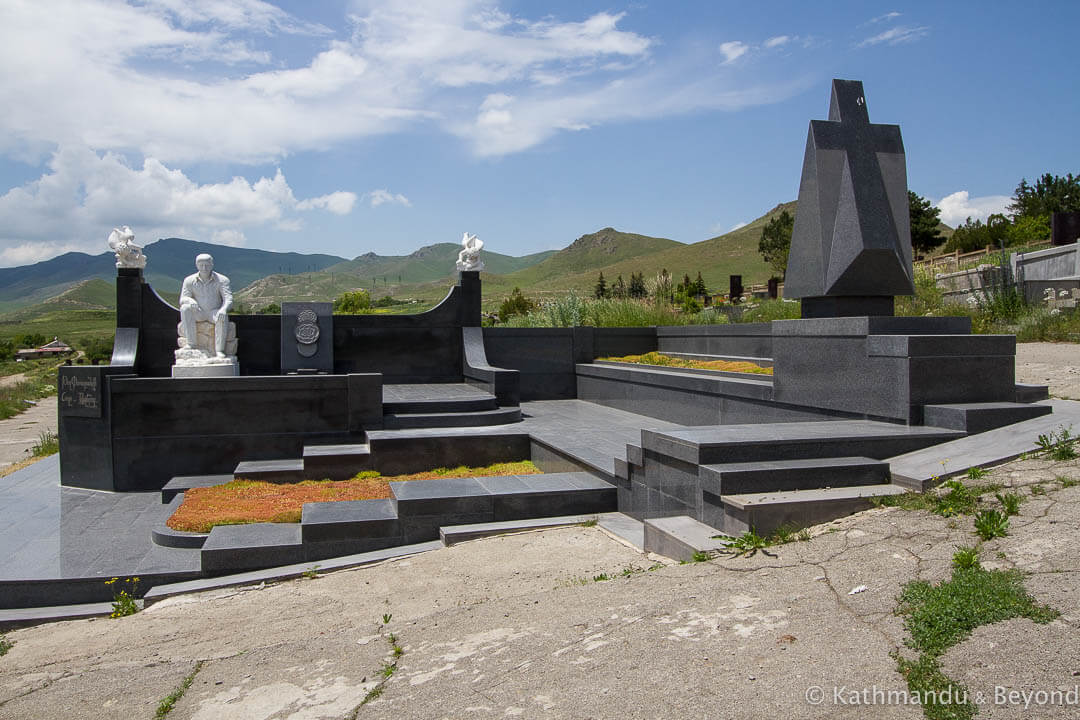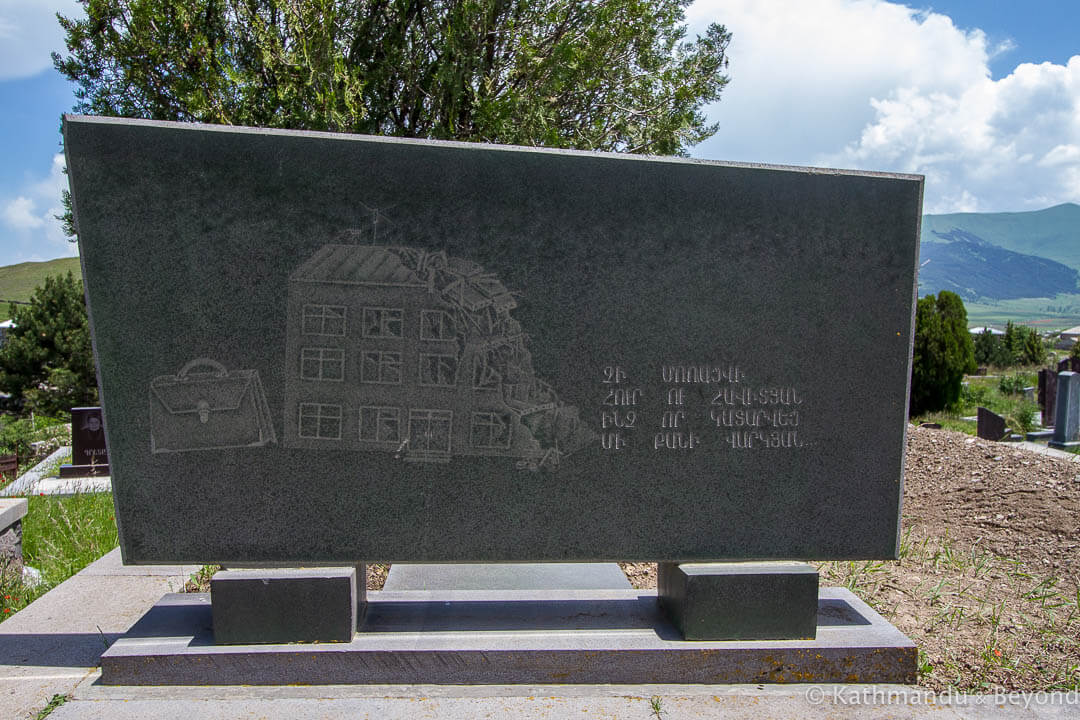 Spitak was the closest town to the epicentre of the 1988 earthquake that devastated this region of Armenia. More than 4,000 people died and the town was flattened and had to be rebuilt in a slightly different location. Many of the dead are buried in Spitak's cemetery, a solitary place located on a hill on the outskirts of the town. Several of the gravestones depict scenes from that tragic day and the metal church, which was hastily built as a place of comfort soon after the earthquake, has a somewhat eerie feel about it.
From the cemetery, you can clearly see the memorial that was erected to commemorate the victims of the quake. It's in a sad state of repair these days and many of the steps leading up to it were broken and/or overgrown.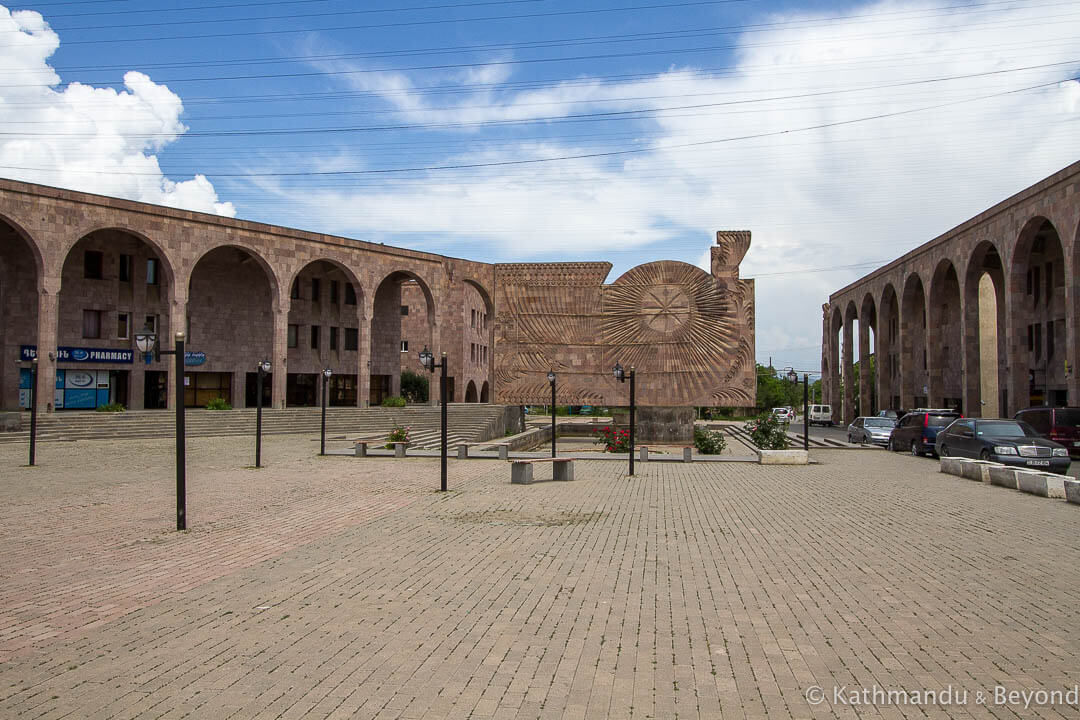 A Kit Kat salesman picked us up and drove us the short distance (1.5km) to the town's marshrutka stand, where we assumed we would be able to catch onward public transport to Gyumri. We are told there weren't any marshrutkas between Spitak and Gyumri but, it was possible to catch one to Vanadzor. We thought this was a bit odd but assumed it was down to a lack of communication. In other words, there were marshrutkas to Gyumri but they had stopped running for the day. It was 3pm by the time we wanted to head off and it's not uncommon for public transport to have stopped running by this point in the Caucasus.
Instead, we walked 3km out of town to the main junction that links Gyumri with Vanadzor and, as luck would have it, a marshrutka came past just as we arrived and took us the final 45km to Gyumri, where we were dropped off near Peace Circle Park in the centre of town (*). There was a reasonable amount of traffic on this stretch of road and I suspect hitching would have also been straightforward. If heading to Vanadzor, the distance from the Spitak junction is 19km.
(*) The driver was then going onto the main bus station, which is 1.2km south of Peace Circle Park.
Coincidently, there happens to be a rather good (and inexpensive) restaurant near Peace Circle Park in Gyumri. The Gyumri Atsatun restaurant serves decent shashlik, salads and other Armenian classics as well as cold draft beer, and is a good place to round off a rewarding day of off-the-beaten-track adventure. I've marked it on the map.
So, there you have it! The actual sights along the route may not be as impressive as others in Armenia but, historically, they are very important and, for us personally, we enjoyed the experience very much. In this day and age where it's possible to plan exactly what you are doing, it was good to go back to the old-school way of travelling and just go with the flow. We deliberately didn't pre-book accommodation in Gyumri for that night and so it really didn't matter if our plans needed to be changed along the way. As it turned out, everything went smoothly and we even arrived in Gyumri in time to watch the opening game of the 2018 FIFA World Cup!
---
---
IF YOU FOUND OUR POST ABOUT WHERE TO VISIT ON THE JOURNEY FROM YEREVAN TO GYUMRI OR VANADZOR USEFUL, PLEASE PIN IT TO YOUR ARMENIA OR TRAVEL PLANNING BOARDS….
---
---