A step-by-step guide on getting from Gyumri to Borjomi via the Bavra – Ninotsminda border crossing with stops in Vardzia and Akhaltsikhe en route
Although very straightforward and hassle-free, not many travellers use the remote Bavra – Ninotsminda border crossing to get from Armenia's second city, Gyumri, to the spa town of Borjomi in south-central Georgia. It is feasible to do the journey in one hit using public transport but, if you have the time, there are two places worth stopping to see along the way:
Vardzia
The first of these is the cave monastery at Vardzia. Dating back to the latter part of the 12th century, this dramatically-situated series of small caves surrounding a rock-hewn church (the Church of the Dormition) is located high above the Kura River on the slopes of Erusheti Mountain. Personally, we didn't find the caves that interesting: most of them were empty and the only thing that we really thought  worth seeing was the frescos inside the Church of the Dormition. But, that's not to say that we didn't think the visit was worthwhile. What did make an impact was the surrounding countryside, which was wild and rugged and some of the most breathtaking we have seen in all of Georgia. We also thought that the caves look more impressive from a distance and we found a couple of great vantage points on the other side of the river from where we had a really good perspective of the overall scene. The adult entrance fee for Vardzia is 7 Georgian lari per person.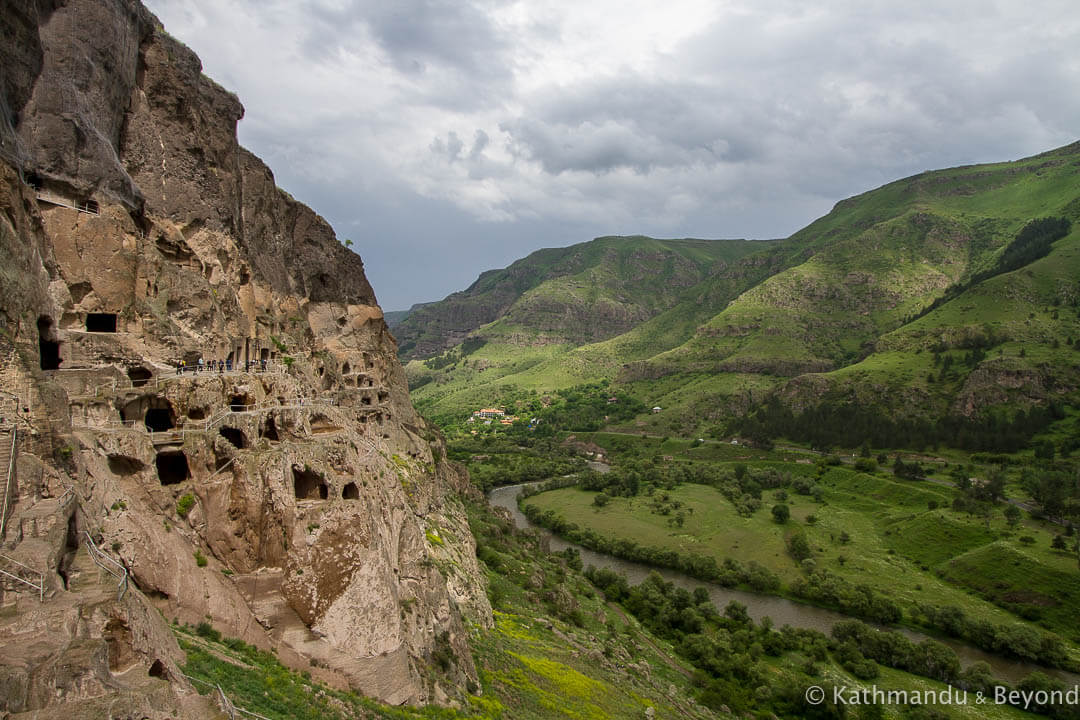 Vardzia cave monastery 


Vardzia cave monastery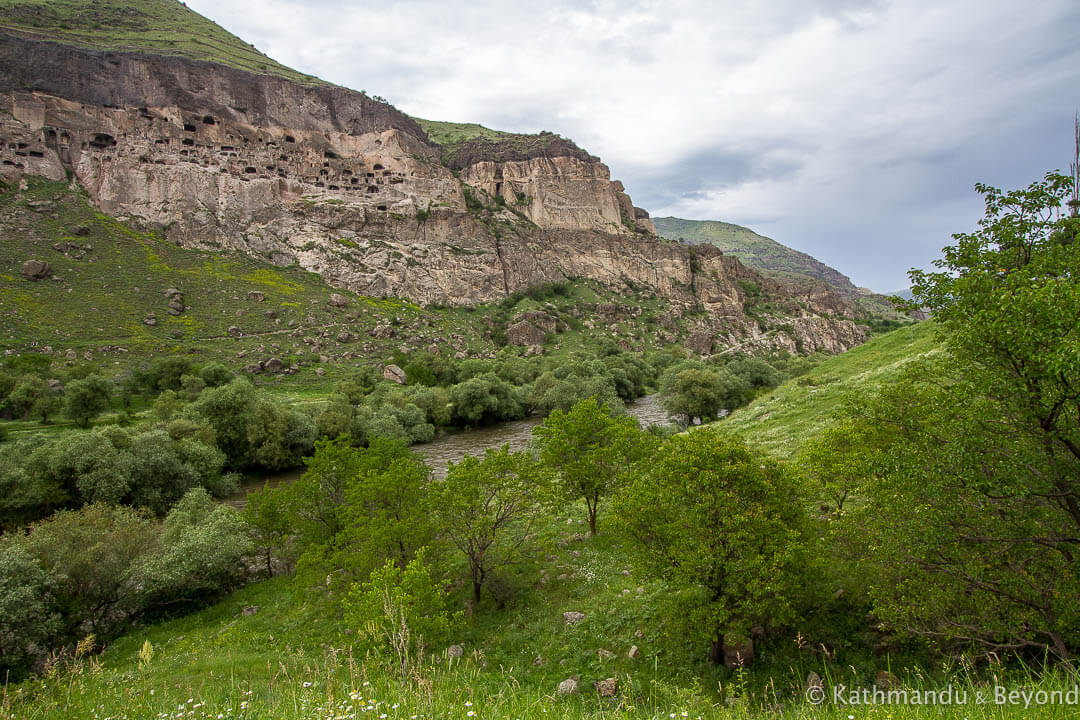 Vardzia cave monastery 
Akhaltsikhe
The second place where we broke the journey was Akhaltsikhe. The big draw here is Rabati Castle, a sprawling fortress which, even though it has been a tad over-restored in our opinion, is arguably one of the most spectacular in the Caucasus. Part of the castle grounds is free to enter but, if you want to see the main core, which includes an 18th-century mosque and a small museum, then you have to pay an entrance fee of 6 Georgian lari per person. Akhaltsikhe itself, which literally translates as 'new castle', is a nice place in its own right, particularly the old town which is nestled at the base of the fortress, and we didn't feel like we wasted our time by spending a night here when we could have easily arrived from Vardzia, seen the castle and travelled onto Borjormi all in the same day.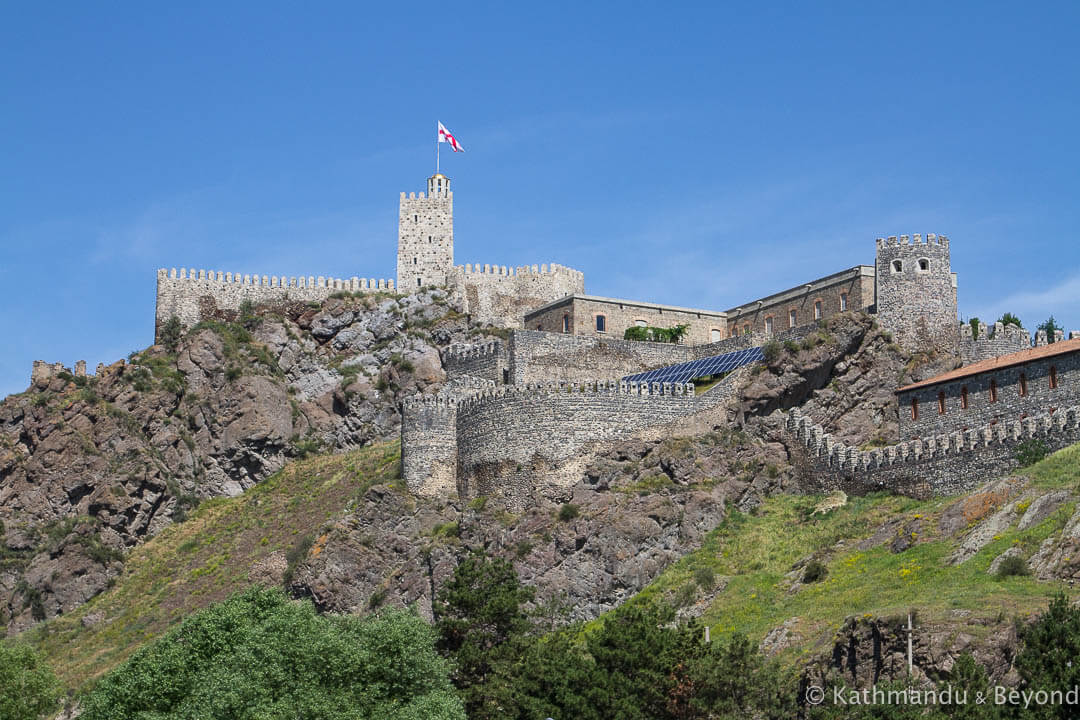 Rabati Castle, Akhaltsikhe


Rabati Castle, Akhaltsikhe
So, in brief, these are the two places we visited en route from Gyumri to Borjomi and what follows are the logistics of how we did the journey using public transport.
The route
Gyumri – Bavra/Ninotsminda border – Khertvisi – Vardzia – Akhaltsikhe – Borjomi
A note about public transport schedules
All schedules are correct as of June 2018, which is when we undertook the journey, but things change in this part of the world so it is a good idea to check locally for the most up to date ones.
Stage 1: Gyumri – Bavra/Ninotsminda border crossing – Khertvisi – Vardzia – Khertvisi
Transportation
There is one marshrutka (fixed route minivan) heading in the direction of Vardzia and it departs daily from Gyumri's main bus station at 10.30am. Vardzia is actually 16km south of the main highway and this particular marshrutka doesn't go there. Instead, it terminates at Akhaltsikhe, which is another 45km further on but it does go right past the small village of Khertvisi (which is the turn off for Vardzia and has decent places to stay – see below) and the driver will drop you off here if you request it.
The cost of the journey was 4,000 Armenian dram (£6.30, US$8.25, €7.10) per person. We had to pay the full Akhaltsikhe fare even though we were getting off in Khertvisi and it wasn't possible to buy tickets in advance so we turned up about 45 minutes ahead of schedule to ensure we got seats. The marshrutka departed on time and was about half full. We made a couple of pre-arranged stops on the outskirts of the city and also picked up/dropped off the occasional passenger along the way. Including border formalities, it took us 4 hours to travel the distance between Gyumri and Khertvisi (*).
(*) Add on another hour if you are heading directly to Akhaltsikhe and yet another hour of you are continuing to Borjomi.
Crossing the Bavra – Ninotsminda border
The border crossing itself was very easy. This is a remote corner of the Caucasus and there was hardly anyone else around when we passed through. We had to get off the marshrutka at both checkpoints and present ourselves to the border guards. We were stamped out of Armenia with the minimum of fuss and the same was true when we entered Georgia. We didn't have to take our bags off the marshrutka at the Armenian border but we did at the Georgian one. All in all, it was one of the easiest border crossings we have done in a long while.
We were dropped off in Khertvisi around 2.30pm and our best option at this point in the day was to spend the night there. As it turned out, this roadside settlement was a pleasant place in which to stay: there was a hilltop castle on the edge of the village, three or four decent and well-priced homestays in which to crash, a few places to eat, and a small shop selling cold beer (it had other stuff but priorities and all that …) that had an outdoor seating area and pleasant views of the river. This was all well and good but it was the restricted marshrutka schedule for getting to/from Vardzia that really dictated our decision to sleep in Khertvisi.
All transport for Vardzia begins and ends in Akhaltsikhe. It passes through Khertvisi about one hour later if starting from Akhaltsikhe and after 30 minutes or so if coming from Vardzia. As apparent from the schedule below, it's fairly limited and a mid-afternoon arrival in Khertvisi didn't leave us with many alternatives (*). By spending the night in Khertvisi, we figured that the next morning we could catch the first marshrutka of the day to Vardzia, which would pass by at approximately 11.20am, take a look around the cave monastery and then get on the 3pm departure directly to Akhaltsikhe. Our plan was the take our backpacks with us and (hopefully) leave them at the ticket office while we looked around.
(*) Based on the schedule below, we could also have caught the last marshrutka of the day, which would have passed through Khertvisi around 6.30pm, and spend the night in Vardzia itself, where there are also a couple of places to stay. This option didn't appeal so much as it would have meant hanging around for a few hours in Khertvisi plus the accommodation in Vardzia was more expensive.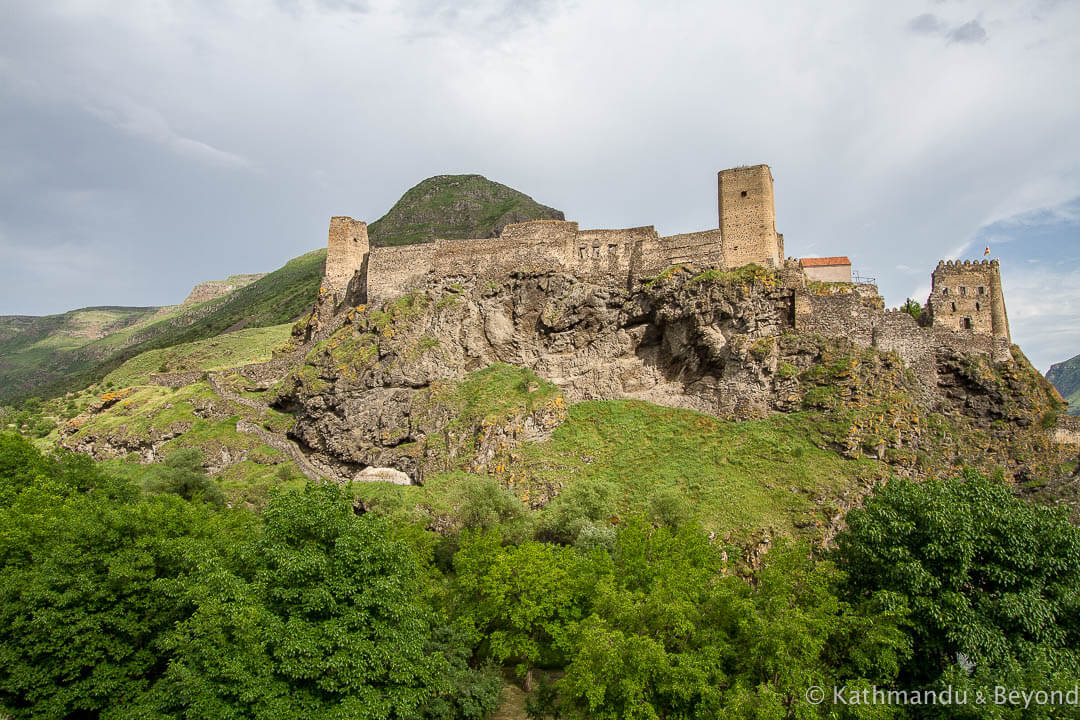 Khertvisi Fortress
Current marshrutka schedule between Akhaltsikhe to Vardzia (and vice versa)
Akhaltsikhe to Vardzia 10.20am, 12.20pm, 5.30pm
Vardzia to Akhaltsikhe 8.30am, 9.30am, 1pm, 3pm
The price is 5 Georgian lari per person each way.
As it turned out, we did end up visiting Vardzia on the afternoon of our arrival. We didn't see any taxis in Khertvisi and the owner of our homestay confirmed this but he did say that hitching the 16km to Vardzia was feasible and this is what we ended up doing. We were there on a Sunday during the summer holidays and didn't have to wait long for a lift in either direction but keep in mind traffic might be scarcer at other times.
Stage 2: Khertvisi – Akhaltsikhe
It gets easier transport-wise from now onwards. We had a leisurely breakfast and then flagged down the 9.30am marshrutka from Vardzia, which passed by our homestay around 10am. On arrival in Akhaltsikhe at the centrally-located bus station, we checked into our guesthouse and spent a leisurely afternoon visiting Rabati Castle and poking around the old town.
Stage 3: Akhaltsikhe – Borjormi
Stage 3 was even easier than stage 2! There are hourly marshrutkas linking the two towns. The journey time is one hour and the price is 5 Georgian lari per ticket. In Borjomi, we were dropped off in the centre, next to the main market.
Other things to consider
Visiting Vardzia as a day trip from Akhaltsikhe
This is possible but, keeping in mind the limited marshrutka schedules, the only realistic option is to take the 10.20am departure from Akhaltsikhe to Vardzia and the 3pm departure back. The journey is about 1½ hours in each direction.
Money (local currency)
There are no money changers (or ATMs) on either side of the Bavra – Ninotsminda border but our driver stopped briefly in the Armenian town of Ninotsminda, where a gaggle of money changers were waiting to swap unwanted Armenian dram for Georgian lari. We didn't have any dram left over as we pride ourselves on trying to whittle down the last of our currency from a given country before leaving it and, in this case, we had done an excellent job!  So, I can't say if the exchange rate was fair or not but it normally is in this part of the world.
Presumably, if you are doing the journey in the other direction, a similar stop is made, either also in Ninotsminda or perhaps in Bavra on the Georgian side of the border?
On the subject of money, there are no ATMs in Khertvisi and I'm pretty sure there weren't any in Vardzia either so if you are planning on breaking the journey here, it's a good idea to get enough Georgian lari for your needs before leaving Gyumri. I suspect, at a push and if you ask nicely, the marshrutka driver may stop at an ATM in Ninotsminda but it's best not to depend on this. There are plenty of ATM's in Akhaltsikhe.
Travelling in the opposite direction
It's feasible to do the journey in reverse .i.e. from Borjormi to Gyumri, although if you wanted to skip Vardzia then you will definitely have to overnight in Akhaltsikhe as the direct Akhaltsikhe – Gyumri marshrutka departs at 7am. Assuming it leaves on time, the marshrutka will pass the turn-off for Khertvisi about 45 minutes to an hour later, although it's probably best to be out and waiting for it no later than 7.30am to ensure you don't miss it.
All of the other timings required to do the journey in this direction can be garnered from the above information.
In conclusion
It's a great trip with wonderful scenery along its entire route, especially on the approach to the border from either side. Plus, once you've got your head around the schedules, the journey provides a great opportunity to truly get off the beaten track but without any of the usual hassles normally associated with such an experience.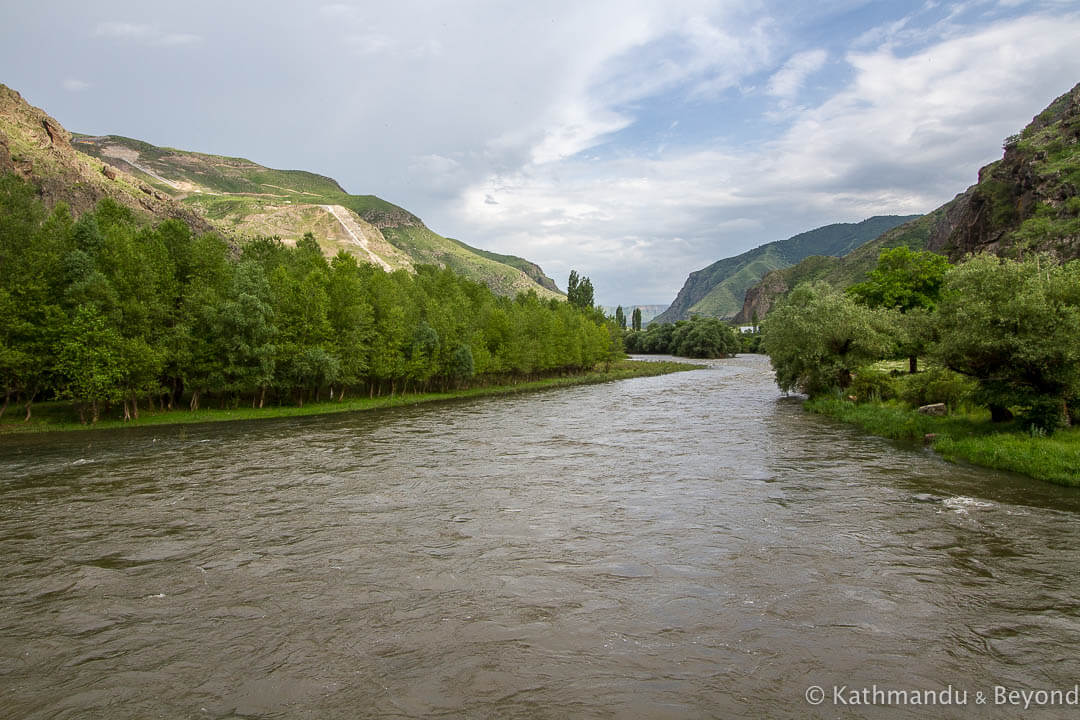 View of the Mtkvari River from Khertvisi 
---
---
---
INSPIRED TO TRAVEL OFF THE BEATEN PATH IN GEORGIA AND ARMENIA? PIN THIS BLOG POST…



---