Comprehensive six-week Georgia and Armenia itinerary
(Georgia) Tbilisi – Telavi – Sighnaghi (Kakheti) – Stepantsminda (Kazbegi) – Tbilisi (Armenia) – Alaverdi (Debed Canyon) – Vanadzor – Dilijan – Lake Sevan – Hrazdan – Yerevan – Goris (Tatev) – Yerevan – Gyumri (Georgia) – Vardzia – Akhaltsikhe – Borjomi – Kutaisi – Batumi – Zugdidi – Mestia (Svaneti) – Chiatura – Gori – Mtskheta – Tbilisi
Our Georgia and Armenia itinerary is designed to start and end in Tbilisi, but you could also follow the same routing if your flight took you directly to Kutaisi or Yerevan.
The amount of time required to see Tbilisi will depend on your personal interests but our recommendation would be at least two full days to see the main sights. We would then suggest travelling east to Kakheti, Georgia's premier wine-making region. You could use either Telavi or Sighnaghi as a base for exploring the area's monasteries and vineyards but we liked having a couple of nights in each. Highlights for us included the churches at Ikalto and Alaverdi and definitely don't leave the region without visiting the rock-hewn cave monastery at Davit Gareja.
Back in Tbilisi, change transport and travel north along the scenic Georgian Military Road to Stepantsminda, more commonly known by its old name of Kazbegi. Trekking in the surrounding area and visiting one of Georgia's most scenically-positioned churches (Tsminda Sameba) are the big draws here – a mut-visit on any Georgia and Armenia itinerary. There is little option but to return to Tbilisi once more, where you can either spend the night or continue south to Armenia (public transport is more frequent in the morning). Over the border, Alaverdi is a depressing town but it's a good base for touring the magnificent Debed Canyon. If you aren't interested in Soviet-era architecture, you might want to just transit through to Vanadzor although, that said, we thought Vanadzor had a nice feel to it and considered it a worthy stopover. Lush, green Dilijan is also a good place to break the journey south and don't skip one of Armenia's most famous spots, Lake Sevan, on the way down.
Check out the blog post below if you want to see the spiky bus station in Hrazdan en route to Yerevan and, as with Tbilisi, we would suggest a couple of days to look around the Armenian capital and two more on top of that if you want to see the places of interest in the surrounding area, namely Khor Virap, Sardarapat, Garni, Geghard and Vagharshapat.
Tatev Monastery is the big attraction in the south of the country but, unless you are planning on doing a side trip to Nagorno-Karabakh (or heading to Iran), it's questionable whether it's worth undertaking the long journey there and back. If you do decide to go, Goris is a good base. Alternatively, head northwest to Gyumri, Armenia's second largest city. A good rail service connects the two destinations but there is also the option to take the slow route through the middle of the country and see the Armenian Alphabet Monument near Byurakan as well as the small towns of Aparan and Spitak along the way.
From Gyumri, one daily marshrutka will get you back across the border and close to Georgia's other important cave monastery at Vardzia. From there it's easy to get to Akhaltsikhe and then onto the resort town of Borjomi. We liked the country's relatively new capital, Kutaisi, and, what's more, the city is the launchpad for some excellent day trips, including Gelati and the fascinating spa town of Tskaltubo, probably our favourite place in the entire Caucasus region!
Continuing west, the Black Sea city of Batumi is a bit out on a limb but it's certainly worth seeing, and from there it's easy to get to Zugdidi the access point to the ancient, mountainous province of Svaneti. Mestia has plenty of accommodation and is good for day hikes etc. but we also liked the contrast of staying in Ushguli as well.
There are three places worth stopping at en route back to Tbilisi. The first is the mining town of Chiatura with its clapped-out but still functional cable cars. Next is Gori, the birthplace of Joseph Stalin, and the final one is Mtskheta, a peaceful UNESCO-listed town on the outskirts of Tbilisi that is worthy of a night or two before moving on to your next destination.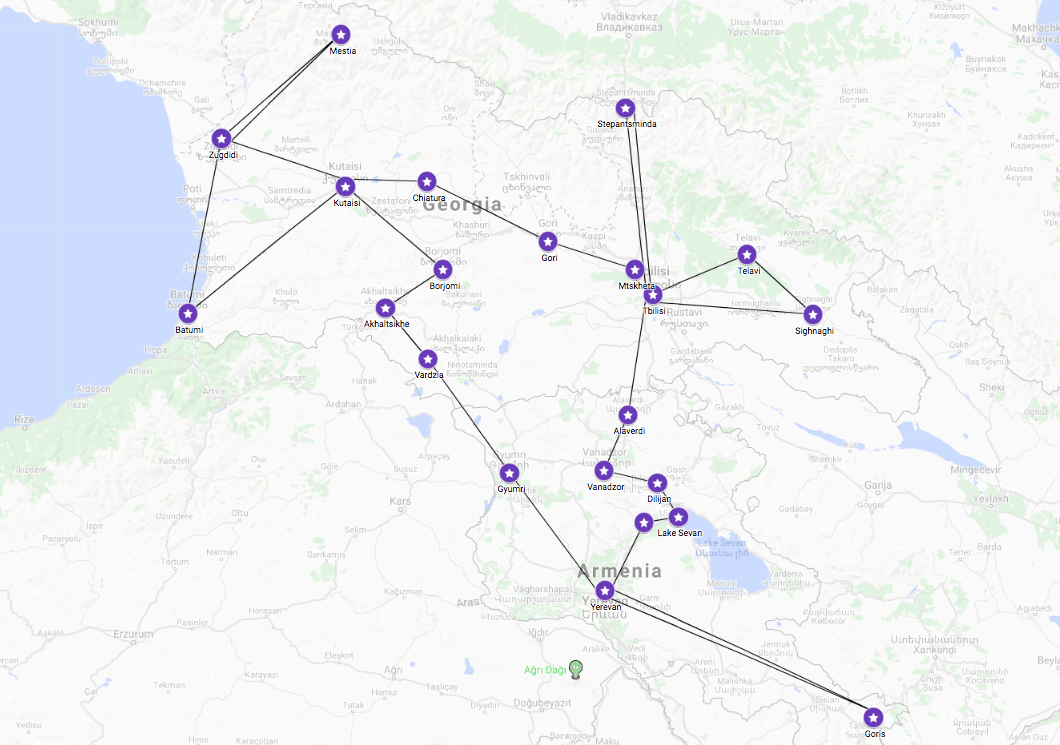 Number of countries: 2
Number of UNESCO sites: 6
Best time to travel: May to September (although July and August can get very hot in the lower lying towns)
Recommended duration: 6 weeks
Best places to slow the itinerary down: Sighnaghi, Borjomi, Mestia and Mtskheta
Mode of transport: Predominately marshrutkas (fixed route minivans), but also some shared taxis and a few buses (Armenia only). Most short-distance trains have inconvenient timings with the exception being the service between Yerevan and Gyumri
Exploring Tbilisi and Yerevan – both are great cities!
Spending time discovering the sanatoriums in Tskaltubo
Travelling the slow route between Yerevan and Gyumri
Riding the cable cars in Chiatura (best done after a couple of alcoholic drinks!)
Gyumri – there is more to the city than meets the eye
Soviet-era architecture (we are a little biased on this one!)
Monastery-hunting in the Debed Canyon
OPTIONS FOR EXTENDING THE ITINERARY
The Kakheti region of Georgia (Telavi/Sighnaghi) is the gateway to the summer-only hiking region of Tusheti. It is also possible to cross the border to Azerbaijan from here
From Zugdidi in Georgia it is possible to visit the de facto country of Abkhazia
From Goris in Armenia it is possible to visit the de facto country of Nagorno-Karabakh
OTHER TRAVEL PLANNING RESOURCES
Accurate resources for bus and marshrutka schedules are almost non-existent. Google maps can be used for public transport in Tbilisi, but unfortunately not Yerevan at this time.
Depending on our itinerary and destination, sometimes/often we find our accommodation as we go, particularly in smaller places. In big cities, for slightly longer stays, during peak season or just when we're being a bit more organised, we tend to make a reservation in advance using Booking.com.
Comprehensive guidebooks to Georgia and Armenia are thin on the ground but Lonely Planet's guide is one of the newest: Georgia, Armenia & Azerbaijan travel guide. 
And if you need a few more reasons to follow this Georgia and Armenia itinerary…
Tbilisi Old Town, Georgia
Ikalto Monastery Kakheti, Georgia
Armenian Genocide memorial complex Yerevan, Armenia
Iron Fountain Gyumri, Armenia
Vardzia Cave Monastery, Georgia
Did you find this post useful? Are you planning a trip to the Caucasus? Pin this Georgia and Armenia itinerary to your travel planning boards…