A step-by-step guide on how to travel from Bulgaria to Moldova via Romania and where to stop on the way
Varna is the starting point for this suggested itinerary which travels from Bulgaria into Romania before ending in Moldova. The journey from Varna to Chisinau follows the Black Sea coast before taking a more riverine path into the Danube Delta and along the River Danube. It's easy to get to Varna from places all over Bulgaria including Sofia and Burgas making it straightforward to tag this itinerary onto a trip through Bulgaria. This post replicates the itinerary that we took as part of our Summer 2019 travels to Eastern Europe.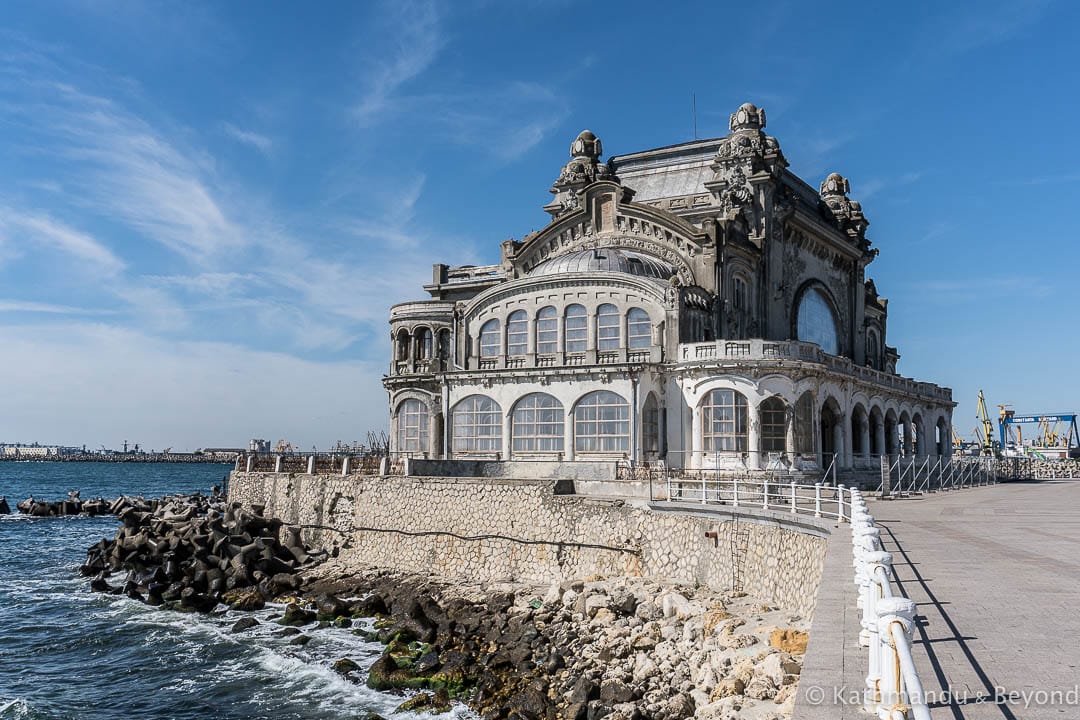 Constanta Casino
Our route: Varna – Constanta – Tulcea – Sulina – Braila – Galati – Cahul – Chisinau
Varna, Bulgaria
Wherever you start this itinerary, make sure you allocate some time to Varna itself. Whatever your interests – Socialist-era monuments, 18th and 19th-century architecture, beach bumming or chilling in pavement cafes – you'll find plenty of things to do in Varna.
Varna is more than a beach resort – it has a history dating back to the 6th century BC when it was known as Odessos – it is now Bulgaria's third-largest city. The most popular beach resorts sprawl along the Black Sea coast north and south of the city, but Varna itself has a wide, sandy beach, lined with trendy bars which pulsate into the early hours of the morning throughout the summer months. Running along the seafront is the more sedate Sea Garden, a popular landscaped public park. Inland, you'll find plenty of shops and restaurants on and off a network of mostly pedestrianised streets. In the roads beyond the tourist information centre and the cathedral, the city becomes more work-a-day. We found Varna to a be a relaxing place to hang out and unwind after our monumental Bulgarian road trip and it's a city we'd happily return to.
What to do in Varna
See Varna Cathedral
Also known as the Cathedral of the Assumption of the Virgin, and the Dormition of the Mother of God Cathedral (Dormition of the Theotokos Cathedral on Google maps), Varna's golden onion-domed church is one of the city's most recognisable landmarks and a common meeting point. It's right across the road from the Tourist Information Centre so makes a good starting point for a walking tour of Varna.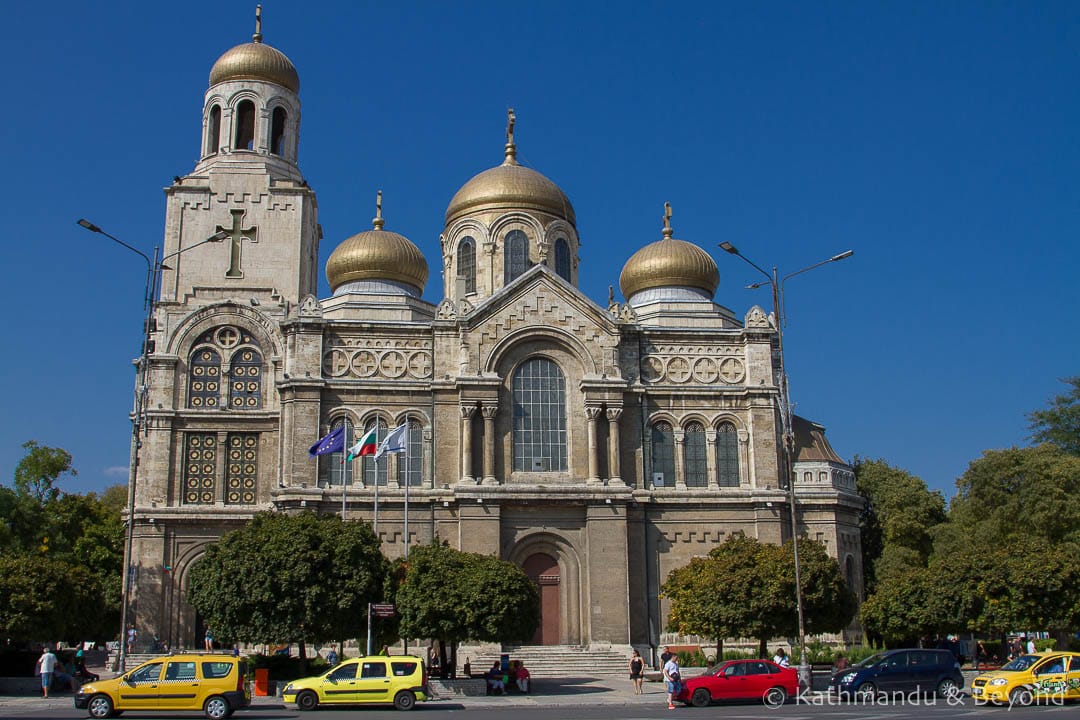 Cathedral of the Assumption of the Virgin in Varna
Stroll through the Sea Garden
Officially Primorski-Park, Varna's Sea Garden is reportedly the largest landscaped park in the Balkans – if you walk its length you'll clock up just under four kilometres. The park is dotted with sculptures, shady trees, cafes and restaurants. It's also home to a summer theatre, several museums, some impressive communist-era monuments (see below) and lots of other seaside amusements.
Geek out at the Retro Museum
Packed full of shiny Communist-era cars and motorbikes, and other retro paraphernalia from Bulgaria's socialist past including kids' toys, typewriters, trinkets and mini statues of Stalin, the Retro Museum Varna is a fun place to spend a couple of hours. It's located within the City Mall shopping centre, next to the main bus station so is easy to get to.


Retro Museum in Varna
Soak up history at the Roman Baths
The remains of the Odessos 2nd century thermal baths now lie in the heart of Varna, surrounded by socialist-designed apartment buildings, a juxtaposition I always find striking. Other sites connected with Varna's ancient history are Varna Archaeological Museum (about 500 metres east of the cathedral), and Aladzha Monastery, north of the city.
Communist monuments
If you are keen on communist-era statues, make sure you visit the Monument of the Bulgarian-Soviet Friendship in Varna. It's a bit of a distance from the city centre so you might want to take a bus at least one way (you can walk through the Sea Garden the other). If you do walk via the Sea Garden, you should stop by the impressive Pantheon of the Fallen in the Fight Against Fascism. Although not connected to the socialist-era (it was erected in 2011), the Alley of Cosmonauts, which includes a statue of Yuri Gagarin, is nearby the pantheon and also worth seeing.


Monument to Yuri Gagarin (left) and the Pantheon of the Fallen in the Fight Against Fascism (right)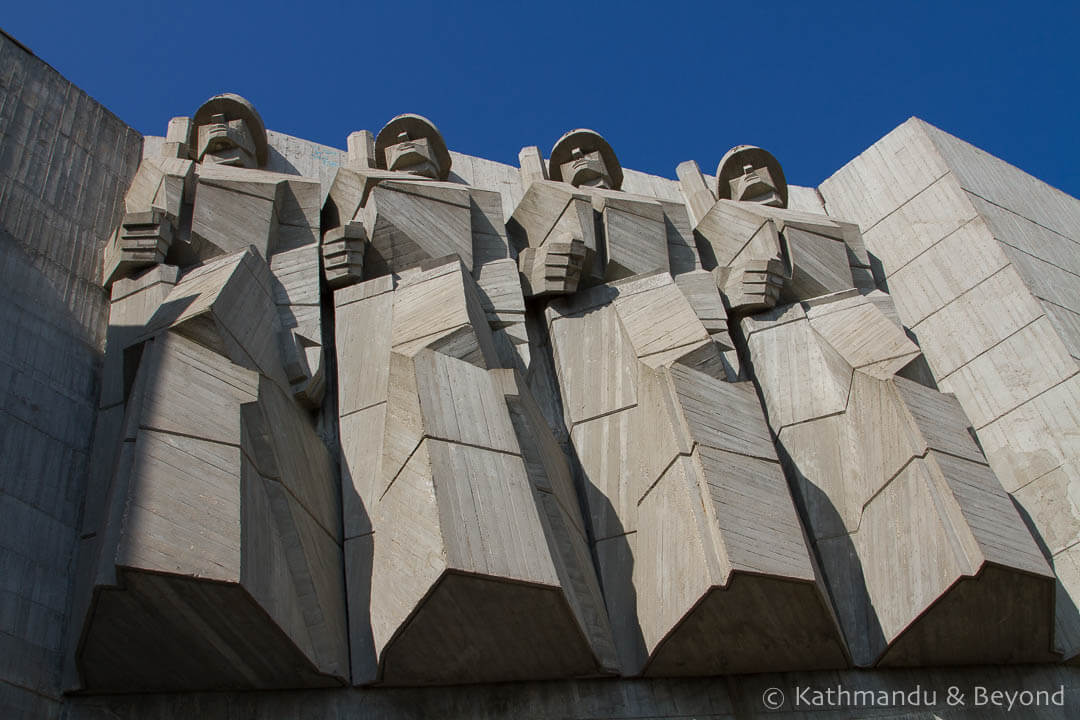 The Park-Monument of the Bulgarian-Soviet Friendship, Varna
Where to stay in Varna
One of Varna's downsides is the lack of good-value, centrally located budget accommodation. If you're on a tight budget, Yo Ho Hostel and Hostel Casablanca are the best options. We've used Hostel Casablanca a couple of times for quick overnight stops. It's just about OK for that, but we wouldn't be keen on a longer stay. A friend recently stayed at Hostel Musala and while she rated the atmosphere and aesthetics, complained that the walls were ridiculously thin, so it was noisy. On our most recent visit to Varna, we stayed in this one-bedroom apartment, which we would recommend. We especially liked the pink Formica kitchen and purple and lime green sofa! The owner was friendly and responsive and spoke good English. The family live in the same building, so are around if you need anything. The only potential issue was a construction site on the bedroom side of the apartment. It didn't bother us and I think if you plan to be out during the day, it shouldn't be an issue. Besides that, the owner wasn't expecting the work to go on for much longer. If you prefer a hotel with a retro theme and a great location, try the Hotel Odessos.
How to get to Varna
We won't go into a huge amount of detail in this post as there are numerous permutations. Long-distance buses serve Sofia and other cities in Bulgaria. It's also a straightforward journey up the coast from Burgas. Coming from Bucharest, Ruse, just over the border in Romania, is worth a visit and there are direct buses from Ruse to Varna.
You can also fly directly into Varna, and Wizz Air has flights from several places in Europe including London (well, Luton), Paris and Berlin.
Bus from Varna to Constanta
Here's where things can start to get a little bit complicated travel-wise if using public transport. Obtaining information at Varna bus station was difficult. No one at the information booths spoke any English (which surprised us for such a popular resort destination) and we got sent from one counter to another. What we could ascertain was that there are buses from Varna to Odessa which go via Constanta but no one would sell us a ticket in advance. We couldn't work out whether this was because they were operated by a Ukrainian company, or because priority goes to passengers paying for a ticket for the entire journey. After a further enquiry at the Tourist Information Centre in town, we learnt there was a daily minibus service from Varna to Constanta which left from the street in front of Varna cathedral at around 1.15 pm. The staff at the TIC told us to be there at 1 pm and get the ticket directly from the driver.
Seeking further confirmation of our options, I found a website for the company with contact details. I didn't get a reply to my email but someone did respond to my WhatsApp message and I booked our places for the journey. We were told to be waiting between 1.30 and 2 pm. We had to check out of our apartment so we thought we might as well wait on a shady bench by the cathedral. It's the same spot where the taxis gather and there are drivers there that may try and convince you that it doesn't look like the bus is going to turn up. If there are four of you, it's worth taking a taxi. We appeared to be the only ones waiting and we did get a bit worried it wouldn't turn up so at 1.30 pm I sent a WhatsApp checking the bus was on the way. A quick response providing us with the vehicle registration number confirmed it would be there in 10 minutes. Sure enough, it was. Although only three of us got on the bus in Varna (an Algerian guy appeared at the last minute!), it made several pick-ups at the resorts north of Varna which filled up the remaining seats.
The short story is that getting from Varna to Constanta by bus is easy when you have the know-how! We highly recommend reserving your place in advance via WhatsApp (+40 724 242 405). The ticket price was 44 leva (€22) and the bus terminated at Autogara Sud bus station, close to the railway station in Constanta. The name of the bus company is Mercado Sud and all the information is on their website (in Romanian only). The service may only operate between April and September. Finally, don't trust the schedule on autogari.ro in this instance (which we usually find to be accurate for bus schedules in Romania).
Constanta, Romania
We don't do bucket-lists but if we did, the old casino in Constanta (spelt Constanța in Romanian and pronounced Constanza) would be on it. This was our main reason for wanting to visit Constanta, a city on the Romanian Black Sea coast. Although Constanta has a history dating back some 2,500 years – Jason and the Argonauts are said to have visited after finding the Golden Fleece – these days, it is mainly sun-seekers that flock to the resort town.
Constanta has an ambience that's hard to categorise. On the surface, it's a seaside town with a pleasant historical old town and a smattering of 19th-century architecture, but it is quite a sprawling city – the third largest in Romania, and the fourth largest seaport in Europe. Overall Constanta felt a bit run down and fairly shabby here and there, but that's fine with us and we found plenty to keep ourselves occupied and enjoyed our visit.
What to do in Constanta
Admire Constanta Casino
The original casino was wooden and dates back to 1880 but it was redesigned in Art Nouveau style in 1910 and is a stunning piece of architecture. We've had it on our must-see 'list' for a long time, from back when you could still get inside, but we were too late to that party. The building is well and truly locked up these days and €3 million has been allotted for renovation work, a project which has already begun. Despite this, the casino is worth seeing from the outside.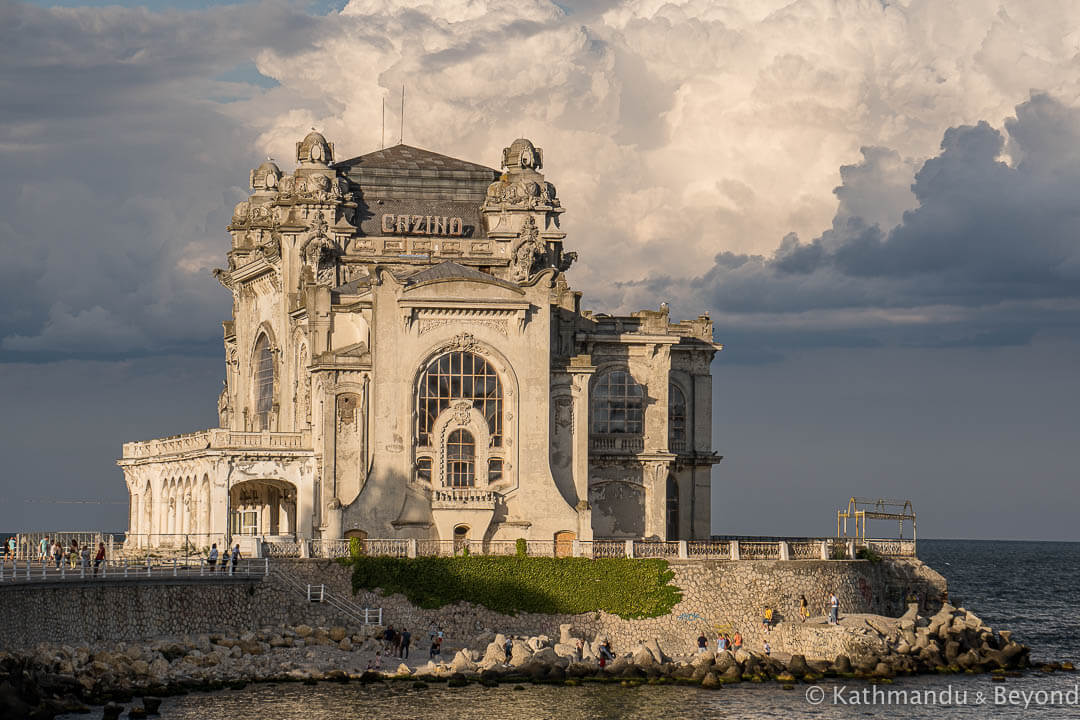 Constanta Casino
Stroll along Constanta Seafront Promenade and Beach
The casino sits at the end of a sweeping seafront promenade, perfect for a stroll. If you keep walking, you'll reach the beach, a huge expanse of sand lined with sun loungers and umbrellas. During the summer months, music festivals are held on the beach.
Constanta beach
Explore Constanta Old Town
At the heart of the oldest part of Constanta is Ovid Square (Piata Ovidiu). Named after a famed Roman poet who was exiled to Constanta, when the city was known as Tomis, by Roman Emperor Augustus in 8 AD. The square is a popular meeting place and a connecting point between the town and the seafront.


Ovidiu Square (left) and the Grand Mosque of Constanta (right)
Architecture in Constanta
Constanta has a diverse array from 19th and 20th-century architecture but we were also interested in hunting down more recent buildings, relics of Romania's socialist-era past. We stumbled upon this beauty, an apartment block nicknamed 'the pencil' (we've also seen it referred to as the crayon and the battery), also some rather homoerotic statues, and more socialist-era housing in the commercial part of town. The old synagogue looked like it would have once been an impressive building, and online photos showed it looking very attractive in its current abandoned state. Sadly, a couple of angry dogs halted our attempts at getting a closer look.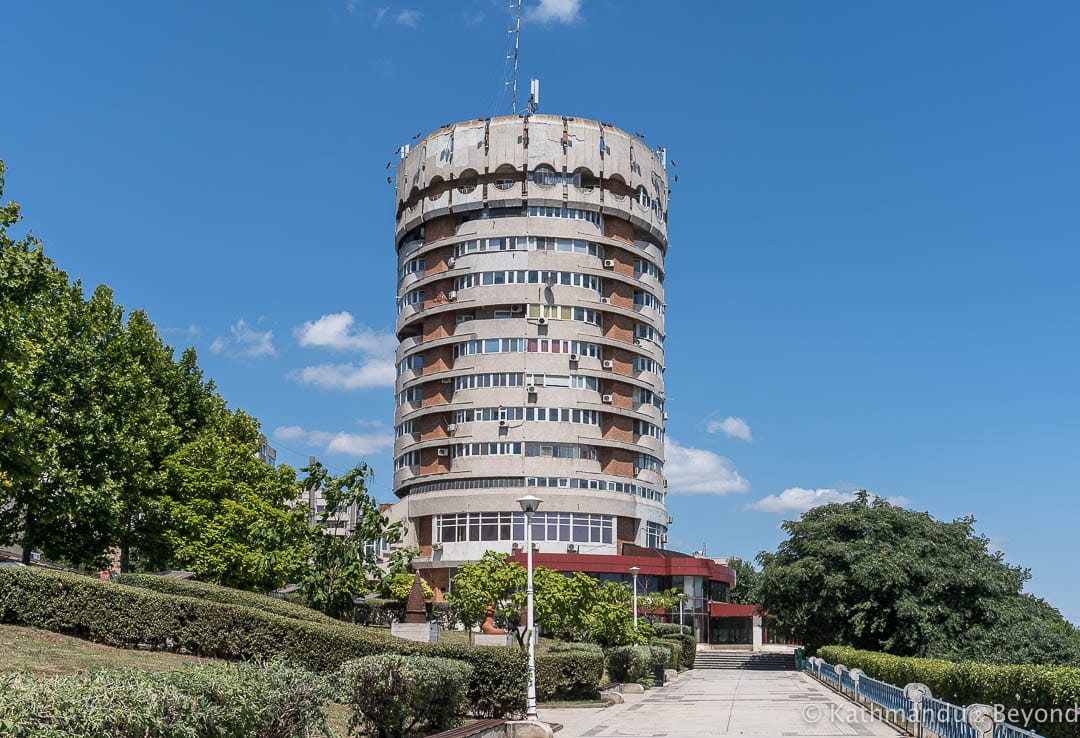 Blocul Rotund MF-1 in Constanta


"The Archer" (left) and the Monument of the Heroes of the War of Independence (right)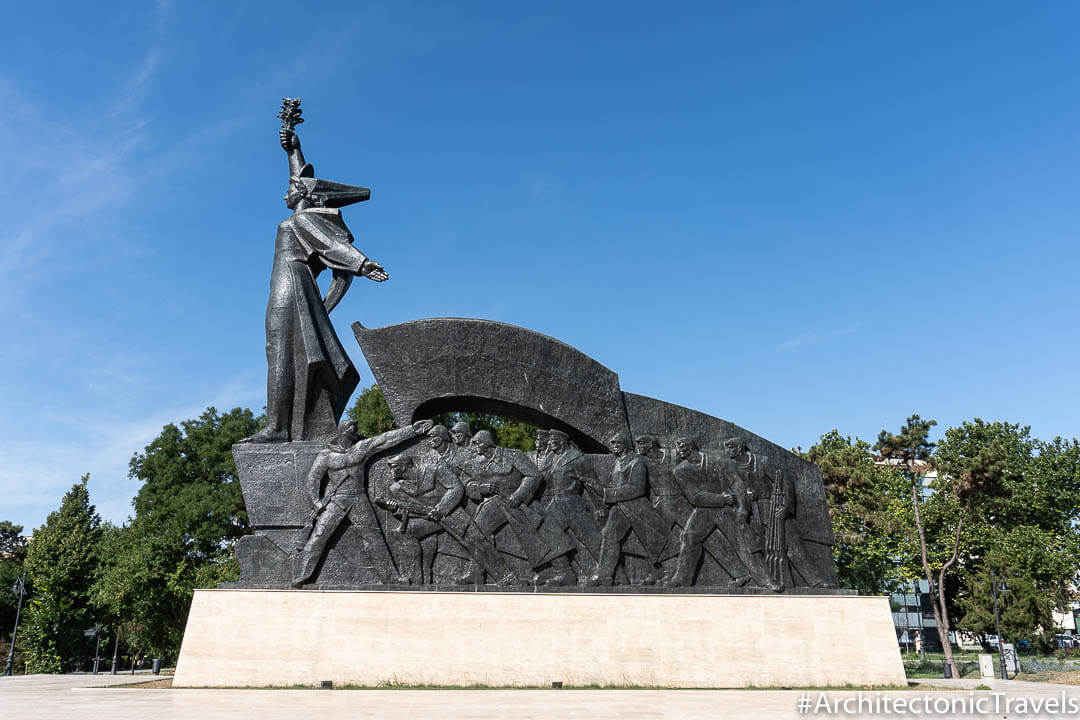 Monument to Victory
Where to stay in Constanta
Like Varna, Constanta also lacks budget hotel options. We stayed at Casa Kito which was OK. In most respects, it was much better than many reviews on Booking.com suggested. Our only niggle was that it could have been a bit cleaner, especially the kitchen and public areas. The walls were a bit thin (a ubiquitous feature of cheap accommodation in this part of the world) but we were lucky and generally had considerate neighbours.
Location-wise, it suited us being in the newer (albeit slightly more run down in feel) part of town closer to the bus station (and also the beach) but if you want to be a bit closer to the action in the old town, consider somewhere like Casa cu fluturi, a budget guesthouse where rooms have shared bathrooms. Alternatively, look at the more sophisticated Casa Chintoan. Prices in Constanta can rise dramatically during the summer months, especially if there is an event, so double-check accommodation costs before firming up plans.
Constanta to Tulcea
The bus leaving Constanta for Tulcea went from a different station to the one we arrived at. The bus station name is Autogara TraceTrans and is in the Tomis 3 district of the city. It's a few kilometres from the old town, so we took a city bus there. Google maps shows routes for Constanta city buses so it's easy to work out which one to take and from where. Buy a ticket for 2 lei from the kiosk by the stop and remember to punch it on the machine on the bus. Alternatively, you could take a taxi.
At the Autogara TraceTrans, buy your ticket from the small office by the platform. Tickets are 40 lei per ticket (€8.50) and the journey time is a little over two hours. Departures are roughly hourly but it's a small bus so you may find that if you arrive close to a specific departure time it might be full and you'll have to wait for the next bus. A further tip: if you're skipping Tulcea and travelling straight to Galati, Braila, or elsewhere, buses may depart from a different bus station (there are options from both Autogara Tomis and Autogara Sud.
Tulcea
A bustling port city, Tulcea is known as the gateway to the Danube Delta, and whilst you could use it merely as a stopover point on the journey from Varna to Odessa, it would be a shame not to factor in some time in the Delta itself.
With a pleasant promenade and a backdrop of socialist-era apartment buildings (plus one of the coolest train stations we've seen in a while), we found plenty of things to do in Tulcea. However, if you are opting for the Delta and time is tight, the ferry departs at 1.30 pm so if you catch a morning bus from Constanta, you can jump off the bus and get a ticket for the ferry on that day. It's possible to get a good feel for Tulcea in the hour or two you'll probably have to wait in Tulcea between ferries and busses.
We've written about our time in Tulcea and our trip into the Danube Delta in more detail, so won't repeat it all in this post.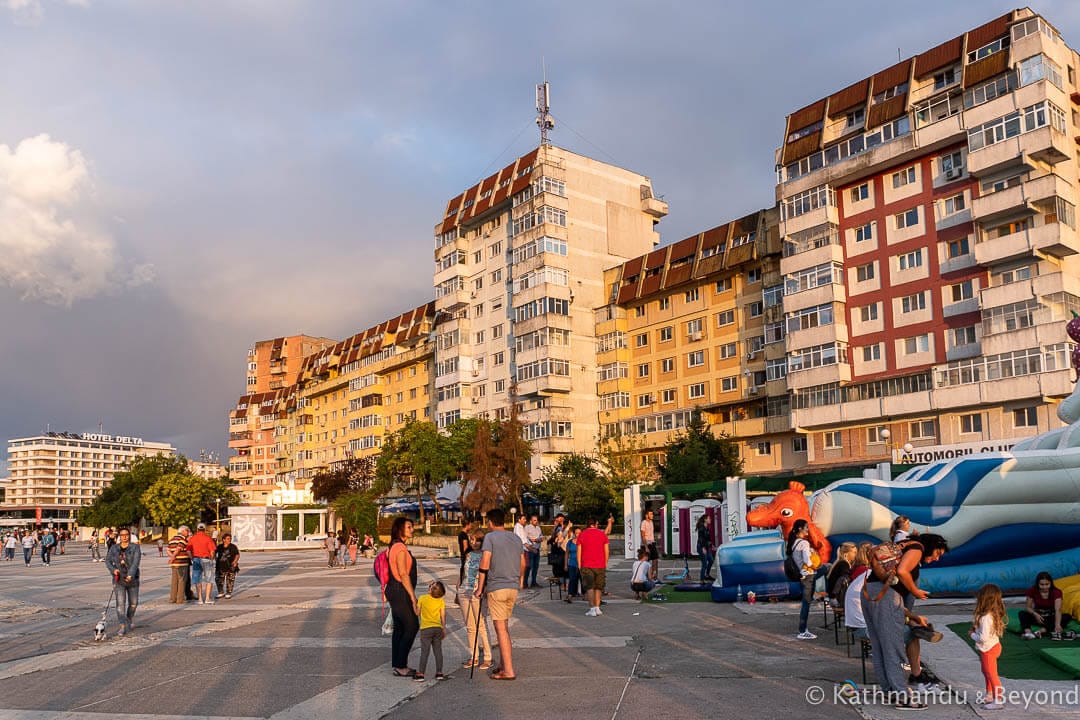 Tulcea promenade 
Where to stay in Tulcea
We stayed at Villa Mara, a small family-run guesthouse, a short walk from the train, bus and ferry terminals. No English is spoken but the owner is very friendly and we got by fine. If you prefer a conventional hotel, try something like the Hotel Delta, a large complex on the waterfront.
Tulcea into the Danube Delta
The Danube Delta is only accessible by boat and the simplest way of getting there is by Navrom, the state ferry company. You can check the routes, timings and ticket prices on their easy-to-navigate website. In season, there are also lots of private speed boats which means that more or less whatever time you arrive (providing it's before around 6 pm) you can find onward transport to the Delta.
Returning to Tulcea from either Sulina or Sfantu Gheorghe, two of the main Delta towns, a ferry leaves from both ports at 7 am, so it should be easy to catch an onward bus once back in Tulcea.
Read more: Our visit to the Danube Delta.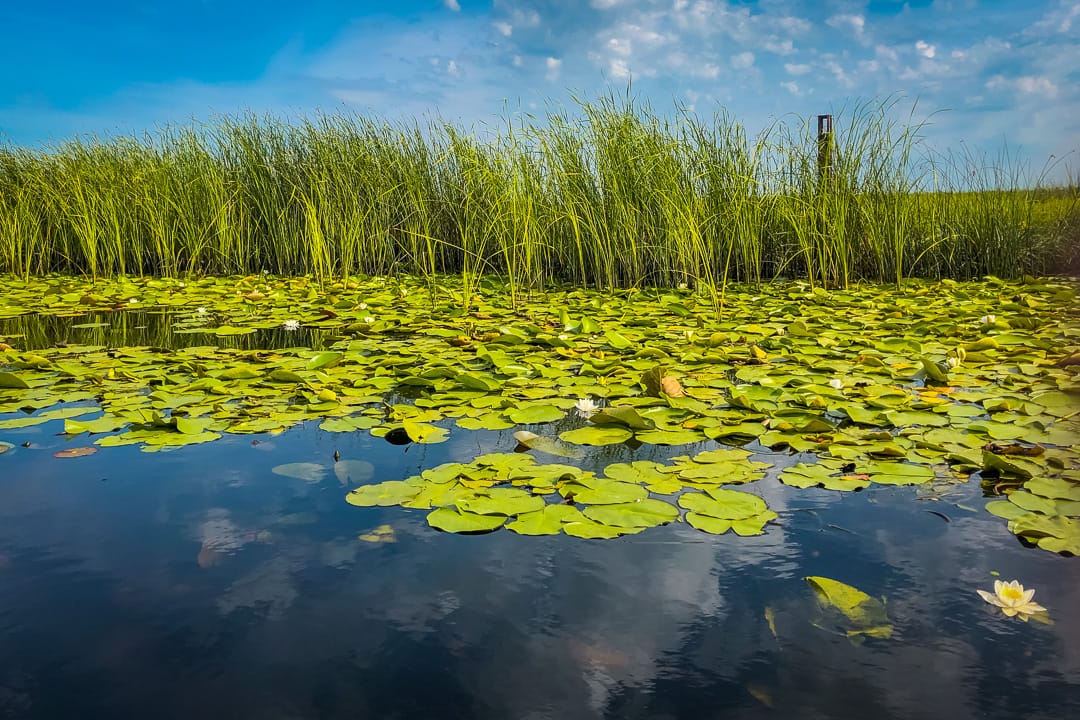 Danube Delta 
Tulcea to Braila
There are five daily buses from Tulcea to Braila, but it's the last two of the day which depart at 1 pm and 2 pm that will likely connect with returning ferries. We got off the slow ferry at 11.30 am and bought a ticket for the next bus which was at 1 pm. We arrived in Braila shortly before 4 pm and the ticket cost 40 lei each (€8.50). It's a slightly more interesting bus journey than most as the bus crosses the Danube by ferry.
Braila
For us, Braila (Brăila in Romanian) was what we call a wild card. Somewhere on the map between where we are and where we want to get to; all part of our 'stop the bus' philosophy. Breaking the journey in random places that we know little about has resulted in some of our most rewarding travel experiences.
Located on the banks of the Danube River, Braila became one of the most important ports on the river during the 19th century and architecturally there is still plenty of evidence of the town's importance during that period.
What to do in Braila
Take photos of Braila's umbrella street
Yes, even a small town like Braila has a replica of Portugal's famous Floating Umbrellas. Rows of colourful brollies dance above the end of Strada Mihai Eminescu, a pedestrianised shopping street. There are also some interesting buildings on the street including the ornate and now abandoned, Hotel Pescarus. And if umbrella street selfies are your thing, you can be fairly certain that you'll have the scene all to yourself!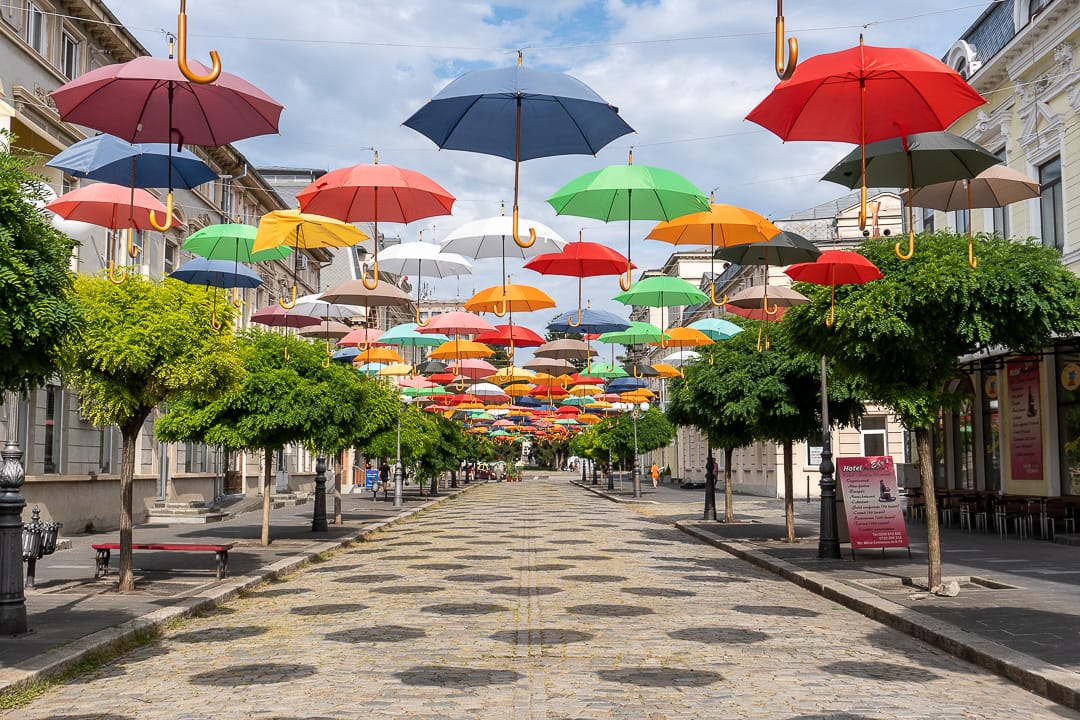 Braila 
See the historic (and very blue) Clock Tower on Piața Traian
Built in 1909 and a city landmark, the public clock sits in a small park in the centre of town. Apart from being bright blue there isn't anything especially remarkable about the clock but it's a good starting point for a walking tour of Braila – Braila Museum is across the road, and several attractive buildings as well as the town's significant churches are in this area. If modern architecture is your thing, don't miss Hotel Traian on the corner of the square. From there it's an easy walk to the shores of the River Danube.


Braila Clock Tower (left) and the former water tower and rotating restaurant (right)
Braila Water Tower
Before heading to the river, you might want to make a short detour to the Gradina Mare (Public Gardens) to gaze upon Braila's abandoned water tower (Castelul de Apa). Built in 1910, in more recent times the glass-domed tower has served as a restaurant. It closed in 1990 and is now abandoned, apparently awaiting restoration. I hope someone rescues it; it's a beautiful building.
Stroll along the River Danube
The strip of park that stretches along the river is called Faleza Dunării (or the Danube Cliffs). The name is a bit misleading as the "cliff" part appeared to consist of the drop in level between the town and Danube which can be easily reached by steps. The shady path is dotted with statues and sculptures and after about a kilometre and a half, you'll reach an area that becomes quite lively with people drinking beer and eating cevapi by late afternoon.
The Esplanada
If you've walked this far, you'll reach the Esplanada, Braila's riverside showpiece. A series of wide steps, platforms and water features lead from the water's edge back to the town centre. Running down the middle is a collection of stainless-steel sculptures and kinetic fountains. At the top is another fountain which puts on a little sound and light performance after dark. The Esplanada area felt like the social hub of the town with far more people milling about than in other parts of the town we visited.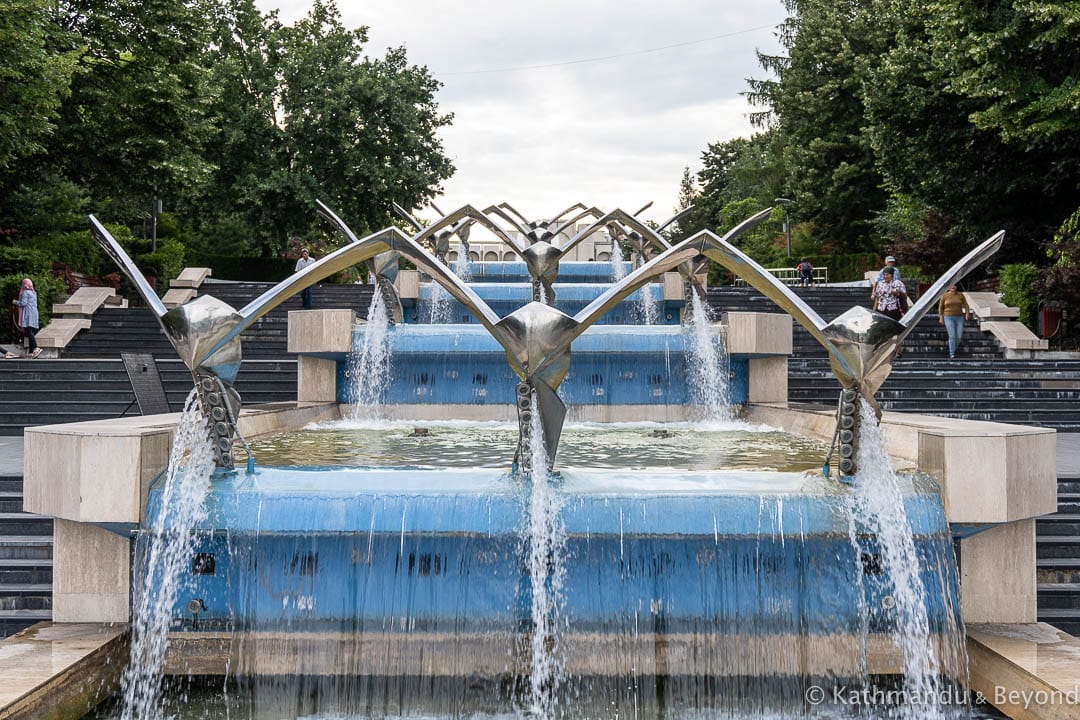 Braila's Esplanada
Socialist-era architecture in Braila
You'll find it most places that you look in the town, but at the top of Esplanada, you'll find quite a lot of Socialist-era architecture including Braila City Hall which is quite the brutalist beast.


Braila City Hall (left) and the Hotel Traian (right)
Where to stay in Braila
A reoccurring feature of off-the-beaten-path travel in this part of the world is the lack of hostels and budget accommodation. We were very tempted to stay at the socialist-era style, centrally located Hotel Traian but in the end, we opted for something a little cheaper. We stayed at the Paris Hotel which was fine for a night. The only downside is that, yet again, the walls are terribly thin. Also, some rooms have internal windows, so request a room with external windows.
Braila to Galati
Don't make the same mistake as us when taking the bus from Braila to Galati. When we arrived at Braila bus station, we checked the timings for onward buses to Galati. There was no one to ask so we went with the schedules displayed at the bus bays and inside the waiting room. When we arrived back at the bus station the following day, expecting to buy a ticket for our chosen time we were told there weren't any buses to Galati! After a conversation in Romanian (which we don't speak, by the way) and a scribbled route map drawn by a guy working at the station, we surmised that if we got on a bus that was due to leave shortly, the driver would drop us where we needed to be to catch the correct bus. Sure enough that worked out and we were dropped off on a random street on the other side of town where there were a few minivans (known as maxi taxis in Romania) gathered. "Galati?" we asked. "Da," was the affirmative reply, accompanied by a gesture indicating which mini-van we should board. Five minutes later, we were Galati-bound. This is the GPS location for where we took the bus from Braila to Galati: 45.285678, 27.97232. The ticket cost 12 lei per person (€2.50).
If that sounds like too much hassle, there are also several daily trains between Braila and Galati (both towns are on the main line to Bucharest). The train station is another modernist beauty worth seeing.
Random side-note: In 1847, cruise ships starting running between Odessa and Braila. Such a pity they're not still running!
Galati
One of the reasons that Galati (Galați) initially found itself on our travel itinerary was because Mark wanted to photograph a bus station. Yep, our travel has become that specific! But it was on our route from Varna to Chisinau, so always up for getting off the beaten track, we gave it a go.
Galati has a mix of 19th-century and Socialist-era architecture and a relaxed vibe. Like Braila, Galati sits on the River Danube but with a population of just over half a million, is twice as big. It's one of those places that I'd liked to have had more time to get to know better but equally don't have any reason to return to! From a touristic point of view, there aren't many things to see in Galati, but if you are following our itinerary then you'll need to spend a night here to catch the morning bus to Moldova.
What to do in Galati
Geek out over Galati Bus Station (Autogara Metropoli)
Starting with the least likely tourist attraction, if you're a fan of Socialist-era architecture, you won't want to miss Galati Bus Station. Galati's sleepy bus station is a winged UFO-shaped design which is equally impressive on the inside.


Galati Bus Station (Autogara Metropoli)
Stroll the Danube Cliff
Similar to Braila, Galati also has a long stretch of riverside promenade-park on a slightly lower level than the main town. I'm wondering if towns built along the Danube were deliberately built like this to prevent flooding from high water levels. The two levels are about fifty metres apart and are known as the upper cliff and the lower cliff and stretch four kilometres along the Danube.
Admire the riverside sculptures
The path along the lower cliff is dotted with metal sculptures created by various artists in the mid to late 1970s. Can you spot the reoccurring similarities between Braila and Galati? Though if you wanted to make a comparison, there are more sculptures in Galati than in Braila.


Evolutie by Bela Crisan (1976) (left) and Septenarius by Ingo Glass (1976) (right)
Propeller Monument
Not reason enough to come to Galati (although it was something that Mark had identified ahead of our visit), the focal point of the five-metre memorial is a huge propeller. The Propeller Monument was erected in 1974 to commemorate the 80th anniversary of the Galati shipyard. It's located close to the waterfront, and conveniently for us, is very close to the apartment we stayed in.
The Propeller Monument
Where to stay in Galati
We stayed at Citadel Aparthotel which is close to the Danube and a short walk from the city centre. Our apartment was clean, comfortable and well furnished and we would have happily stayed longer than the one night we had. The owner, George, was very nice and I'm not sure we would have got our places on the bus to Cahul without his help.
Galati to Cahul
We headed to the Autogara Metropoli to buy our tickets to Cahul in Moldova on the following day (the bus station was on our sightseeing route anyway). At the information counter we were told that the one daily bus departed for Chisinau at 8.30 am, via Cahul, but, no, we couldn't buy a ticket in advance. We would have to get it from the driver directly, in the morning. With no later buses as a backup plan, we were apprehensive about this scenario so sought out George's help. He managed to find a phone number and when my text messages and phone calls went unanswered. The phone was answered but because the guy on the other end, presumably the driver, didn't speak English and I don't speak Romanian, we didn't get very far. I did send an SMS in Romanian courtesy of Google translate but that was also ignored. George got on the case for us and managed to reserve two seats.
We were very grateful because the bus service appeared oversubscribed and we weren't convinced we would have got on if we hadn't pre-booked it. We paid the driver 25 lei (€5) each (a bonus because we were told the fare would be 50 lei which we surmised was the Chisinau fare) and departed at around 9 am, arriving into Cahul two and a half hours later. If you don't speak Romania, we highly recommend that you find someone who does and ask them to reserve seats in advance on your behalf. The telephone number is +40 756 528614. According to the schedules displayed at Cahul bus station, the reverse journey leaves Cahul at 5 am (ouch).
Cahul, Moldova
This was our second visit to Moldova. Previously, we'd stayed only in the capital, Chisinau so on this occasion we wanted to experience a smaller town. A couple of people suggested Cahul, a small city in southern Moldova, and we were sold on the idea.
What to do in Cahul
It's fair to describe Cahul sights as lowkey but the undeniable highlight for us was the large number of fantastic Soviet-era mosaics that we hunted down. For a full list of things do in Cahul including a map of locations, read our guide to visiting Cahul.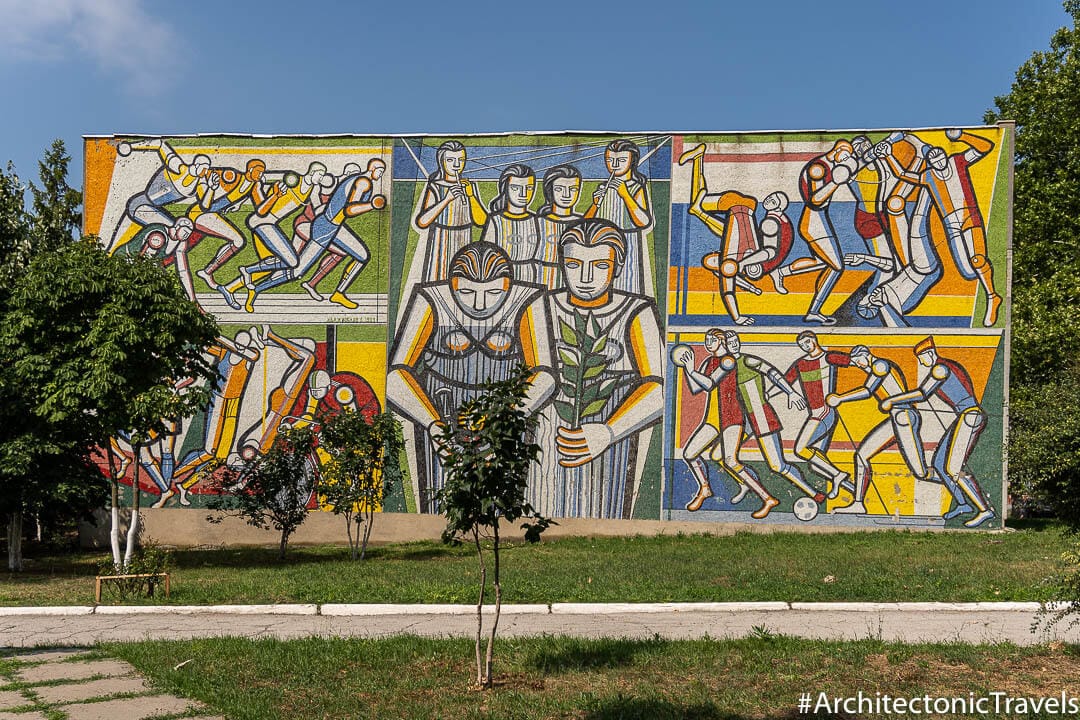 Cahul's Sports Hall


Monument to the Liberation of Cahul (left) and "Cahul City" Monument and the Monument to Soviet Pilots Liberators (right)
Where to stay in Cahul
There are only a handful of hotels in Cahul and we stayed at the Hotel Marco Polo. The four rooms are a little dated but perfectly acceptable for a night or two. The Marco Polo has a good location, close to the market and other shops, and the ground floor restaurant seemed popular.
Cahul to Chisinau
There are frequent, regular buses between Cahul and Chisinau's Gara de Sud (southern bus station) and the timetable is displayed inside Cahul bus station (and is online here). Our ticket price was 76 Moldovan lei (€4) and the journey took about four hours (longer than we expected considering the 160 kms distance).
Chisinau
At first glance, many travellers write off the Moldovan capital as dull and uninspiring. But whilst Chisinau certainly isn't Eastern Europe's prettiest city, if you scratch a little below the surface, Chisinau's eclectic character will reveal itself. If you are passionate about Soviet-era architecture and mosaics, you will find plenty to occupy your time in Chisinau (on our most recent visit we spent eight nights there).
What to do in Chisinau
The backbone of the city, Chisinau's main avenue, Stefan cel Mare si Sfant Boulevard, stretches for almost four kilometres and is a street you will inevitably find yourself walking up and down a fair bit (top tip: hop on a bus; you pay the conductor and a ride costs just 2 lei).
Stroll the city parks
Chisinau is a very green and leafy city and you'll probably find yourself spending time in at least one or two of its parks. Grădina Publică Ştefan cel Mare şi Sfînt (Stephen the Great Central Park) and Cathedral Park sit diagonally across the main road and it's in this area that you find many of Chisinau's conventional sights, the ones you'll find listed in guide books. There's the statue of Stephen the Great, the Nativity of Christ Metropolitan Cathedral and Moldova's own Arc de Triomphe. Also in this area are Government House and the Parliament Building (two of Chisinau's least interesting communist-era buildings).
Do a Soviet-era architecture walking tour
We've planned one for you! There is no doubt that it is fans of Soviet architecture that will feel most at home in Chisinau and there is plenty to be found just by wandering a couple of streets back from Stefan cel Mare. In addition to buildings, our walking tour includes some of Chisinau's incredible Soviet mosaics and monuments. It's one of our most comprehensive posts and maps out the locations on a Google map.


S.A. Termocom building (left) and the Hotel Cosmos (right)
Gaze at the Chisinau Circus building
You don't need to be a fan of Soviet architecture to be impressed by this concrete wonder. Opened in 1981 and abandoned in 2004, entering is no longer an easy feat for urban explorers but you can still gaze in awe at the exterior.
Chisinau State Circus
Explore the Jewish Cemetery and seek out the abandoned synagogue
Tombstone tourists might enjoy the old Jewish cemetery, in which an abandoned spiritual preparation building can be found.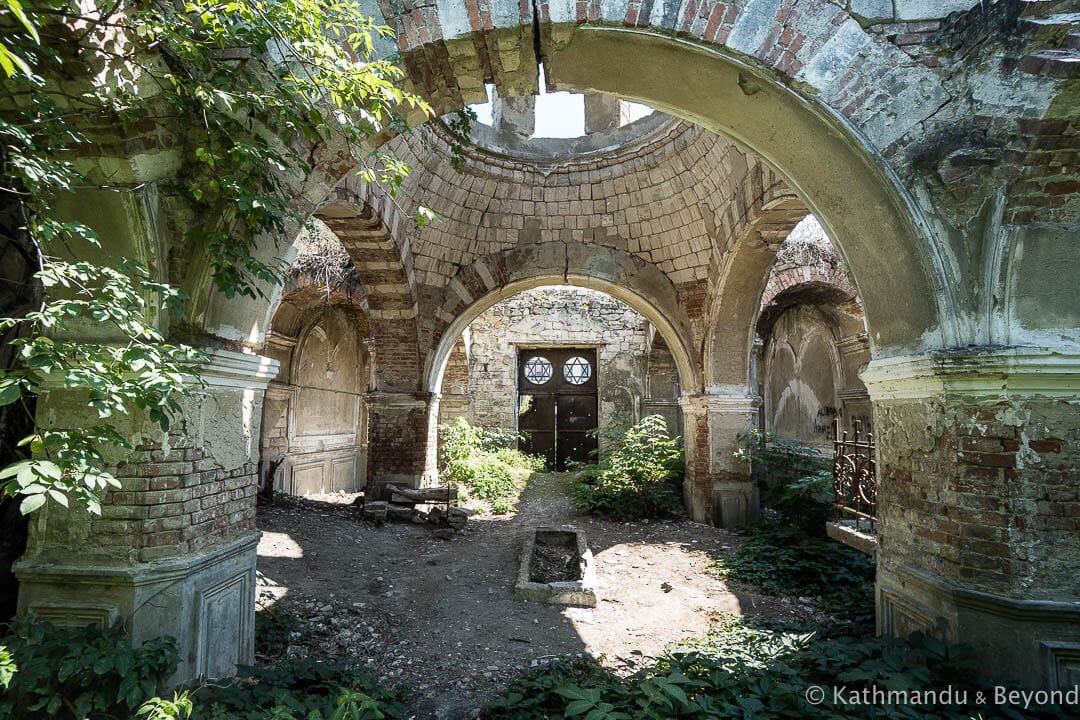 The remains of a spiritual preparation building hidden away on the edge of Chisinau's Jewish Cemetery
Take a day trip from Chisinau
Moldova's size means that seeing the country on day trips from Chisinau is a feasible option. The downside is that bus travel can be slow and schedules infrequent, so hiring a car is a good option. We've taken day trips out of Chisinau to Transnistria, Comrat and Orhei Vecchi. Excursions to vineyards like Cricova Winery are popular but we've been to plenty and they aren't really our thing.
Where to stay in Chisinau
Chisinau has a wide range of accommodation to suit all styles of travel and budgets. We've stayed in two different apartments in the city and would recommend both Armyanskaya Apartments and Apartment Ludmila. If you prefer a hostel, we've heard good things about Hostel City Center and Amazing Ionika.
Onward from Chisinau
From Chisinau, there are several interesting routes you could take. A popular itinerary is to travel from Chisinau to Odessa in Ukraine, either via Tiraspol in Transnistria or, if you visited Transnistria as a day trip from Chisinau, directly by bus or train to Odessa.
Here are some other suggestions of where to go to from Chisinau:
Continue north through Moldova to Balti before crossing into Ukraine towards Chernivtsi, an attractive city with a UNESCO-listed university building (Residence of Bukovinian and Dalmatian Metropolitans).
Head back into Romania to Suceava, a good base for visiting the Painted Monasteries of Bucovina, also a UNESCO World Heritage Site.
Take the overnight Soviet-style train from Chisinau to Bucharest.
From Chisinau, you can also take trains to Kyiv, Moscow and St. Petersburg.
If you're flying out of Chisinau, Wizz Air has direct flights to several destinations, and Belavia flies directly to Minsk in Belarus.
You might also like our suggested itinerary to Ukraine, Moldova & Transnistria: From Uzhhorod to Kyiv which takes a route through Moldova.
In conclusion
If you're a regular reader, you probably already know that we're big fans of overland journeys and this itinerary from Varna to Chisinau provides a diverse itinerary that could be covered in as little as two weeks if you didn't mind a few one-night stops.
---
IF YOU ENJOYED THIS POST, PLEASE PIN IT TO YOUR TRAVEL BOARDS…



---
---