What to do in the Danube Delta and how to get there
Ask a local for a list of the most beautiful places in Romania and there's a good chance the Danube Delta will be on it (in fact, some friends first urged us to visit some eight years ago). And yet, it's an area of the country which remains largely unvisited by travellers and backpackers outside of the region.
The Danube Delta was one of the highlights of our recent 8-week trip through Romania, Bulgaria and Moldova, and although we spent five days in the Delta, I wish we could have spent a bit longer there.
Tucked away in a corner of eastern Romania, the Danube Delta is not the easiest of places to travel to independently. Furthermore, much of the area can only be reached by boat so planning a visit can be a little confusing.
With the help of the information in this post, we aim to make planning your trip to the Delta easier than it was for us. In addition to talking about our experience, we'll move on to how we'd do it differently with the benefit of what we know now.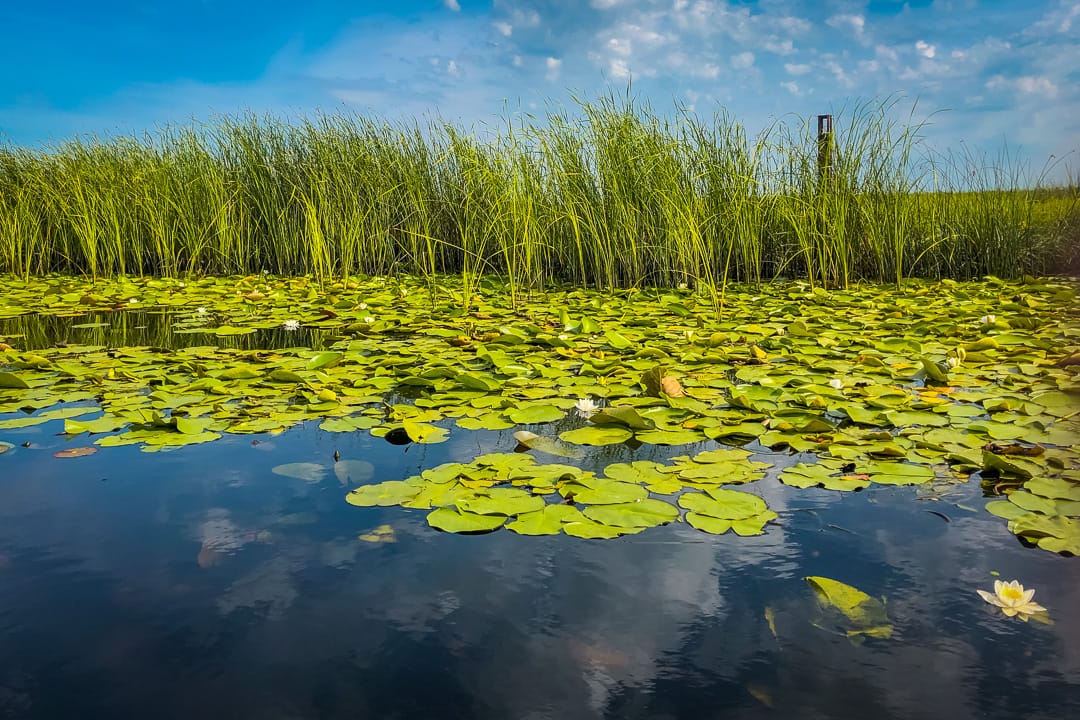 Danube Delta
What and where is the Danube Delta
When viewed from above, a delta commonly has a fan-shaped veiny appearance and forms when rivers split over low-lying land, into several distributaries, before emptying into another body of water, such as an ocean or lake. In the case of the Danube Delta, it's the place where the Danube River meets the Black Sea.
The Delta Dunarii (as it's known locally), is one of Romania's eight UNESCO World Heritage Sites. Earning its listing due to being the largest and best-preserved of Europe's deltas, the Biosphere Reserve has the third largest biodiversity in the world, surpassed only by the Great Barrier Reef in Australia and the Galapagos Islands in Ecuador.
There are facts galore that you can google about the Delta but here are a couple of the most interesting (and digestible) ones:
The Danube Delta comprises 5,700 square kilometres of rivers, canals, lakes, marshes and islands and has over 5,500 flora and fauna species, including over 300 species of birds and 45 freshwater fish species.
The Danube River is a very cosmopolitan one, passing through (or touching the borders of) ten countries: Germany, Austria, Slovakia, Hungary, Croatia, Serbia, Bulgaria, Moldova, Romania and Ukraine. It flows for around 2,850 kilometres and is the second-longest river in Europe (the longest river in Europe is the Volga which is located entirely in Russia).
Our Experience of visiting the Danube Delta
We visited the Delta as part of a trip from Varna in Bulgaria to Chisinau, Moldova's capital. Initially, our idea was to travel directly from the Romanian side of the Delta into Ukraine's part of the Danube Delta, but that proved impossible to do by public transport. Instead, we followed the Black Sea as far as Constanta and then headed to Tulcea, the main point of entry to the Delta. The bus from Constanta took around three hours and we arrived in Tulcea around midday. We'd already booked a guesthouse for the night because we'd assumed that we wouldn't be able to get a ticket for an onward ferry on the same day (partly because Lonely Planet, our main source of travel information for the Delta, suggested it was necessary to join a queue for tickets at 10 am in order to be able to secure them for a 1.30 pm sailing). There was no-one else in line to purchase ferry tickets at midday and we would have easily been able to get tickets for that days sailing. The woman behind the counter said it was "never a problem" and to come back tomorrow for tickets for that day (you can't buy them at the port in advance although you can buy them online).
At first we were annoyed with ourselves at the prospect of "wasting" a day in Tulcea, but once we started to wander around we immediately got a good feeling for the city and ultimately were very happy that we spent some time there.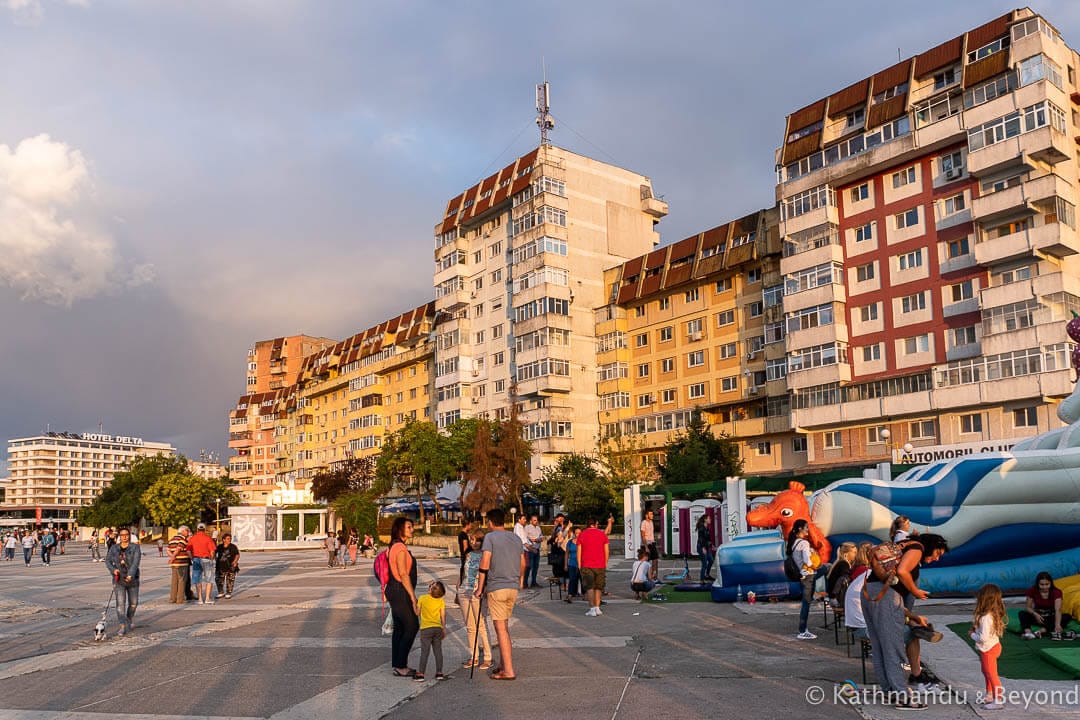 Tulcea
Tulcea – the gateway to the Danube Delta
Tulcea is the gateway to the Danube Delta and some visitors use the city as a base for day trips by boat. However, unless you are extremely short on time, we wouldn't recommend this. Tulcea is quite a big city and you'll get a much better impression of the Delta by spending some time in one of its smaller towns.
Conquered by the Romans, and with periods under Byzantine and Ottoman rule, Tulcea (pronounced Tool-cha and not Tull-see-ah as we first thought) is an important port city with a history that goes way back. Despite this, Tulcea's ancient past is not immediately obvious, and our first impression of Tulcea was the towering socialist-era apartment blocks set along the riverside promenade. Once you start wandering around the backstreets, Tulcea's eclectic architectural mix is more evident and there are plenty of ornate 18th and 19th-century buildings lining the cobbled streets.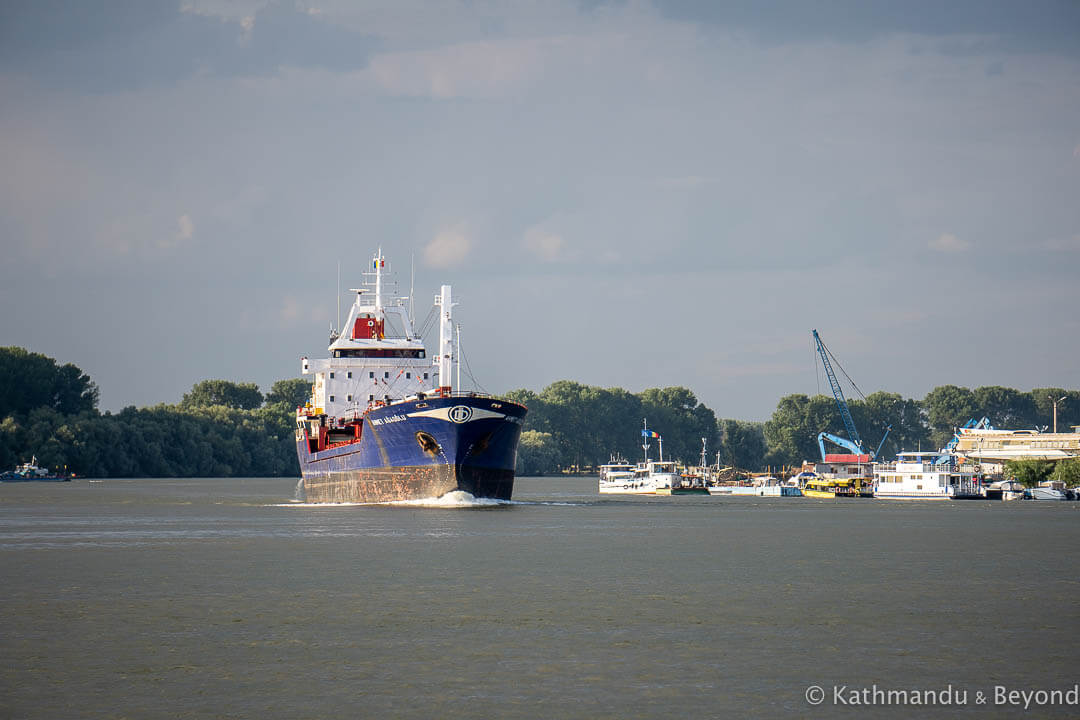 Tulcea Harbour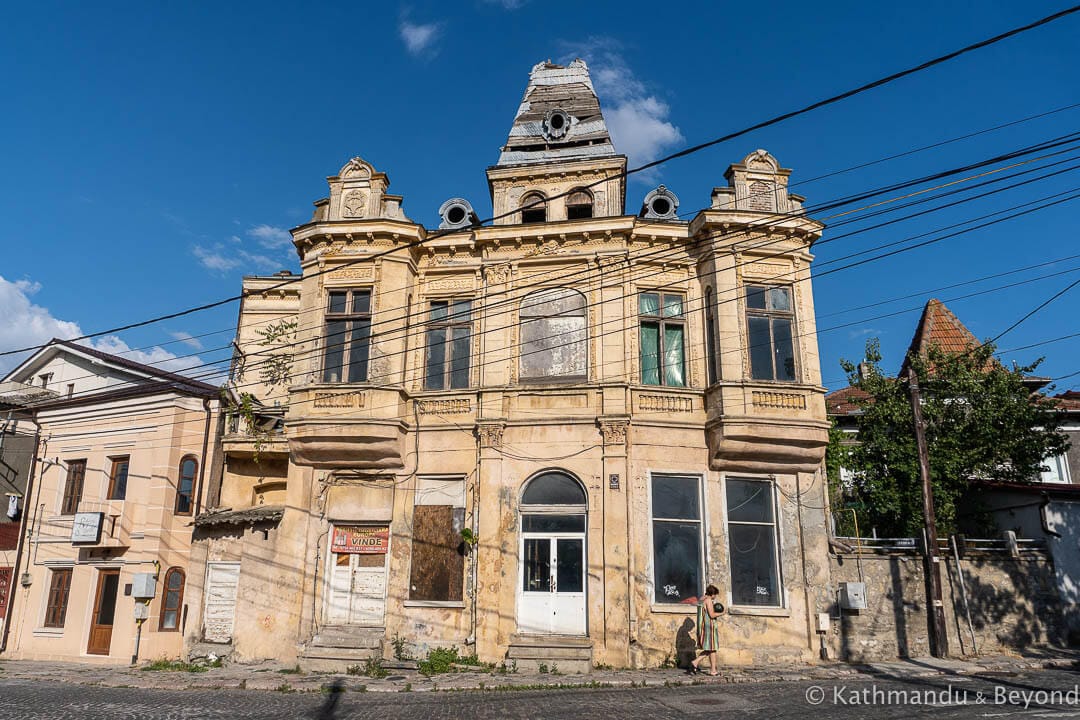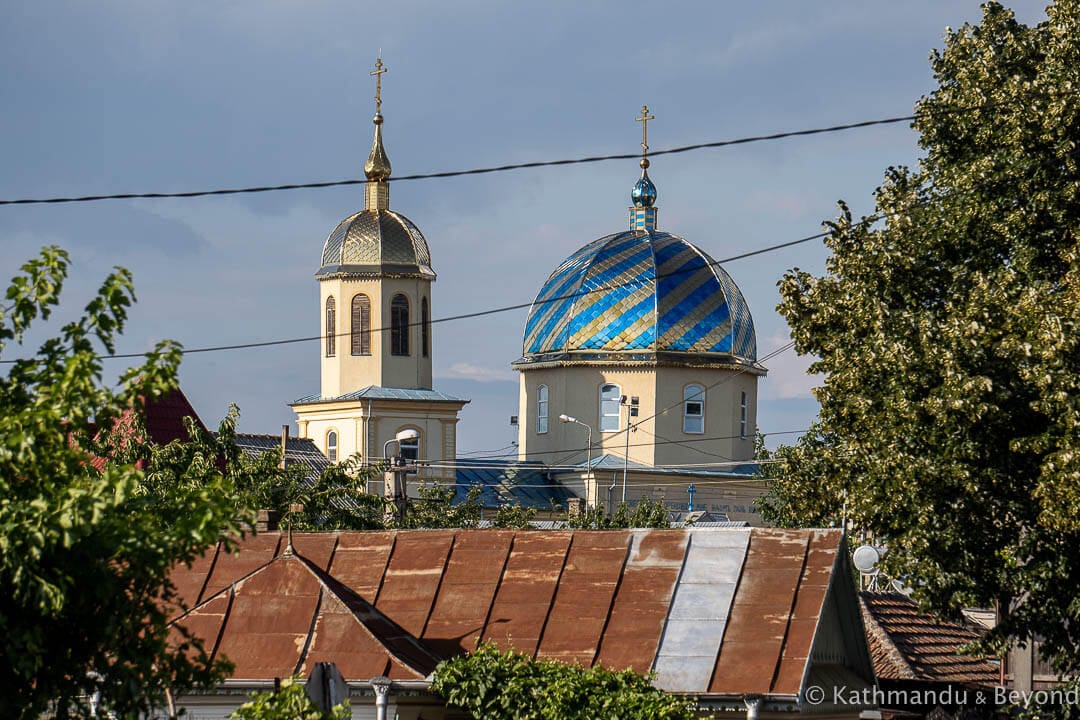 Tulcea: former Teodorof – Ciresica Sausage Factory (left) and Church of the Assumption (right)
As well as walking along the Danube riverfront, we walked up to Heroes Monument (now officially renamed Independence Monument), a memorial on a hill on the edge of town to honour those who fought for independence against the Ottomans in 1877. Walking there and back allowed us to see something of the rest of the town. We came across a few churches including the Church of the Assumption which reminded us of the blue golden-domed churches of Ukraine. We also came across several socialist-era buildings and a beautiful mosaic that was impossible to photograph because of the trees in front of it. We didn't visit any of Tulcea's museums, but there are a few to choose from including the Danube Delta History Museum, the Art Museum, and the History and Archeology Museum.
Our stay coincided with Tulcea's annual beer festival (that's what we call fate 😉 ) and the promenade was packed with stalls selling grilled fish and meat, as well as beer. A large stage held traditional music performances, and a carnival atmosphere prevailed. As we sat drinking a beer at a table on the edge of the Danube, the skies blackened and the wind whipped up, but in the end the threatened storm missed us and we were treated to a beautiful double rainbow.
The next morning, we returned to the port to buy our tickets for the 1.30 pm ferry to the Delta town of Sulina (again there was no queue). You can take a ferry along all three main branches of the Delta, but we picked Sulina, Romania's easternmost point, at the end of the Sulina branch. Besides excursions into the Delta we were drawn by the part Sulina played in the history of the European Danube Commission – see later.
The ferry left Tulcea promptly at 1.30 pm and four hours later we arrived in Sulina.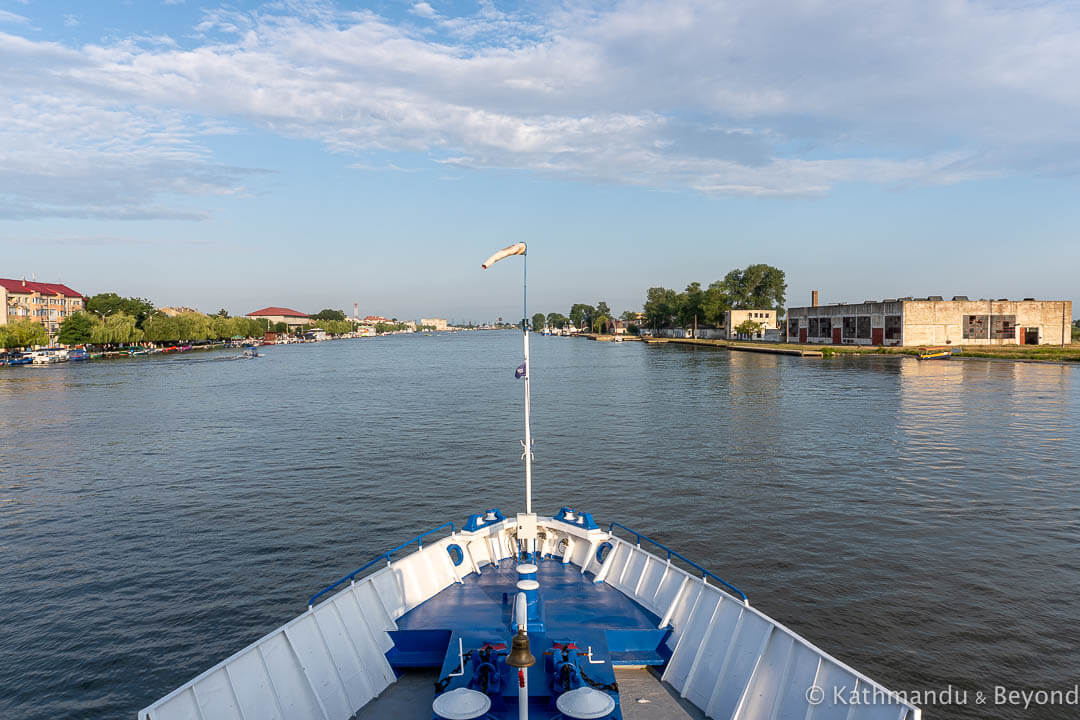 Arriving in Sulina, Danube Delta
Sulina – where the Danube Delta meets the Black Sea
Sulina is situated at the point where the Danube Delta meets the Black Sea and has been an important aquatic connection between Asia and Central Europe for centuries. During the 19th century the town was the headquarters for the European Danube Commission (a bit like an early version of the European Union), and at that time the region would have bustled with activity – maritime men, traders, merchants and pirates all passed through. The Commission had representatives from countries including Britain, France, Germany, Italy, Austria, Turkey and Russia – this ensured that no one nation had supreme control over the lower Danube.
Today Sulina is a laid-back town; long and skinny and stretching four kilometres alongside the pedestrianised promenade. At its widest point, Sulina is just six streets wide, the roads conveniently named Strada 1 through to 6.
The town has a population of less than 4,000, most of which live on the right bank of the channel where the shops, cafes, restaurants, places to stay, and services including a couple of ATMs, are located. There is one supermarket and a couple of small grocery stores, which along with restaurants, cafes and bars are concentrated on Strada 1 and 2. Sulina doesn't have any fancy hotels (although there are some resorts further up the channel) and accommodation is generally in either guesthouses (or pensiuni), apartments, or holidays homes. There are a couple of hostels with dorm beds in Sulina (more in the accommodation section later).
Considering the town can only be reached by water, we were surprised to see several cars in Sulina. We assume some residents have cars that they just use in and around the town.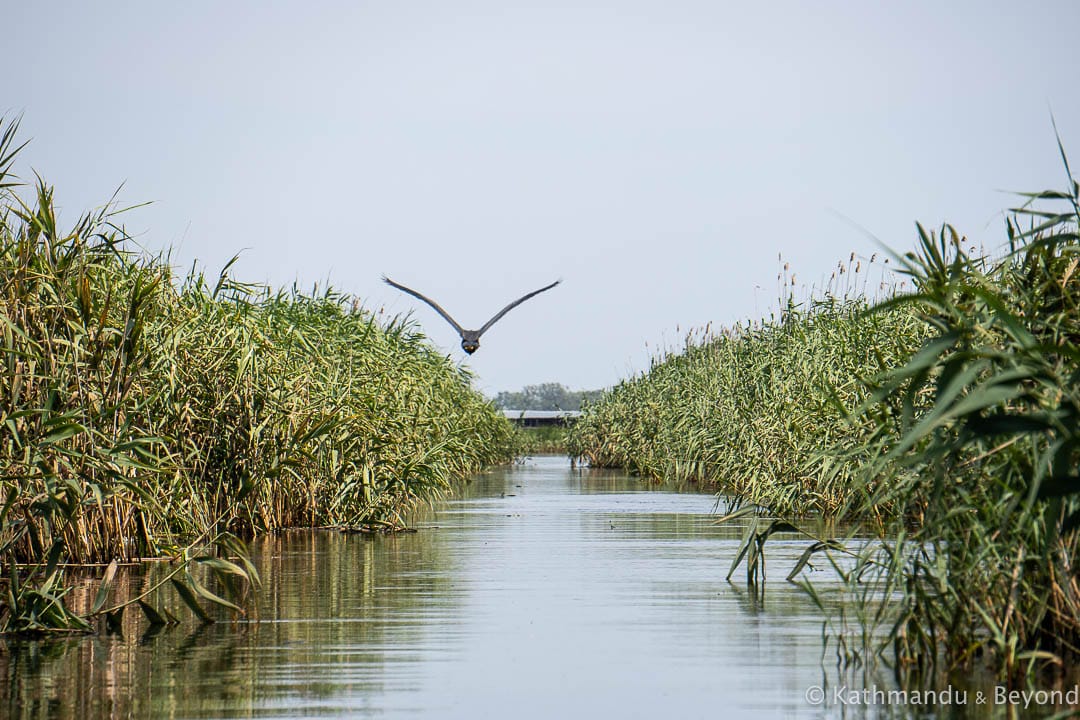 Danube Delta
What to do in Sulina
Excursions into the Danube Delta
Undoubtedly the number one reason for visiting the Delta. Sulina's waterside promenade is full of boards advertising the various Delta excursions, but there weren't that many people around to sell them to us. I suspect that most tourists are Romanian and therefore arrange their excursions over the telephone or directly with their hotel or guesthouse, but not being Romanian-speakers made that difficult for us.
Most of the tours were similar, with a choice of routes to choose from, roughly divided into the northern part of the Delta, the southern part, some that focus on birdwatching, and a very short one that basically takes you to the mouth of the Black Sea and back again. The numerous options were overwhelming particularly as we didn't know what we were choosing between. The only place in the Delta that had I heard of was Mila 23 and so initially I'd identified that as a day trip inclusion. However, once in Sulina, we discovered that day trips including Mila 23 were around nine hours long, a duration which tests our patience for group excursions. Several excursions listed were about three hours long which felt too short. So although it was a bit of a pot-luck choice, we settled on an excursion which took around five hours and which combined time in the boat with a trip into Letea forest, the oldest protected area in Romania. We were tempted by the tour to Sfantu Gheorghe but, wrongly or rightly, it felt like we wouldn't get to see as much of the Delta on that tour.
So we picked what we thought would be a good balance, and provide a taste of the Delta. The trip left the dock at 9 am and we were the only two non-Romanian speakers in our group of nine. The guide/boatman didn't speak any English so we missed out on anything interesting he may have said (a little later we realised one of those things was the lunch order!). It's not the first time we've experienced a language barrier with guides, but it's unfortunately a consequence of joining a group tour in an off-the-beaten-path (for non-domestic tourists) place. We could have arranged a private tour but that would have cost us much more than the 85 lei per person (£16/€17/US$20) that we paid.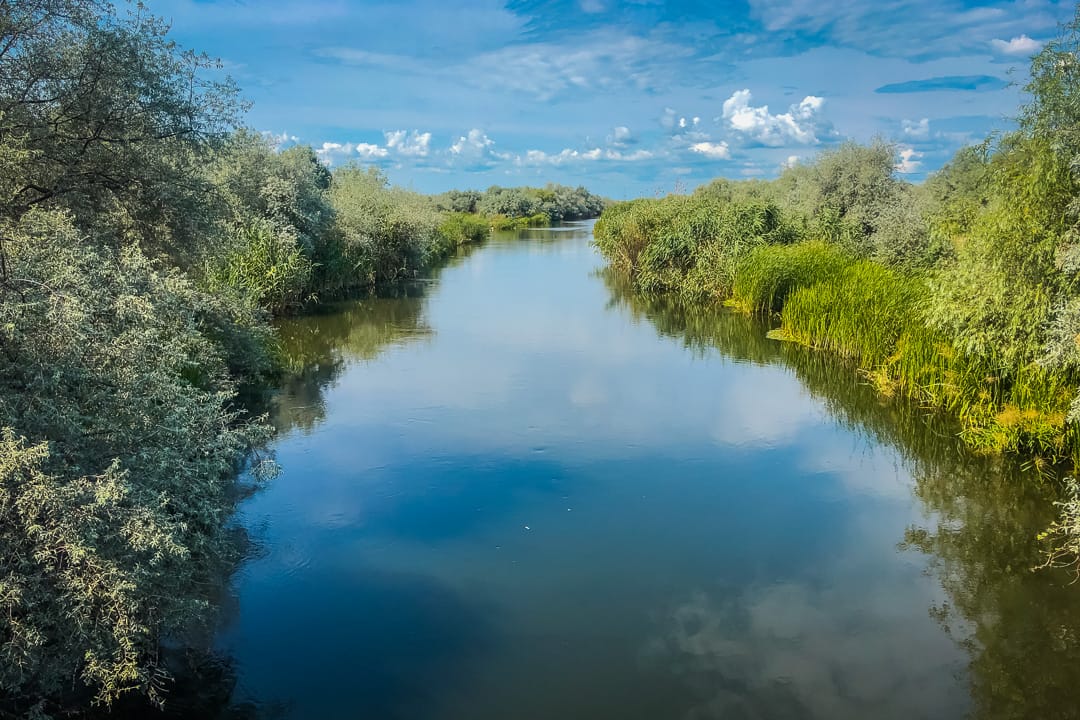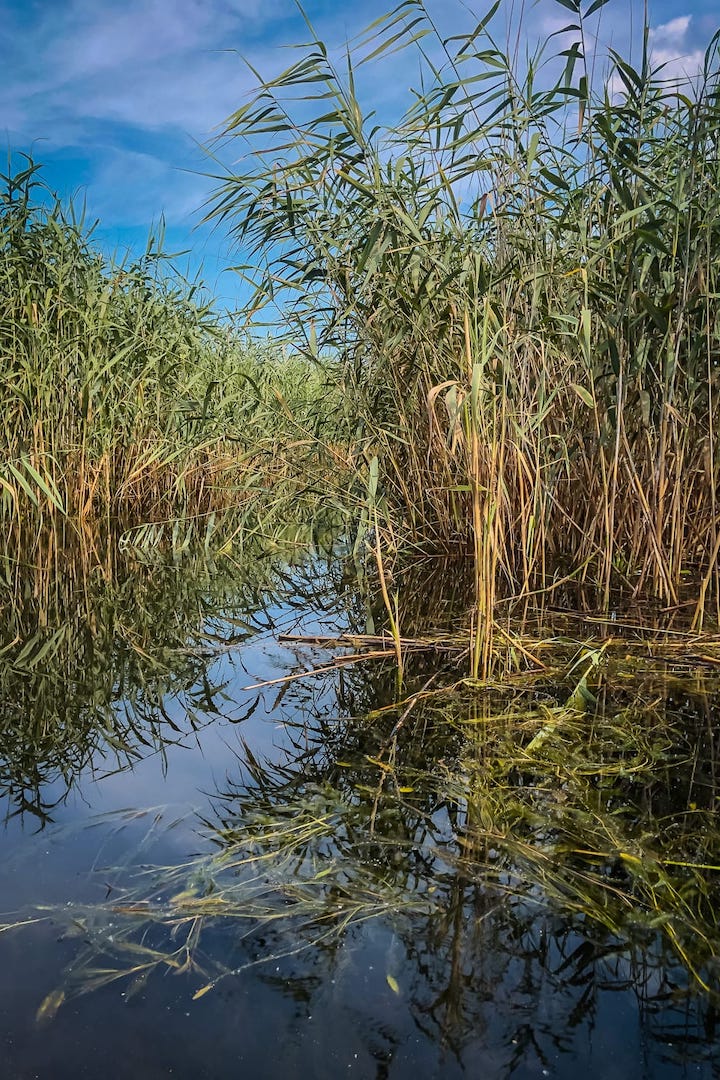 Danube Delta
We spend most of the morning navigating the narrow canals of the Danube Delta, cutting through reed islands, passing by pretty water lilies complete with sunbathing frogs, spotting swooping herons… And very nice it was too. Late morning, we arrived at the village of Letea where we transferred to a horse-drawn cart (included in the tour price) that took us bumping along a track into the forest. The trip into the forest by horse-drawn cart promised 700-year-old trees, tropical creepers, wild horses and sand dunes. What anyone failed to mention was the swarms of huge and vicious mosquitoes. Our tour-mates had come more prepared than us – we now realised why they were all wearing trousers and long-sleeved tops and were armed with copious quantities of insect repellent! We gratefully accepted offers of a spray or two. On the back of the cart, we were a moving target but once we stopped and began our walk in the forest, the dive-bombing began in earnest. Emerging to an open area of sand dunes and wildflowers gave a bit of respite from the mossies, but before long we had to return to the horse cart. Unfortunately, the mosquitoes made our visit to Letea forest a bit of a living hell and didn't allow us to fully appreciate it. Before getting back on the river, we had around an hour break for lunch. Not quite knowing what lunch would involve, we'd taken along a couple of snacks. Only two members of our group took the lunch option which was a three-course meal with fish as the main course. The cost was 50 lei per person (£9.50/€10.50/US$12)which wasn't bad for what you got (despite not having understood the guide asking who in the group wanted lunch, we could have had it). The rest of us ate our packed lunches on the other side of the restaurant. Following lunch, we made our way along more canals and we arrived back in Sulina at around 2.30 pm. Apart from the mosquitoes, it was a good choice of tour which we enjoyed very much. If you go, take plenty of mossie spray!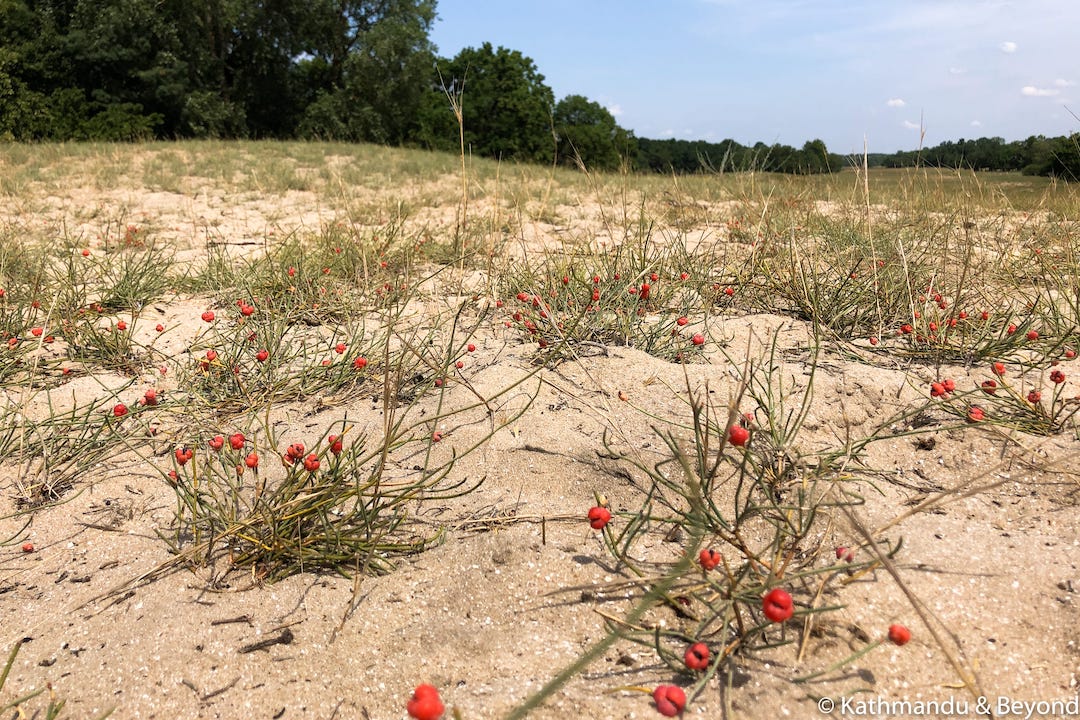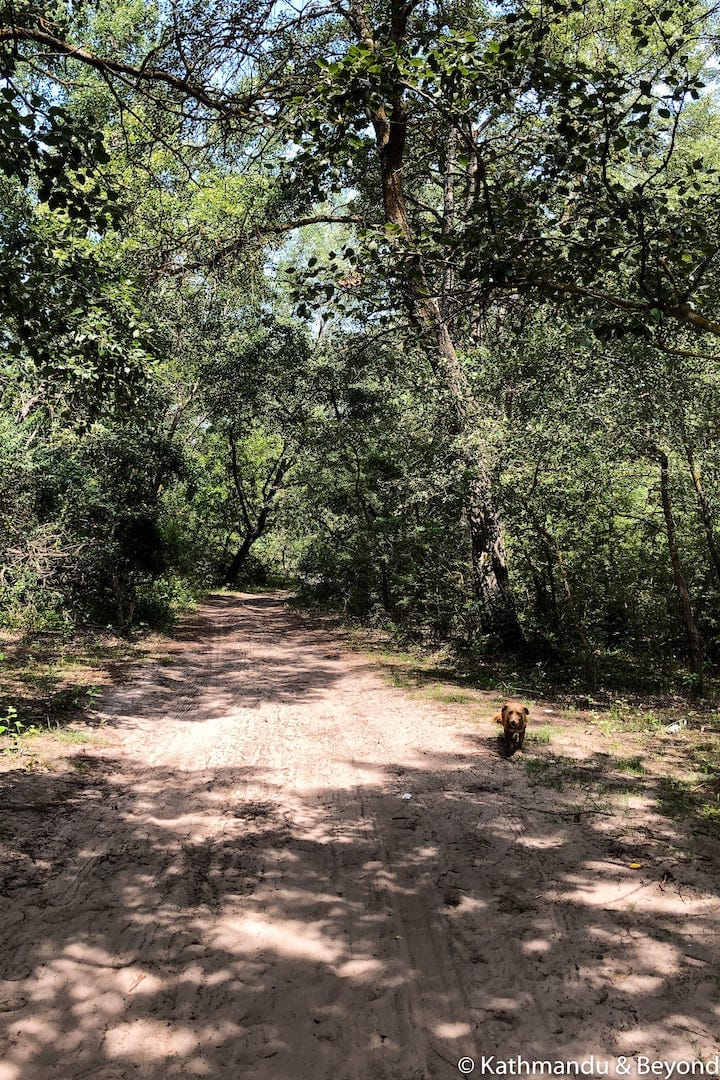 Letea Forest, Danube Delta
Visit Sulina Cemetery
The graveyard, or Sulina Mixed Cemetery as it is sometimes referred to, is a window into Sulina's multicultural past. With graves dating back to the 1800s when the European Danube Commission attracted people from all over Europe and the Middle East, the cemetery is interesting to visit.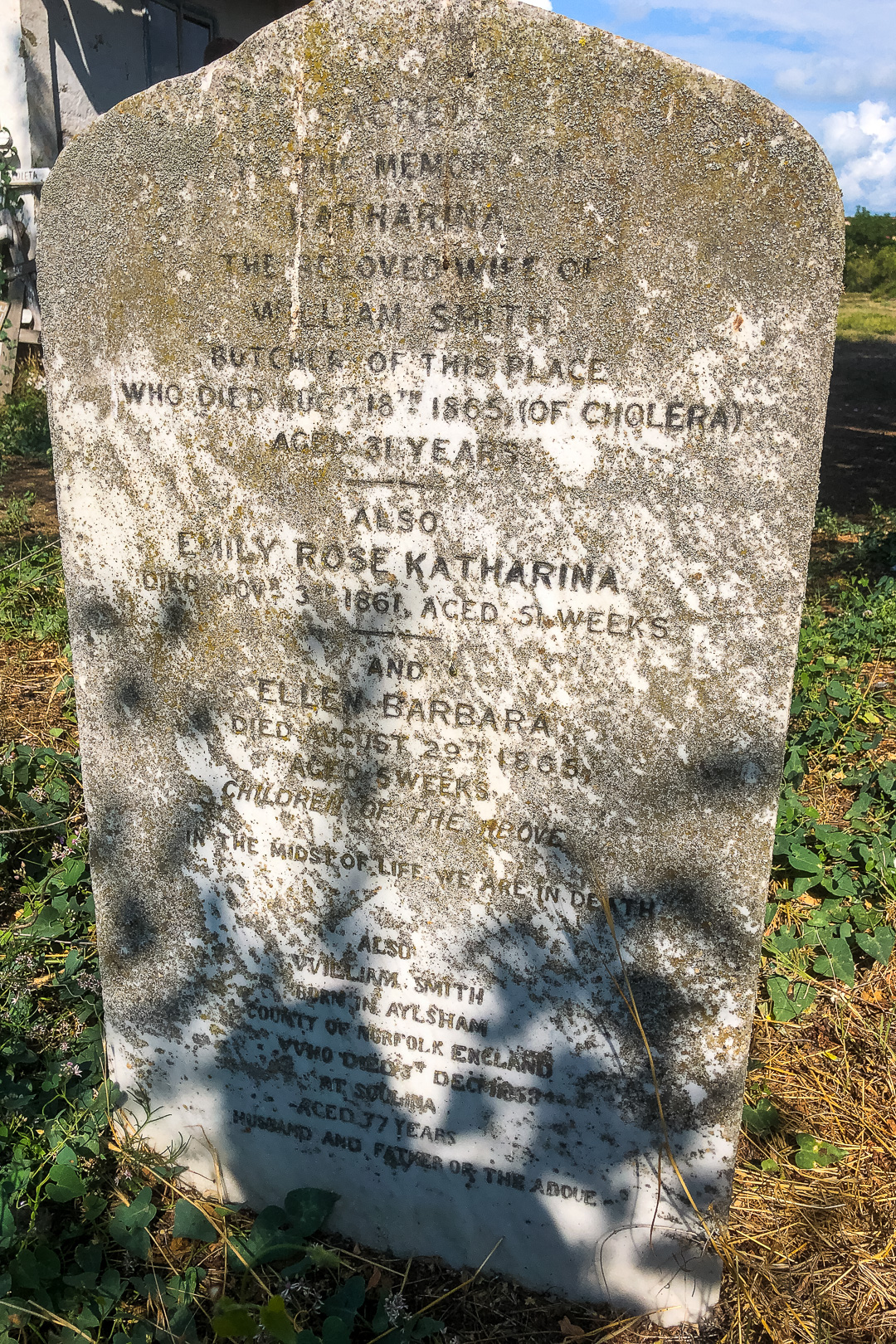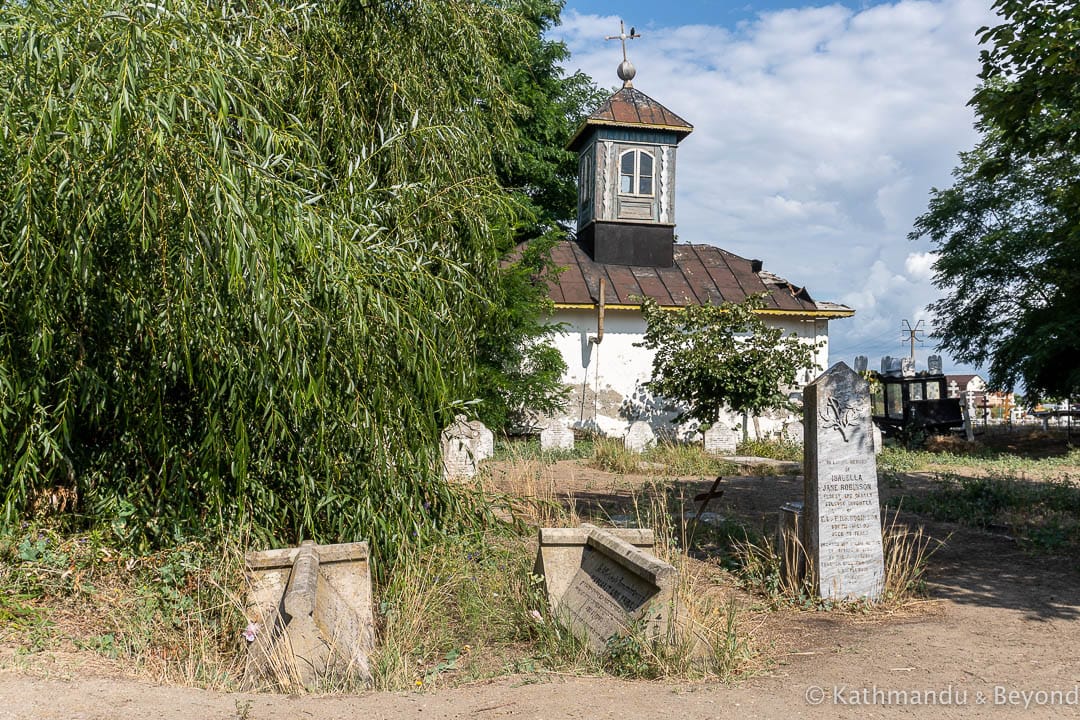 Sulina Cemetery
Graves bare inscriptions such as "To the memory of Katharina, of Norfolk England, the beloved wife of William Smith, butcher of this place, who died August 18th 1865 of cholera, aged 31 years". Tragically, two daughters aged 5 weeks and 51 weeks also lay in the same grave. Other gravestones revealed the high number of lives lost at sea close to Sulina. The cemetery includes tombstone of Romanian and Russian Orthodox, Greek, Turkish, Muslim and Jewish inhabitants, all religions buried side by side.
Sulina cemetery is about 1½ kms from the centre of Sulina, on the way to the beach and is an easy walk along a quiet road.
Go to the Beach
A further kilometre along the same road from the cemetery will bring you to Sulina's Black Sea beach, a 40-kilometre fine-sand beach. We'd hardly seen any other tourists wandering around Sulina, and had assumed they were all off on Delta day trips. We were wrong – they were all at the beach!
The vast beach has plenty of sun loungers and umbrellas to rent and there are a couple of snack shacks and bars (the beers were flowing when we wandered down to the beach mid-morning). There are also a couple of places to stay close to the beach. The Danube Delta for a beach holiday isn't something we would have considered before, but I can see the attraction of an extended stay that allows time to combine trips into the Delta with time to relax on the beach.
For those who don't fancy the two to three kilometre walk (two from the ferry dock) to and from the beach, there appeared to be a constant stream of taxis ferrying beachgoers and also a minivan-bus running between the town and the beach at regular intervals, charging 2 lei per person.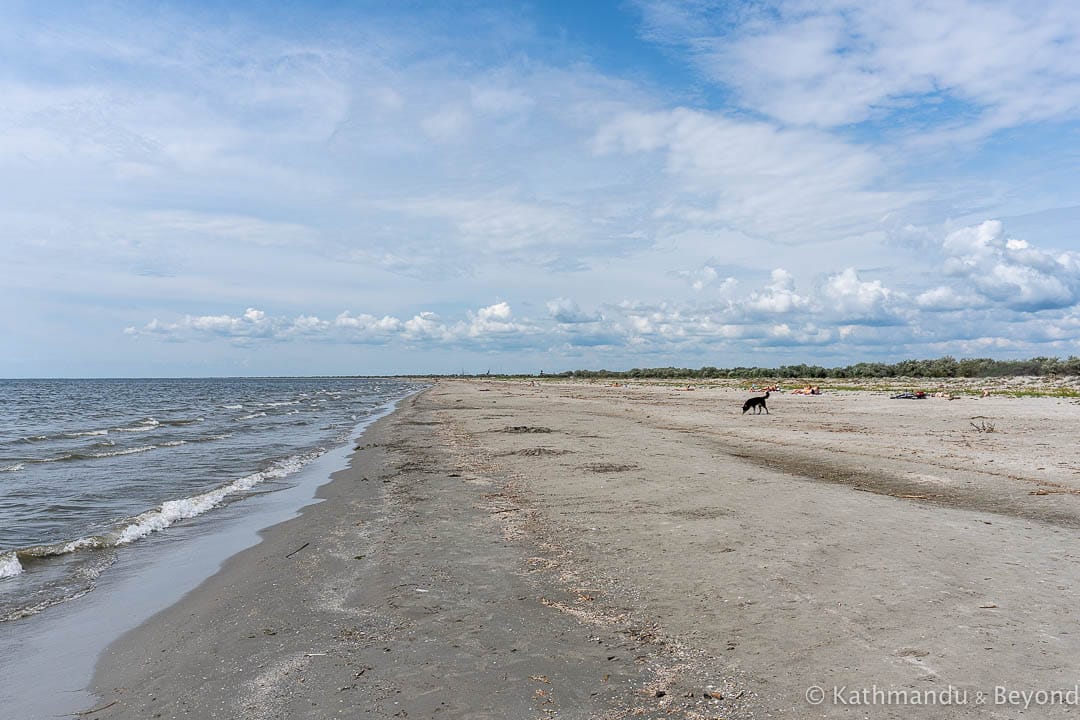 Sulina Beach
Other historical buildings in Sulina
Several 19th-century buildings can be found in Sulina including the Church of Saint Nicholas, a Greek Orthodox church close to the waterfront. Another Sulina landmark is the 18-metre-tall lighthouse, located on the edge of town, built in 1802. And, of course, the building which was the headquarter of the European Commission of the Danube still stands on the dock not far from where the daily ferries arrive and depart from.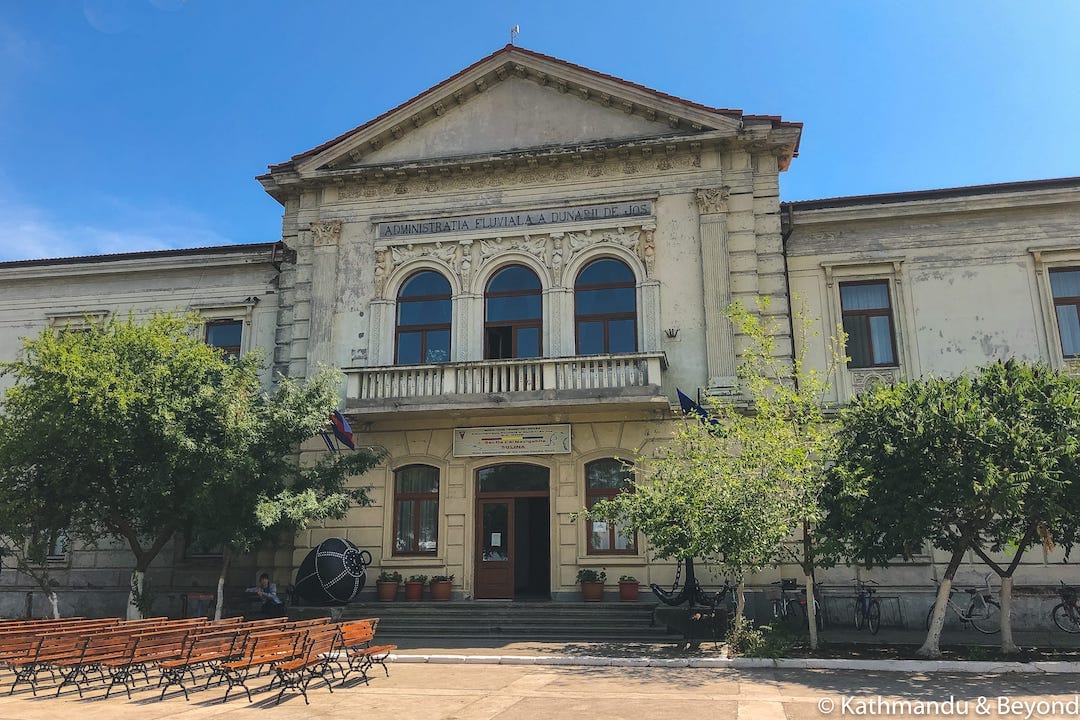 European Commission of the Danube, Sulina
Go Urbexing
I bet you weren't expecting any mention of abandoned buildings in the Danube Delta, were you? But, there are a couple of abandoned places in Sulina. The first one is the town's former shipyard/naval buildings. Situated just across the water on the opposite bank from where all the action is, the area is tantalisingly close but unfortunately, the buildings are located on land that belongs to the river police and so are off-limits. This isn't exactly true, and if you can get across by boat then it would appear that the river police turn a blind eye to you being there. We presumed this was the case because we witnessed locals going across on their boats to do a spot of fishing and they would stay for hours on end without getting any bother. We couldn't convince any boatman to take us across, however, and so we gave up on that approach. But, not before attempting to get there by land. As well as the river police, there is a whole community living on the other side of the water and you can get across to the other bank by boat at a point approximately 500 metres away. We went across and asked the guys at the river police HQ if we could visit the derelict buildings on their land. To our surprise, they said yes, but we would have to walk around the back of their perimeter fence to get there. So off we went. To begin with there was a path, but soon that just became reeds and marsh and with only a soggy shoe to show for all our efforts, we eventually gave up totally on trying to visit the place.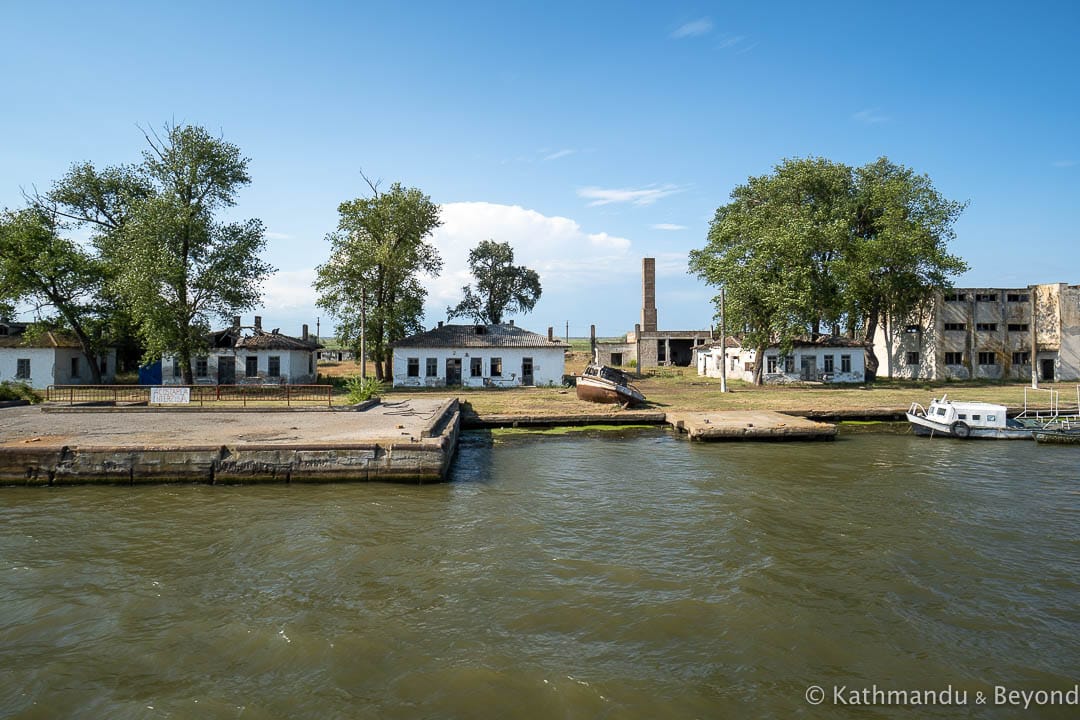 Former Shipyard, Sulina
It was a pity as it looked very interesting, but at least we had success with the second abandoned location. Not far from where you take the boat to the other side is a large white structure that probably used to be a warehouse. All the doors were wide open so there weren't any issues getting inside and climbing up a couple of floors. But, we couldn't find a way to the roof and so had to be content with a view of the Sulina branch of the Danube River from a slightly less elevated point.
If you do head down to the old warehouse, it is also worth checking out the handful of defunct boats that are nearby, which includes a manky-looking hydrofoil-type thing that presumably used to speed along the river to Tulcea and back…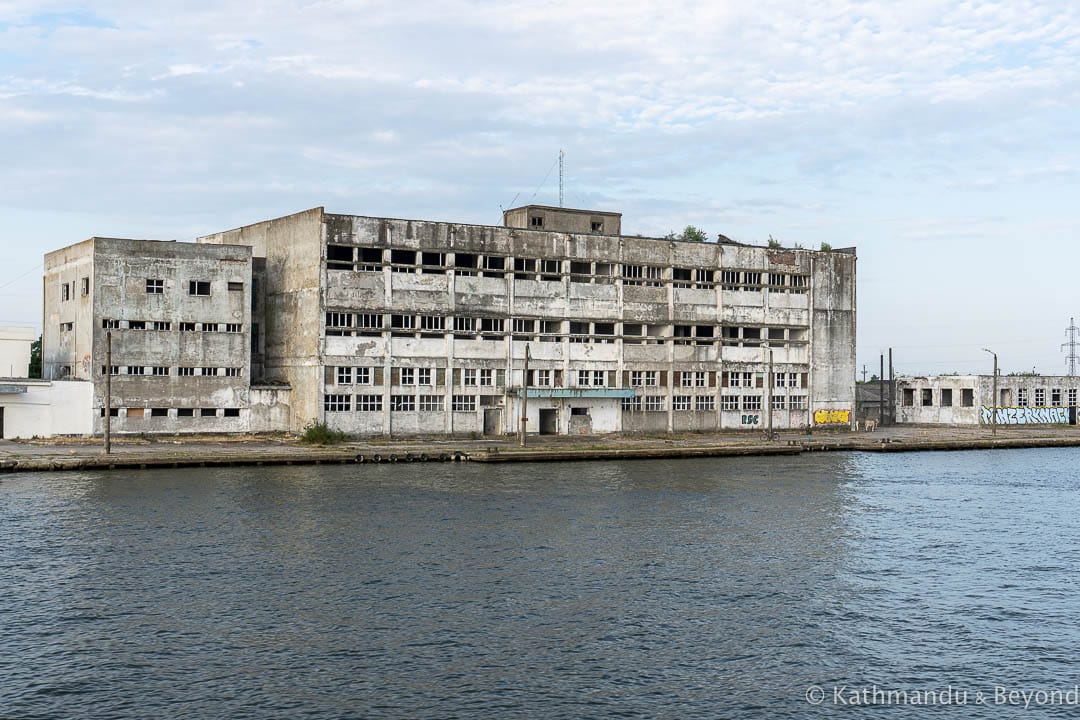 Former warehouse, Sulina
Where to stay in Sulina
As mentioned earlier, accommodation in Sulina is mostly at guesthouses or holiday apartments – look out for places that advertise themselves as pensiuni delta dunarii. We stayed at Pensiunea Iulia Sulina which has a central location, close to restaurants and the ferry dock, and is run by a friendly family (they don't speak much English but we got by fine).
Ahead of our trip, I'd also earmarked Casa La Doi Pici as a possible place to stay, as it has a very high rating on booking.com and also advertised a shared kitchen. However, when we came to book something a couple of days in advance of our visit it was no longer available. That said, we were happy with our eventual choice and would stay there again.
If you prefer to stay in a hostel, there are two options: Danube Delta Hostel Homestay and Art Hostel Sulina, both of which have dorm beds. The Art Hostel looks a lot less rustic than the Danube Delta Hostel which is located on the opposite side of the river and reached by the small rowing boat which ferries people to and fro for one lei per person.
If you're looking for the 'best' place to stay in Sulina, consider somewhere like Green Coffee House which is located by the beach, or Casa Arina, a three-bedroom private villa. If you favour a conventional hotel, look at the Delta Est Hotel.
How to get to Sulina and other places in the Danube Delta
Getting from Tulcea to Sulina
We chose Sulina as our base for exploring the Danube Danube but there are other options which I'll get to shortly. Sulina cannot be reached by road and the most straightforward way to get there is by public ferry, operated by NavRom Delta.
Ferries leave Tulcea for Sulina at 1.30 pm every day. On almost alternate days the service is either Clasica (standard slow ferry) or Semirapida (faster, large catamaran style). The Clasica service is a conventional style ferry which makes stops at Maliuc, Gorgova, and Crisan. The Semirapida takes less than half the time – 90 minutes versus 4½ hours.
The ticket office in Tulcea is open from 10 am until 1.30 pm and you can only buy tickets on the day. On the return ferry from Sulina to Tulcea, the ticket booth is on the ship and you buy tickets as you board. It's not necessary but you can buy them in advance online if you prefer.
Our travel days both coincided with a Clasica sailing. The ferry was spacious with plenty of room either inside in lounges with tables and chairs or on the mostly shaded deck. There is a bar selling coffee, beer, soft drinks and a few snacks. For someone like me who gets seasick in the bath, motion sickness is always a worry, but the journey was very smooth. We arrived into Sulina at around 5.30 just as the sun was throwing a golden glow on the buildings along the lengthy promenade.
Below is the current Tulcea – Sulina – Tulcea schedule. You can check the full Danube Delta ferry schedule here. The ticket prices are also listed.

There are also several private companies doing the same route at several intervals throughout the day for a slightly higher per person price, and taking approximately 1½ hours. In both Tulcea and Sulina, they depart from the docks further along from the ferry terminal. It's not possible to buy a return ferry ticket so one option is to go by ferry and then consider returning on one of the private boats.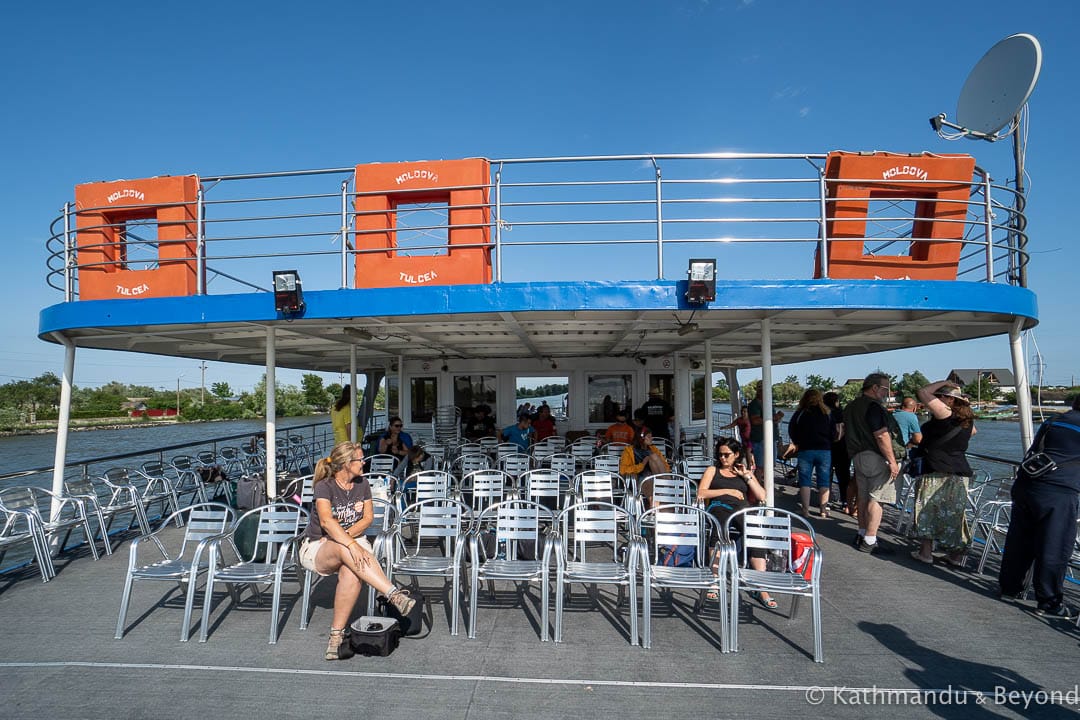 Danube Delta public ferry
Other places to visit in the Danube Delta
In addition to the Sulina branch, ferries departing from Tulcea run along the Sfantu Gheorghe and Periprava channels, making stops en route. Regrettably, we didn't have time to stay anywhere other than Sulina, but we'll outline the possibilities here.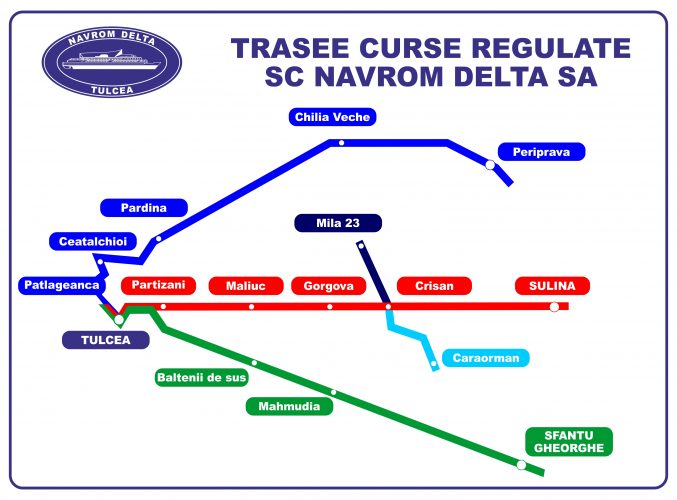 Sfantu Gheorghe
Smaller and more remote than Sulina, you can also take excursions into the Danube Delta from Sfantu Gheorghe. Because Sfantu Gheorghe is further south, you will likely experience a slightly different area of the Delta. Another draw is Sfantu Gheorghe's beach which has a reputation for being Romania's most beautiful, with fine white sand and a wild environment.
How to get to Sfantu Gheorghe
The best way to get to Sfantu Gheorghe is by NavRom ferry which operates daily except Tuesday with similar timings to the Sulina ferry. You can check ticket prices and the full schedule here.

Where to stay in Sfantu Gheorghe
Sfantu Gheorghe has fewer hotels and guest houses than Sulina and not having stayed there, we can't give a firsthand recommendation. However, here are some of the best-looking options:
Casa Carter – a modern guest house with rooms with private bathrooms and a shared kitchen for just over €30 per room.
Casa Renea – a little bit more expensive than Casa Carter, this guesthouse get very good reviews.
Dolphin Camping – Sfantu Gheorghe's best option for travellers and backpackers on a tight budget, Dolphin has small wooden cosy bungalows with shared bathroom facilities.
Green Village Resort – if it fits your budget, this resort with a swimming pool and great views across the Danube Delta, gets very good reviews.
How to get from Sulina to Sfantu Gheorghe
These two Delta townships are approximately 30 kms apart along the Black Sea coast. From the map, it looks like there is a road connecting the two, but when we asked around, we were told the only way to travel between the two was by private boat, which would be expensive.
Sulina and Sfantu Gheorghe are at the ends of the two main distribution channels of the Delta which splits into three branches approximately ten kilometres south of Tulcea. One option is to return to Tulcea and take the ferry from there to Sfantu Gheorghe. The connection would work – the ferry from Tulcea arrives at either 9 am or 11.30 am (fast versus classic) and the Sfantu Gheorghe departure is at 1.30 pm (daily except Tuesday). If you took the classic ferry for both legs the combined ticket price would be 94 lei and you would be travelling all day.
Although it may seem counter-intuitive to book a tour and then "waste" half of it, the most cost and time-effective way is to book onto an excursion to Sfantu Gheorghe from Sulina and not rejoin it after the lunch stop in Sfantu Gheorghe (telling your guide/boat driver of course!). The cheapest tours we saw advertised were 100 lei. Half the travelling time for pretty much the same money, plus you get a bit of an excursion too.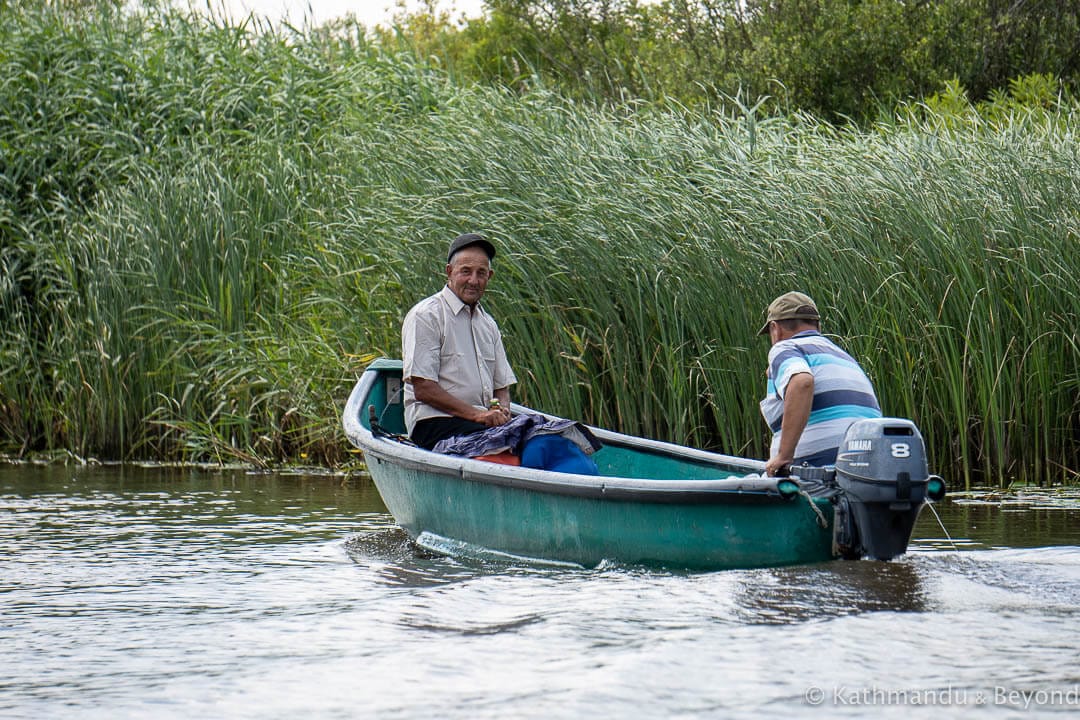 Danube Delta 
Periprava
The Chillia branch of the Danube Delta is the most northerly and ends at the town of Periprava. There are several reasons I really wish we'd gone to Periprava; the first is that it's tantalisingly close to Ukraine – at this point the Danube forms the border between Romania and Ukraine and it almost looks like you could swim across. Even though all of our research showed that it wasn't possible to cross the border here, the destination researcher in me wanted to check the situation personally.
Another reason is that there is just so little information out there about visiting Periprava. That's enough to make me curious enough to want to go! I suspect there are fewer reasons to visit Periprava than there are Sulina or Sfantu Gheorghe and, with a population of less than 250, there are unlikely to be many tourist services. For now, Periprava is on the 'one day' wish list, so if you've been do let us know what to expect.
How to get to Periprava
The best way to get to Periprava is by NavRom ferry service which departs from Sulina four times a week at 1.30 pm. Check the cost of tickets and all the details of the schedule here.

Where to stay in Periprava
Periprava has even fewer accommodation options than other places in the Danube Delta, and what is there isn't in the budget hotel category. You can see some of the options here.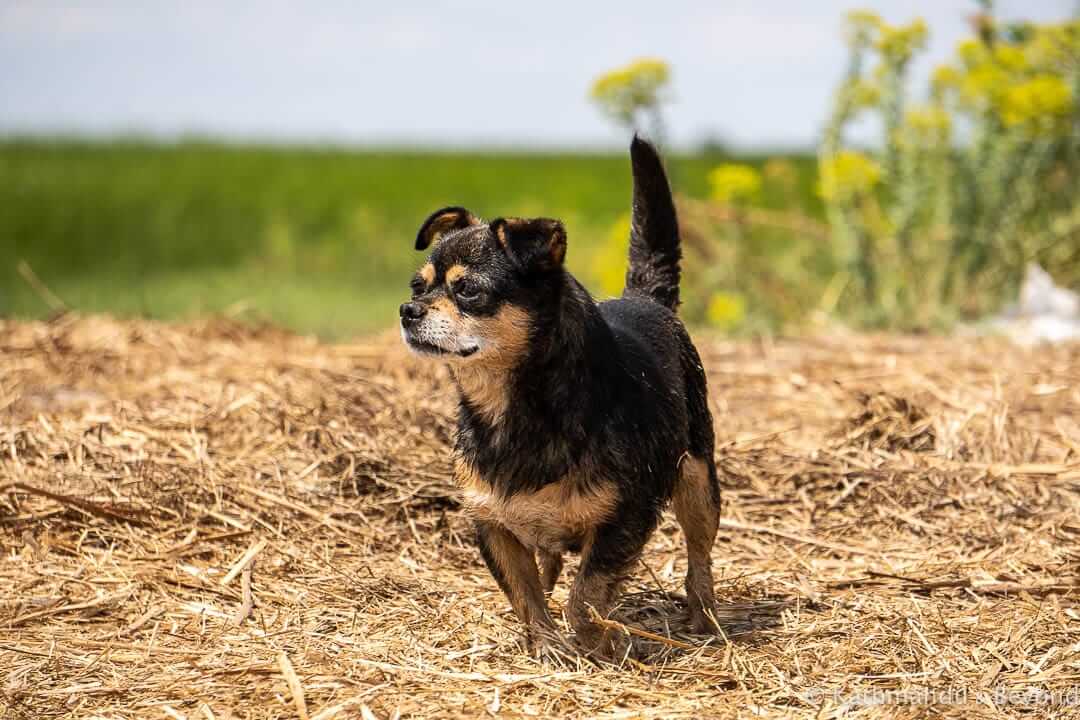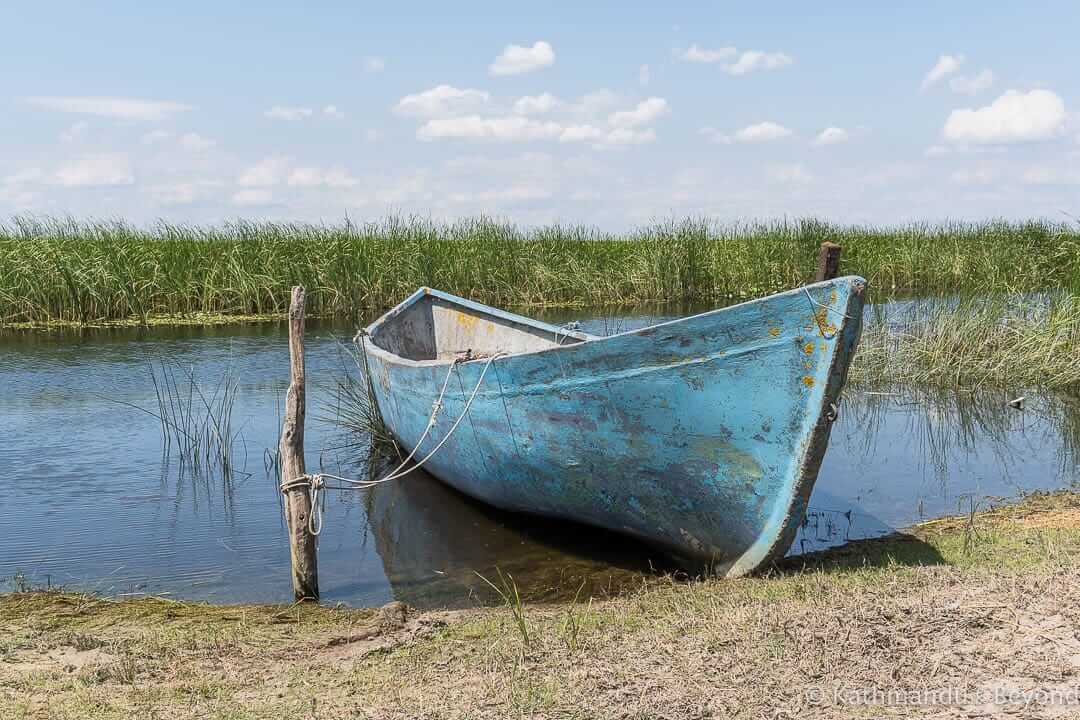 Letea, Danube Delta
Visiting the Danube Delta with the benefit of our hindsight
Sometimes it is hard to picture how things work until you've visited a place. Afterwards, schedules that once seemed complicated somehow fall into place. If I were to do a comprehensive independent tour of the Danube Delta again, this is how I would plan my itinerary…
Day 1: Arrive in Tulcea (alternatively, if you arrive in the morning, jump straight on the 1.30 ferry and save the night in Tulcea until your return).
Day 2: Take the ferry to Sulina for 3 nights.
Day 3: Delta excursion.
Day 4: Either take another excursion or spend time around Sulina, go to the beach, visit the historic cemetery, stroll up and down the quay or relax in a waterfront cafe or restaurant.
Day 5: Take an excursion to Sfantu Gheorghe but use it as a one-way transfer (as detailed in the above getting from Sulina to Sfantu Gheorghe section). Two nights in Sfantu Gheorghe.
Day 6: Relax, go to the beach, explore the town.
Day 7: Take the ferry back to Tulcea.
This would make for a relaxed pace itinerary. If you prefer to move faster, cut down your time in Sulina and/or Sfantu Gheorghe by a night.
If I only had three or four nights for the Danube Delta, I would spend them all in Sulina and consider an excursion to Sfantu Gheorghe. Chances are you will have some time in Tulcea that you can use to look around the town.
How to get to the Danube Delta from other parts of Romania
To get into the Danube Delta, you first need to get to Tulcea.
By Bus: Tulcea is easily accessed by bus from destinations across Romania. Bucharest to Tulcea by bus takes approximately 4 ½ hours and cost 90 lei (£17/€19/US$21). Travelling from the Black Sea, buses from Constanta taking a little over two hours and cost 40 lei (£7.50/£8.50/US$9.50). If you're travelling to/from Moldova, Galati is the best place to change bus.
You can check bus schedules in Romania here. 
By Train: There is a daily train between Bucharest and Tulcea taking around 6 hours (compared with 6½ hours by bus). In Tulcea, the ferry, bus and train terminals are close by.
By Flight: For most travellers, Bucharest will be the easiest airport to fly into, but it's also worth checking for flights to Constanta (for example WizzAir flies from London Luton airport five times a week).
---
Have you been, or are you planning a trip to the Danube Delta? If you found this post helpful, please Pin and share it.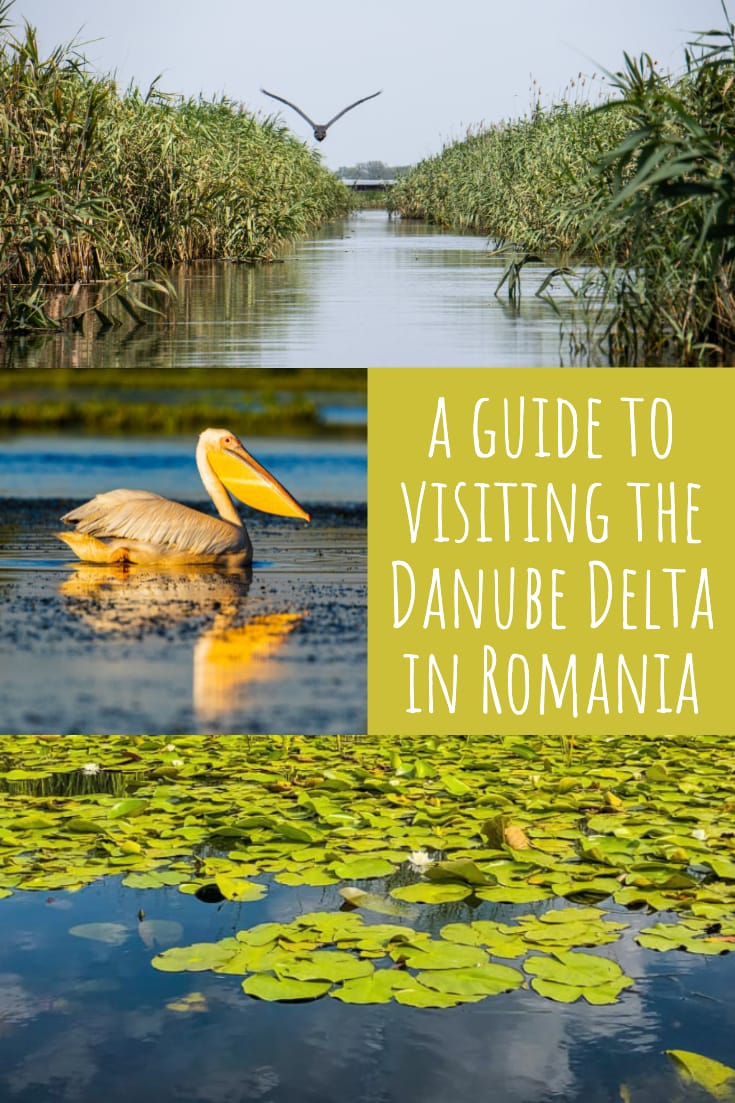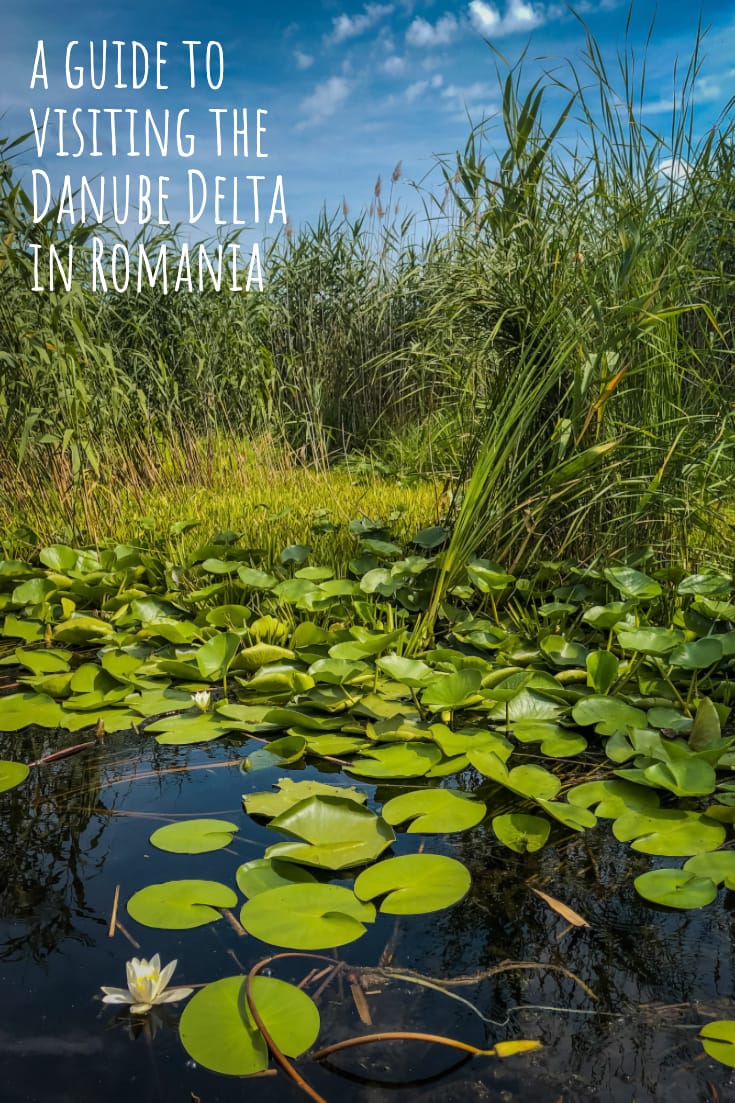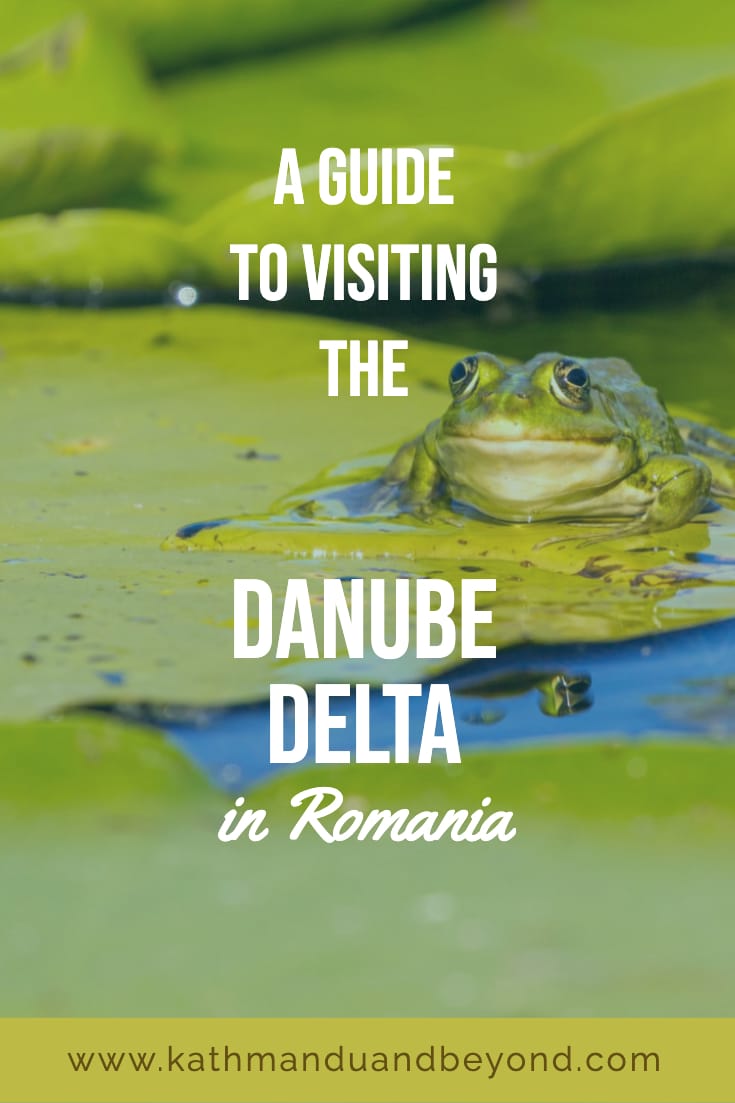 ---
---
---