Things to do in Kutaisi
Although many visitors arriving in Georgia by air come into Kutaisi's international airport (it is the main hub for most low-cost carriers including Wizz Air), the majority transfer directly from the terminal to either the capital, Tbilisi, or west to the coastal city of Batumi.
For many, Kutaisi, Georgia's third-largest metropolis and former legislative capital, isn't part of their Caucasus travel plans but, from relaxed city meanderings to monastery-bashing and urbexing to highly-recommendable day trips, we can think of several good reasons why spending time in and around Kutaisi is a worthwhile experience.
Where is Kutaisi?
Kutaisi is 230kms west of Tbilisi and 145kms northeast of Batumi. It is the capital of the western Imereti region of the country and situated on the banks of the Rioni River.
Kutaisi is considered one of the oldest cities in the world and archaeological evidence indicates that the settlement served as a political centre as well as a capital of the ancient kingdom known as Colchis, a prehistoric region that dates back to the 17th century BCE. Centred on the Black Sea coast and associated with the Argonauts (as in Jason and the …), Colchis is often viewed as the origins of the nation of Georgia.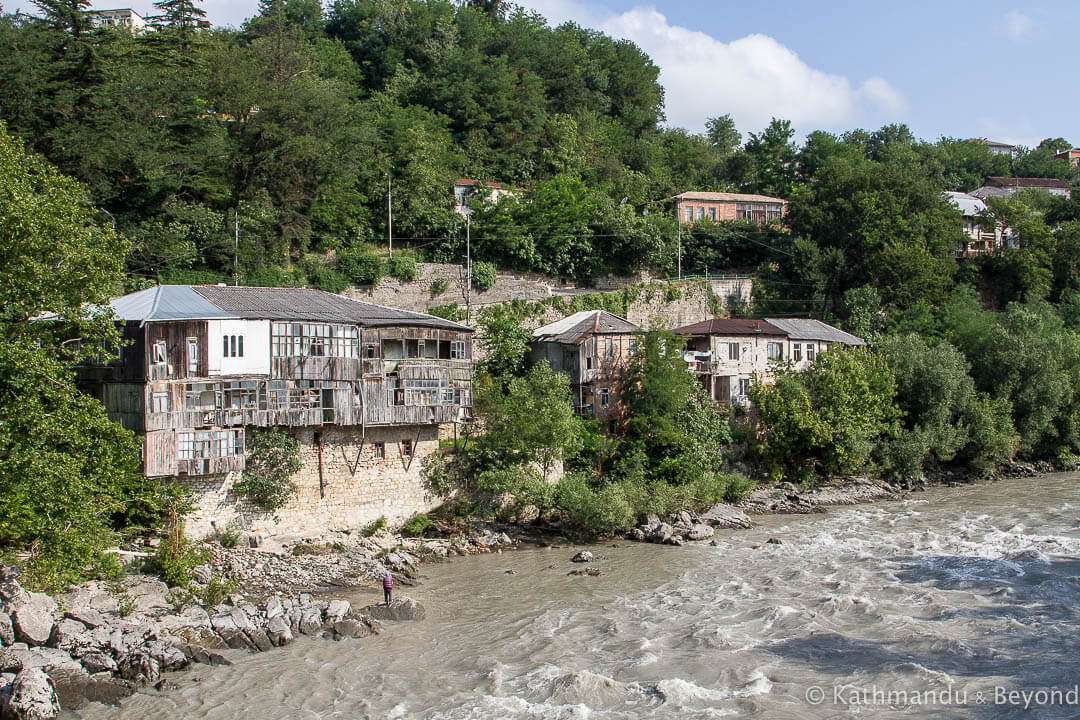 What to see in Kutaisi
Admittedly, Kutaisi itself isn't that exciting at first glance. It is a bit of a sleepy backwater, albeit a charming one, and can't be compared with either Tbilisi or Batumi when it comes to city-buzz, for example. But, as you will discover as you wade your way through our guide to Kutaisi, the city itself should be thought of as part of an overall 'Kutaisi package' rather than a stand-alone destination in its own right.
That said, there are enough things to see in Kutaisi city centre to keep you occupied for half a day or so and with its leafy central park and riverside setting, downtown Kutaisi is also a pleasant place to while away the remaining hours of the day.
Map of Kutaisi attractions
Kutaisi walking tour
Agmashenebeli Square is the logical place to begin an orientation tour of Kutaisi. The centrepiece of the square is the Colchis Fountain, which has been in situ since 2011.
Visible behind the fountain is the Lado Meskhishvili Theatre. With a history dating back to 1861, the theatre is one of the oldest of its kind in Georgia, although this particular building was completed in the 1950s and is a good example of Stalinist Empire style architecture.
Heading north, it is worth pausing at the National Museum of Military Glory to see the Soviet-era relief on the outer wall. Inside, there are artefacts associated with various Georgian military campaigns, including the Great Patriotic War (World War II) as well as more recent events such as the conflicts with Abkhazia and South Ossetia.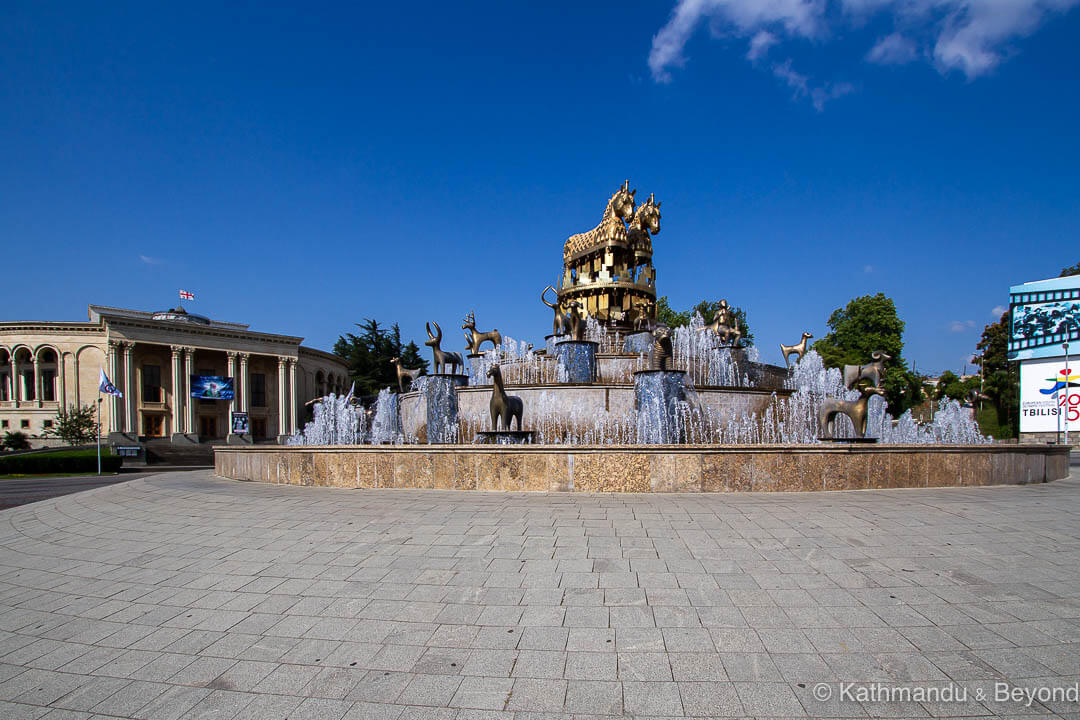 Crossing the Rioni River and winding your way up Ukimerioni Hill brings you to the city's most important house of worship, the early 11th-century Bagrati Cathedral. Along with Gelati Monastery (see Day trips from Kutaisi section below), Bagrati Cathedral used to be listed as a UNESCO World Heritage site. Awarded the status in 1994, the accolade was taken away from Bagrati (but not Gelati) in 2017 after the organisation disagreed with controversial restoration work that went ahead on the cathedral, which included the bolting on of a metal and glass box-like structure to the original masonry. Still, the cathedral remains one of the city's most impressive sights and is definitely worth walking up the hill to see.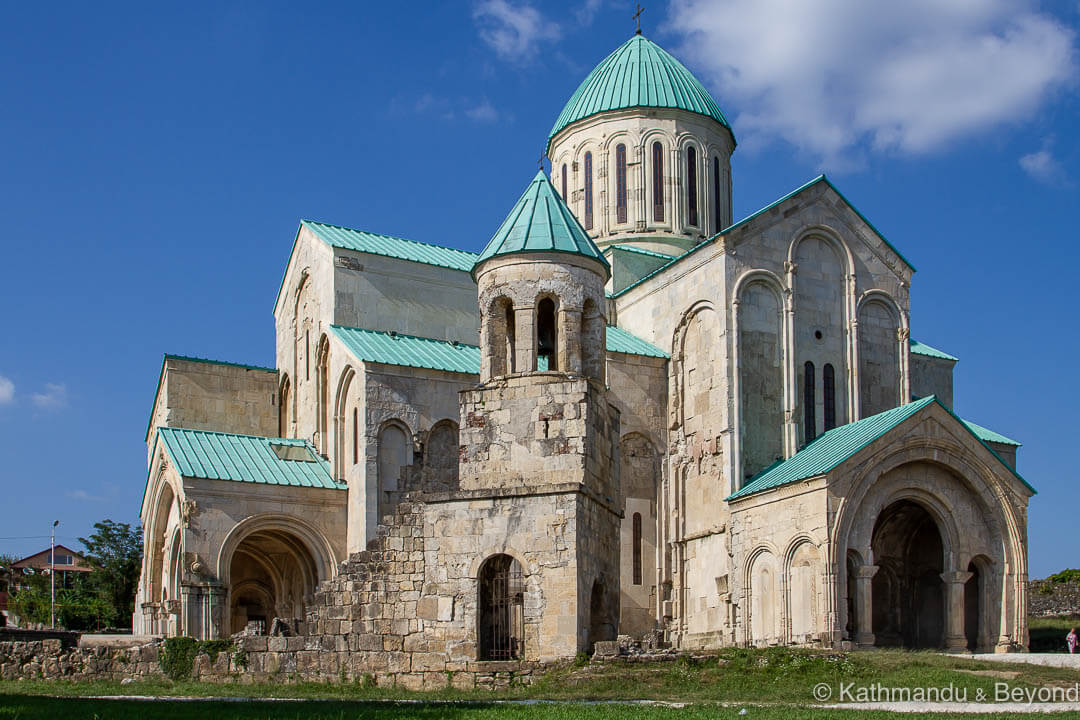 Back on the town-side of the Rioni River, Green Market is the next city landmark of note. The interior is typical of any covered market in this part of the world – noisy, a little hectic and a fun place to be – but it is the exterior of this particular bazaar that sets it apart. The entire wall of the western entrance to the market is decorated with the most fantastically ornate ceramic panel entitled "Kolkheti", or more commonly "Colchis", as in the historical kingdom mentioned above. The monumental art was created in a studio by Georgian artist, Bernard 'Franz' Nebieridzeby between 1980 and 1985. Nebieridzeby passed away in 1987 and, thanks to the efforts of his family and local government officials, the bas relief was erected on the side of the market in 1995.
The central park is opposite the market, should you want to hang out there for a bit. Alternatively, if you want to see another relic from the Soviet times, just across Red Bridge is the Monument to Galaktion Tabidze. Known simply as Galaktioni, Galaktion Tabidze (1892-1959) was a 20th-century Georgian poet, whose work greatly inspired future generations of Georgian poets. Galaktioni managed to survive Stalin's Great Purge in the mid-to-late 1930s when many of his contemporaries did not. However, the period sent him into a deep depression and alcoholism and he eventually committed suicide in a Tbilisi psychiatric hospital where he had been since early 1959. It is an elegant statue, that was created in 1990 just as the Soviet Union was on the brink of collapse.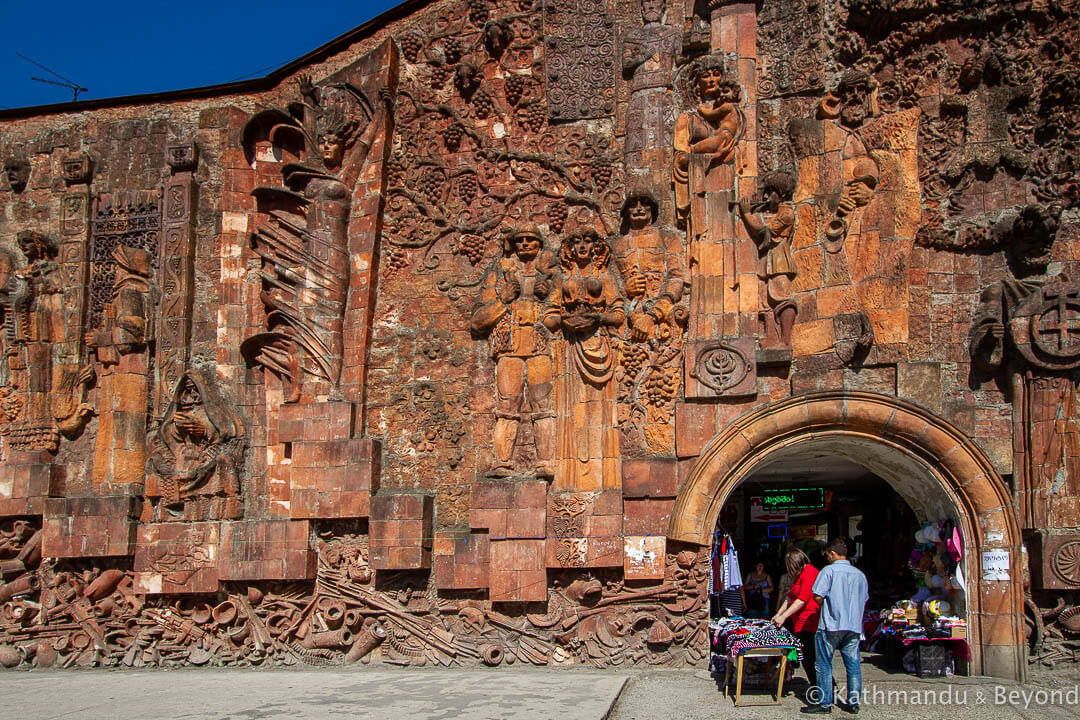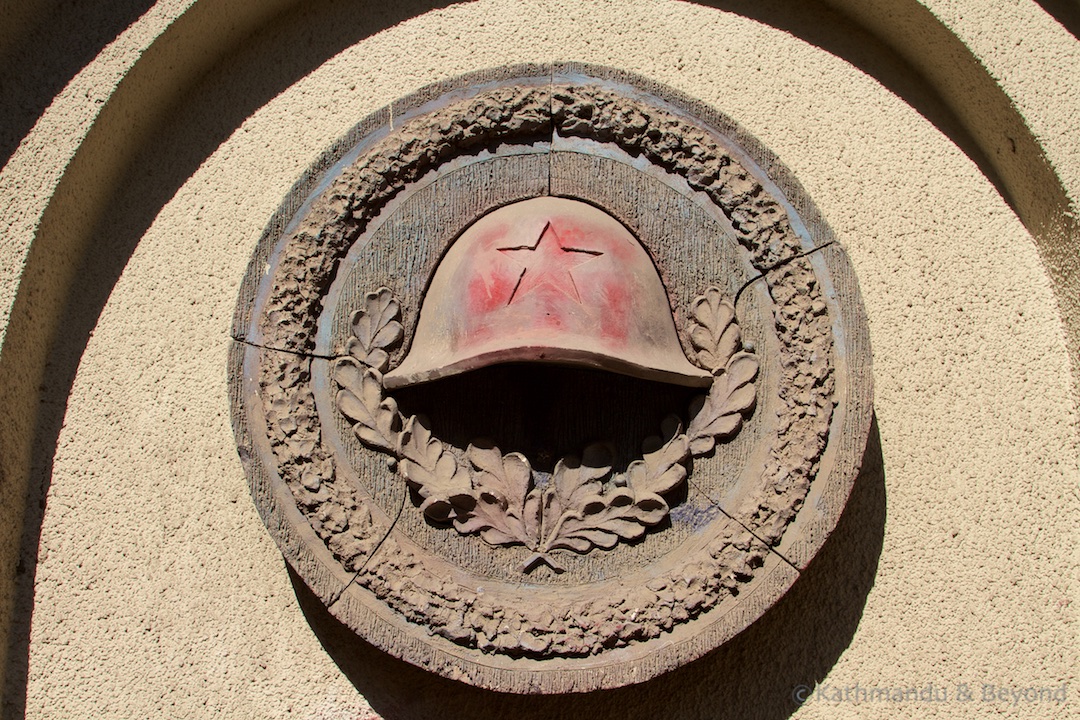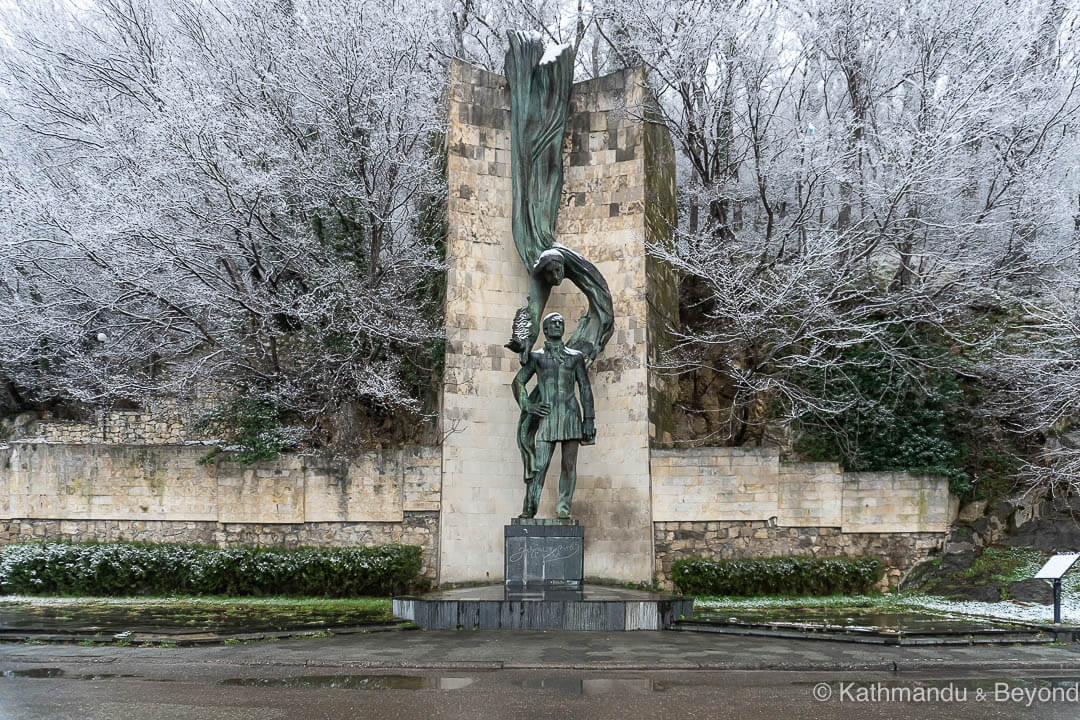 We don't normally cover places to eat and drink in our posts. However, there is a very pleasant cafe in the central park called 'Savane' which has a great outdoor setting and serves decent pizzas. Better still, we also discovered a local outdoor bar located just before the city-side of Red Bridge. Run by a friendly babushka and her grumpy (but not really) husband, this rough and ready little joint is all about (very) cheap draft beer, vodka and beer snacks and that's about your lot. We were welcomed each time we went in there, which was every late afternoon/early evening for just under a week!
In case you need on-the-ground information the very helpful tourist board (marked on the map) is just east of Rustaveli Bridge. The staff speak English and can assist with queries about the city as well as other attractions in the Imereti region. The staff are also knowledgable about public transport.
Heading back in the direction of Agmashenebeli Square, the abstract Glory to Labour Monument is another Soviet memorial which dates back to 1980. From this point, it is a short walk to a piece of street art by the French artist known as Vinie. It got Kirsty very excited as she had never seen a Vinie in the 'flesh' up until this point!
Other places of interest in Kutaisi that we don't have firsthand experience of include the Historical Museum and Besik Gabashvili Amusement Park, which is reached via a cable car from nearby Red Bridge.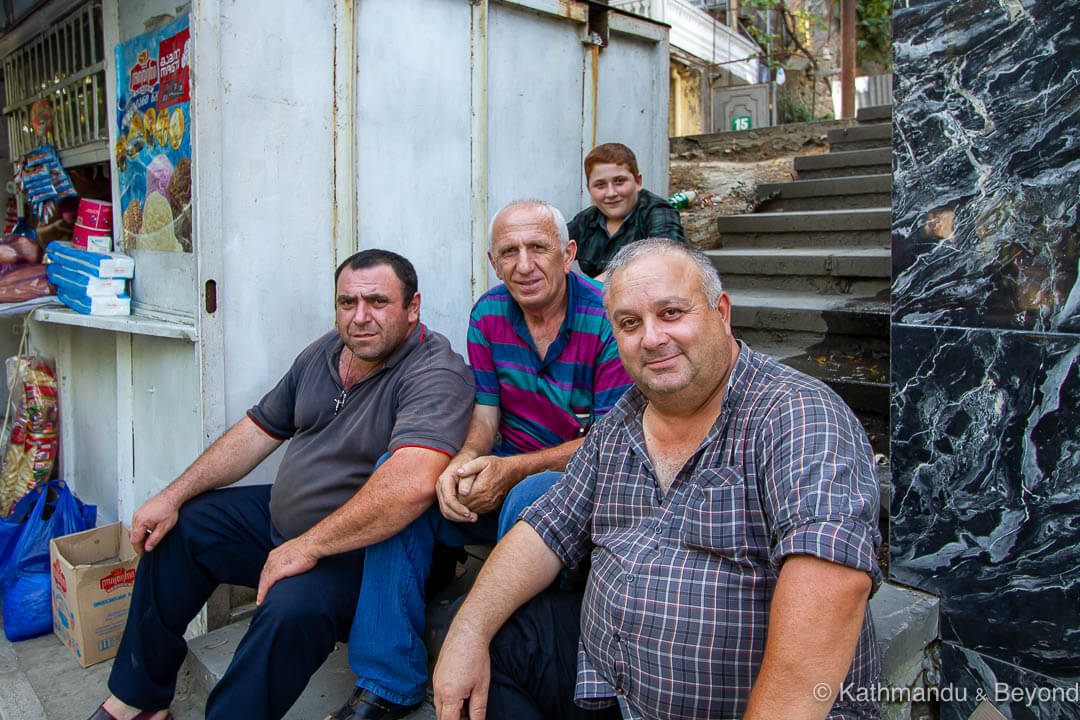 Places of interest away from the centre of Kutaisi
The former building of the Georgian Parliament is worth going to see if you are a fan of contemporary architecture. In an attempt to decentralise power and spread economic development, the newly elected government at the time relocated the Parliament of Georgia to this purpose-built building in 2012, where it remained until early 2019 when it moved back to Tbilisi once more. For some reason, a memorial dedicated to Soviet soldiers who lost their lives during World War II was demolished to make way for the new structure. From what I can gather, the glass dome building is now a regional hub for the Ministry of Internal Affairs.
Unless you want to a long walk (an hour or more), you will either need to take a local bus or marshrutka (fixed route minivan) to see the former building of the Georgian Parliament.
We jumped on a passing marshrutka headed in that direction, but if you want more certainty, take bus #4 from the marshrutka stand located on the edge of town on Shota Rustaveli Avenue (marked on the map). It's less than a 10-minute walk from Rustaveli Bridge, but if you are coming from further afield into town, you can take the #1 bus which runs a circular route and passes the marshrutka stand.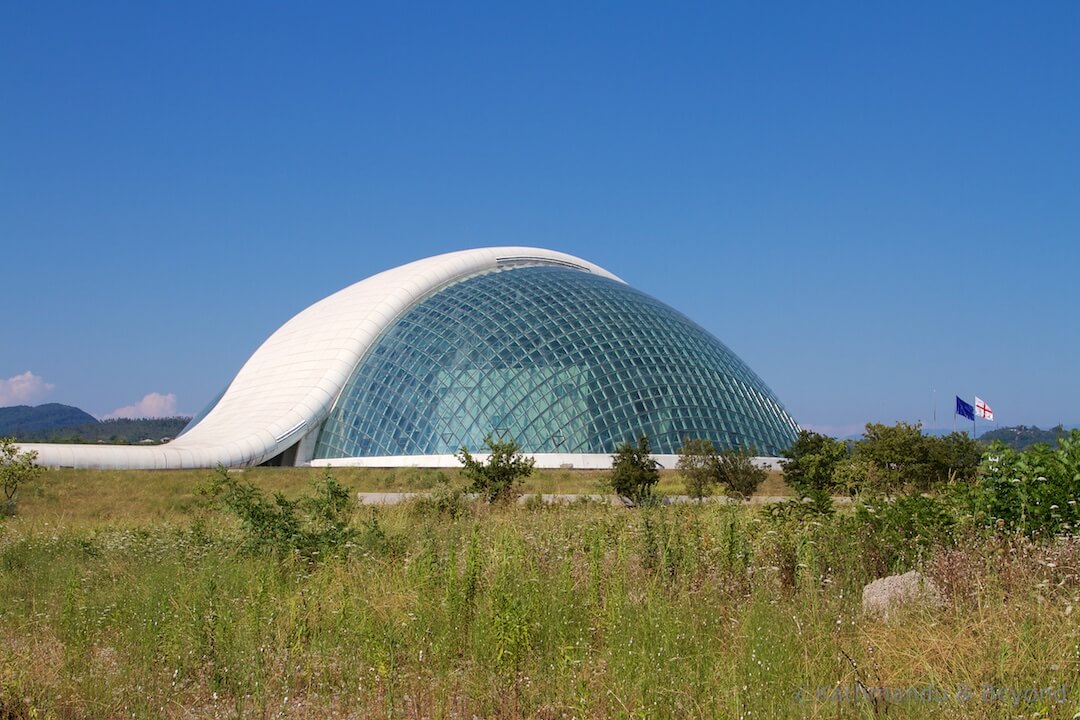 Day trips from Kutaisi
Great day trips are Kutaisi's trump card, in our opinion, and the main reason to spend extended time in the city.
Abandoned Sanatoriums in Tskaltubo
Unquestionably, the most compelling day trip you can take from Kutaisi is to the spa town of Tskaltubo. To quantify this statement, you do need to be interested in abandoned places and/or Stalinist Empire style architecture to fully appreciate the place. The town is easy to get to from Kutaisi (20 minutes by marshrutka) and once there, the places of interest are accessible on foot. These included fully and quasi-abandoned sanatoriums, overgrown bathhouses, Soviet-era mosaics and a former dacha (holiday cottage) used by the Soviet dictator, Joseph Stalin. Furthermore, Tskaltubo is still an active spa town and it is possible to undergo treatment in one of the town's handful of functioning bathhouses or sanatoriums.
There are some ethical considerations to take into account if you do decide to visit Tskaltubo as some of the former sanatoriums and hotels are occupied by Internally Displaced Persons (IDPs). The majority of the IDPs sought temporary refuge in the town during and after the Georgia-Abkhazia War, an ethnic and territorial conflict which lasted from August 1992 until September 1993, and are still living there today. Hence, a degree of sensitivity is required if you go near any of the buildings occupied by IDPs but, overall, the local people we met were friendly and welcoming and we consider the two full days we spent exploring Tskaltubo to be one of the highlights of our entire time spent in the Caucasus region, a period which amounts to several months in total.
We have written a more detailed post about Tskaltubo, which delves into the history of the town, what there is to see and do as well as practicalities such as transport options. In Kutaisi, the most convenient marshrutkas for Tskaltubo depart from nearby the Monument to Galaktion Tabidze, the other side of Red Bridge.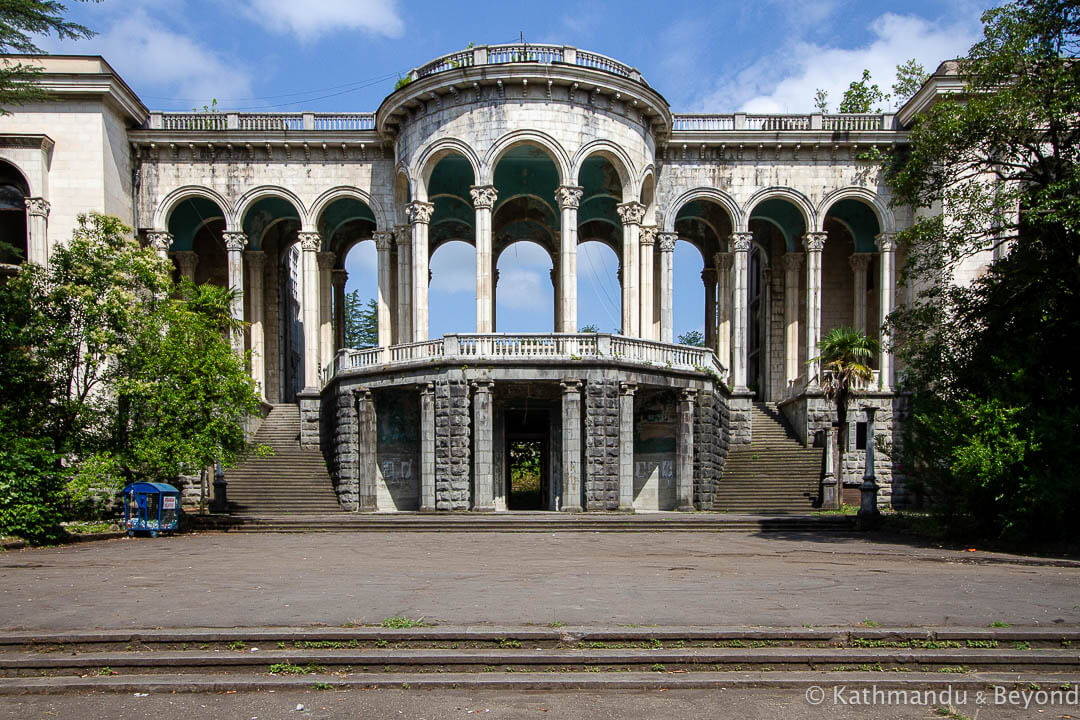 Prometheus Cave
Prometheus Cave, also known as Kumistavi Cave, is just 6kms north of Tskaltubo. Caves aren't really a 'thing' for us and we haven't visited this one but, it is an easy day trip from Kutaisi if you enjoy visiting underground karst systems. The options for visiting Prometheus Cave are either to take an organised tour directly from Kutaisi (the tourist information centre can help with recommendations) or, alternatively, you can make your own way there by first taking a marshrutka to Tskaltubo and then another one from there to the cave entrance. On arrival, you will have to join a guided tour (individuals and small parties are amalgamated into one group) to enter the 1.2km long cave and the whole excursion inside last around one hour.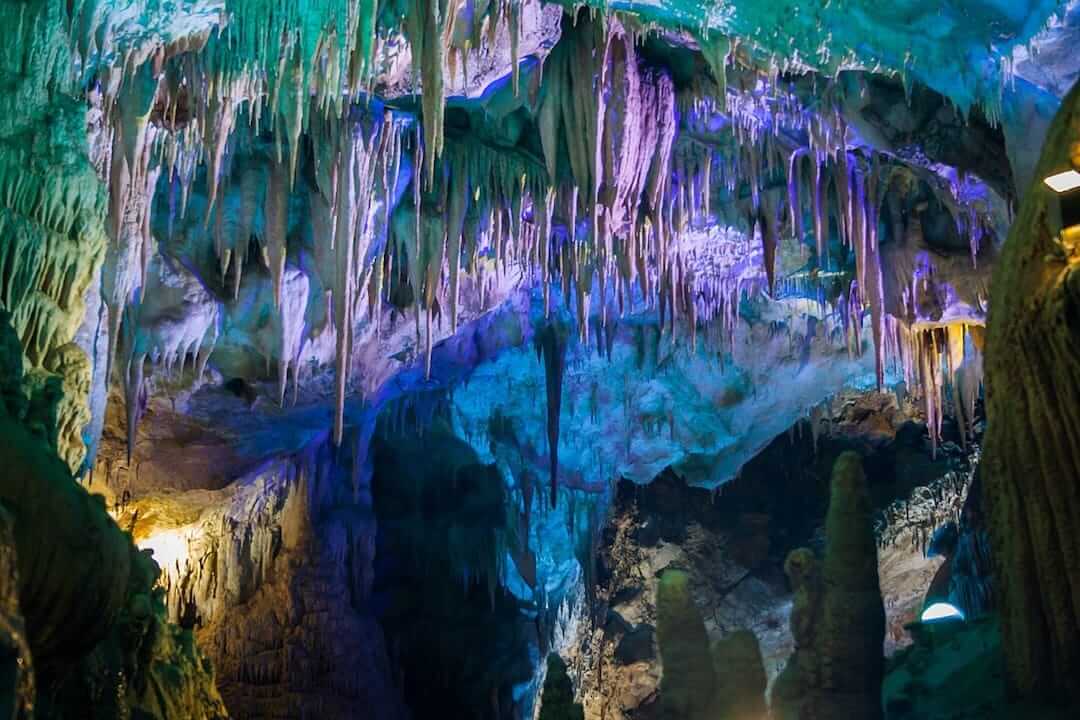 Gelati and Motsameta monasteries (combined visit)
Gelati Monastery
Hailed as a 'second Jerusalem' by medieval chroniclers (because of its academia), this important monastic complex isn't especially remarkable when viewed from the outside but what makes it stand out from other Orthodox churches in Georgia are the vivid frescos that adorn the interior walls. Work on the monastery was started in 1106 by King David IV (1073-1125), better known as David the Builder, during a period when Georgia was experiencing its 'golden age' – a time of political strength and economic prosperity. Several Georgian rulers, including David the Builder, are buried here and the murals, which were painted from the 12th to the 17th century, feature noble figures such as the Byzantine emperor Constantine, the Georgian king Bagrat III as well as King David himself. The most notable artwork is a mosaic in the main Cathedral of the Virgin depicting the Virgin with Child flanked by archangels Michael and Gabriel.
Be prepared for a (varying) degree of renovation work to be taking place when you visit the monastery as it is continually being restored and protected under the supervision of UNESCO.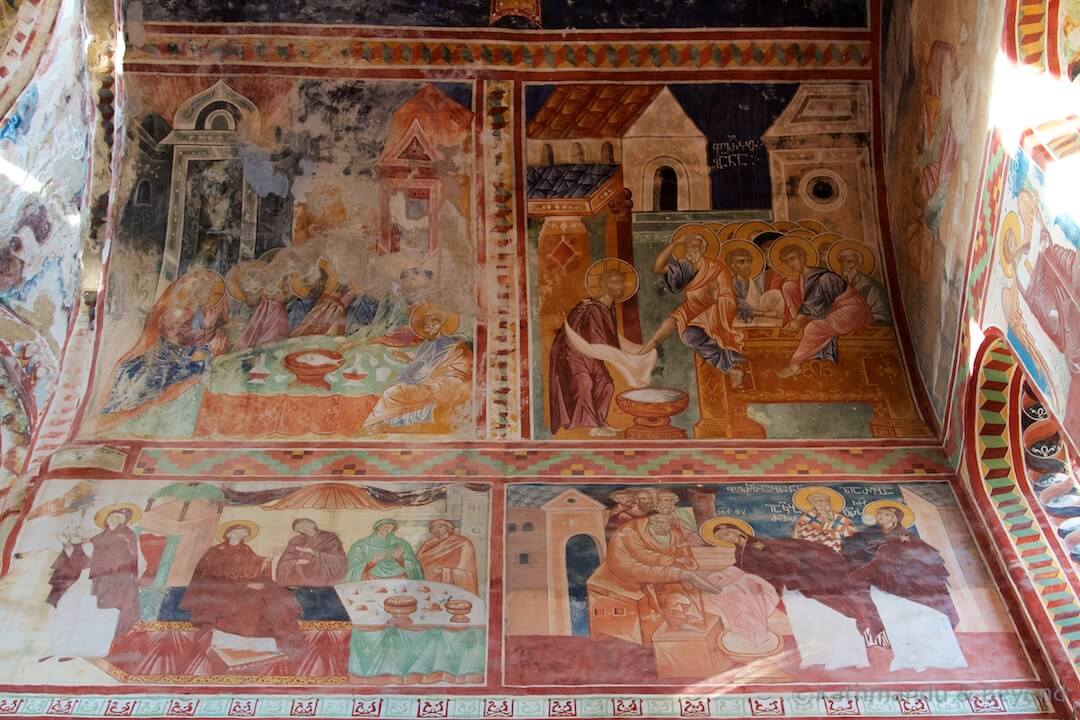 Motsameta Monastery
If Gelati is renowned for its frescos then Motsameta Monastery is all about its sublime clifftop setting above a bend of the Ckalcitela River. The name of the monastery translates as "Place of the Martyrs" or "Place of the Tortured" and Ckalcitela means "red water". According to history, in the 8th century two brother, David and Constantine, from the noble family of Argveti, raised a rebellion against the then-occupying Arabs. The uprising failed and in return for converting to Islam, the two brothers were offered clemency. Both refused and after being tortured and killed, their bodies were thrown from the clifftop into the river below. Depending on which source takes your fancy, the story goes that the remains of the two brothers were either discovered in a cave near the river, or brought up to the mountain top by lions. Either way, David and Constantine were later recognised as saints and a church was founded in their honour on the site in the 11th century.
Legend has it that a secret tunnel links Motsameta with the monastery at Gelati.
Visiting the two monasteries also affords the opportunity to experience some of the fantastic scenery in the Imereti region.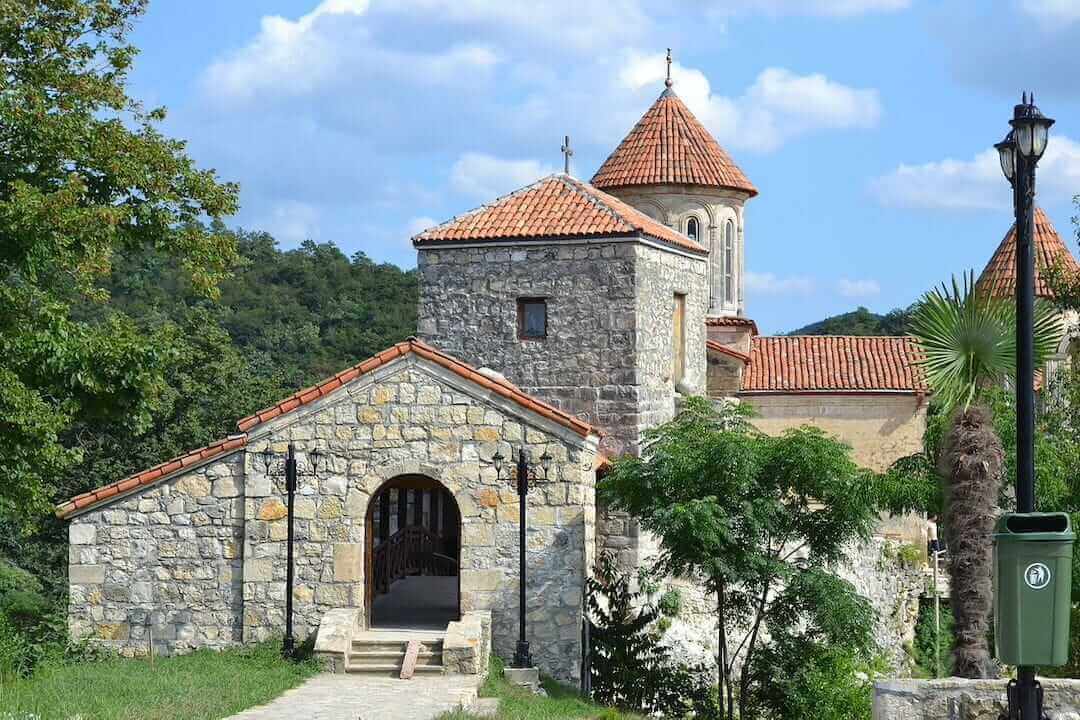 Getting to Gelati and Motsameta Monasteries
Motsameta Monastery is 7kms northeast of Kutaisi and Gelati Monastery is a further 3kms on, in the same direction.
The easiest way to visit both monasteries on the same trip is to either take a tour or hire a car and driver locally to take you to them including waiting time.
Although more time consuming, it is possible to visit both locations using public transport, however. Marshrutkas depart Kutaisi for Gelati Monastery from a lot on Varlamishvili Street (see map for exact location). According to our notes (although it is best to check locally with the tourist board) they leave at 8am, 11am, 2pm, 4pm and 6pm. The same marshrutkas pass the turn off for Motsameta Monastery, which is 1.8kms off the Gelati road. It is probably best, however, to travel to the furthest point and visit Gelati Monastery first, the reason being that if public transport is thin on the ground coming back in the reverse direction, it is feasible to walk from one monastery to the other. The distance is 6kms and it takes around an hour walking at a reasonable pace but, most importantly, if travelling from Gelati to Motsameta the walk is mostly downhill.
When you are finished at Motsameta Monastery, you need to return to the main road to catch transport heading back to Kutaisi.
If you are comfortable with it, another option is to hitch a ride on all or some of the return legs. We are by no means serial hitchers but have thumbed a lift in, not only Georgia but other regions of the Caucasus, on numerous occasions and have got to see places that we never thought we would reach without our own transport. I suspect the route from Gelati Monastery to Kutaisi would be an easy one to hitch, especially on the weekend and Sunday in particular given both monasteries are still active.
Chiatura
Chiatura is a mining town located 70km east of Kutaisi. Although it takes more time to reach on public transport, like Tskaltubo, Chiatura makes for an absorbing day excursion from Kutaisi and is well worth squeezing into your itinerary.
Riding in a rusting Soviet-era cable car, or an 'iron/death/flying' (take your pick!) coffin as they are also known, used to be the town's star attraction. Part down to their rather ominous nickname(s), which came about because of their poor maintenance record, the cable cars haven't been functioning since at least April 2020 and there is no solid information on when, or indeed if they will resume operating once more.
No doubt this has put off some potential visitors but, as our more detailed post about Chiatura highlights, other things of interest in this mountain valley town makes it not just a decent day trip ex Kutaisi but a worthy destination in its own right – for example somewhere to break the journey when travelling from Tbilisi west towards the Black Sea coast. As far as we know, the photogenic cable cars are still visible and several of the stations are worth searching out, as well. There are also examples of Stalinist Empire style and Soviet Modernist architecture scattered around town, a large memorial to the Great Patriotic War and, our personal favourite, the atmospheric ruins of a palace once used by young pioneers, a Soviet youth organisation which was similar to the Scout movement in the West.
Regular marshrutkas depart from Kutaisi's main bus station for Chiatura. The journey time is in the region of 1.5 to 2 hours. Keep in mind the last marshrutka back to Kutaisi leaves Chiatura at around 5pm so if you want to see everything we've mentioned you will have to make an early start or, alternatively, spend the night there.
Batumi and Borjomi
Although some articles and travel blogs suggest the Black Sea city of Batumi and the resort town of Borjomi as feasible day trips from Kutaisi, we would recommend against visiting either in this way if using public transport. The travelling time from Kutaisi to both destinations is at least 2.5 hours one way and, this doesn't allow enough time to do either place justice. Borjomi warrants at least an overnight and it is easy to spend two or three days discovering what Batumi has to offer.
How to get to and from Kutaisi
Kutaisi is easily reached from most places in Georgia either by bus, marshrutka or train. There is a list of routes and timings on Visit Kutaisi's website, and you might find the following resources helpful, although we recommend using them only as a guide as it's best to check locally.
Kutaisi bus and marshrutka schedules from Visit Kutaisi
Kutaisi train schedules from Visit Kutaisi
Kutaisi local bus and marshrutka schedules on WikiRoutes
Georgian Railways (although the app is easier to use for checking tickets)
---
If you found our guide to things to do in Kutaisi helpful, please share it…