Exploring the abandoned sanatoriums in the Georgian town of Tskaltubo is our kind of urbexing…
Tskaltubo's former resorts and spa hotels are almost all open and accessible, their sweeping stone staircases and ornate entrances easily visible, tempting curious passers-by like us to take a closer look.
Sanatorium Iveria in Tskaltubo
Today Tskaltubo has huge potential as a playground for urban explorers but, as part of the USSR, it was a popular spa resort, famous for its healing mineral waters and radon bath treatments. We reached the small town by a short marshrutka ride from Georgia's legislative capital Kutaisi but, in its day, thousands flocked from across the Soviet Union and there were up to four daily trains from Moscow.
The first bathhouses are believed to have opened in 1870, and in 1925 the first sanatoriums and in-patient facilities were built. Development continued and in 1931 Tskaltubo was designated as a balneotherapy* centre and spa resort by the Soviet government and it was one of Stalin's favourite vacation spots. During WWII, the hotels were used as hospitals but after the war, their popularity increased and by the '80s Tskaltubo was one of the most sought-after tourist destinations in the Soviet Union, in close competition with the many other resorts dotting the Black Sea coast.
* Balneotherapy is the treatment of disease and medical conditions by bathing in mineral-enriched water. From the Latin balneum meaning bath.
There were around 5,000 or so beds in 19 hotels and sanatoriums (some sources say 22) built in a ring around the central park where the baths and thermal springs are situated, in an area known as the balneology zone.
Back in the day, a spa break wasn't a pampering holiday afforded only by the wealthy; it was a prescribed, and mostly compulsory, annual respite – the "right to rest" was inscribed in the Russian constitution. Under the communist regime, a visit to the doctors could result in being dispatched to somewhere like Lithuania or Georgia where spa towns were renowned for the healing properties of their mineral waters. Or, if you were super lucky, to Kazakhstan to be bathed in warm crude oil!
At the height of its spadom, up to 1,500 people a day were taking treatments at Tskaltubo. Today the numbers are a fraction of that but the Georgian government is looking for investors to help restore Tskaltubo to its former glory. It's going to be a slow process but if and when it happens, much of the remaining remnants of intricate detail and the photogenic urban decay are likely be lost to memory and photographic records.
Georgia's independence in 1991 and the fall of the Soviet Union in late December 1991, signalled the collapse of Tskaltubo's spa industry. Without guests, most of the hotels and resorts were forced to close their doors.
During the 1992/1993 Georgia-Abkhazia conflict, some of the by-then abandoned hotels and resorts were used to house Internally Displaced Persons (IDPs). Over 200,000 people fled from the breakaway region of Abkhazia and 8,000 to 9,000 of them were given refuge in Tskaltubo where there were rather a lot of empty hotel rooms. It was supposed to be a temporary arrangement but 25 years later, these makeshift apartments have become permanent homes for new generations of families. The condition of the buildings appeared extremely poor and although basic utilities are connected, kitchen facilities mostly consist of a single portable gas burner and there are no funds for routine maintenance.
Sanatoriums & Hotels
Hotel Shaxtiori
We started our exploration outside one of Tskaltubo's most famous sanatoriums, the Hotel Shaxtiori. A huge Stalinist Empire style building, in its day the Shaxtiori would have been a prestigious place to stay. It would have also been an incredible place to look around during our visit except it has been bought by a local millionaire and is firmly off-limits. Metal fencing surrounds the property and security guards are on duty to ensure this is not breached. We tried asking nicely if we could photograph it from the outside but didn't get very far. The plan is to return the Shaxtiori to its days of grandeur and reopen it as a luxury resort. Opening date unknown.
Sanatorium Iveria
We left the Shaxtiori wondering whether we would face a similar situation in other buildings. We followed the road up and behind the Shaxtiori to find a building we'd spotted from the marshrutka window on the way into town. This time we struck lucky – there were no fences or barriers, no 'do not enter' signs, and there was a path leading from the street right up to the open entrance which was surrounded by arches and columns. We approached and stepped inside. We were not just lucky; this time we struck gold! We'd found the Iveria sanitorium. Prior to our trip, we couldn't find a lot of information about the abandoned spa resorts in Tskaltubo but one image kept coming up: the interior of a grand old building with a circular hole in the ceiling; or floor depending which level of the building you're on. Presumably, the 'hole' was created as an internal balcony and left exposed after the surrounding balustrade had collapsed. Without any information about its name or location, we'd made finding it our number one mission in Tskaltubo. And here we were, mission accomplished in the first building we entered!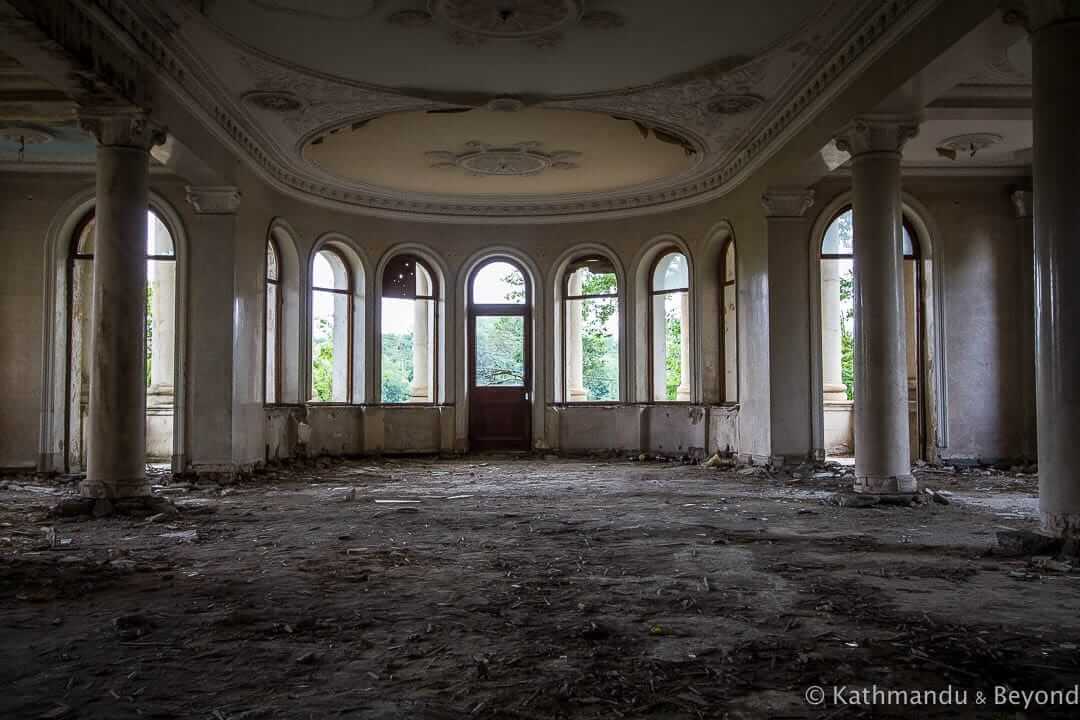 Sanatorium Iveria in Tskaltubo
Excited, we climbed the crumbling stairs to the upper floors. We came across a huge room with an ornate ceiling and tall arched windows, presumably the dining hall, and as we passed through the corridors and peeked into guest rooms we found peeling wallpaper and creeping ivy. Compared with many abandoned buildings, the Iveria still had life and a lot of character. We heard a sound and, always on guard in such places, listened intently. We soon realised it was kids chatting. There were clearly not paying so much attention to their surroundings as we were and we gave them the fright of their lives when they turned a corner and saw us! The young urbexers were two girls of about twelve years and (presumably) a younger brother. The woman at the tourist board told us she'd been in quite a few deserted sanatoriums when she was younger and it seemed to be a bit of a rite of passage for youngsters.
According to an online Georgian news site, the Iveria was sold a couple of years ago for a little over one hundred thousand US dollars (that's around £75,000). Not a bad price, but there is a catch: the terms of sale state that the buyer should invest at least €6 million in building a hotel with 160 rooms and employ 80 people. Sadly the terms don't state that any original features must be retained, leading to the possibility the building will be demolished rather than restored.
Update August 2019: We've been hearing rumours over the past few weeks that Sanatorium Iveria is now completely fenced off and there are security guards in place, and that's now been confirmed to us by a contact in Tskaltubo. There are indeed plans to re-open the Iveria as a hotel as some point in the future (no indication of a date). Whether or not it's the same buyers mentioned above, we're not sure but it seems that some of the original building will be retained, so that is some good news.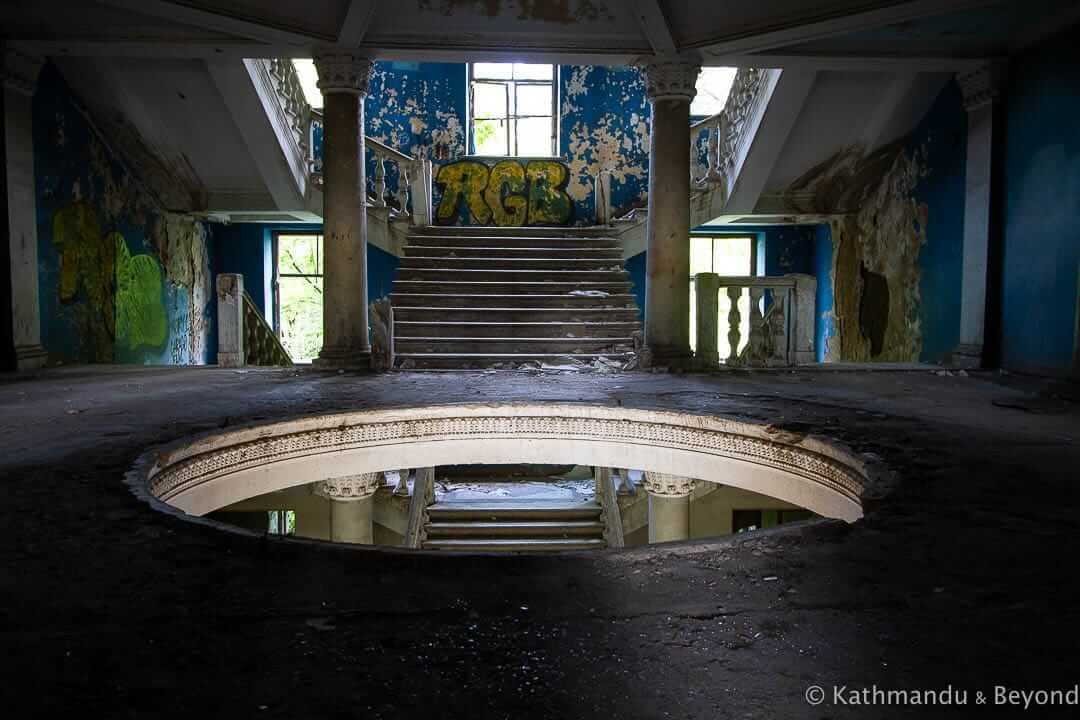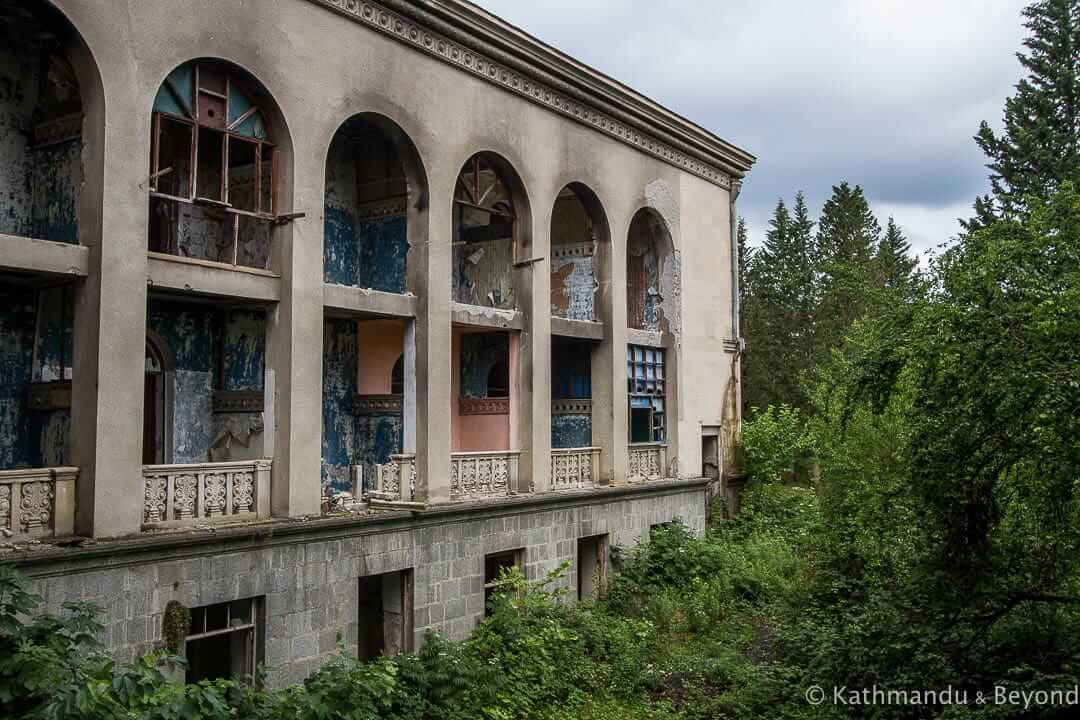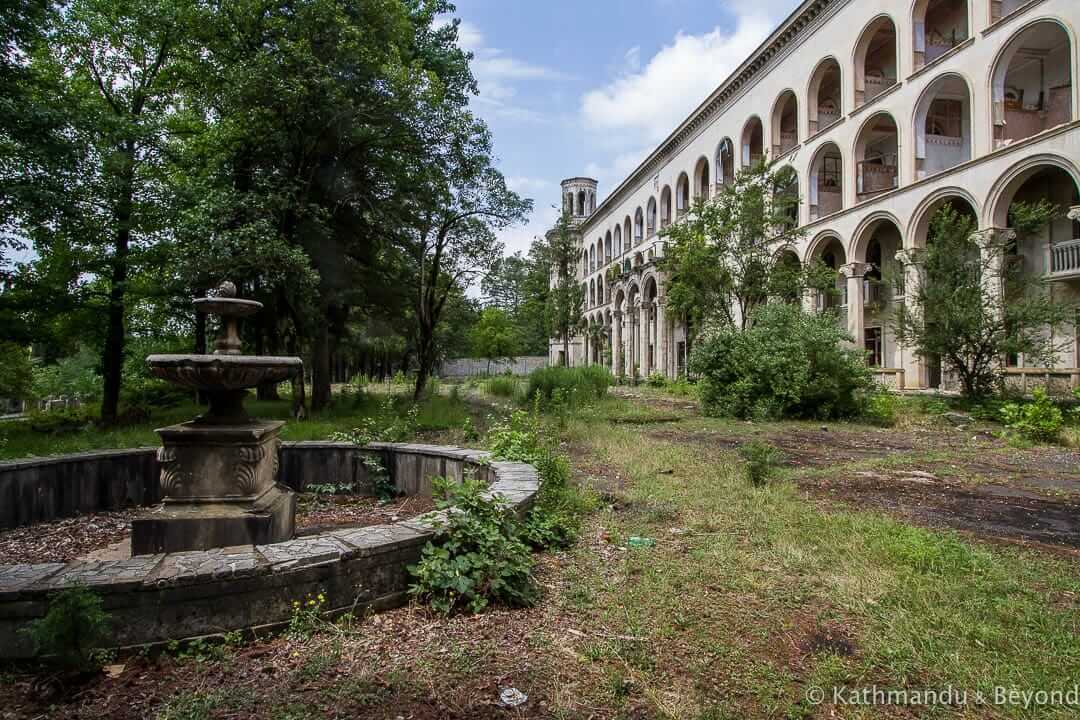 Above: Sanatorium Iveria in Tskaltubo
Savane Hotel
Back down towards the edge of the park, we came across the Savane Hotel. Much smaller in size and grandeur than the Iveria, the notable feature of this hotel was its semi-circular entrance. There wasn't much to see and the undergrowth made it difficult to access so we didn't spend too much time here. We had trouble finding out the name of this hotel but we finally identified it as the Savane (one person told us it was the Imereti Hotel and someone else said it used to be called the Tskaltubo Hotel).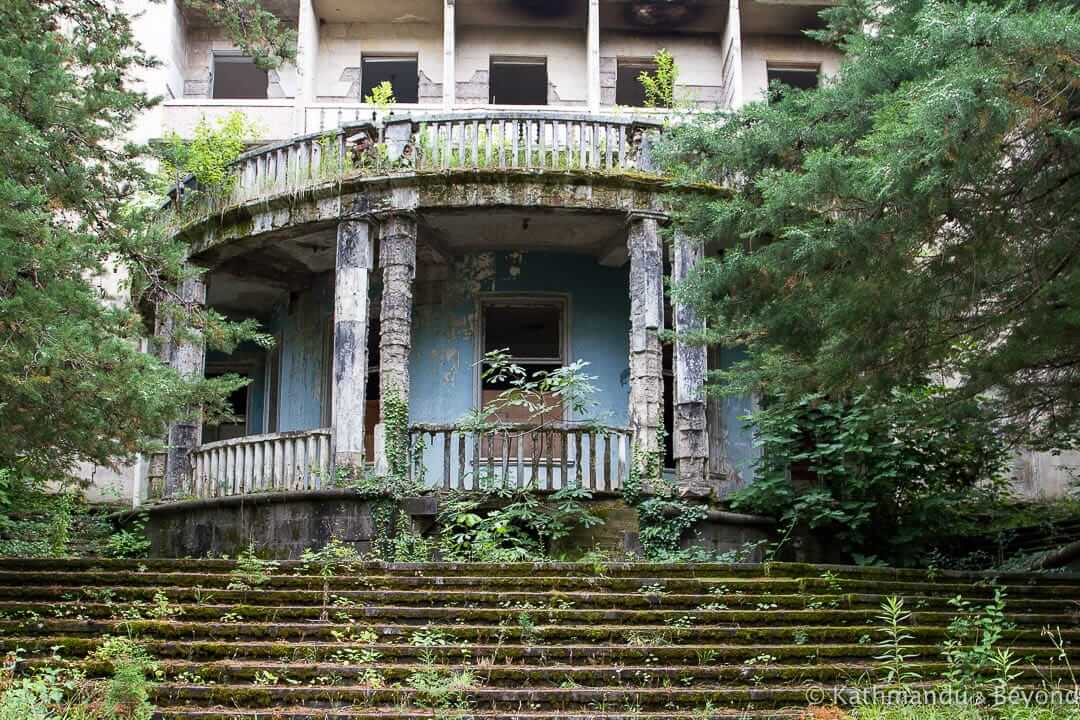 Above and below: Savane Hotel in Tskaltubo 
Hotel Tbilisi 
Close to the centre of town and the bathhouses, the Hotel Tbilisi would have been a popular place to stay. Today it's one of Tskaltubo's handful of disused hotels that house IDPs. Careful not to intrude on people's living quarters, the only part of the interior we visited was an abandoned section behind the high rise part which looked like it may have been a cafe and garden area, now damp and covered with creeping lichen. On the flat roof above us, we could hear children playing, shrieking as they splashed each other with water on the hot summer day.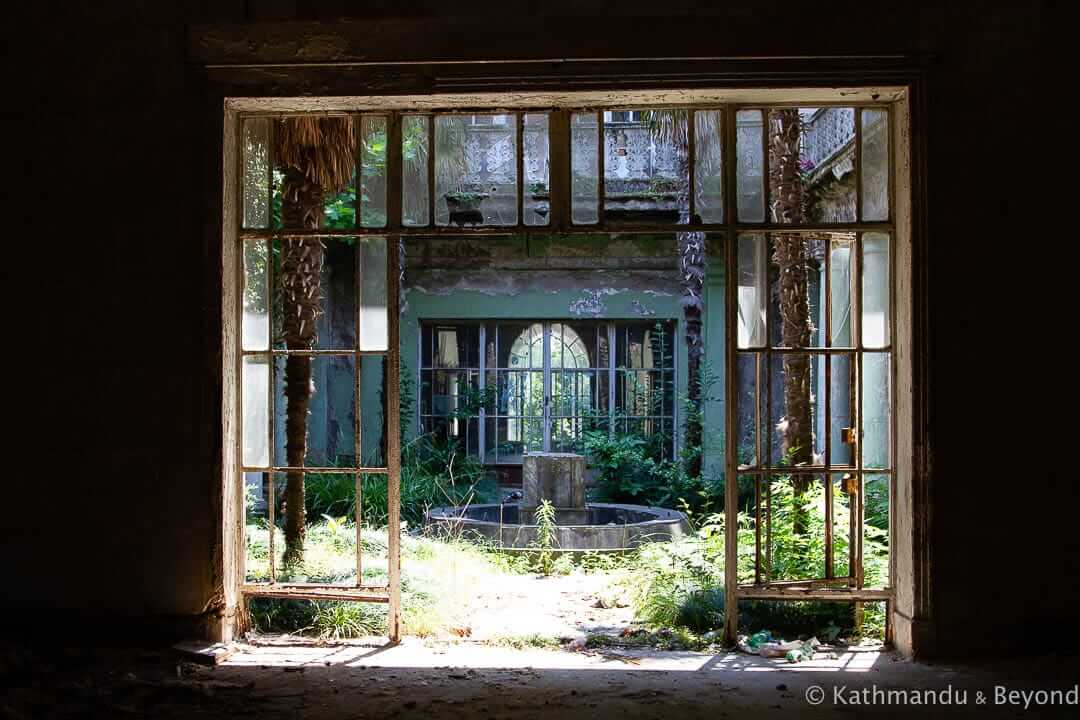 Sanatorium Tbilisi, Tskaltubo
Hotel Gelati
From Tbilisi, we took the road leading up and away from the town. Here we came across Hotel Gelati. We had already pinpointed some mosaics in a park close to the hotel but as we approached, a dog started barking aggressively. He was chained up but the area was also fenced off so we didn't try to get any closer as we wouldn't have been able to get past the dog. This was the first and only time we encountered problematic dogs in Tskaltubo. There was a small abandoned building close by which possibly was part of the original complex. Outside the Gelati, we asked an old woman to confirm the former name of the hotel. A young girl skipped by; maybe her granddaughter? The grandmotherly woman gave the girl an instruction and indicated that we follow her. She led us into the building and up the stairs, through a makeshift gate that accessed the upper floors. "Do you speak English?" I asked her. She nodded. It turned out that with a little encouragement she spoke quite good English. Ten-year-old Magda took us to the domed rooftop and showed us the disused but still ornate former restaurant. Magda took the thoughts right out of my mind when she told us… "When my parents moved here 25 years ago, they told me it was like a beautiful palace". She went on to say that basically no maintenance has been done since those fleeing Abkhazia took temporary shelter here. That much was obvious, here and in all of the other refugee-occupied former hotels we saw. Some have weathered better than others but most are damp and decaying.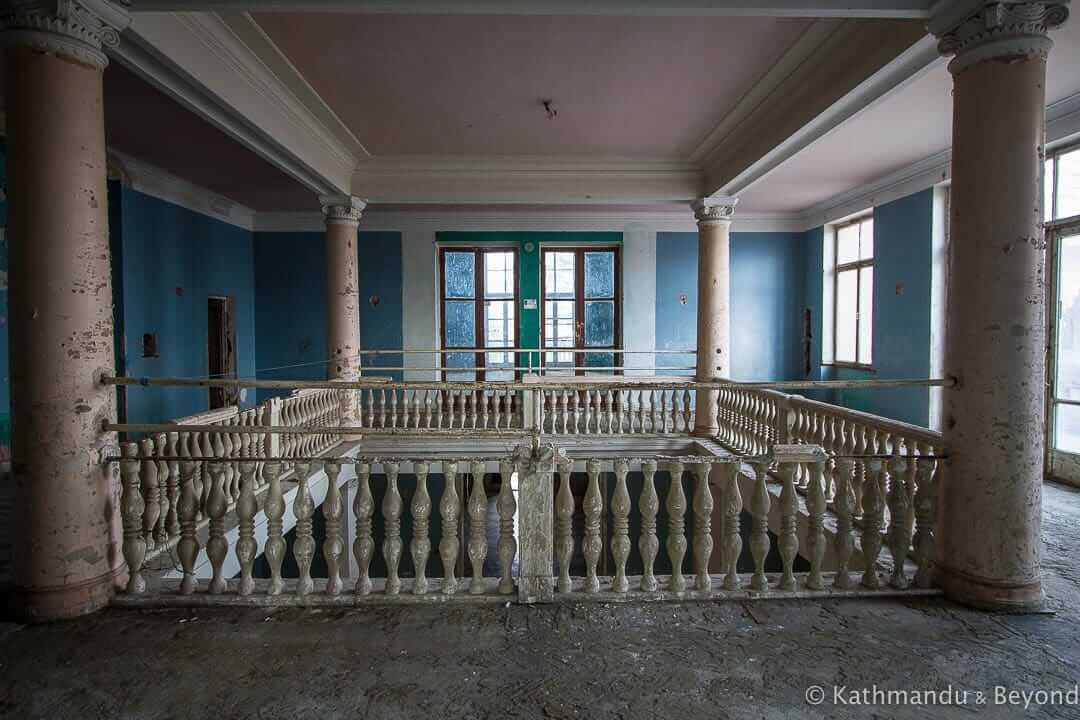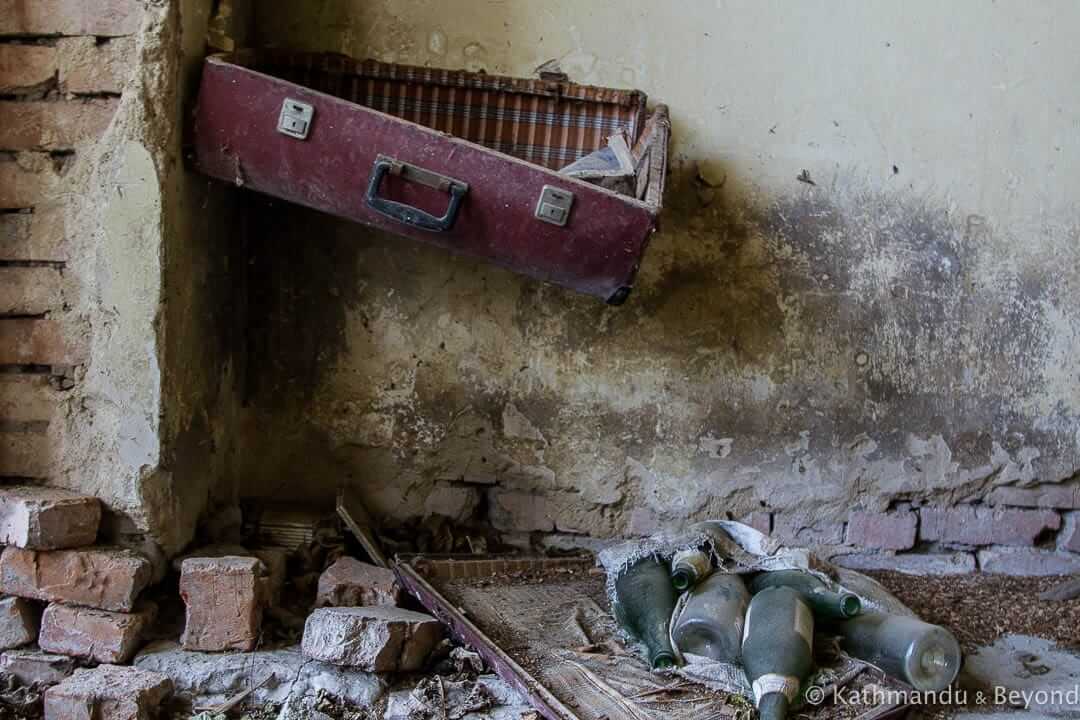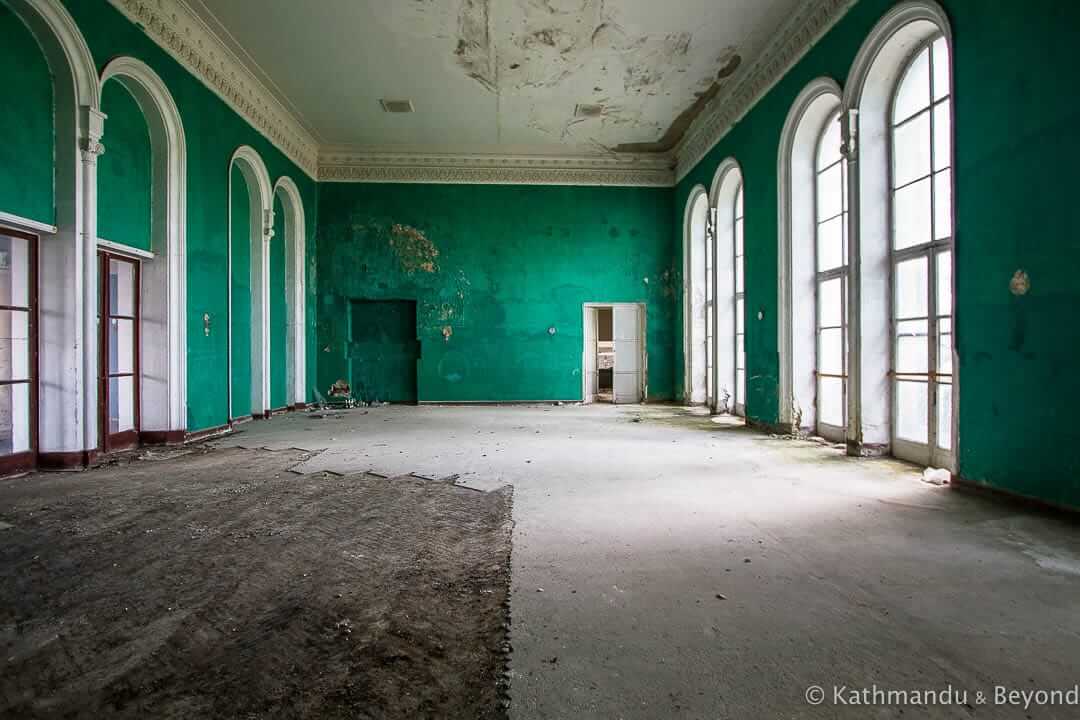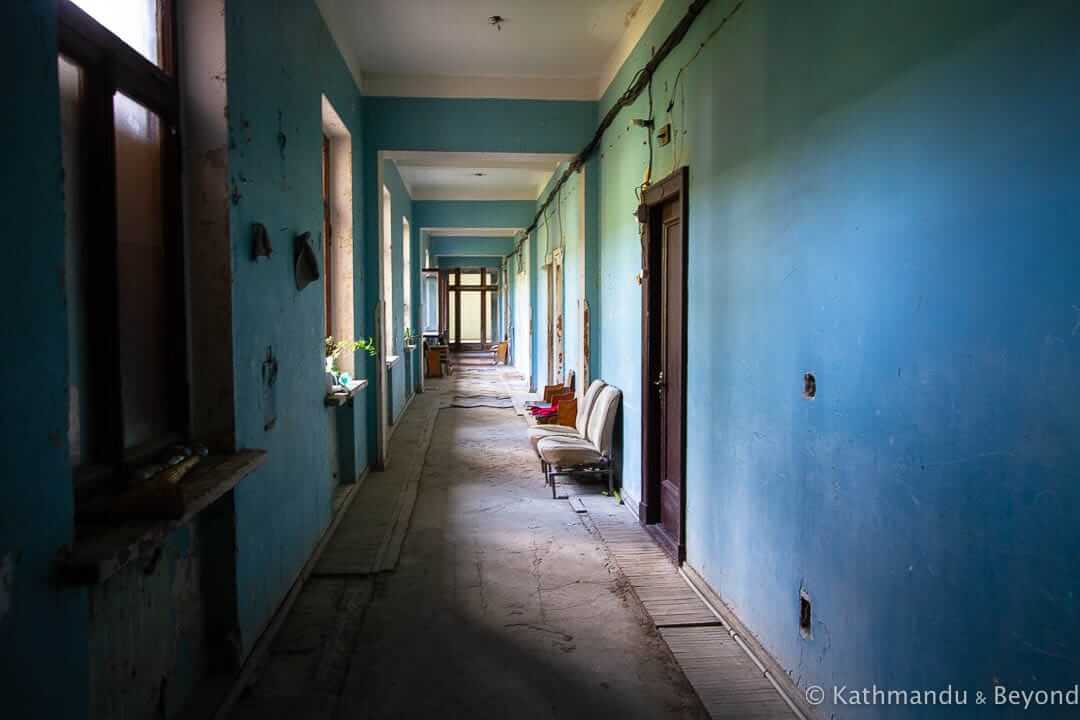 Hotel Medea
We both had a 'Whoa, check that out!' moment when we first clapped eyes on the entrance of the Hotel Medea. Curbing our initial excitement for a moment, we realised this hotel was also part-occupied by IDPs and we promptly introduced ourselves to a family sitting on a nearby bench and asked if it was OK to take a look around. "You are most welcome," was the father's response and he pointed in the direction we should head. It transpired that the left-hand side of the Hotel Medea is the occupied part and the right side is completely abandoned and he sent us in that direction.
A staircase led to the next floor, where we were suddenly surrounded by the most glorious set of marble colonnades. Thereafter, the rest of the building was a bit of an anticlimax but it was still worth climbing all the way to the top for the view down onto the towering columns and open stairwells.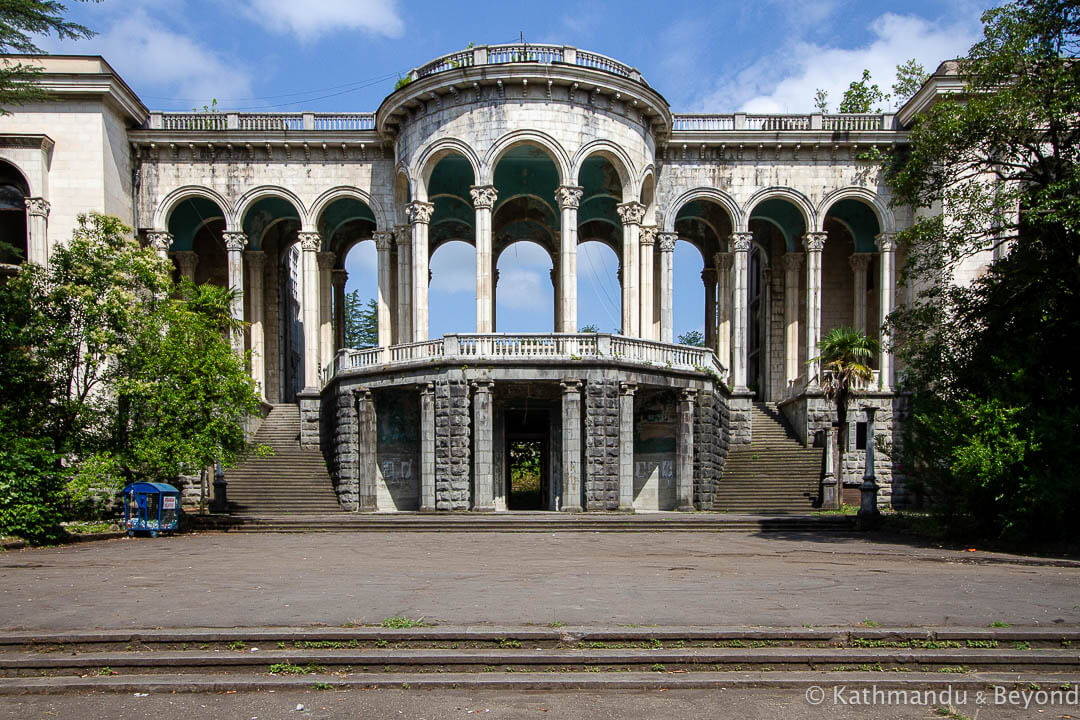 Hotel Metalurgi
We had a bit of trouble locating Hotel Metalurgi. We could easily see it from the roof of the Hotel Medea but the entrance is closer to the Hotel Tbilisi and the centre of Tskaltubo.
This former hotel appeared to us to have a large number of occupants and had fewer damaged and abandoned parts than many other hotels we visited. The large theatre/ballroom, or whatever it used to be, was no longer in use and was padlocked (it's possible to look inside via some smashed windows) but we saw very little additional evidence of abandonment.
The main draw here was the central part of the building, once the hotel foyer, where there were large internal balconies and huge chandeliers hanging from the ceiling. The exterior of the building was also noteworthy, albeit a little tricky to photograph.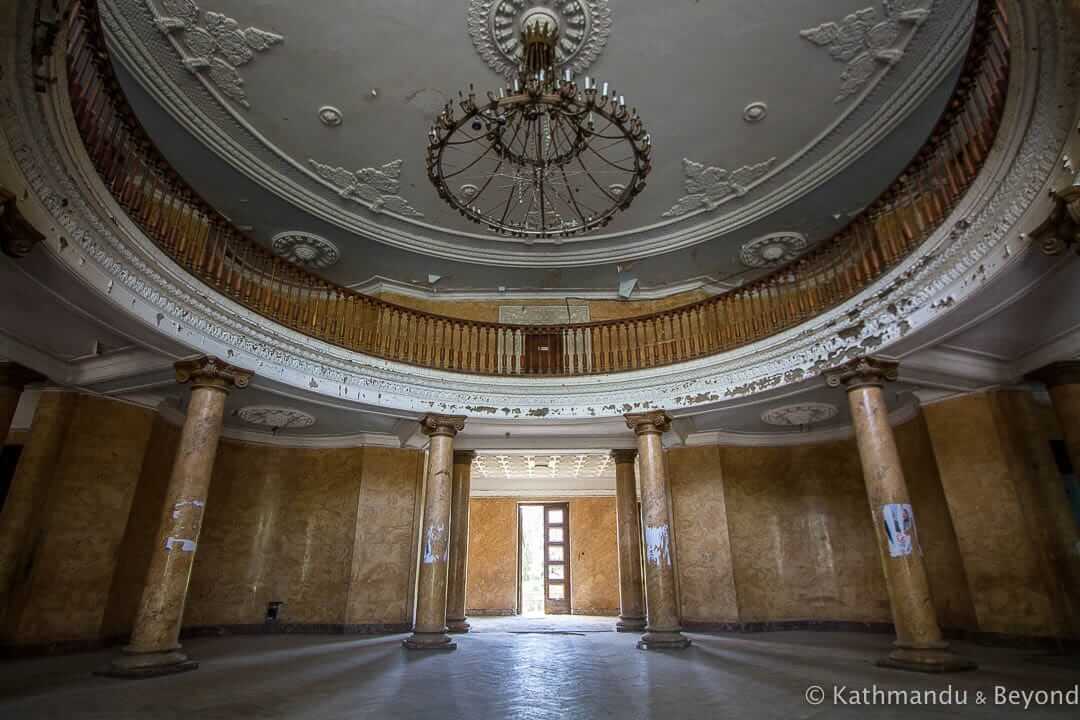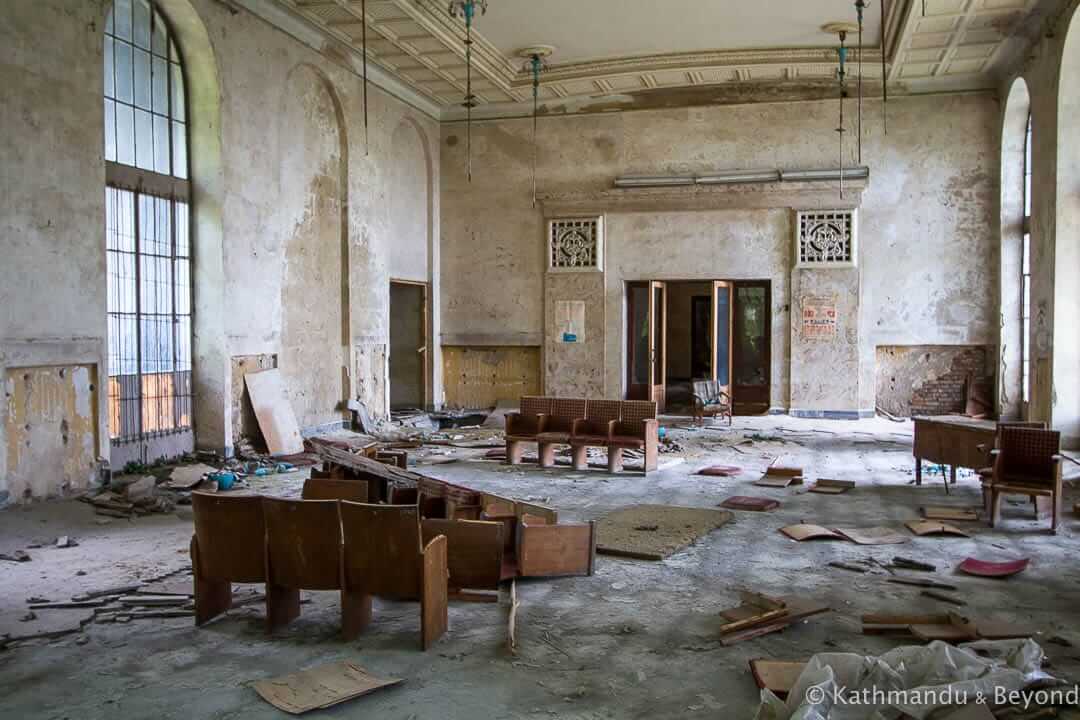 Hotel Metalurgi, Tskaltubo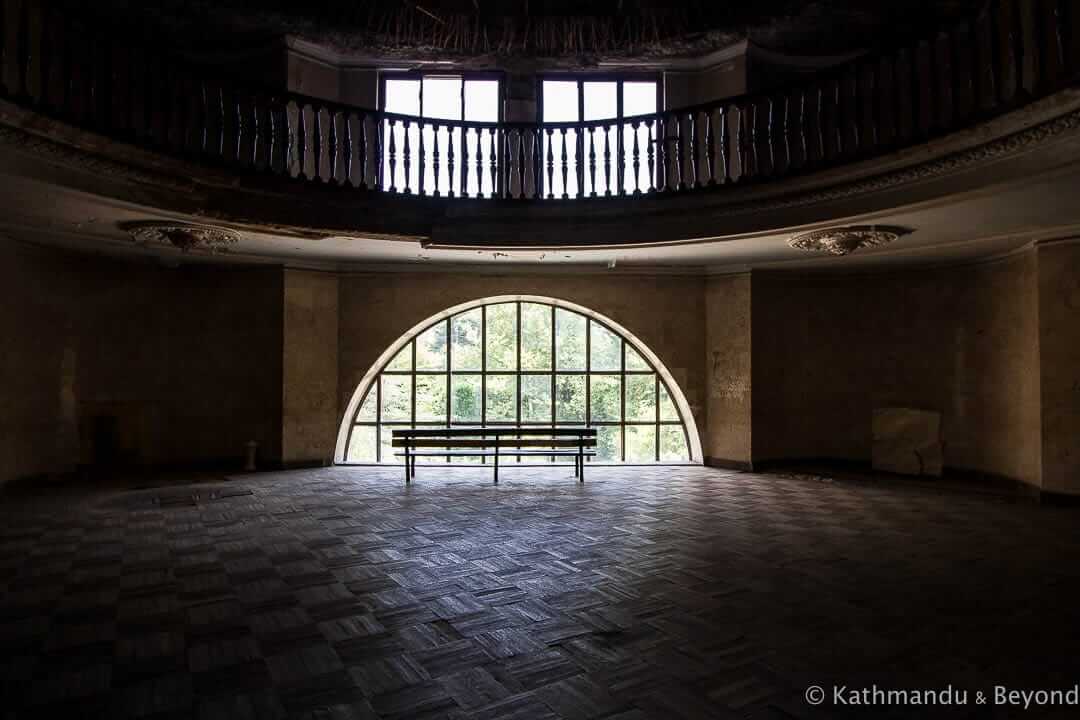 Hotel Sakartvelo
This hulk of a hotel, which is very 1980s-Soviet in design, is easily visible on the drive into town from Kutaisi. At an estimate, at least 60% of it (mostly the upper floors) houses IDPs while the rest is derelict and in many parts dripping with water (the temperate climate with high rainfall and humidity may be conducive to water therapy but it's not so kind on ageing buildings). The main thing to see is the mosaic-covered indoor swimming pool. The pool is in a sorry state but the mosaic itself is reasonably intact in parts.
There were plenty of people here and, more than anywhere else, the scene felt very voyeuristic so we didn't linger for long.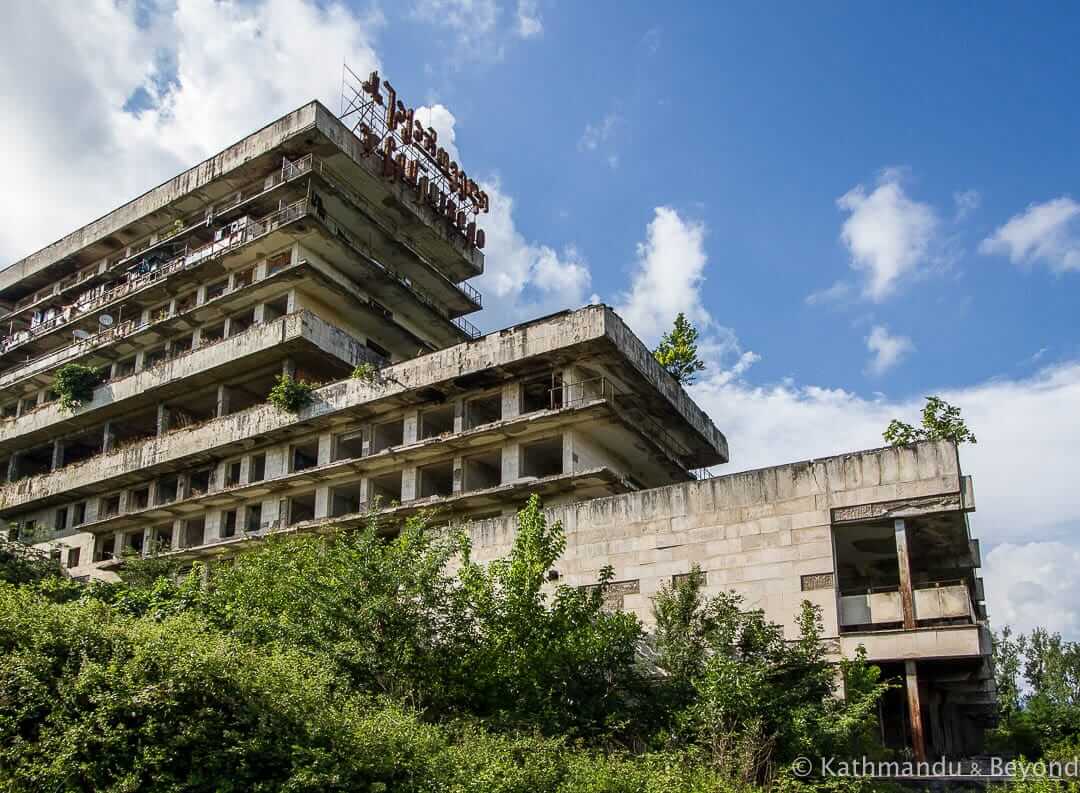 Above: Hotel Sakartvelo in Tskaltubo
Intourist Hotel
We didn't venture inside this one and only viewed it from the outside. While there, we got talking to a guy who was playing football with his daughter in front of the hotel. He told us he had lived there for twenty-five years as an IDP; since he was a small boy in fact, and that he could never return to Abkhazia. Practically all of the building was occupied and that was the main reason why we didn't enter. For the best view of the Hotel Intourist, stand in front of Hotel Sakartvelo.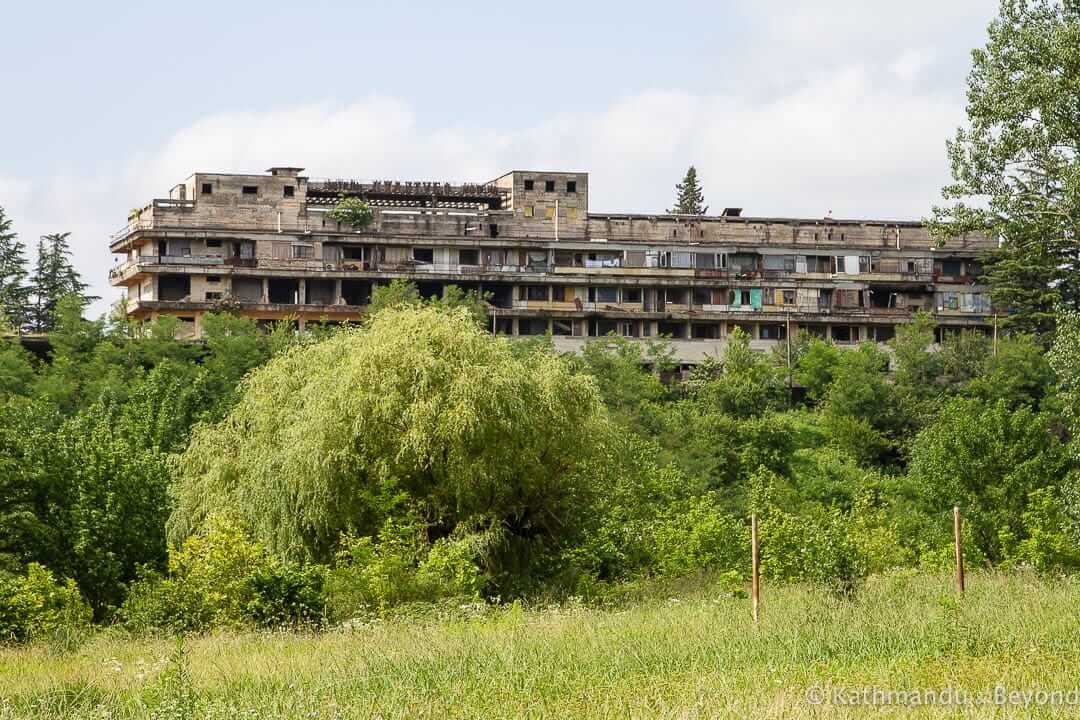 Intourist Hotel in Tskaltubo
Tskaltubo Spa Resort
The Tskaltubo Spa Resort (or Legends Tskaltubo Spa Resort as it is officially called) is the only original sanatorium currently in use, having reopened in 2011 after an extensive renovation of two of the three grand buildings. Walking distance from Bathhouse number 6, it wouldn't have come onto our radar screen had we not met two Australian guys who were staying there. We got talking and they told us that one of the hotel wings was abandoned and remained in a time warp, circa the 1950s. Stalin stayed at the hotel and had his own suite of rooms there. The Australians had been given a guided tour of the place by a member of staff and they reckoned that, even though we weren't staying there, if we asked nicely they may do the same for us.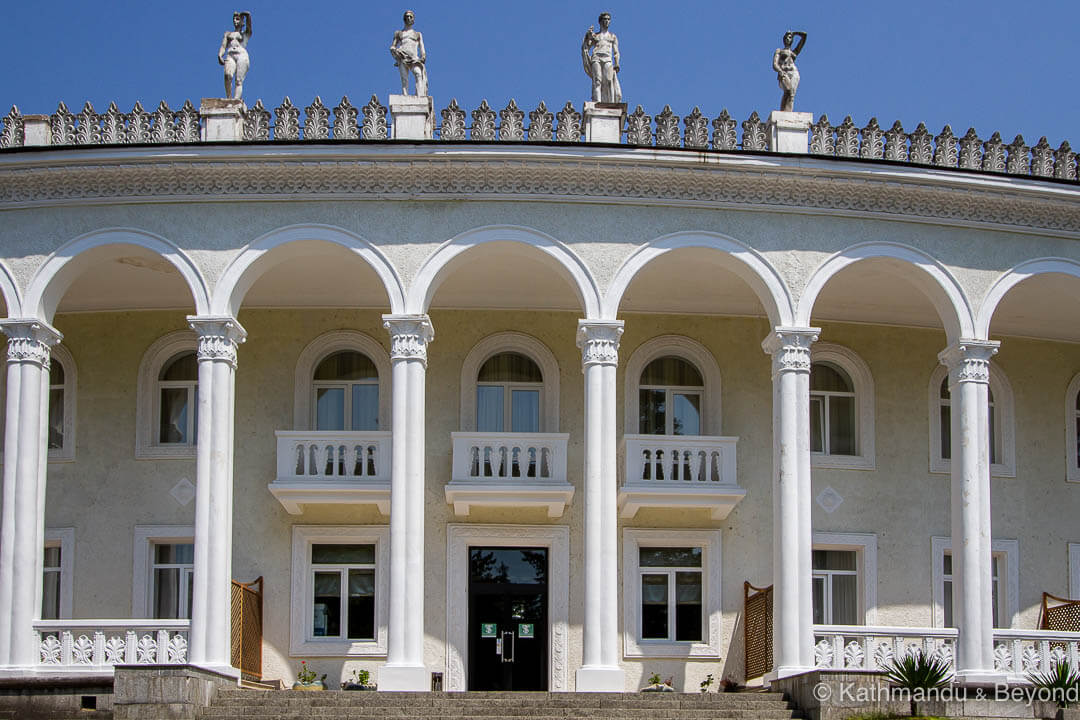 Tskaltubo Spa Resort
They were right and George the barman escorted us across the manicured gardens to the hotel's original entrance and proceeded to show us around in great detail.
Although not the most photogenic of the hotels/sanatoriums we visited in Tskaltubo, it was by far the most interesting because almost everything remained in situ. Stalin's bed was made, chandeliers were still hanging and generally, there was minimal decay and destruction.
George told us that the hotel owners have no plans to do anything with the building in the foreseeable future and so it will remain in this glorious state of faded grandeur for a while yet.
This out of focus photo, thought to have been taken in the 1950s, provides a fascinating overview of how the Tskaltubo Spa Resort used to look. It was formerly the Military Sanatorium of the Soviet Union. Source: Wikimedia Commons (where it is incorrectly labelled) (Author: Georgia 2017 / CC-BY-SA-4.0).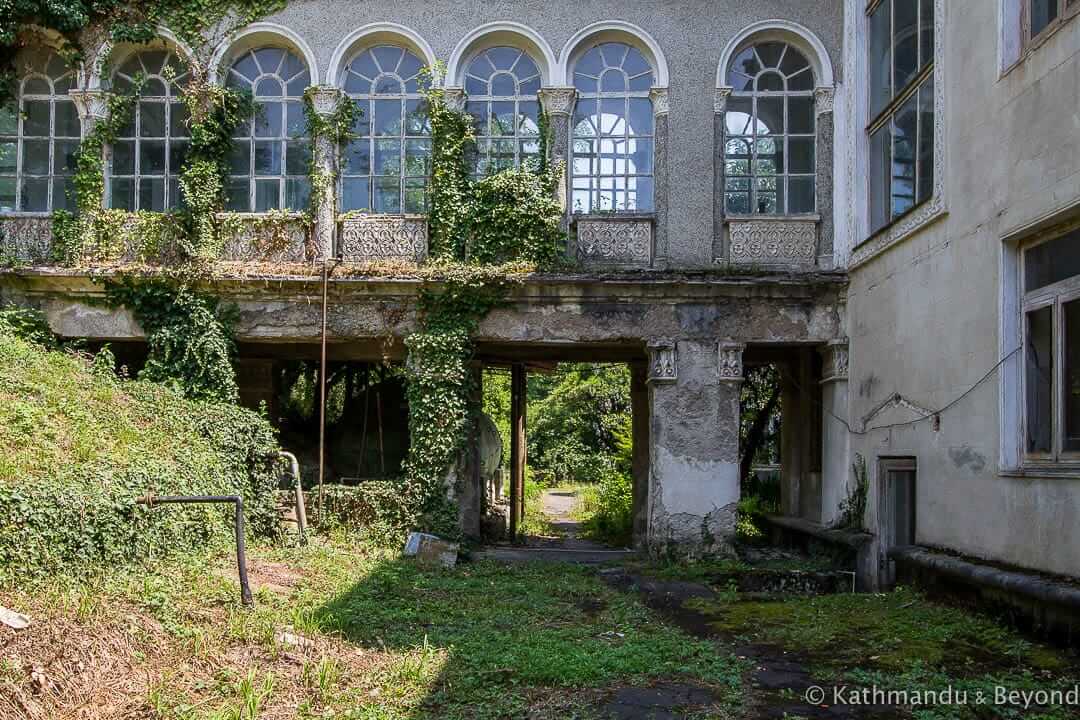 Above and below: Tskaltubo Spa Resort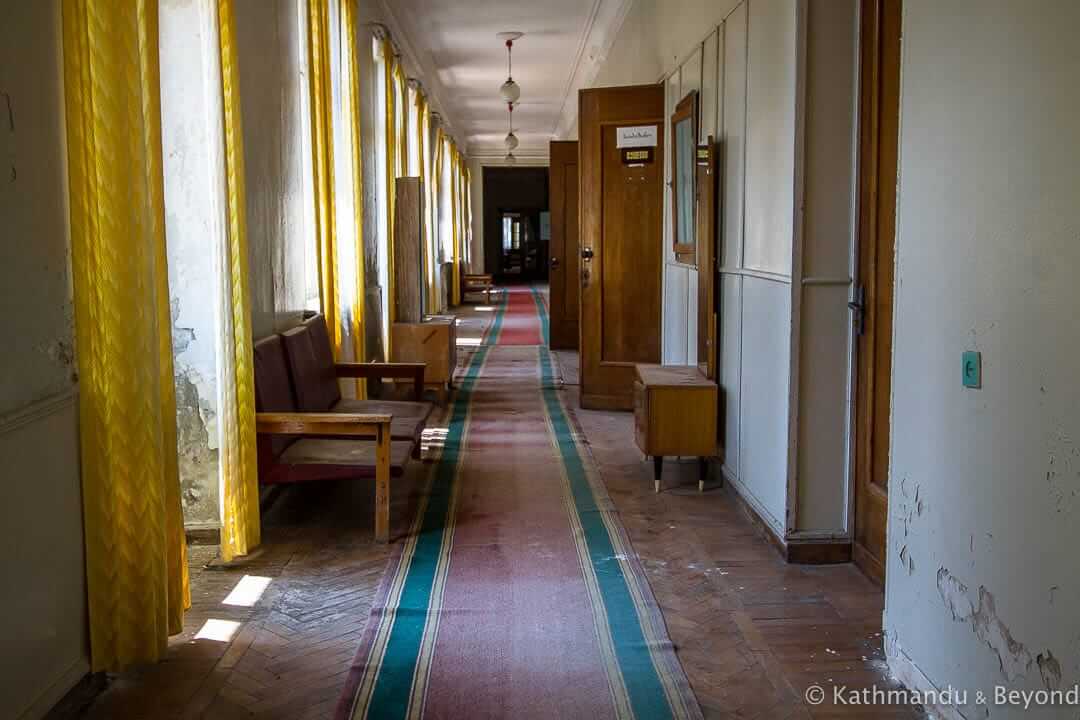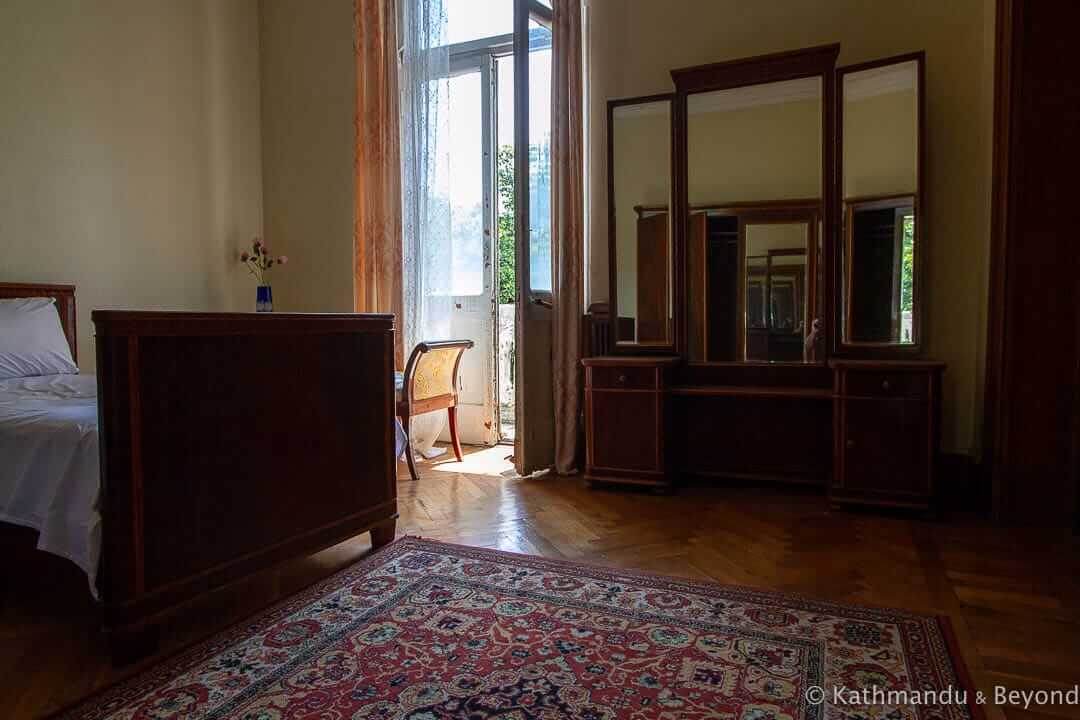 Hotel Aia
We found out about this Soviet-style hotel from a fantastic map documenting Soviet-era mosaics in Georgia. Entitled 'Soviet Modernism and Soviet Period Mosaics in Tbilisi', the map covers a much wider area than Tbilisi. There were two large mosaics to see – one on the exterior of the building and another inside. According to one of the residents, it used to be the hotel's restaurant.


Above: Hotel Aia in Tskaltubo
Bathhouses & Spas
Tskaltubo had nine imaginatively-named bathhouses or 'springs', located in the central park and consisting of thermal baths and treatment rooms. The healing properties of the water in Tskaltubo claim to cure some sixty diseases. Of the nine buildings, three are currently in use: Bathhouses Number 1, 3, and 6. As part of Tskaltubo's regeneration plan, all nine bathhouses will eventually be renovated and put back into full use.
Bathhouse Number 6
Sometimes referred to as 'Stalin's Bathhouse', this is Tskaltubo's main bathhouse and is situated directly on the mineral source. It's still in use and well maintained. The facade is in classic Stalinist Empire style, which is lucky given this wellness centre was a particular favourite of the 'Boss', and specially built for the man himself. He had his own private pools featuring ornate mosaic work and the reception staff were quite happy to show it to us when we asked.*
* We guess at the moment that Tskaltubo doesn't get that many tourists as both the receptionist at Bathhouse Number 6 and the staff at the Tskaltubo Spa Hotel (see above) were willing to give us a short, guided tour. If Tskaltubo grows in popularity (it truly is a fantastic day trip/overnight excursion from Kutaisi) then the attitude of these employees (and restraints on their time) may change and visits may no longer be possible.
Rumour has it there are plans to renovate Stalin's personal pool and open it up for public use. No doubt there will be a market for such an 'attraction', particularly among diehard fans of Sovietism and those still delusional enough to think Uncle Joe was a great man. But, for us personally, even though the novelty of spending time in a sanatorium is quite appealing, the thought of spending time in a bath used by one of the world's most appalling dictators is a bit too warped.
The main entrance hall of the bathhouse is also worth seeing. It's very grand and the old bus arrival/departure board above the door hints at how popular Tskaltubo was during the times of the Soviet Union. Take a look at the huge urn featuring images of the former sanatoriums and also the frieze above the exterior entrance which features Stalin greeting bathhouse visitors.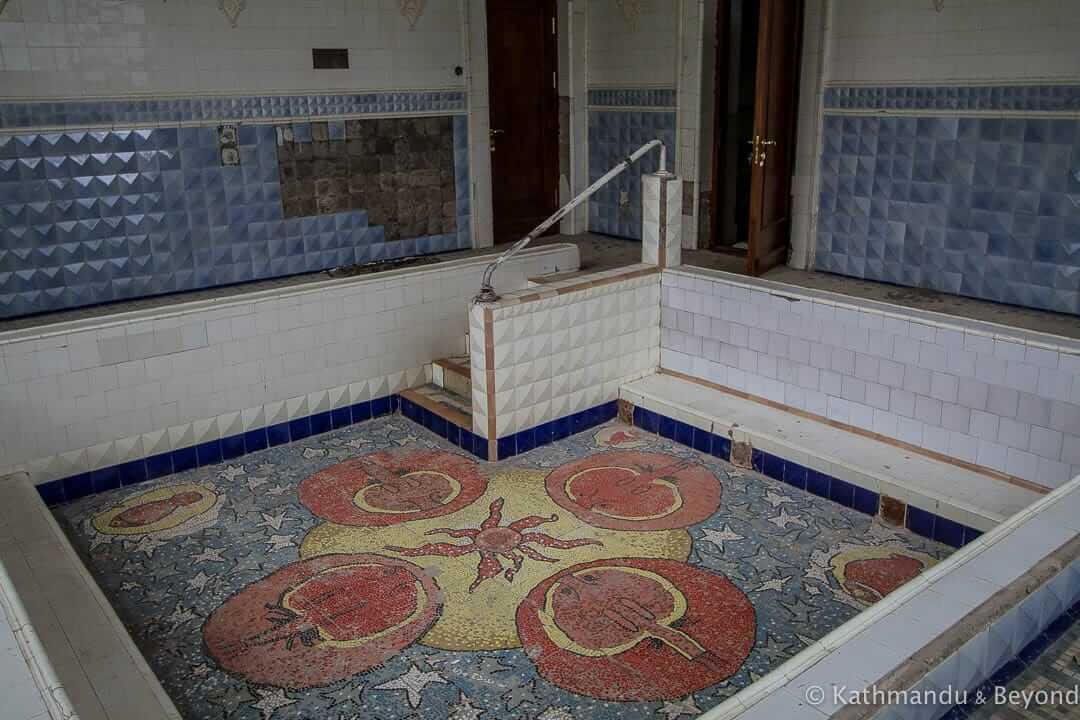 Above: Bathhouse Number 6 in Tskaltubo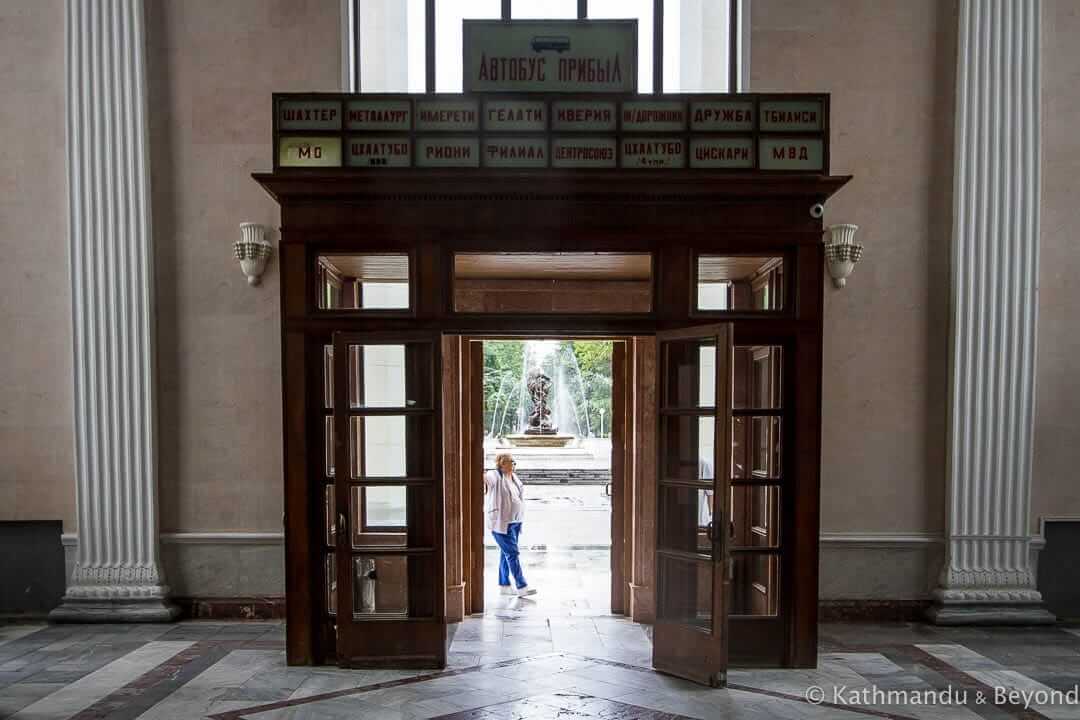 Bathhouse Number 8
A short distance from Bathhouse Number 6, Number 8 is a communal bathhouse that was presumably more for the proletariat rather than the party elite. It is completely abandoned and given over to the elements and the huge, central skylight (whether this was once covered isn't something we can answer) gives it a UFO feel.
Bathhouse Number 1
Located at the main entrance to the park, we didn't go inside this still-operational bathhouse but we did sit outside and shelter from the rain for a bit while feeding stray dogs and attempting to talk to a couple of old ladies who worked there and were taking a break. They were kindly and smiled a lot but we reckon they would be a bit ruthless when it came to treatments! There are some interesting Soviet-era statues in front of this bathhouse.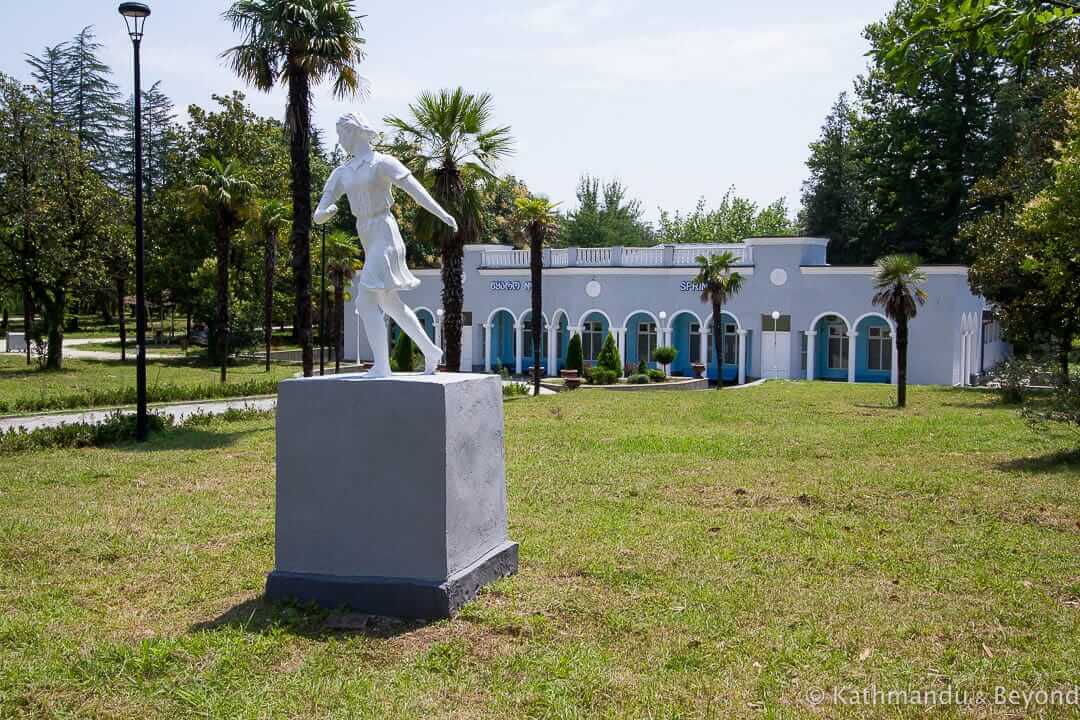 Bathhouse Number 5
This was another abandoned bathhouse located inside the park. The interior was large and it would have looked pretty impressive in its day. Several of the deep, yellow-tiles baths are still intact.
Stalin's Dacha (Holiday Cottage)
This was a fascinating find, which we would never have known about had it not been for the helpful and enthusiastic young woman at the Tskaltubo Tourist Information Centre.
It was a little tricky to find but once we'd located it we had free rein to wander around the entire premises. The first building we came across used to serve as a guardhouse, and from there a single track led up to the main building. The house seemed fairly modest, considering it was designed for the leader of the Soviet Union, and the interior was gutted and bare save for a bit of peeling wallpaper and some wall murals that wouldn't look out of place in a child's nursery. There were still signs of grandeur, however, especially above the veranda at the front entrance, and it took us quite a while to explore the whole place.
We also found what we assumed was a small bunker in the garden and a workshop that housed some strange-looking electrical getup that Mark's over-active imagination thought looked like some sort of torture apparatus, but was more likely used for mechanical purposes.
As an aside, we were accompanied to the dacha by one of the town's numerous stray dogs. He came with us all the way from the railway station, scouted ahead and whimpered if he temporarily lost us inside the grounds of the building. The dog even took a crap inside in a room that, hopefully, was one of Stalin's personal rooms! A fitting tribute to Georgia's most evil Man of Steel.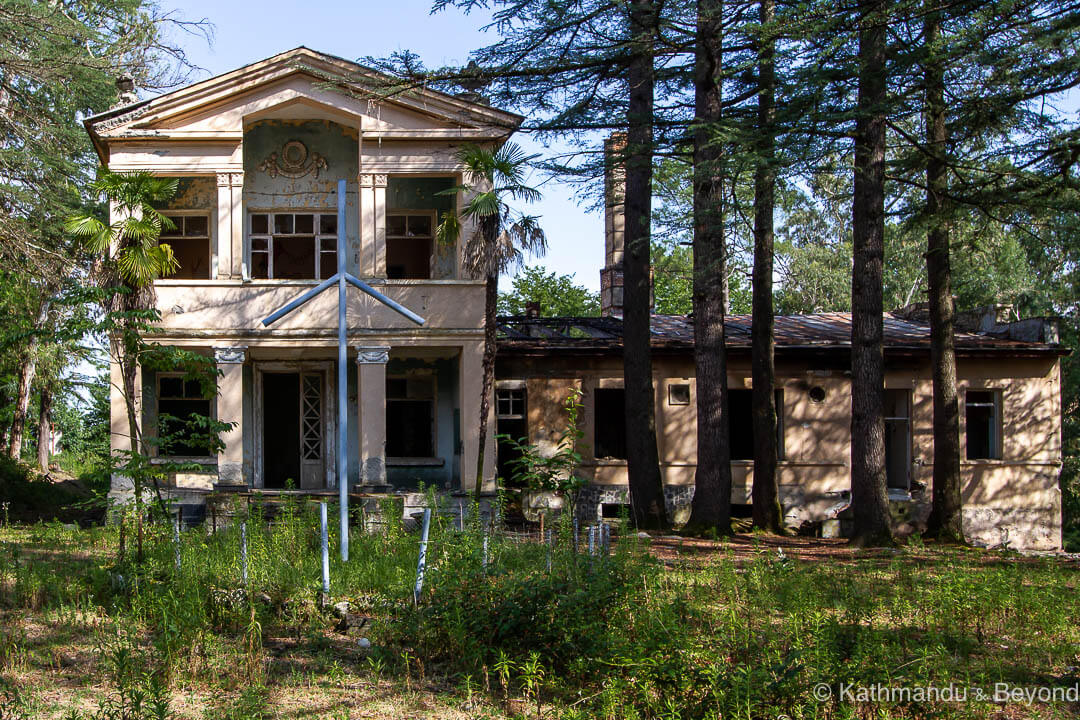 Train Station
Up until a few years ago, Tskaltubo's railway station lay abandoned but recent restoration means it's looking good again. Downstairs is used as a community centre and is where the tourist information desk is located. There are daily trains to Kutaisi (but no longer to Moscow or St. Petersburg!). The upper floor of the train station remains semi-abandoned and during our visit, it had been converted into a makeshift bar with crate seats and a big screen to watch the World Cup football matches! We were very tempted to go back again to watch a game there!
Talking Ethics
On the subject of tourism voyeurism and whether or not it is appropriate to visit occupied buildings, this is something we have considered in depth. But as an interesting National Geographic article entitled Is 'Dark Tourism' OK? states, it's all about intention.
I wouldn't put Tskaltubo in the category of dark tourism (visiting places associated with death or suffering) but some of the considerations are the same. Our reason for visiting Tskaltubo was to explore the sanatoriums and learn about the history of the town and the spa culture. It just so happens that the history of the sanatoriums has become mixed up in more recent 'dark' events which have changed the use of the buildings.
Maybe we are being over-sensitive and I'm not sure how I would feel in that situation. Maybe the people living there don't think much of it? And although we were met with smiles and kindness we were very conscious that some people might think it was strange for a couple of camera-wielding tourists to be wandering around. Cameras are a sensitive subject and somehow we feel far more intrusive carrying a large DSLR (even if we're not using it) than we do an iPhone.
But it's not just about people living in poor and cramped conditions becoming tourist attractions. It's about waltzing into their lives uninvited with camera shutters clicking. That's what the paparazzi do and we are not the paparazzi. Our interest is genuine and we are extremely sensitive when intruding into the lives of those less fortunate than us.
This didn't stop us from feeling self-conscious however and we always made a point of smiling at and speaking to a passing resident to try and explain our presence: we were interested in the history of sanatoriums or were looking for a particular mosaic. Our Russian is close to non-existent but we used the phrases "mozhno" (may I?) and "pozhaluysta" (please) often.
For these reasons, we have chosen not to share GPS coordinates for the buildings that are heavily occupied by IDPs.
However, we have marked on the bathhouses and other places of interest, along with the abandoned hotels that are marked on Google maps.
Location Map – Where to find Tskaltubo's Soviet-era sanatoriums and spas
More on Tskaltubo
This short video from the BBC entitled Tskaltubo: Georgia's abandoned resort that refugees call home is a good bite-sized summary of Tskaltubo's past and present.
How to Get to Tskaltubo
The best way to reach Tskaltubo is by marshrutka (minivan), taking around 20 minutes to cover the 10 or so kilometres. Marshrutkas depart approximately every 20 minutes between 8am and 7pm and the fare is 1.20 lari (€0.42/$0.50). You can either take minibus #30 from across the bridge from Kutaisi's tourist information centre or #34 from the main bus station. The former is likely to be more convenient if you're staying in Kutaisi.
There is also a train between Kutaisi and Tskaltubo, but according to Visit Kutaisi's website there is only one per day in each direction: from Kutaisi, the train departs at 05:50 and takes 2 hours to reach Tskaltubo. Similarly, there's only one train the other way, departing 16:23 and arriving almost 4 hours later. Our advice is not to use the train service until you enjoy really long rail journeys!
Where to Stay in Tskaltubo
Because Tskaltubo is only 8 or 9 kilometres from Kutaisi, we didn't bother looking for accommodation in Tskaltubo even though we visited two days in a row. There are several options in Tskaltubo but if you're on a budget, Kutaisi has more choice (we've stayed at Guest House Rioni twice). If you're not on a tight budget, you could experience a night or two at a former Soviet sanatorium, the Tskaltubo Spa Resort, for around £55/US$75 per night.
IF YOU ENJOYED THIS POST, WHY NOT PIN IT TO YOUR TRAVEL, CAUCASUS OR ABANDONED BOARDS…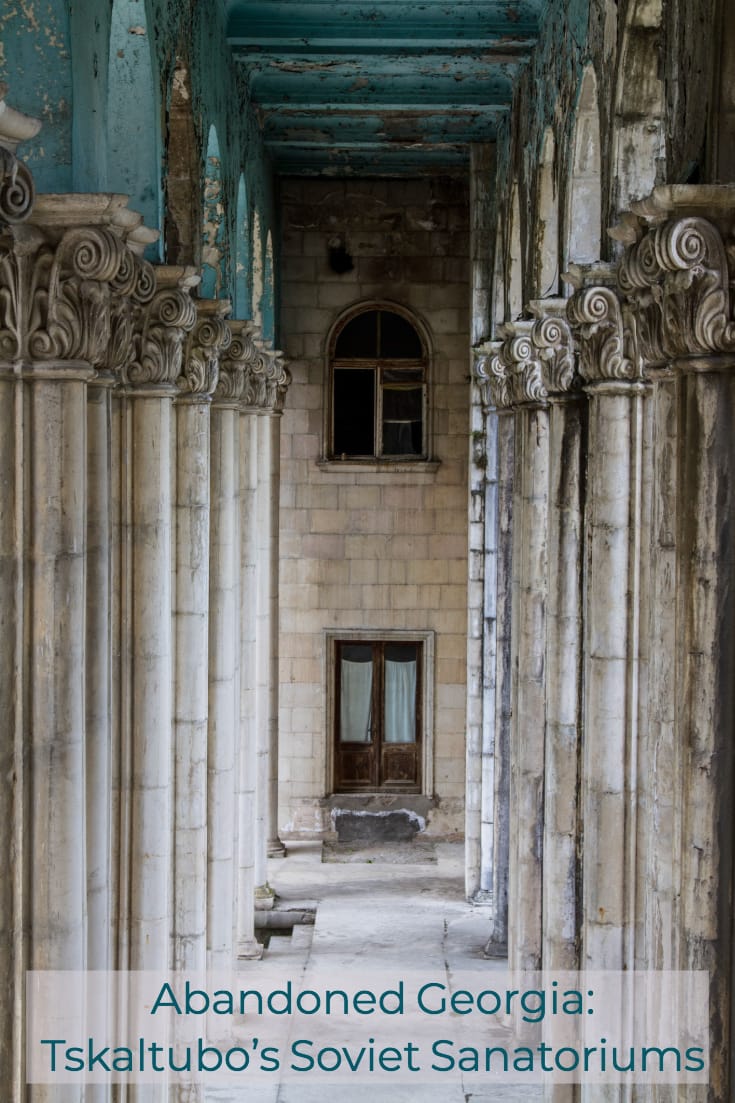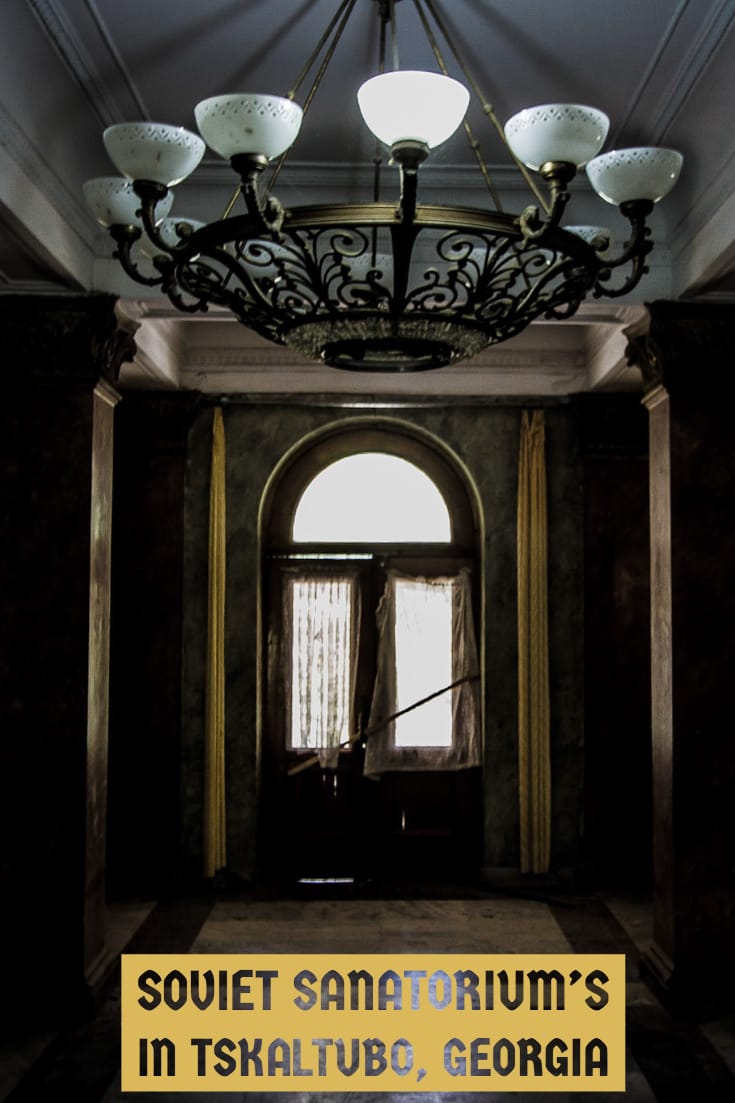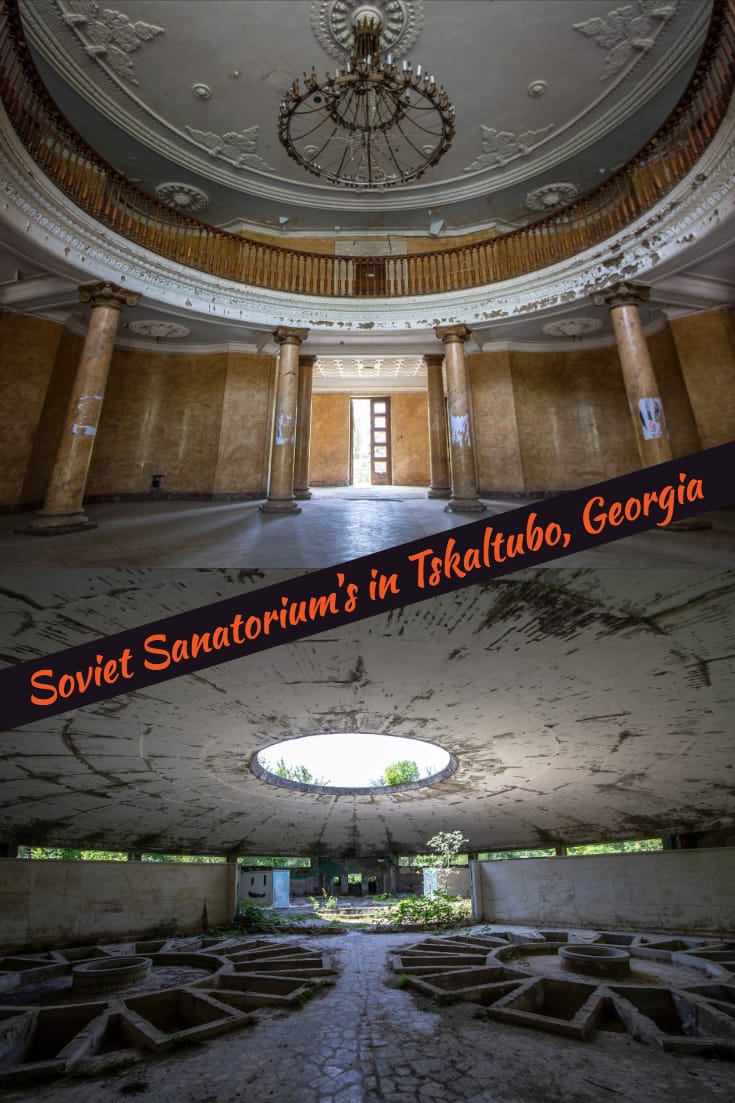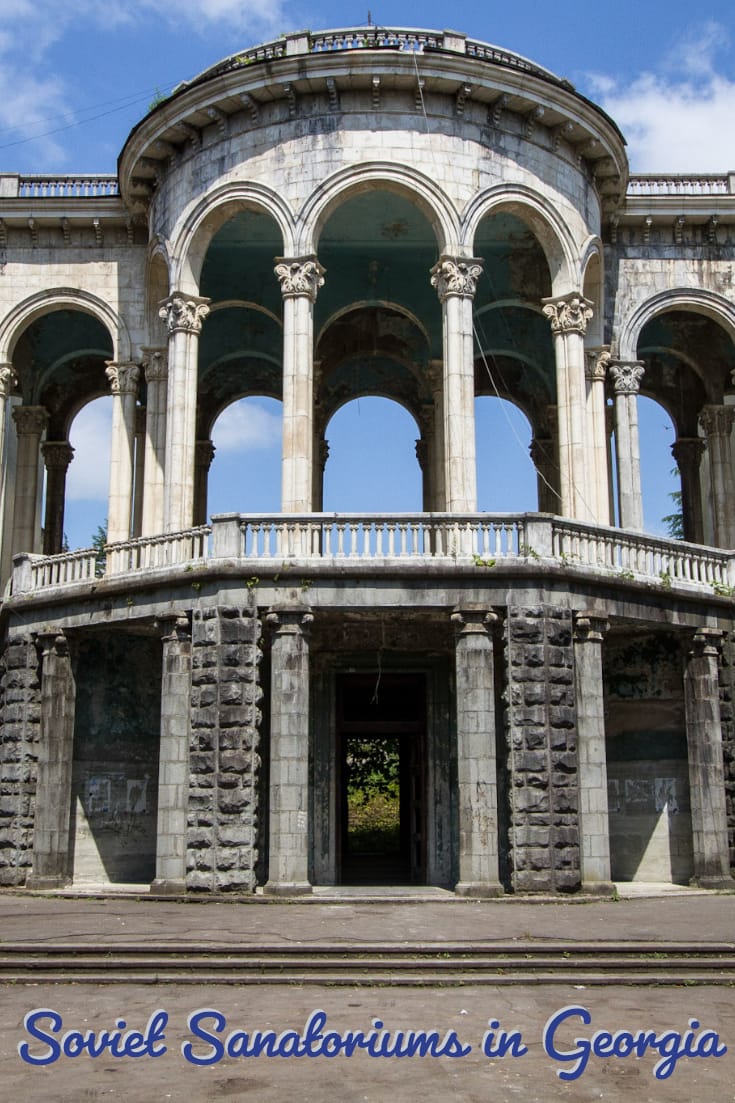 Stay Posted
Keep up to date with our latest news and posts from the road less travelled…