Suggested Cuba Itinerary: Three Weeks in Cuba
Havana – Cienfuegos – Trinidad – Camaguey – Moron – Remedios – Santa Clara – Colon – Varadero – Matanzas – Havana – Vinales – Havana
This three-week Cuba itinerary is based on our time backpacking around the country. Three or four clear days are required to do Havana justice before jumping on a bus to Benny Moré's hometown of Cienfuegos. Check out the plaza and the grand villas along the Malecón before heading to nearby Trinidad. There is no denying that the city gets more than its fair share of tourists, but it's an essential stop on any Cuban itinerary and we certainly wouldn't have missed it out. In fact, we lingered so long in Trinidad that by the time we reached Camaguey, we realised we would have to turn round and head back in a westerly direction if we were to visit everywhere else we wanted to see and leave the country before our visa expired. It is first necessary to travel to Ciego de Avila in order to reach Moron, a workaday town that sees few tourists. There is no public transport onwards to Remedios but that provides a great excuse to hire an iconic, beaten-up old Cadillac for the journey. Remedios is typically Cuban and also off the standard tourist itinerary and from there, heading to Santa Clara is straightforward but again, will probably involve hiring another taxi.
En route to Varadero we jumped off the bus and had a look around Colon but only do this if you are prepared to hire yet another taxi to get you onto the coast as buses that pass through are likely to be full. Don't believe all you read about Varadero – away from all-inclusive resorts (which are mainly out on a limb anyway), the town has a nice vibe and the long, sandy beach is gorgeous. Nearby Matanzas is the jumping-off point for the Hershey (as in the chocolate) electric railway that travels through sublime countryside, past plantations and seemingly abandoned factories (that are actually still in use), to Havana's Casablanca station. The journey is painfully slow at times (our train derailed at one point and we had to wait to be lifted back onto the tracks) but it was certainly one of the highlights of our time in the country. Vinales is the perfect place to round off a visit to Cuba. Not only is the surrounding countryside magnificent (and great for cycling) but the main highway to/from Havana passes right past the international airport so there is no need to return to the capital before departing the country.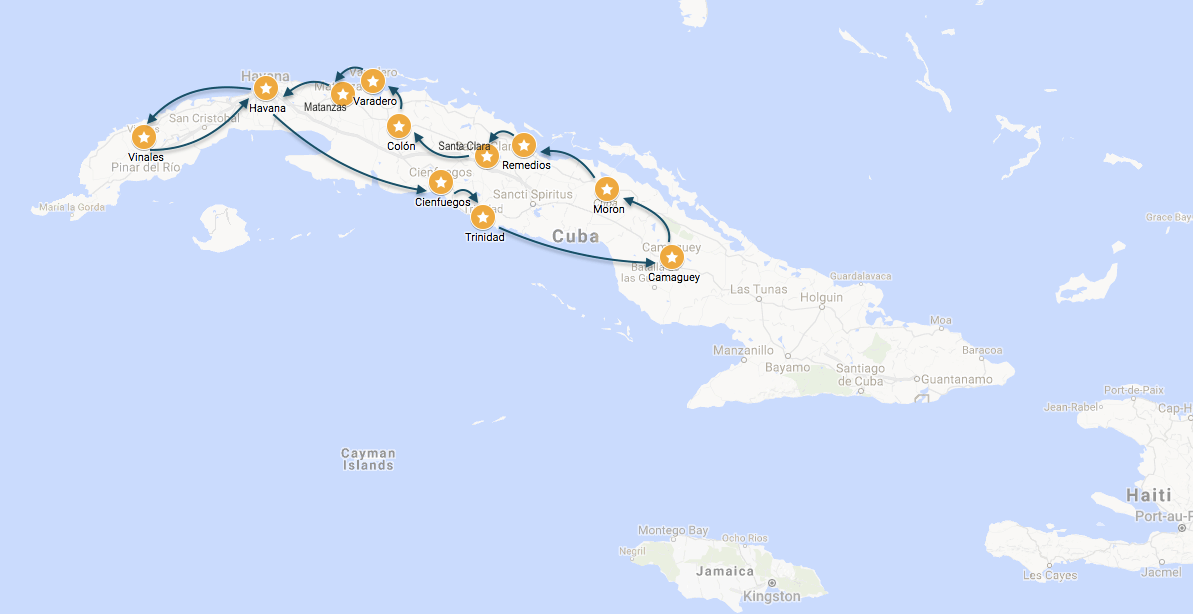 Number of countries: 1
Number of UNESCO sites: 5
Best time to travel: December to May
Recommended duration: 3 weeks
Best places to slow the itinerary down: Trinidad, Varadero and Vinales
Mode of transport: Mostly bus plus a couple of trains and taxis
Cycling through the karst scenery and plantations around Vinales
Drinking mojitos and listening to Cuban music in Havana
Staying in Case Particulares (Cuban B&Bs)
Riding the Hershey electric railway
Getting off the regular tourist trail in Moron and Remedios
Being pleasantly surprised by Varadero
Spanish-colonial architecture – it's everywhere in Cuba
Getting lost in the backstreets of Havana
OPTIONS FOR EXTENDING THE ITINERARY
If you want to visit the east of Cuba (Santiago de Cuba, Baracoa etc.) then do so after Camaguey before heading back in a westerly direction
Havana has good flight connections to Cancun in Mexico's Yucatan Peninsula as well as places in Central America and the Caribbean (including Haiti)
Don't try and do too much in too short a space of time. Travelling independently in India can be exhausting and trying to see the whole of India in a month will probably mean you leave, vowing never to return! 
Throughout our time in Cuba, we stayed mostly in
casa particulars
, the Cuban equivalent of homestays. We wrote in detail about our experience in the following posts:
Staying in a Casa Particular in Cuba
You may also like to read some of our blog posts featuring the region…
OTHER TRAVEL PLANNING RESOURCES
The options for booking accommodation in Cuba have broadened hugely over the past few years and it's now possible to book in advance via sites like Booking.com and Airbnb. That said, Cuba is still a great destination for doing things on the go.
There are a a growing number of guidebooks to Cuba available but we've always used Lonely Planet and it's hard to change a habit of a lifetime!
Lonely Planet's guides: Cuba Travel Guide | Havana Pocket Guide | Latin American Spanish Phrasebook
And if you need a few more reasons to follow this Cuba itinerary…
Casco Historico (Old Town), Trinidad
Plaza de la Revolucion, Santa Clara
Valle de Palmarito, Vinales
Did you find this post useful for planning your Cuba itinerary? Pin it to your travel boards…