Following our recent travels, here are some of our first impressions of Cuba.
As we stepped out of Havana airport in the late afternoon sun, the temperature was a pleasant mid-70s but a lot cooler than we were expecting. There wasn't any public transport between the airport and Old Havana so we'd arranged for the guest house to send a taxi to meet us. We figured that as it was a similar cost to that of negotiating a ride on arrival, in an unfamiliar country and after a long flight, it would be sensible and would also avoid any problems locating the address of our guest house.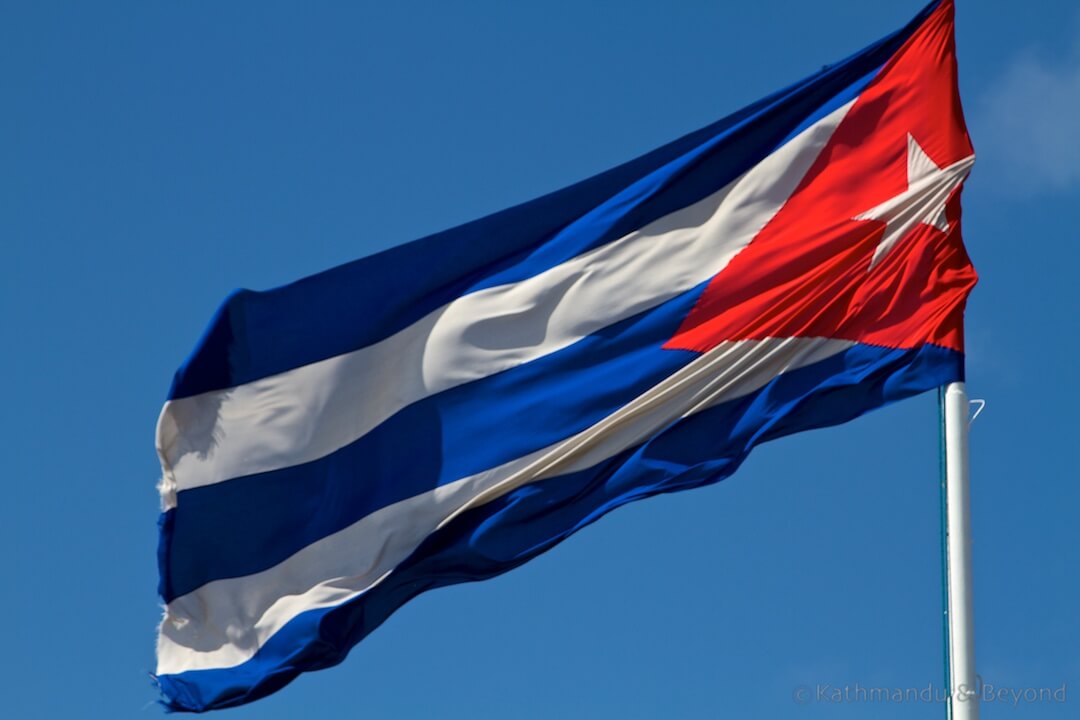 Fortaleza de San Carlos de la Cabana, Havana
Havana airport is relatively small for a capital city and easy to navigate. We easily found our driver and changed some money before leaving the airport.
The driver reached out to turn on his stereo. And what did we hear? Phil Collins! Followed by Bonnie Tyler! Where were the Latin beats that Cuba is so famous for? What was this '80s throw-back we'd fallen into? After a few minutes, he asked us if we liked music. "Americano or Cubana?" he inquired. "Cubana," we replied and he changed the cassette to something a bit more local. Yes, that's right, a cassette tape.
The time warp continued with the cars. Cuba is famous for having a lot of American classic cars on the roads and this was immediately in evidence. But alongside Buicks, Cadillacs and Pontiacs, more modern cars were creeping in (the car that picked us up was a Peugeot) and there were also lots of old Russian Ladas; imported from one of the few countries that would trade with Cuba during the '70s and '80s.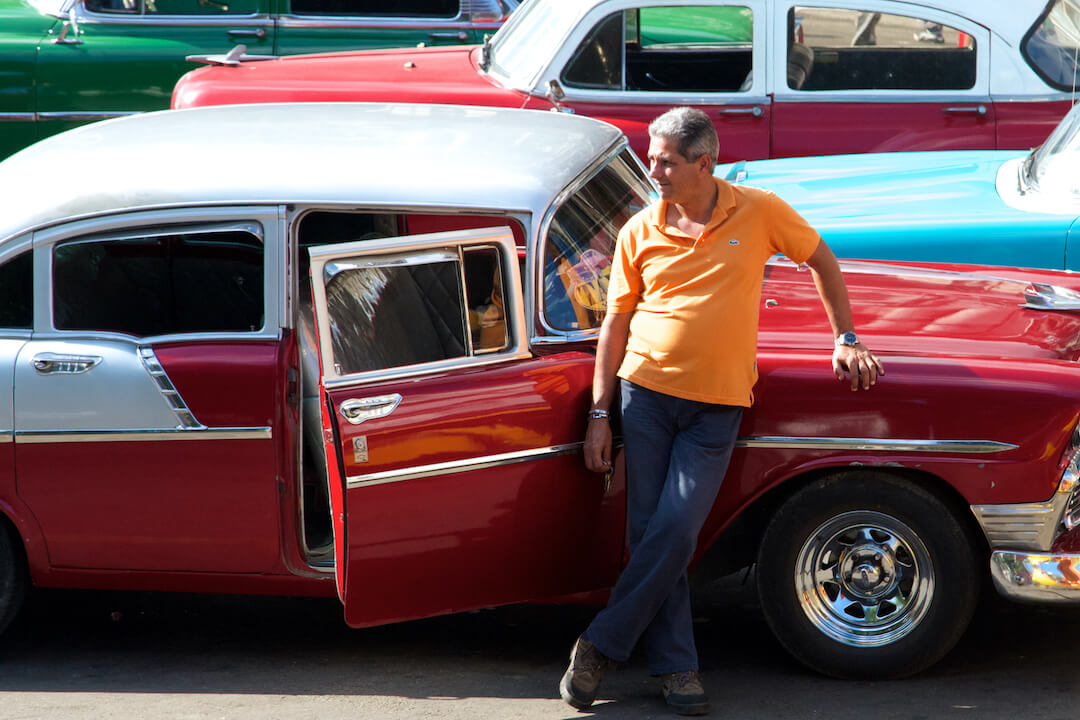 Not our pick-up from the airport, which was way more clapped out than this splendid-looking vehicle …
We moved along wide, empty highways through built-up areas with modern buildings and after about half an hour we reached the labyrinth of narrow cobbled streets and crumbling old architectural gems that make up Habana Viejo (Old Havana).
The "taxi driver" (on reflection we think he was a family member or friend given the opportunity to earn a bit of cash, but we've no problem with that) had trouble navigating the one-way streets and I was grateful we had pre-arranged a lift. We eventually arrived at the unmarked entrance of an old apartment building. It reminded me of the terrible guest house we stayed at in Bishkek when we were in Kyrgyzstan and my heart dropped. Climbing the four floors to the apartment entrance I was grateful (for the first of many times) to Mark for convincing me to travel for these few months with only a 40-litre capacity carry-on backpack.
We reached Hostal Leon and were greeted warmly by Amaryllis (who we discovered was Leon's mother). The place looked much better on the inside than it did from the outside and my spirits lifted. It was a traditional apartment typical of those all over Old Havana – the living room had a balcony which overlooked the street, and the dining room and kitchen were at the back, linked by a tiled corridor with three bedrooms on one side and a corridor open to the sky on the other.
Our room was large with a double and a single bed. It also has a fan, air conditioning, fridge and large cupboard with a safety box. It had an en-suite bathroom with hot water shower. For US$30 a night (around £20), it was of a higher standard than either of us were expecting, although we were also hoping we wouldn't have to pay as much as that everywhere else in the country.
We sat down with Amaryllis who gave us a map of the city along with some advice and recommendations. We were grateful for her excellent English as our Spanish was more than a bit rusty. Things got better yet when her husband brought us mojitos.
It was early evening and we were tired after the flight from London but also hungry so we ventured out onto the streets of Habana Viejo. We settled on what looked like a local bar and after another round of mojitos, decided to order food there so we could crash early and leave further exploration of the city until tomorrow.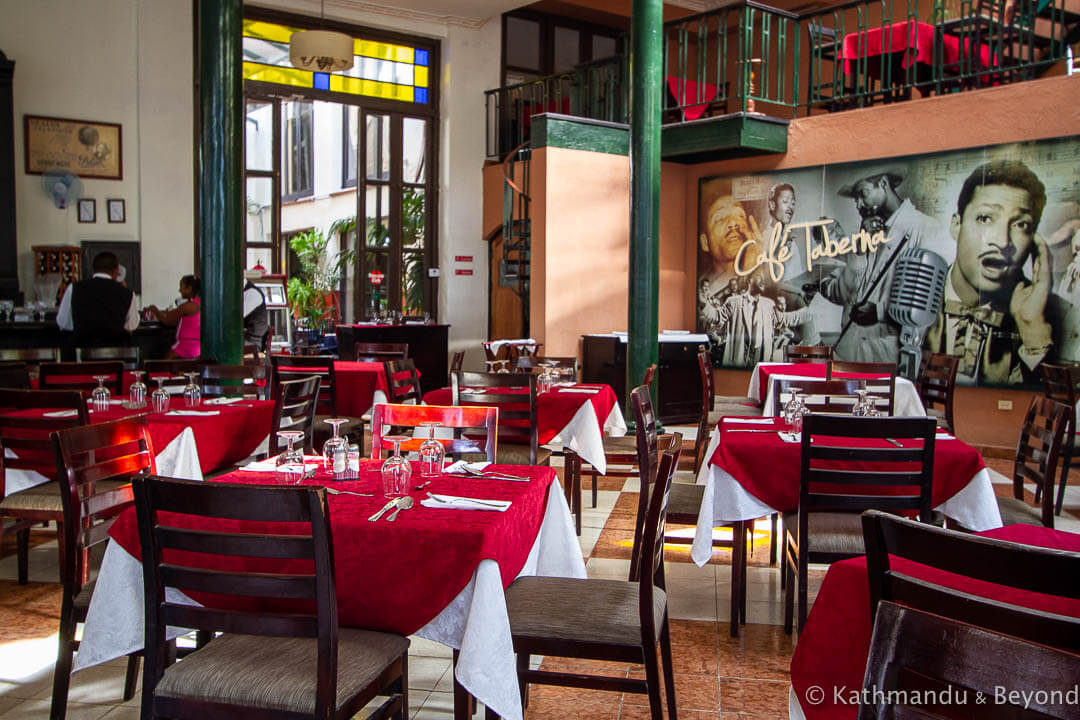 Tourist restaurant in Old Havana 
Truth number one of our travels: on the first day in a new and unfamiliar country we will pay higher than average for a less than average meal, more than the going rate for a taxi ride and get ripped off on the cost of a bottle of water. In this case, it was the meal and the price of a mojito, as we found out very soon. Cuba's reputation for terrible food exceeded itself with our first meal of tough, flavourless meat, dry boiled vegetables and rice. Our first impressions of Cuban food were not good. But would it get any better?
The following morning, we woke to a hearty casa-style breakfast and headed out to explore the city. Old Havana definitely had that feeling of faded grandeur and crumbling charm. Whilst the significant churches and squares were well restored, the streets surrounding them had peeling paintwork, crumbling brickwork and bags of character. It felt gritty but the cobbled streets were alive with cycle rickshaws, bicycles and cars that looked like they wouldn't make it to the edge of town let alone out to the countryside. People went about their daily business,some of the apartment buildings housed shops that didn't have much to sell, and a couple of them were schools. Most were homes and it was these that posed the biggest risk for pedestrians – having a dirty bucket of water accidentally thrown over you by an industrious house-wife washing the floors or doing the laundry.
One of the other things that struck us immediately was the queues. Queues for all kinds of shops – the optician appeared to have one of the longest. Queues to use the internet and get a mobile phone and queues to change money. We couldn't understand why Cubans, and not only tourists, were standing in long lines for currency exchange. We later found out that this was to do with Cuba's two-currency system: as visitors, most of our transactions were in CUCs (convertible peso). Hotel and casa bills, bus and train tickets and most restaurants all charged in CUCs. The other currency is the Cuban peso, or "money national". (CUCs are also sometimes called pesos to add to the confusion). As a budget traveller, it's useful to also have some Cuban pesos as local restaurants and hole-in-the-wall eateries prefer them. They will accept CUCs but you will pay way, way over the real price to do so. Cubans also pay for local buses in pesos and also food from markets or street vendors. When it comes to department stores (of which there are a growing number) that sell anything from soap and toilet paper to fridges and clothes, these have to be paid for in CUCs; by both locals and visitors. But … all salaries in Cuba are paid in Cuban pesos and are paid in cash. So, going back to the explanation for the long queues as the currency exchange – Cubans are having to exchange their salary from Cuban pesos to CUCs in order to to buy most of what they need on a daily basis! We met several Cubans who felt the country's two-currency system had to change.
We also saw queues for ration shops. Amaryllis explained that everyone was still entitled to a food allowance but many Cubans were gradually becoming better off financially and only those who needed the extra help claimed it. Let's hope that as capitalism creeps into Cuba, their welfare state continues.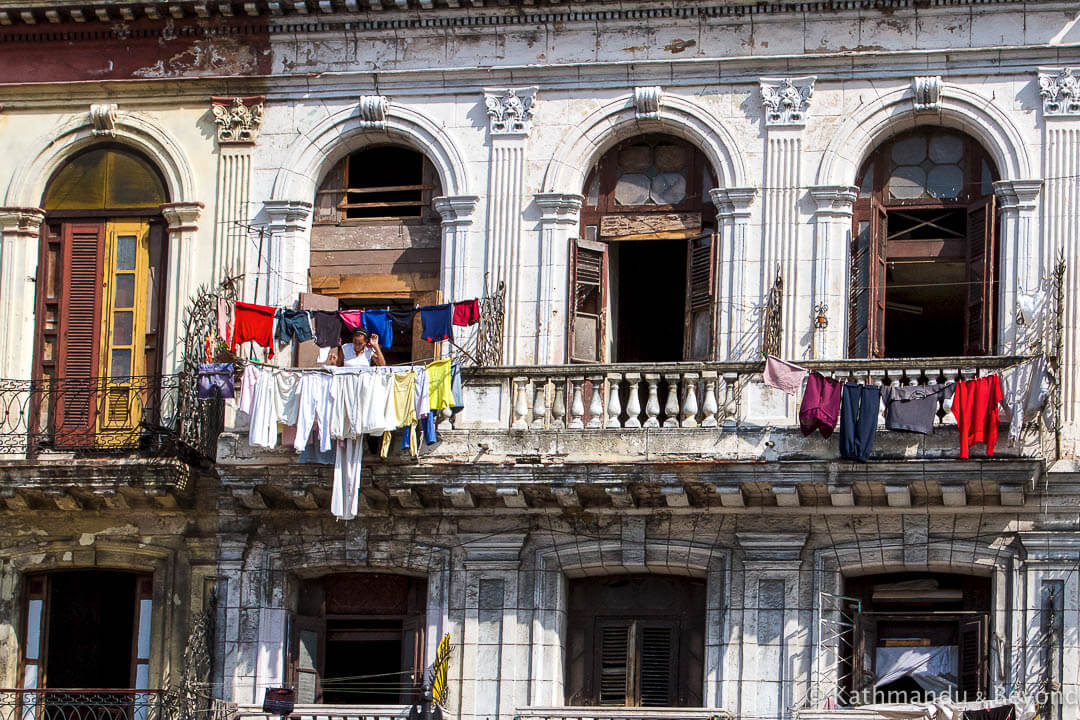 Old Havana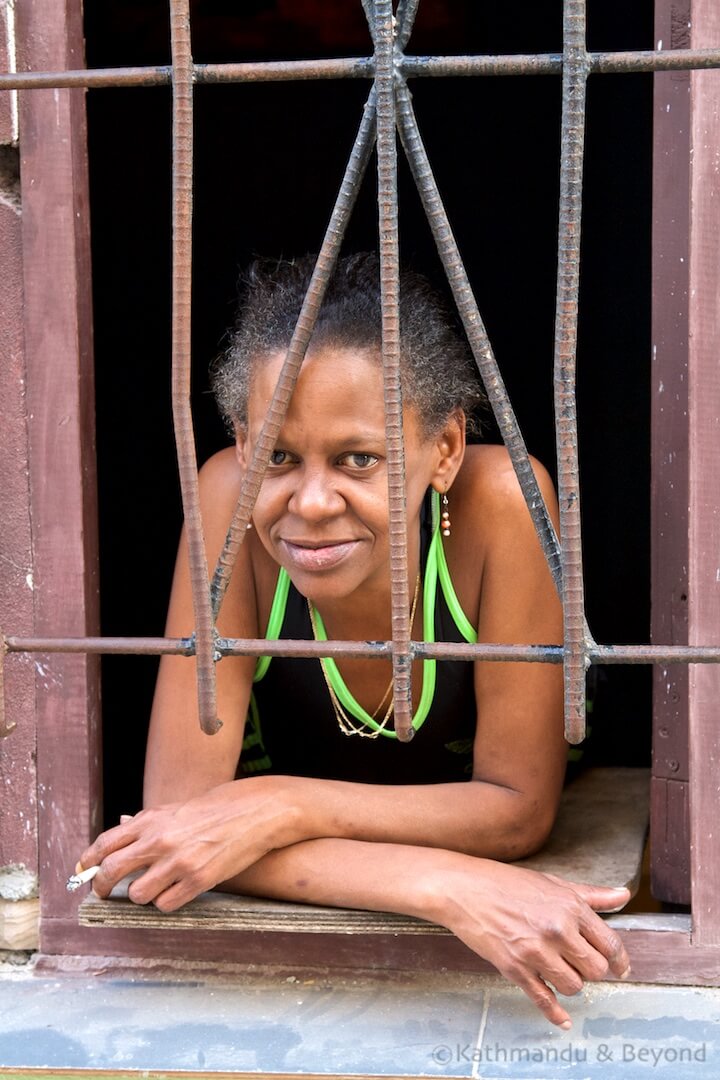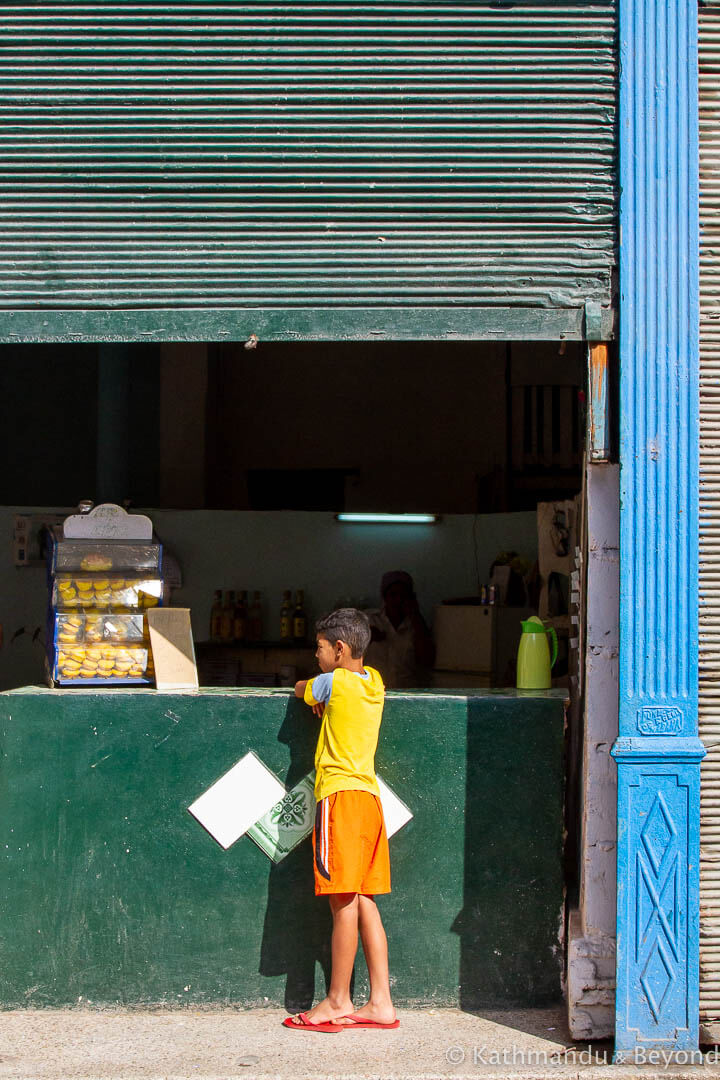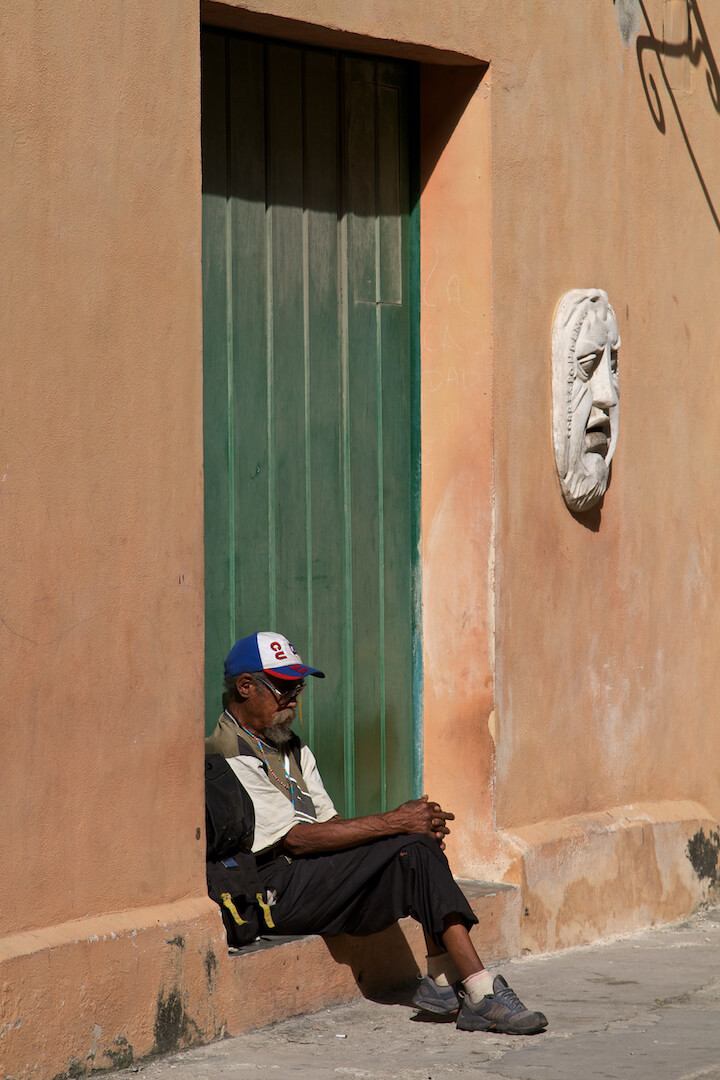 Old Havana 
The "hassle factor" in some parts of Havana was high. We couldn't stand on a street corner to consult the map without a man, woman or couple approaching us for a 'friendly' chat. They always had a close relative in London or somewhere nearby and so it went on … Actually, we didn't get to hear much of anyone's pitch as Amaryllis had warned us about this type of con artist. Maybe that's a bit strong and tricksters might be a more appropriate description? Even though I know this I still feel rude cutting them short and walking off. In most cases, they will befriend you and then suggest a good restaurant nearby and before you know it you've bought dinner for four. Admittedly there are bigger cons, which probably lead on to from dinner, given the chance, but for us, it was a definite irritation and not a great first impression during our first few days in Cuba.
Our Havana guest house was located in the vibrant Habana Vieja (Old Havana) district and that's where we spent most of our time. Whilst most colonial towns have one main church or cathedral next to a plaza or park, Old Havana has several and it's easy to spend days wandering through the narrow streets, from plaza to plaza.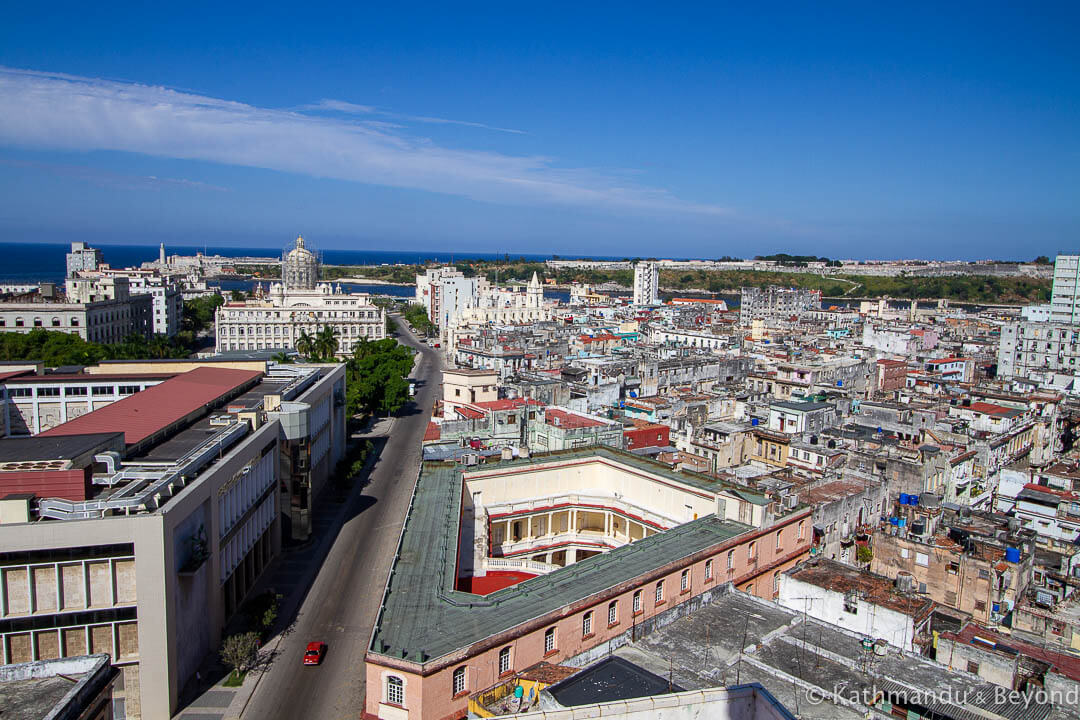 View of Old Havana from the rooftop of the Bacardi Building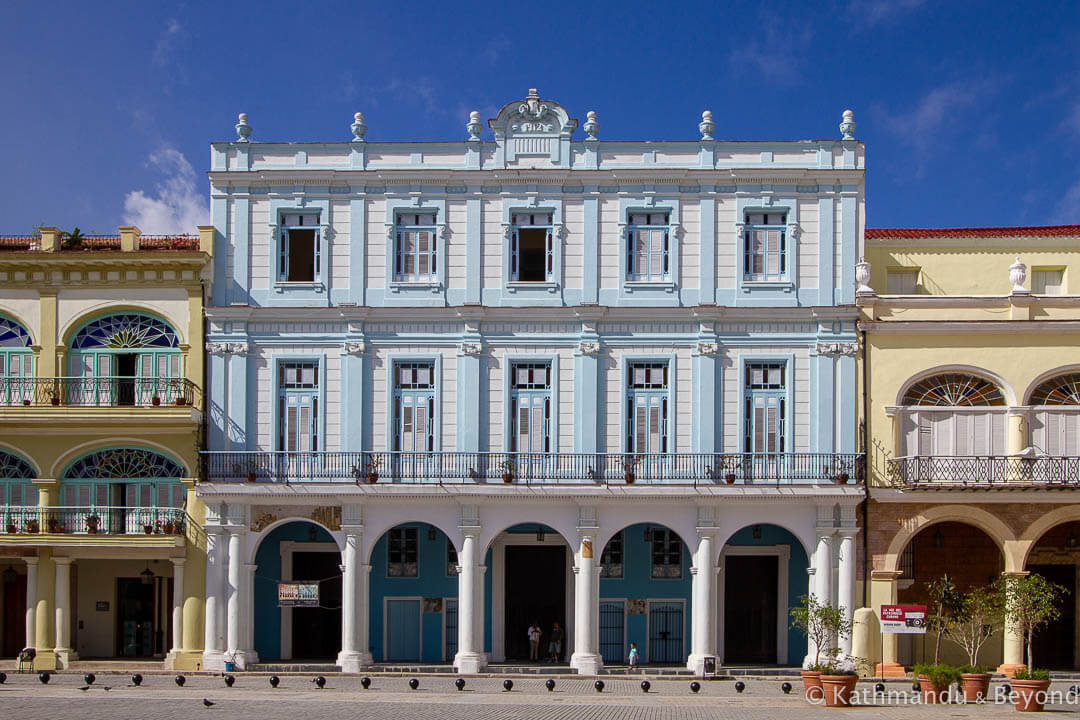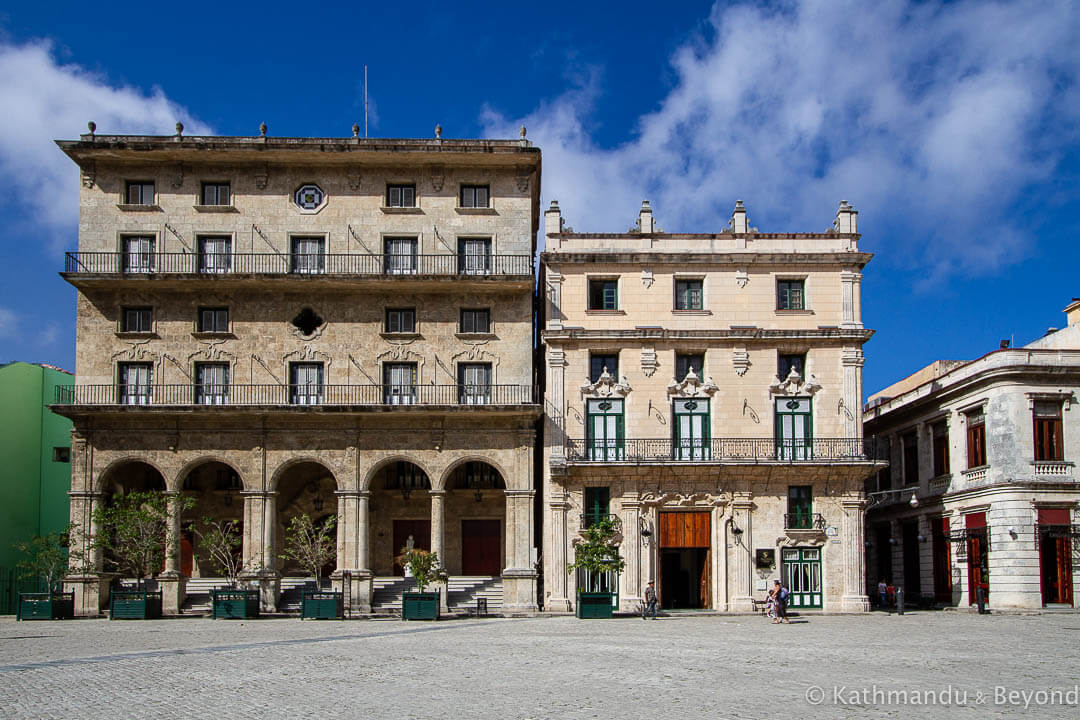 Old Havana: Plaza Vieja (left) and Plaza de Armas (right)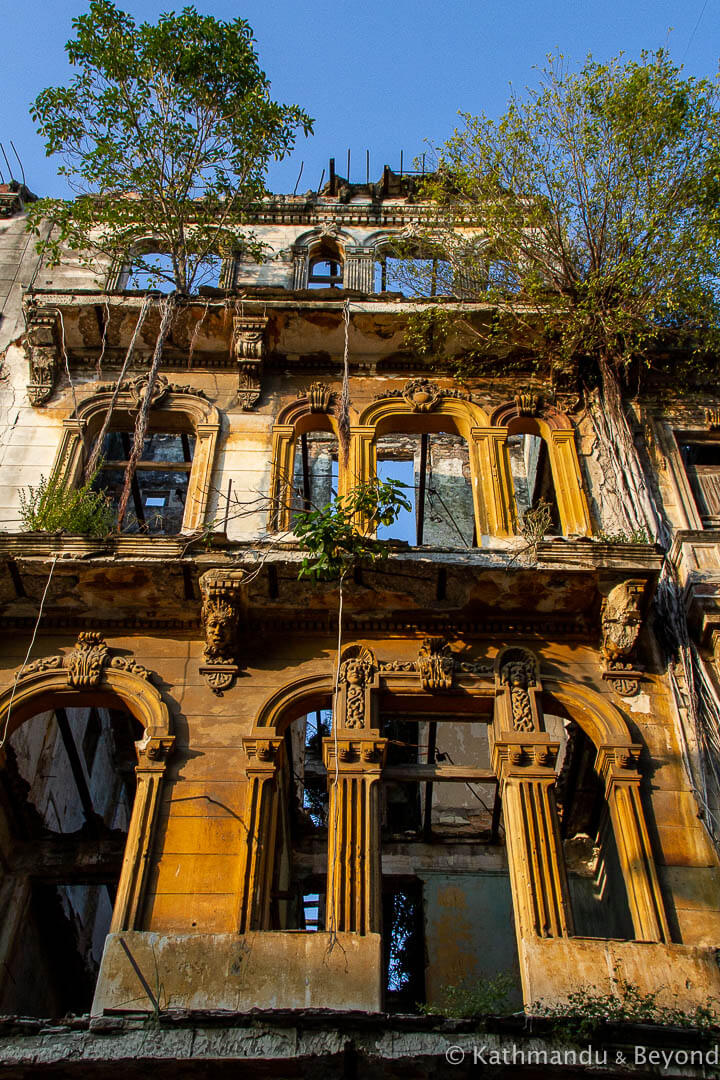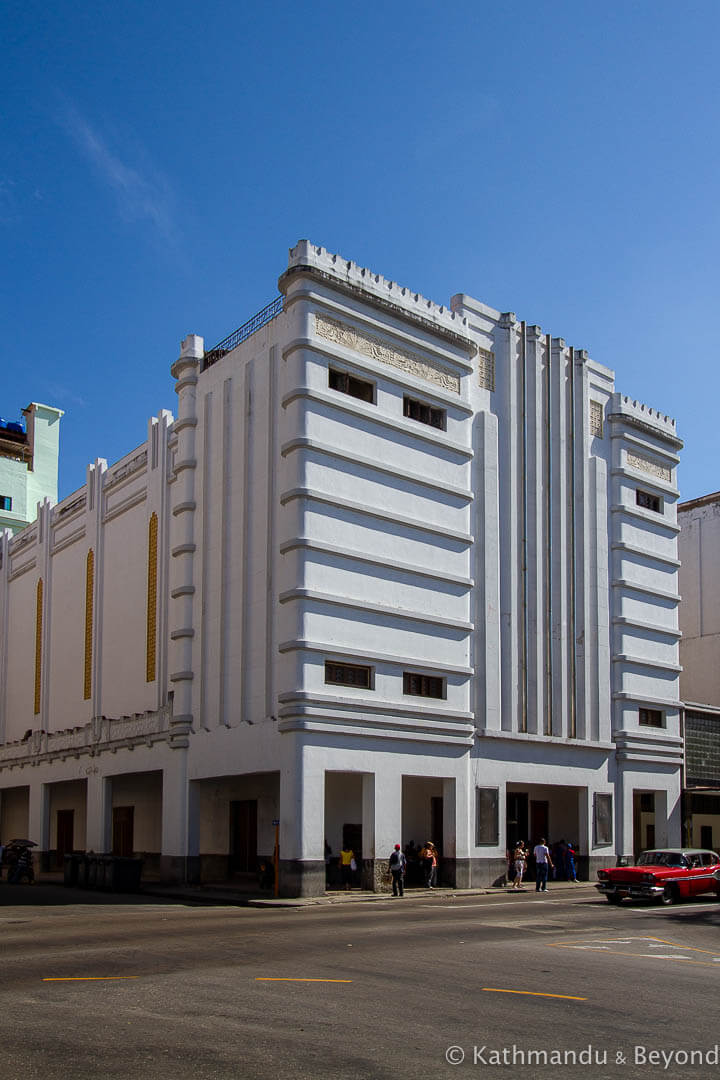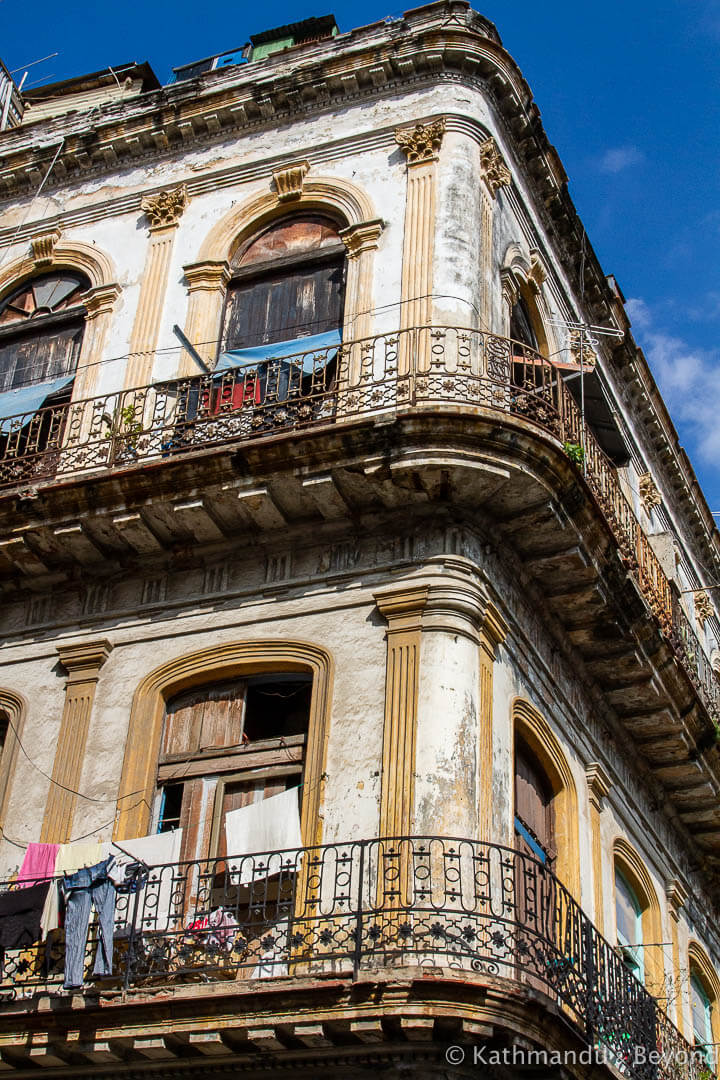 Havana is packed with various architectural styles
However, on one day we took the "hop on, hop off" open-topped tourist bus which was a great way to see some of the other areas of the city. Havana is a huge metropolis and steadily growing. We noticed that as soon as you left the historical part of town the buildings were  more modern in style, with a lot of Soviet-style architecture. We visited the Plaza de la Revolucion with its monument to national hero, Jose Marti, and huge wrought iron depictions of two more of Cuba's heroes, Fidel Castro and Che Guevara, on the side of two buildings.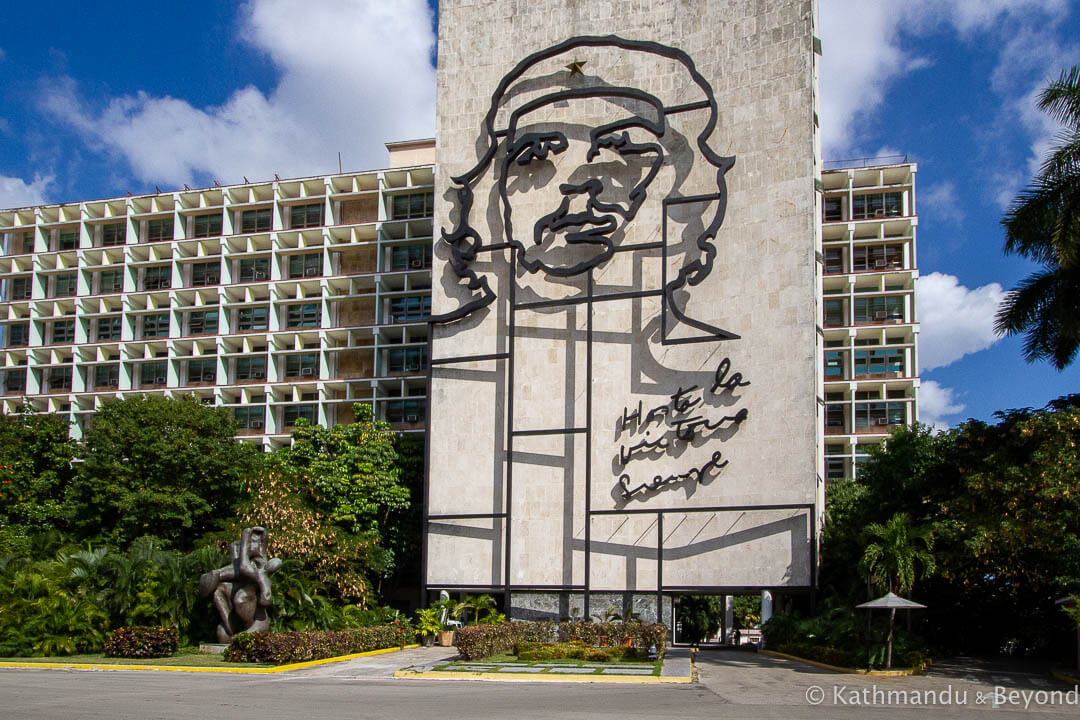 Plaza de la Revolucion
Another attractive area of the city is the Malecon, popular for a late afternoon stroll. This long stretch of walled seafront with crashing waves on one side and grand buildings on the other also seemed to be a popular place for tourists to take a ride in an American classic convertible car. This was one activity that I'd had on my bucket list for a long time but as we sat on the wall watching polished pink Cadillacs follow baby blue Pontiacs follow shiny red Buicks I thought that it all looked a bit naff and maybe I would wait until we returned to Havana at the end of our time in Cuba to decide if I still wanted to do it.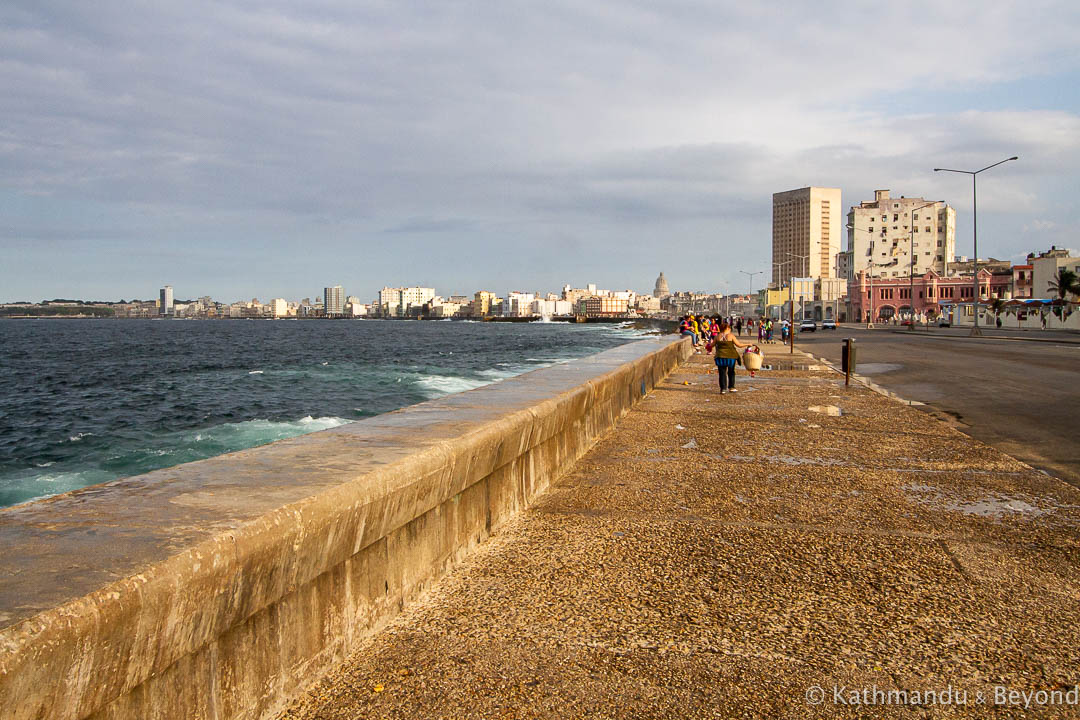 The Malecon
Soon it was time to move on to our next destination. Havana left us with mixed first impressions – an incredibly attractive historical centre with a lot of charm and we knew we would be back at the end of our trip so we weren't sad to leave. Maybe we hadn't settled into being on the road outside of our comfort zone of Asia or maybe we had to get used to some of Cuba's unique quirks but at this stage, we weren't sure whether we would leave the country loving it, hating it or simply indifferent …