What to expect when staying in a Casa Particular in Cuba
The Cuban equivalent of homestays are casa particulares: private family homes in which the owner rents out one or more of their rooms to paying guests.
For independent travellers to Cuba, staying in casa particulares (a casa for short) is a great option as it provides one of the best opportunities to delve deeper into Cuban culture. It allows you to reap the benefits of your host's local knowledge whilst being welcomed into a family environment.
If you're travelling on a budget in Cuba, particularly as a couple, it can also keep down the cost of accommodation.
Before arriving in Cuba we expected to stay in a mix of casas and budget hotels but we ended up staying in casa particulares throughout.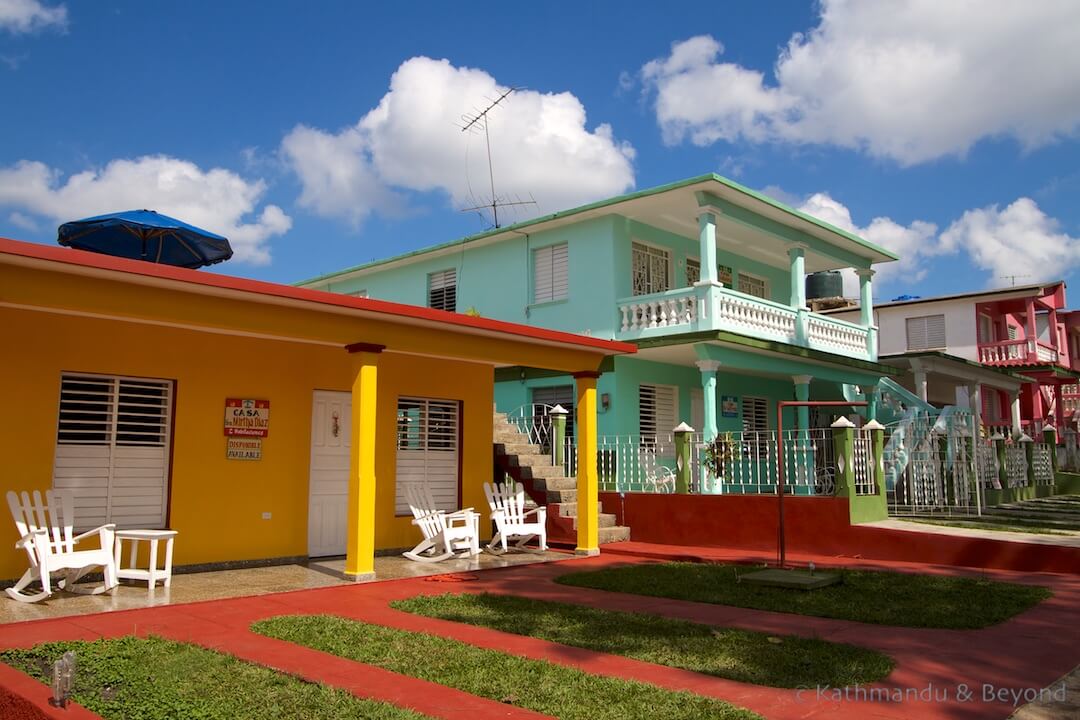 Casa particular in Vinales
Since new laws in 2011, which made it easier for Cubans to rent out rooms, there are now thousands of homes in Cuba renting out their spare rooms to tourists and finding a place to stay is rarely a problem. Apparently Havana has over 2,000 casa particulares and Trinidad (a tiny town in comparison to Havana) over 500. By my very rough calculation, that means that Trinidad, a town with a population of just over 50,000 with a guesstimated average of 5 people to each household, has 5% of its houses renting out rooms!
The style of house varies from apartment building to colonial mansion to bungalow and this added to the experience.
Villa Colonial, Remedios
Some of the more established casas have two, three or sometimes four rooms (although Havana was the only place we saw with as many as four) and these operate more like small guesthouses with separate living spaces for family and guests. I guess that is inevitable with time and experience, as a business grows. But at many of the casas we stayed in, it was just like staying in the spare room of an aunt and uncle or elderly relative. These were the homes in which the phrase mi casa es tu casa really rang true and the ones in which we had some of our best experiences in Cuba.
Casa de Angela y Luis, Camagüey (left) and Jesus y Maria Hostal, Havana (right)
The cost of a room varies but we found the average to be 25 CUCs ($25/£15/€18) per room for two people (5 CUCs less for solo travellers). For this we got a good-sized room (many with one double and one single bed) with a modern en suite bathroom with hot water. They all had air-conditioning and a fan and many had a tv and/or fridge and provided towels, soap (in some cases) and toilet paper. I mention this last item because our guide book suggested taking your own toilet paper. We didn't stuff our backpacks with loo roll and never had a problem.
It is possible get cheaper rooms with lesser facilities (e.g. a shared bathroom) or more luxury options for a higher price tag but we were very happy with the standard we got for what we paid. For some reason we were expecting the standard of rooms to be a lot lower and so found ourselves pleasantly surprised. All casa particulares must be licensed and homes are inspected regularly which keeps standards high. We also found Cubans to be fastidious with their housework and everywhere we stayed was spotless.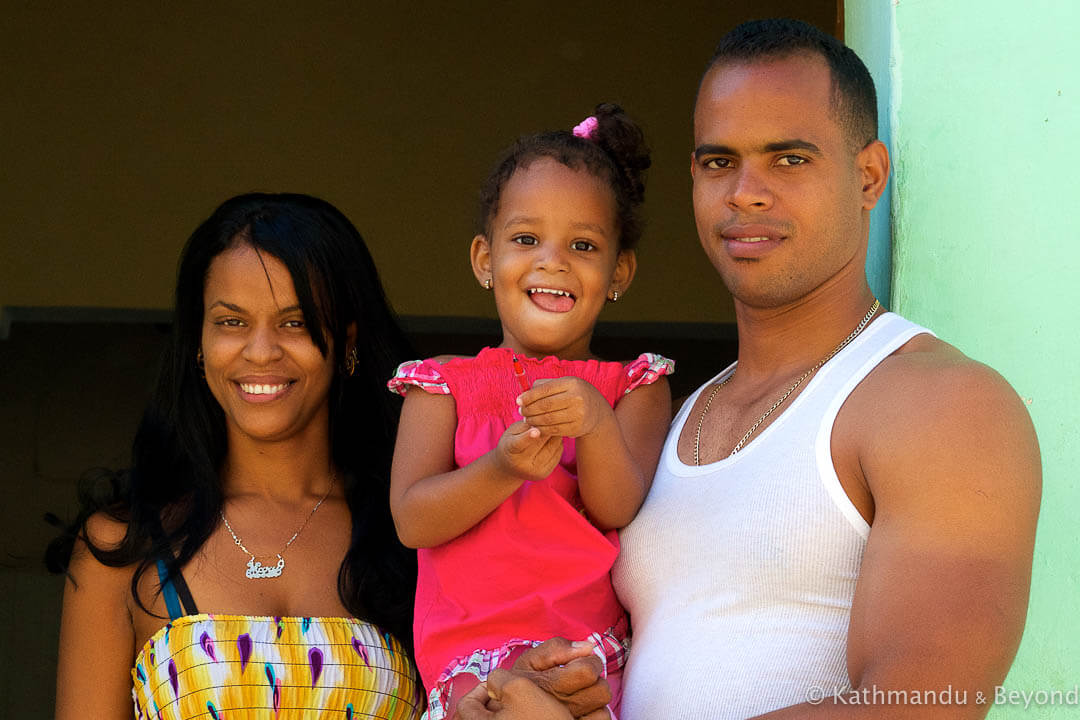 Our hosts at our casa in Trinidad
What are casa particular meals like?
Meals are extra but breakfast and dinner are usually available. In some countries, eating with the family is part of the homestay experience, but in a casa particular in Cuba, you will dine separately while your host waits on you making it more like a B&B. This custom is also probably because the average Cuban doesn't eat as lavishly as foreign visitors do! The general expectation is that you will want breakfast so if you don't intend to take it, it's best to make it clear the night before to ensure you don't wake up it a laden table. In Havana we felt the cost of the breakfast was a little high when it was easy to visit a local cafe for a coffee and a pastry for a couple of dollars which is what we did after our first day.
Breakfast at the casa paticulares we stayed in cost between 3 and 5 CUCs ($3-5) per person with the quality and quantity fairly consistent regardless of the price. For this reason, the price of a breakfast was something we started to negotiate after we'd been in the country for a few days – once one casa had offered it at 3 CUCs we knew it wasn't unreasonable to expect a similar price from others. Extras like ham and cheese may have sometimes been absent for the lower price but there was always more than enough to eat.
A typical casa breakfast
The breakfasts served were substantial and far bigger than what we would normally eat but with the exception of Havana it wasn't very easy to find somewhere for breakfast outside of the casa, especially in smaller towns, so in most instances, we went for a big breakfast at the casa and a small, cheap lunch (or skipped lunch completely). A typical breakfast in a casa consists of:
Coffee
Warm milk
Fresh fruit juice
Bread, butter, jam, honey
A large portion of fresh fruit (papaya, pineapple, banana, orange or whatever is seasonal)
1 or 2 eggs, fried or omelette
Pastries or biscuits
Sometimes cheese and/or ham (more likely in a 5 CUC breakfast)
Dinner at a casa particular typically costs 8 CUCs if you opt for chicken or pork or 10 CUCs for fish or prawns. Lobster varied between 10 and 12 CUCs (Recall that 1 CUC = 1 US dollar or about 60 pence). Dinner was usually:
Soup or soupy black beans
Meat or fish usually grilled, sautéed or baked
Salad of shredded white cabbage, tomatoes and cucumber
Vegetable e.g. fried plantain or baked pumpkin or boiled green beans
Bread
Fruit or ice cream or flan
Casa owners usually provide drinks, selling them at a similar cost to what you'd pay in a moderately priced bar or restaurant. It was a bit of a bug-bear for us that they all put a very high mark-up on bottled water so we always bought that from the local store. Selling a .90 CUC bottle for 2 CUC just seems a bit greedy.
A typical casa dinner
Casa owners usually serve drinks selling them at a similar cost to in a moderately priced bar or restaurant. It was a bit of a bug-bear for us that they all put a very high mark-up on bottled water. Selling a 90 cent bottle for 2 CUC just seems a bit greedy.
How do you choose a casa particular?
Guide books, of course, list a handful of options in each town and a mention in Lonely Planet is almost guaranteed to ensure continued 100% occupancy for that particular house. Friends of casas listed will also do very well because if a house is full the owner will certainly give you a referral to someone they know. TripAdvisor is a good point of reference but with so many casas vying for a high rating, an excellent place that only has a handful of reviews could get lost way down the list. There are also several websites that provide information and facilitate bookings at casa particulares. A quick Google search will bring up several options. With internet access currently very limited in Cuba, attempting to pre-book accommodation for your entire itinerary prior to arrival could prove frustrating and long-winded whilst you wait a couple days for email responses.
If you're comfortable travelling without a raft of advance reservations, this is what we would recommend for Cuba.
If Havana is your arrival point, we suggest booking somewhere there to begin with in order to prevent that fresh-off-a-flight disorientation but after that, it's easy to forward book on the go, either by asking your current casa to 'phone ahead or by doing so yourself.
Our search for a place in Old Havana, for the start of our trip, began with a recommendation from friends who had recently visited Cuba. I can't remember the reason now but that research led me to another casa – Hostal Leonel.
If you haven't pre-booked a casa, it's not usually a problem to find one when you arrive in a town. More often than not someone will find you, but if you do find yourself wandering around looking for a bed then look out for the blue sign and the words Arrendador Divisa on the door of a house. This means the household has a room for rent.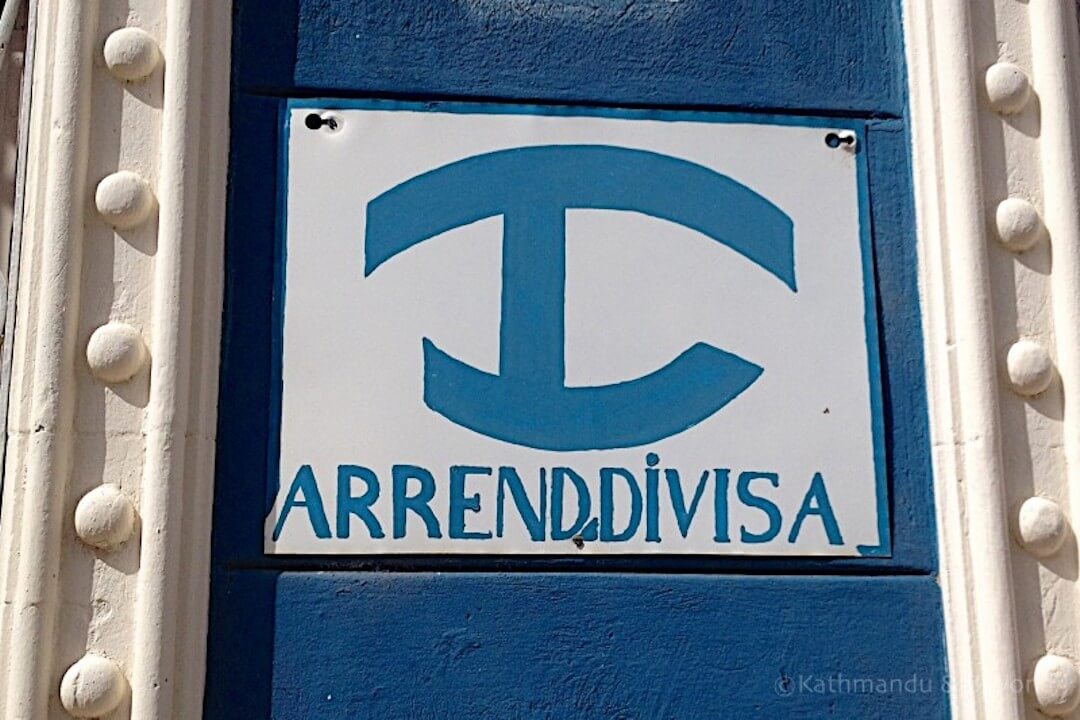 Rooms for rent
For us, the best thing about casa particulares was the unique experience of staying in a family home and being made to feel really welcome. Even after 2 or 3 days I was genuinely sad to leave some of our hosts. It was also a great opportunity to improve our Spanish. Think of it like getting free Spanish lessons included in the price of your room! If only we were fluent in the language, we could have learnt so much more about life in Cuba than our guide book told us.
We had nothing but good experiences but if we had to come up with the potential downsides of staying in a casa particular they would be …
Meals are a bit repetitive … And HUGE!
Although the food we had in all the casas was superior to meals we ate at restaurants and street stalls, we found the food got a bit repetitive if we stayed somewhere more than a couple of nights. The food in Cuba is repetitive anyway (chicken, fish or pork with rice and salad) but within one home for example the soup was the same every day, the ice cream was the same flavour every day, and so on. Although it seems strange to complain about a meal being too big, we did find this a problem with meals at the casas. Dinner left us with enough energy to do little more than lie on our bed and watch a movie. Go out dancing? Ha! No chance. We couldn't move after a meal at the casa. It just felt so wasteful in a country that still experiences food shortages. And no matter how much we tried to explain we didn't want a massive meal, it always seemed to fall on deaf ears. I guess our hosts just wanted to be good hosts and we felt compelled to eat all that was placed in front of us because we wanted to be good guests.
It's difficult to meet other travellers
As most casas only rent out one room, there aren't any fellow travellers to meet and chat with and exchange traveller's stories: tips about where you've come from and where you're heading next. This is something we enjoy and missed whilst we were in Cuba. We're a couple but for solo travellers looking for company, Cuba may not be the place. There are some casas with multiple rooms so seek these out if looking for fellow travellers.
Language is sometimes difficult (if you don't speak any Spanish!)
As Spanish learners rather than Spanish speakers, we were fortunate that in our first two casas, at least one family member spoke excellent English. This gave us a gentle introduction and allowed us to find our bearings in Cuba as well as brush up our basic Spanish. At our third casa, in Trinidad, our host spoke very little English but she was very patient with our Spanish and would always say things in a different way if we didn't understand the first time. She also liked talking (as do most Cubans!) so it was a good place to be forced into speaking Spanish. However, sometimes it was hard work and occasionally I found myself wishing for an English speaking host.
On balance, the positives of staying in a casa particular far out-weighed the negatives and it greatly enhanced our time in Cuba. And Mark, who is often uncomfortable in home stay style environments, frequently raves to other travellers about our experiences in casa particulares!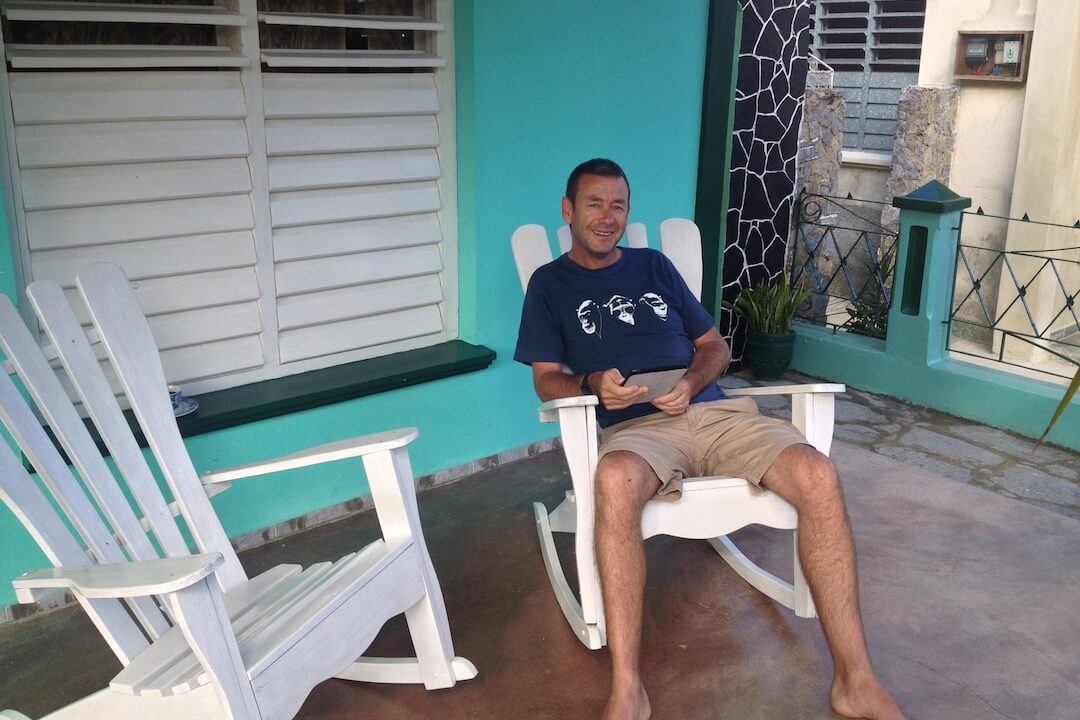 Enjoying life in a casa particular
Reviews and details of the casa particulares we stayed in during our travels in Cuba can be found here.
---