Is it possible to visit Cuba's beautiful beaches at Varadero on a budget?
During our recent travels around Cuba, we initially dismissed visiting Varadero, thinking it would stretch our budget too far. It is the country's most popular beach destination and, with its swathes of all-inclusive resorts, we had written Varadero off as too expensive and too packed with tourists. Furthermore, we weren't really sure if it would appeal to us.
In fact, we hadn't factored any beach time on our three-week itinerary, deciding to concentrate on Cuba's many colonial towns and the countryside. But frustrating public transport options meant that we had an extra day or two to play around with. We were in Santa Clara and our next stop was due to be the town of Matanzas, from where we planned to travel on the famous "Hershey train". But when we discovered that Varadero wasn't too far out of our way, curiosity got the better of us.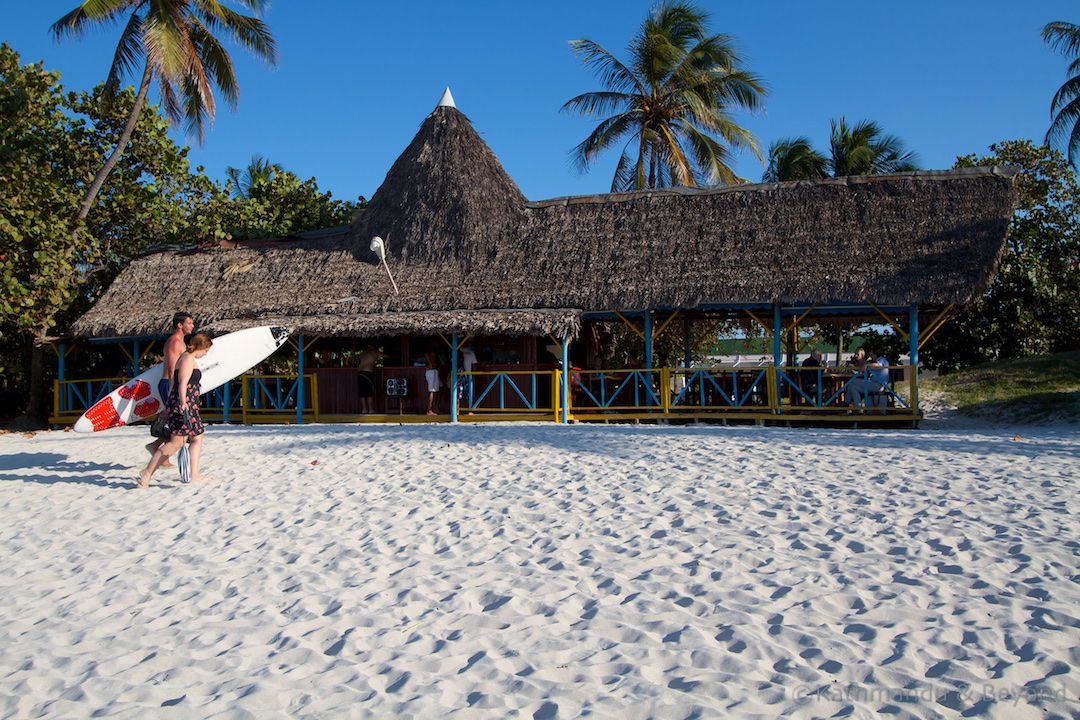 Varadero Beach
Varadero town is at the eastern end of a long and skinny peninsula that stretches for around 20 kilometres. That's 20 kilometres of white sand beaches and 20 kilometres of all-inclusive resorts – in our eyes; hotels designed to cocoon and shelter their inhabitants. Their occupants wear coloured wristbands to indicate all meals and drinks are included and therefore give no incentive to venture anywhere further than the beach. OK, so maybe we were a little bit jealous not to be staying in a fancy resort!
Before arriving in Varadero we had assumed that the town would merely be the functional commercial hub and we would need to take a taxi or bus to the resort part to enjoy the beach. However, just one block from the bus station we could see the stunning turquoise ocean. Excitedly, with our packs still on our backs, we headed towards it. Wow!  As many of you know, we're no strangers to the beach, but it was one of the most beautiful beaches either of us had ever seen. An expanse of white sand preceded crystal-clear water in progressively deeper shades of turquoise.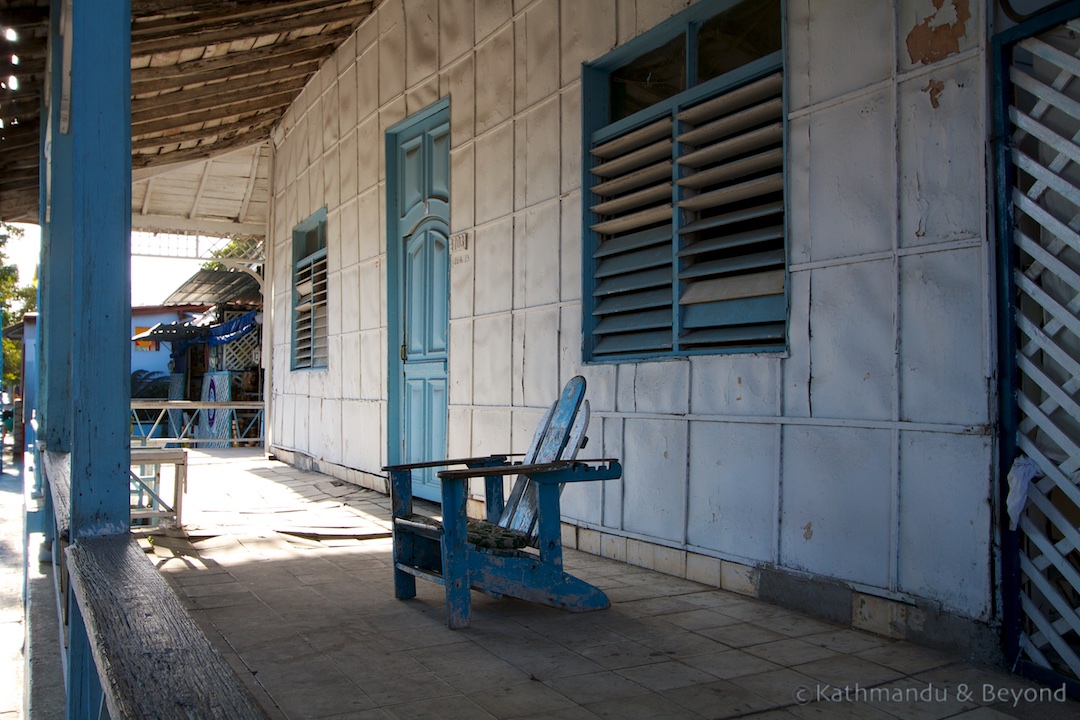 Varadero
We rushed off to find somewhere to stay. We found a 'casa particular' which was close to both the town and the bus station. There were several attractive houses with rooms to rent in this part of town, but all those we tried were full.  Because we hadn't intended to visit Varadero, we didn't have the name of a recommended casa particular. It would have been useful here. We checked for a room at one place we liked and although it was full, the owner offered to take us to another one he knew, as is often the case when a casa is full. The nightly rate was 30 CUC (30 US dollars) per night, which was more expensive than anywhere else we'd stayed in Cuba, with the exception of Havana. It was OK – the room was actually more of a self-contained unit with a kitchen, but the owner was a bit surly and we didn't warm to either her or the room. We only intended to stay two nights so it was not a big deal, but it's the only place that we stayed in that we wouldn't go back to or recommend to others.
Back to the beach – our reason for being in Varadero. As I mentioned, we were surprised to discover that the beach extended to the town area and, with only three blocks from one side of the peninsula to the other, nothing was far away. The beach stretched along the northern side whilst a sea wall ran along the opposite side. There were a couple of older resort hotels in this part of town but they didn't dominate and left plenty of space for quiet stretches of beach. Out of curiosity, we enquired the price at one – 120 CUC per double room per night, all-inclusive. Not bad but we did it a lot cheaper.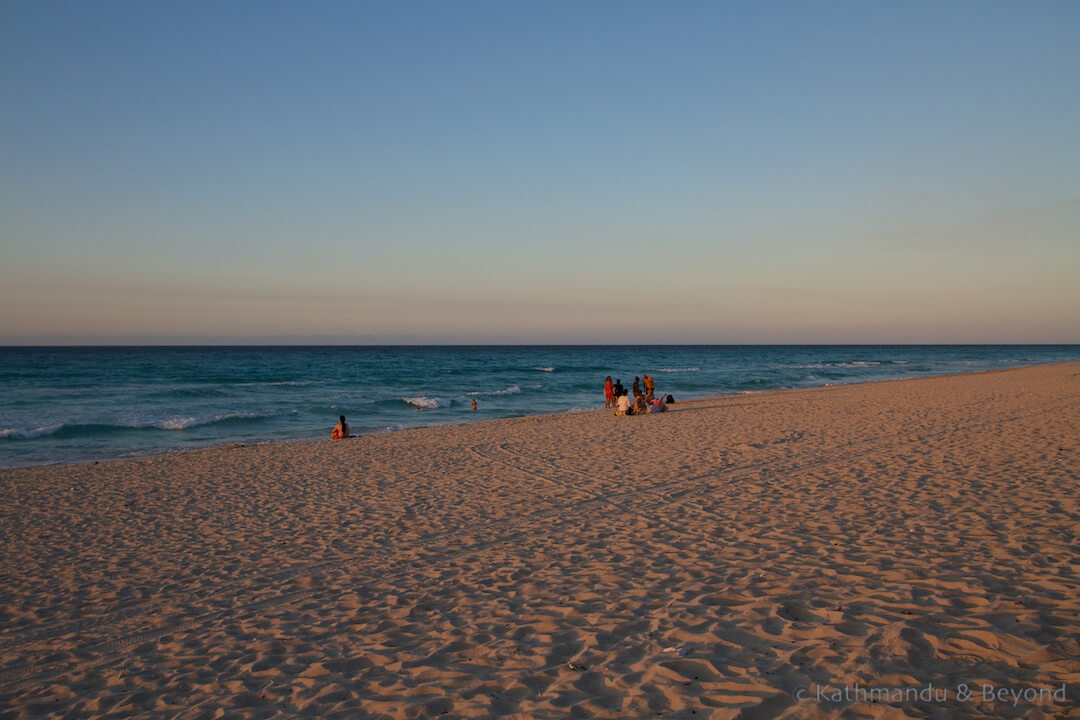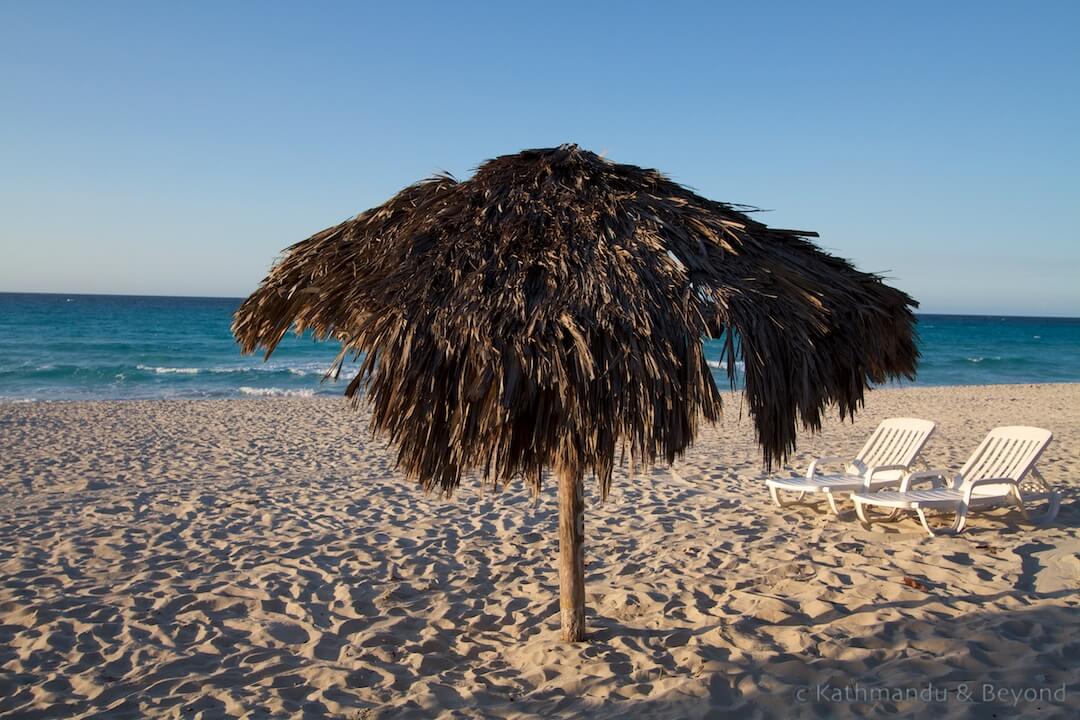 Varadero Beach
The big hotels here rented out sun loungers on the beach for a dollar a day, which is very fair, but we moved away a little and lay down our sarongs on a solitary patch of sand. I'm not sure why, but I wasn't expecting the beach to be so nice but it was. After all, Cuba is a Caribbean island! The sea was refreshingly cool with a few waves to jump over and dive through and the water was crystal clear. It reminded me of the waters around Flores and Komodo in Indonesia which I was also in awe of when we visited a couple of years ago. So, our days were sorted.
Finding a meal in Cuba can sometimes be a bit of a challenge, and one that we were anticipating even more so in Varadero. We were expecting high prices because of the number of tourists in the area. But we were in for another pleasant surprise. There were several restaurants around the town, many very reasonably priced. The best bargain we found was the Cubanita Cafeteria, just around the corner from (and probably sharing a kitchen with) the more upscale Cubanita Restaurant. Here they served meals for just 2 CUC, cans of Cristal beer for 1 CUC and mojitos for 1.50 (1 CUC = 1 US dollar or 60p). The meals were the regular fare of grilled chicken or pork or shredded "beef" served with a salad garnish and either white rice and black bean soup or rice and red beans mixed. But the meals were good. There were also several other restaurants close by which, although not as rock-bottom cheap as the Cubanita, were still surprisingly cheap for such a tourist-saturated area. We concluded this was probably because 90% of tourists in Varadero are on all-inclusive packages and therefore there was not much of a market for over-priced restaurants. The remaining 10% were domestic visitors, budget travellers, taxi drivers and others servicing the tourist industry. These figures are my random estimates which are not at all substantiated but serve to validate the point.
For sundowners, we found a bamboo and thatch bar on the beach serving cold beers for 1 CUC and cocktails for 2. And that was our final requirement for a perfect beach stay.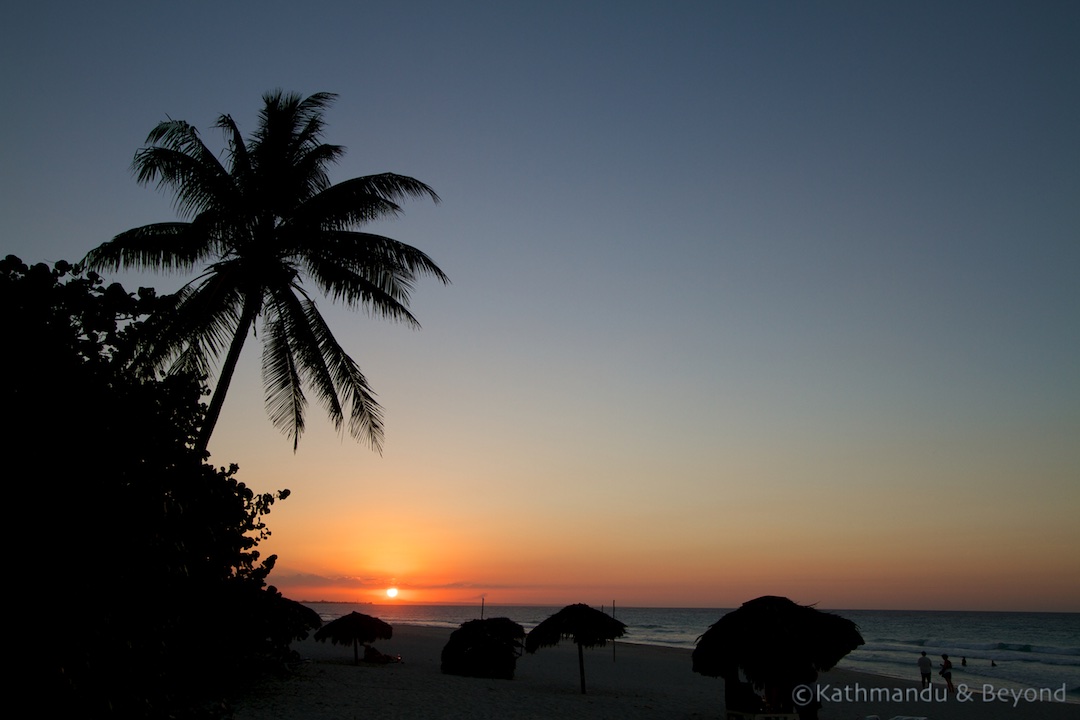 Varadero Beach
The pictures I have seen of Varadero show a packed beach (and maybe it is further along the peninsula). We didn't venture far, happy with the little patch of paradise that we had found and smug that we had it for a tiny fraction of the cost of the package-holiday masses. But we were also very pleased, after spending a few days sharing how the other half lives, to return to the real world in which the majority of Cubans live.