After forming some first impressions of Cuba whilst in Havana, we decided our next stop would be Cienfuegos. It was a logical place to start although on reflection we would have planned it differently. On reflection, we would have planned it!
We discovered that we could take a tourist bus service from Havana for the same price as a regular bus. An added advantage was that it departed from a hotel in Old Havana that we could walk to and therefore avoid the battle across the city to the main bus terminal. We left on time and set off in a very comfortable Chinese-made bus. We later noticed that almost every single bus in Cuba – at least the ones tourists are allowed to travel on – is Chinese-made.
As we headed out of Havana the roads emptied and very soon we were one of only a handful of vehicles on the wide, smooth roads. It felt a bit strange. We'd left a vibrant, bustling metropolis and all of a sudden, there was nothing. The countryside was flat and unremarkable. Four hours later we reached Cienfuegos and were dropped off at the gorgeous colonial-style Hotel la Union. We weren't staying here and a pedal rickshaw taxi was there to meet us and transfer us the short distance to our casa, Las Terrazzas. If our casa in Havana had impressed us then Las Terrazzas upped the game. For US$25 a night (US$5 less than Havana) we had the entire top floor of the house and, as well as the bedroom and bathroom, there was a kitchenette with dining room and two large terraces.
Cienfuegos itself is a medium-sized town with a lot of historical buildings. Founded in 1519, the city is listed by UNESCO as a World Heritage Site. The suburbs line an attractive seafront and felt more affluent than anywhere else we had been in Cuba so far.
The singer Benny Moré (1919-1963) was born in Cienfuegos and as well as having restaurants and bars named after him, the town has a statue in his honour. Having a photo taken with Benny's statue seemed to be one of the towns "must-do" attractions but given that the one we have of us is as blurred as a would-be bride's eyes at a jilted wedding, I'm not going to post it here!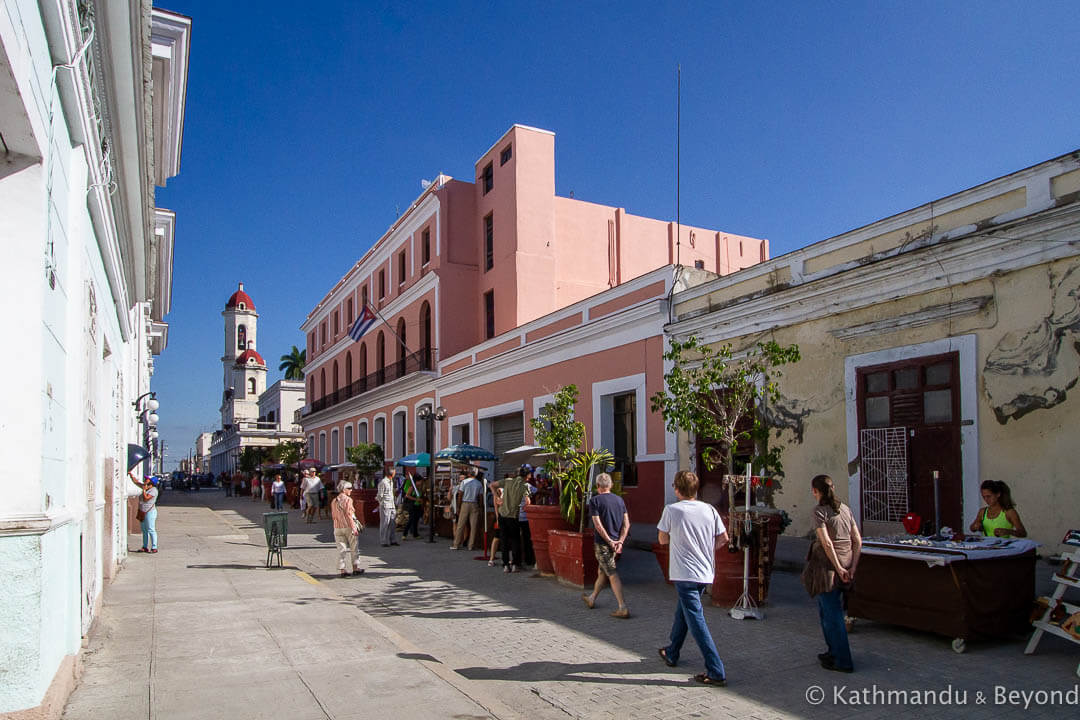 Cienfuegos
Cienfuegos is attractive; but unlike Havana where you could spend days exploring, the main sights of this small town can be seen in a day. We also began to realise that finding a good meal in Cuba was going to be a challenge. Although we didn't have any great meals in Havana, at least there are plenty of restaurants to choose from. We had assumed the meals we'd eaten in Havana were poor because they were catering mainly for tourists. Although Cienfuegos receives a fair number of tourists, many of them were on coaches that passed by during the day.  In the evening restaurant options were limited. Outside of the capital, we were hoping to find local places; but without the tourists, there's not the demand. Things are changing in Cuba but for now, eating out at a restaurant is not within financial reach of the average Cuban. Whilst we could convince ourselves that fast food for lunch was acceptable, we just couldn't bring ourselves to eat it for dinner. So, Cienfuegos was where we discovered that eating a home-cooked meal, particularly at our casa, was often the most satisfying option. In terms of taste, quality and nutritional value.
Cienfuegos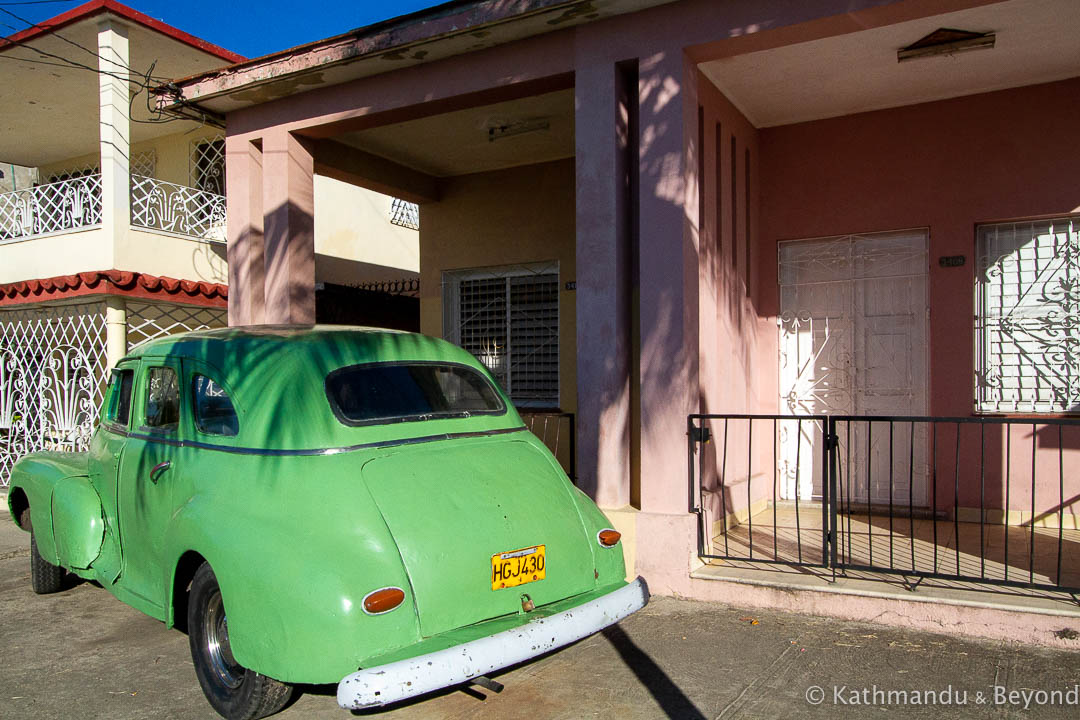 Cienfuegos
From Cienfuegos, we travelled to nearby Trinidad (the Cuban town, not the Caribbean island). Trinidad really is the postcard picture-perfect Cuban colonial town: cobbled streets, brightly-painted churches on palm-tree-fringed plazas and rows of neat houses painted in palettes of complementary colours. Call me lazy but it's one of those places that a few pictures will speak better than a couple hundred of my words …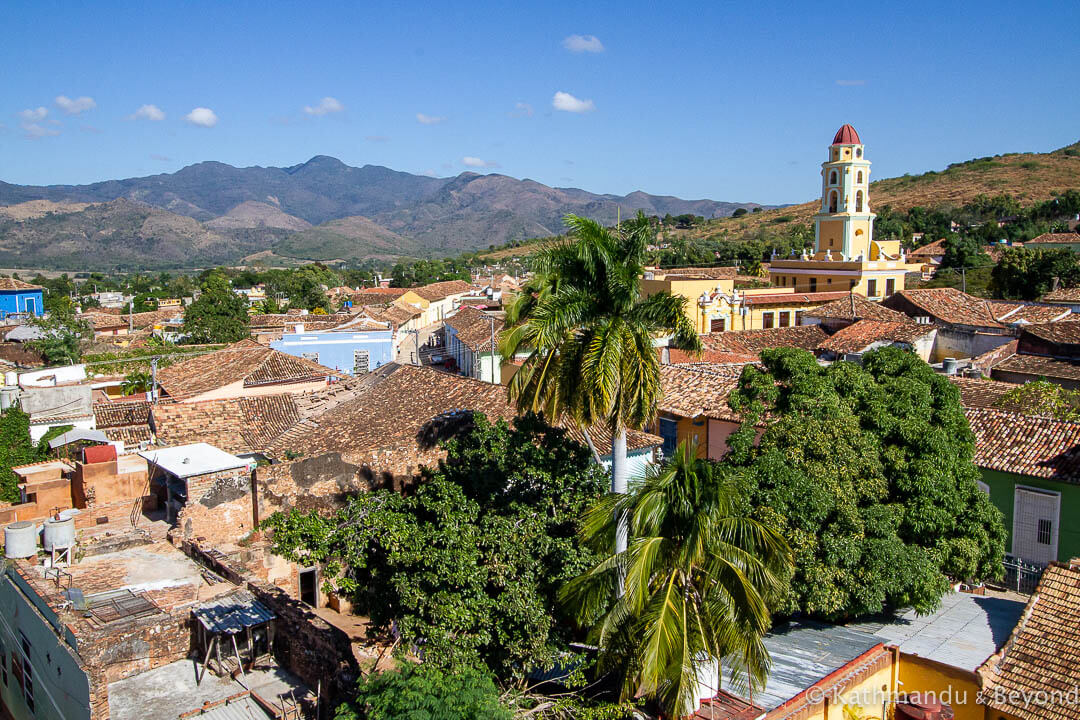 Trinidad


Trinidad: Plaza Mayor (left) and Museo Romantico (right)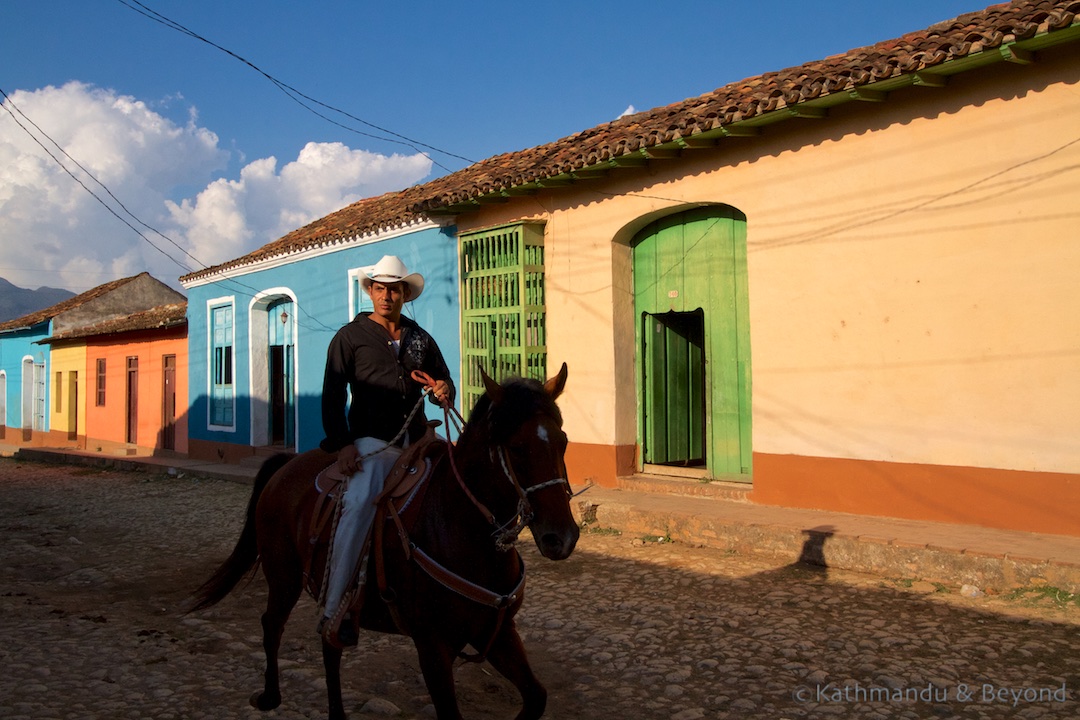 Trinidad
From Cienfuegos, we travelled to nearby Trinidad (the Cuban town, not the Caribbean island). Trinidad really is the postcard picture-perfect Cuban colonial town: cobbled streets, brightly-painted churches on palm-tree-fringed plazas and rows of neat houses painted in palettes of complementary colours. Call me lazy but it's one of those places that a few pictures will speak better than a couple hundred of my words …
We arrived in Camaguey the day before the 500-year anniversary of the city and a big celebration was promised.
The scene we arrived to was a bit bizarre. It was as if the entire town was in a frenzy of activity. Everywhere was getting a fresh lick of paint and many significant buildings were only half-finished. There were huge trucks everywhere either lifting people with pots of paint up the side of churches or sloshing water over the streets so others with brooms could scrub them clean. They appeared to be pedestrianising one road – fitting bollards and painting lines. It was chaos and we felt like grabbing a tannoy and shouting "Give up! You'll never be finished in time!"
Never-the-less, Camaguey is an attractive town.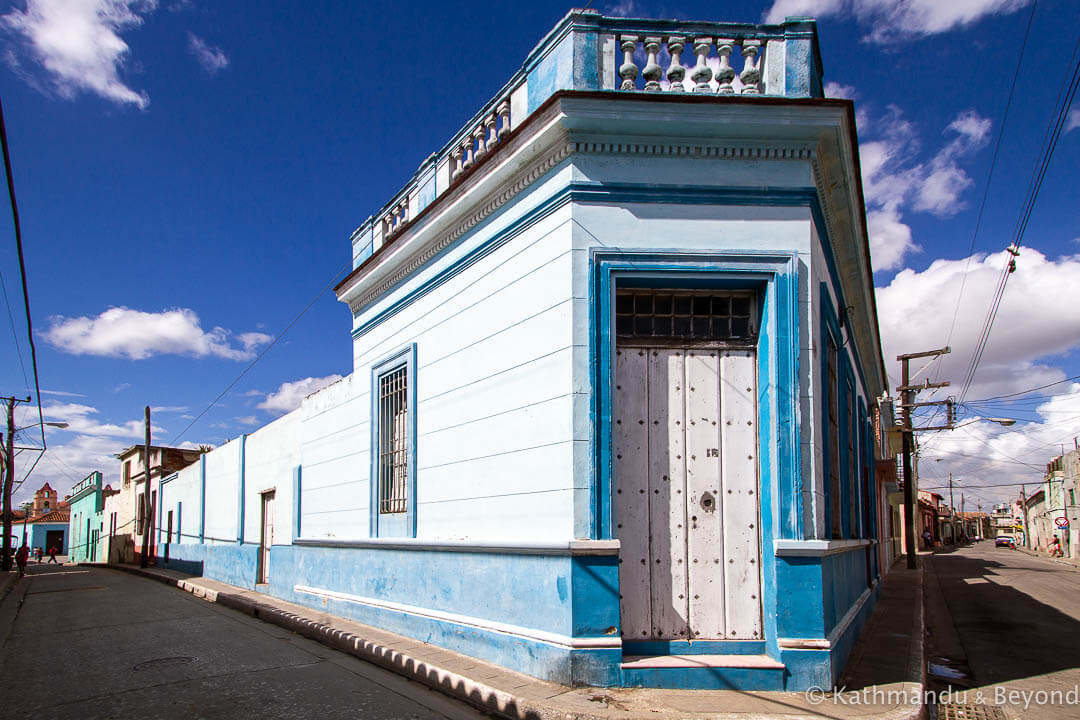 Camaguey
By lunchtime the next day, the streets were clear of heavy machinery and the rest of the painting was destined to wait. Everyone was talking about celebrations but no-one seemed to know what was happening. Not even the tourist board. Everyone was in party spirits though and the bars were busy from lunchtime onwards. For the first time since arriving in Cuba, we managed to find places serving decent and cheap meals. Pretty as Trinidad is, it caters mainly for tourists, but Camaguey is a medium-sized town which feels reasonably flourishing with bars and cafés patronised mostly by Cubans. Prosperous though the city felt, there were still the ubiquitous queues and we were reminded that not everything is easily accessible in Cuba as we went into about ten shops looking for toothpaste. We eventually bought some (from a shop with a good stock of it) but I felt a pang of guilt that we should have brought enough with us in case we had deprived someone not so fortunate.


Camaguey
As night fell, we joined a party on the steps of a small plaza. There was a band playing and rum and coke was flowing freely. We started with mojitos but switched when we discovered we could buy an entire bottle of rum for the same price!
We got chatting to some locals in our best Spanglish. One guy, a professional dancer, tried to teach me a few steps. I tried to teach him the expression "Two left feet".



Making friends, learning new steps and taking some even more very out of focus photos at the fiesta in Camaguey …
Because we had lingered in Trinidad longer than our timeframe ideally allowed, we had to make the decision not to travel any further east, and so from Camaguey, we headed to Ciego de Avila. From there we wanted to try and head off on a path less travelled but the biggest problem was that the main bus company 'Viazul' doesn't run on that route and, as foreigners, we aren't supposed to travel with any other operator.
From Ciego de Avila to Moron, the simple and obvious route was by taxi. Of course, this was also the most expensive way to go. After being turned away from the bus terminal, we headed to the railway station with only the faintest hope that a train would be an option. The last time we enquired about taking a train in Cuba we would have to wait two days for a 3am departure! But our luck was in and there was a train due in 2 hours' time; 'due' being the operative word. However, we were curious about the many trucks outside the railway station that were clearly ferrying people about. Many of them looked more suited to carrying cattle than people, consisting of not much more than a metal slatted container with a wooden bench down the length of each side. We called them cages on wheels. Another type, known locally as 'camellos' (camels) were enormous articulated people carriers. The name is derived from the two-humped shape it forms.


In the 'cage' between Ciego de Avila and Moron before it got too busy!
We made some enquiries and found that a "cage" would be leaving imminently for our destination, Moron. And they would take us. We joined the scrum to climb aboard. I managed to get a seat, only because a local guy gave his up for me, but Mark had to stand for the 2-hour journey. Packed like sardines, each time we stopped to let two people off (or out!) it seemed like four more were squeezed in. Possibly not the most uncomfortable journey we've ever done but it must have come close. At least it only cost us US$0.20  (about UK£0.12).
Moron was interesting in that there weren't many travellers there and it is a typical Cuban town, but there wasn't much to hold our interest and the following day we continued to Remedios.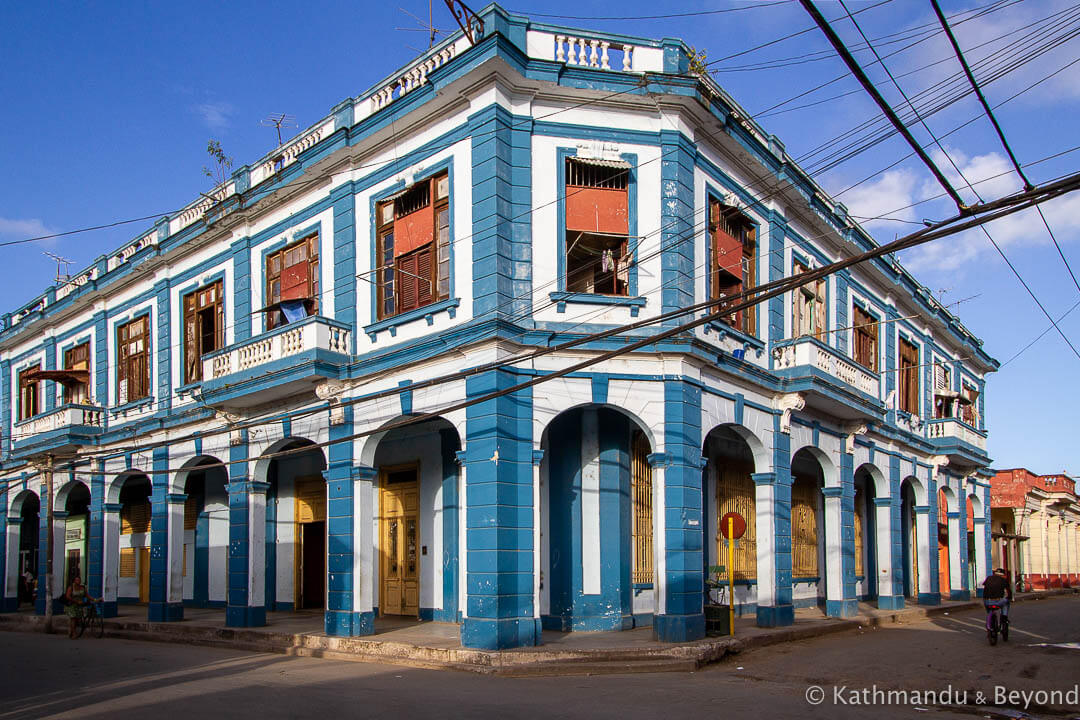 Moron
Again, there were no buses that were allowed to take us. Our casa owner thought maybe we could take a series of trucks, maybe three, but we didn't spot anything that looked likely so we loitered around the train station and got a taxi for US$40. Expensive compared to other journeys (and on reflection, we probably could have got it cheaper) but ultimately if we'd returned to Ciego de Avila and taken a bus to Santa Clara from where we more than likely would have ended up taking a taxi, it wouldn't have cost much less. And it would have taken us all day.
Remedios is a colonial town that isn't quite postcard-pretty enough for marketing campaigns or UNESCO listing. And I guess that's part of what makes it so appealing. It's a small town but the large plaza is home to two churches and some other interesting buildings. Remedios was founded in 1513 so it's definitely got the history. It also won bonus points for having a bar on the square selling one-dollar beers and two-dollar mojitos.  Our home here was the gorgeous 'Casa Colonial' which more than lived up to its name. Remedios is definitely one of Cuba's hidden gems and we had a great couple of days there.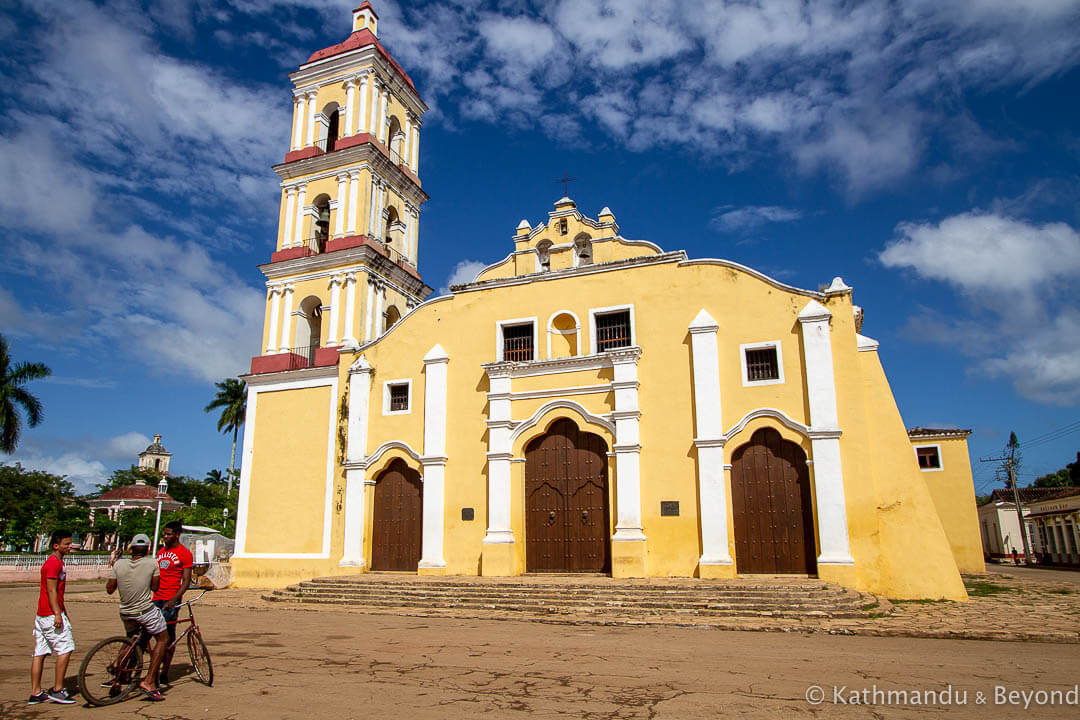 Iglesia San Juan Bautista de Remedios


Remedios
Unsure of how we would get to our next stop Santa Clara (no bus again), we headed to the edge of town. It wasn't looking very positive when all of a sudden a taxi offered us a ride for US$10! Bargain – it must have been the return leg of his journey. And even better it was in a beaten-up old American classic car!
Santa Clara is historically significant when it comes to all things Che. It was here that his liberation of the city in 1958 resulted in the downfall of the Batista regime. Aside from the Che Guevara sights, Santa Clara is a very pleasant city with a history that well pre-dates that of the infamous bearded beret-wearing cigar-smoking Marxist revolutionary.



Che Guevara artwork at the Monumento a la Toma del Tren Blindado (armoured train)


Anti-America 'street art'  in Santa Clara
We were definitely on the 'home stretch' of our time in Cuba and it was decision time again. We had a couple of spare days and a curiosity to see the much-hyped tourist Mecca of Varadero Beach. It was a relatively short journey away, so that's where we headed next …
---
---