Suggested itinerary: Myanmar (Burma) North and South
Yangon – Mawlamyine – Hpa-an – Mt. Kyaiktiyo – Bago – Nyaungshwe (Inle Lake) – Nyaung U (Bagan) – Mandalay – Pyin Oo Lwin – Kyaukme – Hsipaw – Lashio – Yangon
Yangon needs two or three days minimum before boarding the roller coaster train south to Mawlamyine (you will know exactly why it's called that if you travel on it!). There are some good day trips out of Mawlamyine, including the gargantuan buddha at Win Sein Taw Ya and the incredible balancing Nwa-la-bo pagoda.
Beginning the journey back north, scruffy Hpa-an is a good base for exploring the rural countryside, monasteries and caves that surround the town, while overnighting atop Mt. Kyaiktiyo and visiting the Golden Rock was the highlight of our trip to the south of the Myanmar. Bago is a dusty and nondescript town but it has some interesting things to see and is a convenient stop en route back to Yangon, especially if you want to go directly to the airport, as we did.
You don't need to fly up to Heho, the main airport for Inle Lake, but it cuts out a long journey, of which there are few coming up. Inle Lake is all about being out on the water and after a few days of exploration by long-tail boat, the journey to Nyaung U (Bagan) is best done by private car if you can find others to share the cost. You don't need to be a temple-nut to appreciate the temples at Bagan. There are other things to do besides visiting temples plus the town of Nyaung U caters well to traveller's needs. We took a boat to Mandalay but wouldn't recommend it. It was very slow and the river is too wide to observe daily life. Alternatives are a bus, private car or a flight.
Mandalay itself will keep you busy – not only are there places of interest within the city limits but the historic sites further afield, such as Amarapura, Mingun and Ava, are all worth seeing. The former British hill station of Pyin Oo Lwin can get darn right cold in the early morning and at night but is worth visiting for a day or so.
Taking the train further north to Kyaukme means you get to travel across the 689-metre long Gokteik Viaduct. There is no need to break the journey in Kyaukme, Hsipaw is not that far beyond, but few tourists visit the town and that was good enough reason for us to stop there. Hill trekking (be it day or overnight hikes) and interacting with the Shan people are the main reason to visit Hsipaw and continuing to Lashio, from where there are flights to Yangon, saves on backtracking and a long overland  journey back south.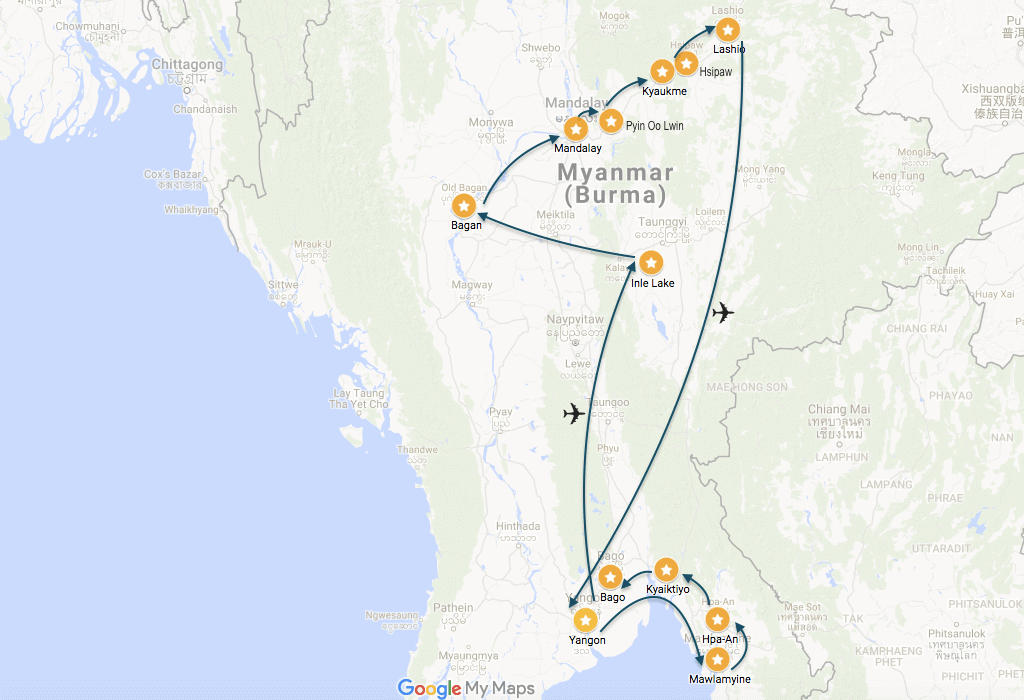 Number of countries: 1
Number of UNESCO sites: 0
Best time to travel: Mid October to Mid April
Recommended duration: 4 weeks
Best places to slow the itinerary down: Mawlamyine, Nyaungshwe, Nyaung U and Hsipaw
Mode of transport: Two flights (Yangon/Heho and Lashio/Yangon), trains, buses, boats and private taxis
Drinking a cold beer in budget-friendly Nyaung U after a day of cycling around the temples of Bagan
Eating with locals at Yangon's 19th Street
Sleeping in Kyaiktiyo and visiting the Golden Rock in the evening and early morning
Crossing the Gokteik Viaduct by train between Pyin U Lwin and Kyaukme
Eating Shan noodles in the market at Nyaungshwe
Hanging out and people-watching at the Shwedagon Pagoda in Yangon 
Day trips to the ancient cities outside Mandalay
Friday night Happy Hour at the Strand Hotel
OPTIONS FOR EXTENDING THE ITINERARY
The popular trek between Inle Lake and Kalaw can easily be incorporated into the itinerary
Yangon is well connected by air to numerous Southeast Asian hubs, Dhaka in Bangladesh and some cities in India
Quite a few land borders are now open between Myanmar and Thailand, making overland travel a viable option
If you wanted to travel overland between Bago/Yangon and Inle Lake, consider breaking the journey in the capital city, Nay Pyi Taw, and then travelling via little-visited Loikaw to the lake region 
Budget accommodation in Myanmar is a bit thin on the ground however the chances of you getting completely stranded are slim. Places mentioned in guidebooks are the first to fill up so don't assume everywhere is full just because the 'Top Pick' is!
OTHER TRAVEL PLANNING RESOURCES
There are a few guidebooks to Burma available but we've always used Lonely Planet and it's hard to change a habit of a lifetime! With the tourist infrastructure changing so rapidly at the moment, it's hard for print guidebooks to keep up so we tend to use our LP for historical information and facts and an online resource like Travelfish or Thorntree for information on accommodation, transport and visas…
Lonely Planet's guide to Myanmar (Burma) 
And if you need a few more reasons to follow this itinerary…
Golden Rock, Mt Kyaiktiyo
Shwethalyaung Buddha, Bago
Did you find this post useful? Pin it to your travel planning board for later…