When I told people we were headed to Burma the most common reaction was "Oh, it'll be interesting to hear how things are there now and what changes are taking place". It's true, the timing of our visit coincided with a time in which Burma (or Myanmar since 1989) seems to be a buzz-word both politically and for tourism.
Aung San Suu Kyi's release from years of house arrest a year ago seemed to start a journey of change that has accelerated in the past few months with visits first from Andrew Mitchell, a British cabinet minister, and then more high-profile by Hillary Clinton and most recently, whilst we were in the country, William Hague (British Foreign Secretary).
Remembering my first visit to the country six years ago, when questioning a local person about their political leanings could land them in jail, initially I was a bit hesitant about asking too many questions. It soon became clear that the Burmese now feel able to speak more openly about the situation, however it seemed that after the initial "Yes, now we are free to say what we want", many did not know what they wanted to say or maybe, how to say it.
Admiring the Sule Pagoda on our first day, we got talking to a local man who turned out to be a tour guide (but unlike in so many other countries, he didn't push his services on us and was just happy to talk) who asked us if we could spare half an hour to go with him to an English language class for conversation practice.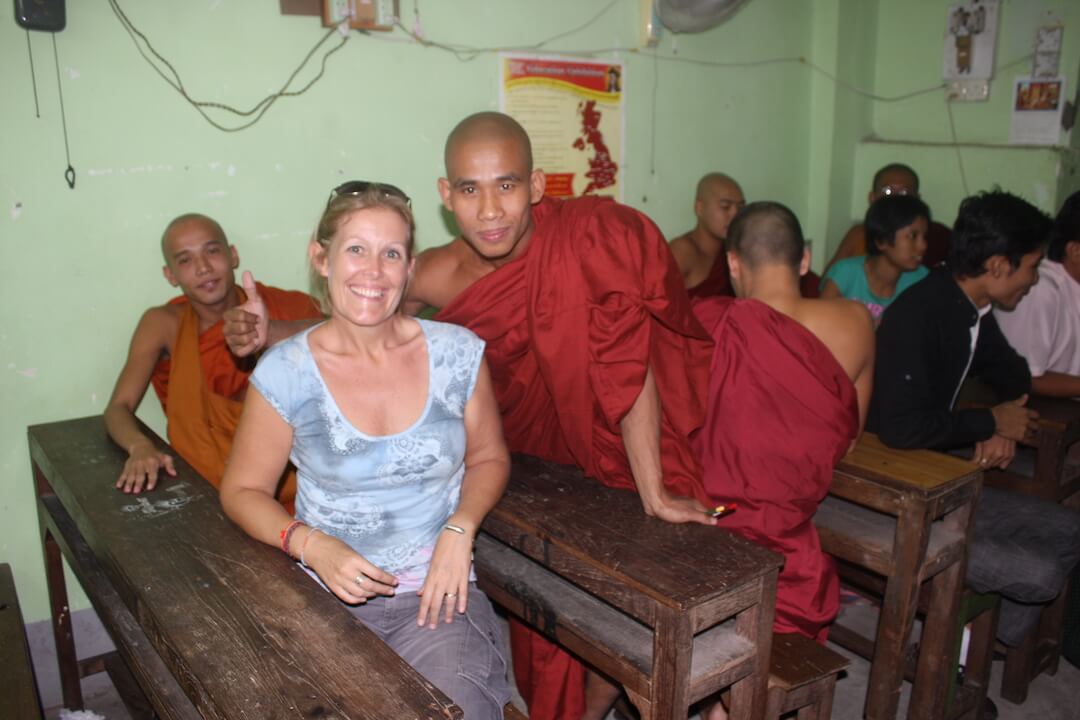 English class in Yangon
The class was made up of young adults, including many monks, who were paying for private English lessons in order to open themselves up to the wider world. Their teacher was certainly "a character" – full of energy and encouragement, frequently jumping up in front of the class to tell them they were the Asian tigers of the future (and doing the claw!). He told me "Things are better for us now. Now we are a democracy". This confused me slightly as my understanding was that although free speech now existed to a certain extent, a true democracy was still some way off.
These days (2012), all over the country you see images of Aung San Suu Kyi and her father – posters, mugs and calendars – being sold in shops and on market stalls, photographs in restaurants and at temples. Two years ago, having a picture of "The Lady" in your possession could land you a lengthy prison sentence and only the very brave dared to keep a secret photo under a mattress or hidden behind another more neutral one on the wall of their home.
Aung San Suu Kyi and her late father, General Aung San
There is certainly a feeling of great optimism and hope for the future but there is also a massive amount that needs to be done – free schooling, decent medical care, improved sanitation and roads. On a less fundamental scale but still a given in most societies, the right to communicate. This goes beyond free speech and includes things like being able to own a mobile phone without having to pay $500 for the sim card and a similar amount for a basic handset as well as access to the Internet – it is said that the government deliberately slows down the speed of public connections in order to restrict its use. Social networking sites like Facebook and Twitter aren't blocked in the same way as they are in China and Vietnam but some web-based email accounts can be.
There is little doubt that Aung San Suu Kyi will stand and win a seat in parliament in the by-election due to be held in April. But whether this will give her party any power remains to be seen. If the current government want sanctions to be lifted in order to do business with the West, they have no option other than to be seen making these changes. Most of the world already respects Aung San Suu Kyi and having her as an official government spokesperson will surely open doors more quickly. Cynical maybe but I really do want to share the optimism of the Burmese. Change will come. Changes have already been made. But big change will take time …
Now for those of you who have requested some details of where we went check out my Burma in Photographs blog.
2020 postscript: It's an interesting point, re-reading and reflecting back on this post some years later. Myanmar certainly has seen change, but maybe not in the direction everyone hope for. In the eight years following her election as an MP in 2012, Aung San Suu Kyi's fall from grace is notable. Her alleged inaction to the Rohingya genocide and appearance at the International Court of Justice in The Hague has ruined any reputation she had and my guess is that, once again, having her photograph in the home is viewed with displeasure, certainly by foreign tourists.
---
---
---