When we're in the mood for somewhere pub-like with air conditioning, bar stools, football on the TV and over-priced food and drink (except between 3 and 7pm when the price of a Happy Hour pitcher of beer is pretty hard to beat), we head to the ex-pat hangout 50th Street Bar.
But more often than not we'll be in the mood for something with a bit more local atmosphere. We want to feel as if we're living on a different continent and not feel as if we could be anywhere. On those days, we head to 19th Street. Unlike the 50th Street Bar which is a bar named after the street it's situated on, 19th Street is an entire street that, shortly after sundown, turns into an open-air bar and restaurant complex. Or, more accurately, a street lined on both sides with kerbside eateries. Located in Yangon's China Town, 19th Street is the place locals head to when they want a night out.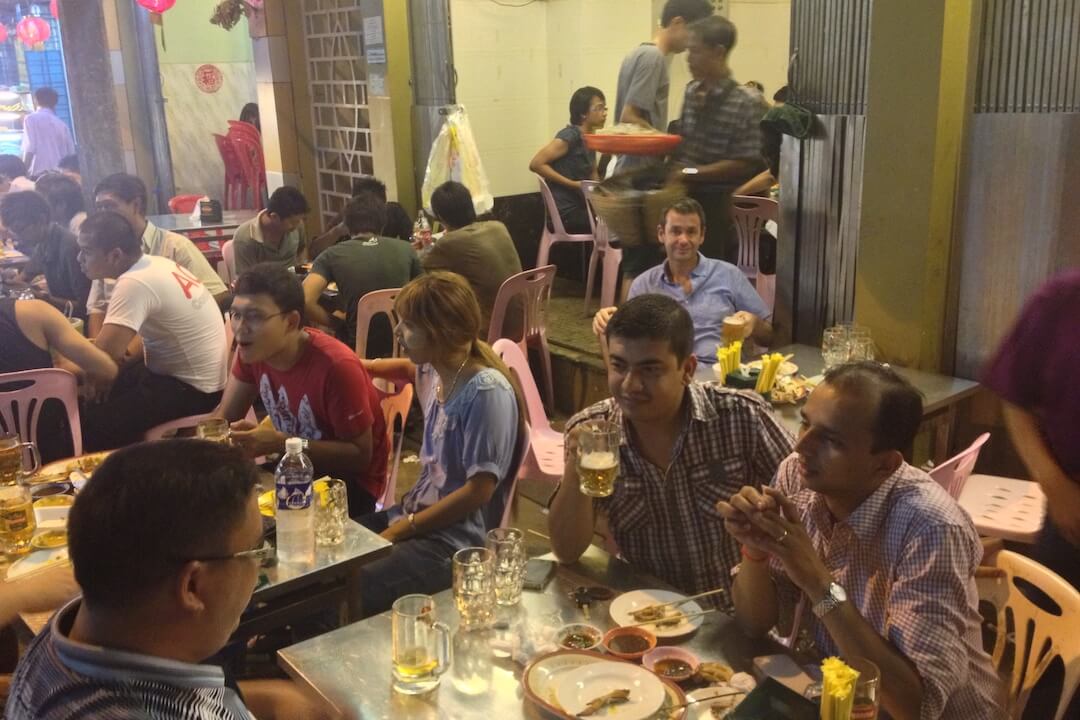 19th Street in downtown Yangon – can you spot the odd one out?
Tables and chairs cram on either side of the pavement-less street leaving no space for vehicles to pass and creating a honk-free pedestrianised zone. People come here to eat and drink. The beer is cheap: 800 kyat for a glass of draft Myanmar beer compared with the non-Happy Hour price of 2000 kyat at 50th Street. That's a bargain 55 pence / 85 cents versus a whopping £1.40 / $2.10! To prove we're not completely obsessed about the price of beer wherever we are, I'll move swiftly on to the food which along with the atmosphere is the main reason we go to 19th Street. Fish, and other assorted food items, are barbecued on skewers. Some of the items are readily identified; others are not. All the restaurants offer almost identical fare at the same prices so it's really just a question of finding one that has an empty table. Once the drinks are ordered, it's usually my job to go over to the road-side cabinet of food to select our dinner. We always go for a plump fish stuffed with herbs, lime and garlic. One day I'll find out exactly what type of fish it is. To accompany it, I usually select skewers of baby corn, okra and broccoli plus a couple of meat skewers such as spicy mutton or chicken. Essentially, you select what you want to go on the barbecue, put it in a plastic basket, and hand it over to the waiter who figures out the price and then passes on to the chefs.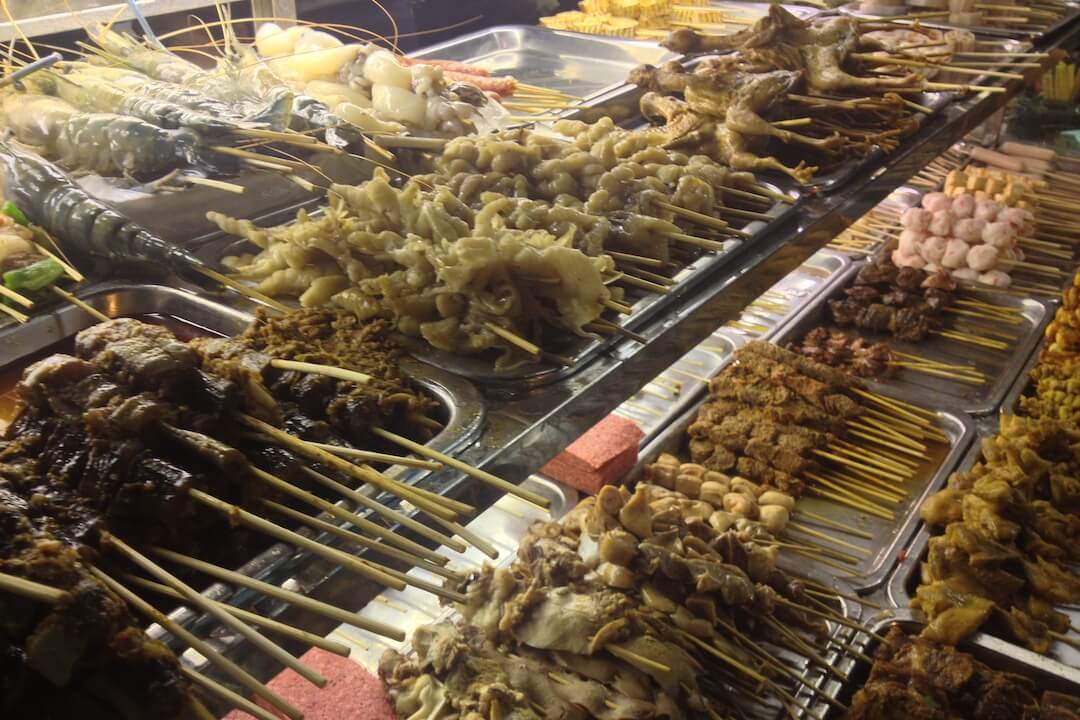 The "cold cabinet" from where your selection is made – do you recognise everything on offer?
Twenty minutes or so later it all arrives at the table, grilled to perfection. Time to tuck in and order another Myanmar beer.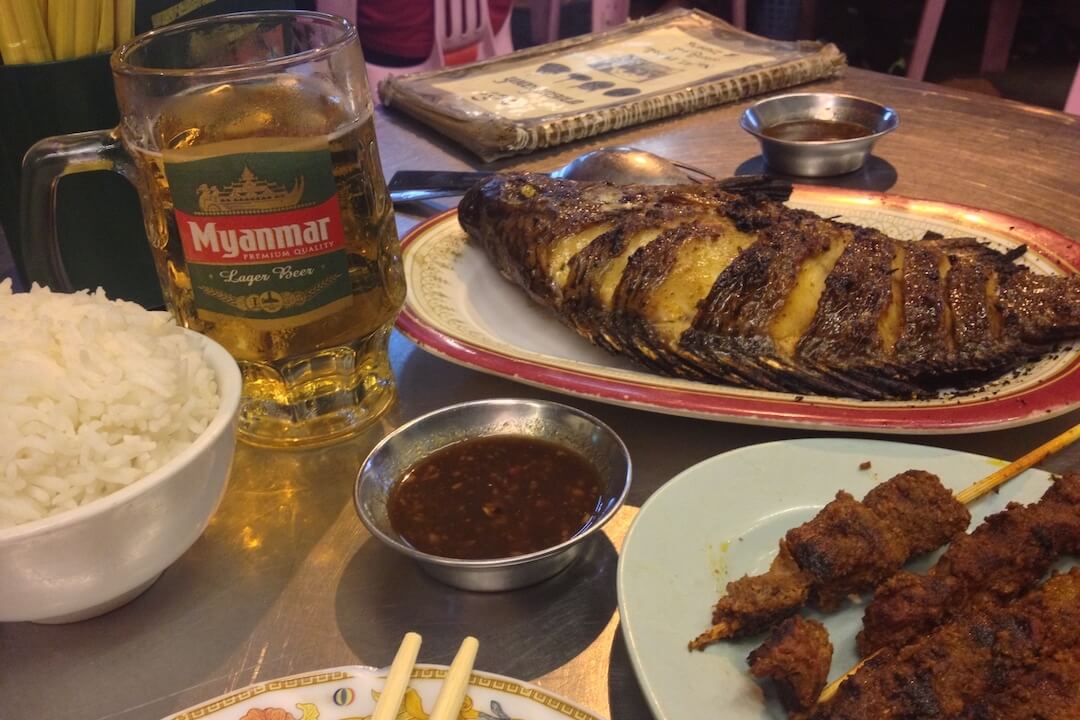 And we're ready to tuck in …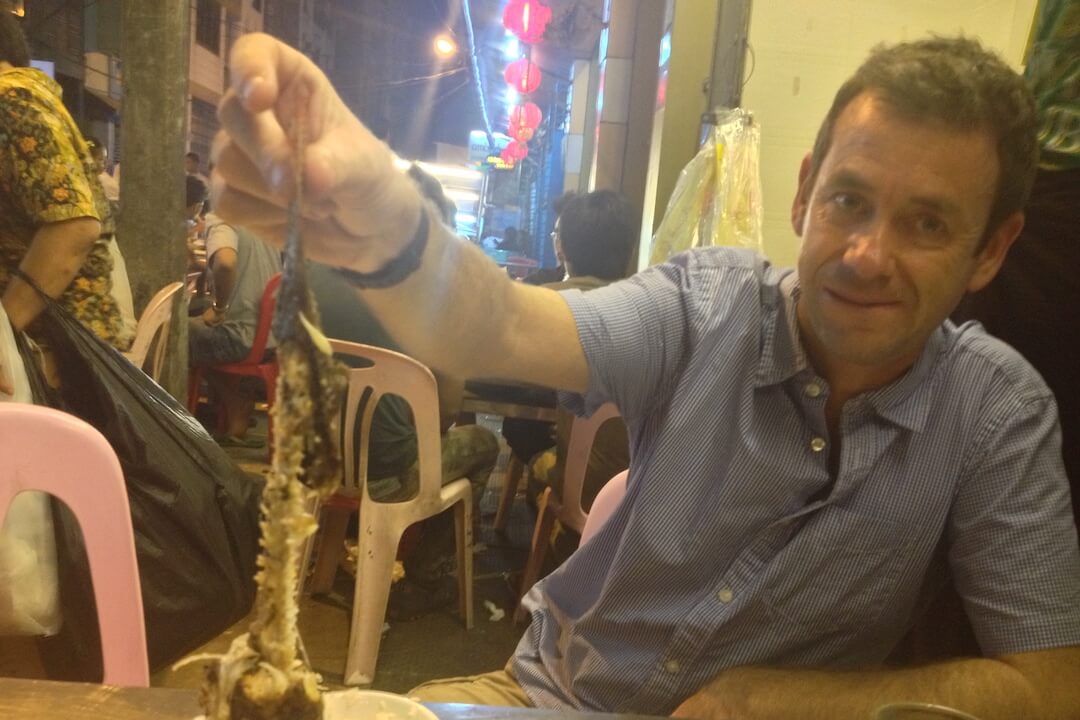 And here's one we finished earlier …