Southern Vietnam Itinerary: Ho Chi Minh City back to Ho Chi Minh City via the Central Highlands
SOUTHERN VIETNAM ITINERARY SUMMARY 
Ho Chi Minh City – Quy Nhon – Son My – Quang Ngai – Hoi An – Danang – Kom Tum – Buon Ma Thuot – Dalat – Ho Chi Minh City
After a few days in Ho Chi Minh City, we decided to fly to Quy Nhon but if you have the time or the inclination, you could travel overland via places such as Mui Ne and Nha Trang or, alternatively, do the journey in one go using the train. Quy Nhon was fairly interesting but not that memorable. For us, it was a stepping stone to get to the village of Son My and the site of the My Lai Massacre, one of the worst atrocities of the Vietnam War. After visiting the memorial and attached museum, we spent the night in the nearby scrappy town of Quang Ngai before taking a bus up the coast to Hoi An.
We spent a few days in everyone's favourite riverside town (ours included), strolling around, cycling out to the beach and eating lots and lots of delicious food. We also took a trip out to the atmospheric Cham temples at My Son. Nearby Danang is the turn-off point to get to Vietnam's Central Highlands and you will need to change transport here. It's a steady climb up winding roads to the small town of Kom Tum, which is a good base for getting out into the surrounding countryside. There are a couple of minority villages on the edge of the town that can be visited independently but your own transport and a guide is necessary to explore afield.
Beginning the journey back towards Ho Chi Minh City, Buon Ma Thuot was a worthwhile place to break the journey en route to Dalat, if only to try the local coffee (the best coffee in Vietnam reportedly comes from here). There's a definite chill in the air when the sun drops in this former-French hill station but it is still a nice place to take it easy for a few days before heading back to the humidity and craziness of Ho Chi Minh City.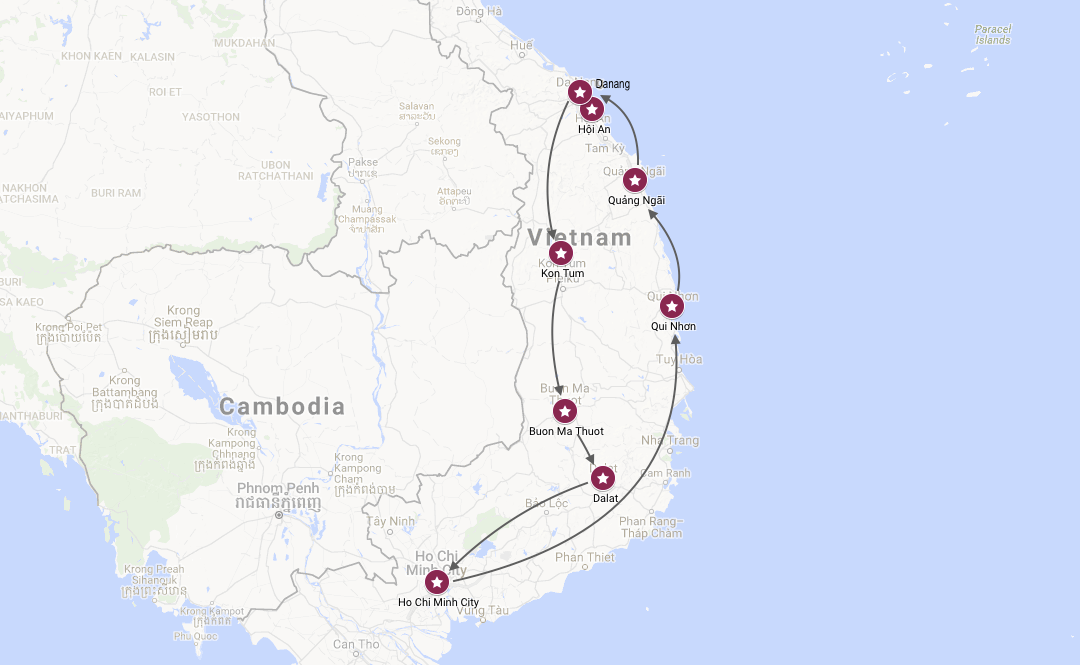 Number of countries: 1
Number of UNESCO sites: 2
Best time to travel: February/March and October/November
Recommended duration: 2 weeks
Best places to slow the itinerary down: Hoi An and Dalat
Mode of transport: Bus and minivan plus one flight (Ho Chi Minh City to Quy Nhon)
Visiting the minority villages around Kom Tum on a back of a motorbike
Vietnamese beer – probably the cheapest in the world and pretty good too!
The genuine friendliness of the people in the Central Highlands
Cycling in the countryside around Hoi An
Hardly seeing any other tourist in the Central Highlands
Eating delicious bowls of Pho in the central market in Hoi An
The relief of not feeling hot and sticky in Dalat but it can also get very cold at nighttime
OPTIONS FOR EXTENDING THE ITINERARY
There are several low-cost carriers flying in and out of Ho Chi Minh City to other hubs in Southeast Asia
Ho Chi Minh City is the gateway to the Mekong Delta and once in the Delta, it is possible to cross overland into Cambodia. We have a suggested coastal itinerary for Cambodia that begins in Phnom Penh and ends in Kep but it works equally as well in reverse
OTHER TRAVEL PLANNING RESOURCES
Depending on our itinerary and destination, sometimes/often we find our accommodation as we go, particularly in smaller places. In big cities, for slightly longer stays, during peak season or just when we're being a bit more organised, we tend to make a reservation in advance using Booking.com. Generally in Vietnam, you'll be fine booking guesthouses on the go, but for a routing like this one, it would be sensible to do some forward planning, particularly in high season.
There are a few guidebooks to Vietnam available but we've always used Lonely Planet and it's hard to change a habit of a lifetime! With the tourist infrastructure changing so rapidly at the moment, it's hard for print guidebooks to keep up so we tend to use our LP for historical information and facts and an online resource like Travelfish or Thorntree for information on accommodation, transport and visas…
Check out the latest offer on Lonely Planet's guide to Vietnam here and consider picking up a South East Asia phrasebook to try and learn a few words of the lingo.
And if you need a few more reasons to follow this Southern Vietnam itinerary…
Cholon (Chinatown), Ho Chi Minh City
Hotel de Ville de Saigon, Ho Chi Minh City
Kon Ro Bang Village near Kon Tum
Did you find this post useful? Pin this Southern Vietnam itinerary to your travel planning board for later…