Discovering Combat Art of the Vietnam War at the Fine Arts Museum in Saigon
Housed in a fine yellow-coloured French colonial-era building, the Fine Arts Museum is a great place to see Combat Art (art depicting wartime scenes) by Vietnamese artists. The museum is divided into three sections with all of the Combat Art located in the building closest to the ticket booth (Building No.1). There are plenty of stirring artworks on display, each with creative titles such as The soldier is telling the story, Meeting their children on Truong Son Road and Uncle Ho and civilians. Taking photographs is permitted and in one section of the museum (and also outside in the courtyard), there are several interesting statues on display. Many are reminiscent of the Socialist-era sculptures that can be seen in countries such as China and those of the former Eastern Bloc. It takes a leisurely hour (or longer if you're keen) to see all of the combat art on display and what's more, the interior of the museum is a welcome respite from the mayhem outside.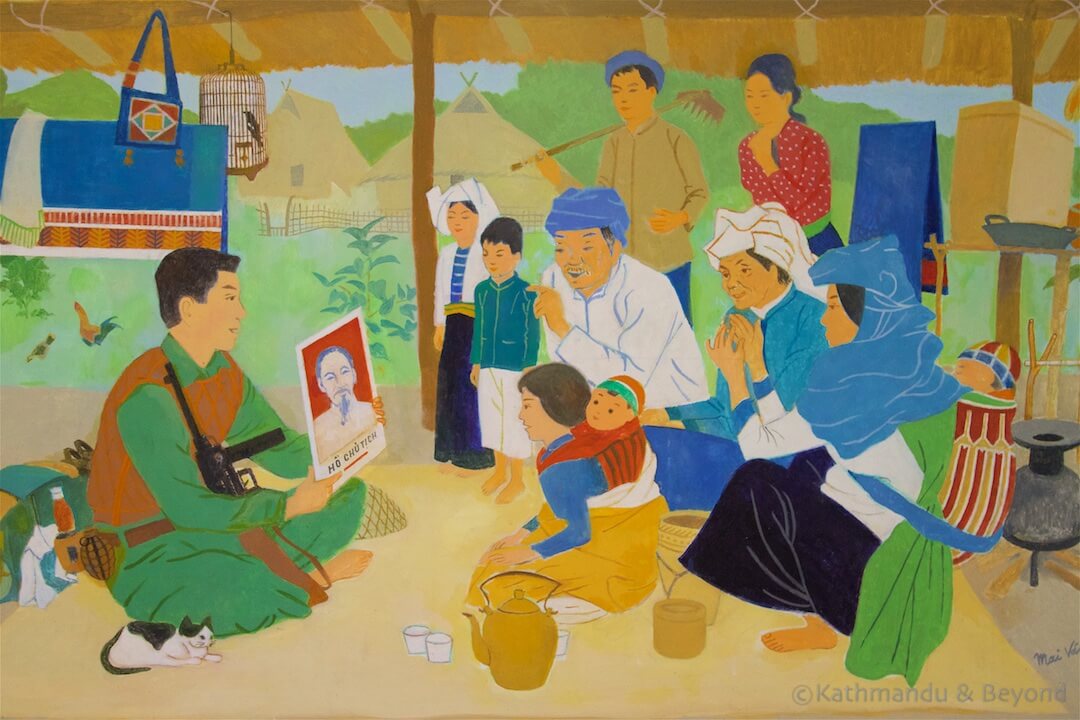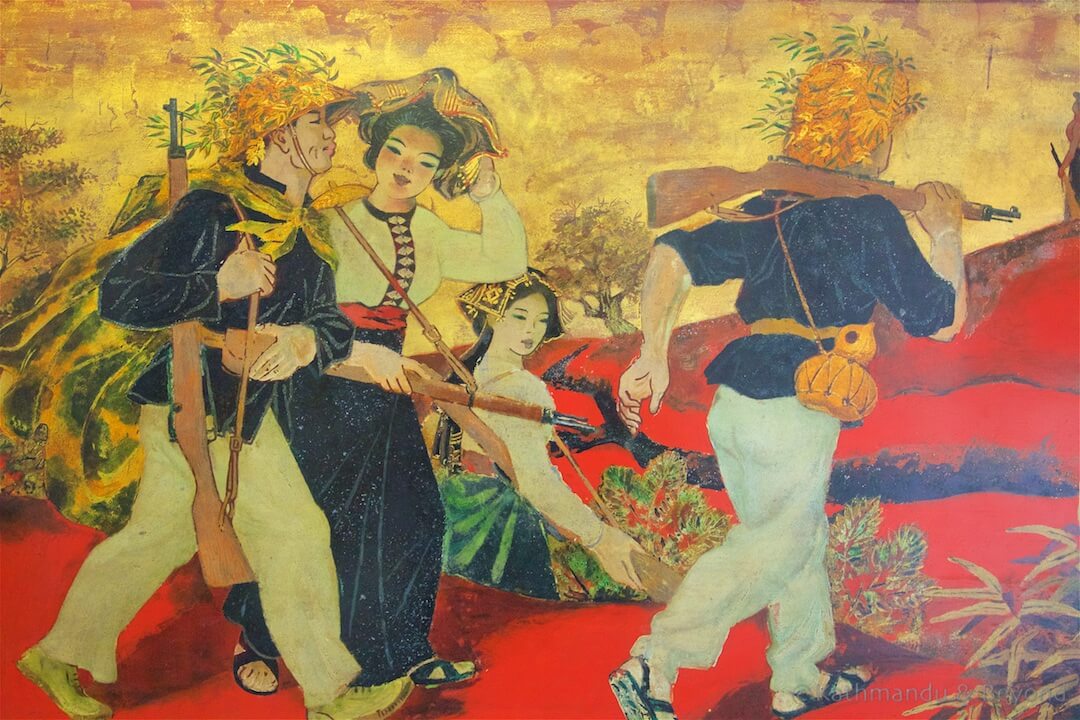 As an aside, when I was searching Combat Art on the internet, I discovered that the American military had their own set of artists who were tasked with creating pictorial records of the Vietnam War for the annals of American army military history. The U.S Army first used combat artists during the Second World War and established the Vietnam Combat Artists Program in 1966. Teams of five or so soldier artists would arrive in Vietnam and spend sixty days of temporary duty (TDY) travelling with various units, gathering information and making sketches. Upon their return from the combat zone, they would complete their work and then presumably pass it on to the appropriate authorities. The well-known artist, James Pollock (unrelated to Jackson Pollock), applied for a Vietnam Combat Artists Program assignment in 1967, got accepted and consequently served his TDY the same year. Much of his artwork went on display in museums and was also incorporated into various exhibitions after the war was over.
The first painting in this gallery is Vietnam Combat Art by James Pollock, 1967.




Vietnam Combat Art by James Pollock
As far as I know, there is no work by American artists on display at the Fine Arts Museum in Ho Chi Minh City.
Some of the sculptures and statues dotted around the museum can be seen in this gallery …





Fine Arts Museum in Ho Chi Minh City
If you want to learn more then consider joining one of Sophie's Art Tours. We haven't been on one yet but they come highly recommended and include a visit to a private home where, by all accounts, the owner has an impressive collection of Vietnamese Combat Art and also Propaganda Art.
Opening Hours and Entrance Cost
The Fine Arts Museum is located at 97A Pho Ðuc Chinh Street., District 1, Ho Chi Minh City and is open daily from 9am to 5pm (it used to be closed on Mondays but now appears to be open every day). The entrance fee is 30,000 VND for adults (approximately £1 / US$1.30). Children between the ages of 6 and 16 pay 15,000 VND and under-sixes go free. (This information is up to date in February 2020).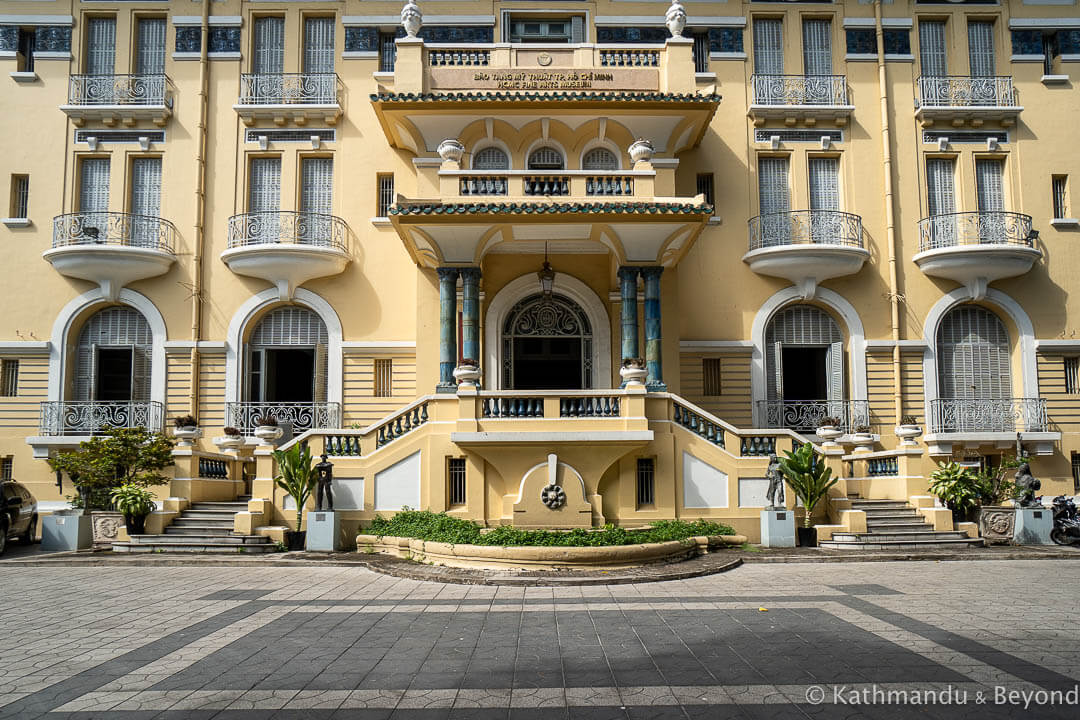 Fine Arts Museum in Ho Chi Minh City
---
---