Tracking down the last of the remaining Stalinist-style buildings and monuments left in Armenia, Georgia and Nagorno-Karabakh
Since our first visit to Eastern Europe in the Spring and Summer of 2014, I have become mildly obsessed with trying to find Socialist era structures when we are visiting former Soviet and Eastern Bloc countries. In Budapest, we headed out to Memento Park, a graveyard where many of the city's socialist realism statues have been laid to rest and in Bratislava, there were enough communist-era buildings and monuments still scattered around the city to justify a blog post solely on the subject.
The style dates back to when the Soviet Union was under the leadership of Joseph Stalin (late '20s to early '50s) and indeed other terms often used to describe this form of artistic expression include Stalinist architecture, Stalinist Empire style and Socialist Classicism. Structures, statues and memorials from this era are invariably stark, grey in appearance, large and generally always over the top and that is what I find fascinating about them.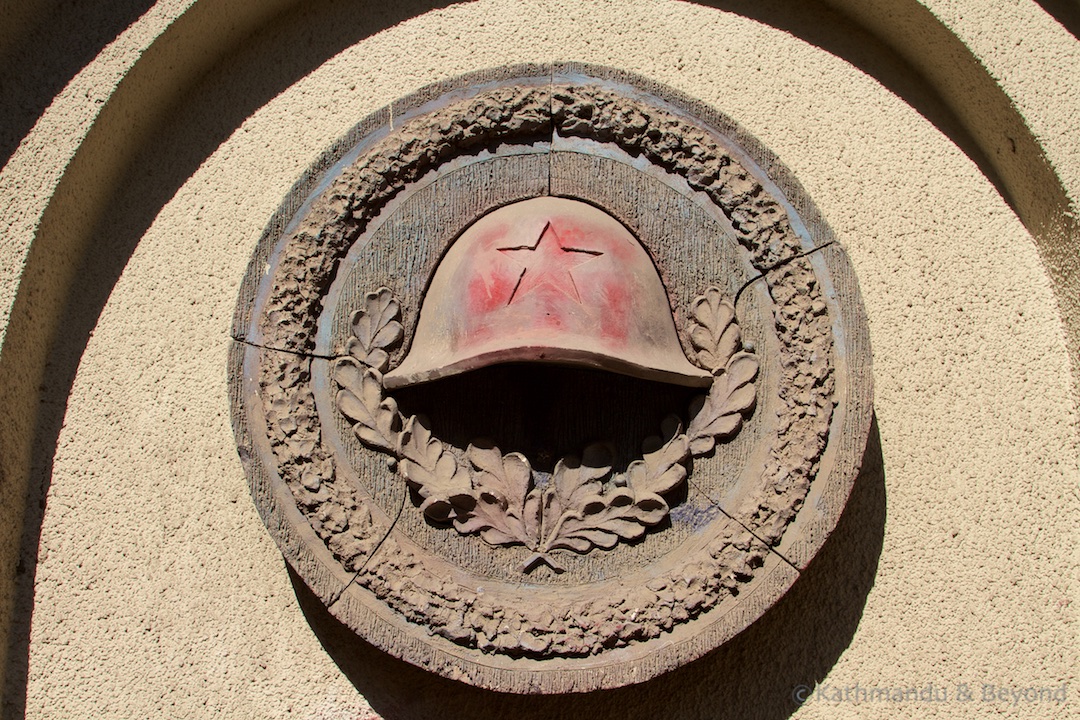 National Museum of Military Glory in Kutaisi, Georgia
So when we visited the Caucasus this summer (2015) I was keen to search out whatever we could find (*). These days that is harder than it sounds. Since the breakup of the USSR, many town and city planners throughout the former Soviet Union have decided that these socialist-era architectural legacies are unnecessary reminders of darker times when communist rule, oppression, and a general state of miserableness were the norm. As a result, many of these buildings and memorials have been knocked down or dismantled. You can't really blame anyone for taking this attitude but it does mean tracking down this style of architecture is harder than it was twenty-odd years ago. Luckily, the authors of the Lonely Planet Georgia, Armenia and Azerbaijan guidebook seem to have a bit of an obsession as well and there are numerous references throughout the book which did make finding whatever is left much easier.   
(*) I should add at this point that although Kirsty is happy to visit a nice piece of Socialist Realism if it is on our sightseeing route (for example a planned walking tour of a major city), she is not that impressed when I insist we make a long detour simply to see an ugly monstrosity that should have been knocked down years ago in her opinion (and probably that of the local residents as well).
Mother Armenia, Victory Park, Yerevan, Armenia
We saw three Mother statues during our visit to the Caucasus but this one in Yerevan was the most impressive. The Boss (Joseph Stalin) used to stand atop the huge base but was replaced by Mother Armenia in 1962. There is some war memorabilia, including a few tanks and a fighter jet, in the vicinity of the statue as well as a sorry-looking fun fair but the highlight of a visit (apart from the statue itself) is the superb views of Mount Ararat in the distance. Getting to/from Victory Park from the centre of Yerevan easy. It is too far to walk but there are plenty of marshrutka (shared minivans that run set routes) making the journey.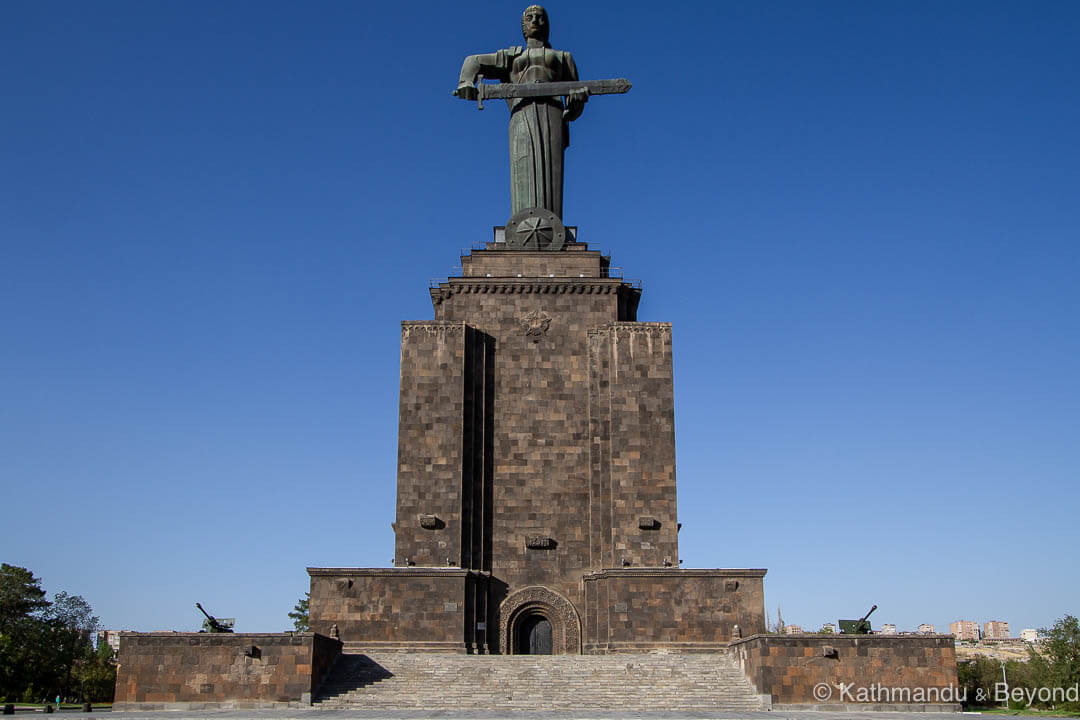 Mother Armenia Statue Victory Park in Yerevan
Russo Georgian Friendship Monument, Georgian Military Highway, Georgia
This crumbling structure is located at the highest point on the Georgian Military Highway, a mountainous road that goes from Tbilisi to Vladikavkaz in Russia and passes through Kazbegi, one of Georgia's most popular trekking and mountaineering regions, along the way.
As the name would suggest, the monument is dedicated to the friendship between the two nations (no doubt Russia's idea!) and depicts historic events from Georgian and Russian history. If you travel by marshrutka between Tbilisi and Kazbegi you will just pass by the monument but if you want to stop to take a look you either need to be in your own car or take a shared taxi. The later only costs a few dollars more and the taxi driver will also stop at Ananuri fortress and Assumption Church, a very scenic destination as seen on the front cover of the current Lonely Planet Georgia, Armenia and Azerbaijan guidebook.
Russian Georgian Friendship Monument Georgian Military Highway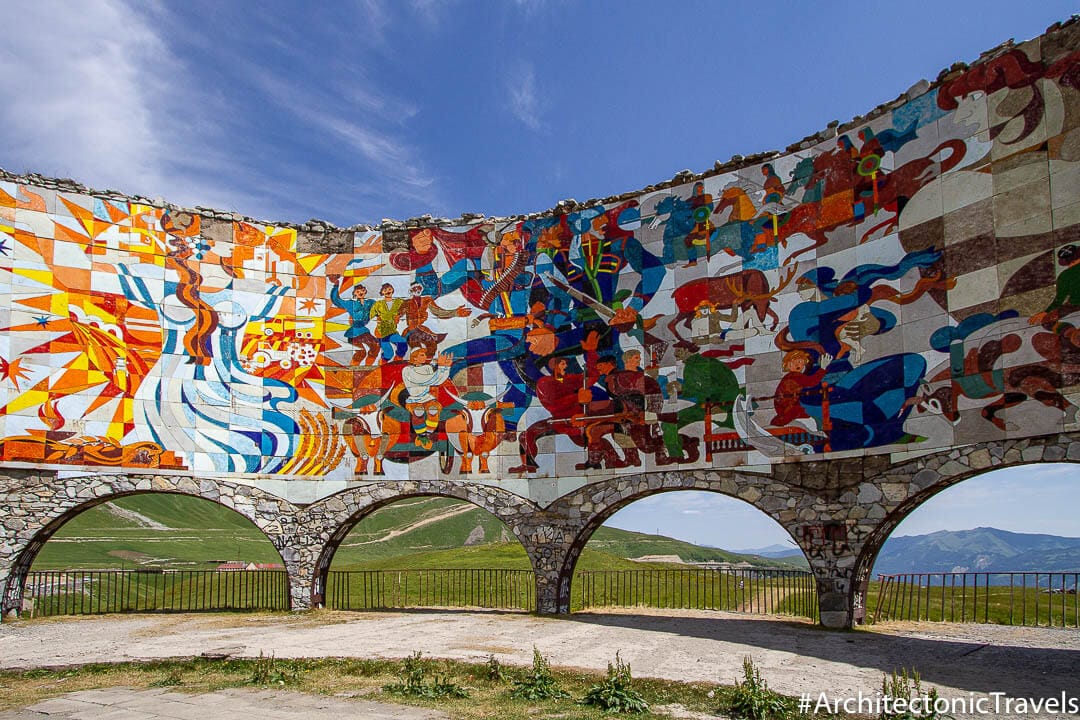 Russian Georgian Friendship Monument Georgian Military Highway
Monument to World War II, Shushi, Nagorno-Karabakh
Located on the outskirts of town, this monument to WWII was erected during Soviet times. Note the bullet holes, no doubt inflicted during the Karabakh war which took place between the early 1980s and mid-1990s. The Monument is walking distance from the centre of town, on the route to Stepanakert.
Monument to the Great Patriotic War (World War II)
Soviet Soldier statue, Stepanavan, Armenia
I cannot find any reference to this statue but it is typical of Socialist Classicism (*), with the manly soldier heading off into the distance carrying the vulnerable child. This statue is located in the backstreets of Stepanavan, walking distance from the main square.
(*) Does anyone else think this is a really cool phrase? It rolls off the tongue.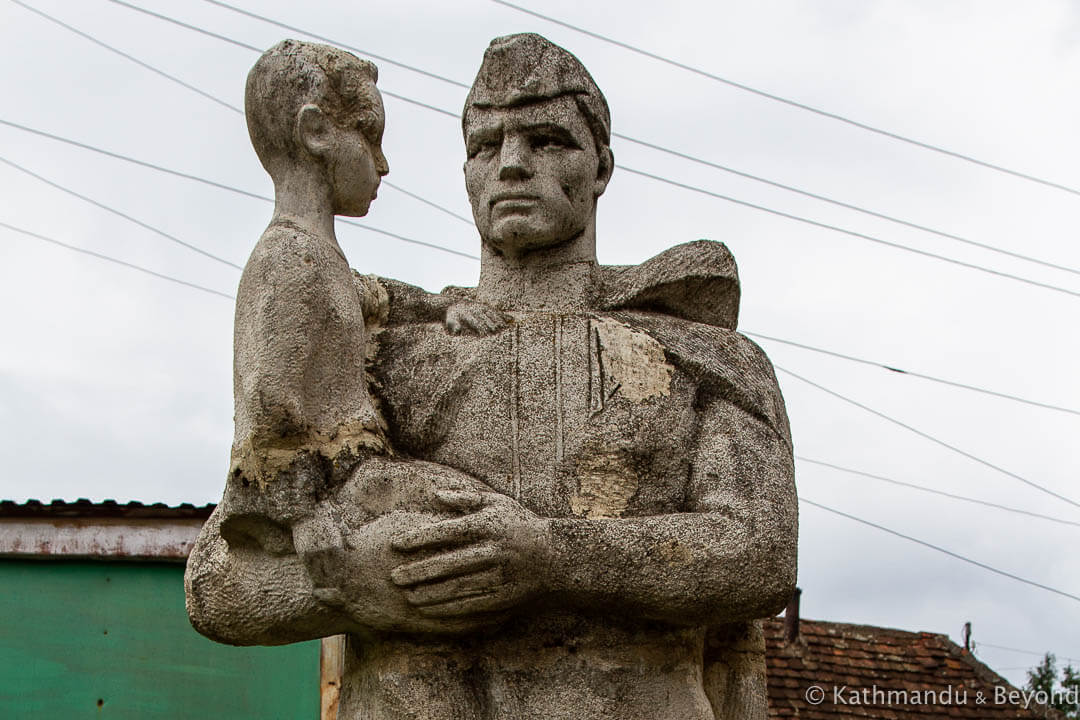 Soviet soldier in Stepanavan
Central Market, Kutaisi, Georgia
We don't see many markets like this on our travels. It is normally the interior that is the interesting part of a market but this is not the case in Kutaisi. Packed with ornate relief, I couldn't get enough of this building and spent ages perusing the exterior whilst Kirsty poked about inside. The market is in the centre of Kutaisi, near the park and easy to find and one has to wonder who had the time, the money, and the incentive to build such a structure just for a marketplace?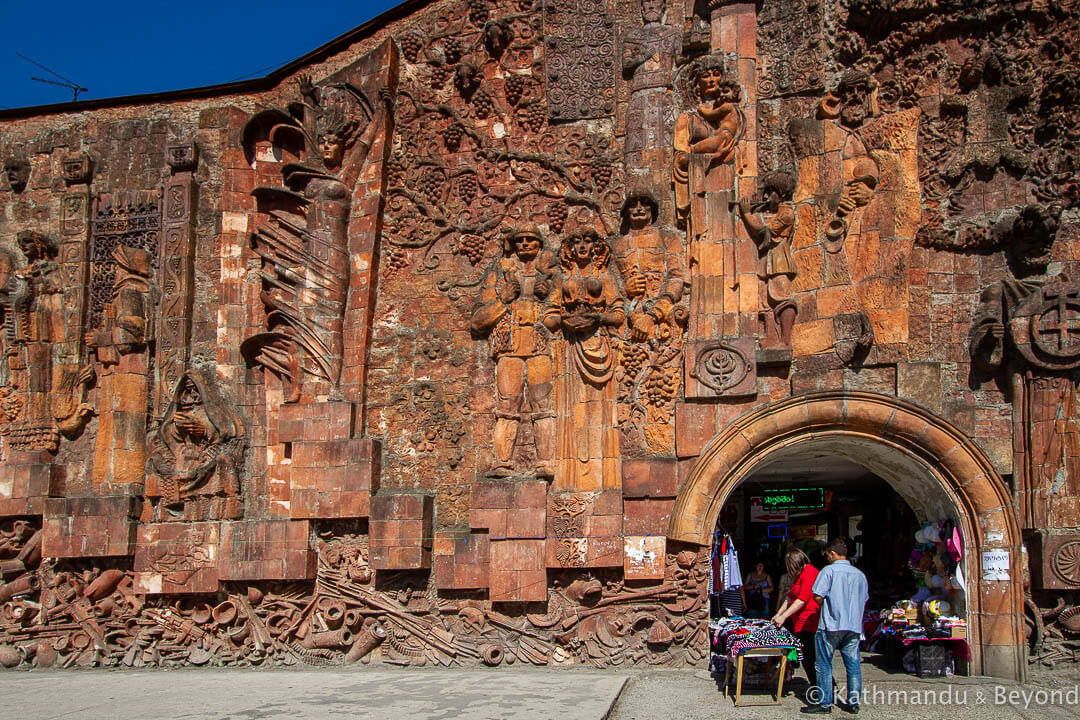 Above: Green Market in Kutaisi 
Hammer and Sickle monument, Shushi, Nagorno-Karabakh
Located outside Shushi on the road to Shuka, I don't know why this monument was erected but I hazard a guess that it has something to do with communism given that its centrepiece is a dirty great big hammer and sickle! You need your own transport to see this memorial. We spotted it when we were heading toward scenic Hunot Gorge with its brilliant umbrella-shaped waterfall.
Hammer and Sickle monument
Bus station, Vanadzor, Armenia
We had to change buses twice in Vanadzor during our time in Armenia. We saw quite a few bus stations like this throughout the Caucasus but I never thought to or alternatively had the time to get out our camera. I like the curtained ticket booths in the interior shot, very 1960s.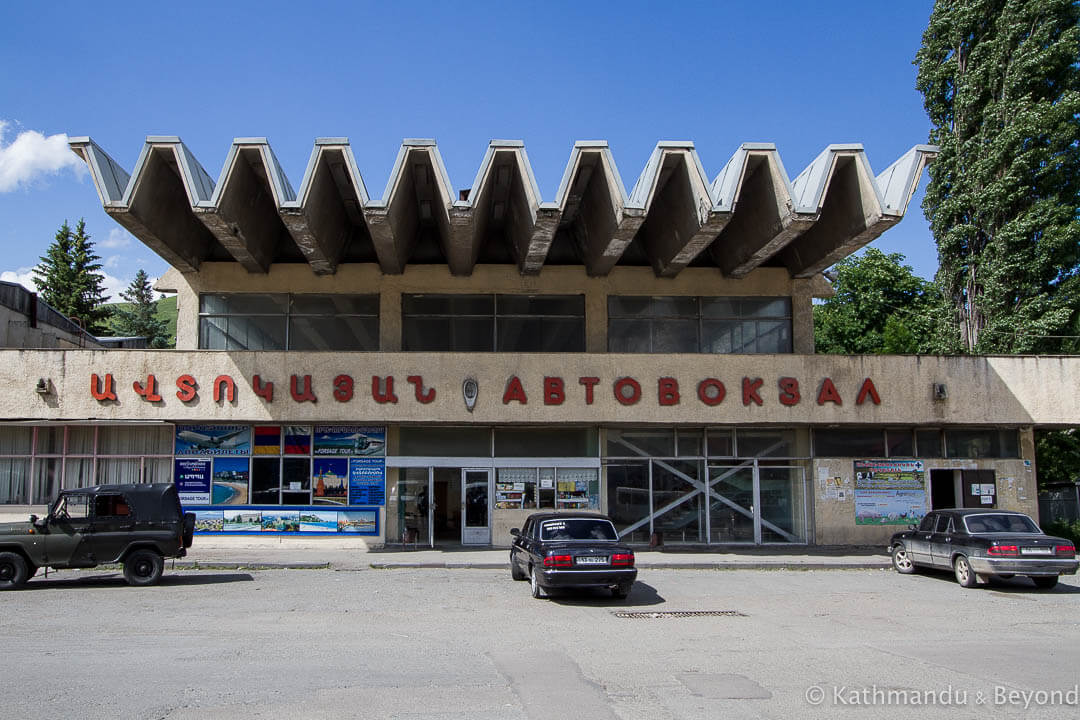 Vanadzor Bus Station (exterior)
Vanadzor Bus Station (interior)
Mother Georgia, Tbilisi, Georgia
Erected in 1958 to celebrate the 1500th anniversary of Tbilisi, Kartlis Deda (as she is commonly known) is made of aluminium and is twenty metres in height. Dressed in national costume, she holds a bowl of wine in one hand (to welcome friends) and a sword in the other (to ward off enemies). Located on Sololaki Hill, getting close to her involves either a steep but enjoyable walk up through the old town of Tbilisi or a fun ride on the city's aerial tramway. She is a national symbol of Georgia but take note that photographing her full length is difficult because she is surrounded by high shrubbery.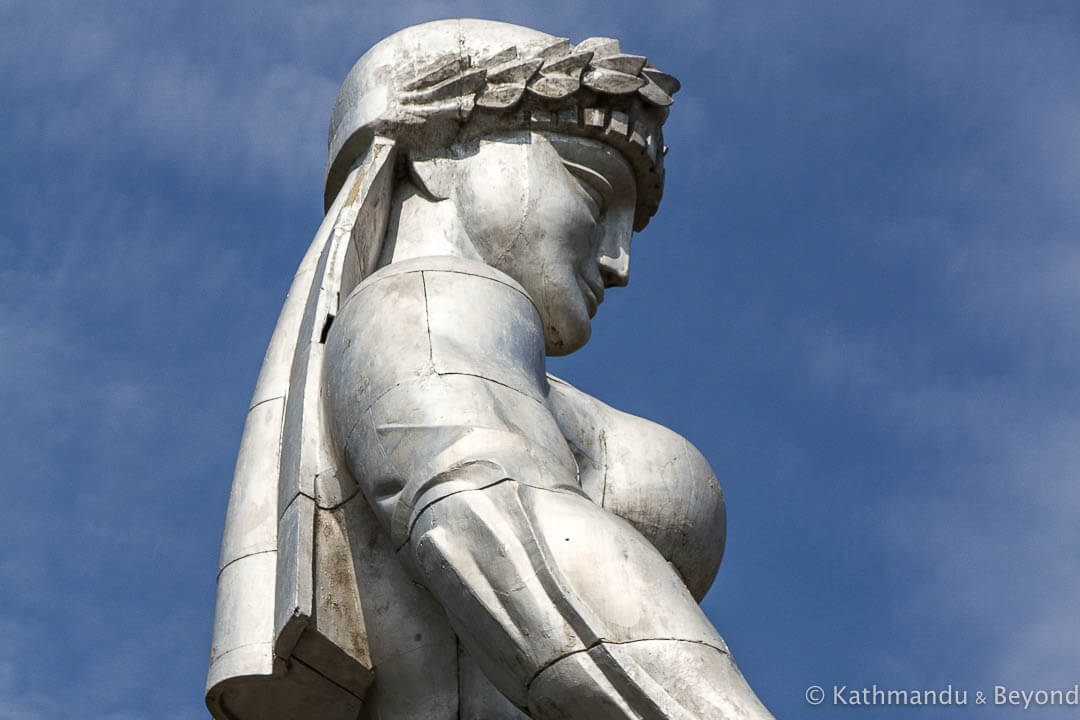 Mother Georgia Statue in Tbilisi
Abandoned theatre in Shushi, Nagorno-Karabakh
Destroyed during the Karabakh War, only the facade remains of what we assumed was once a wonderful socialist-era theatre. It is one of the few ruined buildings left in Shushi to have retained its colour (Shushi is a very grey city) and poking around the back unearthed some ornate furnaces that must have been used to heat the building during performances. There was also plenty of dog shit and empty beer bottles!  The theatre is a short walk from the cathedral, just behind the Shushi Grand Hotel.
The former theatre in Shushi
Statue, Kutaisi, Georgia
Easy to find, this classic piece of Socialist Classicism (*) is just across the river and close to Kutaisi's central market.
(*) Got it in again!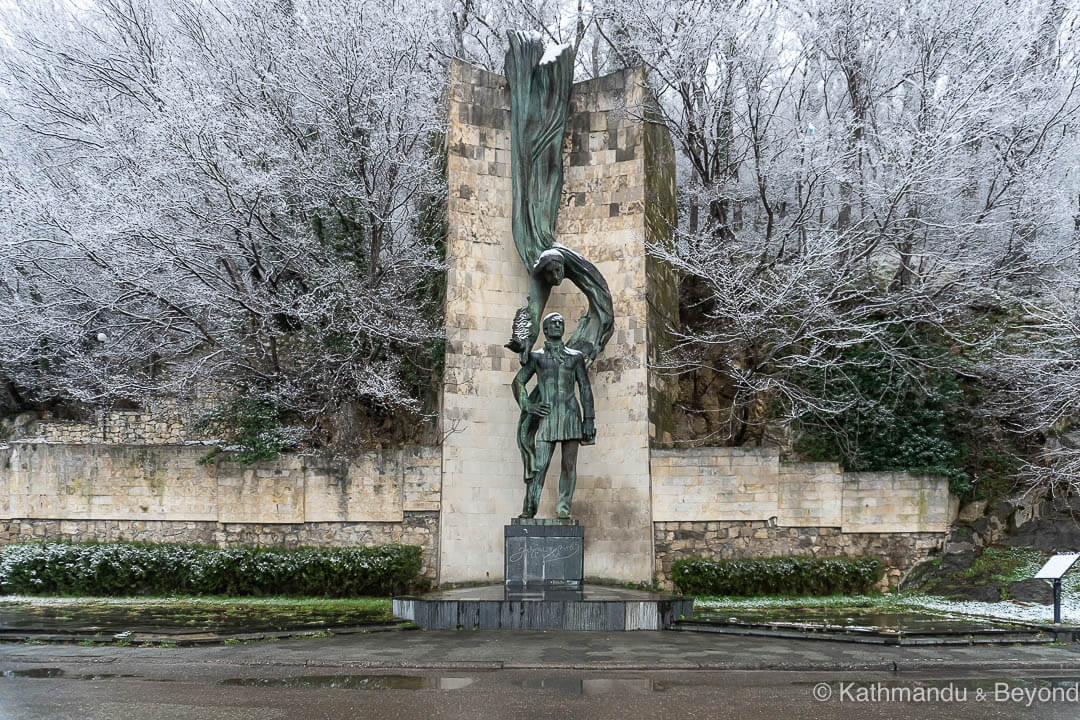 Kutaisi
Mother Armenia, Gyumri, Armenia
This was the second Mother Armenia statue that we saw in the country. This one is located on the outskirts of Gyumri, opposite the city's Black Sentry Fort. Erected in 1975, she resembles her older (and bigger) sister in Yerevan and looks out defiantly towards Turkey. She is pretty aggressive looking and given the relationship between the two countries, it wouldn't have surprised me if the statue had been giving Turkey The Finger!
Being located on the outskirts of town and a bit of a hike from the centre, this was the only structure we went to see that had Kirsty bemoaning a bit about the time and effort it took to get there. I guess you could have got a marshrutka to it, in fact I know you could as we saw them pass us by, but we didn't know which one(s) went there so we ended up walking in the blistering afternoon sunshine. The sun, by the way, is the reason that we only have a photo of the back of the statue – it was in the wrong position for a full frontal.


Mother Armenia in Gyumri
Stalin Museum, Gori, Georgia
No article on Socialist-era architecture in the Caucasus would be complete without a mention of the Stalin Museum in Gori. You may or may not know that Uncle Joe (yet another, albeit rather nauseous, nickname bestowed on Joseph Stalin) was born in Gori and this museum is dedicated to his life and 'achievements'. The museum was erected in 1957 but over the years it has lost many of its Soviet-era characteristics including the large statue of Stalin in Gori's central square which was dismantled by the authorities in 2010 under the cover of darkness (*).
(*) Unbelievably, there are still folk in Georgia and in particular in Gori, who admire the 'local boy who done good' so the statue was taken down with the minimum of public attention.
The exterior of the Stalin Museum in Gori



Exhibits inside the Stalin Museum in Gori
Although the building itself was not that interesting architecturally, the museum within was. Inside there was all manner of memorabilia including objects from his childhood, gifts and presents from other world leaders and even an eerie death mask, one of twelve that were produced shortly after he died. But for us, the most shocking (and amusing) part of the museum was the gift shop that was well stocked with Stalin key rings, mugs (Best Dictator in the World perhaps?), pipes, Zippo lighters, watches (with Uncle Joe on the face) and last but not least Uncle Joe t-shirts. Honestly, how could you get away with wearing a t-shirt with Stalin on it in this day and age? Somebody somewhere must be walking around wearing one as they were selling like hotcakes!


The gift shop at the Stalin Museum in Gori
Getting to the museum from the bus station in Gori is easy, just ask anyone for directions. Gori is only an hour's drive from Tbilisi and therefore an easy day trip. We stopped at Gori en route between Kutaisi and Tbilisi which is another option.
That concludes my blog about Socialist stuff in the Caucasus. If anybody has information about anything else not mentioned here, or a favourite building from this era, I would be very interested to hear from you.
---
---