How to spend a few days in Riga, Latvia
Riga is a great city. I mentioned in a previous blog that we enjoyed our time in Vilnius but Riga was our overall most-liked city in the Baltic States. I still stand by this assertion. Architecturally, the Old Town and the Quiet Centre are superb and we enjoyed strolling through both. The sun shone throughout our entire stay and we even managed a quick visit to the seaside.
Here's a review on some of the things we saw and did during our stay in the city.
Walking tour of Old Riga
Put simply, Riga's Old Town is stunning. It's full of wonderful architecture, atmospheric cafes and cobbled streets that lead everywhere and nowhere. We entered at the northeast corner of Old Riga to take a quick look at the Powder Tower before heading in a westerly direction towards St Jacob's Cathedral, where Latvia's first Lutheran service was held. From the cathedral, it's a short stroll to the historical Three Brothers, a complex of three colourful houses that showcase Riga's old architectural style. The next stop was the imposing Dome Square and Riga's enormous Dome Cathedral.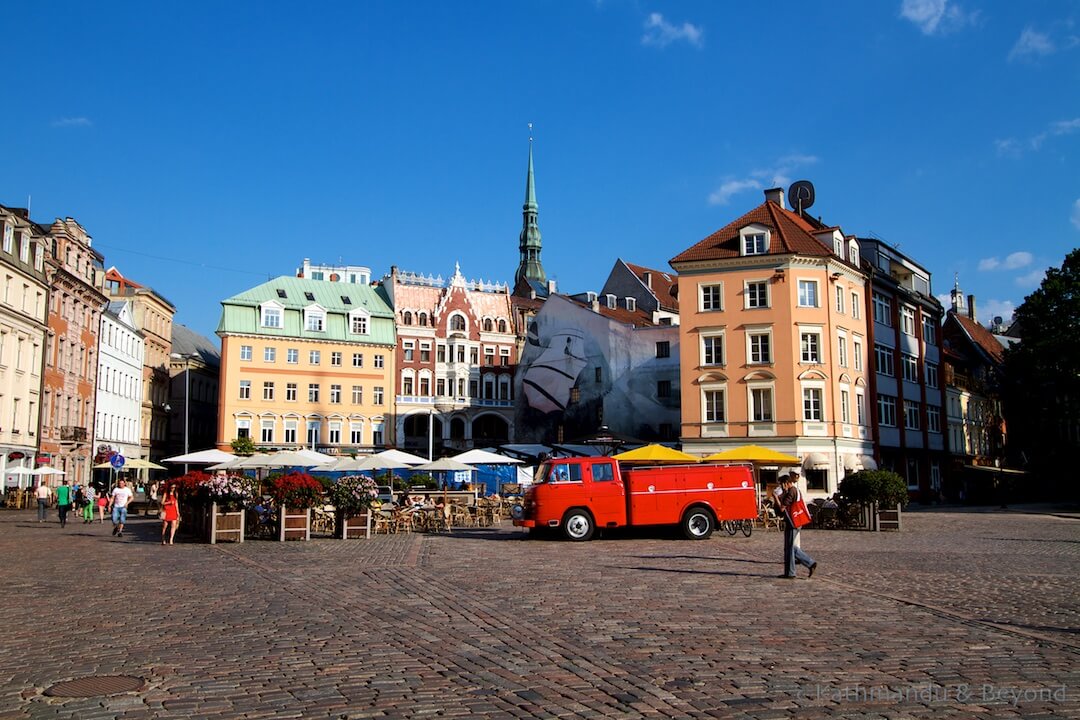 Doms Square, Riga
We were right in the centre of the Old Town by now and spent the next hour or so strolling through the backstreets and waiting patiently to photograph buildings and streets free of milling tourists like us.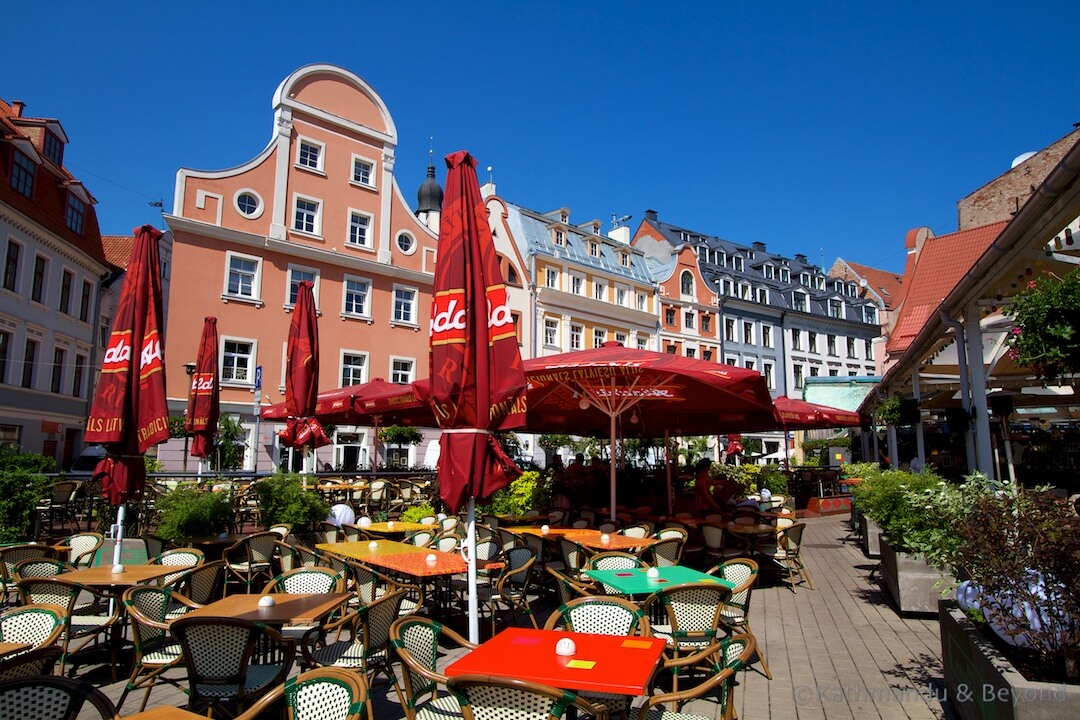 Riga's Old Town
For lunch, we headed to Pelmeni XL, a Riga institution that serves yummy bowls of pelmeni (a Russian-style ravioli stuffed with various fillings) before walking via Cat House (photo at the top of the post) to Ratslaukums (Town Hall Square) to see all the impressive buildings in this part of the Old Town.
We started with St Peter's Lutheran Church and the Town Hall itself before waiting (even more patiently) for a tourist-free shot of the House of the Blackheads, probably the most photographed building in all of Riga.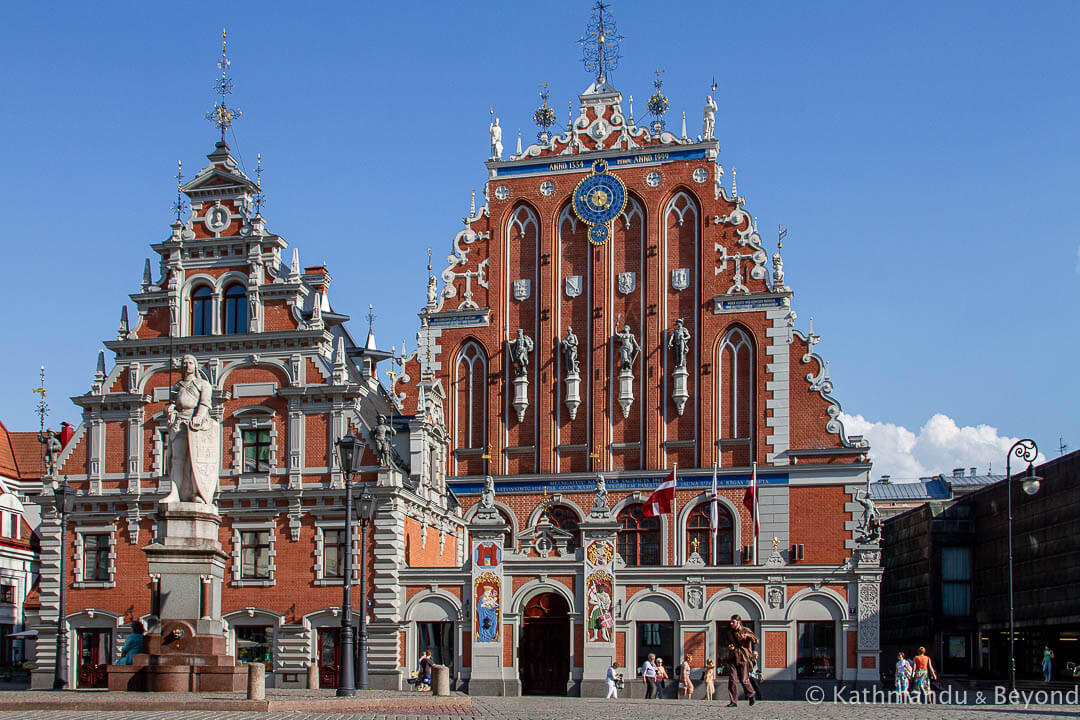 The House of Blackheads in Ratslaukums Square
We spent about 5 hours on our self-guided walking tour and this included a slight detour to see the huge Freedom Monument which is located just outside the limits of the Old Town.
But, as with most cities, there are options to make the tour longer. Nearby to the House of the Blackheads is the Museum of the Occupation of Latvia and there are plenty of additional museums scattered throughout Old Riga. Riga Castle would be worth a visit once it reopens (it was closed for renovation during our visit in 2014) and stopping for a couple of midafternoon beers in one of the many enticing pavement-side cafes would definitely extend the overall duration of any walking tour!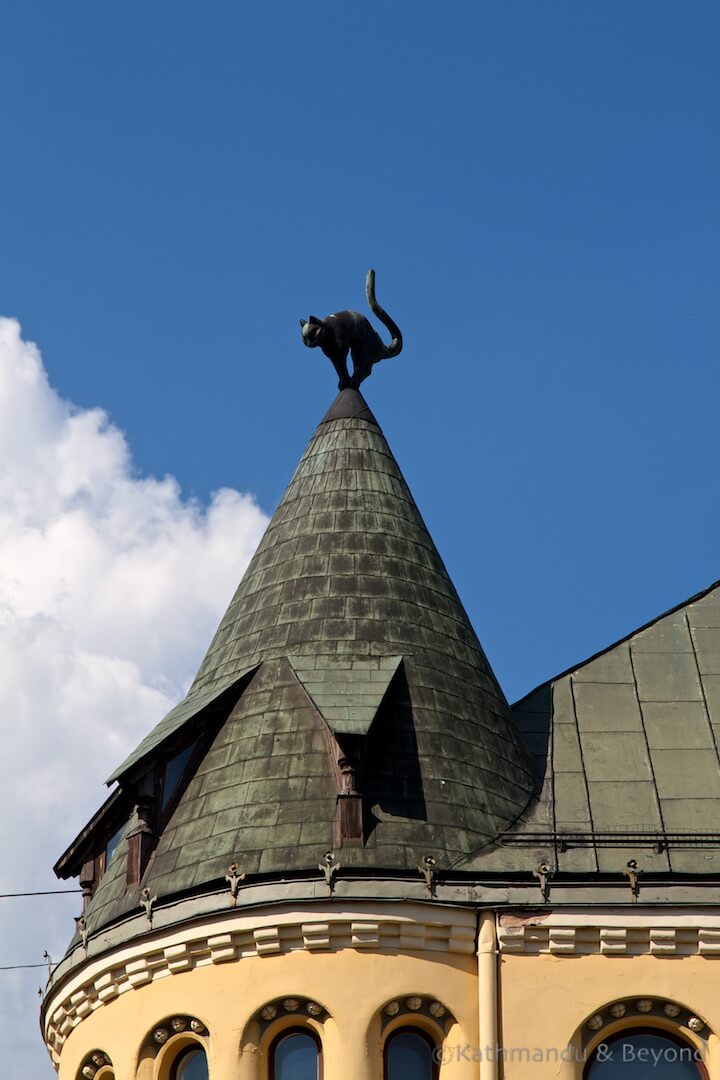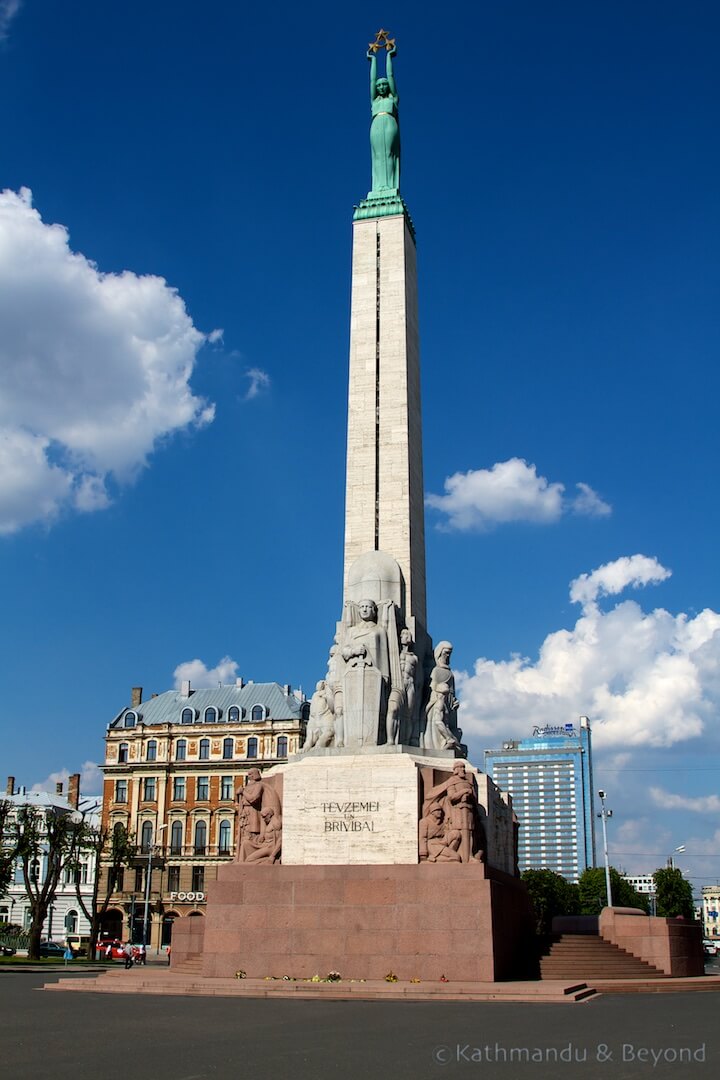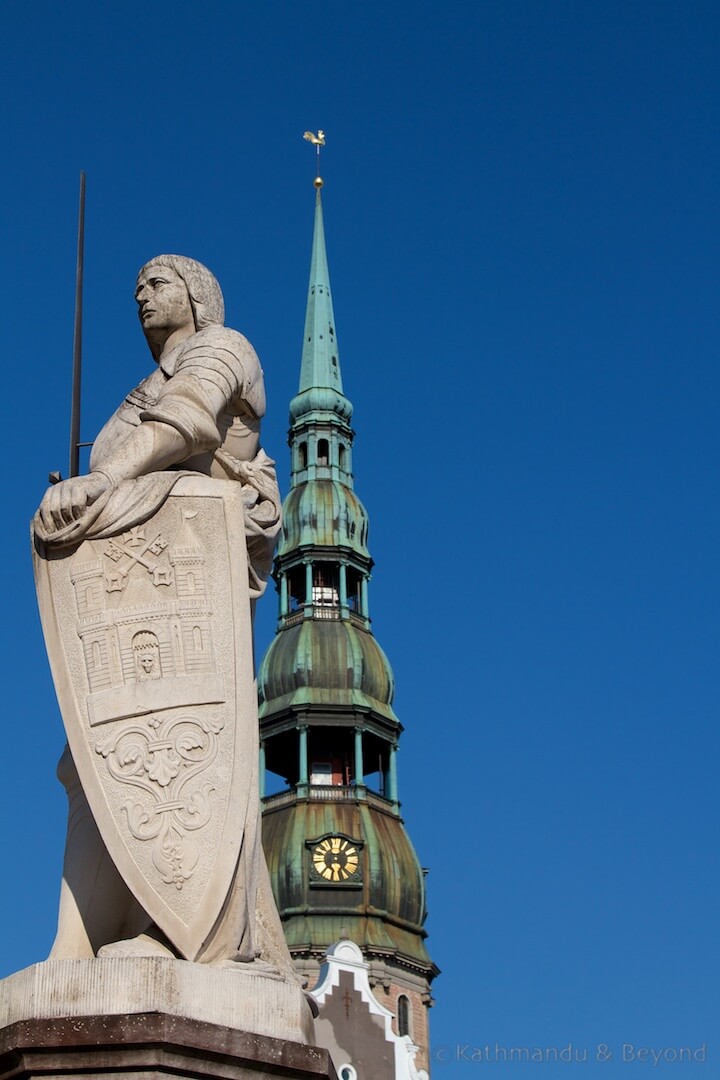 Above: the Cat House on Livu Square (left), Freedom Monument (centre) and Roland Statue on Ratslaukums Square (right)
Quiet Centre
North of Old Riga is the Quiet Centre. This leafy district of the city is art nouveau central and, like Old Riga, an essential 'must-see' on any Riga itinerary. In fact, the Quiet Centre is the largest area of art nouveau architecture in all Europe and even if the style is not your thing, it's hard not to be impressed. As the district is quite large, many of the art nouveau buildings are spread out but for a quick-fix head straight to Alberta iela (near the Riga Art Nouveau Centre), a quiet road packed with one art nouveau building after another. We also enjoyed strolling along Elizabetes iela near the north entrance to Kronvalda Parks, where yet more fine examples of art nouveau architecture can be seen.
Trams and buses connect the Quiet Centre with Old Riga. Alternatively, it is a pleasant 30-minute walk between the two via Kronvalda Parks.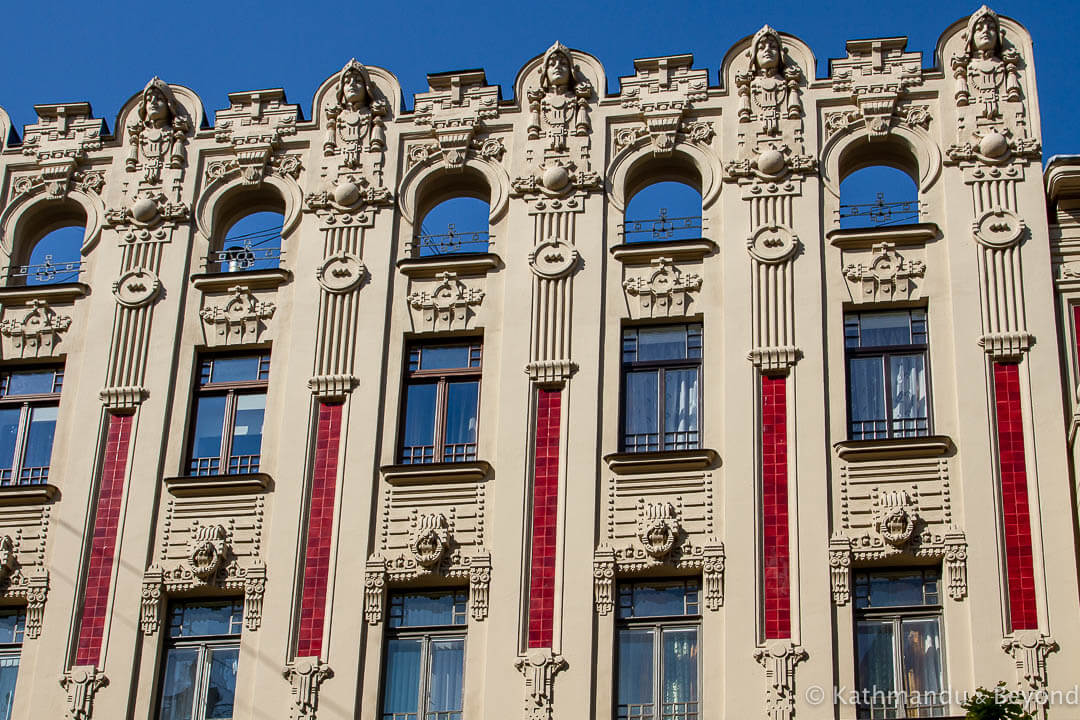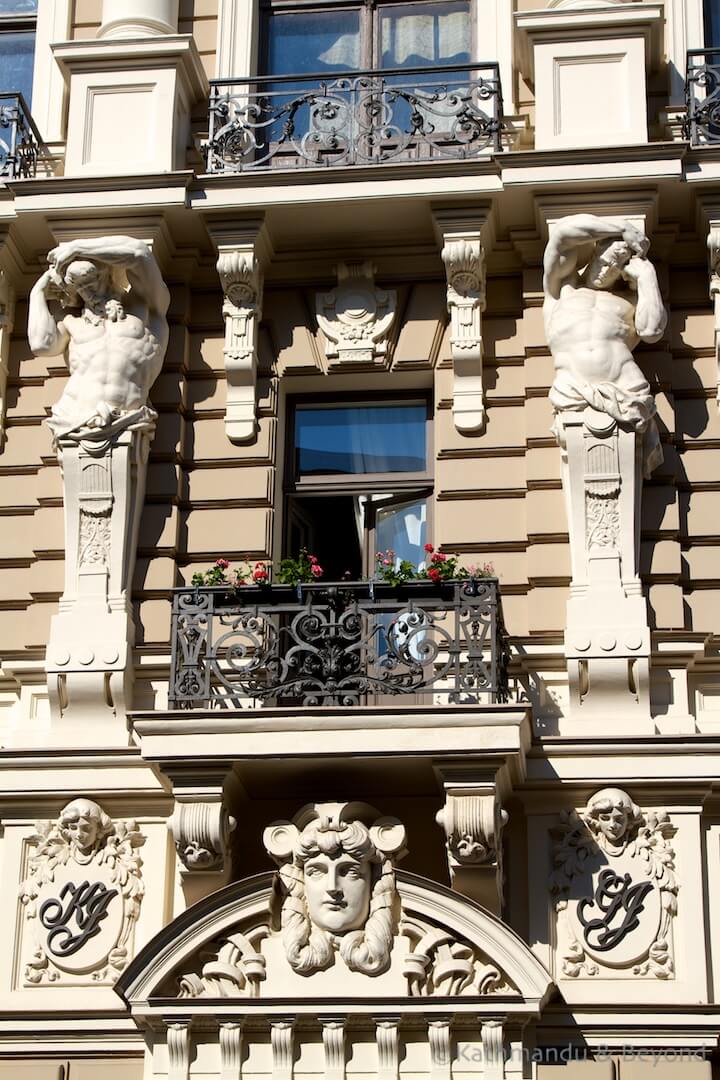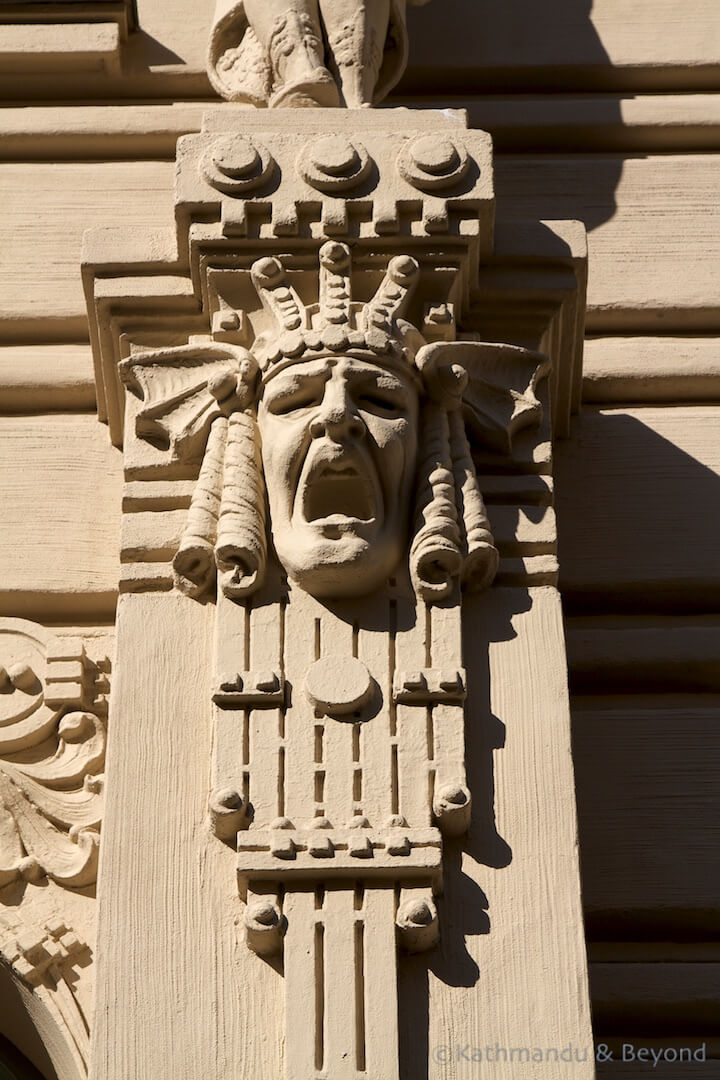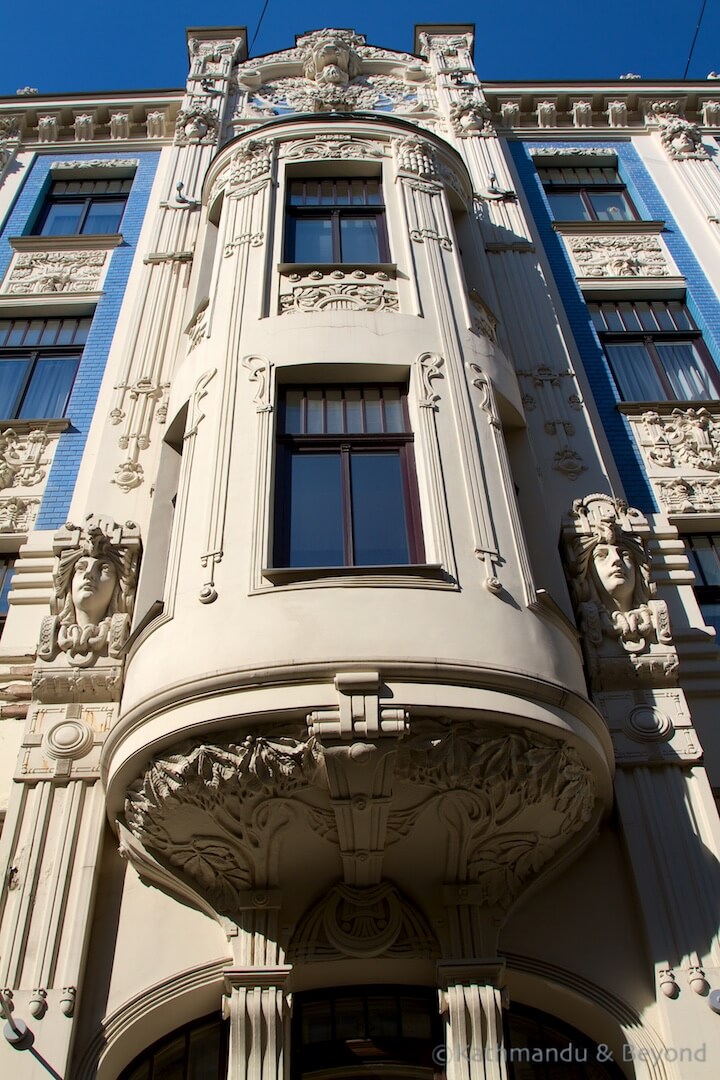 The Quiet Centre – Riga's Art Nouveau District
Central Market District
A world away from the fairy-tale-like Old Town and the elegant Quiet Centre, Central Market is where Rigans come to meet, shop, haggle and no doubt gossip. Located about a 15-minute walk south of Old Riga, the main structures of the market are a series of five Zeppelin hangers that date back to WWI. The market has to be one of the largest in Europe and it's a fun place to wander and people-watch for an hour or so.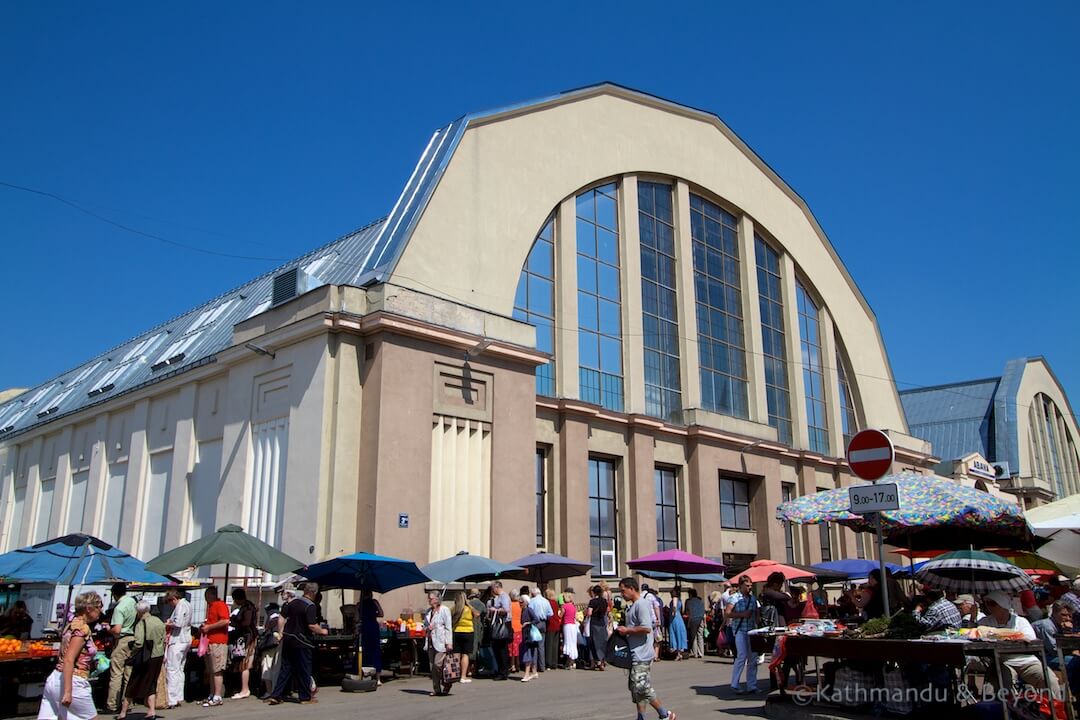 Central Market, Riga
There are a couple of other places of interest near Central Market. Behind the market is the high rise Latvian Academy of Sciences building. Think Empire State Building Soviet-style and you will be able to conjure up a good image of what the building looks like. some consider it a bit of an eyesore but if you like Soviet-era architecture (as we do) then it is worth going to see. Local nicknames for the building include 'Stalin's Birthday Cake' and 'the Kremlin'. The best time to photograph it is in the late afternoon.
Latvian Academy of Sciences
We also visited the Riga Ghetto and Latvian Holocaust Museum, which was not too far from the market. More of a monument than a museum, it was nonetheless interesting to visit.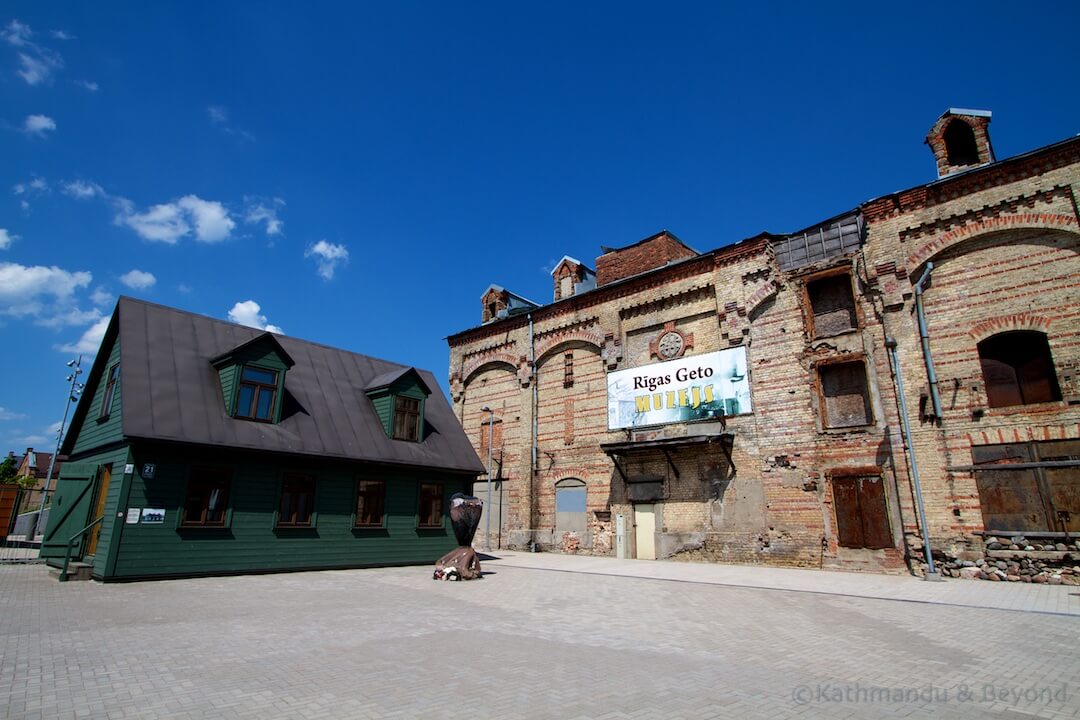 Riga Ghetto and Latvian Holocaust Museum
Next door to the market is the main Riga bus station and the railway station is only about 10 minutes' walk away so if you are planning any excursions out of the city, it's a good idea to visit the market and the surrounding area at the same time.
Jūrmala
During the Soviet period, the resort and spa town of Jūrmala was one of the holiday location of choice for high ranking Communist Party officials, including Leonid Brezhnev and Nikita Khrushchev. The beach at Jūrmala is very long and sandy plus there are several colourful wooden houses (mostly art nouveau) in the roads between the railway station and the beach but we weren't that impressed with Jūrmala and would only recommend coming here if you have plenty of time to spare. We certainly wouldn't sacrifice places of interest within the city itself in order to fit in a visit.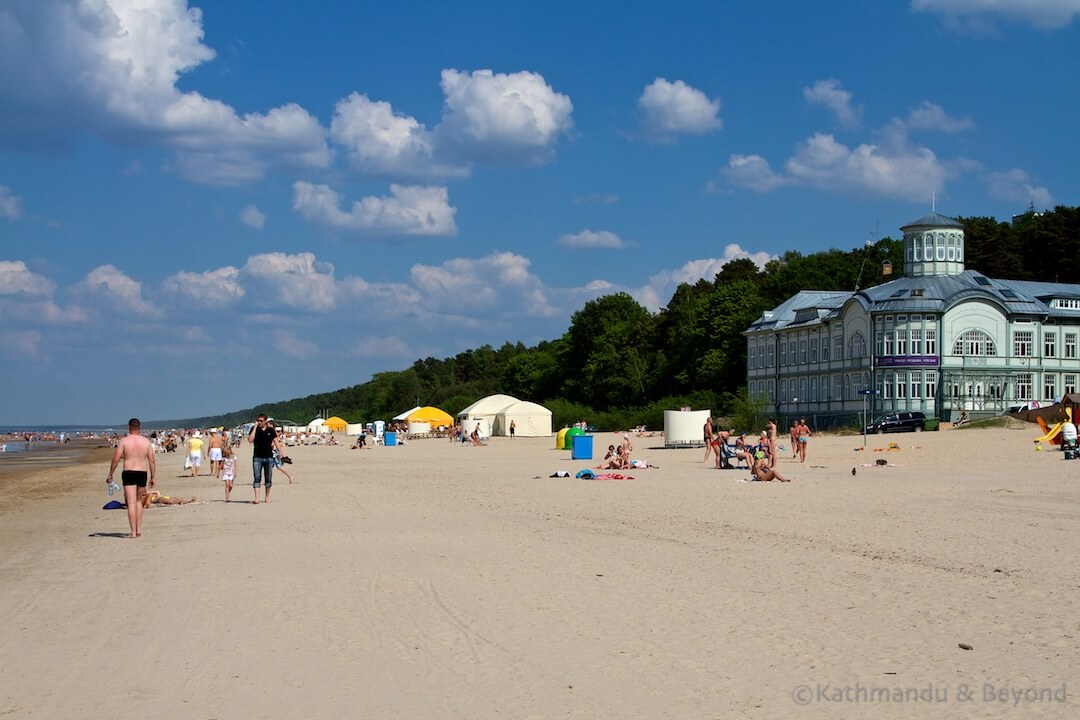 Majori Beach, Jurmala
Jūrmala is 25km west of Riga and the easiest way to get there is by train, of which there are two an hour and the journey time is 30 minutes in each direction.
Where we stayed in Riga
We decided to stay in the Quiet Centre. There were a couple of factors that influenced this decision. Firstly, it is cheaper to stay away from Old Riga and you also get more space for your money. Secondly, Riga has a reputation for partying and is a popular venue for stag (bachelor) and hen (bachelorette) weekends and without wanting to sound old before our time, we wanted to be located in a quiet area of the city (no pun intended).
This worked out great for us. We stayed at the Jakob Lenz Guesthouse in the Quiet Centre. Our large room cost us €33 per night and this included an excellent breakfast in the morning. We didn't have a private bathroom but only had to share the communal one with the occupants of another couple of rooms. We knew the location wasn't ideal for the Old Town and the railway station but the buses and trams were easy to use and the walk through Kronvalda Parks, as mentioned earlier, was a nice one.
---
Click here for more photographs of Latvia
---