Exploring the Street Art in Estonia's second city: Tartu
The current craze for street art is definitely on the rise and many local authorities are celebrating it, rather than removing it as soon as it appears. On our recent trip to Estonia we spent a couple of days in Tartu, the country's second city. It's a pleasant city with a large central plaza flanked with grand buildings and a reputation for being particularly vibrant because of its large student population. But while we were exploring we noticed a lot of street art dotted all over the city.
One of the first murals to grab our attention was this one which appears to depict the Hindu god Ganesh as a telly tubby, Buddha as an Irish leprechaun and a meditating Maggie from the Simpsons!
Title/Artist: Okeiko & Hypnobooster
Title/Artist: Okeiko & Hypnobooster
It turns out that most of the street art around the town has been painted as part of an annual festival called Stencibility. The festival has been held every year since 2010 and as a result the collection of colourful walls in Tartu is growing, and spreading into the suburbs.  The artwork above was painted as part of the 2013 festival.
According to Stencibility, the festival's organisers, the purpose of the event is "to give credit to street artists for their contributions enriching the public space, to raise the community's awareness and to bring attention to urban art and to enrich the cityscape with high-quality art".  It certainly does that.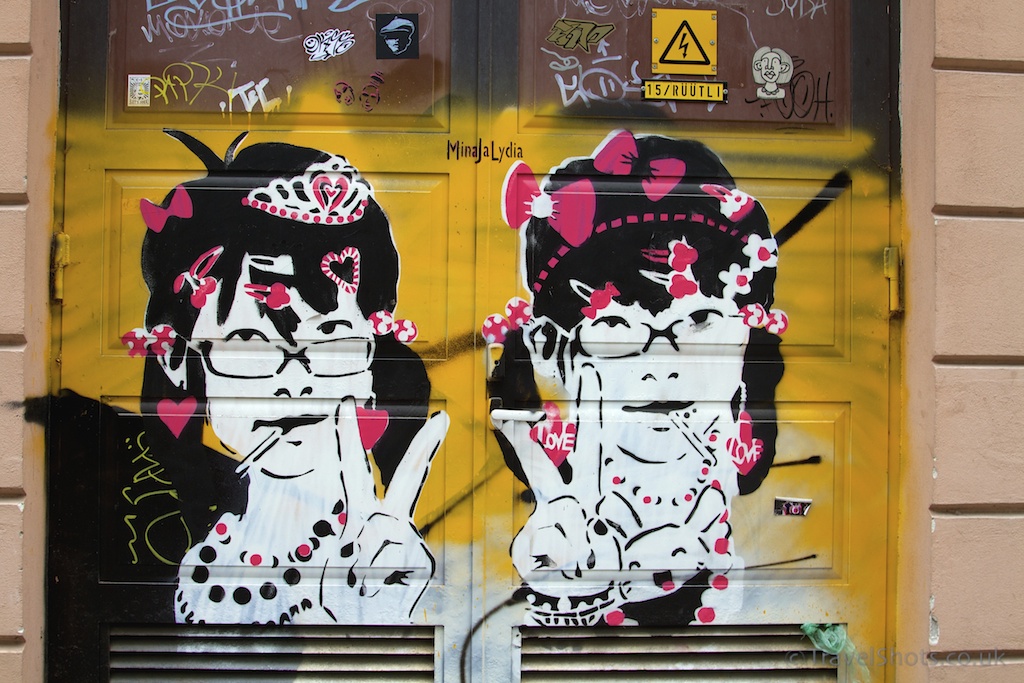 Title/Artist: Harajuku kaksikud
Title/Artist: Thobek and Kashink
There is a great map that you can pick up at many of the hostels in town showing the locations of some of the more impressive artworks but unfortunately, we found out about the map too late in our stay to take advantage of it. There is also a good online Google map version that can be found here. I wish we'd known about this before we randomly stumbled upon and looked around for more of Tartu's street art as there is so much more than we managed to see during our short visit.  There's always next time …
---
---