The off-the-beaten-path Czech city we nearly wrote off …
We almost gave up on the Czech Republic's third-largest city, Ostrava. We had arrived from Poland on a Sunday morning – the weather was awful and the place was deserted. It wasn't a good start and reminded me of how thankful I was for the introduction of Sunday opening hours in shops in England during the mid-'90s (*)
(*) I've always had a thing about Sundays, I dislike them wherever I am in the world. Many countries in Europe, for example France and Switzerland, completely shut down on a Sunday and Central America, where religious faith is still strong, is another example. I can't stand it and I, for one, was pleased when the 1994 UK Sunday Trading Act permitted shops in England and Wales to open and trade for a limited number of hours on a Sunday. It transformed English cities and towns and brought back some life to what has always been the most boring day of the week!

First impressions of Ostrava were not good. We could have moved on there and then, the Czech Republic is a small place and getting around is easy, but our hotel was pre-booked and we also had a train ticket to our next destination for the following morning so we decided to persevere.
We checked into our hotel, dumped our bags and decided to head out and explore. We didn't know much about Ostrava – there was no mention of it in either of our Lonely Planet guidebooks (neither Eastern Europe or Prague and the Czech Republic). It was recommended to us by a Polish friend of ours, and given that her previous recommendations had been good ones, we decided to give it a go.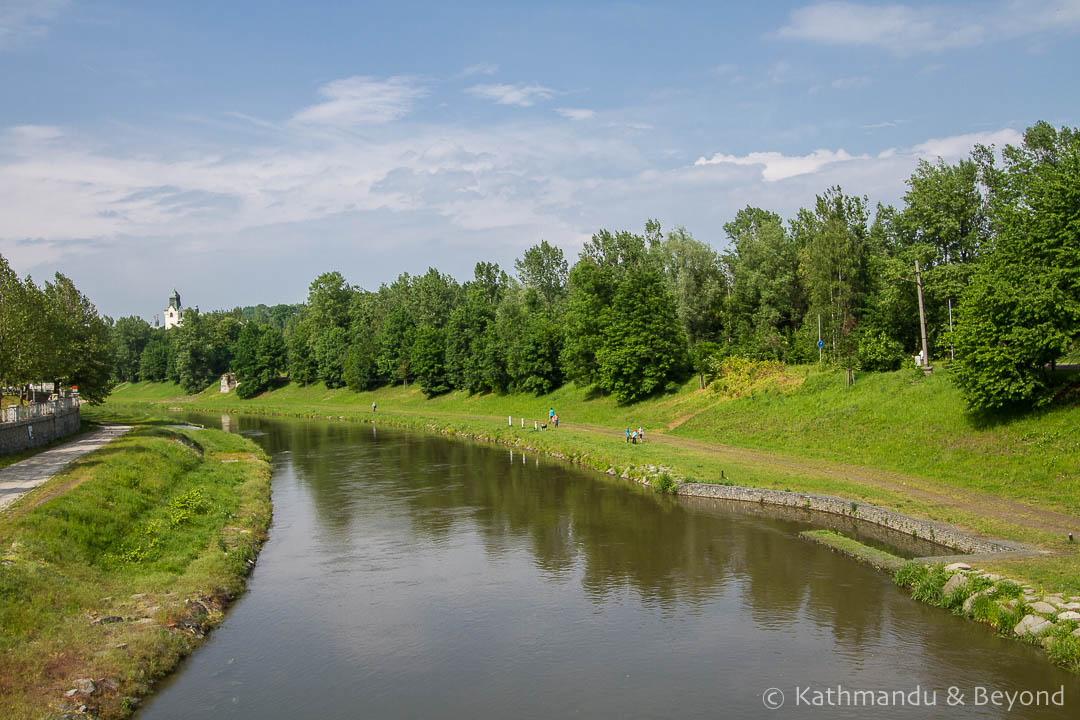 Ostravice River
Ostrava is about 370km east of Prague and just 15km from the Polish border. It came to prominence because of coal and developed into an important industrial centre in what was then Czechoslovakia. In the imminent years that followed the Velvet Revolution, a non-violent revolution that took place in 1989 and eventually led to the creation of two separate countries (Czech and Slovakia), the industry died out in Ostrava and the last coal was mined in the city in 1994.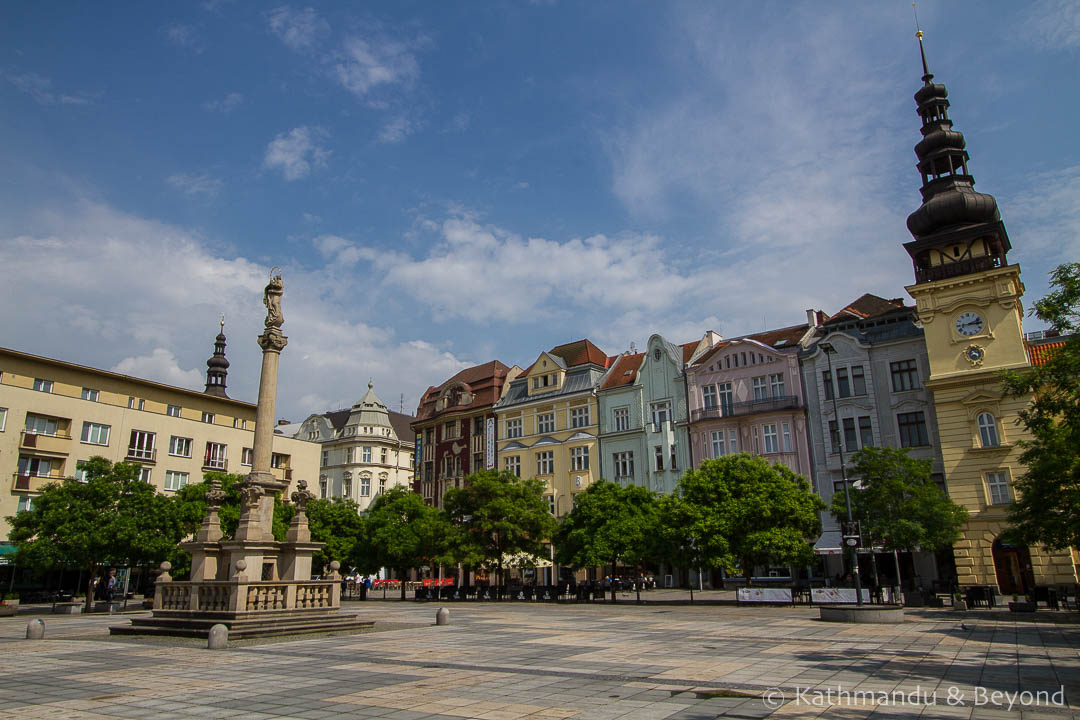 Masaryk Square 
We walked around for a few hours but in all honesty, weren't that impressed. The weather had cleared up, which was something, but the main square, Masaryk Square, was disappointing in comparison to the squares we had just seen in Poland. It was also lifeless but I'll put that down to it being a Sunday! We took a walk along the bank of the Ostravice River, looked around the city's castle and found a few Communist-era monuments and buildings to keep our interest alive but by 3pm we were done and decided to do what we normally do when we end up in a duff town – find a bar!



Socialist realism in Ostrava
We were leaving around 10am the next day (Monday) and I decided, given that the weather had been so volatile the day before, that I had enough time to head out and take a few more photos before we departed. One building that I did find interesting was the city's New Town Hall. Built between 1925 and 1930, it is the largest town hall complex in the Czech Republic and when open, it is possible to take a lift to the top of the building's clock tower. As I approached it to take some close up photos, I notice a sign pointing to the Tourist Information Centre. Now, we had been looking for this the previous afternoon. Google Maps had it in a completely different location and we simply couldn't find it and eventually gave up.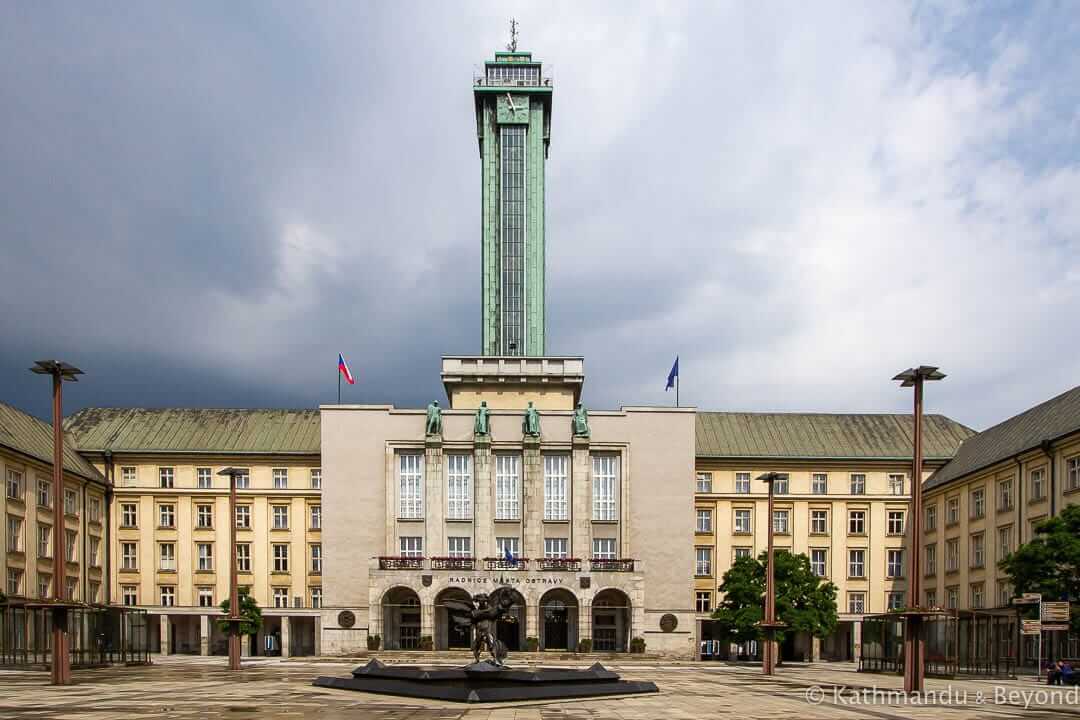 New Town Hall 
By all accounts, it had recently moved to inside the New Town Hall and I thought I've got time for a quick visit and so did exactly that. What I found was a brand spanking new office, packed with tourist literature and one of the most enthusiastic staff members I have met in a TIC since visiting Batumi in Georgia.
He asked me what we had seen so far in Ostrava and I told him. 'So you haven't been to Dolni Vitkovice?' 'No,' I replied. 'What, really – you have come to Ostrava and not visited the Dolni Vitkovice?' 'No,' I replied once more. 'I don't even know what the Dolni Vitkovice is.' I added. 'You don't know what the Dolni Vitkovice is!' he exclaimed. This went on for about 10 minutes, by which time I had worked out that we were about to leave Ostrava without seeing its premier attraction.
The Dolni Vitkovice, he explained, was basically a huge iron and coal-mining complex near the centre of the city that has been turned into an open-air museum. It sounded good and my interest in forfeiting our onward train tickets and remaining in Ostrava peaked even more when he further told me about Poruba, a district of Ostrava that was created by the communist authorities in the 1950s as a place of residence for the proletariat.
I gathered all the information necessary to visit both places, thanked the nice man for his help and headed back to the hotel to tell Kirsty we wouldn't be catching our onward train at 10am.
A Socialist-era housing estate and an abandoned steelworks – things were starting to look up. There was even life on the streets of Ostrava. I was beginning to like this place!
Poruba District
We visited Poruba first. We had been given an excellent map and leaflet from the man in the TIC and so knew what we are looking for. As an area, Poruba dates back to 14th century and, although it was close to the centre of Ostrava, remained largely agricultural until the industrial revolution took hold in the early 20th century. As Ostrava's industry took off, the then-government built social housing, in the form of several apartment buildings, in Poruba in order to accommodate workers arriving from other parts of the country. Hand in hand with the decline in industry, Poruba also went through a rough patch but lately, as with much of the city, it has been revitalised and is now home to more than 70,000 people.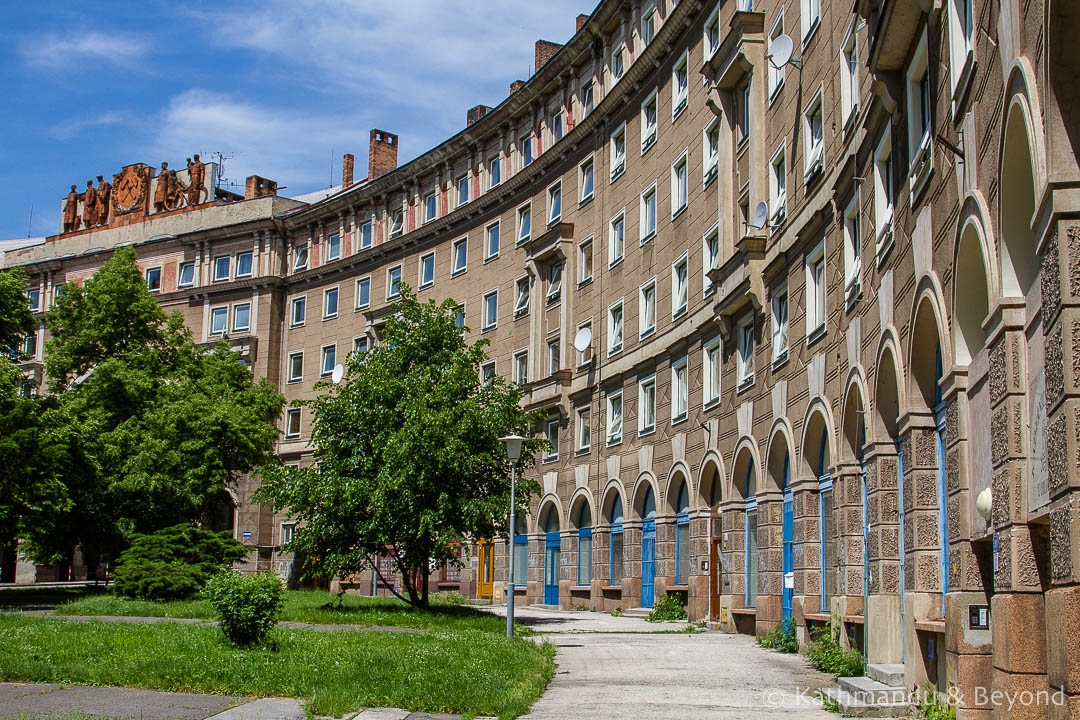 Poruba District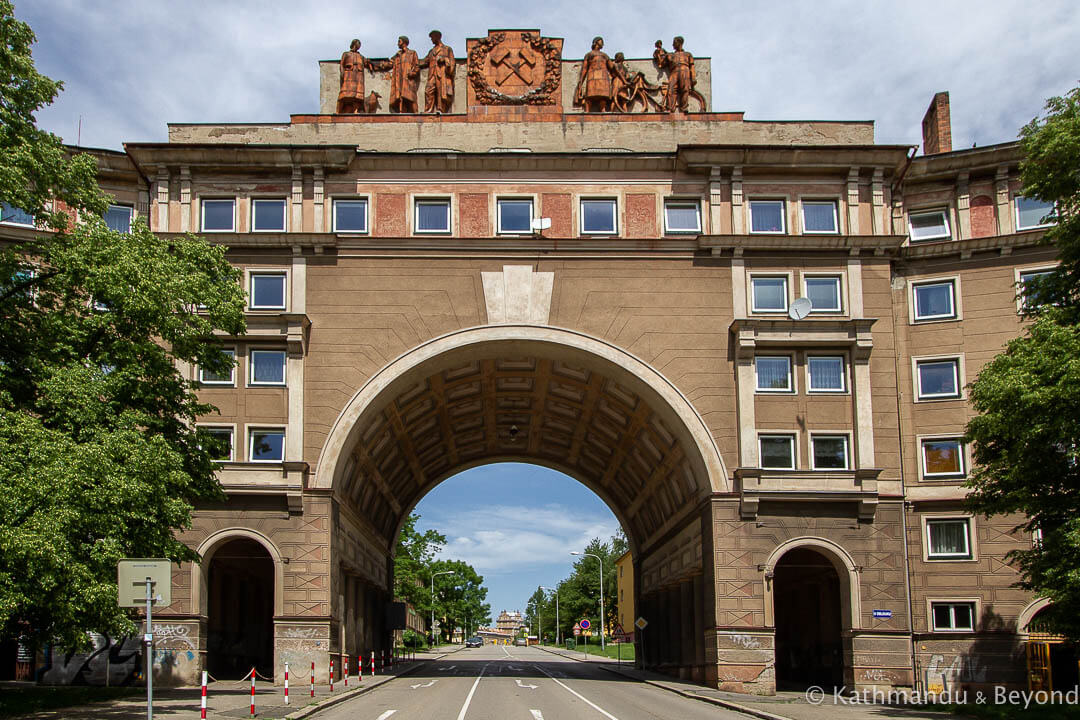 Poruba Arc


Socialist realism in Poruba District 
Quite a few of the buildings looked Stalinist in style, which would make sense given the time of their construction (the early 1950s). The guy from the TIC lived in Poruba and told us an interesting story about the buildings in the photo below. They are identical except that the one of the left of the photo has statues on the top of it while the one on the right does not. Apparently, an important Russian dignitary (it may even have been Nikita Khrushchev but I forgot to make an exact note of the name) was visiting the project during its construction and told the architects in charge that the design was far too ornate for the common people. The building on the left had already been completed but not so the one on the right and as a result, the same statues were never added to it.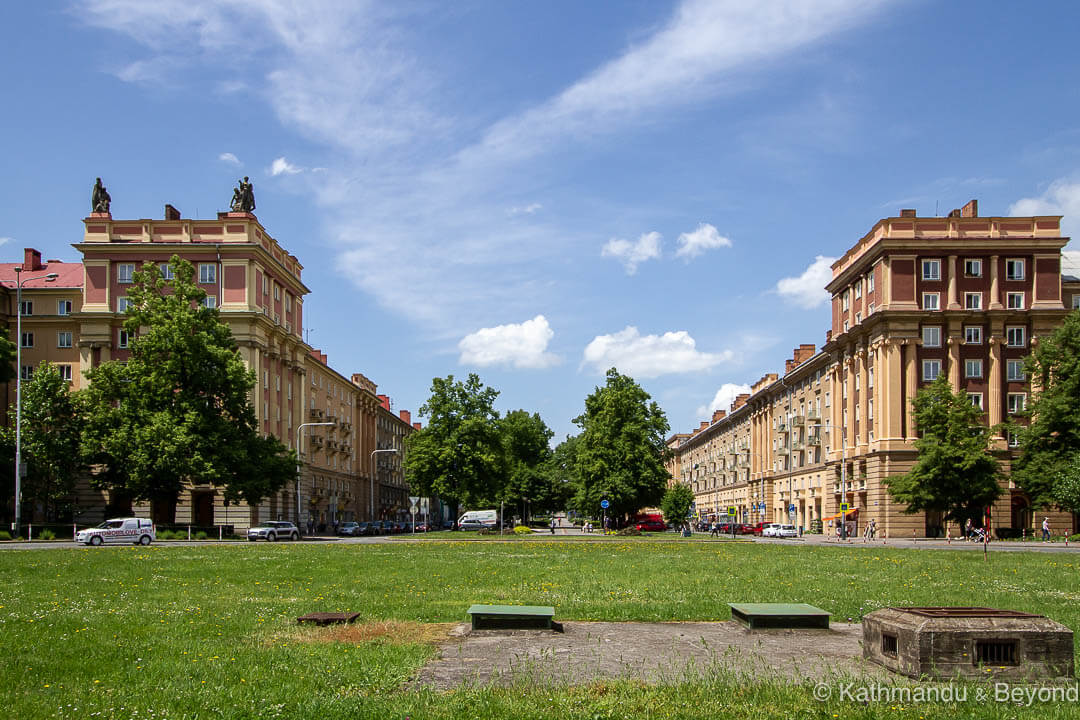 Poruba District


Poruba District 
Dolni Vitkovice Steel Works
After visiting Poruba, we took a tram back towards the city centre and visited the vast jumble of steel, furnaces and towers that make up the incredible Dolni Vitkovice. You are free to wander around large parts of the complex at ground level (and with no entrance fee) but to explore some of the restricted areas, such as the Bolt Tower and the blast furnace, you are required to join a guided tour. Details of timings and prices are listed on the Dolni Vitkovice website.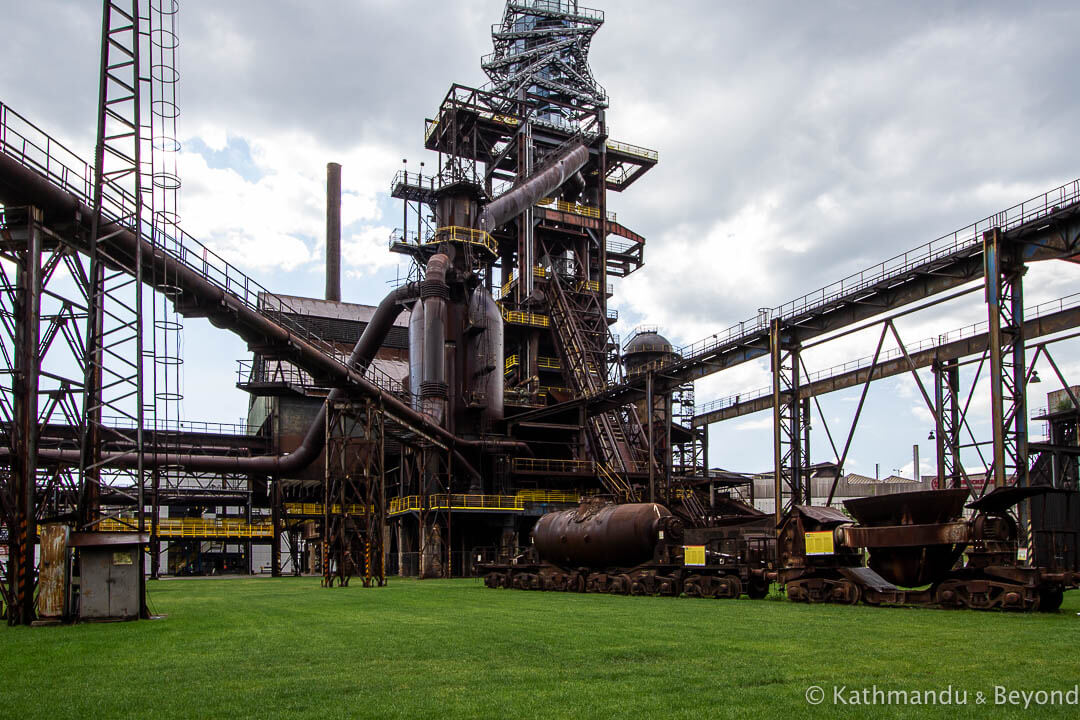 Dolni Vitkovice
Dolni Vitkovice really is a unique tourist attraction and great use of a once-derelict space. It is perfect for people of all ages, think Urbex (urban exploration) for beginners and it is currently being considered for UNESCO-World heritage status. The complex also hosts musical and cultural events including the annual Colours of Ostrava music festival.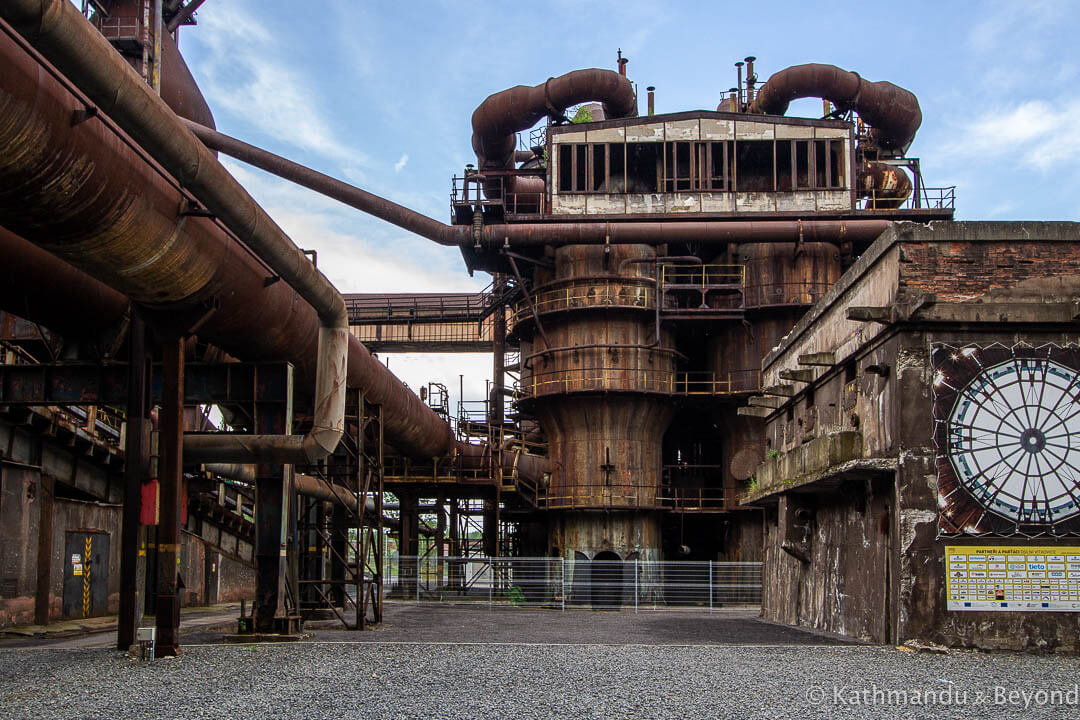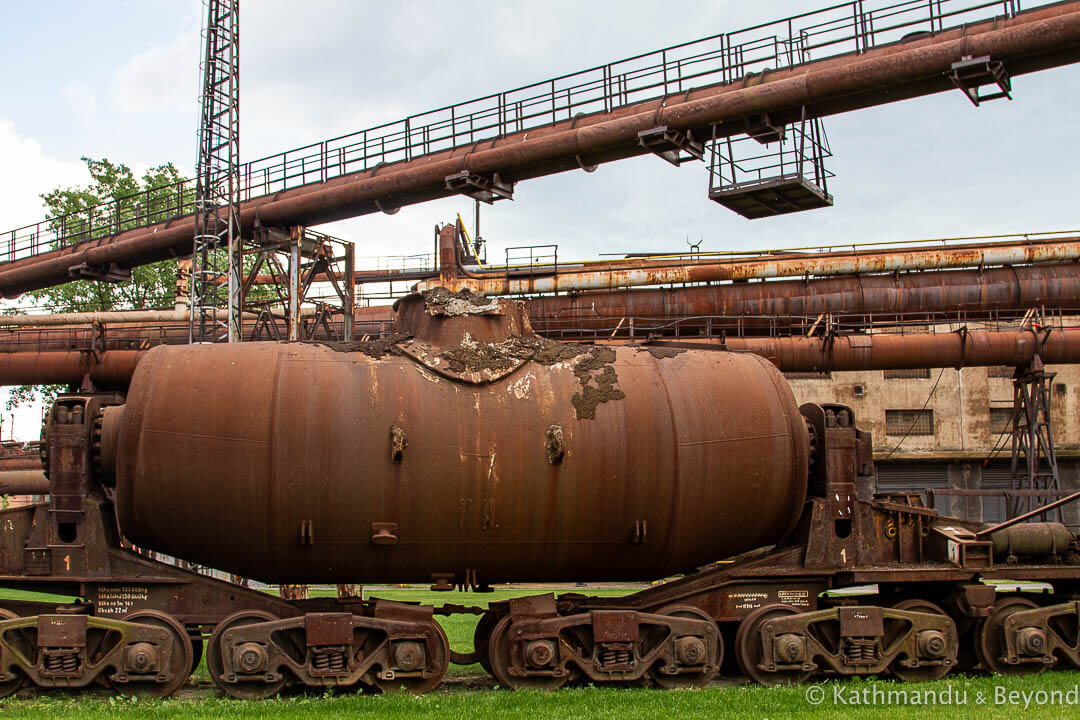 Dolni Vitkovice
Needless to say, we were glad we didn't give up on Ostrava. Poruba was interesting for us as we like that style of architecture and the history that is associated with it, but Dolni Vitkovice was, simply put, very cool and one of the most unique tourist attractions we have seen in a while. We even ended up liking Ostava – once Monday had begun, that is, and the shops were open and there was a bit of life on the streets!
Where to Stay in Ostrava
We stayed at the Hotel Maria (come on, sing up!), which was located a few blocks back from the New Town Hall. At €33.00 per room per night including breakfast, it was a bit more than we usually pay but we had a nice room and the location was good. To completely contradict my little rant about Sundays, I'm going to say that I'm glad we were staying at the Hotel Maria (sing, sing, sing!) on the Sabbath. The road outside was being dug up and when they started work on Monday morning, boy, could you hear it!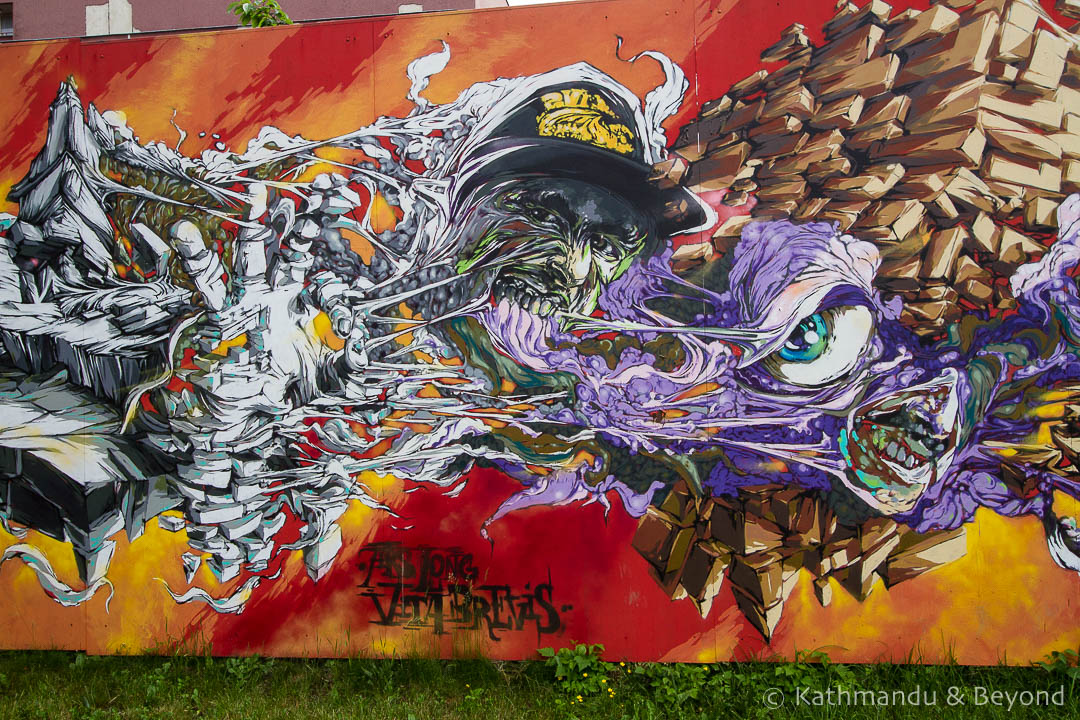 Street art in Ostrava
---
---
DO YOU ENJOY OFF-THE-PATH PLACES LIKE OSTRAVA? WHY NOT PIN THIS…


---
---