Croatia has a drop-dead gorgeous coastline – the sea is that classic shade of azure, and the coves are pierced with rugged rocky outcrops. What Croatia doesn't have though is sandy beaches – expect stony beaches and concrete sunbathing platforms. This post will highlight some of the best towns to visit on a drive from Zadar to Split (or Split to Zadar).
Where to break the journey between Zadar and Split (or vice versa)
Many travellers to Croatia focus their trip around Dubrovnik and Split or the Istrian Peninsula, but there are several places worth visiting on the journey between Zadar and Split.
Zadar and Split are both popular places to visit on the Croatian coast, although they can get overwhelmingly busy during the peak summer months. And while you can travel from Zadar to Split in less than two hours, it is well worth breaking the journey at some of the smaller places along the route. This stretch of coast receives a lot of visitors so while you are unlikely to get many sites all to yourself, it is a good feeling to have strayed a little from the beaten path.
The quickest way to get from Split to Zadar (or vice versa) is on the motorway where the 150-kilometre journey shouldn't take much more than an hour and a half. There is a toll fee of approximately 8 Euros for a car. Driving along the more picturesque coastal road won't put many more miles on the clock and will take a minimum of 2½ hours, depending on traffic and how often you stop.
Although the distances aren't huge, this post highlights seven places to visit between Zadar and Split if you want to see more of Croatia other than the main cities. We haven't included any islands, as it's geared towards a coastal road trip rather than an islands and beaches itinerary.
To make the post as comprehensive as possible, we have included two places we haven't yet visited: Biograd na Moru and Krka National Park. Although we usually avoid writing about places we haven't been to, it's more helpful to you if we include them.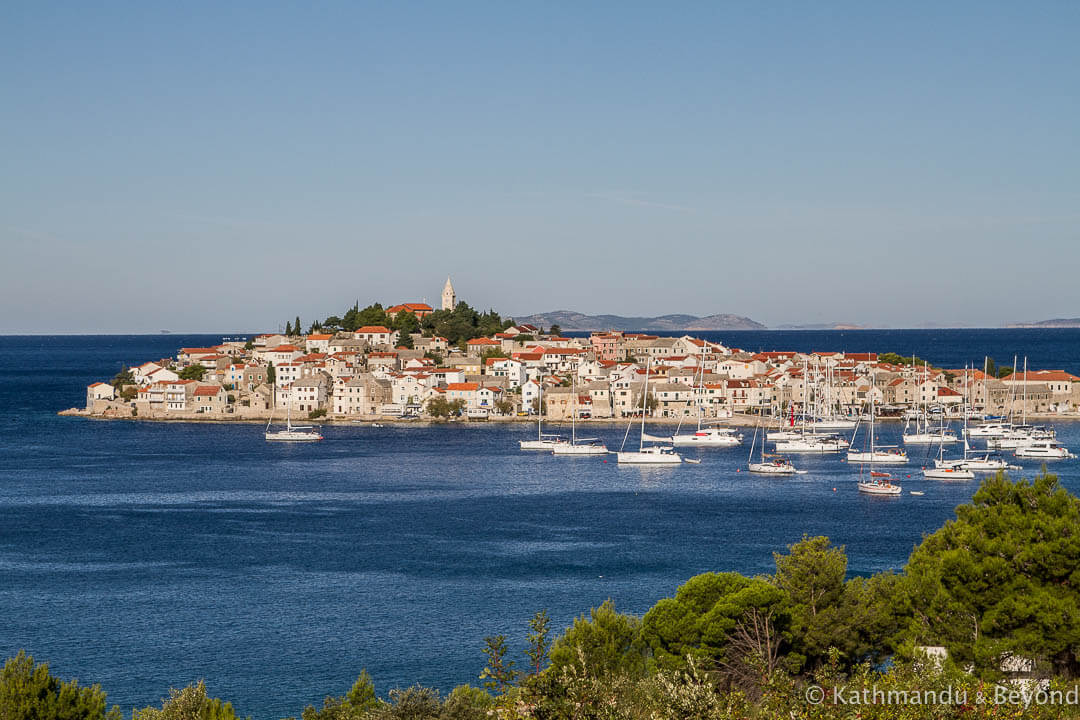 Primosten, Croatia
CONTENTS
Transport between Zadar and Split
Accommodation between Zadar and Split
Parking
The Journey South:
Biograd na Moru
Vodice
Sibenik
Krka National Park
Primosten
Rogoznica
Trogir
MAP OF PLACES TO VISIT ON A ROAD TRIP FROM ZADAR TO SPLIT
Transport between Zadar and Split
The main options for travelling along the Dalmatian Coast are private car or public bus. Cycling would also be a fantastic way to travel but that's another blog post (or another website!). Croatia's limited train system means travelling by rail isn't an option.
During our most recent trips to Croatia, we discovered the beauty of renting a car. We are advocates of getting to the most inaccessible places using public transport and/or hitching but in a country like Croatia where car hire can be very affordable, and where the roads are in good condition and easy to drive, I don't think we'll ever go back to buses for a Croatian road trip. And while Croatia's public transport is more developed than in some of the other (non-EU) Balkan countries, factors like fixed (but not regular) schedules and rules about only stopping at designated bus stops, make it harder for independent travellers to reach more off-the-beaten-track places.
Although having your own wheels provides more flexibility, it is possible to explore many of the towns along the northern part of the Dalmatian Coast between Zadar and Spilt by bus. Schedules for long-distance buses can be checked online but, sometimes local buses operate on the shorter distances so it is always worth checking the times at the bus station.
You can also travel much of this coastline by ferry and the Ferry Croatia website has a lot of information about routes and ports.
Accommodation between Zadar and Split
Private apartments and studios are the dominate style of accommodation along Croatia's coast – something that suits us perfectly as it means we can cook for ourselves most of the time. Compared with other countries in the Balkans, budget travellers tend to find Croatia expensive to travel, but we have a couple of tips for keeping the costs down on your Zadar to Split road trip. The first is to travel outside of the peak July-August summer season – in May, June or late September into October. And the second, assuming you have your own transport or a hire car, would be to stay on the outskirts of towns, rather than in the centre. If you follow both of these tips you could save about 50%, compared with the cost of travel and accommodation during the peak season.
Parking
Parking is a bit of a nuisance in Croatia. In busy places, finding a spot can be difficult and when you do, it can be costly to park for any length of time. Streets mainly have metered parking and paid car parks are found in all towns. In popular areas, you'll also find pop-up parking lots where an attendant armed with a handheld machine will sell you parking by the hour.
On the subject of parking, always check if the hotel or apartment you're intending to book provides free parking and whether it is private or street parking. If not, you might want to factor the additional cost into your accommodation budget. I always tick the 'parking' filter when searching on Booking.com and then carefully check the information relating to each property before making a reservation.
The Journey South: from Zadar to Split
Biograd na Moru
The first place of interest as you journey south from Zadar is Biograd na Moru. Once the capital of the medieval kingdom of Croatia but, despite its historical heritage, most of Biograd na Moru's medieval splendour was destroyed when the Venetians ravaged the city in the early 12th century. The name is commonly shortened, and today Biograd is a popular resort, sprawling away from the old town peninsula which is surrounded by inlets and marinas (it is a popular sailing area). One of Croatia's Blue Flag beaches, Dražica, is nearby, as is Lake Vrana, the largest natural lake in Croatia and a national park.
Biograd na Moru is the first of two places in this post which we have yet to visit. However, it's been recommended to us, so we've included it in case you want to check it out before we do! Located about 30km south of Zadar and 50km north of Sibenik, Biograd na Moru is easy to visit en route.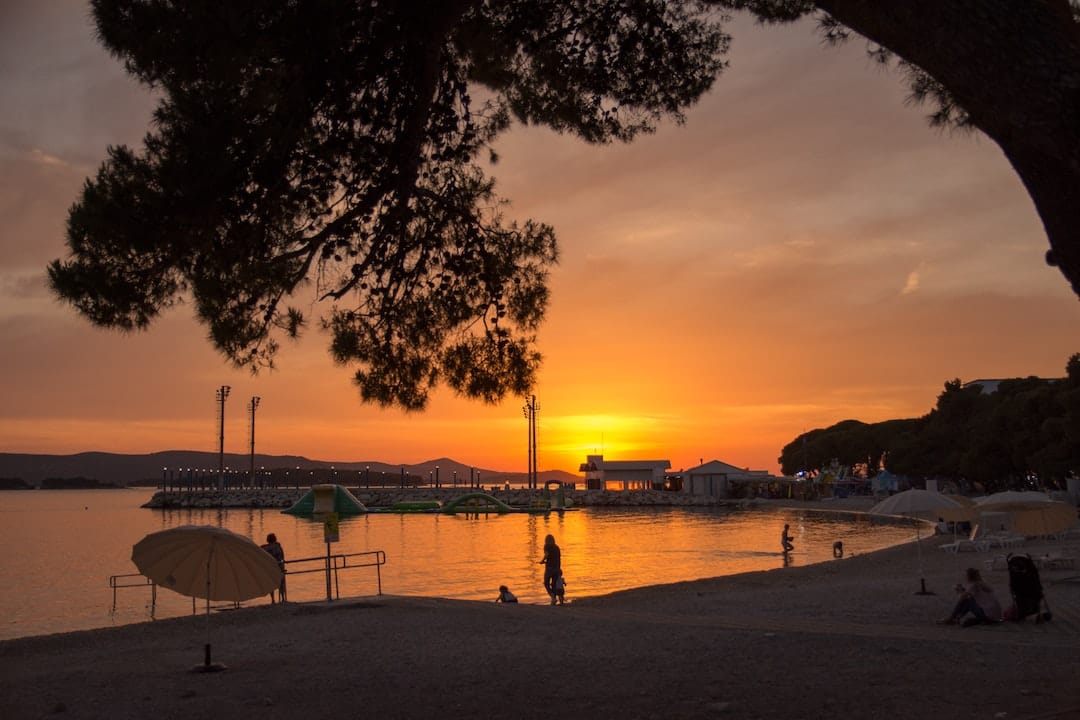 Sunset across Biograd na Moru 
How to get to Biograd by bus from Zadar
Various companies operate regular (although not that frequent) buses between Zadar and Biograd and the journey takes around half an hour. A ticket costs around 3 Euros. To get an idea of the schedules, visit Get by Bus but also double-check at the bus station so you don't get caught out (there are more buses in the morning than in the afternoon).
Where to stay in Biograd na Moru
The majority of accommodation in Biograd is private apartments. For centrally-located budget accommodation, take a look at Studio Sobe K & L, Apartments Maya and Guest House Dia. For something more mid-range, with sea views, Room Novakovic looks good. Search for accommodation in Biograd na Moru here.
Vodice
A small town on the Dalmatian Coast just 12 kilometres north of Sibenik, Vodice was on our radar for one reason – a spomenik. Namely the Monument to the Fallen Soldiers of WWII from Vodice, a 10-metre tall white obelisk which can be found on the town's pleasant waterfront.
At the height of Yugoslavia's popularity, Vodice was one of the most popular beach resorts on the Northern Dalmatian coastline and developments built in the 1960s somewhat overshadowed any charm the town had. Today, there's not much evidence left of its history save the 16th century Coric Tower. Quite possibly, the only other historical sight in Vodice is the Church of St. Cross which was built in 1746 and is considered to be one of the most important baroque buildings in the region.
Had we done our research properly (I hate finding something new on Google maps when writing a post), we would have also made the 3-kilometre detour north to see the rather magnificent brutalist-looking Church of our lady of Carmel on Okit Hill, above Vodice. Three short kilometres! We're still kicking ourselves. The church has been destroyed and rebuilt several times including following World War II and the Balkan Wars of the 1990s. The current construction is by the same architect who designed the Sea Organ in Zadar.
In our opinion, Vodice isn't a must-see on your Croatia itinerary but it serves as a convenient base for exploring the surrounding area if you find accommodation there that suits your style and budget.
Vodice's spomenik, Monument to the Fallen Soldiers of WWII
How to get to Vodice by bus from Zadar or Biograd na Moru
A handful of bus companies, including Autotrans by Arriva and Autotransport d.d Šibenik, run between Zadar and Vodice (making a stop in Biograd na Moru). The journey time should be around an hour/hour and fifteen minutes, and a ticket costs around 5 Euros. To get an idea of the schedule, visit Get by Bus, but again double-check at the bus station because most of the buses depart in the morning.
Where to stay in Vodice
There's not much choice of budget accommodation in Vodice and Hostel Cool is one of the cheapest options in the town. Other budget guesthouses (for this part of Europe) to consider are Apartments & Rooms Samohod, Apartment house Riva, Sobe Mateša, and Apartment and Room Ivica where a double room will set you back around 40 Euros a night.
Private apartments are the most common accommodation option in Vodice, far outnumbering hotels, with plenty to choose from in the 40 to 50 Euros a night price bracket.
Šibenik
Sibenik is one of the prettiest (and most popular) places along this section of the Dalmatian Coast. It is approximately halfway between Zadar and Split so if you wanted to break the journey in just one place, this would be the town to do it in. Sibenik's architecture provides clues to its past – it spent time under Venetian rule, fought off assaults by the Turks, and was part of the Austro-Hungarian Empire. Sibenik is considered to be the oldest Slavic-founded town in Croatia but, unlike many Croatian towns and cities, the Romans never made it to Sibenik giving the narrow cobbled streets a slightly different feel.
For us, Sibenik's charm lays in wandering around its medieval cobbled streets, exploring its maze of alleyways, but there are a few sights to 'tick off'. The UNESCO World Heritage Site listed 15th-century Cathedral of St James is an impressive stone church which took over a hundred years to complete. St. Michael's Fortress sits on a hill dominating the skyline but is a tad over-restored in our opinion, as is Barone Fortress which seems to be primarily used for concerts and theatrical events. Game of Thrones fans will want to note that some scenes in Season 5 were filmed in Sibenik. The filming locations are the Cathedral of St. James, St. John's Fortress, and general overview shots of the city were also used.
Sibenik is the only city in Croatia with two UNESCO World Heritage Sites. Its second inscription is for St. Nicholas Fortress, an island fort just off the coast. The only way to get to the fortress is to take the boat tour. There are four or five departures a day between May and October and tickets cost about 18 Euros per person. Check the schedule and ticket prices.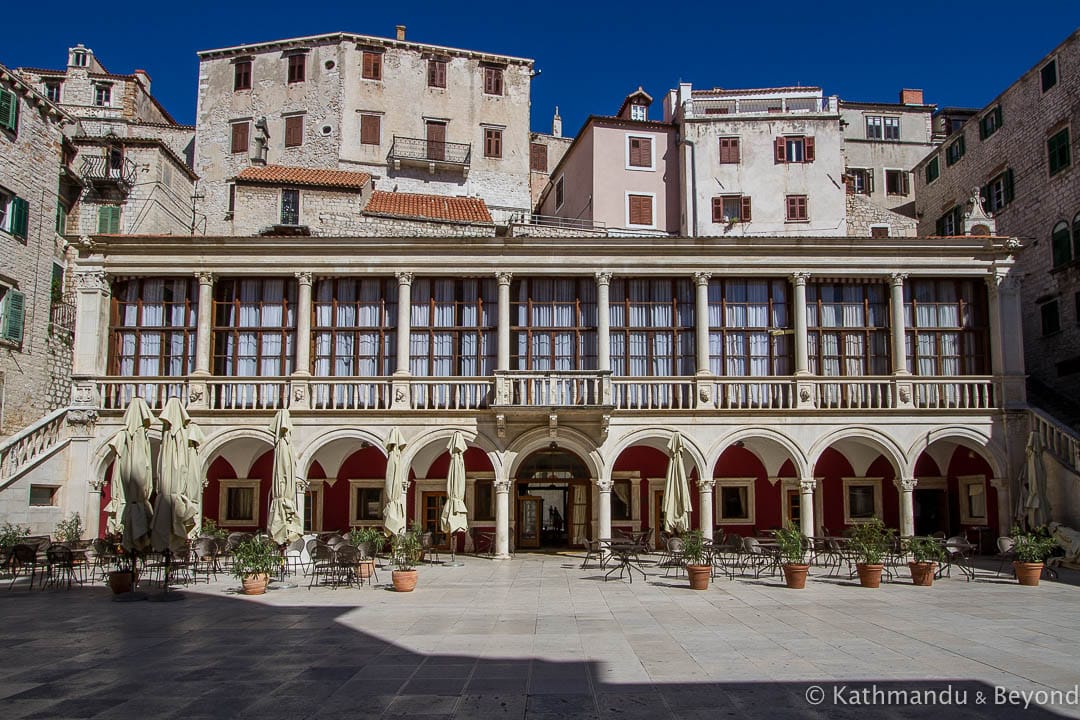 Sibenik


The view across to Sibenik, and a typical street scene
TIP: If you want to feel like you've got the place to yourself, visit Sibenik early in the morning before groups tours and out-of-town visitors have got going.
If, like us, you are interested in Yugoslavian World War II monuments (spomeniks), you'll also want to include a visit to the Memorial Park Subicevac. Location: 43°44′33″N 15°53′49.22″E.
How to get to Šibenik by bus from Vodice
Sibenik is just 20 minutes by bus from Vodice BUT (and this is a classic example why travelling independently in Croatia and stopping off at lots of places isn't as easy as in some other countries), there are only a handful of buses daily (the same ones that are running along the coast between Zadar and Sibenik stopping at the significant towns). Check here or here.
It is also possible to travel between Vodice and Sibenik by ferry, a fantastic opportunity to fully appreciate Croatia's gorgeous coastline, and quite frankly running almost as frequently as the bus! At a little over an hour, the journey time is longer but at 2.20 Euros per person, the foot passenger fare is a bargain! Check the ferry schedule here.
Where to stay in Šibenik
You'll pay a premium for being in the Old Town but check the location carefully as many properties are some distance from it. A good compromise for travellers on a budget is to stay in the area between the bus station and the Old Town. This is also the most convenient place if you're relying on public transport. From here, it's less than a ten-minute walk to the Old Town.
Good options to consider close to Sibenik bus station are Hostel Splendido and Hostel Globo. Both have double rooms as well as dorm beds (the Splendido also has rooms with a private bathroom). If you usually avoid hostels, take a look at these places before dismissing them because the private rooms are more like hotel rooms.
In the Old Town itself, some options to consider include the Hostel Sv. Lovre, Mirco Rooms, The Palace Mattiazzi Room, If, like us, you prefer to stay in apartments when you travel, we've curated these possibilities: Central Sibenik Apartments, Sibenik City Center Apartment Sonia, and Apartments Kokolo.
Krka National Park
Sibenik would be a good base for a day trip to Krka National Park. Krka is one of Croatia's best-known national parks and although it is inland from the coast it's only about 10 kilometres from Sibenik. The lush park covers an area of just over 142 square kilometres and is famous for its lakes, gorges and seven waterfalls. This is the second of the two places in this Zadar to Split guide we haven't yet visited but friends that have enjoyed their trip very much.
There are a lot of options for visiting the park – walking trails, boat trips, cycle tracks etc., and the park's website has a huge amount of information to help plan a visit. It also lists entrance fees and opening times.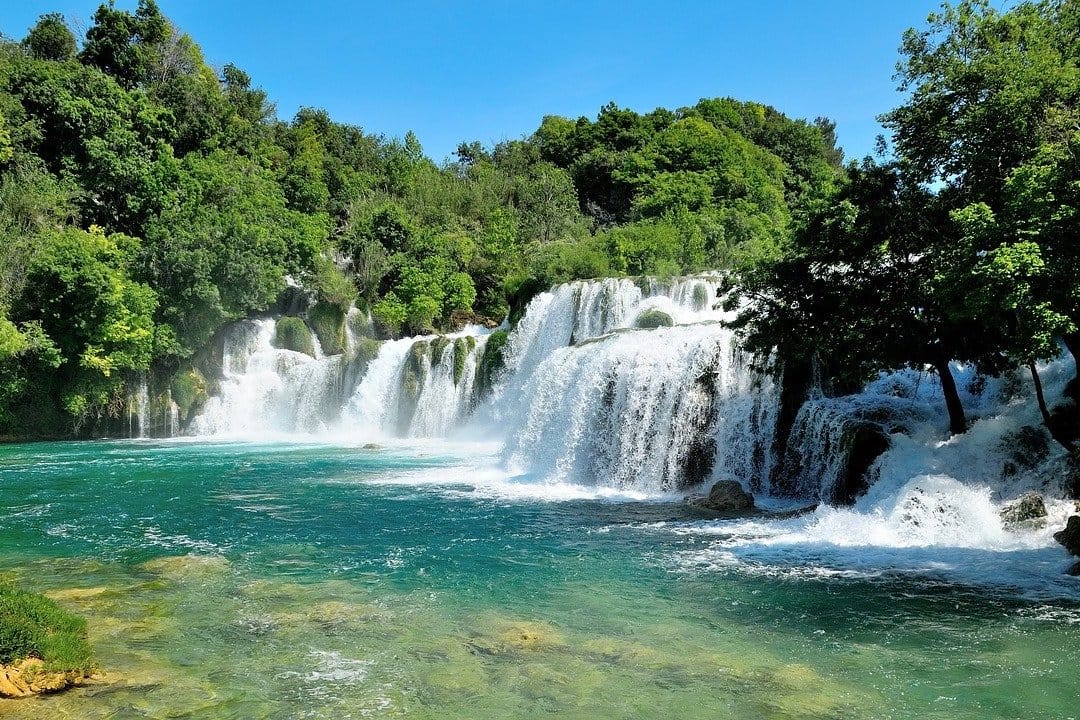 Krka Waterfall
How to get to Krka National Park
The easiest way to visit Krka National Park is, of course, to join a tour, but you can also visit the park independently by taking a bus from Sibenik to Skradin, where one of the park entrances is located.
According to the current schedule, buses leave Šibenik for Skradin daily at 9am, 11.15am, 1pm, 3.30pm and 8.15pm. Return buses are at 10.45am, 12.45pm, 2pm and 5pm. A ticket costs about 3 Euros and the journey should take half an hour. There are a couple of very early departures from Skradin but those aren't very helpful for a day trip from Sibenik.
Krka National Park has five official entrances, but if you're driving, Lozovac will probably be the most convenient.
Where to stay in Krka National Park
Whilst Šibenik is a sensible base for visiting Krka, it's also worth considering Skradin which is a pretty riverside town on the edge of the park. You can take a boat tour to the waterfall from the town's harbour and it is also possible to hike or cycle into the park from Skradin. This detailed guide to Skradin has inspired us to add the town to our 'next time' list.
Skradin has a good choice of accommodation although you might have to look hard for budget options. A couple of places to consider are Apartments & Rooms Formenti and Rooms Mara.
Primosten
Approximately halfway between Sibenik and Trogir, Primosten is another historical town which evokes an "Ooh, that's pretty" exclamation from tourists. The town looks especially photogenic at a distance from where the town has a tiered appearance and it's easy to see that Primosten started out as an island. In the 16th century, Primosten was a fortified city with a drawbridge connecting it to the mainland. After the threat of the Ottoman Empire was over, the wooden drawbridge was replaced by a stone causeway. The 15th-century hilltop Church of St. George is a good place to aim for during a meander through the cobbled streets and there are lovely views over the bay from the church.
It may not be a surprise to regular readers, to learn that one of our Primosten highlights was an abandoned hotel just outside of the town.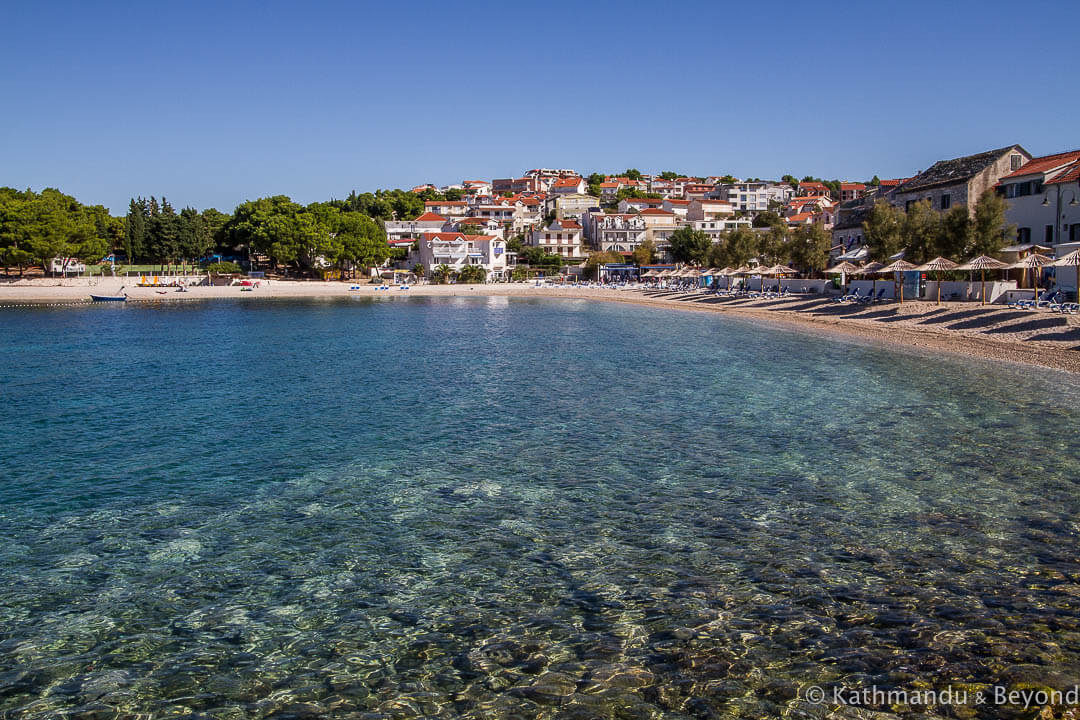 Primosten's beach


Primosten Old Town and the harbour
How to get to Primosten by bus from Sibenik or Split
Primosten is easy to get to by bus from both Sibenik and Split. There are several buses a day from both towns, and the journey should take around an hour. Timetables for buses from Split can be found on the Split Bus Terminal website.
If you are driving, note that Primosten is closed to non-residential traffic so you will have to park your vehicle in one of the paid car parks just outside the town's entrance barriers.
Where to stay in Primosten
There is a wide choice of accommodation on Primosten peninsula if you want to stay in an apartment. But if you are looking for a cheap place to crash, you'll need to stay elsewhere and be content with seeing Primosten as a day trip. Furthermore, many places have minimum stay requirements which aren't always compatible with a fast-moving road trip.
One of the cheapest places to stay in Primosten is Apartman Kristina which has double rooms (from 40 Euros a night) and studio apartments. Makol is a cute apartment with sea views and is good value (for the area). Others to look at include Apartment Bura and Apartments and Rooms Jakov.
Rogoznica
We chose to stay in Rogoznica because of its proximity to Split Airport. We wanted somewhere to spend the night after picking up our hire car off a late afternoon flight. Trogir is closer to Split airport, but Rogoznica was more convenient before starting our road trip north the following day.
With a population of approximately 2,500, Rogoznica is much smaller than the other places listed here with parts of it feeling more like a village. It has a few beaches and coves with swimming platforms but is generally a sleepy place (although it can get busy in the height of the summer). Rogoznica has a strong fishing heritage and is known for its seafood dishes including its own version of the traditional fish stew, brudet. Rogoznica is not somewhere we would list as a must-visit place – these days it is a resort with a rather functional atmosphere, even though, like much of the coast, it has been settled since the 1300s.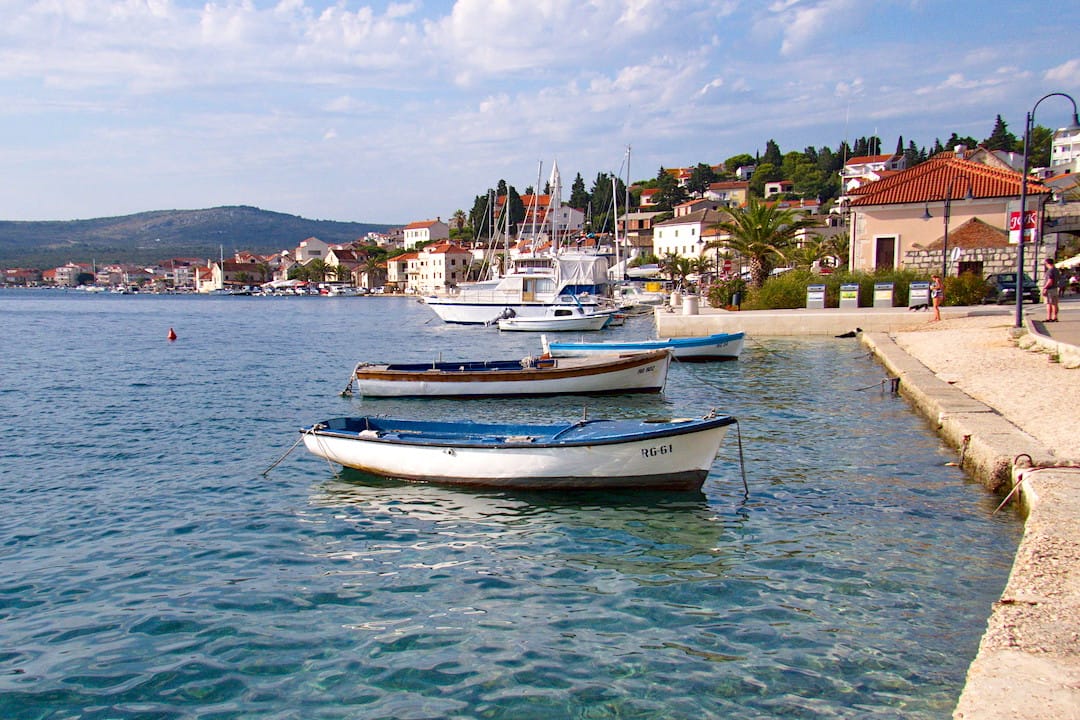 Rogoznica (image © Andrew/Flickr / CC BY-NC-ND 2.0)
How to get to Rogoznica by bus from Primosten
If you are driving, it will take around ten minutes to drive from Primosten to Rogoznica. There isn't a bus station in Rogoznica, so buses stop on the main road a kilometre or two from the town centre. Combined with the infrequent buses, this might urge you to opt for a taxi if you aren't driving yourself.
Where to stay in Rogoznica
We stayed at Apartment Jakoubek which is close to the main road, a little out of town. It was cheap for a short stay, and as mentioned, we chose it for practical reasons. Also on the edge of town, but worth considering is Apartments Villa Zrinka. Other budget options to contemplate are Apartment Skorin and Apartments Marin.
Not in Rogoznica but instead facing it from across the bay, Apartments Horizont is an example of the type of accommodation you can get if you have your own transport and are prepared to stay away from the better-known resorts in a slightly middle-of-nowhere location. A studio with a balcony or terrace, overlooking the sea will set you back less than 25 Euro a night in October.
Trogir
On our most recent trip to Croatia, we used Trogir as a base instead of Split. It worked well and made a nice change to Split which just seems to get busier and busier. The historic part of Trogir is a tiny island a mere 500 by 250 metres, sandwiched between the mainland and Čiovo island and reached by bridges. The picturesque and historic town earned a place on the UNESCO World Heritage List in 1997. The petite old town has a lot packed in; narrow lanes, Renaissance palaces and Venetian Gothic mansions and a wide waterside boulevard overlooking a marina.
Trogir gets its fair share of visitors although most of them are day-trippers. We recommend doing your exploring in the morning before they arrive and spending the rest of the day wandering the backstreets of Čiovo or relaxing on the beach.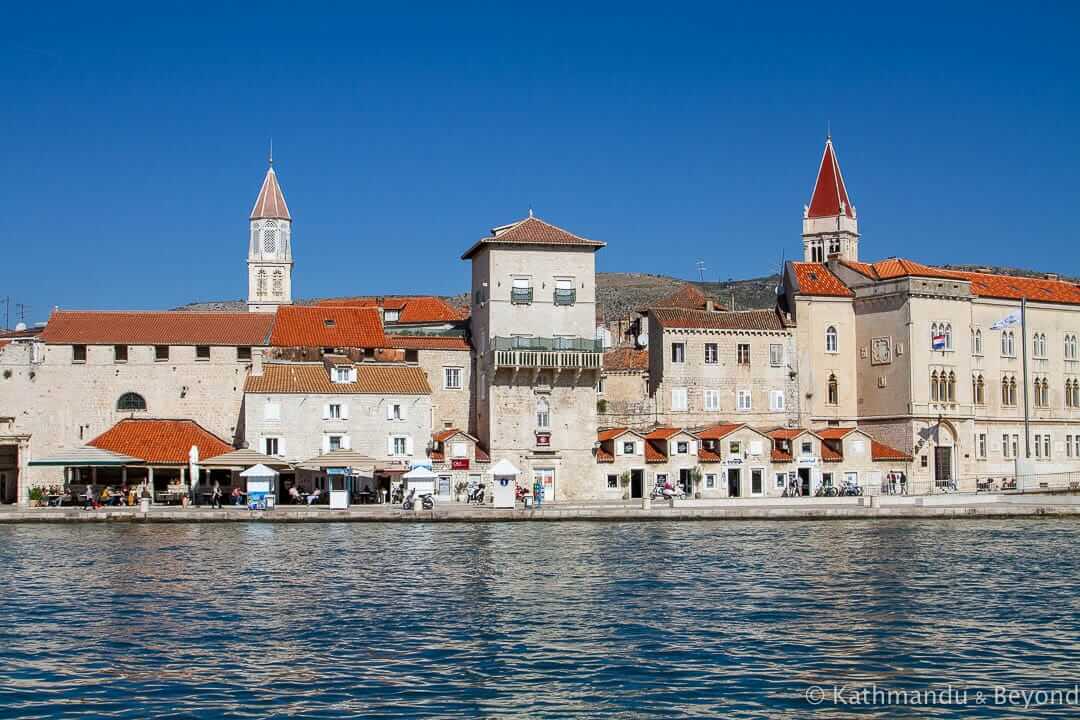 View from Ciovo to Trogir Old Town


Trogir's UNESCO-listed Old Town
How to get to Trogir by bus from Rogoznica or Split
There are hourly buses between Trogir and Split, the journey taking around 45 minutes. From Split to Trogir, buses depart on the hour, but timings are more irregular in the opposite direction. You can check the schedule here, but we would also recommend double-checking at Trogir bus station.
The bus from Split airport to Split centre stops at Trogir bus station making Trogir a convenient alternative to Split for travellers relying on public transport. Or for those with their own transport looking to avoid the higher parking charges in Split town centre.
Where to stay in Trogir
There is plenty of accommodation both within the old town and on Čiovo island. We stayed at Apartments Josip, a small but pleasant apartment up the hill from the historic centre, on Čiovo island. Options in the old town that made our shortlist include Apartments Ivica and Dimora Picco Bello.
Onwards from Split
Split is a three-hour drive from Dubrovnik, but why not break this journey too? Our guide on where to visit between Split and Dubrovnik has all the details.
---
IF YOU FOUND OUR GUIDE TO PLACES TO VISIT IN CROATIA BETWEEN ZADAR AND SPLIT, PLEASE SHARE IT…



---
---
---