Our suggestions of where to visit on the Dubrovnik to Split drive
The first time we visited Croatia we sat on the bus from Dubrovnik to Split and looked longingly out of the window at the passing scenery. We agreed that it would be amazing to travel along this part of the Dalmatian Coast with our own transport, allowing us to stop at some of the little towns we were passing by.
Recently, we had the chance to do just that when we rented a car in Split to continue with our mission of seeing as many Tito-era spomeniks in the former Yugoslavia as we can. Some of these are situated along the coast, and this gave us the perfect opportunity to combine epic WWII monuments with coastal towns and some of the prettiest scenery we've seen in Europe. Although we were driving ourselves, we also realised that it is possible to use public transport to visit several places aside from Split or Dubrovnik on the Dalmatian coast.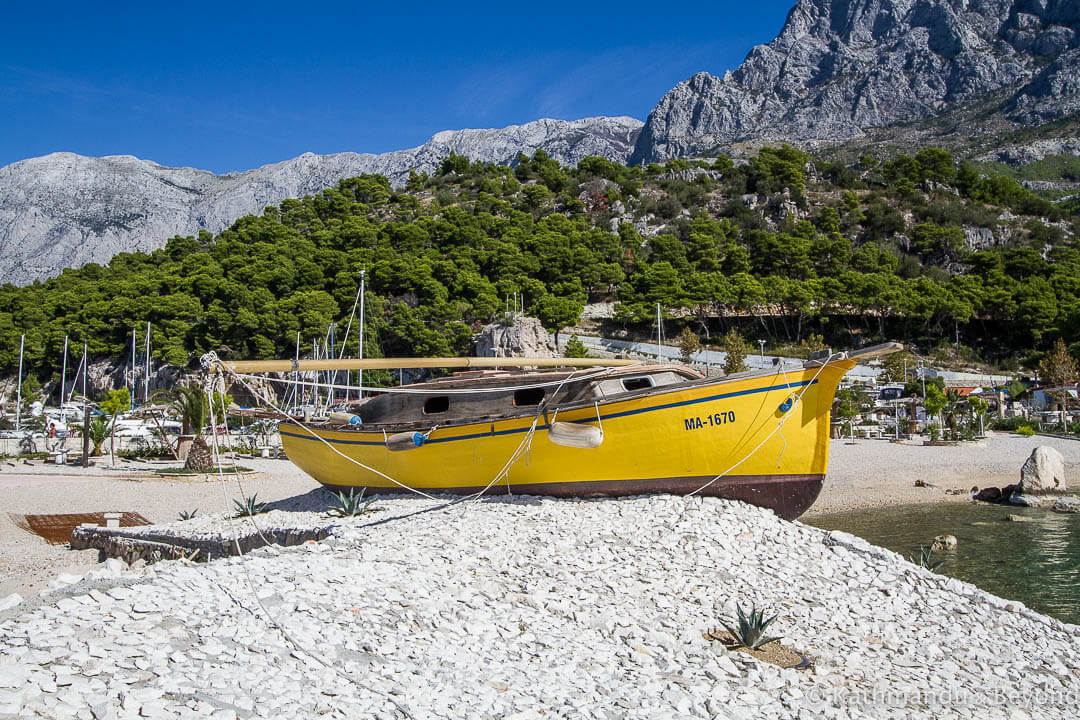 Krvavica
Transport options between Split and Dubrovnik
It's stating the obvious to say that having your own vehicle, or hiring a car, in Croatia is the most convenient way to travel between Dubrovnik and Split. Usually, we are big advocates of independent travel using local transport but recently we've discovered that car rental can be surprisingly good value. For example, we paid less than ten Euros a day for a small car. Admittedly, the optional insurance doubled that but ever since our experience of renting a car in Serbia we've always taken it.
Buses run along Croatia's coast frequently and are a convenient way to travel to many towns, although you will be restricted to the places accessible by public transport. We were quite shocked by the relatively high price of public transport in Croatia and when you consider that a bus ticket from Split to Dubrovnik costs between 13 and 18 Euros, car rental is quite attractive (especially if there are more than two of you travelling).
In your own vehicle, it should take around three hours to cover the 220 kilometres between Split and Dubrovnik. However, bus travel can be frustratingly slow in Croatia and the journey from Dubrovnik to Split (and vice versa) often takes 4½ hours or longer.
Unfortunately, Croatia's rail network doesn't extend beyond Spilt down to Dubrovnik – what a beautiful journey that would be! The alternative (surprisingly limited options) are ferry (high season only, mainly servicing the islands) and flight (Croatian Airlines operates one flight a week!). Both of these contradict the purpose of this post so I won't linger on them.
Are you wondering which are the prettiest towns to explore on the journey between Split and Dubrovnik? Here are our suggestions…
Starting in Split and ending in Dubrovnik, the towns we visited are featured here in a north to south direction. Some of the places are easier to reach by public transport than others, so the places that are serviced by regular bus routes are denoted as 'bus friendly'.
When it comes down to the question of which of these towns are the best places to stay, it's hard to pick one over another – the entire Adriatic coastline is one long stretch of shimmering azure ocean set against craggy dramatic cliffs, with many of the towns boasting a history dating to Venetian or Roman times.
Let's also be clear that discovering a 'hidden gem' with no other tourists is not going to happen, especially in the height of summer. Travellers outside of the region may not have heard of many places along the Croatian coast except for Spilt and Dubrovnik, but holidaymakers from Croatia and the neighbouring countries have been flocking to these beaches for years. Most of them are mini-resorts where crowds pack like sardines along the rugged shoreline throughout July and August. Our road trip spanned late September and October and this was the perfect time for us – fewer tourists, but warm sunny weather and clear blue skies.
One thing that influenced where we spent the night on our Croatia road trip was the availability of budget-friendly accommodation and I've highlighted any places that we recommend. As is our norm when we have a hire car, we didn't book any accommodation in advance – I just looked to see what was available on booking.com when we were an hour or two away from our intended destination. This worked out fine during the shoulder season, but it might be harder to find places during the height of the summer. That said, if your budget is flexible, there is a huge amount of accommodation (mostly self-catering apartments) along the coast and you should be able to find somewhere on the go.
Places between Split and Dubrovnik
Omis
Approximately 25 kilometres south of Split, the town of Omis was once the lair of 13th-century pirates. Today, it is an incredibly popular holiday spot. Arriving into Omis from Split, cliffs rise up dramatically from the pretty harbour area. That said, we found Lonely Planet's description of Omis as 'one of the most dramatic locations of any town on the Dalmatian coast' to be rather overstated and it wasn't a town we fell for. Sure, it has a pretty Old Town but the busy main highway running through the town made it feel hectic and congested.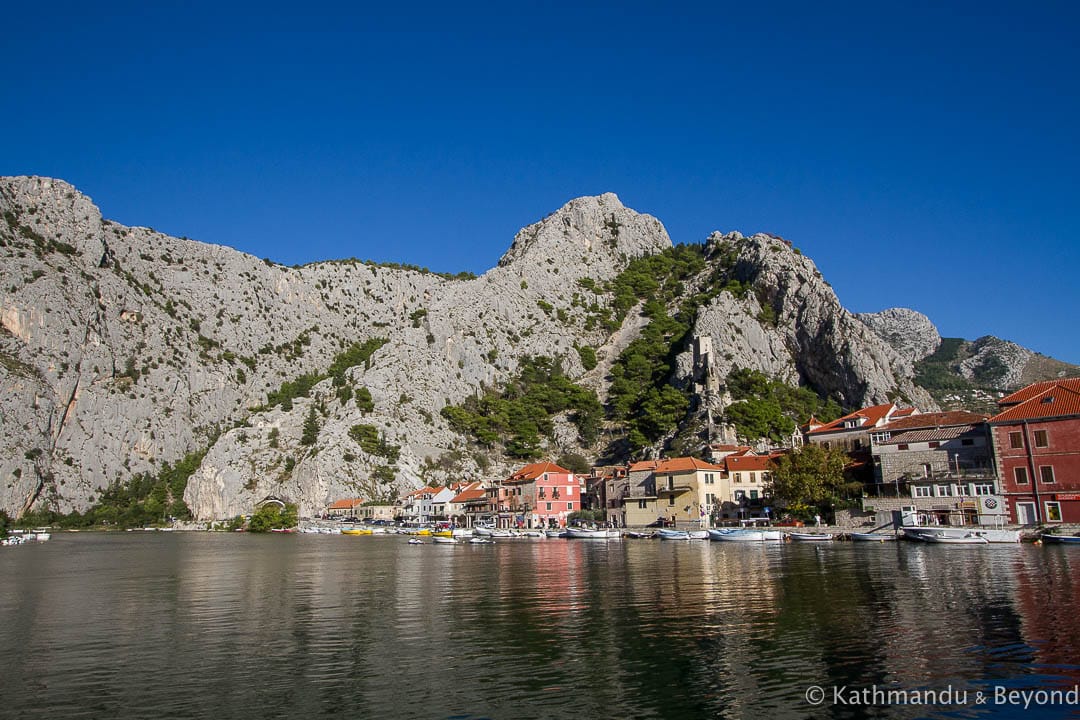 Omis
Bus travel friendly?
Yes, most buses travelling along the coast will stop in the centre of Omis.
Where to stay in Omis
Omis is only half an hour from Split so most travellers won't be ready to break the journey at this point but you can get an idea of the options here.
Baska Voda
A small town with under 3,000 inhabitants, Baska Voda has a relaxed vibe, It doesn't have the historical buildings of some of its neighbours but has a long seafront promenade with a reasonable selection of bars, cafes and restaurants. The port, full of boats and expensive-looking yachts, dominates the centre of town with beaches spreading out of town in both directions. The one-way traffic system and pedestrianised main walkway keeps cars away from the 'downtown' area, making it a peaceful place for a stroll.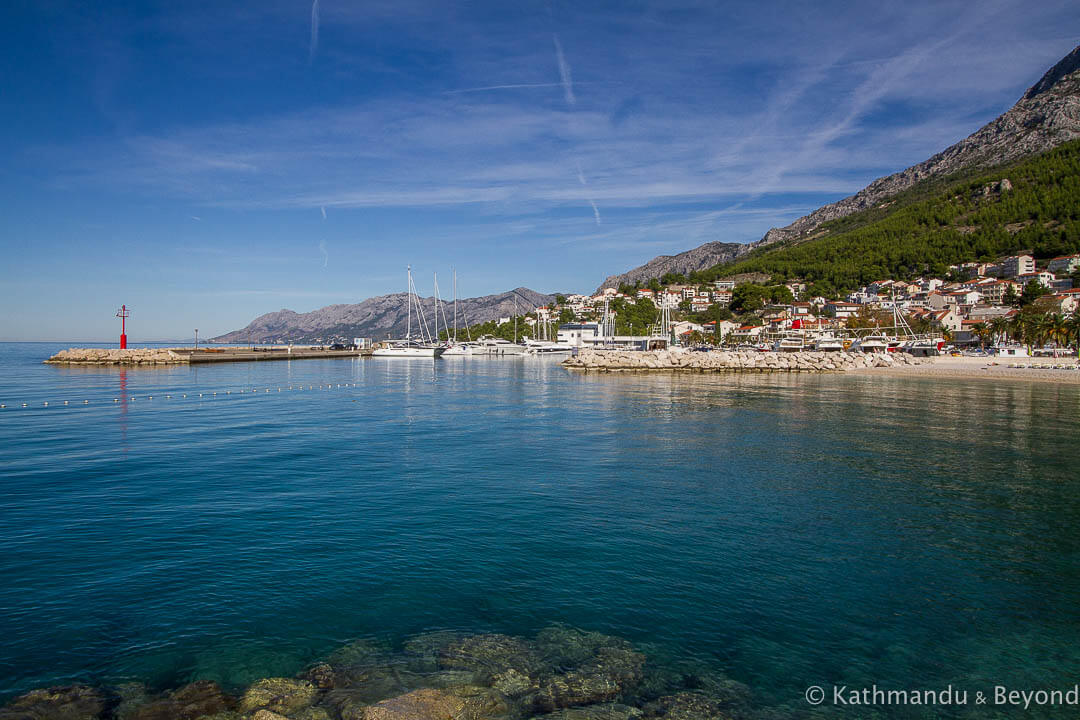 Baska Voda
Bus travel friendly?
Moderately. The bus stop for Baska Voda is actually at Basko Polje, a couple of kilometres south of the town, so you'll have to either take a taxi or walk.
Where to stay in Baska Voda
We stayed at Studio Eva, a compact studio with a nice terrace and a small kitchen. It's a place we'd recommend for a short stay: comfortable, compact and within easy walking distance of the shops, beach and port.
Krvavica
Our main reason for visiting the small coastal town of Krvavica was for a spot of urban exploration. We'd heard about an abandoned resort and were on a mission to locate it. Appearing as if a flying saucer has landed among the pine trees on the Croatian coastline, this now-deserted structure was easier to find that we'd expected. Back in the days when Croatia was part of Yugoslavia and much of the country ran to the beat of Tito's socialist drum, this building was officially known as the 'Children's Maritime Military Health Resort of Insured Persons' although most people referred to it as the Children's Resort in Krvavica. We have written more about this former resort in a post about abandoned hotels in the Balkans.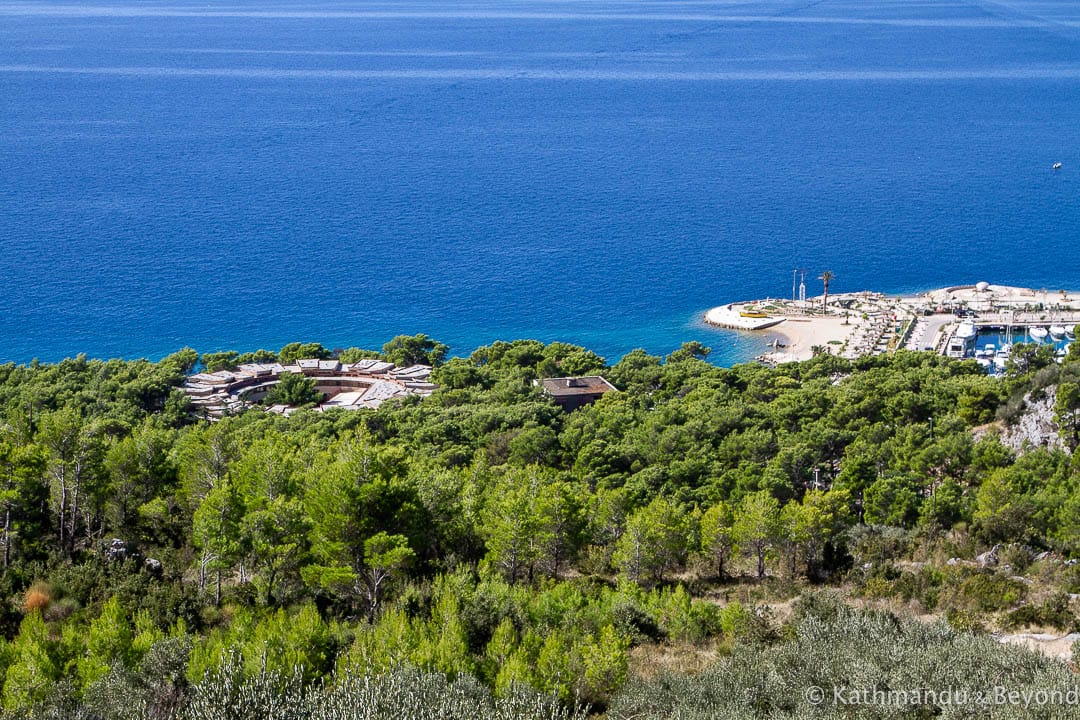 Krvavica


The Children's Maritime Military Health Resort of Insured Persons, Krvavica
Aside from the abandoned Children's Resort, Krvavica has a small but busy harbour and a pretty beach. There was a handful of cafes and beachside snack bars but no convenience stores or supermarkets. Krvavica seemed more of the place where people went to sit on the beach, rather than stay in the actual resort.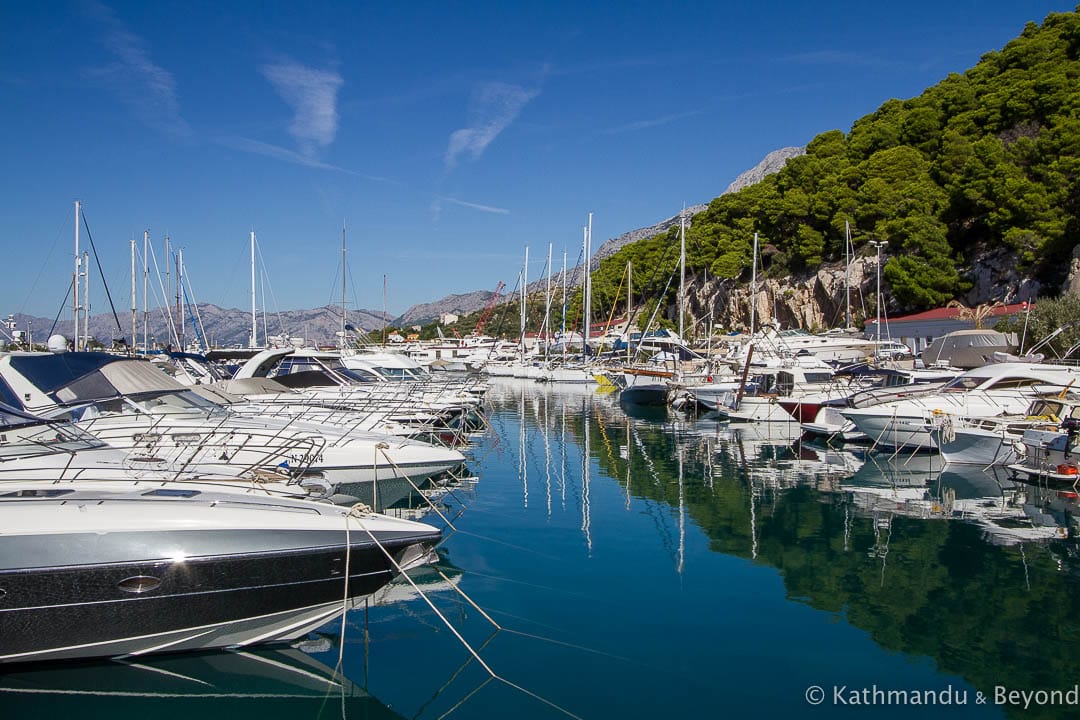 Krvavica
Bus travel friendly?
No. It's about a kilometre and a half downhill from the main road to the beach, however, Krvavica is not an official stopping point for buses, making it hard to reach by public transport.
Where to stay in Krvavica
We didn't stay in Krvavica and apart from campsites, there didn't seem to be many accommodation options.
Makarska
The turquoise seas and white pebble beaches of the Makarska Riviera are some of the best in Croatia, and the area draws in the crowds during the summer months. About a third of the way from Split to Dubrovnik, with a population of just under 15,000, Makarska is one of the bigger options listed. It's just the right combination of a workaday town and cobbled historic centre with plenty of regular shops as well as bars and restaurants. Makarska is unlikely to shut down completely in the off-season making it a good choice for winter travel to Croatia.
Fellow monument-seekers will appreciate Makarska's spomenik, Monument to the Revolution, which can be found close to the town centre (photo below).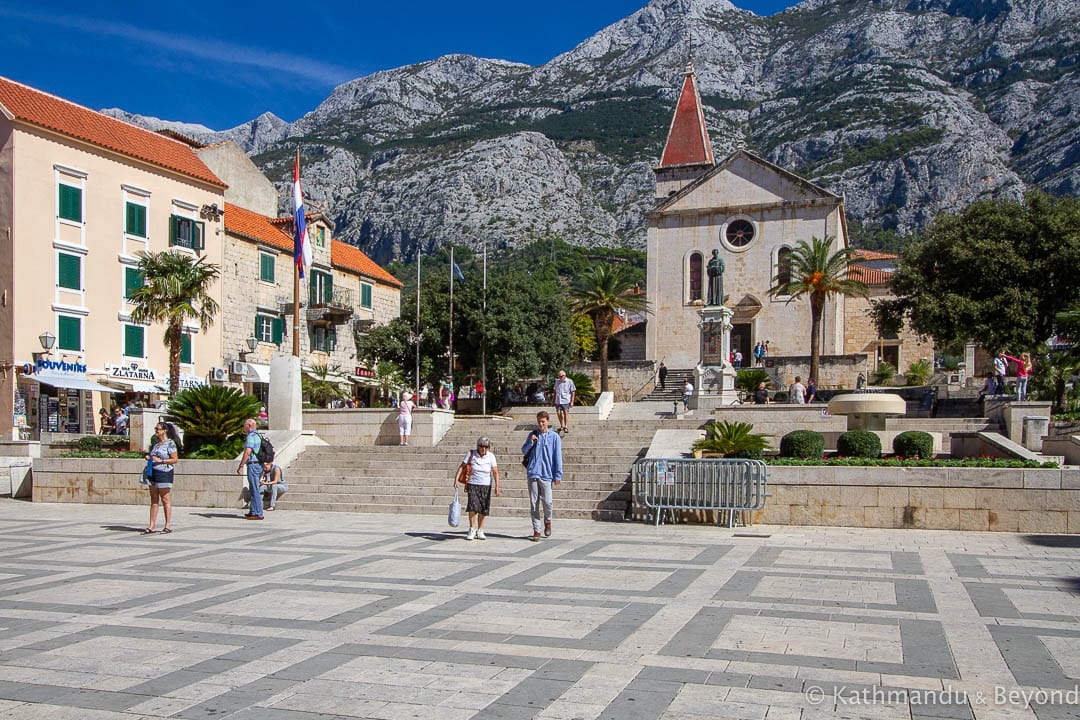 Makarska


Makarska
Monument to the Revolution, Makarska
Bus travel friendly?
Yes, Makarska's bus station is one of the main transport hubs on the Dalmatian coast.
Where to stay in Makarska
We didn't stay in Makarska, choosing instead to utilise the flexibility of a hire car to spend the night in a smaller town along the coast. However, it's somewhere I would consider in the future if we were looking for a less hectic and more affordable base than Split or Dubrovnik. Browse Makarska accommodation options here.
Podgora
Yet another small town with a white-pebble beach and crystal clear waters against a backdrop of craggy mountains! I did say it was hard to distinguish many of them, didn't I?! The reason we went to Podgora was to visit the hilltop spomenik, the elegant-looking Seagull Wings Monument. We liked the laid-back feeling of the town and returned to spend the night there on our way back from Dubrovnik to Split. Podgora only has 1,500 residents and is very quiet – if you prefer somewhere more lively, Makarska would be a better choice.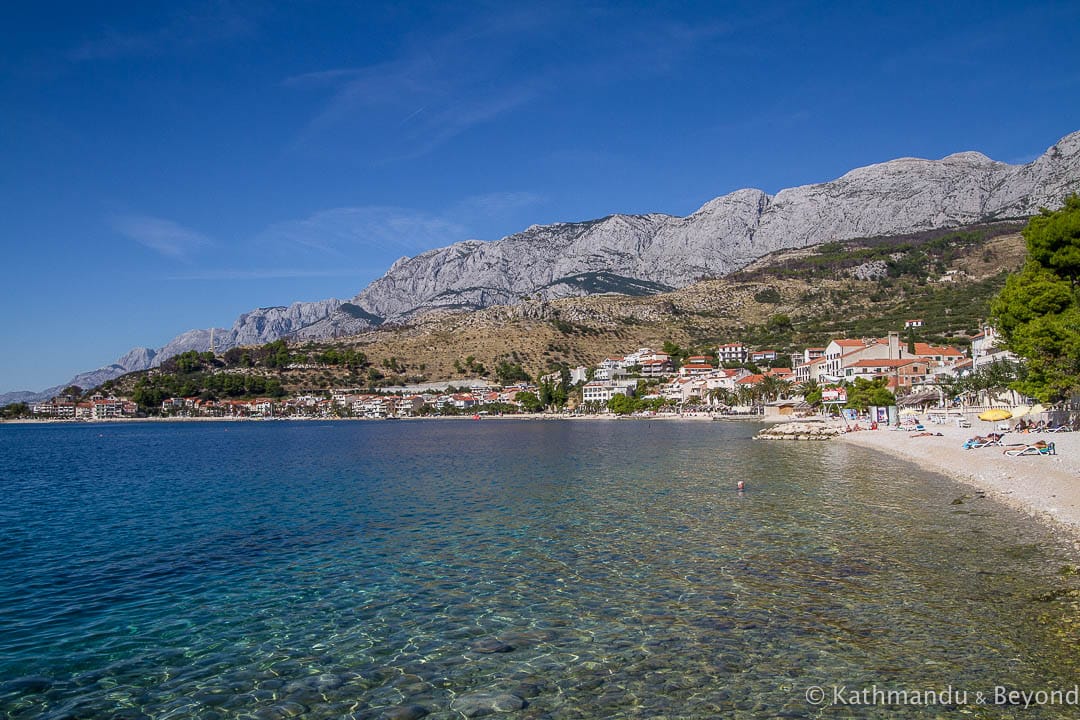 Podgora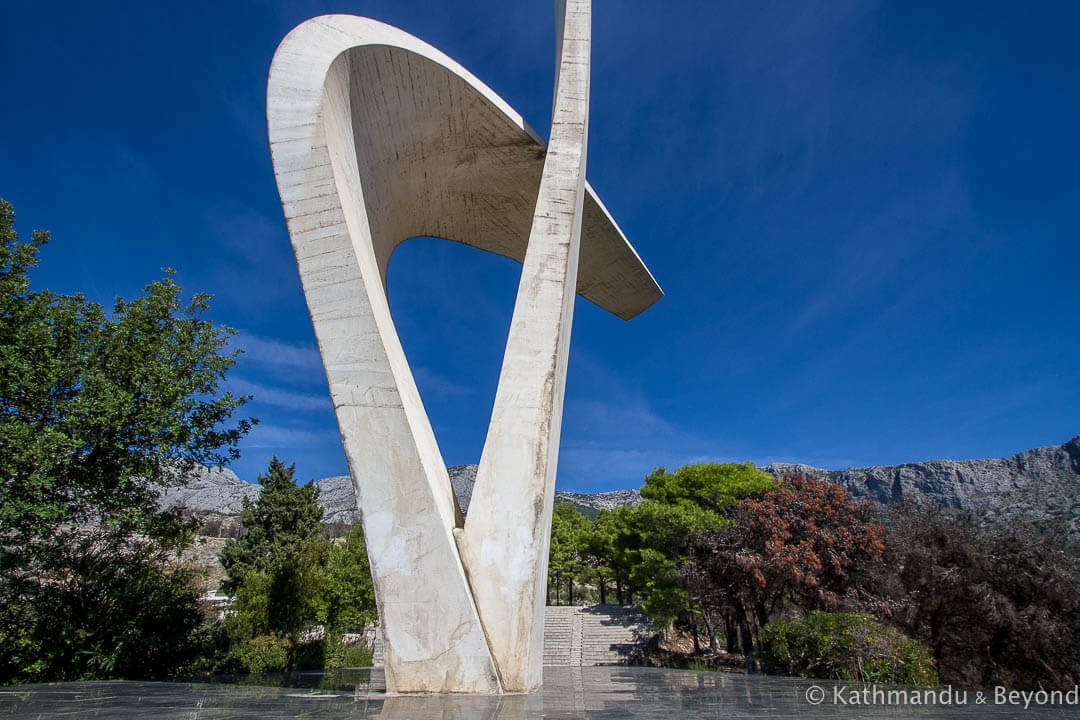 Seagull Wings Monument, Podgora
Bus travel friendly?
Yes, depending on where your accommodation is located. Podgora is 15 to 25 minutes by public transport from Makarska and regular buses pass along the main road which is approximately one kilometre from the beach area. It could be a 15-20 minute walk, downhill on arrival and uphill when you leave.
Where to stay in Podgora
We stayed at Apartmani Dijana which is set back slightly from the main town. Our room didn't have much of a view but the set-up was good – the private kitchen and dining area was outside the patio doors on the covered terrace.
Zaostrog
We passed through Zaostrog only briefly and, you guessed it, it was a spomenik that brought us here! The Monument to the National Liberation War is in the centre of town, next to the (again) very picturesque harbour and beach area. We tried to visit the Franciscan Monastery of St. Mary Zaostrog, a historic 13th-century church complex, but the buildings were locked up. I believe you need to make contact in advance if you want to visit. If you're passing by with your own transport, I'd say stop and take a quick look, but there's not enough going on to recommend a longer stay.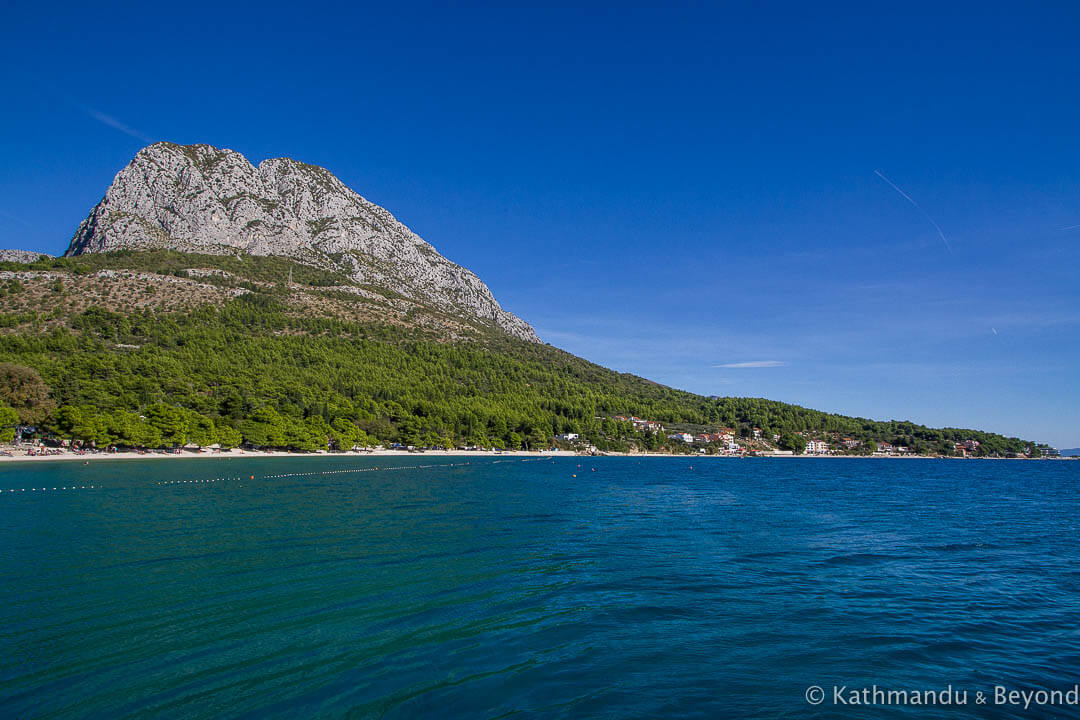 Zaostrog
Monument to the National Liberation War, Zaostrog
Bus travel friendly?
Reasonably. The bus stop for Zaostrog is on the main Split to Dubrovnik highway which is around 500 metres from the seafront. However, only six buses per day, or so, are scheduled to stop at Zaostrog so be sure to check the timings ahead of your journey.
Where to stay in Zaostrog
There are limited options in this small town, particularly if you're travelling on a budget, although Apartman Eva looks like a reasonable option.
Klek
Whilst other places we visited along this part of the coast were still bustling with life, Klek had shut down for the season at the time of our stay in late September. Most of the restaurants and even the supermarkets, apart from one poorly-stocked convenience store, were closed, and the entire place had an abandoned ghost town feel to it. Our kind of place you might be thinking, but nope, it just felt rundown and a bit sad compared with everywhere else we visited between Dubrovnik and Split. I'm sure that, in season, Klek is as attractive as some of Croatia's other small towns but it's hard to recommend it based on our experience. Definitely, don't go out of season!
We only picked Klek as a place to stay because time was creeping towards late afternoon and we didn't want to find ourselves struggling to get somewhere reasonably-priced in Dubrovnik some seventy kilometres further south. Klek is two kilometres north of the Neum Corridor – the ten-kilometre stretch of Bosnia that squeezes its way between Croatia to claim the country's only piece of coastline. We considered spending the night in Neum (prices were a bit lower than in Croatia) but we were unsure of the situation with our car rental insurance. Car hire companies allow renters to cross the Neum Corridor without taking any additional cover, but we didn't know if an overnight stay was permitted and didn't risk it.
On reflection, looking at our photo of Klek, the place doesn't look too bad at all!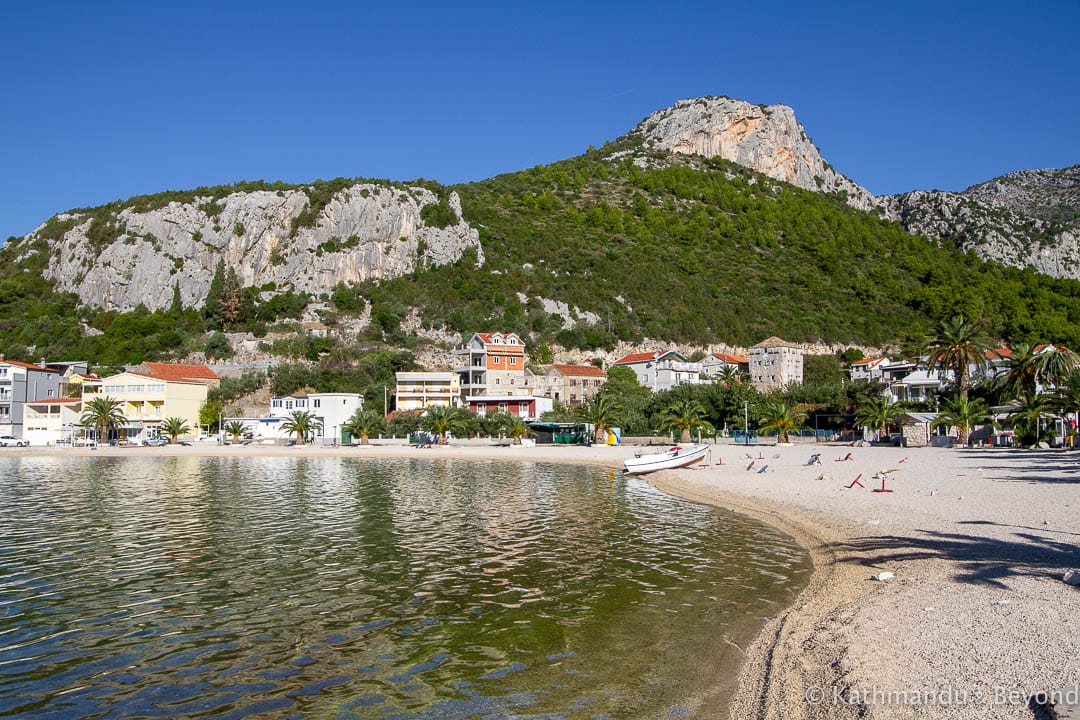 Klek
Bus travel friendly?
Infrequent bus departures service Klek and the stop is on the main highway, approximately 600 metres from the town centre and beach.
Where to stay in Klek
We stayed at Apartment Dragovic which we found fairly average despite having a high rating on booking.com. It was fine for an overnight but not somewhere I'd rebook for a longer stay. That said, the owner was very friendly and hospitable – I think he also was halfway to closing up for the season.
Ston
Like Dubrovnik, Ston boats impressive city walls and its five-kilometre stretch of wall is longer than its more famous neighbour. Ston is also famous for mussels and salt pans where traditional methods are still used. Ston is the only place listed here that we didn't visit, but since it has been subsequently recommended to us, I am including it. Situated almost halfway between Split and Kotor, it would be a suitable place to break the journey if you wanted to avoid the tourist madness of Dubrovnik. Having left Klek in the morning we were keen to get further south to the bay of abandoned hotels at Kupari so we decided against the ten to fifteen kilometre round trip detour to Ston, but I'm kicking myself now that we didn't make time for it.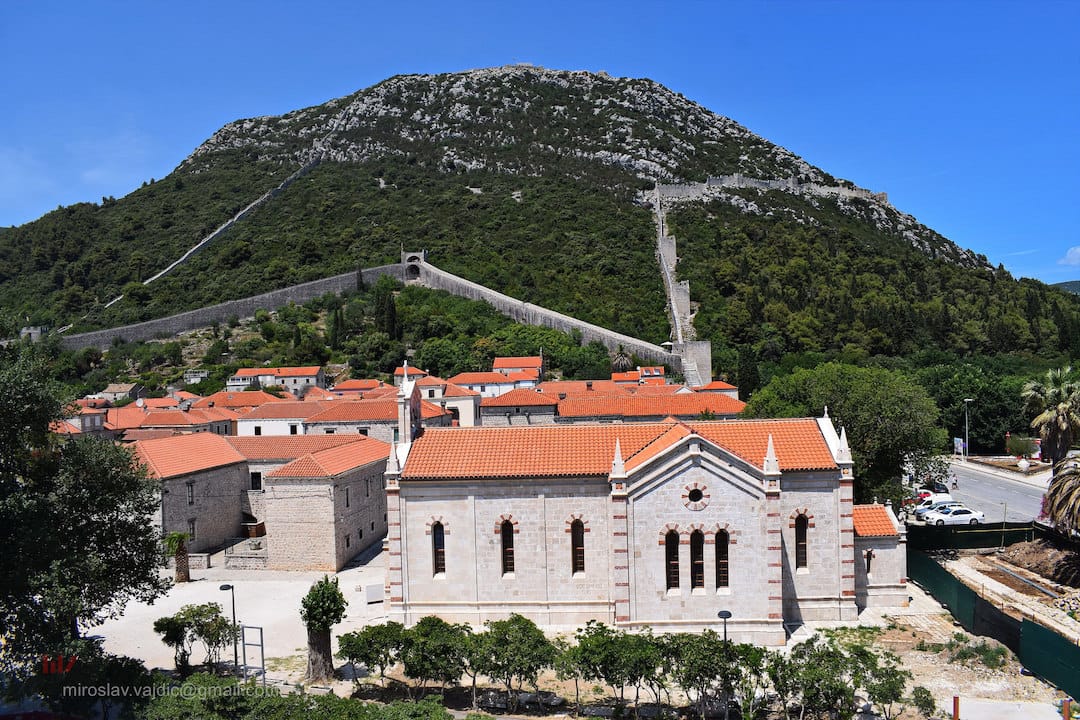 Ston Image © Miroslav Vajdic on Flickr under license CC BY-SA 4.0
Bus travel friendly?
Not especially. Ston is too far from the highway (five-ish kilometres) to be able to walk. There are some buses from Dubrovnik to Ston, but only two or three a day, making it hard to plan a day trip. Check the schedule here.
Where to stay in Ston
Ston has fairly limited budget accommodation options, which is a pity as it would make a good alternative base to Dubrovnik, if you had your own transport. Check out the options here.
Conclusion
If your question now is which one of these is the very best place to visit between Split and Dubrovnik, I'd narrow it down to either Makarska if you want somewhere a bit bigger, or Podgora if you prefer a more chilled pace.
Although we rented a car for the Split to Dubrovnik drive, our research along the way showed that travelling along the Dalmatian coast using public transport is a lot easier than we thought. BusCroatia and GetByBus are useful sites for checking timetables although on shorter routes you may be able to take local buses which don't offer advance ticket purchase. For longer distances, it might be sensible to buy bus tickets a day or so in advance, especially during the summer months. If you can, avoid July and August as everything is crazily busy during that time.
And finally… If you are also planning to travel along the coast north of Split, check out our post recommending the best places to visit between Zadar and Split.
---
ARE YOU INSPIRED TO BREAK THE JOURNEY BETWEEN DUBROVNIK AND SPILT? PIN THIS POST FOR LATER…



Ready to travel? Start planning…
Browse accommodation and car hire options…
---
---
Disclosure: This post contains affiliate links. This means that we may earn a small commission on purchases made through some of the links in this post. It doesn't affect the price you pay.
---