If driving north along Croatia's Adriatic Coast from Split to Primošten, you'll easily spot the popular vantage point on the left-hand side of the road just before you get to Primošten. It offers a perfect panoramic vista of what is, arguably, North Dalmatia's prettiest town.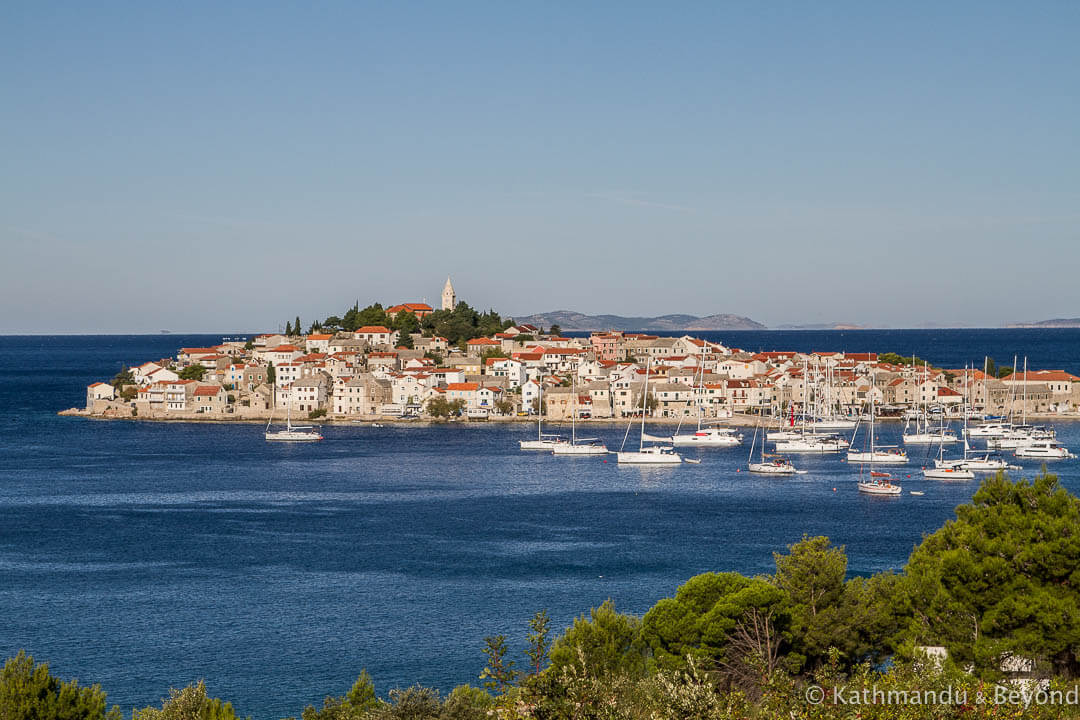 Primošten
But, with its classic modernist and low-rise design, it's much harder to spot the abandoned Hotel Marina Lučica which sits directly below the crest of the viewpoint, tucked almost out of sight. In fact, given that most of the complex is surrounded by thick foliage, it would be very easy to miss altogether if you were solely focussed on the terrific view ahead of you.
This was exactly what most people who had pulled into the lay-by were doing but we knew of the hotel's existence prior to our arrival in Primošten and although we didn't have the precise location, we were on the lookout for it. Fortunately for us, we recognised the place from a photo we'd seen and made our way down the rocky verge to take a closer look.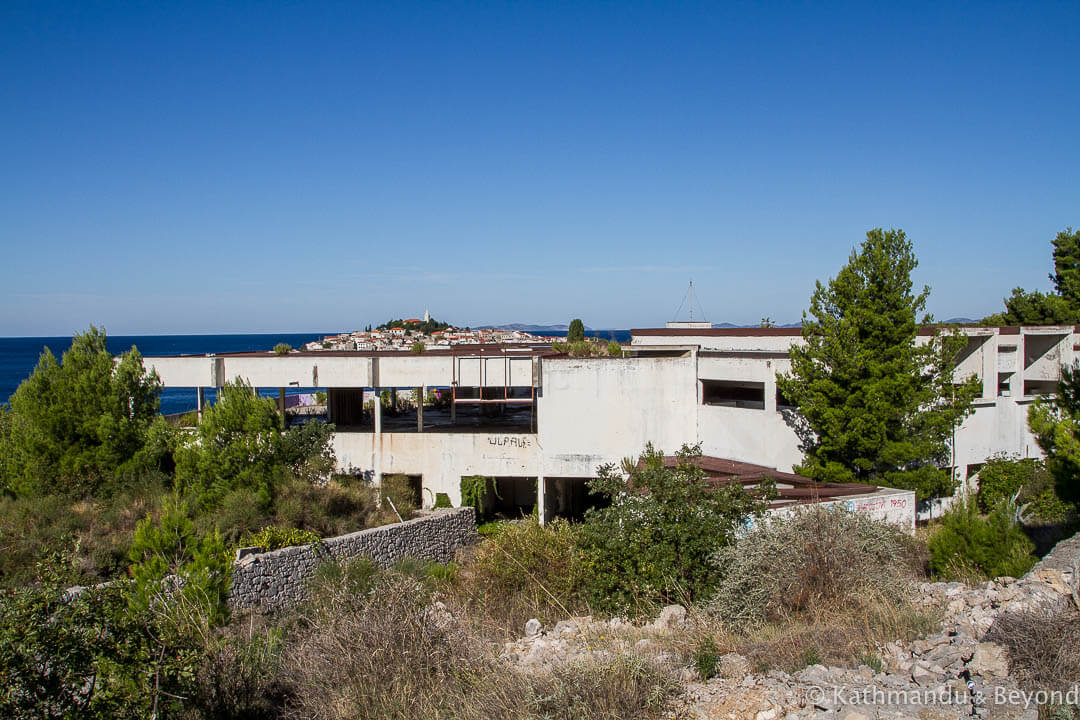 Hotel Marina Lučica, Primošten
The Hotel Marina Lučica opened in 1971, during the heyday of Yugoslavia's popularity as a tourist destination. With over 700 rooms coupled with excellent facilities, the Marina Lučica was, at the time, considered to be one of the most modern hotels along the Adriatic Coast.
It also happened to be a naturist (nudist) hotel.
With plenty of small islands and secluded inlets and bays, Yugoslavia/Croatia's coastline has had a long association with naturism. Indeed, the British monarch, Edward VIII, and his future wife, Wallis Simpson, can be credited with spreading the word as they were both known to have stripped down to their birthday suits in order to go for a skinny dip during a holiday on the island of Rab back in the mid-1930s. Soon after, the same beach was pronounced Europe's first official nudist beach by the Yugoslavian government and naturist holidays in this part of the world became a thing.
By the 1960s and '70s, naturist vacations were very popular in Yugoslavia, especially among the Germans, Dutch and the British (I've got a family member who used to go on them regularly but I'm not naming names!). But, whether the Marina Lučica was purposely designed with nudists in mind is not something I can answer, although it would explain the hotel's low-rise blueprint and secluded setting away from Primošten itself.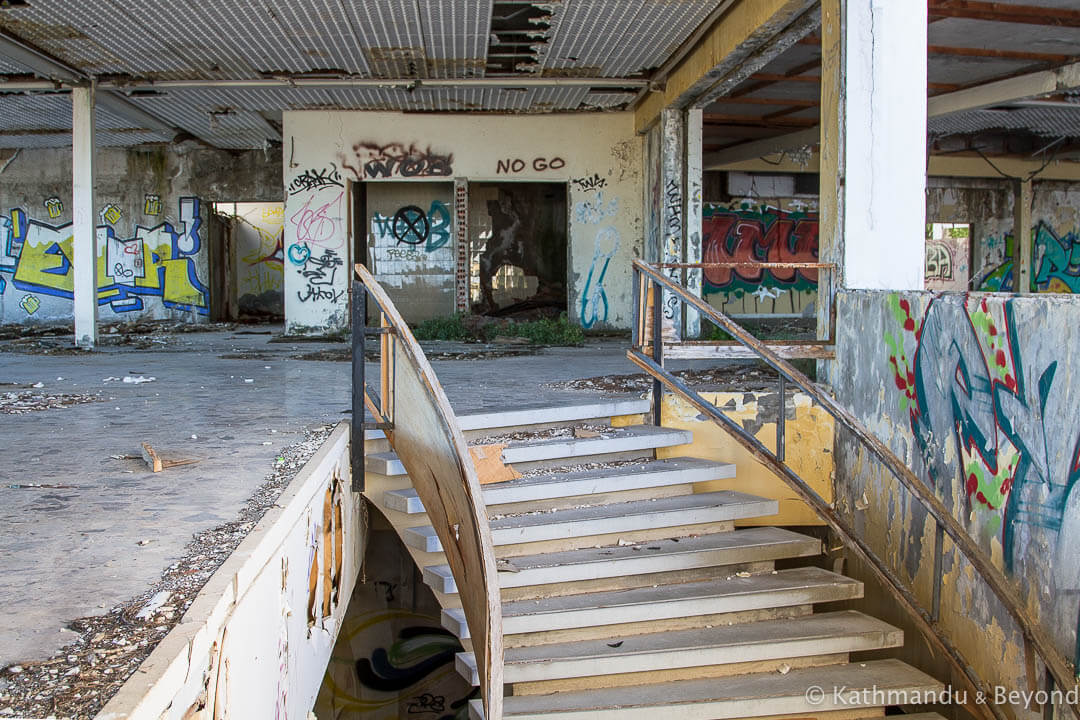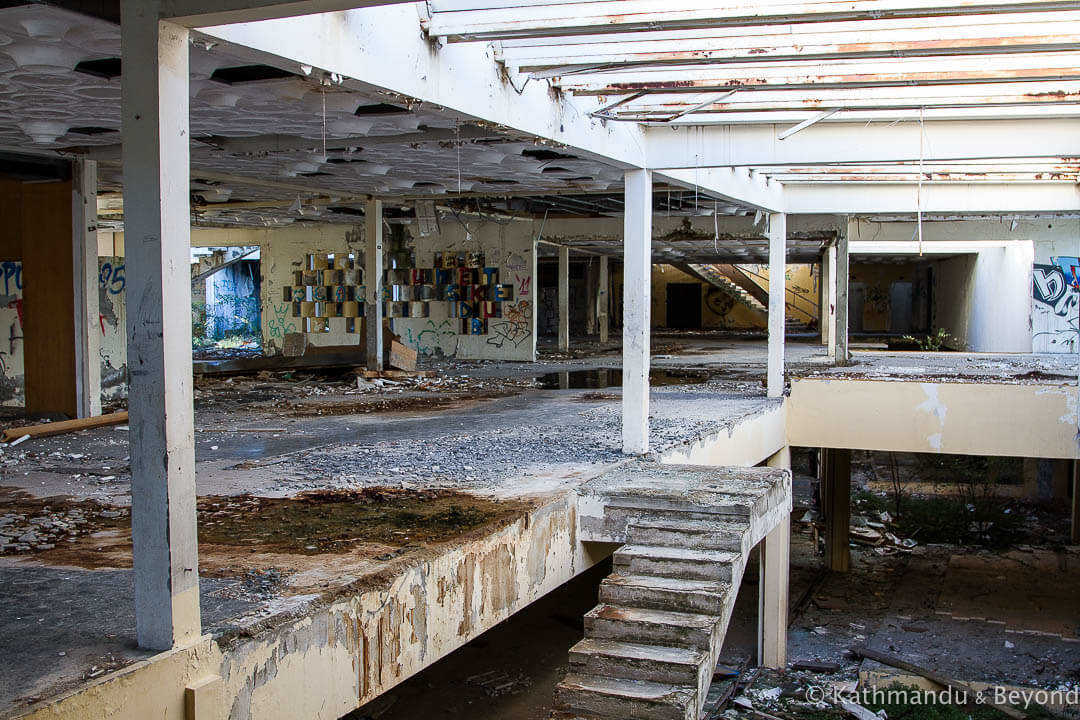 Hotel Marina Lučica, Primošten
As with every other abandoned location that I have written about in the Balkans, such as the Political School Josip Broz Tito in the north of the country or the Olympic ski jumps and former Hotel Igman in Bosnia and Herzegovina, the Hotel Marina Lučica met its demise during the Yugoslav Wars, and more specifically the Croatian War of Independence which lasted from March 1991 to November 1995. I don't know if the hotel was on the front line, which was the case with the bay of hotels in Kupari, situated some 300km to the south, but certainly, tourists stopped coming and that would have been enough to ensure the hotel ceased operations. I did read one piece of information that suggested the hotel was in reasonable condition up until some point in 1994 which would imply that the property wasn't attacked or used by the military but rather that it did just stop functioning simply because there were no guests. As per the comment below (07.08.21), there is also the implication that the property was damaged after becaming a shelter for refugees during the conflict.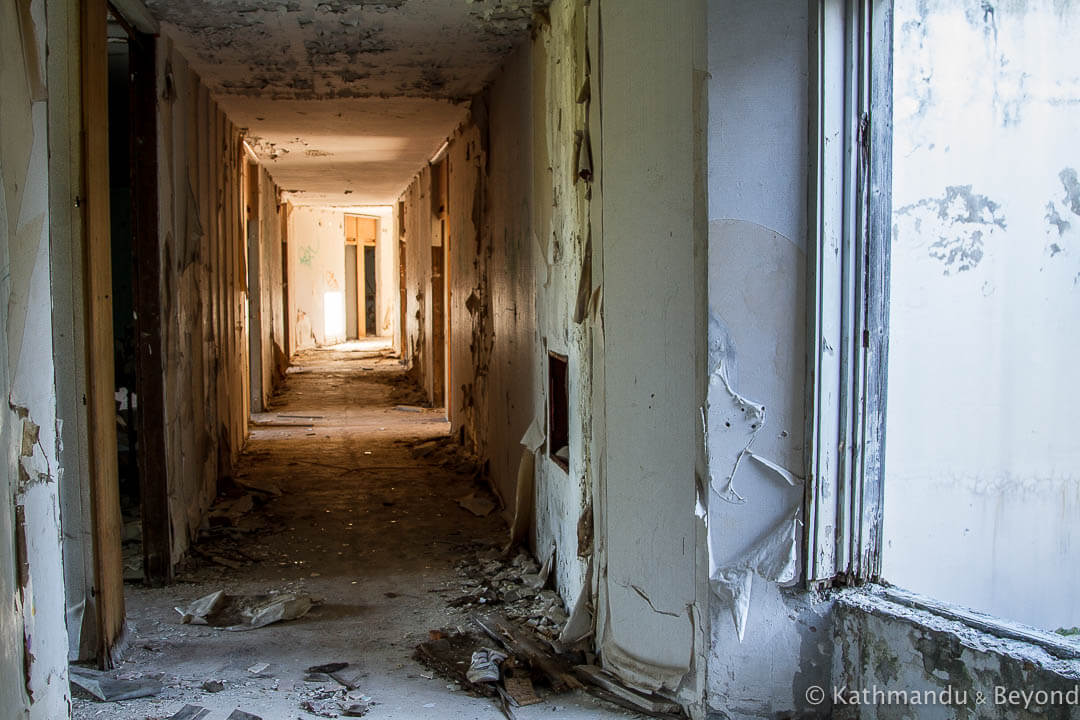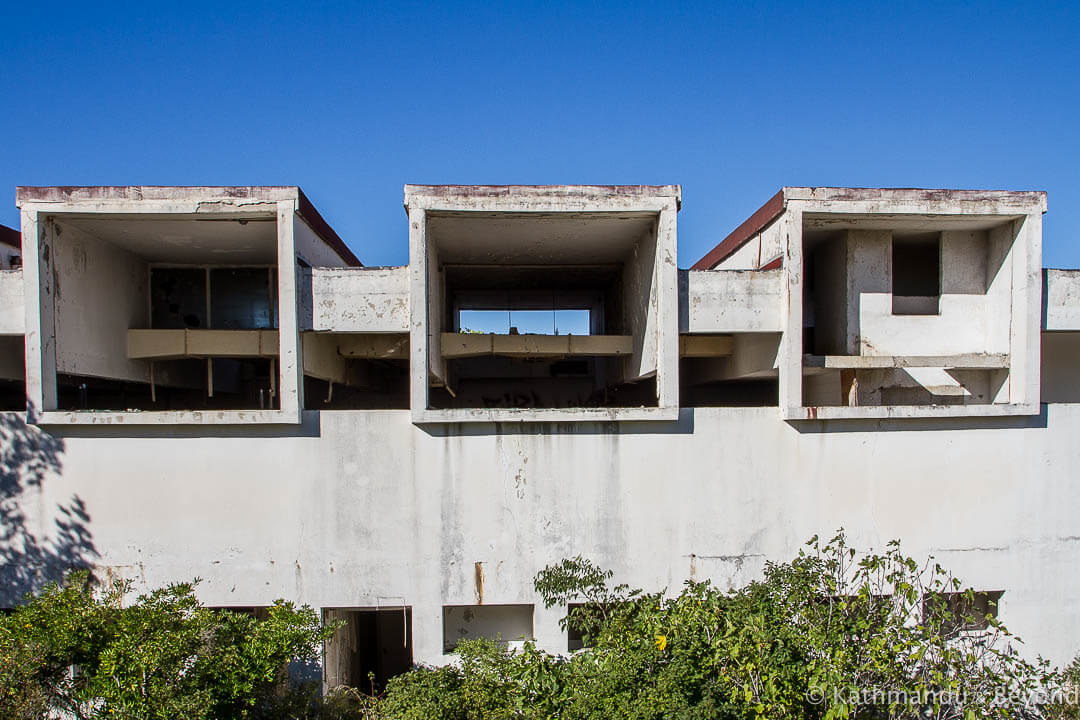 Hotel Marina Lučica, Primošten
Exploring the Hotel Marina Lučica near Primošten
These days, Hotel Marina Lučica near Primošten is a shell of its former self. Anything of value was stripped out a long time ago. Yet with a little imagination, it's easy to envisage the resort's original modernist design, and I'm sure the interior would have been very sleek back in its day.
All the bedrooms we looked inside seemed rather small (I guess there wasn't much call for large amounts of wardrobe space – ha, ha!) but the balconies were a good size and, if you'd had a room facing the sea, you would have had a stupendous view to gaze upon (no more smut please!).
The open-plan public areas were fun to explore and we also went down to the beach which, like nearly all beaches along this coast, was stoney and fairly small. There was a disused snack bar just shy of the beach but, strangely for a hotel of its calibre, we couldn't find any trace of a swimming pool. We are partial to photographing abandoned swimming pools and were keen to add another one to our collection but, although we looked in all the obvious places (on the roof, down by the beach etc.), we couldn't find one.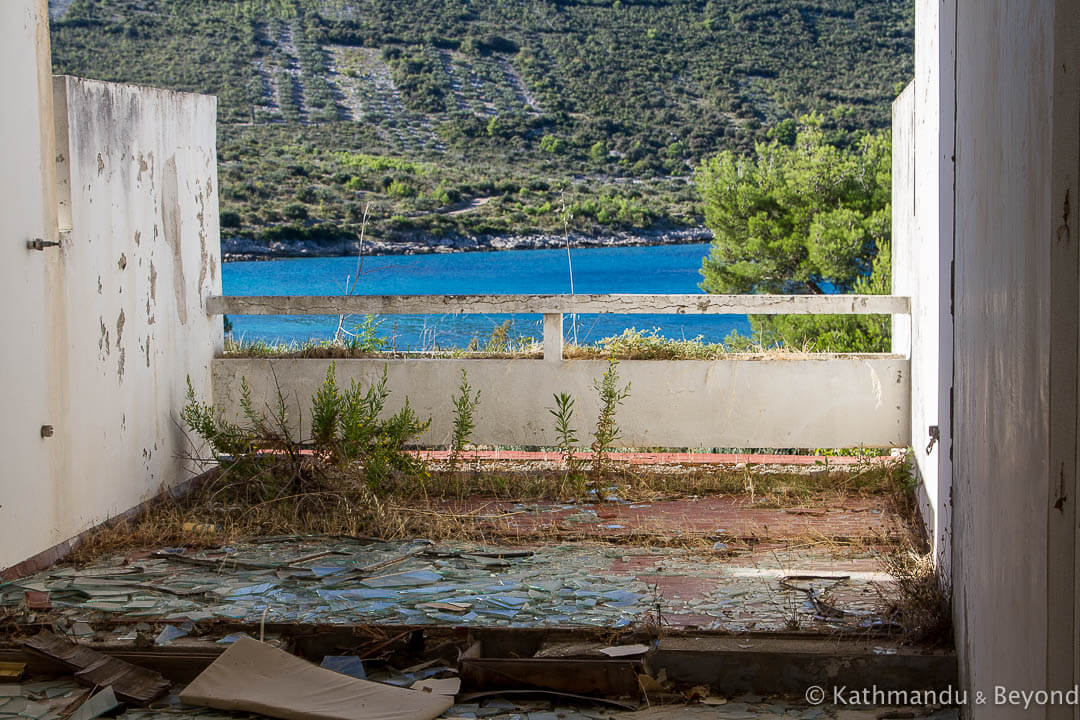 Hotel Marina Lučica, Primošten
We ended our exploration of the Hotel Marina Lučica with a final look at the view of Primošten's magnificent former islet (it was once a small island but is now connected to the mainland), which was just as good from the veranda of this forsaken hotel as it was from the viewpoint at the top of the hill. Plus, we had the added bonus of not being surrounded by hawkers and coach loads of other tourists snapping away at the scenery.
The future of the Hotel Marina Lučica near Primošten
There is actually more information on the Internet about the Marina Lučica after it ceased operating as a hotel than when it was a hotel.
Around 2002, the hotel, and presumably the land it was on, was sold to a Hungarian company called Diamant Marina. The price was 1.6 million Croatian Kuna or US$240,200 at today's exchange rate. Even taking inflation and a general increase in land prices into account, this was a very good price for the buyers and the deal had the backing of the Croatian Government As part of the contract, the new owners were supposed to renovate the property and turn it back into an active hotel. The completion date was scheduled as 2005, but as you can see from the enclosed photos, nothing was, or has been done to achieve this goal.
Furthermore, legal documents relating to the contract no longer appear to exist and there are suggestions that the deal was a fraudulent one that was set up only so that those involved could get their hands on a prime piece of real estate that is now worth a hell of a lot more than was paid for it.
And that's all I'm going to say on the subject. I'm working from Croatian Internet sources and I don't especially trust their translation into English. I also don't fancy being faced with a lawsuit at some point in the future and, besides, I like Croatia and want to keep visiting the country!
If you want to learn more, check out either this article or this one.
For the time being, Hotel Marina Lučica remains an interesting place for a bit of urban exploration and an excellent spot to get a stunning view of pretty Primošten.  And, if you are feeling really brave, you can go down onto the stoney beach, take all your clothes off, and acquire that all-over tan you have always yearned for!
Getting to Hotel Marina Lučica from Primošten
You don't need a car to reach the Hotel Marina Lučica. From the centre of Primošten old town, it's only a 1.5km/20-minute walk mainly along the coastline.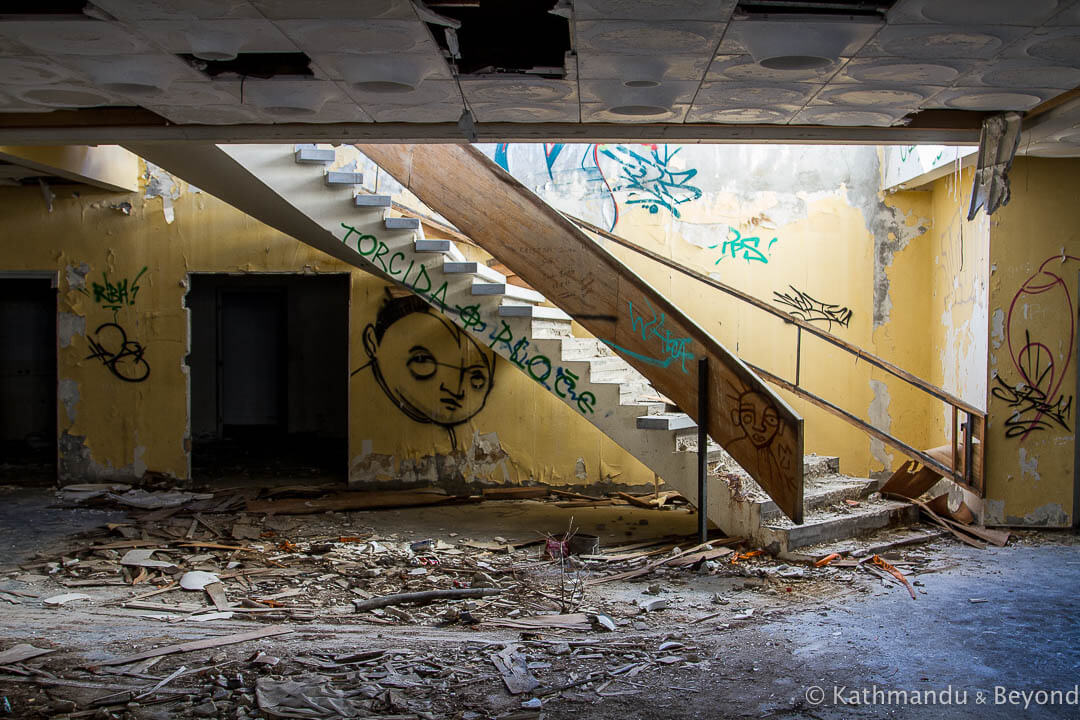 Hotel Marina Lučica, Primošten
---
---
DO YOU ENJOY EXPLORING ABANDONED PLACES? PIN THIS POST…



---
---