Zadar was the first stop on our travels along Croatia's Adriatic coast and it was a town we both really liked. It has Roman ruins and medieval churches, quaint cobbled alleyways and traditional cafés. It also has a lived-in feeling that we came to appreciate even more after our subsequent visits to Dubrovnik and Split, which felt more like museum towns.
But Zadar also has another, less conventional tourist attraction; an art installation called Sun Salutation, or Greetings to the Sun.
The 22-metre wide circle, cut into the pavement, is filled with 300 glass solar panels which harness energy from the sun during the day and create a colourful lighting effect by night.
The Sun Salutation has an equally intriguing sibling – the Sea Organ. The Sea Organ is nothing to look at but its eerie sound serves as a backdrop to the Greeting to the Sun. The hypnotic tones are produced when the nearby ocean pushes air through a system of pipes set into the stone steps of the seafront. Both artworks were created by Nikola Bašić, a Croatian architect, as part of an initiative to regenerate Zadar's port and waterfront.
Most people flock to Zadar's shores as the sun is setting to catch a first glimpse of the Sun Salutation in action, but the crowds meant it was hard to enjoy (and photograph) the full effect. Plus Mark was anxious to get to a bar and down a glass of chilled Croatian beer!
ARE YOU PLANNING A TRIP TO CROATIA? READ OUR GUIDE ON THE BEST PLACES TO VISIT BETWEEN ZADAR AND SPLIT.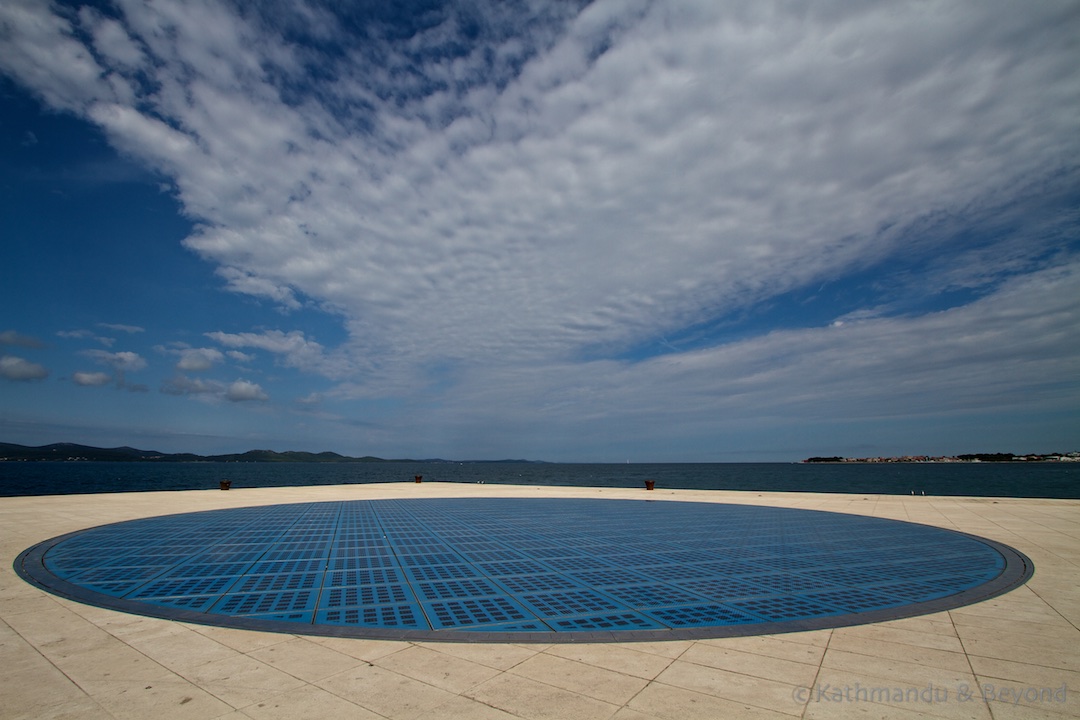 ---
---
---