The best street art in London: My pick of walls and artists across the capital
Often when we are back in the UK visiting family and friends in between long stints of travel, I head into London to check out the latest street art. My favourite areas for street art in London include Camden and around Brick Lane, Shoreditch and Hackney Wick.
Another place in London I like to check out is the Leake Street graffiti tunnel whenever I am close to Waterloo train station with half an hour or so to spare. It's a bit hit and miss as to what you'll find there – sometimes there is some great art, while at other times it is a mass of tags. For example, the tunnel had some fantastic Halloween-themed street art at the end of October, but just a couple of weeks later, the offerings were very disappointing.
Leake Street graffiti tunnel for Halloween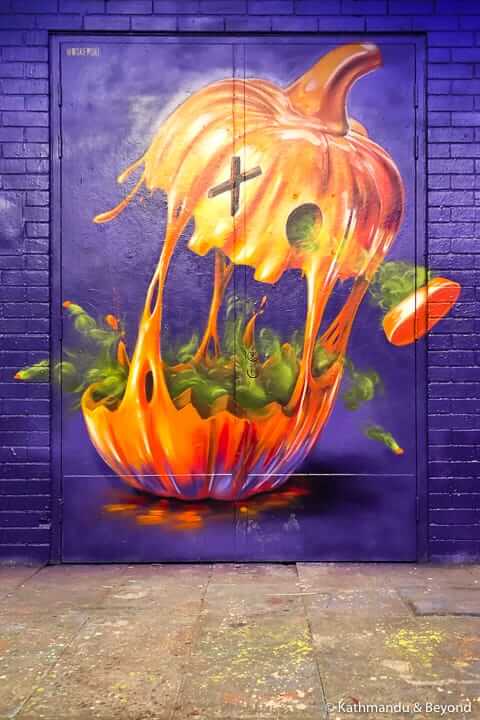 Some of the best Halloween-themed street art in the Leake Street graffiti tunnel in October 2020
Despite having hundreds of photos of London street art, I haven't made much effort to write about it. I think it's because we tend to think of being in London as our downtime rather than as a travel destination. But not being able to travel since March and being stuck in our home country has pushed us (as it has many others) to explore more of our backyard.
This selection of street art combines some of the new pieces we discovered during our London lockdown walking marathon in November, with photos of London street art from my archives. Because of the impermanent nature of street art, it is impossible to know for how long a particular piece will be around – some murals stand the test of time whereas others are here today, gone tomorrow.
While attempting the impossible task of choosing my personal favourite street art in London, I realised that instead of cherished walls, it is certain artists whose work excites me. Ultimately, what I am doing is showcasing some of London's best street art and highlighting what a fantastic city it is for a spot of mural hunting. I hope you enjoy my selection.
Street art in London, the artists and the walls
Smug One
I've waited a long time to see a mural by SMUG (real name Sam Bates and also known as Smug One) up close and personal, and my first did not disappoint. The Scotland-based Australian artist is famous for his large-scale realistic portrait murals, and one of his most publicised works is that of a homeless man in Glasgow. Smug One's art can be seen in other cities across the UK including Leicester, Bristol and Brighton, but this is his first mural in London.
Smug painted this wall for the first London Mural Festival (link) which took place in September 2020, and involved painting over 50 pieces of art across the capital. The Webheath estate street mural is of 86-year-old June Barber, a resident on the Kilburn estate for fifty years. Like most of his street art, it was created entirely by freehand, using only aerosol cans.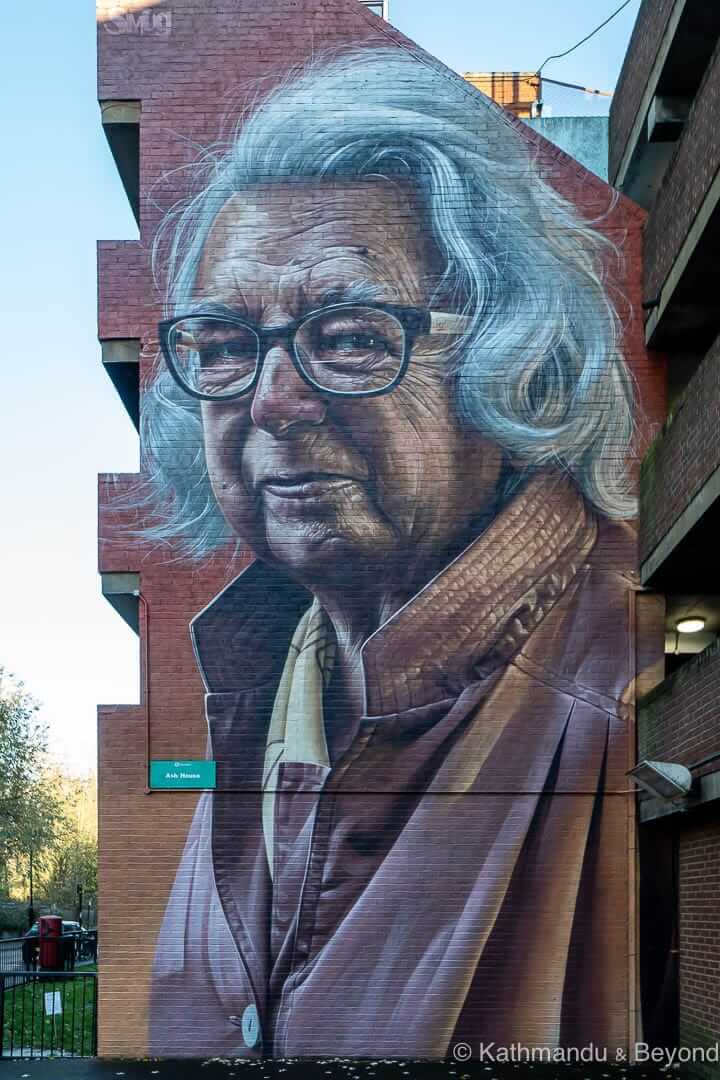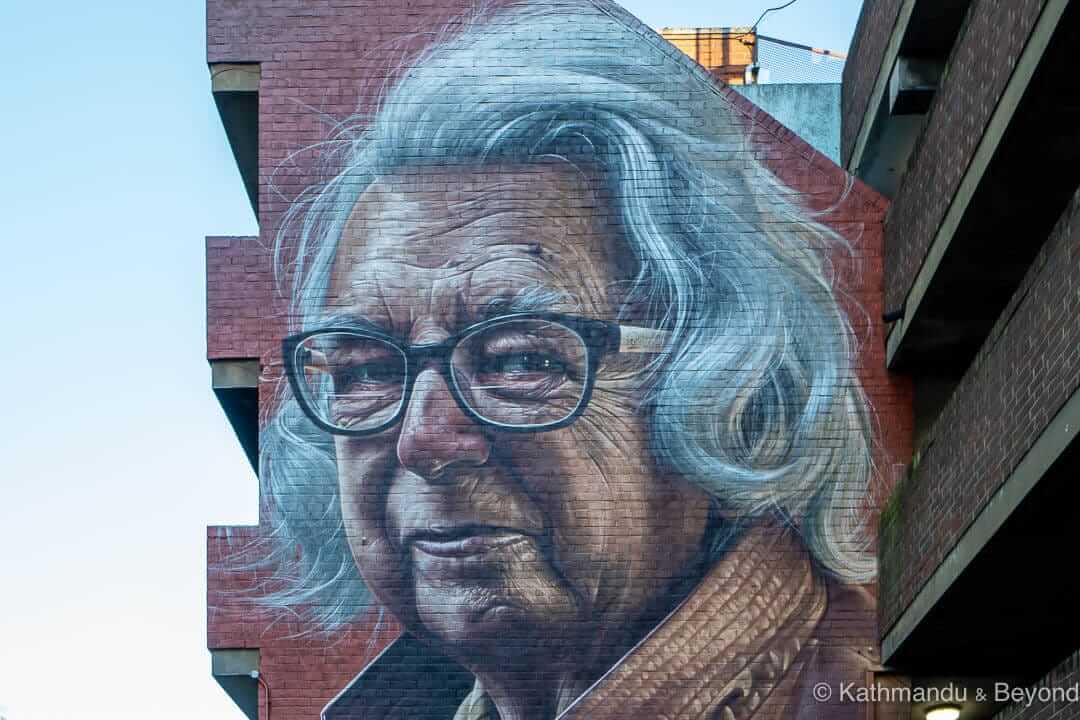 Dan Kitchener
Dan Kitchener is a British artist whose vibrant street art can be spotted across London. Rainy city nightscapes with bright reflecting lights and umbrellas are his signature style. This famous piece is in Camden. Kitchener is currently working on what will be the largest mural in London. It is located in Holborn and will be revealed in 2021 (I'm guessing in the first part of the year), so I will be heading there to see it as soon as I can!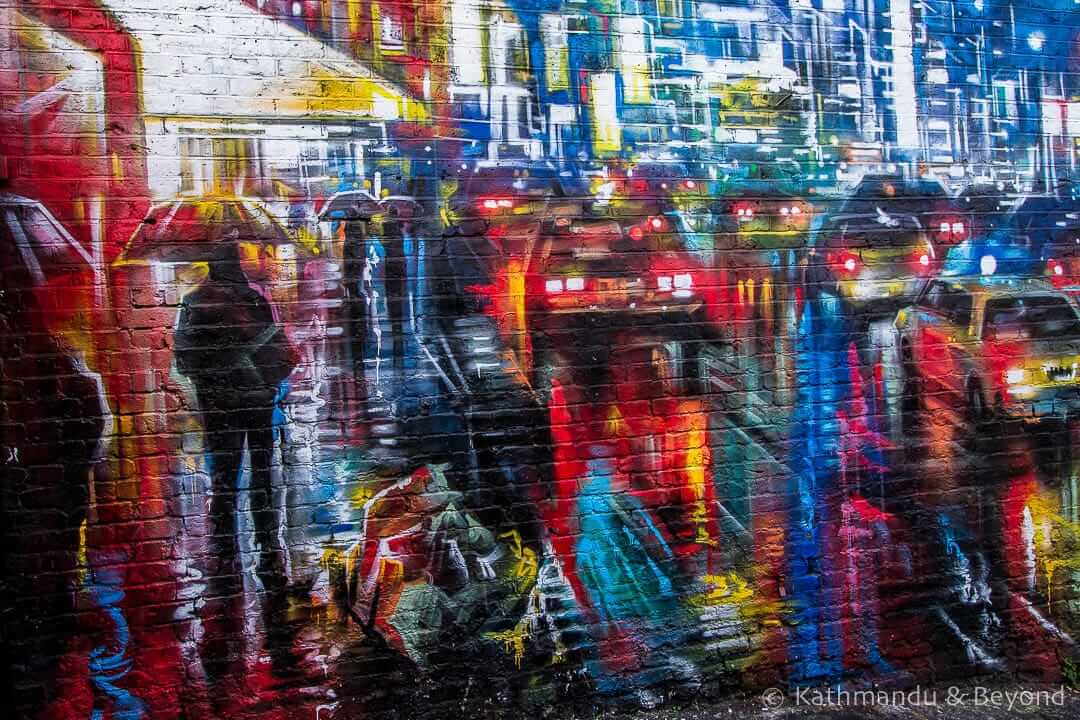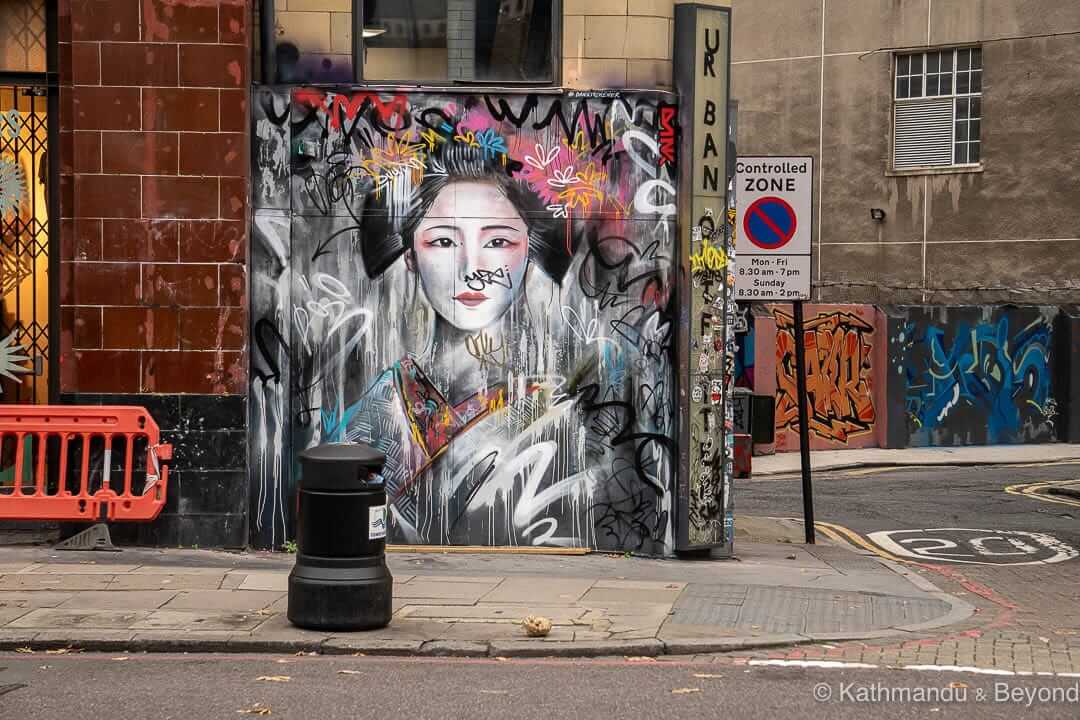 And two more of Dan Kitchener's art in Shoreditch
Alex Face
Although Thai artist Alex Face is one of my best-loved street artists, this is far from being one of my favourite pieces of his street art. But, I was so excited to spot Mardi, I had to include it in my roundup of London street art. I am much more used to seeing his bunny character, known as Mardi, in Bangkok or Chiang Mai and, even though I know Alex Face has painted internationally, I wasn't expecting to see Mardi in Aldgate.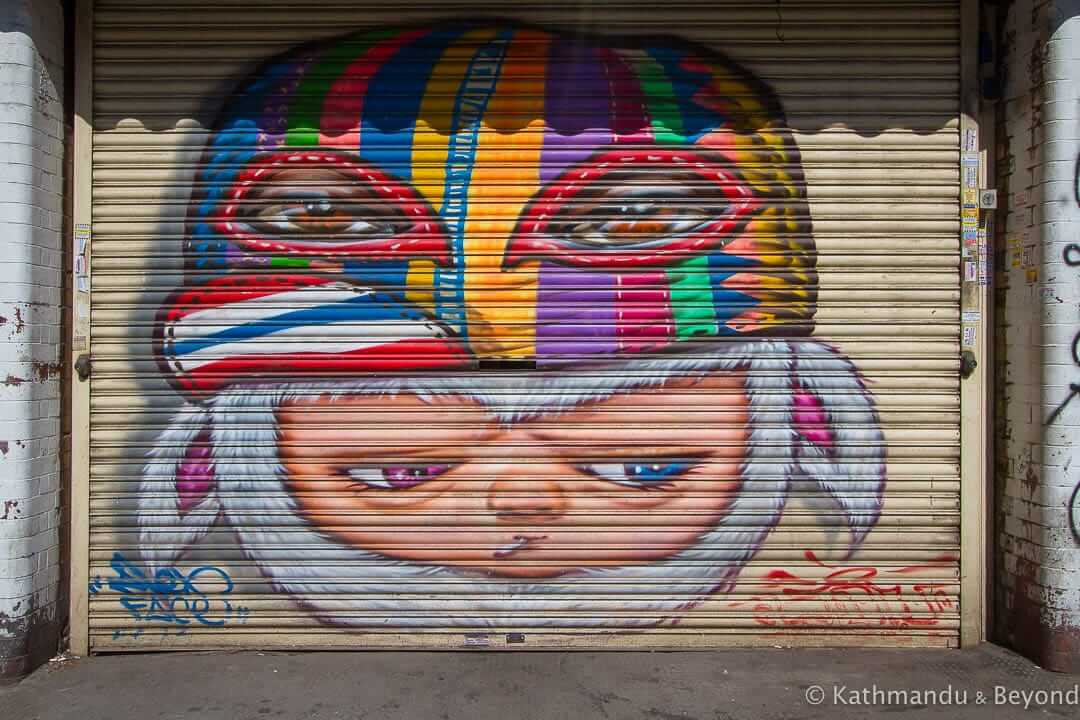 Dale Grimshaw
One of Britain's most talented street artists, Dale Grimshaw paints for a cause. Most of his murals depict images of indigenous people from both West Papua and Papua New Guinea and support the Free West Papua Campaign. In his words, his art highlights "the illegal occupation and atrocities in West Papua by Indonesia".
Dale Grimshaw's work can be seen across London, including his first 'Free West Papua' mural, in Camden This mural of a tribal man from Papua New Guinea was painted in June 2019 in Tybalds Estate in the Holborn area.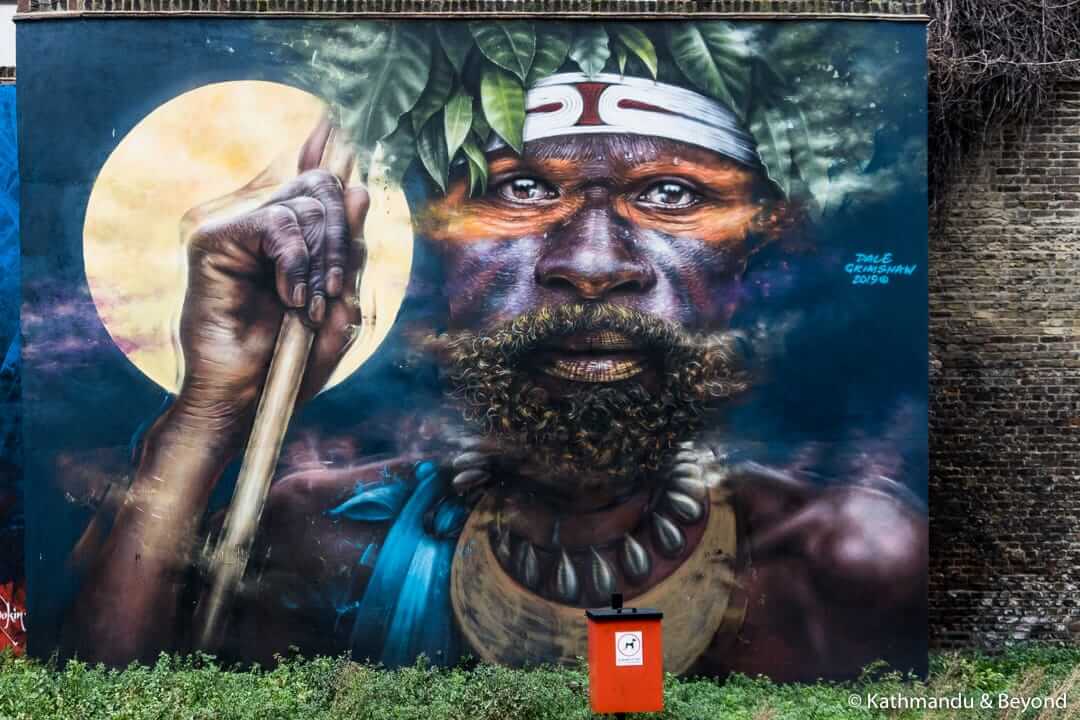 Zabou
Also in the Aldgate area of Whitechapel on New Goulston Street, is (or rather, was) this gorgeous Alice in Wonderland themed mural by Zabou. It's purple, so what is there not to like? The French street artist is based in London so you see quite a lot of her work about, especially in the Shoreditch area. Sadly, Alice in Wonderland no longer adorns this wall.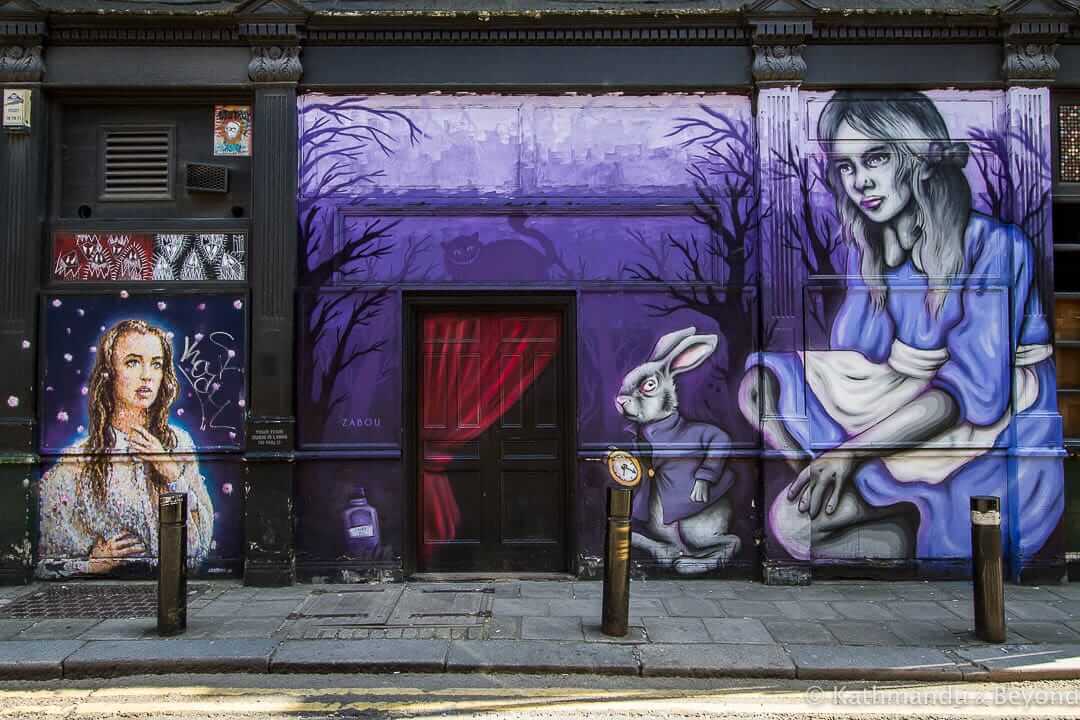 Lora Zombie
I adore this piece of Camden street art by Russian artist, Lora Zombie. There is a lot of detail in the mural which features a girl and three mini-globes with wolves atop them. It's easy to miss the small arrow pointing to the globe she is holding declaring 'I choose you'. The mural appeared on the prominent Camden wall on Stucley Place in early summer 2017 and although I don't know how long it lasted, it's definitely no longer there.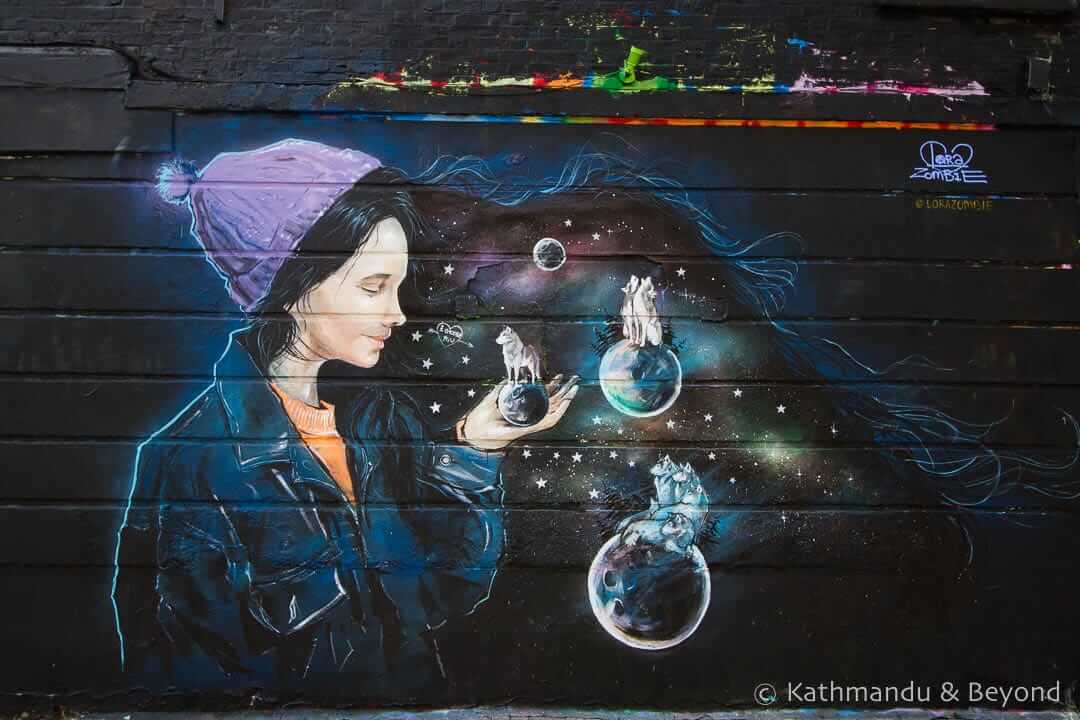 Whenever I am in Camden, I check out this wall because its art is usually of a very high standard. It also changes regularly so whilst it's sad to see a much-loved painting disappear, it is exciting to anticipate new art. I've chosen this photo because at the top of it you can see the remnants of the mural of Amy Winehouse previously on this wall. The Amy mural was created in March of the same year, which leads nicely on to…
Philth
This Amy Winehouse street art is one of several pieces that formed the Amy Winehouse Street Art Trail, a joint project of the Jewish Museum, Global Street Art, and Art Happens that used street art to celebrate the singer's life. It was painted in March 2017 down a Camden side street behind Be at One Bar on Miller Street.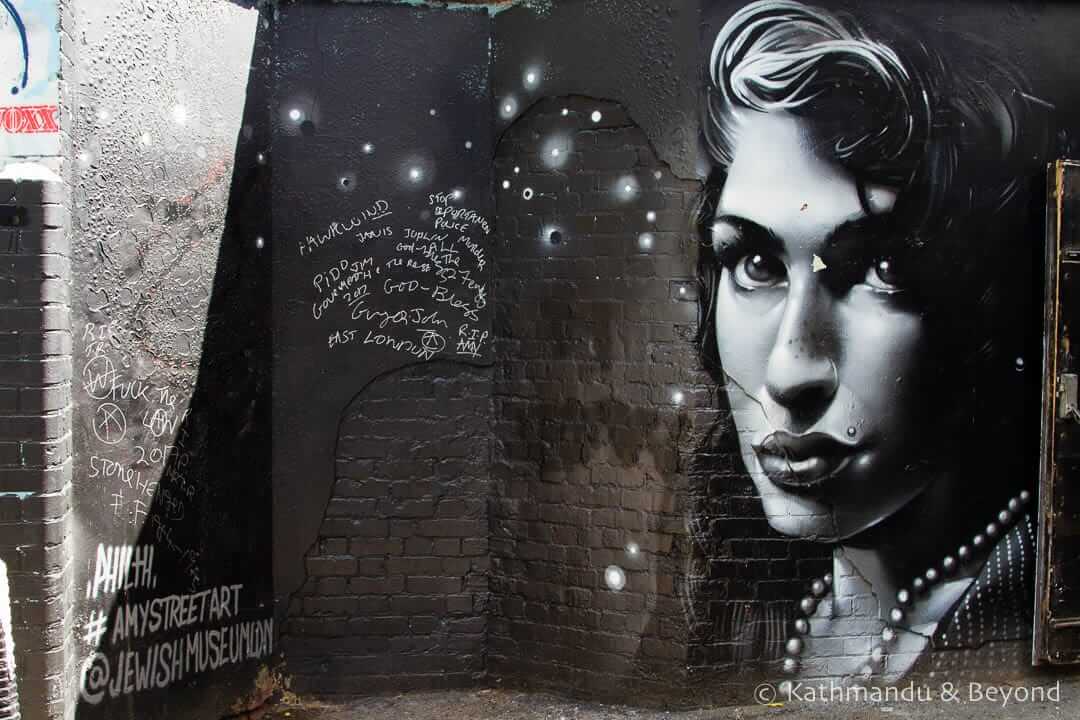 Ananda Nahu
This colourful street art was painted by female Brazilian artist, Ananda Nahu, in 2016 and is still in excellent condition (December 2020). The mural is on Rivington Street in Shoreditch.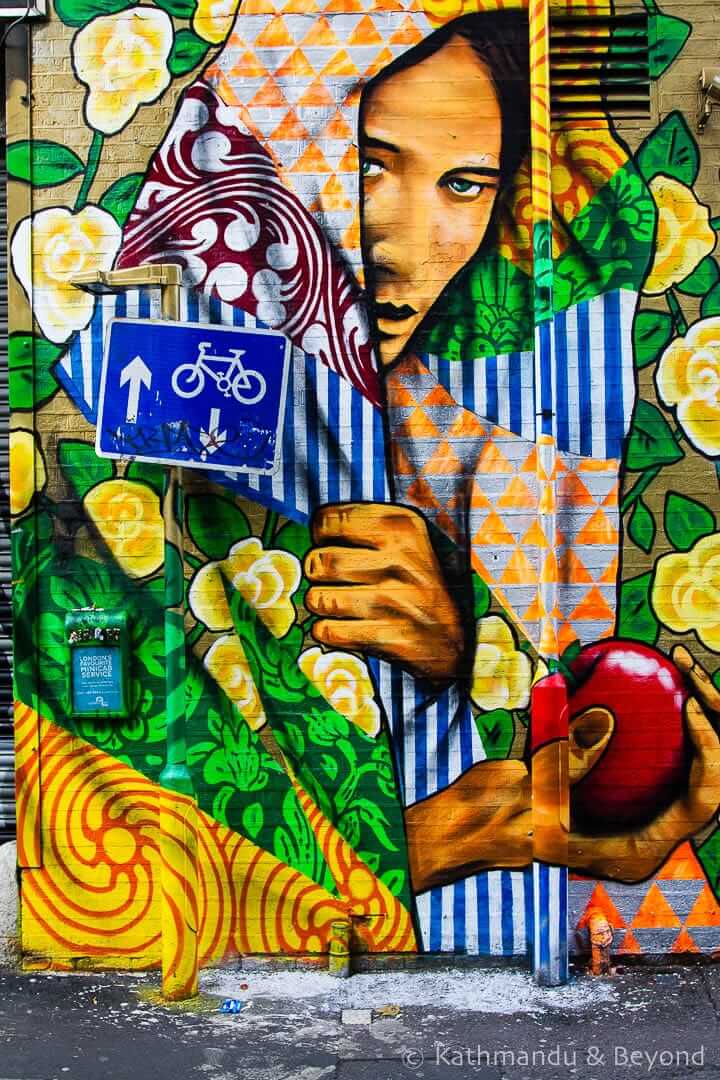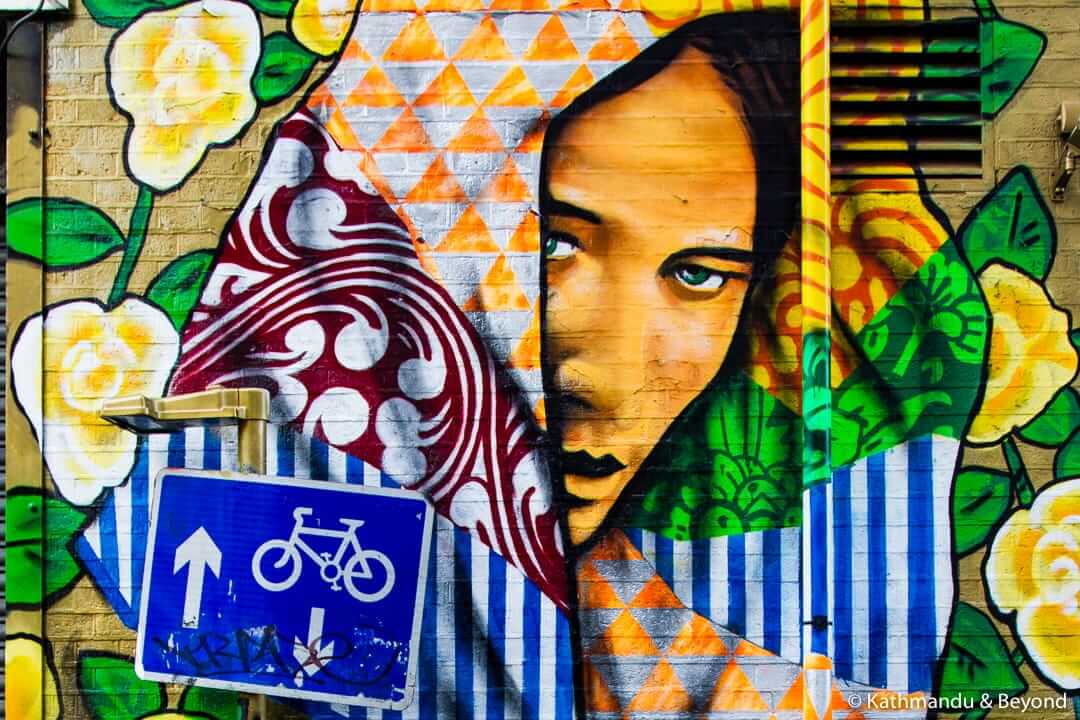 Ananda Nahu (ANAHU) on Instagram
Otto Schade and Stix
This entry is more about the wall than the street art painted on it (although I am a fan of both artists). On the left-hand side is a famous piece by Stix (it was voted one of Britain's favourite pieces of art in 2017). The work on the right is by Otto Schade who usually signs his art as Osch.
What I find interesting about this wall is that the Stix art has endured the test of time – it was painted in 2008 – whilst Osch's side of the wall has seen many variations over the years. This piece named 'Jack The Ripper 2040' was painted in March 2018, but it has been repainted with a different message at least twice since then. The Jack the Ripper mural contemplates the influence of smartphones and technology in turning people into passive voyeurs.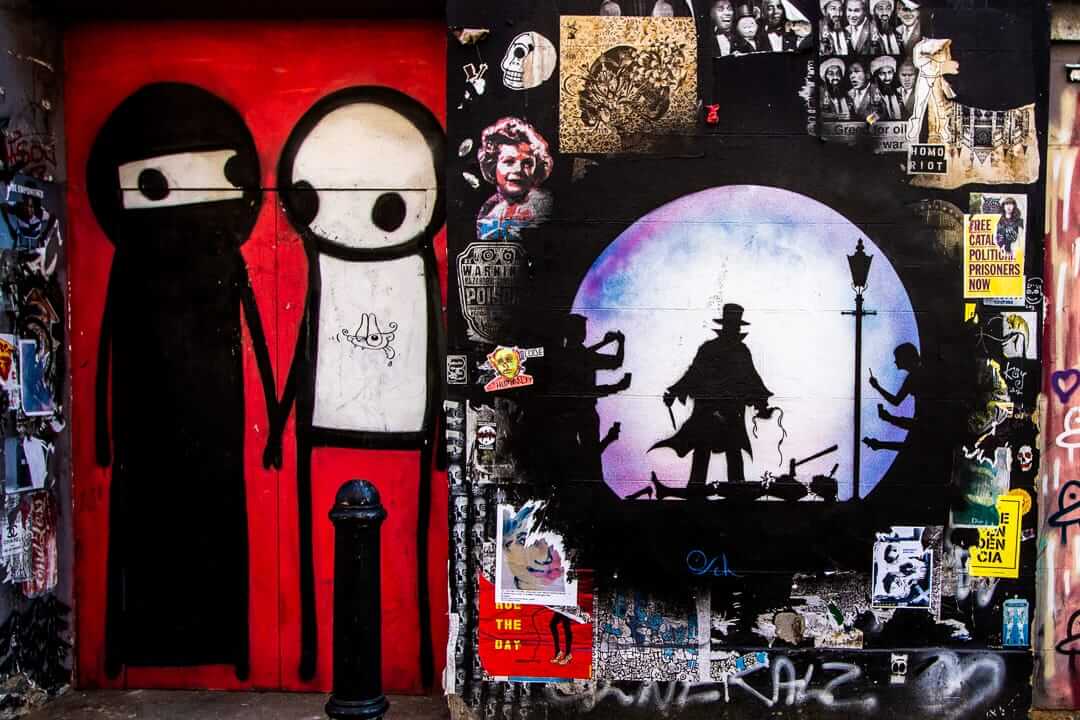 Although not confined to these styles, Otto Schade's work is easily recognisable: his two signature styles are brightly coloured figures silhouetted against a black circular background and figures or animals created from painted interwoven ribbons.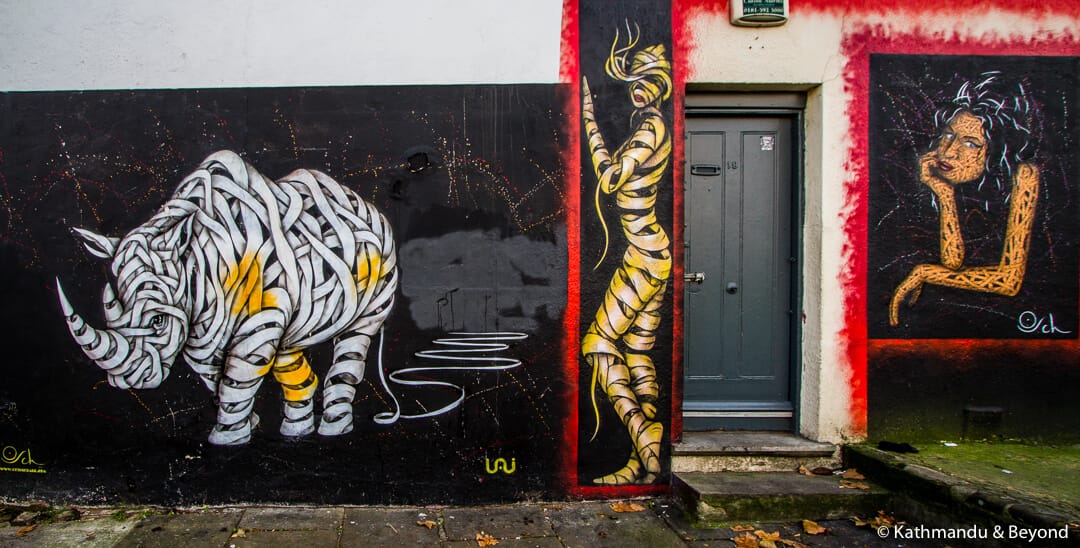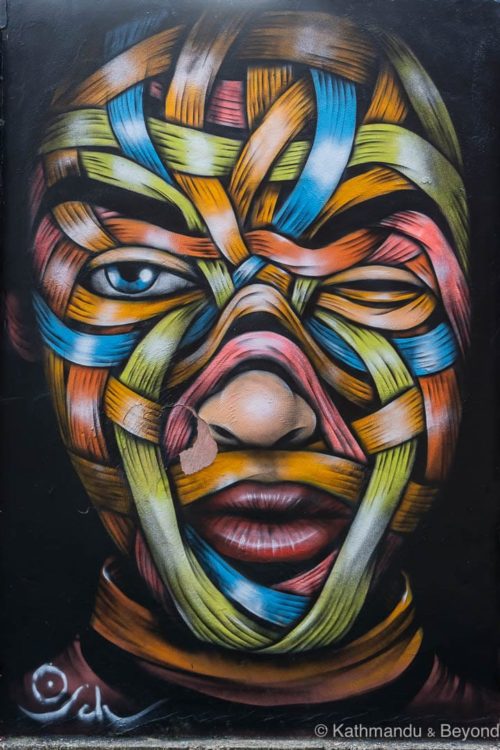 Street art from Stix is arguably even more recognisable as he paints seemingly very simple 'stick men' style art. Often it's on a huge scale, like this piece, also in Shoreditch.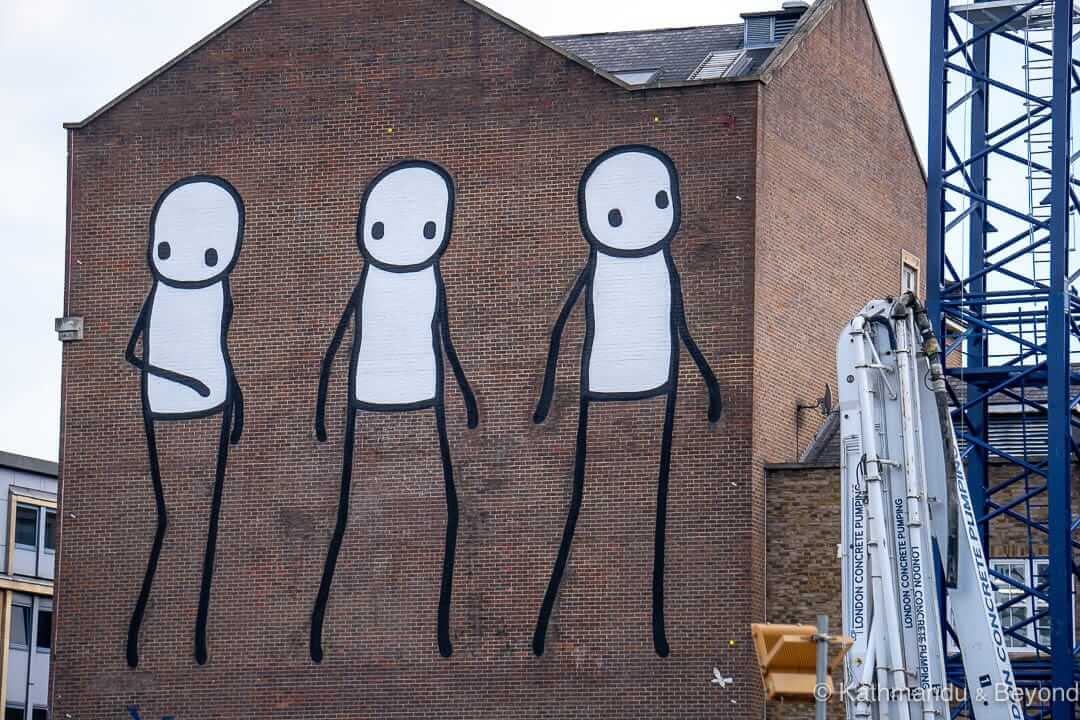 Otto Schade aka Osch on Instagram
The wall where King John Court meets New Inn Yard in Shoreditch
There is so much detail in the street art on this huge concrete canvas in Shoreditch. It was painted over the summer of 2018 by over fifteen artists working in collaboration under a common theme – connectivity.
The large mural on the corner wall is by artists Busk and Mr Switch and is a vanitas painting. Encyclopaedia Britannica's explanation of vanitas is a painting that "contains collections of objects symbolic of the inevitability of death and the transience and vanity of earthly achievements and pleasures; it exhorts the viewer to consider mortality and to repent." (Source)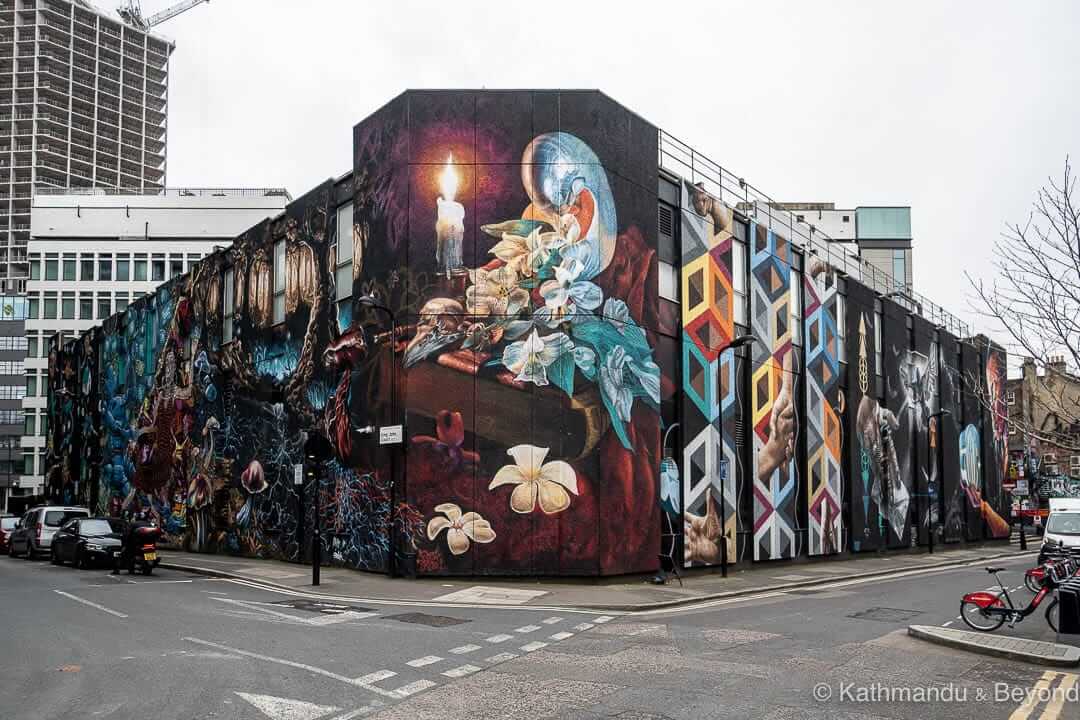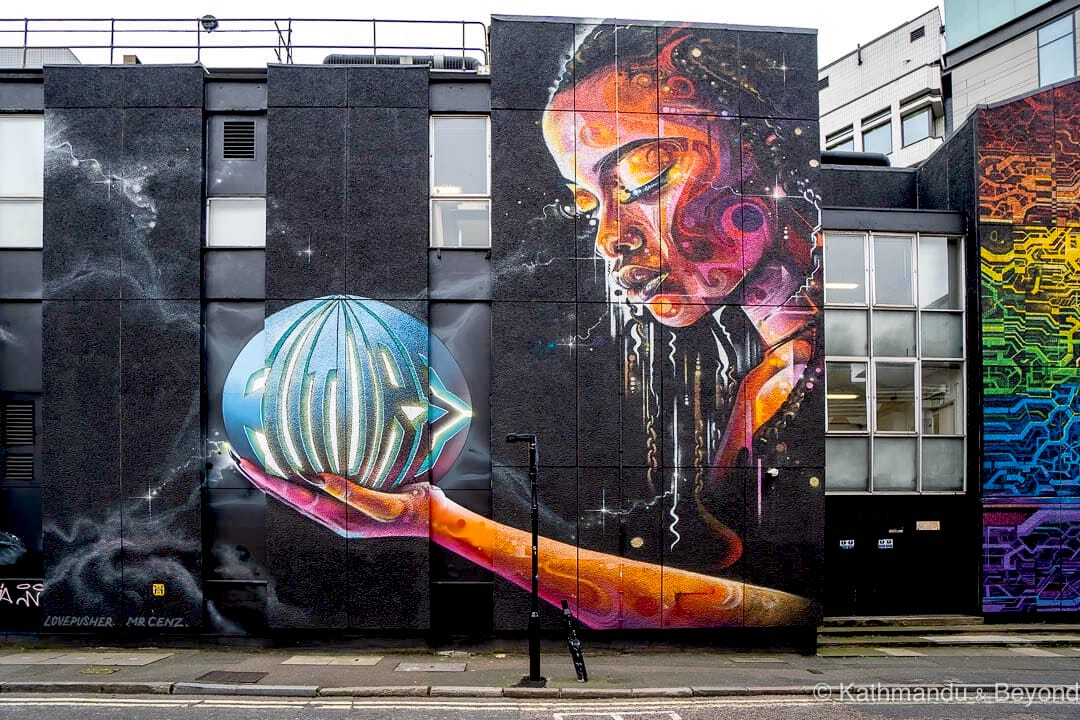 Roa
One of the most famous street artists, Belgium mural-creator Roa, is known for his sketch-like drawings of animals. We've seen his work across the world, but its highest concentration is probably in London. This rat up a drainpipe mural can be found on New Goulston Street, in the Aldgate area.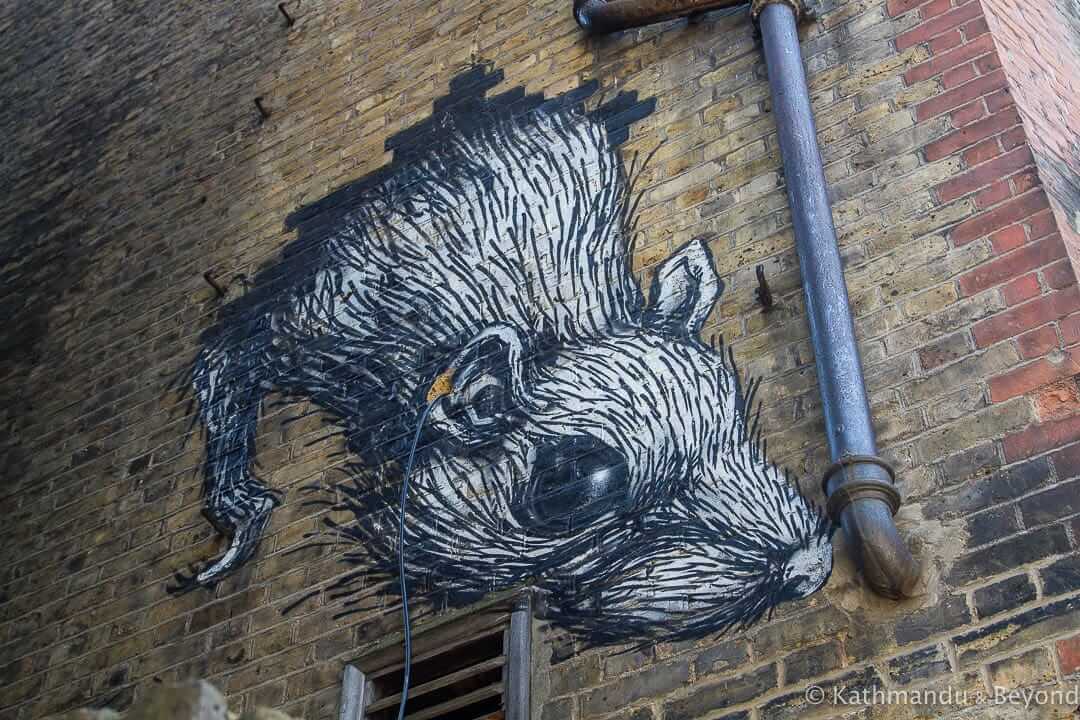 Paste-ups and slaps
Not a single piece of street art, but more a style (or combination of), paste-ups and slaps are different from what many people associate with street art. At first glance, they look like a farrago of art and graffiti and it would be easy to pass them by without a second glance, but look closer and you'll find a combination of intricate art, witty images and thought-provoking graphics. Often they are snappy satirical, political or social statements.
Paste-ups (or wheat pastes as they are also known) are posters or pieces of art stuck (pasted) to walls, and slaps are the name given to stickers – because you slap them up.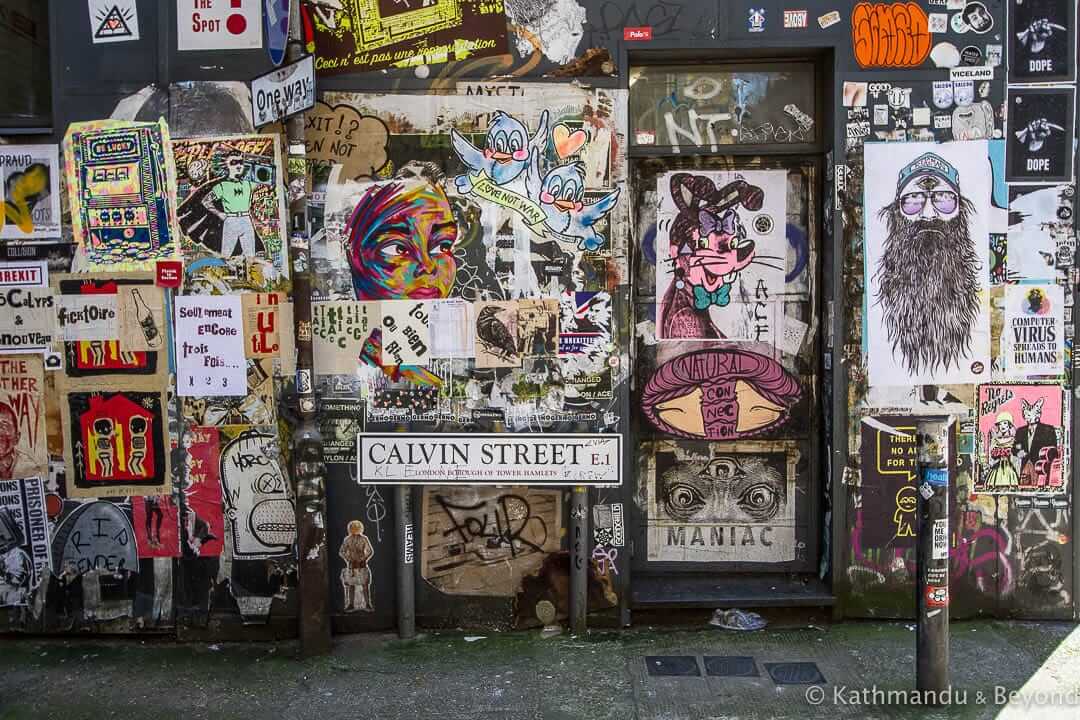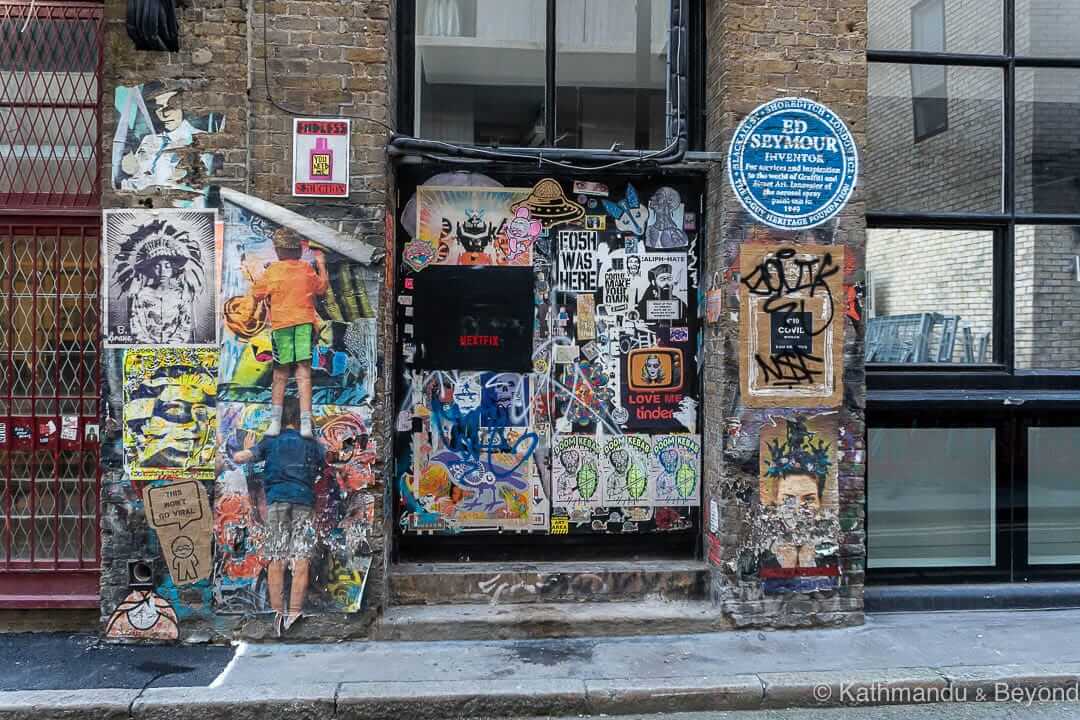 Check out Instagram for more examples of paste-ups and slaps (note, I'm not accountable for everything posted on Instagram under the hashtag #slaps!).
I could go on… I may well add to this post in the future, but for now, I hope you have enjoyed my short roundup of some of the best street art in London.
My favourites, of course, are entirely subjective and I'd be delighted to hear what, where and by whom your most-loved street art in London is.
If you enjoyed this post, please share or save it…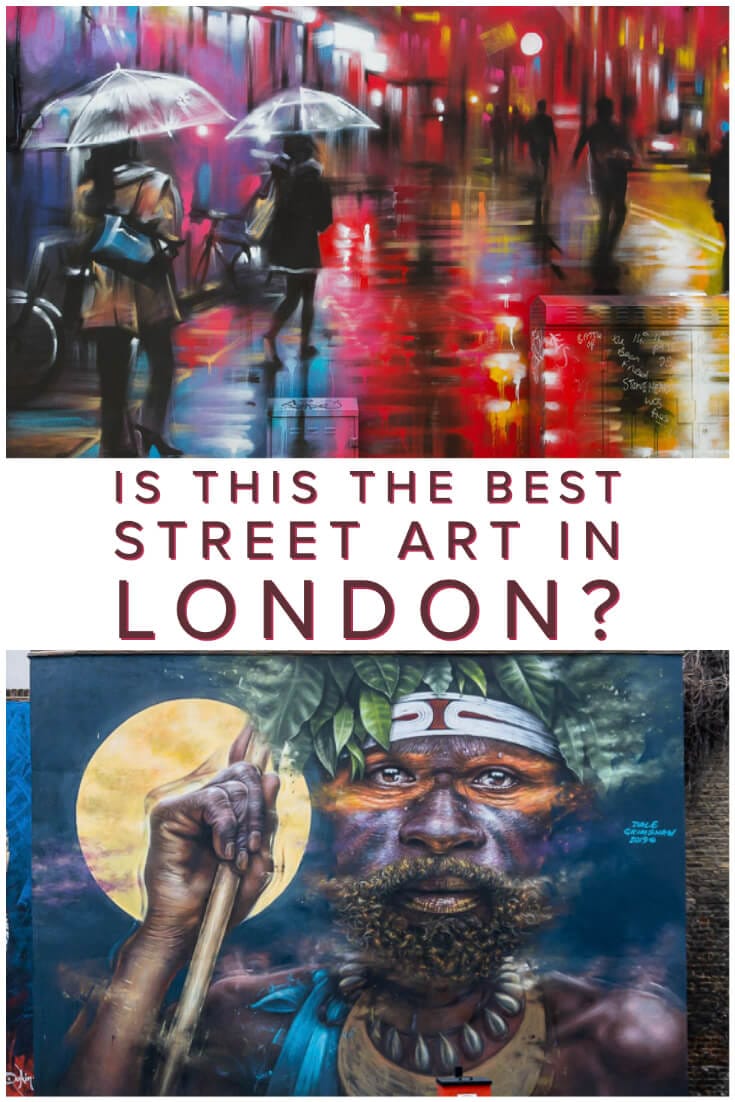 ---
---
---