Catch (what's left of it) while you can…
When it comes to street art, Camden Town is always a good idea. Many streets in this North London borough are packed with colourful murals, many by well-known or upcoming British and international artists. And it's good stuff; not like some of the graffiti scrawls that cover many of Europe's city streets.
But last week I visited Camden in search of some very specific street art: time was running out to discover the Amy Winehouse Street Art Trail.
Like thousands of others, the music of Amy Winehouse played a significant part in my musical youth*. For me, her music represented our pre-nomadic days when our summer months were filled with music festivals and BBQs. We saw her perform (and perform well) in the afternoon sunshine, and again later in the evening on stage with the Rolling Stones, at the 2007 Isle of Wight music festival. To me (and Mark), she was hugely talented and her death was a massive loss to the music world. It's hard to believe that she died almost six years ago.
*OK, 'youth' may be pushing it!
The trail launched in mid-March but as we've not been in the UK since then, this was my first opportunity to see it. And my last, because this (mostly) outdoor exhibition officially closed on Sunday 4 June.
As permanency isn't generally a characteristic associated with street art, I was curious why the exhibition was running with defined dates. The nature of street art means there is no guarantee it will remain for any period of time, but I wanted to understand how and why there was a definitive end date. I'd always assumed that once a mural had claimed a wall, providing it was aesthetically pleasing and no-one objected, it had found a home for life, however long the lifespan of a piece of street art is.
The Amy project was a joint project of the Jewish Museum, Global Street Art, and Art Happens and I'd read that the Amy project was crowdfunded. The more I thought about it, the more questions were raised in my mind: Were the artists paid? Didn't they provide their services because of a love for Amy? Did the project organisers have to pay whoever owned the walls they wanted to commandeer? In places like Camden and Shoreditch, where I suspect there are lots of well-known artists vying for space, I wonder if the wall in question is 'rented'? Clearly, permission is needed in order to adorn private property but do owners charge for a fixed term let?! Mmm, this investigation could be the topic of a separate post…
Back to Camden. Of the nine stops that make up the Amy Winehouse Street Art Trail, four are existing works of art and five were commissioned specifically for the project. One of those was the Pegasus installation inside the Jewish Museum and the date that was taken down (and handed back to the person who commissioned it), determined the end date. But what about the murals that were in the public domain, so to speak?
After a little poking around, I concluded that the walls for the four specially commissioned works on the street of Camden must have been leased for a limited period. And, (spoiler alert) as I was told that two of the pieces were no longer there because the council had painted over them, I can only assume the lease must have expired before the official end date of the trial, and presumably, the organisers were hoping the Amy art would remain a little longer, 'rent free'. The Jewish Museum told me via Instagram that of all the commissioned pieces, only one was destined to remain beyond the life of the exhibition. Perhaps because it is a privately-owned building and the owners quite like it…
Walking the Amy Street Art Trail
The trail starts just south of Mornington Crescent tube station, and heads north to Camden Market, before looping back on itself to the Jewish Museum. If you're arriving in Camden by London Underground, it makes sense to get off the train at Mornington Crescent and back on again at Camden Town station.
Covering a distance of less than three kilometres, theoretically, it should take about half an hour to walk the trail. However, the Amy stuff only touches the surface of Camden street art and there are bound to be other murals, artworks and graffiti that will grab your attention and pull you off down side roads. There are also plenty of shops, cafes and pubs to provide further distraction.
Stop 1: Lidlington Place, just south of Mornington Crescent station
Artist: Mr Cenz
Mr Cenz's street art can be spotted in several places around London and his unique style of spray painting female faces using bold colours is instantly recognisable. His murals have a futuristic feel that has been described as 'surrealist graffiti art for the soul'. Mr Cenz's portrait of Amy is on the side of Escape bar and restaurant and is hard to miss.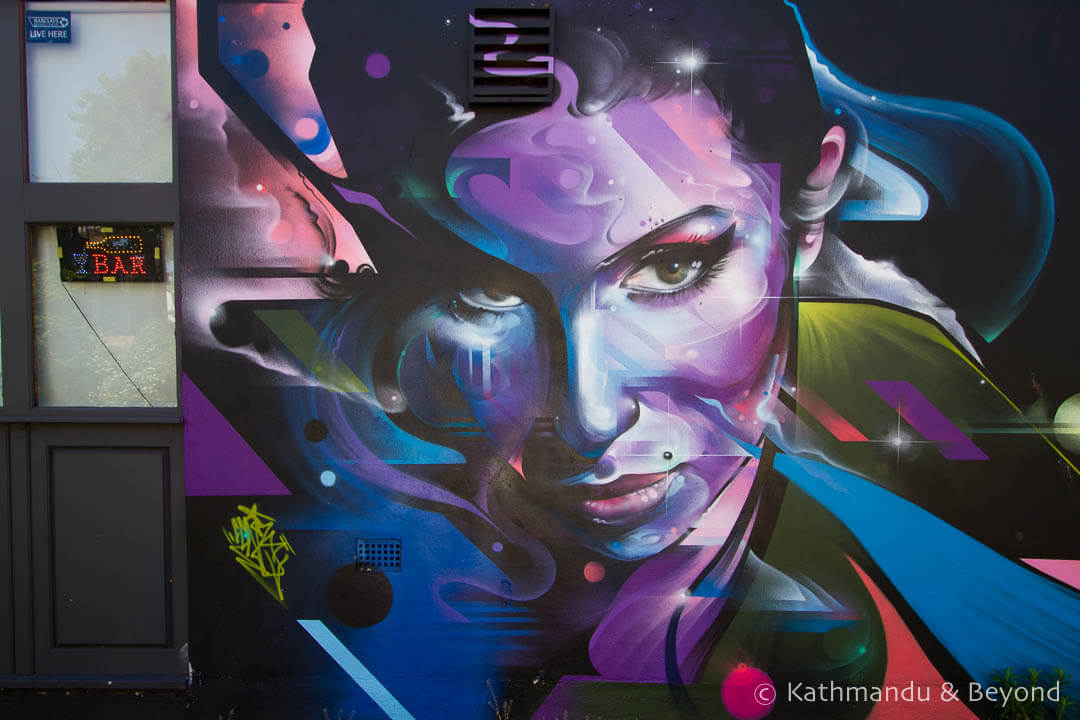 Status: This mural should remain indefinitely (or as indefinitely as street art ever is!).
Stop 2: At the entrance to Miller Street, off Camden High Street
Artists: Amara Por Dios and Kaptain Kris
This collaboration between two well-known street artists has sadly already been removed, allegedly whitewashed over by Camden Council.  It featured a line from one of Amy Winehouse's best-known songs: "Why don't you come on over… Valerie?".*
*Although 'Valerie' is a song regularly associated with Amy Winehouse (many people think she wrote it) it is actually a cover version written, and first performed, by The Zutons just a year earlier.
This is what it looked like…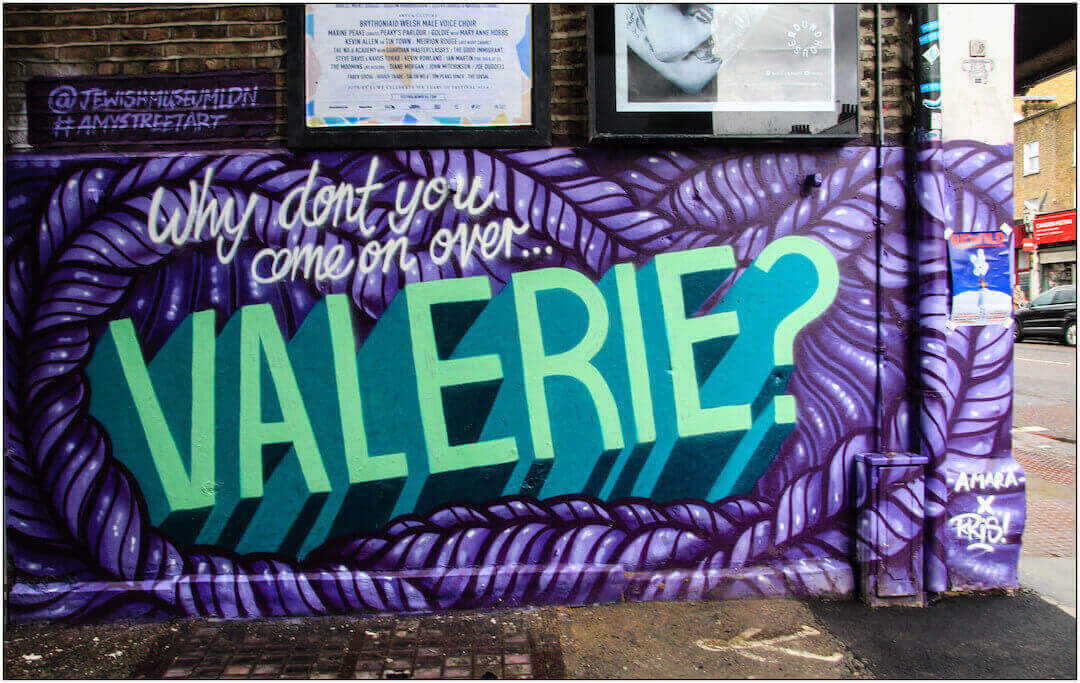 Photo credit: Maureen Barlin | Flickr
And this is what has replaced it…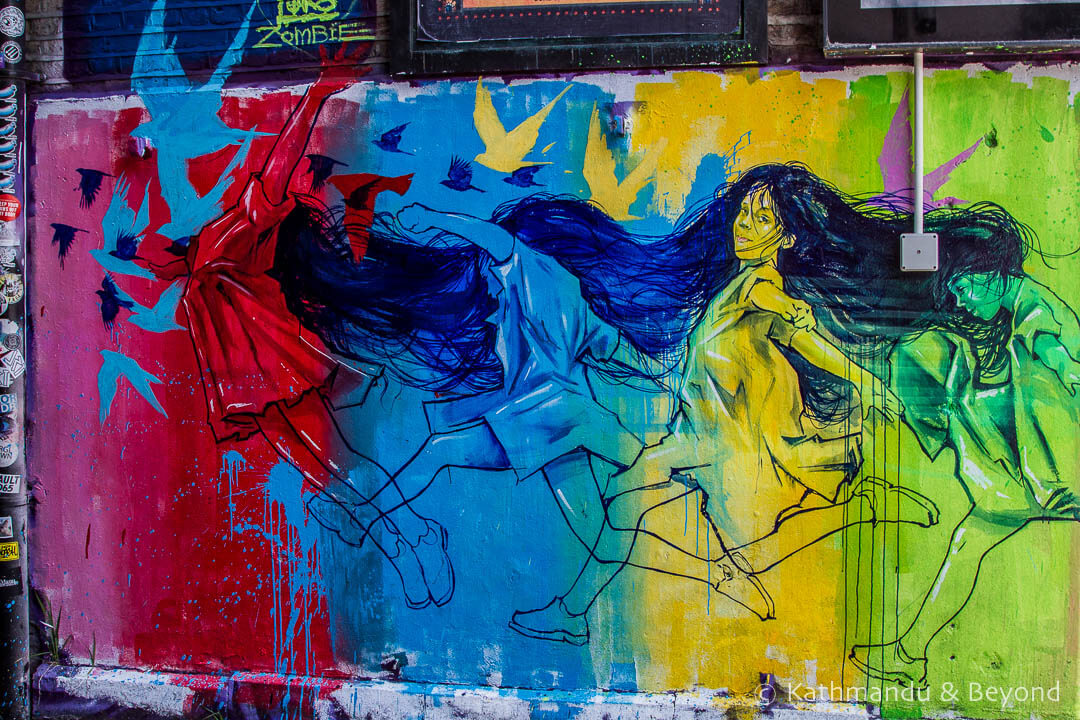 Status: Removed at some point over the past couple of months but I was unable to identify when.
Stop 3: Behind Be at One Bar, Miller Street
Artist: Philth
Continue a short way down street-art-filled Miller Street and tucked just around the corner at the back of a pub is this black and white portrait of Amy by the artist Philth. The detail is amazing and it almost looks like a black and white photograph.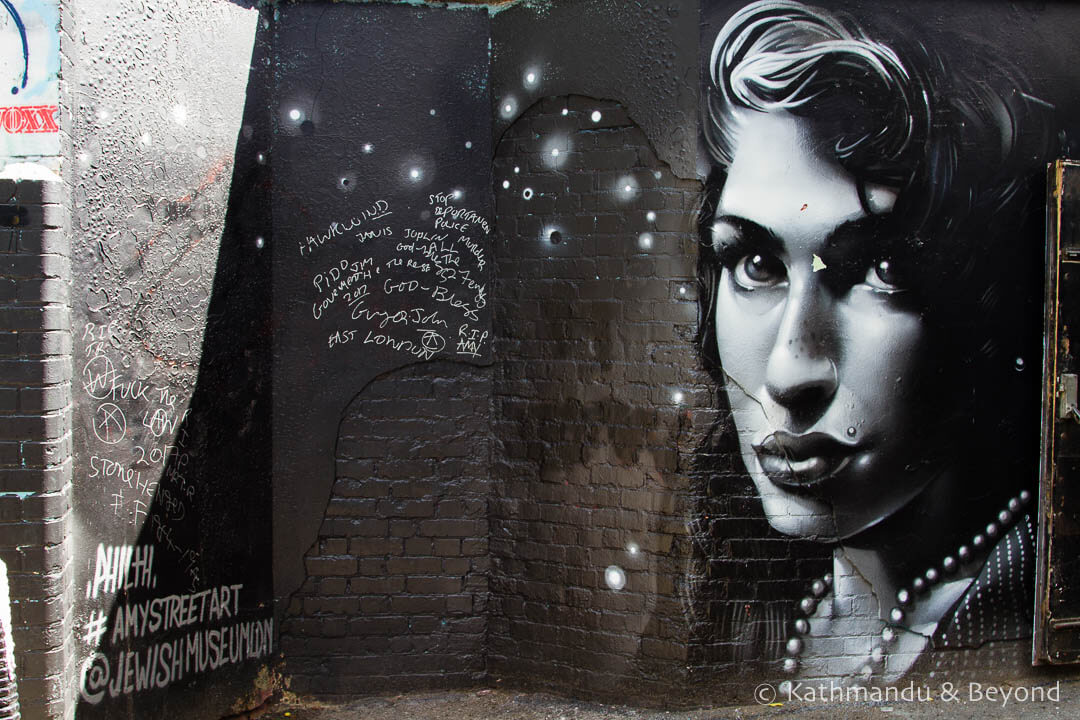 Status: It's there at the moment, but according to the museum "it won't remain" so this is one to get to right now!
Stop 4: Next to Carter & Co. estate agent on Bayham Street
Artist: Bambi
Sometimes called a female Banksy, this is not Bambi's first portrait of Amy Winehouse. Her work often depicts famous people and sometimes has a political message. Although part of the official Amy Street Art Trail, I don't believe this piece was commissioned especially for the Trail as it's been here a lot longer than mid-March.
And the guy stood next to Amy? Looking at earlier photos, he appears to be a later addition and is by artist Morganico. After a bit of research, I discovered that the guy pictured is hairdresser Michael Dixon, a popular local character who died a couple of years ago, and Amy's friend.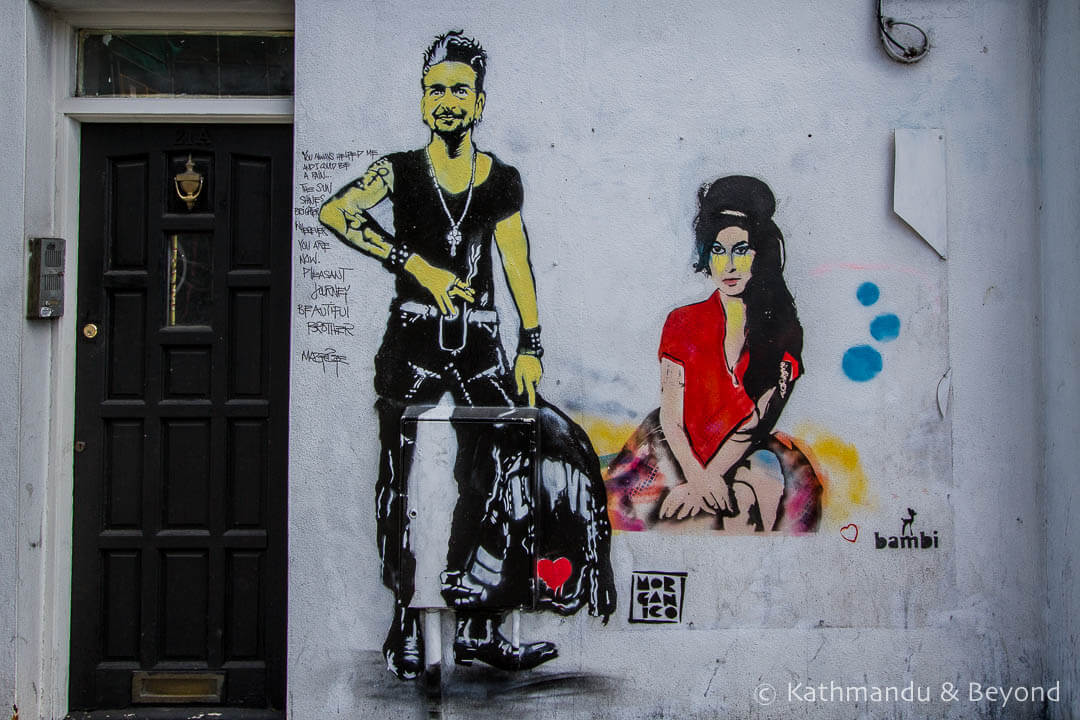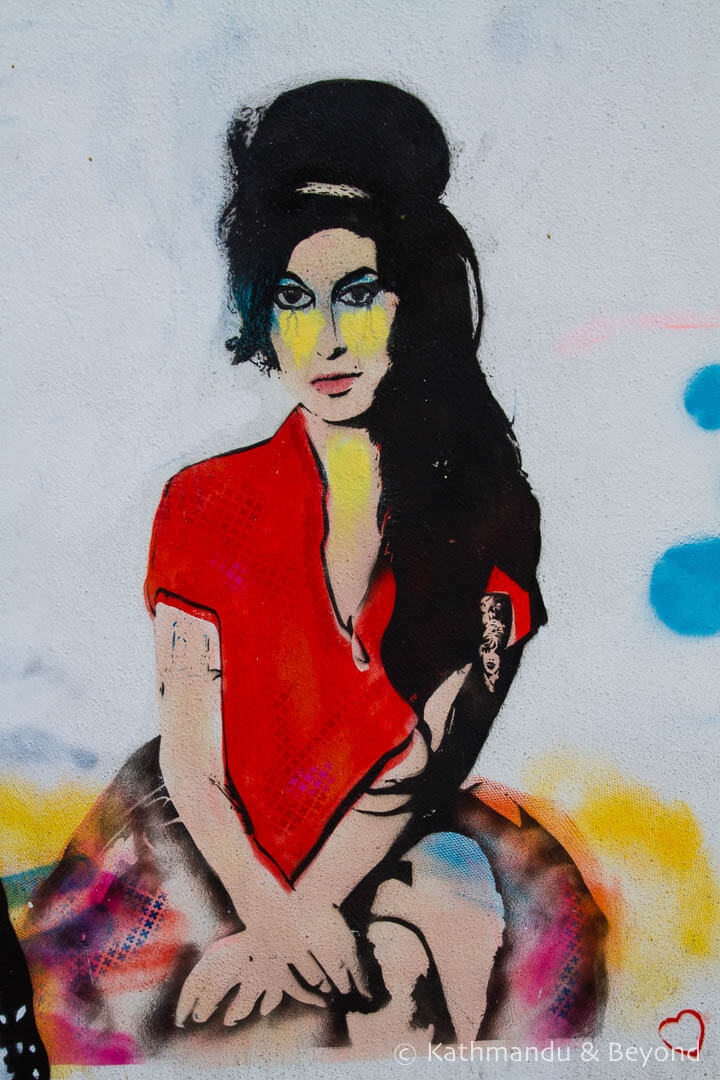 Status: Here to stay for as long as…
Stop 5: On the side of Nemesis Tattoo studio on Stucley Place
Artists: Amara Por Dios and Kaptain Kris
I was particularly disappointed to find this huge, colourful mural had also been painted over. Strangely, this work was by the same artists who created the Valerie piece that has also gone. Coincidence? Or something to do with the way the project was funded? Staff at the Jewish Museum told me that the council had painted over them but they didn't know when.
This is how the mural looked….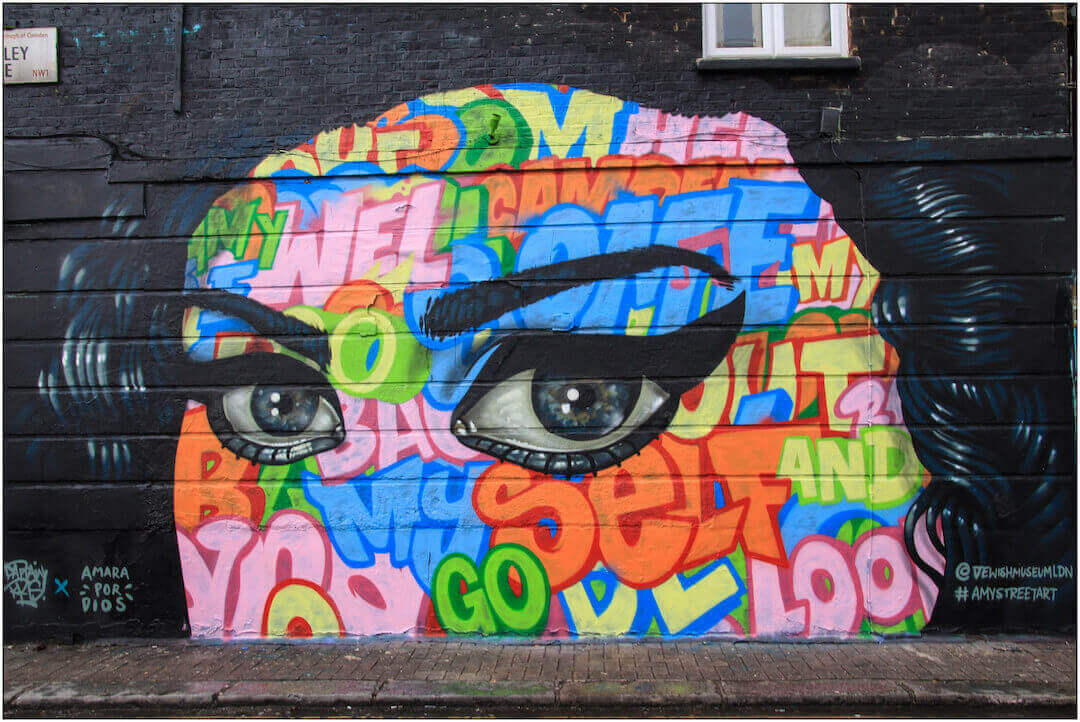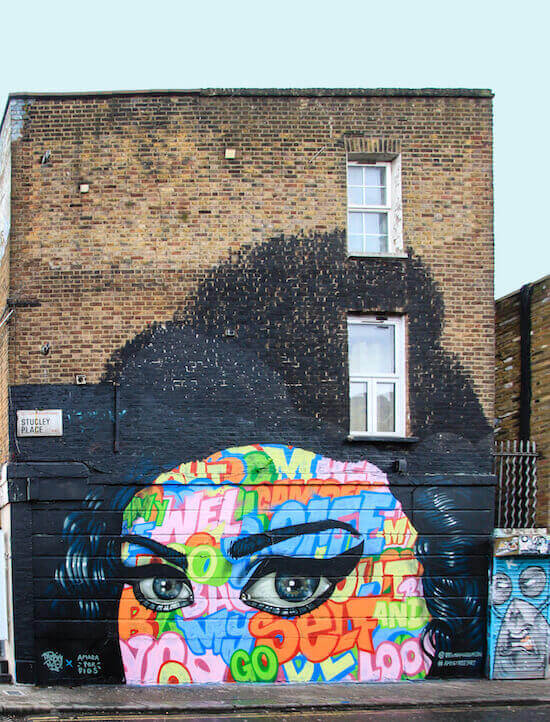 Photo credit: Maureen Barlin | Flickr
However, it has been replaced with a pretty cool mural. At the top of the first floor you can see some of the original mural's colour and Amy's big hair still remains on the upper storeys!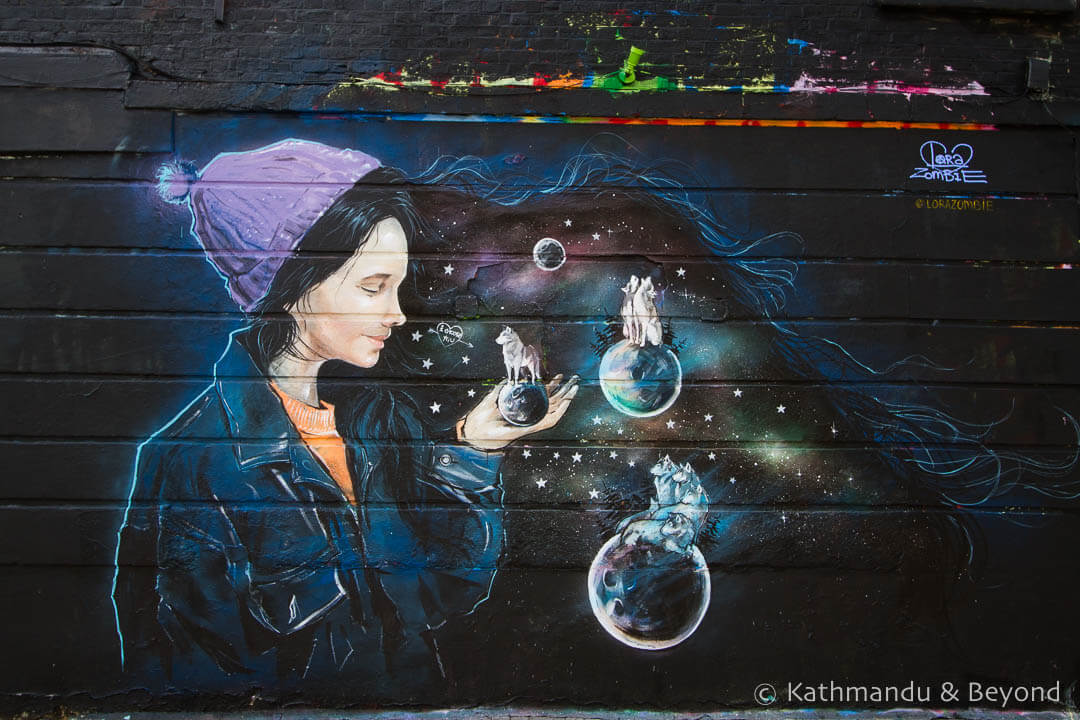 Status: Removed and replaced
Stop 6: The Entrance to Market Hall, on Camden High Street
Artist: Pegasus
One of several artworks by Pegasus dedicated to Amy Winehouse, this one features five small portraits in different colours and the words "We only said goodbye with words". Smaller than the other art on the trail, this was the hardest piece to locate, tucked on the wall just inside one of the entrances to the covered market hall. It's easy when you know where to look, but if you need a pointer, this is the GPS coordinate: 51°32'30.0″N 0°08'43.3″W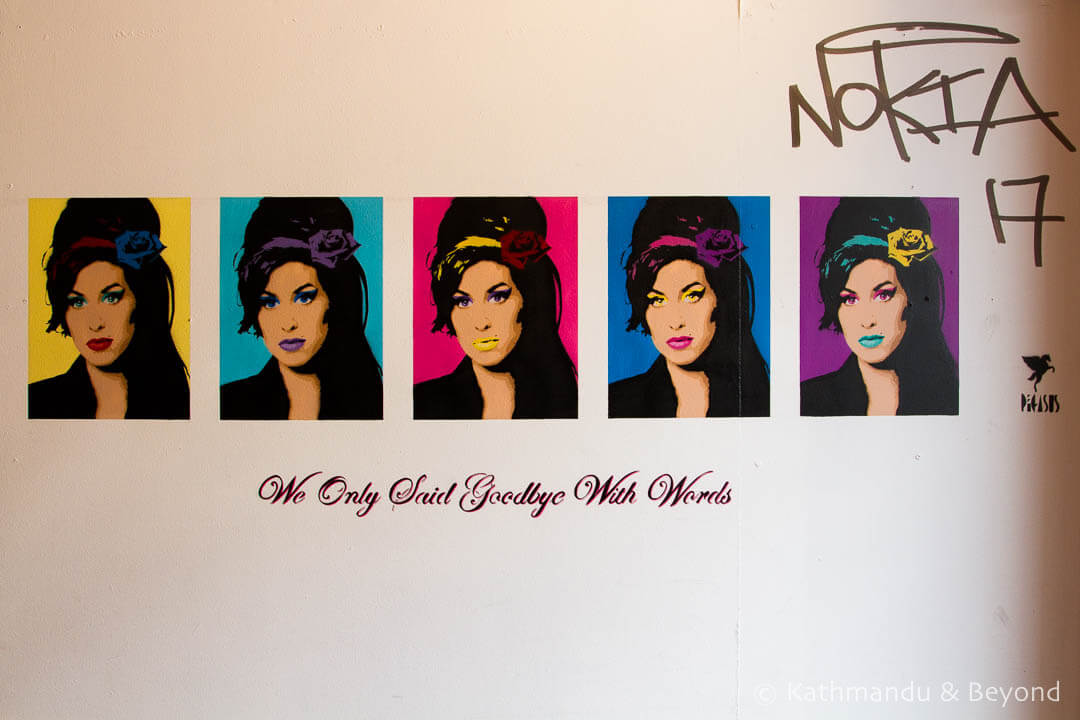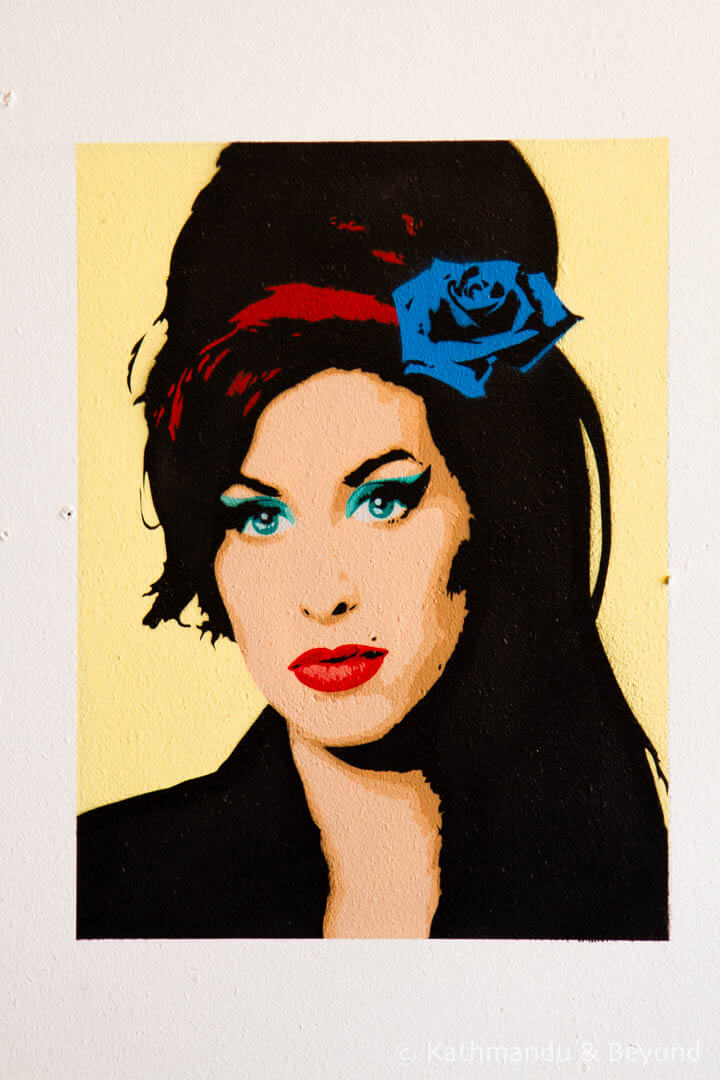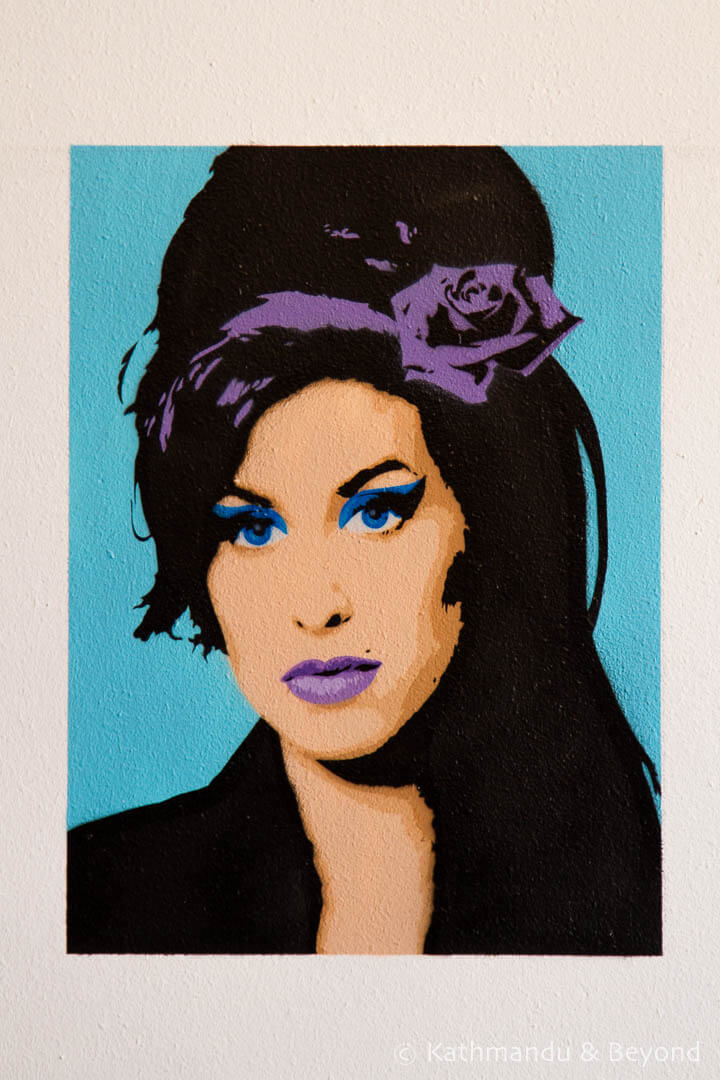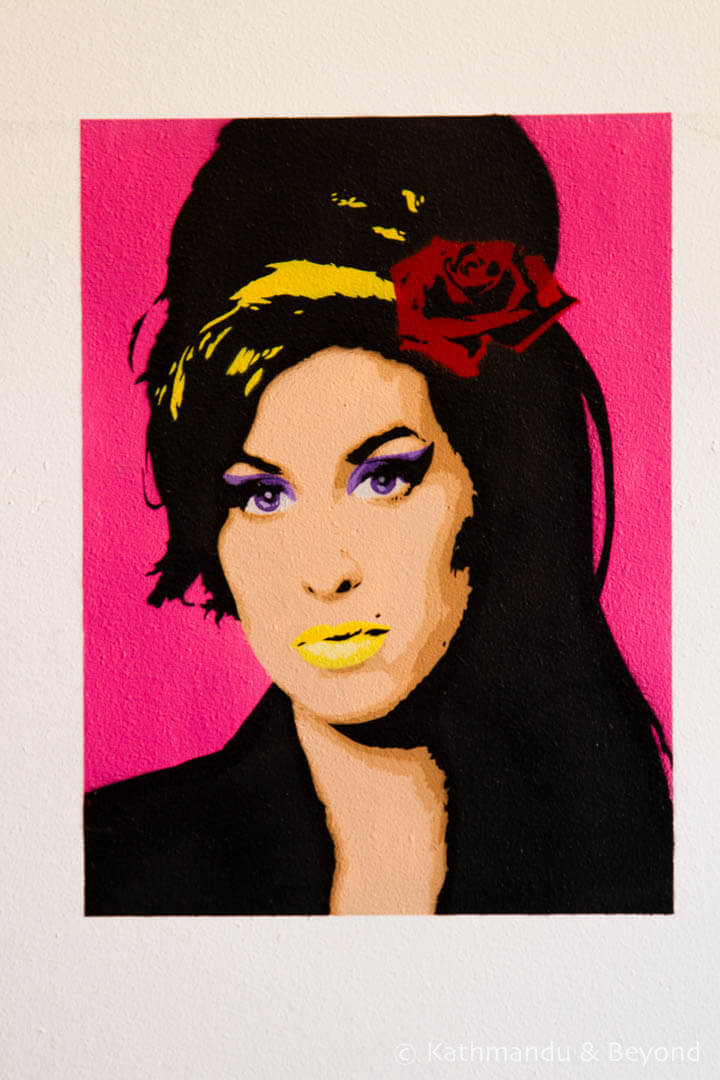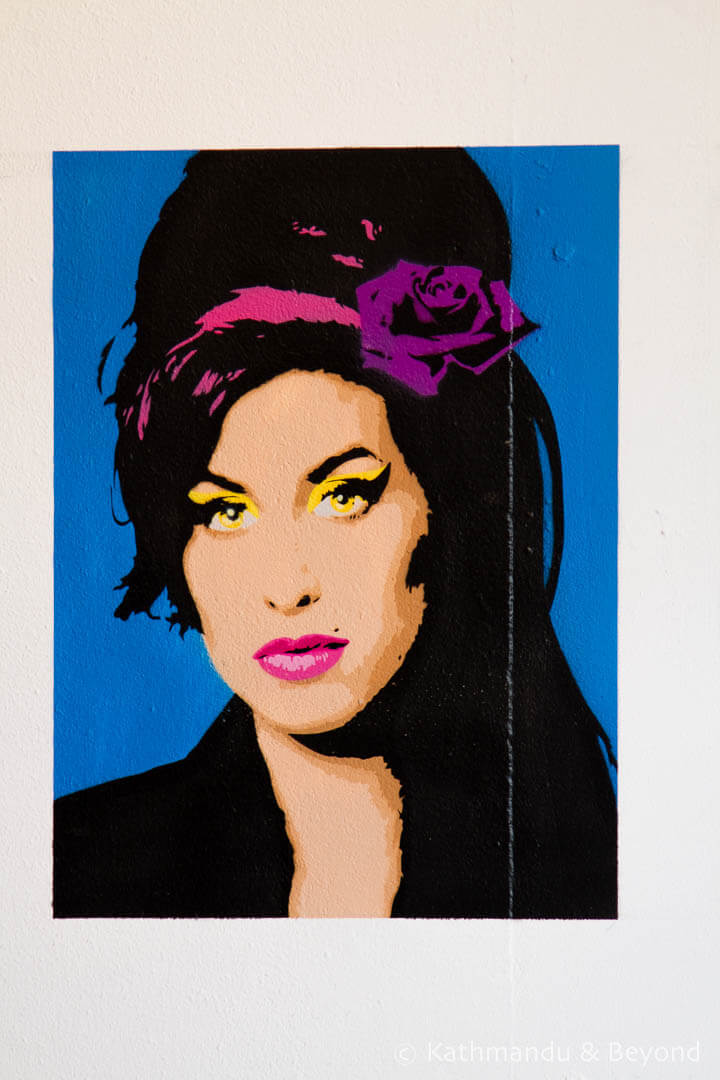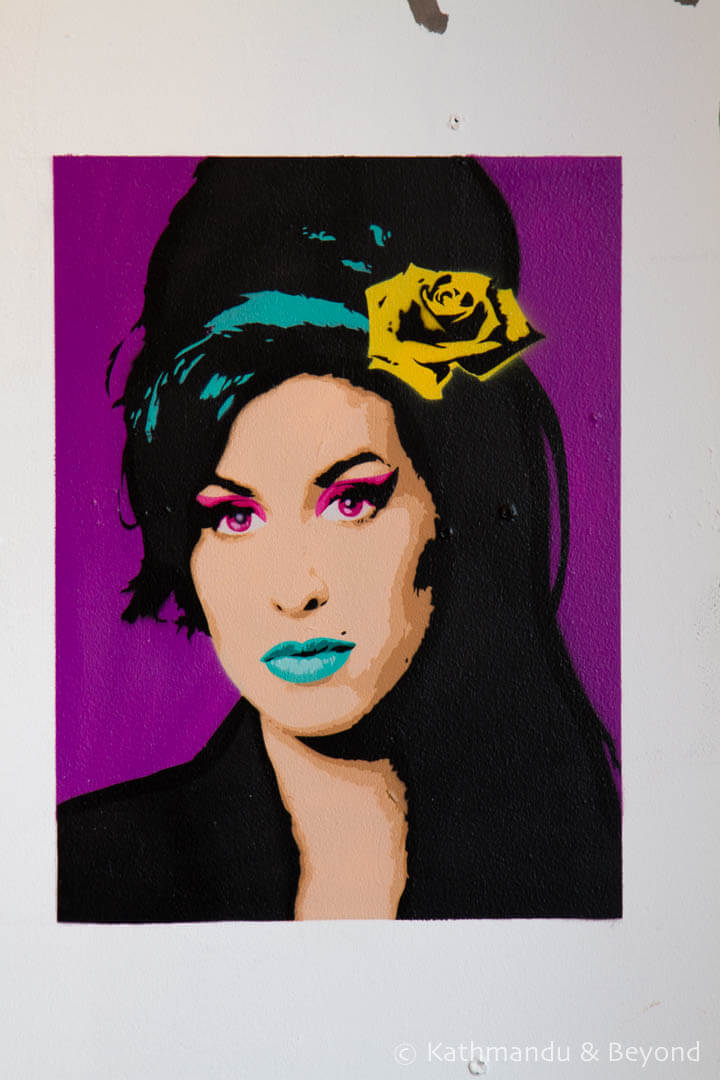 Status: Works of Amy by Pegasus seem to be a fairly permanent fixture in Camden so hopefully this one will stay.
Stop 7: Amy statue inside Stables Market
Artist: Scott Eaton
Heading towards Chalk Farm station on the most northerly point of the trail, this life-sized statue has been standing in Camden's Stables Market since it was unveiled in 2014. It might not be a mural but it is art in the street and it seems appropriate to include it on the trail. Should you have trouble locating it, Amy is clearly marked on Google maps.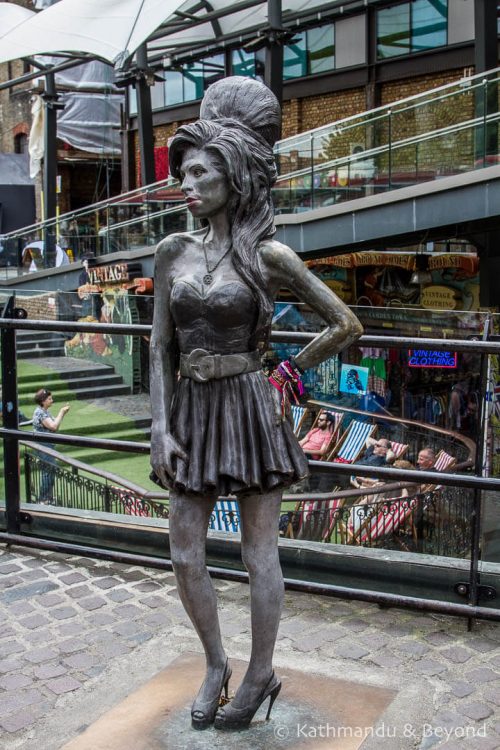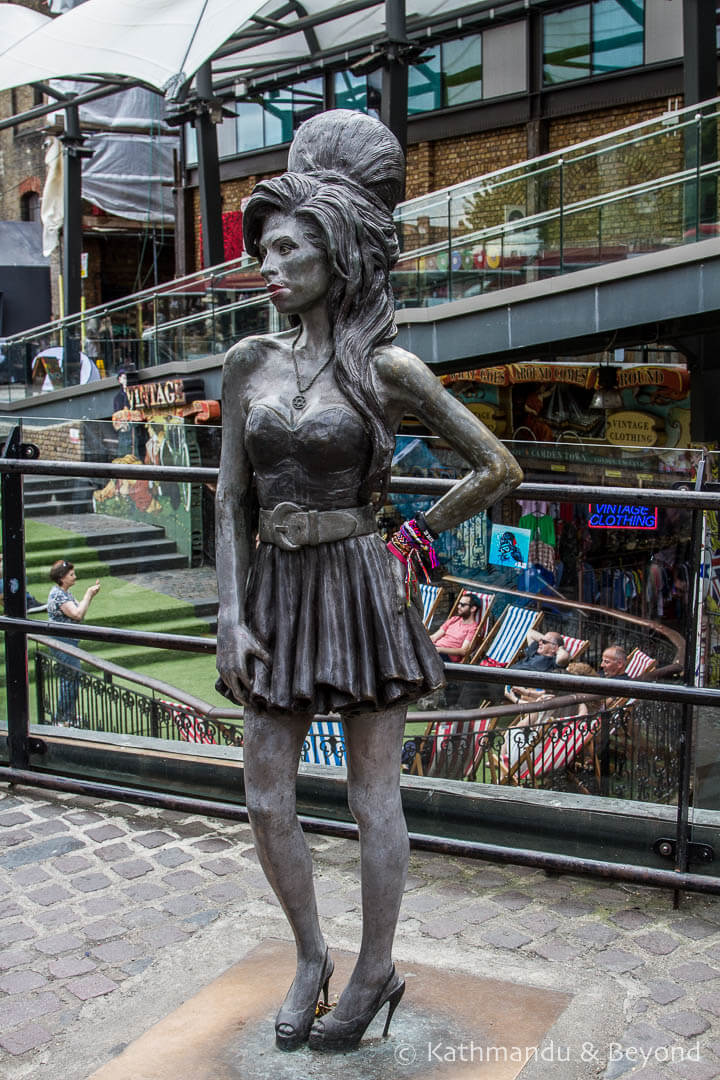 Status: Permanent
Stop 8: On the front wall of the Earl of Camden pub, Parkway
Artist: Pegasus
One of Amy Winehouse's friends, Pegasus's images of Amy are iconic. Named 'Atmosphere' this was Pegasus's second* piece of Amy art and was revealed in 2013.
*His first piece, Fallen Angel, which was painted soon after her death was famously whitewashed over before being repainted and 're-opened' by Amy's mother, also in 2013.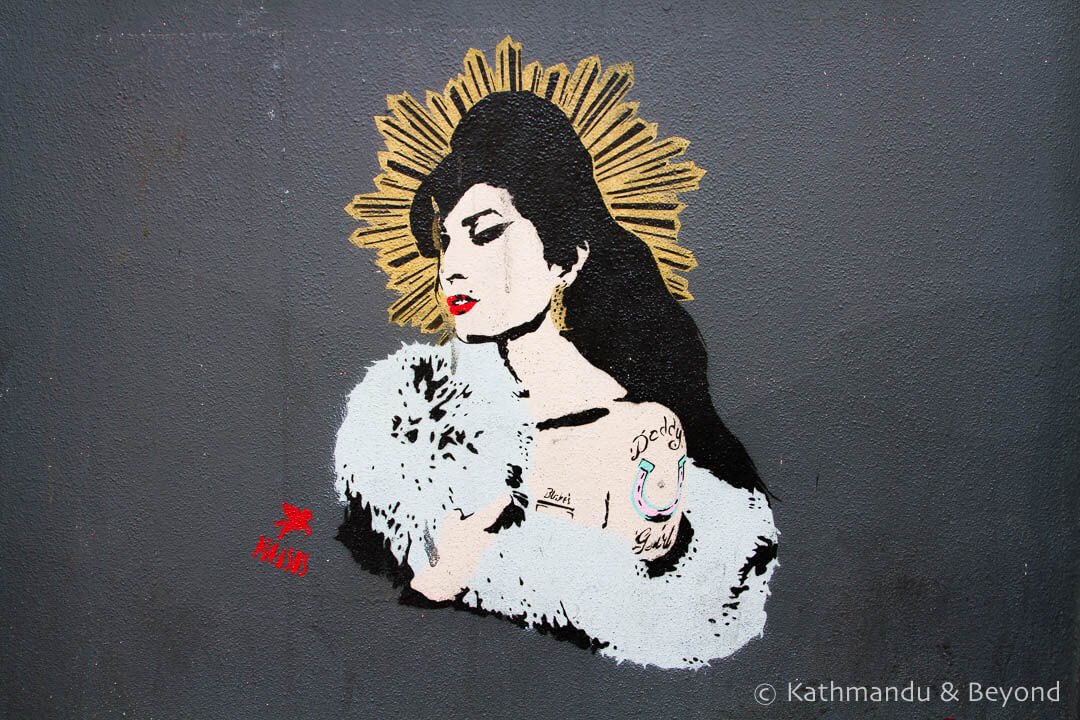 Status: Permanent
Stop 9: The Jewish Museum, Albert Street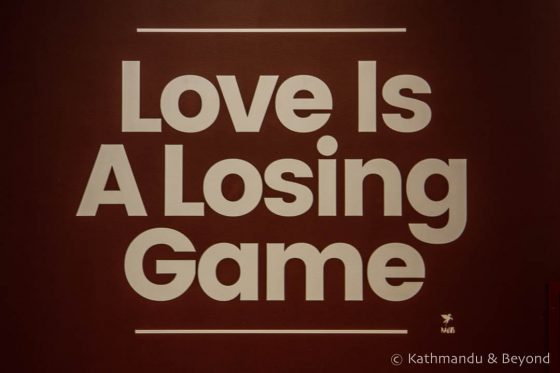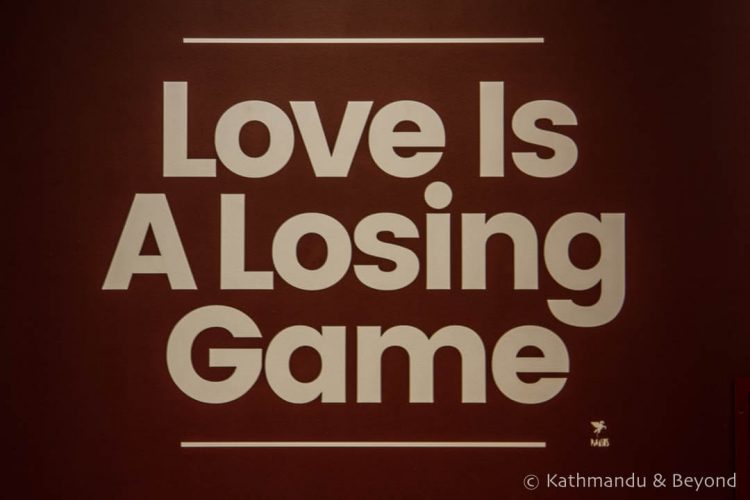 Artist: Pegasus
The Pegasus installation in the foyer of the Jewish Museum is the only one of his pieces on the trail that was specifically commissioned. Entitled 'Love Is A Losing Game', it features a series of portraits in a similar style to the ones at the entrance to the Market Hall.
Entering the foyer, Amy's music plays gently in the background and the first painting is accompanied by lyrics from the opening line of the song… 'For you I was the flame, Love is a losing game'. The last features the final line of the song… 'And now the final frame, Love is a losing game' which is painted alongside an empty frame behind which visitors are welcome to pose for a photo opportunity.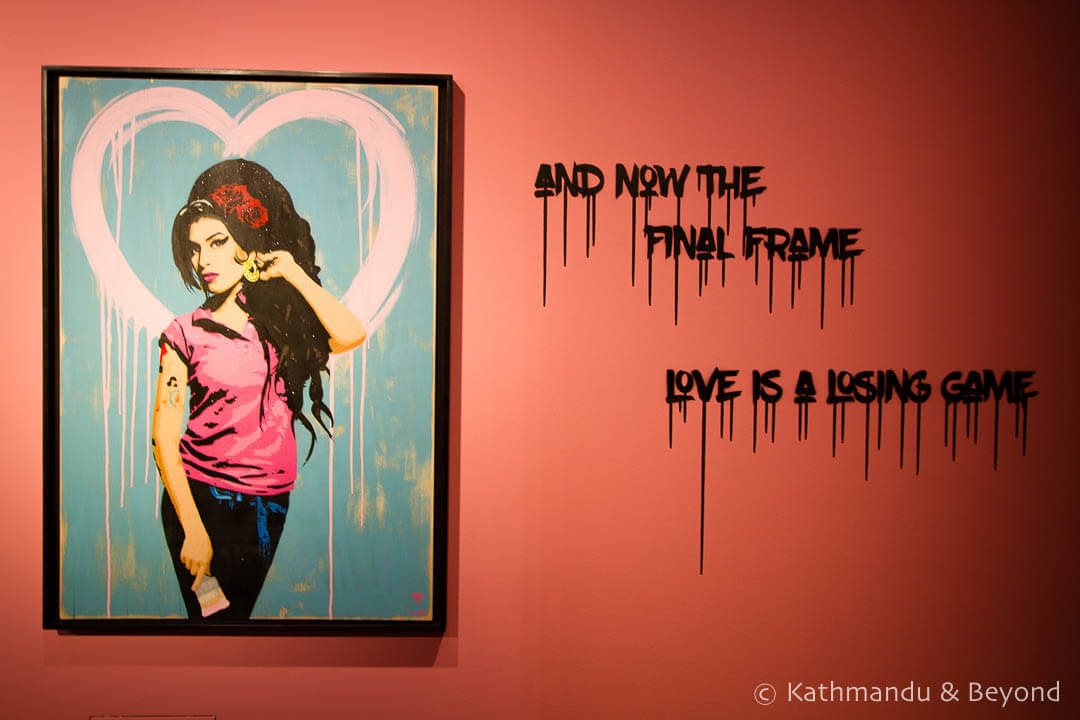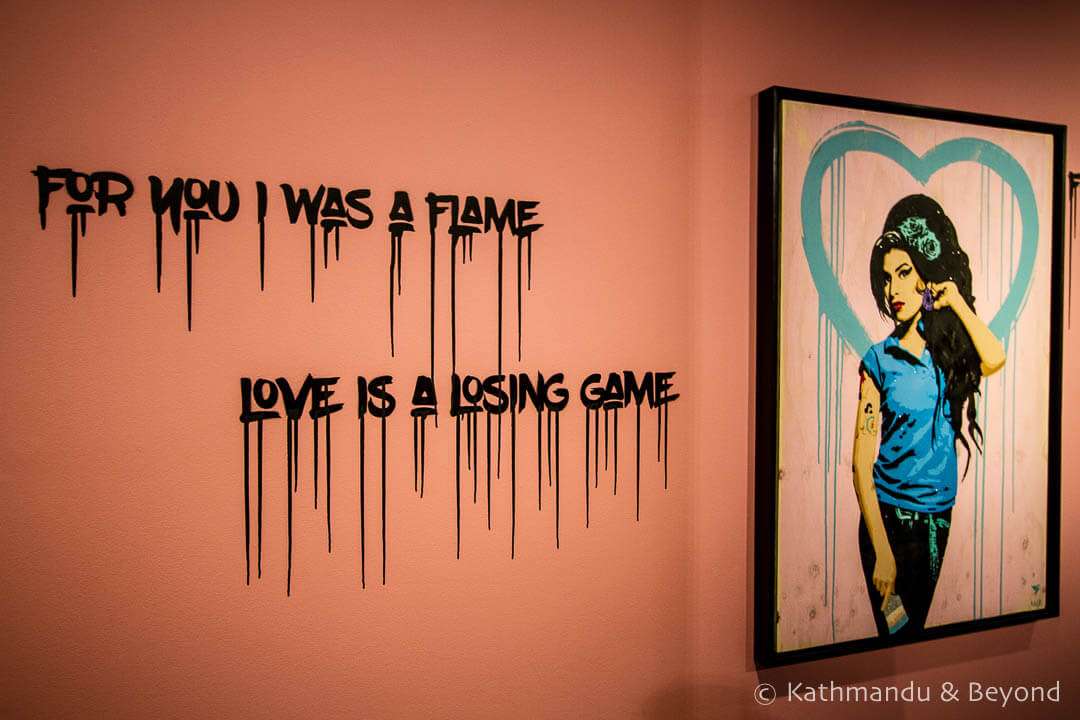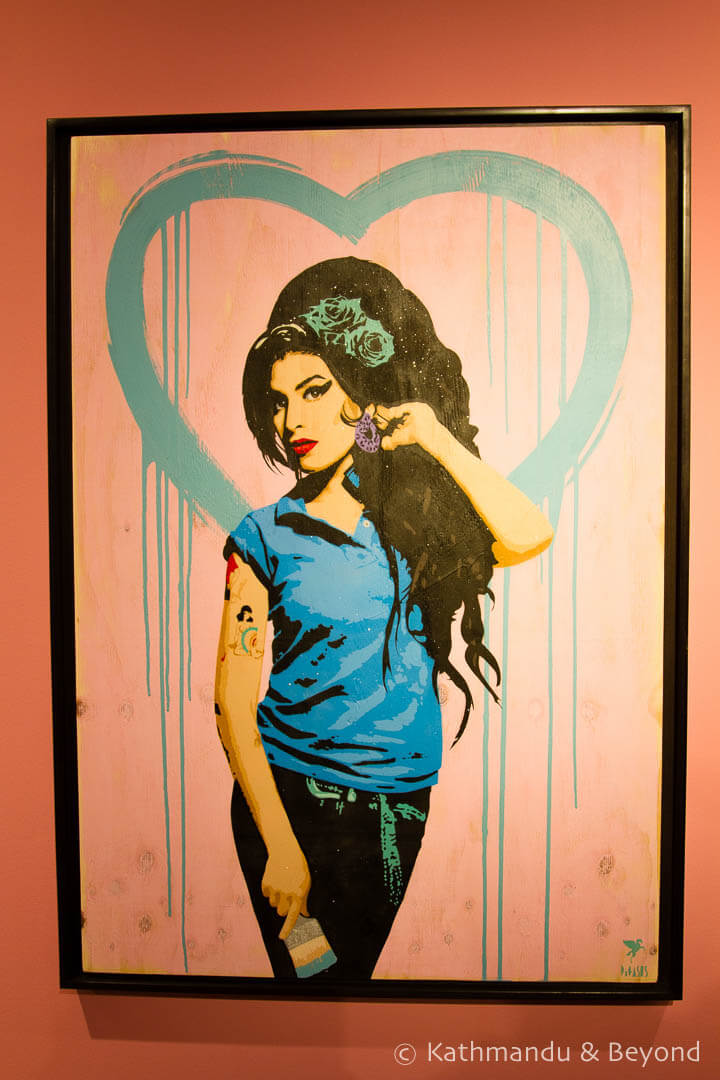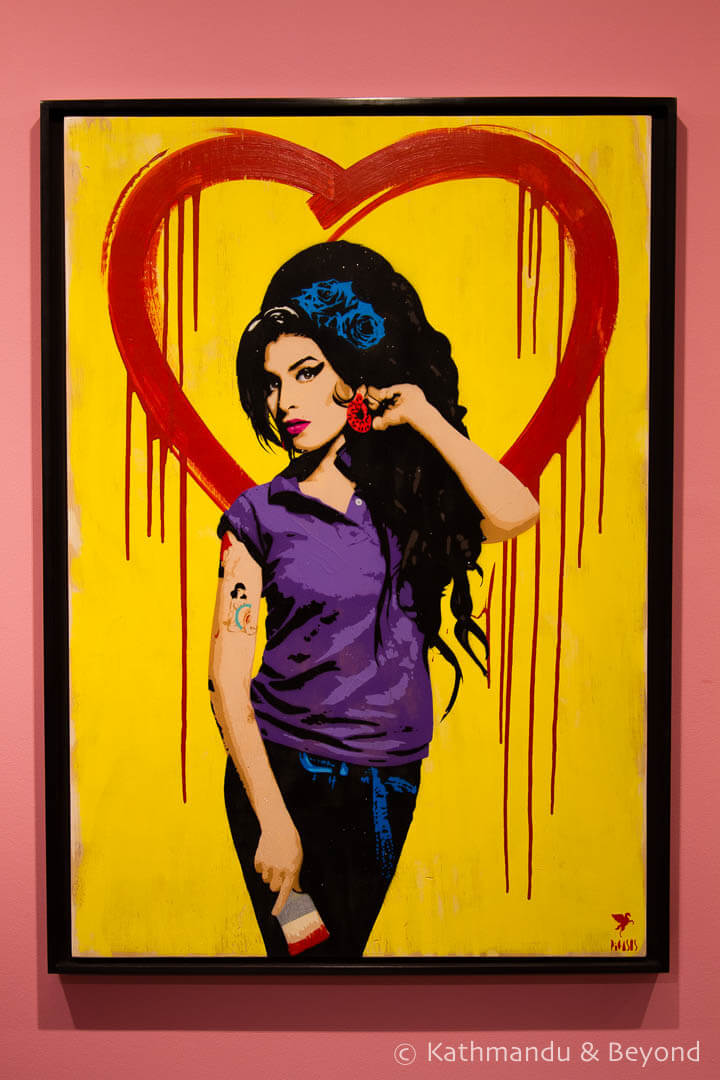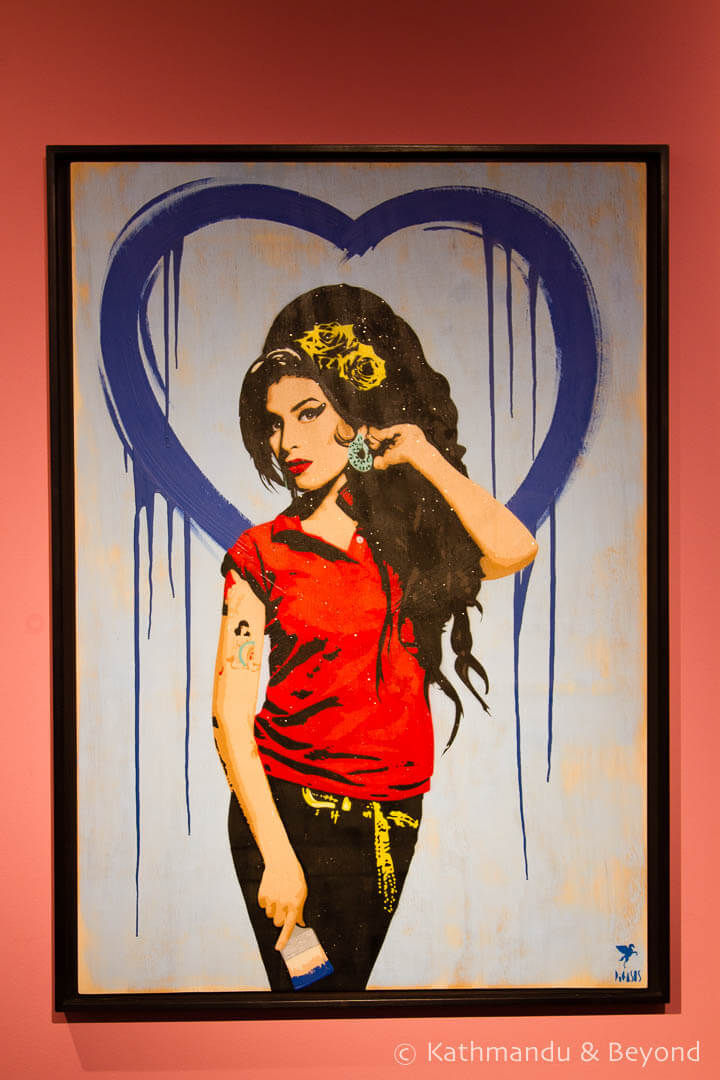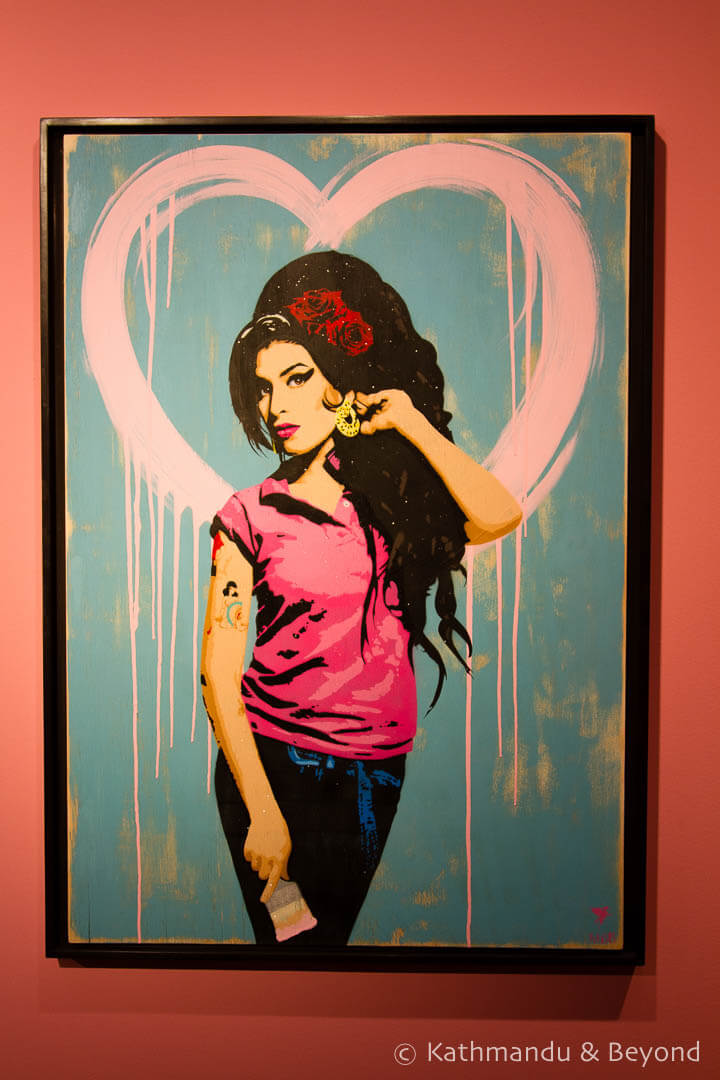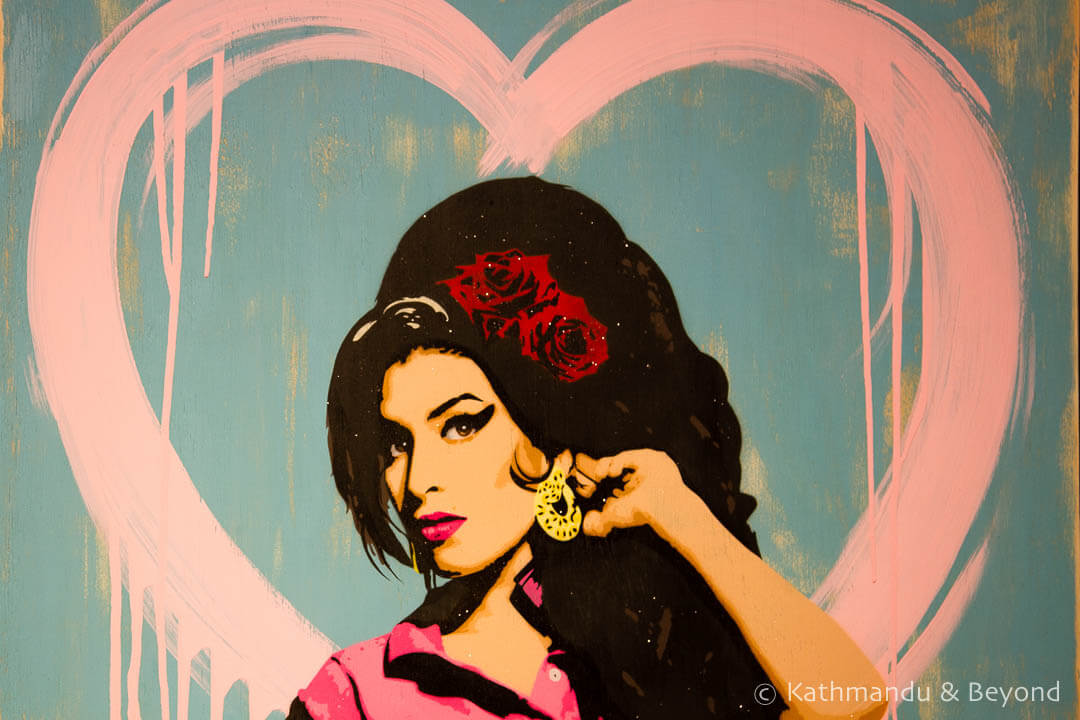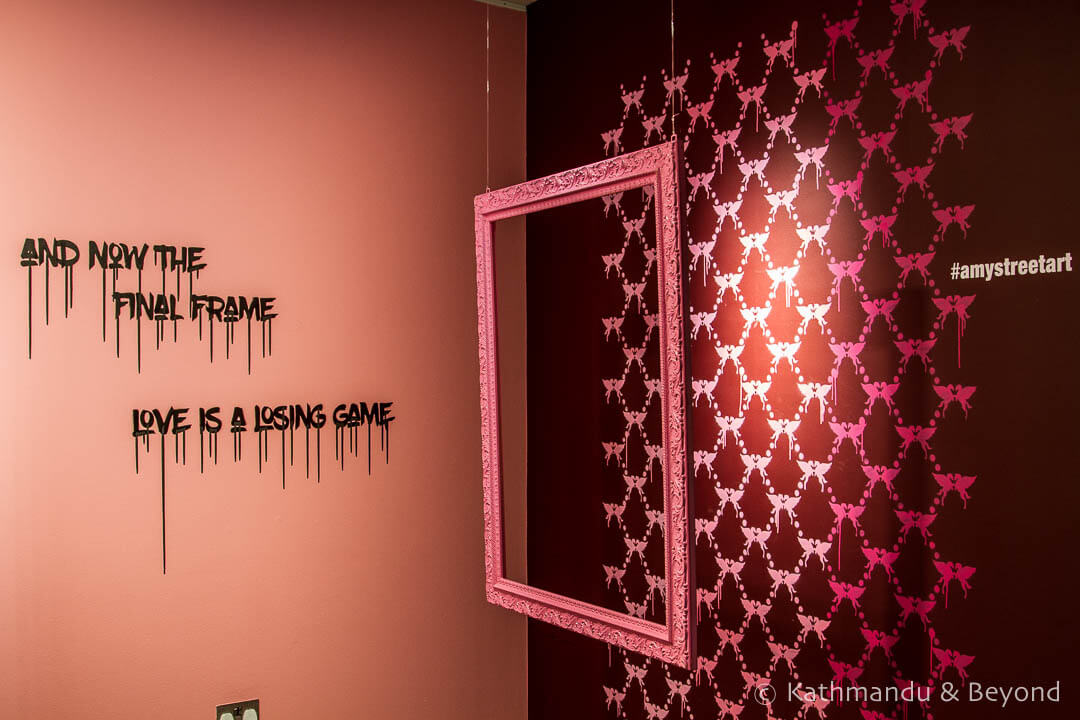 Status: A temporary installation until 4 June 2017.
You can download an illustrated map of the Amy Street Art Trail here and I have created a Google map with the exact locations and walking route here.
Although the Pegasus installation is no longer on display, if you are in the area to hunt down the remaining street art, you might be interested in another exhibition currently being held at the museum: Amy Winehouse, A Family Portrait.
It's on until 24 September 2017 and displays some of Amy's personal belongings and gives an insight into her family life. Adult tickets are £8.50
If you are in Melbourne, the exhibition will be moving to the Jewish Museum of Australia from 22 October 2017 to 25 March 2018.
Have you followed the Amy Winehouse Street Art Trail in Camden? If you have any updates on the status of any of the murals, we'd love to hear from you.
---
---
DID YOU ENJOY THIS POST? PIN IT TO YOUR STREET ART BOARD…