Street art hunting in Kaohsiung wasn't really on my radar until a friend who was visiting the city kept sending me photos of all the fantastic art he was passing. He's not particularly a fan of street art and didn't go looking specifically for it, but the images he sent convinced me Taiwan had to go on the list!
Of all the cities we've visited in Taiwan, Kaohsiung is the one that has embraced street art the most. And although public art and graffiti can be seen across the country, the most skilfully painted murals are definitely in Kaohsiung, Taiwan's second city in the south of the island.
I'd even be so bold as to nominate Kaohsiung as the street art capital of Taiwan.
For the past few years, the city council has been both supportive and proactive on the subject of public art with a policy dedicated to enhancing the urban environments with colourful street art.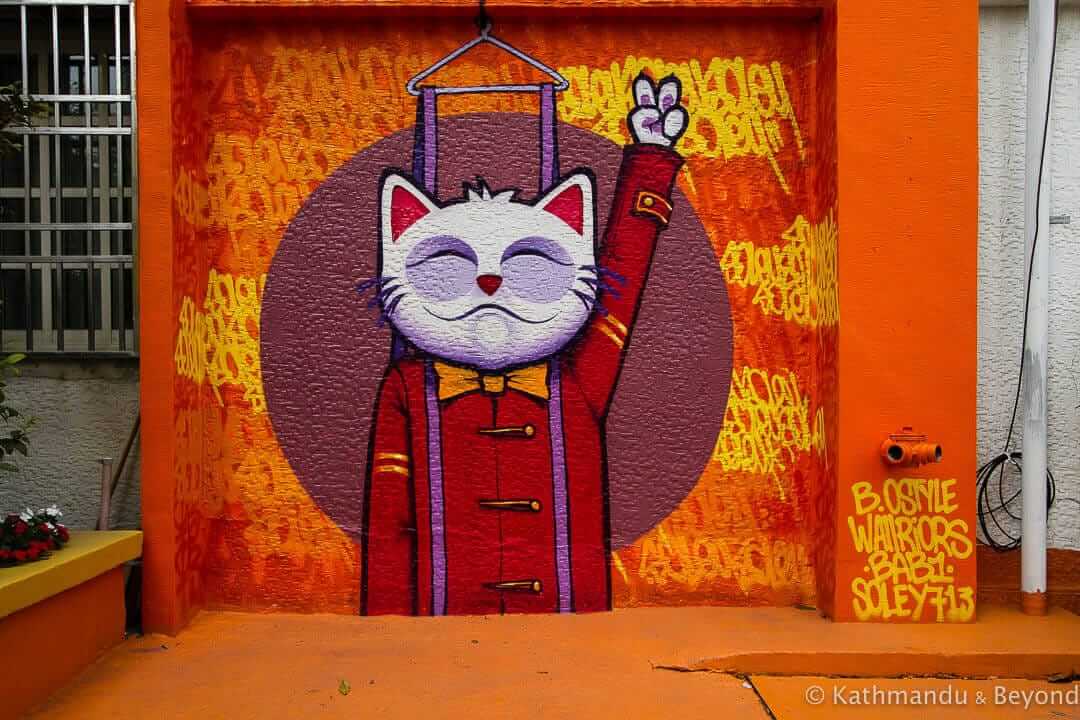 The first steps took place in early 2012, when Jiuru Street became Kaohsiung's first designated legal graffiti area, transforming an abandoned train station into a space dedicated to street art known as Jiuru Street Art Factory.
Later that year, the city's legally approved graffiti areas were expanded to include the Pier 2 Arts Centre and Fengshan District. Since then the movement has flourished and it feels like Kaohsiung is on a mission to become the world's first street art city!
Kaohsiung's city government not only encourages street art, but it also organises local events and workshops. The Bureau of Cultural Affairs' policy is "to promote public art and to promote art for the public." From what I could establish, each year a different part of the city is elected to host the Kaohsiung Street Art Festival, a project that is gradually splashing colour across the city, and earning it a reputation as one of the best cities in Asia for street art.
Despite all of this, I had difficulty finding out information online (at least in English) about the locations or the artists. Many of the murals are QR coded with the Google map location but that isn't much use by the time you're stood in front of them! The street art at Pier 2 is well-known because Pier 2 is one of Kaohsiung's key tourist attractions but it surprised me that the tourist board couldn't provide me with any further information about the city's street art, even though it's supported by the local authority. Taiwan needs to take a leaf out of Malaysia's book, where tourist boards recognise street art to be a tourism asset and produce location maps for murals in cities like Penang and Ipoh.
Kaohsiung-based artists have formed an alliance 'Wallriors' and their work can be spotted in several places around the city as well as in other towns and cities across the country. Prominent Taiwanese street artists include Mr Ogay, Candy Bird, Bamboo Yang, Leho_Paint, DEBE and FASO1.
In addition to some excellent homegrown artists, Kaohsiung is also attracting an increasing number of international artists including Okuda from Spain, Sen2, a Puerto Rican based in New York, and Brazilian artists, Sliks and Cloakwork, from Malaysia.
Pier 2 Art Centre (駁二藝術特區)
The first major sanctioned graffiti space in downtown Kaohsiung was Pier 2 Art Centre. Heavy investment and a central location have caused it to emerge as one of the city's most popular tourist attractions. From busy trading port to rundown docklands to hipster hangout, Pier 2 is a fantastic example of urban regeneration, and today it's a space where people want to spend time. Pier 2 is a polished affair with walkways and cycle paths, converted warehouses housing restaurants and coffee shops, boutiques, galleries and exhibition halls. The industrial railroad which once passed through the area has been converted into an open-air museum and public art is scattered everywhere. In a key part of the project, Pier 2 gave local street artists a legal space in which to paint and the huge walls of the once-empty warehouses are the perfect canvas.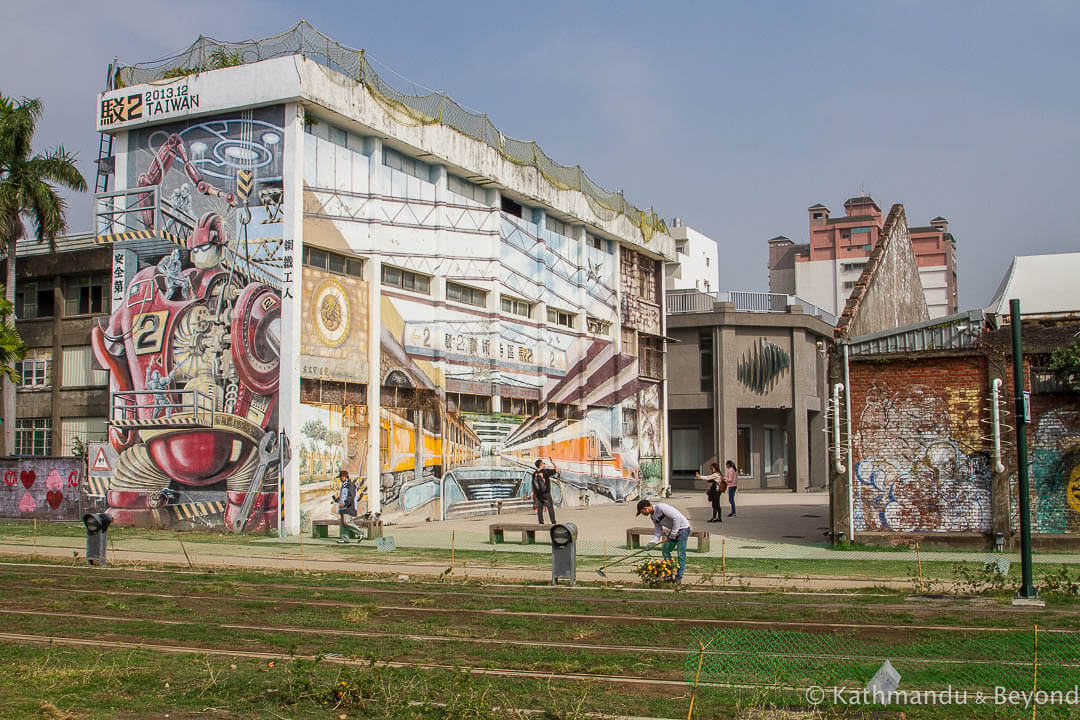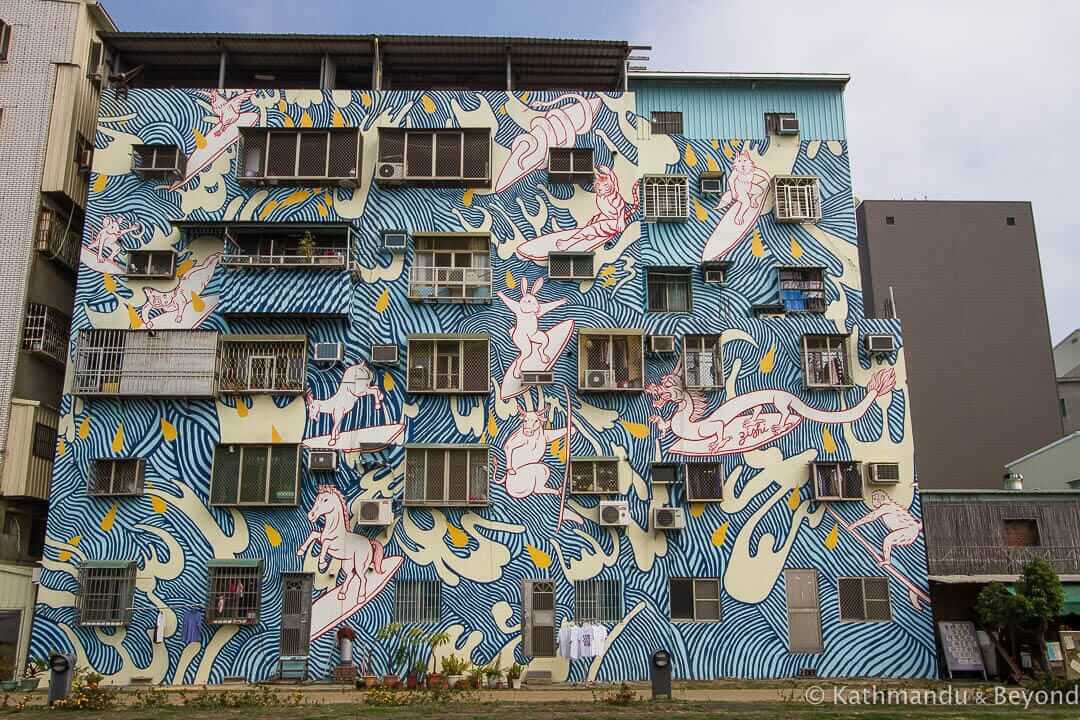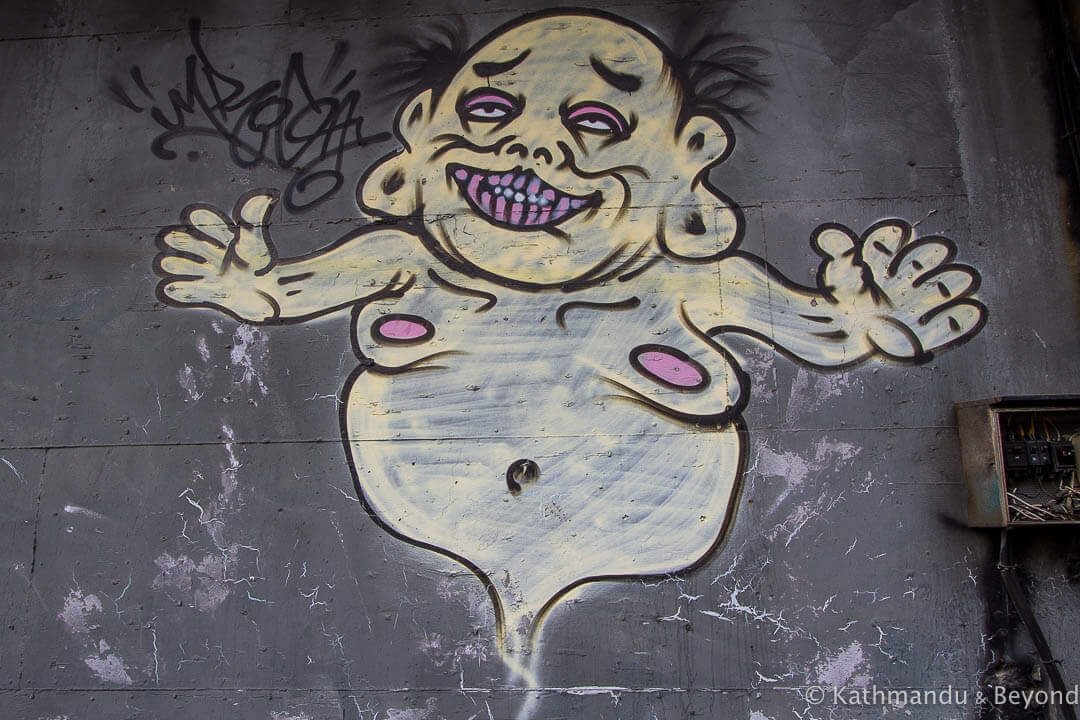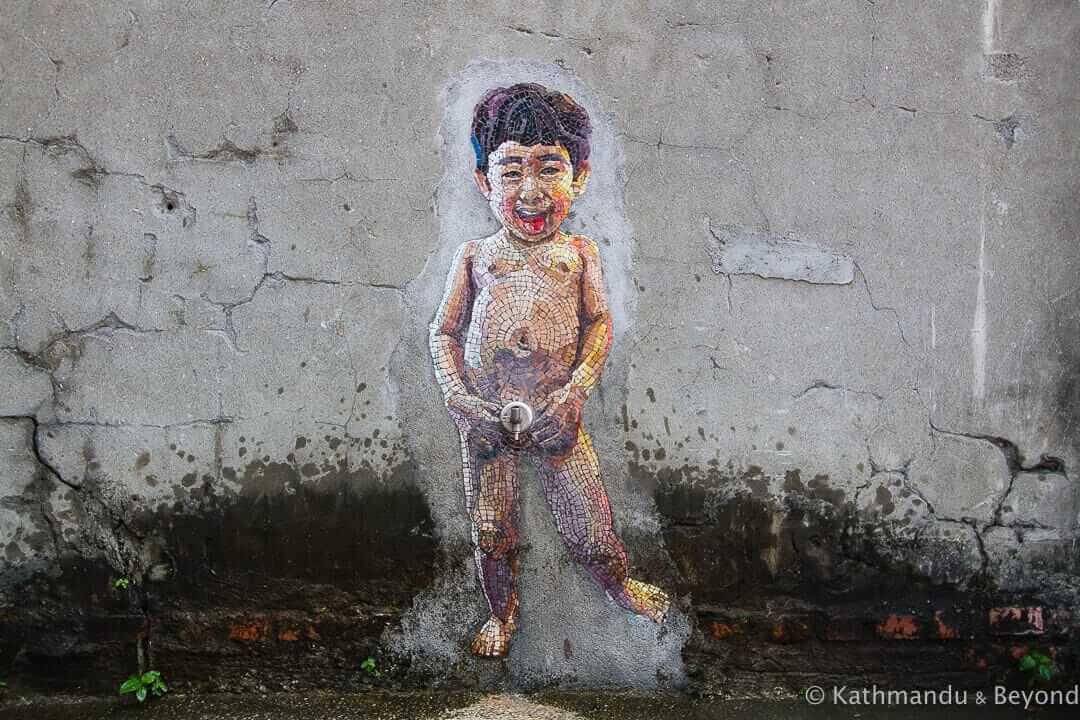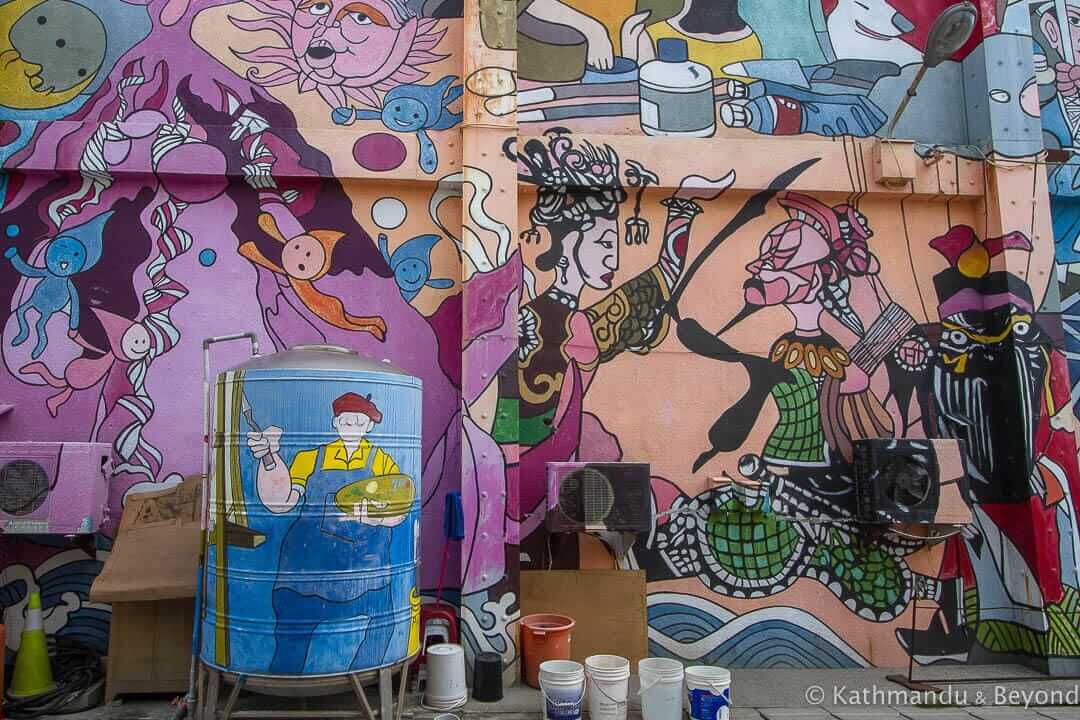 How to get to Pier 2 Art Centre
Kaohsiung is a great city for cycling and that's how we got around on most days, utilising the free bikes provided by our hotel to the max. Alternatively, public transport is very efficient and Pier 2 can be reached by metro (KRT) and bus.
Take the KRT-Orange Line to Yanchengpu Station (02) (鹽埕埔站) from where it's about a 5-minute walk. Or get off one stop later at the end of the line at Sizihwan (01) (西子灣站) and walk through Hamasen Railway Cultural Park (where there are several interesting sculptures made from old railway tracks and train parts). You can also take the bus (check Google maps for the best routing from your location).
Lingya District Street Art (苓雅區)
I'd seen a lot of photos of Kaohsiung street art online but had managed to locate only one or two pieces when we visited Lingya. By luck, as we were cycling away from the centre of town towards the Imperial Japanese Navy Fongshan Wireless Communications Station (all will become clear when you read our 'Abandoned Taiwan' post!), we spotted a couple of large murals. On further investigation, it turned out we had stumbled upon the very area I'd spent ages searching for via Google! There were murals everywhere and it felt like the community was determined to cover every available wall in colour. We were in Lingya district, the area which hosted a street art festival in 2017. Demonstrating a real fervour for street art, the 2017 festival had two parts: the first in March and the second in December. The painting was continuing into 2018 and there was a team of artists at work on the morning of our visit in late January.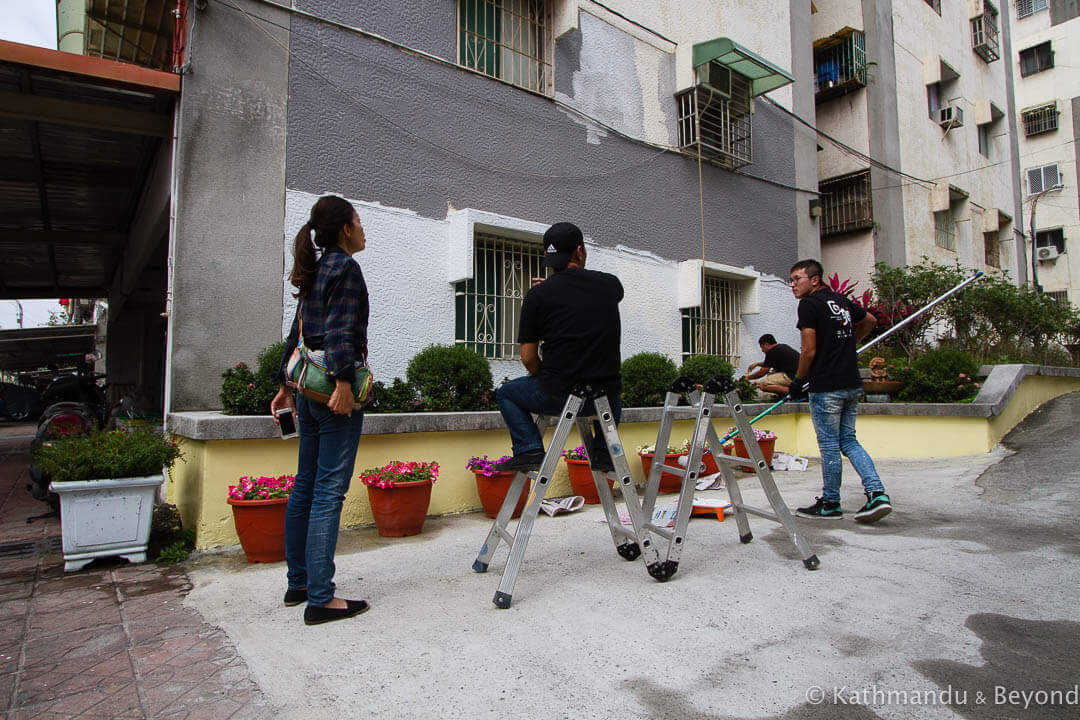 Some of the murals have accompanying information plaques (in Chinese) and, from these, I gleaned there are two organisations working in conjunction with the city council: The Wallriors, a collaboration of Kaoshuing-based artists previously mentioned, and Arcade, an international organisation linking Canada and Taiwan.
There is a LOT of art in this small area which feels more like a village within the city. The term 'kid in a candy shop' springs to mind and it's not just the walls that have been brightened up – lampposts, junction boxes, benches and even parts of the kerb have gotten in on the action.
Here are some of my favourite pieces from Lingya District…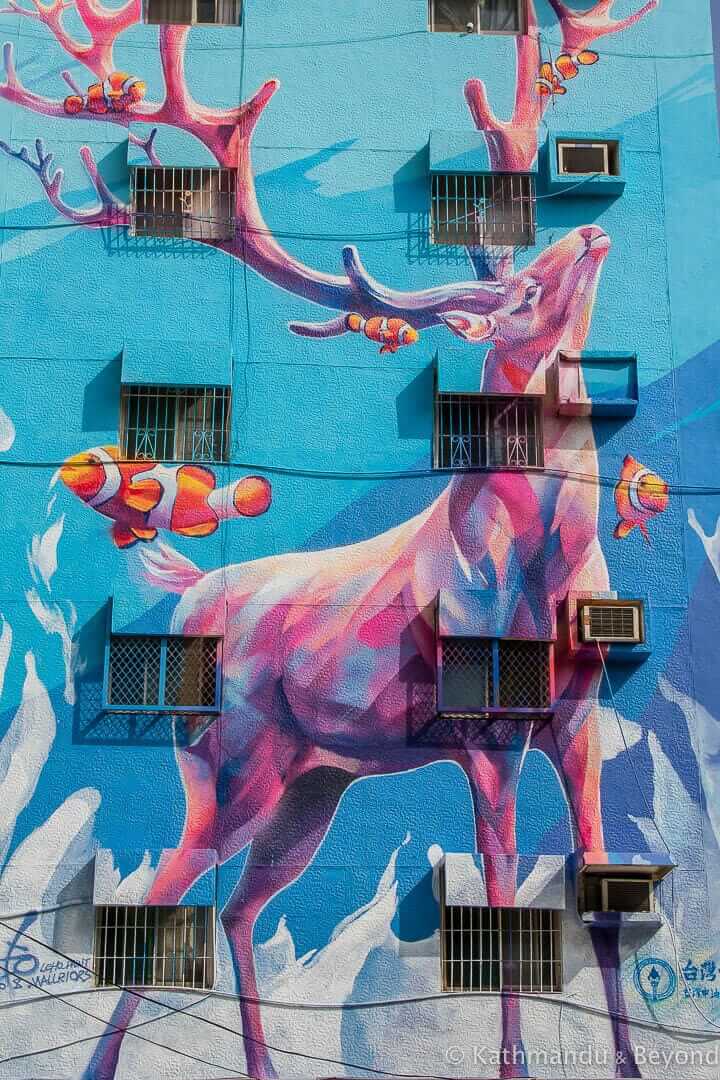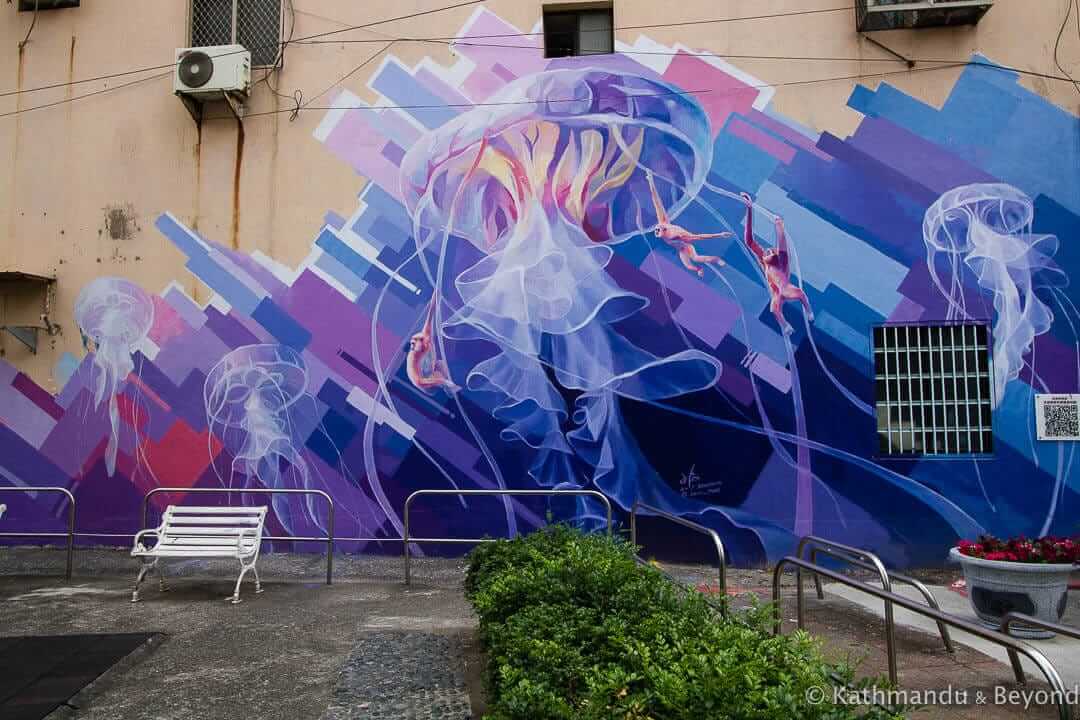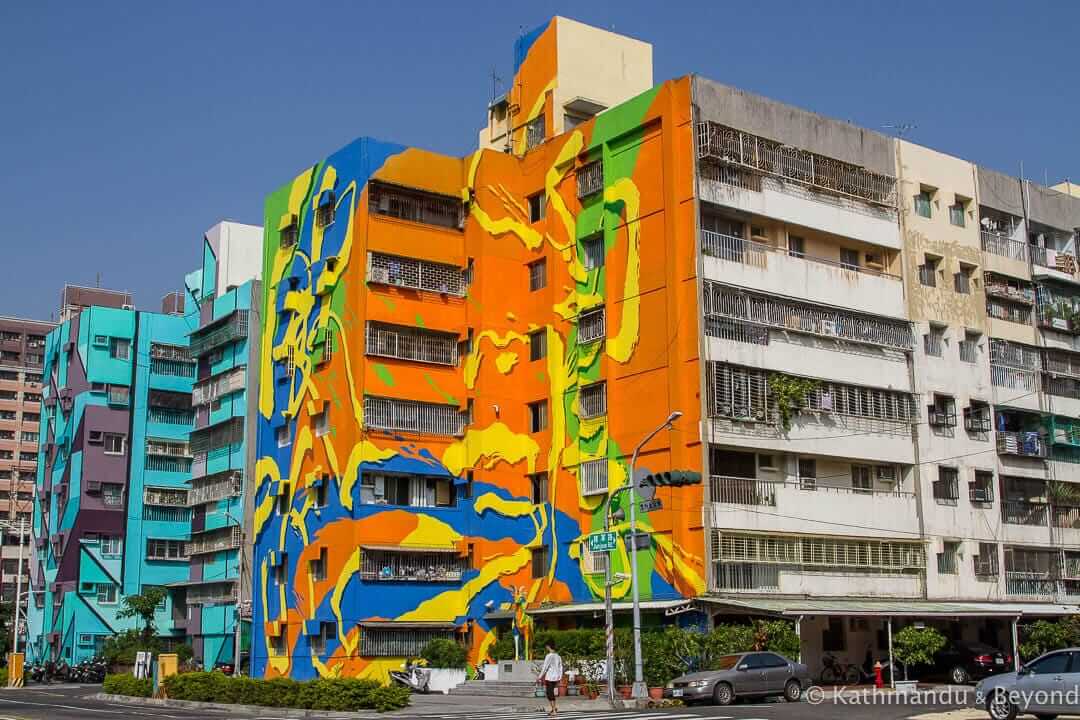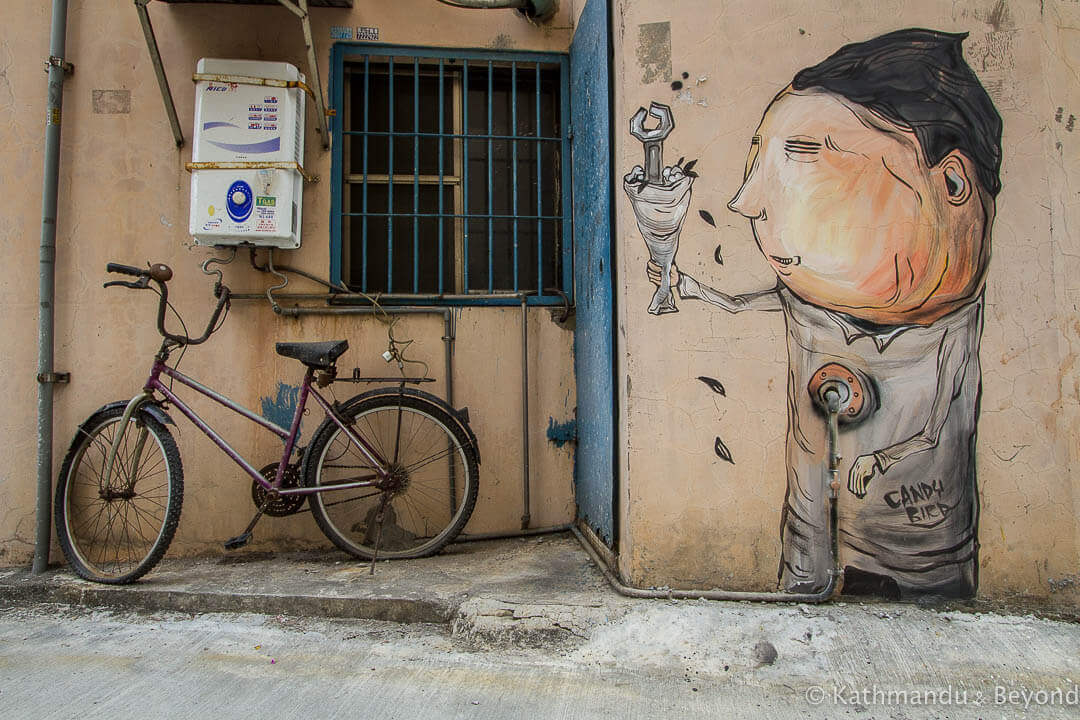 Above, a trio of Candy Bird pieces!
How to get to Lingya Street Art Village
The closest metro station is Weiwuying (衛武營站 – stop 10 on the orange line) and you'll start to see the first murals a short walk from the station. We cycled from downtown Kaohsiung – an easy ride most of which you can do on cycle paths. Being on bikes also meant we could keep an eye out for other murals around the city. There are some great large-scale murals on Jianjun Street and lots of pieces in the corner where Chengqing Road meets Lane 33, Chengqing Road. Wander around the lanes between these main roads and you'll find plenty more. Don't forget to look out for less conventional street art like lampposts painted as giraffes
Qianjin District Street Art (前金區)
The street art in this central part of Kaohsiung is a little more scattered and doesn't have the same density of art as Lingya District but there are a few pieces worth seeking out.
This black bear by Korean artist Xeva looks very at home among the trees…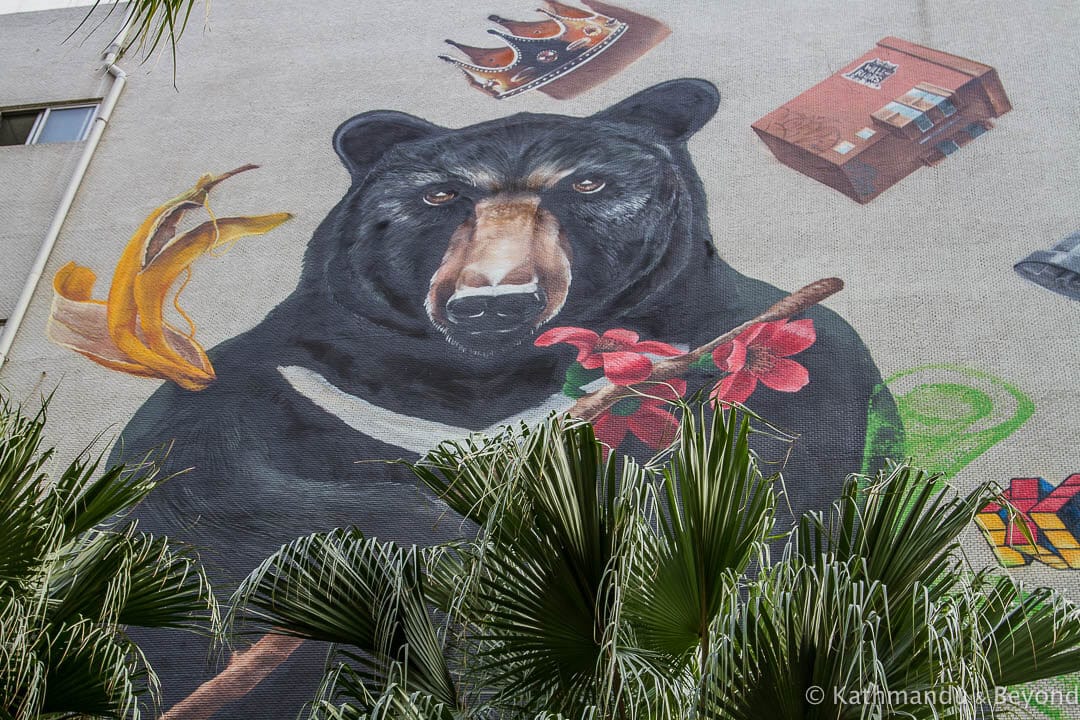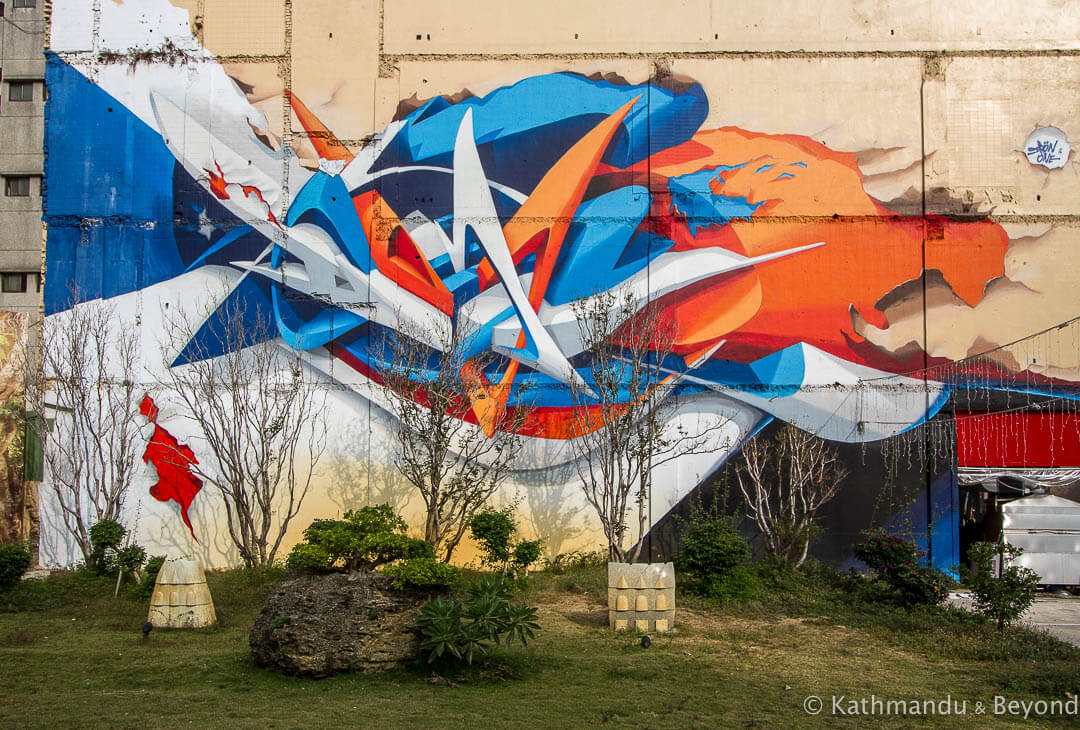 Street Art in other parts of Kaohsiung
For street art hunting, hiring bicycles was a good call as we found a few murals we probably 'would've missed had we been using public transport. I've put their locations on the map at the end of the post.
One exciting find was a huge work-in-progress mural covering the ends of three residential buildings. The theme of this mural by Taiwanese artist Bamboo Yang is unsurprising given its location across the street from the National Basketball Stadium.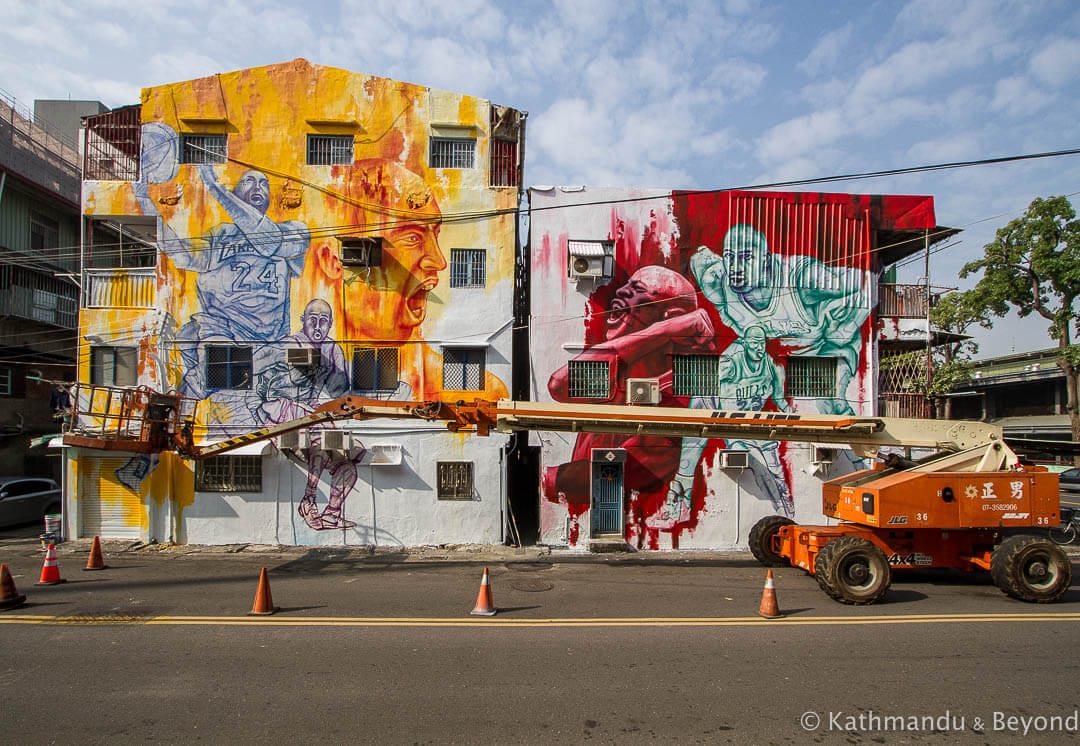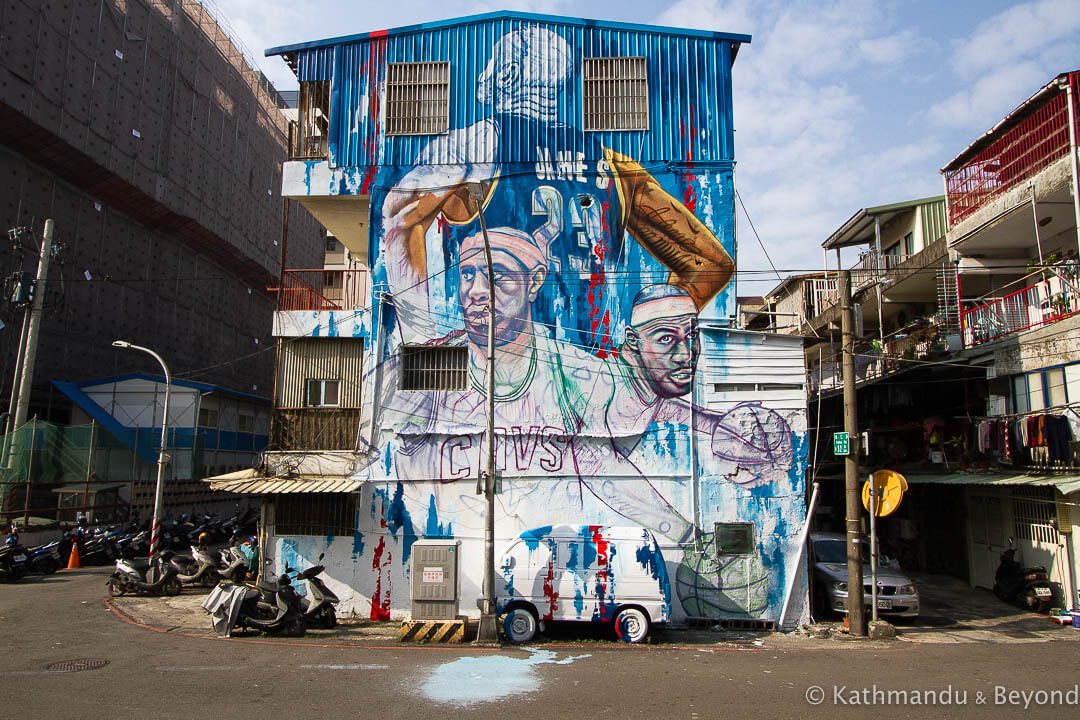 Nearby, we came across this piece by Mr Ogay whose distinctive style can be seen all over Taiwan…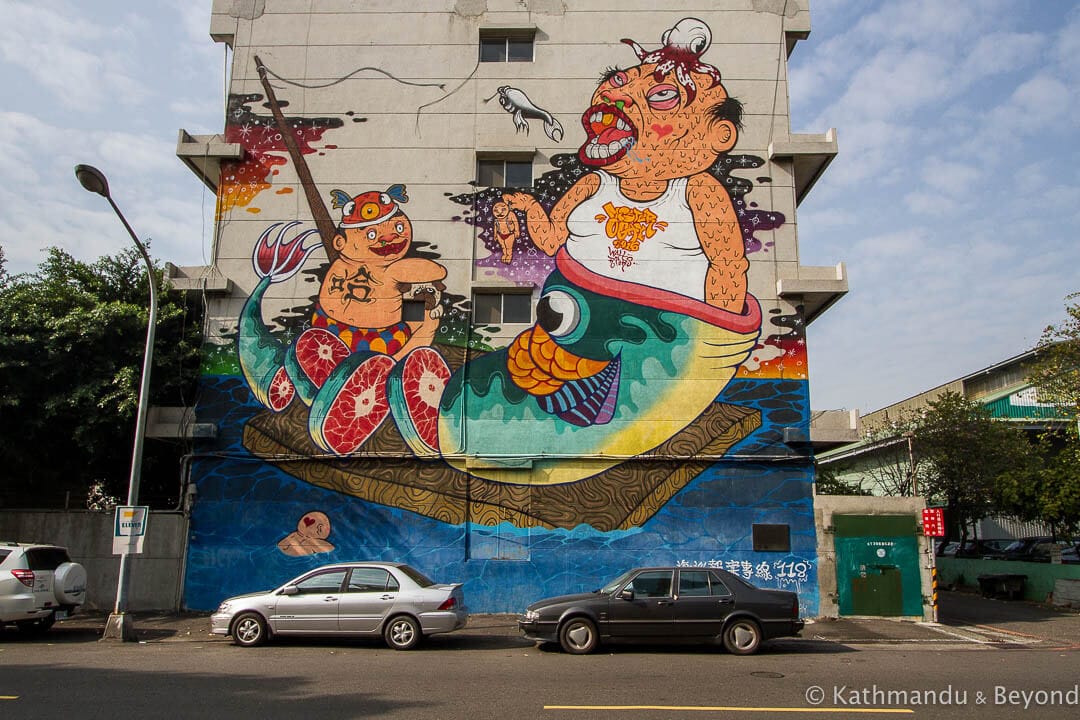 I'd seen this huge mural by Mona Caron online and, awed by its colour and scale, was determined to track it down. Local sources claim it's the largest mural in Asia (as of December 2017), and managing to locate it on the map, we incorporated it into our bike ride. Named 'Outgrowing', the artist says 'it's designed to be viewed from the ground up'. Most of us don't have any other option!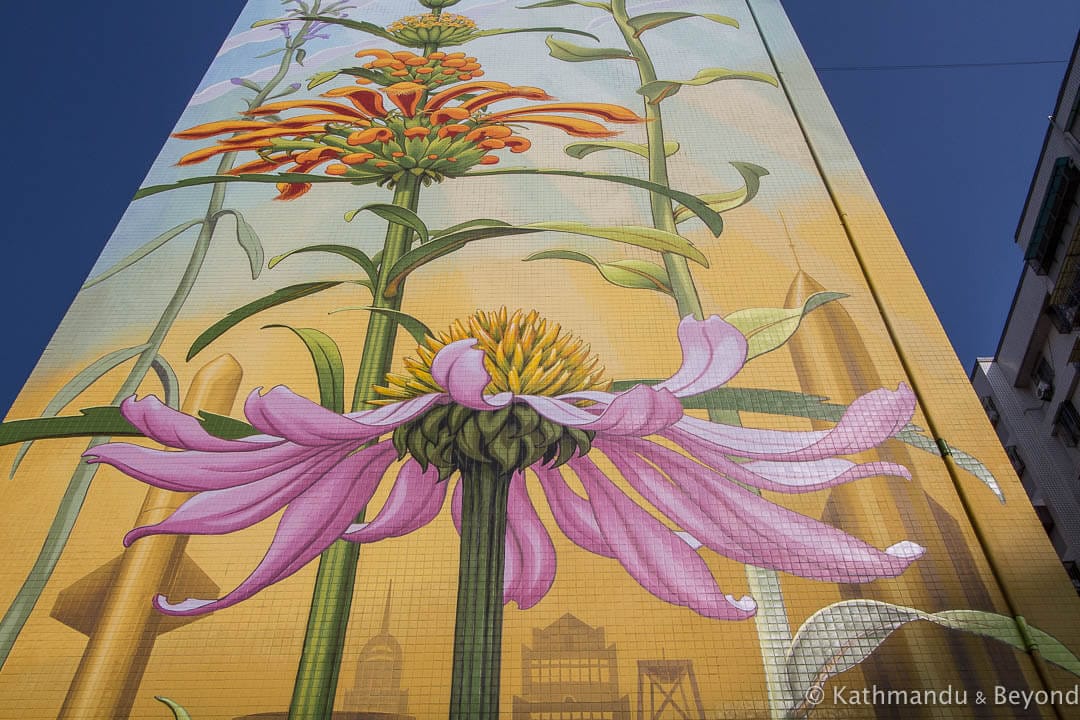 Another surprise find was this beautiful bird mural by Bamboo. I adore the colour combination of blues and purples. Unlike other artists whose work is instantly identifiable, Bamboo's work is incredibly diverse and more prolific in Kaohsiung than first meets the eye.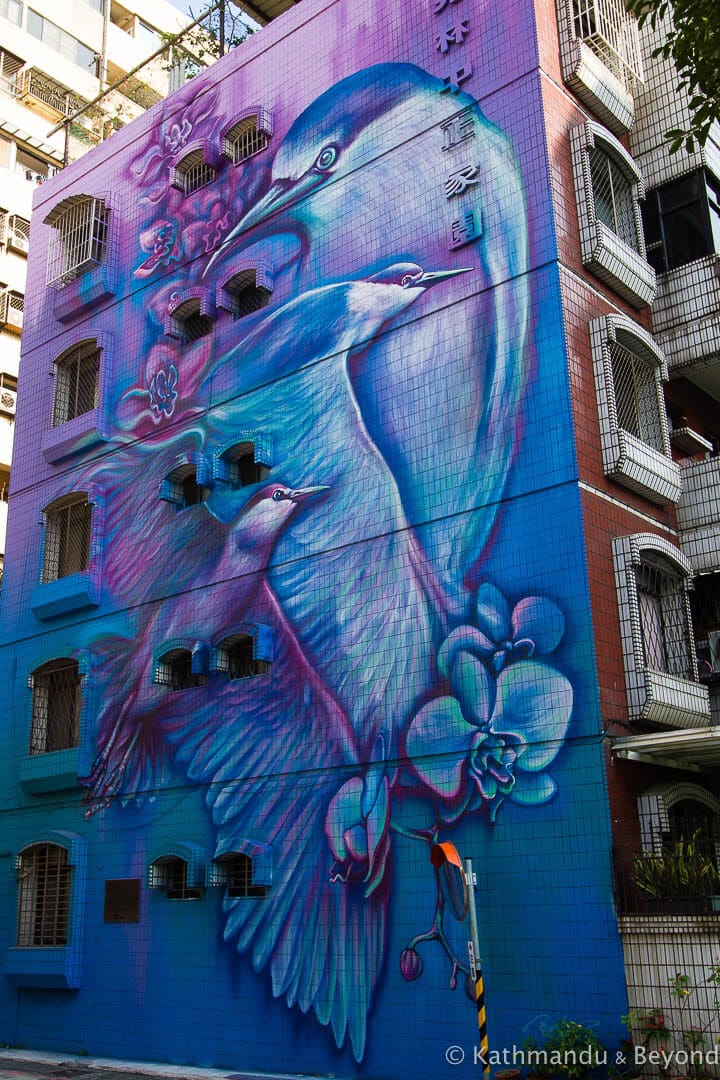 Street Art at the Former Japanese Navy Fongshan Communication Centre (原日本海軍鳳山無線電信所)
The reason for our visit to this part of the city was the Former Japanese Navy Fongshan Communication Centre (sometimes referred to as the Imperial Japanese Navy Fongshan Wireless Communications Station) – an accessible abandoned building with opening hours and a sweet old couple handing out information leaflets and managing the visitor's book. However, it's worthy of a quick mention in a post about Kaohsiung street art.
Initially, I was excited to see large sections of the inside perimeter walls covered in art. On closer inspection, to be honest, it's not street art I'd make a special trip for – some of it is painted directly on the wall but a lot of it is printed onto fabric which has then been pinned to the wall. A lot of it looks like art school projects (future famous graffiti artists?) and much it is very faded. But as I said, it's worth a mention and if you're interested in abandoned buildings and Taiwan's modern history, it's a bonus!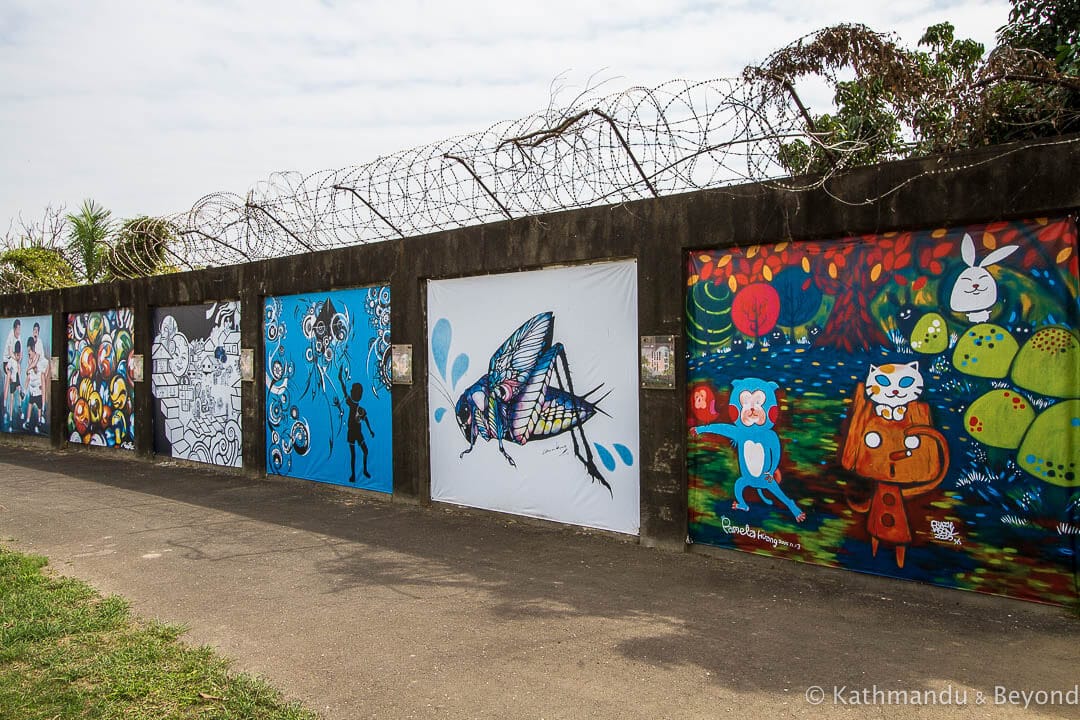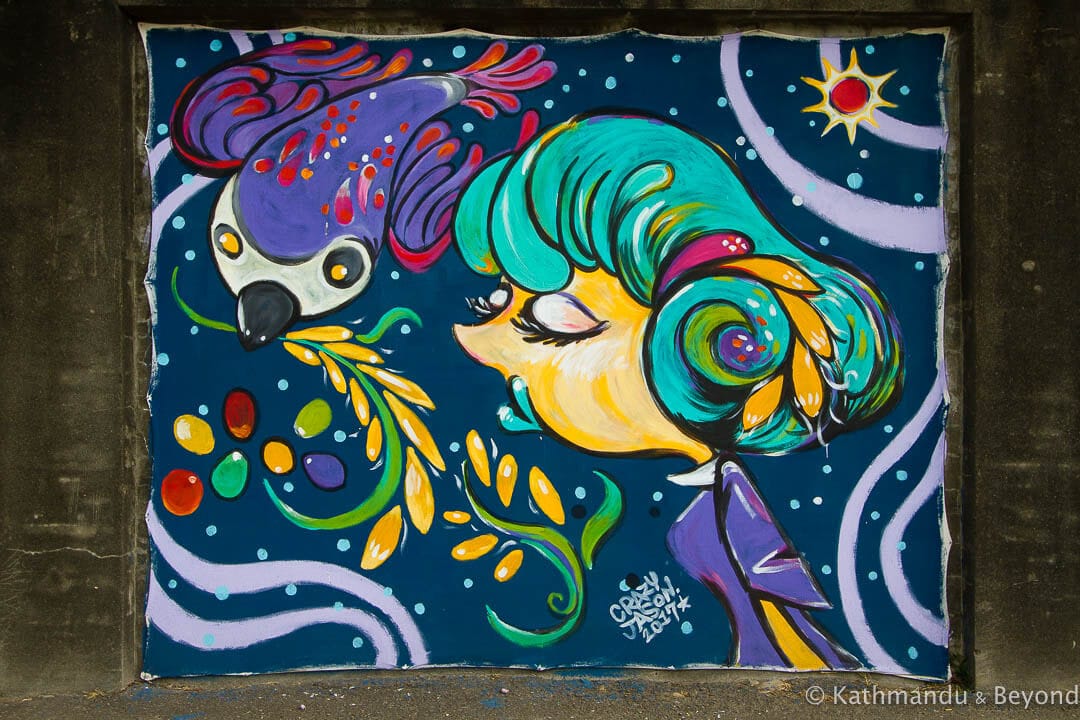 How to get to Fongshan
We cycled there but it's also possible to get to the Former Japanese Navy Fongshan Communication Centre by public transport. Riding directly, it's around 11 kilometres from Pier 2 but a couple of brief diversions will take you past most of the street art I've mentioned. If you prefer to take the Metro, take the Orange line to Fongshan Junior High School (鳳山國中站 – stop 14) from where it's a 10-minute walk. It's also possible to travel there by bus but again, check locally or with Google maps for the best route from your start point.
As you see, Kaohsiung has more than enough street art to keep any street art hunter happy and the scene is bound to continue growing. On top of that, we really enjoyed our time in Kaohsiung and would recommend a visit even if you aren't a street art geek!
How to locate Kaohsiung's street art
If you are planning to go street art hunting in Taiwan, I hope this information on where to find street art in Kaohsiung will help. I've mapped out the major locations on Google maps here…
I'd already put together my own map by the time I came across this detailed map all of the street art in Lingya district whilst researching information about the artists featured. This map contains an incredible amount of detail and despite being in Chinese it's a resource that would have been incredibly valuable during our visit!
---
I really hope I've identified and credited all of the artists correctly. If you think I've made a mistake, or know the name of an artist not mentioned, please drop me a note.
---
---
Are you a Street Art Geek? Follow our dedicated Facebook and Instagram accounts…


---
HAVE WE INSPIRED YOU TO GO STREET ART HUNTING IN KAOHSIUNG? PIN THIS POST TO YOUR STREET ART OR TRAVEL BOARDS…