Gokyo Lake trek: A great alternative to the classic trek to Everest Base Camp
The trek from Lukla to Gokyo Lake offers an interesting alternative to the more traditional Everest Base Camp trek and has the advantage of being less well known and therefore a lesser-trekked trail than its more famous Khumbu counterpart. As a further incentive, the mountain views are arguably superior on this side of the range. More of Mount Everest is visible from Gokyo Ri than it is from Kala Phattar for example (albeit from a slightly further distance) and there are superb views of the incredible Ngozumpa Glacier, the largest glacier in the Nepali Himalaya.
Trek summary
Day 1: Kathmandu to Lukla by air and on to Phakding (2/3 hours walking)
Day 2: Phakding to Namche Bazaar (5 hours walking)
Day 3 Namche Bazaar rest day
Day 4: Namche Bazaar to Phortse Thanga (3 hours walking)
Day 5: Phortse Thanga to Machhermo (4 hours walking)
Day 6: Machhermo to Gokyo (4 hours walking)
Day 7: Gokyo rest day
Day 8: Gokyo to Phortse Thanga (6 hours walking)
Day 9: Phortse Thanga to Namche Bazaar (5 hours walking)
Day 10: Namche Bazaar to Lukla (6/7 hours walking)
Day 11: Lukla to Kathmandu by flight
Gokyo Lake trekking route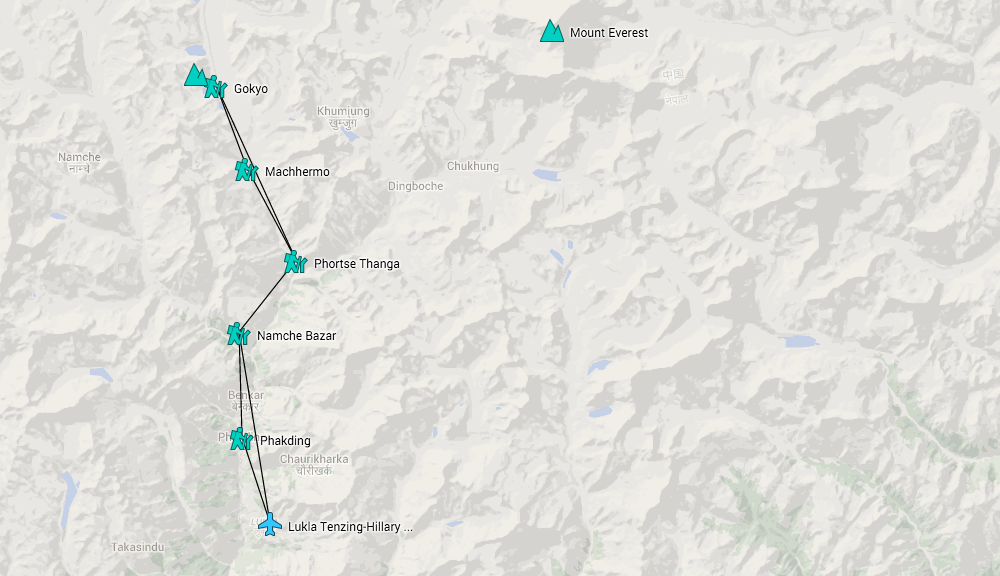 Click on the map for an interactive Google map version 
Gokyo Lake Trek in detail
Day 1 Kathmandu to Lukla and walk to Phakding (flying time 35 minutes and trekking time 2-3 hours)
Following check-in at Kathmandu airport at around 6am, if you are lucky you will be in the air by 9am and therefore making the spectacular landing into Lukla by 9.45am or so, ready to start trekking shortly afterwards.
Today's walk to Phakding is very straightforward and you probably won't even break into a sweat. There are a couple of reasons why today is so easy; firstly you never know what time your flight is going to take off from Kathmandu and therefore what time you are going to arrive in Lukla. As a result, you cannot afford to be too ambitious with the amount of distance to be covered after arrival. Secondly, there is the acclimatisation factor to take into account; Lukla is 2840m above sea level and the key on this trek is to go slowly in order to acclimatise properly.
Accommodation in Phakding
Lodges/teahouses
There are plenty of lodges and teahouses in Phakding. On the couple of occasions I have been there, I have stayed at the Beer Garden Hotel (also known as the Shangri La). The new wing is far superior to the original building. All 14 rooms have private bathrooms and are clean and warm. The restaurants (all three of them!) serve excellent food and the service is very good.
Camping
The best spot without a doubt is at the Himalayan Chain Resort. The camping area is well spread out, there are good toilet and shower facilities and the location is very peaceful.
Day 2 Phakding to Namche Bazar (trekking time 5 hours)
It is a pleasant walk from Phakding to Monjo (1.5 to 2 hours) with no serious ups or downs along the trail. From Monjo, you start to get mountain views as Mt. Thamserku comes clearly into view. Some trekkers have lunch here but personally I think it is too soon after leaving Pakding. It is better is to keep walking as far as Jorsale (Thumbug), which is a further 45 minutes from Monjo and located by the river. After lunch, you will cross back and forth from one side of the river to the other a few of times and also walk along the river bed before finally crossing to the left-hand side to begin the ascent up to Namche Bazaar. It is a steep upward climb for about 30 minutes to the viewpoint (where hopefully you will get your first glimpse of Everest) before the hike turns into a more gradual climb for about another hour until you reach the entrance to the town.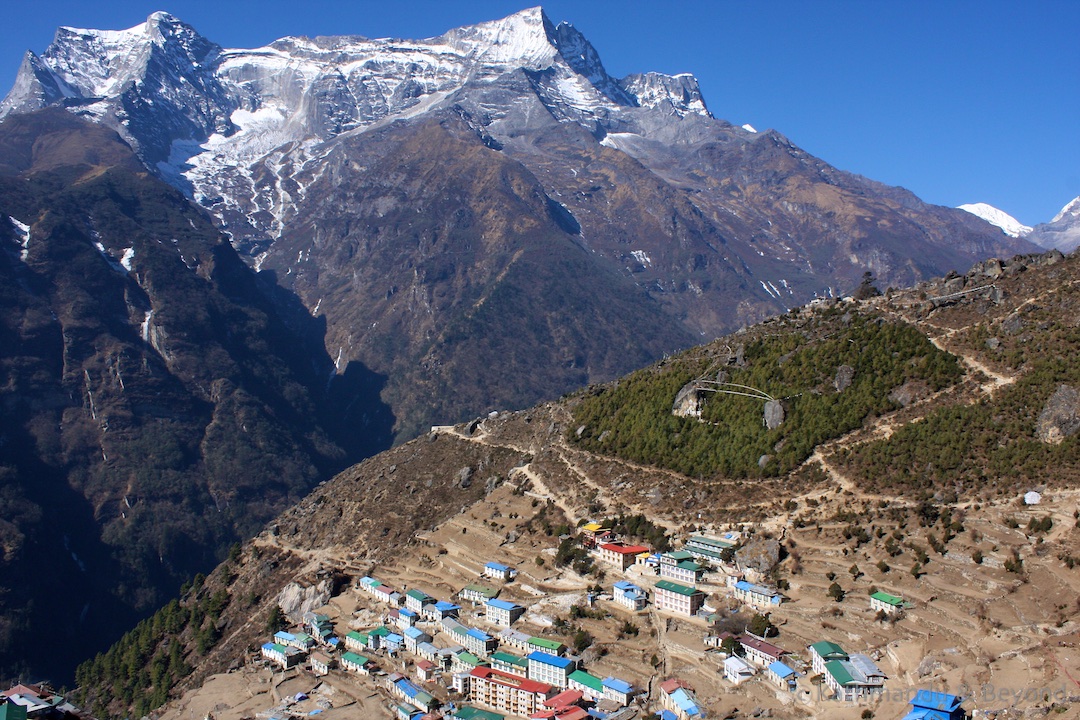 Namche Bazar
Accommodation in Namche Bazaar
Lodges/teahouses
There are numerous places to stay in Namche. I stayed at the Camp De' Base, which I thought was a good option. The old part of the lodge houses the very pleasant dining area and two new accommodation blocks, one with a common bathroom and the other with rooms with en suite bathrooms. Here the rooms are spacious and clean and for most of the day they catch the sunlight. Other good choices include Hotel Sherpa Land (which has a great outdoor sun trap), Zamling Guesthouse (which is perched on a hill close to the monastery and overlooks the town) and the Panorama Lodge (which has 24-hour electricity and hot showers).
Camping
There is a very pleasant camping ground up above the Yeti Mountain Home, close to the town's museum. You can also camp in the museum grounds. The views are excellent from up here and there are cooking and toilet facilities available.
Day 3 Acclimatisation day at Namche Bazaar (4 to 5 hours optional trek)
Most acclimatisation days in the mountains are not in fact rest days but the opportunity to take a gentle trek in the surrounding area, catch some great views and adjust to the altitude. Of course, you can simply relax – Namche has some great coffee shops and is an interesting place to explore – but should you feel like stretching your legs, a great option is to hike to the Hotel Everest View, continue down to Khumjung and then return to Namche Bazaar.
The trail is not difficult and once on the ridge above Namche (at the Syangboche Airstrip) the views are superb and will most definitely whet your appetite for the journey ahead. You get your first view of Everest but more striking is that of Ama Dablam which really stands out on its own. You can have a cup of tea at the Hotel Everest View and then walk down into Khumjung and then either head directly back to Namche or you can keep going and visit Kunde, the neighbouring village, which will add about an hour to the total time of the excursion.
Day 4 Namche Bazaar to Phortse Tenga (trekking time 3 hours)
An early start is not necessary this morning as the trekking time today is fairly short. You begin the day with a stiff climb up and through Namche Bazaar before the trail levels out and you are then walking more or less on the flat for the next hour or so as far as Sanasa. From this junction, it is possible to either continue straight towards Tengboche, or take a left to Khumjung or head right and upwards towards Mong La (and Gokyo Lake). Heading in the direction of Mong La, this section of the trek begins with a stiff 30-minute climb before the trail levels out somewhat and you then continue climbing gradually for the next hour or so until you reach Mong La itself. If you departed Namche Bazaar at a relaxed hour then this would be a good spot to have lunch. From here it is downhill all the way for about 30 minutes to the Imja Khola river where Phortse Tenga is located.
Accommodation in Phortse Tenga
Lodges/teahouses
Located 5 minutes from the entrance to the village, and down on the river, the best place to stay is Riverside Lodge. All rooms are clean and bright and there is a good common bathroom with 2 toilets (one Asian and one Western) plus a shower and washbasins. The dining room serves good food and there is a pleasant outdoor area.
Camping
The campsite is located on both sides of the Riverside Lodge. There are cooking and washing facilities and the soothing sound of the nearby running river can be clearly heard.
Day 5 Phortse Tenga to Machhermo (trekking time 4 hours)
Note; It is recommended to spend the night in Dole in order to aid acclimatisation. This is a sensible suggestion but the problem with this is the fact that the trekking time from Phortse Tenga to Dole is only 1 to 1.5 hours so what do you do for the rest of the day? Furthermore, the accommodation is poor in Dole. Campers are well-catered for, but the Yeti Lodge (which is considered to be the best) is far from great. The rooms are basic and the toilets are not very hygienic.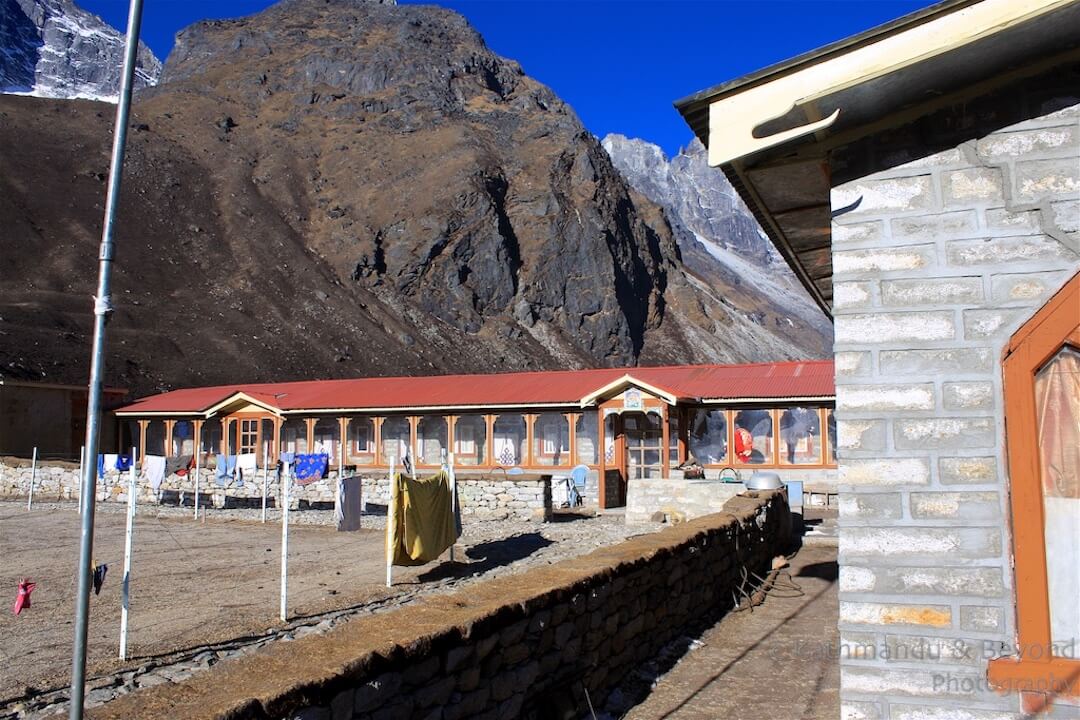 Namgyal Lodge, Machhermo
The trek to Machhermo starts with a stiff climb of approximately 40 minutes and then levels out and affords great views of the valleys on all sides. From here, trek down to Dole where it is possible to have lunch and a rest break. From Dole, hike back up on to the ridge (which can be windy) towards Lhabarma (which has some excellent remote camping spots, see below) and Luza and eventually to Machhermo itself. All in all, this is a pleasant trek and furthermore, Machhermo itself has a fantastic setting with superb mountain and valley views. This small village is also the site of the most credible yeti incident in the Khumbu region, for it was here in 1974 that a yeti was alleged to have killed three yaks and attacked a Sherpa woman.
En route from Phorte Tenga to Machhermo
Accommodation in Machhermo
Lodges/teahouses
The best place to stay is the Namgyal Lodge in the centre of the village. There are 16 rooms, 5 with attached bathroom. It is a clean, well run family lodge that also serves good food. They have a telephone line so reservations can be made in advance.
Camping
There are plenty of good camping spots all around Machhermo and also, as mentioned above, Lhabarma, which is about halfway between Dole and Machhermo and has some superb spots with fantastic views of the surrounding valley and mountains.
Update: The village of Machhermo suffer extensive earthquake damage – we recommended you check locally before setting off to Machhermo so you can adjust your route if necessary.
Day 6 Machhermo to Gokyo (trekking time 4 hours)
Day 6 is a strenuous, but rewarding, day of trekking. You start with a steep climb up to the ridge above Machhermo, where you will get great views back towards Kantega and good views forward towards Cho Oyu. Then the trail levels as far as Pangka and continues to Nilibuk, from where you start to climb again, along a narrow staircase trail to a small bridge that takes you to the first of the five lakes at Gokyo. The trail is now flat but the 4700m altitude slows you down and you pass the second lake and eventually reach Gokyo itself, which is located beside the much larger third lake.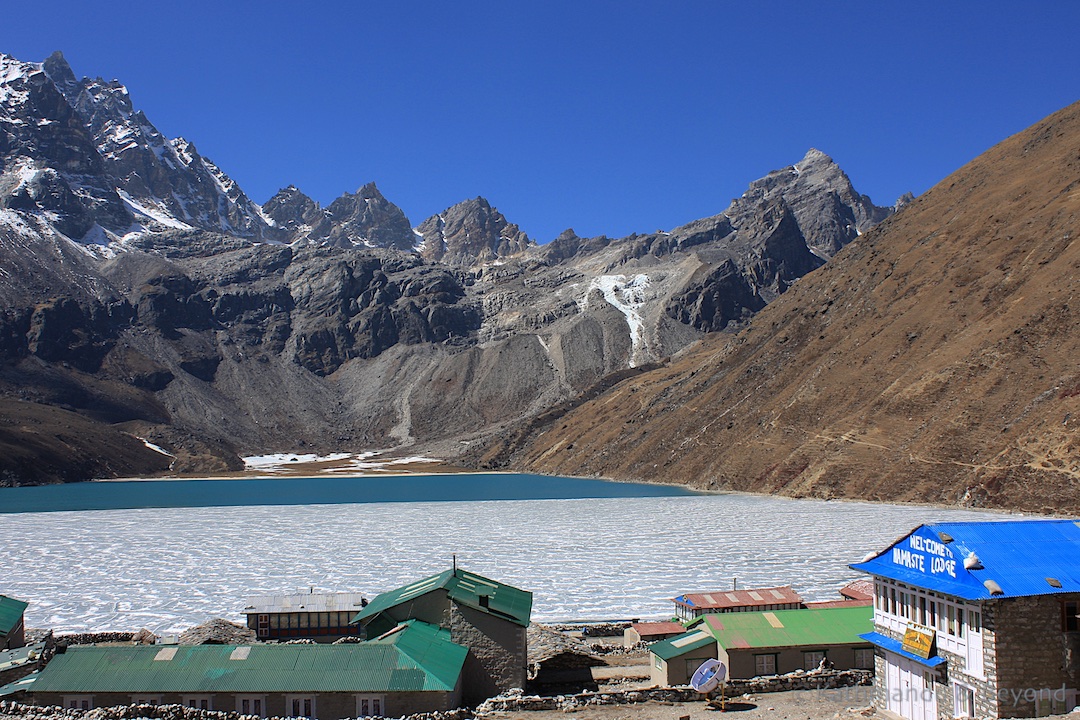 Gokyo Lake
Gokyo has a spectacular setting, with the third lake, the Renjo Pass and Gokyo Ri all clearly visible to the west and Cho Oyu easily seen to the north. A 10-minute climb east brings you to a ridge that overlooks the impressive Ngozumpa Glacier.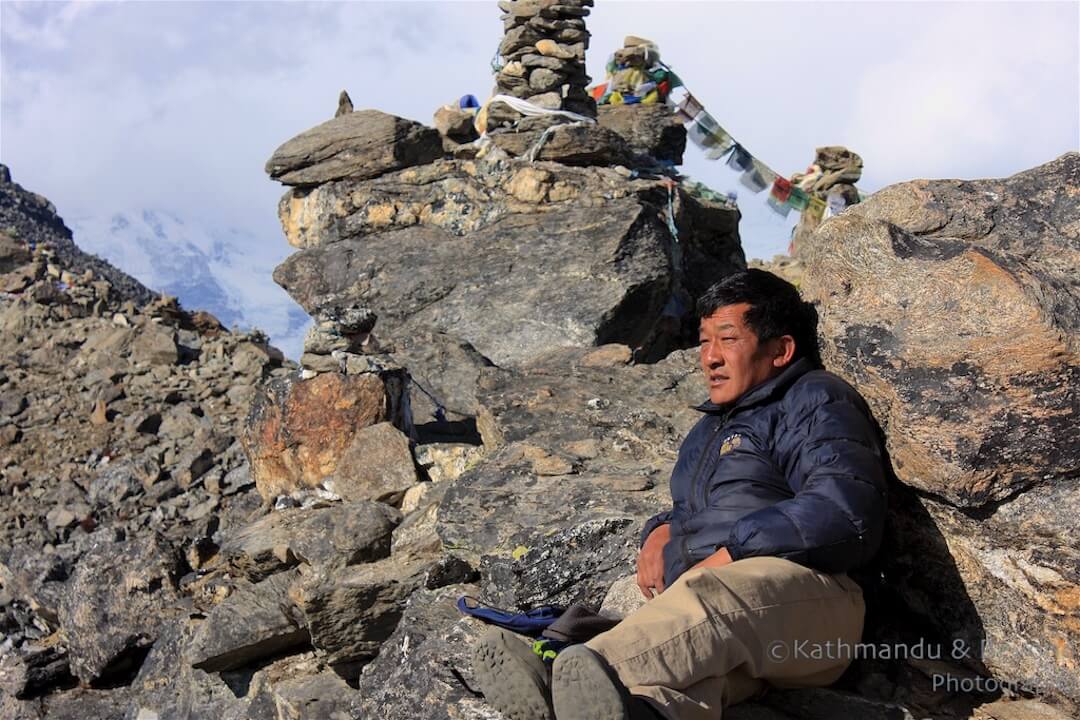 Gokyo Ri
Gokyo Ri (5360m) is best climbed in the morning for clear views (see day 7) and so most trekkers tend to take it easy and adjust to the altitude and perhaps take a short walk up onto the ridge that overlooks Ngozumpa Glacier (although this can also be done in the morning when the views are superior).
Accommodation in Gokyo
Lodges/teahouses
There are several lodges and teahouses in Gokyo. The best lodge is the Gokyo Resort with 23 rooms (all with common bathroom). It is pretty basic but the rooms do have double glazing which keeps them warm and the food is pretty good. The bathrooms aren't brilliant and the shower (for which you pay extra) is located outside. But considering the remote setting, taking everything into account, the overall standard is not too bad.
Camping
A camping spot is located just above Gokyo Resort.
Day 7 Gokyo (3 to 4 hours optional trek)
As mentioned previously, it is recommended to head up to Gokyo Ri in the morning as the views are much clearer than in the afternoon. I don't think it is necessary to get up at a ridiculous hour. The climb takes about 2 to 2.5 hours and is very strenuous and adding the cold of the early morning to the hardship of dealing with the altitude is something that is not really necessary. Once at the summit the scenery is superb, with panoramic views of some of the biggest mountains in the world, including Cho Oyu, Gyachung, Everest, Lhotse, Makalu and Cholatse. There isn't much protection at the top and so you will not want to linger for long! The climb down can be very painful on the knees, but on the plus side, you are back at the lodge in around 45 minutes or so.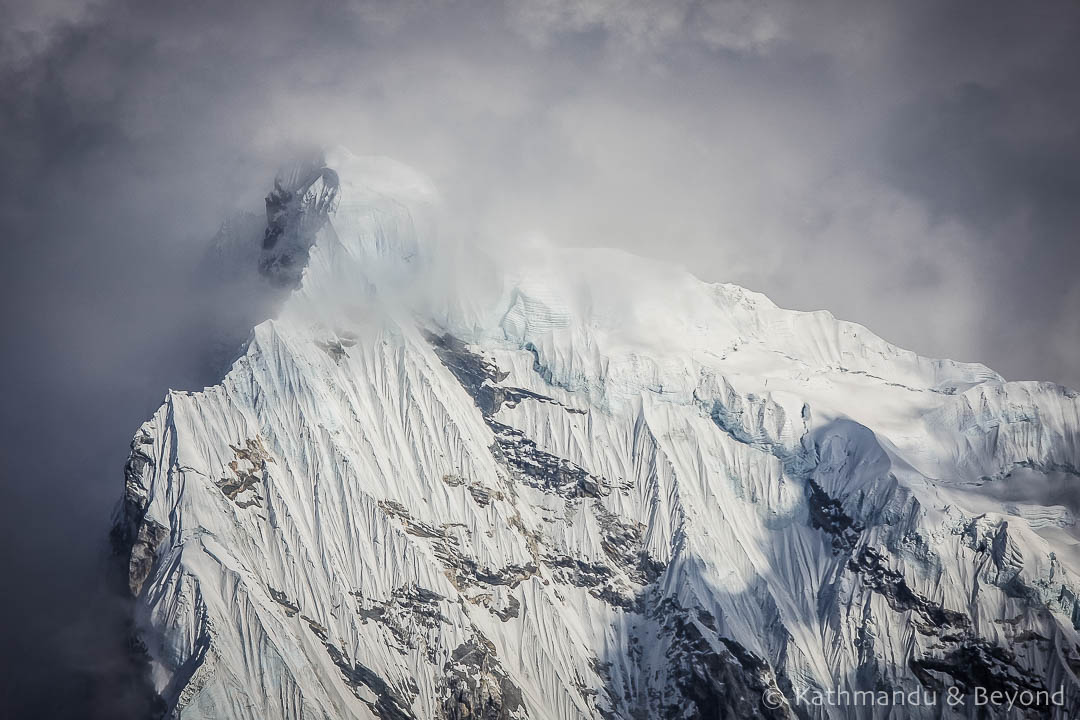 View from Gokyo Ri
An alternative, longer day excursion would be to the fifth lake further up the valley. However, a full day is required to do this and therefore an additional night in Gokyo is needed.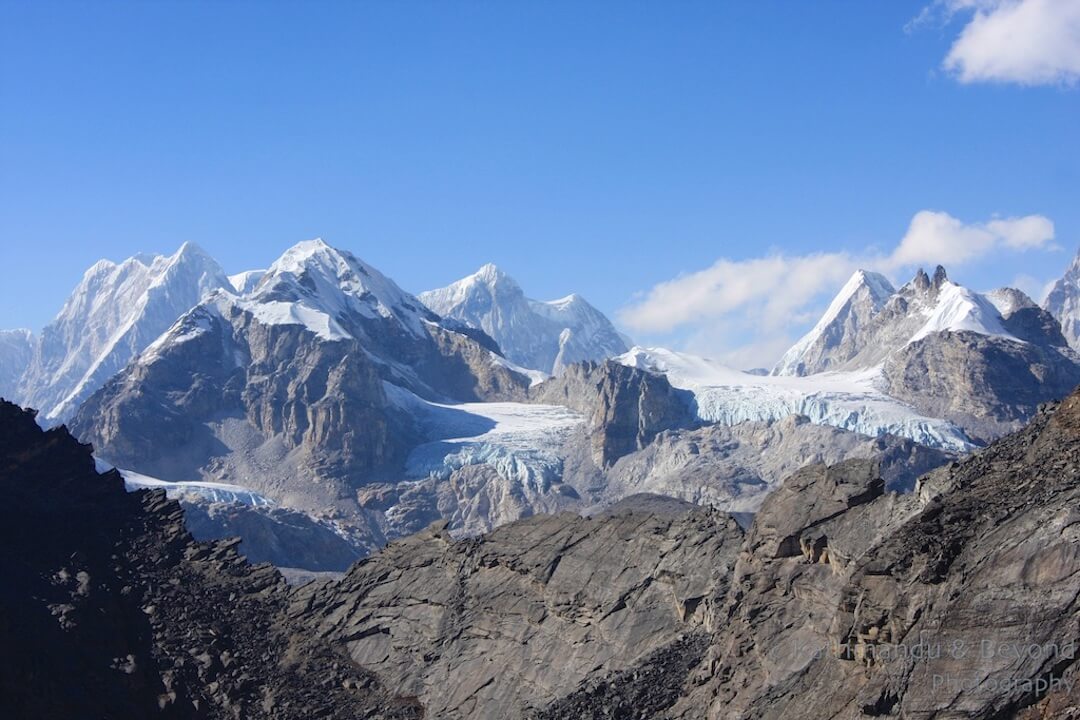 View from Gokyo Ri
Day 8 Gokyo to Phortse Tenga (trekking time 6 hours)
It is an easy walk back (almost all downhill) as far as Machhermo and beyond to Dole with nothing really distracting you from your trekking. The only slightly tricky bit of the whole day is the hike down after leaving Dole to Phortse Tenga as this can be a bit dusty as well as painful on the knees.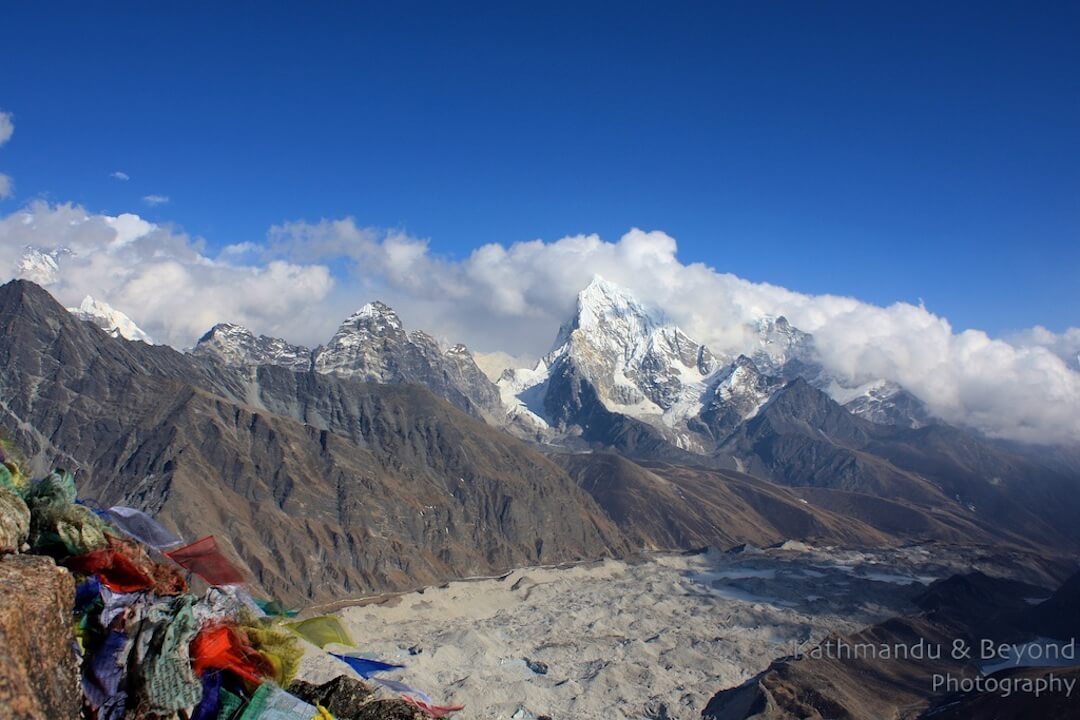 View from Gokyo Ri
Day 9 Phortse Tenga to Namche Bazar (trekking time 4 hours)
The day starts with an absolute killer of a climb back up to Mong La which takes at least 1 to 1.5 hours and once there, head down towards Sanasa. The path is narrow but the ascent is not too bad and, providing you don't encounter a herd of yaks, it shouldn't take more than an hour to reach the junction at Sanasa. From there it is a straightforward 1 to 1.5 hour traverse along the ridge back to Namche Bazaar.
Day 10 Namche Bazar to Lukla (trekking time 6/7 hours)
After walking through Namche Bazaar, you start the descent towards the river on a very dusty and busy trail that leads you to an even busier suspension bridge. Apart from a few steps up to the Sagarmatha National Park entrance building, this is a pleasant stretch of the trail that takes you along the river back to Monjo. Thereafter, the trail is usually busy with trekkers, porters and yak trains and passes through several villages. You begin by going down to Phakding (where you will have stayed on the way up) and then, after more down, you eventually start climbing up with the final section before Lukla being rather steep indeed. All being well, you should arrive in Lukla by mid-afternoon.
Accommodation in Lukla
Lodges/teahouses
Lukla is well-developed on the lodge and teahouse scene. At the upper end of the market, I very much liked the Yeti Mountain Home Lukla. Situated at the opposite side of the town to the airport, this spacious lodge has very nice rooms (all with attached bathrooms), a really welcoming bar and restaurant area as well as plenty of outdoor space for relaxing and soaking up the sun. Because of its location, it also has the advantage of being very quiet and peaceful. Yeti Mountain Homes are also a chain with properties in Phakding, Namche, Thame and Kongde as well as Lukla.
An excellent lower grade lodge is the Lukla Mountain Hotel, which is situated next to the airport runway. All the rooms are clean, have attached bathrooms and are (for the best part) bright and airy. The hotel has one of the best campsites in town (see below) and there is a further incentive to sleep at this property as the owner is also the airport manager for Yeti Airlines and therefore a very useful contact to have. In addition, the service and food are good at this lodge.
Camping
The best I saw was located at the Lukla Mountain Hotel. It has its own cooking area and campers are allowed to use the showers and toilets inside the lodge.
Day 11 Lukla to Kathmandu (flying time 45 minutes)
There is always a buzz in the morning, with everyone (locals and trekkers alike) predicting whether there are going to be flights or not. The advantages of staying at the Lukla Mountain Hotel are clear and it also means minimal hanging around at the airport. You need to be up and your bags packed by 06.30am and your return flight (if the weather is good) will take off any time between 07.30am and 10.00am, sometimes even later.
Flights in and out of Lukla are weather dependent and are often delayed or cancelled. As a result, if you are on a fixed schedule and heading back to Kathmandu for an onward international flight, I would strongly recommend building at least one contingency day back in Kathmandu (two would be better) into your itinerary. Trust me, a day or two of chilling in Kathmandu because your Lukla to Kathmandu flight miraculously took off as per schedule is preferable to trying to rearrange an international flight home because the one you were booked on took off two days previous!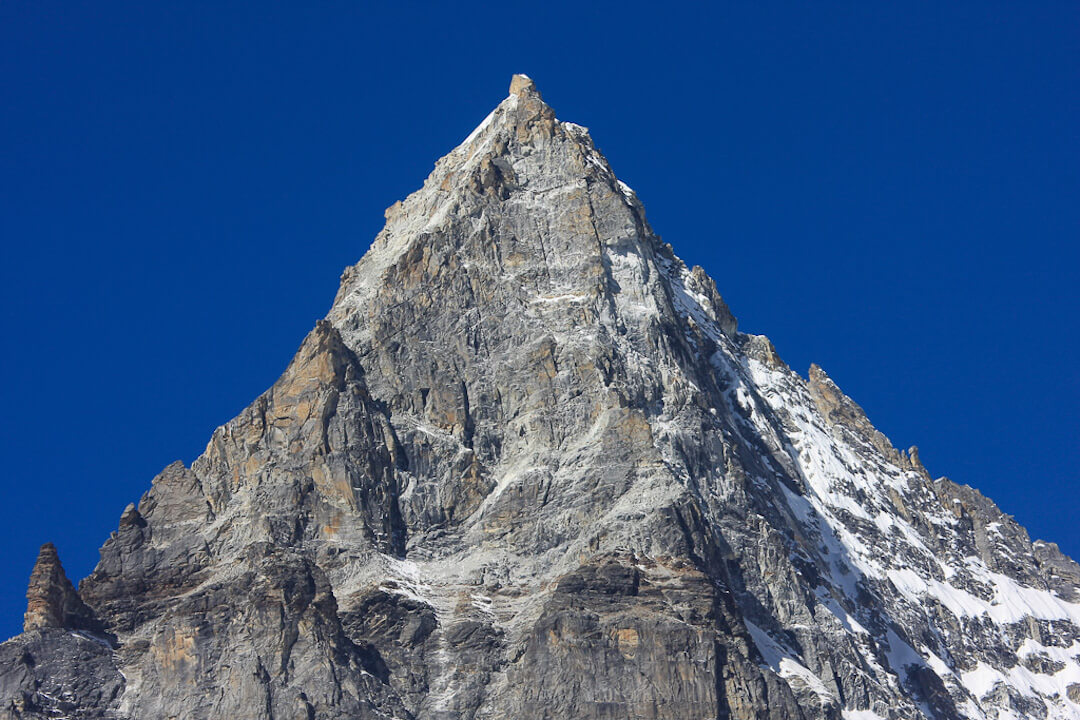 Ngozumpa Glacier
Alternative routes on this trek
It is possible to link the Gokyo Lake trek with the Everest Base Camp trek by traversing the Cho La Pass.
This is a very tough trek and not for the inexperienced – prepare for glacier walking, snow and ice, scree, boulder hopping, exposed trails, very basic facilities and a reasonable risk of avalanches. Both trekkers and crew (if you have one) need to be fully equipped to battle both the elements and the altitude. Several guides and sherpas that I met whilst living in Nepal said that in their opinion, the pass was too dangerous to cross and should be closed to trekkers. As I've never crossed the pass myself, it is hard for me to give a first-hand opinion but I met a number of trekkers who attempted it and their reviews were mixed. Some said it was extremely difficult, while others said it was OK and manageable. Others abandoned their attempts and headed back the way they had come.
A much safer and more feasible way to link the two treks would be to walk back down from Gokyo Lake as far as Phortse Tenga and then cross the river to Phortse and head up towards Everest Base Camp from there. Although it involves some back-tracking, this is a less dangerous option than crossing the Cho La Pass. If this was your plan, I would personally head up to Gokyo Lake first and then continue with the Everest Base Camp trek. My rationale is based on the fact that the maximum elevation on the Gokyo Lake trek is lower than on the Base Camp trek so you should acclimatise better and also, for many, the highlight will be reaching Everest Base Camp – it's always best to leave the highlight until last!
A brief summary of the route would be along these lines;
Day 1 Kathmandu to Lukla by air and onto Phakding (2/3 hours walking)
Day 2 Phakding to Namche Bazaar (5 hours walking)
Day 3 Namche Bazaar rest day
Day 4 Namche Bazaar to Phortse Thanga (3 hours walking)
Day 5 Phortse Thanga to Machhermo (4 hours walking)
Day 6 Machhermo to Gokyo (4 hours walking)
Day 7 Gokyo rest day
Day 8 Gokyo to Phortse Thanga (6 hours walking)
Day 9 Phortse Thanga to Pangboche (5 hours walking)
Day 10 Pangboche to Pheriche (5/6 hours walking)
Day 11 Pheriche rest day
Day 12 Pheriche to Lobuche (5 hours walking)
Day 13 Lobuche to Gorak Shep (3 hours walking)
Day 14 Gorak Shep to Lobuche (2 hours walking)
Day 15 Lobuche to Deboche (6 hours walking)
Day 16 Deboche to Monjo (7 hours walking)
Day 17 Monjo to Lukla (5 hours walking)
Day 18 Lukla to Kathmandu by flight
If you don't have the time, inclination or energy to trek for 18 days, an interesting variation on the Gokyo Lake trek is to come back down via the Renjo Pass. This is nowhere near as tough as crossing Cho La Pass and means that you can vary the route back and take in some amazing mountain scenery along the way. A brief summary of the route would be along these lines;
Trek summary to include the Renjo Pass
Day 1 Kathmandu to Lukla by air and onto Phakding (2/3 hours walking)
Day 2 Phakding to Namche Bazaar (5 hours walking)
Day 3 Namche Bazaar rest day
Day 4 Namche Bazaar to Phortse Tenga (3 hours walking)
Day 5 Phortse Tenga to Machhermo (4 hours walking)
Day 6 Machhermo to Gokyo (4 hours walking)
Day 7 Gokyo rest day
Day 8 Gokyo to Langden via the Renjo Pass (5/6 hours walking)
Day 9 Langden to Thame (4 hours walking)
Day 10 Thame to Namche Bazaar (2/3 hours walking)
Day 11 Namche Bazaar to Lukla (6/7 hours walking)
Day 12 Lukla to Kathmandu by flight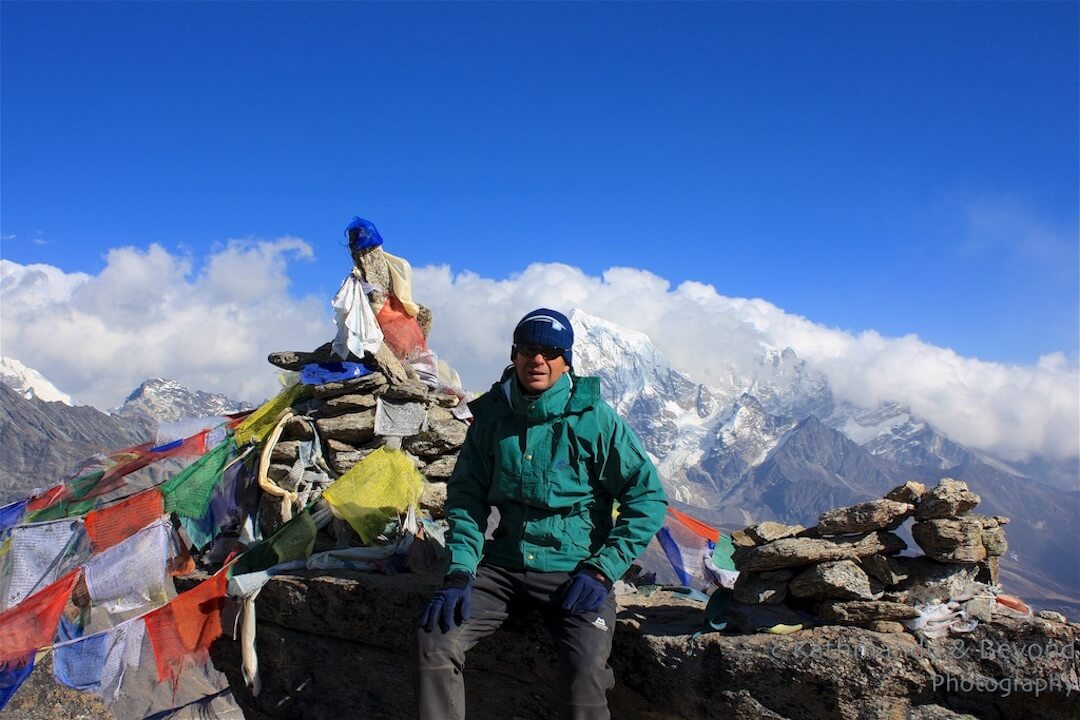 View from Gokyo Ri
Opinion on the Gokyo Lake trek
I like this trek a lot but think it really comes into its own if combined with either the Everest Base Camp trek or the crossing of the Renjo Pass. There is no denying that the views from Gokyo are stunning but the overall trek would be far more rewarding if varied in one of the ways described above.
Disclaimer.  This trek was undertaken a few years back and hence information about the splendour or otherwise of teahouses and camping sites may be slightly out of date. The Everest region suffered some damage during the devastating earthquake of April 2015 but the trekking routes were largely unaffected. I have checked with travel-industry colleagues in Nepal and incorporated their updates but if you come across new information please feel free to update me.  All such contributions will be duly acknowledged.  Mark
You might also like:
An Introduction to Trekking in Nepal
Clothing and Equipment List for Trekking in Nepal
---