A relaxing trek in the Annapurna Foothills
With the highest part of this trek only reaching 2750m (at Ghorepani) and some fine mountain views (particularly between Tadapani and Ghorepani), this is a fantastic trek for those who do not want to walk for more than a week, have limited time and also want to avoid the major high altitude areas of the Annapurna range.
Annapurna Foothills Trek summary
Day 1: Phedi to Dhampus (3hrs walking)
Day 2: Dhampus to Landruk (6/7hrs walking)
Day 3: Landruk to Ghandruk (3/4hrs walking)
Day 4: Ghandruk to Tadapani (4hrs walking)
Day 5: Tadapani to Ghorepani (5hrs walking)
Day 6: Ghorepani to Hille (5hrs walking)
Day 7: Hille to Naya Pul (and return to Pokhara) (3/4hrs walking)
Annapurna Foothills trekking route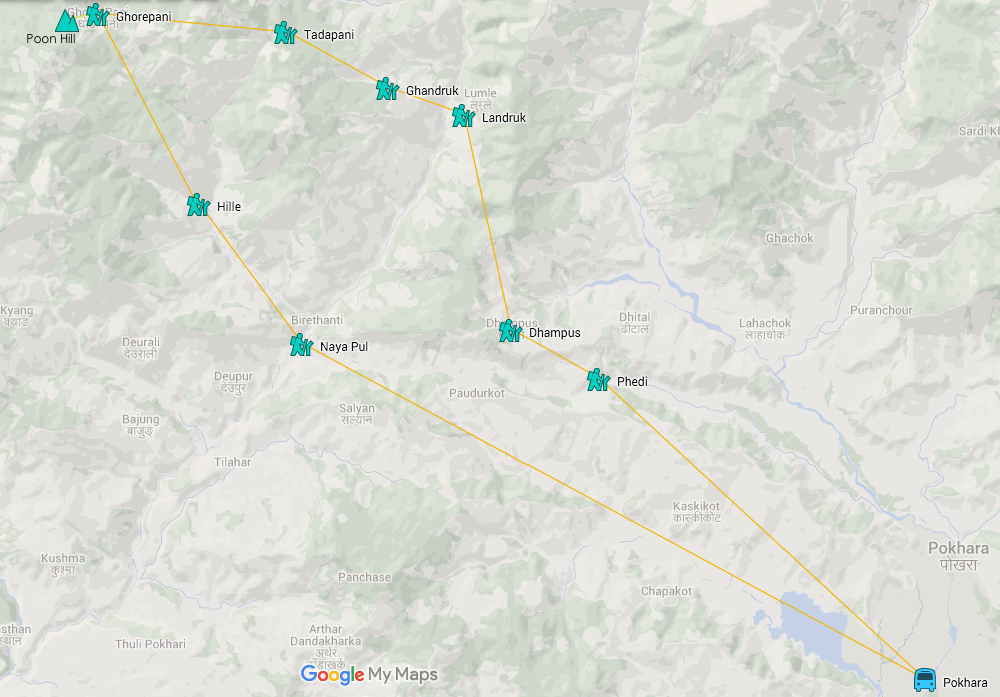 Click on the map for a Google map interactive version
Annapurna Foothills Trek in detail
Day 1 Phedi to Dhampus (trekking time 3 hours)
It takes about 45 minutes to 1 hour to reach Phedi from Pokhara by either car or local bus. There are no prizes for guessing that the first part of this trek is straight up (to Gawane) and takes about 1 hour. It is a tough introduction but after this section is complete the trail levels out somewhat and it isn't until the last 20 minutes or so (just before reaching Dhampus), that you need to climb again. It is quite feasible to keep trekking as far as Pothana (1.5 hours) but equally, this is the first day of the trek and on average most trekkers do not start actually walking until around 10am so it is best to have a short day and overnight in Dhampus.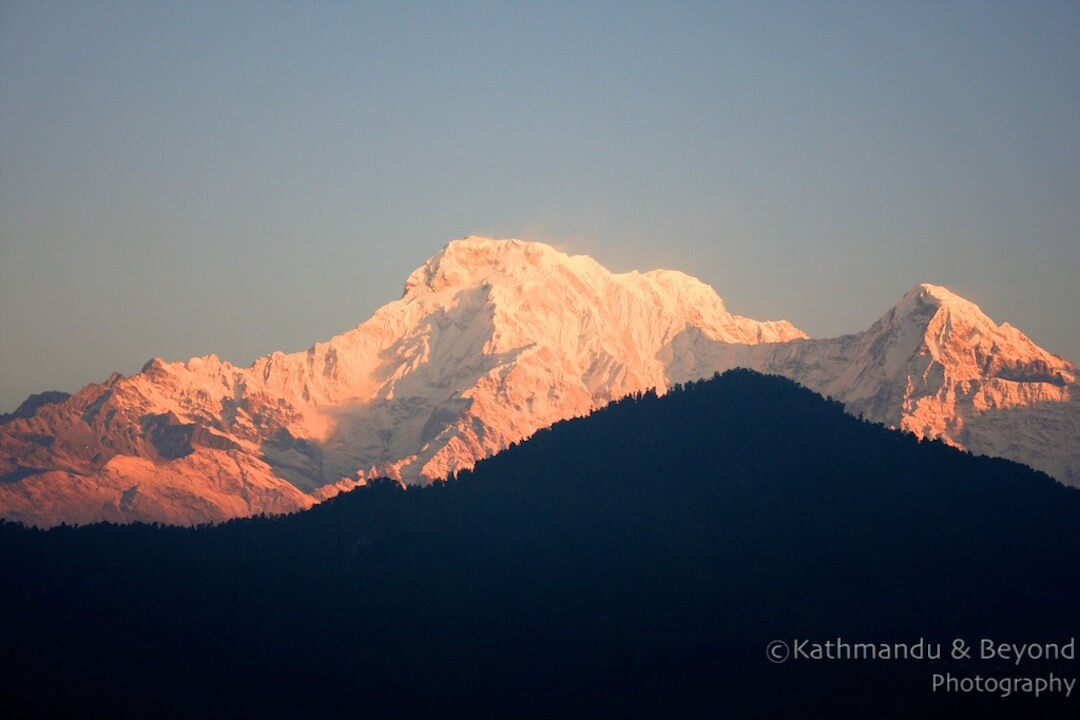 Dhampus
Accommodation in Dhampus
Lodges/tea houses
Dhampus is split into two sections with Ker & Downey's Basanta Lodge situated right in the middle. Ker & Downey own a handful of upscale trekking lodges in this region and aside from Basanta Lodge, the best lodges are definitely on the far side of the village, beyond Basanta. I stayed at the Dhaulagiri View Hotel, which has twelve twin-bedded spacious carpeted rooms with clean sheets and towels and hot running water. The attached bathrooms are basic but clean and have a bathtub as well as a shower. Because the property is slightly elevated, there are superb mountain views. There is also a pleasant outdoor area and a restaurant that serves very acceptable meals.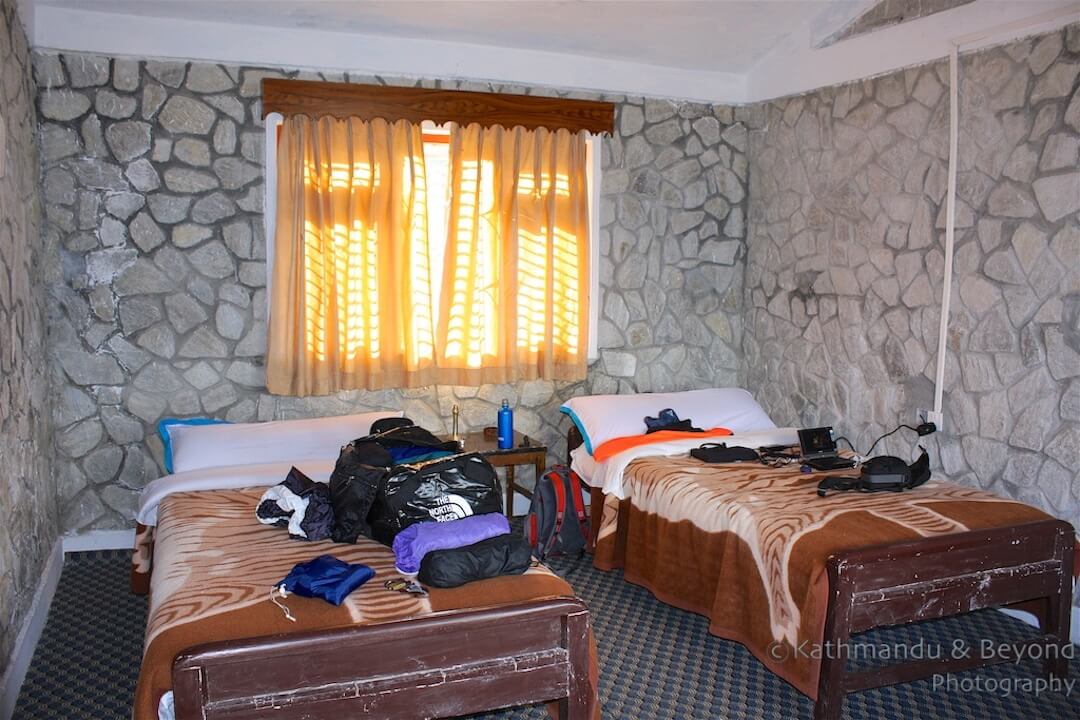 Dhaulagiri View Hotel, Dhampus
Camping
There are a couple of suitable camping spots with onsite toilets close to Kaze Lodge and Ker & Downey's Basanta Lodge.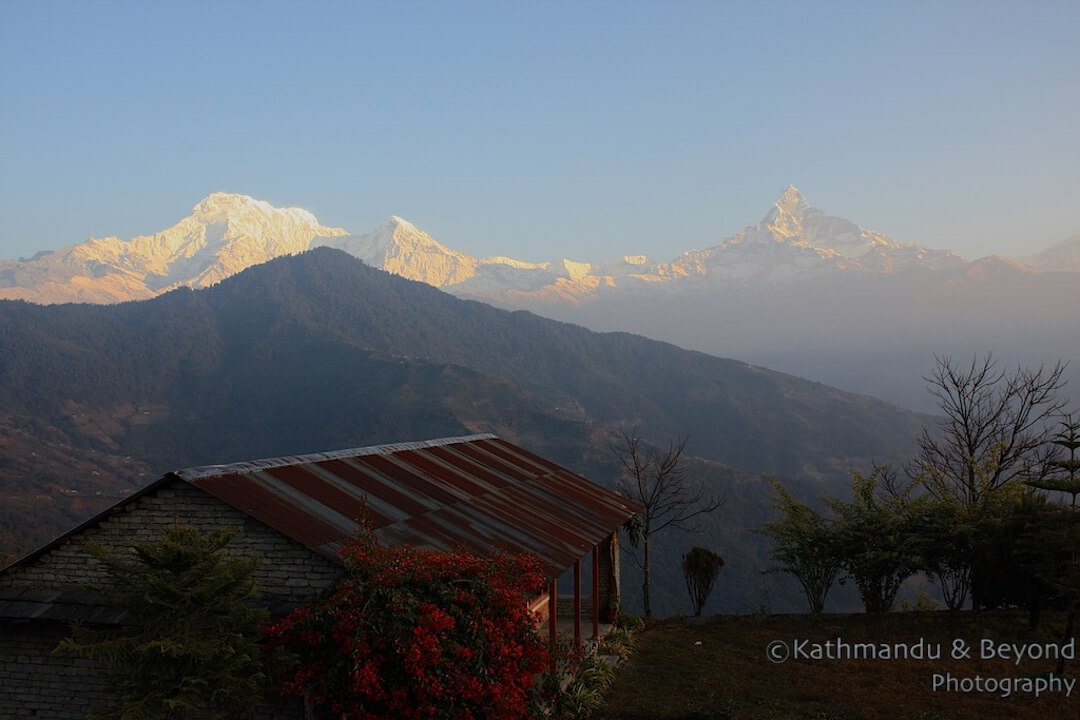 Dhampus
Day 2 Dhampus to Landruk (trekking time 6-7 hours)
A relatively easy walk with much of the route being on fairly even ground for most of the day. There is one notable section of steps down for about 30 minutes between Pothana and Derauli. The route takes you through Pothana, Derauli, Bhadi Kharka and Tolka before eventually arriving at Lanark and the views along the route are generally of villages, valleys and terraces as opposed to mountains.
Accommodation in Landruk
Lodges/tea houses
There are no lodges in Landruk, only tea houses. Out of the handful of teahouses located in the village, the Hotel Hungry Eye is the most pleasant. Rooms are basic (2 beds and a small table and that is pretty much your lot) and bedding is not provided which means that a sleeping bag is essential. There is one shared shower and two shared toilets; all are clean and the shower I took was warm enough.
Camping
The campsite at the Lali Gurans Guest House is flat and spacious and the one at the Annapurna Hotel is also good with plenty of space.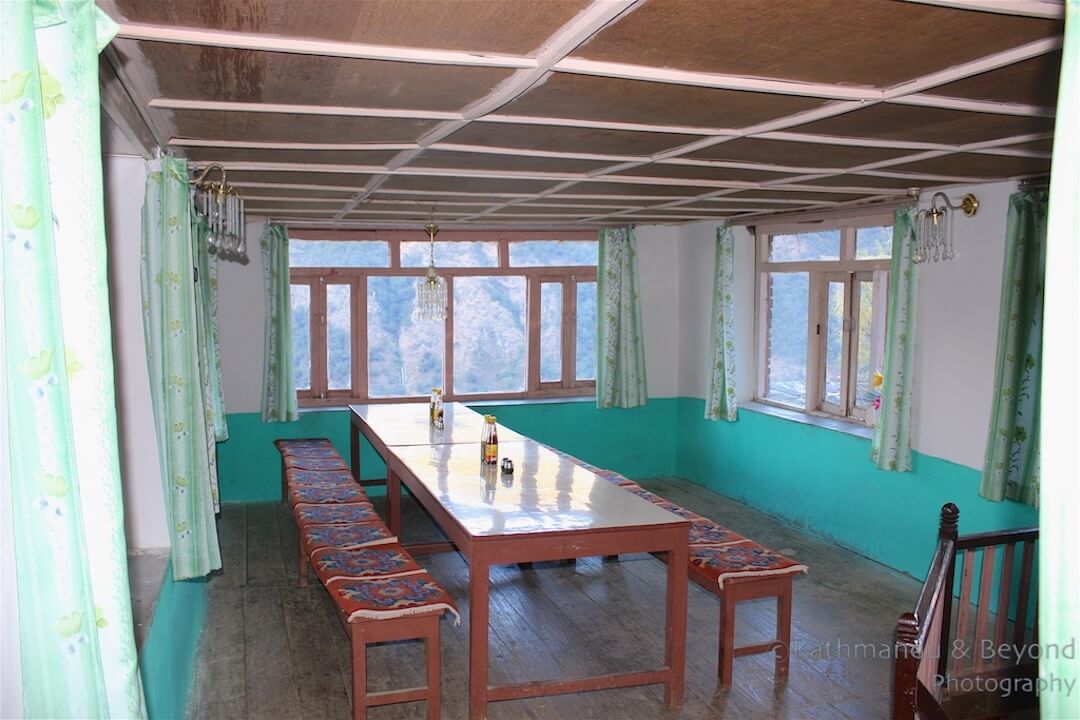 Hotel Hungry Eye, Landruk
Day 3 Landruk to Ghandruk (trekking time 3-4 hours)
The Gurung village of Ghandruk can easily be seen from Landruk but getting there involves a steep walk down to the bottom of the valley and the Modi Khola River followed by a steep walk up again to reach the village. That's more or less it for the day and it is very doable to arrive in time for lunch. Ghandruk is a pleasant, albeit rather touristy, village with superb views of the Annapurna range. Gangapurna, Annapurna South, Annapurna III and Machapuchare (Fishtail) can all be seen on a clear day.
Accommodation in Ghandruk
Lodges/teahouses
Ghandruk presents a dilemma when it comes to accommodation. The new part of the village has the best lodgings in town but is modern looking and has no character. The old part of the village, on the other hand, oozes with charm and has great views of the mountains but the standard of accommodation is nowhere near as good. Reasonable places to stay include the Gurung Cottage and the Annapurna Hotel, both of which are located in the new part of the village.


Snowlands, Ghandruk (left) and Gurung Cottage, Ghandruk (right)
Camping
Snowlands Lodge (also in the new part of the village) is the best place to pitch a tent. You can also stay at Snowlands but three out of the four rooms are possibly the smallest rooms I have ever seen. The other is a dormitory.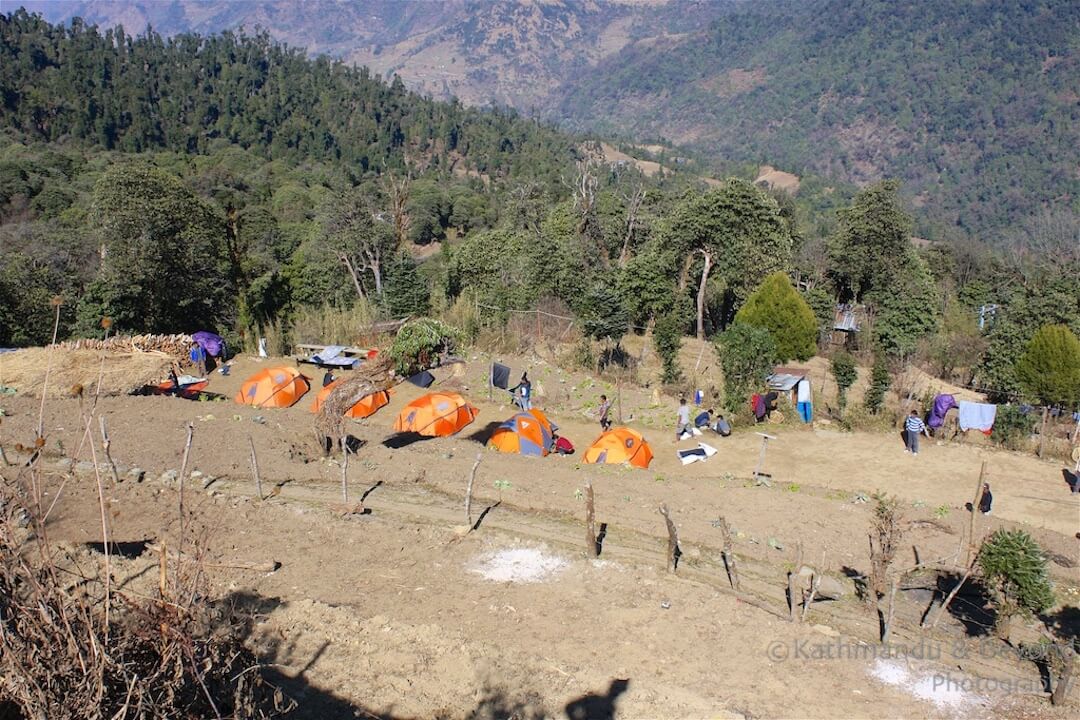 Campsite below Snowlands, Ghandruk
Day 4 Ghandruk to Tadapani (trekking time 4 hours)
As you leave Ghandruk the trail heads into the forest and remains there for most of the trek. After about 30 minutes the route becomes very steep and is a combination of jungle trail and stone steps. Regardless of which of the two terrains you are walking on, it is a hard slog to the top of the ridge. Thereafter, the final one hour of walking to Tadapani itself is far gentler.
An afternoon arrival in Tadapani is often met with damp, cold, miserable weather but don't get too disheartened. By the following morning, the mountains should be visible in all their glory and as the village gets the sun early, an al-fresco breakfast is the order of the day.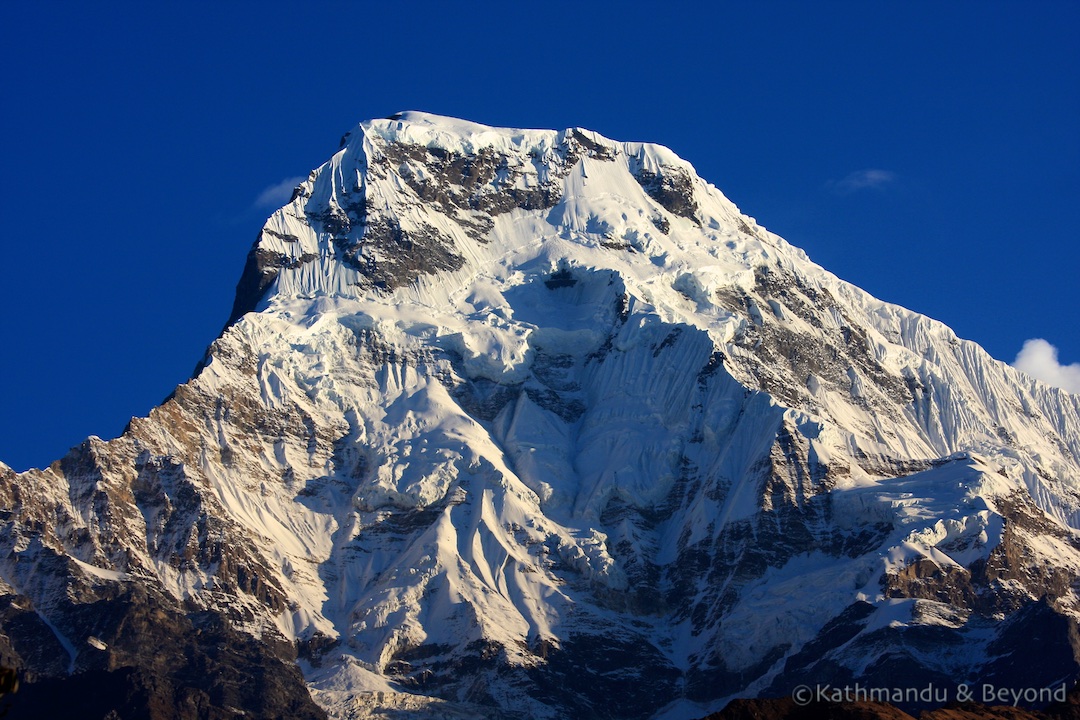 Tadapani
Accommodation in Tadapani
Lodges/teahouses
There are only a handful of teahouses in Tadapani and they are all pretty much the same standard. I stayed at the Panorama View, which was OK. The rooms were small and basic and the shower wasn't particularly hot but the family who ran the teahouse were very friendly and the food was good. The views of the mountains from Panorama View were unbeatable.
Camping
Panorama View has a very pleasant campsite attached to it.
Day 5 Tadapani to Ghorepani (trekking time 5 hours)
The day starts with a trek down through the forest to the river and is followed by a reasonable climb for about 30 minutes up to top of the ridge. From here it is a relatively flat walk to Banthanti, where it is possible to stop for tea. This break is necessary as the climb from here to Deurali through the forest is a really tough one and takes at least an hour at a reasonable pace. From Deurali you walk along the ridge towards Ghorepani.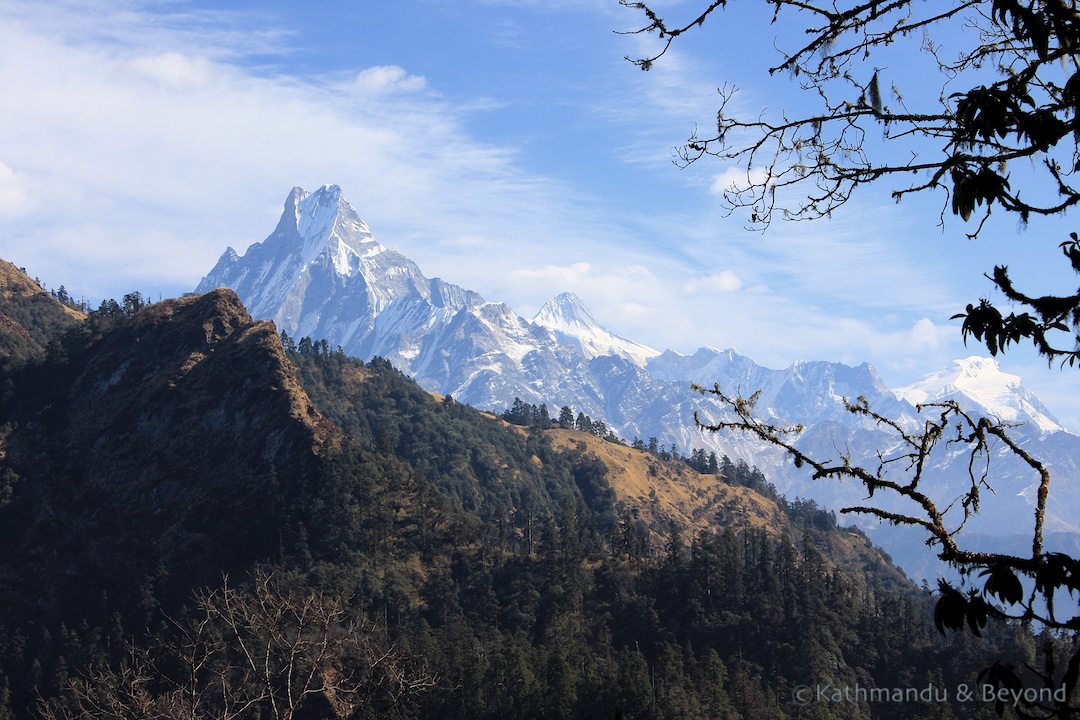 En route from Tadapani to Ghorepani
This is one of the most attractive stretches of the entire trek with superb mountain views to your right (Annapurna South, Machapuchare, etc.) and the valley that leads down to Pokhara to your left. It is also a very easy walk which makes it all the more pleasant. This section lasts for about 30 minutes and you are rewarded with a viewpoint that equals Ghorepani's more famous Poon Hill (coming up on day 6) for vistas of the surrounding area. From here, it is steps all the way down to Ghorepani!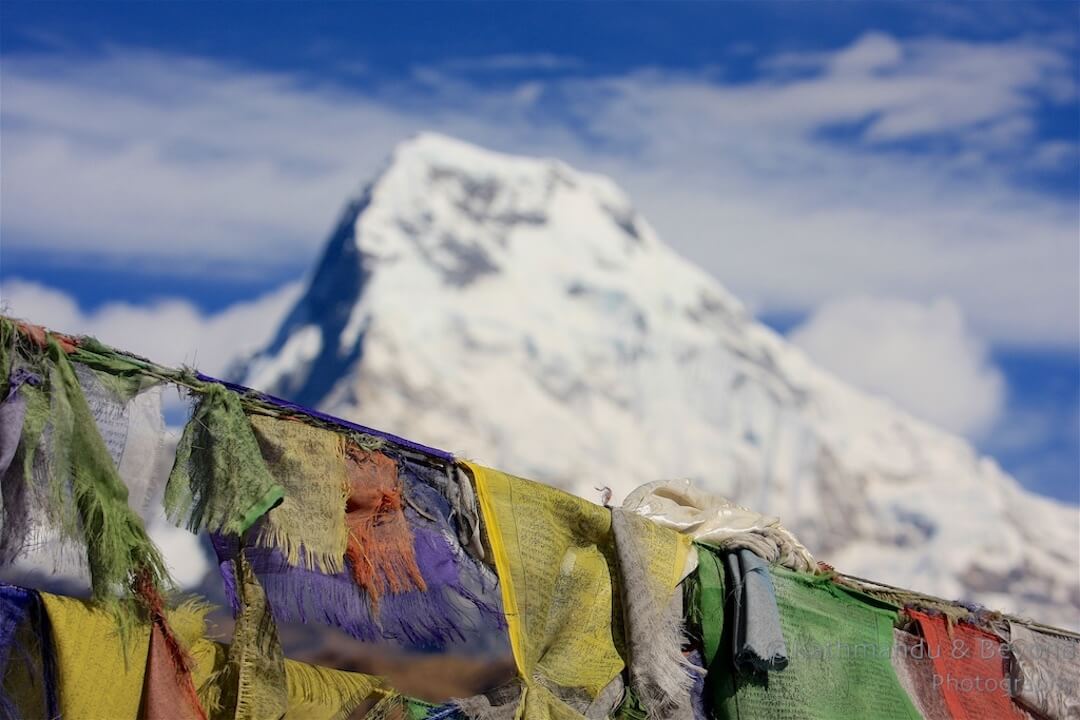 En route from Tadapani to Ghorepani
Accommodation in Ghorepani
Lodges/teahouses
Ghorepani is a reasonably-sized village and there are several teahouses to choose from. Personally, I didn't think anywhere was that great but the Sunny Guesthouse was acceptable and the cottages (rather than the rooms) should be your first choice if you want an attached bathroom and superb views of the mountains. The welcoming dining room was cosy and got very busy with trekkers. Snowlands, at the top of the town, is also an acceptable choice.
Camping
Ghorepani has probably the worst choice of camping sites on the whole trek, all being located in built-up areas and not particularly spacious. The area at the Mountain View is the best of a bad bunch.
Day 6 Ghorepani to Tikhedhunga/Hille (trekking time 5 hours)
This is a fairly tricky day that also ends up being a long one if you include the early morning side trip to Poon Hill for sunrise (which you should definitely do, by the way). The trek itself is tricky because the route is predominantly downhill all the way and in sections, when close to water, it becomes very slippery underfoot making progress fairly slow. Immediately after leaving Ulleri the trail comprises very steep steps down for about 40 minutes and this can be painful on the knees, especially after four or five days of trekking (more if you have combined this trek with another one). On the plus side, it gets much warmer as you head down; Ghorepani is at 2750m and Tikhedhunga 1540m and you can feel the difference.

Sunrise at Poon Hill
Accommodation in Tikhedhunga/Hille
Lodges/teahouses
Tikhedhunga and Hille more or less merge into one and both are attractive looking hamlets (the outlook being over the river and terraces as opposed to the mountains) that are well equipped with good teahouses and campsites. The best teahouse is Laxmi Lodge in Tikhedhunga (not to be confused with the Laxmi Lodge in Hille or the one in Birethanti!). There is a good restaurant attached and the rooms are clean with private bathrooms and hot running water.
Camping
There are two very nice camping spots, both located in Hille and close to each other (near the Nisha Teahouse). Both have views of the river and the terraced fields.
Day 7 Tikhedhunga/Hille to Naya Pul (and return to Pokhara) (trekking time 3-4 hours)
This is a pretty easy day and with a reasonably early start (say 8am) it is possible to get back to Pokhara for a late lunch although personally I think it is nicer to have an early lunch in Birethanti so as not to be too full for a nice slap-up feast of a dinner in Pokhara that evening!
Today's walk is mostly flat all the way and again, there is very pleasant (non-mountain) scenery along the route. The trail from Birethanti to Naya Pul involves a little bit of up but nothing too demanding. From Naya Pul, the end of the trek, it is then 1 to 1.5 hours' drive back to Pokhara (depending on whether you are travelling by car or local bus).
Opinion on the Annapurna Foothills trek
This is a good, short trek that offers some fine mountain views. In parts (particularly from Phedi to Dhampus, the final section of the trek from Ghandruk to Tadapani and the steep down from Ulleri to Tikhedhunga/Hille) this is a tough trek, but with reasonably short days there is plenty of time to recover before the next day of walking. There are plenty of teahouses along the route, the food is fine (although all the menus are the same and meals start to get repetitive quite quickly) and there is minimum risk of altitude sickness. Combining this Annapurna Foothills trek with Annapurna Base Camp is highly recommended and makes for a fantastic couple of weeks of hiking.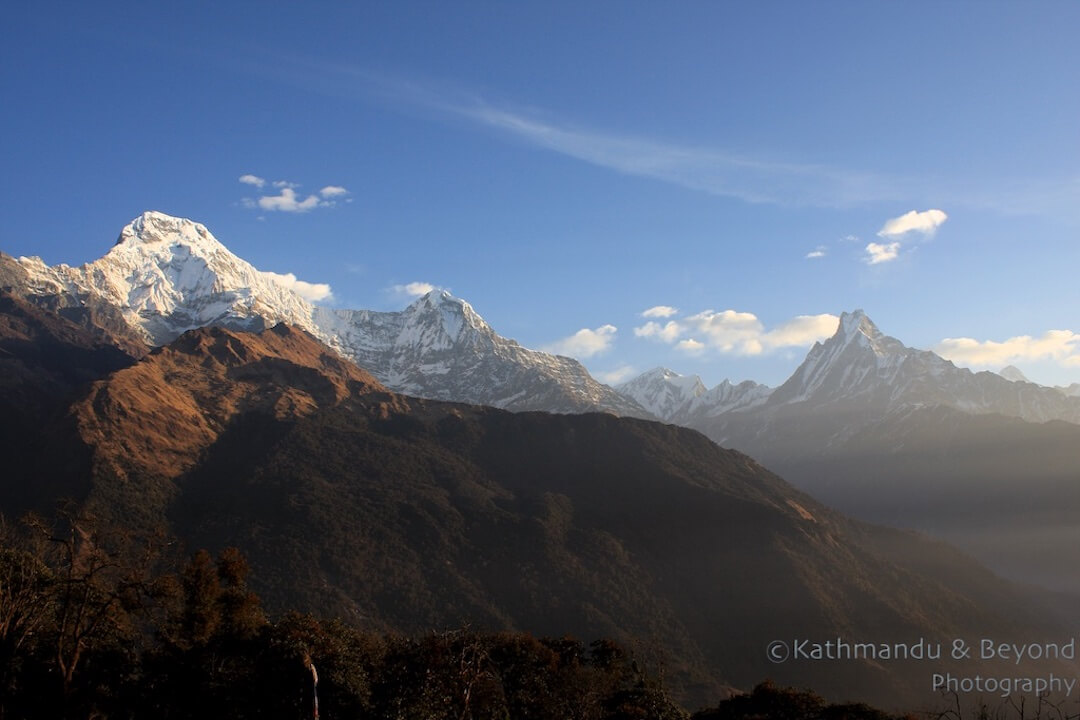 En route from Tadopani to Ghorepani
Disclaimer.  This trek was undertaken a few years back and hence information about the splendour or otherwise of teahouses and camping sites may be slightly out of date. The Annapurna region suffered only minor damage during the devastating earthquake of April 2015 and the trekking routes were largely unaffected. I have checked with travel-industry colleagues in Nepal and incorporated their updates but if you come across new information please feel free to update me.  All such contributions will be duly acknowledged.  Mark
You might also like:
An Introduction to Trekking in Nepal
Clothing and Equipment List for Trekking in Nepal
---