What to do in Ljubljana in one day – the best places to visit with a walking tour map
Ljubljana (Slovenia) is one of Europe's smallest capitals and has an attractive old town neatly packaged into a very walkable area. The city is easy to explore in a short timeframe and, unlike larger cities, if you've only got a couple of days, it's possible to feel like you've seen the sights AND had a bit of time to relax with a coffee or beer. But what if you've only got one day in Ljubljana? Is it worth such a short visit? Two days would be better, but if that's not an option, our one-day Ljubljana itinerary will ensure you don't miss out on all the key sights.
Slovenia is part of the former Yugoslavia but despite having a socialist past, the well-preserved historic area feels more Central European. The city centre is pedestrianised which makes for peaceful strolling and has an excellent ambience for outdoor eating and drinking, especially alongside the Ljubljanica river and around the market square.
Visiting Lake Bled is one of the most popular day trips from Ljubljana and for that, you will need two days in Ljubljana, but this post is going to focus on what you can see in Ljubljana in one day.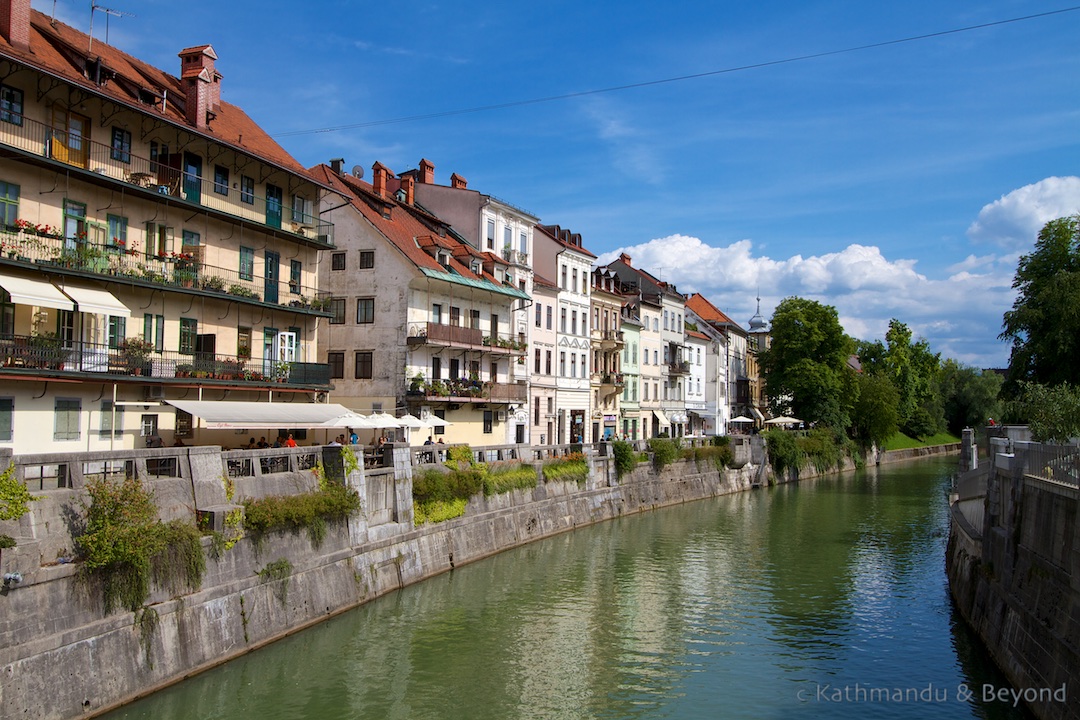 Ljubljanica River
First things first…
Arrive in Ljubljana, pick up a city map and get orientated
A small city like Ljubljana doesn't need a huge amount of forward-planning but if you only have one day it's a good idea to know what your priorities are so as not to waste precious time. Soon after arriving, head to one of the two Tourist Information Centres (TIC) in the heart of the old town and up pick up a map. Both TICs are marked on our Ljubljana map but one of them is a Slovenian Tourist Information Centre (SITC) where they can help you with travel plans beyond Ljubljana and across the country. You can also hire bicycles and use a public computer at the STIC.
Even though it's a small city, with just one day in Ljubljana you'll have your work cut out, so consider buying a Ljubljana Card. The card gives a lot of benefits including free entry to over twenty attractions and unlimited use of public transport. Also included is a walking tour of Ljubljana, the funicular ride to and from the castle, a boat trip on the Ljubljanica river and four hours free bicycle hire.
That said, if you are a budget traveller, I would suggest that you start by working out what you want to do in your 24 hours in Ljubljana because, in that amount of time, you'll have to work hard to recoup the value of the card especially if you don't visit a lot of museums. The 2020 cost of a 24-hour Ljubljana Card is €31 per person (the 48-hour card is better value at €39).
https://www.visitljubljana.com/en/visitors/travel-information/ljubljana-card/
Budget travel tip: Travellers who are happy to walk and don't want to visit many (or any) museums, can manage without the Tourist Card. If you follow our suggested Ljubljana itinerary the only 'must pay' entrance fee is Ljubljana Castle which costs €13 per person and includes the round-trip funicular ride.
Start your day in Ljubljana…
Take a selfie at Dragon Bridge (Zmajski Most)
Begin your day with a photo stop at one of Ljubljana's iconic sights – the historic Dragon Bridge. The dragon is very much a symbol of Ljubljana and gift shops are full of dragon-based souvenirs. Things could have been different though as the original design of the bridge featured winged lions instead of dragons. Keen dragon hunters should look out for other smaller dragons around the city. Dragon Bridge was built in 1900 (at that time it was called Jubilee Bridge) and is an excellent piece of Art Nouveau design.
According to Visit Ljubljana's website, if you haven't been photographed next to one of Dragon Bridge's mythical monsters, you can't claim to have visited Ljubljana. So, take a few snaps and move on…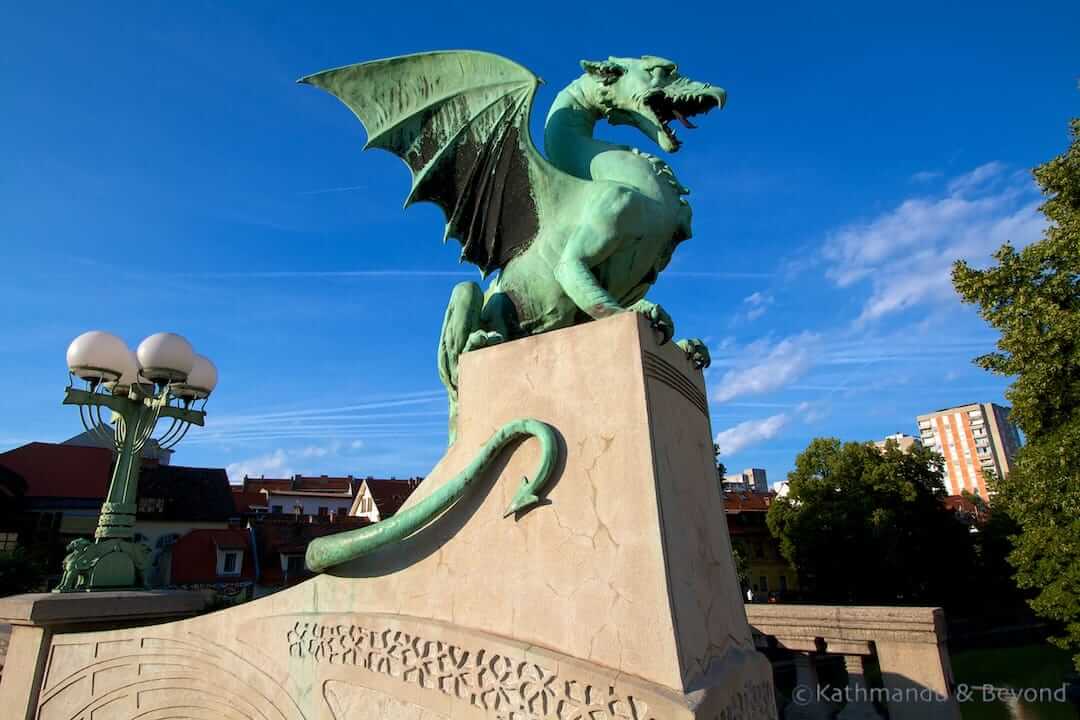 Dragon Bridge
Grab a coffee or breakfast at Central Market
Ljubljana's Central Market covers quite a large area and consists of an outdoor market as well as two covered sections. The collonaded building is known as 'Plečnik's Covered Market', after the famous architect, Jože Plečnik (1872 – 1957), who designed this and several other buildings in Ljubljana. Adjacent to the covered market are several cafes and street food stalls if you fancy a tasty snack.
If your trip to Ljubljana falls between mid-March and the end of October, an excellent option for sampling traditional Slovenian food is the Odprta Kuhna food market on Pogacarjev Square. Note, this market is cancelled if the weather is bad.
Opening hours
The different sections of the Central Market have slightly different opening hours but are generally open from 7 am to 4 pm on weekdays and from 7 am to 2 pm on Saturdays. The open-air section stays open longer in the summer months. All the markets are closed on Sunday.
Visit Ljubljana Castle
From the market, continue to the Lower Funicular station and take the funicular to Ljubljana Castle, a medieval fortress atop Castle Hill.
The castle is Ljubljana's most prominent attraction. Although a fortress has stood on this hill overlooking the city for close to 900 years, the current castle dates from the 16th-century. There are spectacular views of Ljubljana from the castle and you should allow a couple of hours to roam the grounds, check out any interesting exhibitions, visit the museum, and enjoy a refreshing drink in one of the two cafes. If you have a Ljubljana Card, the castle entrance ticket and return funicular fare is included, otherwise the funicular costs a couple of Euros each way (with a small discount for a return trip) and entrance to the castle is €10 (or €13 including the return funicular ride). The castle grounds and entrance to the cafes are free.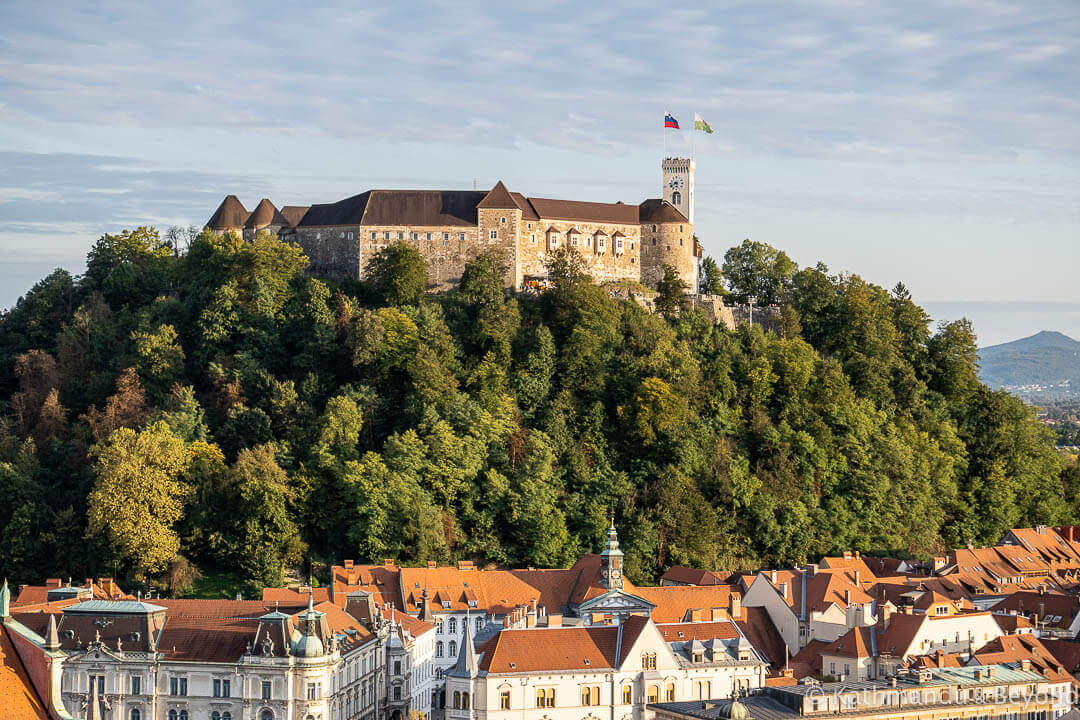 Ljubljana Castle
Opening hours
January, February, March and November 10 am to 8pm
April, May and October 9 am to 9 pm
June, July, August and September 9 am to 11 pm
December 10 am to 10 pm
Further details of opening hours along with all the prices including children, family, senior citizens and group ticket prices are on the castle's website.
When your visit to the castle is complete, head down towards the old town, either on foot or by funicular, to begin exploring Ljubljana Old Town.
Should you join an organised walking tour of Ljubljana or do your own self-guided one?
This is a decision that usually comes down to personal travel style. If you've purchased a Ljubljana Card, take advantage of the two-hour guided walking tour as an introduction to the history of the city. The cost of the guided tour is €17 but is included with the tourist card. The Historical City Centre and Ljubljana Castle tour departs from the square in front of the Town Hall (10 am from April to September and 11 am the rest of the year). Tickets must be booked in advance either online or at the Ljubljana Tourist Information Centre or the Slovenian Tourist Information Centre. From the Town Hall, the tour walks you through the historical city centre, highlighting its Baroque and Art Nouveau architecture, before continuing to the castle. There are of course myriad options for walking tours of Ljubljana if you want to make an earlier start on your sightseeing.
Route map for a self-guided walking tour of Ljubljana
If you follow our suggested route through Ljubljana, you will see most of the main sights.
Explore Ljubljana Old Town
St. Nicholas's Church (Ljubljana Cathedral)
Nestled among several buildings, Ljubljana's main church has had several guises over the centuries. There has been a place of worship on this spot since the 13th century, although the current building dates from the early 18th century. The exterior isn't that much to look at but the ornate Baroque interior is impressive so make sure you take a look inside.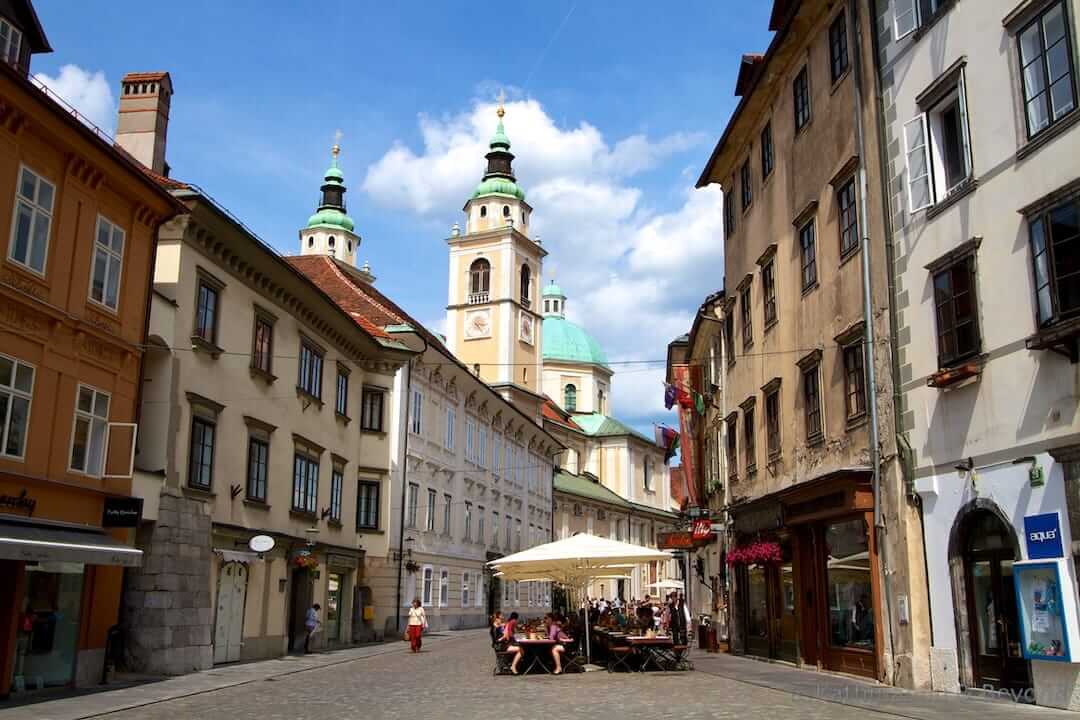 St. Nicholas's Church in Ljubljana Old Town
Town Hall
Continue along Ciril-Metodov trg, a pretty pedestrianised street lined with pastel-coloured buildings with Venetian and Baroque architectural influences, to Mestni trg (Town Square). Once you've photographed the Robba fountain in front of the Town Hall and then had a look inside the hall's courtyard and inside some of the rooms such as the Council Chamber and Wedding Hall, exit the building and turn down Stritarjeva Street.
'Faces' of Locksmith Street
If you are interested in Ljubljana's quirky side, take a detour to Ključavničarska ulica, a tiny alleyway between two restaurants that you're likely to miss if you're not looking for it. Along the street art bronze sculptures of tiny faces each with a different expression. They are the work of well-known Slovenian sculptor Jakov Brdar, whose creations can be seen all over the city if you keep your eyes peeled, as most of them are equally diminutive in size.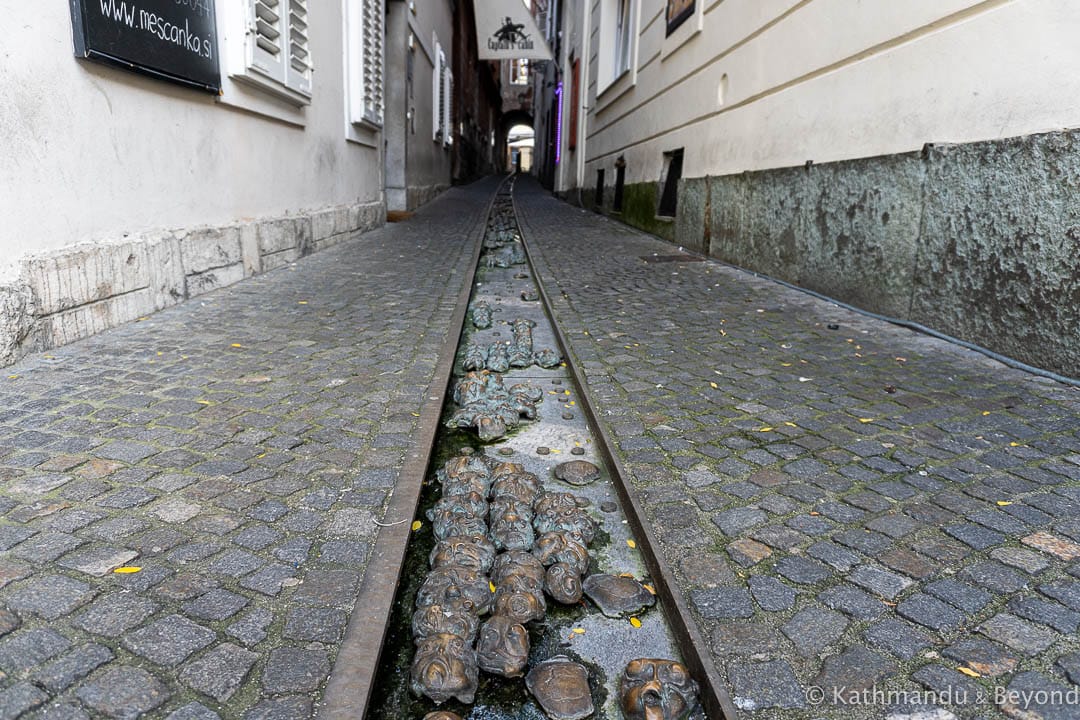 'Faces' of Locksmith Street
Take a trip across Triple Bridge
Just before you reach the river, the Visit Ljubljana Tourist Information Centre is on the right should you need to pick up a map or gather other information. In front of you is one of Ljubljana's most recognisable sights, Triple Bridge (Tromostovje). In the mid-19th century, a single bridge spanned the river but between 1929 and 1932, the medieval wooden bridge was replaced with a stone bridge, and two side bridges were added. The bridge has become another of Jože Plečnik's architectural highlights of Ljubljana.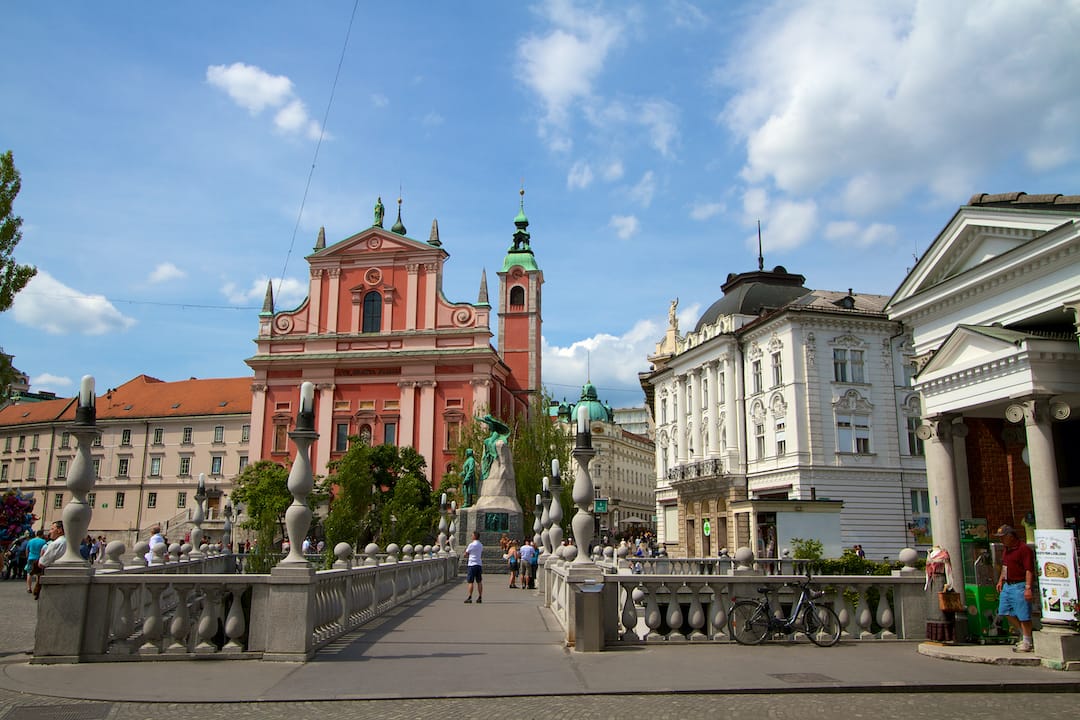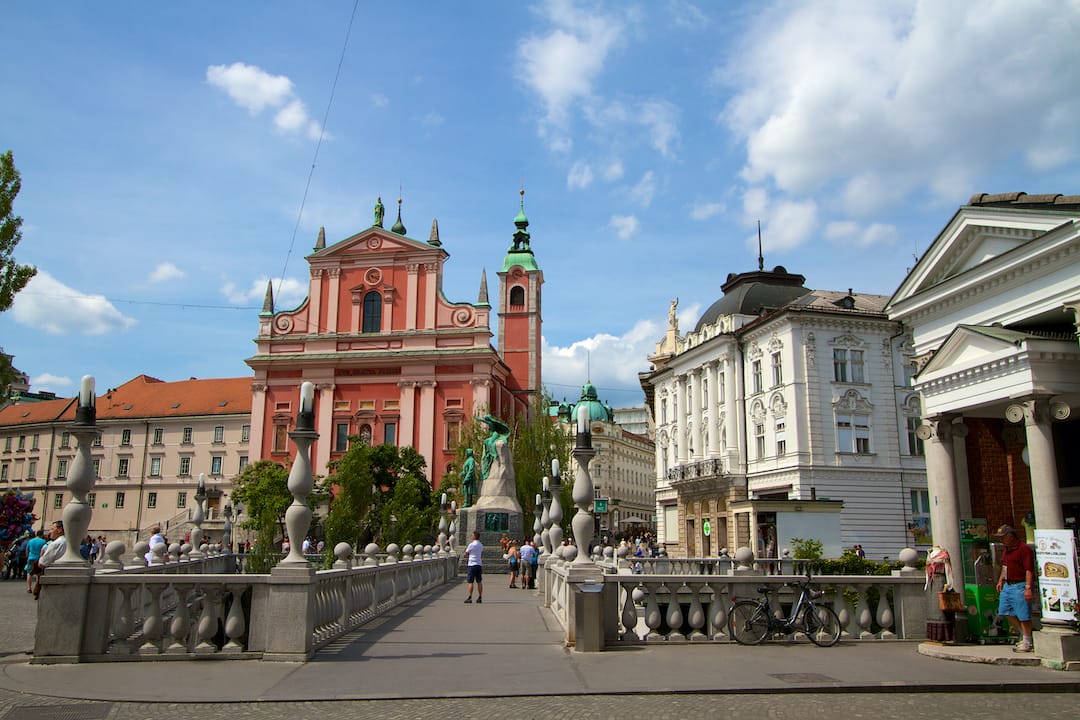 Triple Bridge
Prešernov trg / Preseren Square
Once across the Triple Bridge, you are on Prešernov Square (along with most of Ljubljana's other tourists!). Take some time to observe the different styles of buildings on the square including the Franciscan Church, the Emporium Gallery and the Art Nouveau SKB Bank building before leaving the Old Town and continuing along Copova Street towards the Opera House.
Ljubljana Opera House
The Slovenian National Opera and Ballet Theatre of Ljubljana (to give the building its full name) is an ornate neo-Classical building from 1892. The contrasting design of the Art Nouveau-style Centre of Excellence in Finance building opposite is worth a look, as is the Museum of Modern Art and the National Gallery.
If museums and art galleries are on your agenda now is the time to visit either or both these attractions. Alternatively, consider a short detour to Republic Square for a glimpse of Ljubljana's socialist architecture.
Away from the Old Town
Republic Square
Originally named Revolution Square, the largest square in Ljubljana has been hailed as a masterpiece of socialist modernist architecture. There are several significant buildings around the huge plaza including the Slovenian parliament building, twin skyscrapers (by Ljubljana standards) known as TR2 and TR3, and the imposing Monument to the Revolution right on the square.
If this kind of architecture is your passion, be sure to check out our guide to alternative Ljubljana and follow our suggested walking tour (or incorporate it into this one).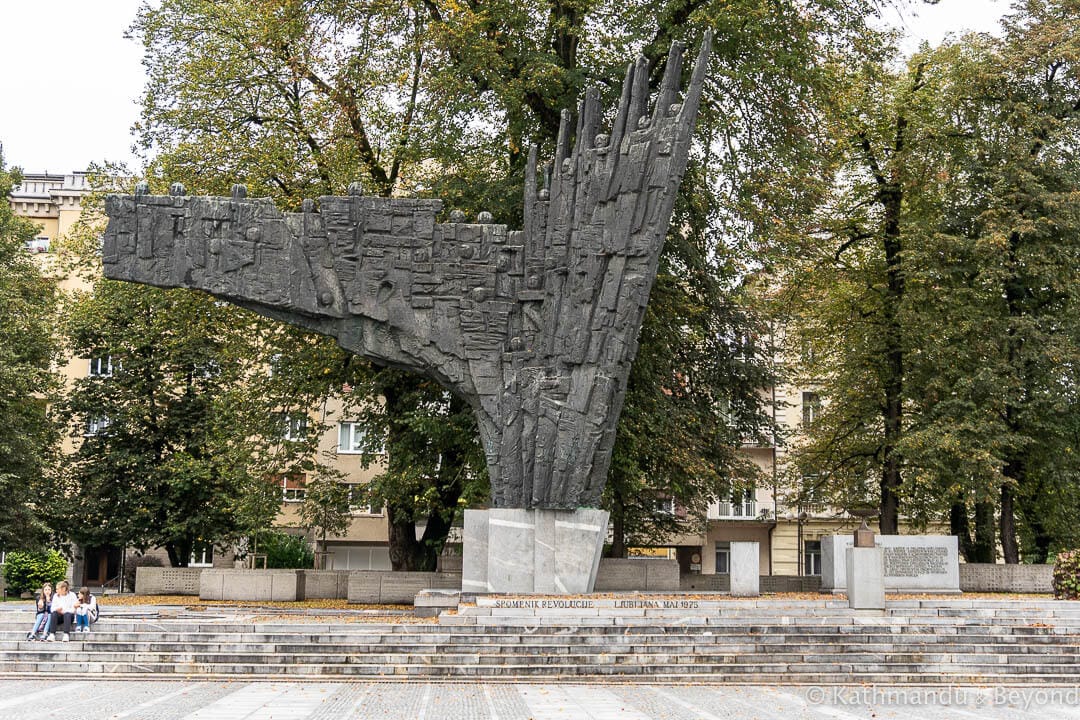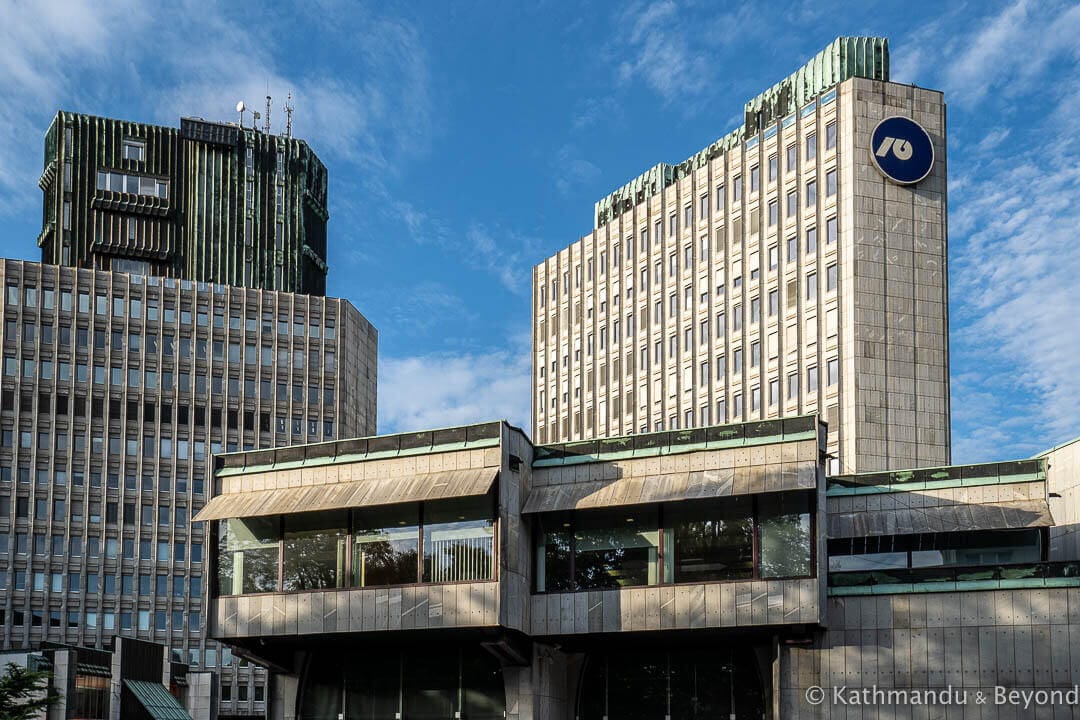 Republic Square: Monument to the Revolution (left) and NLB Towers TR2 and TR3 on Republic Square (right)
Tivoli City Park
Laid out in 1813, at around five square kilometres, Tivoli Park is central Ljubljana's largest green space. Although Tivoli Park isn't a Ljubljana 'must-see' sight, it's a pleasant place to escape the city (not that you ever feel like you need a respite from a city this small). Dotted around the park are several statues and there is usually an interesting outdoor photographic exhibition alongside the track leading up to the International Centre of Graphic Arts (pictured below).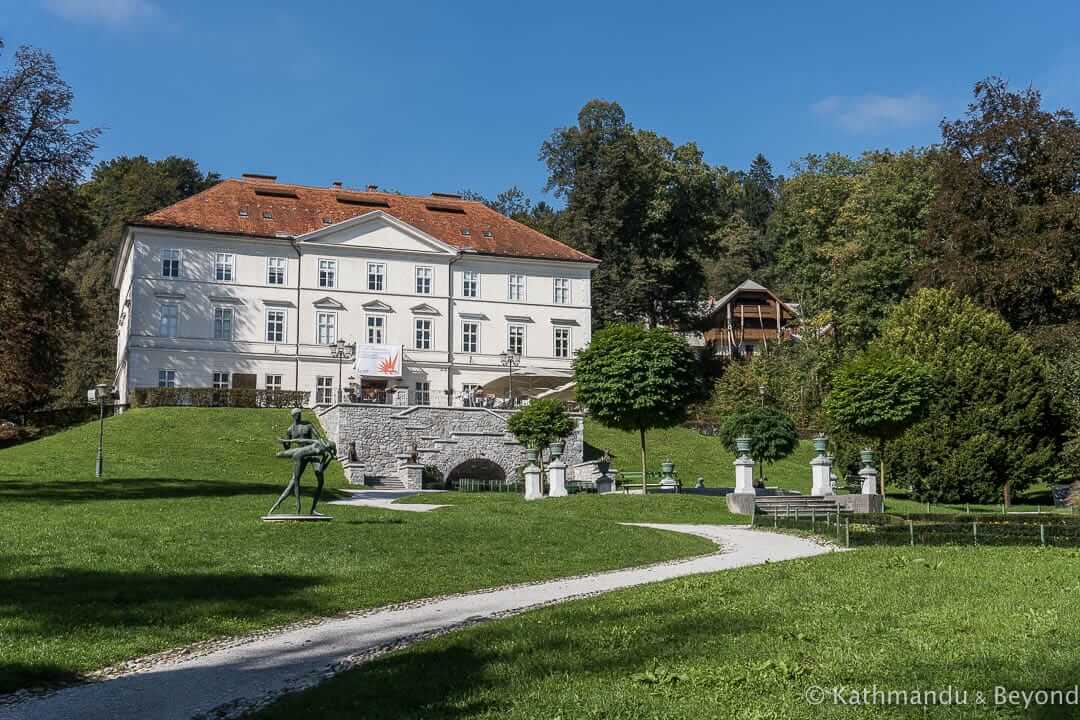 Tivoli Park
We've covered what to see in Tivoli Park here, so I won't repeat the detail.
Admire the city view from Nebotičnik
One of the best views of Ljubljana is from the open-air rooftop café and bar atop the Nebotičnik building. Nebotičnik means Skyscraper, which at thirteen floors tall is no record breaker by today's standard. However, when it was built in 1933, Nebotičnik was the tallest building in the Balkans and the ninth tallest building in Europe. It's a good spot for late afternoon drinks and the sunset views across the Old Town and Ljubljana Castle are stunning. It's often busy and can be difficult to get a table, but the staff don't seem bothered by people popping up just to take photos. In fact, they are usually so run off their feet, it can be a struggle to get served! We sent Mark's parents and their friends there but they weren't overly impressed with the service ('Gin and tonics with very little gin but lots of ice, and the smallest glass of wine we've ever seen,' was the review we received).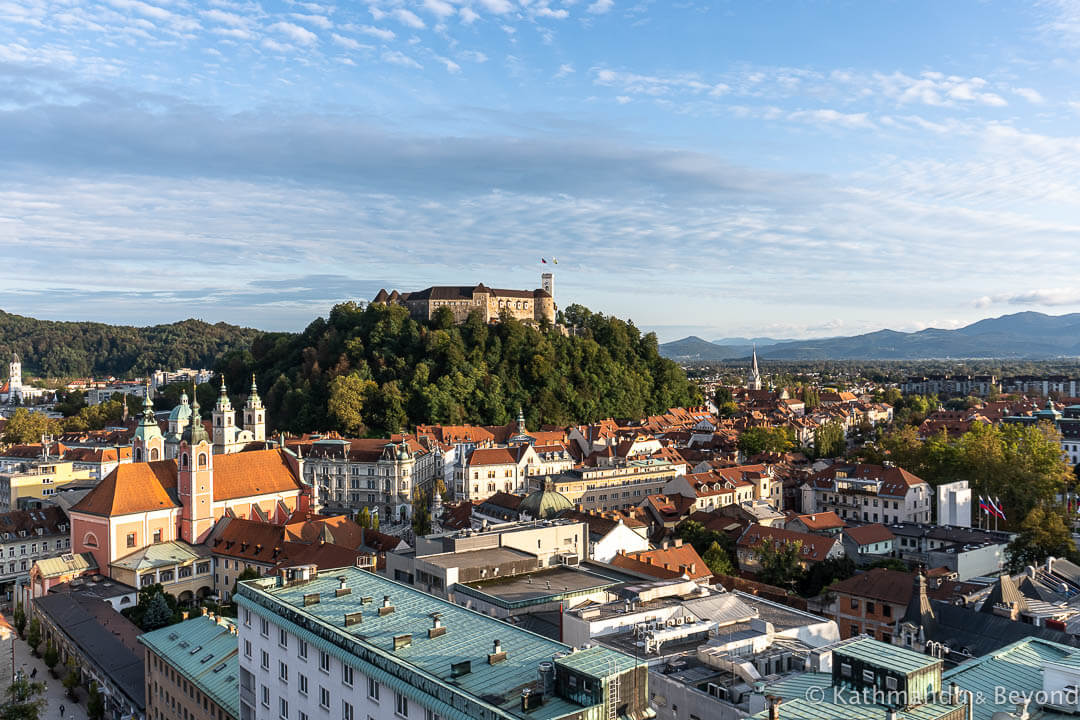 View of the old town and the castle from the Nebotičnik cafe
Cyanometer – A Monument to the Blueness of the Sky
Just across the road from the Nebotičnik is the Cyanometer. Part artwork, part scientific instrument, the design is inspired by the original cyanometer inventor invented by Swiss physicist and Alpine explorer, Horace-Benedict Saussure. The cyanometer is both a monument and a piece of open-source software which periodically takes images of the sky.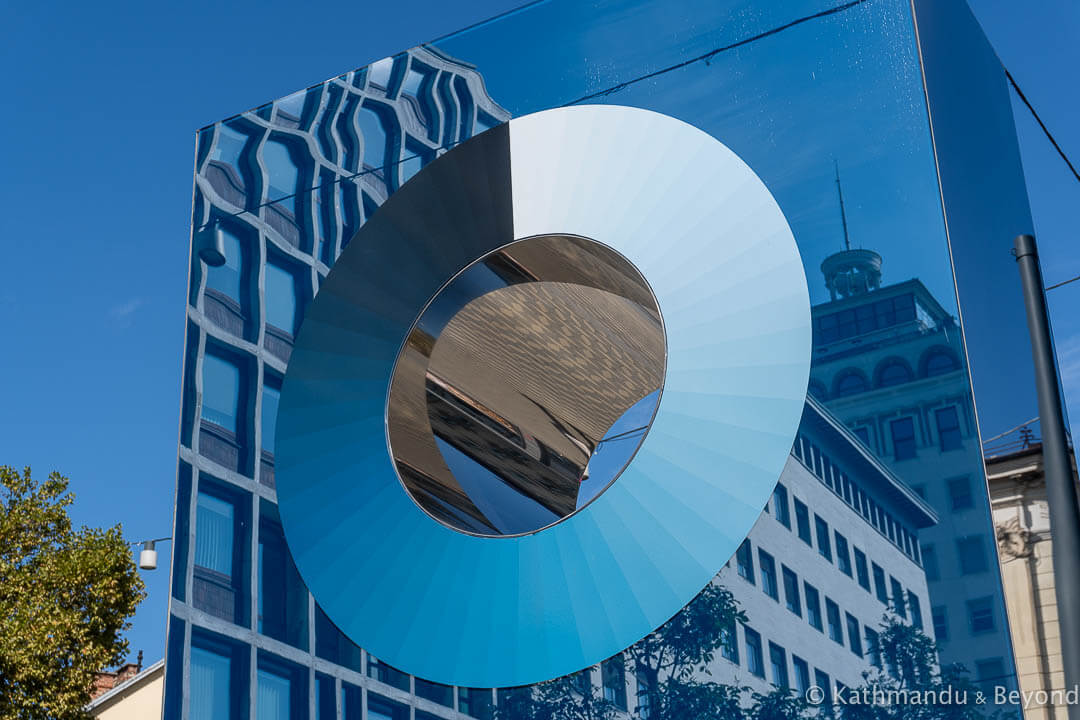 Cyanometer
Metelkova Art Centre for street art and alternative drinks
If you've got any time and energy left, head to Ljubljana's alternative hotspot, Metelkova. This former army barracks, turned squat, turned autonomous zone and cultural centre, is one of the best places in Ljubljana for street art. It's fairly quiet during the day but comes alive with dive bars after dark.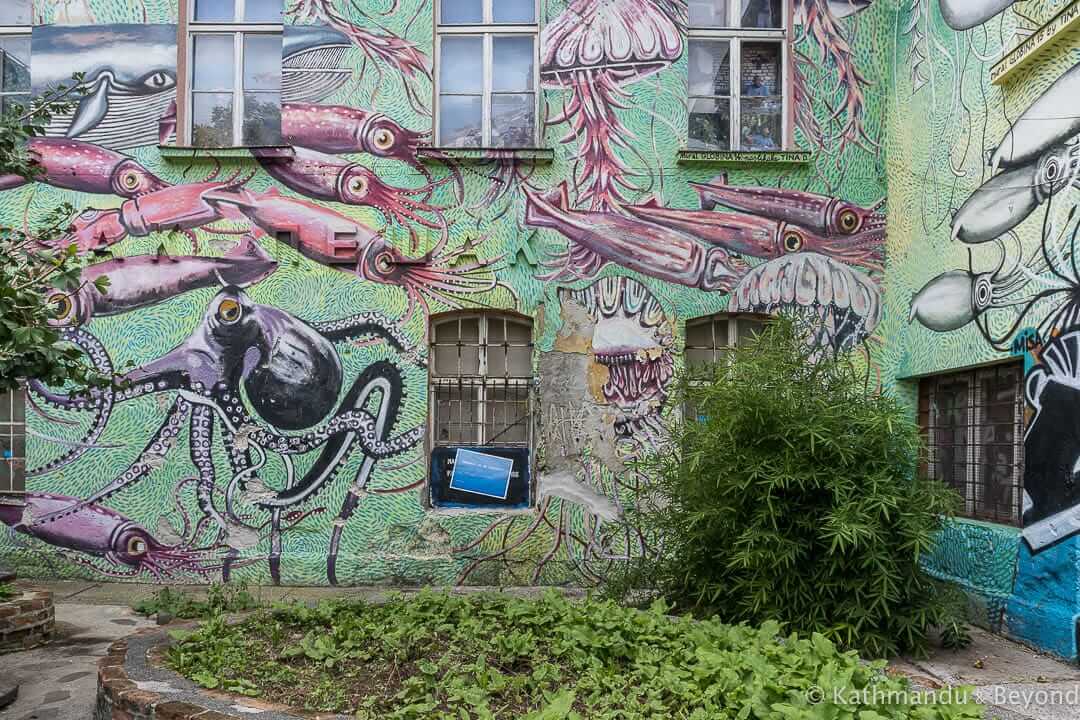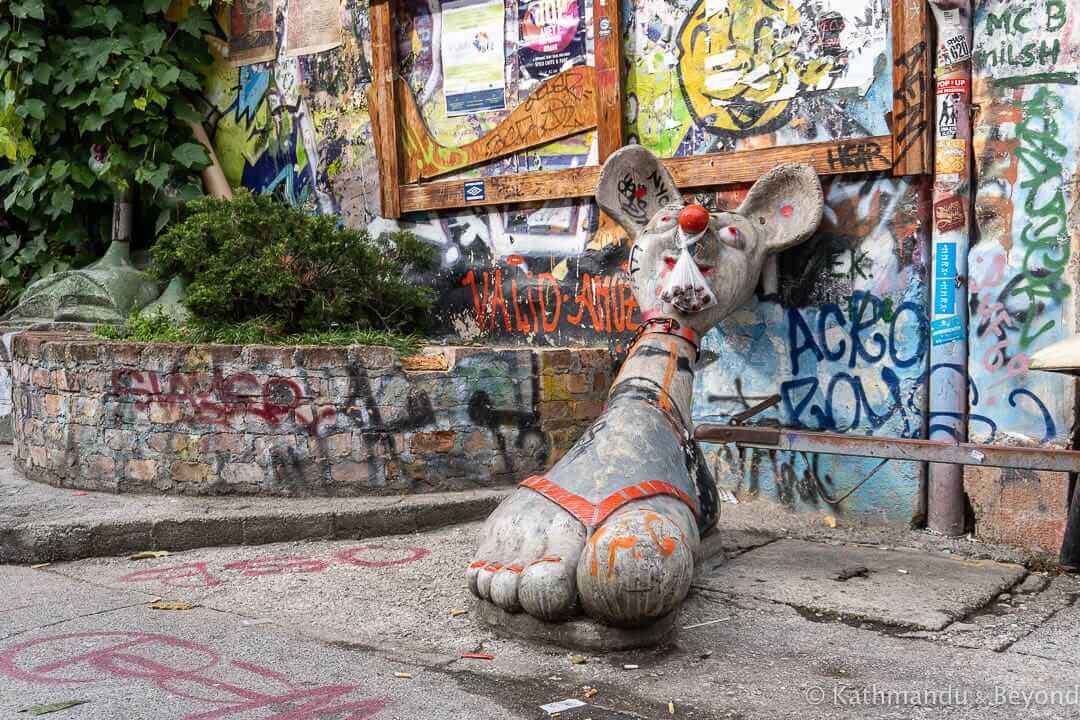 Metelkova Art Centre
Trubarjeva Cesta
If you haven't spent the evening drinking late into the night in Metelkova district, Trubarjeva Cesta is a good option for eating and drinking. This pedestrianised street is best-known for its hanging shoes – rows of old shoes strung up above the street. However, on our most recent visit to Ljubljana (October 2019), the road was undergoing a bit of maintenance work and the shoes had been taken down but I presume it's back to normal now.
If you follow our one-day Ljubljana itinerary, you'll have walked roughly six to seven kilometres. By the time you've added in visits to some of the attractions and taken a few detours, photo-stops and cafe breaks, it will probably take the entire day to complete the circuit.
How long do you need in Ljubljana
The question, how long do you need in XYZ, is similar to the how long is a piece of string conundrum. It depends on the pace at which you like to travel but, generally, one day in Ljubljana is enough to get a sense of the city. Depending on your interests, two or more days in Ljubljana will either allow you to slow things down and spend time enjoying the city's cafe culture or parks or explore further afield and include some of Ljubljana's hidden gems. If you enjoy museums and art galleries, the city has more than enough to keep you occupied for several days. Most tourists visit Lake Bled as a day trip from Ljubljana – beware the delicious but fattening kremna rezina cream cake speciality. If you plan to visit the lake, you'll need to add another day.
Special interest and alternative things to do in Ljubljana
Those who have more than one day in Ljubljana will find plenty to do. Whilst there is an abundance of museums and art galleries, more time will allow you to get a little off-the-beaten-track and see some of Ljubljana's less conventional sights such as Zale Cemetery, the abandoned Bellevue Hotel, and more street art.
We've written a separate guide to alternative Ljubljana which includes a lot of these places.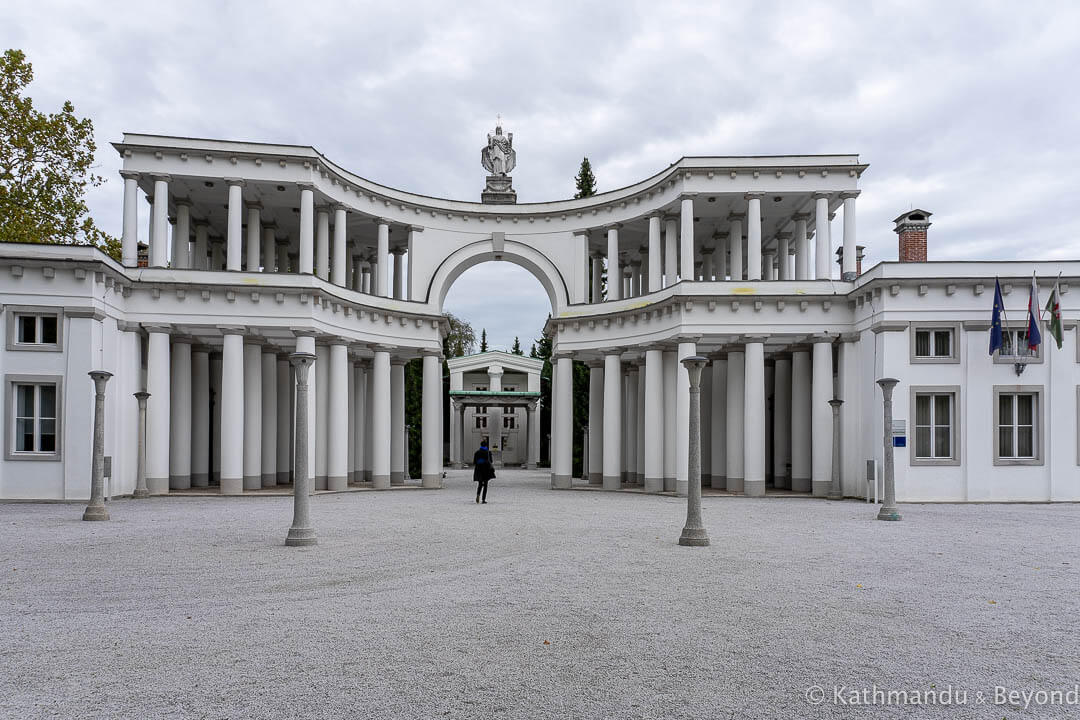 Zale Cemetery
Ljubljana for Architecture Lovers
Ljubljana has a diverse gamut of architectural styles and aside from Jože Plečnik's prolific designs, you can find a good amount of both Baroque and Art Nouveau and Art Deco Architecture across downtown Ljubljana. The Museum of Architecture and Design http://www.mao.si/News/Architectural-Landmarks-of-the-Capital.aspx has produced a series of three maps highlighting Ljubljana's significant architects and genres – Jože Plečnik, Maks Fabiani and modernist neighbourhoods of Ljubljana. The tourist information centres usually carry a stock of them. Alternatively, they can be downloaded online.
Where to Stay in Ljubljana
Budget Accommodation in Ljubljana
Ljubljana is far from being a budget-travellers dream destination. Hostels are more expensive than in other cities in the region. We stayed at two different places, both with excellent locations, close to Dragon Bridge.
On our most recent visit to Ljubljana, we stayed at Apartments Maria. The accommodation is more of a guest house than a hostel as it doesn't have much of a common area. There are private rooms with either shared or private bathrooms, and a couple of self-contained apartments (one of which we were upgraded to for part of our stay due to the cleaning staff leaving a bedroom window open and soaking the bed in our assigned room). If you are on a tight budget, it's worth booking somewhere with kitchen facilities as you'll save on not having to eat out.
On our first trip to Slovenia, we stayed at Most Hostel which, at the time, was one of the most expensive we've stayed in in Europe (even though it was one of the cheapest options I could find). That said, it was clean and had a kitchen we could use, and served us fine.
Other hostels which have been recommended to us by friends and fellow travellers are Kva Hostel and Hostel Celica Art. Price-wise, they fall into the category of 'poshtels' but they both have great common areas and are better options for meeting other travellers than the afore-mentioned places. Rooms at Hostel Ceilca Art are a bit on the small side but that's hardly surprising as the building is a former prison! Don't worry; you won't get locked in!
Apartments in Ljubljana
These days, a private apartment is our preferred type of accommodation but at the time of our recent trip, I couldn't find anywhere that met our criteria. When you know your dates, you can search for a suitable apartment in Ljubljana here.
Mid-Range Hotels in Ljubljana
Mark's parents stayed at the Adora Hotel. Their opinion: No complaints and a comfy bed after a day's sightseeing. The superior rooms were large enough and clean but no frills. Still, the price was good and included buffet breakfast (a cold buffet with a good variety and with the option of eggs, any style). An excellent location 10 minutes' walk from the Triple Bridge. Staff were excellent (very friendly, helpful in arranging restaurant bookings, knowledgeable about where to eat and where to go, and spoke excellent English). No restaurant in the hotel but the excellent Spajza is just around the corner (see below).
Luxury Boutique Hotels in Ljubljana
We haven't had the privilege of experiencing any of Ljubljana's luxury or boutique hotels, but if we won the lottery, these are the ones we'd pick from…
Hotel Cubo – A gorgeous art deco building with an excellent location.
Antiq Palace – A Member of the Small Luxury Hotels of the World, housed in a former 16th-century aristocratic residence.
Vander Urbani Resort – For its central location, rooftop swimming pool and Uber-chic design.
Lesar Hotel Angel – A Member of Hip hotels so probably far too cool for us, but I just want to take up residence in either their Penthouse Apartment or Loft Suite!
Where to Eat & Drink in Ljubljana
Our meagre budget didn't allow us to eat out much in Ljubljana. We had a good pizza and a couple of beers at Central Station on Trubarjeva Cesta, but most of our meals came from the Spar supermarket!
The other recommendations we can offer are from Mark's parents who duly tried and tested some of our suggestions. The three that most impressed them were Spajza, Sorbara Steak House, and the very upmarket Strelec, located in one of the turrets at the Castle.
If you are a foodie, there are lots of different food, wine, and beer-based tours that you can join. Enquire at either of the Tourist Information Centres.
Getting around Ljubljana
As this blog post is based on a walking tour of Ljubljana, we won't go into a lot of detail on public transport. You can't pay for bus rides as you go. You need a card pre-loaded with credit, so it's not very easy to be spontaneous if you get tired of walking. If you intend to use public transport a lot, the easiest thing would be to get an Urbana public transport card. You need to pay a small deposit on the card but if you buy your card from a Tourist Information Centre and keep the receipt, you can get a refund on unused credit. Cycling is another popular option and bike hire is easy. If you have a Ljubljana card, buses are free and the card includes 4 hours of bike hire.
Getting to Ljubljana
Flights to Ljubljana
Ljubljana is not so well-served by low-cost carriers compared with other destinations in Europe. EasyJet has flights from London and Berlin, and Wizz Air from Brussels. Most European national carriers serve Ljubljana, but sadly Adria Airways, the national airline of Slovenia went bust in September 2019, further diminishing the options.
By Bus or Train
As expected, there are lots of international bus connections from all over Europe, and Ljubljana is also well-connected by rail. Popular destinations by train include Budapest (8 hours), Zagreb (2½ hours) and Trieste (2½ hours). We once took the train from Bratislava in Slovakia and broke the journey in Maribor, Slovenia's second-largest city.
Conclusion
I hope I've helped you figure out what to do in Ljubljana in one day and maybe inspired you to stay a little longer than that. Ljubljana is a great short break destination; the people are friendly, food and wine excellent, there's plenty to see and do, and just about everyone speaks very good English. The city's manageable size makes it perfect for a one-day visit but in order not to feel too rushed and allow time to soak up the atmosphere, we would recommend at least two days.
---
---
ARE YOU PLANNING TO VISIT SLOVENIA? PIN OUR GUIDE TO 24 HOURS IN LJUBLJANA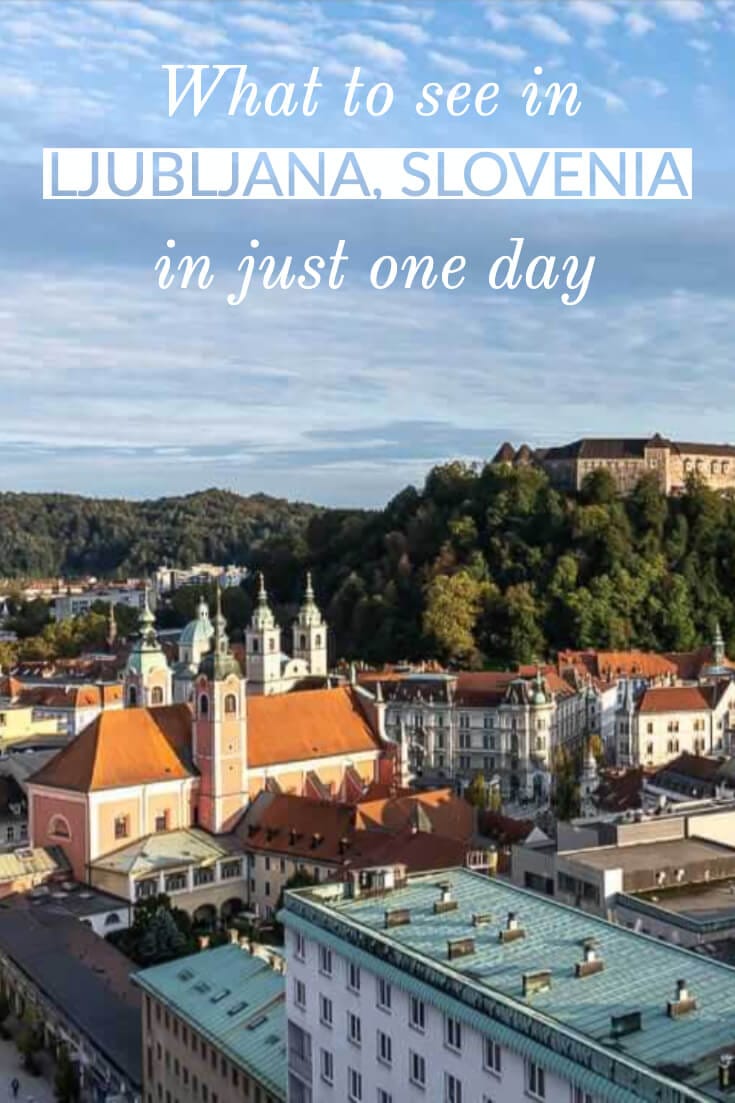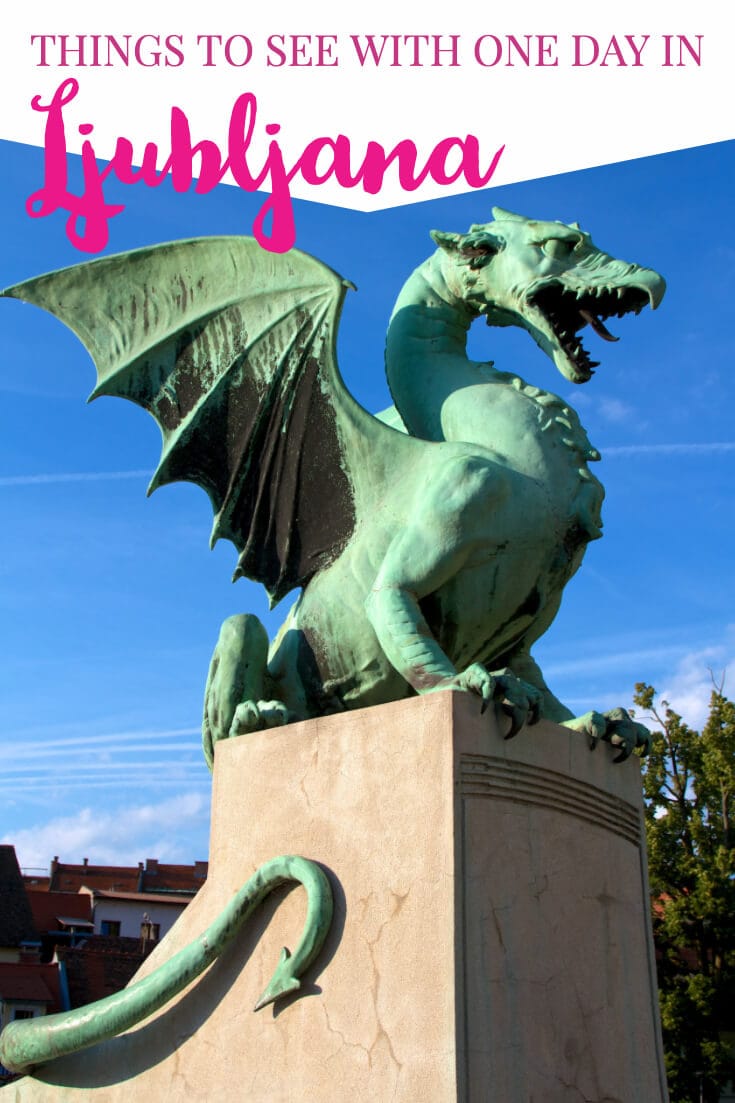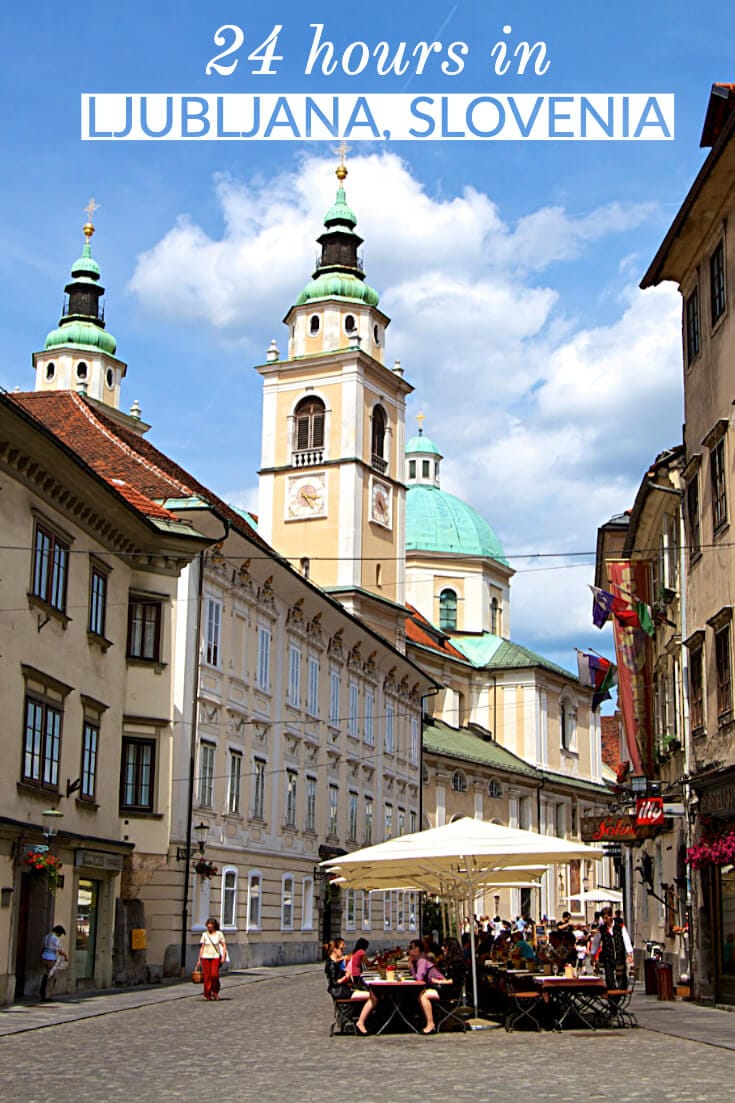 ---
---