Suggested Tibet Itinerary: Lhasa to Kathmandu via Mount Kailash and Western Tibet
Lhasa – Shigatse – Gyantse – Sakya – Lhatse – Saga – Lake Manasarover – Tarchen (Darchen) – Saga – Tingri – Zhangmu/Kodari – Kathmandu
Our Tibet itinerary is based on starting Lhasa and ending in Kathmandu, Nepal, and also includes the lesser-visit region of Western Tibet. We arrived in Tibet via the Beijing-Lhasa train but the other option is to fly into Lhasa. Dedicate at least three clear days to exploring the Tibetan capital and its surrounding monasteries – Sera, Dreprung and Ganden are all must-sees. Heading west along the Friendship Highway, via beautiful Yamdrok Lake, it is worth overnighting in Shigatse to see the mighty Tashilhunpo Monastery.
We would also recommend climbing the ridge above the monastery for fine views of the city's dzong (fort) and the whitewashed houses below before driving the short distance to Gyantse. Also with an impressive fortress as well as a huge kumbum (stupa) within the confines of the redbrick-walled Palcho Monastery, Gyantse is another fascinating stop along the main highway.
The detour to see the incredibly photogenic monastery and village at Sakya was one of the highlights of our journey through Tibet. We left the Friendship Highway at Lhatse in order to continue into Tibet's remote western reaches. Travelling on terrible roads (or no roads at all for some of the time) and overnighting in the one-horse town of Saga along the way, we eventually reached holy Lake Manasarover, which was a nice place to relax before journeying to the village of Tarchen (Darchen). Situated at well over 4000m above sea level, this scrappy village is the starting point for the kora (pilgrimage) around Mount Kailash, one of the most sacred places on earth.
Returning to Tarchen three days later, the communal bathhouse was a welcome sight but not so the thought of the long journey back via the same route to Saga and beyond to Tingri. We spent the night in Tingri, where the mountain views were incredible, before descending more than 2000m to the border towns of Zhangmu (Tibet) and Kodari (Nepal). The sudden humidity took a bit of getting used to but five hours later we were in the heart of Kathmandu's Thamel district, chowing down on thin-crust pizza and drinking ice-cold Nepalese beer.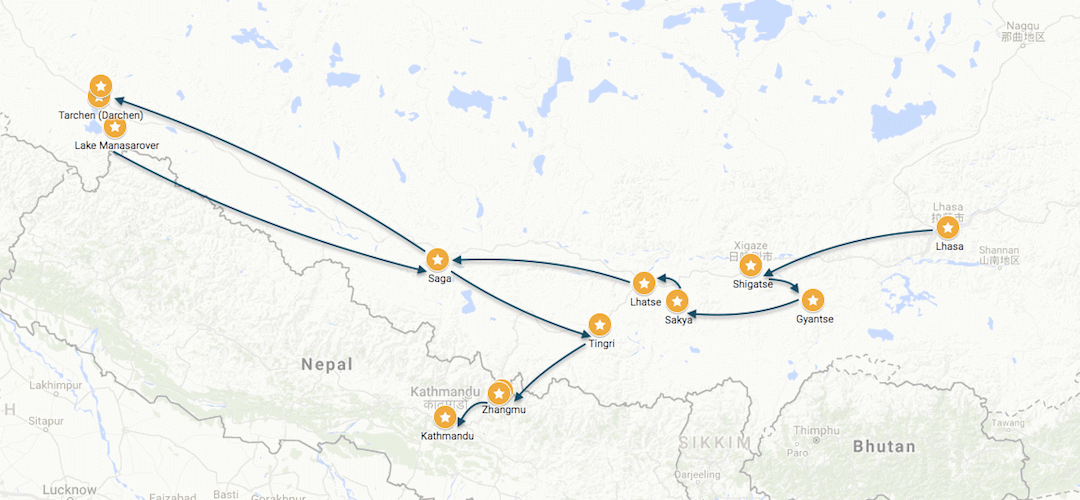 Number of countries: 2
Number of UNESCO sites: 2
Best time to travel: May to October
Recommended duration: 3 weeks
Best places to slow the itinerary down: Lhasa and Lake Manasarover
Mode of transport: 4WD with driver and private guide (note, that unless you have a Chinese passport, it is not currently possible to travel independently in Tibet – you will need to either join a tour group or arrange your own tailor-made itinerary).
The 3-day trek around Mount Kailash
People/pilgrim-watching in and around the Bharkor in Lhasa
The scenery – Tibet is a very scenic country!
Travelling through remote Western Tibet
Watching monks debate at Sera Monastery
Sakya monastery and the surrounding village – well worth the diversion off the Friendship Highway
OPTIONS FOR EXTENDING THE ITINERARY
Tingri is the jumping off point if you want to visit Everest Base Camp and Rongphu Monastery
With the right permits and everything organised it is possible to continue north from Tarchen (Mount Kailash) to Ali, from where you can either return to Lhasa via a different route or keep going into Xinjiang province and eventually reach Kashgar
Once in Kathmandu, it is possible to head off and trek in the Nepalese Himalayas but choose a trek carefully as the summer months are monsoon time in Nepal
You could also visit some of Nepal's non-trekking highlights such as the Kathmandu Valley, Pokhara, Chitwan National Park, Lumbini etc.
Another option is to travel overland from Kathmandu to India (Varanasi to the south and Darjeeling in the east are both great entry points) but again keep in mind the time of year.
A journey through Tibet is perfectly pitched with time in Ladakh as they both have the same season
FURTHER READING FOR PLANNING YOUR TIBET ITINERARY
OTHER TRAVEL PLANNING RESOURCES
There are a few guidebooks to Tibet available but we've always used Lonely Planet and it's hard to change a habit of a lifetime! Check out Lonely Planet's guide to Tibet. 
And if you need a few more reasons to follow this Tibet itinerary…
En route between Shigatse to Sakya
Did you find this post useful for planning your Tibet itinerary? Pin it to your travel boards…