Travelling independently in China and Tibet twenty years ago
Travelling independently in Tibet these days is (depending on your nationality) currently either illegal or very difficult but what was it like backpacking in China and Tibet in the mid-'90s? I am sure people are still getting into Tibet illegally and indeed my first visit involved an illegal attempt to get to Lhasa from Yunnan province in southwest China (see map below) but the only straightforward way to visit Tibet at the moment is to book an all-inclusive tour (either on a group basis or private) and follow a preset itinerary.
When Kirsty and I went in 2010 we booked a private tour as we wanted to travel to Mount Kailash in Western Tibet. The demand for travel to this region is limited so joining a group tour wasn't really an option. From memory, our trip cost us about US$100 per person per day and included accommodation (good in Lhasa, Shigatse and Gyantse, terrible in Western Tibet), three meals a day, an English speaking guide, Toyota Landcruiser and driver, entrance fees, our trek around the mountain and all the necessary permits – in other words pretty much everything. It didn't include the cost of getting to Lhasa, which in our case was by train from Beijing.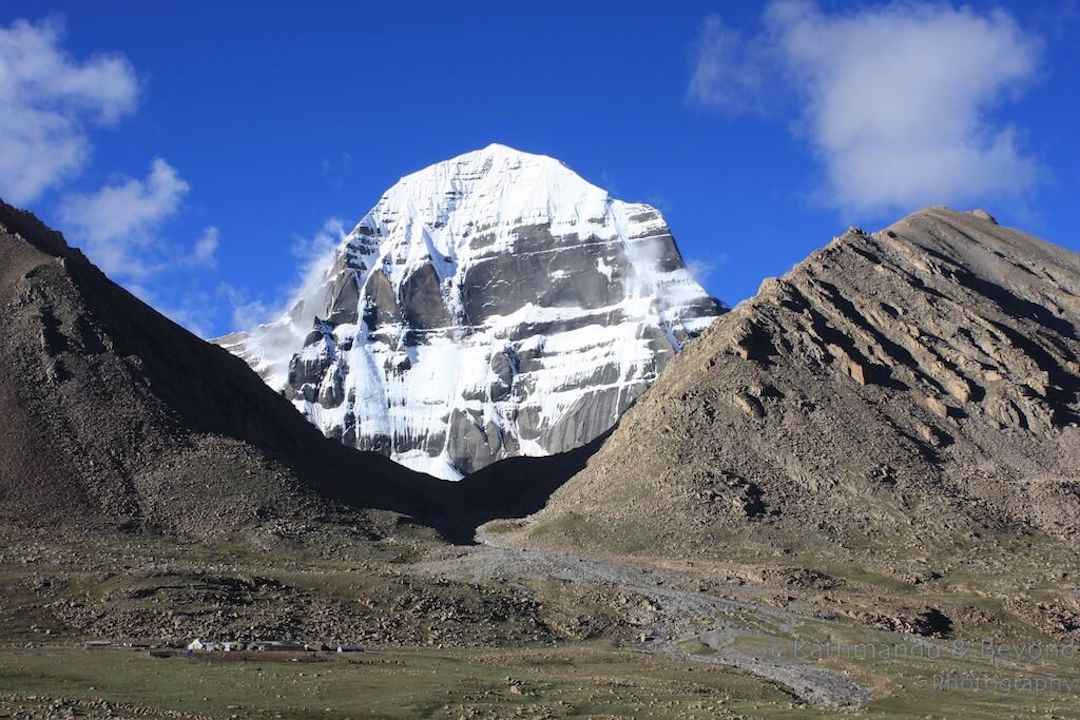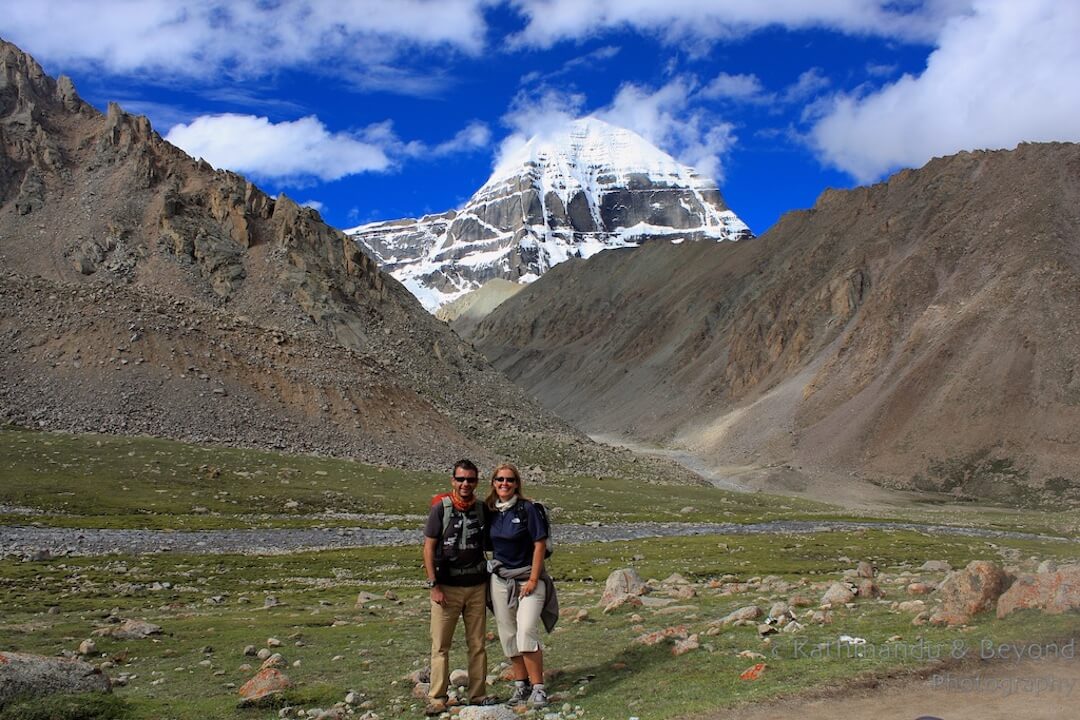 On the trek to Mount Kailash
However, back in 1994 it wasn't as clear-cut. Travellers were definitely getting into Tibet independently (read illegally) via one of the 'backdoor' routes (*) or they were booking a 'tour' that consisted of a one-way flight to Lhasa (from either Chengdu or Kathmandu), one night of accommodation and an airport transfer. This was the basic 'tour' requirements back then and got you the obligatory Tibetan permit. Once in, travellers were discovering that they had a reasonable amount of freedom to travel around with the only real obstacle being the lack of public transport (more on that later).
(*) There were several 'backdoor' routes – the most common was via Yunnan or Sichuan but I met people who had arrived from Qinghai province as well and even a couple of guys who had travelled from Kashgar via Mount Kailash all the way to Lhasa. Funny enough, it was easy to leave Tibet and travel to Kathmandu but not the other way around.
I arrived in Kunming in July 1995 with my (then) girlfriend and the intention of attempting the overland route to Lhasa via northern Yunnan and the southern road from Markam to Lhasa. We spent about a month travelling north through Yunnan, stopping at Dali, Lijiang and trekking the Tiger Leaping Gorge.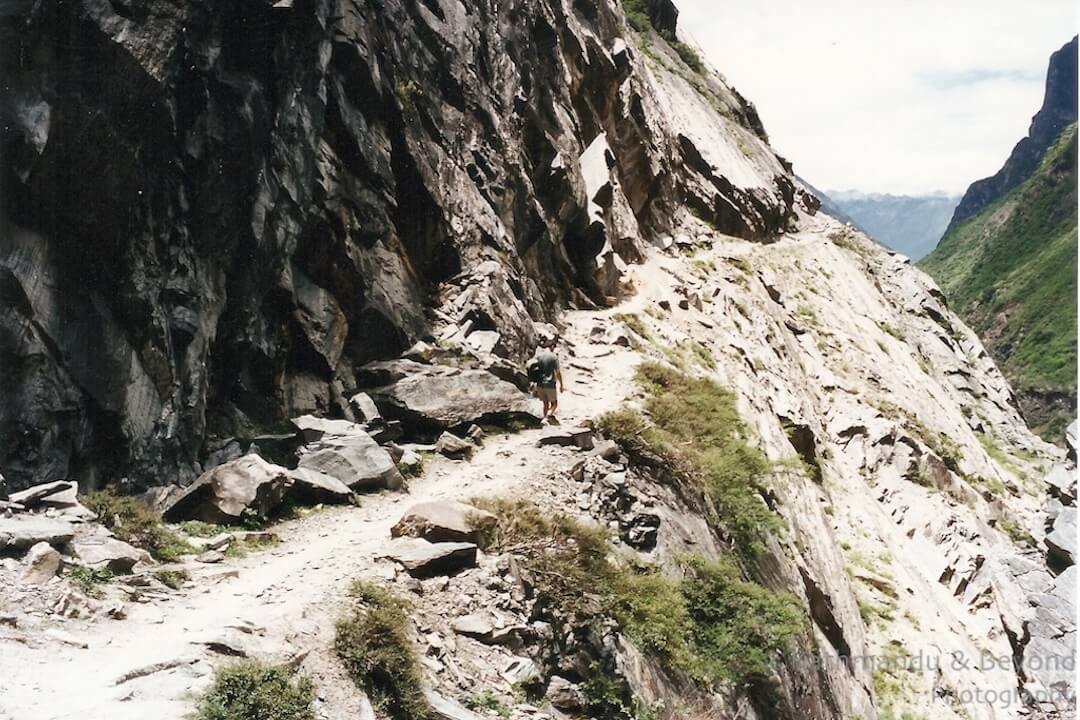 Tiger Leaping Gorge in August 1995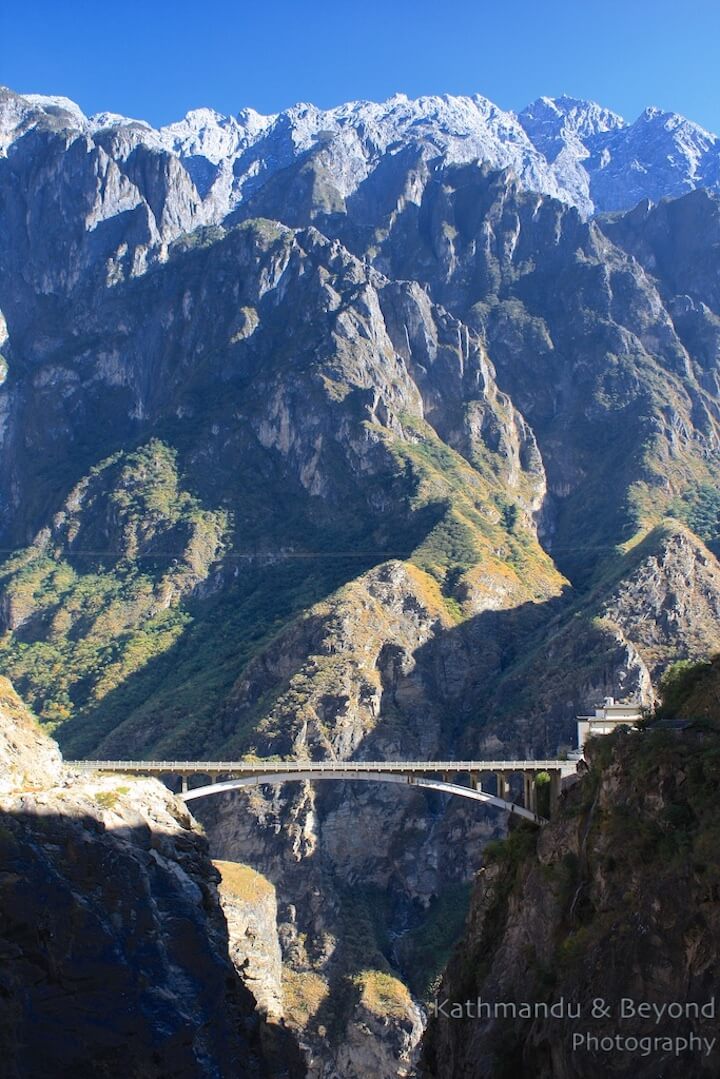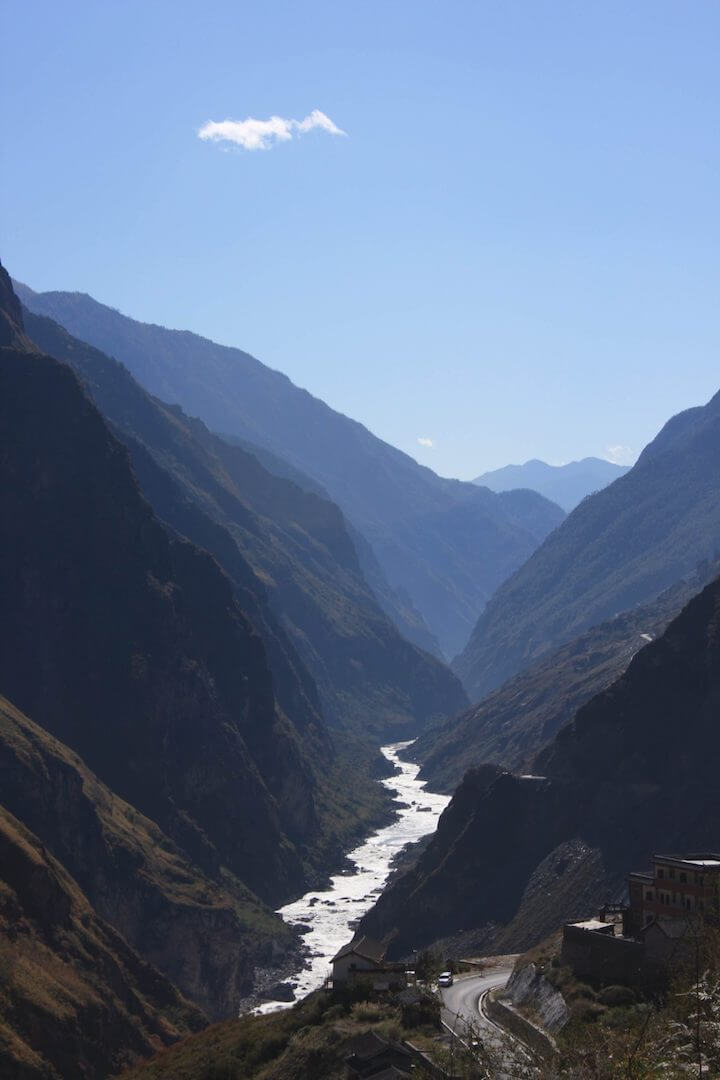 Tiger Leaping Gorge in July 2010
I revisited these places with Kirsty in 2010 and although it was an enjoyable trip, things had changed quite dramatically since my first visit. For a start, there were more tourists – lots more and mainly in the guise of large Chinese tour groups. There was also a road linking one end of the Tiger Leaping Gorge with the other.
I discovered the province now had a train line and the Nashi (Naxi) people (the main ethnic group that inhabit this part of China) were being paid to wear traditional dress and dance in the square for the amusement of said Chinese tour groups.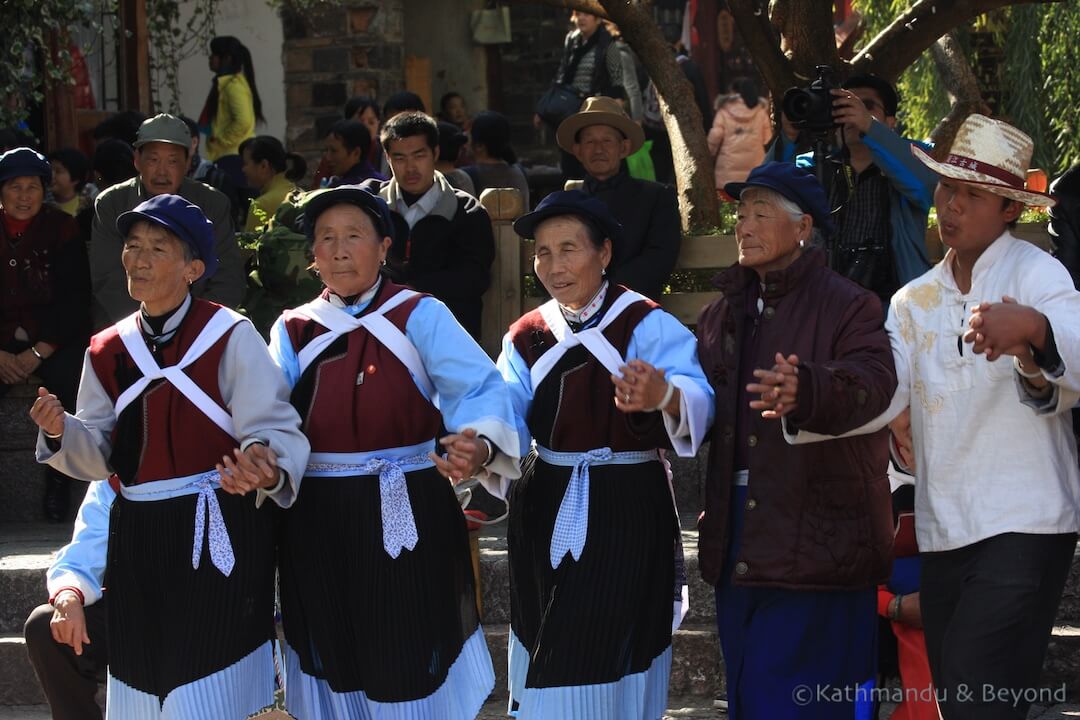 Nashi (Naxi) people in Lijiang
But the biggest shock on this most recent visit was re-visiting Ganden Sumtseling Monastery on the outskirts of Zhōngdiàn (I refuse to call it by its now official name of Shangri La and score a hit for the marketing people). As you can see from the photos, it has changed almost beyond recognition. Indeed, the same is true of Zhōngdiàn itself – once a small town surrounded by grassland. It is now pretty built up and popular with, yep you guessed it, said Chinese tour groups.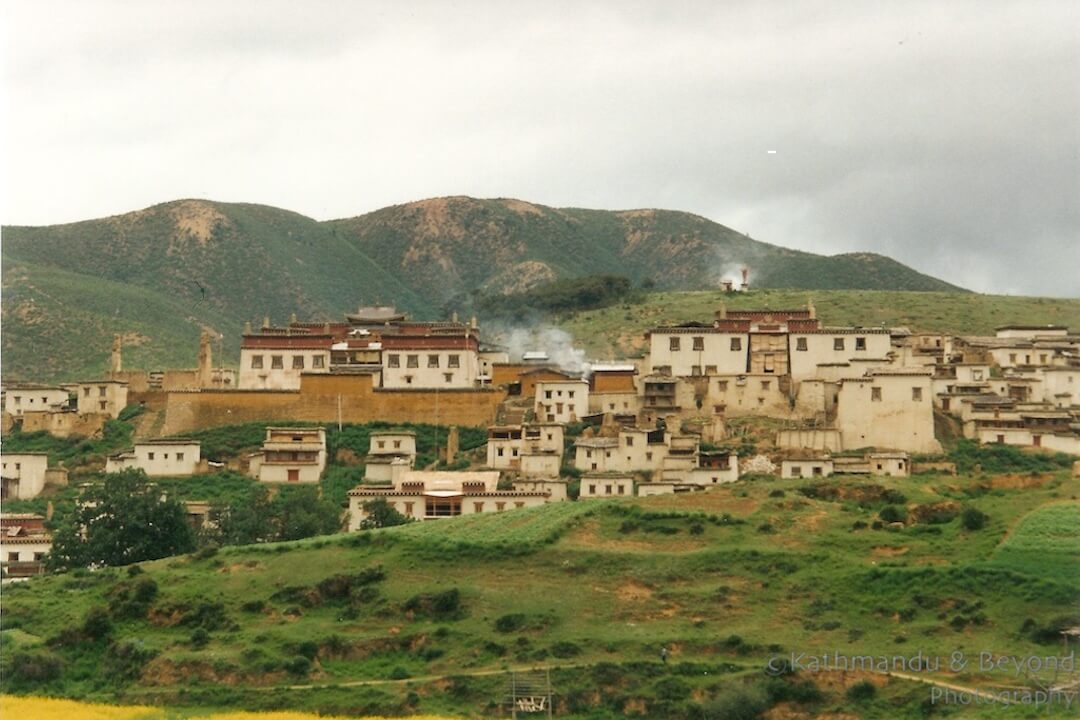 The Monastery at Zhongdian in August 1995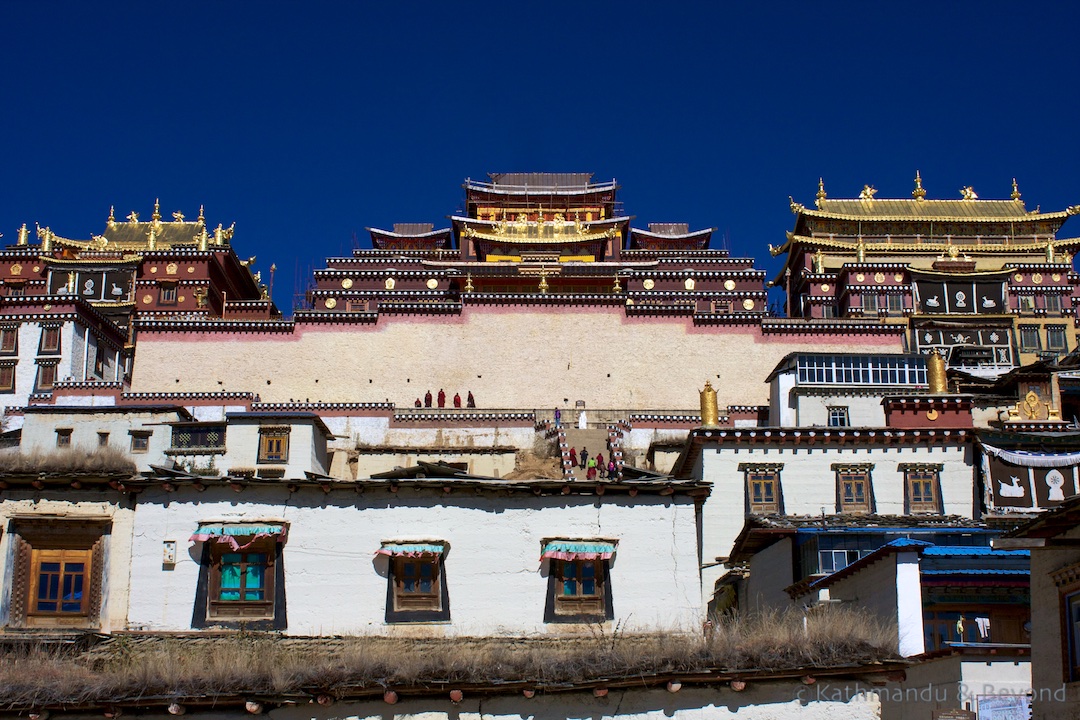 And the Monastery at Zhongdian in August 2010
All the above said, I would still highly recommend a visit to Yunnan – it's one of the most fascinating provinces in China and also one of the easiest to get around.
At Zhōngdiàn the road splits – you can either turn left and head to Tibet or you can go straight on and eventually get to Chengdu in Sichuan province. Both routes were off-limits in 1994. Nowadays the road to Tibet is still off-limits but the road from Zhōngdiàn to Chengdu is gaining in popularity and rightfully so. It offers high altitude scenery and lots of Tibetan settlements along the route. You could even argue that it offers a genuine Tibetan experience but for a fraction of the cost?
Anyway, we chose the road to Tibet, with Déqīn (still in Yunnan but off-limits) being the first place to head for. The first issue was transport. We weren't allowed to travel on public buses, even if we could buy a ticket which was also a big no-no. So the only option was to pay truck drivers to take us. This was of course also illegal but the truck drivers were prepared to take the risk in return for financial reward. Finding a truck driver and negotiating the price was more straightforward than you would think as long as you used a 'fixer'. Back then, if you made it as far as Zhōngdiàn it was obvious to all and sundry that you were trying to get to Tibet so the 'fixers' tended to find you rather than the other way around and besides, there was only one hotel you were allowed to stay in so you weren't that hard to track down.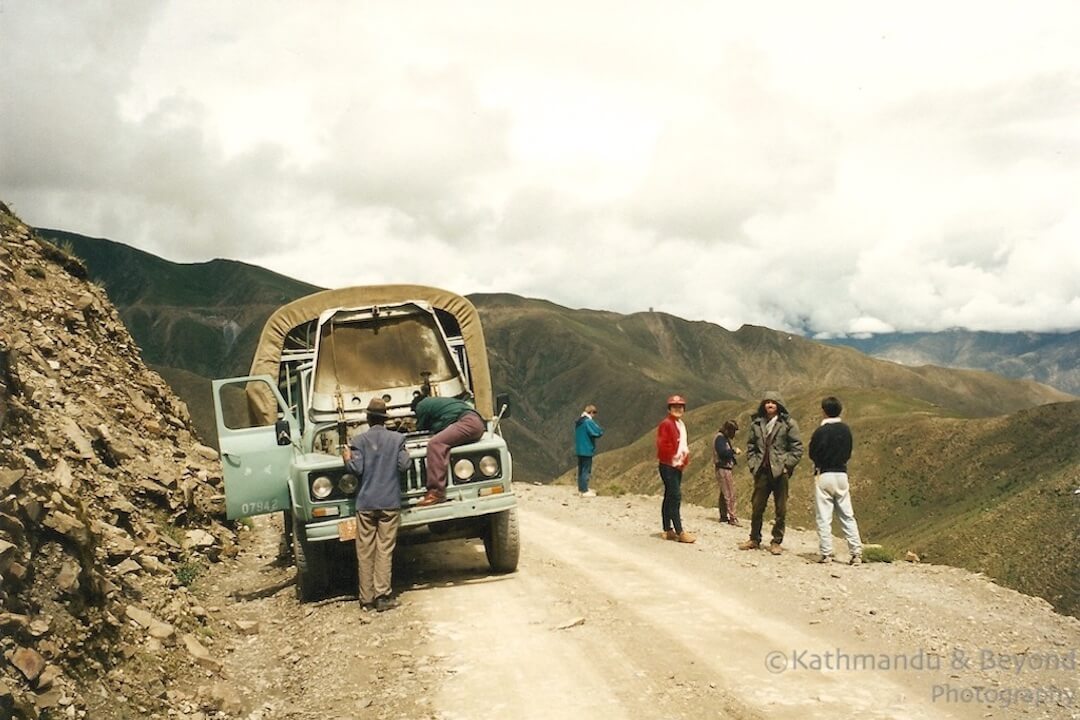 The road condition was very different in 1995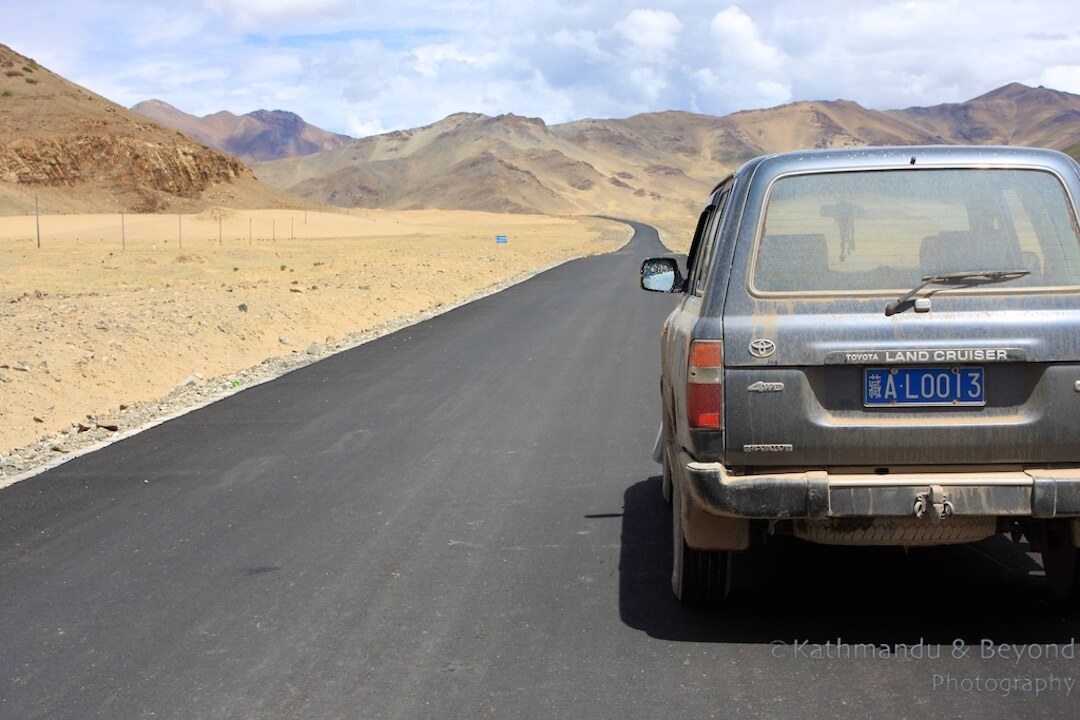 Today Tibet has good roads linking the main towns
Truck ride sorted, we had to tackle the second issue – checkpoints. Lonely Planet said there were eleven checkpoints between Zhōngdiàn and Lhasa in the 2010 edition of their China guide. I have no idea how many there were in 1994 but you had to avoid them if you wanted to stand any chance of getting to Lhasa. They were mostly in towns and the truck drivers knew where they were. As you paid 50% of the ride up front and the remaining 50% when you arrived at your destination, it was in the interest of your truck driver to get you through the checkpoints. We had been told that some drivers were relaxed about it and hid you in the back of the truck. Others waited until nightfall to pass through them (when the checkpoint was more likely to be unmanned). Some were a bit more extreme, making you get out of the truck a kilometre or so short of the checkpoint to walk around it and meet the truck again on the other side. We were lucky with our first driver; he just hid us in the back and we got through with no issues.
We spent a very cold night in God only knows where in a filthy truck stop with a room full of spitting and farting (but friendly) truck drivers. I am guessing it was somewhere near Déqīn but we left very early the next morning. By the way, if you ever attempt this, ensure you are well prepared. Warm weather gear and a sleeping bag are essential, even in the middle of summer.
We had no issues with the next checkpoint but our ride ended in Markam as our driver was going no further. By now we were across the border into Tibet but with no 'fixer' and a severe lack of Tibetan or Mandarin we were struggling to sort out an onward ride in the direction of Pomi and eventually Lhasa. By now it was quite late in the day and the truckers wouldn't let us sleep at the truck stop ('Méiyǒu, Méiyǒu' or 'Sod off' in English!) so we had no option but to go into town and book ourselves into a hotel (I use the term very loosely). This was a bummer and exactly what we didn't want to do as the hotel has to register you with the local PSB (Public Security Bureau/police) and it was only a matter of time before they would come knocking.
And knock they did, about 7.30am the following morning if my memory serves me correctly. Lucky they had their copy of the 'How to deal with Aliens' booklet (I kid you not, this book did exist), which was full of lots of useful little phrases in Mandarin/English such as 'Follow me down to the police station'. At the time it was pretty nervy but looking back it was all quite comical. This is how it went (with both parties taking turns to use the 'How to deal with Aliens' booklet).
PSB officer: You are in a restricted area without an Alien Travel Permit.
Us: OK, sorry!
PSB officer: That's OK (they were decent guys), you need to pay a fine and leave.
Us: OK, sorry!
PSB officer: The fine is 50 Yuan (about $7.50) and you need to pay it in FEC (Foreign Exchange Certificates – don't worry about them, they don't exist anymore.)
Us: OK (we hand over the money, relieved it was so little!)
PSB officer: Here is your receipt (only in China!)
Us: Thank you (we are starting to get cocky and did this one in Mandarin!)
PSB officer: There is no bus to Zhōngdiàn, you will travel to Chengdu instead.
It got a bit more complicated at this point in the conversation but basically, they told us that we weren't allowed to travel on the bus back to Zhōngdiàn but instead, we had to travel east to Chengdu via Batáng, Lǐtáng and Kangdìng (also off-limits but I guess they had to send us somewhere?) At the time this depressed us a little as the journey to Zhōngdiàn would only take two days but we were looking at about five days to get to Chengdu. As it turned out, it took us six days and was an incredible journey that has enough material for a blog in its own right so I won't dwell on it now.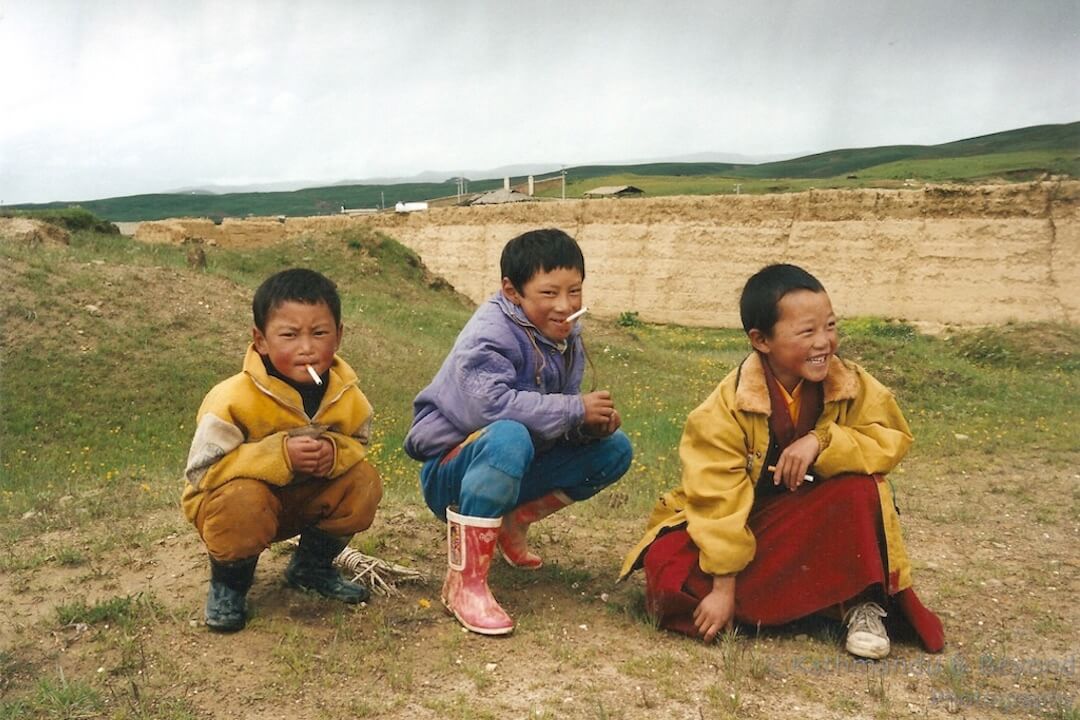 Zhongdian in August 1995
Anyway, we squared everything with the nice 'boys in blue' (well green actually) and they escorted us to the bus station to buy our onward ticket. This was the only time that I got a bit worried about the whole situation because as we were escorted up the main street to the bus station, we started getting whoops and cheers from the local Tibetans and you could tell this was pissing off the PSB guys. We tried not to acknowledge their 'admiration' but it was a bit difficult not to do so when a big, fluffy (think Yak skin coat) Tibetan came up and gave me a big hug and shook my hand. The embrace prompted me to make a mental note to carry sufficient toothpaste and deodorant to Tibet, if we ever got there!
We hung around until the next morning and boarded the bus to Chengdu. As mentioned above, this turned out to be a great journey and we got to Chengdu six days later. We were filthy and tired by the time we arrived but managed to get a room in the once legendary Traffic Hotel (**). To us, this was a 'little piece of heaven' and that night we showered with warm water, ate chicken and cashew nuts and drank cold Tsingtao beer – absolute bliss!
(**) This used to be the only place to stay in Chengdu. Apart from numerous lodgings in Yangshuo in Guangxi province and the unfortunately named Seman Hotel in Kashgar (Xinjiang Province), it was the only place we came across that catered for backpackers. It had a great little restaurant attached to it and there was a good effort on behalf of the staff to try and offer a minimal level of service. You still had to 'do your business' in a communal trough but hey, you can't have everything? Kirsty and I went back (a kind of trip down memory lane for me) when we last visited Chengdu but it's not the same.
The funny thing with all of this was that we weren't banned or told we couldn't go to Tibet. Indeed the friendly PSB officer told us that once we got to Chengdu, we could book a tour and fly to Lhasa. So this we promptly did, booking the mandatory flight, one night of accommodation and a transfer from the airport to the hotel.
About four days later we arrived in Lhasa. Struggling with the altitude, we spent the next few days exploring the city: visiting the Potala Palace, the nearby monasteries of Sera and Drepung and taking it all in at the Barkhor, the pilgrimage circuit that winds around the Jokhang Temple. It was an enjoyable few days and we met quite a few other travellers who were staying at our guesthouse so a few memorable nights out on the town were also enjoyed (think sidewalk stalls selling local Chang beer and music by Bananarama coming from the nearby shop).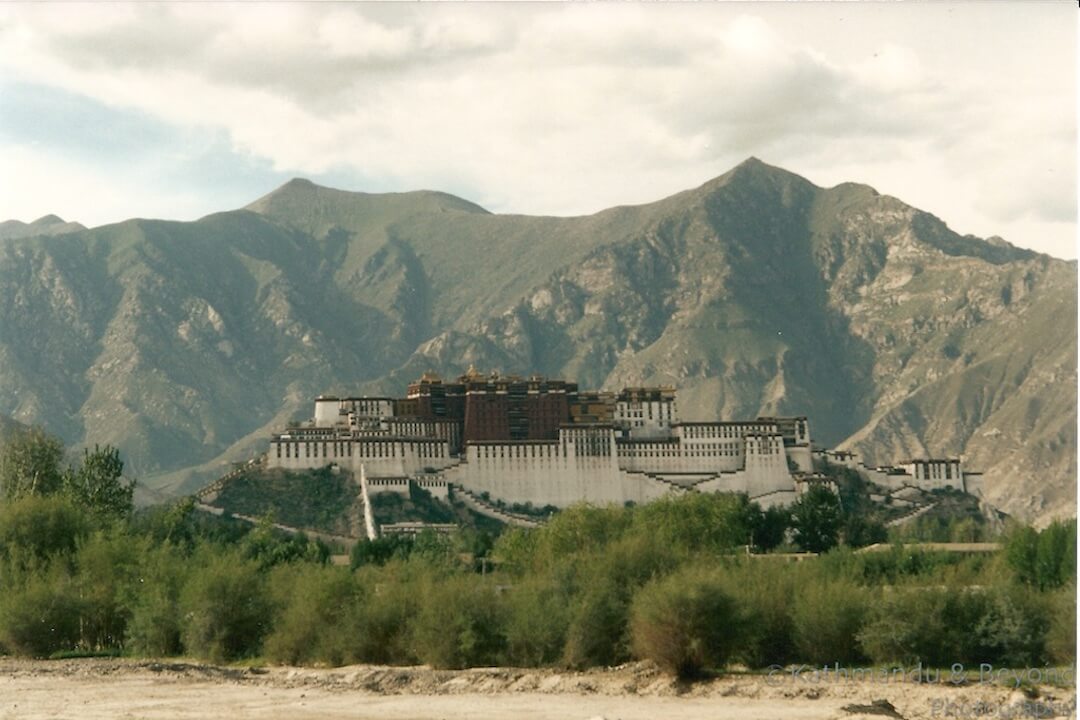 The Potala Palace in Lhasa in August 1995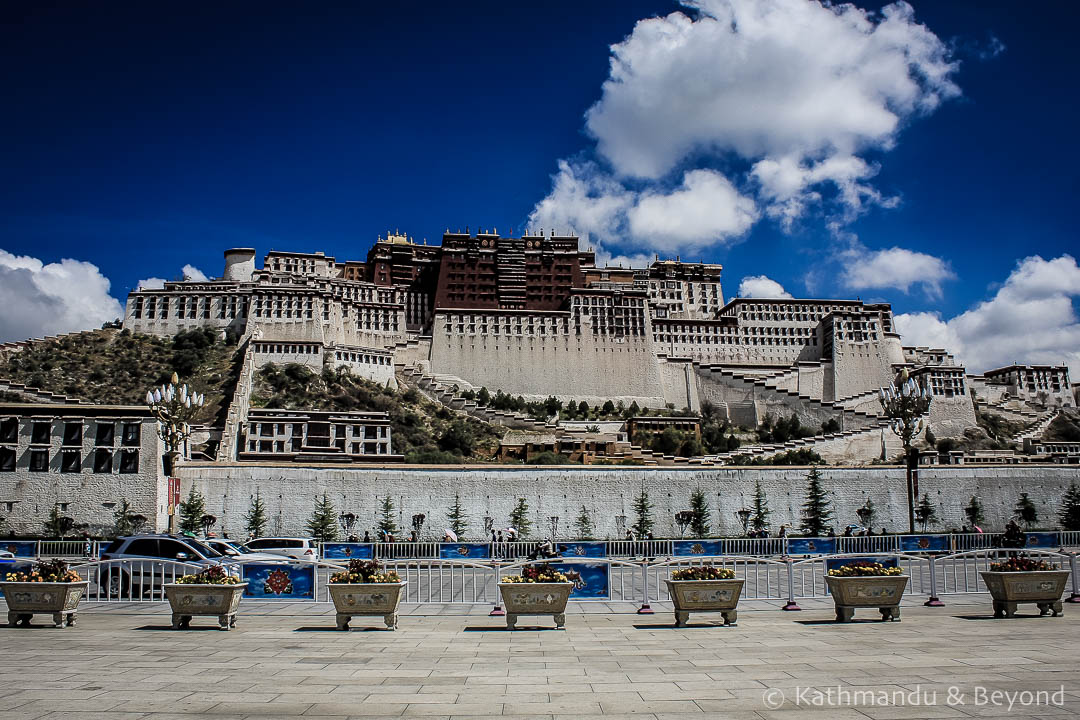 The Potala Palace in Lhasa in 2010
The rumours that you were pretty much left to your own devices once you got to Lhasa were only sort of true. You could go anywhere but you were not allowed to travel on the local bus – classic chicken and egg and this was why we met so many travellers in Lhasa – nobody knew what to do next because they didn't know how to get there. You could rent a Landcruiser (with driver) but this was expensive and the maximum number of travellers that could fit in one was four. So (and I don't like to blow my own trumpet here, but I will), I came up with the idea of renting a truck, setting an itinerary and departure date and then spreading the word that I was looking for people to come with us and share the cost.
This turned out to be incredibly straightforward and quick. We found a 'fixer' who in turn found us a truck that would take about twenty people in the back. There wasn't much negotiation on the price (they knew we couldn't travel by bus) but we haggled hard over the route and places we would stop at along the way. We settled on a ten-day itinerary with the ultimate drop-off point being the Tibet/Nepal border at Nyalam/Kodari. En route we would stop at Gyantse, Shigatse, Sakya and Rongphu Monastery (Everest Base Camp). The price was US$2000 total. A lot money back then and the driver wanted the customary 50% in advance. I nervously handed over the US$1000, hoping I would be able to get enough people together to come on the trip. This was about 2pm and I needn't have worried. By dinner time I had filled the truck and collected the money from everyone who had signed up. I even managed to cost in two free places. After all, I had done all the work and taken all the risk. There was also a waiting list!
As an aside, it was whilst in Lhasa that I learnt about Mount Kailash and this was the start of my fifteen-year obsession with getting to the mountain. I would have loved to have visited the mountain in 1994 but knew it would be harder (and more expensive) to get together enough people for the trip so I remained realistic and stuck with the above plan. Kirsty and I visited Mount Kailash in 2010.
We weren't leaving on the trip to Kathmandu for another week so four of us went off with one two-man tent and trekked between the monasteries of Ganden and Samye – without doubt, one of the hardest treks I have ever done. At Samye monastery (the end of the trek), I got drunk and spent the whole night chatting in Mandarin to a couple of Tibetan lads – I don't speak Mandarin!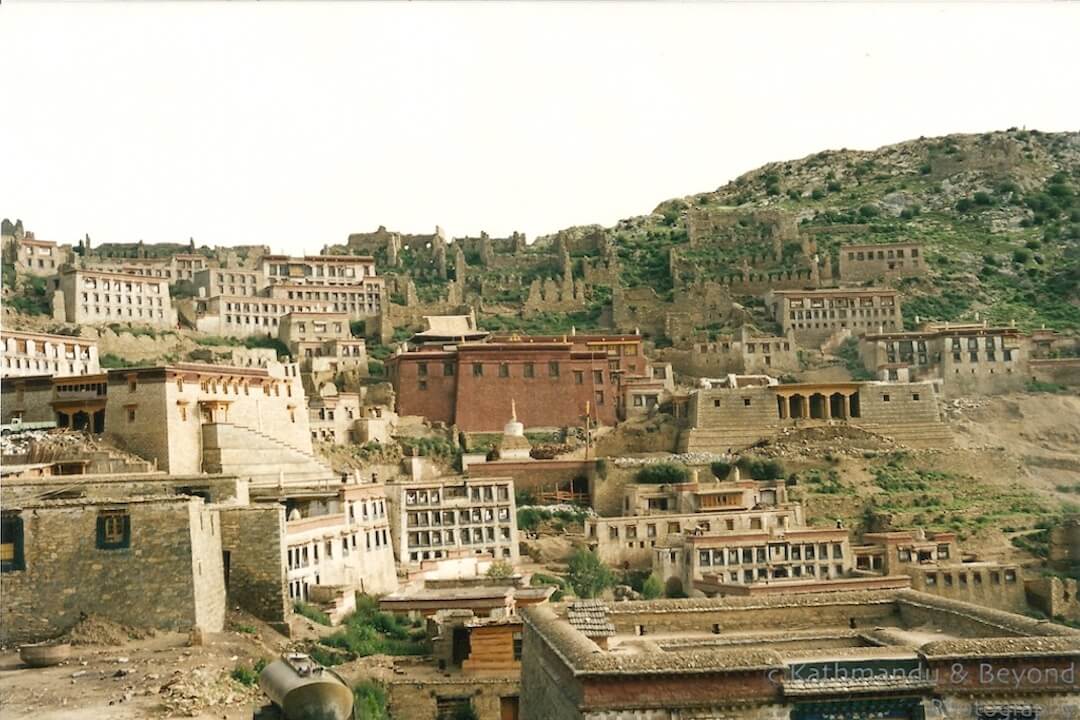 Ganden Monastery in 1995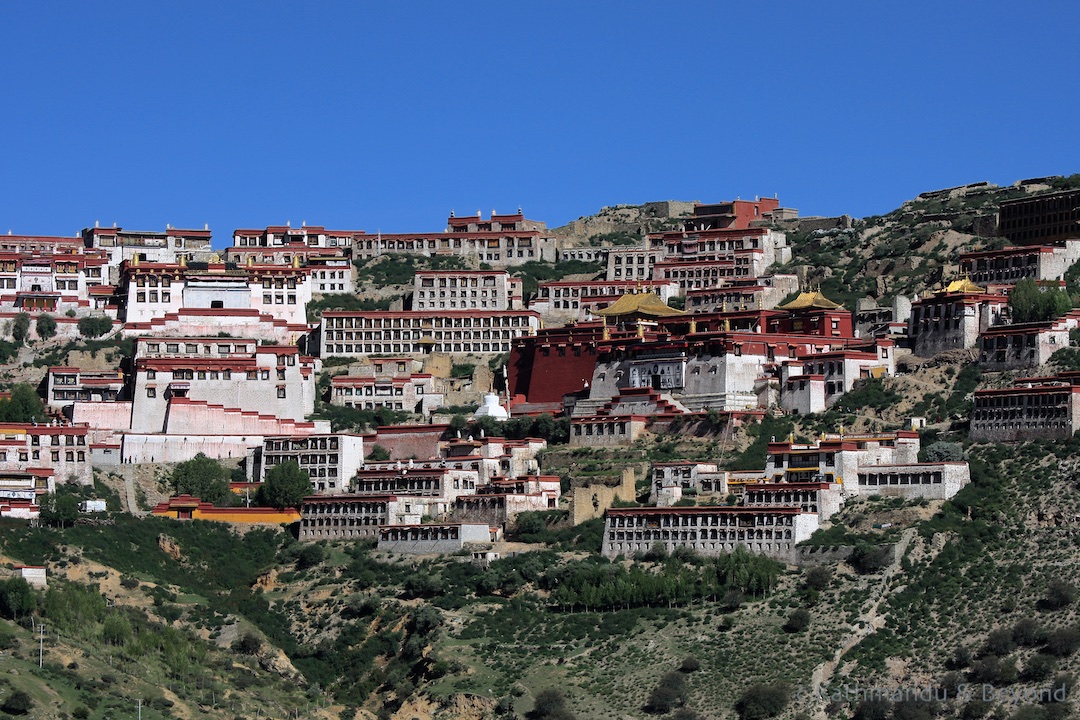 Ganden Monastery in 2010
Back in Lhasa after the trek, the next thing on the agenda was a shopping trip to the market. We were all in the back of the truck and there was no seating. Furthermore, the Friendship Highway between Lhasa and Kathmandu is not the lovely smooth road it is today (see photos) and we were in for a rough journey. Something I learnt at the market (and which has stood me well ever since) is never to buy Chinese brand ANYTHING unless you have no other choice. We bought loads of nice looking 'thick' mattresses to sit on to make the next ten days more comfortable but after about 20 minutes of travel they were thinner than an After Eight mint and totally useless. In fact, it was more comfortable to stand up or hang off the back of the truck than it was to sit down so this was what many of us ended up doing.
This is what independent travel in Tibet in 1995 meant …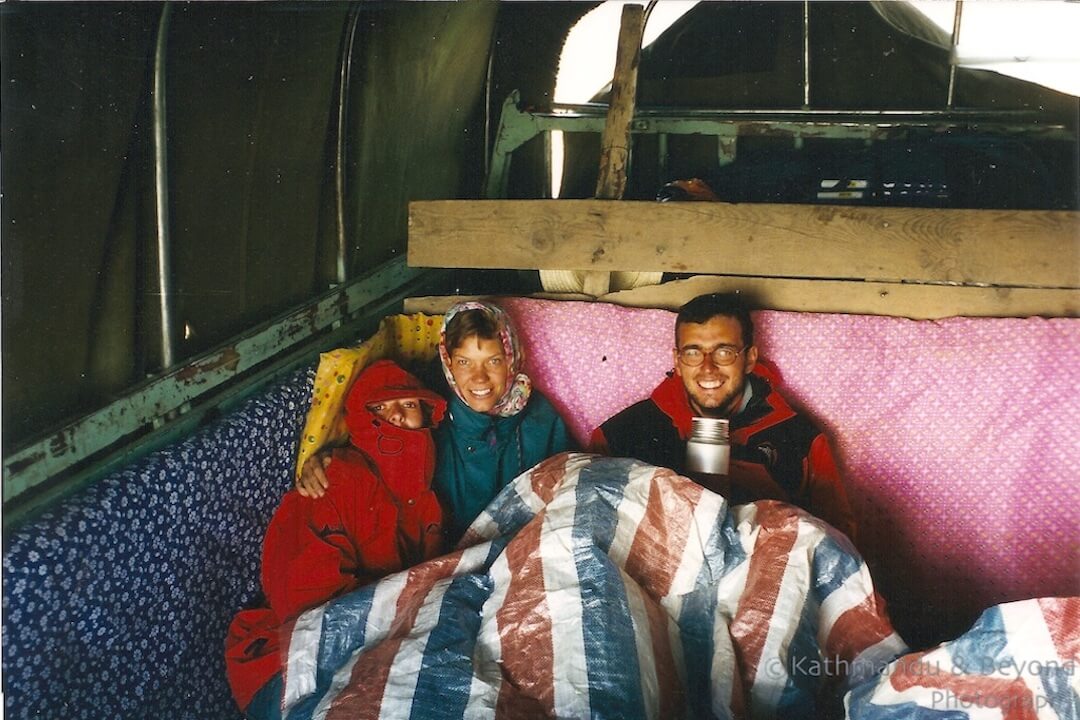 Travelling companions in our makeshift home in the back of the truck in August 1995
The trip itself was arduous but good fun. We saw some great things, had quite a few breakdowns, ate lots of pot noodles and had a couple of arguments with the driver over the itinerary. For example, he didn't want to take us to Everest Base Camp but luckily, on someone's advice, I had had a contract drawn up that was translated into Mandarin that both driver and I had signed – he didn't have a leg to stand on (plus it helped to have twenty stinky backpackers yelling at him in at least ten different languages). We even picked up a couple of hitchhikers, which caused another argument (to do with the driver pocketing the money that they paid for the ride).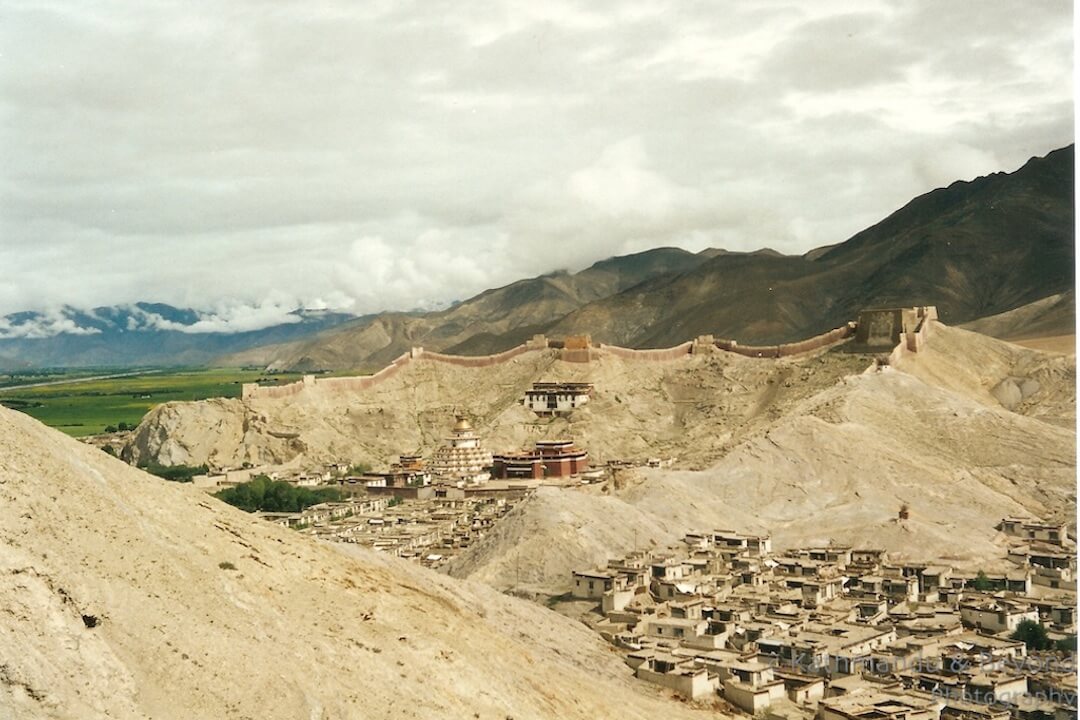 Gyantse monastery in August 1995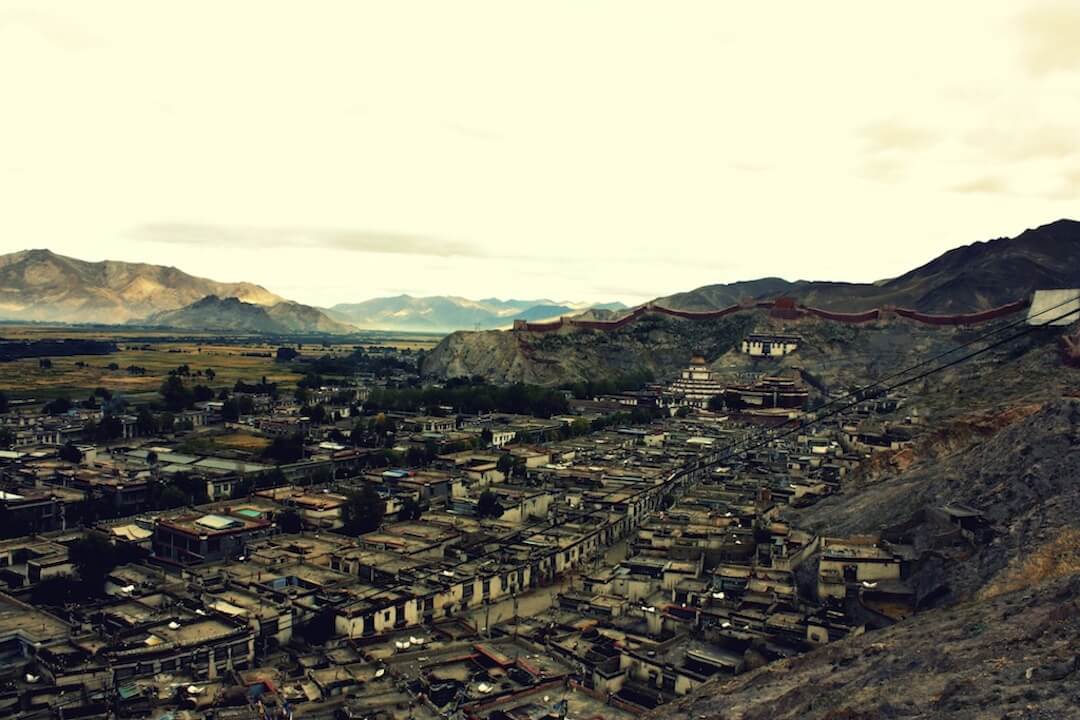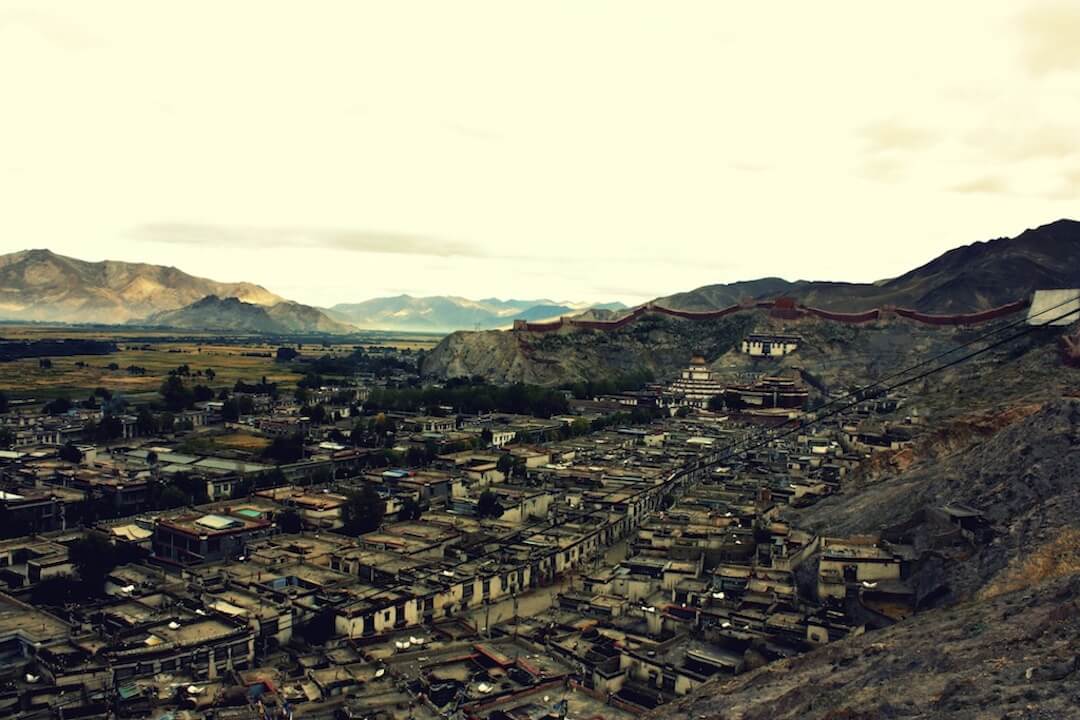 Gyantse monastery (Image courtesy of Kellie Parry © www.passportology.com)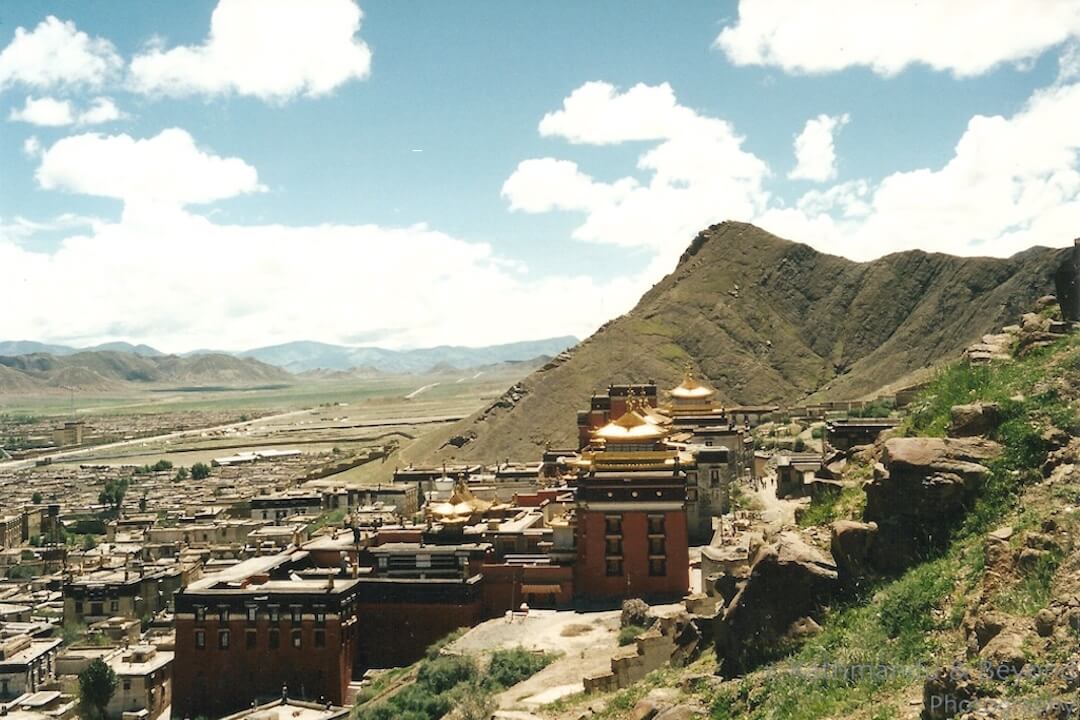 Shigatse in August 1995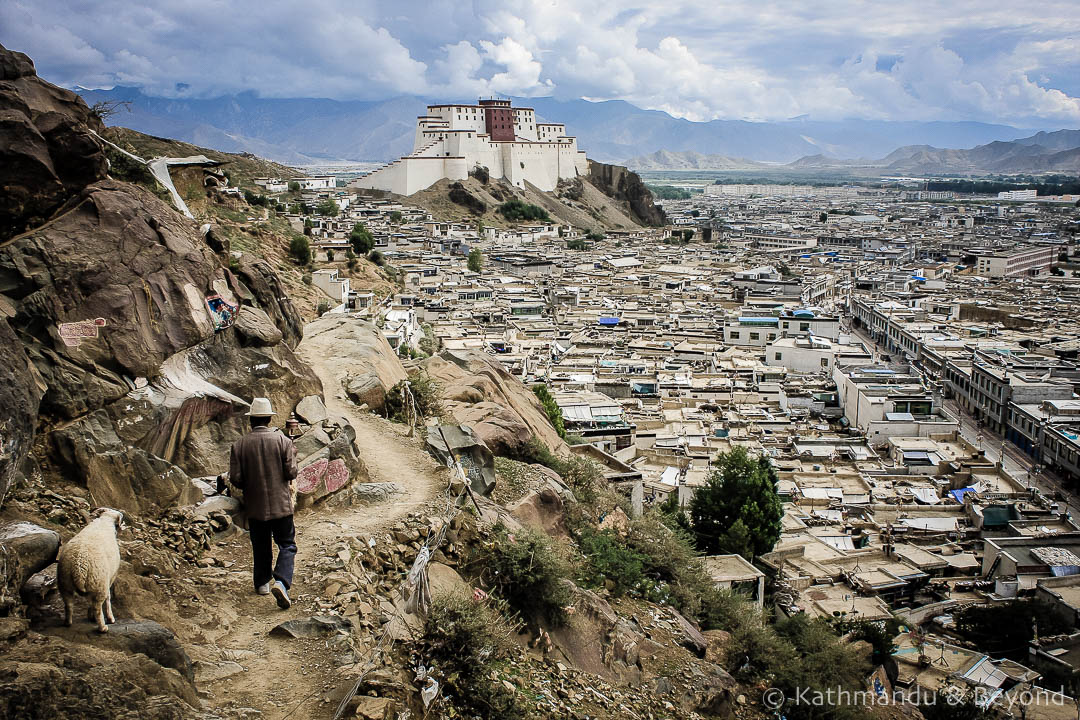 Shigatse Dzong in 2010
Once again we were filthy and tired by the time we arrived at the border (filthy and tired are a reoccurring theme when it comes to the Tibetan Plateau) and we were also craving something to eat that wasn't either of the pot noodle variety or chewy, greasy and disgusting! Some of us treated ourselves to a taxi from the border to Kathmandu (a journey of about five hours). We spent the whole journey debating where we wanted to eat once we arrived in Kathmandu and whether we should eat first or shower then eat? It was decided that a quick shower should be followed by dinner at the Fire and Ice Pizzeria (if you have never been you are missing out), a few (decent) beers and then another, much longer shower before bed. It was a great night, only partly ruined by the quick dash I had to make to the toilet to throw up my dinner – my stomach was obviously not accustomed to such niceties!
And my travel advice if you can't afford or don't want to pay $100 per person per day for a private tour of Tibet, is stick to the fringe areas – northern Yunnan, eastern Sichuan and Qinghai province. You can more or less travel freely in these regions. You will pay regular prices and they are 'very Tibetan'!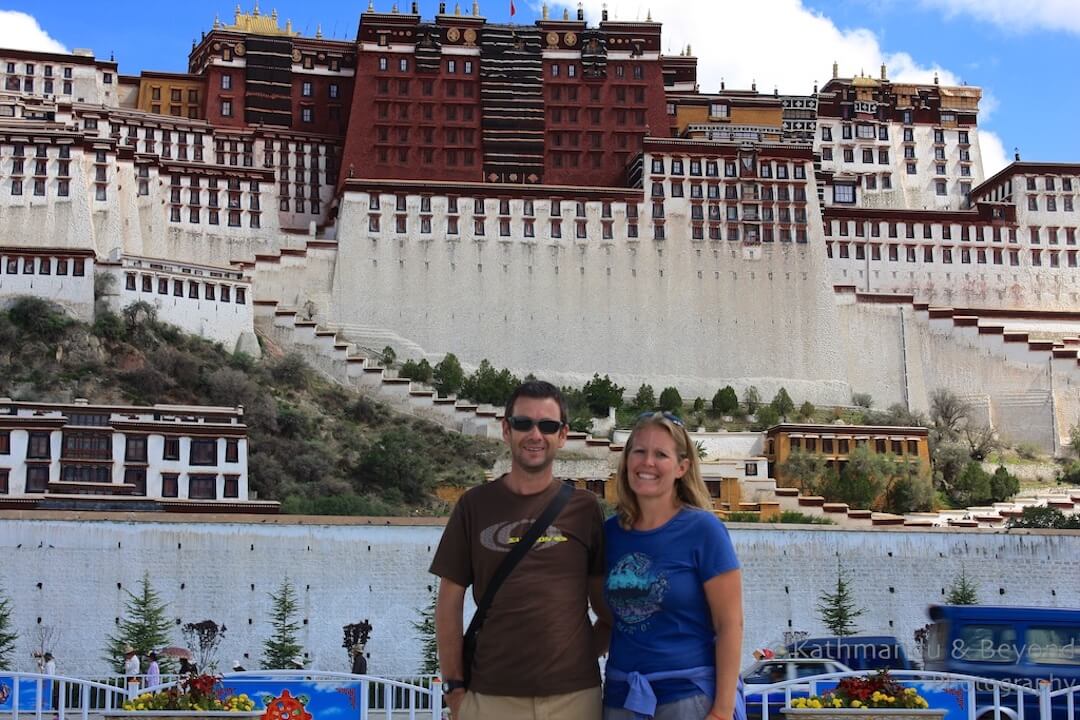 At the Potala Palace, Lhasa in 2010